Do you think Thinkific vs Teachable ends in a drawn match? Let's explore which one is the best between these platforms.
Online learning or eLearning has taken the world by storm. The convenience of learning at one's own pace is the new norm nowadays.
Several big names in the digital world like HubSpot, Coursera, Udemy, and much more offer eLearning.
We have also written a review for eDX vs Coursera which are more academic online platforms and are difficult to sell your online course on them.
Considering the fact that the eLearning industry is already booming and according to a study by Guide2Research, the eLearning industry is all set to capture a market share of $336.98 billion by 2026.
We got you super interested in learning more about developing an eLearning website, didn't we? Now, all you need is the best education WordPress themes to get going.
However, there's just one catch, there are two best eLearning platforms, "Thinkific" and "Teachable."
To determine which one is the best for your business, you need to dig deep into the eLearning world to learn and understand all the platforms' ins and outs.
We know that too much information can be overwhelming, we've managed to incorporate all the information related to both platforms in this blog post.
Let us make you go through both the platforms' technical and financial sides. This will help you make a sounder decision to choose the best platform according to your eLearning requirements.
Let's dive in!
What is Teachable?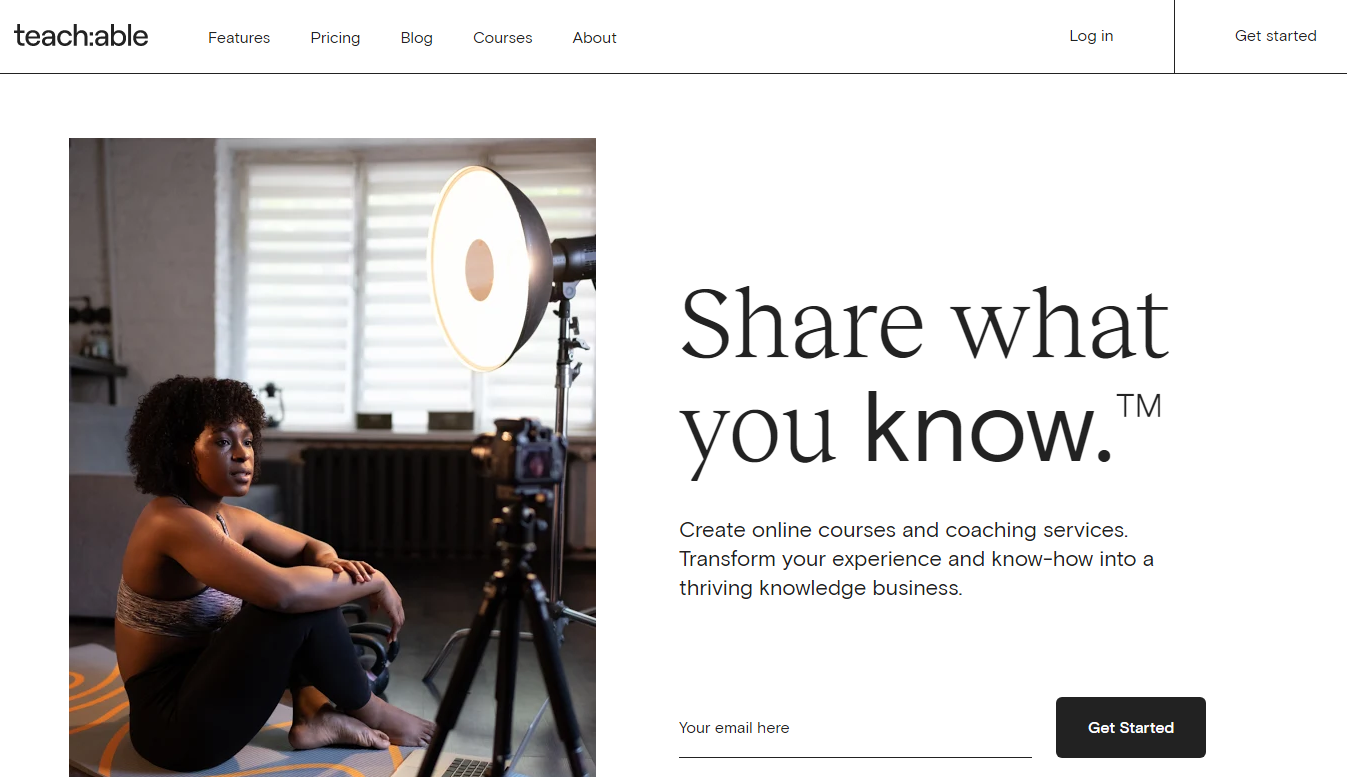 Teachable started off in 2014. The organization currently has 83,000 instructors and 23 million students.
The platform also gives you several features that you can use to create your own customized eLearning platform.
You can quickly build a website via the drag and drop feature of the platform. It has analytics tools that you can use to track, analyze, measure, and scale your courses and ROI. You can design landing pages easily and quickly.
There are several sales templates that you can use to designs if in case you need to edit your site after launch.
You can also consult the article here: Kajabi vs. Teachable
What is Thinkific?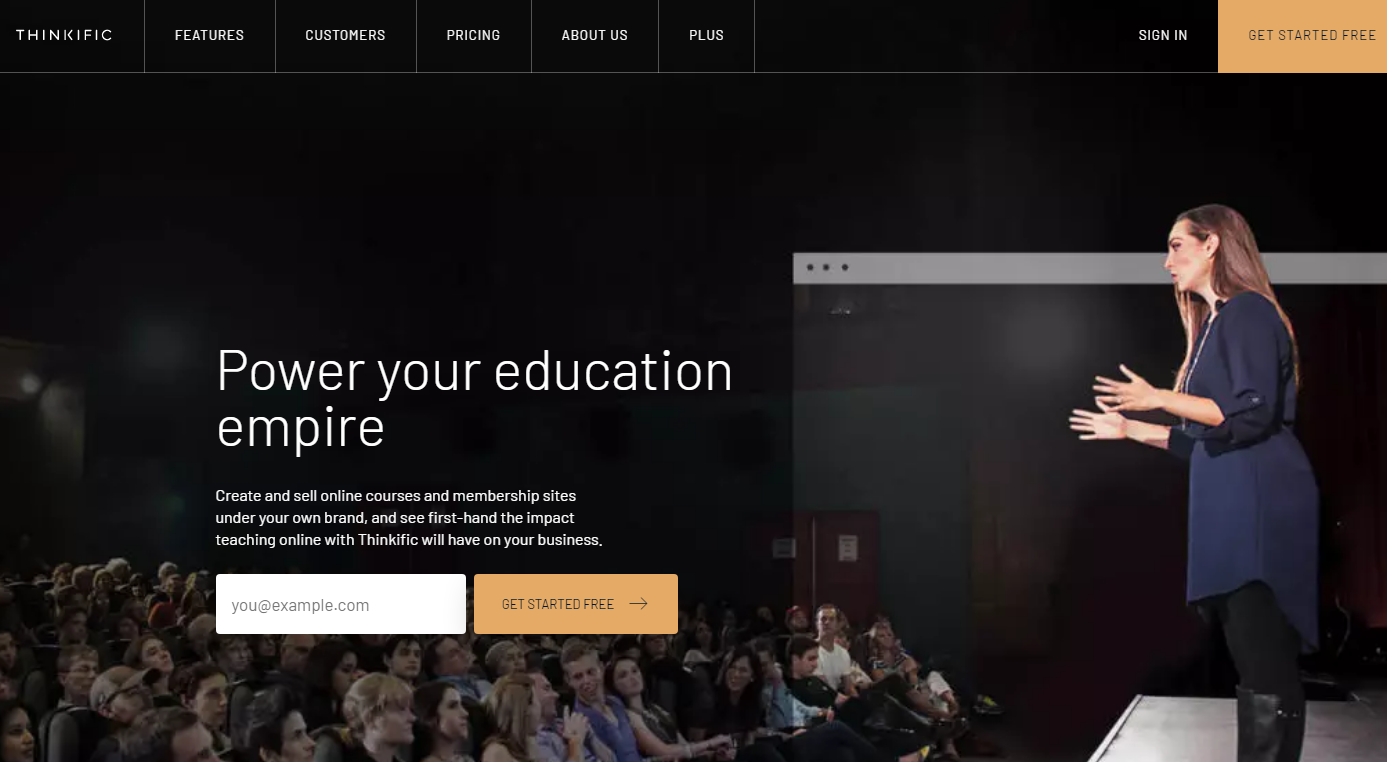 Thinkific has over 40,000 courses and hosts over 30 million online classes. It has more than 100 employees that offer services through Thinkific in 15 countries.
Moreover, the platform itself is revolutionary since it has revolutionized the way people learn and earn through online sites.
Out of some of the most amazing features that this platform gives you is an easy setup that gives you full control over the content and customer data.
The intuitive designing features require no coding like in HTML or CSS. You can customize the entire site and courses easily.
The marketing analytic tools help you maximize your marketing efforts by giving you details about your marketing gaps and performance.
You can easily learn and revamp anything if it is not working and boost your engagement and revenue.
For more, you can read a more in-depth Thinkific review.
Thinkific Vs. Teachable: The Complete Breakdown
Well, they're both eLearning platforms. They both are easy to use and require no coding whatsoever.
Their amazing features let you control your site and make it as per your imagination and incorporate the most modernized features and functionalities into it.
However, the real difference between these amazing platforms is their performance, ease of use, marketing, analytics, support, payment gateways, customization, and pricing.
So, after going through each of the aspects mentioned above, you'll better understand how these two similar platforms are different from each other.
Now without any further ado, let's start exploring their differences in detail.
1. Online Performance Review
A lagging or slow site may fend off your customers. Just because people want to learn at a quick and efficient pace, your eLearning site must be hardwired for performance.
It could also potentially damage your brand image, so you need to choose the platform that offers minimum downtime and maximum performance.
Thinkific Performance
Thinkific is an amazing platform that also offers 24/7 monitoring of the site. This constant monitoring is to make sure that the site is up 99.99% of the time. This strategy or practice makes the site extremely prone to downtime.
Moreover, Thinkific did face downtime and problems with responsiveness in the past. However, their tech team fixed the issues timely and made the site extremely efficient and performance-oriented.
Also, because Thinkific is being monitored and maintained 24/7 gives the users a strategic advantage of getting an uptime of 99.99%
Teachable Performance
The technical team of teachable also maintains and monitors the site. You'll find the site running all the time perfectly, but if you comparatively check the status of Teachable and Thinkific downtimes and uptimes.
You'll find that Teachable has more incidents of downtime as compared to Thinkific. You can check uptime and downtime status by searching for specific websites that offer free information on the subject.
Hence, it is pretty obvious now that Thinkific is the winner here with more uptime and performance than Teachable.
? Winner: Thinkific
2. Usability Of Teachable vs. Thinkific
In today's world, where having a simple and clean website is the key to success – you need to ensure that your eLearning platform is user-friendly and experience-oriented.
Both of the platforms, Thinkific and Teachable, have their own proposition when it comes to providing users with a whole set of features that make a site super user-friendly. Here is a comparison of both of them.
Thinkific Usability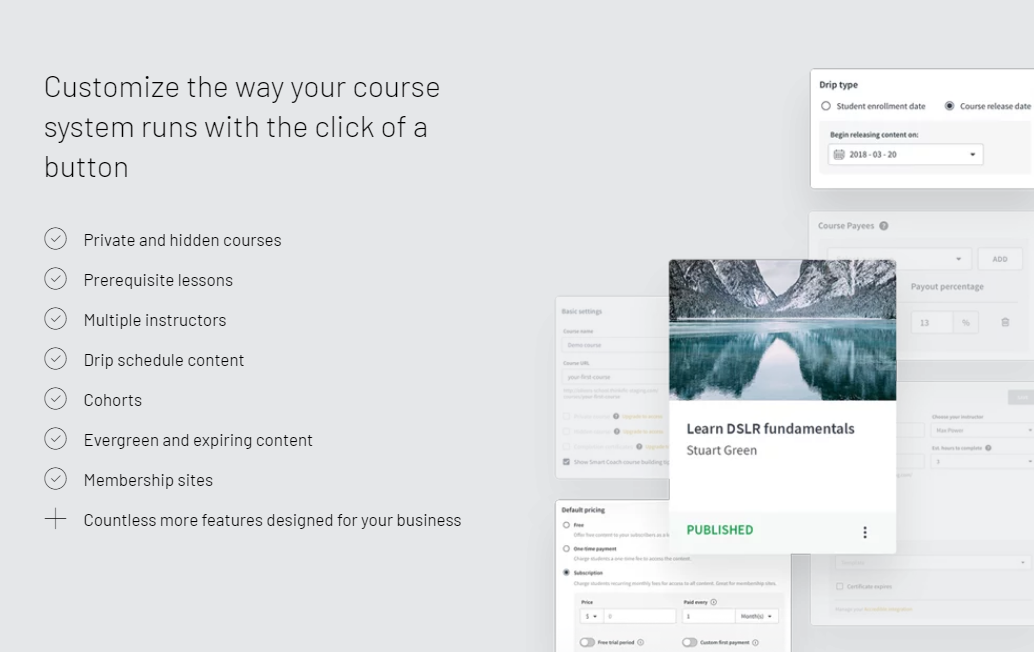 The Thinkific platform is easy to use, and most of all require no coding skills. One can literally get started on developing his/her website easily with the drag and drop feature.
Whether you want to upload content, videos, designs, or anything, you can do it easily with the features available.
Moreover, the site supports numerous multimedia formats such as surveys, discussions, downloads, and even type-form.
You can also integrate email marketing software like Mailchimp into the site and start sending emails to your potential customers.
Teachable Usability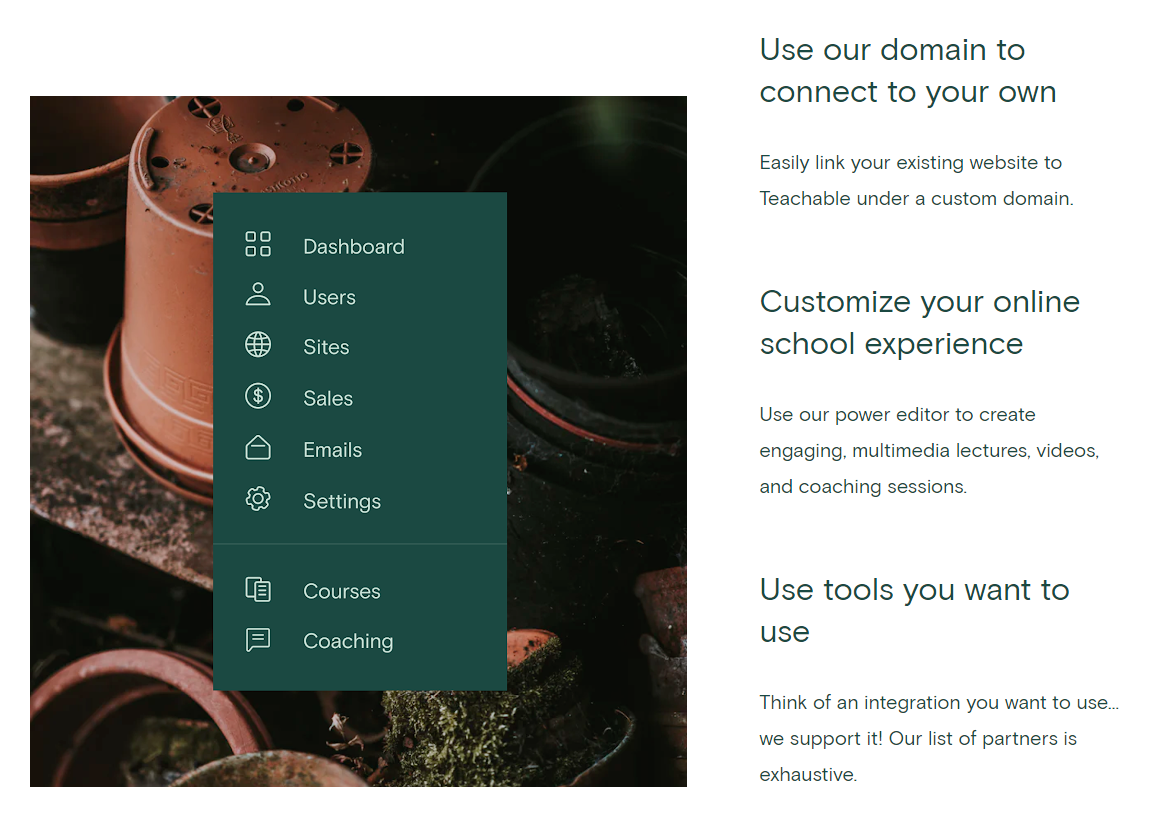 When it comes to providing features to users, Teachable leaves no stone unturned to ensure maximum user experience for your students.
The easy-to-use platform offers various features, such as enabling you to add videos, images, audio, text, and even PDF files from either your PC or the cloud.
You can leverage the drag and drop builder to create a highly customized and engaging eLearning site.
Let it be your site's responsiveness or the omnichannel experience available on desktop, mobile, or smartphone – Teachable provides you with every feature you need to ensure a seamless experience for your customers.
Moreover, you can tailor languages for foreign students, add the latest courses instantly and leverage the conversion-oriented templates to boost your conversions and sales.
We believe this one goes to Teachable purely because of all the designing and development features and an overall user experience that require minimum technical skills and expertise.
? Winner: Teachable
3. Intuitive Marketing Tools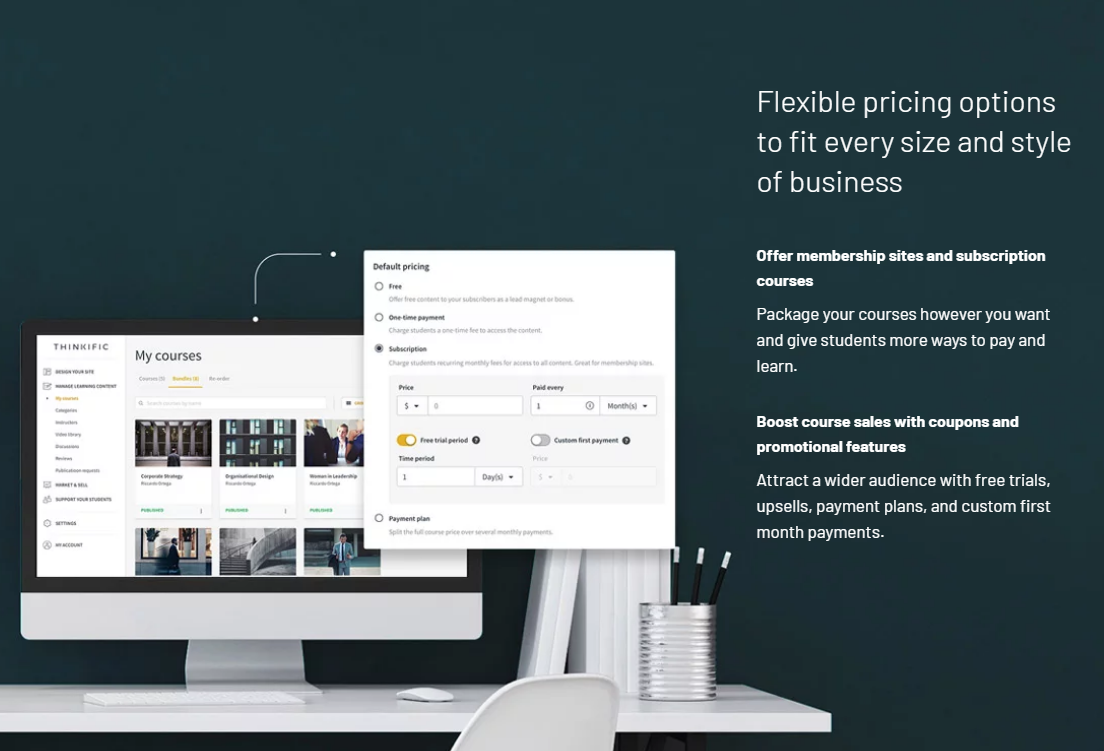 Marketing is essential today for every brand. Because there are literally countless brands competing with each other to gain the competitive edge – you need the most robust marketing tools to help you stand out.
Both the platforms, Thinkific and Teachable, have their own set of marketing strategies and tools that you can use to attract more students to your course.
However, one thing is common here between both Thinkific and Teachable. Like Udemy and Skillshare offer the facility of the pre-made market of students ready to pay to buy your course
Teachable and Thinkific do not offer such features. On these two platforms, you would have to market yourself.
But since both platforms have some marketing tools integrated to help you run a successful marketing campaign. These tools will help you attract more students to your website.
Let's see which one out of the two have a more robust marketing toolset:
Thinkific Marketing Tools
Thinkific's most prominent marketing feature is that it allows you to leverage affiliate marketing to sell your course online. You can pay the commission to affiliate marketing once he sells your course online.
You can integrate 1,000+ marketing tools to your site and use them to boost your marketing campaign's accuracy and efficiency.
Thinkific also lets you connect with email providers that help you run customized and specific email marketing campaigns aimed at the most qualified audience. However, Thinkific doesn't support ads tracking and analytics from Facebook, Google Ads, or remarketing campaigns.
Teachable Marketing Tools
Like Thinkific, Teachable also provides the users with an affiliate marketing feature that allows affiliate marketers to sell the course and receive the commission through built-in features.
You can create landing pages on Teachable. You can accept 130+ currencies for a single course and create promotional offers to attract your users. You can also integrate other marketing tools with Teachable to maximize your marketing efforts.
Moreover, through landing pages or emails, you can inform your users about the change of pricing plans. You can also provide them other updates such as one-time pay fees and get a 20% discount or get bundled courses.
You can also integrate conversion pixels to your site to boost your marketing effectiveness.
We have to give this one to Teachable only because there are literally no limits to the marketing opportunities you get while on this platform. From running highly customizable sites to tailoring marketing campaigns to sending emails – the platform is an effective marketing tool with advanced features.
? Winner: Teachable
4. Data Analytics.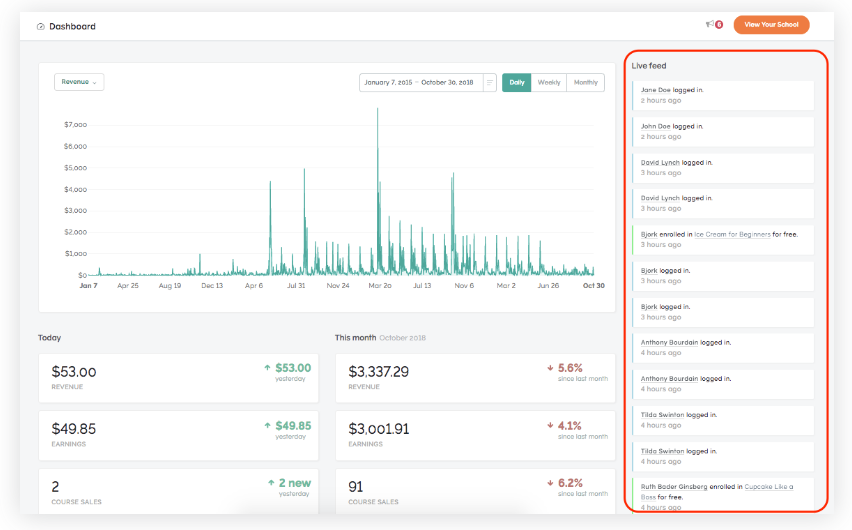 It is crucial to target and harness data to generate more effective marketing campaigns. However, to collect data, you need the help of analytics tools.
These tools will help you to analyze data and make more informed decisions while targeting and selecting a specific audience for your course.
The best thing is that Thinkific and Teachable both have their own set of data analytics tools that you can leverage to collect data. Here are the details.
Thinkific Analytics
Google Analytics, Facebook, Google Ads, and other marketing tools can be easily integrated into Thinkific. This integration will allow you to tap into the customer insights and discover important data about your audience.
Also, there are filters that allow you to check the status of the students. You can send emails to a highly specified clientele to ensure minimal effort and maximum efficiency.
Teachable Analytics
The comprehensive dashboard of Teachable speaks for its features and functionalities. You can literally do a lot with the tools available for you within Teachable.
You can track students' signups, stay up to date on the revenue, view course completion ratio, export data, and understand it thoroughly to help you with decision making and much more.
Moreover, once Teachable is integrated with Zapier, you will be able to send custom-tailored course-related events invitations.
Both the platforms, Thinkific and Teachable, have some amazing data analytics features. It was extremely difficult to point out the winner, but we did it anyway.
We believe that Teachable has the edge here with its reliable integrations and a robust marketing toolset.
? Winner: Teachable
5. Support
There are times when you need the help of the experts behind the websites that own the website. However, sometimes these issues can be serious and need to be fixed quickly to minimize customer loss.
So, both Teachable and Thinkific provide customer support to their users.
There are online tutorials, a support ticket feature, a massive community that gives you the solution to your problems, and all the major or reoccurring problems on both platforms have been resolved earlier by pros, so you'll have no problem in finding and solving them.
However, Teachable stands out with its live chat functionality. This feature is only for professional plan users.
Meanwhile, Thinkific lets you fill out a form, and the customer representative would get in touch with you soon. There's no option for getting in touch with a customer support agent quickly in real-time.
But Thinkific does excel in providing the users with more details and relevant answers to their problems. And the response rate doubles on weekends; hence, you don't have to wait a month to get an answer.
So, we believe it's a draw here. With more proactive and real-time support, Teachable stands out, and with more detailed and relevant solutions, Thinkific stands out.
Come to think of it, both the platforms have their own pros and cons; hence, we consider Thinkific as a winner
? Winner: Teachable
6. Customization
Ideating and creating a customer experience set to break the conventional experience of delivering clutter is certainly not an easy job.
You need to have all the essential editing, changing, and customization tools at your leisure to create something highly innovative and interactive.
Both Thinkific and Teachable offer customization features to you; however, let's explore the features and streamline the best platform concerning customization.
Teachable Customization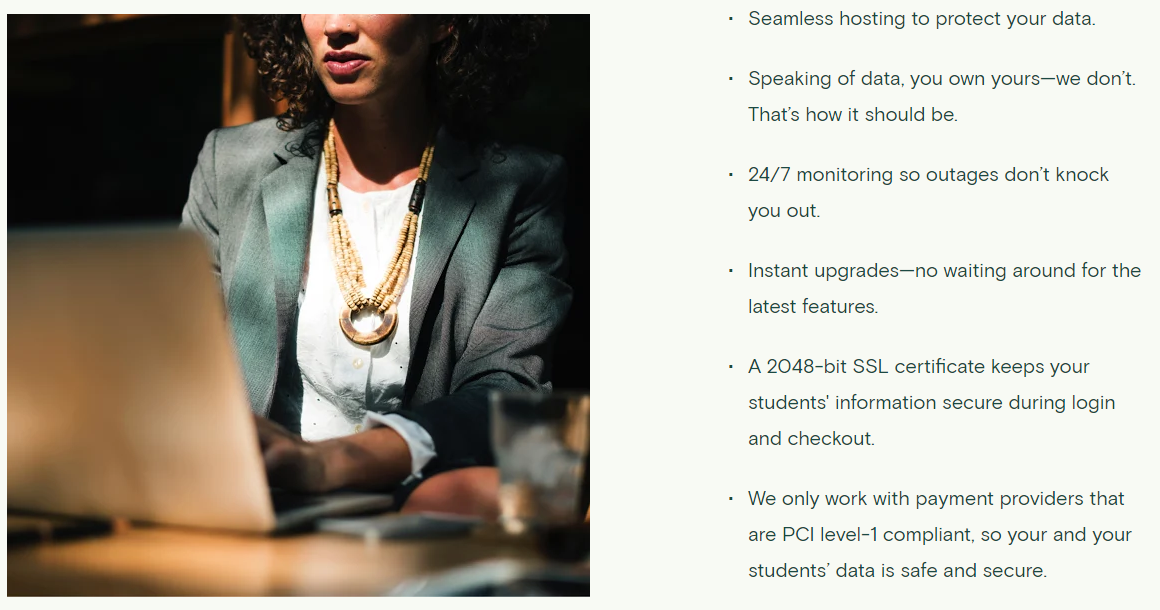 Teachable has several innovative features that you can use to customize your customer experience to differentiate from your competitors.
You can allow the learners to request a course or a lesson in advance. You can get the services of multiple course instructors to target a wider audience.
Also, you can boost your revenue by providing services to several students at the same time.
Then you have the drip schedule content feature that lets you distribute your content quickly.
Moreover, you can integrate memberships of other sites to attract more students and boost sales. You also have the feature of categorizing your content into the private and hidden course.
These will be the ones that are available to the student once he/she pays for it.
Teachable also gives you multiple themes that you can use to modify your course's representation online.
Also, by adding a course completion certificate, you will be providing your audience with a very engaging reason why they need to select your course.
Thinkific Customization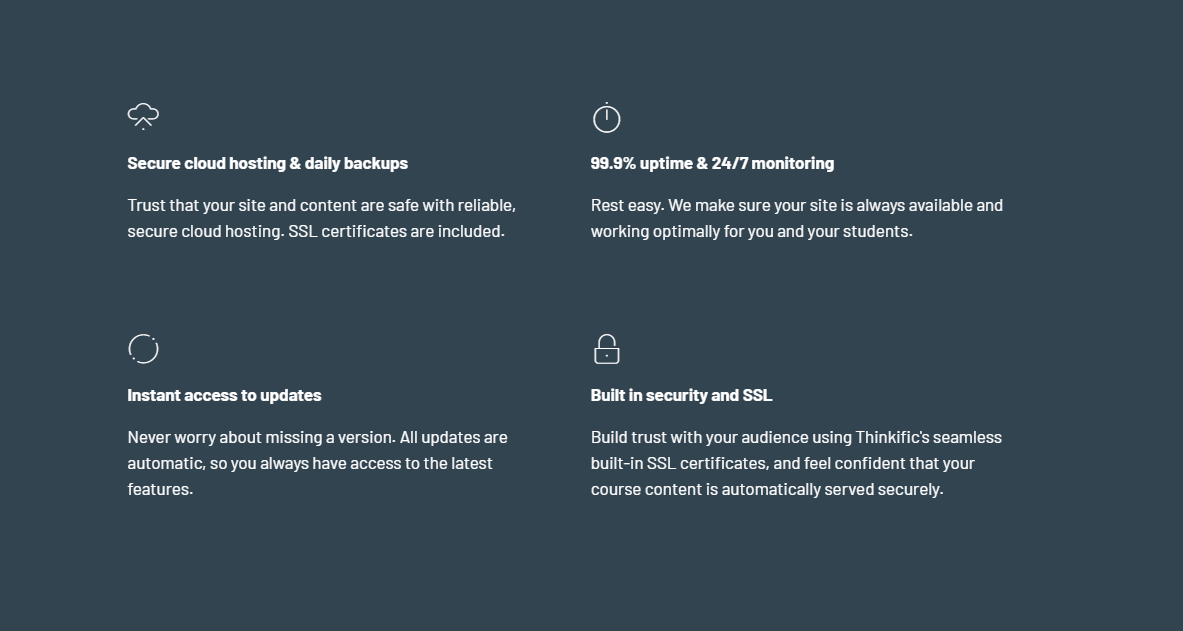 Thinkific is much more advanced than Teachable when it comes to customizations. The platform lets you create customized pages with certainly no coding or need for configuration.
You get to set up your presence with just your email and the name of the school. Also, to engage your audience, you can easily design animations and quizzes.
As a brand, you get to customize your website's colors, theme, layout, and much more. You can literally create a website that represents your brand with the exact look and feel.
You can also engage your users and get more traffic to your site via sending emails or using the comment feature to build a community around your eLearning site.
Moreover, thousands of instructors are readily available for you that you can use to provide high-quality education.
Also, who can forget the drag and drop functionality that lets you add third-party integrations and more customization features quickly and smoothly?
With so many features, Thinkific is the winner here. Thinkific outperforms Teachable in the customization realm due to many reasons.
The page customization, excellent feature set, ability to handle multitasking, and much more make Thinkific way more advanced than Teachable.
? Winner: Thinkific
Conclusion
So, here's a breakdown of both platforms. Note that somewhere Teachable performed amazingly well, and in some instances, Thinkific outpaced Teachable.
Because both platforms are identical with just a few differences, we believe that your users would determine which one is the best for you.
There are some things that Teachable doesn't have, but Thinkific does, and the same goes the other way around. However, our suggestion for you would be to select the platform according to your requirement.
Overall Winner: Teachable
Moreover, we think both platforms are great. They can create an effective eLearning site and give the fact that the eLearning industry is on a high rise. We suggest you better start developing your site as soon as possible.
In case you want to create a website by yourself from the start I recommend: How to start a WordPress Website

Ludjon, who co-founded Codeless, possesses a deep passion for technology and the web. With over a decade of experience in constructing websites and developing widely-used WordPress themes, Ludjon has established himself as an accomplished expert in the field.