You might come across several platforms when searching for potential ones that cater to your online course platform creation needs. Two of such popular platforms to name are Podia and Teachable. Though they might serve a similar purpose, several sets of features make each one stand out.
In this article, I will discuss multiple features of each platform and compare them to understand better which platform could be the best fit for your business.
Some points to get covered in this article include course creation capabilities, content delivery methods, payment options, interactive learning, membership sites, digital downloads, and website development tools of both platforms.
A significant difference between platforms is that Podia offers two weeks of free trial for utmost customer satisfaction, whereas Teachable has no such feature.
Podia Vs. Teachable: In-Depth Comparison
Let's have a look at what is meant by Podia and Teachable.
What is Podia?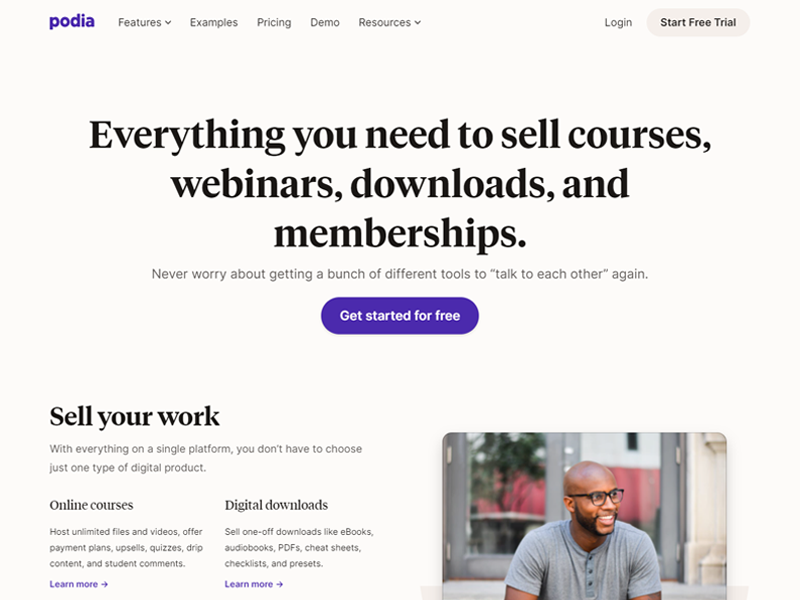 Podia is an online platform that lets you create your online shop to sell your digitized items and it is also one of the best membership site platforms. Moreover, it also develops, markets, and deals with online courses.
One of the most user friendly platform to sell online courses
A few other features that Podia offers to enable you to create an all in one online store include:
Checkout services
Ease of updating the subscribers
Blogs, webinars
Podia is the ultimate choice for the online course creators and sellers and for that businessperson aiming for a vast audience for their purposes.
What is Teachable?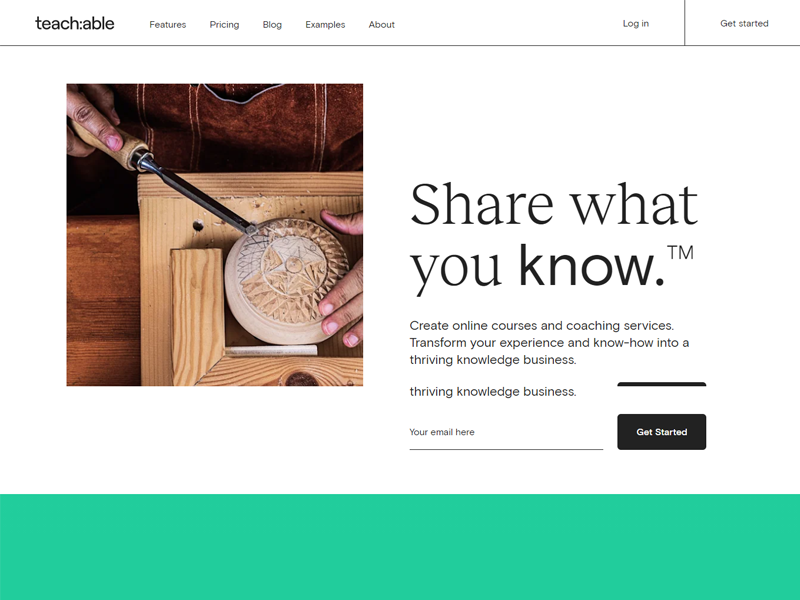 Teachable advances in providing multiple course creation capabilities; with this platform, you don't have to be someone with professional tech knowledge to cater a business plan setup. It is the ultimate choice for beginners aiming for a platform that lets them create and sell courses without the hassle of coding and other programming procedures.
Create and sell courses with best business platform
It allows you to develop your online course selling website, create highly customized courses, access student reporting, and flexible pricing options. Moreover, it has tools to send emails to your students to develop better relations.
To be precise, Teachable is the platform for ordinary instructors who want to sell their skills and knowledge to earn some money.
Let's compare some of the essential features of both platforms.
Read More: Teachable Review – Online Course Creation Platform (Honest Review)
1. Course Creation Capabilities
Podia
Podia first wants you to know your target audience before starting anything else. Afterward, it allows you to plan your course content. You can upload this content in multiple formats like PDFs, videos, and audio; you can also divide your lesson into sub lessons for your students' ease.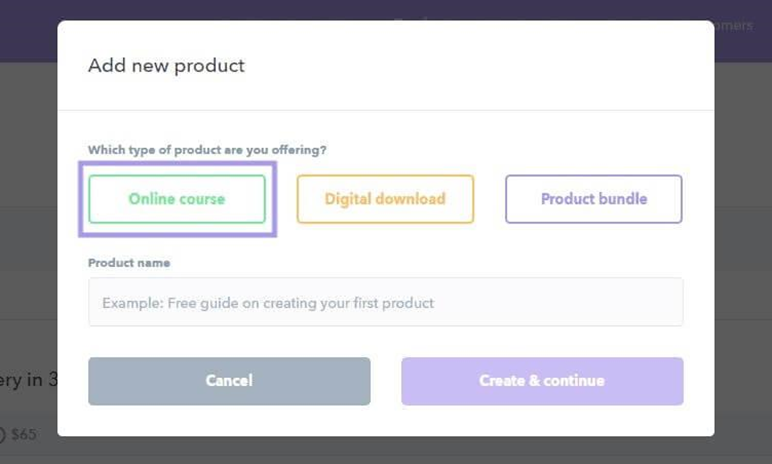 Teachable
Teachable allows you to create your personalized school website to upload content relevant to many courses you want to sell. You will start by developing a course website, customize it to match your brand, and give it a proper name. Afterward, you will be asked to add further details like the author, course category, etc.
We have a few features that will help enhance the course creation method quality and time-wise.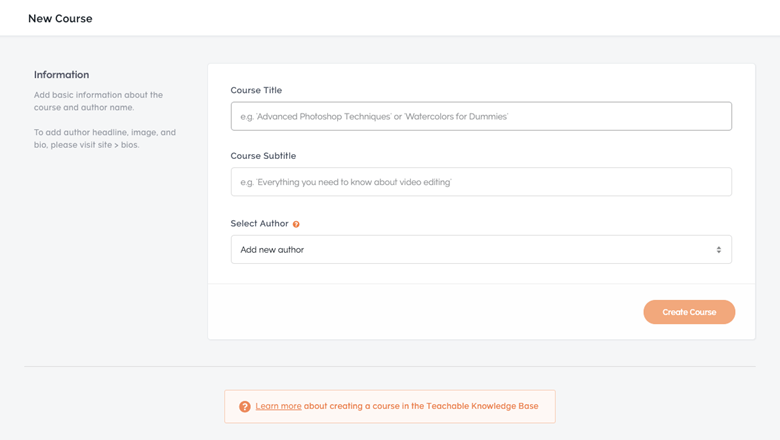 2. Course Builder
Podia
Podia allows you to develop a fashionable shop-front; for this purpose, it has a Podia Editor tool. Moreover, you can add several sections to your digital product selling site. These sections can include:
Product related details
Relevant images
Relevant videos
Testimonials guaranteeing your credibility
Frequently Asked Questions about your products and site
Moreover, these sections are highly customizable; you can change their background colors, text font, size, header style to create an eye-pleasing and attractive online store.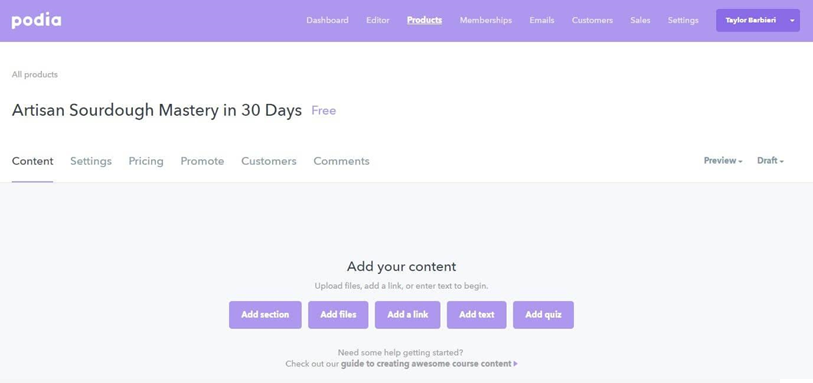 Teachable
Teachable helps you avoid repetition in your course content by uploading text with images; it is the strategy to engage the students more into what you are offering.
For instance, if you are teaching something related to computer procedures, you can screen record to show step by step guide. Moreover, you can record videos lecturing about your topics for theoretical lessons.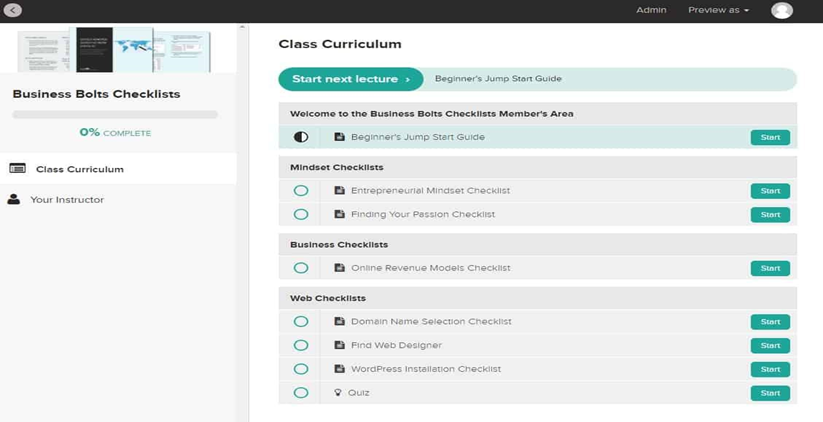 Teachable also allows creating search engine optimized landing, course, and thank you pages; this feature introduces your course to a wide variety of audiences.
Winner: Podia
Read More: Kajabi Vs. Teachable: Pricing & Features Comparison (2023)
3. Content Delivery
Podia
Podia has a course player that caters to your online store's content visibility. Moreover, for the ease of your customers, Podia also inculcates a table of contents section. This feature will allow them to explore your site with utmost ease.
With Podia, you can get student feedback by adding a comments section on your store. This option will let you know about your shortcomings and the scope of improvement. It also has convenient buttons that make jumping from one section to another for your student.
Teachable
Teachable caters to an elementary navigation pane, making it the most suitable choice for newbies. Your uploaded lessons will appear on the left side of the site section-wise, and students can access the following section after completing the previous one. A button processes this feature.
It also allows students to play videos by their choice, like choosing to autoplay the videos, decide their playing speed, and much more. It also provides an easy progress tracking method present on the left side. This feature will help students get a deeper insight into their course progress.
Winner: Teachable
4. Quizzes and Certificates
Podia
You can add quizzes relevant to your digital product when using Podia. This feature aims to enhance interactive learning methods. Students can retain more of what they learned and can finally check their progress on what they have gained from your lesson.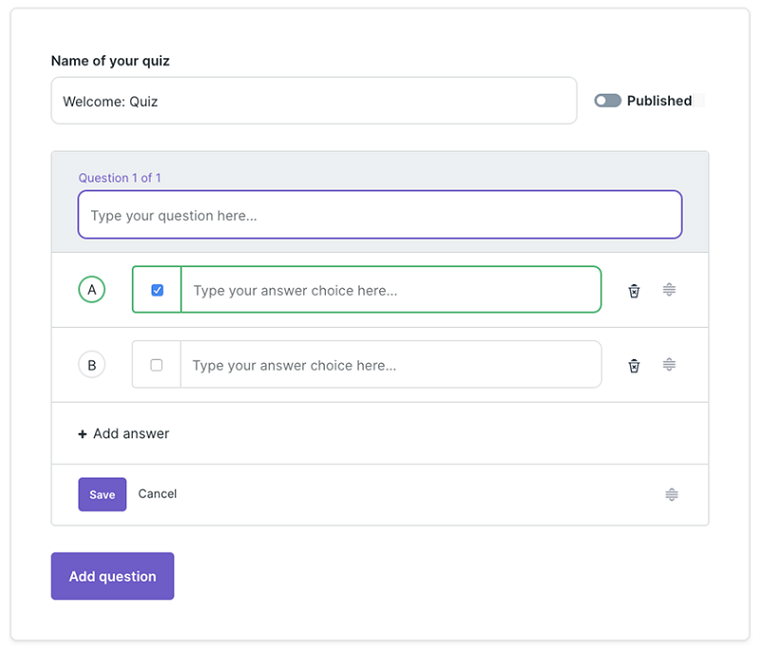 The quiz format includes multiple-choice questions with an immediate calculated result; this feature is essential in motivating students to learn your course with more zeal.
Moreover, you can award them a course completion certificate when they complete a course. Unfortunately, Podia has no inbuilt tool for this purpose; hence you need to perform it through third-party integrations tools like Google docs or Zapier, an integration platform.
Teachable
Teachable allows you to include graded exams; you can also set a certain marks limit to get passed. Moreover, you can also add the number of limitations students have for attempting your uploaded quiz.
Your student will have to pass the quiz to unlock the following course content section; it makes more effort while attempting the exam. For a student to retake an examination, you will have to re-setting it.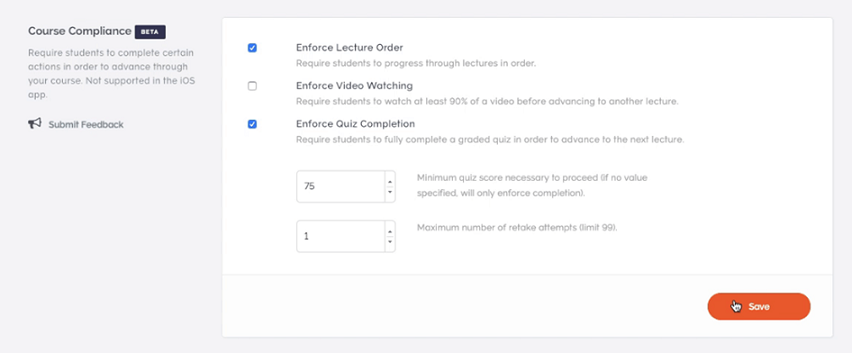 Teachable has tools for creating course completion certificates; you can even customize the style of these certificates. Availability of inbuilt email templates serves this purpose conveniently.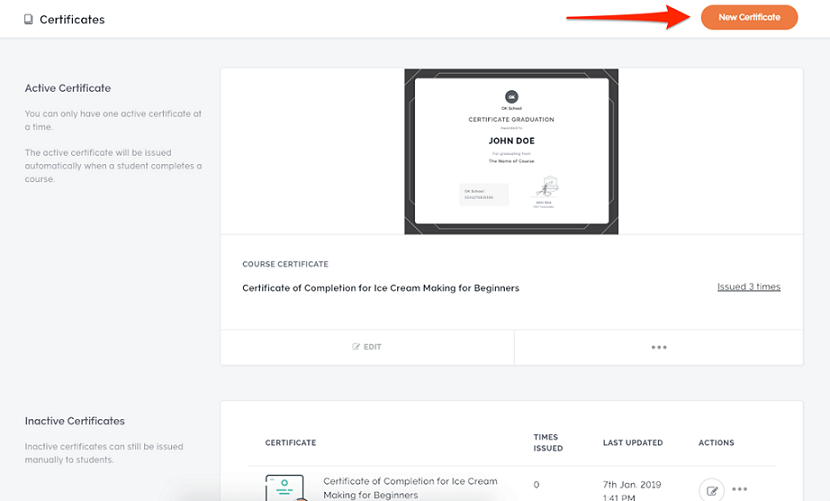 Winner: Draw
5. Drip Content
Podia
Podia features a possibility of uploading drip content where you don't release all the course content in one go. In this option, you can choose to unlock your course content sections at a specific time interval; it could be monthly or weekly. Moreover, it can also be set as the opening of the following section after an individual completes the previous one. This exciting feature is available with both pricing plans.
Teachable
Teachable has both features; release complete course content in one go or allow for drip content. Like Podia, you could set up the drip content to get unlocked after a specific period or depending on the enrolling time of an individual student.
An example of the latter is; a student has enrolled in your course on Monday, availability of new content would be notified to him after two days on Wednesday.
Read More: Thinkific vs Teachable: Easiest Course Creation Site (2023)
Verdict
The bottom line about the course creation capabilities of both platforms is that they quite offer similar features in this regard. However, Teachable stays ahead for search engine optimized course pages and an inbuilt completion certificate maker.
6. Payment Methods and Checkout Procedure
Podia
Podia gives you an option to integrate your course payment page with either Stripe or PayPal. It lacks its setup for payment processing. But these two integrations are handy as you can receive payments in any currency from throughout the world.
Moreover, Podia lets you place an embedded button or link on any course page for checkouts. These options will direct your customers to billing processing very conveniently.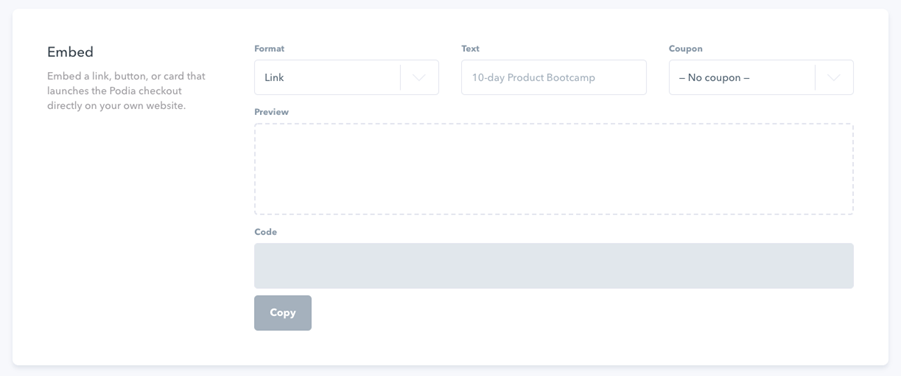 Teachable
Teachable also lacks an inbuilt payment processing tool; hence, you must integrate with either PayPal, Apple Pay, or Google Pay.
Moreover, its integration with Stripe Express allows payments through credit, debit, or any such international card. It is the most convenient way for students who prefer paying through cards.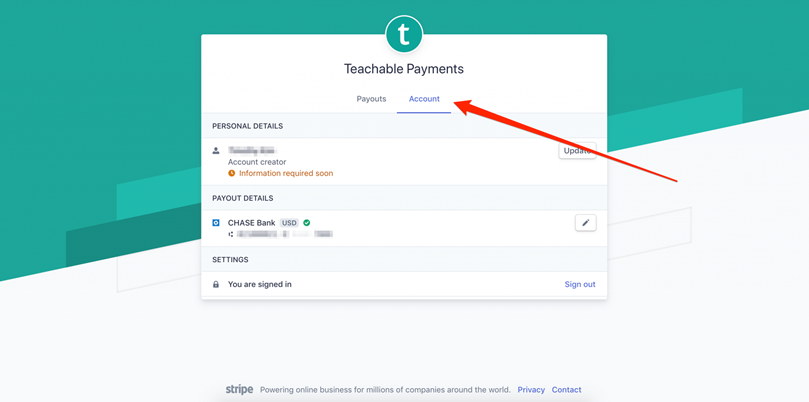 As far as checkout services are concerned, Teachable has implemented a straightforward approach. All the checkout procedures are assembled on a single page, saving your students' time by avoiding account creation beforehand.
It means your customers can find order summary, account, and payment information in a single place.
Verdict
The bottom line for comparing payment processing and checkout methods for both platforms is that Teachable again manages to take the lead over Podia. Teachable have more payment methods, and all the checkout procedures are aligned on a single page giving it much deserved priority over Podia.
Winner: Teachable
7. Website Builder
Podia
Podia has an inbuilt website creator that will let you make all the pages from landing, reviews, and contact to homepages. It also allows creating a single-click sales funnel that will redirect your customers directly to the payment page; this is essential in increasing sales.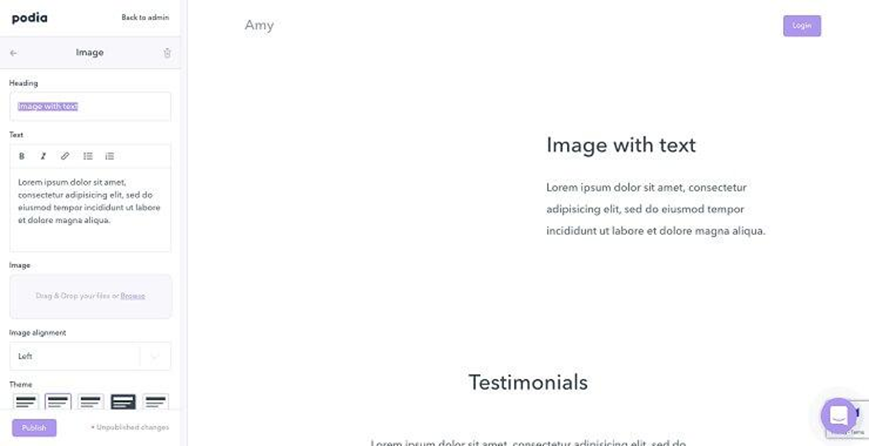 Moreover, a drag and drop editor by Podia makes customization of templates and placement of items in your online store very easy.
Teachable
Teachable has a course pro page builder combined with an advanced editor. The editor features a drag and drops aspect that makes customization extremely simple. Moreover, you can store a collection of all the images you have ever used for your course page in the Teachable library.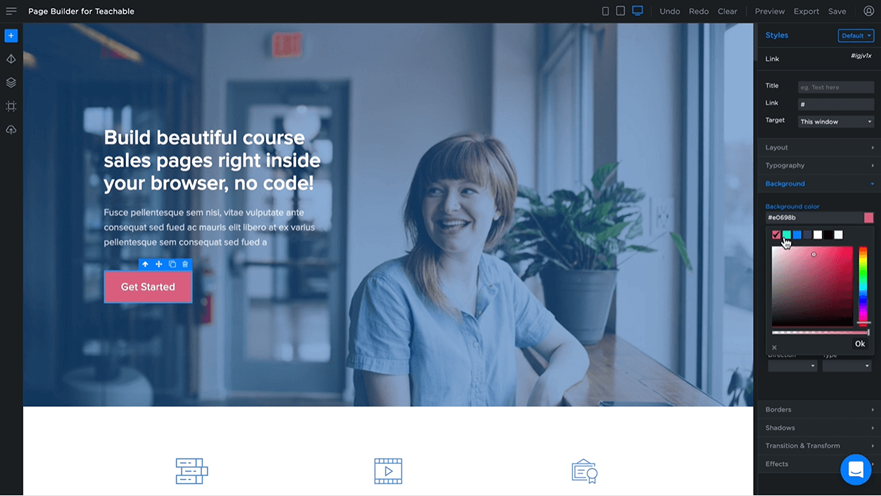 Teachable also has prebuilt templates for landing pages, affiliate marketing, third-party code, free migration with around one hundred and twenty blocks. You can customize it by changing colors, titles, styles, and effects to match your brand efficiently. Teachable's page builder also provides the feature of adding transitions and shadows to your school site, making it attractive.
Verdict
To conclude about the course builder of both platforms, I would say Teachable again have an advantage over Podia for its transitions and shadows inserting feature.
Winner: Teachable
8. Membership Sites
Podia
Podia, unlike other platforms, lead in the creation of membership sites that can accommodate unlimited students and courses. In contrast, most other platforms limit the number of students enrolled.
This feature is essential for;
A great source of revenue
Lead generation
Immediate feedback from students
Interactive relations with subscribers
Increased engagement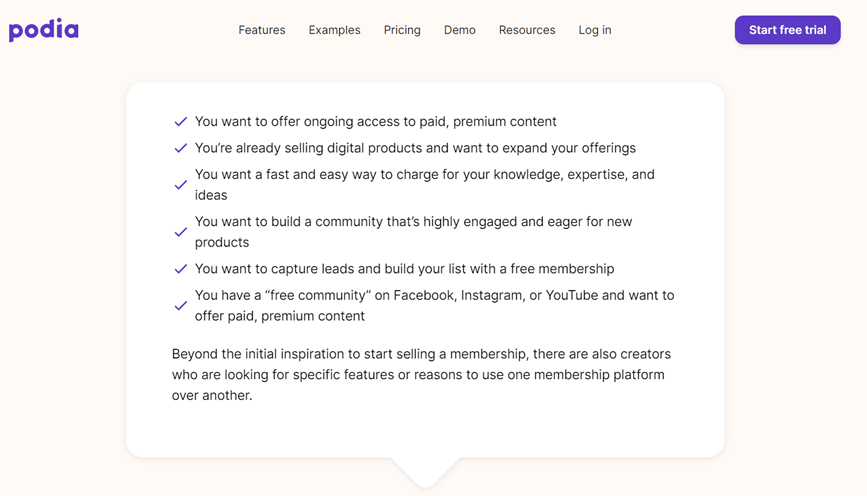 Teachable
Teachable allows you to offer special courses to subscribers on your membership sites like those teaching tech skills like Facebook Ads or Canva.
It also allows to set up different membership levels, which means the students with a high teachable pricing shaker plan will get access to more exclusive courses.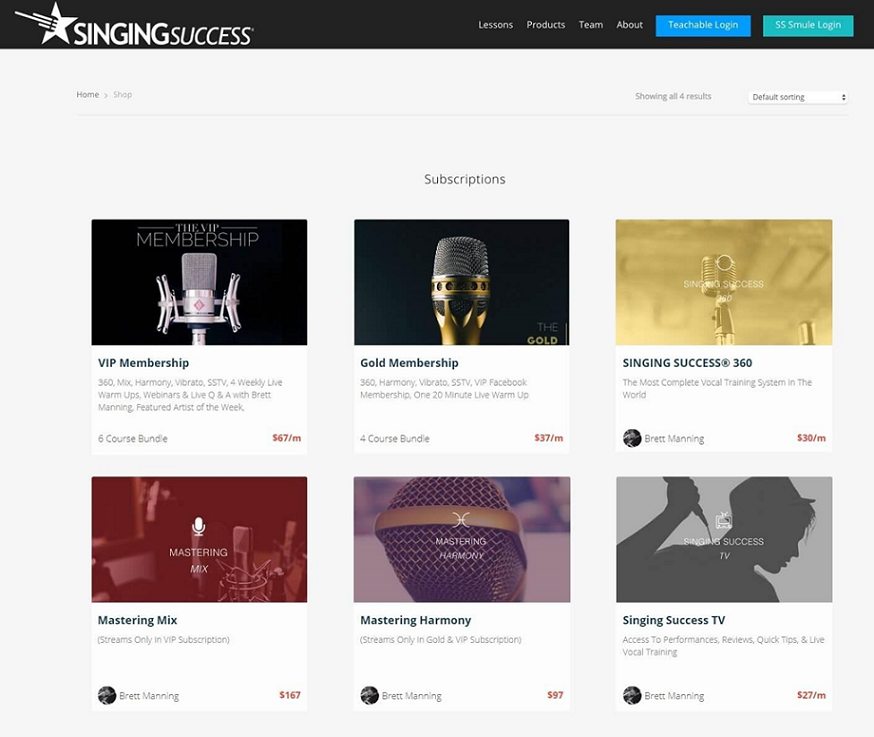 Verdict
The bottom line is that though both platforms have the feature of membership site development, Podia stays a bit ahead of Teachable for its ability to accommodate unlimited enrollments.
Winner: Podia
9. Integrations
Podia
Podia allows integration with a wide variety of different third-party apps and tools.
ConvertKit aids in tracking sales of your course through emails
You can access detailed analytics by integrating with HotJar
You can utilize Pinterest for the course advertisement
Zapier can let you create an integration with around 1000 similar apps and tools that will serve different purposes, from creation, of course, to marketing features and selling them.
These integrations let you avail of all those features that Podia lacks, or in the case of you using such platform previously and would like to continue using it.
Teachable
Teachable has a relatively more minor number of integrated apps and tools.
MailChimp can be used as an effective email marketing tool
Google Analytics is essential for keeping track of sales and other databases
Vizia can add polls and call to action for increased engagement
Moreover, it collaborates with Zapier to integrate more similar third-party tools.
Verdict
To conclude about integrations of both the platforms, Podia should be prioritized for an increased number of integrated tools.
Winner: Podia
10. Analytical Reporting
Podia
Podia uses third-party apps and tools to present analytical data to its users. It makes use of platforms like Google Analytics and Facebook Pixels.
These platforms help in;
Knowing the numbers of visitors
Purchases made
Knowing the number of exits
Lead generation
Teachable
Teachable offers large-scale tracking reports of both students and courses. The reports include;
Competition rate
Engagement
Replays on videos of course content
Quiz result statistics
Teachable also displays a leaderboard of your students that includes their progress and enrolled date.
Verdict
To conclude, Teachable incurs inbuilt analytical tools to provide a primary database for reporting and tracking purposes. However, Podia lack similar integrations for presenting tracking reports.
Winner: Teachable
11. Customer Care Services and Community Building
Podia
Podia caters to customer support in three different and highly responsive ways.
Live chat support where experts at the other end will quickly reply to your queries within specific hours.
You can also send your problems directly on their given email
They also have a help center where almost 150 articles are present with proper answers to frequently asked questions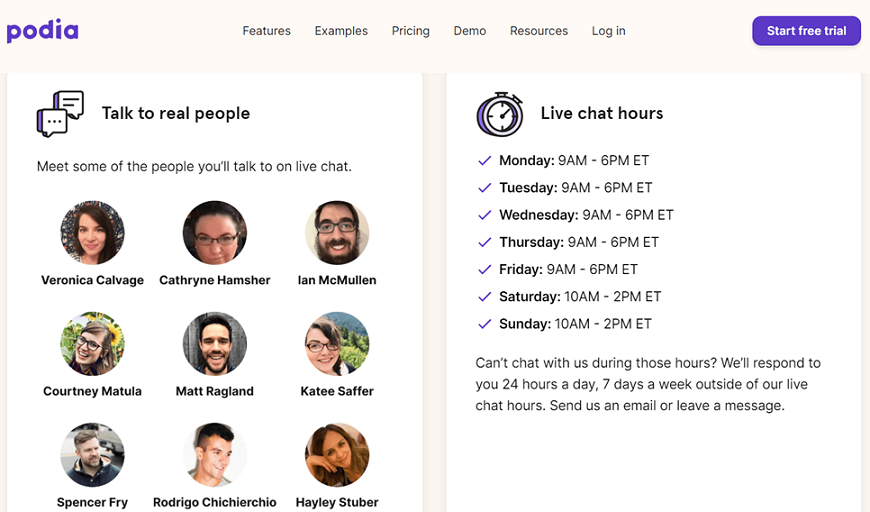 Teachable
In contrast to Podia, Teachable offers customer care support in almost six ways.
They have a knowledge base filled with manuals and relevant guidelines
They also organize webinars on multiple topics on how to get started
TeachableU is an attached platform that offers training programs for school site developers
Teachable also fosters a community where you can interact with other users to solve your queries
They also have a help center where frequent questions are answered. You can also generate tickets in this section
Their live chat option is available from 8 am to 8 pm, seven days a week. You can also opt to email them directly.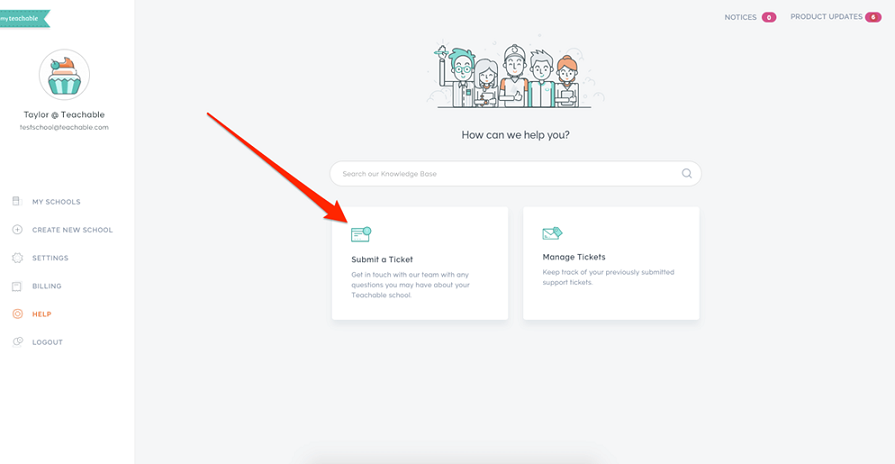 Verdict
The verdict on the winner platform regarding customer support is Teachable with its six-tiered services with multiple channels. In contrast, Podia offers a three-tiered customer support affiliate program but could not match Teachable in providing diversity.
Winner: Teachable
12. Ease of Use
Podia
With Podia, you can create, market, and sell your digital products in a streamlined way. Podia has a simple and user interface for the course-building process; beginners can easily use prebuilt templates and easy-to-operate tools. Moreover, Podia avoids coding complications and other programming processes that might repel newbies.
Teachable
As the name suggests, Teachable is the perfect easy-to-manage platform for running an online teaching business. You can add many courses relevant to your skills, organize a classroom, and add recorded lectures with much ease of use. Podia also avoids complicated features to simplify things for a fresher.
Verdict
Both the platforms incur ease of use in their course and website building processes. However, if you want to build something related to an online school website, Teachable might perfectly serve your purpose.
Winner: Teachable
13. Pricing Plans
Podia
Podia offers a 14-day trial with two paid plans that need you to make payments monthly. They include:
Mover plan: This basic plan will cost you 39$ if you opt for a monthly schedule. However, if you want to save around 78$, you should go for the annual paying option.
Shaker plan: The cost of this high-tier plan is around 79$ per month. However, with the annual category, you can save almost 158$.
Teachable
Teachable has around three pricing plans for its users. All are monthly packages and include the capacity to accommodate an unlimited number of courses. Like Podia, you can save a few pennies by opting for annual payment.
Teachable payment plans are:
Basic plan: This is the lowest category of the Teachable plan and will cost you around 39$ per month. However, if you choose to pay annually, the same plan will cost you about 29$ per month.
Pro: Pro plan charges 119$ per month to its users. This figure means the per month cost of this plan would close around 99$. Though with annual payment you can get a cut of 20$ per month.
Professional plan : This Teachable plan is of the highest category and needs you to pay 299$ per month. However, with discounted price on annual payment, the monthly charges are close to around $249.
Verdict
Both platforms offer pricing plans according to their standards. However, Teachable's ability to accommodate an unlimited number of courses in each site takes the lead. Podia wins as a cheaper solution
Winner: Podia
14. Podia Vs. Teachable: Pros and Cons
Podia Pros
Multiple customization options to create a branded store for selling digital products
Easy to use elements
Customizable creation of sales, landing, and course pages. Also, you can add product descriptions, email forms, introductory videos, shopping carts, and FAQs.
Unlimited enrollments on membership sites
Podia Cons
It has limited designs, creating a problem for branded companies
Limited integrations with third-party apps and tools
Teachable Pros
Variety of pricing plans
Free plan
Excellent customer support
Highly affordable
Teachable Cons
Transaction fees to be paid on every sale
Tedious sales page designs
Conclusion
You must have gone through every critical feature of both platforms. And how one takes the lead over another. With all this information at your reach, you can finally decide which platform will work best to suit your online course creation and selling needs.
Both the platforms, Podia and Teachable, works for launching and selling online courses but differ in particular features to prove their individuality.
I have created a list of who should go for Podia and opt for Teachable, depending on their wants and needs.
Choose Podia if:
You are not just looking to sell online courses but also want to make sales of digitized products and similar other services
You want a suitable power editor that will design your online store page according to your taste and brand. Podia Editor provides all the required features for creating a personalized storefront
You want to incur unlimited courses and students on your membership site
You want a platform with integrations with a wide variety of different third-party apps and tools
Choose Teachable if:
You want to create a school-based website to sell your course online
You want to award your students with a course completion certificate upon them finishing your course
You want to create search engine optimized course pages
You want tracking and analytical reports of both students and your course
You want a multiple-tiered customer care service provider. Teachable offers this feature through their knowledge base, workshops, and a community-oriented platform.

Ludjon, who co-founded Codeless, possesses a deep passion for technology and the web. With over a decade of experience in constructing websites and developing widely-used WordPress themes, Ludjon has established himself as an accomplished expert in the field.