There are several platforms available onboard for online course selling. Two of such popular sites are Thinkific and Kajabi.
But a question usually arises when users get confused about which to choose. However, there are certain essential factors that one may need to address before finally opting for an online course selling platform. They are:
Website development tools
Essential features of the sales page
Personal experience of students
The overall look of the dashboard for students
Pricing plans
Payment methods
However, the ultimate goal of every online course platform is to provide a smooth and powerful user experience (UX) for both the instructor or author and the student who gets enrolled in a particular course.
Thinkific and Kajabi, both platforms, have excellently achieved this goal. However, they differ in pricing plans, membership deals, and much more that we will discuss soon.
In this article, I will be covering every important aspect of two of the best online course platforms, Thinkific and Kajabi, with an overall comparison point of view.
Kajabi Vs Thinkific: An Overview
Let's take an overview of Kajabi and Thinkific features.
Thinkific Overview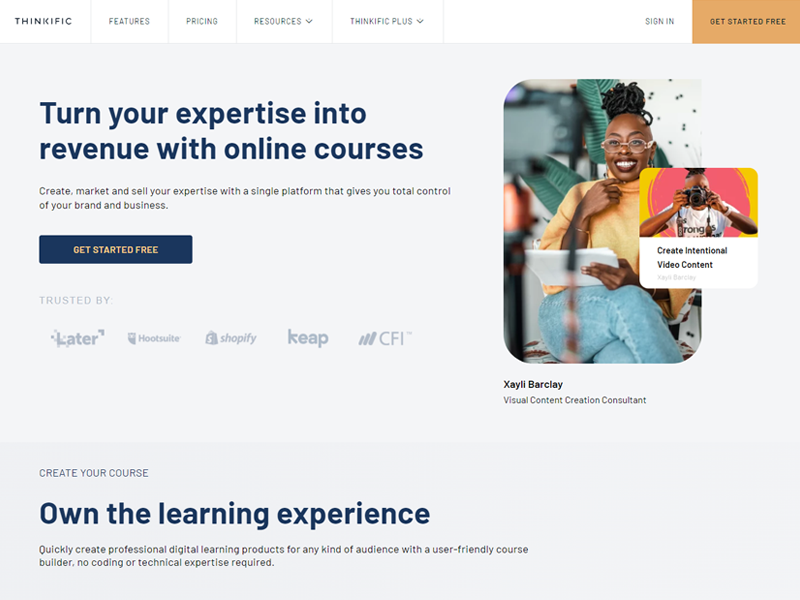 Thinkific is a cloud-based online course platform. It allows one to create, manage and sell the course online with ease of use.
Thinkific one of the top online course creation platforms
It has all the crucial features required for successfully running an online course business. These include website development, sales page, drip courses, and course outlines. It is the best platform to showcase your knowledge to earn money.
For a more in-depth review please read our article: Thinkific Review.
Main Features Of Thinkific
An easy-to-manage drag and drop builder for uploading course content in video format, developing quizzes, and conveniently organizing your lessons.
It also enables you to set your prices and scheduled lectures. These options are essential for enhancing customer interest.
You can even customize your course accordingly.
Thinkific supports multimedia for course content.
You can develop a completely customized website with in-built tools.
There are creative marketing tools for better sales features of your course.
Flexible payment options are another advantage for both author and student.
Automated emails, never-ending course replay option, and multilingual support make things conveniently easier.
There are options for detailed segmentation and data exports.
Thinkific also offers free Wistia video hosting opportunities.
It is a cloud-based platform, secure cloud hosting, and available daily backups.
Kajabi Overview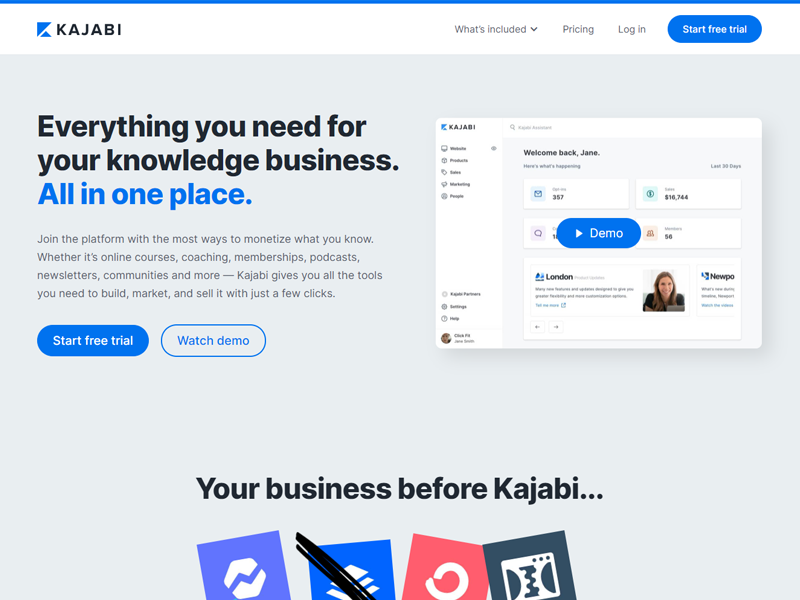 Kajabi is an all-in-one online course creation platform as well. It allows you to create your content, market it, and sell it with perfect options. It also offers membership sites and digital coaching options.
Kajabi is a great platform for creating online courses
Although it's a bit more costly than Thinkific, stay utterly accurate to the prices by providing the best user experience.
Kajabi has inbuilt templates that are already fully designed. This feature has made course creation and uploading an easy task. A single dashboard will all essential marketing features, payments, course builder, and much more.
Main Features Of Kajabi
Kajabi has the best-inbuilt project generator to perform relevant tasks quickly.
It supports prebuilt templates that you can use with a single click.
You can set your prices according to appropriate delivery and packaging options.
Kajabi is also connected with PayPal and Stripe to make the whole payment process more accessible.
It also gives a detailed insight into real-time business-related data. It will help you in increasing your sales positively.
Kajabi also features customizable emails to be sent to your students.
With Kajabi, you can even keep complete track of your leads.
It offers free Wistia video hosting as well.
There are multiple themes available that you can use to develop a completely integrated sales/landing page.
To conclude, Kajabi is a one-stop shop for online course builders and sellers with its outstanding features. It even allows you to host live webinars and develop customized blogs and membership deals.
Thinkific Vs. Kajabi: Pros And Cons
Let's compare the pros and cons of using both the platforms of Thinkific and Kajabi.
Thinkific Pros and Cons
Pros:
It offers a 30 day trial for customer satisfaction.
Thinkific supports user-friendly pricing plans.
It also features a bundle called freemium.
Thinkific had several subscription options for student ease.
Thinkific also offers instructors an opportunity to arrange live sessions.
Thinkific has collaborated with Zapier for creating third-party integrations.
It offers multiple customizing opt-in at all steps.
It also allows one to create affiliation to reward loyal users.
With Thinkific, you can easily add content in multiple formats.
It provides easy to understand guide and user-friendly training tools.
Students are granted course certificates without using any third-party app or tool.
You can even sell your online course through the Shopify store with Thinkific.
Cons:
To enjoy the premium features, you will have to pay their high-cost plans.
There is no option for live chat support with students.
The marketing strategies implemented by Thinkific are limited.
It cuts some percentage from your sales amount as a transaction fee.
There is no Thinkific mobile application available.
They lack an important customer support feature, i.e., provide no 24/7 email support.
If you have a basic or below plan, you might be charged a high training session fee.
If you aim to form an autoresponder campaign, you must first develop a integration.
Kajabi Pros & Cons
Pros:
It provides 14 day free trials to new customers.
Unlike Thinkific, they charge no transactional fee.
They have proper integration with Zapier.
They provide unlimited video hosting options.
They have modernized email marketing and automation tools.
They cater to the best-inbuilt tools for course content creation and selling.
It lets you develop membership deals, students can choose to pay weekly/monthly/annually.
They have excellent customer care services that are open 24/7.
Kajabi has a huge variety of customizing options.
This platform comes with pre-built templates to make your work quick and easy.
They also have android and iOS apps for a more smooth user experience.
They also offer rewards to their customers upon reaching a set goal of earning.
Cons:
It is relatively costly.
They have no freemium plan.
There is no option to add course content in multiple formats.
If you are a Shopify seller, you might need to integrate tools from a third-party source.
1. Ease Of Use
The fact that makes any online platform a hit is its smooth and easy-to-use interface.
The target customers are beginners and newbies for the most time; hence they prefer a straightforward approach. All other features will not matter if a platform is too complicated to use.
Thinkific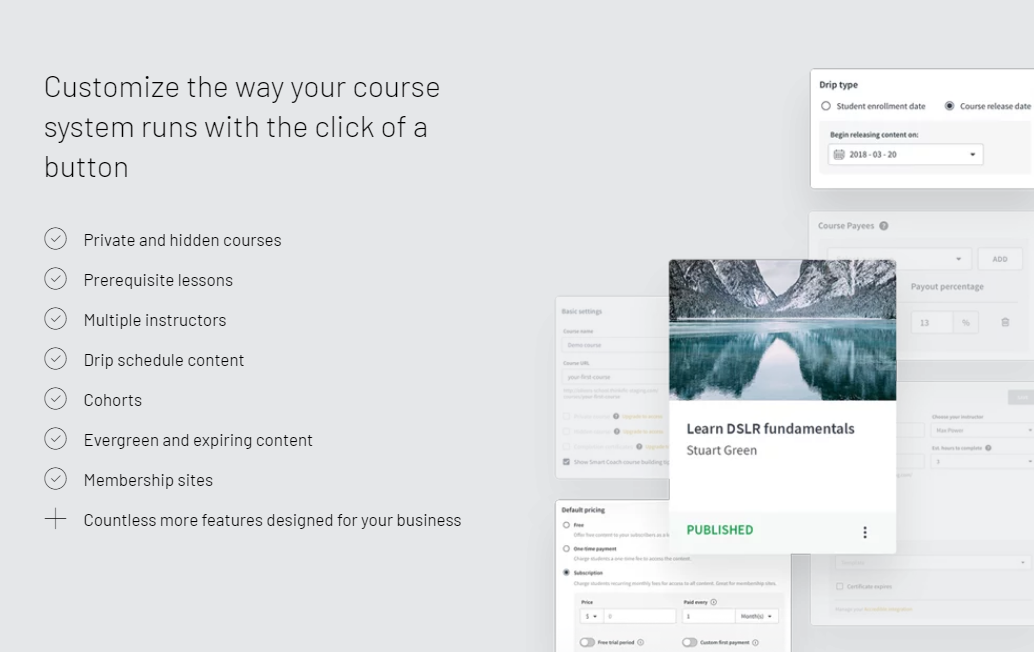 Thinkific is no doubt packed with a user-friendly interface. It is easy to use an approach that is quite attractive for a fresher. You start simply by logging onto the dashboard; you can finally create your course here.
There is a menu option on the dashboard that lists all the site's important functions. They include:
Design your website
Market and sell your course
Advanced reporting data
Manage your uploaded content
Student support
Navigation through every important feature is extremely easier as well. You can access every feature on a single page without the hassle of being redirected to different webs.
If you have any issues regarding the setup procedure, you can use the Help option provided on the dashboard.
To conclude, Thinkific has an extremely user-friendly approach that has been quite successful for beginners and experts.
Let's have a brief look at some of the more features of Thinkific that makes it an easy platform to use:
Neat user interface
A functional drag that drop builder
There is no need for you to be a coding expert
You can even automate your content with great ease
Themes are pre-made to avoid hassle and wastage of time
The platform is indeed integrated with the best email marketing service providers
Kajabi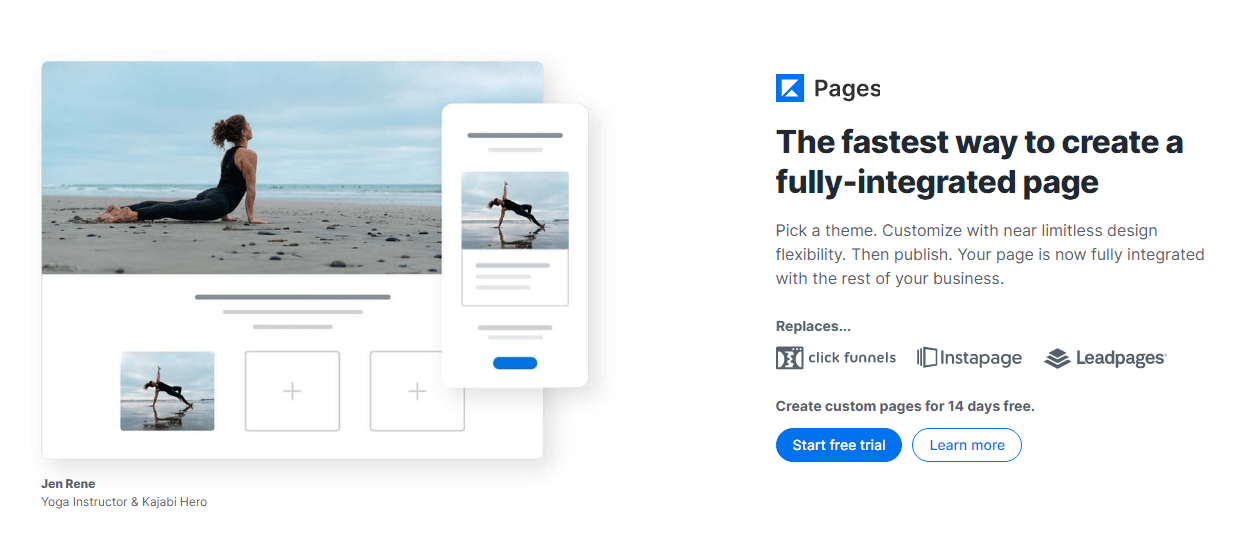 Like Thinkific, Kajabi also has a neat and clean user interface. There is a sidebar on the dashboard where you can easily find all the key features.
Kajabi has an additional feature to access a 30-day overview of your course selling business. This overview includes your sales, comments, members, etc.
Their menu option has vital features listed, which includes:
Website for selling your course
Your products regarding the course
Marketing tools
Student information
On the search bar at the top, you can access a feature called Kajabi assistant, through which you can directly search for features that you are unable to locate. You have to enter keywords relating to your searching item.
Let's have a brief look at some of the key features that make Kajabi an easy-to-operate platform:
A neat and clean interface
A project generator that directly builds your online course
Pre-designed themes and templates to be used with one click
You can upload a high amount of data at one time
They have perfect collaboration with PayPal and Stripe
It also allows you to develop customizable emails for better relations with students
There is a Kajabi mobile app that provides a relatively smooth user experience
You can also read our other comparison article: Kajabi vs. WordPress LearnDash: Detailed Comparison.
After going through all the features that make these platforms easy to operate, I finally have my winner, i.e., Kajabi.
They have more useful features comparatively, like better customizing options bound with marketing tools at a single place.
Moreover, their mobile app takes the cake in terms of providing a better and smooth user experience.
Winner: Kajabi
2. Course Builder
Thinkific

Thinkific has a visual editor that lets you perform multiple tasks for course building. You have two choices; either use already built templates for your website builder or know of coding stuff to prepare your template and theme.
Thinkific also allows you to create membership levels for the convenience of your students. Moreover, Thinkific has options to build a fully customized course. You can also offer drip courses to your students on this platform.
As mentioned earlier, Thinkific allows you to put course content in multiple formats: quizzes, PDFs, videos, audios, assignments, etc.
The drag and drop builder option in Thinkific has proven to be the game-changer when almost every other platform has complicated procedures. It allows you to upload course content files with utmost ease in bulk.
The customizing options offered by Thinkific in its course builder include:
Ability to add meta descriptions for each course
Several color themes to choose from
A wide range of fonts
A logo exclusive to your course
Lesson labels
Kajabi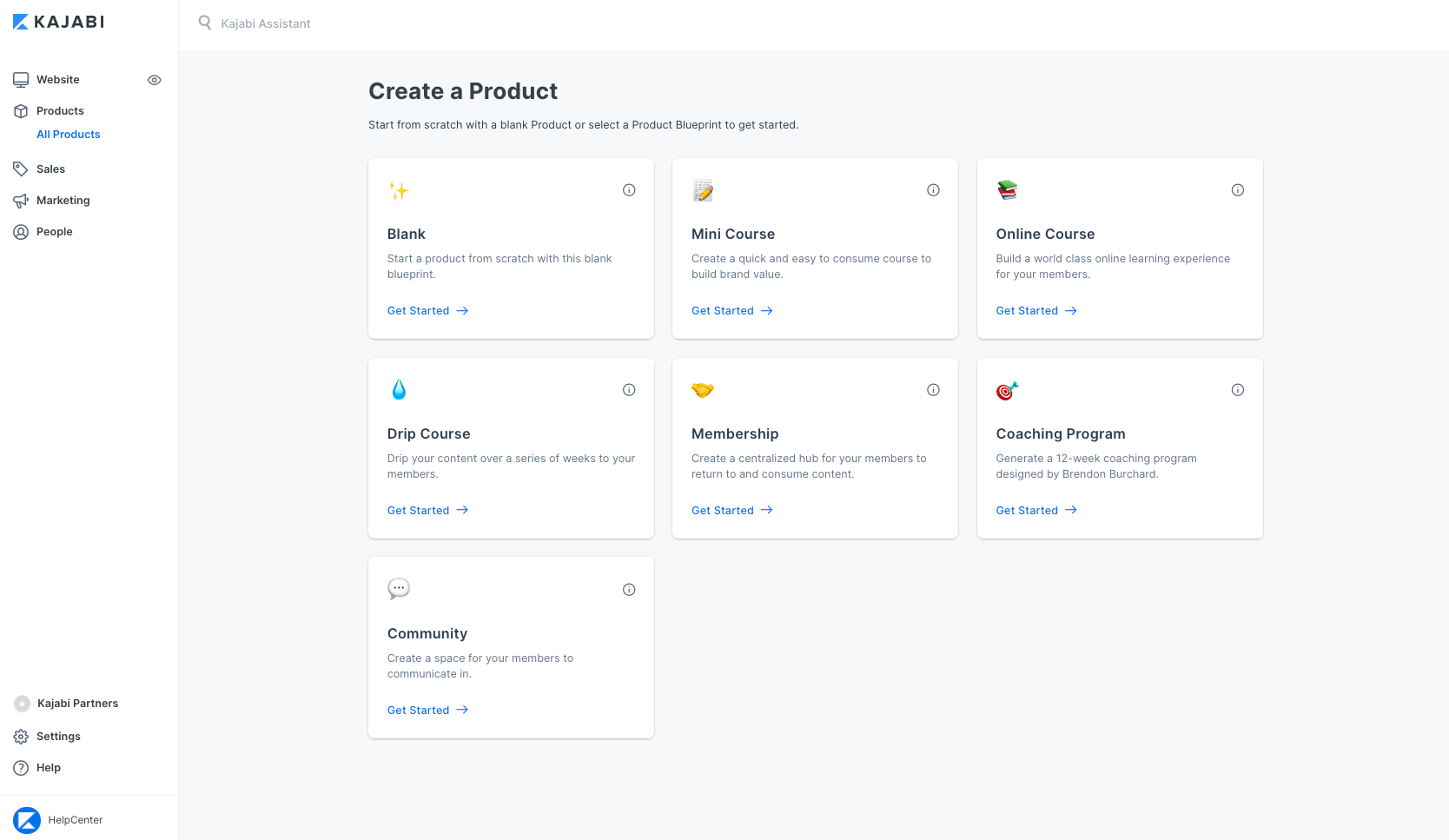 Like Thinkific, Kajabi also has a drag and drop editor in its course builder. This editor performs several key functions like developing online courses, membership deals, sales rate, and finally, the most important landing page builder, also known as the sales page.
This builder is packed with pre-made templates, so you won't have to go through the pain of creating one from scratch, especially when you are just a beginner and know nothing about coding.
Kajabi also provides an opportunity to directly upload your course content in different formats, either directly from your system or you can even use a third-party app. Thinkific does have this feature. However, it has a minor drawback: it doesn't let you upload multiple formats on a single section.
The overall course building in Kajabi is very simple.
It offers various themes and templates that sit best with every page, campaign, and course business idea.
You have to pick up your favorite theme or template from the pre-designed ones and customize it however you like with many options.
Let's have a brief look at some other features that Kajabi's course builder offers:
Kajabi also allows you to set up a custom domain.
There is also an option to use alternative tags to the images.
You can also create an about page to mention details about yourself.
There is an option where you can develop your store.
You can use an active Members Library Page to create upsell and cross-sell margins.
You can add quizzes assignments to your course content.
Kajabi has the best organizing options to categorize your courses.
After going through every feature that both the platforms offer in their course builder, I consider it a draw. Both have all the essential features required to create an effective online course with a much easier and more convenient route.
Winner: Draw
3. Themes And Templates
Let's see how both platforms cater to the needs of their users in terms of theme and templates. The users prefer the platforms that have already built themes and templates to save time and hassle of coding.
Moreover, if a site is responsible enough to provide templates for almost every idea, it wins the comparison race.
Thinkific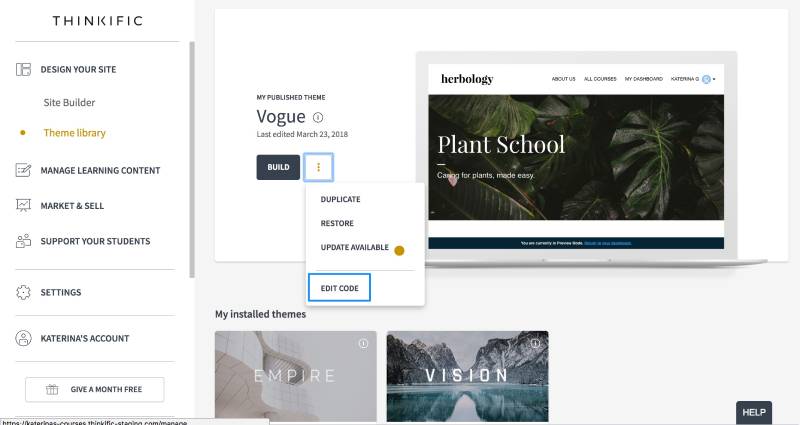 Thinkific has not much variety of pre-built themes. Their major options are
You can even preview these themes in theme settings to have a better idea. This option allows you to make necessary changes in theme style, color, font, and banner picture.
Kajabi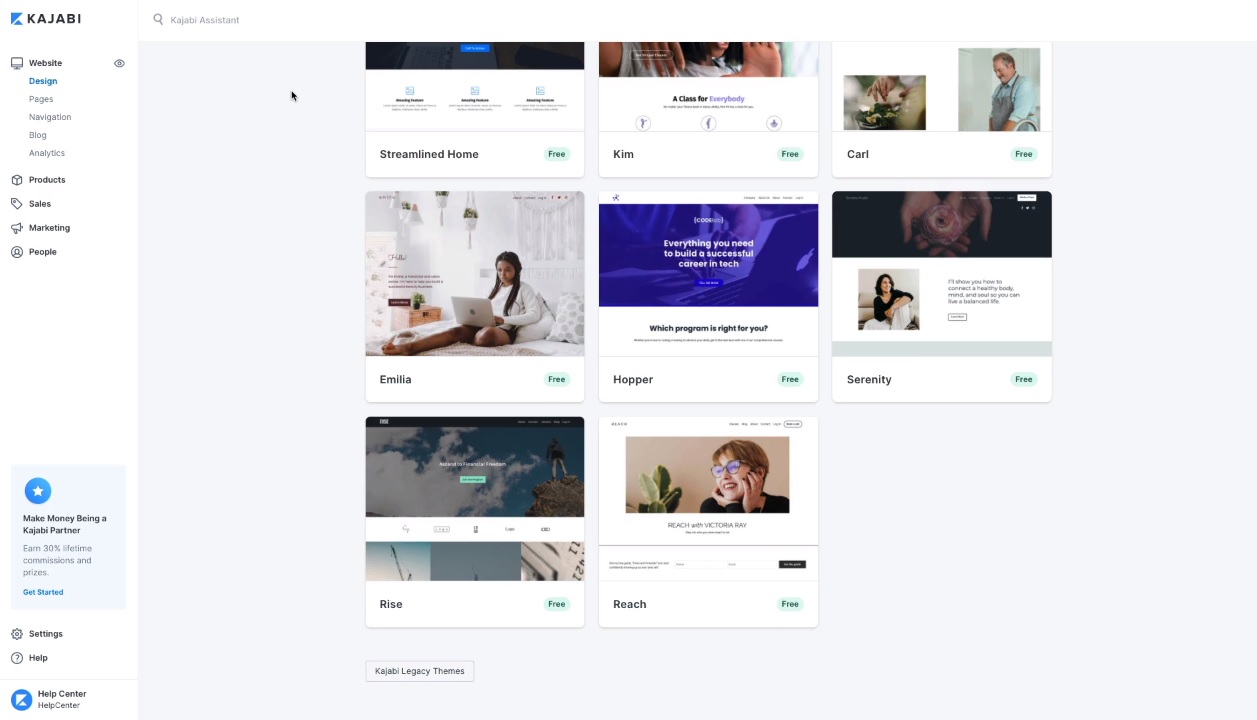 Unlike Thinkific, Kajabi has more variety of pre-built themes available. They offer almost 12 different options to create webinars, membership sites, sales pages, etc.
Similar to Thinkific, you can change the style, color, and font of the theme in Kajabi.
For me, the winner here is Kajabi for the fundamental reasons of providing more theme options to explore.
Winner: Kajabi
4. Membership Deals
It is not enough to build a course and promote it widely for long-term financial success. You have to take a few important steps to ensure proper online business management.
One way is to create a membership site to sell courses in a bundle. Both platforms are listed as the best membership site platforms on the market.
There are several benefits of making a membership site. They include
Earning of recurring revenue
Provision of training courses
Building an engaging community of students
Increased rate of conversion at the sales page
Thinkific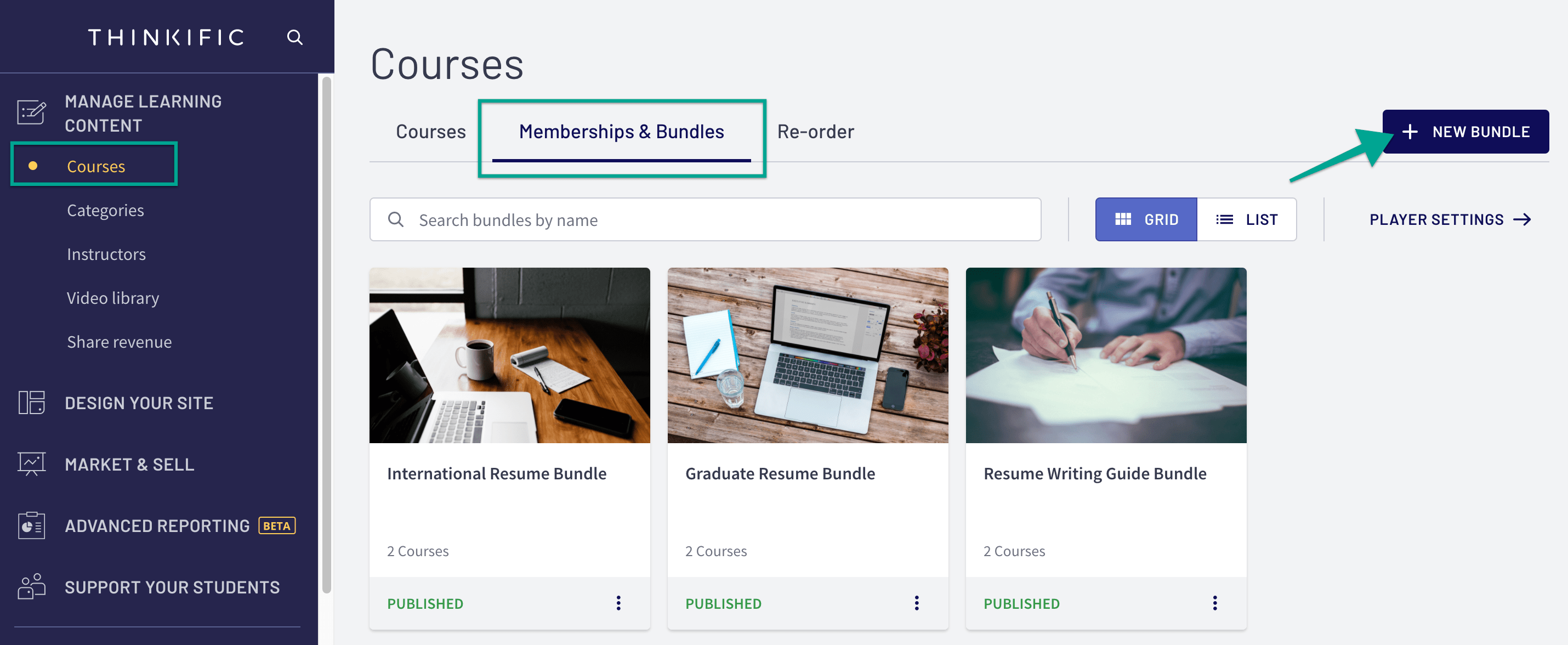 Thinkific has the option of letting you form several membership deals and subscription models to make sure that your course sells. You can place a Thinkific pricing plan of your own choice.
If you intend you create a course bundle, Thinkific will guide you. There is an option of Manage Learning Content at the dashboard, where you can develop bundle courses very easily.
The membership options offered by the Thinkific course include:
A freemium plan
Pay all at one time
Subscribed membership where students can make payments (monthly or anually)
A monthly payment plan
Customized pricing options
There is another option that will help you in creating a successful revenue. This option allows you to hide your specific content until the student completes a certain learning goal. But to avail of these premium options, you will have to buy higher plans by Thinkific.
Kajabi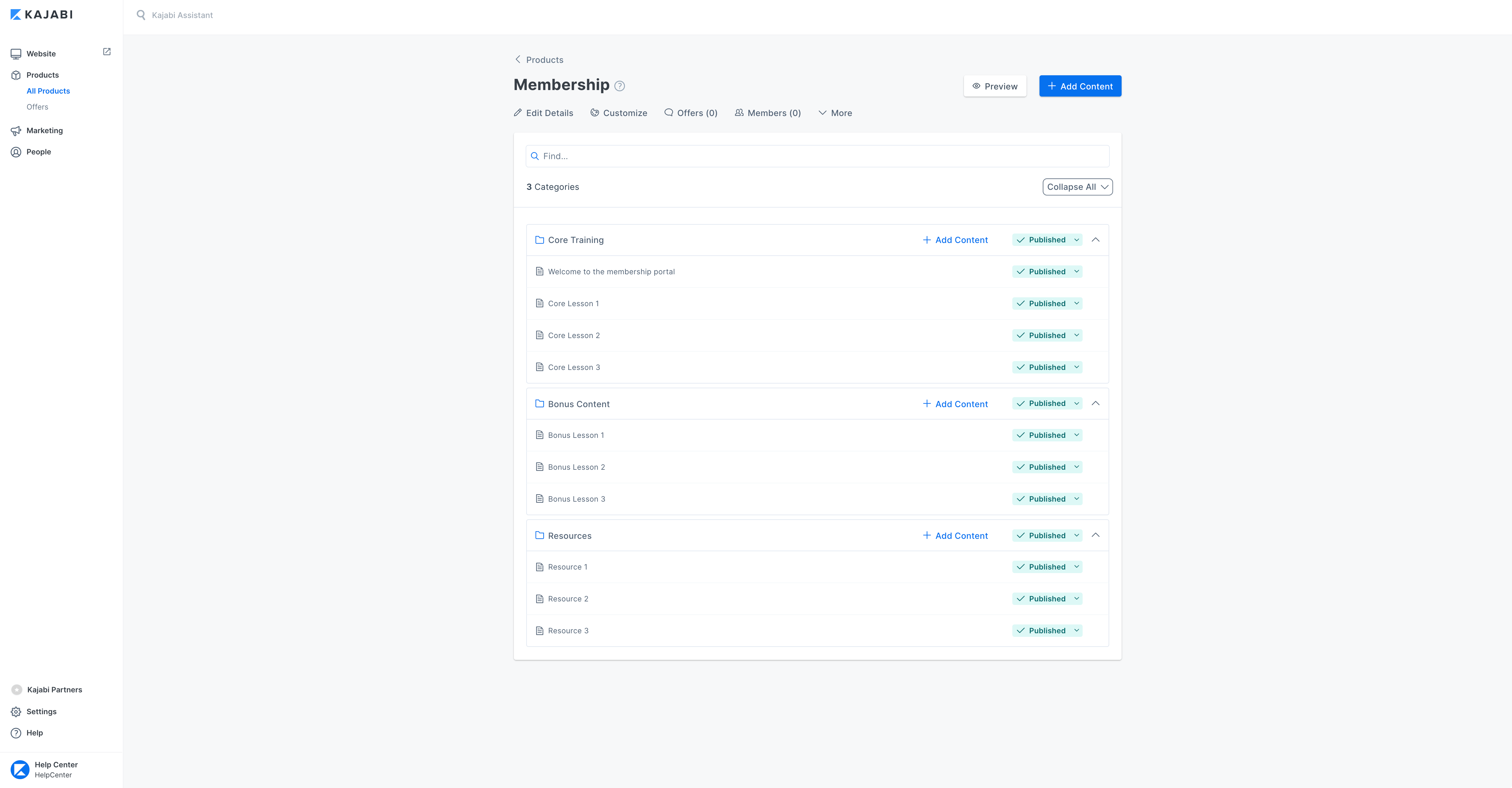 Kajabi has pre-designed templates even for the creation of membership sites. You can pick a relevant template to start the necessary procedure and add your desired membership tiers. You can also provide discounts of your own choice.
Kajabi's offered membership options are:
Recurring payment
One-time payment
The trial before investing in paid plans
One-click upsell
You can also add membership deals like gold, silver, and bronze levels to your membership.
Again it's a draw between both the platforms since both are good enough in providing membership options.
Read More: Kartra vs. Kajabi.
Winner: Draw
5. Marketing And Selling Tools
A course means nothing if it does not make the desired sale around the globe. A great deal of marketing and selling tools are needed to achieve this. Let's have a comparative look at which platform has better marketing options to offer.
Thinkific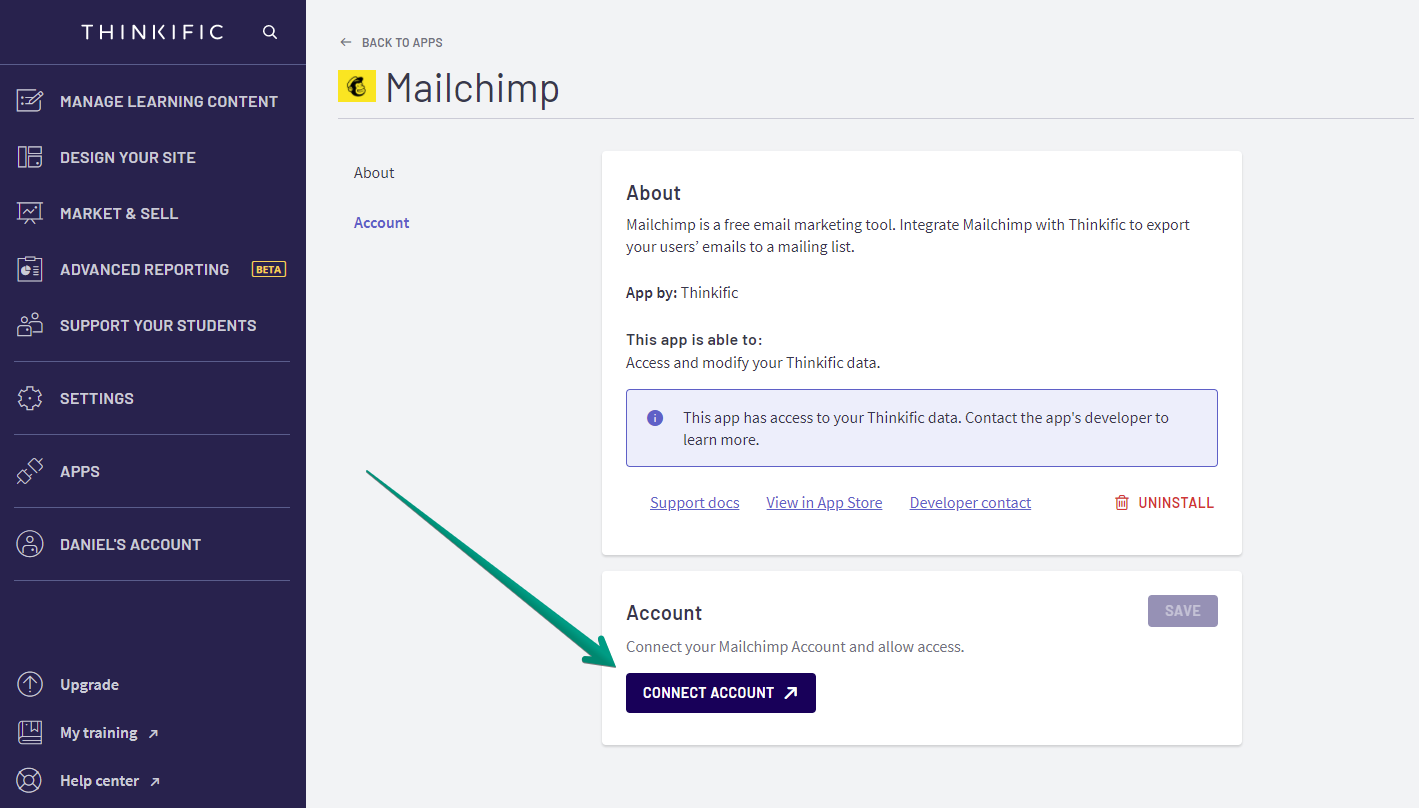 Students can easily access the Thinkific marketing and selling tools from the dashboard.
The tools allow you to perform several relevant functions like:
Sell custom memberships
Apply promotional discount deals
Offers free trials
It also allows you to place a custom-made sales widget on third-party sites or blogs to increase promotion and eventually the sales.
Thinkific has a great offer to develop affiliate programs where your current customers attract more target audiences; you can also reward them.
Moreover, Thinkific has almost 1000 integrations with different sales funnel builder tools.
Other features are:
Tracking of progress with report presentation
Unlimited replays for your students
Multilingual support
Completion certificate
Automated progress and remainder emails
Thinkific payment options are wide, too; you can accept payments in almost 100+ currencies. Credit card payments are accepted, whereas it also collaborates with PayPal and Stripe for easy and safe payouts.
Kajabi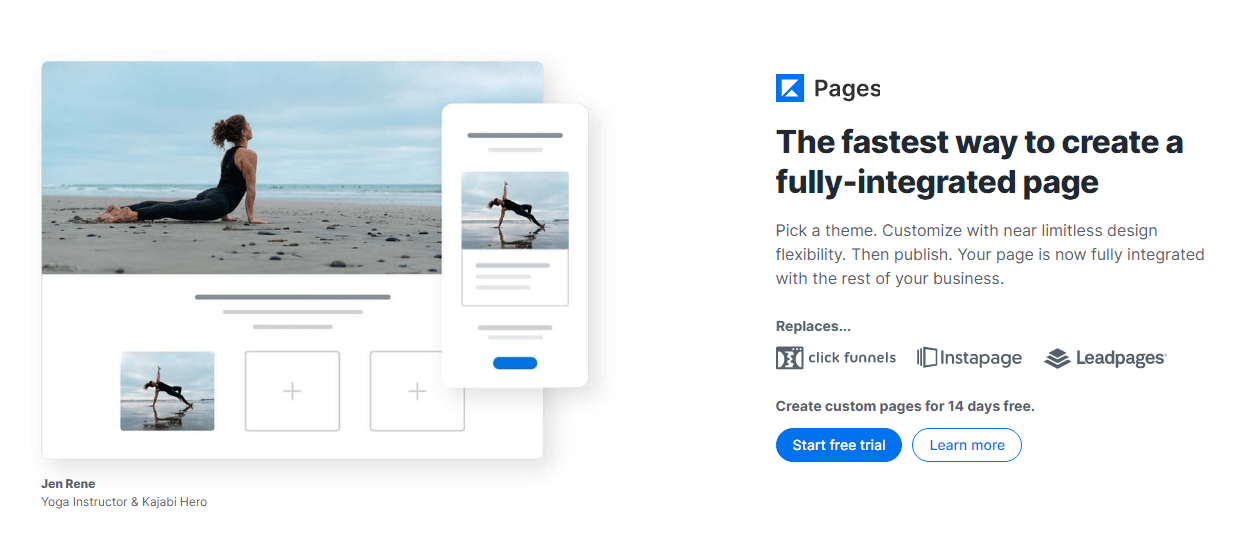 Kajabi has multiple marketing and selling tools that play a major role in making your online course selling a business a success. Some of the important features to the listing are
Sales pipelines
Email campaigns
Automated email-sender
Events
Forms
The pre-built templates are helpful in a variety of purposes like
Lead generation
Product launch
Webinar launch
Each template comes with a pre-written copy and proper framework; this helps achieve the desired goal of performing everything in the correct sequence.
A factor that makes Kajabi a superior platform to other similar sites is its email marketing tools. The features like built-in email templates make it easier to build customized email campaigns.
There are several templates for each type of email like progress, announcements, completion, etc.
It has a smart feature where it sends out all the emails simultaneously or automates multi-touch sequences according to the receiver's preference.
There are also multiple options to personalize the email campaigns with features like
Countdown timers
Subject line validation
Videos
Audios and much more
Kajabi's built-in customer relationship management has the best marketing strategy. It allows you to send out emails, make special discounted offers, creates custom coupons, etc.
It works completely fine after you set the rules; for once further, everything is automated.
Other important features of CRM include:
Ability to track customer's preferences
Import contacts
Custom data fields to have more insight on business data
Segment customers into relevant learner groups
The payment options offered by Kajabi include PayPal and Stripe. The best part is that it charges no transaction fee from your profit.
The marketing tools of Kajabi are briefly listed below:
Collaboration with PayPal and Stripe for quick and easy payments
Choose custom payment ways (weekly, monthly, annually)
One-click upsell options on various third-party sites and blogs help increase sales.
Free trials for customer satisfaction
CRM tool that is inbuilt within the platform
Built-in sales pipeline
Pre-designed email templates
Visual editor for creating and previewing marketing emails
You can do email marketing without the need to integrate with any third-party tools
You can also consult our other Kajabi comparison article: Kartra vs. Kajabi.
With regards to marketing and selling tools, the clear winner is Kajabi. Thinkific has good marketing automation tools, but you might require third-party interference for certain features.
In contrast, Kajabi has almost every feature inbuilt that avoids the need for third-party involvement and provides better results.
Winner: Kajabi
6. Reporting And Analytical Details
This feature is vital to understanding your customer from the business point of view. It also makes you aware of the room for improvement and what factors you are missing in your course.
It is like a feedback response by your students in the form of a tracking report.
Thinkific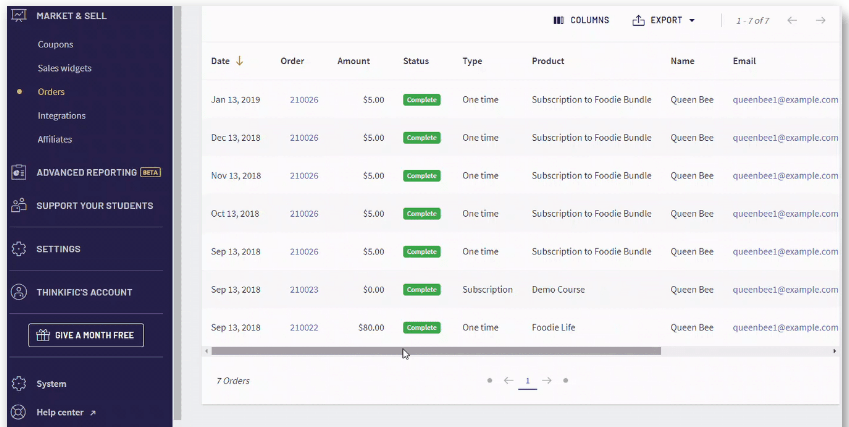 Thinkific has modernized tools by which you can keep an eye on features like recurring revenue, orders coming to your site, how many students got enrolled in your course, and engagement with your customers.
There is also an option to filter your searches by course name, type, payment, author, affiliate, etc. But this feature is solely available if you purchase its Pro + Growth Plan.
Moreover, if you want to stay connected with your student's progress, you can access their progress report from the Support Your Student menu. You can even download this data through CSV.
As mentioned earlier, Thinkific has successful integration with Google AdWords and Facebook for analytical data like ad and data tracking, creating important campaigns, etc.
A few other features to list are:
Group and individual reporting
Detailed segments
Exporting important data
Kajabi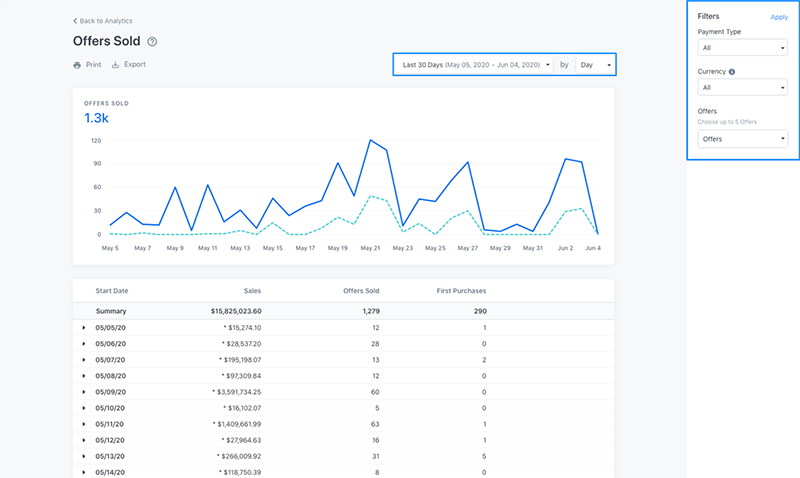 Kajabi has perfect tools for tracking features like subscription rates, data metrics like revenue, number of sales, page views, etc.
It is also vital in providing detailed tracking reports on important areas like:
Student progress
Profit-making areas
Subscription churn rate
Room for improvement
To conclude, a draw between both platforms gives detailed insights into your business's powerful and weak areas, so you can work accordingly to touch the skies of success.
Moreover, both are integrated with important analytical tools for detailed analysis of several factors.
Winner: Draw
7. Student Experience
After successfully creating a course and completing its marketing properly, you might get a handful of customers to meet your desired goal. But what comes after it is important to consider too.
The students' experience from learning with you holds an important place to determine factors like generating future sales in bulk; they might write testimonials for your site or even refer you to other target audiences if they are satisfied.
All this is solely achieved by making your course look like it is made using a premium course builder with perfect tools.
Thinkific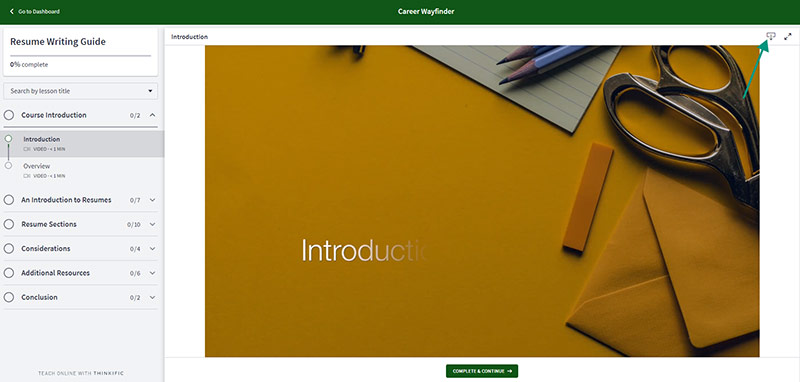 The Thinkific features that are successful in providing an appreciation worthy experience to the students include:
Course content in video format
Text content
Multimedia support
Ability to download files
Image support
Webinar launch
Live sessions
Quizzes
Narrated presentations
Surveys
The neat and clean user interface offers an easy-to-operate dashboard to your students. They even have convenient access to their progress report. They have also updated about every course-related event through emails.
Students can expand or collapse their courses through drop-down options. They are also allowed to add text below course videos.
Let's have a brief look at some of the essential features that provide the best user experience for students:
Free video hosting
Completion certificates
Progress and remainder emails
Ability to edit course module color, fonts, and theme
Kajabi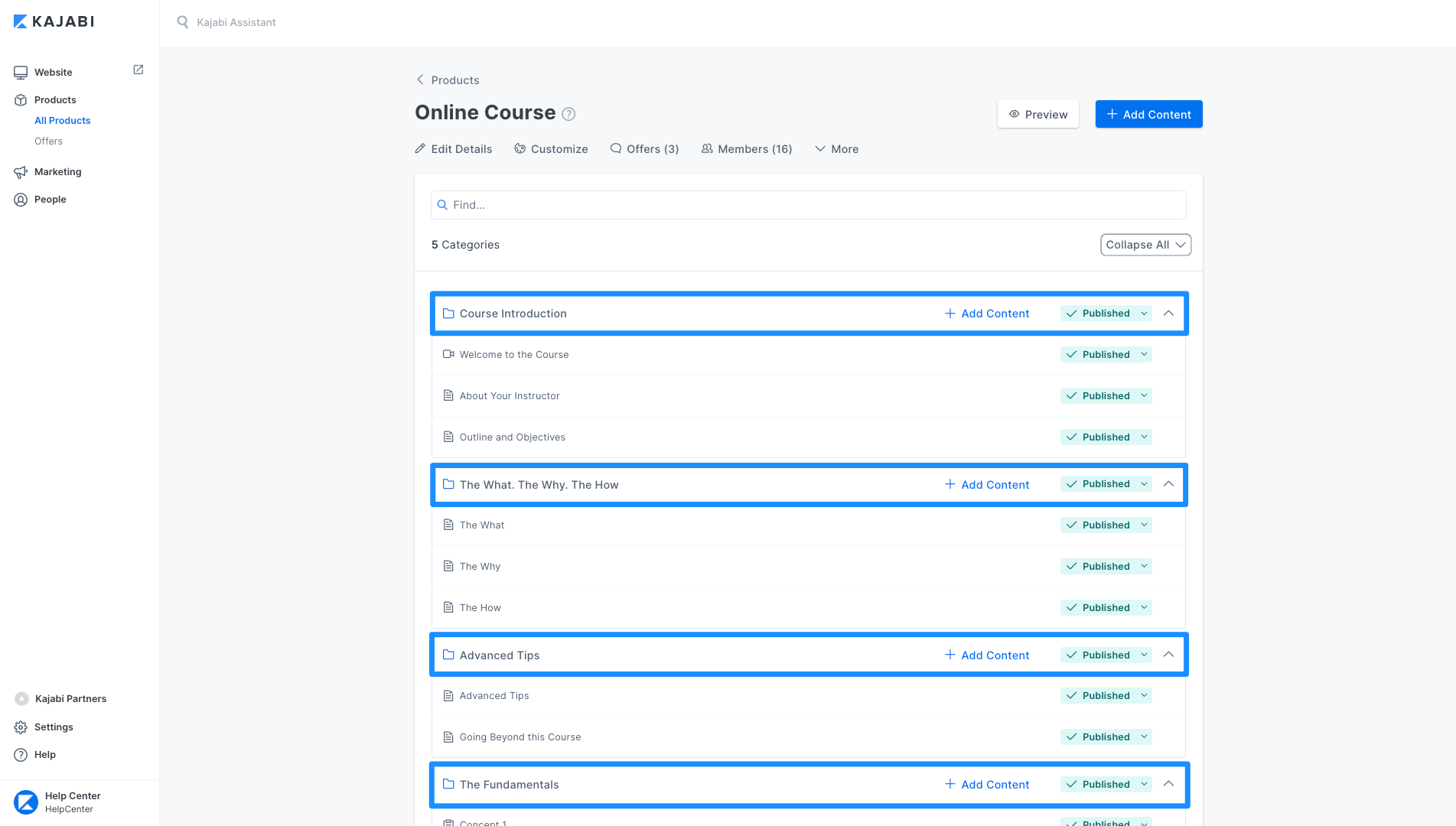 Kajabi too has tools for adding text, images, videos, quizzes to your course content. There are multiple themes to customize the course according to the relevant brand, and this might be a key factor to please the students.
Kajabi also has a mobile app that provides users a smooth experience to access every feature conveniently. The app has a magic link that lets students save their course progress and enter without entering a passcode each time.
Thinkific has specific features that let students track their progress exclusively. It motivates them to continue learning and keep achieving important milestones.
They also allow customized course building to enhance the student experience. Comparatively, in terms of the student experience, Thinkific takes the highest numbers from my side.
Winner: Thinkific
8. Pricing Plans
The costing of plans you invest in holds an important place since you aim to earn a considerable amount of profit.
Thinkific

The pricing plans of Thinkific are listed below:
Free
Basic costs around 49$ per month
Pro costs around 99$ per month
Premier costs around 499$ per month
Thinkific also has combined plans like Growth Plan that come as an addition to Pro Plan. It will allow you to access the premium features of Premier Plan. An Enterprise Plan is also vital for better customizing options.
Every plan has a 30-day money-back guarantee. It also provides a 14 day free trial to the customers. Moreover, you can save 20% of your money by going for an annual payment.
Every plan has basic drag-and-drop course creator features, upsell offers, notifications, discussion forums, more than one instructor profile, etc. However, you can access specific premium features with the higher plans.
Kajabi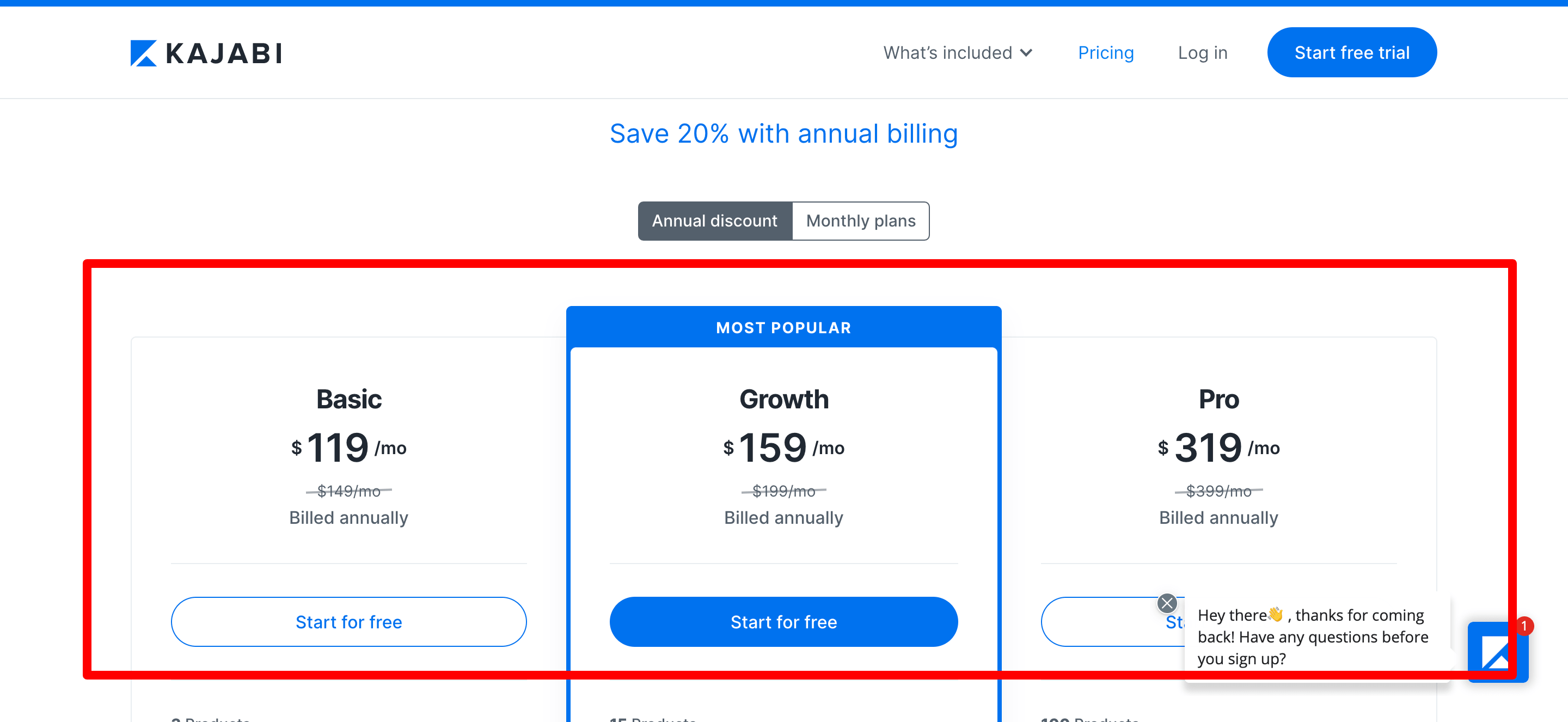 Currently, Kajabi is offering three basic plans:
Basic costs 149$ per month
Growth costs 199$ per month
Pro costs 399$ per month
They also provide a 14 day free trial and savings of 20% with an annual payment plan. Kajabi has no free plan.
Read more: Kajabi Vs. Teachable.
It might seem like Thinkific is offering better plans by providing important features in half of the prices demanded by Kajabi. But there is a difference! To avail of features like subscription tiers, you will have to purchase Pro Plan by Thinkific.
Winner: Thinkific
9. Student Limit
According to your purchased plan, every platform has a set limit for students to enroll in your online course platforms. Let's look at what both platforms have to offer in this area.
Thinkific
Thinkific offers to accommodate an unlimited number of students regardless of whatever plan they have. It also charges no transaction fee.
Kajabi
Kajabi's student accommodating capability is determined by the plan where you have invested your money
Here's a break up of students supported by each plan:
Basic: 1,000 students
Growth: 10,000 students
Pro: 20,000 students
The clear winner here is Thinkific as they offer unlimited student accommodation.
10. Course Limit
The two platforms differ greatly in terms of the number of courses accommodated. Let'sLet's have a look.
Thinkific
In Thinkific's free plan, you can create up to three courses and add content in different formats of PDFs, audios, and videos. Moreover, the paid plans accommodate an unlimited number of courses.
Kajabi
Kajabi's basic plan allows you to create up to three courses. The growth plan can accommodate almost 15 courses. Finally, the pro plan can hold 100 products.
Here also, the winner is Thinkific. The freemium plan of Thinkific lets you create three courses. Kajabi is charging you almost double as Thinkific but letting the creation of only three courses. Whereas, Thinkific allows an unlimited number of courses with every paid plan.
Winner: Thinkific
11. Customer support
Both the platforms of Kajabi and Thinkific have great customer care services. Let'sLet's have a comparative look.
Thinkific
Thinkific offers customer care services through various options like
Help center
Paid training site
Blog
Expert marketplace
Status page
FAQs for self-service
They also offer email support, phone support that remains active from Monday to Friday from 9 am to 5 pm, video tutorials, and finally, an active Facebook community.
They also have active YouTube and Twitter accounts for customer help.
Moreover, if you have purchased a pro or premier plan of Thinkific, you can get an hour-long onboard call.
Kajabi
Kajabi offers customer support through the following features:
24/7 helpline and email support
Onboarding call
24/7 live chat with growth and pro plan
FAQs section and searching tool
Social media platforms that have trained experts ready to guide
Live training sessions
Kajabi also provides training webinars and Kajabi university, where you can search all features exclusively.
Both platforms offer good customer service features, but Kajabi has the upper hand for providing free tutorials. On the other hand, Thinkific video tutorials can cost you 299$.
Winner: Kajabi
Table Comparison: Thinkific vs Kajabi
| | | |
| --- | --- | --- |
| | Thinkific | Kajabi |
| Features | Digital security guaranteed Excellent customer services Pre-built themes and templates Free video hosting Add content in multiple formats Downloadable content Built-in tools for content creation Membership deals | Website development Unlimited hosting One-click marketing sequences Customized domain High converting templates Free trials One-click upsell Subscription tiers Coupons |
| Pricings | Free Basic: 49$ per month Pro: 99$ per month Premier: 499$ per month | Basic: 149$ per month Growth: 199$ per month Pro: 399$ per month |
| User Ratings | 4.7 | 4.4 |
Conclusion
Let's Decide, The Winner!
If you are an experienced seller, Kajabi is the best option for your use. It is essential for creating a comprehensive business platform with important features like landing pages, pipelines, and great marketing tools for better promotion strategies.
If you aim to create a subscription tier for your course, Kajabi should be your go-to choice. It is also integrated with email marketing tools t squeeze the best out of promotional activities.
However, in my opinion, Thinkific is the winner here. Firstly, it is much cheaper than Kajabi. Moreover, it has the option of creating customized courses matching your brand.
You can easily perform things like uploading videos adding text, assignments, quizzes to a single page for convenient access. It also allows you to send over drip email sequences, either at once or over different time intervals.
The main aim while choosing an online course platform is to make your students feel like they are being connected with a premium platform.
Everything should be professional, and Thinkific comparatively offers everything at lower prices. After these features, everything is solely dependable on your students' experience.
However, you should test both platforms yourself to get a better idea.

Ludjon, who co-founded Codeless, possesses a deep passion for technology and the web. With over a decade of experience in constructing websites and developing widely-used WordPress themes, Ludjon has established himself as an accomplished expert in the field.