The membership model as an online business is one of the most profitable forms. Membership sites are very lucrative because of their recurring revenue system. So each month, you will add new users and will maintain some of the old ones. The best part is that you can build these websites with a few clicks with the proper membership site platform.
In a hurry? Check our recommendations for the best membership site platforms:
This business model was used by most SaaS platforms. The last studies show that more than half of online shoppers, about 54% have subscribed to a membership plan.
The increase in revenue of these businesses is progressive and you can make money from this method by building a membership website. There are different ways you can build a website for example by using WordPress, website builders, or specialized online course platforms for membership websites.
As you know our mission is to guide you as a reader to build websites without using any coding skills. We believe that website creation will be accessible to anyone. So let's start our journey in the exploration of these platforms.
The Top 10 Best Membership Site Platforms
All-in-one Platform ($119/month)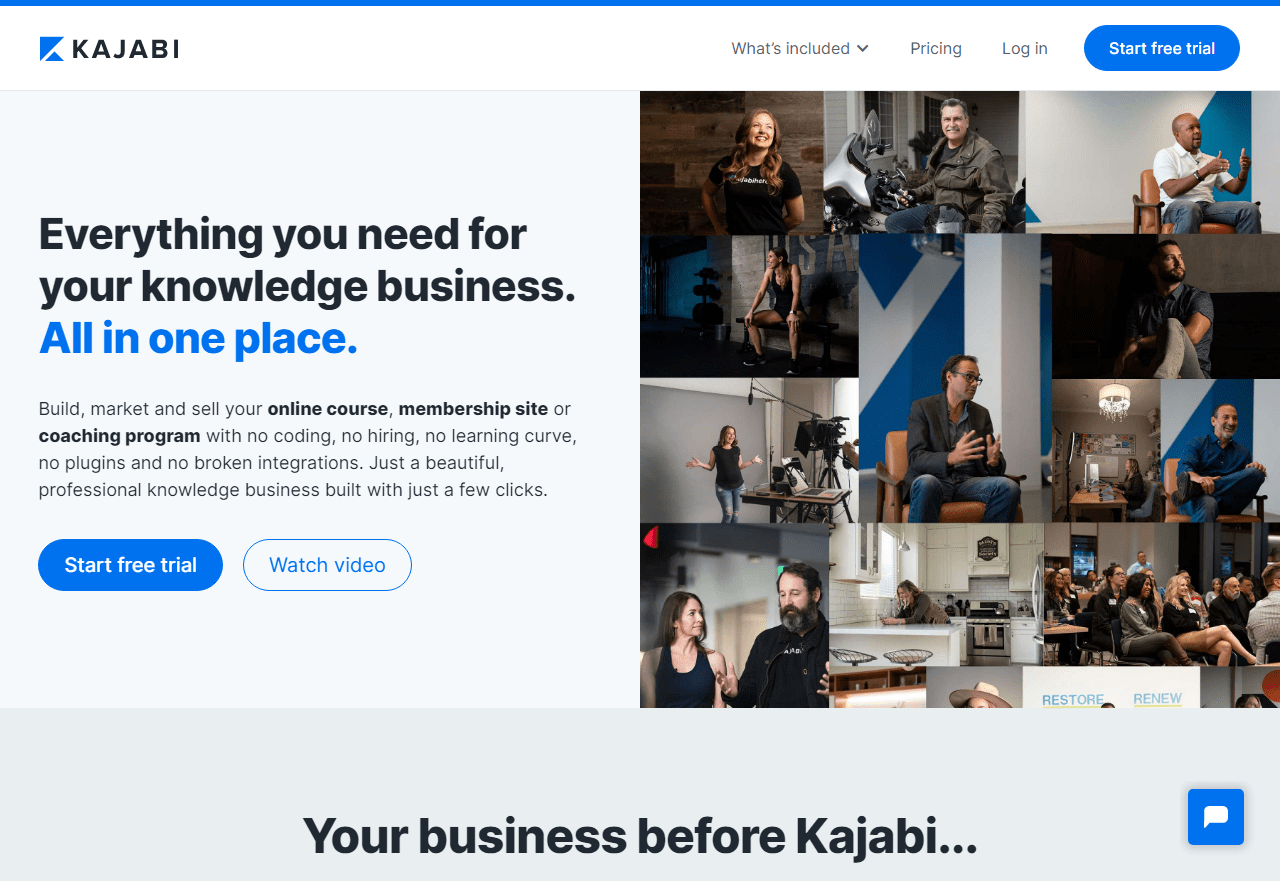 Kajabi is one of the most easiest and popular platforms to build a membership website without any coding knowledge. The first thing that you see when you start using it is the great flexibility and integration with the most popular apps like Mailchimp or its alternatives.
Also what makes it special is the all-in-one solution which offers the possibility to have one central platform where you can control website design with a library of ready templates, purchase the domain name directly, control payments and a lot of other features.
They offer 24/7 support and it is supported by a big community also they offer the Kajabi University that can help you familiarize yourself faster.
I have to say that their website builder is simple and very intuitive for crease simple websites. What I prefer most is the possibility to manage payment directly with Paypal and Stripe and they don't charge any percentage of your revenue.
Read More: Kajabi Review – Detailed Analysis and Honest Point Of View.
On Kajabi you can easily access advanced analytics that gives you data from your subscriptions so you can check the metrics and your revenue. Also, the system gives you a depth report on students' subscription rates and lets you know which areas perform better than others.
The analytics dashboard is organized in a very good way so you can access the most important metrics within a few clicks and read them also through graphics.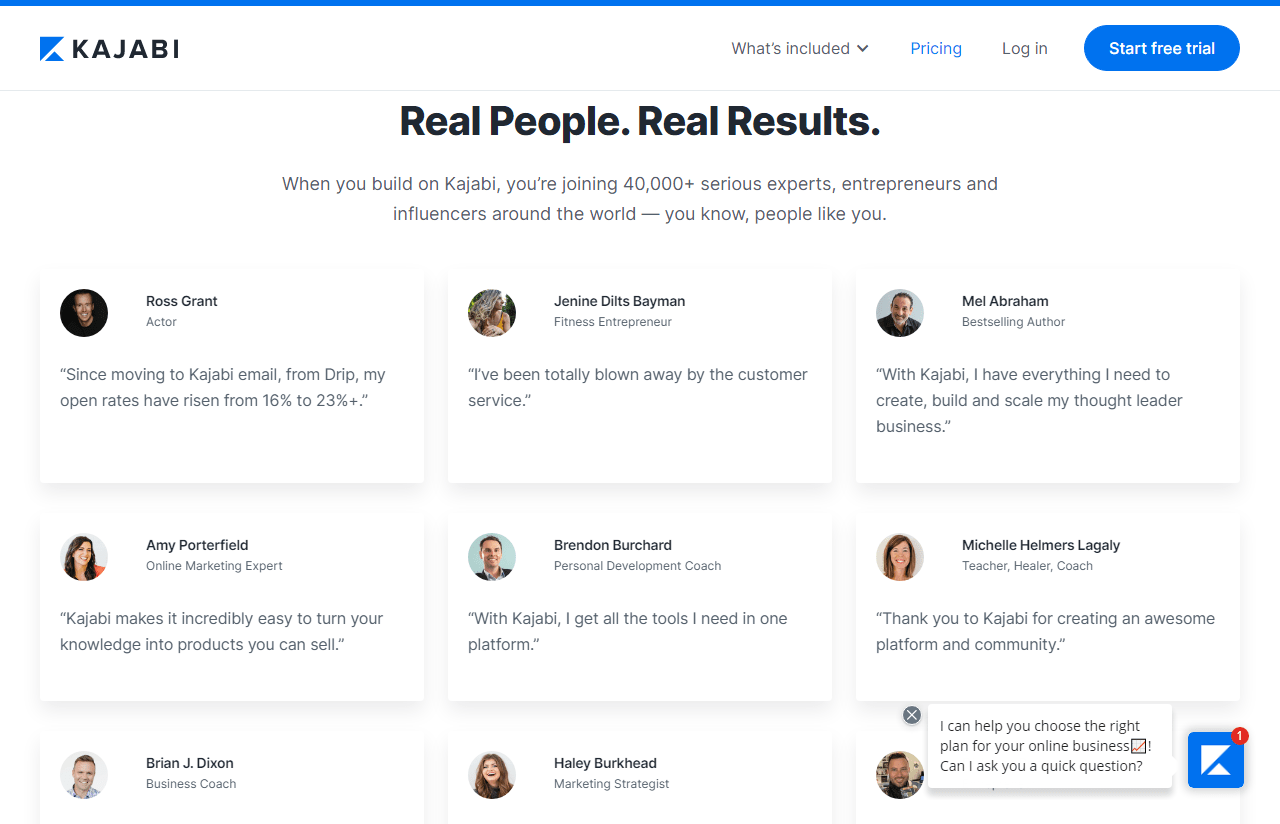 You can set automatically the recurring payments from the platform without the need of installing extra plugins. Kajabi has member management software that helps you to organize and manage your community hassle-free.
Another interesting thing about Kajabi is the sales pipelines that let you track your member's movement and help you to increase conversions and know your customers.
You can check also our latest comparison review between Kajabi vs. Kartra.
Features
Membership Oriented Platform
Website Builder
Payment Gateway Integrated
Email Marketing Integrated
Landing Page Builder
Automation Pipelines
Analytics Integration
CRM to boost your user engagement
Mobile Compatible
Pricing
You can choose from 3 main packages which prices come with 20% off if you make a yearly purchase, you can also try their 14 free trial package.
Basic Package ($119/month)
Growth – Most Popular ($159/month)
Pro Package ($319/month)
Pros
All-in-one platforms
Perfect for Membership Websites
Great user experience
Support
Cons
Not so customizable
It is more expensive than other platforms
Gamification missing and you can't release certificates
Only 2 payment gateways
Best for online courses ($39/month)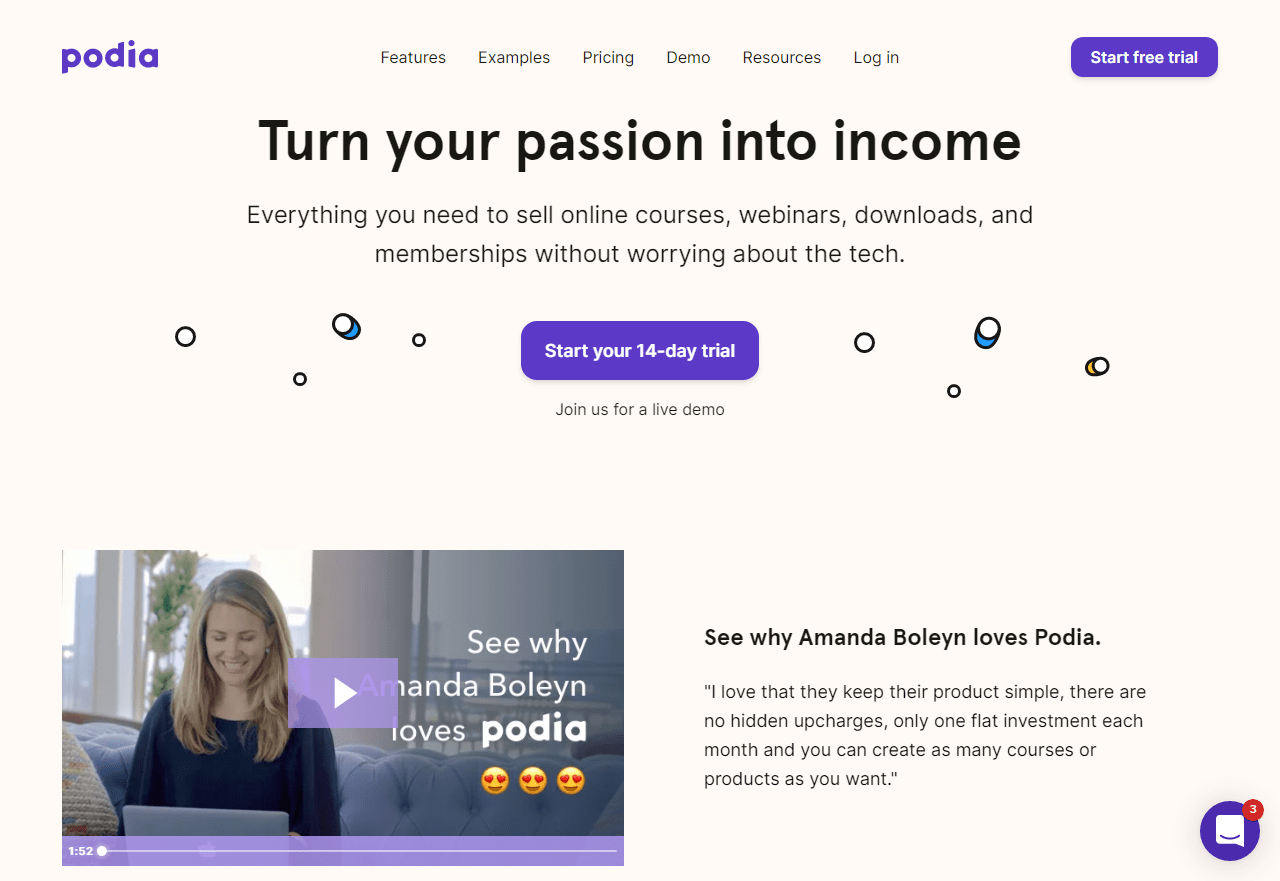 Podia is also one of the best choices for creating your membership website where you don't need to search for the best hosting because it is integrated within the platform. They offer a website builder where you can add your pages.
A special thing about Podia is the possibility to migrate for free your existing website to their platform and this process will be done by their staff
Like Kajabi they offer integration with Google Analytics, Facebook Pixel, Hotjar and Mailchimp. If you are going to host any online course with video content Podia is perfect because there is no limit to uploading videos of any size and length. Also, they don't limit the number of users your will get. So it is so scalable.
You can create bundle products for your membership with similar products and also give the possibility to engage customers to invite others to write content or comments.
One thing that I see with Podia you can't purchase a domain directly from their platform but you can choose a domain registrar and after that transfer the domain to their platform.
Podia team tries to make their platform as simple as possible even if you are a beginner. There is no hidden cost and the best thing is the unlimited courses and products you can create with one flat monthly payment.
You can also sell digital downloads, by creating a custom webpage, sales pages, and managing the complete marketing from capturing emails to sending them. In the same platform, you can create your coupons and your affiliate system to engage more users.
This membership platform lets you sell pdf, eBook, or online courses without any headaches and will look great on any mobile device. Unlike other eCommerce platforms here you haven't to pay any extra fee.
Drip Content is another great feature that guides students directly to the course or delivers it step by step over time.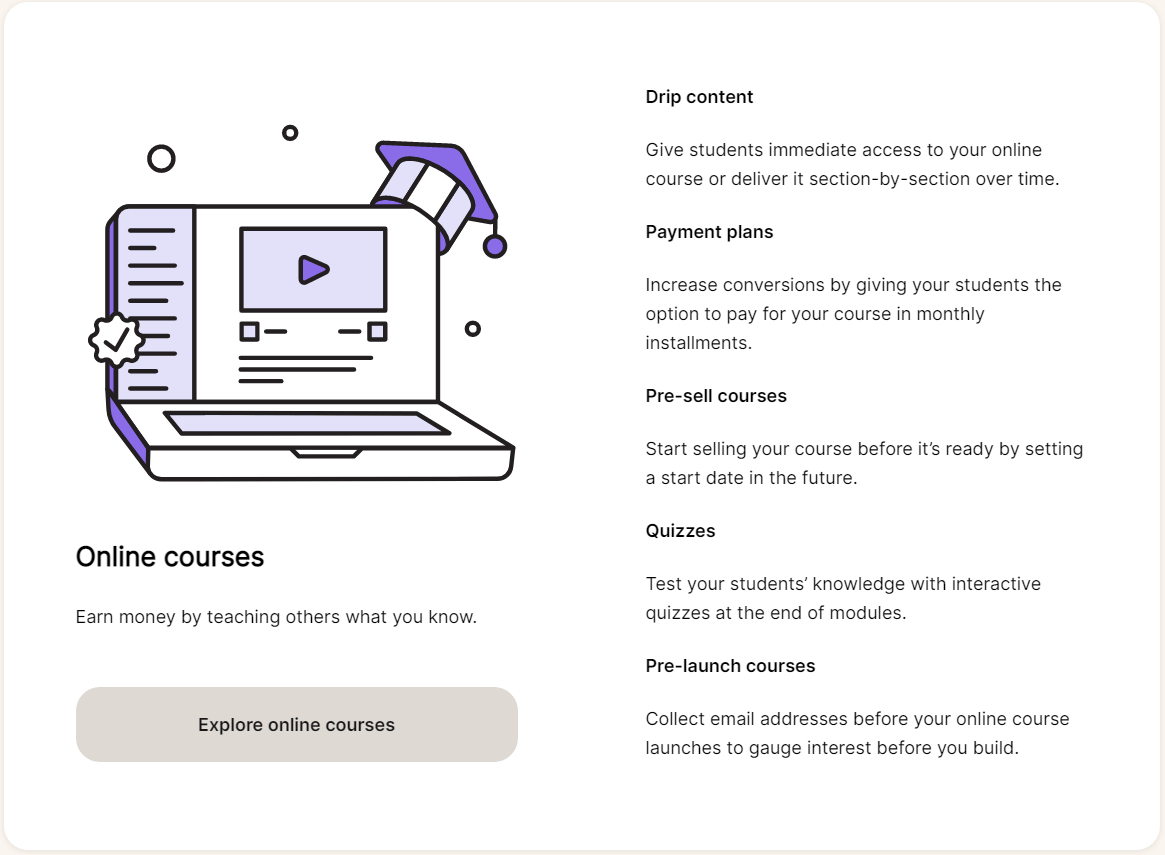 You can host webinars with Podia and you can give them for free or charge for any user who will access live webinars or recorded ones. Online courses and other digital downloads can be bundled with the webinars too.
The creation of sales pages are incredibly easy with their simple website builder. There is the possibility to create pre-launch marketing campaigns with customized sales pages and start collecting email addresses or convert directly to your customers.
When you create a membership plan with Podia there is the possibility to create a variety of plans and levels. The user can publish posts that can be accessed only by the member. Members can connect with each other by commenting discussing and through other apps like Facebook groups or Slack channels
The overall thought about Podia is very positive. It is very user-friendly, offers great support and it is very optimized for online courses. Another interesting thing about Podia is the Live Chat built-in so you don't need any third-party live chat tools.
Features
Website Builder
Online Courses without any third-party tool
Digital Downloads
Email Marketing
Live chat tool integrated
Build Your Affiliate Program
Zoom Integration
Pricing
There are two packages that also offer a free 14 days plan:
Moreover ($39/month)
Shaker ($79/month)
Pro
Unlimited Products, customers, emails, and files hosted
Zero transaction fee
Great Pricing
User Friendly
Cons
Lack of customization options in the website builder
Missing domain registrar directly integrated
Email Personalization
I highly recommend Podia for creating your membership, coach or online courses websites.
Membership Widget for any website ($25/month)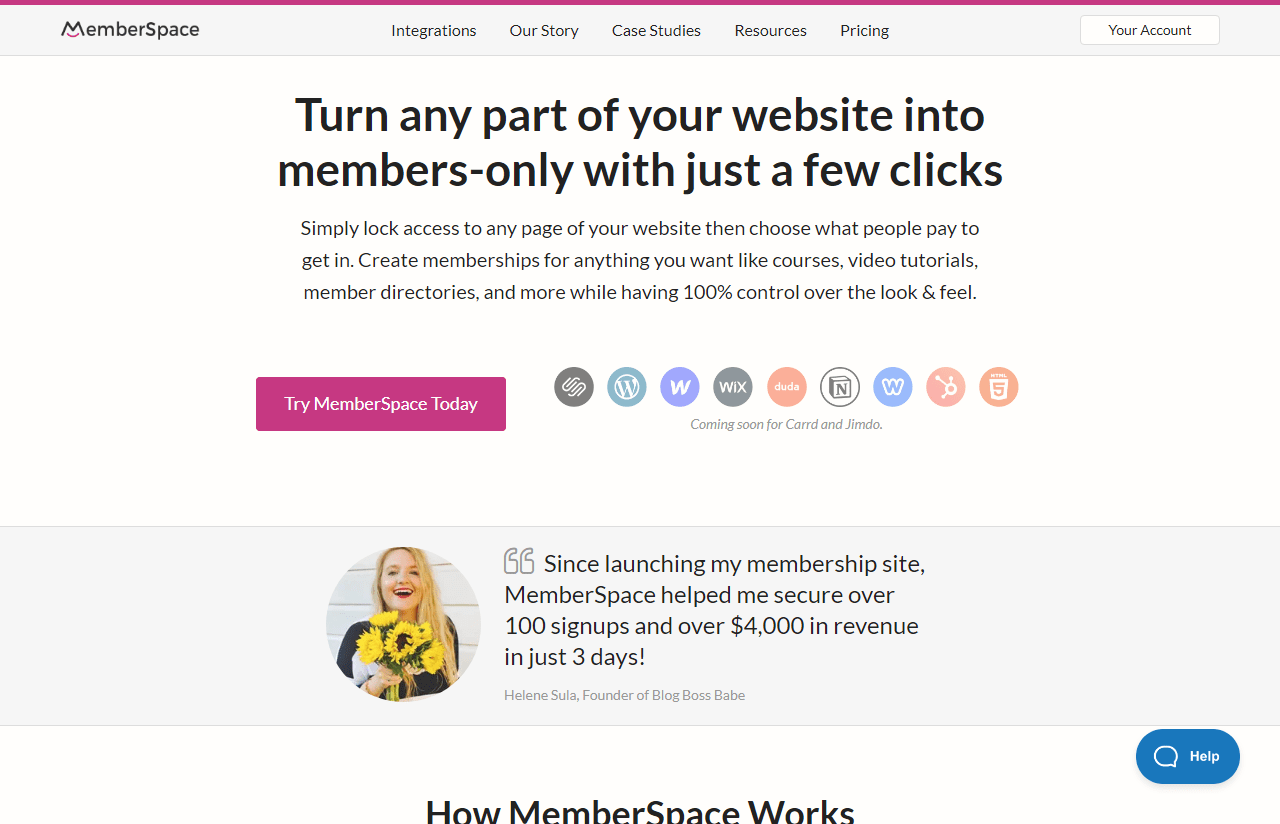 MemberSpace has another approach they offer great compatibility with website builders like Webflow, Wix, Squarespace, Notion and WordPress so they don't let you lock in one CMS. This gives you the possibility to create a membership CMS in your existing website create with whatever platforms.
The system is built for non-expert people and their support is great. Maybe the fact this is a small company the customer care is even better than other companies. Like no other platform of this type here you can contact directly with the CEO of the company.
Migrating from other platforms to MemberSpace is easy due to the support of the staff and all is for free.
They offer unlimited members registered, automated upsells and most important thing Instant payouts.
Features
Unlimited Members
Abandoned Signup
Instant Payouts
Website builder Integrations
Pricing
Just Starting ($25/month)
Growing Business ($50/month)
Thriving Business ($100/month)
Unlimited business($200/month)
Pros
Flexibility
Great Support
Cons
0.5%-4% transaction fee
Too basic
Best for Live Lessons Session ($39/month)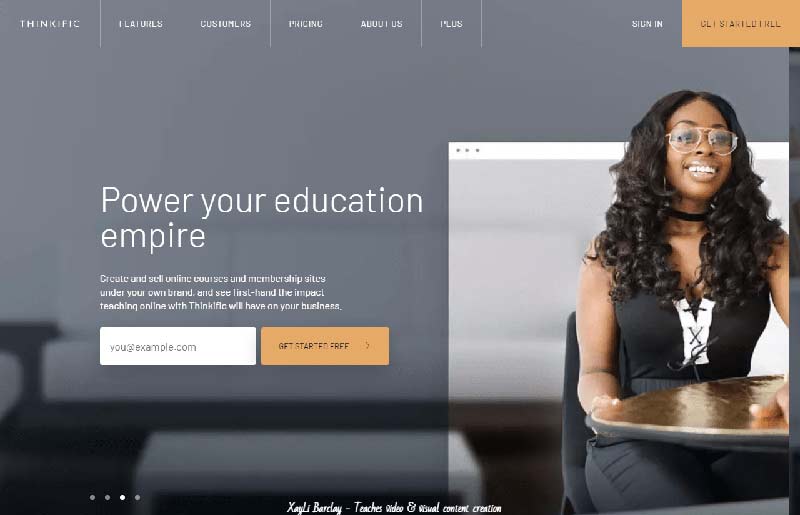 Thinkific is a very popular platform to create your subscription websites, it comes with a drag and drop website builder as well to create your entire website. The platform gives the possibility to use a full eCommerce system directly integrated.
A special feature is an instant access to your funds from their platform. So after you have generated your first income you can withdraw directly to your bank account without any transaction fee.
Specialized in Online Courses this platform gives you the possibility to add multiple instructors and choose to take private or hidden courses.
It offers great marketing tools to help you increase your revenue with mail marketing, a dedicated affiliate system, analytics and retargeting campaigns. The platform manages all your marketing campaigns in one dashboard.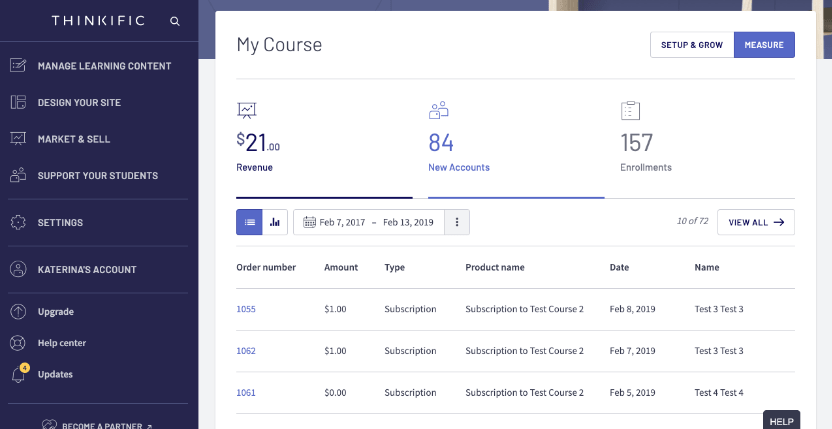 Their template directory is rich so you can easily find the right templates that are designed by experts. Their page builder gives you the possibility to access the HTML and CSS code to customize templates in detail.
App integration is a great plus for Thinkific with automation tools like Zapier, Mailchimp, Stripe, Keap, Brillium etc.. . The platform offers the possibility to give certificates and offers a very great UX experience for students.
Also, students' engagement will increase with gamification and student progress bars, and in and you can reward them with brand-new certificates for course completion.
Online courses with Thinkific can be amazing for the creators and for the students too. The platform offers the possibility to upload videos, create download sections adding quizzes, surveys and discussion boards.
Thinkific accepts 100+ currencies, accepts all credit cards and all the payment gateway are integrated in the system so you don't have to install any third-party app or plugins.
Features
Drag n Drop Page Builder
Library of Templates
Advanced Online Course Dashboard
Highly Customizable
Automation Tools Integration
Student Engagement
Pricing
Free ($0)
Basic ($39/month)
Most Popular ($79/month)
Premier ($399/month)
Pros
Student User Experience
Gamification
Interactive Learning
Instant Access to your profits
Cons
Limited Size of Video and File Uploading
Support is only through email
You can also check our article for more info on Thinkific vs. Teachable, or a more in-depth Thinkific review.
Best Coaching Platform ($29/month)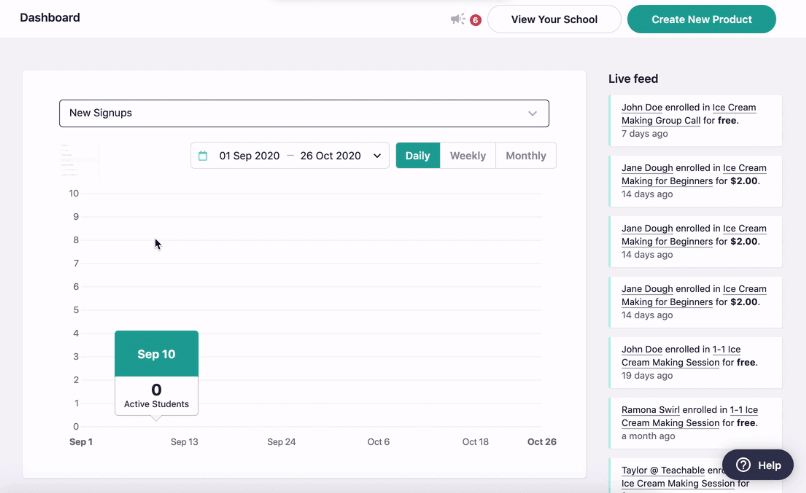 Like the other membership site platforms, it offers the possibility to create your online membership website with all the requested features with no code involved.
Teachable is perfect for coaching services where a lot of creators have sold over 1 billion courses and coaching. You can use your domain name and link it directly to the platform. They have an easy-to-use dashboard where you can create lecture videos and training sessions.
You can track your visitors with very advanced insights and also gives you the possibility to create different user roles from your team members.
Unlimited Everything politics is also applied in Teachable like in Podia. You can have unlimited video bandwidth, courses, and students in all their plans.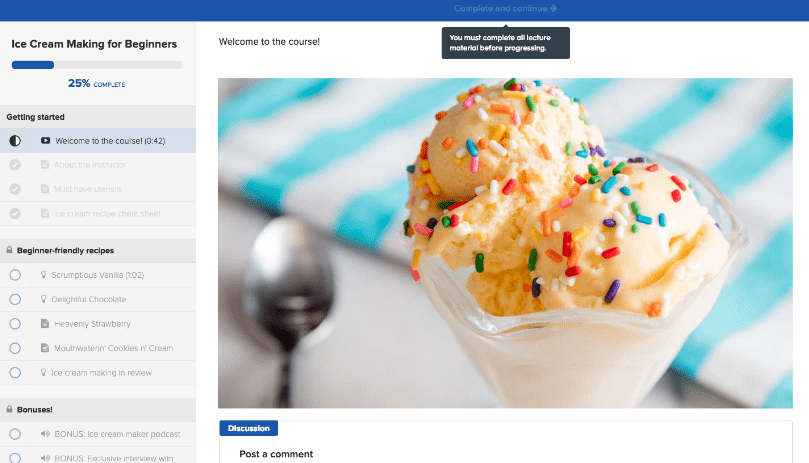 One feature that makes Teachable special is the one-on-one session where you can talk directly to your student. Also, gamification makes the platform enjoyable for students. You can integrate Zapier to give excellent support with Zendesk, Intercom and Olark
Something that I don't like about Teachable is the fact they have transaction fees applied. Also, another downside is the impossibility to create trial memberships.
They also offer instant payouts that are very important for course authors and the possibility to add quizzes and gamification to the students.
You can send emails directly to your students but some details aren't fully customizable.
Advanced pricing options where you can offer coupons and bundles plus the possibility of adding an affiliate program makes the whole marketing process easier.
Like other membership platforms, they offer the possibility to track sales and student data through an optimized UI. International payments are accepted with 130+ currencies plus the possibility to use Paypal and mobile pay. The important thing is the fact that their gateway manages EU VAT, so you will not have problems with taxes.
For more information, you can check out our latest comparison review Kajabi vs. Teachable.
Features
Unlimited Students, Videos
Course Creator
Instant Payouts
Coupon Codes
Integrated Email Marketing
Price
Basic ($29/month)
Pro ($99/month)
Business ($249/month)
Pros
Unlimited Resources can be used
Teachable Payments (receive profits instantly)
Affordable
Cons
Transaction fees are applied
Not great UI on responsive
Emails can't be customizable
Cheapest Platform ($24/month)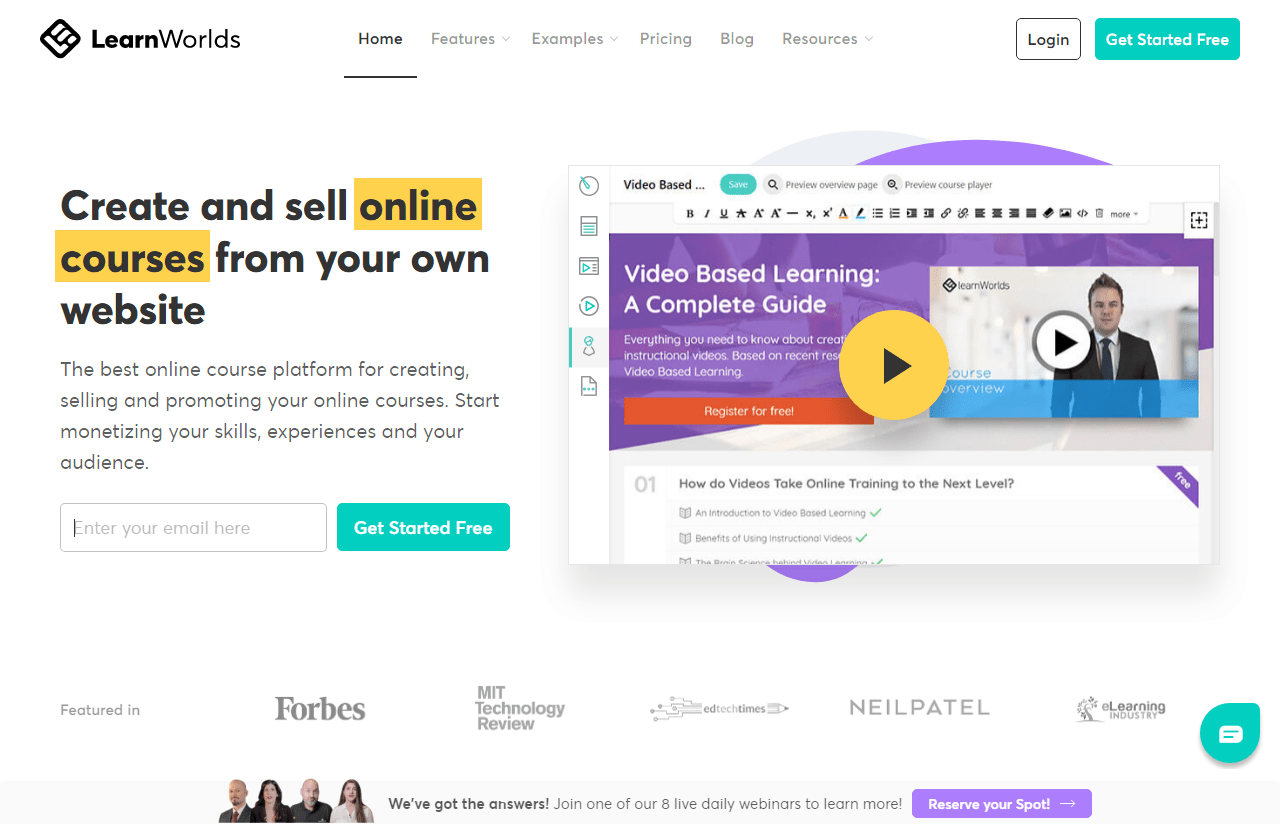 LearnWorlds is a new platform where you can create your online courses and sell them from your own website. It is not important if you have an existing website or creating a new one LearnWorlds can help you in both cases.
The online course builder has and simple website builder with a pre-designed template where you can edit each element with ease. Students' engagement will increase with their video interaction, note takings, certificates, and quizzes.
All the pages are SEO optimized, Fast, and can be branded with your personal logo, fonts and styles. You can create memberships and bundles with advanced pricing options.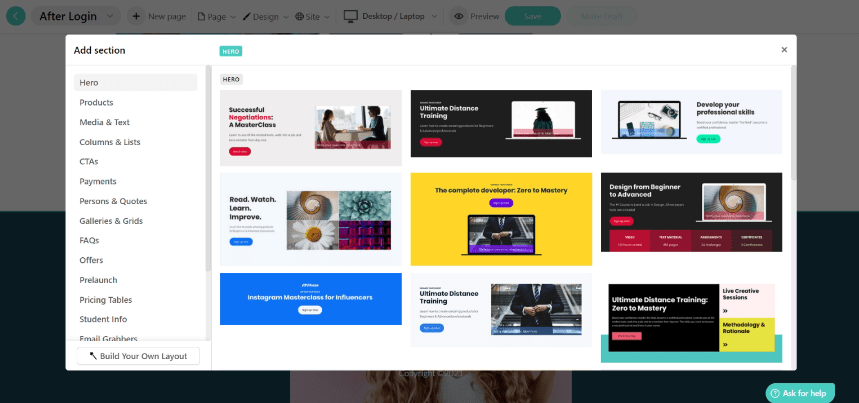 There are two main features that make me happy: 1. White label options where you can add your brand and you can have a full customer experience; 2. App Integrations with Zapier, Zoom, Mailchimp, Aweber, ConvertKit, Google Analytics, HubSpot etc..
You can design personalized Digital Certificates to give to your students when they complete the course. Most of the students love this possibility to show what they have achieved.
LearnWorlds let you create your own blog with their platform to share your thoughts and attract more students.
What I love about LearnWorlds is engaging training with video interactions, note-taking, ebooks, and not all platforms offer this feature.
The platform helps you to create a sales page with customized funnels where you can even customize the checkout page.
They make sure that you will have 24/7 support that included not only the technical part of the platform but also the education to make you successful as edupreneur. Daily webinars where different experts in the field talk about the right strategies and processes to grow your business faster.
Features
Synchronized transcripts
Add Interactions to the videos
Testing System for your students
Landing Page Builder
5 Payment Gateway
Pricing
Basic Package (24/month)
Pro trainer ($79/month)
Learning Center ($249/month)
Pros
Video Interactions
Tests
Great Support
Marking Tools
Cons
Social Users Interactions Missing
Dashboard is Complicated
Customer Support can be slow on the basic package
Best membership WordPress plugin ($149/year)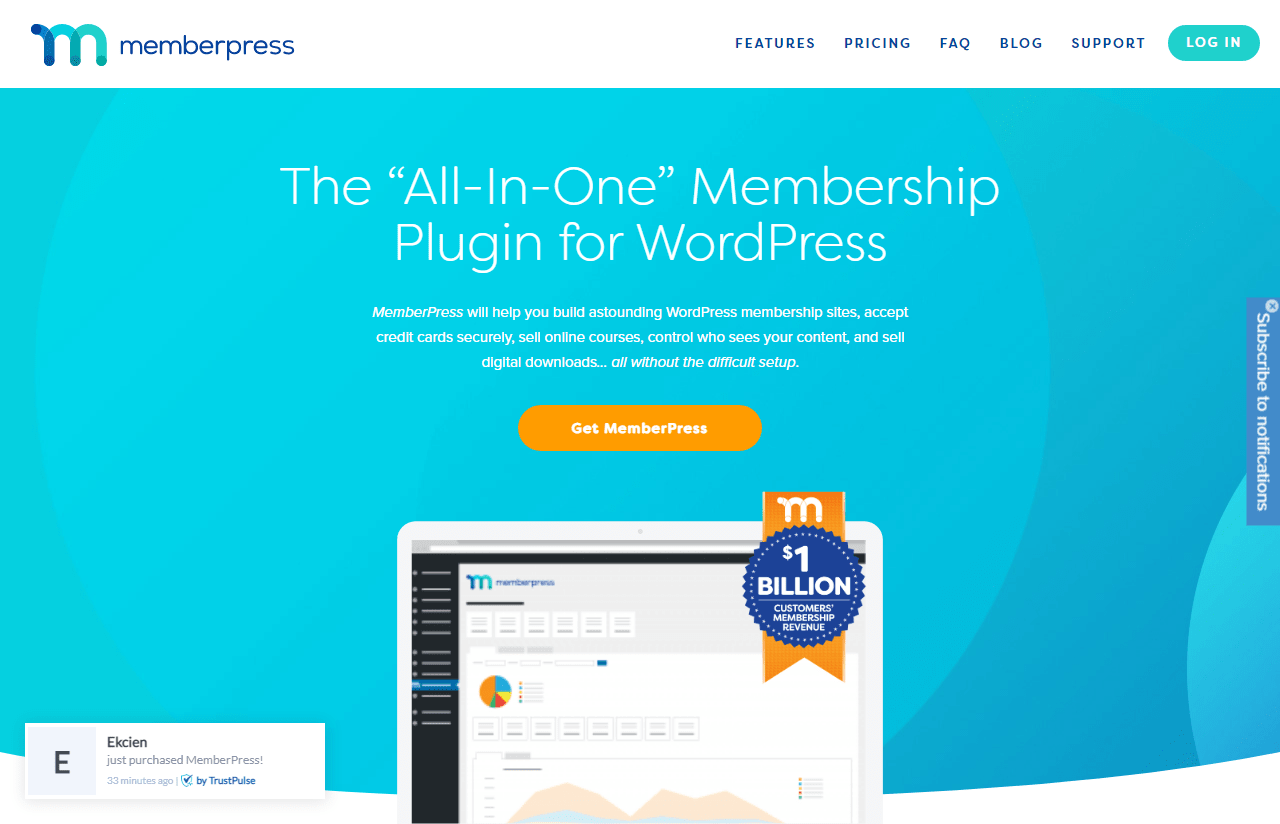 This is not a site platform but a WordPress membership plugin that can be very useful if you to create a WordPress website. WordPress websites can be more customizable and managed than other platforms. You can also scale your business faster and you haven't to pay an extra fee.
I love WordPress because gives you this sense of free choice. MemberPress lets you create single license 5 sites with unlimited members. unlimited contents, unlimited courses.
Memberpress is a great WordPress plugin for membership websites where you easily start selling digital downloads and also allows you to manage members and give them the possibility to access specific posts, pages, categories and videos.
The integration with third-party services enables you to also include forums and social communities.
We can easily sell courses if you integrate it with the LMS plugin which is one of the best learning management platforms for WordPress. LMS is super simple in design courses and with the support of Memberpress, you can also sell them.
You can create coupons that are configurable and customizable with the time they will expire, the discount and also the number of uses.
The plugin offers an affiliate system where you can attract more customers to your platform. In the marketing section, you can find the possibility to create coupons and content access dripping. MemberPress has a good reporting system when you check your profits and your gains.
You can also integrate easily your email marketing platforms within the plugins. So you can automate your marketing processes. Integration with Stripe, Paypal and Authorize.net let customers pay with their credit cards or accounts.
Features
Popular App Integrations
Compatible with any WordPress Theme
Content Dripping
Scalable & Security
Pricing
Basic ($149/year)
Plus ($249/year)
Pro ($349/year)
Pros
High Customizable Tool
Easy Scalable
Cons
Need some WordPress Knowledge
No so many features like other platforms
Difficult to customize form stylings
MemberPress is one of the WordPress plugins for memberships.
Best platform for community courses ($23/month)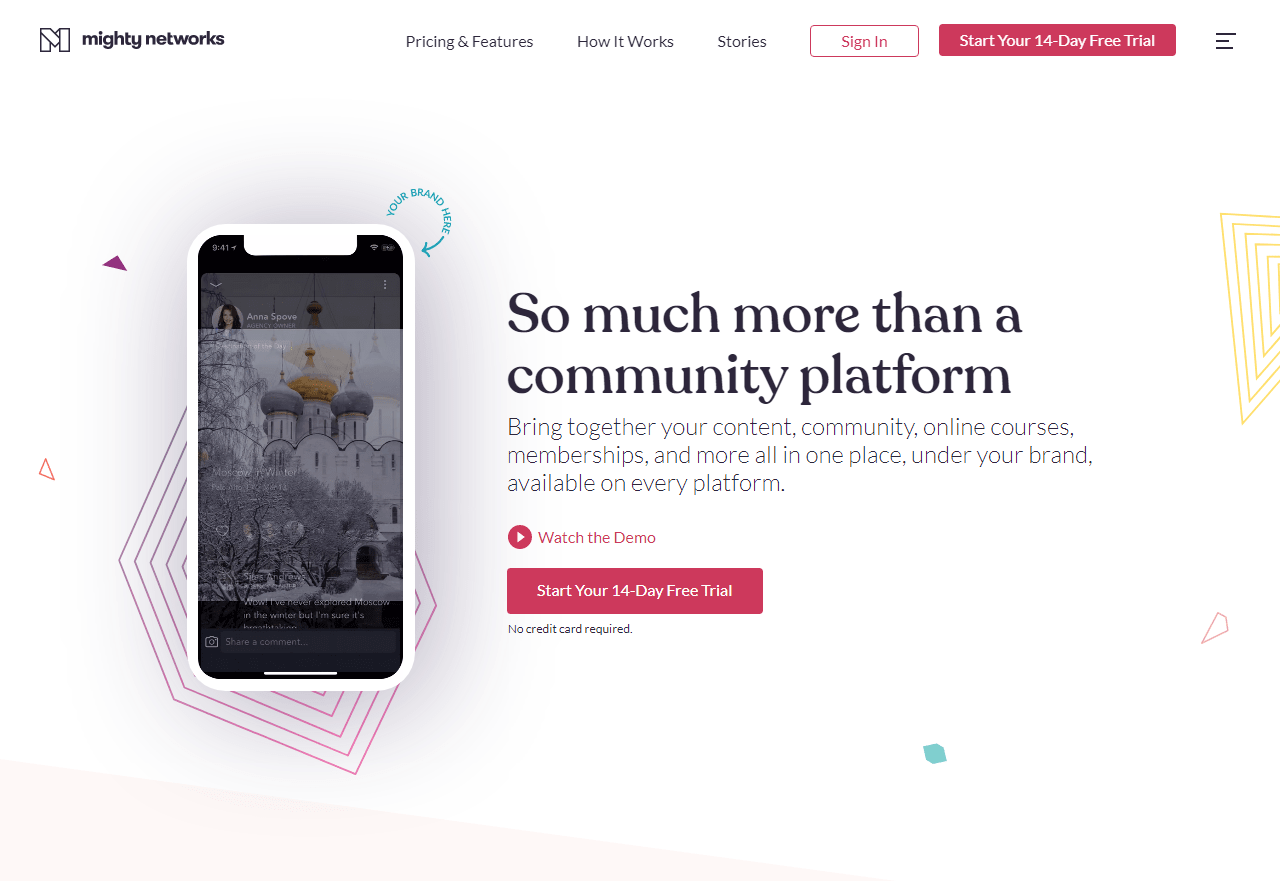 Mighty is a great platform that is super optimized for mobile devices so students can access directly online courses from their iPhone and Android devices. Also, their offer includes unlimited members registered, a website builder and a blog platform system.
You can create online courses easily with community memberships and groups. The process of creating an online course is very smooth and you can add your personal brand. Mighty Networks is very community oriented where users can comment and ask questions.
The dashboard is organized like social media where users can navigate through the feed and the application algorithm show the most interesting posts for each individual user.
For every course you create you can have a personalized landing page that can be visited also by non-registered users of the Mighty Networks platform. Course creators can create different membership levels for a different groups of students this makes the platform so flexible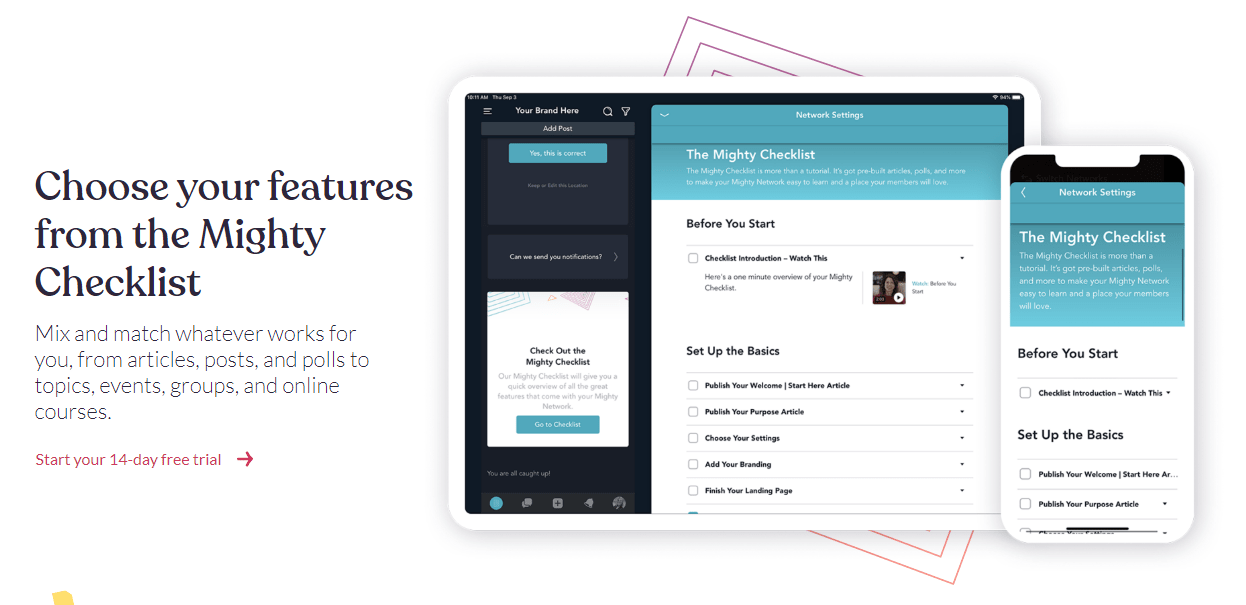 Integration with Zapier gives the platforms to the possibility to Integrate a lot of tools like Google Analytics, Email Inbox, Email Marketing Tools etc..
A special mention to make is the possibility to create a personalized and branded Application with your logo and name for your online course.
Features
Website Builder
Landing Pages for any course
App integrations with Zapier
IOS/Android Application
Pricing
Free
Community Plan ($23/month)
Business Plan ($81 /month)
Pros
Very intuitive for students
Flexible with membership levels
Branded App for your Course
Cons
Videos are not hosted directly on the platform
Transaction fee are applied
The best membership management software ($36/month)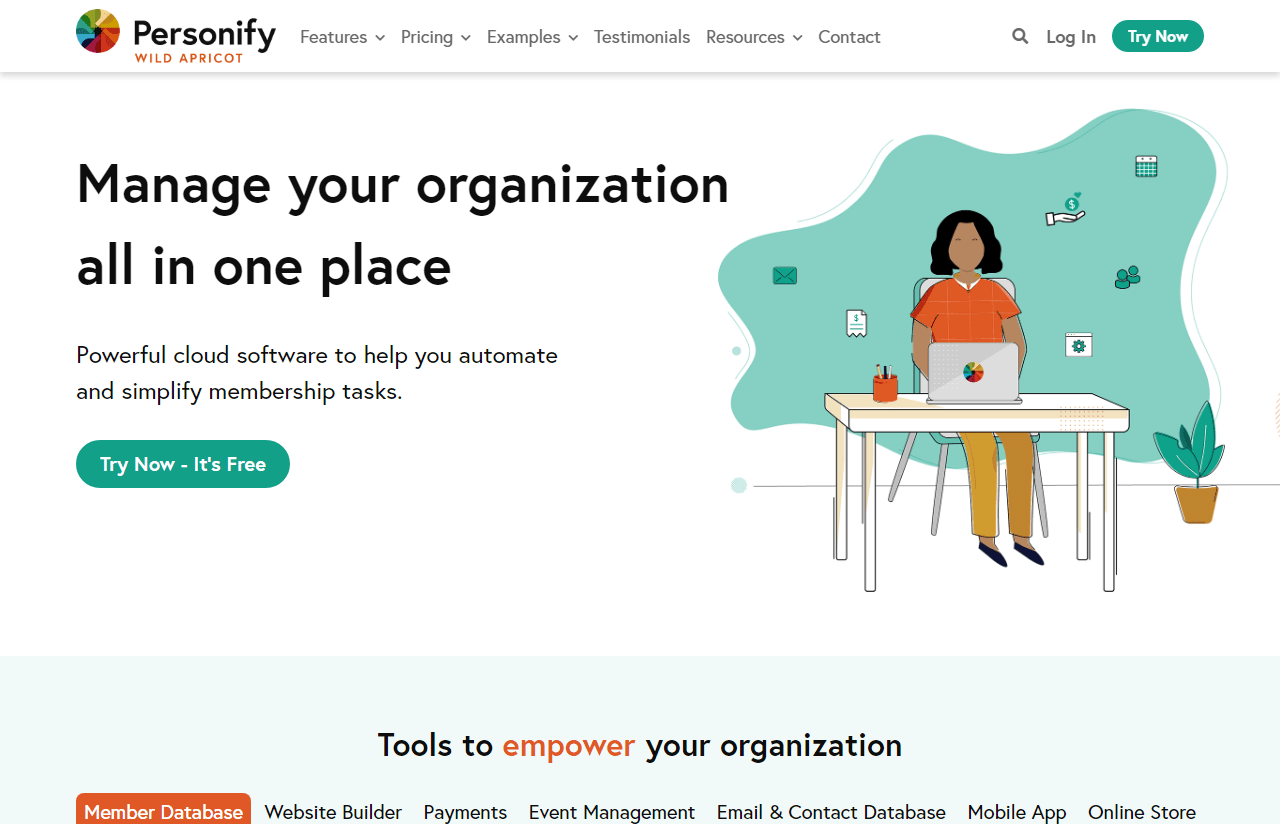 Wild Apricot is the perfect platform for membership websites it offers all the necessary tools needed for creating a subscription-based website. You can create directly any page with their page builder and also manage all the users through a cloud database that allows you to search, update and share with your team.
The platform has a built-in payment gateway system that can accept credit cards and various forms of payment. Wild Apricot comes with automated online invoices and Financial Reports that you can monitor all your organization's finances.
Wild Apricot helps you to create events and registration forms, within minutes you can create an event listing that will be listed on a calendar and published on your website.
All your website content is optimized to be accessible through smartphones through separate applications for admins and for members.
You can use their Integrated online store to manage sales and sell products, and services. The possibility to sell digital and physical products easily from one platform it is fantastic. Also, you can manage all your marketing campaigns from the same dashboard.
Features
Member database (Advanced functionalities)
Website Builder (Included)
Built-in Payment Processing
Event Management System
Email Management
Mobile App
eCommerce features Included
Pricing
Free for 50 Contacts
Personal ($36/month)
Group ($81/month)
Community ($144/month)
Pros
Unlimited emails to the members
Dedicated mobile apps
Cons
Outdated UI interface
Slow customer support
Complete marketing solution ($300/month)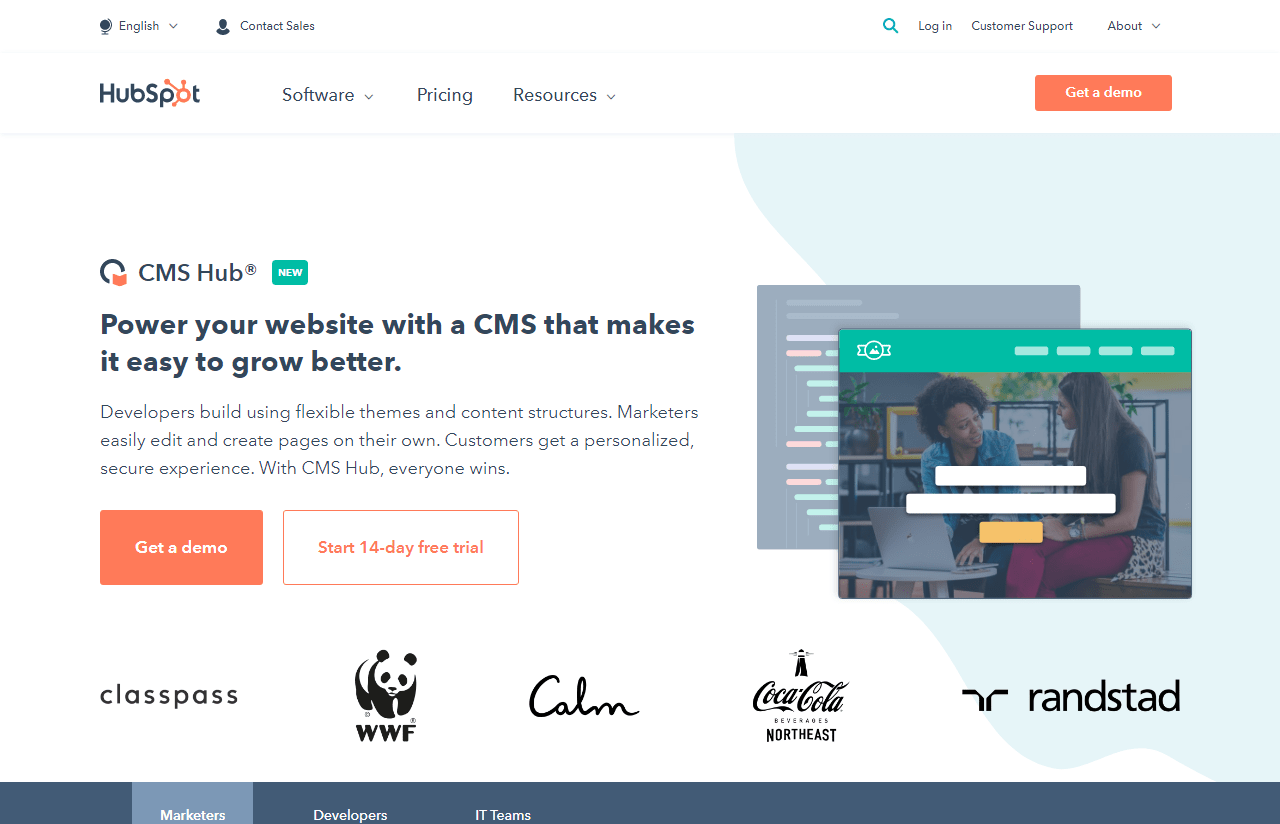 CMS hub is a platform designed by HubSpot that is integrated with all systems they offer. One of these is the membership system which can be personalized based on your needs. You can deliver the content you want to a specific segment of users with personalized web pages.
You can increase your revenue by offering exclusive content to your specific customers. Hubspot can manage your marketing tools from email marketing to landing pages or subscription forms. Also, they have a great system with automation tools and integration to the process smoother.
Support is excellent, and the interface is friendly anyway if you are not so familiar with other CMS may be at the first sight it can look very tricky.
Features
Website Builder
Mail Marking Services
Great Integrations
Support for migrations
Pricing
CMS Hub Professional ($300/month)
CMS Hub Enterprise ($900/month)
Pros
All in one platform
Great Marketing Tools
Cons
So expensive
Not for beginners
How to Choose a Membership Site Platform?
Here are some factors you should consider when choosing a membership website platform:
Decide what type of membership site you want to create. Are you looking to create a subscription-based membership site, where members pay a monthly or yearly fee to access your content? Or are you looking to create a one-time payment membership site, where members pay a one-time fee to access your content?
Decide what type of content you want to offer. Will it be text, audio, video, or a combination?
Consider what features you need. Do you need a forum, a shopping cart, or a way to accept payments?
Make sure the platform is easy to use. You don't want to spend hours figuring out how to add content or manage your site.
You can start narrowing down your choices for membership site platforms. Some popular choices for subscription-based membership sites include MemberPress, Kajabi, and Podia. Some popular choices for one-time payment membership sites include Digital Access Pass (DAP) and MemberGate.
Consider your budget. How much are you willing to spend on a membership site platform? Remember that you may also need to pay for hosting, a domain name, and other add-ons, depending on your chosen platform.
Read reviews. Once you have a few platforms in mind, read reviews from other users to get a sense of the pros and cons of each one. This can help you narrow down your choices even further.
Try out a few platforms. This way you can check which one can help you to achieve what you need.
Membership Site Platforms FAQs
What is a membership site?
A membership site is a website that offers exclusive content or services to its members. In order to become a member, a person must usually pay a fee. Once a person is a member, they typically have access to exclusive content, such as videos, articles, e-books, forums, or discounts.
What is the cheapest membership site platform?
Learnworlds is the cheapest membership site platform from our research. It also has one of the best price/quality ratios on the list. The cheapest package costs $24/month.
What is the simplest way to create a membership site?
There are a few different ways that you can create a membership site. The simplest way is to use an all-in-one platform like Podia. It allows you to create your website and your product and manage your community all in one place.
Can you create a membership site on Wix?
Yes, you can create a membership site on Wix. You would need to use Wix's membership features, which include creating a members-only area on your site, setting up different membership levels, and setting up subscription payments. You can find more information about how to do this on Wix's website.

Ludjon, who co-founded Codeless, possesses a deep passion for technology and the web. With over a decade of experience in constructing websites and developing widely-used WordPress themes, Ludjon has established himself as an accomplished expert in the field.