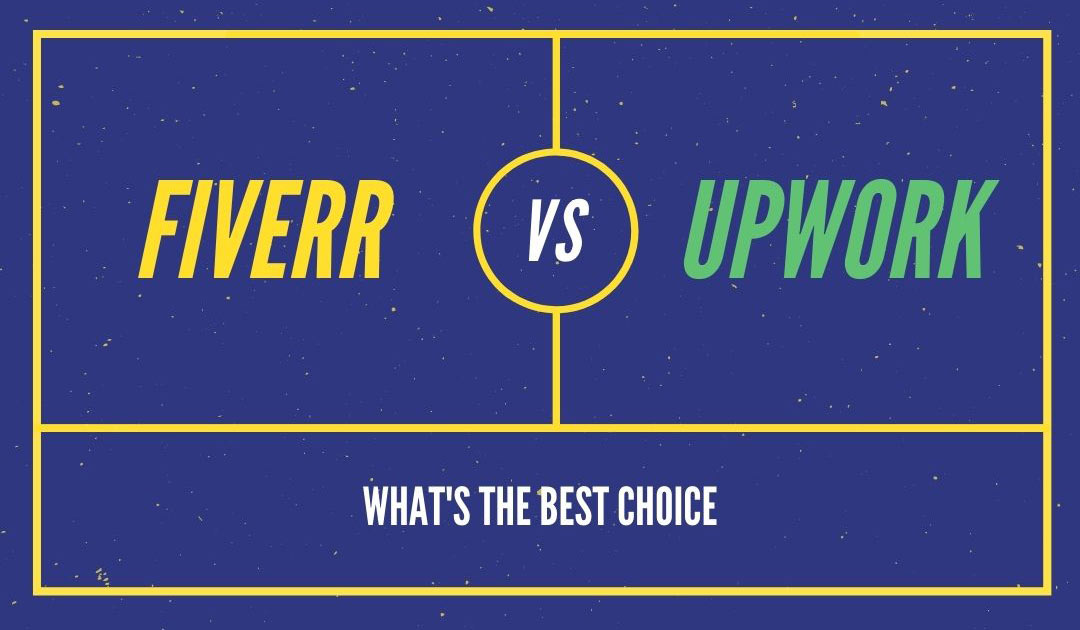 So, here we have brought a comparison of Fiverr vs Upwork for you to select the best outsourcing platform for your small business.
Successful businesses are effectively run with outsourcing. It enables an enterprise to be more profitable with a small business as it helps to focus on the area that enhances the roots of your business. After you choose to outsource your work, you will have to choose the best platform to fulfill your business needs.
Let's have a look at the detailed description of the features of both Upwork and Fiverr.
Fiverr vs Upwork: Platforms Overview.
Both Fiverr or Upwork are the most popular outsourcing platforms. These companies are highly popular among the business owners as they are verified too for the freelancers and workers. However, Fiverr and Upwork are different to a great extent.
The best one for you will be the one that is budget-friendly in addition to the type of work needed. Therefore, it is better to familiarize yourself with these platforms so you can get the best out of them. Meanwhile, you can also use both at the same time.
Here's a tip for you to select the best outsourcing platform:
Customer service support and helpful administration
Funds protection with payment management
Ways to evaluate freelancer's credibility
Large number of freelancers located worldwide
How Does Fiverr Work?
On Fiverr, the freelancers advertise their capabilities and skills, unlike Upwork where you post a job for freelancers. If you need a freelancer to do your project, you search through the Fiverr or Upwork platform and decide which freelancer you want for your project.
Fiverr is quite different from Upwork. On Fiverr, the freelancers advertise their capabilities and skills, unlike Upwork where you post a job for freelancers. If you need a freelancer to do your project, you search through the Fiverr or Upwork platform and decide which freelancer you want for your project. There are even over 400 categories of digital services are offered on Fiverr.
Therefore, Fiverr seems more suitable for getting the jobs of flyer or logo designing.
How Does Upwork Work?
Upwork platform works if you are a business that needs to retail through a new website. Upwork provides a comprehensive platform for outsourcing where the rates, experience, capabilities, and skills of freelancers are posted. Different freelancers can be searched through their price ranges so that you can start your project.
Upwork platform works if you are a business that needs to retail through a new website. Upwork provides a comprehensive platform for outsourcing where the rates, experience, capabilities, and skills of freelancers are posted. Different freelancers can be searched through their price ranges so that you can start your project.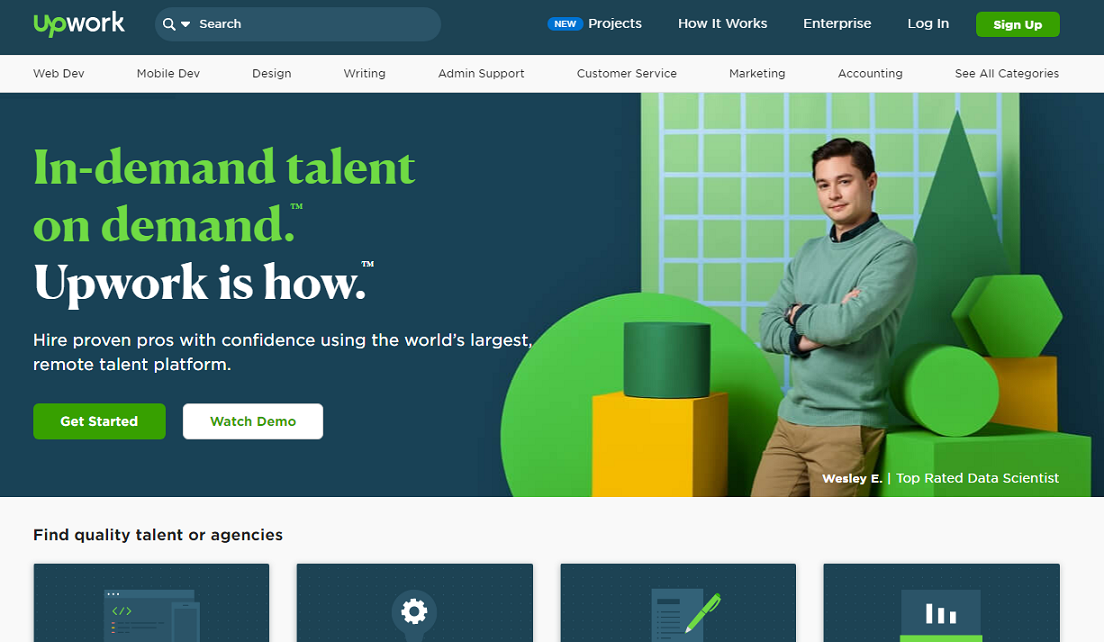 Upwork offers payment, messaging, sharing and document features where you are enabled to do transactions as well.
Upwork vs Fiverr: Which is The Best Freelancer Platform?
1. The Quality of Freelancers' Work
As you pay for a project, you prefer to have quality work in return. The tricky part is to find a reliable freelancer.
Fiverr Freelancers Quality: Is Fiverr worth it?
Fiverr has several categories and subcategories which help the client to find a suitable freelancer for their project.
For example, if you type "logo design" in the "search" bar, you will find more options such as creative logo design, signature logo design, logo design modern, simple logo design, and unique design.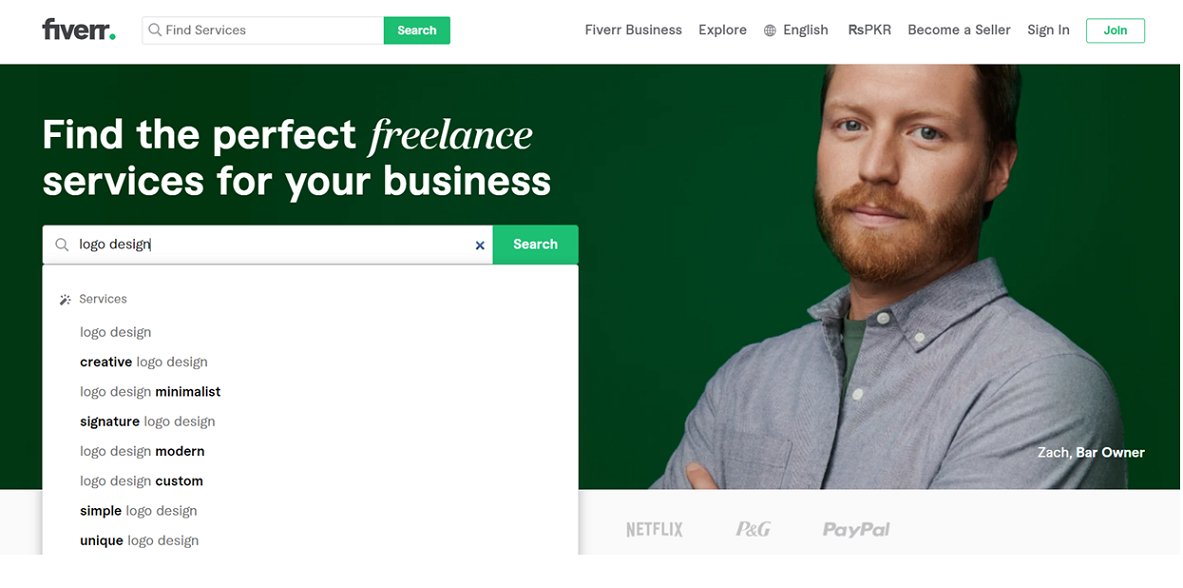 Likewise, a client can also get to the surfeit of information regarding the service of the freelancer provided on Fiverr. Moreover, it is also possible to compare the services of different freelancers and choose a perfect one for them.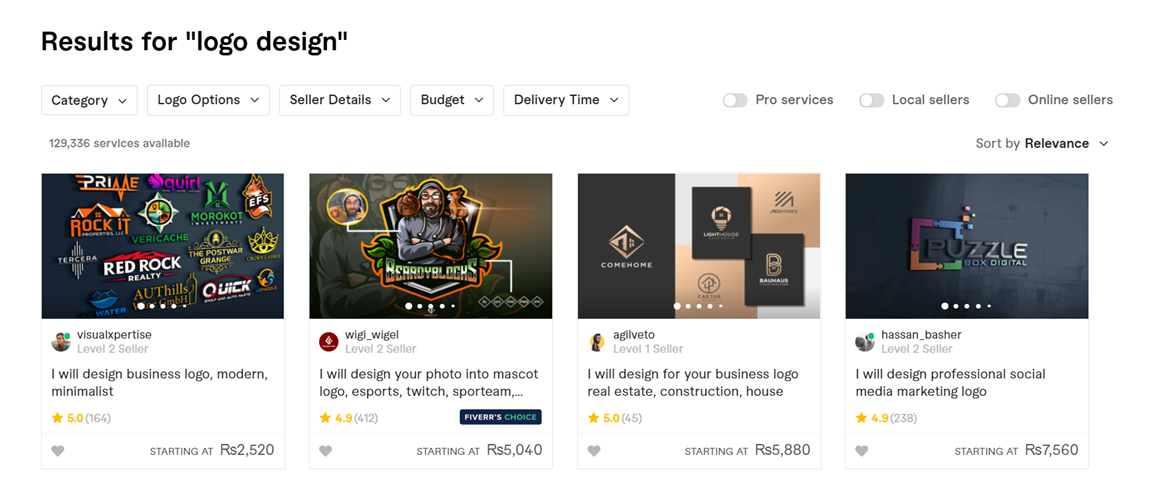 Upwork Freelancers Quality
Clients want the highest quality at the cost of their money. Upwork offers a large number of freelancers. All the client has to do is choose the best one for him.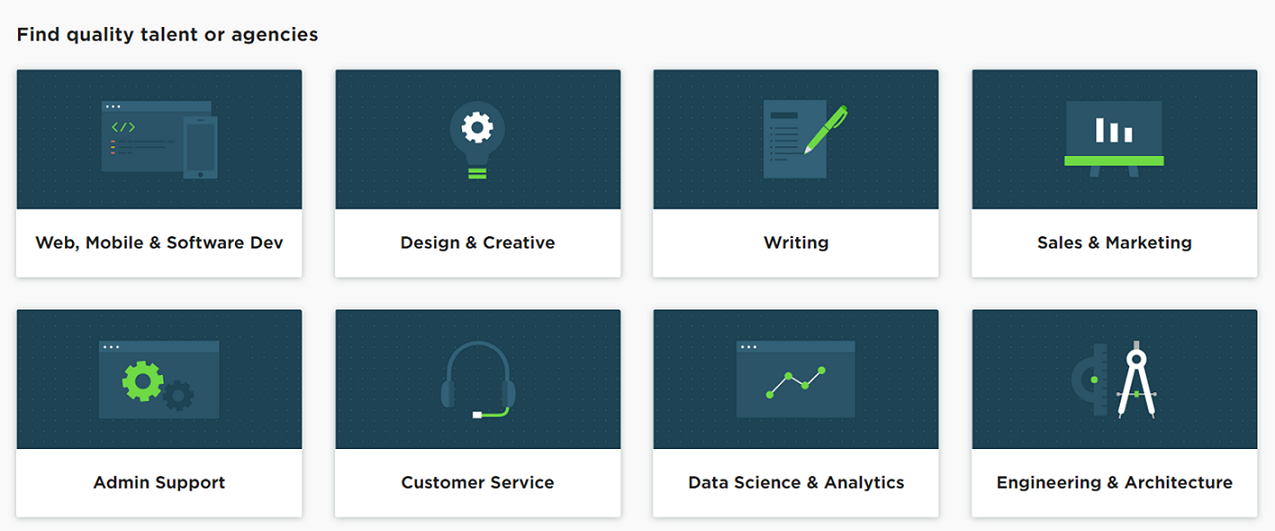 Upwork gives a long list of freelancers so that the client's search is manageable for a specific niche. Various skills can be seen under the selected categories. As you search for a specific niche, Upwork narrows down the list.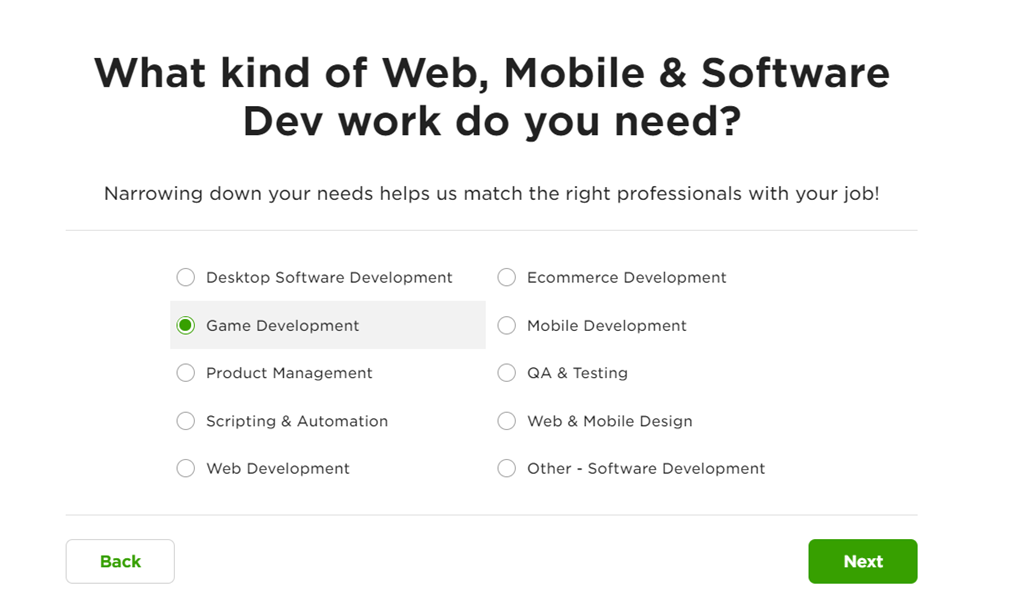 The list of freelancers has a complete set of skills for each freelancer and their performance details. It also includes their experience and rating. Thus, you can make your task easier by selecting one of the best suited.
2. Upwork vs. Fiverr: Pricing
Fiverr Pricing: How much does Fiverr take?
Fiverr provides a good job with gigs. You can set your pricing for your gigs. Likewise, you can also offer different packages such as premium, standard or basic.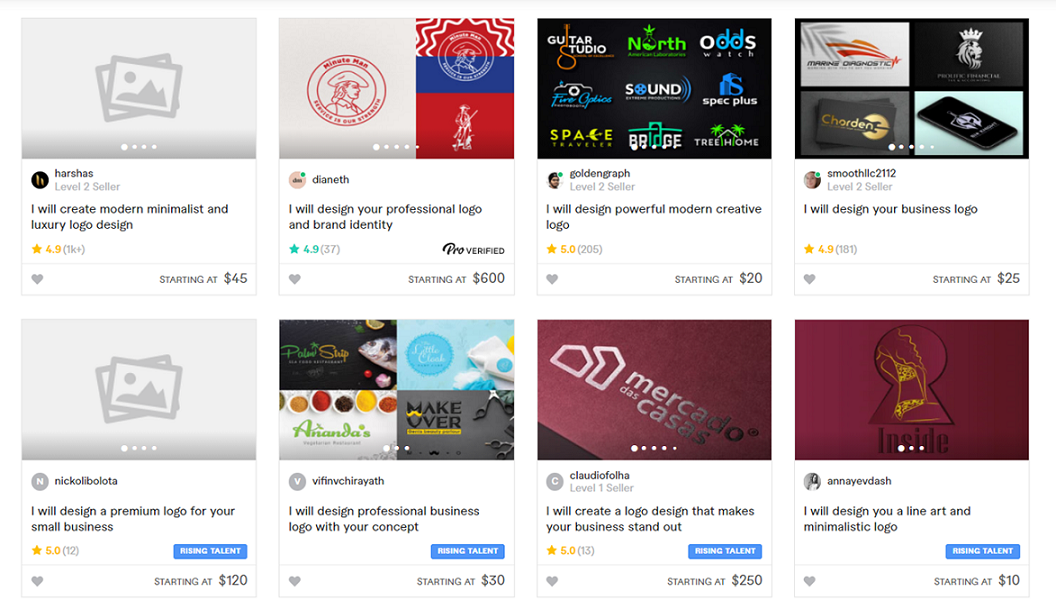 Moreover, Fiverr takes payment both from the freelancer and the client. For an order of $40, they pay $2. The tasks that cost more $40 are charged 5% of the total amount of the gig.
The freelancer has to pay 20% commission to Fiverr in return of any job done. No matter what the worth of the job is.
Upwork Pricing
Upwork also charges from both freelancer and the client. The processing fee on part of the client is 2.75% on each job's transaction. This amount is not included in the amount paid to the freelancer.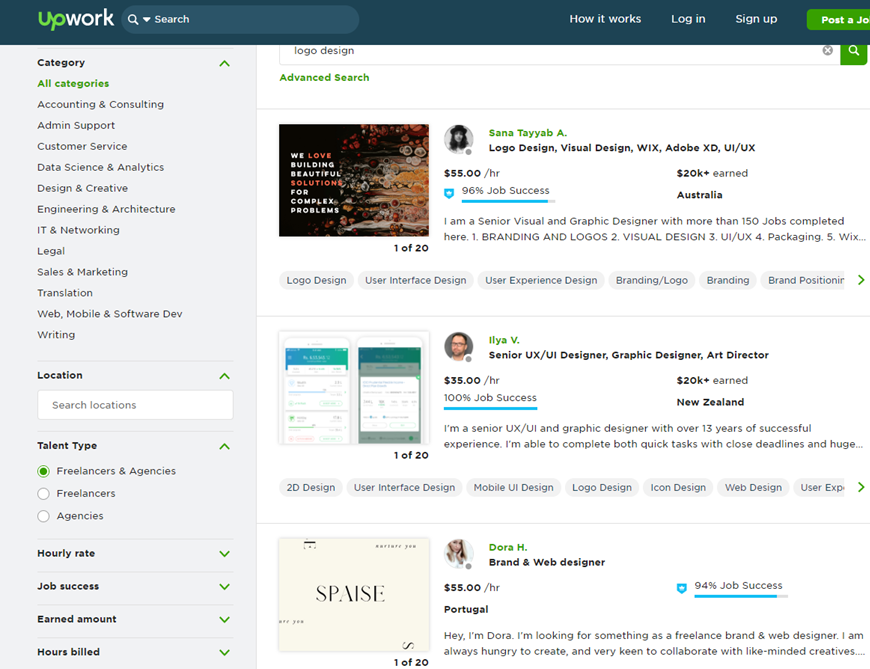 Freelancers have to pay 20% commission to Upwork as a client is engaged. After a certain limit of earning, i.e. $500, this percentage is decreased to 10% only. On crossing $10,000 for a particular freelancer, the client's transaction are charged 5%.
This percentage reduction can be a source of motivation for freelancers to secure more clients by working well and hard. Over time, the price to be paid to Upwork is reduced if you as a freelancer work with a specific client.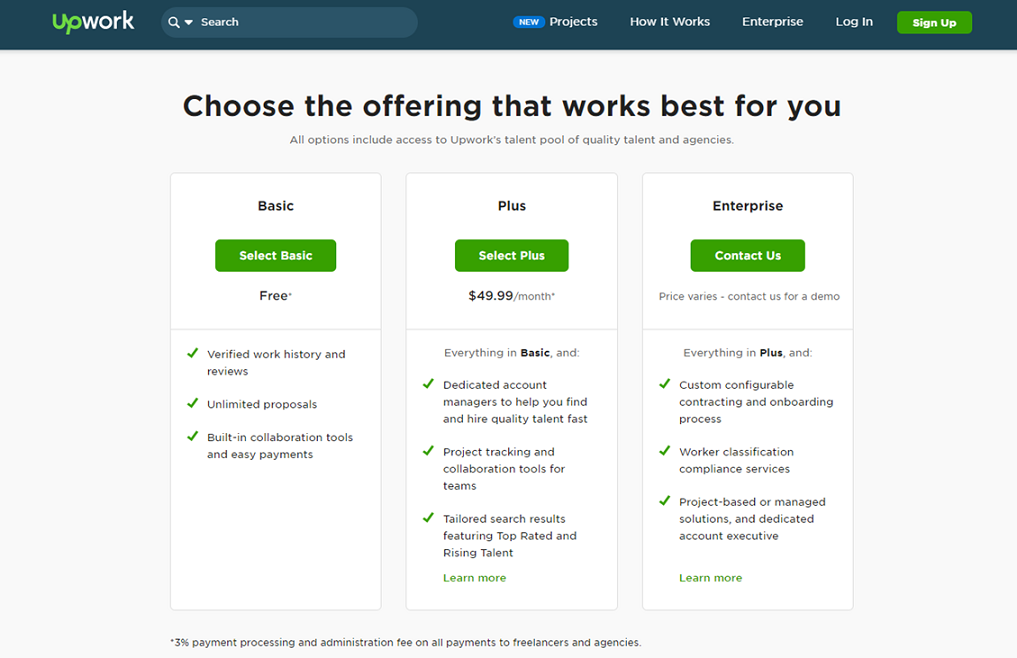 Hourly jobs and fixed price jobs are there so that you can make extra money on Upwork. If you quoted price, skillsets and work is suitable to the client, he'll choose you.
3. Ease of Work: Workflow Comparison
Fiverr Easy of Work
For Fiverr, a friendly UI helps navigate the site quickly. Fiverr offers outstanding tools to get a job done perfectly or search for the best candidate for your task.
Moreover, you can filter out the unrequired niche, profiles and skills from your search. There is a customized search bar with which you can look for your desired skillset.

In addition, a client can also help eliminate the profiles with the information display. The freelancers' response time, rates, articles' portfolios, and previous reviews can also be seen easily.
Upwork Easy of Work
Upwork, likewise, offers a highly visually appealing, and colorful interface. The site is regularly updated so that the site is always stylish and updated.
The registration process is very simple, unlike Fiverr. It only needs you to add a username, password and email. The interface navigation is also highly intuitive yet unique so that you can easily find an ideal job.
The features are designed so that you can narrow down your search results to the minimum. In such a way, you will get a list of freelancers that will suit best to your project.
4. Safety
Fiverr Safety
Fiverr does not look into the authenticity of a freelancer. But in Fiverr Pro safety measures are taken. Anyone is allowed to sell their skillset and products on the Fiverr platform.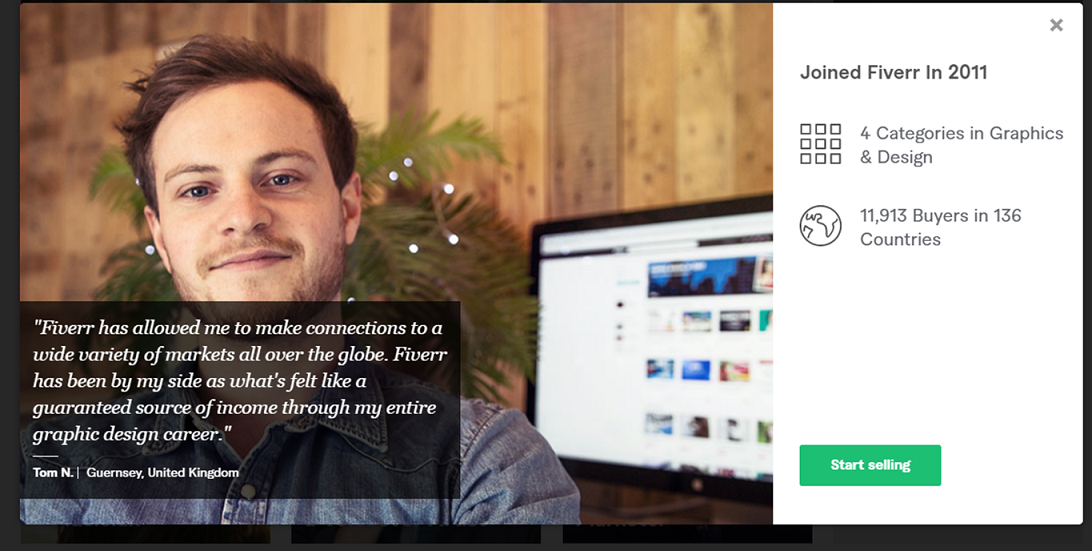 In addition, there is no skill-testing service demanded from the freelancer to differentiate the subpar or right talent. However, Fiverr has an SSL certificate to protect the personal and billing information of both the client and freelancer. You can also read reviews and see levels and ratings of freelancers from their previous buyers.
Upwork Safety
In comparison to Fiverr, Upwork clearly screens all the freelancers so that clients get high-quality of their projects. In addition to giving feedback, rating and reviews on the platform, it also helps to search for the best-talented freelancers.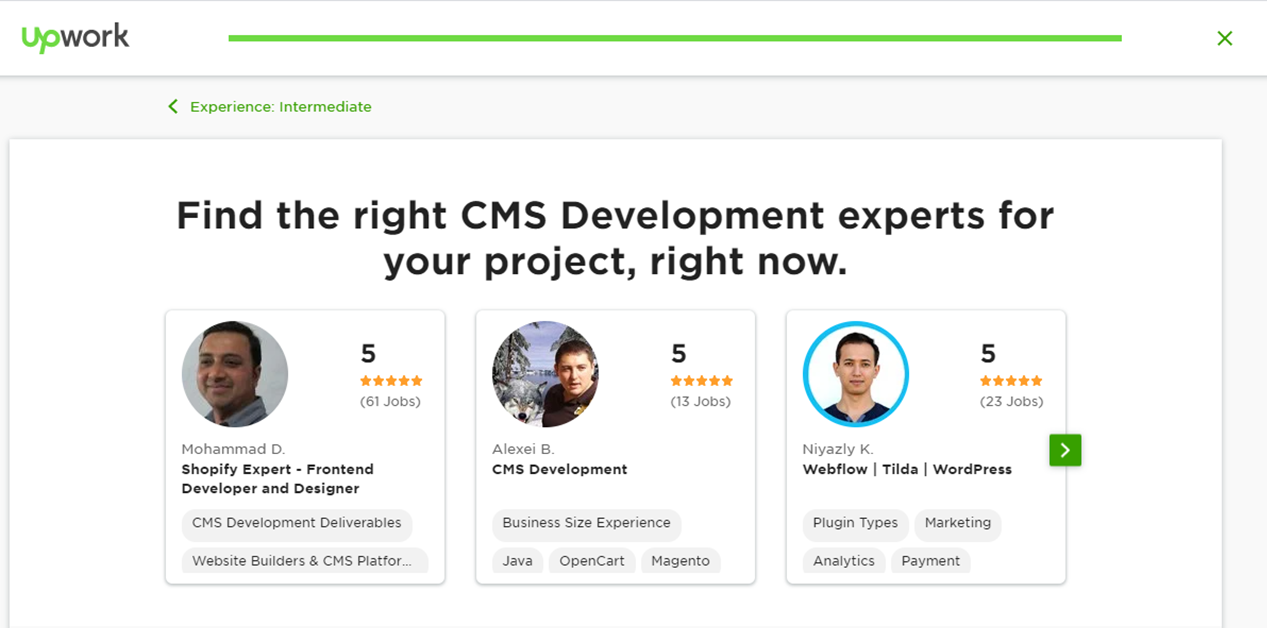 For example, Upwork helps to conduct interviews through different features as well as verify profiles before approving them. In addition to this, the profiles display the scores, successful jobs done, and previous reviews of the freelancer to the next client.
5. Freelancer Approvement and Verification Standards
Fiverr Approvement
Any candidate who intends to become a part of Fiverr has to submit an application followed by a three-stage vetting. The process of vetting is conducted in three stages.
The first stage is technical vetting where the candidate is assessed to know if s/he's aware of the platform. The other two rounds determine the professional aspects.
In the other professional vetting stages, two managers separately vet the business and the candidate to determine the experience, quality and professionalism. The exact requirements depend on the category of Fiverr a candidate is applying to.
After fulfilling all the requirements of the platform, a freelancer profile is accepted otherwise, it is subjected to more inquiry and sometimes the Fiverr team reaches out to the candidate itself.
Upwork Approvement
On getting approval on Upwork, it is important to fill out the "overview section" for Upwork. It is the point from where Upwork assesses a candidate on the basis of skills, background and candidate's abilities.
Also, it requires a candidate to add in multiple subcategories with education and employment history. Upwork also offers several skill tests that may be relevant to the skillset. High scores increase the chances of getting approval.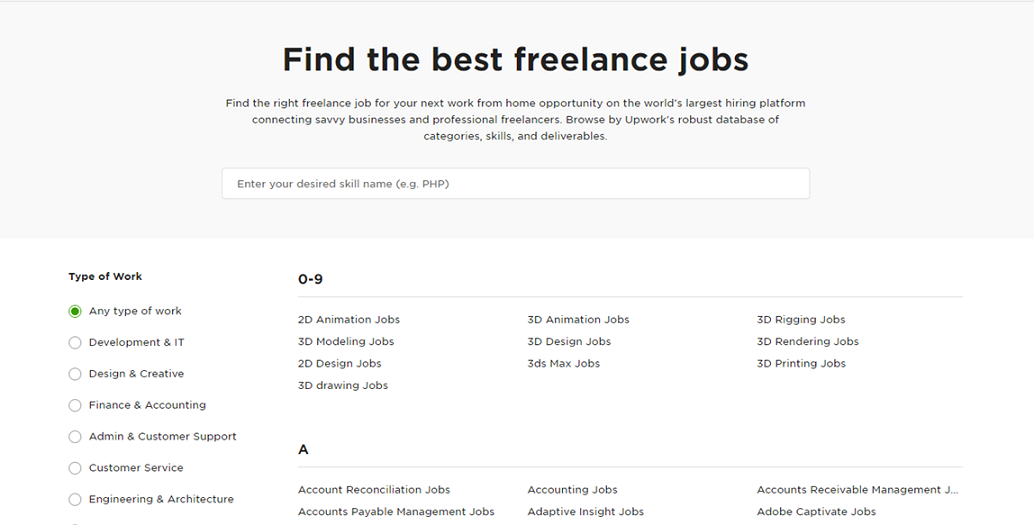 Fiverr vs. Upwork: Pros and Cons
Fiverr
Pros
Minimum bidding
Great clientele
Friendly UI
Set-up communication
Search bar customization
Categorization of skill set
Feedback and rating from clients.
Cons
Difficult to use for the beginners
No free trial
Resolution center is poor
No pre-screening
Upwork
Pros
Easy job posting
Special offers for high-performing and established freelancers
Marketing for multiple categories is easy
Easy communication channel between freelancer and client
Document sharing is secure
Dispute resolution through proper centers
Valid profiles are verified
Profiles re browse-able
Freelancer is easily approachable
Elaborated pre-screening
Cons
Profile activation and verification is time consuming
High competition in getting a job
Paid bidding
Jobs are available only after bidding
Which Is The Best Freelancer Platform for Online Business Owners?
Both Fiverr or Upwork platforms offer unique services and features. Thus, selecting one platform over the other depends on the preferences and budgets of the users.
The services of both these platforms are highly professional. This is why these platforms are most popular among users.
Upwork and Fiverr, both are certified platforms that are reliable for freelancers and companies who have used Upwork on regular basis.
So, deciding between Fiverr and Upwork completely depends on your needs. The smartest choice would be to study both and find the best one.
Hiring Guide: Building Your Freelance Workforce Team
Freelancing is on a high rise, and several entrepreneurs are willing to hire freelancers instead of full-time employees. Not only is this approach cost-effective, but also it saves hiring time and helps business owners find talent quickly.
However, where this hiring freelancer approach seems viable, it can also be extremely challenging to hire the right kind of talent for the job.
So, how can you search and recruit the perfect workforce for your business? Well, here are 3 ways in which you can do that.
1. Read The Freelancer's Profile
The first thing you want to do is to read the resource's profile. Just hop on to their profile page and go through the entire details mentioned there.
This would give you insights into the freelancer's personality, work ethic, delivery rate, and quality reviews. You can apply the same approach on several other profiles until you find the perfect candidates for the job.
I recommend you search and extract more than two freelancers so that if you're not satisfied with the first one, you can hop on to the next option.
2. Take A Digital Interview
Let's assume you have found three profiles that seem intriguing. Now, after learning all about them, contact them. Arrange an interview and talk to them about their interest and how they can help you with your query.
Upwork is pretty helpful when it comes to pre-screening candidates. It allows you to have a video conversation with the resources that you're willing to hire.
So, interviewing the candidate will help you streamline the best resource and check out if he/she has previously worked on a similar project like yours.
3. Stay Connected With Your Freelancer
All the best freelancing platforms will allow you to stay in communication with your hired resource.
By constantly communicating with the resource, you can easily get insights into your project and questions as the project precedes.
Moreover, if you feel something is wrong and your project could be compromised, you can always launch a query.
Both Upwork and Fiverr offer such features that enable you to cancel a job if you think the deliverable would not be up to the mark.
Dispute Resolution – Upwork Vs. Fiverr
Although Upwork and Fiverr are both identical platforms, they have their respective differences. However, there are some aspects on which both of the platforms have similar approaches and thinking.
Both of these freelancing platforms really want you to build and settle your own brand with freelancers. Their revenue model depends on more and more people using their platform and trusting freelancers with tasks.
Both platforms have identical policies and rules when it comes to late delivery, poor product or service quality, or dissatisfaction. However, these policies and rules are there to help buyers distinguish between freelancers through ratings and reviews.
Moreover, there have been situations when the conventional rules and regulations were challenged. So, new terms and conditions of services were created to help freelancers and buyers.
In Upwork's case, if you are not satisfied with a freelancer's performance, you have the option to report them. They also have a dispute specialist that will look into your case. He will recommend a non-binding.
If you reject the recommendation, this means that you're getting a legal arbiter involved. In the end, your case will be evaluated, and a fair decision will be made. Also, the arbiter's cost will be divided among the freelance, Upwork, and you.
In Fiverr's case, if you're facing a problem with a freelancer that you just hired, you can rest your case to someone at Fiver. This individual will look into your case and decide whether the buyer receives a full refund or not.
Hence, both the platforms have security measures ready for freelancers and buyers if any party requires them so, both the platforms are technically on par with each other.
F.A.Q
What is the best site for freelancing?
Upwork, the best freelancing website to gain loyal customers. The best is the one that suits best the experience and skills of the freelancer.
How easy is to hire a freelancer?
Freelancing websites offer a huge number of services. Most top-ranked freelancers respond quickly on renowned websites.
Which platform is beginner-friendly?
Fiverr uses segregated levels of skills for freelancers. It proves to be a good resource for businesses by offering budget-friendly freelancers.
Which one's cheaper?
Fiverr is cheaper. Upwork charges per hour and Fiverr charger per-job rate.
Which one's more profitable for freelancers?
Each platform is unique. Upwork welcomes skilled professionals but Fiverr is more budget-oriented with a high volume of jobs.
In Summary
The economy of freelancing is increasing sharply in the past few years. Therefore, people must explore freelancing platforms before selecting one.
That's why we created this Fiverr vs Upwork comparison. It is a tough decision to decide which one's winner. Here, Upwork excels as Fiverr does not offer multiple profiles, navigation, search-ability, security, earning and payments, B2B communication, and client-end support. Thus, Upwork has the edge.
This case varies according to the requirements of the work and expectations you have for the platform. Indeed, both platforms offer the best mix of skills and jobs
In case you want a blogger, logo designer a video maker or a website designer cheap, fast, medium quality i highly recommend Fiverr

Ludjon, who co-founded Codeless, possesses a deep passion for technology and the web. With over a decade of experience in constructing websites and developing widely-used WordPress themes, Ludjon has established himself as an accomplished expert in the field.