WordPress is a free CMS that anyone can use to build websites with little knowledge. So I was thinking of those people that ask me frequently how to start with WordPress. Finally, I can send them here responding with some of the best free online WordPress Courses and certifications.
WordPress is a great skill that anyone who wants to start working online has to learn. The latest statistics show that WordPress usage has increased by 12% per year since 2011
Many platforms are currently offering courses on WordPress's multiple actions without charging a single penny. While some lessons are for freshers, others have advanced details for experts, covering it all. We have gathered seven such courses for your guidance.
Let's get started!
Top 7 Best Free Online WordPress Courses with Certification
Best Overall WordPress Course for Free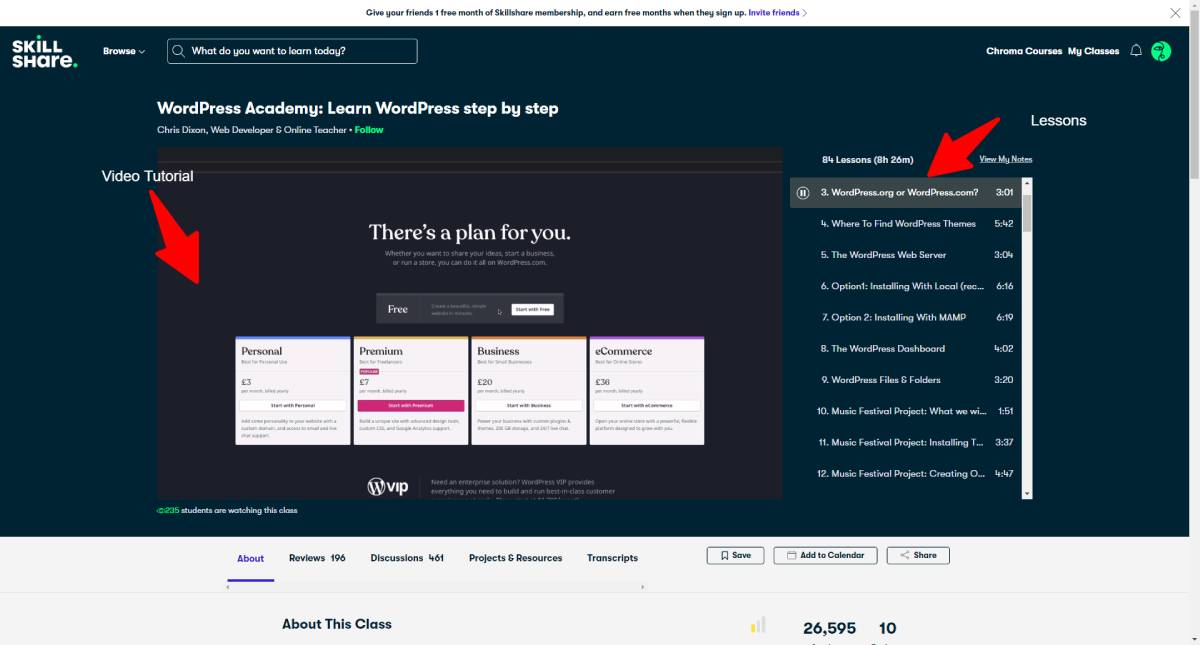 SkillShare has covered all the basics of operating WP in their academy through this course. It includes all essential aspects surrounding web building and designing at WordPress. The practical skills you attain from here are of three different levels; basic, intermediate, and advanced.
The lesson lasts around 8 hours and has the following sub-topics;
Use of WordPress dashboard – The WP dashboard is straightforward with intuitive UI, but some beginners may feel overwhelmed seeing many options. Hence, this course teaches them about every option on the dashboard and its potential use.
Website creation – Once you know about each option, the course teaches you how to develop a website from zero. It presents step-by-step instructions to perform the task.
Insertion of images – Visual items have an essential role in increasing the brand value of any website. The course educates learners about using images and ways to optimize them for enhanced UX.
SEO knowledge – Search engine optimization is also necessary for a website's success, determined by its search engine ranking. You can get all details about this operation inside this course to achieve better SEO results.
Development of E-Commerce Website – Several online businesses is directed toward product selling. The course will let you know how to set up an online store, configure products, and other similar aspects.
Development of Theme – Themes should be of top quality and match your brand style. You will learn further details about this domain by following the course thoroughly.
All these topics have separate videos under the single course title, and the instructors will also provide you with short assignments regarding what you learn. This lesson is full of practical skills and ways to apply them in real-time.
You will also gain access to exceptional tips and tricks that will prove worthy in your journey as a web designer. The course is reliable for beginners, with information conveyed as simply as possible. You can also take help from their team through the customer support form in case of any query.
Course Specs:
Level: Beginner
Hours: 8h 26m
Lessons: 84
Enrolled Students: 26595
Author: Chris Dixon
Eldo's Take: You must complete the entire learning process in free 7-days as the platform charges $2/monthly membership fee afterward. A credit card or Paypal is required to finish the registration.
Best for WordPress Basic Skill Acquisition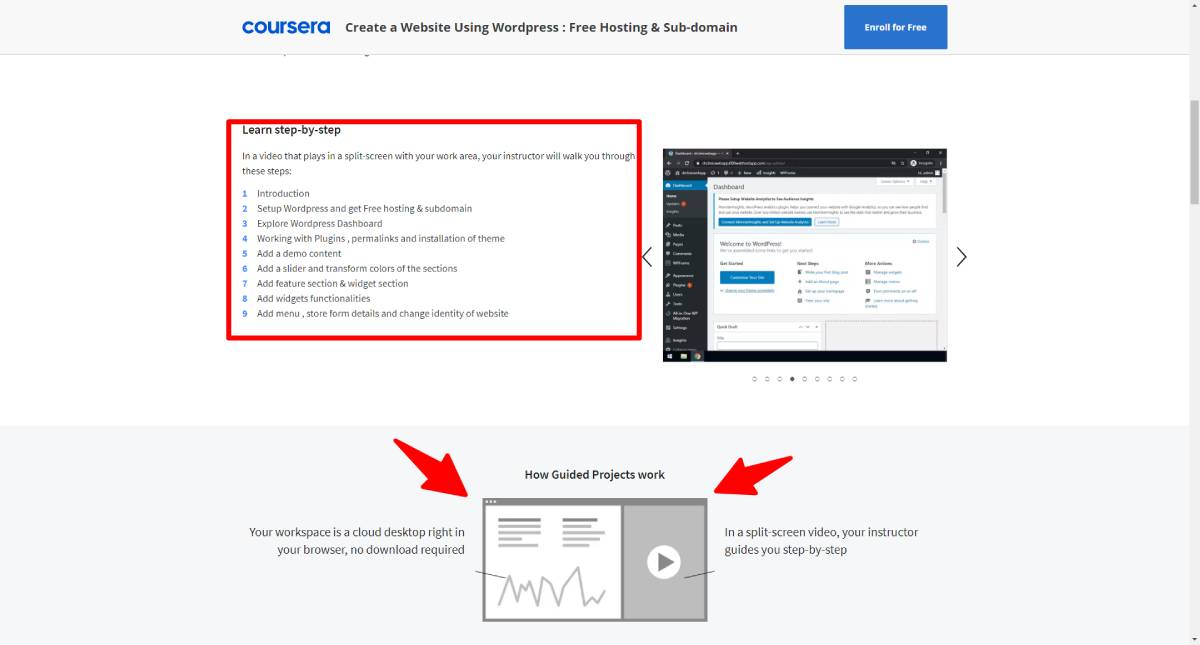 Designing a website at WordPress may be easy, but optimizing it with your brand's style is what requires exceptional skills. An ideal website should provide an extraordinary user experience in visuality and functionality.
Coursera has dedicated an entire course to giving lessons on this area through multiple lectures-based courses. You can find the lesson on their academy by the title "Create a website using WordPress". The course is part of the Coursera project, where the learner can learn and apply simultaneously. You will have two tabs, one where the instructor will be guiding, while in another tab, you can practically follow his instructions on WordPress.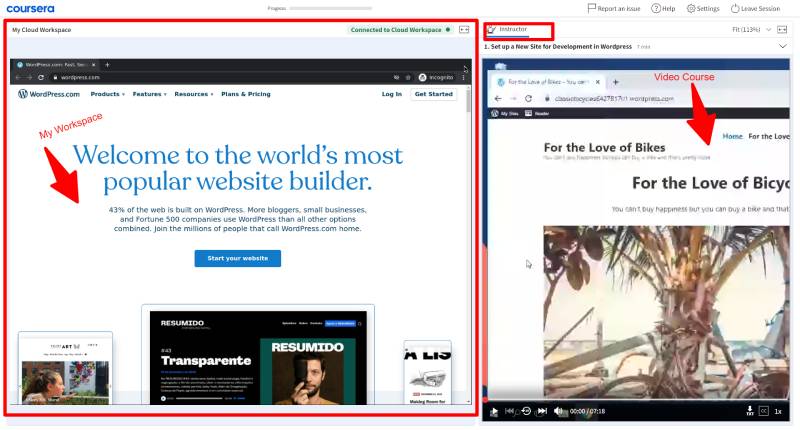 I guarantee that the course will equip you with top-notch details and skills regarding the following domains.
Setup WordPress
Explore WordPress Dashboard
Working with Plugins , permalinks and installation of theme
Add a demo content
Add a slider and transform colors of the sections
Add feature section & widget section
Add widgets functionalities
Add menu , store form details and change identity of website
Your optimized WordPress website will be ready in 2 hours by following the directions step by step. These skills will now stay with you forever, and you can apply them further to create more websites at WordPress. However, it demands direct involvement of the learner in real-time. Also, don't expect extra support on any issue regarding the project since it follows a direct approach.
Beginner-level trainees may find the lectures speedy as the instructions shift from a little introductory session to a crucial point. It is known for building impressive skills among web designers of intermediate levels.
Course Specs:
Level: Beginner
Hours: 2h
Lessons: 9
Enrolled Students: 25410
Author: Priya Jha
Eldo's Take: This course will learn how to work with WordPress with basic knowledge so you can immediately start working on your site. Coursera offers these guided projects that make the course very easy to follow and interactive. The screen is split into two parts wherein on one side you have your project workspace and on the right side, you will get the instructor video. So you will build your project in real-time.
Best for becoming a WordPress Junior Developer
WordPress developers have remarkable market value, further enhanced if their work has premium themes and plugins packaged. Learning the route to becoming a WordPress developer is also straightforward but on the condition of studying it from suitable sources.
LinkedIn stepped forward with its comprehensive Become a Junior WordPress Developer course to facilitate this WordPress aspect. If you get involved in the learning process sincerely, nothing can stop you from getting a perfect grip over the developmental basics of WordPress. The course takes 20 hours to finish with professional knowledge of 20 years.
The course is divided into 5 sub-topics surrounding WordPress, which include;
Around seven experts with specific skills present these details to your end. The information is depicted in videos and standard text for compatibility with your learning style. LinkedIn also generates a completion certificate when you are done with the course. This accreditation will improve the credibility of your LinkedIn profile.
Course Specs:
Level: Intermediate
Hours: 20h
Lessons: 432
Enrolled Students: 50849
Authors: Morten Rand-Hendriksen, Joe Casabona, Joe Chellman, Christina Truong, Jen Simmons, Patrick Rauland, Joe Dolson
Overall, the course is advantageous for those striving to become WordPress developers. You would not get such a valuable deal anywhere else, so grab the opportunity now!
Eldo's Take: This is one of the most complete coursers to learn WordPress development i have ever seen. The course is free if you finish it within one month of registration. The platform demands $199 per month (billed annually) to access the WordPress development course if you fail to do so.
Best Free SEO WordPress Course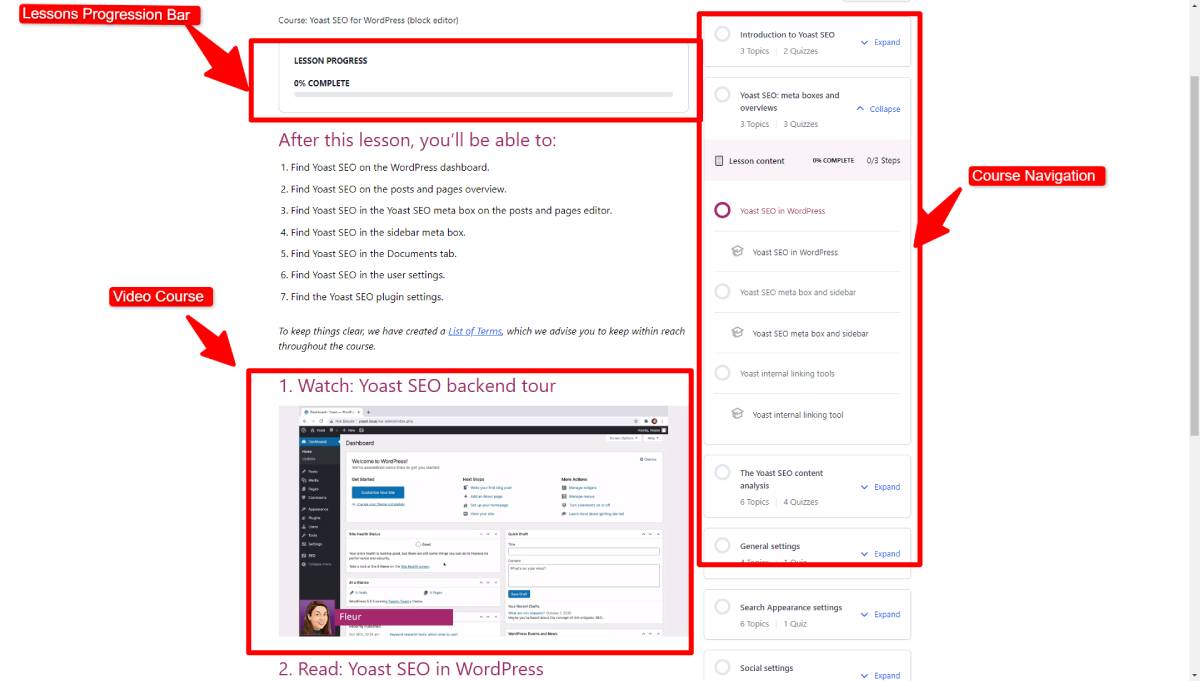 Search engine optimization has a valuable stance in ranking a website by search engines like Google, Bing ,DuckDuckGo etc. Impressing AI technology with your content is complex if you lack SEO knowledge. Yoast SEO software guides you towards a better ranking position through keyword optimization, contributing to organic traffic generation.
Yoast also has an academy where you can learn details about its SEO tool and how to get maximum benefits out of it. The academy is full of insightful lectures, out of which Yoast SEO
Plugin Training is exceptional for gaining complete details about search engine optimization. The duration of the entire lecture is 2 hours, where you can access 41 videos covering multiple SEO aspects.
This a preview of what you will find inside the course:
The course will educate you about;
Most acceptable methods to use Yoast SEO tool
Basics about search engine optimization
Search engine's standard rules for ranking
Tips for resolving typical SEO problems
Creation of SEO optimized web content
Content boosting tricks for social media promotions
These lectures will still prove advantageous if you are familiar with any other content optimization tool like Surfer SEO. It contains universal details about SEO rules and regulations and content optimization, irrespective of your software. However, we prefer only Yoast users to attend this course as they would be able to attain maximum benefits.
The course completion will have you gain a certificate and badge, with downloadable PDFs of the content. The documents also contain additional tips regarding SEO. The platform will provide 14 quizzes of multiple difficulty levels to ensure you are learning well.
Course Specs:
Level: Intermediate
Hours: 2h
Lessons: 41
Enrolled Students: n/a
Authors: Yoast Team
Eldo's Note: Course cover all the aspects of SEO on a WordPress website and also comes from a very reputable source like Yoast SEO that is the most used SEO WordPress plugin.
Best WordPress Security Course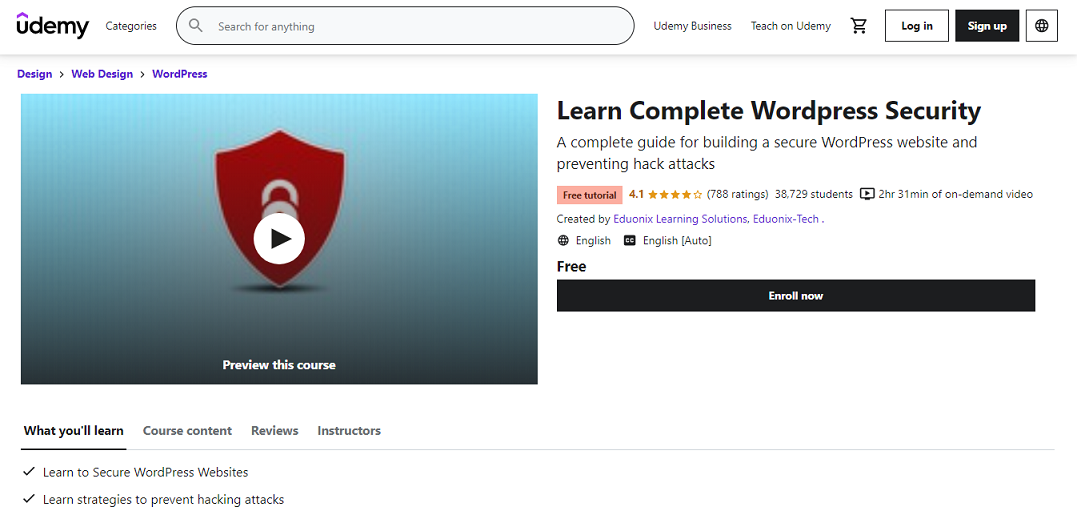 Multiple surveys conclude that hundreds of websites fall prey to hackers, spammers, and malware viruses every day. WordPress Hence, a fully functional website demands proper security measures to prevent such mishaps. It is tricky to know which plugin is perfect for multiple safety concerns. But Eudonix's Learn Complete WordPress Security course will put a full stop to this issue forever.
If you closely go through this training of two hours and follow its tips and tricks, your WordPress website will be 100% secured with no more security threats. The instructors have multiple videos prepared on multiple aspects of web security.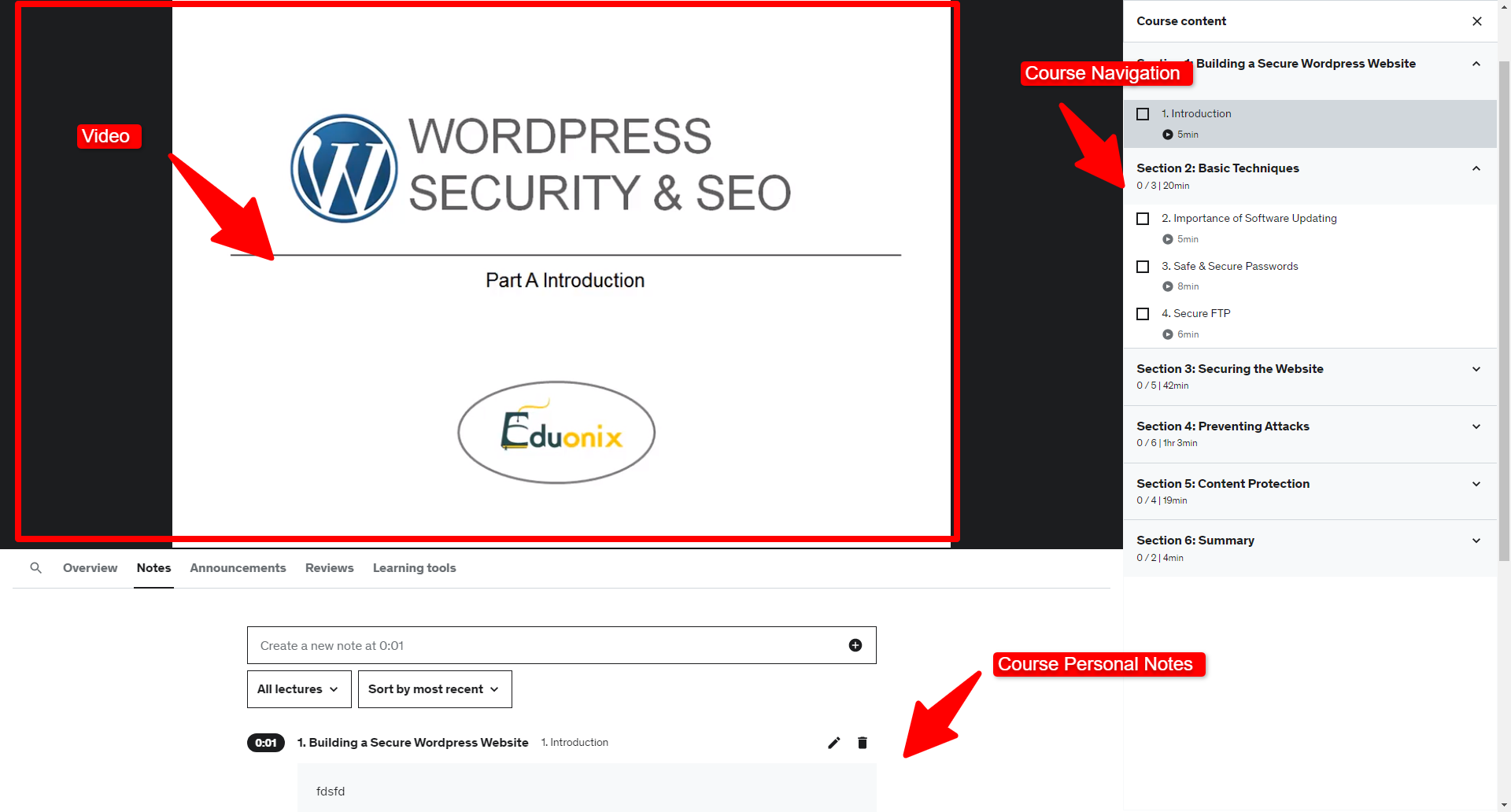 The course will equip you with crucial details like;
Why updating software on time is essential, and what ways to do it?
Use of secured pins and keywords for secret access
Importance of File Transfer Protocol
How to use ideal plugins for relevant purposes?
How to shield the server and the data stored over it?
Two hours may sound short, but the course covers full-scale information about security tips. The sub-topics include safety basics to premium advice on protecting a website from frequent cyber-attacks. Any attendee can benefit from this lesson irrespective of their expertise level. Unlike other WordPress courses, you will get no completion certificate. Also, there are no quizzes to test your after-knowledge. But the comprehensive details are enough to outweigh the lacking.
Course Specs:
Level: Intermediate
Hours: 2.5h
Lessons: 21
Enrolled Students: 38730
Authors: Eduonix-Tech
Eldo's Take: Everyone that work with WordPress should take a look to this course. There are some important advice that most of the time regular WordPress users forget to apply.
Best WooCommerce Course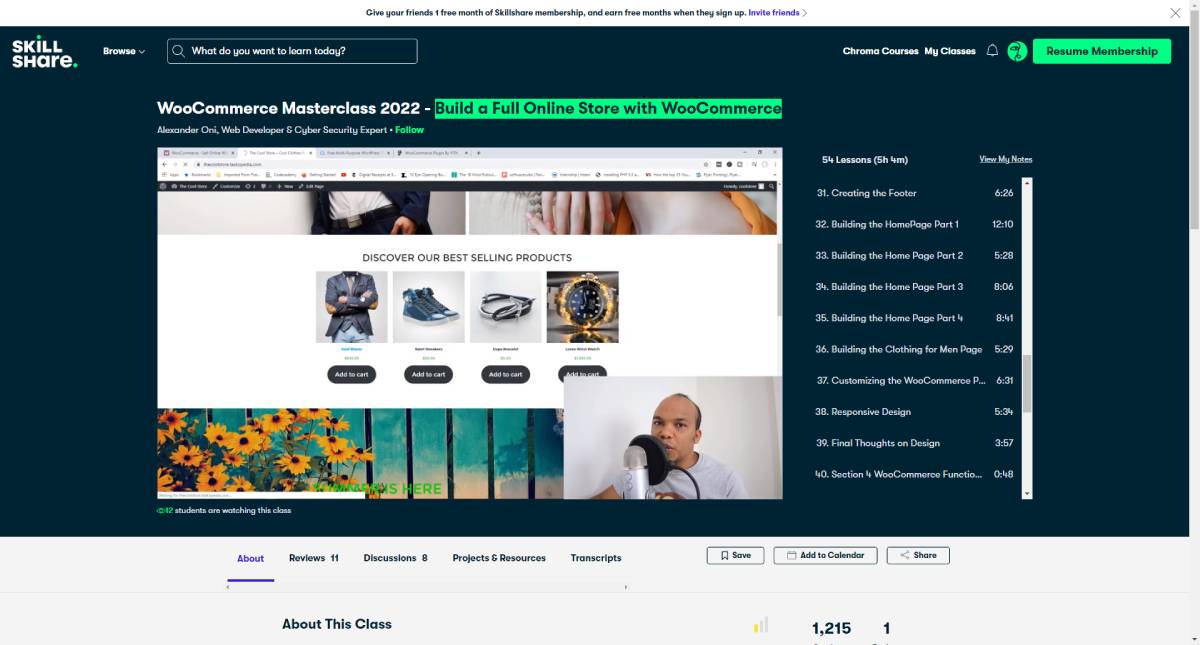 Online shopping is now trendy, and many entrepreneurs seek to establish a digitalized shop or store to earn money. But is it easy to set up an E-commerce website with WooCommerce plugin on top of WordPress.
The course targets such novice businesspersons by conveying details about starting an E-Commerce venture with minimal complexity. The lesson has all details regarding successfully starting and maintaining an online store.
You will learn the following aspects from this all-inclusive course;
How to search for an ideal hosting platform?
How to create web pages like a landing page, checkout page, sales page, etc.?
Essentiality of WooCommerce in such online ventures and ways to maximize its use
Ways to add and configure products
How to customize the store for increased brand value?
How to add navigation bars and menus?
Our all-time favorite thing about this lesson is that it has straightforwardly explained every point. While minimal and on-point information serves as a perfect choice for beginners. It also opens your mind to the basics of WooCommerce, but you may have to opt for any other course to learn its detailed use.
Course Specs:
Level: Beginner
Hours: 5h 4m
Lessons: 54
Enrolled Students: 1215
Author: Alexander Oni
Eldo's Note: The course is presented in videos with 5hours duration and is free for a month. However, there are no quizzes, documents, etc., for interactive learning. The instructors are also directed to teach the set curriculum with no added support.
Best Free Online Course for Optimize WordPress Speed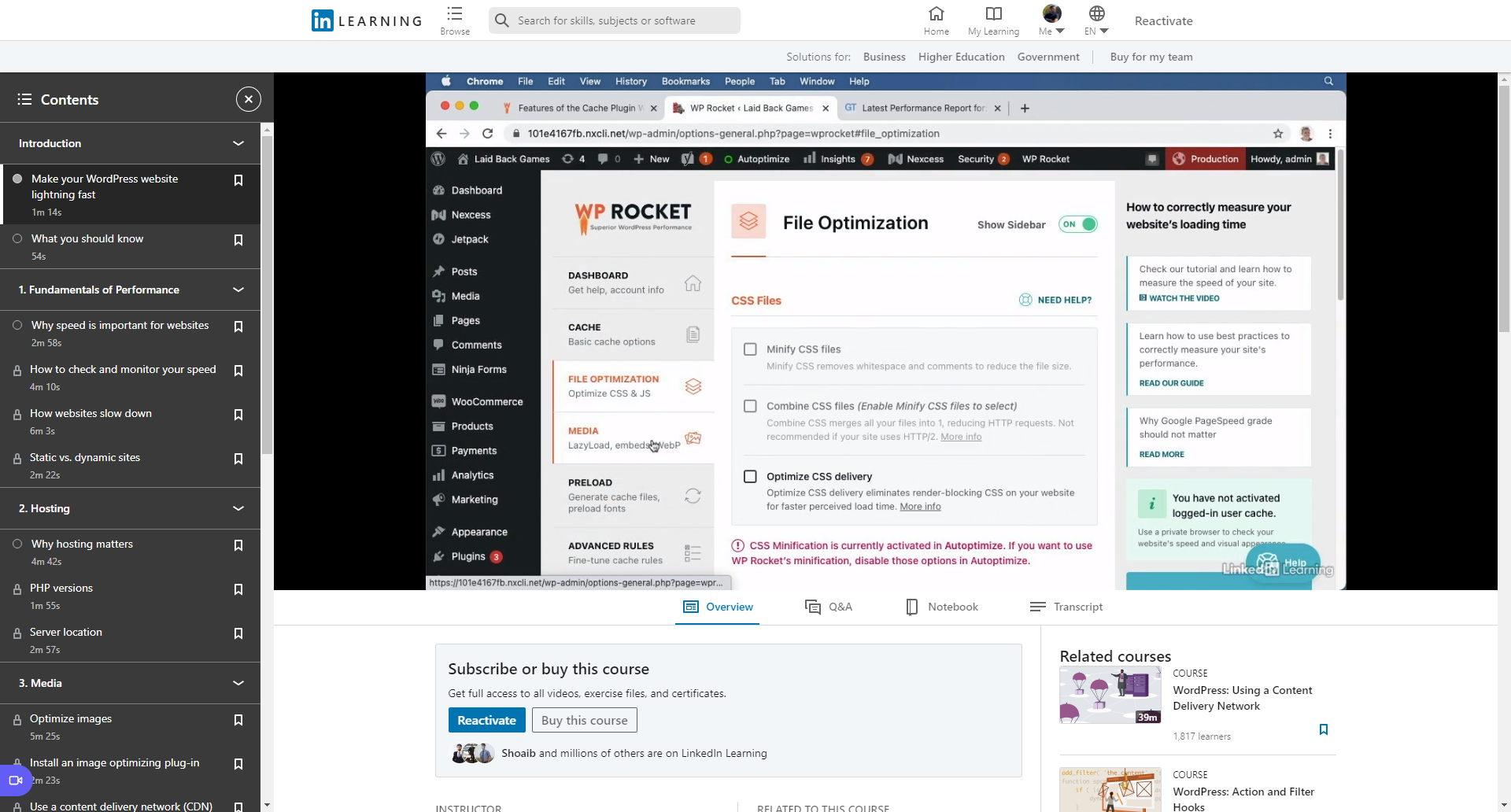 LinkedIn Learning brings another exceptional WordPress course, but it is for enhanced site performance. A slow-loading website has increased bounce visitor rate, negatively affecting the Core Web Vitrals score. An optimized score is necessary to attract organic traffic to the website. If visitors face milliseconds of delay in loading your website, they will 100% shift to any of your competitors.
This course teaches several aspects of enhancing user experience effectively.
The entire coursework comprises six individual topics that include;
Basics of the WordPress website performance
Ways to opt for an ideally optimized hosting platform
How do you place images and other bulky files in an optimized manner?
Why and how to opt for featherweight themes and plugins?
Tips for database optimization
Caching tricks
The tutor Patrick Rauland has a reputed worth in the market and is the brand manager of WooCommerce. He is known for creating reliable plugins and has designed several successful sites and applications in the web world. His way of delivering the information is appreciable. But the course contains slightly advanced details which beginners will not be able to catch. However, we prefer that individuals with average WordPress and UX knowledge dive deeper into the course to get profitable outcomes.
LinkedIn will award you a certificate upon course completion, making its way as another addition to your CV. It is better to learn WordPress basics before intervening in this course of optimization tricks.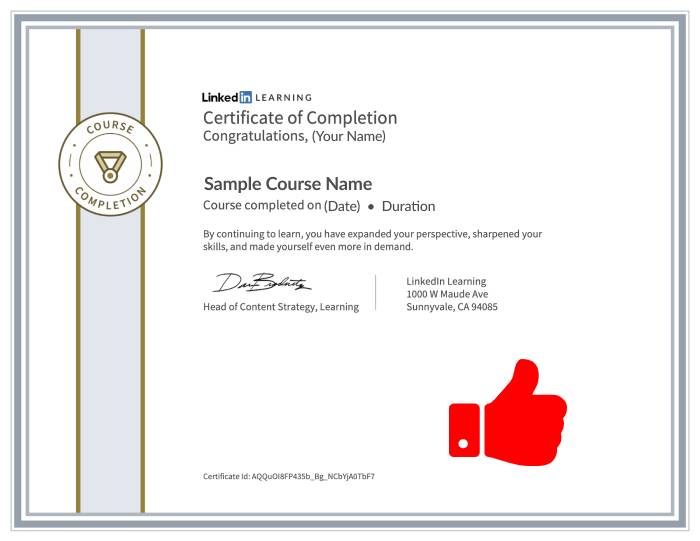 Course Specs:
Level: Advanced
Hours: 1h 23m
Lessons: 54
Enrolled Students: 2627
Author: Patrick Rauland
Eldo's Note: Like LinkedIn's WordPress Developer course, this lesson also has a chargeless window of 30 days. The limit applies as soon as you start the course. If you fail to watch all videos for any reason, the platform will charge $30 to unlock them.
Final Verdict
WordPress may have eased up many website designing functionalities but still requires manual effort. The actions may have a tough learning curve, specifically when you have just started. However, multiple platforms offer highly qualified free courses covering almost all aspects like development, security, optimization, etc., of WordPress.
If you have a tough time operating WordPress, head towards the courses mentioned above according to your query without wasting time on extra struggles. We guarantee that a few hours of sincere learning will open your way towards huge success.

As one of the co-founders of Codeless, I bring to the table expertise in developing WordPress and web applications, as well as a track record of effectively managing hosting and servers. My passion for acquiring knowledge and my enthusiasm for constructing and testing novel technologies drive me to constantly innovate and improve.
Expertise:
Web Development,
Web Design,
Linux System Administration,
SEO
Experience:
15 years of experience in Web Development by developing and designing some of the most popular WordPress Themes like Specular, Tower, and Folie.
Education:
I have a degree in Engineering Physics and MSC in Material Science and Opto Electronics.