Landing pages are there to increase conversions, they take maximum resources to optimize and create. Particularly while dealing with multiple custom landing pages for specific campaigns. This is where we need landing page optimization tools.
Landing pages are the most effective way of nurturing prospects and increasing conversions through the funnel to help purchase the services and products you offer. Landing pages are standalone pages on your website, they should be free of any distractions and thus entice the visitors to purchase.
In the process of lead generation, a landing page acts as a key component of an appealing and attractive way to deal with potential customers. The best landing page booster tool helps in gathering customers' addresses effectively along with other necessary information for your business.
Also, be mindful that a small change in the conversion rate will impart a huge impact on the business profit over time. Thus, creating a powerful and attractive landing page needs a landing page tool for optimization that provides all the essential features. Moreover, it should be best suited for your business needs.
In this post, we have listed and reviewed the tools available in the online market so you can choose the best one for your business.
The Top 14 Landing Page Optimization and Analysis Tools
Best For Lead Generation Pages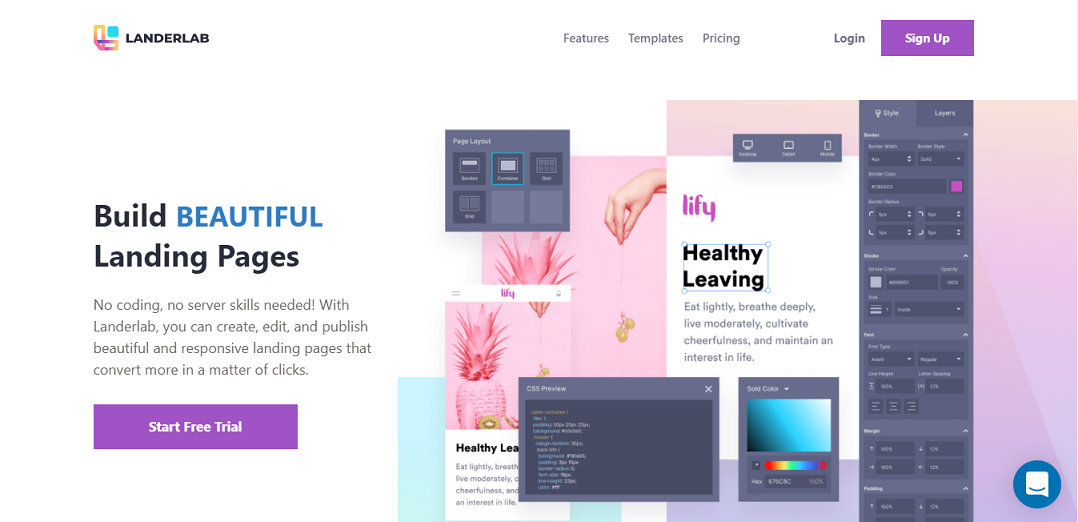 Many people think that Landerlab is one of the best customization and design tools for lead generation in terms of interface and usability. With a plethora of layouts and options to experiment with, it certainly appears appealing enough to the ordinary product seller.
By linking with lead management, you may fully control the website. Furthermore, the Landerlab assists in tracking clicks, visits, chats, and a variety of other metrics. It is simple to use and develop one-of-a-kind forms of websites to gather leads.
Features
Editing and cloning whole pages
WordPress compatibility
AMP (accelerated mobile pages)
Include your own pixels and scripts.
Map addition options
SEM programs with dynamic keyword insertion
Pros
No prior coding experience is required.
Fast-loading and responsiveness
Support is available 24 hours
Cons
The price is not appropriate for first-time buyers.
Price
Landerlab can be purchased on a monthly or annual basis. The monthly price is $49, while the annual price is $499, saving you 15%. It also includes an infinite number of landing pages and integrations.
Best for the Legacy Landing Page Builder Platform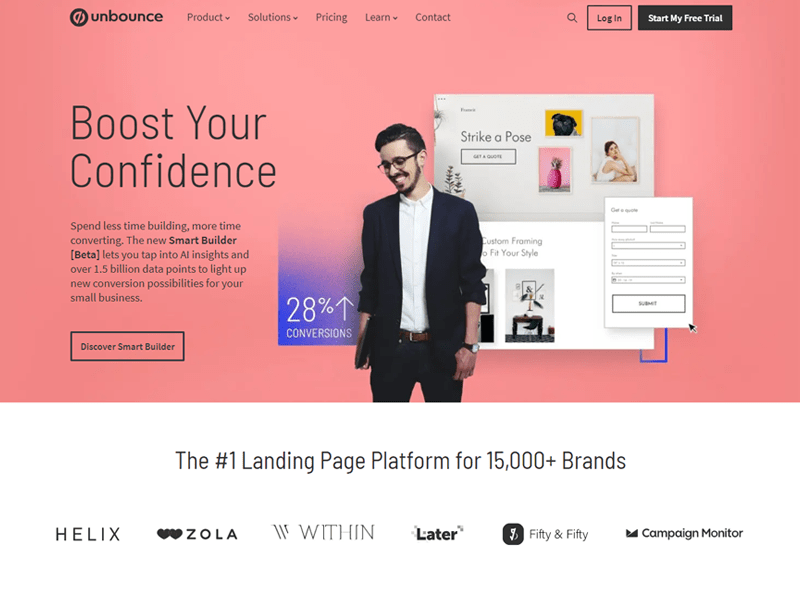 Unbounce is a preferred landing page for most marketers. It is because it is the first landing page tool ever used by marketers online.
In terms of functions, it has a no-code page builder. You can use a template to work with a designer or simply select one from their pre-built templates. Therefore, it proves to be the best option for beginners.
Moreover, there is a drag-and-drop editor. It means that you can edit CSS and HTML straightaway or say, add customized javascript. This is only suitable to make small tweaks to your page.
The desktop editor and mobile editor are shown with clarity. It makes sure that these pages are truly mobile-optimized.
They offer landing page tools with a decent native A/B testing functionality along with popup tools. These features help in maximizing conversion throughout the landing page and your website.
Features
Edit and clone entire pages
WordPress integration
AMP mobile pages
Add custom pixels and scripts
Options to add maps
Dynamic keyword insertion for SEM campaigns
A/B testing
100+ out of the box template
Pros
Custom domains
Automated SSL encryption
AMP-ready mobile pages
Sticky and popup bar creation
A/B testing
Cons
Only concierge is used to audit logs
Only concierge is used as Dedicated Launch Specialist
Heat map functionality and team collaboration is not available
Lacks automatic syncing between landing pages and Google Ads
Lack of scalable creation
Only 100+ templates
A limited number of visitors in each plan
Price
All plans offer a 14-day trial period. Further, all plans include smart builder and classic builder, unlimited landing pages, unlimited popups, and unlimited sticky bars.
It provides 3 pricing tiers: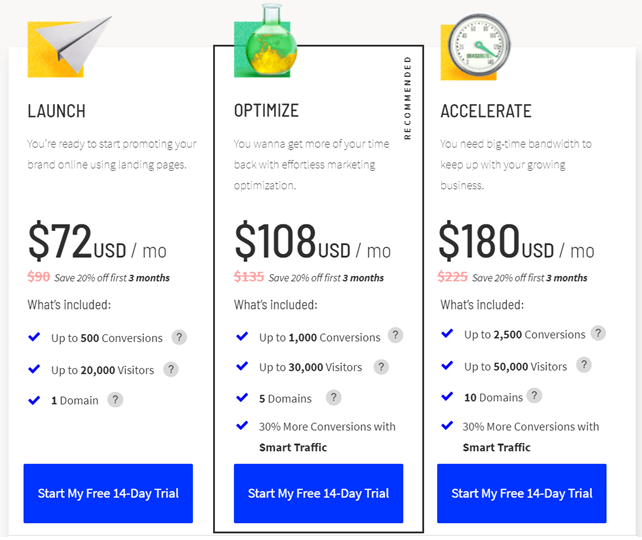 The starting plan, Launch costs $72 per month.
The Optimize plan costs $108 per month
The Accelerate plan costs $180 per month.
Rating from clients

Best For Easy to Build Landing Pages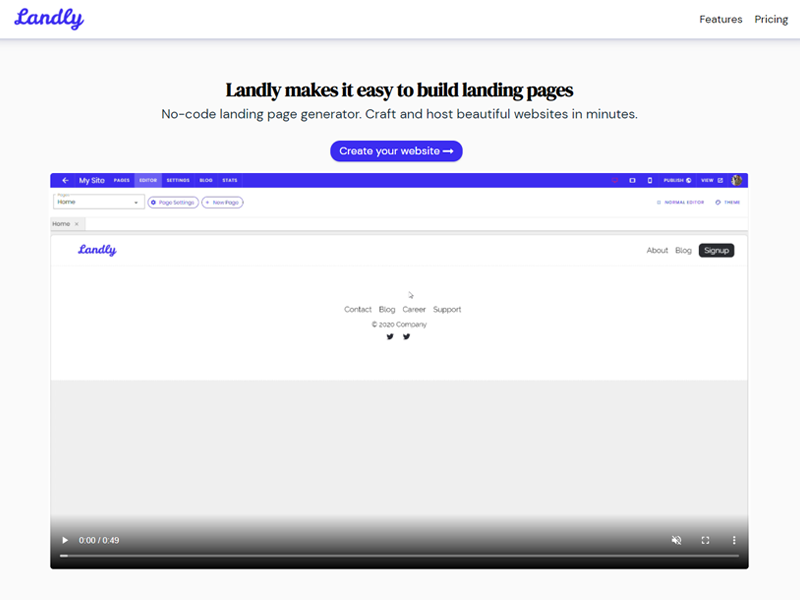 Landly is an easy landing page builder. With Landly, you will find shiny and responsive UI components. Also, it is easy to share them among websites and integrate different services such as Google Analytics, Stripe, and Intercom without coding.
It further lets you keep the new leads with your forms. There are numerous built-in Pulse supported beautiful images, undrawn images, and video streaming. Moreover, you can also use beautiful icons from the social icon, colored, and built-in abstract packs.
Landly is superfast in terms of site loading because of its lightweight. It is because it is served by a powerful Landly Engine. You can automatically respond to the requests of forms so you can further engage your potential customers.
Features
Google Analytics
Popups
Custom domain
Pre-built templates
Form integration
Pros
No coding needed
Custom layouts
All-in-one functionality
Cons
High prices
Not welcoming for beginners
Limited features in basic and lower plans
Inefficient customer support
No free plan available and short trial period is insufficient to analyse its working
Price

It offers 7-day free trial without any credit card subscription with all three pricing tiers.
The Starter plan costs $9.99 per month.
The Lite plan costs $14.99 per month.
The Premium plan costs $39.99 per month.
Rating from clients
Not available
Best For One Page Website Instantaneously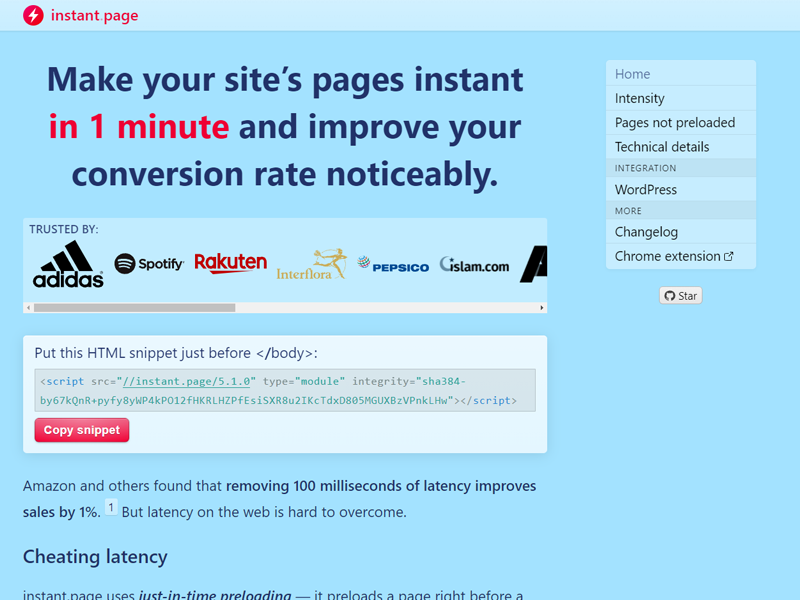 InstantPage is specifically designed to create landing pages for one-page websites. It takes only an instant to create and set up a website using Intantpage. It is all-in-one type tool to create your personal website from contact forms to colors. Above all, it also provides you with hosting services.
It is an easy-to-use and intuitive dashboard that allows you to adapt the feel and look of your website as you want. Even the colors and arrangements of a landing page are fully customizable.
It provides apps where you can add your contact details display your text and add social media.
The background options with Instantpage are unique. You can upload and display an image of your choice. Moreover, the database also contains free images for you to select for your landing page.
Features
Funnel builder
A/B testing
Drag and drop builder
Ecommerce Free CRM
Pros
Filtering, chekout and cart options in ecommerce website
Split testing enhances the page quality
Easy drag and drop interface
Funnel builder lets you add highly converting pages
Cons
High cost
Less number of users so far therefore, less reviews
Less number of updates
Limited features in lower plans
Price
Instantpage offers a 14-day trial period for free with all the plans. It offers four pricing tiers.

The Lite plan costs $6.90 per month. It provides unlimited popups and CRM with 1 custom domain and 1 website with 20 pages.
The Standard plan costs $49.90 per month. It includes unlimited storage, and 1 wesite with unlimited pages along with everything you get with the Lite plan.
The professional plan costs $108.90 per month. it provides unlimited store products and unlimited websire members. You get 120 GB storage in this package along with what you get in the Standard plan.
The Multi-Brands plan costs $159.90 per month. it includes over 30 funnels, 120 GB bandwidth that ies 100-120 visitors per month and 3 websites. Besides, all the features, in the Professional plan are also included in this plan.
Rating from clients

Best for Landing Page for small businesses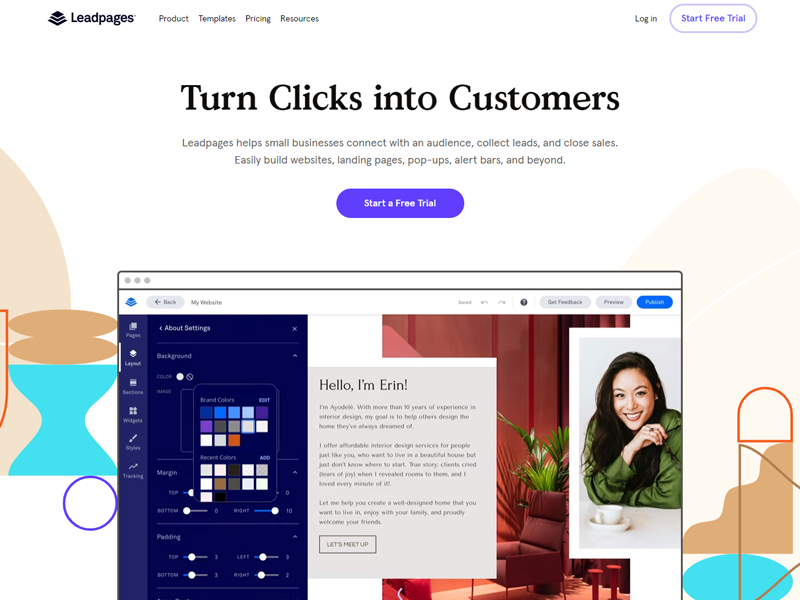 LeadPages is another landing page optimization tool that you can consider for your business. As the name suggests, Leadpages works specifically to capture leads. It can help you generate attractive opt-in campaigns to capture leads, integrate and convert them through digital marketing tools.
A/B testing can be used to see which page version generates more leads and give you the best results. In this way, you can keep those that work best for you and eliminate the others.
The factor that makes LeadPages unique is that it not only has a huge collection of pre-built templates but also sort them for you according to their conversion rates in past.
Yet, most of these templates are not free. Thus, you will have to bear additional costs for each of those you select.
Features
Integrated with WordPress
A/B testing available
Helps in generating leads with forms
Have 40+ tools
Over 160 + out of the box templates
Has page design, form creation and other plugins
Drag and drop editor
Easy user interface
Pros
A/B testing available
Helps in generating leads with forms
160+ Pre-built templates, all mobile responsive
Unlimited leads and traffic
40+ standard integrations
Alert popups and bar
Built-in on-page payments
Cons
Lacks customer support in lower plans
Difficult to publish pages to URL
No AMP functionality
Not SOC 2 compliant
No ad-to-page mapping
Limited personalisation and customization
No template is free
Lacks enterprise-grade type security
Only higher plans provide specific integrations, email triggers and A/B testing.
Price

The standard plan starts at $27/month.
The Pro plan costs $59 per month
The highest plan, Advanced costs you $239 per month
All these plans offer a 14-day trial.
Rating from clients

Best Heatmap Tool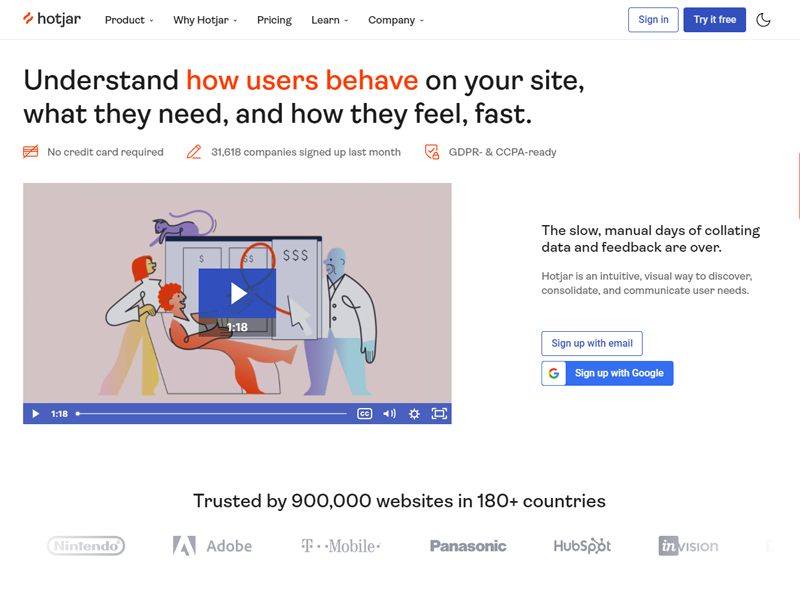 Hotjar is a smart landing page optimization tool. It maps out how the visitors interact with the landing page elements of your website. You can also use it for surveys on the landing page.
It works as an inbound marketing survey tool. With this software, you can create forms for customer feedback directly on your landing page. In this way, you can collect feedback from website visitors where you can carry out decisions about your services and products.
It also offers an A/B testing service. Also, there is an analyzer tool of landing page that provides you recommendations for optimizing your landing page. Thus, it increases the conversion rate.
The analyzer works simply. All you need to do is enter the URL in the tool and it will analyze all the elements such as copy, social sharing tool, hotspots, and color palette.
The preview option gives you visual results of overall element prominence and user satisfaction rate.
Features
Visual analyser to analyse landing page elements
Track all your web visitors
Customer response to specific landing page elements
Polls
Session replays
Heat maps for mouse maps, scroll depth and click maps
Surveys
Form analytics
Pros
Free version analysis
Best for blogs, eCommerce websites, software developers and advertising agencies
Ideal for boosting SEO rankings
Cons
Unable to create customer profiles
Unable to integrate with Google Analytics
Visual metrics cannot be seen other than taking manual screenshots
Price
Hotjar offers reasonable plans with a forever free plan. This plan provides generous free features. Above all, all these plans include unlimited team members, data storage for 365 days and a 30-day money-back guarantee.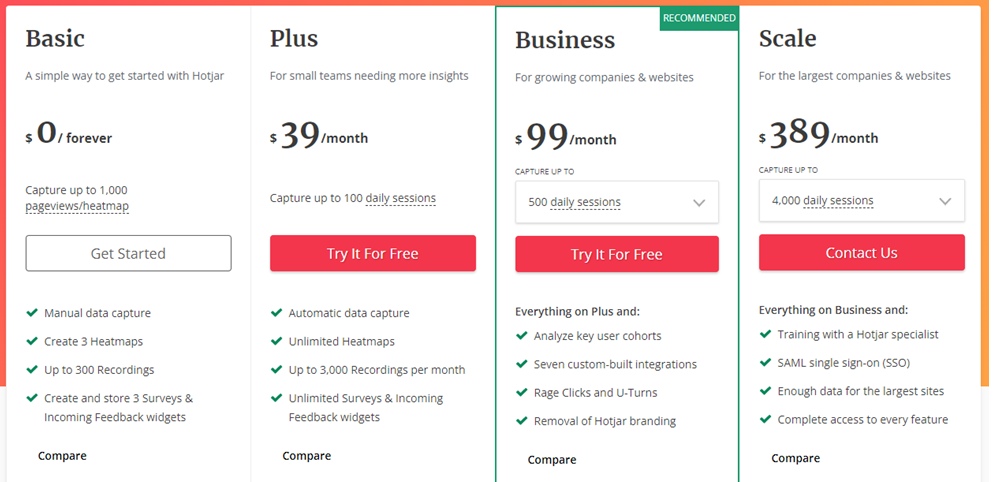 The second plan is Plus that costs $39 per month.
The recommended Business plan costs $99 per month
The Scale plan offers $389 per month
Rating from clients

Best For Enterprise and Mid-market Companies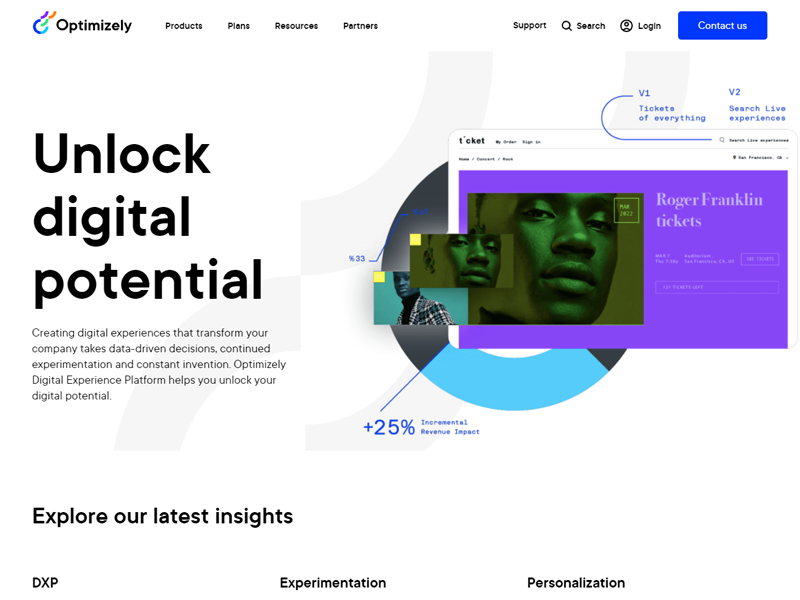 Optimizely is a platform for experimentation that enables businesses for personalization and continuous experimentation across websites, connected devices and mobile apps.
It enables businesses to carry out deep experiments about the technology stack. Moreover, with Optimizely the users get to know broadly about the entire customer experience.
Currently, the product managers, developers and marketers are delivering more than 700 billion experiences. These experiences are best suited for the customers' needs.
This software is well-designed to provide a digital experience of optimizing technology. It further includes user experience with better experimentation, AI-powered personalization, A/B testing, server-side testing and multivariate testing.
Features
Campaign segmentation
Audience targeting
Drag and drop
Customizable templates
Contextual targeting
Performance metrics
Multi-variates testing
Pros
Most advanced A/B testing tool
Rich dashboard to monitor experiments and provide snapshots of data
Easy to use
Great power to make changes to your website
Cons
Lack of segmentation representation
Difficult to understand user-interface
Low uptime and lag time
Costly
Steep learning curve
Price
Optimizely does not provide pricing plans on their website. However, you can get their plans or personalize them according to your requirement only after contacting their customer care.
Rating from clients

Best For Marketing and Product Teams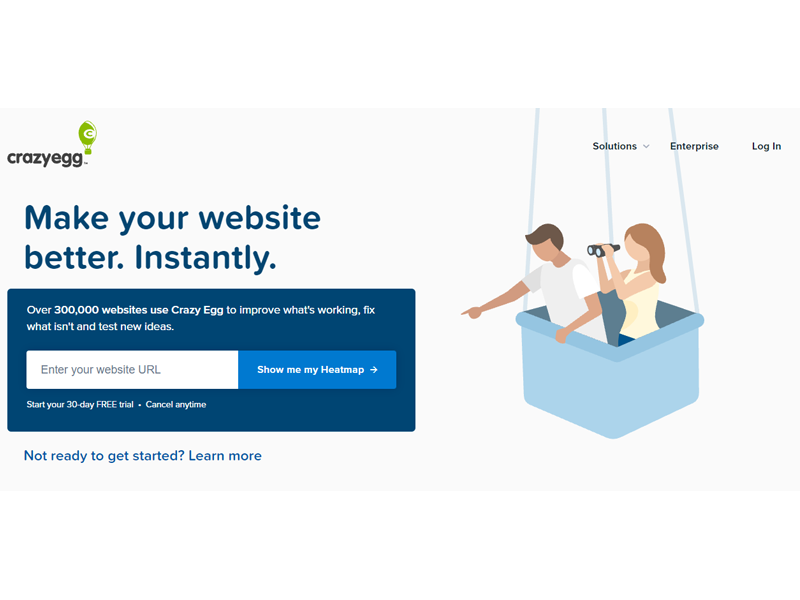 Crazyegg is a solution that majorly offers analytics solutions such as engagement analysis, A/B test results, user recordings, confetti snapshots, and heatmaps.
It is a website optimization tool made especially for educational institutions, digital agencies, eCommerce companies and small businesses. It analyses the user's behavior in ad campaigns and email. This platform also enables teams to recognize issues, present segments across web pages, identify audiences and investigate buyer's journeys such as confusing navigation.
It also provides an A/B testing tool. Besides, you also get administration rights to set particular goals of testing web pages.
Features
Behavioural analytics
Annotations
Dynamic content
Data visualisation
Dashboard
Campaign segmentation
Content management
Competitive analysis
Pros
Super easy A/B testing
The free trial offers generous features and gives a great experience
Visualise clicks
Easy to navigate and install
Allows to understand and optimize your site users
Cons
Flickering and glitch in interface
Unable to pin dynamic content on web pages
No funnel analysis
Price
Crazyegg offers a 30-day free trial for each plan. There are five pricing tiers in Crazyeggs.

The Basic plan costs $24 per month.
The Standard plan costs $49 per month.
The Plus plan is the most popular one and costs you $99 per month.
The Pro plan costs $249 per month.
The Enterprise plan is customizable. You get everything unlimited in this plan. However, you need to talk to their customer support to get the personalised plan.
Rating from clients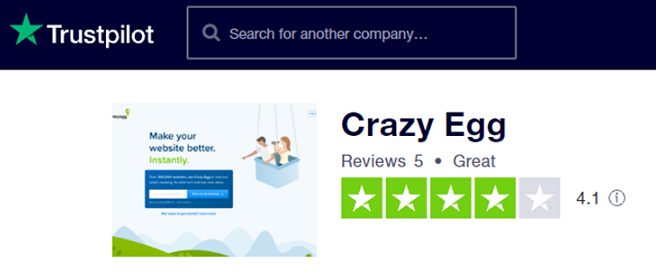 Best For Landing Page Testing
Five Second Test is a landing page testing service with which you can let your marketing material, landing page brochures and logos be tested. It is also an important tool that provides you with a visual overview of how your final website would appear.
Five Second Test is very crucial because web users mostly spend their time on the appearance of a website. It turns out to be a very interesting service that gives you the user review as a reference to manage your website.
As a test, it shows your design to different users for five seconds. They are then asked different questions about it. In this way, the customers get to know the most prominent features they see at first glance. Therefore, you get an idea of what you have to improve and focus on.
You can also make required changes according to users' feedback. This way, you can get a better conversion rate as well as traffic for your website.
Features
Info collection
Team accounts
3 times faster results
Question testing
Navigation testing
Test customization
Preference testing
Click testing
Variation split testing
Pros
A/B testing provided
Offers a free trial
Highly responsive in all types of devices
Suitable for freelancers, medium business, large enterprises and small businesses
Cons
The reviewers are not among the target audience.
Low reliability
Does not give 100%definitive results of how your landing page will perform
Price
You can create a five-second test using different testers. The UsabilityHub shows the pricing of tests taken by UsabilityHub. However, you can ask for tests for $1 for each test of five seconds.
Rating from clients
There is no user rating of the Five Second Test on major rating websites (Trustpilot, Trust Radius, or g2.com).
Best For Running A/B Testing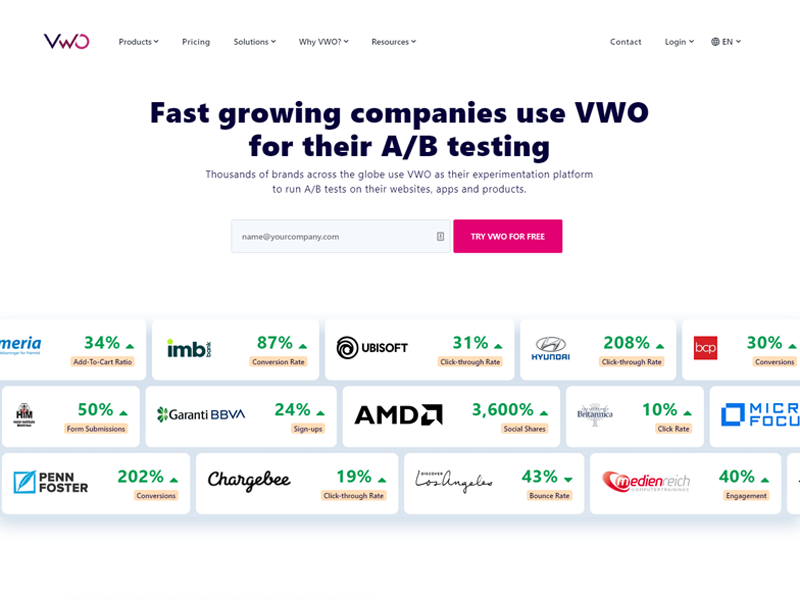 Visual Website Optimizer testing lets the users execute and create Multivariate & Split and A/B tests and deploy within minutes. It is powered by Smart stats and a Bayesian statistical engine. It comes with a powerful segmentation and accurate reports to help in making smarter decisions for businesses.
VWO Testing is also a part of the VWO Experience Optimization Platform that assists in determining the conversion leaks. It further engages the visitors, log their learnings, run experiments, conduct surveys and understand the behaviors of users.
It offers personalization possibilities with the main focus on optimization and research. Specifically, they are highly scientific in terms of these features. It is easy to create experiences, identify needs and create segments that match these needs.
Above all, it works with different domains and devices.
Features
A/B testing
Annotations
Experience management
Contextual targeting
Customizable templates
Visual and code editor
Pros
Many available integrations
Goal setup is easier as compared to other platforms
The analysis and research features are better than other platforms
Third-party integration with heat map technology
Integrated with Google analytics 360
Cons
Testing pages with complicated URLs is difficult
Geo-targeting is only available in the Enterprise plan
Lower plans do not provide sufficient features
Very pricey
No built-in multi-page functionality
Personalisation options are weak and need more updates
Price
It offers several personalized plans. However, you need to contact sales for pricing.
Rating from clients

Best for Full Integration with Google Products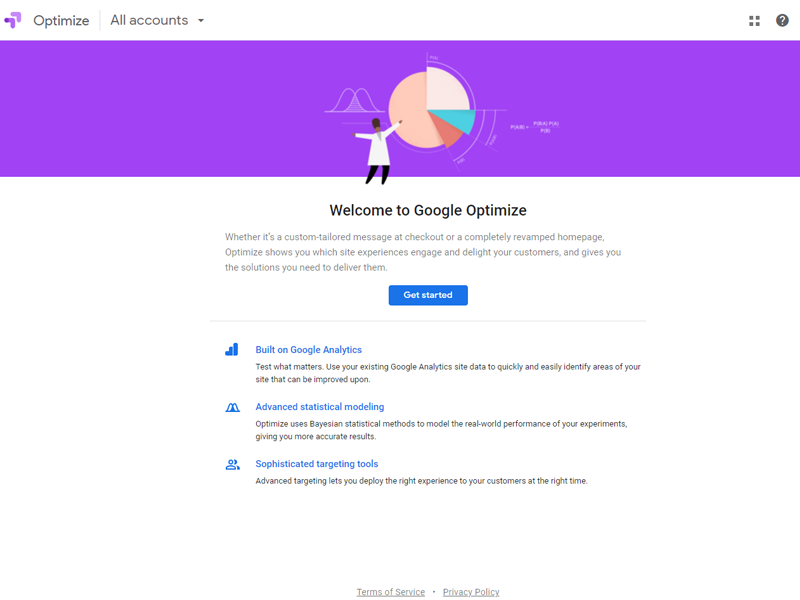 Google Optimize shows a special black box for randomization models and underlying analysis. However, you come to know the proper proportional allocation for all the experiences. It allows you to export your data to Google Analytics for proper segmentation.
It is possible to create a landing page without A/B testing. Also, A/B traffic requires a specific amount of traffic.
Google Optimize shows you which experiences on your site delight and engage your customers. It gives an insight as well as solutions that you need to deliver for your customers. Google Optimize natively integrates with Google Analytics so you can identify the exact part of your website that requires improvement.
Features
Fully integrated with Google products such as Google Analytics
Online website testing tool
Split URL testing
A high percentage of Traffic
Pros
High traffic
A/B testing available
Split URL testing is easy
Cons
Heat maps are not very accurate
The profile storage duration is limited and short
Session replays are also short
Price
It starts for free. However, Google Optimize 360 is available in the Enterprise plan. You need to contact their sales to get the price of Enterprise. It is very costly.
Rating from clients

Best Lead Generation Software for Marketing Agencies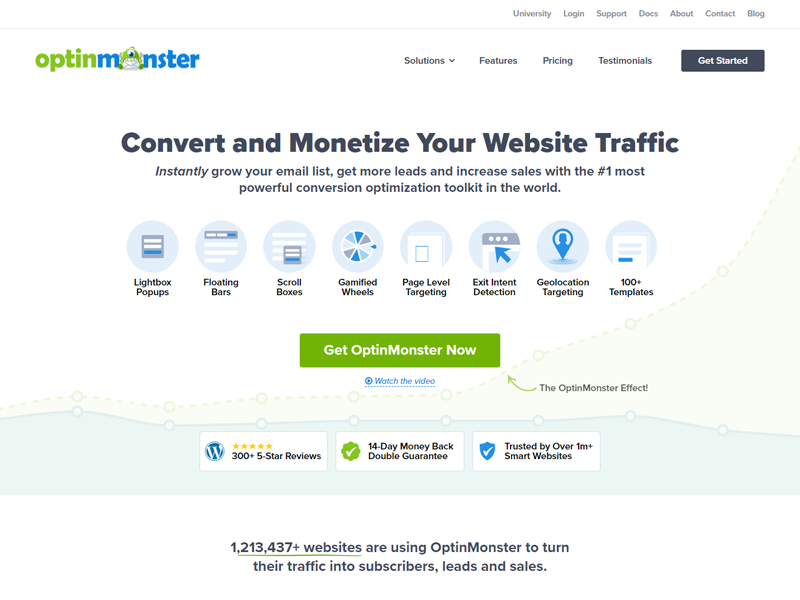 OptinMonster is a powerful lead generating tool that helps you create an email list with an effective opt-in form. It further connects you with the leading email marketing services. Moreover, you also get a wide range of rules to gather targeted leads.
It is well-suited for all types of small businesses, eCommerce websites, bloggers and marketing agencies. If you want to improve your conversions, grow your email marketing list or reduce cart abandonment then OptinMonster is the most suitable pick for you.
Its lead generation feature works out of the box and provides all major eCommerce and website platforms. In addition, it helps you integrate with more email marketing services as compared to any other competitors in this list.
Features
Lightbox popups
Scroll boxes
Page-level targeting
Exit intent detection
100+ templates
Floating bars
Gamified wheels
Pros
Really helps in getting more leads
Highly customizable and captures opt-ins
Reduced abandoned carts and increase sales conversions
Flagship app creates effective popups
Pre-built templates with customizable options
Cons
Drag and drop editor is not detailed
It considers SaaS-style billing
Pricing and support is bad
No internal analytics
Bad user interface
Steep learning curve
Price
OptinMonster offers a 7-day free trial in all plans.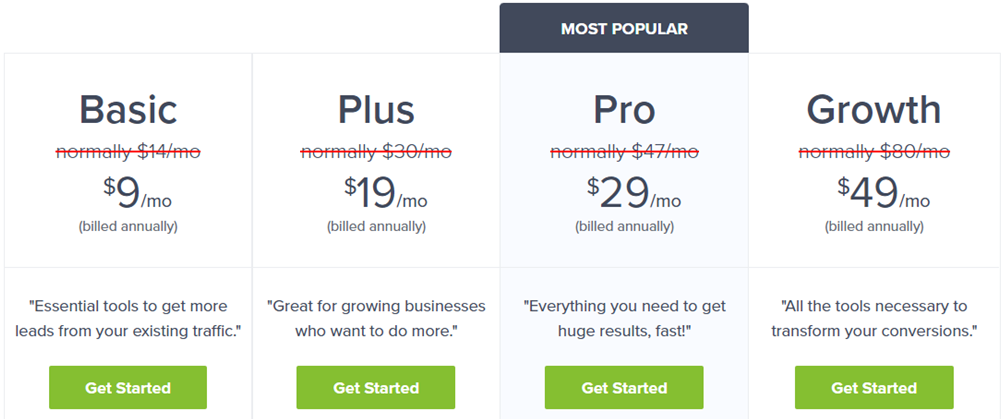 It starts with just $9 per month in the basic plan. With this plan, you can use most of the features with a single site. However, the features are very limited.
For multiple sites, you may want to opt for Plus or Pro plans.
The Plus plan costs $19 per month and the Pro plan costs $29 per month.
The pricing is quite high for all the plans. A more advanced plan, Growth costs you $49 per month. This plan provides you with all the tools to ensure maximum conversions.
User Rating

Best For Stunning Page Creation in a Few Clicks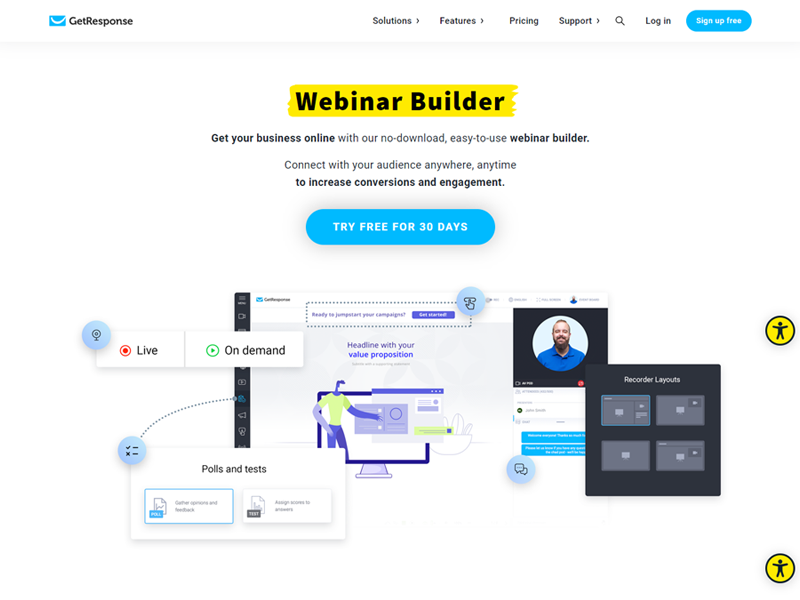 GetResponse is one of the best landing page tools in addition to being a popular tool for webinar solutions and email marketing. It lets you build attractive landing pages for the websites. Thus, you get a high conversion rate.
The features offered in GetResponse are also easily integrated with a dozen of tools that you might already be operating. Such as Shopify, WordPress and Salesforce.
It has further made email creation and marketing easier than ever with its drag and drop editor and customizable designs. These two features lift most of the weight for you.
It sends the emails based on segments, triggers and sequences along with relevant data to optimize everything for your website.
Features
Integrates with multiple platforms such as Facebook, KissMetrics, Bing and Adwords
Email integration with GetResponse email platform
Payment acceptance with PayPal button
Includes tons of stock templates and photos
Built-in analytics
A/B testing
Pros
Email support in all plans
150+ integrations such as Stripe, PayPal and Shopify
180 templates
Custom domains
Unlimited visitors and landing pages in all plans
A/B testing
Cons
Only higher plans have automation builder
No visual team collaboration
No enterprise security, SOC2 compliance or SSL certificates
No Heatmap features
Lacks ad-to-page and personalization mapping
Lacks AMP functionality
Not a dedicated platform for landing page builder
Price
It offers four pricing tiers:

The Basic tier costs $12.30 per month
The Plus tier costs $40.18 per month
The Professional tier costs $81.18 per month
The Enterprise plan is a personalised plan with the features of your choice. Therefore, it has custom pricing.
Rating from clients

Best For Testing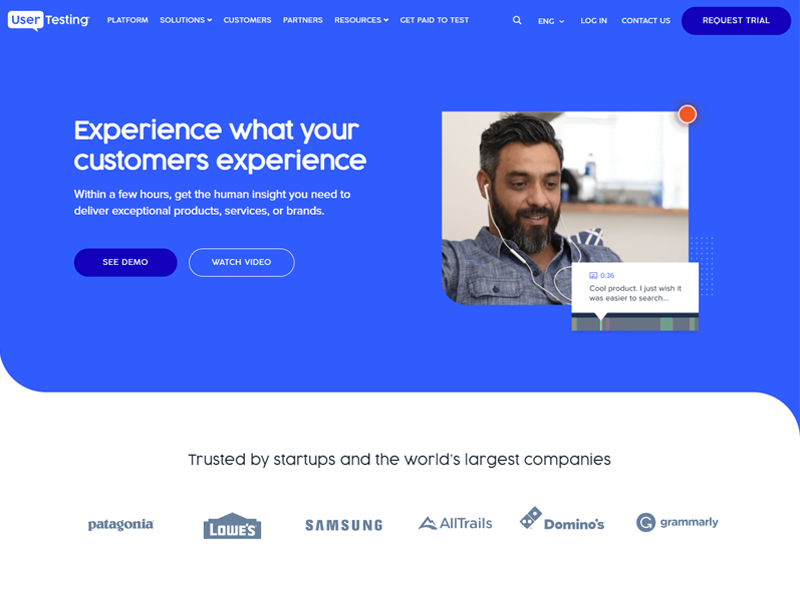 UserTesting makes your company able to provide the best customer service powered by human insights. UserTesting is a platform that gives an on-demand human insight. Moreover, it gives its services for all the speed business demands, making the first decision at all levels and to companies across the industry.
Using UserTesting customer experience, digital, marketers and product team executives quickly and confidently create ultimate experiences for the target audience. Thus, it increases revenue and brand loyalty.
All businesses from any industry can benefit from UserTesting. It is particularly beneficial for Consumer Tech, B2B, Healthcare, financial services, and retail businesses.
It also adds freelancers to review mobile apps and websites for a fee. It helps them generate a nice hourly wage as a freelancer. However, these tests are not available all the time.
The design team gets an idea about the user experience and they know what to discard and add to the design. The user experience also provides insight to rectify and address the issue before the final product is released.
Fixing and identifying issues at the early stage cuts down the cost in the long run.
Features
Analytics and insights
Video interviews, video snippets and surveys
Screen activity recording
Reporting/analytics
Dashboard
Animation
A/B testing
Pros
Fair payment options
No certificates of legal documents needed
Helpful tutorials for beginners with real tests available
Well-defined and clear guidelines about performing tests
The standard model of payment
Quick response on selection status
Systematic, user-friendly and transparent process of work
Cons
Slow mobile version and slow loading
Requires good technology and English skills
Hard to qualify for the test
The screener is difficult to qualify
No update notification of new tests so a constant watch is required
Price
It offers three pricing tiers. But you need to contact their sales to get pricing details. It is not mentioned on their website.

Rating from clients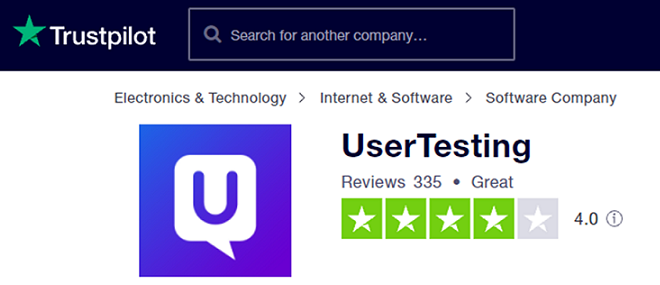 How do you optimize a landing page?
You can follow these steps to optimize your landing pages and enhance the conversion rate:
Understand the goals of your campaign. Most landing pages lack the focus on a single goal or they have multiple offers that are overwhelming for the visitors. Thus, they lose the sight of conversion aspect. The key is to focus on one solution or offer. In this way, your users will not get confused.
Write straightforward headlines. You only have the first 10 seconds to grab your visitor's attention. Therefore, it is very important to create a very straightforward yet bold headline.
Create a compelling text inflow. A visitor does not want to get into the details of what you write. Instead, they are appealed by what your outset says.
Use relevant images. Indeed, your content matters a lot, but the right images create the necessary emotions to convert visitors to customers. They are crucial to make your message stand out.
Add Call To Action (CTA). CTAs are the most important component of a landing page. Users are highly influenced by these to take necessary action. It involves using relevant messages in suitable sizes and colors.
Highlight your offer. The customers should find your offer as the first thing they see on your page. The value proposition should be extraordinary and attractive.
Control the loading time. You may spend a good amount of time creating the content and adding images to your perfectly designed landing page. But it won't be of any use if the loading time of your page is high. Your page should load in a few seconds only or you might lose your customer.
Do not ignore optimizing the form fields. Your landing page works to take the visitor's contact information. Therefore, it is mandatory to add a contact form on the landing page otherwise, your images and content will be of no use.
Test, Test, Test! Testing is further mandatory to test your landing page and improve the conversion rate. Using the right tool to test the landing page determines the success of your landing page. A/B testing helps you test several landing page content and layouts to understand the best way to target your audience.
How do I create an SEO-optimized landing page?
You can follow these steps to create an SEO-optimized landing page:
Use your domain to publish landing pages
Optimise the URLs of your landing pages
Use https to make your landing pages
Choose the keywords to rank your landing page
On-page SEO Optimized
Content SEO optimized
Use optimized videos and images
Data markup should be well-structured
Mobile optimized
Speed optimized
Internal links should be added that point to your landing page
Get backlinks and promote your landing page
SEO efforts to be consolidated using 301 redirections
FAQs
What is a landing page optimization tool?
A landing page optimization tool is a software or web-based application designed to help businesses analyze, improve, and test their website's landing pages. These tools typically include features such as A/B testing, analytics, design elements, and other functionalities aimed at increasing conversion rates and improving user experience.
Why do I need to optimize my landing page?
Optimizing your landing page is crucial for several reasons. First, it ensures that your website visitors have a smooth and enjoyable experience, which helps to drive engagement and conversions. Second, a well-optimized landing page can improve your search engine rankings, leading to higher visibility and more organic traffic. Finally, optimizing your landing page can ultimately lead to increased revenue and a better ROI on your marketing efforts.
How do I choose the best landing page optimization tool for my needs?
When selecting a landing page optimization tool, consider factors like your budget, the type of features you need, your level of expertise, and the size of your business. Look for tools that offer a good balance between functionality and ease of use, as well as those with a proven track record of delivering positive results. Additionally, read reviews and gather feedback from peers to make an informed decision.
Can I use multiple landing page optimization tools simultaneously?
Yes, you can use multiple landing page optimization tools to achieve optimal results. While some tools may have overlapping features, each tool may offer unique capabilities that can complement one another. Combining various tools can help you gain a better understanding of your landing page's performance and identify areas for improvement.
Conclusion
Landing pages can show the success of a marketing campaign. This is the reason you need to choose the best landing page software. You need to first identify your business needs before choosing one from our extensive and long list.
It may also give you a solution at a certain cost that provides everything you need for your website landing page at a lower price. If you are looking for advanced customization and functionality, you should invest more in attaining better results in the long run.
To wrap up, we will describe the need of using landing page optimization software to optimize a landing page for our website.
These tools are very crucial to marketers who believe that marketing is a forever-evolving industry. Marketers tend to create landing pages more reachable and creative for their audiences in a more well-tested, high impact and innovative way.
These tools help in focusing better on the efforts to improve a landing page for the highest ROI. The conversion rates are highly increased using this tool. Also, it increases the overall ROI of each landing page.
We can also increase conversion rates by optimizing landing pages. It is evident from our review that all the tools are suitable for users belonging to organic content.

As one of the co-founders of Codeless, I bring to the table expertise in developing WordPress and web applications, as well as a track record of effectively managing hosting and servers. My passion for acquiring knowledge and my enthusiasm for constructing and testing novel technologies drive me to constantly innovate and improve.
Expertise:
Web Development,
Web Design,
Linux System Administration,
SEO
Experience:
15 years of experience in Web Development by developing and designing some of the most popular WordPress Themes like Specular, Tower, and Folie.
Education:
I have a degree in Engineering Physics and MSC in Material Science and Opto Electronics.