Even experienced online teachers may find it difficult to prepare a new course in an online environment. The procedure, though, may be quick and fun if you use a few basic tactics.
We have listed some of the best practices to design a new online course. Any teacher may utilize a few ideas to develop a practical online course.
Video, music, picture manipulation, interaction, and other techniques are available to instructive designers to make the online course more interactive and entertaining.
However, to keep teaching eLearning genuinely effective, online course producers must follow vital instructional concepts rather than haphazardly developing online courses with some of these technologies or cramming additional tools into a course simply since they seem popular or expected.
Keep these design elements' best practices in mind when creating your new online course. To facilitate the job you can choose an online course platform to help you.
There are three main determinants of online learning course success:
The instructional design's quality.
Interaction between students and instructors.
Interaction amongst students is of high quality.
Here are a few suggestions to include while designing your course.
1. Include the students in the process.
One popular misconception is that eLearning encourages students to read and watch videos before regurgitating the knowledge in an article or a simple forum post. It's untrue, as there are a variety of online activities that engage entirely online pupils.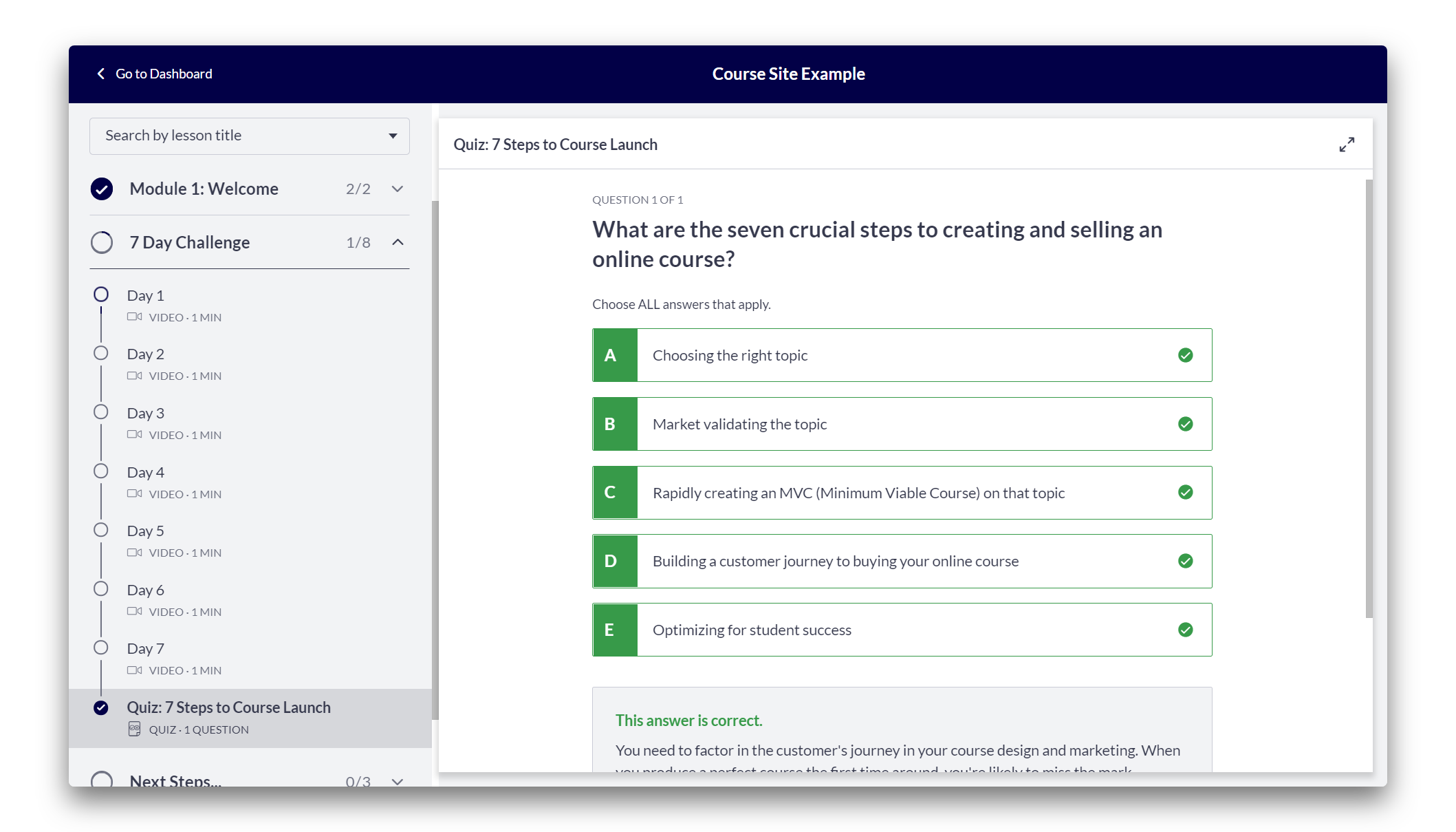 For example, using the Thinkific platform, you can create quizzes or other student engagement activities.
In addition to understanding a little about students' educational backgrounds, previous skills and abilities, and industry experience, you might want to survey to find out what electronic devices they use or if there are any learning impediments.
Students must prove their grasp of the course content and their involvement with it during an online course.
Teachers can incorporate genuine activities that integrate direct significance and course understanding.
Analyzing research papers to construct issue-based situations wherein students investigate the course and create answers or fill in gaps are all examples of authentic activities.
Following student participation in the online course program and with the teacher, the next step is to develop peer cooperation.
Instructors frequently believe that collaborating in a digital environment is difficult or impossible. On the other hand, collaboration may be a smooth and productive way to course creation when basic tactics are used.
If teachers want to employ group tasks, they should ensure that the expectations are clear. For example, before beginning the work, groups should decide who would be in charge of what components of it and when every element will be finished.
2. Begin with a Well-Defined online course structure.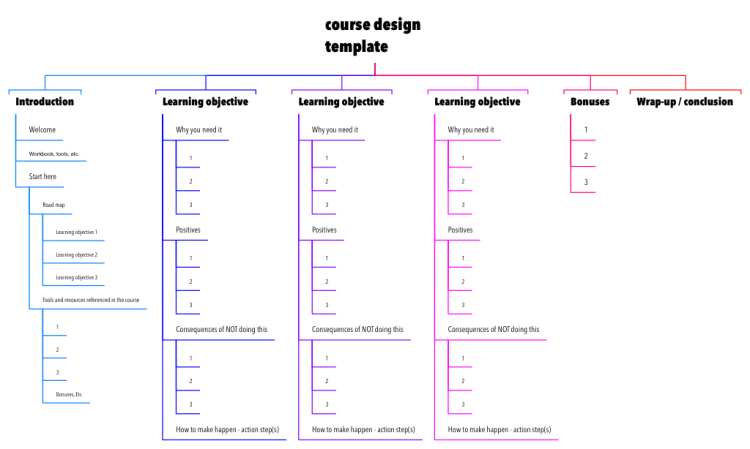 Rubrics displayed for each module, promote clear dialogue and reasonable objectives. Even if students are reading the assigned narrative, they may not know what is required in the online courses; rubrics give extra clarification.
When students understand precisely what'll be anticipated for project marking, they are much more competent on tasks.
Meeting with the course sponsor and agreeing on a complete online courses design module/ outline is an intelligent starting step.
Despite how well-versed you are in the topic, producing online course design without an explicit curriculum isn't an intelligent practice since it might result in an obsessive focus on specific aspects and neglect many others.
The curriculum for the course should serve as a guiding map for your design.
Identifying your students and their specific requirements is critical since the target consumer will assist you in choosing the most essential, "must-know" information and constructing your module around their wants and goals instead of your own.
3. Develop content for the course that is tailored to your audience.
Now it's time to create compelling material to go along with your teaching wireframe. Do an audience study before employing all of the resources and technologies at your disposal.
Knowing who is studying what will aid you in selecting the most appropriate presentation option for each part.
Millennials want learning that is highly concise, brief, and includes many images and interactivities. However, several Baby Boomers may favor lecture-style content that is right to the point.
Video footage works best in step-by-step how-to classes such as Auto Repair and Plumbing.
Still, bullet points text conveying resources in an easy hierarchy could be more suited to Finance, Media, or History.
Universal design can aid students by providing a graph in the course design that identifies components of the project so that learners can choose a specific part to contribute to.
To generate a finished version, the team will collaboratively review each member's input. Wikis, blogs, or podcasts are examples of developing digital platforms that students might utilize to cooperate more effectively learning.
4. Optimize the Length of Your Course.
The appearance of the course design might be purposefully welcoming, purposefully disinviting, incidentally inviting, or inadvertently disinviting. Instructors frequently have so much knowledge to fit into the virtual learning environment that might make the educational background uninviting.
Resources must have a consistent and transparent framework that allows for straightforward browsing and creating a purposefully engaging online module. The design of each component should be the same.
Studying materials, assignments, projects, collaboration opportunities, and so on should all be kept in the same place and manner.
Furthermore, each course design should resemble the preceding ones regarding learning, teaching, and educational goals. When it comes to course development and learner accessibility, ensuring that all resources used during the program are kept within the platform is a good idea.
To maintain distance students' interest over the term, a digital course's information must be provided indigestible "chunks," according to best practices for virtual learning design.
When your material is too lengthy, your pupils may become bored with it. By dividing your lessons into chunks of not more than 20 – 30 mins, you can assist your students in setting expectations that are reasonable for their attention spans.
5. Course Design That Is Both Consistent and Customizable.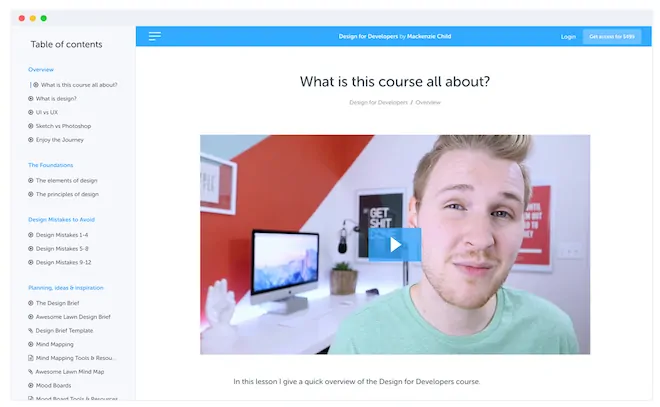 Consistent course design aspects make it easier to browse online resources since many LMS organizations have heard straight from their learners.
It is always good to add design options that enable learners to customize their educational resources for decorative purposes and meet their unique learning requirements.
This includes the following:
The font size
Colors in the background
Icons and pictures that are unique to the student
Consider the following:
The layout is simple.
Making good use of blank space
Use bullets instead of large sentences
Design principles that go along with it:
Ascertain if the teaching and learning load is adequate.
Explain how you determined that load beforehand.
Select approved tools because they have been validated
Inform students about the development resources they will be utilized.
6. Accessibility of Content.
Planning reverse is an excellent technique to design teaching materials. Teachers can go through all the courses they intend to follow and then break them into themed parts.
Thematic pieces are turned into units or ways of attaining, a temporary solution to lengthy planning. Instructors give activities, assignments, extra materials, and skills to help students grasp information in the learning materials.
An efficient technique for module building is to start with a summary page that lists all of the module's necessary readings, activities, and assignments and the deadlines for every item.
Teachers can link elements in the summary page straight to projects based on the LMS, giving the program neat and structured learning. In addition, the summary page helps students stay interested in the educational process and maintain academic integrity by adding to the program's structure.
It's vital to make your information accessible to a broad group of students. Although it is not always helpful to construct Section 508-compliant learning, include the following:
For each graphic or picture that is utilized, provide alternate text.
Video captioning should be added.
Transcripts should be provided for all audio data.
Create courses accessible with assistance technology.
Include alternative navigation mechanisms, such as using a keypad.
7. Student Interaction, Feedback, and Assessments.
Whenever you wish to communicate anything meaningful about online education to your pupils, announcements are a terrific method to do so in a consolidated, easy-to-find manner.
Because online courses lack the framework of face-to-face seminars, some students may require more consistency and help from professors to remain on track in online education.
Educators must reinforce online education with each part and stimulate connection, regardless of involvement. According to the study, students are more engaged if they get constant updates on present and forthcoming topics.
In addition, any endeavor to promote social presence generates a virtual environment that students may experience in the real world.
Based on the learning environment, regular or bi-weekly email reminders might be one approach to execute this. Another proper teaching method is to send notices about deadlines or summaries of future projects using the Learning Management System (LMS).
Teachers can also transmit video footage of themselves making brief statements, which helps to alleviate feelings of isolation by simulating face-to-face education.
In addition, students can learn their teacher's mannerisms through video communication, which helps improve the class experience for students.
Include tools in your assessment that allow you to assess student's progress at any time during the course.
Rather than essay exams, which are challenging to analyze in an asynchronously educational environment, consider multiple-choice questions.
Instead of waiting until the outset of the study to provide evaluations, do so after brief parts of learning content.
Provide instant feedback on tests rather than waiting many weeks or until the program's conclusion to provide feedback.
Refrain from providing "Pass/Fail" and "Correct/Incorrect" comments. Your formative assessment should explain why the response was right or wrong in the courses and any extra information or tools that the student may want to explore.
Consider including other learning elements in your layout, like Student engagement (group discussions) and Educator engagement (texting/emailing), based on the structure of the courses.
8. Use ChatGPT
Chatbots for student support: Chatbots powered by ChatGPT can be used to provide students with quick and personalized support. They can help answer student questions, provide feedback on assignments, and direct students to additional resources.
Virtual assistants for course navigation: Virtual assistants powered by ChatGPT can help students navigate the course and find relevant information. They can also provide personalized recommendations for assignments and readings based on the student's progress and learning style.
Personalized learning experiences: ChatGPT can be trained on specific topics or subjects, allowing for personalized learning experiences for each student. They can provide targeted feedback, suggest additional resources, or offer tailored learning activities based on each student's progress.
Interactive assessments: ChatGPT can be used to create interactive assessments that adapt to the student's level of knowledge. For example, a language learning course could use ChatGPT to create a conversational assessment where the student interacts with the virtual assistant to practice speaking and comprehension.
9. Reconsider and revise.
As per academic research and excellence in teaching narratives, a reflective professional is a competent practitioner. Therefore, teachers can utilize a variety of ways to implement reflective activities to enhance the classroom atmosphere.
A versatile performance evaluation mechanism is needed for optimal instructional coursework. Analyze, create, develop, execute, and assess is one assessment framework that contains five steps that are the foundation of the entire course design.
The assessment phase is where reflective practitioners examine their programs via the perspective of best practices.
Student input and maintaining a design record of items coming up over a semester are two approaches to evaluating program designs.
Lastly, instructional development rubrics, like those offered by Quality Matters, may be used to evaluate course design using research-based criteria.
Design principles that go along with it:
Clear "how-to" instructions
Course portals should be well-structured, well-organized, and simple to use.
Learning activity directions must be clear, simple, and unambiguous.
Determine how students may get in touch with you on this and when they should anticipate a response.
Set and simulate anticipated online interaction activity (netiquette).
Guidance on "why."
Clearly state the aim of each lesson plan and how it relates to academic results.
Conclusion
Methods for increasing social engagement can help online students turn virtual encounters into real-world interactions.
While the recommended best practices listed above are essential to consider when creating courses online, they should not be used as a template. Instead, instructional course designers should assess the unique requirements for every course — such as the type of data being provided, the overall features of the target market, and the expected learning objectives — and then use an applicable best practice to create new content.
Allow what you've discovered about your pupils to guide your educational course actions and decisions, and consider if they accommodate all of the learners' needs. For example, to explain your aims to learners, provide a Diversity, Equality, and Inclusivity theme in your best practices course for student success.

Ludjon, who co-founded Codeless, possesses a deep passion for technology and the web. With over a decade of experience in constructing websites and developing widely-used WordPress themes, Ludjon has established himself as an accomplished expert in the field.