In this post, we brought together experiences from the e-learning industry to highlight the best platforms to create your online course.
Here's a summary of the best online course platforms in 2023:
Online learning has accelerated in the past two years because of pandemics, social distancing and home-schooling.
Online courses are experiencing huge growth. Especially, the online course and e-learning market is expected to surge over $325 billion by the end of 2025.
If you feel like you are ready to adopt the market and sell online courses, keep reading.
Your students are surely looking for a platform that gives a professional yet custom learning experience. We have reviewed and ranked down the best platforms to build an online course.
What is an Online Course Platform?
An online course platform is a web-based application that enables educators to create, deliver, and manage online courses and learning experiences. These platforms give users access to educational materials from their computers and mobiles through a web browser.
Like traditional classes, instructors provide an engaging educational experience with videos, text, images and audio. Course software includes all necessary features to create an online course including a website, content uploading, marketing features and more.
There are different types of online course platforms:
Learning Management Systems (LMS): These platforms are designed to provide a complete online learning experience, including course creation, management, and assessment tools.
E-Learning Content Management Systems (CMS): Offer a more limited set of tools for creating and managing online courses, but typically provide more flexibility in terms of course design and delivery.
Social Learning Networks: These platforms focus on providing a social environment for learning, often incorporating features such as discussion forums, blogs, and wikis.
Custom-Developed Platforms: These are online course creation platforms that have been specifically designed and built for a particular institution or organization.
All-in-one Course Creation Platforms – A course creation platform is a software application that helps educators create, manage, and deliver online courses, websites and marketing.
We will talk below mostly about all-in-one course creation platforms.
Best Online Course Creation Platforms
Check below for a comparison between the best platforms to create an online course.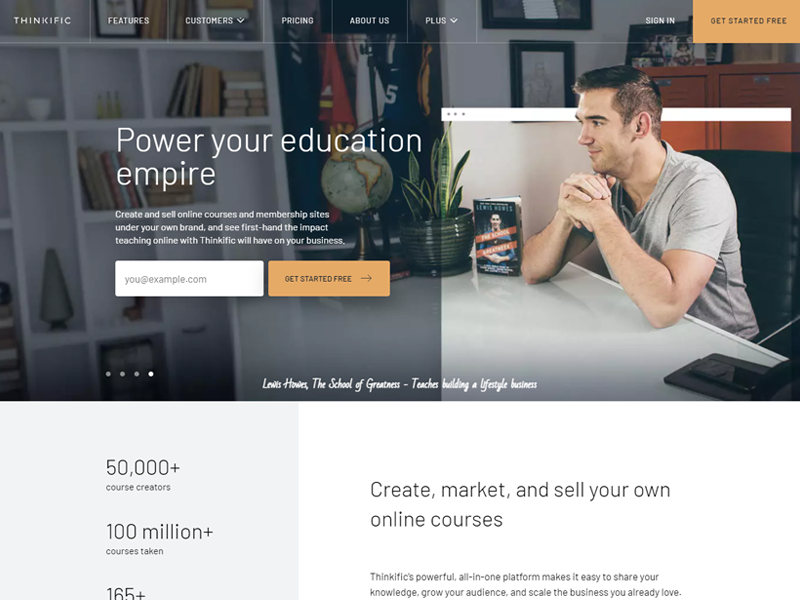 Thinkific is the best overall online course platform from our research. It offers a fully-featured online course solution that helps you in selling, marketing, delivering and even creating an online course business. It is a one-stop shop where you can market and set up your course for the audience.
You can fully customize your courses on Thinkific. Moreover, you can create a website where you can promote your courses. Above all, you can sell them at your desired prices.
With Thinkific, you can look for successful podcasters so you can teach the audience to create successful podcasts. It provides a more robust solution for the creators who expect to create an earning podcast.
Besides, you can also design a website, create multiple courses, sell and market your courses and support your audience with automating check-ins and tracking signs of progress.
Pros
Affiliate marketing reporting and help
Custom domains
Customizable certificates
Fully editable code for your course site
Simple plan to get started
Email features and marketing automation
Cons
No chat support
No integrated email marketing
Features
Confidently teach online with secure backups and cloud hosting
Use tools to finish courses and motivate students
Choose the ways to earn with the courses
Website creation with the premium templates to sell online courses
Organize and upload course modules using the drag and drop tool
Integrations
You can integrate various third-party apps/tools with Thinkific:
ActiveCampaign, Convertkit, Constant Contact – Email marketing and automation
eWebinar, Salesforce – Selling and Conversion
Zoom – Live lessons
Keap – CRM
Shopify – eCommerce
Zapier – Advanced automations
Pricing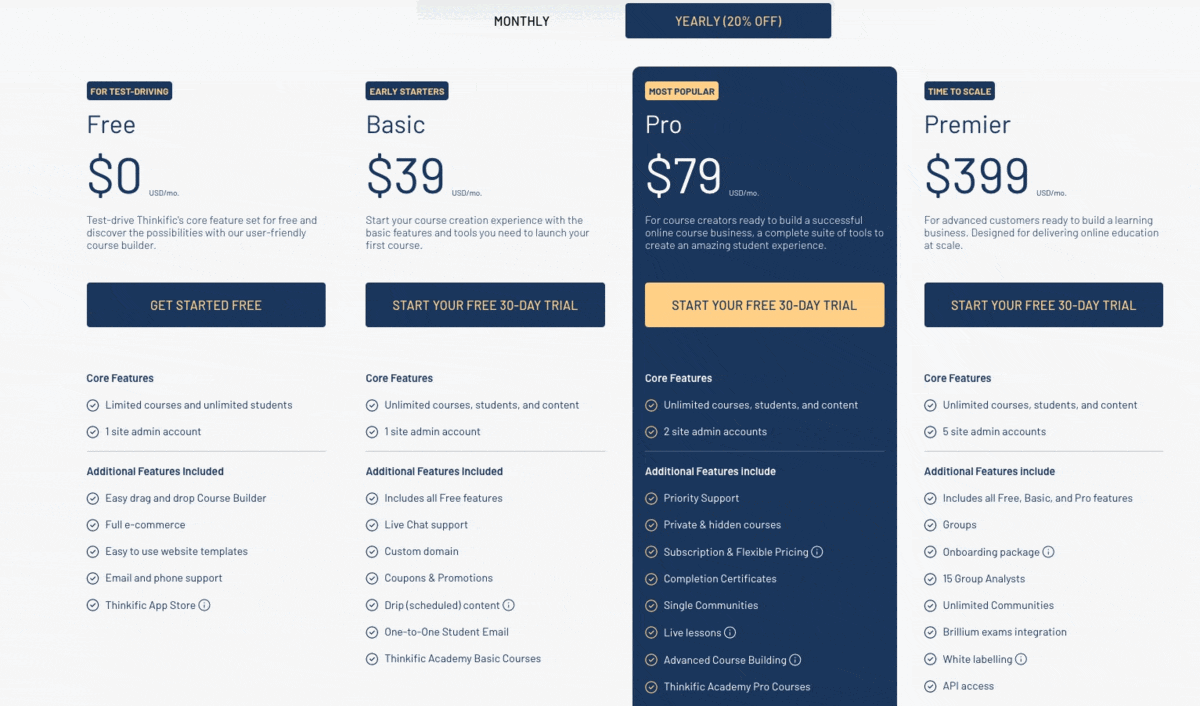 Thinkific offers three paid plan tiers. The minimal paid plan starts at $39 per month. There is an option of choosing to pay annually. In such a case, you get a 20% discount.
The basic plan provides email integration, custom domain and unlimited courses.
The higher-paid plans start from $79 per month. They provide bundles and memberships, hidden and private courses, and additional admin accounts.
All the plans offer a 30-day trial period for free to help you take a test drive.
Course Examples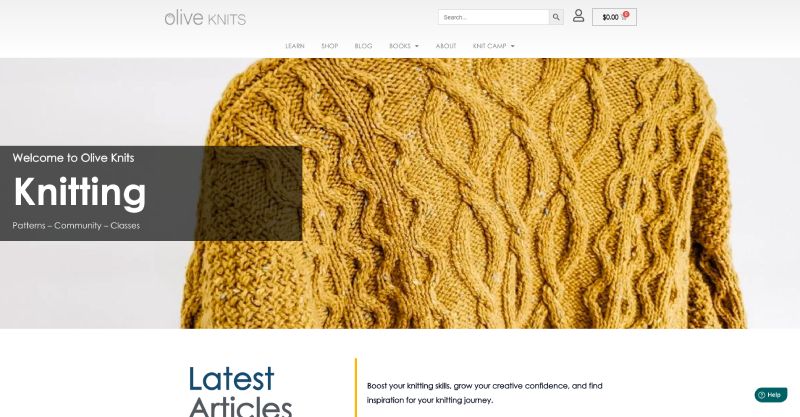 Rating
The user rating of Thinkific is 9 out of 10 where ease of use gets an average of 8.7, support quality gets an average of 8.9 and ease of setups to get an 8.5 rating on average.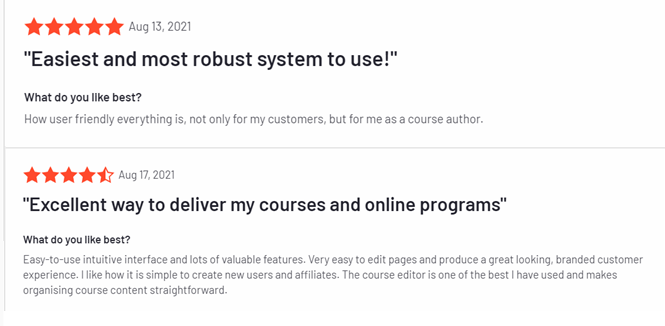 Also, we have created a full review of Thinkific.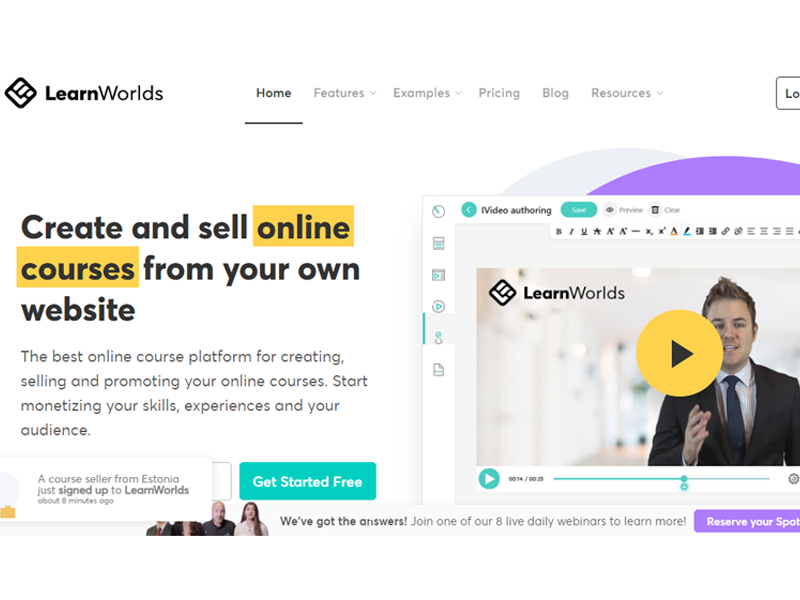 LearnWorlds positions itself as a momentum of premium option. This is because it provides white labeling, complements standard course content, social learning tools and high interactivity.
LearnWorlds has put a lot of focus on its tools to build sales pages. They provide a simulator with which you can test their performance without even signing up. Moreover, they have recently added a capability of a full website builder.
In addition, it is one of the platforms that let you create videos so you can facilitate learning. It helps you add interactions and transcripts in the videos. In this way, you can easily inspire your hearing-impaired learners. It also has incorporated specific features to facilitate learning for those who have short attention spans. With LearnWorlds, you can create online courses using a drag and drop editor.
Pros
Strong knowledge base
24/7 support
Social media integrations
Easy to create membership sites
iOS Custom mobile app
completion certificate
free courses
while labelled content and custom domain name
Cons
lack of student authentication
no instant support
glitches in typing feature
built-in accessibility feature
Features
Build a website in a few clicks only
Invite students to help them engage with like-minded people
Cross-sell and upsell memberships, bundles and courses for enhanced sales
Create multiple tests for students to earn their course certificate
Making all interactive elements accessible for your learners
Integrations
You can connect Learnworlds with some of the best marketing and sales tools:
Zapier – Marketing automation
Zoom – video conference and webinars
Mailchimp, Activecampaign, Aweber – email marketing
Google Analytics and Search Console – for analytics
Intercom, Sumo, Hubspot – Growth tools
ReferralCandy – for affiliates
Zendesk, Freshchat – customer service
and more…
View the full list of integrations.
Pricing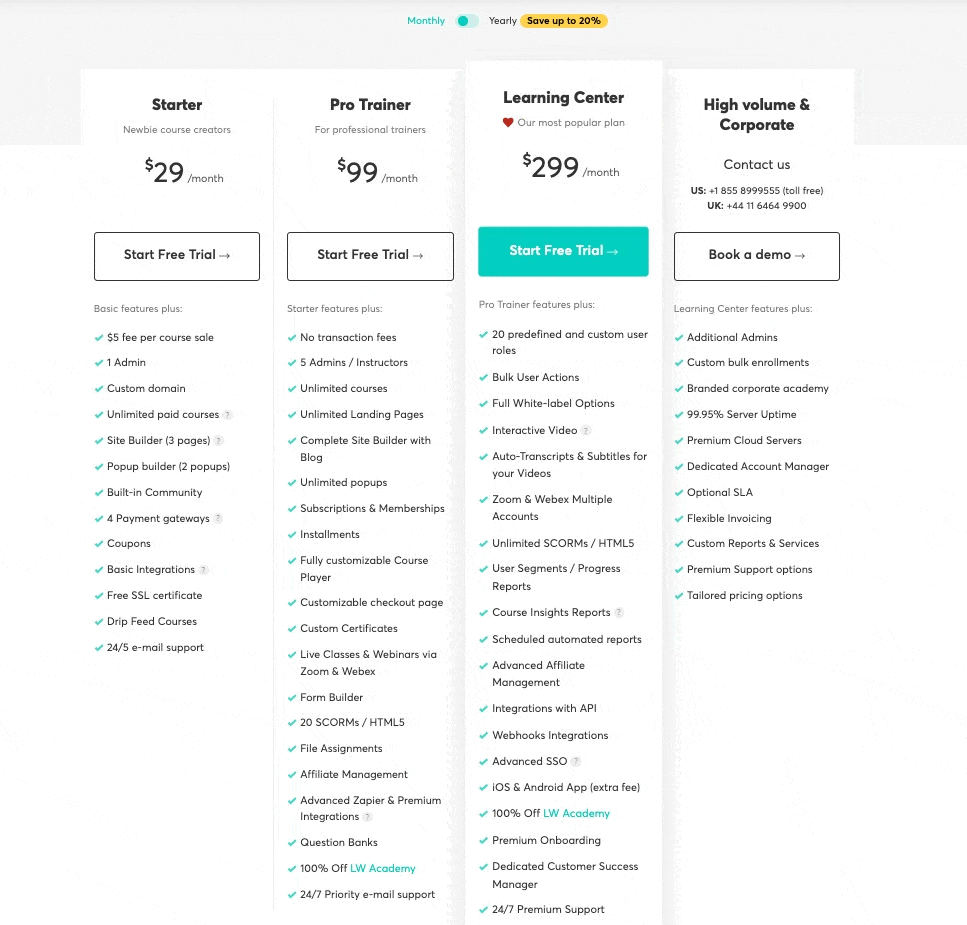 LearnWorlds has three tiers of pricing. The starter plan starts at $29 per month. All plans offer a 30-day free trial.
It offers everything to set up an e-learning business such as coupons, a built-in community and unlimited courses.
The higher plans start at $99 per month. It gives you access to all premium features such as memberships and subscriptions, live classes and course certificates.
You may get a 20% discount if you subscribe and pay annually.
Here you can read our full review: LearnWorlds Review.
Course Examples
Rating
The overall rating of LearnWorlds' ease of use is 8.8 on average. For the quality of service, it received 8.8 ratings and for ease of setup, it is rated 8.3 on average.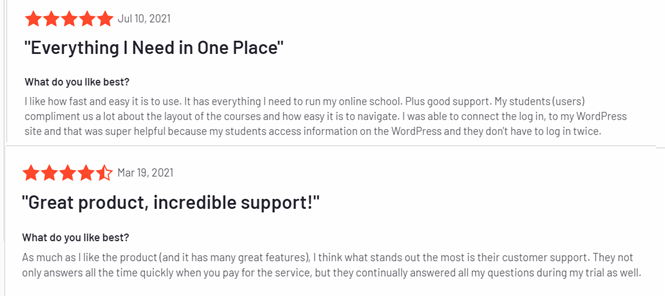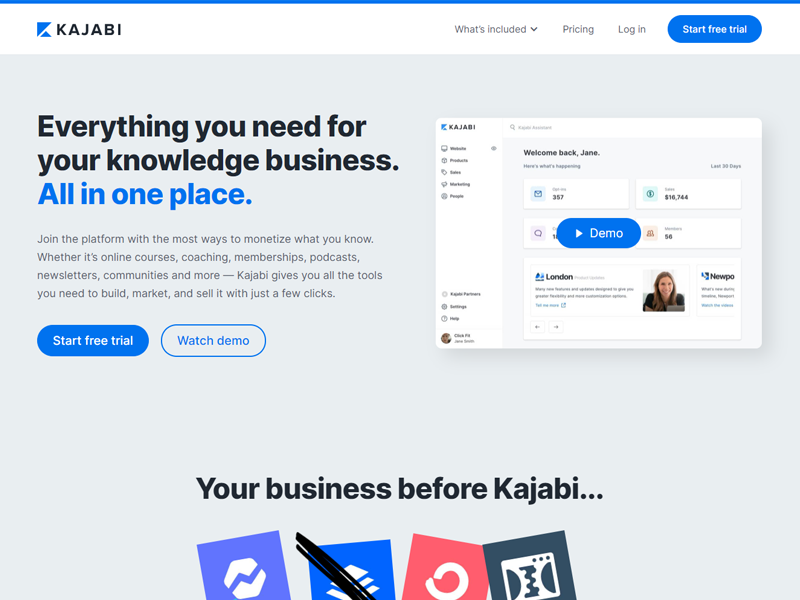 Most of the learning platforms integrate tools that help to simplify the processes but Kajabi enhances all the features for you. Kajabi is a full course builder.
It uses the best tools and combines them in a user-friendly dashboard. In this way, you can enjoy all the integrations to run your online business.
It is an all-in-one platform that lets you deliver, sell and market your courses online. Also, you can market and sell pretty much more of your digital product such as file downloads, training portals and memberships.
Kajabi proves to be a next-level provider for the people who already have their online courses set with a marketing tool and a website. But if you do not have those things, Kajabi provides everything in one platform.
Kajabi has recently upgraded its powerful visual editor, and email for fast and high-level conversion. All plans include email capabilities and webpage builders.
Pros
integrated with PayPal and Stipe
offer monthly recurring subscriptions
built-in tools
major marketing tools and sales tools
excellent video hosting
all-in-one software
Cons
limits the rich text emails
costly
required editing and coding skills
the limited assessment customization feature
Read More: Kajabi Review.
Features
create and tag notes of people to serve their behaviour
develop sales funnels with custom automation to trigger more sales
create pages and websites to easily customize the brand
enhance the email list and send emails including dynamic elements
premium plans to turn the content to high-ticket subscriptions or courses
Integrations
Kajabi offers the possibility to integrate with other important and popular marketing and sales platforms like Aweber, ActiveCampaign, Calendly and more.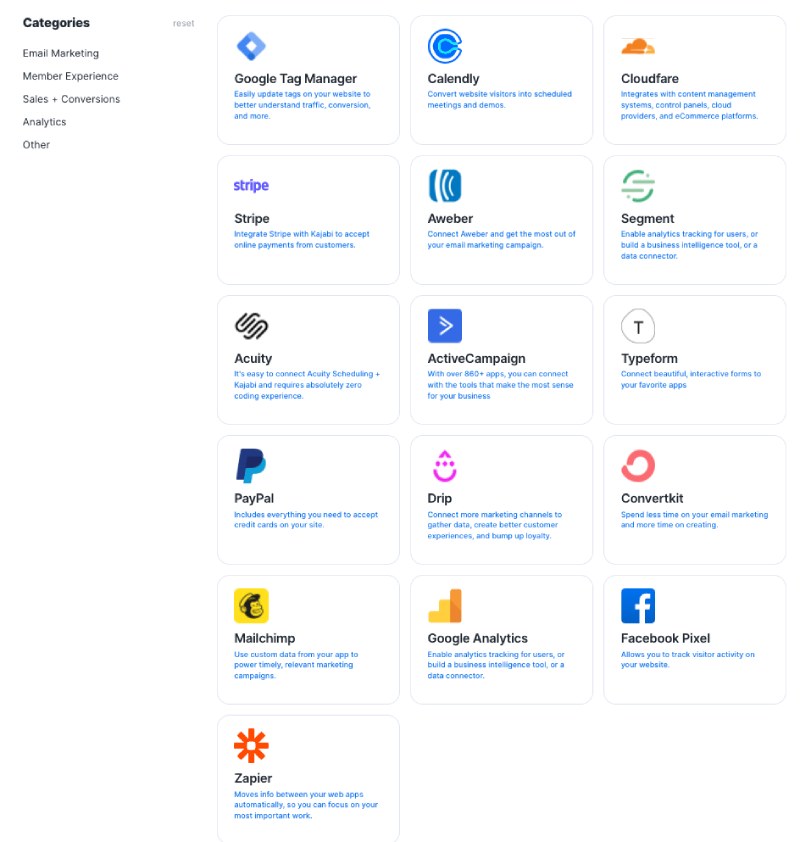 Pricing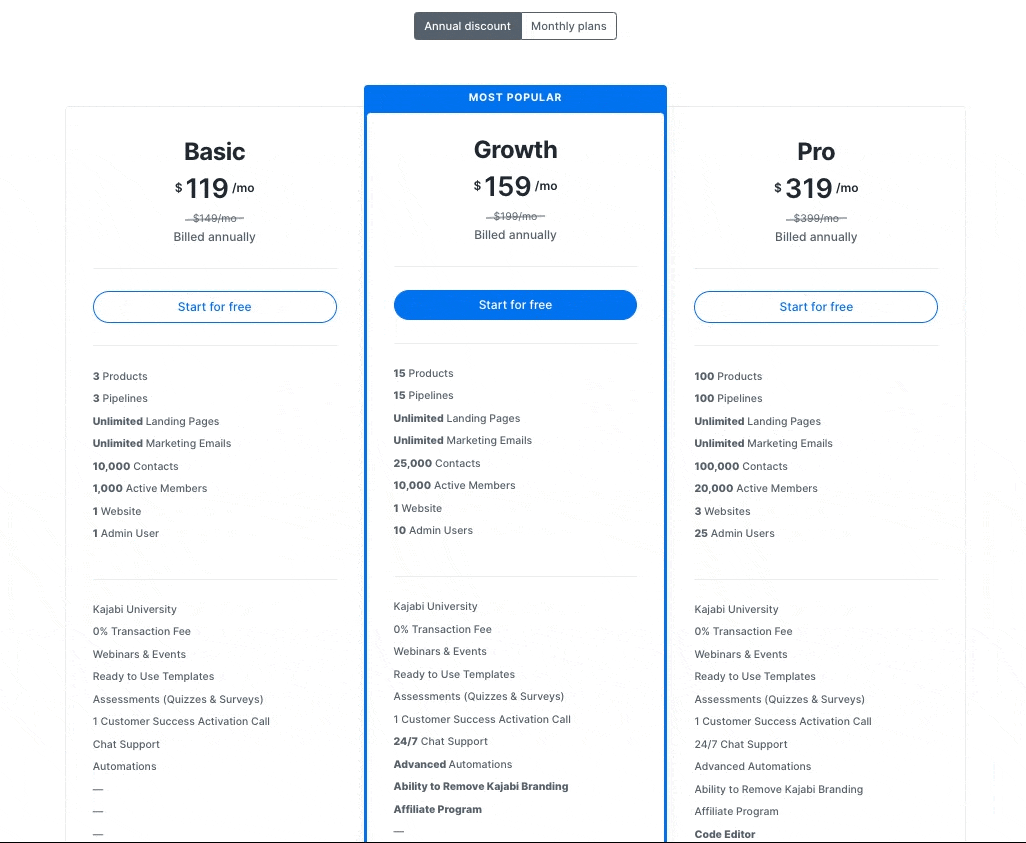 Kajabi is a bit more than just an online course hosting platform, it is a bit more expensive too as compared to other platforms in this list. The starter plan costs $149 per month. It allows you to create three products with about 10,000 contacts and 1000 members.
More plans cost $1999 per month and more. It lets you use automation and affiliate marketing. You can also remove the branding on all your products from the Kajabi tag.
All plans offer a 14-day trial period to help you play with the features it offers.
Course Examples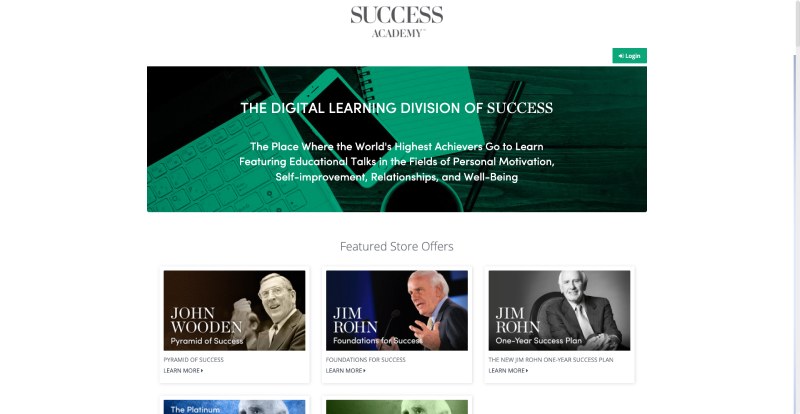 Rating
For ease of use, it is rated 8.3 on average. The average rating of the quality of support Kajabi provides is 8.3 and ease of setup received 8.2 ratings on average.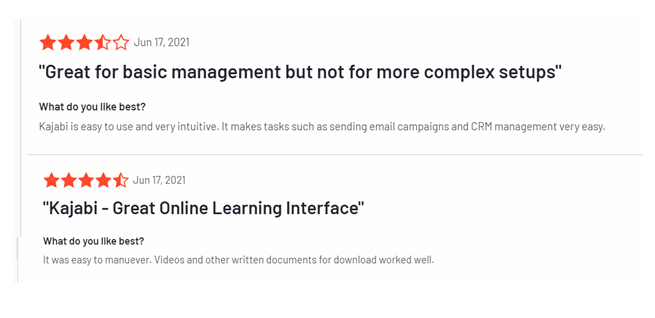 Read More: Thinkific vs. Kajabi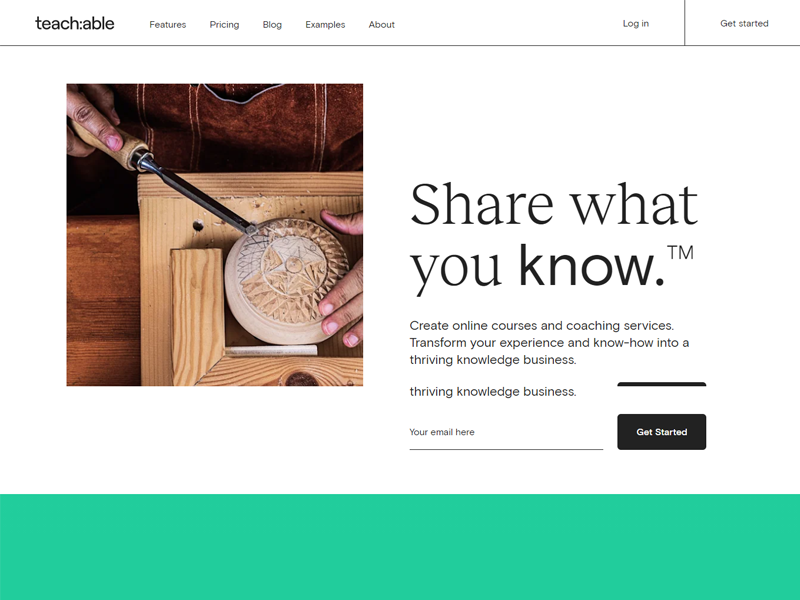 Teachable is among the first introduced online course platforms.
It is also one of the most popular ones.
Teachable was primarily created to avoid the frustrating terms of Udemy to control access and information about students. It enables the creators to offer online courses on pricing, student data, controlling branding and website.
It has more than 100,000 users who earn over $50 million by selling online courses. Teachable would never let you go wrong.
It offers users everything that is needed to establish an e-learning business and a successful online course with Teachable.
It is an easy-to-use platform with landing page templates to market your course and incorporate affiliate features.
Pros
Graded quizzes
5 user accounts on pro plan
Theme customization for website
International payment plans
Live courses on Zoom
One-click checkout
Easy setup
Cons
Designing a sales page is tiresome
Transaction fees apply on all plans
Features
Incorporates over 130 currencies and no tax issues
Integrates Affiliate marketing feature to get more reward referees and course sales
Integrates Calendly to convert and book leads to learners
Monitor and track the students' progress with sales
Integrates third-party tools to automate the business.
You can also read our complete Teachable Review article that explains in detail all features of this platform.
Integrations
Google Analytics – Web analytics
Sumo – Email marketing and lead capture
Segment – Collect user data
Zapier – Automation
Convertkit, Mailchimp – email marketing
Circle.so – a community platform
Pricing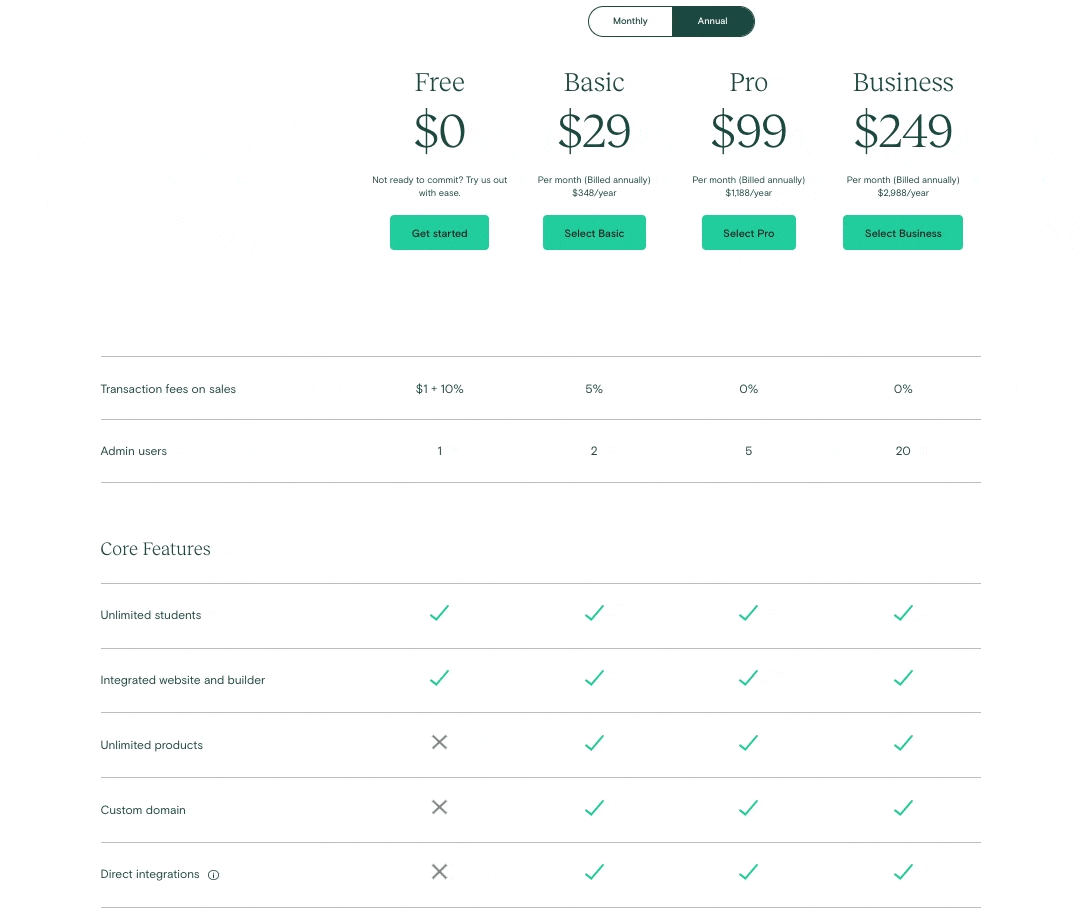 Teachable offers three tiers of payment plans. The basic plan costs $39 per month. It offers the same features as the other two plans. But, it provides lower admin-level users.
Only the pro plans starting at $119 per month provide certificates, advanced reports and affiliate marketing features.
All plans include hosting, courses and unlimited videos. An annual subscription provides 20% off on all plans.
Course Examples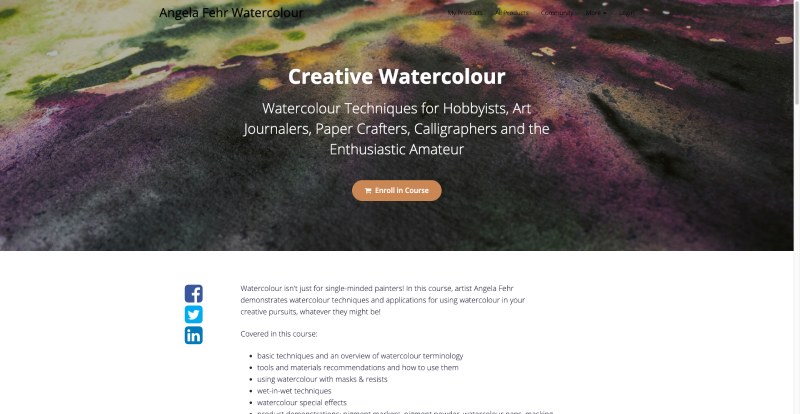 Rating
The user rating for ease of use is 9.1, quality of support is 7.3 and ease of setup is 8.8 on average.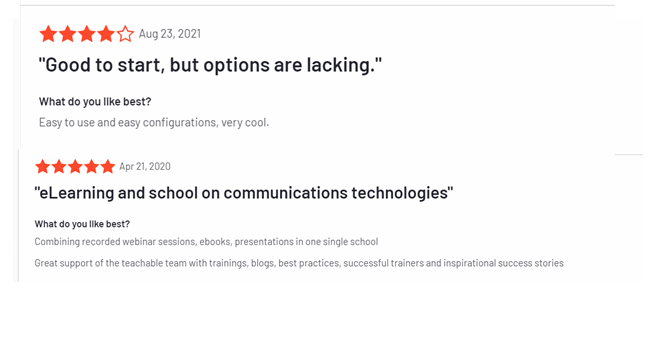 Now that you have an overview of Teachable, you may be interested in a complete comparison between Kajabi and Teachable or Thinkific vs. Teachable before making your final decision.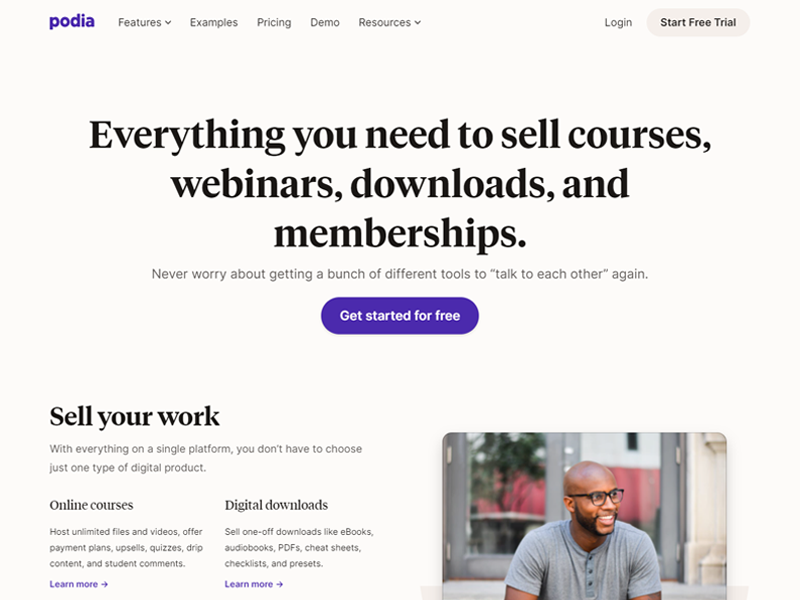 Podia is an online course creation software that aims at coaches. Recently, it has repositioned itself as an easy-to-use and full-features platform to make digital downloads, memberships and selling courses in one place.
It is gaining good momentum with time. The key to selling is that does not put a limit on users or courses and has the strong support of affiliate marketing on its products.
Podia allows the migration of all courses for free. You do not need any technical support to take a fresh start with Podia.
Significantly, it provides you with advanced features so you can maximize your conversions and sales.
Pros
Free migration
Inbuilt live chat widgets
Handles EU VAT
Ability of membership
Attractive the box design
Easy to use
Cons
No mobile app
Lacks essential learning tools
No community feature
Lacks flexibility for course builder
Features
Daily live Q&A
24/7 support
Free migrations
Zero transaction fees
Unlimited everything
Customizable websites
Use lead magnets and digital products
Connects with messaging and email marketing
Integrations
Podia is one of the platforms that offer the most integrations with third-party tools.
GetResponse, Mailchimp, Mailerlit, Drip and more – email marketing services
Calendly, Acuity Scheduling – scheduling
Zapier – connect with more than 1000 other apps
Deadline funnel, Sumo – lead capturing
Pricing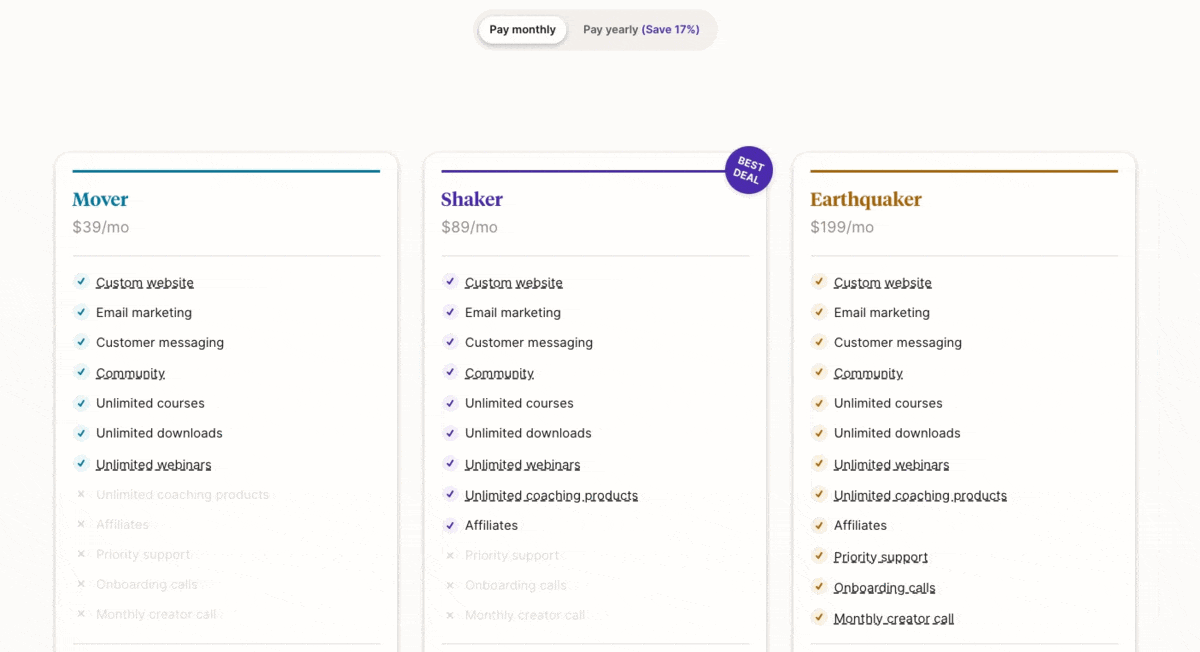 Podia offers simple two-pricing plans. The starting plan; Mover costs $39 per month and shaker at $78 per month.
These two plans offer you to set up zero transactions for your website hosting.
Shaker offers you premium features such as membership, blogging and affiliate marketing.
Read More: Podia Vs. Teachable.
Course Examples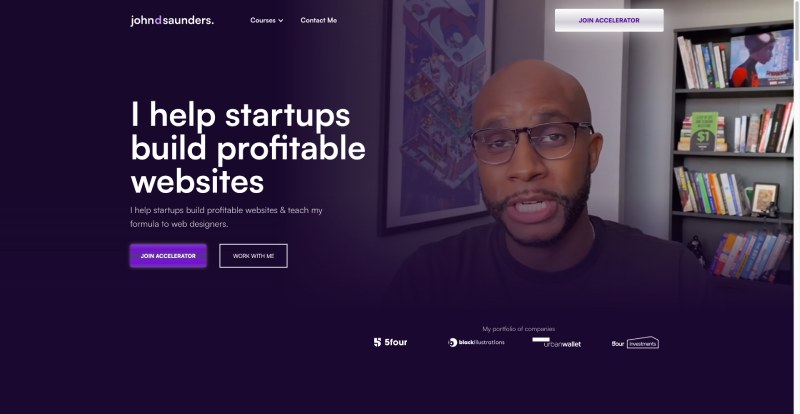 Rating
It received 10 out of 10 ratings for ease of use.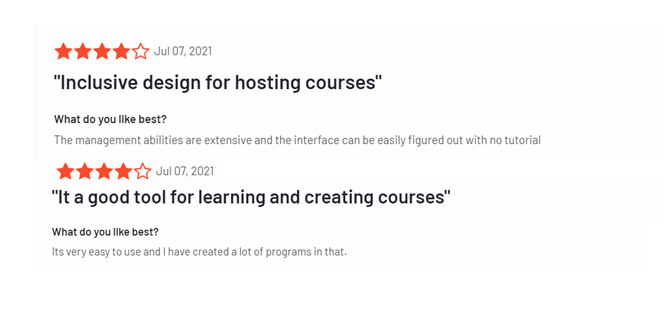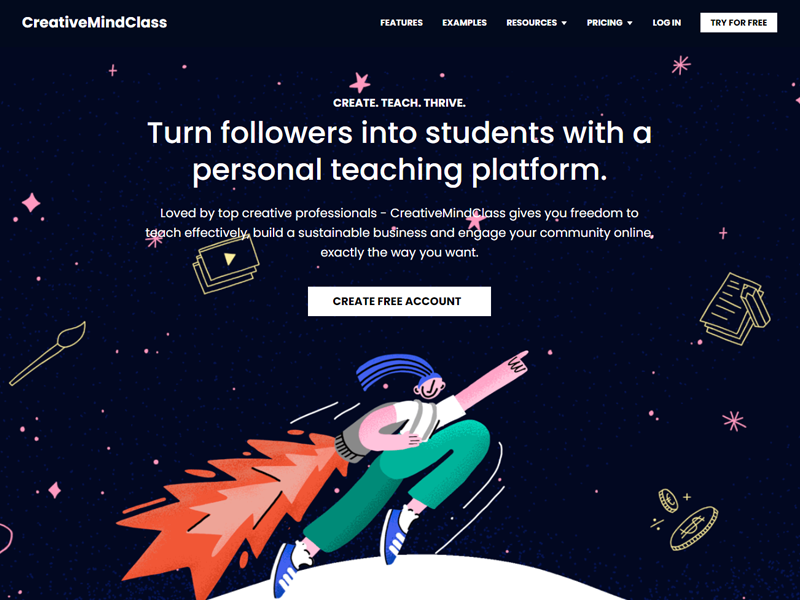 CreativeMindClass ranks amongst some of the top platforms to create online courses. You get the opportunity to sell your expertise courses through a visual approach, as in uploading videos, forming relatable exercises for your customers, and engaging with them through comments and feedback.
Pros
Free to Start
Handles EU VAT
Amazing community features
All-in-one platform
Easy to use interface
Excellet Customer Support
Cons
This isn't for audiophiles
Features
Create classes and upload lessons on multiple topics you expertise at
Set your pricing plan considering the quality and duration of your class
Engage with students through comments and get their feedbacks
Connect with students through your social media accounts
Update students with practice exercises
Work gallery to have access to students' solved exercises
A proactive collaboration program with easy to access group support
Secure payment options
Integrations
CreativeMindClass lack important integrations. They try to include all necessary tools in an all-in-one platform.
Pricing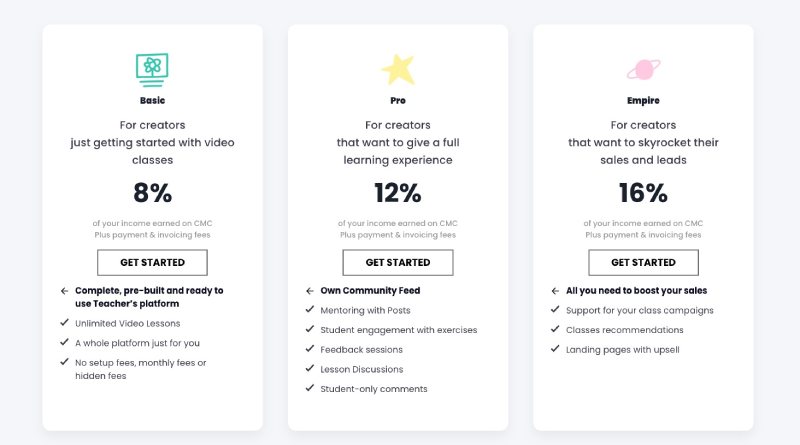 CreativeMindClass has three plans to offer. The unique feature of its pricing plans is that you won't have to pay anything before you start earning. Moreover, the payment depends on a certain percentage of your income depending on your plan.
The basic plan lets you create your visual lectures and sell them worldwide. The pricing plan of this program is 8% of your income earned from the platform plus the processing fees.
Another plan this platform offers is the pro plan, which retains 12% of your income plus processing fees. This plan is beneficial for teaching students efficiently and building a collaborative community of creative minds.
Last but not least to mention is their empire plan that comes with all the features of the above plans, inclusive of some excellent promotion tools to sell and earn better. The pricing of this plan is 16% plus processing fees, and it's worth it because you get the opportunity to showcase your teaching talent to a massive audience.
Course Examples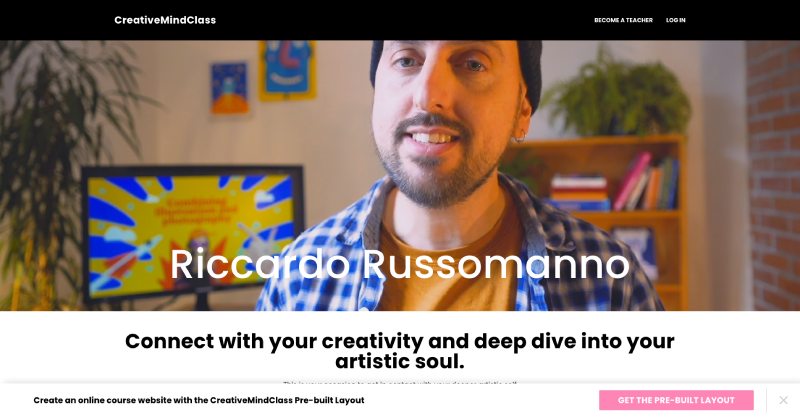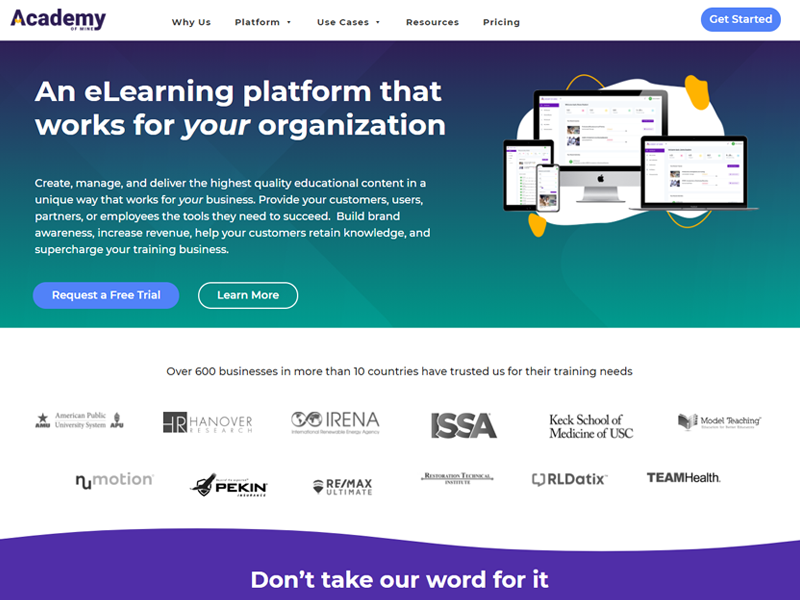 Academy of Mine is a dedicated platform for the development of internal training materials, especially for organizations. It is the most robust platform on this list.
Academy of Mine can provide the most advanced features that are needed for B2B companies.
It is a sophisticated and complete e-learning platform that sells and teaches online courses. It also focuses on corporate clients and certifications.
Academy of Mine provides an all-in-one solution that enables you white-label to match your courses with brands. Also, you can build a completely functional website to help you market your training program.
Pros
Adjustable page design
Customization of course exam
Marketing analysis
Use other languages to create courses
Advanced account security
Cons
No learning paths
Email notifications are limited
Complicated interface
Features
In-house team's custom services help in creating a course
Seamlessly integrates with different platforms to deliver courses
Delegate modules and sell courses with Group Onboarding feature
Supports live webinars with learners
Uses TinCan, SCORM and HTML to create self-paced courses
Integrations
Hubspot, Infusionsoft, Salesforce and more – CRM integrations
Shopify, WooCommerce, Magento – e-commerce store
Flexible API included
Pricing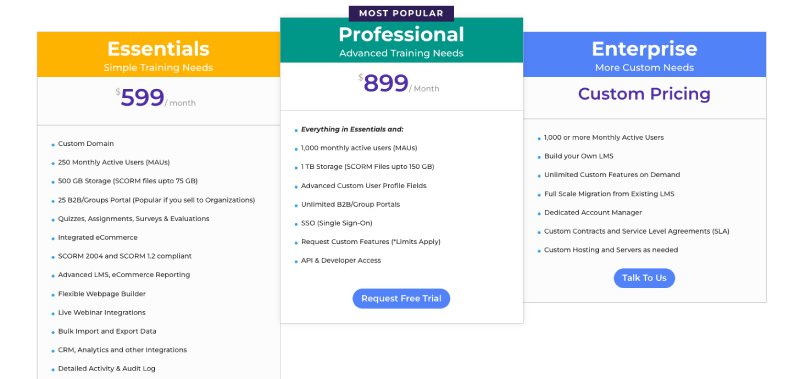 The annual plan costs $9,997 per year. It provides users with all the needs essential for an online learning platform.
It offers basic features such as advanced reporting, integrated e-commerce, and unlimited courses.
Academy of Mine targets B2B clients with the Group Onboarding features.
The support team offers 15 hours of training and onboarding after purchase.
Course Examples
Check out a detailed page of Academy of Mine use cases.
Rating
The overall rating of Academy of Mine is 9 out of 10 with an ease of use rating equal to 8.2 and customer service as 10.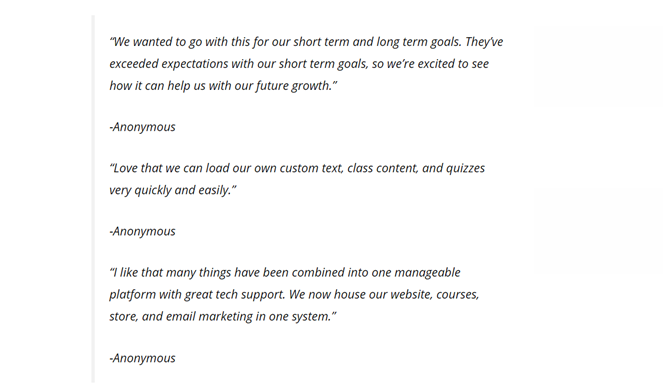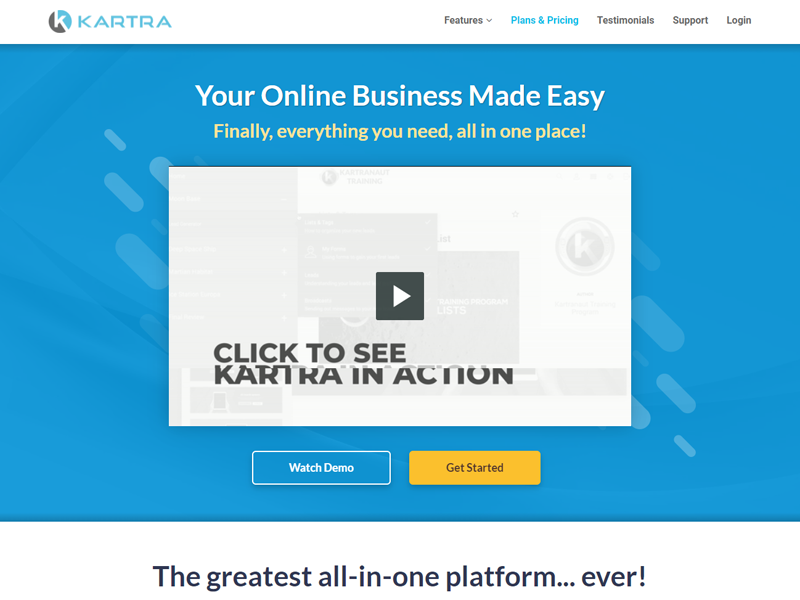 If you intend to run a business of digital products than just offering online courses then Kartra is the most powerful solution of all. It provides you with all the essential features that you may need to create a feature-rich and professional-looking website.
You don't have to hire a designer or a coder to start with Kartra. It integrates features that make a fully functional website such as lead capture, tracking, management, video hosting, sales funnels, memberships and email platforms. Besides, you also get to have a help desk platform for your customers to manage appointments and bookings.
We have written a complete comparison between Kartra vs. Kajabi, which can help to make your decision.
With Kartra you are not limited to assessment capabilities, student management and course creation that other platforms do.
Pros
Cheaper but with all functionality
100% cloud hosting and safe backups
Scales with community growth and course demand
Less tech and less stress over simple things
All-in-one platform
Cons
Lack of integration with the third-party
The extra cost of bandwidth
No quizzes
Difficult to navigate with poor UI and unintuitive
Features
Integrated with APIs
Assisting students who are less tech-savvy and providing them with helpdesk component
Allow creating a membership website.
Runs campaigns and funnels to allow you to have control over the users' path of getting engaged
Integrations
Kartra is fully integrated with some of the best marketing tools and sales platforms. Check the image below: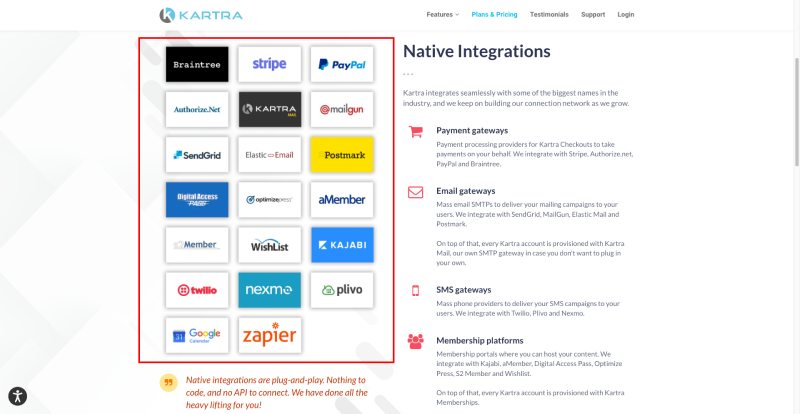 Pricing
The most basic plan starts from $99 per month. The pricing options are based on the features that visitors want on the platform. You only have to pay for what you use.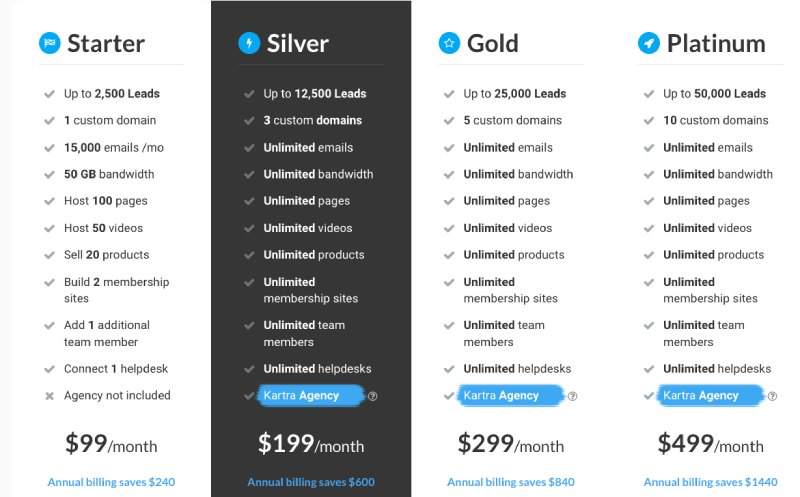 If you choose to pay for an annual plan, you get a 25% discount.
There is no free plan but they offer a 14-day trial for $1.
The premium plans; Silver, Gold and Platinum cost $199 to $499 per month.
The starter plan provides almost all the features that the premium plans include except for more leads with each higher plan.
Course Examples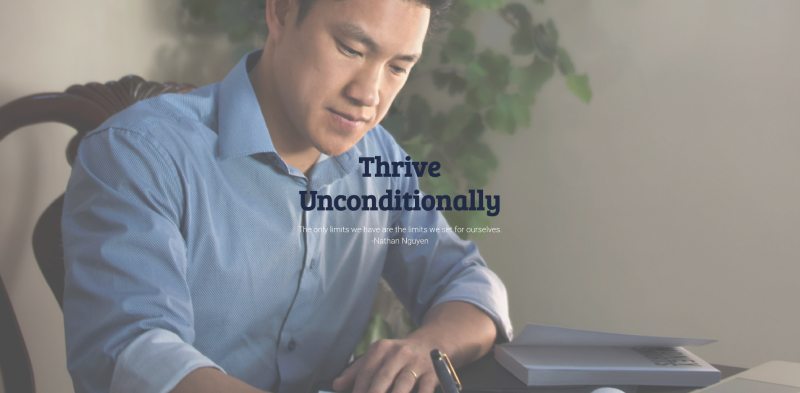 Rating
The user rating for ease of use is 7.2 on average. The rating for Quality of Support ranks 7.3 and ease of setup is rated 7.1 on average.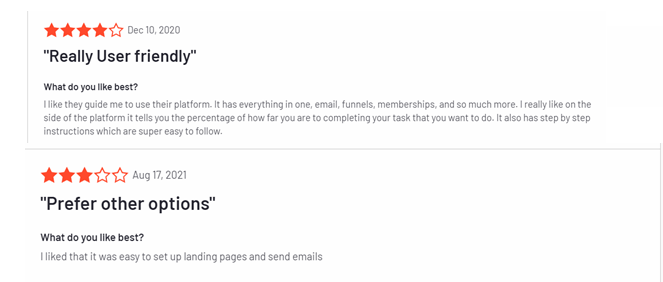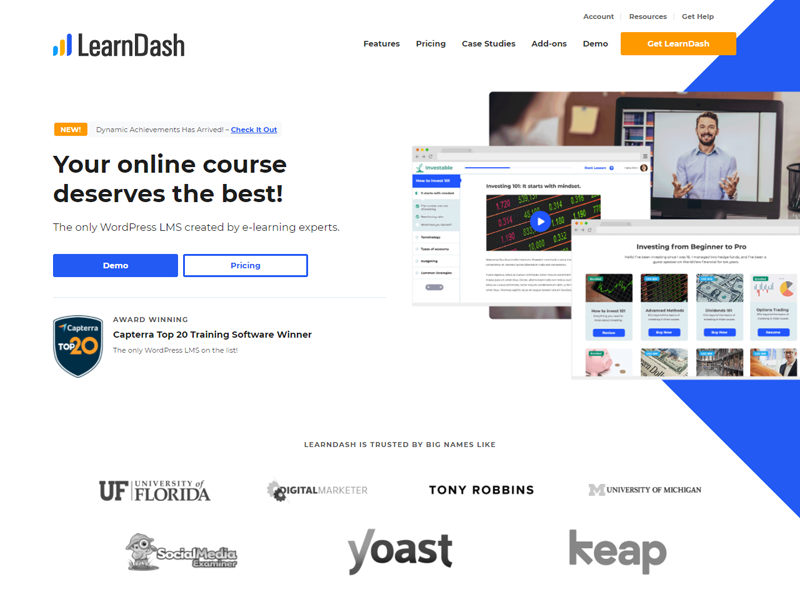 LearnDash provides a gold standard experience for those who intend to run a learning management system on WordPress. It is a feature-rich option that is developed for people who are professionally into e-learning.
If you have WordPress and you want to create a website with CMS, it is good to spend on online courses. With LearnDash you can have this opportunity to use all the features to create an online business.
The core plugin of LearnDash is highly robust and has important features such as student notifications, badges, certificates, prerequisites, dripping, assignments, exams, quizzes, drag and drop builder.
Moreover, LearnDash provides millions of premium and free add-ons to help to enhance the functionality of your course.
If you are looking for a more detailed comparison between Kajabi and WordPress, you can check this article: Kajabi vs. Learndash.
Pros
Arrange courses in the order of your choice
Onsite reviewing of questions and answers
Customized messages for learners
Students can have text, image or video hints
Cons
Difficult to integrate with a customized website
The extremely complicated structure of URL makes SEO unachievable
Limited in-built payment options
Limited built-in membership options
Features
Uses the latest media, programs such as Tin Can API and SCORM
Keeps a check on respective performance and controls members
Sets up course marketplace such as Udemy and provides license
Sells online courses with different payment methods such as onetime payment or membership
Creates portal of branded learning with WordPress functionalities
Integrations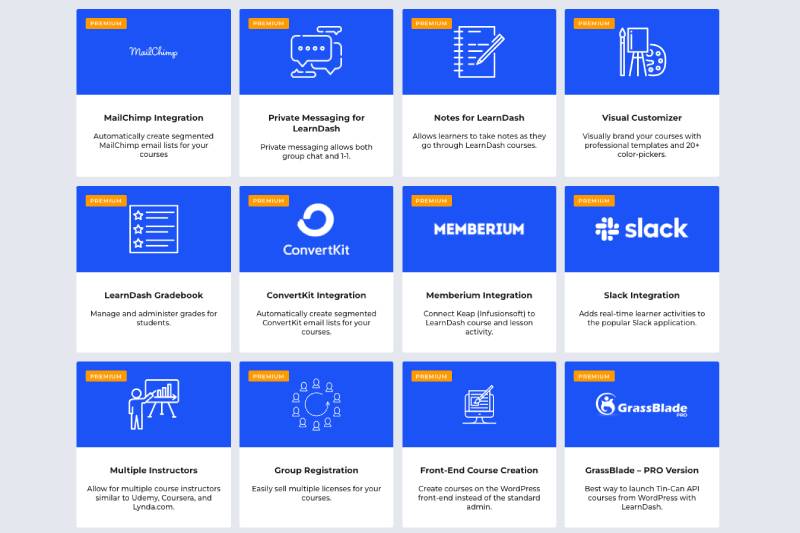 LearnDash provides various extensions to add extra functionalities to your online course. For example:
Zapier integration
ThriveCart, Samcart and more.
Mailchimp, ConvertKit
Also, you can find custom build integrations from the community.
Pricing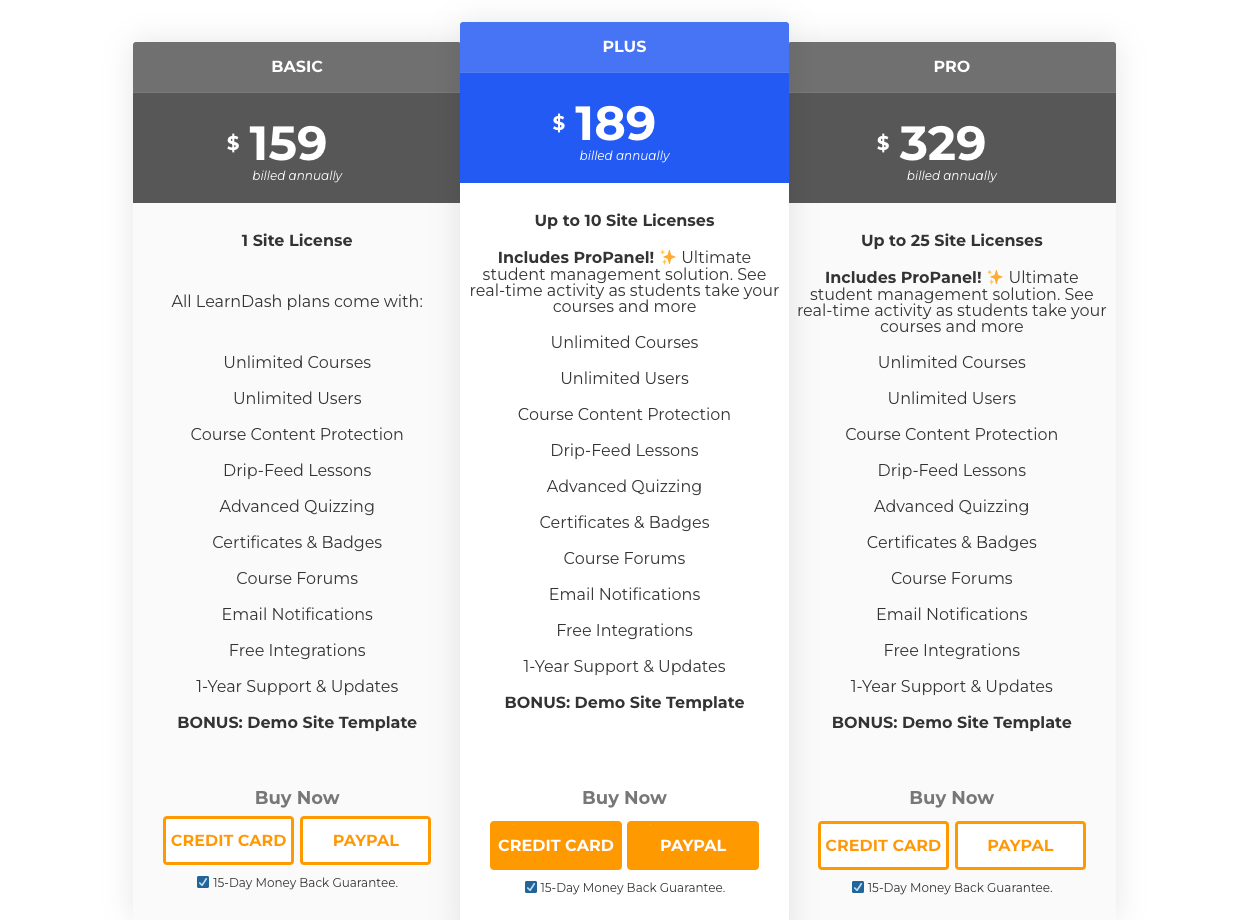 LearnDash provides three pricing tiers. The Basic plan costs $199 per year.
All plans provide the same features such as drip feed lessons, 1-year support, and unlimited users and courses. The difference in the plans is the number of sites with licenses.
The basic plan provides a license with one plan only. The plus plan costs $229 per year and the Pro plan costs $369 per year. These two plans allow 10-25 sites with licenses.
Moreover, higher plans provide access to live activity and dashboard.
Course Examples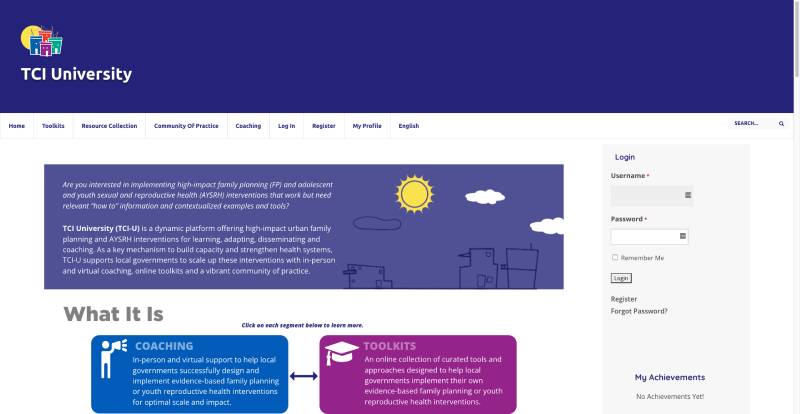 Rating
For ease of use, it is rated as 7.9 and quality of support is rated 8.3 on average. Ease of setup is ranked 7.9 on rating average.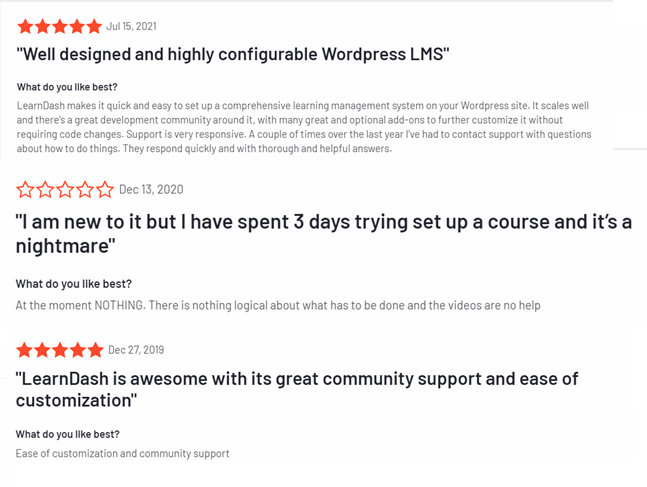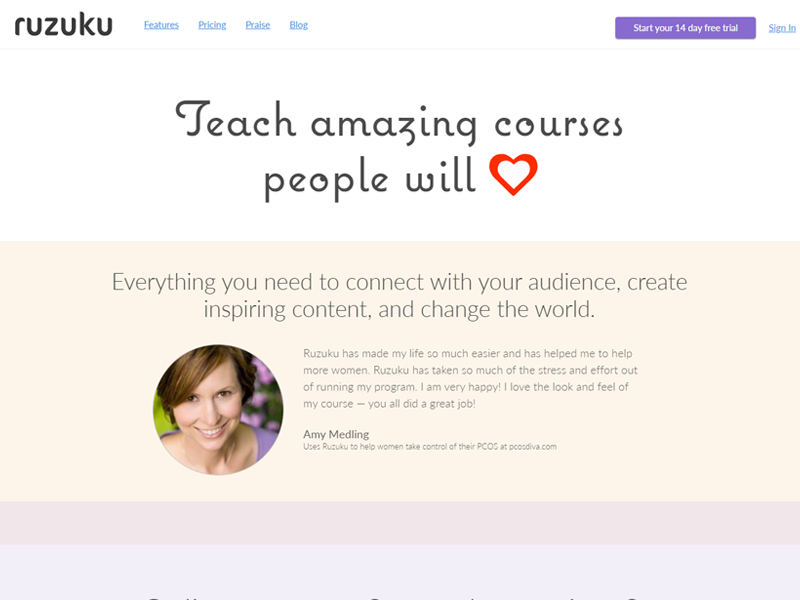 Ruzuku provides the best and easiest solution to deliver online courses. Previously, people were unaware of using online tools to create their courses online. Yet, Ruzuku simplified the launching and setting up of your online courses. In such a way, you can focus more on the bottom line.
It helps you create an online course step by step with the learning platform. Besides, it enables you to quickly create outlines, record and outline your courses easily. Also, it is very easy to generate sales in a few clicks.
It also integrates payment gateways, Infusionsoft, MailChimp such as PayPal and Stripe to accept payments.
Pros
Easy to use
Dedicated lightning-fast servers
Integrated eCommerce
Unlimited audio and video uploads
Unlimited courses
Unlimited Data storage
Bank-level security
Cons
Inefficient customer support
Less affordable as compared to competitors
Features
Excellent customer support
Bring in course to use texts, pdfs and videos
Tracks progress and encourage students to connect
Online payments through PayPal and Stripe accounts
Manage and launch all courses with powerful and simple dashboards
Integrations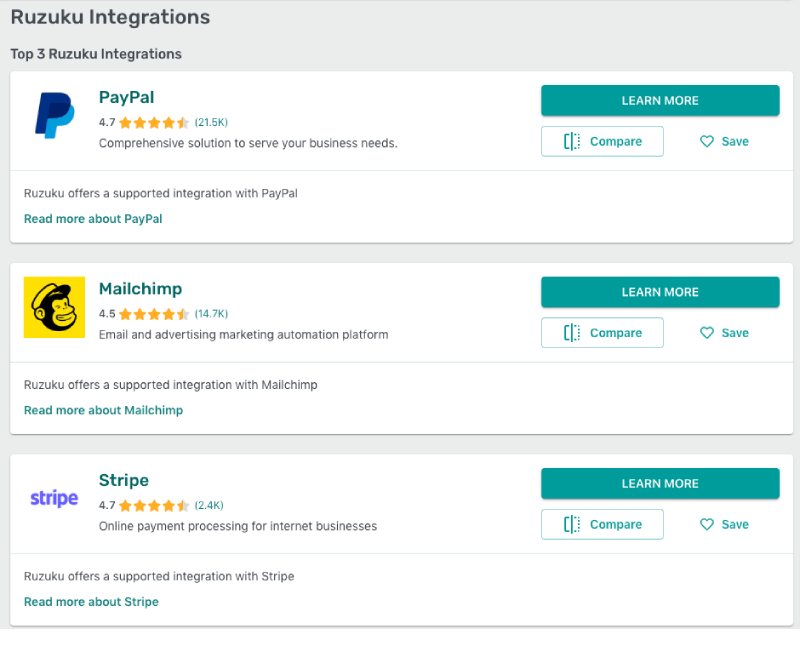 Ruzuku lacks some important integrations with marketing and automation tools.
Pricing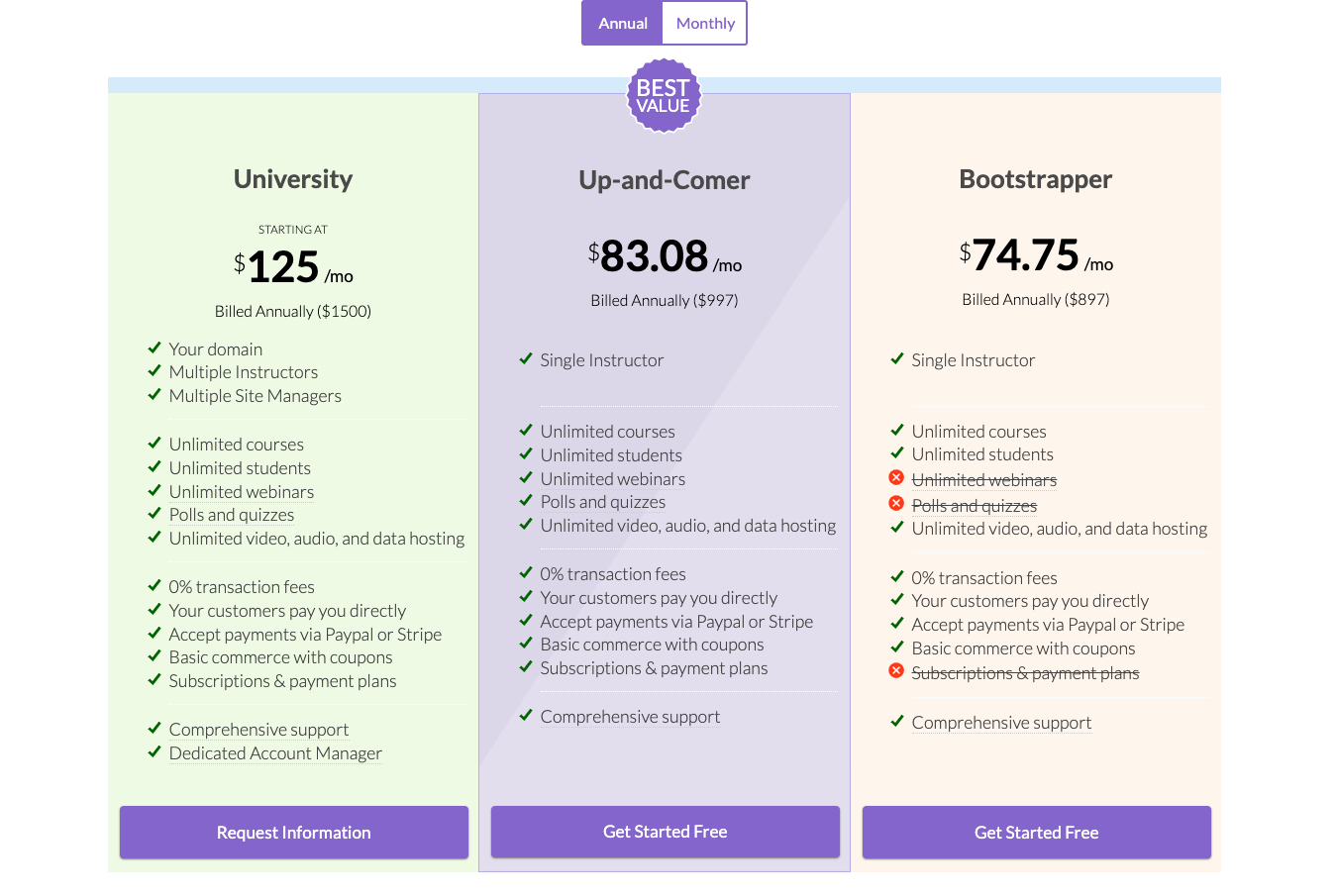 It offers three pricing tiers. The starting plan costs $99 per month. There is also a 14-day free trial. You get the benefit of Stripe and PayPal payments and 0% transaction fees.
Higher plans provide access to advanced features such as multiple payment plans, quizzes and polls and unlimited webinars.
Yearly plans save a lot of money for you. Annual payments on subscription cost $74.75 per month.
Course Examples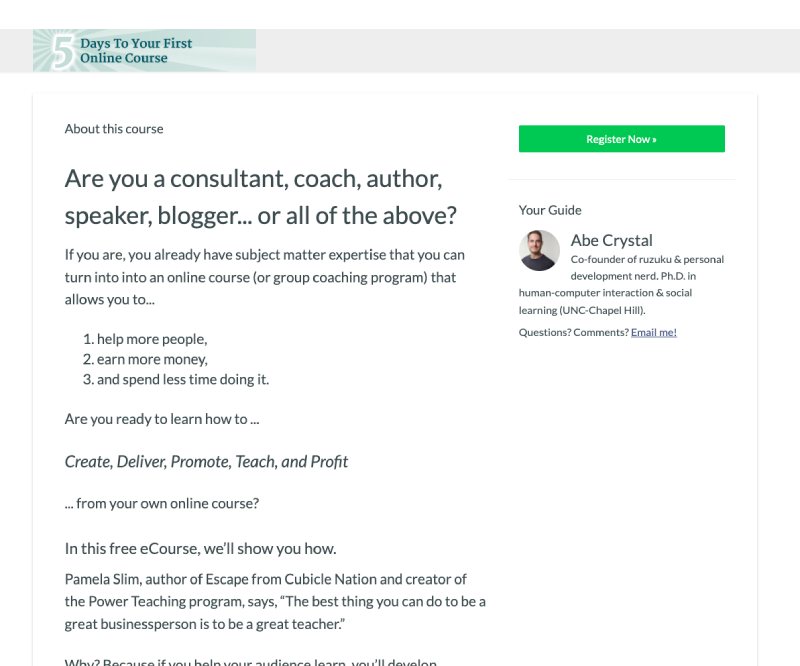 Rating
There is not enough rating of Ruzuku. However, based on the fewer reviews, it received an average rating of 9 out of 10 for the ease of use, setup and setup.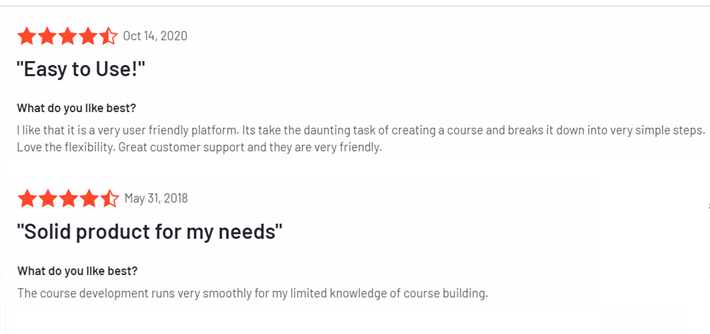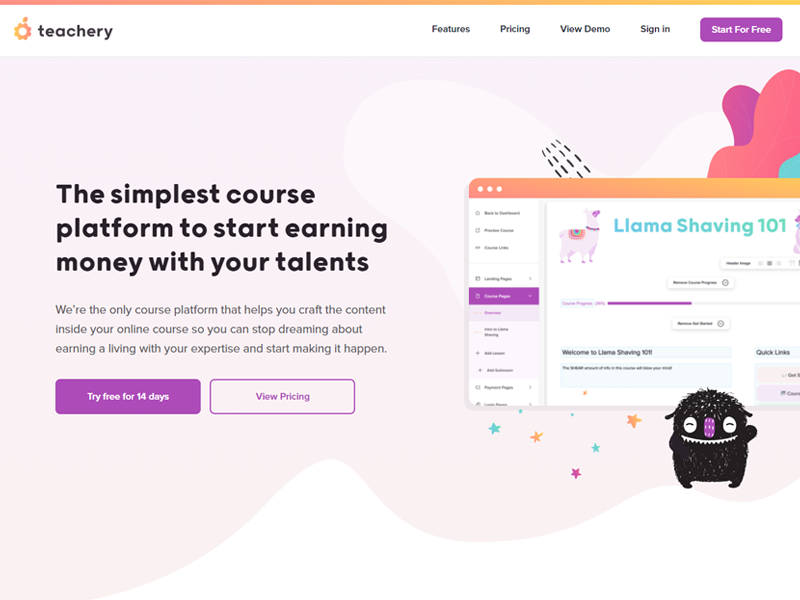 Teachery is the only platform that helps you craft online course content. The props as well as the user interface offered by Teachery are user-friendly.
It is one of the most straightforward platforms for course development.
There are two solid course templates; a sidebar template and a minimal template. Further, it guides you through all the steps you need to follow to create your content. However, it may be less feature-rich as compared to other solutions in this list, but they are enough to help course creators get started.
Teachery plus points are that they do not charge any monthly fee instead the platform is highly intuitive and simple. Also, the uploading process is simple and allows an unlimited number of files per course.
Read a more detailed Teachery review with a full look into features, pros and cons.
Pros
Great for beginners
Easy and simple to use interface
2-week trial
Free plan available
Cons
Less advanced features
Expensive
No mobile app
Limited resources and support
Features
Landing and sales pages that allow easy content creation
Membership and payment plans allow easy input of membership for students
User-friendly Course editor
Simple templates for course creation to provide a simple solution
Integrations
Zapier
Mailchimp and Convertkit
Pricing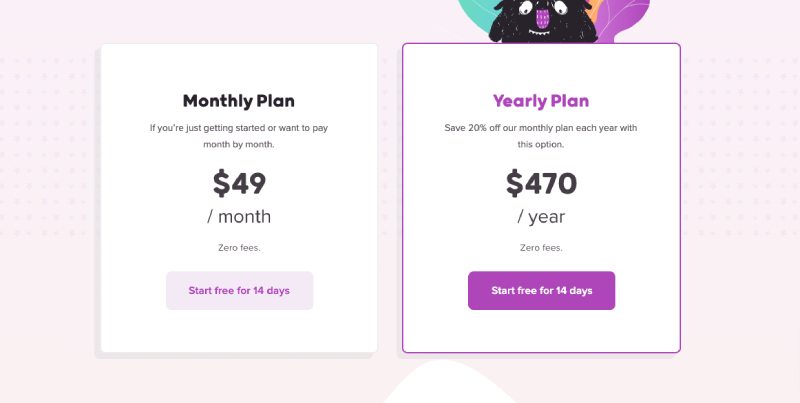 Teachery offers a 14-day trial period. The lowest-paid plan costs $49 per month. The yearly payment plan would cost you $470 per year. The plans include unlimited students, courses, and sales and landing pages.
They also let you use their affiliate program with both plans.
Course Examples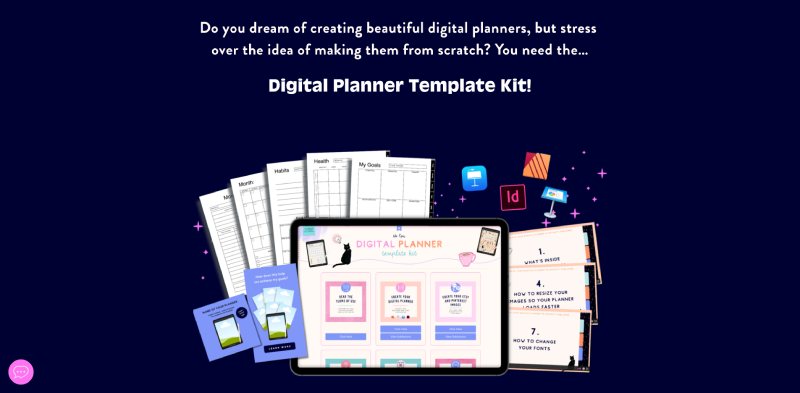 Rating
The overall rating is 8.8 for ease of use and setup. The support and resource are rated as 7.8 on average.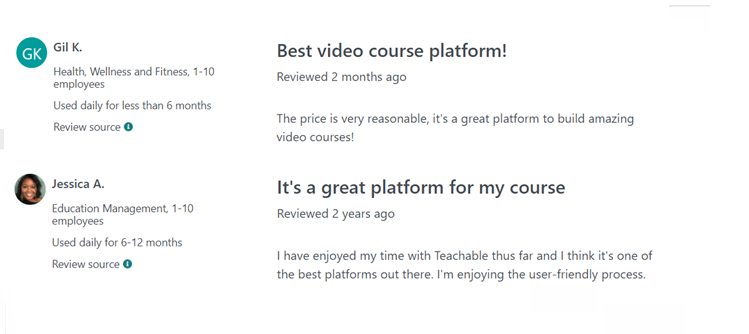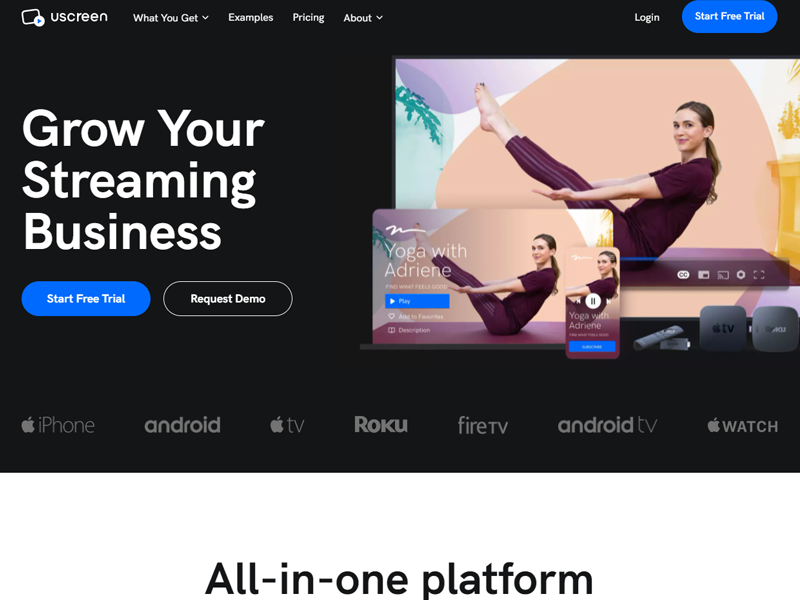 Uscreen is the perfect platform that you are looking for, distributing your lesson-based videos and earning money through them. This program monetizes your videos and distributes them to the target audience, with you gaining a deserving profit out of it.
You can use its in-built tools to make high-quality videos. You will also find marketing tools built into this platform to help distribute your videos and boost the process. Moreover, beautiful themes make your videos look attractive, catching the eyes of more and more audiences.
Pros
100% digital security guaranteed
HD audio and video quality
Fast processing speed
Attractive themes for audience engagement
Flexible payment options
Cons
Monetizes video on demand without ads
Lacks a built-in feature for email automation
Features
You can launch your own OTT apps and manage your video content over there.
Perform live through Uscreen's HD live streaming platform. You can also chat with your customers while being live.
Monetize your videos yourself, keep a relatable fee and enjoy your profit.
Use Uscreen's inbuilt marketing tools to boost your video distribution and attract more audiences.
Video Content Management System is also there to guide you at every step.
Uscreen's HTML 5 video player streams your videos in high definition quality, providing a satisfactory experience to your customers.
You can customize your videos with beautiful in-built themes and templates.
Pricing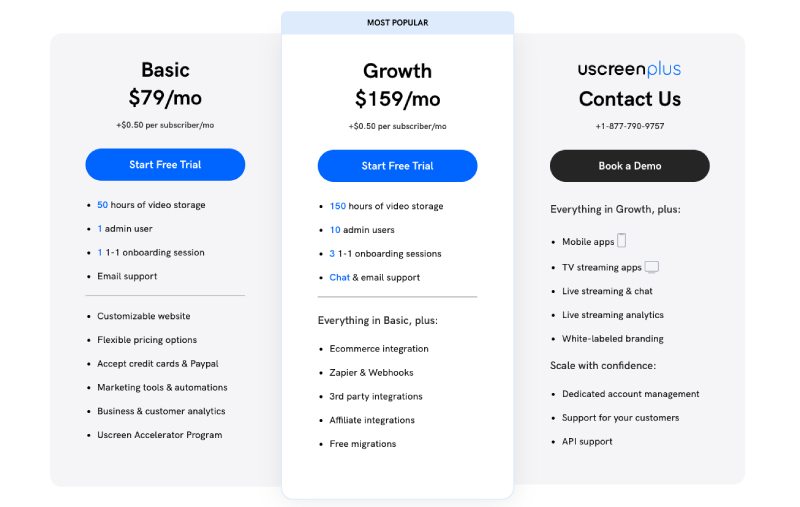 Uscreen has monthly and annual plans; you can save 20% money on annual plans.
Uscreen has two different plans to offer, each having prominent features to provide a satisfactory experience. The basic plan comes, which costs you around $79 per month. It provides almost 50 hours of video storage.
The second plan by Uscreen is growth, which costs around $159 per month. It provides 150 hours of video storage to its customers.
Ratings
Uscreen received an overall rating of 4.6/5. It has received similar numbers concerning ease of use and customer service, i.e., 4.6/5.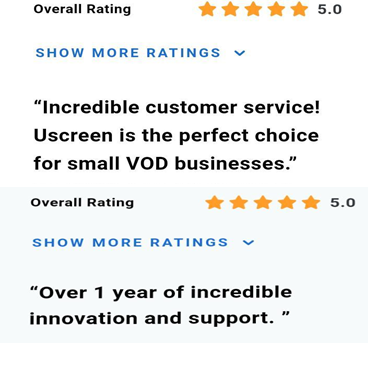 ---
How to Choose the Best Online Course Platform?
There are a few things to consider when choosing an online course creation platform. Ease of use, features, and price are all important factors.
Ease of Use: The platform should be easy to use, with an intuitive interface. It should be easy to add content, format and customize courses.
Features: The platform should offer a variety of features, such as the ability to create courses with video, audio, and text content, as well as quizzes and other interactive features. It should also offer tools for managing students and tracking progress.
Support and Documentation: Find out if the platform offers any support or tutorials to help you get started. This is important especially if you are a beginner.
Price: The platform should be affordable, with various pricing options to suit different budgets.
Also, the items listed above are important factors we consider when researching and reviewing the best course creation platforms.
Online Course Platforms FAQs
Which is the best free online course creation platform?
Udemy is a popular option for those who want to create and sell courses. The platform is easy to use and offers many features, including video and audio lectures, quizzes, and downloadable resources. You can also create private courses for your students and offer customer support.
How do you price an online course?
Pricing an online course can be tricky. You want to make sure you are charging enough to cover your costs and make a profit, but you don't want to price yourself out of the market. A good place to start is by looking at what similar courses are selling for. This will give you a good idea of what the market will bear.

Once you have a price in mind, consider whether you want to offer discounts for early registration, bulk purchases, or other factors. You may also want to offer a free trial period to let potential students see what your course is all about.
Conclusion
Which online course platforms make the most sense to your interest and expertise?
Let's recheck our final recommendations:
It should be the one that does not cost you a hand and an arm. It should have the key features that you need and is the easiest to launch. This post may help you avoid the analysis part and directly hit the upload sector for the first training.
Most importantly, upload your course to your platform. You need to start promoting and marketing your course because if you want them to buy it, they should know that your course exists.
Using our article as a guide, you can choose the best platform to create and promote your course.

Ludjon, who co-founded Codeless, possesses a deep passion for technology and the web. With over a decade of experience in constructing websites and developing widely-used WordPress themes, Ludjon has established himself as an accomplished expert in the field.