Are you looking to create and sell an online course with Thinkific? We have created a complete Thinkific review to help you make a better decision.
The 21st century is the era of education and technology. Nowadays, Getting knowledgeable is a few clicks away.
Several online learning platforms help to achieve skills and increase your expertise.
Thinkific is also a top-notch online course management system that integrates multiple software and gives power to you.
Thinkific brings you the best opportunity to sell your online courses. You can monetize your content using world-class features. Different case studies show that Thinkific brought great value to the educational system and helped entrepreneurs make money.
More than 50k people used Thinkific for generating sales. The net sales of online courses on Thinkific were far more than 650 million dollars.
So if you are a professional in your field and want to earn for your words or knowledge, you can use this top-notch platform for your needs. It will help you to design your courses in simple steps.
Hold your breath and be ready to explore this top-notch learning management system that could be your companion in the process of online education.
What is Thinkific?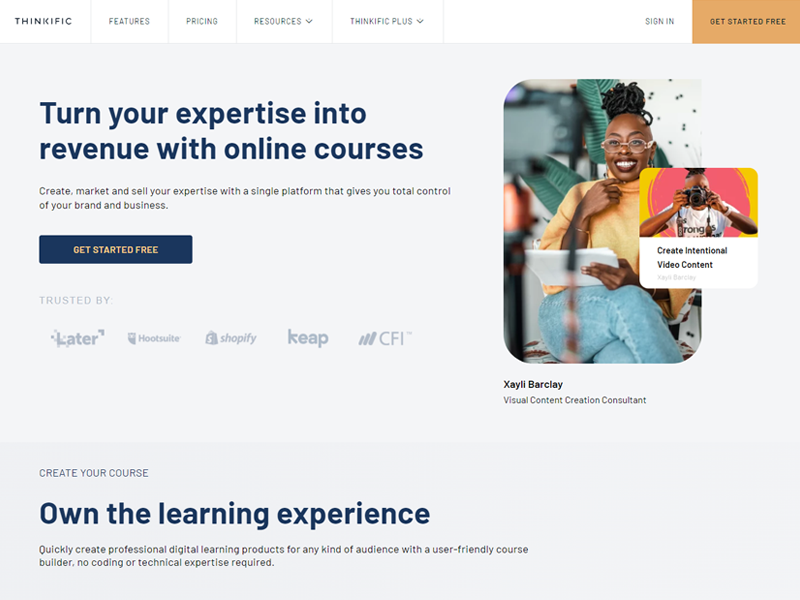 The mission statement of Thinkific briefly explains the purpose of the software. It states that Thinkific is usable for the empowerment of an educational empire.
Thinkific brings innovations in the educational management system and creates easiness for the coaches. You can create your online quizzes in any format.
For example, Thinkific enables you for creating tests in the following formats:
PDFs.
Videos.
Texts.
Discussions.
Tests
And many other styles.
It helps the coaches, entrepreneurs, and educational personnel accomplish their tasks easily. The plus point of the LMS is that it merged all tools in a single place.
A plethora of templates is available online to ease the process. Experts say it's the best technology that revolutionized the educational management system.
Remember that Thinkific is all about creating, marketing and selling your online courses.
You can generate a handsome amount of money through it and bring value to your content. Thinkific came into existence in 2012 as a company, and more than a hundred employees are working on it.
You will be amazed that these over 100 workers are helping more than thirty-six thousand course creators. The main goal of the software is to bring comprehensiveness to all tasks.
Different plans are available according to the needs and range of content creators.
Normally these plans are not costly and need 49 dollars to 499 dollars per year. You can also check the platform for free to analyze its offers.
The option of upgrading is available all the time, which helps a user take any plan according to its needs.
Who Can Use Thinkific?
Thinkific is an online course platform that has become indispensable for everyone. Premium quality features of the LMS add to its worth, and the comprehensive apprehension makes it usable for everyone.
Often people ponder whether they can use Thinkific or not. Keep in mind that online tutors of every kind are using this unique management system. They use it to create modules for students.
Whether they are music teachers or teaching complex anatomical structures, Thinkific holds the same significance in their lives.
All the experts, who directly or indirectly link to education, cannot undermine the need for Thinkific in their lives.
So, here we outline the people who need to use Thinkific for their business growth.
Business personnel.
Online tutors.
Educational organizations.
Entrepreneurial coaches.
Business delegates.
Digital learning platforms.
Freelance educators.
There is a common perception that a person needs specific technical knowledge and training to create courses on the Thinkific. It doesn't seem right. You don't need any professional training to accomplish this task.
Thinkific allows amateurs to design their online courses with minimum or zero investment.
People can sketch their course modules without any technical knowledge.
Top Thinkific Features

We care for our visitors, and that's why we preferred to sketch out a complete review on Thinkific. Here we will consider and evaluate different features of Thinkific that make it one of the best online course platforms.
Thinkific is an e-learning platform that holds a simple and sleek design. The interface accompanies a premium quality design. A chronological process for course design makes it value-generating.
Another remarkable feature is that one does not need to master technical or computer skills for using Thinkific.
Here is a short overview of all the features:
Create course and design webinars according to your needs.
One can create a free-of-cost or paid course on Thinkific.
Customise available templates and design your website according to your brand.
Thinkific made the process smoother and easier for the students.
Coaches can create separate or merged groups.
Timely response and pricing plans add authority to the platform.
The ease of use is also another premium Thinkific feature.
After reading this overview, you can have a general concept of what Thinkific is and how it works.
Here we added in-depth marketing features of the LMS to describe every detail of the topic:
1. Course creation module

Thinkific gets recommended as the best platform for creating multiple courses.
The high-end perks of the course building module are:
Multiple membership levels.
Personalized course designing.
Versatile content.
Priority support.
Creating an interesting and creative course online has become an unbeatable challenge for educators.
However, Thinkific resolves the matter up to far away. A lengthy list of available formats on Thinkific is the real cause of its popularity. You can create courses in these formats:
Multimedia
Survey questionnaires
Audio quizzes.
Presentational forms.
Text description.
Quizzes.
Assignments.
Brillium examination.
PDFs.
Video assessments or webinars.
Downloads.
Tutorials.
Live feeds. ( Beta program)
Thinkific also facilitates its users by providing them with the option of transferring data from other sites. It means if you join Thinkific from another system, you can bring your existing data to it by its Bulk importer.
Customization of course appearance
Thinkific course creators have the option to add and remove personalized images. They can also add a description regarding the quizzing they want to create. Several features are available in the free plan.
However, the paid plan brings more features and facilities for the users. For example, one can change the color scheme of the interface. The fonts of the descriptions are also changeable. You can add different tables and a play button or logo for playing courses.
All these attributes make your online courses more interesting and hook the audience. One can promote its growth and online earning by using these top-notch features.
Remember that Thinkific is not only significant for the content creators or coaches.
Business personnel can also benefit from it.
They can customize different available templates to get their brands recognized.
Multiple membership levels.
A wise revenue-generating policy can make you a king of your field. You can hook your target customers by offering them different membership levels.
Customers love it to have versatility in the membership plans and find it exciting to choose between them.
So, Thinkific offers different levels for registering your membership.
These are the some different paid plans, and free plan offers on Thinkific for securing membership:
Free of cost membership offer
One-time payment.
Subscription membership plan.
Monthly payment policy.
Custom Thinkific pricing policy.
However, all the visitors must access the Thinkific pro plan for using these membership opportunities.
Drip course content
Another striking feature of Thinkific is that you can drip the course stepwise to your viewers. You can outline your course on the platform that helps keep things managed.
Moreover, dripping helps to schedule the course parts depending upon the calendar.
Thinkific course completion
Students or learners prefer a course that teaches them skills and awards them at the end. E-certificates are a great way to appreciate the students and motivate them. Without any motivation, the courses or learning process becomes very subtle.
Thinkific comes with the beneficial feature of pro course completion certificates.
There are available certificates templates with your brand logo and present them to students. These completion certificates have a value-generating policy and bring more traffic to your course.
The stamp of Thinkific and your brand logo add more authority to the certificate. It means these certificates are usable anywhere in job interviews.
2. Thinkific site builder module
If you are running an online course or business workshop, websites are the best way to reach as many people as possible. Different learning management platforms help to create a website for your course administration.
However, all these systems are not satisfying. Professionals say that Thinkific is the best contender of the learning platforms.
Drag and drop builder page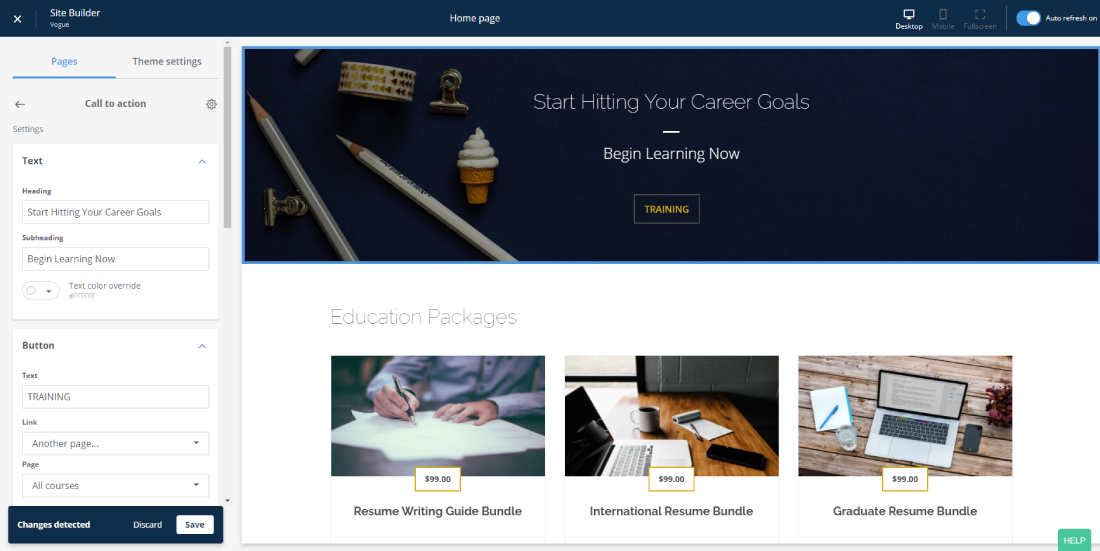 If you don't know computers, you will find it very tough to create a website page. The reason is that CSS editing and dealing with HTML language is not so easy.
Thinkific has also made it easier for the customers. You can personalize any design according to your wish and requirements.
Sections like banners, images, downloads, headers, gallery images, etc., have various options to choose from. Creating a page or designing a section needs only the dragging and dropping of the objects.
The system makes the personalization of already available designs possible and fresh designs.
Theme library
An inbuilt theme library of Thinkific makes it more premium. There is no need for website building from scratch. Select any available online designs and make settings according to your needs.
Different interfaces and basic designs available on the platform can act as the base of your new website.
Adding a custom domain
A user can get a free subdomain under the free membership level. Moreover, Thinkific also enables users to add a custom website domain to their course websites. It helps them to upsell their courses with premier plans.
SSL Certificate
SSL has become indispensable for all websites. This certificate is essential for the security of the data uploaded by the student.
Due to this feature, a Thinkific website does not show a security threat on Chrome or any other browser. It means you will not see the notification of 'Not Secure' while using the Thinkific system.
The SSL certificate is available in all the plans. However, a user cannot customize the SSL in a basic or free plan. For customization, upgrading to a premium level is necessary.
White labelling opportunity
Most websites or course creation platforms do their marketing by showing a tagline. Thinkific also shows it's a brand name as Powered by Thinkific on the course websites.
However, if you don't like the branding of Thinkific, you can remove it.
But for removing the Thinkific brand logo, you need to activate the premium growth plan.
After removing this, you can also add the logo or motto of your own business or brand for marketing.
3. Thinkific payment plans and pricing options
Different online learning platforms offer very complicated payment methods. Some payment methods are not compatible with some students. That's why they ignore the courses due to obstacles in paying the fee.
So if you are a course creator, you must take care of the fact that the payment method must be suitable and approachable for the students.
There are two pricing options affiliated with the Thinkific:
You can use both credit cards and debit cards on Stripe. However, PayPal is functional in more than 200 countries of the world.
The worldwide usability of the system confirms that maximum students will be aware of this processor.
Another key benefit of using Thinkific is that you don't need to wait for your payments for long periods.
The website allows the sellers to get their payments in their accounts. You don't need to hold for a long period to get your revenue.
A plethora of options are available for the sellers to generate conversions. To generate sales, you can add tabs buttons on your website pages or course pages. These tabs allow the student to register in a few minutes with just one click.
4. Thinkific Marketing tools
Online courses can bring you profit if you do proper Marketing for them. Use different marketing strategies to hit your potential customers and learn about your professional courses.
Marketing is not possible by simply using some social media platforms. Authentic and professional sites can help you market and commercialize your brand and your products.
Thinkific accompanies the top-rated marketing strategies that help in the digital promotion of the courses. These tools integrate a world-class system that can cut effort and time.
Coupons
Coupons are the best way that can hook the audience. You can offer different discounts on your courses for generating sales. Users can add the codes of coupons at the time of registration.
Usually, marketers use two types of discounts:
Fixed discounts.
Percentage discounts.
Coupons are a way of getting an instant and timely discount. The user only needs to add the code and no extra payment.
Sales widgets
Boosting sales is also possible by promoting your content on other networks. Professionals recommend that it is a very excellent way of digital marketing.
You can add widgets related to your courses on partner networks.
People will get directed to your course pages by taping on these widgets. Thinkific also allows its users to modify the available designs. You can make different alterations to the cards or snippets.
Integrating Thinkific with third party websites
Business coaches and freelance educators use different marketing platforms like Mailchimp or Aweber to promote their content. Such platforms enable these entrepreneurs to drive magnetic sales.
Thinkific has a plus point that integrates your other marketing accounts with the Thinkific account. Third-party integrations available on the Thinkific include the following famous systems:
Websites related to e-commerce include PayPal, Stripe, Shopify etc.
Different automation tools are also usable. These include Zapier and infusionsoft.
Analizing tools to track the progress of a course or company.
Thinkific allows the users to integrate with email marketing tools like Mailchimp.
Students can integrate Zoom, Credible, Disqus account with their course account.
Thinkific can also develop third party integrations with Sumo.
Affiliate programs
Affiliate programs are a famous tactic for promoting your business. Thinkific permits its customers to add affiliates in their courses. It means you can add your graduated or newly enrolled students as affiliates.
These students can forward your message to the new potential customers and third parties.
You can analyze and track your affiliate program with the integration of the affiliate program in Thinkific. However, a person using Thinkific can pay commission to the affiliates only outside the Thinkific.
The reason is that there is no mechanism for making any direct payments on Thinkific.
5. Thinkific Reporting calibre
A course generator also needs to engage his students and generate sales. Engagement and hooking of your potential customers is a big challenge in itself.
But all this can become too easy with Thinkific. Integrating a sturdy and powerful tracking system in the Thinkific helps people get visible insights into their business.
The advanced and modern reporting system helps the users in the following tasks:
Revenue. You can keep a proper record of the amount you invested and the amount you generated from the startup. Different colors schemes and patterns show you the progress of your different courses in striking ways. So, monitoring the progress of your course is not a big deal now.
Orders. You can also manage your orders of different types in one place. You can also check your accomplished orders. Filtration of different orders based on types of courses, type of students, payment methods is also achievable.
Enrollments. A course Coordinator can also check how many students are enrolled. You can also give a demonstration course for free in these sections.
Engagement of students. You can also monitor the progress of your students. Different sections are available on the Thinkific like quiz marks, videos' time duration, etc. These segments help keep the students engaged. Using these features, you can provide your students with a premium quality learning experience.
6. Student engagement and management
Thinkific holds a large database, and it helps the users to manage the record of all students. Enrollment of unlimited students is possible in the Thinkific.
You can enroll as many students as you want. Moreover, the plus point is that this feature is also available at a free level in addition to all premium plans.
Progress reports and review certificates of students
Getting feedback and review from your old students is also mandatory for the progress of your course. The learning curve helps you learn about the feelings and emotions of unlimited students regarding your course.
Students' Progress reports. You can learn about the progress and working speed of the students by using such reports. You can investigate the sign-in activity and test performance of the enrolled students through these courses.
Reviews. The students give you their feedback about the courses. You can use these reviews and feedback for the best of your course. Thinkific has the opportunity of editing these reviews. So, you can add these reviews after editing on the course pages and websites. It will help you get more conversions and generate sales.
Certificate. You can offer completion or award certificates to the students by creating them on thinkific. Multiple designs are available on the system and are ready to use. You can edit the background of these certificates and add your brand image. This facility makes Thinkific superior to all other websites and adds to its functionality.
Thinkific Pros & Cons
Pros
Free course builder platform
No Transaction fee
Approachable funds at all levels.
Custom domain
White labeling
Third-party integrations
Cons
Tricky navigation
Two-step checkout
No marketplaces for courses
Thinkific is one of the best course builder platforms to create unlimited courses. Premium features of the platform have been discussed. But we must highlight some shortcomings of the system to make aware our users also:
What I Like about Thinkific
Free course builder platform
It is the only platform that helps you design complete courses without making any investment. It offers you free-of-cost course building. You can upgrade your level to the higher at any moment, but the initial station does not require any money.
No Transaction fee
Other platforms take their commission from the users' payments, but Thinkific does not. You get your full payment without any deduction, and it is the best feature of the system.
Approachable funds at all levels.
You can approach your funds at any time during the course creation. It does not depend on the type of your plan. You can use this feature at any membership level. It seems very interesting to know that Udemy also lacks this feature.
Custom domain
If you want to use your domain, you have the opportunity on this system. Thinkific offers you unlimited basic domains that are usable.
White labeling
It is also manageable. You can get rid of the brand image of Thinkific on thinkific.com at any time.
Third-party integrations
You cannot access any email marketing integration within thinkific.com, but you have the facility of multiple third-party integrations. Thinkific holds a robust and sturdy functionality that can withstand a load of multiple sites at a time.
What I Dislike about Thinkific
Tricky navigation
The navigation system of Thinkific is not robust. It lags in this field because of the deficiency of a simple interface. However, the team is working on upgrading it. The onboarding system of Thinkific is also fragile.
Two-step checkout
The users neglect Thinkific when they get asked about creating a new account. It asks its users to create a new account before registering for a course. This process may irritate the users. So, Thinkific must review its checkout program.
No marketplaces for courses
Free users cannot market their courses due to the free plan's lack of a proper marketplace. So, Thinkific must address this situation to hook their potential audience.
Thinkific Pricing

Thinkific offers four basic premium plans. These basic plans include:
Most users select the free plan to start as a new course builder. It also gives premium plans which have the opportunity of completing courses with an additional perk of customizing your course.
How to Create a Thinkific Course
You can create a simple and sleek course using Thinkific and upsell it very easily. The whole process is as follows:
1. Create your account
The first step is to create a new account on the membership site. Go to thinkific.com and make it. After creating an account, you can edit the school's name in the URL section. The tab managing learning content facilitates the people to track their performance, video library.
The option of designing your site helps to build a new website for course promotion. All the information related to your monetary funds, revenue, payments, etc will be available in the market and sell option.
2. Create your course for the first time
Before creating a new course, decide the template you want to use. Several pre-designed interfaces could be the best option. If you want to create a fresh new, select the blank option. Please select the name of your course and add chapters to it by tapping the tab. You can upload the lessons in each chapter.
If you have designed your lectures on any other platform you can transfer them to Thinkific by using the bulk importer. You can add a description of each course to give a general concept. There is a section available for adding links to other study materials. Create tests for the students to assess their performance and capability.
Custom questions and answers get added in the quiz segment. You can select the pricing method in the pricing section also. You can teach for free to your customers and give them a premier plan. It is up to you whether you choose one-time payment or monthly installments.
So, the process of creating a course on Thinkific is easily reachable.
3. Design your course landing page
You can also design the landing pages of your course. Customize the banners headers or background in the landing page and courses also. Customization is also available in the basic plan to use it.
Thinkific Alternatives
You can sell courses on Thinkific with great ease. The robust system, content creation, delivery, sophisticated management, customer support, growth package of the Thinkific platform makes it too notch.
But if you find any shortcomings in the system, you can use other platforms for course selling. The alternatives to Thinkific based on feedback and reviews are as follows:
These learning management systems compete with Thinkific but Thinkific is our first pick. It would help if you took your intuitive online courses from a Thinkific platform.
Summary
Thinkific is a user-friendly system that helps small businesses to run their active campaign on it. The growth package of the system, payment options, and customer support are the premium features of the system. So, it would be best if you selected it to promote your small business.
Also, you can find more useful online course platforms comparisons like Thinkific vs Teachable.

Ludjon, who co-founded Codeless, possesses a deep passion for technology and the web. With over a decade of experience in constructing websites and developing widely-used WordPress themes, Ludjon has established himself as an accomplished expert in the field.