SaaS hosting providers are extremely important and must be chosen with the utmost care, as they can greatly influence not only the current performance of Software as a Service, but more importantly, its future performance.
These providers must meet several key criteria, such as scalability, excellent uptime, speed, and last but not least, security.
Typically, these requirements are met by services like VPS, Cloud, or dedicated servers. In the list below, we have ranked them based on price, features, performance, and user rating to make your choice of hosting easier.
You must be interested in: SAAS WordPress Templates
The Top 7 Best SAAS Hosting Providers
Best for Small SAAS Business

High-quality VPS hosting at affordable prices
Customizable server configurations
SSD storage for faster data access and performance
Full root access for advanced control
See Pros & Cons
Pros
Easy-to-use interface
Highly scalable
24/7 customer support
30-day money-back guarantee
Cons
No dedicated IP with the basic plan
Limited advanced features in lower-tier plans
Hostinger VPS is one of the best SAAS hosting providers at budget-friendly prices. They offer a range of scalable VPS hosting plans and cloud plans that can be customized to match your specific needs.
Their servers are equipped with solid-state drives (SSDs), which are much faster than traditional hard drives, thereby improving the speed and performance of your site.
Hostinger also provides full root access to your VPS, allowing you to have complete control over your server environment. This is particularly beneficial if you need to install specific software or make unique configurations to your server.
With its easy-to-use interface, even beginners can manage their servers effectively. Plus, Hostinger provides 24/7 customer support to assist you whenever you encounter issues with your hosting.
Starting from just $2.99 per month, Hostinger's VPS hosting plans are one of the most affordable in the market, making them an ideal choice for small businesses and startups.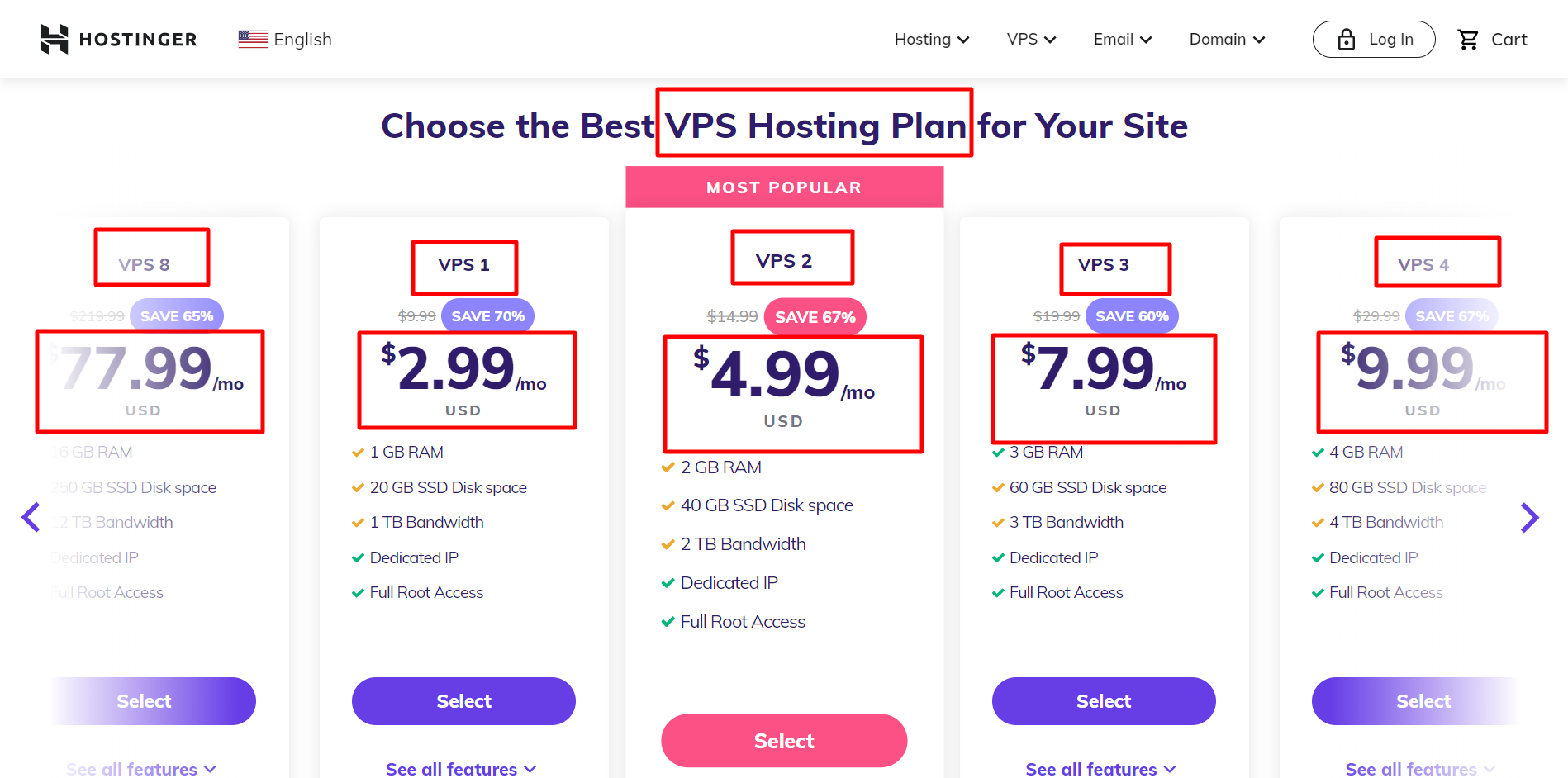 Despite the affordability, do note that the basic plan doesn't include a dedicated IP, and advanced features are limited to higher-tier plans. However, considering the overall performance and features, Hostinger VPS and Cloud services offer excellent value for money.
Also, the scalability, performance, and uptime are assured with the purchase of their services
Cheapest Hosting Providers for SAAS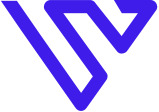 Geographically dispersed data centers
Auto-scaling resources for fluctuating demands
Free site migration service
One-click software installations
See Pros & Cons
Pros
Excellent customer support
Highly secure infrastructure
99.9% uptime guarantee
30-day money-back guarantee
Cons
Additional cost for some premium features
Basic plan has limited storage
Verpex stands out as a formidable SAAS hosting provider due to its geographically dispersed data centers, which can significantly enhance your software's global accessibility and speed. This makes Verpex an excellent choice for businesses targeting an international audience.
One key benefit of Verpex is its auto-scaling resources. This is particularly useful for SAAS providers as demands on the server can fluctuate dramatically with user activities. With auto-scaling, resources can be automatically adjusted to accommodate these changes, ensuring smooth and uninterrupted service for your users.
Verpex also provides a free site migration service, which can be incredibly helpful if you're moving from a different hosting provider. Moreover, their one-click software installations make it easy to deploy your SAAS application, saving you time and effort.
Verpex's customer support is exceptional, and its secure infrastructure provides the stability needed for SAAS applications. However, be aware that while their basic plans are affordable, starting at $1.33/month, some premium features come at an additional cost, and storage is limited on the basic plan.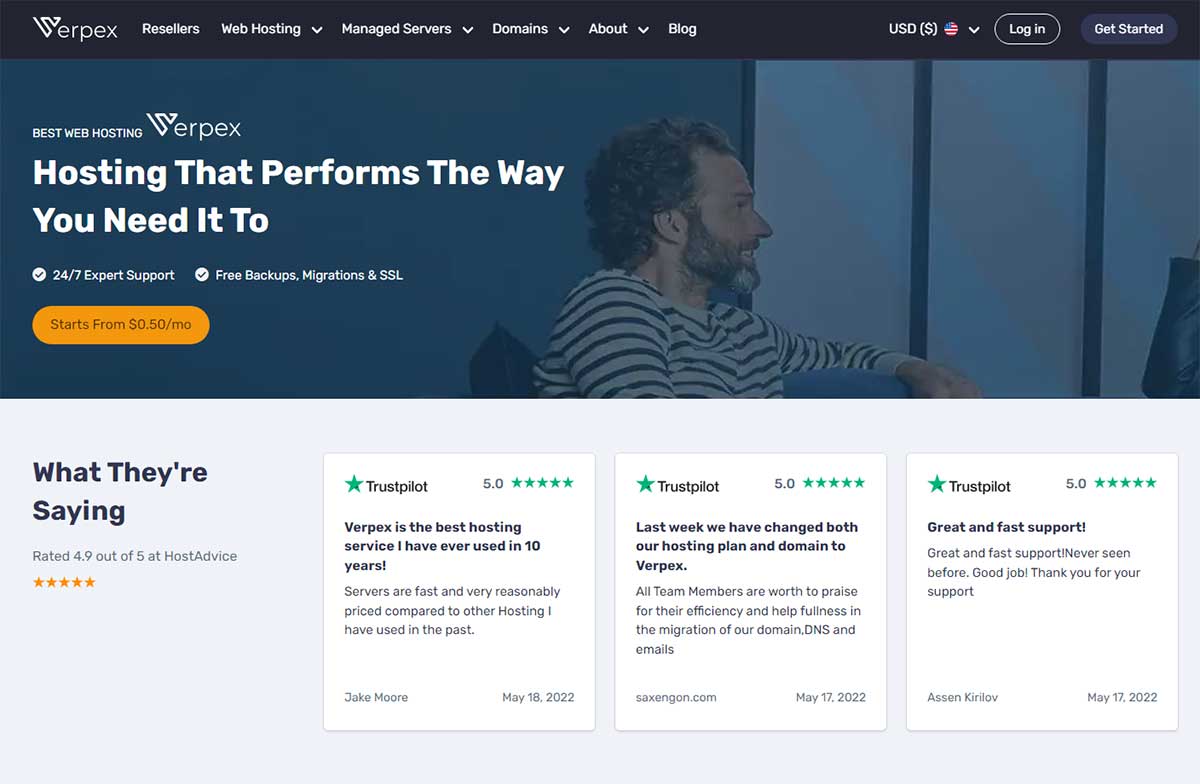 In summary, Verpex provides a blend of excellent features, flexibility, and scalability that makes it a strong contender for SAAS hosting, especially for those seeking reliable service and global coverage.
Best for Scalability

Provides SSD based cloud servers
Scalable droplets (VPS)
Datacenters across multiple global locations
Offers Kubernetes support for container management
See Pros & Cons
Pros
Competitive pricing
Excellent performance and speed
Simple and intuitive interface
Rich ecosystem of tutorials and guides
Cons
No live chat support
Limited advanced features in basic plan
DigitalOcean is a prominent name in the hosting landscape, particularly known for its SSD based cloud servers and scalable droplets (VPS). This makes it an excellent choice for SaaS hosting, as it allows applications to run efficiently and scale as per demand.
With data centers located in multiple locations globally, DigitalOcean ensures your SaaS application will have excellent coverage, reducing latency and enhancing the user experience. In addition, DigitalOcean's support for Kubernetes allows for effective container management, which can greatly improve the efficiency of deploying and managing SaaS applications.
The pricing plans are competitive, starting at $5 per month, making DigitalOcean a cost-effective option. However, while the performance and speed are excellent, some advanced features are not available in the basic plan.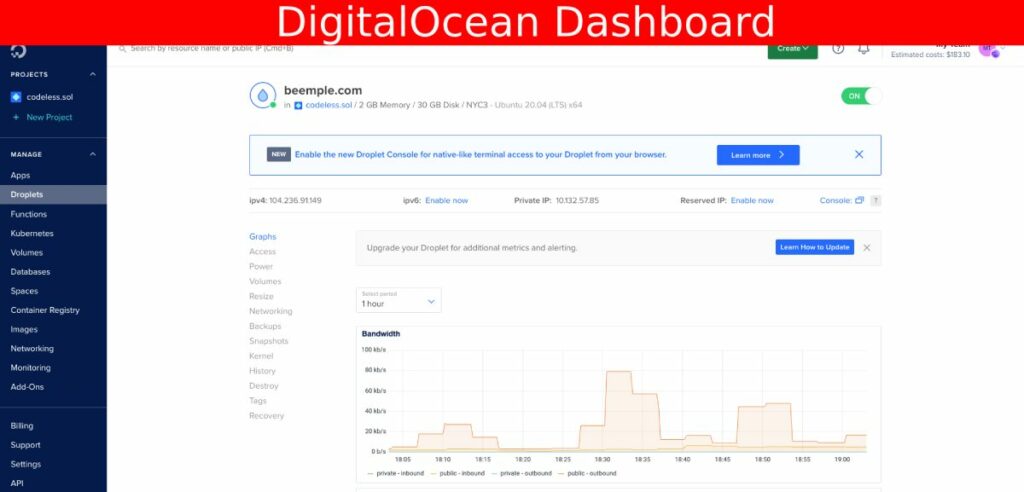 Furthermore, DigitalOcean offers a rich ecosystem of tutorials and guides, helping users to get the most from their hosting. However, one thing to note is the lack of live chat support, which could be a limitation if immediate assistance is required.
Despite this, the excellent performance, scalability, and global coverage make DigitalOcean a sound choice for SaaS hosting.
I personally recommend it because I use it for projects and until today I have had a very good experience with their services.
Best for WordPress Based SAAS

Fully managed cloud hosting
Auto-healing servers
Scalability and flexibility with pay-as-you-go plans
Free migration and SSL certificate
See Pros & Cons
Pros
Outstanding customer support
Fast performance and load times
Staging environment and GIT integration
24/7 real-time server monitoring
Cons
No email hosting
Cost can add up with high traffic
CloudWays is a highly recommended option for SaaS hosting, offering fully managed cloud hosting with robust auto-healing servers. These servers automatically fix any issues they detect, ensuring smooth and uninterrupted service for your SaaS application.
The hosting provider stands out with its pay-as-you-go plans that offer superior scalability and flexibility, ideal for SaaS applications whose user base may fluctuate or grow significantly. CloudWays also includes free migration and SSL certificates, providing extra value and security for your application.
With excellent customer support, fast performance, staging environment and GIT integration, and 24/7 real-time server monitoring, CloudWays goes above and beyond to ensure the smooth operation of your SaaS application.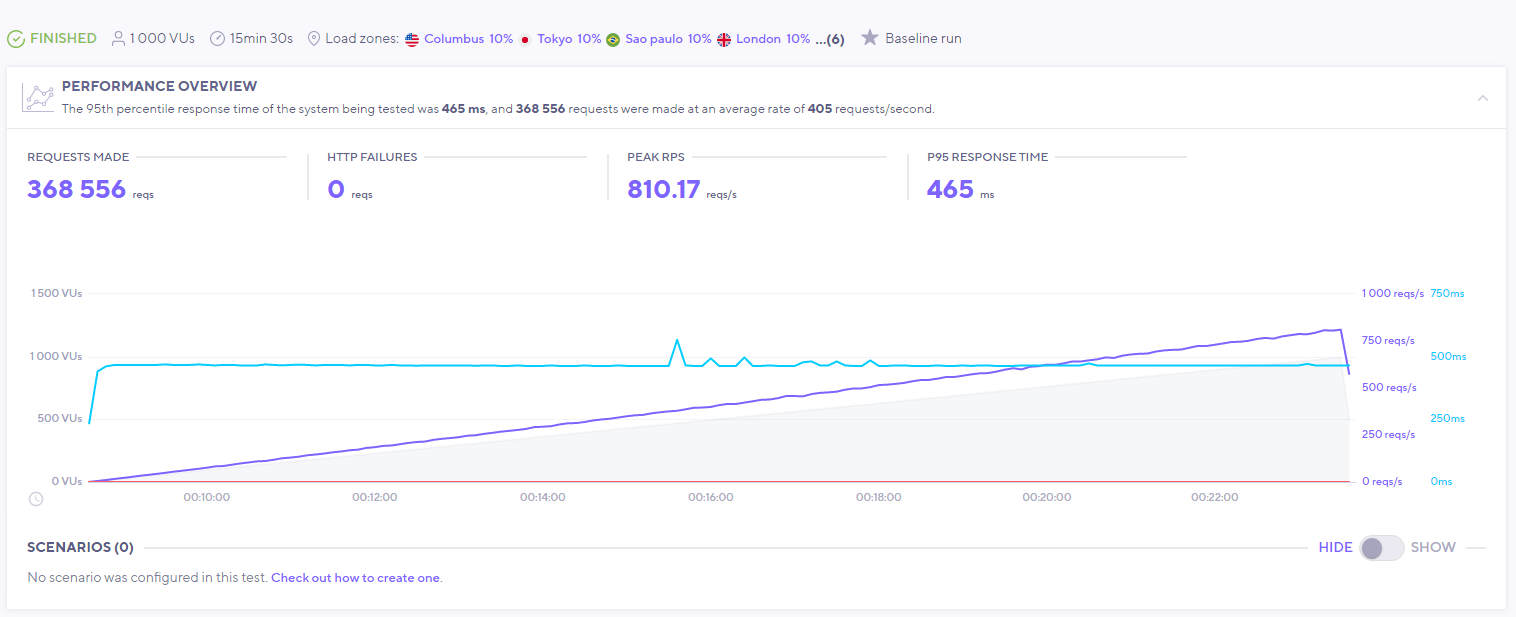 However, there are a few things to note. CloudWays doesn't offer email hosting, which could be a limitation if you want to manage all your services in one place. Also, the cost can add up with high traffic, so it's essential to monitor your usage to avoid surprise bills.
Overall, CloudWays is an excellent SaaS hosting option, offering robust, reliable, and scalable hosting solutions.
Flexible Server Configurations

High-performance cloud servers
Wide range of server configurations
Advanced network infrastructure
30-day free trial available
See Pros & Cons
Pros
Customizable and scalable solutions
Instant deployment of servers
24/7 customer service
Billed per hour usage
Cons
Can be complex for beginners
Additional cost for managed services
Kamatera stands out in the SaaS hosting market due to its high-performance cloud servers and a wide range of server configurations. This versatility ensures you can tailor your hosting solution to your specific SaaS application needs.
Featuring advanced network infrastructure, Kamatera ensures your SaaS applications benefit from high speed and reliable connectivity. Additionally, a 30-day free trial allows you to test out their services without any commitment.
Kamatera's services are customizable and scalable, meaning you can quickly adjust your resources based on your application's demand. They also provide instant deployment of servers and 24/7 customer service, enhancing the overall user experience.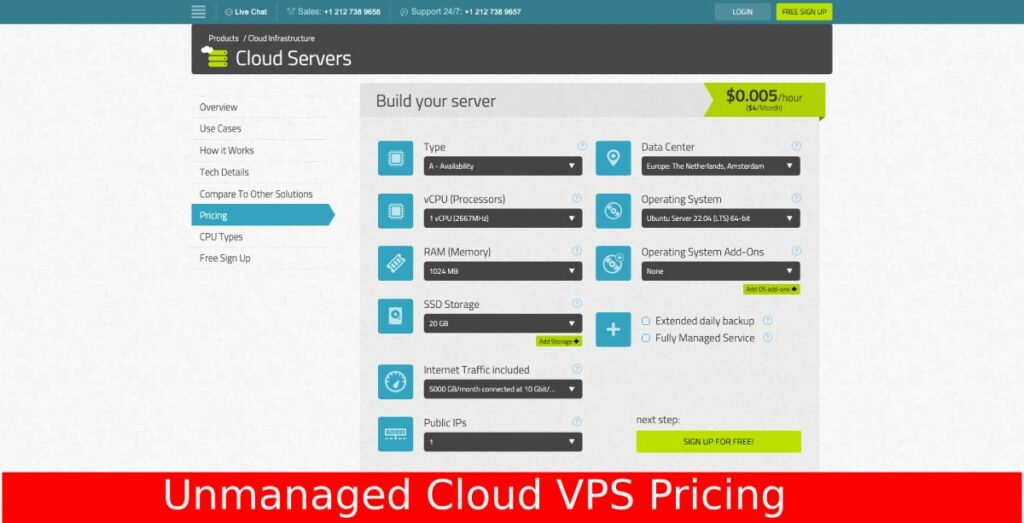 However, Kamatera's offerings may be complex for beginners. It might take some time to get accustomed to the wide variety of server configurations and options. Furthermore, managed services come with an additional cost, which you should factor into your budget.
Nonetheless, Kamatera offers a robust, flexible, and reliable SaaS hosting solution, making it a worthwhile consideration for your hosting needs.
Best Managed Hosting

Fully managed hosting solutions
High-performance servers
Comprehensive security measures
24/7/365 customer support
See Pros & Cons
Pros
100% power and network uptime guarantee
Free site migration
Dedicated IP address
Automatic daily backups
Cons
Higher pricing than competitors
No shared hosting plans
LiquidWeb is a well-regarded hosting provider known for its fully managed hosting solutions, high-performance servers, and comprehensive security measures. These characteristics make it an excellent choice for SaaS applications, ensuring a smooth, secure, and reliable hosting experience.
The company offers round-the-clock customer support, ensuring any issues can be swiftly addressed. In addition, they guarantee 100% power and network uptime, ensuring that your SaaS application remains accessible to your users at all times.
LiquidWeb also offers free site migration, a dedicated IP address, and automatic daily backups. These features make it easy for SaaS companies to switch their hosting over and manage their applications effectively.
On the downside, LiquidWeb's pricing is higher than many competitors, and they do not offer shared hosting plans. This could make them less suitable for startups or smaller SaaS companies with limited budgets. However, for larger businesses or those that prioritize premium service and reliable uptime, LiquidWeb can be an excellent investment.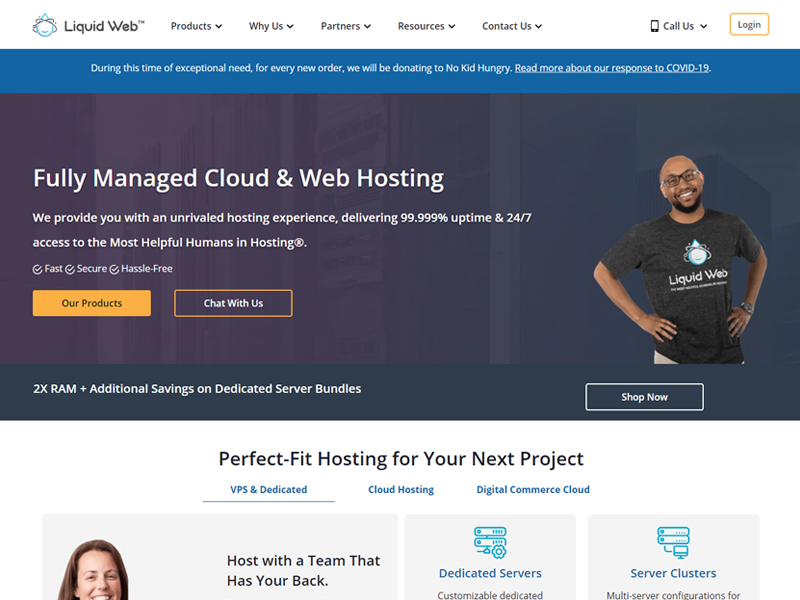 Overall, LiquidWeb is a powerful, reliable, and premium hosting provider, well-suited to the needs of SaaS applications requiring high-performance hosting solutions.
Liquiweb was just sold to another company and its future performance should be monitored and taken into consideration for this change.
Best for advanced SAAS with high performance

Highly scalable and flexible
Advanced security features
Global infrastructure
Data analytics and machine learning capabilities
Pay-as-you-go pricing model
See Pros & Cons
Pros
Live migration of virtual machines
Commitment to renewable energy
Superb network performance
Custom machine types
Cons
Complex pricing structure
Steep learning curve
Google Cloud is one of the leading providers for hosting SaaS applications. Known for its high scalability and flexibility, Google Cloud can adapt to the changing demands of SaaS applications with ease. It's also known for its advanced security features, ensuring your data is well-protected.
With a global infrastructure, Google Cloud delivers consistent and speedy performance to users all over the world. Additionally, its data analytics and machine learning capabilities can provide valuable insights to help improve your SaaS application.
Some of the key benefits include live migration of virtual machines, which ensures continuous service even during maintenance, and Google's commitment to renewable energy, reflecting a commitment to sustainability. Furthermore, its network performance is excellent, and it offers custom machine types to cater to your specific needs.
However, Google Cloud has a complex pricing structure and a steep learning curve, which could be a challenge for those new to cloud hosting. Nevertheless, its pay-as-you-go pricing model can provide cost-effective solutions for businesses of all sizes.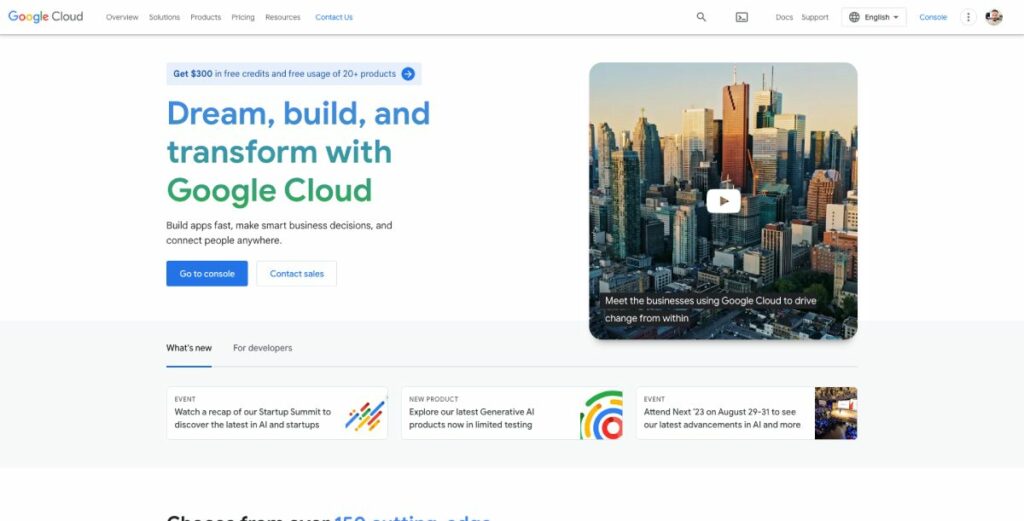 In summary, Google Cloud is a top-tier hosting provider for SaaS applications, offering a robust, scalable, and highly reliable hosting environment. Its advanced capabilities and worldwide infrastructure make it an excellent choice for businesses looking to deliver the best possible service to their customers.
I will recommend it to advanced users and particularly system administrators that know how to configure it.
FAQs
What factors should I consider when choosing a SaaS hosting provider?
When choosing a SaaS hosting provider, consider factors like scalability, uptime, speed, security, and cost. You should also consider the specific needs of your business, including the size of your user base, your growth plans, and the technical requirements of your software.
What are the different types of hosting that SaaS providers offer?
SaaS providers typically offer a range of hosting options including shared hosting, virtual private server (VPS) hosting, cloud hosting, and dedicated server hosting. The best option for you will depend on your specific needs and the size and complexity of your SaaS application.
Why is scalability important when hosting a SAAS?
Scalability is crucial for a SaaS hosting provider because as your business grows, your hosting needs will change. You may need to handle more users, larger databases, or more complex processes. A scalable hosting provider will allow you to increase your resources as your needs change, without requiring you to switch providers or face significant downtime.
What is uptime and why is it important for a SaaS?
Uptime refers to the amount of time that a server is up and running. It's usually expressed as a percentage. For a SaaS business, uptime is crucial because any time your server is down, your customers cannot access your service. This can lead to lost revenue and damage to your reputation. Therefore, it's essential to choose a hosting provider with a high uptime guarantee.
How can I evaluate the performance of a SaaS hosting?
There are several ways to evaluate the performance of a SaaS hosting provider. One is to look at user reviews and ratings. You can also consider their uptime guarantee and how well they meet it. Other factors to consider include the speed and reliability of their servers, the security measures they have in place, and their customer support.
What is the importance of security for hosting SAAS?
Security is paramount for a SaaS hosting provider. Because they are responsible for storing and protecting your software and user data, a breach could be devastating. Therefore, you should ensure that your hosting provider offers robust security measures, including firewalls, encryption, and regular security updates.
How much does SaaS hosting typically cost?
The cost of SaaS hosting varies significantly based on the type of hosting you choose, the specific features and resources you need, and the hosting provider. On the lower end, shared hosting plans can start at just a few dollars per month. VPS hosting typically starts at around $4 per month, while dedicated server hosting and cloud hosting plans can start at around $50 to $100 per month, or even higher for high-performance, large-scale solutions. Many providers also offer a pay-as-you-go model where you only pay for the resources you use, which can be cost-effective for businesses with fluctuating demand. Remember, the cheapest option isn't always the best, and it's essential to consider factors like performance, scalability, security, and customer support when evaluating costs.
Conclusion
In conclusion of this article, I hope we've been able to assist you somewhat in selecting a hosting provider for your SaaS. The choice should typically be made carefully based on your needs. Keep in mind to conduct your research before making the final decision.
My personal opinion is that if you're looking for simple and affordable hosting, choose between Hostinger and Verpex.
If you want something more professional but still affordable and with easy scalability, go for DigitalOcean. For those who have a WordPress-based SaaS, I recommend Cloudways. If you are a tech enthusiast seeking high performance and are planning on scaling up significantly, go straight to Google Cloud.

As one of the co-founders of Codeless, I bring to the table expertise in developing WordPress and web applications, as well as a track record of effectively managing hosting and servers. My passion for acquiring knowledge and my enthusiasm for constructing and testing novel technologies drive me to constantly innovate and improve.
Expertise:
Web Development,
Web Design,
Linux System Administration,
SEO
Experience:
15 years of experience in Web Development by developing and designing some of the most popular WordPress Themes like Specular, Tower, and Folie.
Education:
I have a degree in Engineering Physics and MSC in Material Science and Opto Electronics.