SiteGround is a popular hosting provider for WordPress and WooCommerce sites because of its WordPress-specific and high-performance features.
However, the host is not just for WordPress. It also supports other content management systems like Magento and Joomla. Both corporate and eCommerce sites find SiteGround a solid host for fast and high-traffic websites.
We tested SiteGround to determine whether it lives up to expectations. Below, we dive into the review results, pros and cons, and which businesses benefit the most from using SiteGround.
Are you ready? Let's begin.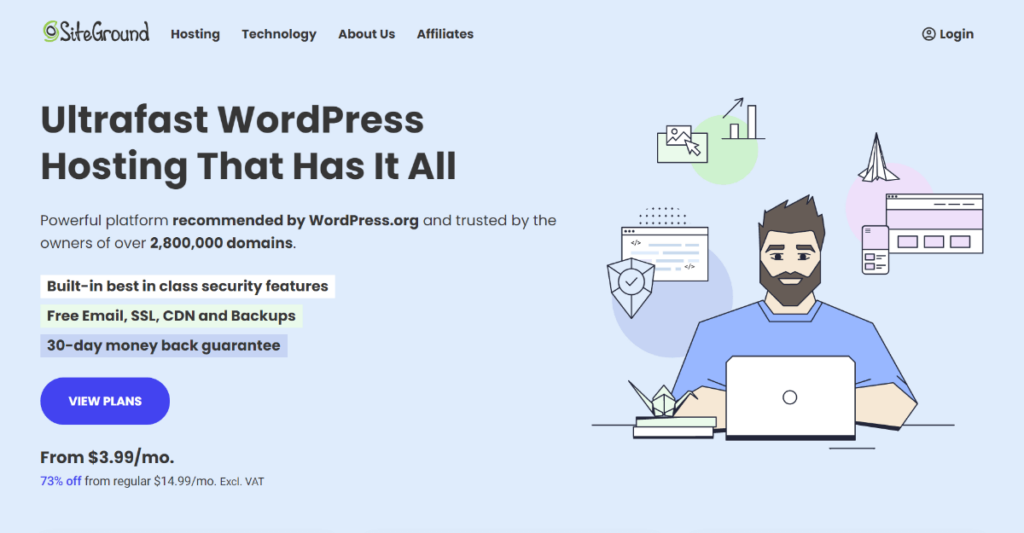 Overview: SiteGround at a Glance
Siteground is one of the most fast WordPress Hosting
Main Features plus Ratings
| | | |
| --- | --- | --- |
| Overall Rating | Very Good | 4.44 |
| Average Speed | 402ms | 4.3 |
| Uptime | 99.99% | 4.9 |
| Pricing | Starting from $3.99 (usually $14.99 per month) | 4.3 |
| Customer Support | Live Chat, Phone support, Email. | 4.5 |
| Easy of Use | No cPanel, but easy to use | 4.2 |
Pros and Cons
| | |
| --- | --- |
| Pros | Cons |
| It has Fast Loading Speeds of 402ms | Shared hosting is relatively expensive |
| The uptime guarantee is 99.99% | No cPanel (Customized Panel) |
| Unlimited free professional emails | Relatively low disk space |
| 30-day money-back guarantee | It has a high renewal price |
| The staging Site is available | |
| Free WordPress migration | |
| Has SiteGround CDN at 14 locations | |
User Review Table
| | |
| --- | --- |
| Platforms rating | Score |
| G2 | 4.0 |
| TrustPilot | 4.6 |
| Capterra | 4.6 |
SiteGround is recommended for:
SiteGround is best for high-traffic websites that want fast page loading speeds and high uptime. I highly recommend it for WordPress and WooCommerce websites.
Types of websites recommended to host on SiteGround:
Sites for SMBs
eCommerce sites
WordPress and WooCommerce websites
Blogs
Developers looking to build high-performance pages
SiteGround is perfect for businesses that regularly publish content and want an easy way to manage them. The host offers a free installation of your favorite CMS, including WordPress, Magento, and Joomla.
Once they're installed, you get automatic updates and backups, plus modern site security features.
Who should not use SiteGround?
Site owners looking for the following should stay away from SiteGround:
Cheap web hosting
Lots of disk space
Windows-based servers
Now let's get into the pros and cons of SiteGround.
SiteGround Pros
Fast Speed – 402ms Response Time
SiteGround is one of the fastest WordPress hosting providers on the market. Our tests showed that SiteGround's average response time is 402ms.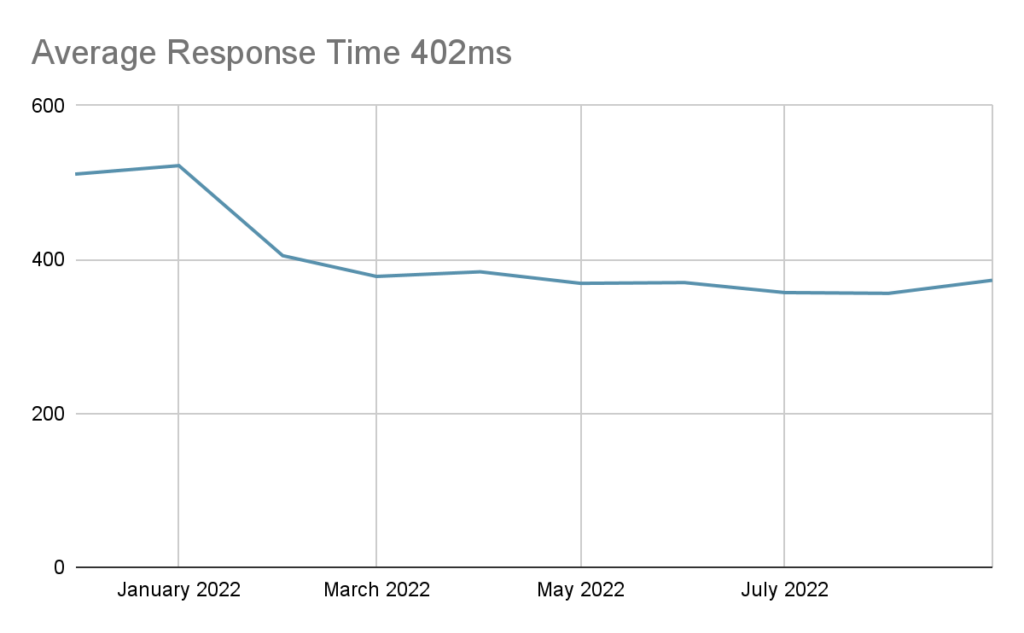 We used K9 Speed Test to send 303.75 requests to our SiteGround site. It had a fantastic response time of 126ms.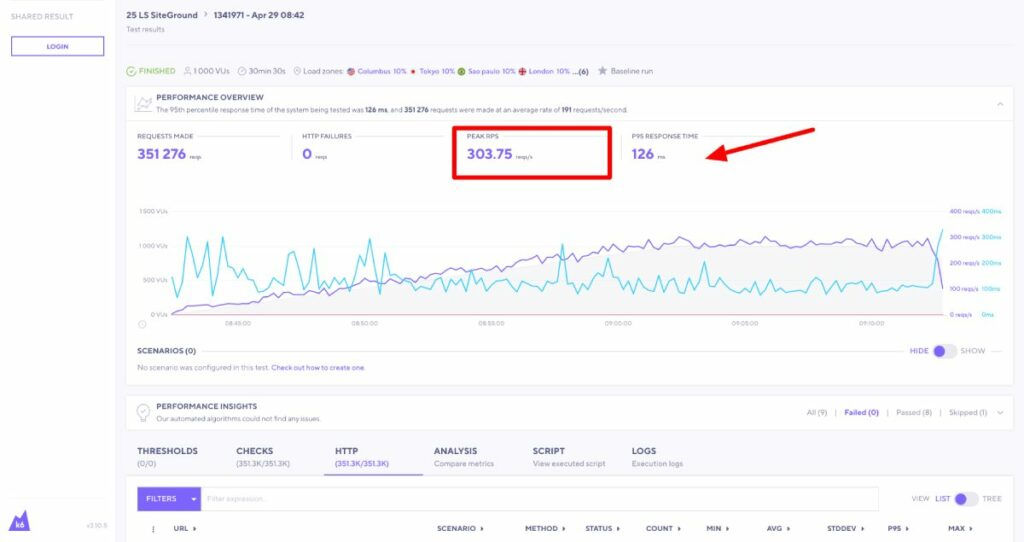 Speed is crucial because it is a significant factor that affects user experience. The faster your site loads, the longer your visitors stay. Site visitors are more willing to click on links after a smooth experience.
A study found that 53% of customers will abandon a site that takes more than three seconds to load.
If you run an eCommerce site or a blog, you may find it challenging to optimize for page speed because of images, videos, and running scripts. WordPress site owners may install many plugins that slow down the loading speed.
Yet, even when you optimize all right, a slow host will still affect the speed of your website. That is why signing up for a host like SiteGround helps you provide a user experience that encourages visitors to become customers.
SiteGround can achieve high speeds because it has 10+ data centers worldwide.
99.99% Uptime Rating Score
While reviewing SiteGround, we monitored the uptime for 10 months. It achieved an uptime rate of 99.99%. The lowest uptime rate was in March, April, and May. March had a 99.8% uptime. The other months reached 100%.
SiteGround can boast of this high uptime because of the extensive redundancy systems installed in servers to keep websites online all the time. Plus, site files are stored in several data centers, so if one goes down, your site is still accessible via another center.
Uptime is a critical factor in running an online business. Customers are discouraged by frequent downtimes. They trust you less and believe that if something goes wrong with payments, there will be no one to contact. Also, you lose customers in the period your site is offline.
This is why SiteGround is a solid hosting provider for site owners who want to ensure their site is always online. Out of the 10 months we continuously monitored SiteGround, the uptime was 100% for 7 months. The others still had an uptime of at least 99.9%.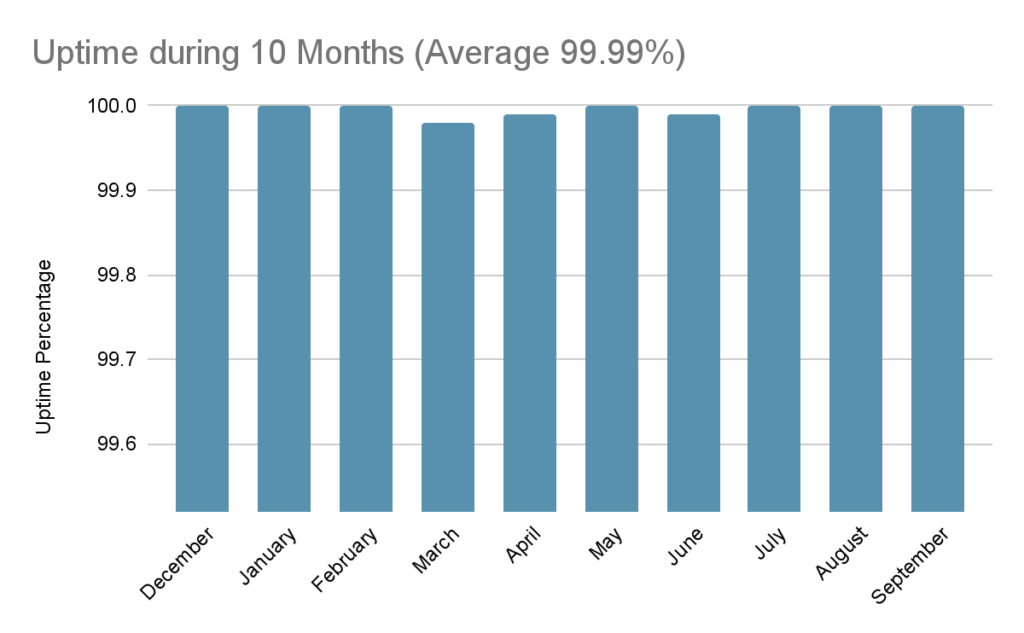 Great Customer Support
SiteGround has fantastic customer support service. The company offers the following support channels:
Knowledge base
Ticketing
24/7 live chat
Phone support
Only existing customers can use the last three. The knowledge base is publicly available online.
The ticketing option allows you to send a ticket with a detailed explanation of the issue, plus screenshots, if available. Then, an expert responds directly to your email address within hours.
With the live chat option, you can reach a service rep at any time of the day. Since there may be a queue, you may have to wait some minutes to get a connection with a representative. The great thing about this option is that you can speak directly and in real-time with the support rep to solve your issue.
And if you want to speak with someone immediately, SiteGround offers phone support. Once you call the number, you get in touch with an expert ready to guide you to a solution. You can only access the phone number from inside your SiteGround dashboard, and you are given a temporary access code to gain access to a service rep.
Ease of Use
SiteGround is incredibly easy to set up and use. Once you've paid for a hosting plan, you are redirected to a page to set up a username and password, and then you're taken to the dashboard to begin building your website.
When it comes to site administration, SiteGround has taken a few different steps.
First, it replaced the traditional WordPress dashboard view with a view designed by the company. The goal is to make it even easier to manage your site and upload new content. From the landing page, you get three links to view the site, manage pages, and change the design.
By clicking "design," you can easily change the theme. The "manage pages" option lets you set up new pages, add recent posts and update existing ones. The "view site" link takes you to an overview of your site, hosting features, and analytics.
Sadly, SiteGround does not offer cPanel for administration. The hosting provider developed an in-house web admin software called Site Tools. The goal was to make managing a site's backend easier than cPanel.
But this is a problem. cPanel is the industry standard for managing the backend of a site. Granted, the tool is not very intuitive and can be difficult for beginners. But, many website owners are familiar with cPanel and have taught themselves to use it.
SiteGround not only introduced Site Tools but also removed the ability of site owners to choose which software to use.
Apart from this, SiteGround is a beginner-friendly hosting provider.
30-Day Money-Back Guarantee
SiteGround does not offer free trials or free versions, but it provides a 30-day money-back guarantee.
Buying hosting comes with risks, especially when you are looking to purchase an annual subscription. Many hosts, including SiteGround, will only reduce prices for first-time buyers if they are purchasing hosting for an extended period, say, one year.
While buyers benefit from lower prices, they risk being stuck with a crappy provider because they bought a subscription for one year, sometimes multiple years.
SiteGround removes that risk by offering a 30-day money-back guarantee, no questions asked. This way, you can purchase an annual subscription and have it canceled within 30 days if it does not meet up to standards.
Free Professional Emails
Another reason SiteGround is notable is that it offers free emails to all subscribers, regardless of their payment tier.
Many hosts offer professional emails for extra fees. Some take up to $30 per month for emails tied to your domain.
SiteGround breaks that rule by offering unlimited professional emails for free. So, from day one of setting up a SiteGround account, you can immediately begin to create email accounts to make your business appear more credible.
SiteGround CDN Network
SiteGround CDN is an extensive CDN network with servers in 14 different locations. Now you can host your site in multiple centers to improve customer experience and Google rankings.
In case you didn't know, CDN stands for Content Delivery Network. It's a process where hosts save portions of a site to multiple locations. When visitors click on a link to your site, they are served by the data center nearest them.
CDNs reduce content delivery time, speed up page loading, and improve Google rankings because of improved bounce rates.
SiteGround has launched its CDN server in 14 different locations. The best part about SiteGround's CDN is that it is free for all payment tiers.
You just have to enable it. If you are no tech geek, that's okay. Contact the support team.
Site Staging is Available
Site staging is a website feature that offers a temporary place for previewing changes before pushing them to the main site. It is essential because it:
It makes migrating from another host easy
It makes updating site features easy
Allows previews
When migrating from another host, there may be errors along the way. Site staging allows you to view the moved site in the staging area and if it looks okay, push it live to the main site.
Also, sites can implement updates in a staging area while their main website is fully functional online. It's especially useful to WooCommerce sites that need to add new features constantly. So, your website can be online while you are updating your site or adding new features.
Another benefit of site staging is that you get to preview changes before you release them online.
SiteGround offers site staging to the subscribers from the second payment tier. It automatically backups up the old version when you push new changes to the main site. That way, you can quickly reverse back if there are errors.
SiteGround Cons
Shared hosting is relatively expensive
SiteGround's shared hosting plans are expensive when compared to several other providers. The Startup tier costs $14.99 regularly. For first-time buyers that purchase an annual plan, it is discounted to $3.99.
Compare this to A2 Hosting, which has a monthly price of $10.99 for shared hosting, discounted to $2.99 for new customers. Hostinger's shared hosting costs $1.99 for new buyers if they purchase a three-year plan and renew at $9.99 per month. NameCheap costs $2.18 for new buyers for an annual purchase and continues at $4.48 per month.
Shared Hosting is supposed to be very cheap because site owners share servers with other site owners. They share site resources and have monthly traffic caps to keep the hosting service affordable.
No cPanel
SiteGround offers a different web admin than cPanel. It provides in-house developed Site Tools, and it does not allow users to choose which software to use. Site Tools is offered to you by default, and there's nothing you can do about it.
SiteGround had good intentions in developing the software. Site Tools is user intuitive, easier to use than cPanel, and has many features. It works fine.
But, not having cPanel is a disadvantage because of the following reasons:
Familiarity:
Most site owners are only familiar with using cPanel hosting because it is the industry standard and the most popular website administration software worldwide.
Ease of use:
cPanel was designed for easy use. While the graphic interface is dated and may seem old to the modern site owner, the app is still straightforward to use and allows accessing every faction of the site.
Website migration difficulties:
cPanel makes it super easy to migrate from one hosting service to another. Since most web hosts use cPanel, site migration becomes easy because you can simply transfer web files to a new hosting service from inside your cPanel.
While SiteGround wants to better user experience by offering site tools, many buyers will view the lack of cPanel as a disadvantage. We recommend that they provide cPanel alongside site tools and let users choose which one to go with.
Low Disk Space
Disk space is essential in web hosting for storing site files and processing requests. When your site has low disk space, you compromise on the experience that you deliver to people who visit your site.
SiteGround's disk space is relatively lower than its competitors. SiteGround's disk space for the StartUp plan is 10GB.
Compare that with Hostinger's lowest payment tier at $1.99, which offers 50GB SSD, and NameCheap shared hosting with disk memory starting from 20GB.
I think SiteGround's lower disk space feature is balanced by other features like free email, 30 days daily backup, and free WordPress installation.
So, the lower disk space should not be a big deal, considering other features.
High renewals price
This problem is common among hosting providers. When first-time buyers pay a relatively low amount for the first time, the renewal prices are several times higher than the discounted ones.
For instance, Hostinger offers $1.99 to new customers, but the renewal price is $9.99, which is 9 times the first price. A2 offers $2.99 and renews at 10.99, 5 times the discounted price.
SiteGround does the same thing. It offers $3.99 monthly but renews at $14.99, about 5 times the discounted price.
These discounted prices are only accessible when paying for a long-term contract, for instance, annually. For Hostinger, you'll have to pay for three years to get it at $1.99
Many buyers see this tactic as a ruse to lock buyers into an unwanted contract for several years.
SiteGround Pricing
SiteGround isn't the cheapest provider, but it's not the most expensive.
The pricing is divided into three main tiers: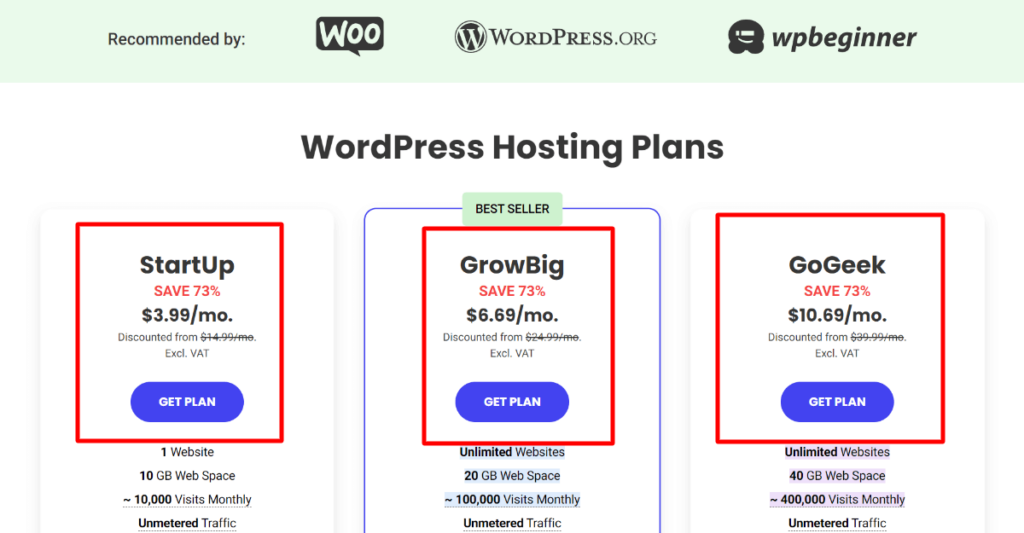 StartUp
The first SiteGround pricing tier is called StartUp. It costs $3.99 for an annual purchase and $14.99 regularly.
Even though it is the lowest tier, it still has incredible features. Some of them are:
Free WordPress installation
Free Managed WordPress hosting, including setup, backups, and auto-updates
Unlimited free professional email accounts
Unlimited subdomains
Unlimited data transfer
30-day money-back guarantee
Free CDN
Customized server setup
Still, there are strict restrictions like:
Supports only one website
Supported monthly visits are about 10,000
No site staging feature is available
Disk space is only 10GB
No on-demand backups
No premium DNS
The StartUp plan is best for small brands that don't have a lot of content. In fact, new affiliate sites with less than 10,000 monthly costs can enjoy this tier if they don't upload tons of images and video content.
GrowBig
This is the second payment tier for SiteGround users. It costs $6.69 for new buyers and $24.99 regularly. It supports up to 100,000 monthly visits.
Here are some of the features that are available to GrowBig users:
Unlimited free professional emails
Free CDNs on all the continents of the world
Unlimited number of hosted websites
Unlimited and unmetered data transfer
A 30-day month-back guarantee
Unlimited subdomains
Free WordPress installation
Free Managed WordPress services
Free WordPress auto-updates, migrations, and backups
Free on-demand backup file downloads
Free premium DNS
Site Staging is available
Faster PHP
Server monitoring
Anti-hack services
Free shopping cart installation
The SSD storage for the GrowBig tier is limited to 20GB.
GrowBig is best for small to medium-sized businesses constantly publishing content, managing lots of visitors, and wanting access to excellent services on a budget.
GoGeek
GoGeek is the most expensive SiteGround shared hosting package. It costs $39.99 usually and $10.69 for new buyers. It supports up to 400,000 monthly visits. GoGeek allows you to host an unlimited number of sites with 40GB of disk space.
GoGeek users enjoy access to all managed WordPress service features and hosting features that SiteGround offers.
Some of them are:
Priority customer support
Free premium DNS
Managed WordPress services
Free WordPress installation and setup
Free website migration
Drag and drop Weebly website builder
Unlimited emails
Unlimited subdomains
Unlimited number of hosted websites
White-label reseller and client management
30-day money-back guarantee
Automatic daily backups
Unlimited on-demand backups
Free CDNs worldwide
GoGeek is best for mid-sized businesses uploading a lot of content. It is also suitable for eCommerce sites with tons of image and video content.
Domain prices
Just like several other web hosts, SiteGround offers domain name registration along with website hosting. That way, you can get a new domain and set up a hosting account all within SiteGround.
Prices for common top-level domains include:
.com — $17.99 per year
.net — $19.99 per year
.org — $19.99 per year
.biz — $19.99 per year
.shop — $39.99 per year
Unlike many other web hosts, SiteGround does not offer a free domain for the first year. Also, the prices are a little on the high side.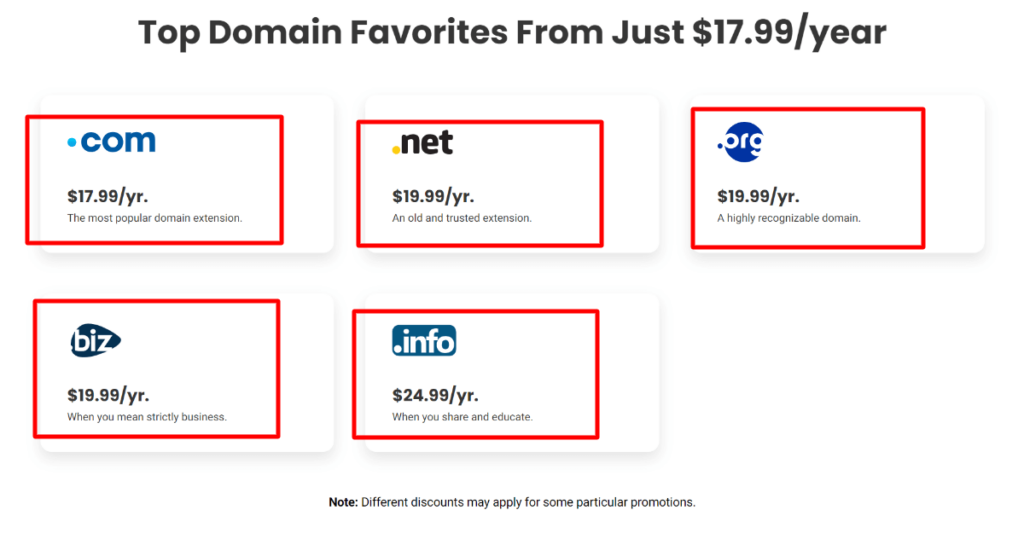 Cloud Hosting
Just like several other hosting providers, SiteGround offers cloud hosting services if you want control of your virtual servers and you have the budget to afford it.
The cloud hosting services are divided into four tiers:
JumpStart – $100/month
Business – $200/month
Business Plus – $300/month
Super Power – $400/month
SiteGround's cloud servers offer access to 16 CPU cores, 20GB RAM space, and 5TB data transfer. The disk space ranges from 20GB SSD to 160GB SSD.
SiteGround Updates
New PHP 8.2 is now available on SiteGround servers
In August of 2023, SiteGround released a new version of PHP, version 8.2, for testing and development. It's still in the early stages, but web developers can now test the performance and play around with the features on staging and clone sites.
This update shows that SiteGround is committed to providing the ultimate experience to both site owners and web visitors. Site owners can use the latest cutting-edge features in the new PHP to build better responsive sites visitors will enjoy.
New CDN locations were added
Before now, SiteGround offered CDN services from partner third parties. That way, their users could enjoy website caching on multiple servers worldwide.
Working with third parties provided technical difficulties to site owners who didn't know much about networking. They had to use external controls to point the CDN to their nameservers, learn about HTTP requests, and implement cookies.
In March 2023, SiteGround launched its very own CDN network. The data centers are located in Tokyo in Japan, Singapore, Sydney in Australia, Warsaw in Poland, and several other European cities. Four locations are in the USA in cities like Los Angeles and Moncks Corner.
SiteGround FAQs
Is SiteGround Overpriced?
No, SiteGround is not overpriced. Even though it is not the cheapest hosting provider, it's not the most expensive. Plus, the little extra costs come with outstanding benefits like free professional emails, inbuilt CDN services, automatic backups, and high site security. All the features make up for the extra cost.
Which is better: SiteGround or Bluehost?
It depends on your hosting needs. SiteGround is incredible if you want fast loading speeds plus extra features at an affordable cost. If you want to launch a WordPress site, SiteGround is a better option because it is built for WordPress sites. Installation and setup are free and automatic.
Is SiteGround slow?
No, SiteGround is not slow. While we tested it for speed, the average loading speed was 402ms. After sending about 303 requests, it had an average response time of 126ms. As long as you've done your part of optimizing your pages for fast loading, SiteGround can deliver the fast experience that users want.
How much does SiteGround cost?
SiteGround costs $3.99 for new buyers when they purchase an annual subscription. Regularly, the cost starts from $14.99 per month and goes up to $39.99 per month. No worries, though; SiteGround offers a 30-day money-back guarantee.
Does SiteGround charge monthly?
Yes, SiteGround charges monthly, even for first-time buyers. The only problem is that it's more expensive. 
For instance, if you're a new customer and you decide to pay monthly, you'll be charged $14.99 per month. On the other hand, a new customer who pays for an annual subscription will get it for $3.99 per month, 5 times less than what you paid.
Is SiteGround a Russian company?
No, SiteGround is not a Russian company. It is a European company based in Bulgaria and registered in Bulgaria, Spain, the USA, the UK, and Cyprus.
Does SiteGround offer Cloud Hosting?
Yes, SiteGround offers Cloud hosting. The service is divided into four tiers – Jump Start, Business, Business Plus, and Super Power. As expected, it's more expensive than SiteGround shared hosting. The cloud hosting fees start from $100 per month to $400 per month.
Does SiteGround offer a free domain?
No, SiteGround does not offer a free domain. You have to pay from day one. The .com TLD costs $17.99, while a .net domain costs $19.99. Modern TLDs like .shop cost about $39.99. 
SiteGround domain pricing is relatively more expensive than others. You can register a domain and just add it to your SiteGround hosting account. No need to buy from SiteGround.
Is SiteGround offering any free site migration?
Yes, SiteGround offers free site migrations for first-time users. You don't have to contact the support team to get it to happen.  
SiteGround has a plugin that can automate the process of transferring site files from one provider to SiteGround. Of course, you can reach the service team if you encounter any problems.
Conclusion
SiteGround is a top hosting provider, especially for WordPress sites. Currently, more than 2 million domains are hosted on SiteGround.
Though the price point may be discouraging, SiteGround is still among the best WordPress hosts for features like free professional emails, automatic backups, managed WordPress, and free inbuilt CDNs.
Try SiteGround today.

As one of the co-founders of Codeless, I bring to the table expertise in developing WordPress and web applications, as well as a track record of effectively managing hosting and servers. My passion for acquiring knowledge and my enthusiasm for constructing and testing novel technologies drive me to constantly innovate and improve.
Expertise:
Web Development,
Web Design,
Linux System Administration,
SEO
Experience:
15 years of experience in Web Development by developing and designing some of the most popular WordPress Themes like Specular, Tower, and Folie.
Education:
I have a degree in Engineering Physics and MSC in Material Science and Opto Electronics.