Unmetered Dedicated Servers have been in high demand recently by many websites which have a large number of daily visits and require a dedicated server that offers unmetered bandwidth.
This also provides the opportunity for any website or web app to scale in the easiest possible way without needing to seek to purchase another plan.
Also, many hosting resellers are interested in these servers as they can safely increase their client base while maintaining the same costs.
The Top 5 Best Unmetered Dedicated Servers 2023

Reliable and Secure
Great for WordPress
Excellent Customer Support
Starting from $89.99/month
See Pros & Cons
Pros
Easy to use cPanel
Free site migration
45-day money back guarantee
Unmetered Bandwidth
Cons
Additional fees for extra services
No free domain
Higher renewal rates
HostGator, an industry-leading player, offers exceptional unmetered bandwidth dedicated servers that have made waves in the hosting scene.
Catering to a variety of needs, these servers offer high performance, scalability, and superior uptime that pack a punch for businesses of all sizes.
Features that stand out:HostGator's offerings sit at the top with a 99.9% server uptime guarantee, ensuring your websites never miss a beat. Their plans start with 8GB RAM and 4 CPU cores, they provide the power and speed that today's digital businesses demand. Also, the most important one is the unmetered bandwidth.
User Experiences: Recent testimonials shed light on HostGator's service delivery. Some users appreciated the seamless migration process from GoDaddy and highlighted HostGator's superior customer service. Rob Silvera managed to get his website back up thanks to the quick assistance from HostGator's team.
For Michael J. and EREric, the stellar tech support was a highlight, with particular praise for Jessa and Dan respectively.(Reviews from Trustpilot)
However, MSMika Sue pointed out that their all-in-one service could be costly for some users, suggesting cheaper alternatives like Digital Ocean for hosting and Zoho for email. CCC4 cautioned against annual fee increases and frequent website downtime.
In the landscape of dedicated servers, HostGator's value proposition lies in its robust infrastructure, competitive pricing plans, and reliable customer support. While the pricing might seem steep for some, the value derived from high uptime, superior performance, and round-the-clock customer support makes it a worthwhile investment.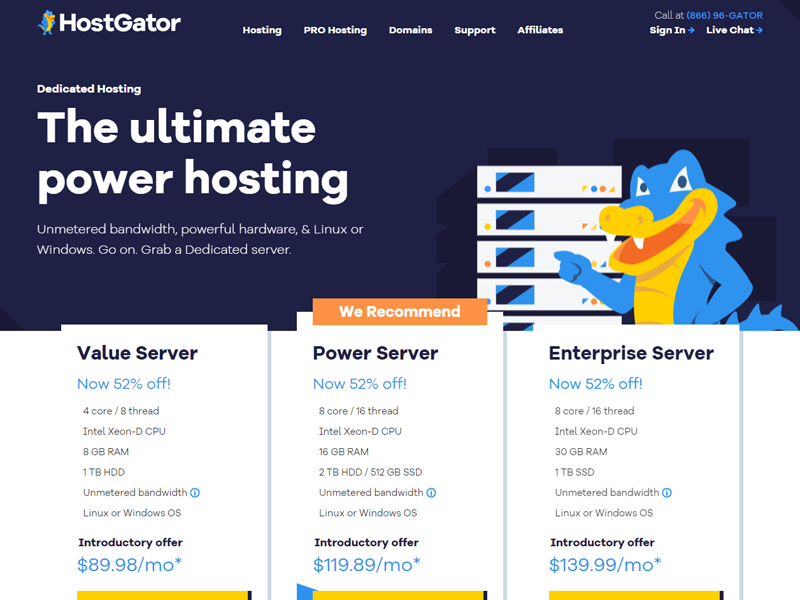 Ease of Use:
HostGator's user-friendly cPanel interface makes managing your dedicated server a breeze, even for beginners. The WHMCS platform offers a sleek dashboard with well-organized options, thus simplifying server management.
Final Thoughts:
HostGator promises speed, reliability, and top-tier customer service. However, like any service, it's not without its drawbacks. It's important to consider all factors, including the potential for fee increases, before making your decision. But if it fits your budget, HostGator's dedicated servers could be a game-changer for your online business.
Hostgator is also featured to our other articles to one of the cheapest WordPress hosting solutions.

Free SSD Drives
Free Domain
90 Day Money Back Guarantee
Starting from $89.9/month
See Pros & Cons
Pros
Fast servers
Free SSL certificate
Excellent customer support
Easy and functional control panel
99.99 % uptime
Cons
Limited storage in basic plans
No instant account access
Higher renewal prices
InMotion emerges as a top contender in offer unmetered bandwidth with their dedicated server hostings. Exceptional capabilities, robust infrastructure, and comprehensive security measures solidify its position as a leading provider. With a reputation for delivering industry-leading hardware and superior performance, InMotion renders a stellar service package.
Power and Performance: InMotion stands out with its promise of 99.99% uptime, safeguarding uninterrupted service. Moreover, its proximity to Internet Exchange Points bolsters fast performance. It is also equipped with automatic updates and security patches, ensuring seamless management.
Security: InMotion takes server security up a notch with hack and malware protection. The robust defense system is multi-layered, promising superior protection. Complementing this is their offering of free SSL certificates, enhancing data encryption and guaranteeing a secure server environment.
Managed Services: InMotion provides managed services as part of the hosting plans. OS security patches, updates, and more are taken care of, allowing businesses to focus on their growth. The exclusive Launch Assist service further facilitates smooth website transfers.
Real-life users, like Martin, have commended InMotion for its excellent technical support and quick resolution of issues. These positive experiences align with Pierre's review, further cementing InMotion's reputation for exceptional customer service. (Trustpilot Reviews)
Pricing and Plans: InMotion offers industry-leading hardware on a budget-friendly scale. The lowest-priced package includes 16GB RAM and 4 CPU cores, delivering robust performance. Also their plans offer a bandwidth from 10TB/month bandwidth to unmetered bandwidth which is offered by the Essential, Advanced and Elite plans.
New customer discounts are a bonus, making it a cost-effective option.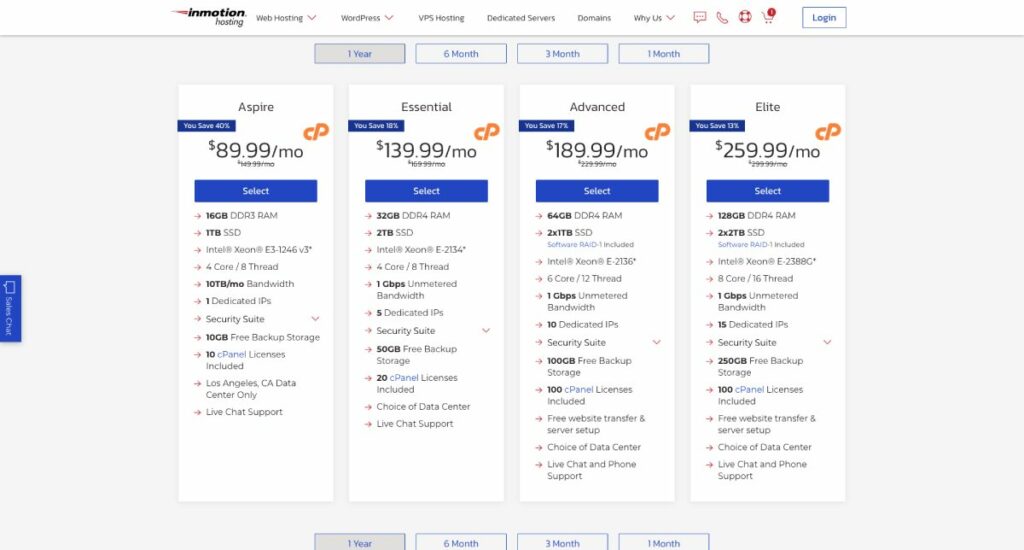 Support: InMotion's dedicated server experts are accessible around the clock for support. As Donna C.(Trustpilot Reviewer) highlighted, the technical team is prompt in resolving issues, such as domain transfers, and provides a step-by-step guide through the process.
Ease of Use: InMotion's user-friendly interface, automatic updates, and Launch Assist service make it a breeze to handle, even for novices in the field. The added advantage of choosing your preferred data center also simplifies the hosting experience.
InmotionHost is also one of the best UK dedicated server hosting providers.
It's clear that InMotion's dedicated servers are a top choice for businesses seeking powerful performance, secure hosting, and seamless management. Time and again, InMotion has proven its prowess in delivering top-quality service and support, making it a worthy contender in the hosting arena.

Strong Uptime Record
Optimal for E-commerce
Outstanding Customer Service
See Pros & Cons
Pros
Free site migration
30-day money back guarantee
No price hikes upon renewal
Cons
Limited international server locations
No free domain
Interserver, a highly-rated web host, offers top-notch dedicated servers that are gaining recognition in the hosting community. These servers deliver high-speed performance, scalability, and exceptional uptime that are ideal for businesses, big or small.
Features that stand out:
Interserver boasts a 99.9% uptime guarantee, which ensures your websites are always operational. With their robust hardware configuration and an array of useful tools, they equip businesses with the resources they need to thrive in the digital world.
Their servers start with AMD Ryzen CPU, 6 Core Single CPU, 64GB Memory, 150TB in Bandwidth that is near to the unmetered bandwidth.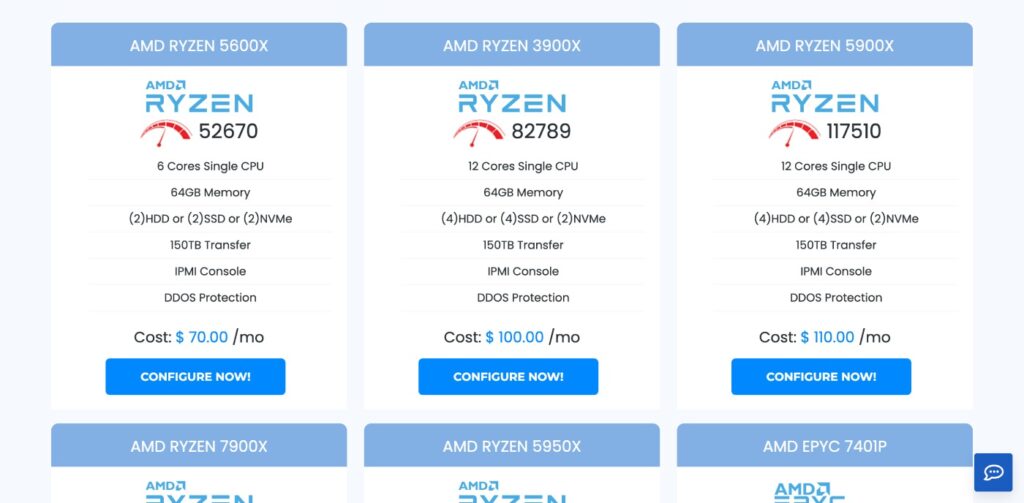 User Experiences:
Recent reviews on Trustpilot highlight Interserver's consistent service delivery. Users like Ethan S. and Rebecca F. commended Interserver's customer service for their responsiveness and expertise. However, Peter K. pointed out that the lack of international server locations could pose issues for non-US users.
In the dedicated servers landscape, Interserver stands out with their robust servers, competitive pricing, and reliable customer support. The lack of price hikes upon renewal is a major plus, particularly for businesses with long-term hosting needs.
Ease of Use:
Interserver offers a user-friendly interface that even beginners can navigate easily. Server management is streamlined, with a clear dashboard and organized options.
Final Thoughts: Interserver offers a solid and affordable hosting solution in their dedicated servers. Although they have some areas to improve, particularly in expanding their server locations, the value they offer is still impressive. As always, consider your specific needs and budget before choosing a web host. For those looking for a balance of performance, price, and customer support, Interserver is a strong contender.

Extensive Product Range
Strong Infrastructure
Focus on Security
Starting from $39.33/month
See Pros & Cons
Pros
Wide variety of services
Strong and reliable infrastructure
Great value for money
Cons
Complex for beginners
Customer support can be improved
Less user-friendly interface
OVHcloud is a renowned name in the hosting industry, prided for its range of high-performance dedicated servers. But when it comes to dedicated servers, how well does OVHcloud perform? Let's dive into the details.
The first tick in the box for OVHcloud's dedicated servers comes with unmetered bandwidth.
Their servers offer public bandwidth from 500Mbit/s to 5Gbit/s for amazing performance.
. Whether you're a small business looking for cost-effective solutions or a large enterprise demanding high-end specs, OVHcloud has got it covered.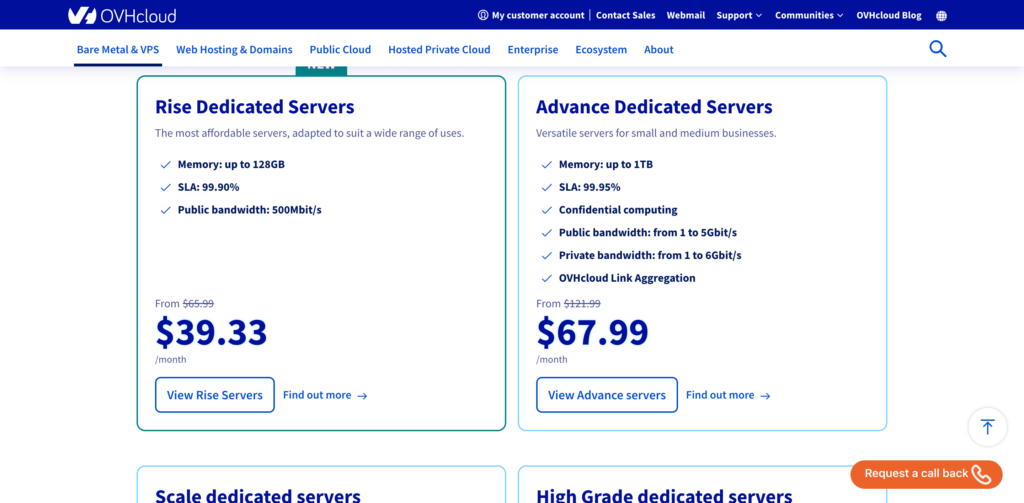 Real Users Reviews: However, ALTINSOFT LLC (Trustpilot Reviewer) had a negative experience with OVHcloud's support team, suggesting that the staff lacked solution-oriented approaches and customer respect. Users like MKM K1 and APAP1 praised OVHcloud for its fast and reliable service and helpful sales specialists. MKM K1 even recommended the Plesk panel for easy git integration and setup for NodeJS, PHP, and others.
Ease of Use: OVHcloud's user-friendly interface is another point in its favor. It's straightforward to manage your servers, track your orders, and access a wide range of operating systems and applications. But, the experience can vary, as Jeremy had an issue with his card while ordering a server. Luckily, the sales specialist Kelsey was responsive and resolved the issue swiftly.
OVHcloud's global infrastructure also sets it apart. With data centers across Europe, America, Africa, Oceania, and Asia, they ensure low latency and high availability for users worldwide. Despite this, some users reported unresolved support requests, indicating room for improvement in this area.
When it comes to pricing, OVHcloud offers a competitive model. Their high-grade servers come at discounted prices, providing a considerable boost in storage and specs. However, we recommend verifying these details on their official website for the most accurate information.
In conclusion, OVHcloud has a lot to offer when it comes to Unmetered Dedicated Servers. Its excellent server performance, wide server selection, and global infrastructure make it a robust choice. Yet, it seems there's still room for improvement in customer service and support responsiveness. It fits well for users who prioritize server performance and specifications over customer service.

Global Server Locations
Diverse Plans
Competitive Pricing
See Pros & Cons
Pros
Diverse range of server options
Global server locations
Competitive pricing
Cons
Customer service can be lacking
No free domain
Limited managed services
OneProvider's servers are designed to handle significant traffic and bandwidth with affordable plans.
One of the key attributes of OneProvider is its diversity of server options. They offer unmetered servers with different CPU core amounts, CPU thread amounts, CPU frequency, CPU benchmark, and memory bandwidth speed. Each server is tailored to handle specific requirements, ensuring you will find a suitable fit for your project.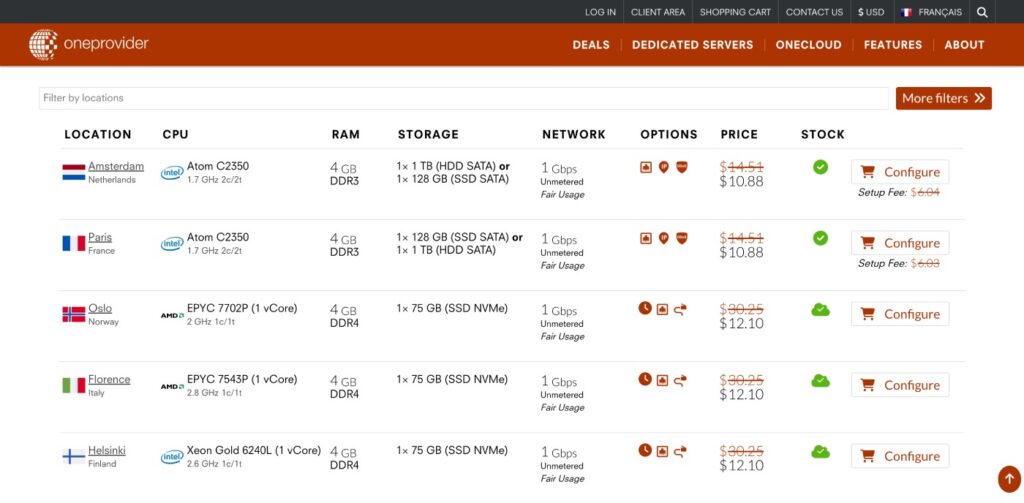 OneProvider's global infrastructure is another significant selling point. With servers in many countries from South America to Europe and even Africa, it accommodates the growing demand for localized hosting by reducing latency and improving user experience.
OneProvider's pricing model is competitive, delivering value for money. However, before signing up, it's important to consider your specific hosting requirements and compare these to their available plans to ensure you're getting the best deal.
Customer Support: OneProvider offers robust support via their user-friendly OnePanel™ Management tool. Despite some users reporting slow response times, OneProvider's commitment to resolving customer inquiries is evident in their responses to customer reviews. They have been proactive in addressing concerns and resolving issues, which is reassuring.
However, there are a few challenges to be aware of. User reviews have pointed out difficulties with the contracting process and limitations of the panel tools. While these issues are not deal-breakers, they do require some patience and understanding to navigate.
In conclusion, OneProvider offers a comprehensive and robust solution for unmetered dedicated servers, with a variety of server options and a truly global infrastructure. It's a strong contender for any business needing to ramp up their hosting capabilities. But, as with any service, it's important to thoroughly review the offerings and consider any potential challenges before leaping in.
Who should use it: OneProvider's servers are ideal for businesses with high data usage needs, from tech startups to large e-commerce businesses, and particularly for those seeking to expand their global reach.
Conclusion
In this list are some of the dedicated server providers that offer unmetered bandwidth. My personal recommendation if you want a host that is easy to manage with cPanel and WHMCS, and at the same time at an affordable price, is Hostgator.

Ludjon, who co-founded Codeless, possesses a deep passion for technology and the web. With over a decade of experience in constructing websites and developing widely-used WordPress themes, Ludjon has established himself as an accomplished expert in the field.