The community platform plays a vital role in building an online community to help edupreneurs or those looking to gain expertise in a relatable field.
As a result, many people are now enjoying the community to gain benefits and knowledge sharing.
Online community building is essential for edupreneurs because it helps them build communities to expand knowledge, share information, and improve opportunities.
Everyone who has joined a community platform will be the potential person who can help each other grow together with their ideas and knowledge. The community platform will be conducive for edupreneurs to develop a community.
Also, community platforms will be helpful for edupreneurs to connect with the community that they already have or who are willing to help community building like friends, people in school, and other communities.
What is a Community Platform ?
A community platform is an online tool that allows users to connect and collaborate on projects. They can be used for various purposes, such as organizing protests or raising money for a cause.
Some platforms also allow users to share news and information or discuss topics of interest. Community platforms can help connect people who share a common interest or goal.
Community Platforms can also be a helpful tool for organizing and coordinating activities. Some platforms have built-in features that allow users to communicate, while others rely on external messaging tools, such as email or chat software solution
The Top 10 Best Community Platforms in 2022
The impact of a community platform is not something that can be described in words. It will require a unique set of skills to understand the importance which can be gained when it comes to building communities.
Community forums are incredibly important, but they are also very difficult to manage. Many different types of users will go onto these types of platforms. Sometimes, they will be perfectly happy to remain within a single community and engage with different users.
There are also times when a user might fancy something a little more diverse, where they can send out invites to their friends so that everyone can join up together under the same roof. Creating online communities has never been an easy process, but it is becoming increasingly popular.
However, many people are not sure why this platform might be the best for them to use. There are hundreds of different platforms available for them to look through, and it can often be a little difficult to choose one over another.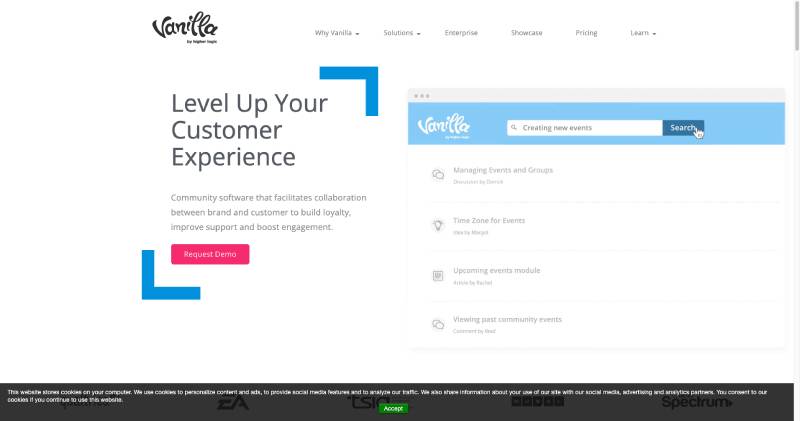 Vanilla Forums are a generic community platform. They can be used for various purposes, such as event management organization, gaming, and e-commerce hosting, among other things. However, vanilla forums are best known for their use in online communities.
Vanilla forums are highly user-friendly, with little coding skills needed. It has a simple user interface that is easy to use, even for newbies.
The administrative features of Vanilla Forums are highly flexible. You can manage your website with ease add additional features and applications.
Vanilla forums have many active users – more than 1 million people worldwide rely on Vanilla forums to manage different aspects of their websites.
It has a very good reputation for safety as they have various levels of spam prevention measures that help keep spammers from invading sites. These spam-prevention tools make the sites almost spam-proof.
There is an option in Vanilla forums to hide users' information which ensures that the privacy of your registered members is not compromised.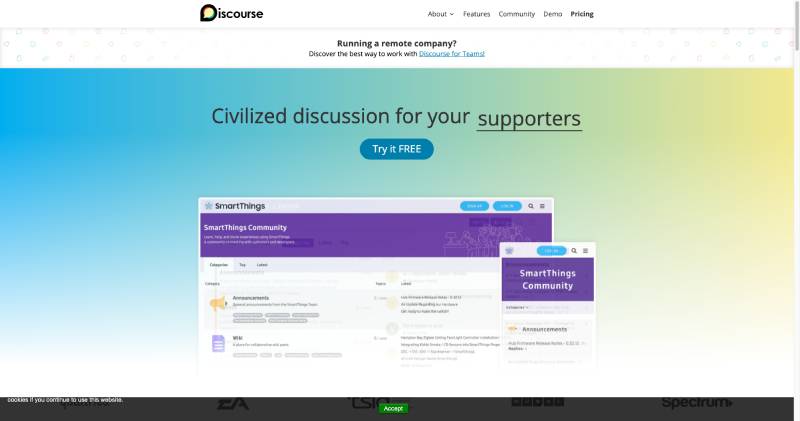 Discourse is a platform that enables communities to perform swiftly and dynamically. A key thing to note about Discourse is its ability to operate on ios and android apps and devices. This feature makes it distinctive, as not many forum software packages on the market can offer.
Discourse makes its mark on the community management industry by offering several features that make it one of the best community platforms around. Some of these features include:
Mobile responsive design
Analytics dashboards
Community moderation tools and the list goes on.
A great thing about Discourse is that it also allows you to customize the platform based on your specific needs. This can be done by using numerous third-party plugins to integrate additional features into the software. This is as opposed to other forum solutions that offer limited functionality and flexibility due to their closed system architecture.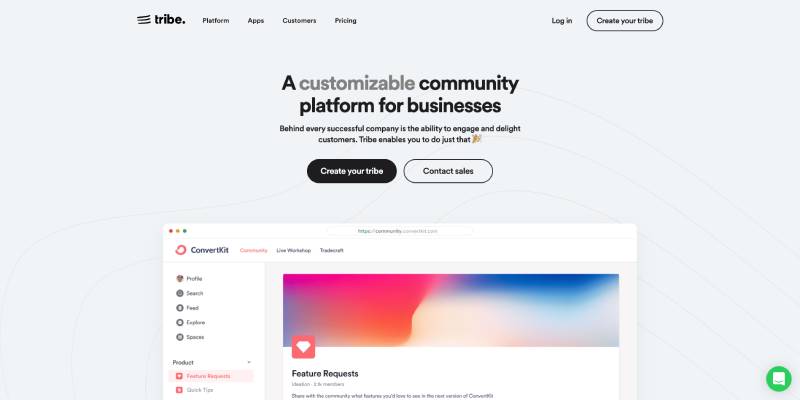 Tribe platform is one of the best community platforms available on the Internet. The tribe platform works like forums.
It has a user-friendly interface that allows both new and expert users to navigate the website easily. It is also intuitive and less time-consuming for users.
Tribe allows users to monetize their Which helps create awareness about any given website; which potentially leads to traffic growth, more revenue generation opportunities, and better engagement with users. This platform has an amazing analytics system that provides in-depth reports on how well each member is performing within the community.
Tribe allows for email notifications to be sent out whenever a certain user is mentioned, replied to, liked, or tagged in a post by other members.
Also has a built-in social media integration that allows members to quickly share articles within their community with just one click.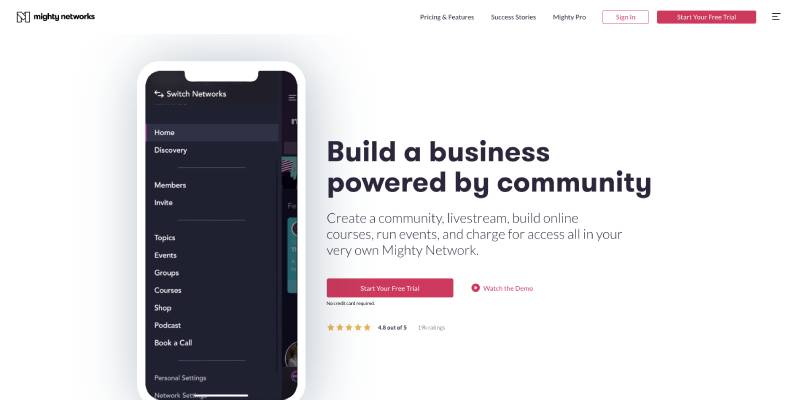 Mighty networks can be regarded as the best community platforms as it makes the mighty networks is the world's first decentralized social network. Using blockchain technology establishes a decentralized social platform where individuals can freely create content and businesses can directly reach their targeted users.
Mighty networks is the first decentralized social network built on blockchain technology that offers a new social networking experience. You are a user and an undividable part of the mighty network.
It is the world's first P2P content distribution platform. Blockchain technology makes every post valuable and eliminates the need for advertisement.
By integrating blockchain technology, the mighty networks eliminates the need for advertisement and centralized control.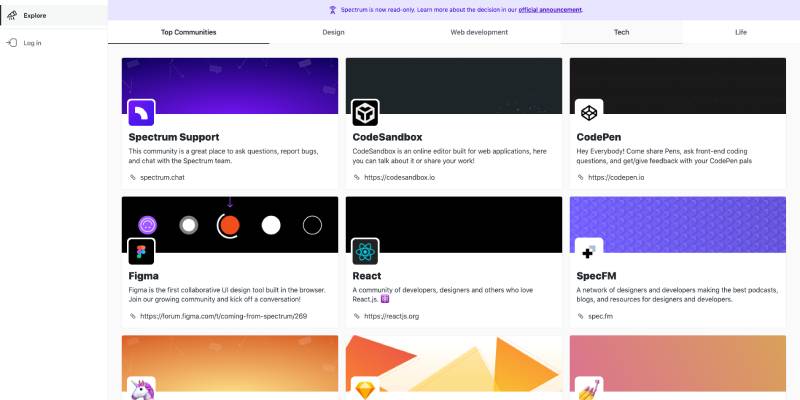 Spectrum is the best community platform for brands to easily manage their communities. By implementing the best community engagement practices, Spectrum has created a simple platform that every brand can use to quickly engage with their audiences across feedback forums and social media networks.
Spectrum's interface is extremely easy to use, so teams don't need any technical knowledge or training to get started.
All teams can work together in the same community to easily access and share feedback. Each brand has unique needs that may require a different setup and structure for their communities.
Spectrum offers an automated alert system that can be set up to notify community members about new topics, mentions, and other conversations.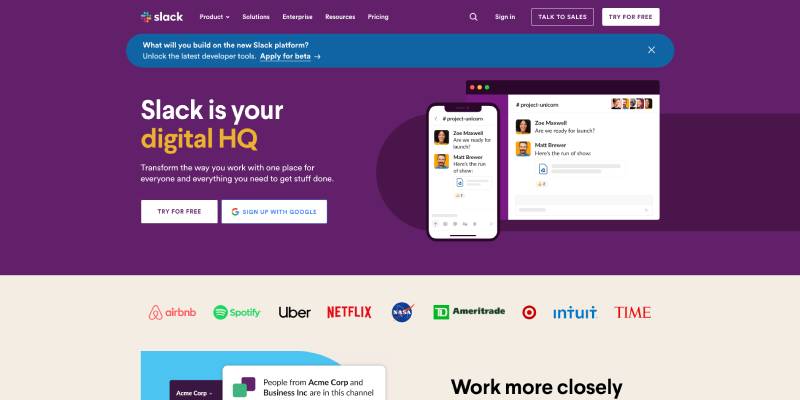 Slack is a team collaboration tool that provides a set of chat and messaging functions on the web, desktop, and mobile apps. It uses public channels to allow anyone to talk with everyone.
People can also privately message each other or share files and links and make a call from within the application. In addition, Slack integrates with a long list of other apps and services, including Google Drive, Dropbox, GitHub, Asana, Trello, Heroku, Crashlytics, Twitter, Zendesk, and many more.
In addition to this, here are some of the features which make Slack the best community platform:
Slack is a team-based messaging platform that helps a group of people to interact with each other. It works on channels, and anyone can use it. Channels are like subgroups of the leading group, and everyone can join the medium of their interest.
Slack provides an instant messaging feature that allows users to interact directly. It enables the users to provide feedback, share files and get immediate replies.
Also, provides an annotation feature that helps punch in the points and thoughts of the users on chat. It is done by double-tapping the messages on mobile devices.
This messaging platform can be accessed using different devices like mobile, tablets, and computers. It provides security to the messages shared by the users by encrypting them using 256-bit AES encryption standards. In addition, it keeps the chats private.
Slack provides the real-time chat feature which enables users to interact with one another in real-time. It can be done in groups, channels, or directly with the users.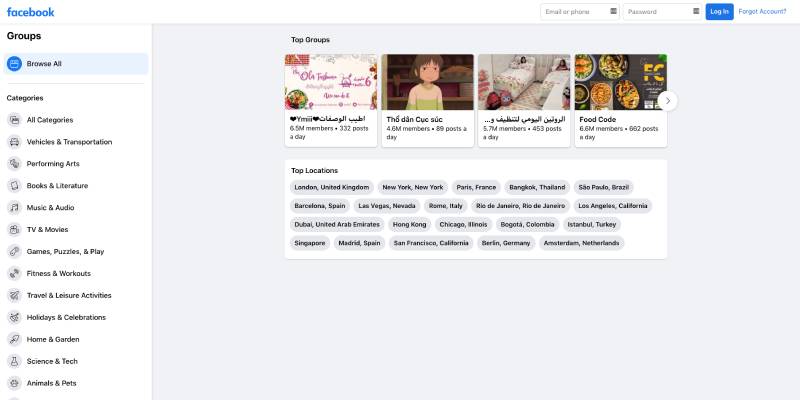 Facebook provides the best community platform to share and discuss with people. People use this social media platform for various purposes. Facebook is completely based on groups, which helps users find more products or any service.
Many Facebook groups daily update their post and quickly respond to the queries made. However, some groups never update their page, and nobody can see it as a popular one because only having a membership does not mean that you have active members.
Facebook groups are different because some are related to one interest; such groups become inactive after joining too many members or having discussions. So engagement level of Facebook groups plays an important role.
Facebook users can see how many discussions members make on a particular post or news. Also, the response time on that particular topic is impressive for any discussion.
Facebook groups are divided into various topics or products and services where people come to discuss a particular product or any service. So, the group where many discussions are made on that topic becomes more popular.
Why is it Important to Build Business and Educational Community Platforms
The field of online communities is both complex and ever-evolving. As new platforms are introduced, how we communicate with one another over the Internet continues to change.
However, one legal consideration among all these interactions is the need to effectively contribute and share knowledge. As a member of any online community, one must bring valuable and relevant information to the table and help other members learn from your expertise.
While there will always be users who simply want to find new communities where they can socialize and hang out, an online community is a vital resource that needs to be cultivated for many businesses and organizations.
Maintaining a healthy community where members are engaged, knowledge is shared, and discoveries are made regularly takes more than just good intentions from the users. The platform itself must also have certain features in place.
Fifteen Persuasive Features that make online community platforms Impactful
A successful business is heavily influenced by developing a robust online presence. However, creating an engaging community platform that successfully connects your customers and you is no easy feat.
There are many compelling reasons to create a business's online community platform – from increased customer loyalty and retention to attracting new potential customers who could become brand advocates.
The online community platform is a vital cog in the success of your business, and 15 persuasive features will ensure it's a hit with your customers:
A compelling reason to join
Having a variety of incentives for joining an online community is essential. This could be exclusive content, discounts, early access to new products, or even just for fun.
An easy signup process
Designing as quickly and simply as possible can turn the tables in your favor. Don't overload your customers with too many online forms to complete before they can join in. A strong entry barrier can put people off joining an online community platform altogether, so make sure the signup process is as quick and hassle-free as possible.
An opt-in rather than an opt-out system
A more democratic approach to ensuring members join the online community platform is to have a simple opt-in process, rather than having a more aggressive or sneaky opt-out procedure.
An excellent way to do this is to have visible buttons on your website which show precisely how you would like people to interact with the online community platform.
Lively, fun, and exciting content
A vital aspect of any online community platform is keeping members interested and active. The best way to do this is by having a range of fresh, fun, and exciting content available to members.
This ensures people are always engaged with the online community platform while also giving it a sense of momentum, encouraging even more people to join.
The ability to engage in conversation
Make sure to have a clear picture for members to leave comments and start conversations with each other. This is a great way to make people feel more engaged with the online community platform, foster brand loyalty and encourage new members to join.
A strong sense of community
An array of helpful features that give your community a strong sense of identity are useful for cohesion to the group. This could be through having a shared group chat function or using emoticons.
A clearly defined role for the business
Weighing up how to balance being helpful and informative while remaining impartial can be tricky. An efficient way of doing this is to have a clearly defined role for your business in the online community platform and stick to it.
Having a strict policy on what you post and how you interact with customers will help create cohesion in the community and create a sense of authority about your brand, which will encourage others to follow suit.
Guidelines for members
Give your members clearly defined guidelines or expectations they should adhere to. This will make it convenient for your business to moderate online conversations and manage the conversation engagingly.
An area for customer support
Often it can be hard to take care of customers' immediate queries, whether they are about refunds, product delivery, or other issues. Having a dedicated customer support section that is manned by your business and only accessible to members is a great way of ensuring customers get the help they need while also improving their overall experience with your brand.
A business presence
Having a strong business presence in the online community platform is important. This means having a profile that clearly states who you are, what you do, and why you are different from your competitors.
This will help give the online community platform a sense of authority and trustworthiness which can be vital when encouraging people to join.
Give members exclusive benefits
An incentive for customers to join an online community is that it gives them something they couldn't get elsewhere. This could be early access to sales, exclusive deals, or even a chance to beta test new products.
Give members a sense of ownership
An online community should be viewed as an extension of your business. But by giving members a sense of ownership over the platform through surveys and promotions, you can create a bond between your brand and their interests, which is vital for building trust and authority.
Powerful branding
By having a strong brand presence in the online community platform, businesses can engage with their target market emotionally. This means using logos, color schemes, and slogans that are visible on the platform to reinforce your brand's sense of identity in customers' minds.
Encourages interaction
To encourage greater levels of interaction within the community, make sure that members can always see who else is in the community. This can be done by clearly labeling areas where other members are active to always know something is happening.
A sense of exclusivity
People want to join communities that feel exclusive and offer something different. Therefore, adding elements such as a questionnaire member must answer before joining or subscription fees could be viewed positively by customers, encouraging more people to sign up.