The rise of the internet has provided endless possibilities for businesses and organizations to engage with their audiences. Online community platforms have emerged as powerful tools to create, manage, and grow online communities that foster engagement, collaboration, and networking.
In this article, we will discuss the top 10 online community platforms in 2023, including some free options to help you get started. By understanding the key features and benefits of each platform, you can make an informed decision about which community platform is best suited for your specific needs and requirements.
Here is a summary of the best community platforms:
What is a Community Platform?
An online community platform is a digital space designed to facilitate interaction, communication, and collaboration among members of a specific group, such as customers, employees, or partners.
These platforms offer various tools and features, such as forums, chat rooms, file sharing, and event planning, which enable users to connect with like-minded individuals, share ideas, and work together on projects.
Online community platforms can be used by businesses, non-profit organizations, or even informal groups looking to build a strong online presence and foster a sense of community among their members.
The Top 10 Best Online Community Platforms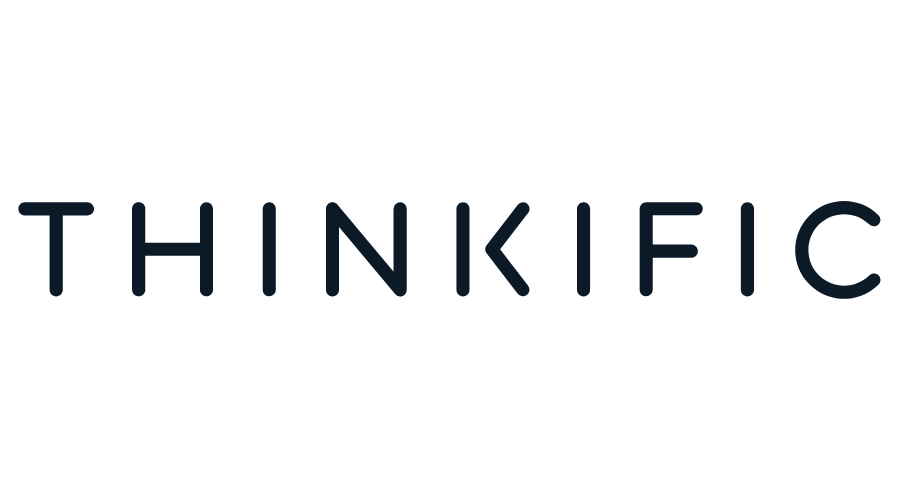 Intuitive Course Builder
Integration Support
Custom Branding
See Pros & Cons
Pros
Easy-to-use interface
Customizable course design
Wide range of integration options
Supports various content formats
Active community and support
Cons
Some advanced features require higher plans
May require third-party tools for certain functionality
No native email marketing tools
Thinkific is a top-notch platform to build online communities while creating and monetizing courses. As an all-in-one solution, it is the best platform to build online communities that support learning, engagement, and networking among members. Its unique features cater to creators and learners alike, setting it apart from other community platforms.
Purpose and Objectives: Thinkific's main goal is to provide an engaging learning environment for course creators and their students. The platform integrates custom web themes, domains, live lessons and events, community spaces and notifications, quizzes, and drip scheduling to ensure users have a seamless experience while achieving their learning objectives.

User experience: Thinkific has a user-friendly interface praised by users across the globe. The platform simplifies processes such as payment handling, course enrollment, and content delivery, making it a popular choice among creators.
It's helpful customer service and personalized onboarding process, including video tutorials and tours, ensure users feel supported every step of the way.
Customization and branding: Thinkific allows users to create custom themes and domains, giving creators full control over their courses and communities. However, some users find the landing page creation limited in creativity and options, suggesting room for improvement in this aspect.
Integrations: The Thinkific App Store allows users to sync with their favorite learning and marketing tools. This flexibility helps creators optimize their content, user experience, and marketing efforts for maximum impact. Additionally, the platform offers an Expert Marketplace for users seeking support from experienced professionals to elevate their courses.
Pricing: Thinkific offers a variety of plans catering to different needs:
Free Plan: 1 course, 1 community, 1 administrator, unlimited students.
Basic Plan ($36/mo): Unlimited courses, 1 community, 5 spaces
Start Plan ($74/mo): Unlimited courses and 1 community, 10 spaces
Grow Plan ($149/mo): Unlimited courses, 3 communities, 2 administrators.
Expand Plan ($374/mo): Unlimited courses, 10 communities, 5 administrators.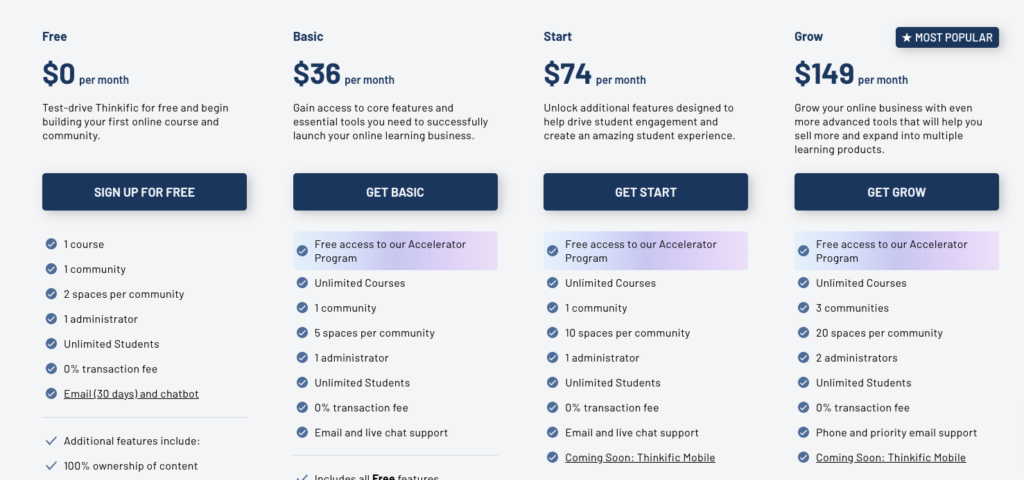 While some users find the pricing expensive, many feel that it offers good value given the features and reliability Thinkific provides.

Engaging Online Communities
Customizable Courses
Events & Networking Tools
See Pros & Cons
Pros
Easy to set up and manage
Dynamic and engaging communities
Robust course creation tools
Integrated events and networking features
Mobile app available
Cons
Pricier compared to competitors
Steep learning curve for some features
Limited customization options
Mighty Networks is a community platform designed for creators, entrepreneurs, and brands who want to consolidate their courses, memberships, and offers under their own brand. This all-in-one platform provides an unparalleled user experience that is simply unattainable with standard chat apps or Facebook groups. As the best platform to build online communities, Mighty Networks offers a vast array of features tailored to meet the specific needs of its users.
Purpose and Objectives: Mighty Networks has helped over 50,000 creators, entrepreneurs, and brands build thriving communities and membership businesses. Their proven Community Design™ framework allows creators to develop a community that is valuable enough to charge for and designed to essentially run itself.
Additionally, Mighty Networks offers free resources, such as their breakthrough formula for finding and capturing a Big Purpose – the driving force behind your community, course, or membership.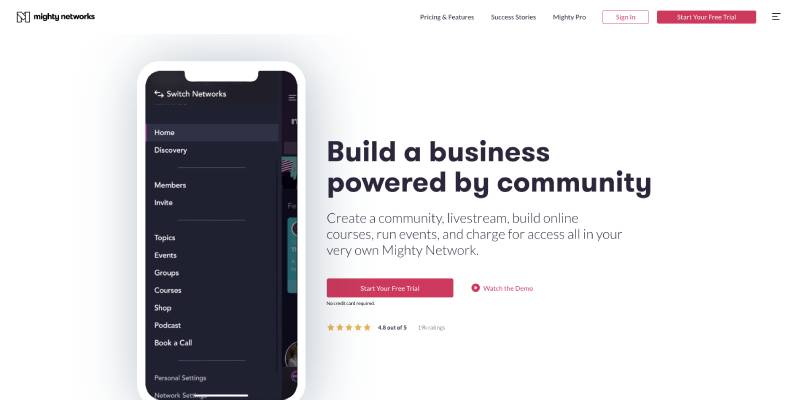 User Experience: While some users have found the platform to be clunky and difficult to navigate, Mighty Networks has been praised for its transparency and commitment to improving the platform based on user feedback. The recent Spaces update has added new features and improved flexibility and customization, demonstrating their dedication to continuous improvement.
Customization and Branding: Mighty Networks enables creators to build a thriving community with their own branding, monetize subscriptions, memberships, online courses, and groups.
With a plethora of innovative features, creators can offer their members an engaging, personalized experience tailored to their individual needs.
Integrations: The platform offers various integrations, including native live streaming, chat and messaging, events and Zoom integration, online courses, and Zapier APIs and Workflows.
Pricing: Mighty Networks offers a free 14-day trial and various pricing plans to suit different needs:
The Community Plan: $33/mo, which includes native live streaming and video, chat and messaging, events, and Zoom integration.
The Business Plan: $99/mo, which includes online courses, live cohort course creation, analytics and member data, and Zapier APIs and Workflows.
Mighty Pro: Contact Mighty Networks for pricing, which offers a custom-branded app and additional support from their team.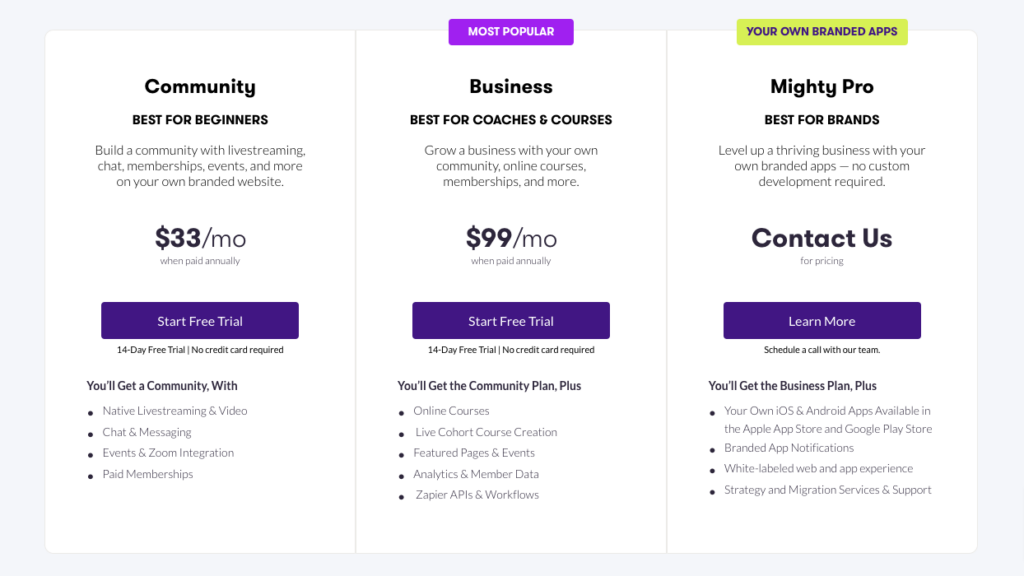 In conclusion, Mighty Networks is a powerful and comprehensive platform for building online communities. With its unique approach to community building and membership businesses, coupled with its robust features and proven framework, Mighty Networks empowers creators with the tools they need to grow and succeed.
Despite some mixed reviews, the platform continues to improve, offering a versatile solution for those looking to build their online community.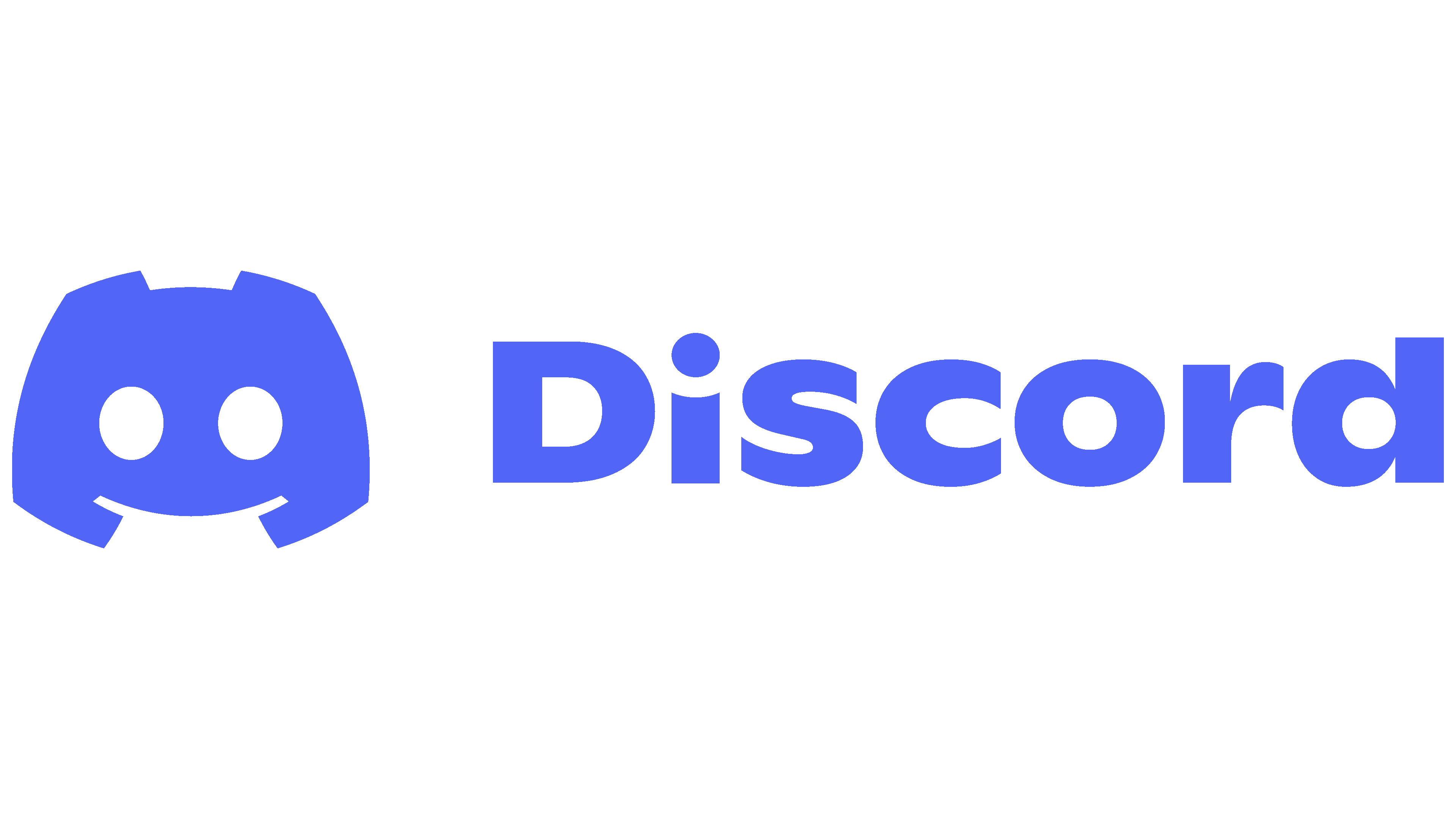 Free Voice & Text Chat
Screen Sharing & Video Calls
Customizable Interface
See Pros & Cons
Pros
Easy to use and setup
High-quality audio and video
Strong community and gaming focus
Available on multiple platforms
Robust API for bots and integrations
Cons
Can become overwhelming with many channels
Some features require paid subscription
Limited video call participants in free version
Discord is a top-rated free platform for building online communities, offering a multitude of features that cater to various user needs. It is ideal for connecting with friends, joining clubs, gaming groups, or even engaging in global art communities.
Purpose and Objectives: Discord excels at providing users with an easy and convenient way to communicate and hang out with friends without having to call or send messages.
Its invite-only servers are organized into topic-based channels, allowing users to collaborate, share, and talk about their day seamlessly. This makes Discord perfect for all kinds of communities, from small groups of friends to large fandoms.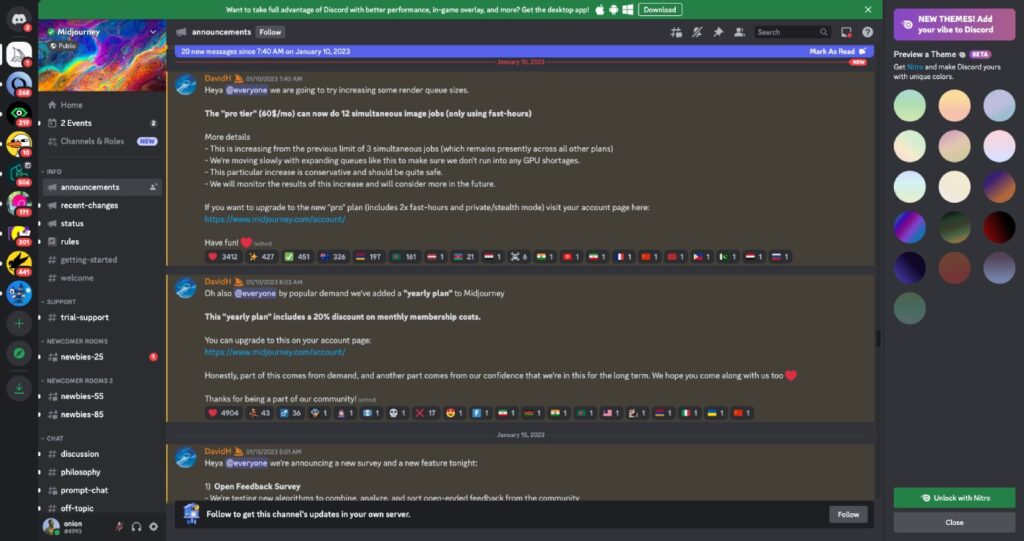 User experience: Discord offers low-latency voice and video, giving users the feeling of being in the same room. The platform also provides intuitive features like screen sharing, video streaming, and the ability to wave hello over video, resulting in a fantastic user experience.
Customization and branding: Discord enables users to create personalized communities, set up private channels, and assign members special powers. Additionally, the platform provides moderation tools to keep communities safe and secure.
Integrations: Discord offers various resources, including StreamKit, creators, and community guidelines. Users can also access the Safety Center and support for any issues they may encounter.
Pricing: Discord is mostly free, but users can upgrade by adding Nitro for $9.99/mo to get better emojis, larger uploads, and HD video with screen sharing and live streaming.

In summary, Discord is an excellent choice for anyone looking to create a personalized, secure community and stay close with friends.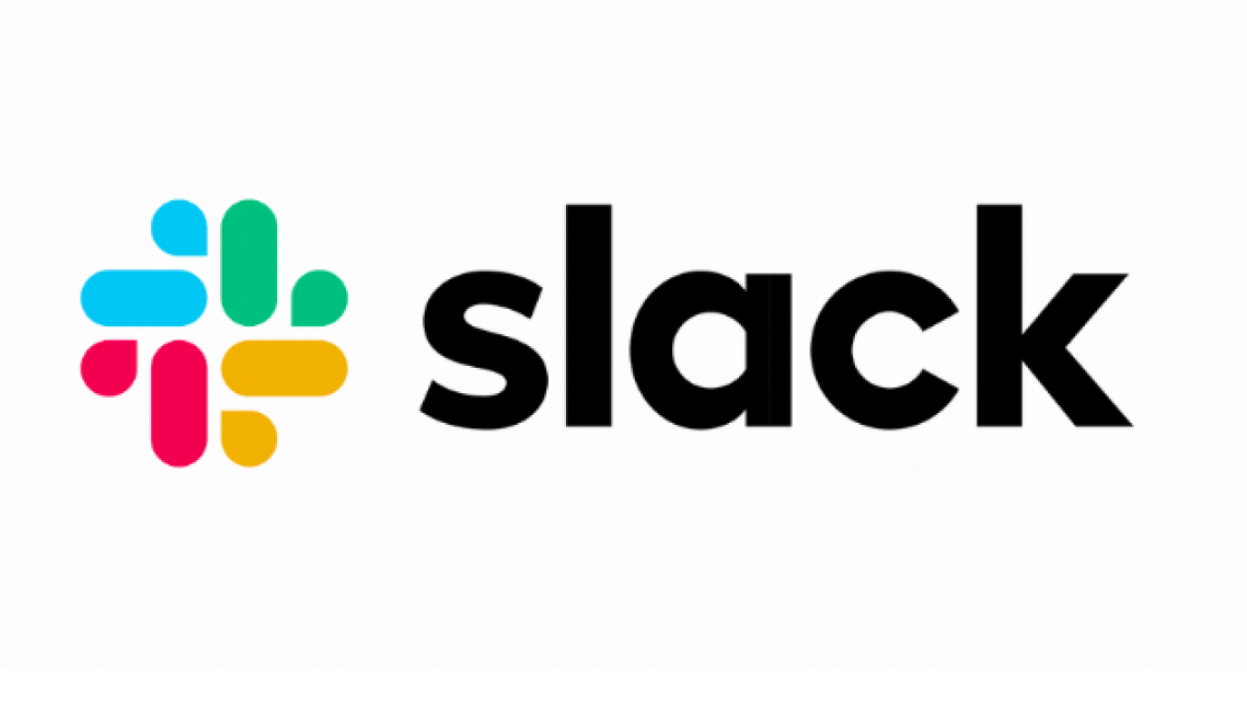 Real-time Messaging
File Sharing
App Integrations
Starting from $0/month (Free plan available)
See Pros & Cons
Pros
Easy team collaboration
Powerful search and archiving features
Wide range of app integrations
Available on multiple platforms
Free plan with basic functionalities
Cons
Can be overwhelming for new users
Advanced features require payment
Occasional performance issues
Slack is a robust platform to build online communities, offering a multitude of features that facilitate effective communication and collaboration. With its organized channels, users can easily and efficiently work together, regardless of their location or company.
The platform sets itself apart from other community platforms by offering integrations with other work apps and providing resources to help build a digital HQ.
Purpose and Objectives: The primary goal of a community platform is to provide a space where members can interact, share ideas, and collaborate on projects. Slack excels in this area by offering features such as chat, audio and video clips, live huddles, and Slack Connect for enhanced collaboration.
This range of communication options helps create a seamless experience for users, resulting in better engagement and productivity.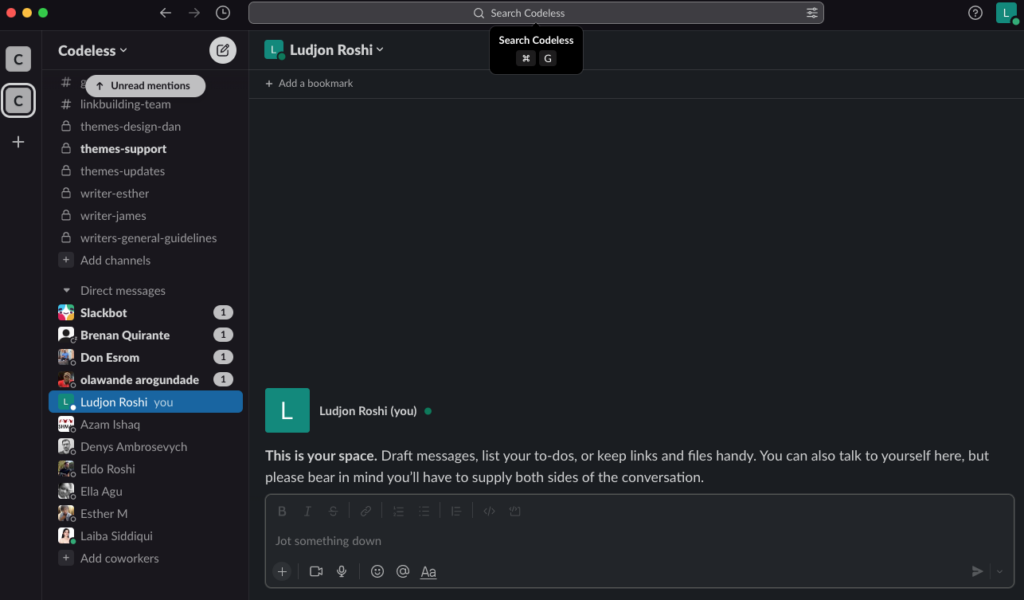 User Experience: Slack ensures this by providing an intuitive and easy-to-use interface. With its organized channels, users can quickly find relevant conversations and resources, promoting smoother collaboration. Additionally, the platform is available in multiple languages and regions, catering to a global audience and ensuring accessibility for users worldwide.
Customization and Branding: Although Slack does not have a strong focus on customization and branding, the platform allows users to create channels based on different topics, ensuring that conversations are relevant and targeted.
This organization promotes a sense of community and makes it easier for members to navigate and participate in discussions.
Integrations: One of the key highlights of Slack is its ability to integrate with other work apps, such as Workflow Builder, which helps automate mundane tasks and reduce tab-switching.
This streamlines processes and improves overall efficiency, allowing users to focus on more important tasks. Some popular integrations available on Slack include Google Drive, Office, and more.
Pricing: Slack offers a free plan with limited features, such as 10 integrations and audio and video conversations with screen sharing. However, for those seeking more advanced options, the Pro Plan is available at $7.25/mo per active user, which includes unlimited integrations, full post history, and screen sharing for up to 50 community members.
For even more functionality, the Business+ Plan costs $12.50/mo per active user and offers advanced identity management and 24/7 support.

Modern Forum Platform
Open Source
Extensible Functionality
See Pros & Cons
Pros
Intuitive user interface
Strong community support
Customizable themes and plugins
Wide range of integrations
Mobile-friendly design
Cons
Higher starting price point
May require technical knowledge for self-hosted option
Some features require a subscription
Discourse is a leading community platform that stands out among its competitors due to its open-source nature and highly customizable features. As an ideal choice for businesses and creators alike, it offers a wide range of functionalities tailored to foster civilized and productive discussions within various types of communities.
Purpose and Objectives: Discourse's open-source code allows users to have full ownership of their data, ensuring no hidden fees or lock-ins. This promotes transparency and flexibility, making it the best platform to build online communities with specific goals in mind.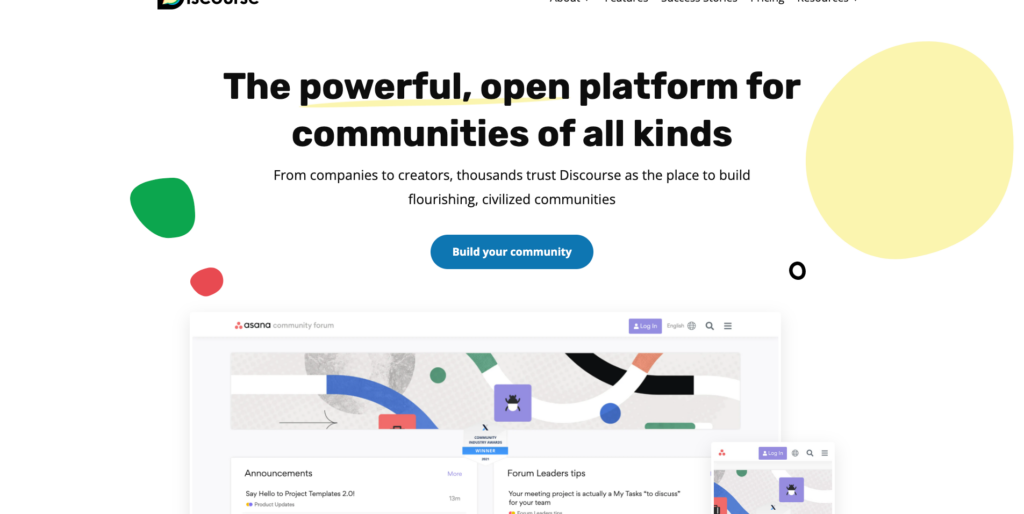 User Experience: Discourse offers quick chats and long-form discussions suitable for different types of conversations. With an overall rating of 4.9 out of 5 from 16 user reviews, it's evident that Discourse has a highly satisfying user experience.
Customization and Branding: As a highly customizable platform, Discourse enables users to create forums that reflect their brand identity.
The open-source code can be modified to suit users' preferences, making it a great online community platform for businesses and creators who value personalization.
Integrations: Discourse's world-class hosting service includes responsive technical support and helpful advocates to assist users with any issues they may encounter, setting it apart from other free online community platforms.
Pricing: While Discourse offers a free, open-source version on Github, users need to pay for hosting. The platform provides its hosting services starting at $100/month, which may be pricier compared to other options but ensures an all-inclusive, hassle-free experience.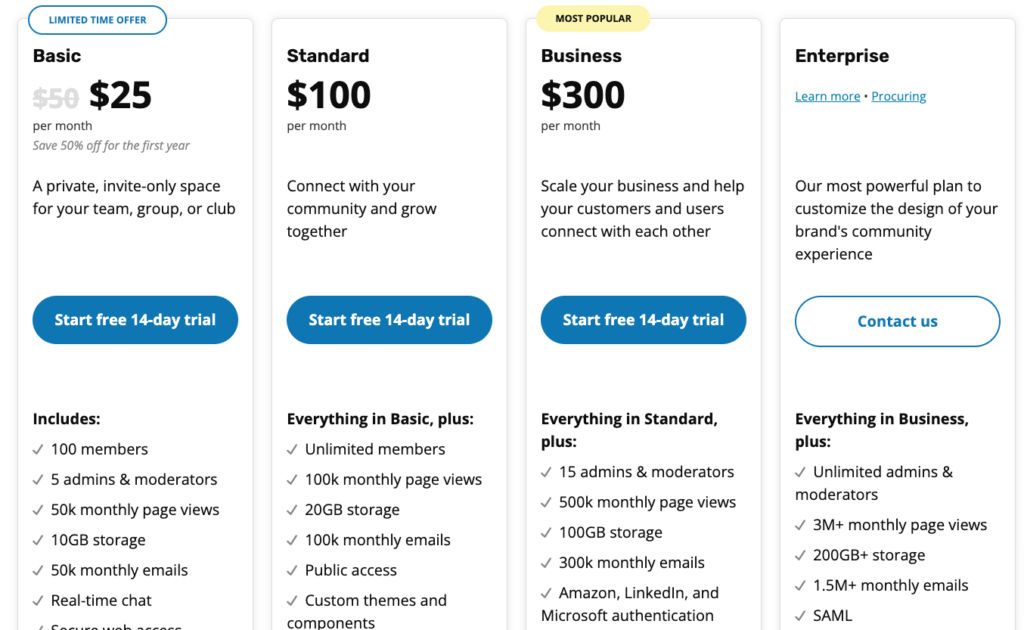 According to user reviews, Discourse is a highly recommended community platform that provides a modern, easily extensible platform for users. CDCK's support helps meet enterprise needs, allowing for the creation of a unique community and business experience.

Powerful Community Platform
Customizable Interface
Integration with WordPress
See Pros & Cons
Pros
Easy to set up and manage
Wide range of features and plugins
Strong user engagement tools
Good customer support
Flexible content management system
Cons
Can be expensive for small businesses
Some features require coding knowledge
Setup may require technical expertise
Tribe is designed to help businesses engage and connect with their customers. With its extensive features focused on building a thriving online community, Tribe sets itself apart from other platforms.
From customer education and support to relationship building, this platform provides everything needed for businesses to create a successful online community.
Purpose and Objectives: A community platform should provide a space for businesses to engage with customers, foster loyalty, and receive valuable feedback. Tribe's key features, such as spaces for discussion, polls, images, and videos, empower businesses to achieve these objectives.
With analytics, moderation, and gamification, Tribe ensures your community remains robust, well-organized, and engaging for members.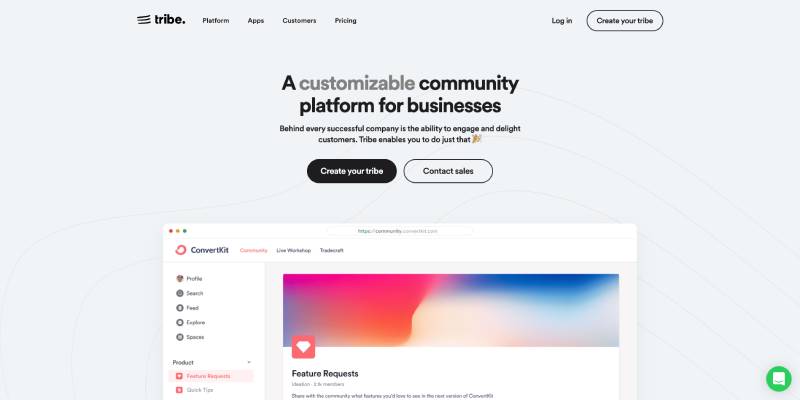 User Experience: Tribe offers an intuitive onboarding process and a visually appealing design, making it easy for users to navigate the platform.
As mentioned in user reviews, it's simple to set up, and the responsive customer support team ensures any issues are promptly resolved. However, it's worth noting that some users have reported technical problems, such as emails being sent to spam or junk folders.
Customization and Branding: Tribe stands out for its no-code customization options, including themes, color palettes, styles, and typography. You can easily tailor every aspect of your community without touching a line of code. Additionally, the platform offers various plans that allow for more extensive customization, including the removal of Tribe branding for a truly personalized and unique experience.
Integrations: Tribe seamlessly integrates with industry-leading software like Slack, Intercom, Google Analytics, HubSpot, and more. The platform also offers an App Store, allowing community admins to add the functionality they need, as well as a Developer Portal for creating custom features.
Pricing: Tribe offers three pricing plans and a 14-day free trial:
Advanced: $599/month – Up to 100,000 members, 10 admin seats, email white labeling, customer success manager, advanced apps like Intercom.

Some users have expressed concerns regarding the recent increase in entry-level pricing to $599; however, the majority feel that Tribe still offers excellent value for the extensive features provided.
Despite some challenges with pricing and technical issues, Tribe remains a strong contender as the best platform to build online communities. With its focus on delivering an exceptional user experience, Tribe can help you create and maintain a thriving, loyal community tailored to your brand.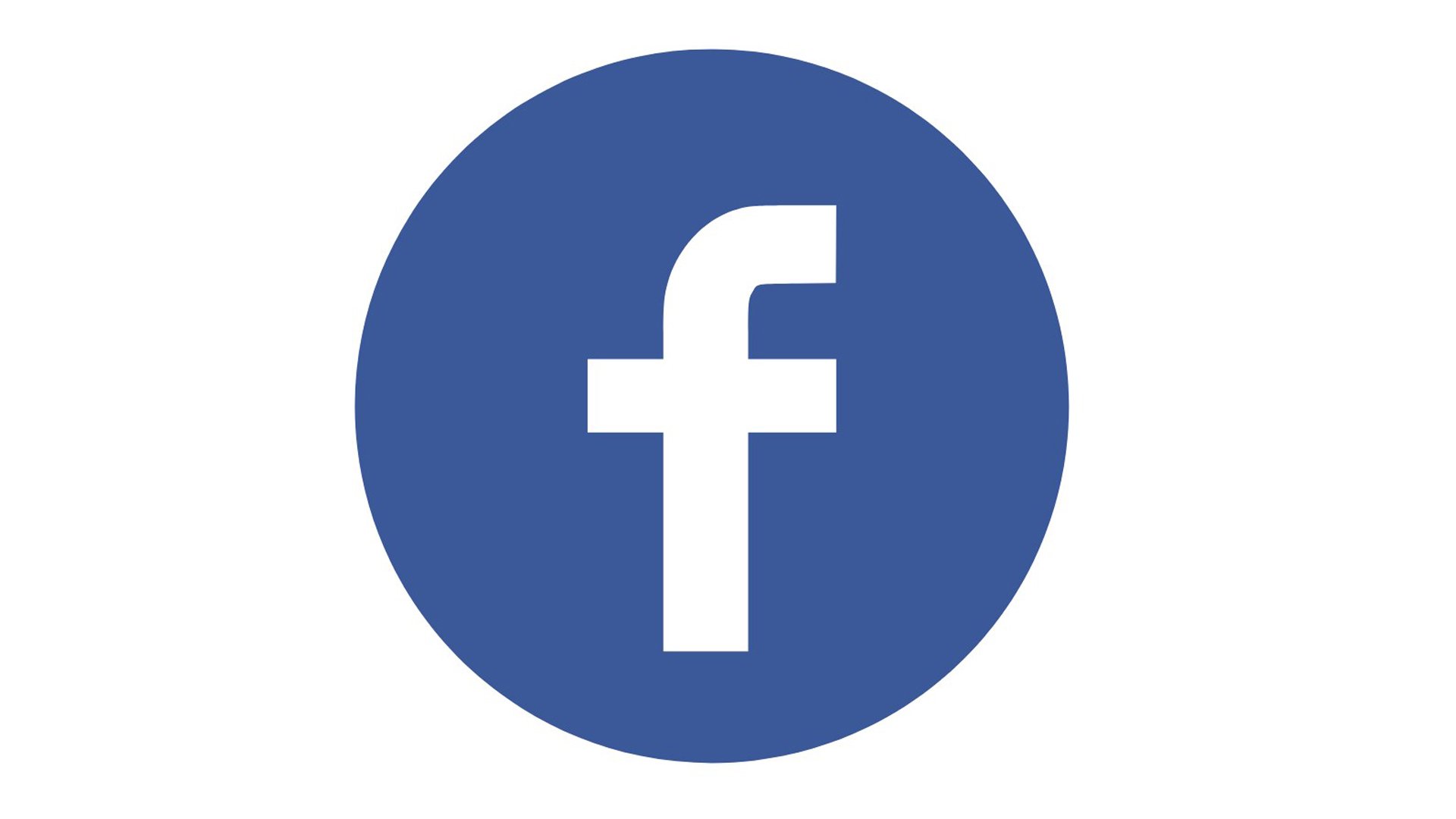 Easy to Create & Manage
Engage with Target Audience
Share Exclusive Content
See Pros & Cons
Pros
Free to create and manage
Highly customizable privacy settings
Effective way to connect with your target audience
Share updates, promotions, and exclusive content
Boost engagement through polls, events, and more
Cons
Requires regular moderation
Can attract spam and unwanted content
Difficult to manage large groups
Facebook Groups is a highly popular community platform, offering a user-friendly experience and easy setup. Its main feature is the ability to create private or public groups where members can interact, share content, and engage in discussions. This makes Facebook Groups an ideal choice for small communities seeking a simple, free solution for building connections and fostering engagement.
Purpose and Objectives: Facebook Groups serves as a central hub for like-minded individuals to come together and share their thoughts, ideas, and experiences. While ideal for small communities, larger groups or paid membership communities might find limitations in its lack of payment integrations and algorithm-driven visibility.
However, for those just starting out or seeking a user-friendly platform, Facebook Groups can be a viable option for building online communities.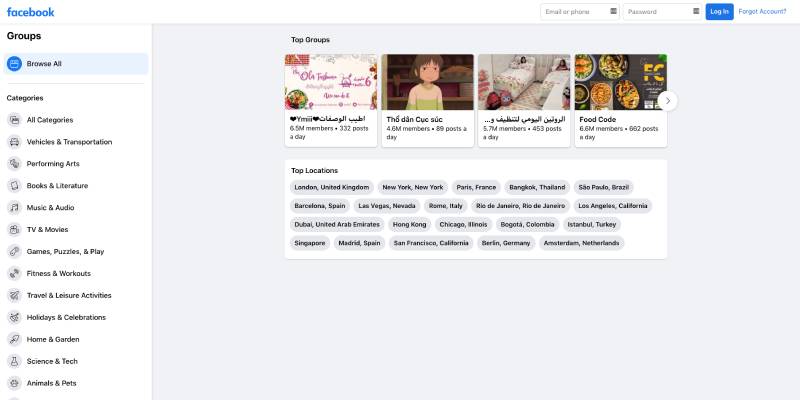 User Experience: Facebook Groups boasts a simple and intuitive user interface, allowing members to easily join, participate, and engage with the community.
With a vast user base and familiar platform, Facebook Groups can offer an effortless experience for both community managers and members. However, some users might find the constant notifications and lack of privacy to be drawbacks to the platform.
Customization and Branding: While Facebook Groups offers limited customization options, community managers can still add a header, set forum rules, and moderate group activity. This allows for some degree of branding and tailoring to a specific community's needs.
However, groups seeking extensive customization and branding options might be better off exploring other community platforms.
Integrations: Facebook Groups integrates with the wider Facebook ecosystem, enabling community managers to link related events and enabling members to connect with one another via their Facebook profiles. However, for those seeking extensive integration options with other tools and services, alternative community platforms may be a better fit.
Pricing: One of the key advantages of Facebook Groups is its cost-effectiveness. The platform is completely free to use, making it an attractive option for those looking to build an online community without investing in monthly subscription fees or upfront costs.
It's worth noting that the free nature of the platform means ads might be displayed, which could be perceived as noise by some users.
In conclusion, Facebook Groups is a convenient and cost-effective solution for building small online communities. With its familiar user interface and simple setup, it's a great choice for those looking to start building their community with minimal investment.

Engaging Prompts
Customizable Experience
Wide Range of Topics
See Pros & Cons
Pros
Innovative writing prompts
Easy-to-use interface
Great for writers of all levels
Active community
Regular updates and improvements
Cons
Subscription required for full access
Limited offline functionality
Some prompts may not be suitable for all users
StoryPrompt is a highly sought-after platform to build online communities, offering a unique video-first approach that sets it apart from other community platforms. Within its feature-rich environment, community organizers can utilize asynchronous videos, customizable Spaces, and various engagement tools to create a rich, interactive, and highly connected user experience.
Purpose and Objectives: StoryPrompt's focus on video communication helps foster collaboration and meaningful connections, as evidenced by user reviews highlighting its ease of use, versatility, and potential for building engagement and humanizing brands.
The platform's asynchronous video feature ensures that all communication is human-centered, creating a more connected and engaged community.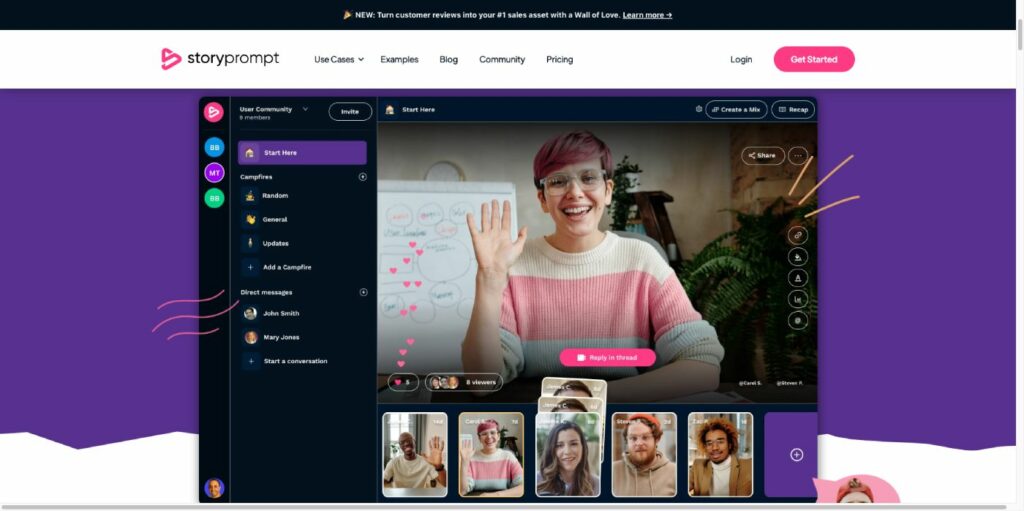 User experience: With a built-in teleprompter, multi-step prompts, audio-only replies, and background effects, users can effortlessly record and send videos. The platform's intuitive organization of Spaces and Campfires allows for simple navigation and discussion on a variety of topics. This ease of use is also reflected in the positive reviews provided by satisfied users.
Customization and branding: Users can create and share video testimonials with their branding, publish and share videos with a 1-click HTML code, and enjoy a visually appealing experience with interactive buttons, text, and captions.
Pricing: The platform offers various pricing plans to suit different budgets and needs, including a free Basic plan, a $39/mo Starter plan, a $79/mo Pro plan, and a $124/mo Premium plan, each with its unique set of features and video response limits.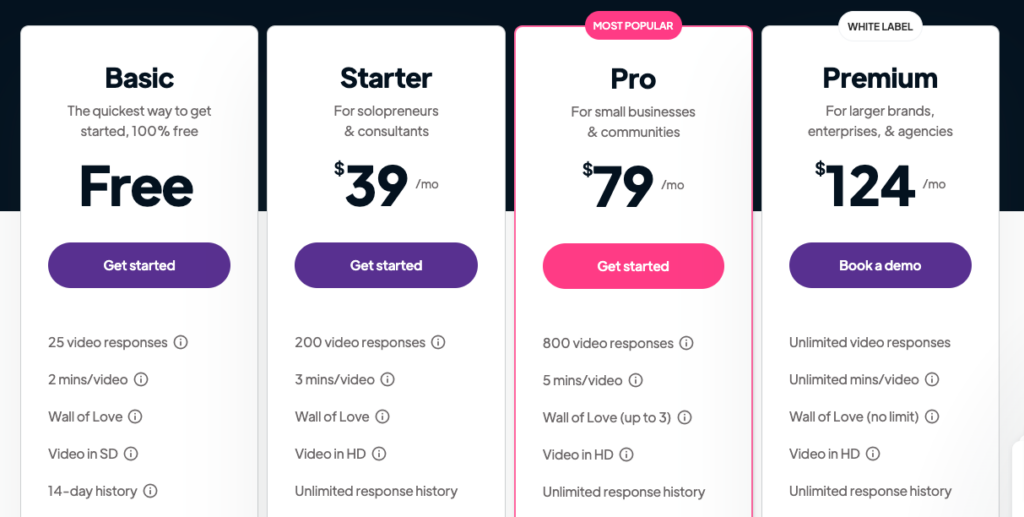 Integrations: StoryPrompt is equipped with essential integrations such as Zapier and API access. These integrations allow for seamless functioning with other applications and tools, further enhancing the platform's capabilities.
In summary, StoryPrompt is the best platform to build online communities for those who appreciate a personal, human touch in their interactions. Its video-first approach, user-friendly features, customization options, and integrations make it a top choice for creating engaging, interactive, and highly connected communities.

Flexible Customization
Active Community
Great for Forums
Starting from $0.00/month
See Pros & Cons
Pros
Open-source software
Extensive plugin library
Active support community
Flexible customization options
SEO-friendly
Cons
Requires technical knowledge to set up and manage
Not ideal for non-forum websites
Limited design templates
Vanilla is the best platform to build online communities, offering a comprehensive suite of features tailored for growth-minded organizations. As a leading community software platform, Higher Logic Vanilla stands out with its focus on centralizing support, increasing engagement, and facilitating product feedback.
Purpose and Objectives: Higher Logic Vanilla is trusted by hundreds of organizations, achieving results like a 75% decrease in time to answer for TeamViewer's support team and over 90% of deflected support tickets for Cireson. Its combination of communities, Q&As, knowledge base, and product feedback with integrations create meaningful relationships and deliver stronger business results.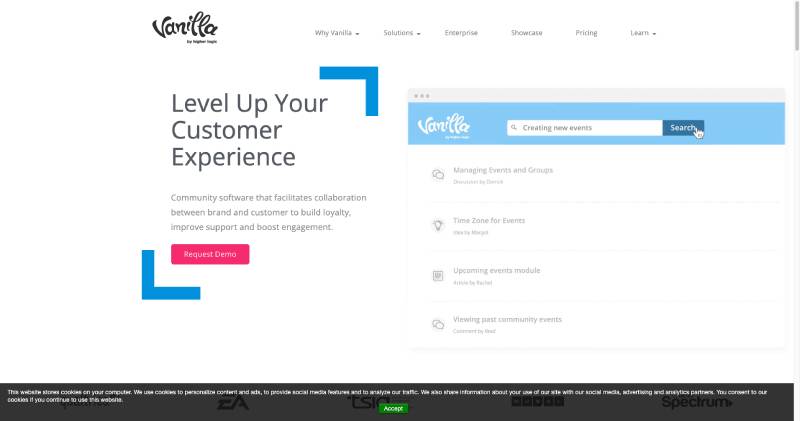 User Experience: Vanilla's drag-and-drop feature allows for effortless community design, while its extensive analytics help track user engagement and growth.
Customization and Branding: Vanilla Forums, as one of the best online community platforms, offers high customization options for large corporations, enabling them to create a tailored experience for their users.
Integrations: Integration with essential business applications is crucial for a comprehensive community platform. Vanilla boasts seamless integration with popular tools like Salesforce and Zendesk, enhancing its usability for organizations.
Pricing: While Vanilla Forums is directed toward large corporations, it's essential to consider pricing options that match your organization's needs. Although it doesn't offer features like selling memberships or online courses, its focus on forum features and white-label apps make it a valuable investment for the right user.
By examining user reviews and comparing pricing and features, it's apparent that Vanilla is dedicated to helping companies build vibrant communities and achieve outstanding results. Get in touch with them today to begin crafting an engaging experience for your customers.
10. Peerboard (acquired by Docebo)

Seamless Integration
Customizable Design
Unlimited Members
See Pros & Cons
Pros
Easy to set up and manage
Wide range of customization options
Robust moderation tools
SEO optimized
Responsive support team
Cons
Price may be steep for small communities
Minor learning curve for non-tech users
Limited third-party integrations
Peerboard is the best white-label platform to build an online community with its robust set of features. Designed for businesses, e-commerce, e-learning, and more, Peerboard offers an engaging, user-friendly environment for members to connect and grow.
The platform stands out for its flexibility, allowing for full customization and integration with popular tools like WordPress, Shopify, and Thinkific.
Purpose and Objectives: Peerboard is optimized for a variety of use cases, such as memberships, e-learning, and non-profits. The platform's features, like community Q&A, events, and subscription management, cater to your unique needs and goals.
As a testament to its effectiveness, several successful businesses, including Smartcat.com and The Daily Planners, have integrated Peerboard into their web apps.
User experience: Peerboard excels in this area, as evidenced by the positive reviews from users, who praise the platform's robust features and personalization options. They highlights the platform's ability to create "super users," improving the overall member experience.
A user-friendly interface and features like gamification, including badges and leaderboards, further contribute to a satisfying user experience.
Customization and branding: Peerboard offers an unprecedented level of customization, allowing you to create a tailored community experience that aligns with your brand. Moreover, the platform offers content pre-moderation, reporting, and blacklisting features to protect your data and ensure a safe environment for your members.
Integration: Peerboard's compatibility with popular tools like WordPress, Shopify, and Thinkific enables businesses to build an engaging product community with their customers. The platform also offers a developer manual and a vibrant partner ecosystem, making it easier for businesses to integrate Peerboard into their existing workflows.
Pricing: With Peerboard, you can start building your online community for free, providing an affordable solution for businesses of all sizes. As your community grows, you can explore the platform's competitive pricing plans to accommodate your expanding needs.
In conclusion, the platform's commitment to user experience, data protection, and affordability makes it an attractive choice for businesses looking to create a vibrant, engaging community. With Peerboard, you can confidently build and manage your online community while achieving customer delight and driving more traffic to your business.
Choosing the Right Community Platform for Your Needs
Selecting the best online community platform can be a daunting task, as there is a plethora of options available, each with its unique features, pricing, and target audience. Here are some factors to consider when deciding on the best community platform for your needs:
Purpose: Start by evaluating your goals and objectives for creating an online community. Are you looking to engage customers, brainstorm ideas with employees, or connect with like-minded individuals? Your objectives will help you narrow down the list of potential platforms.
Features: Different platforms offer different tools and functionalities. Consider the features that are essential for your community, such as discussion forums, file sharing, private messaging, or event scheduling, and prioritize those in your search.
Scalability: Your online community may grow in size and complexity over time. Choose a platform that allows for easy expansion and offers features to accommodate larger groups or additional integrations as needed.
Ease of use: User experience is crucial in ensuring that your community members will actively participate in discussions and collaborate on projects. Look for platforms that offer intuitive interfaces, easy navigation, and seamless integration with other tools or platforms.
Budget: The cost of community platforms varies significantly. Some options are free or offer free plans with limited features, while others may require a monthly or annual subscription. Determine your budget and weigh the cost against the features and benefits each platform offers.
Free vs. Paid Community Platforms
While many online community platforms offer free plans, these may come with limitations on features, storage, or the number of users.
Paid community platforms, on the other hand, usually offer additional features, increased customization, and dedicated support. Consider your budget, the size of your community, and your required features when deciding between free and paid community platform options.

Ludjon, who co-founded Codeless, possesses a deep passion for technology and the web. With over a decade of experience in constructing websites and developing widely-used WordPress themes, Ludjon has established himself as an accomplished expert in the field.