In the realm of top WordPress plugins, Contact Form 7 hits the ground because of its extremely simple and well-documented features. Being fully extendable, it allows you to unlock various advanced functionalities into your website.
This post shares 10 well-known Contact Form 7 extensions and add-ons that are giving a stiffer competition to the other plugins in WordPress directory. Let's take a glimpse of each of these:
The Top 10 Useful Contact Form 7 Extensions & Addons 2023

Featuring the anti-spam functionality, the plugin is specifically designed to safeguard your form from spammers. This plugin adds a hidden field to your contact form. Since the fields in the form remain hidden, it will make it easy for the website admin to identify bots and block their submission. With its additional hidden field functionality, it smartly tricks the spam bots into filling in the hidden fields.
After activating the Contact Form 7, "Generate tag" option can be used to create a honeypot short code to insert in the contact form.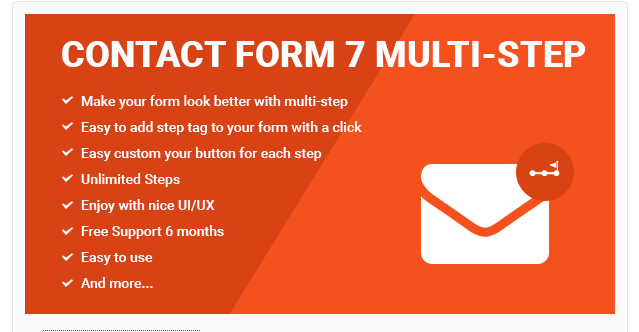 With the use of this plugin, creation of multi-step forms becomes a breeze. This plugin is useful for doing a survey or generating more information about the users in multiple steps or sending an email after the completion of form.
This plugin also allows the developer to insert "next" and "previous" button in the forms with the help of shortcodes.
This plugin allows you to create a simple and short message which is displayed once the user submits the form. It automatically redirects visitors to "Thank You" page, once the form is successfully delivered.
If the process does not get completed, the user will not be redirected.

This plugin works with the UI of Contact Form 7 and is strictly meant to customize the look and feel by addition of compatible styles and templates.
All you need to do is, select from the range of compatible templates and then choose the style matching your business.
CF7 skin is easy to install, learn and highly customizable. It is extremely simple to comprehend both by expert and beginners.

This CF add-on makes it incredibly simple to save user's form data in the WordPress database. The data can further be exported into a zipfile or short code and can be displayed in a page differently.
With the installation of Contact Form 7 DB, developers can see a new section near the bottom of WordPress admin, known as Contact Form DB. It has three sections namely, Contact Form DB, Short code and Options.

Using this extension, developers can integrate Contact Form 7 with MailChimp account. The plugin automatically adds form submissions to the lists in MailChimp using its latest API. The extension is quite useful as it supports multiple API's and mailing lists.

WordPress Form Customizer allows you to preview changes in the website design and also edit them in real-time. These changes can be in the form of amendment in WordPress theme, website color scheme, widgets and so on.

With the help of this plugin, admin can easily integrate jQuery validation to Contact Form 7. It is quick-performing and simple to use plugin using which you can just add classes in Contact form 7 fields.
It becomes easy to extra validate rules for credit card info, date, URL, phone number and other information related to the user. It becomes super easy to highlight the field for invalid data and add interactive validation as per the choice.

The extension seamlessly integrates PayPal with Contact Form 7 to incorporate best of both features- Contact Form 7 and PayPal in a single click. For all those website owners who are looking to incorporating quick online payment facility on their websites should definitely install the plugin on WordPress site.

By installing this extension on WordPress website, site owners can offer the facility to users to insert hand written signature via a signature pad.
A new field type is inserted to the Contact Form 7 plugin which has the functionality to add user signature in Contact form query.
Ending notes
This brings an end to 10 of the best Contact Form 7 extensions. By installing these extensions on your website, the site owner can create visually appealing contact form that are capable of subscribing users to mail lists, organizing paypal payments, decoding user's location and so on.

As one of the co-founders of Codeless, I bring to the table expertise in developing WordPress and web applications, as well as a track record of effectively managing hosting and servers. My passion for acquiring knowledge and my enthusiasm for constructing and testing novel technologies drive me to constantly innovate and improve.
Expertise:
Web Development,
Web Design,
Linux System Administration,
SEO
Experience:
15 years of experience in Web Development by developing and designing some of the most popular WordPress Themes like Specular, Tower, and Folie.
Education:
I have a degree in Engineering Physics and MSC in Material Science and Opto Electronics.