Are you looking for the best hosting website for photographers? Choosing the best web hosting for your business is crucial. If you're like most people, you're probably confused by all the different hosting options available. The objective of this article is to help you choose the best web hosting for your photography business
We helped over 160,000 photographers and artists showcase their work online. With years of experience, we understand how important it is to choose the best web hosting company. Even more important than how important it is for you, as a business owner, to figure out what you're signing up for.
As a photographer, you might ask yourself what is a web hosting and why is it important?
Put simply, web hosting is the space that you rent on a computer server to store and display your website on the Internet.
It is a fundamental requirement to create your WordPress photography website.
There are different types of hosting options such as shared, VPS, dedicated, and managed WordPress hosting.
Shared hosting
Shared hosting is a popular choice for photographers because it is cheap and easy to set up for beginners.
With shared hosting, you'll get shared space on a large server to host your website. It's important for hosting providers because this allows them to improve their profit margins by offering the service at an affordable price.
VPS and Dedicated Web Hosting
VPS does mean Virtual Private Server and is the next step above shared hosting.
When you're still sharing server space, it's with far fewer people, so you have more control over server settings and more resources.
On the other side, dedicated hosting in short terms is a whole server just for your website. Based on the size of your website these can be quite expensive. Since you're reading this article, you probably don't need any of these options.
Managed WordPress Hosting
WordPress is a rapidly growing platform that feeds over 25% of all Web sites on the Internet, it has created a new sector, Managed WordPress hosting.
Think of hosting as a collection and delivery service. 100% trouble-free because they will take care of everything from your website's performance to security, backups, and more. Managed WordPress hosting is a really good option for all websites (regardless of size), especially when the owner has no time to handle web hosting problems or doesn't have technical knowledge.
The best thing to do is: Doing what you do best (manage your business) and let the hosting experts do the rest.
Best Photography Website Hosting in 2020
Are you a photographer? Are you trying to launch your first website? Or maybe you have a website for a while now, but you realize that it is slow to serve your images. Whether you are a wedding photographer, event, family, landscape, travel, fashion, or nature, hosting does not differ. You need enough storage space to accommodate your images and bandwidth to serve your images quickly and efficiently for your website visitors.
With this in mind, here are the best web hosting options for photographers, at different prices and needs. So you can choose the best photography website hosting option for you and your wallet.
BlueHost
With over 75 million users and hundreds of photo themes, WordPress is one of the best content management systems (CMS) for photographers. And there is no better host for WordPress sites than Bluehost.
Although many other Web hosts support WordPress, Bluehost is a higher level than the competition with such good integration that it is actually recommended by the WordPress team itself. WordPress can be installed on your Bluehost site in one simple click.
Furthermore, your server will be highly optimized to manage WordPress content, with extremely fast loading times.
Bluehost sites also load quickly thanks to the use of Bluehost SSD servers that are faster than typical hard drives.
While it is easy to use, WordPress has a steeper learning curve than other site builders on this list. Fortunately, you can use the Bluehost technical team if you're in trouble. The representatives are active 24 hours a day, 7 days a week, to help you talk on the phone or via live chat.
Plans start at $ 2.95 / month for the first term, after which prices rise to $ 7.99 / month. The initial package includes 50 GB of storage space and unlimited bandwidth. 50 GB should be enough space for fixed photographers. But if you also work with the video, consider the unlimited $ 5.95 per month package.
A year of domain registration is included for free with each Bluehost plan, making its WordPress plans a decent choice if you want to save costs.
InMotion Hosting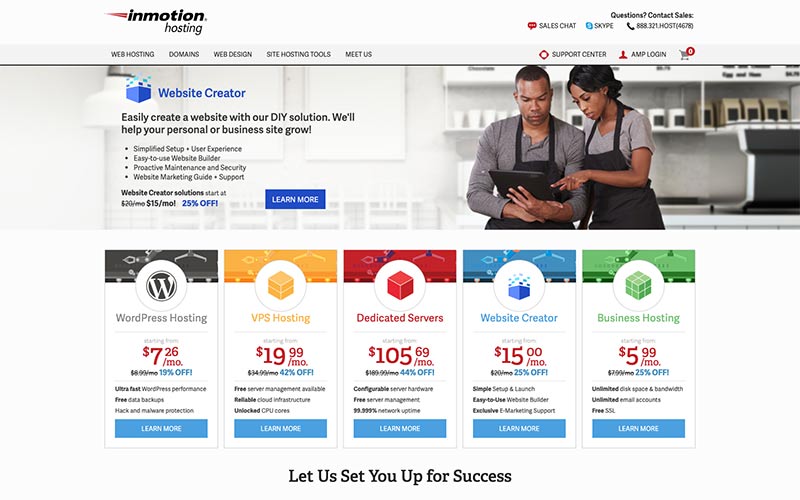 InMotion hosting Business Power or Pro plans include unlimited storage and bandwidth along with more server resources.InMotion does not currently include a CDN with their hosting plans, you get Max Speed Zone technology which allows you to significantly increase the speed of the site when your location is in the area of the speed zone.
InMotion is particularly suitable for WordPress or Joomla websites and you can also have them pre-installed for you when you make your order. Even for WordPress users, with your InMotion Hosting plan you also get the BoldGrid website builder. BoldGrid speeds up and simplifies the process of creating the website, while continuing to offer the most common WordPress features. And since InMotion Hosting is an official BoldGrid host, you'll get the best support for this website builder.
InMotion Hosting Features
Free Domain Registration or Transfer
Free Data Backup
SSD Included Free
Free Website Transfers
UNLIMITED Disk Space,Email Accounts,Data Transfer,Email Storage,Websites (PRO)
90 Day Money Back Guarantee
Free Website Builder
$250 Free Advertising Credits
Pro Level Support
Max Speed Zone Technology
PHP, Perl, Ruby, Python
E-Commerce Ready
PHP 7 Supported
Free SSL
SSH Access
Business Class Hardware
Easy Google Apps Integration
Over 400 Free Applications
UNLIMITED Parked Domains,Sub Domains,Spam Safe Email with IMAP
WordPress, Joomla, or PrestaShop Preinstalled
Malware Protection
SiteGround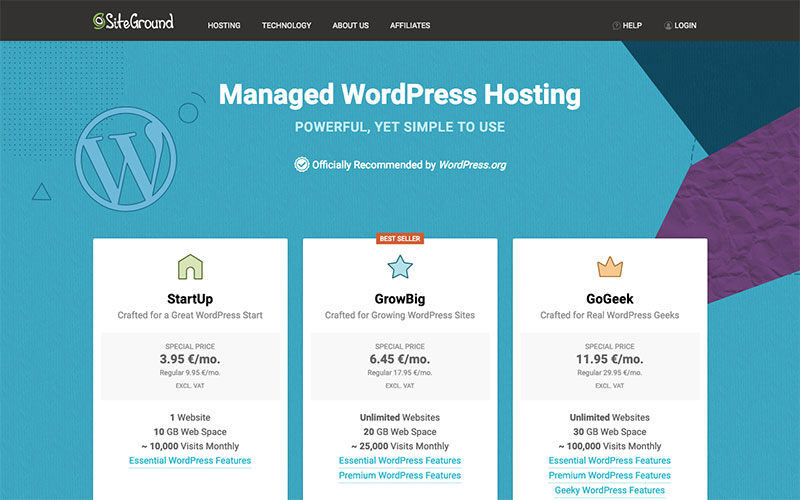 If you like putting your energy into creative hobbies like photography rather than facing difficult hosting problems, decent customer support can really improve your hosting experience.
This is exactly what SiteGround offers. Support representatives are available 24 hours a day, 7 days a week, via virtually any contact method you can think of: telephone, live chat, tickets or e-mail. And the SiteGround service stands out further thanks to a telephone support policy without waiting.
Support staff will happily guide you through the steps necessary to install a photo gallery site on your server using Softaculous installation software. Softaculous comes with every SiteGround plan and gives you access to over 400 web hosting scripts that you can use to improve your photography site.
And if you're worried about reliability or keeping your photos safe, SiteGround is also an excellent choice.
It has a guaranteed uptime rate of 99.9%. In fact, I discovered that my site had an average uptime of 99.99% in the last year. Furthermore, if your site has ever experienced a technical failure, you will immediately be able to recover lost images thanks to free daily backups.
The SiteGround base $ 3.95 / month includes only 10 GB of SSD storage and the most expensive $ 11.95 / month plan comes with 30 GB. These limits are not incredibly restrictive, but if you want to upload a huge body of work or videos, you may find yourself bumping into them. Consider updating or using alternatives, such as external media archiving services!
Wix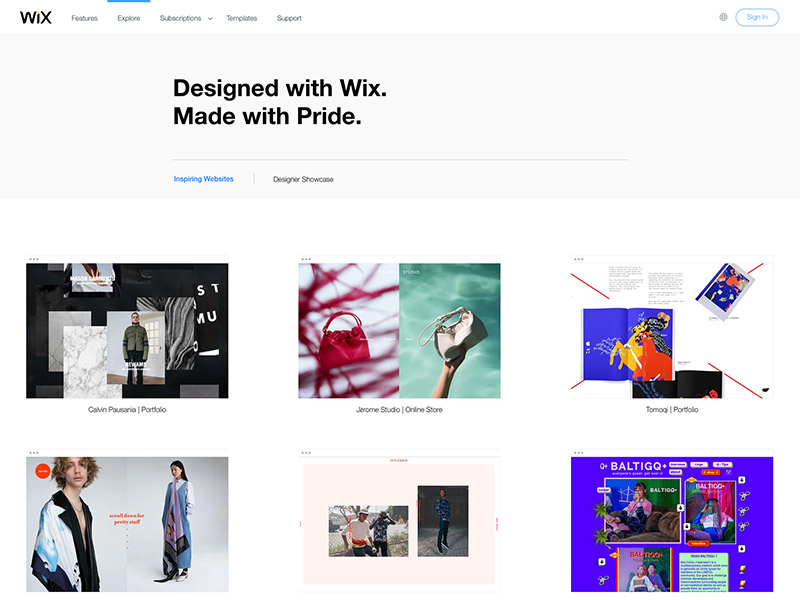 If you want to design an original site like your photos, Wix is ​​a good choice.Once you've finished creating your photography site,Wix like a powerful website builder will also host your site.
The Wix site builder is based on a drag-and-drop design and includes hundreds of predefined templates, which make it extremely easy to use. I also counted 40 models designed specifically for photography sites!
But the key project of the Wix site builder is that it allows you to show your personality into the look and feel of your pages. It is an empty canvas editor so you can release the contents wherever you want and play with the smallest details to your heart's content.
As for prices, Wix offers free websites for photographers. However, it is not very useful for professionals with only 500 MB of storage space and 1 GB of bandwidth. Wix also puts ads on free websites, which can definitely ruin the look of your work and your brand.
Therefore, I suggest you choose the combined $ 11 monthly plan or the $ 14 unlimited monthly plan. Both remove ads from your site and include a free domain. But while the combined package is limited to 2 GB of storage space and 3 GB of bandwidth, the unlimited plan offers 10 GB of storage space and width of unlimited bandwidth.