If you've been searching for the best VPS hosting Reddit without spending time on extensive research, you've come to the right place.
In this article, I've listed all the Virtual Private Server providers that have received the most upvotes and positive comments from various users across different subreddits on the social network, Reddit.
You may also be interested in Best Reddit's WordPress Hosting Providers
Let's dive into the article
The Top 7 Best VPS Hosting Reddit

Developer-friendly platform
SSD-based virtual machines ("Droplets")
Multiple data center locations
API and CLI tools available
See Pros & Cons
Pros
Simple and fast deployment
Affordable and predictable pricing
Rich ecosystem with Marketplace
Great for developers and startups
Cons
Limited managed hosting options
Steep learning curve for beginners
DigitalOcean is the best VPS Provider by Reddit users. The platform has garnered significant praise for its simplicity and the speed at which users can deploy a server, or as they call it, a "Droplet".

Favored for its SSD-based virtual machines, it also impresses with multiple data center locations, ensuring faster content delivery irrespective of user geography. Moreover, the active community on Reddit has often highlighted the benefits of DigitalOcean's robust API and CLI tools.
From a pricing standpoint, DigitalOcean is both affordable and predictable. Their starting price is a mere $5 a month, making it a cost-effective solution for many, from solo developers to startups.
However, the platform is more developer-centric, which can pose a learning curve for those unfamiliar with server management. But for those willing to learn, or those who already have the knowledge, DigitalOcean proves to be an excellent choice. Its popularity and upvotes on Reddit are a testament to its capabilities.
Read More: Digitalocean $200 in credits for free

Dedicated server options
Eco-friendly data centers
Robust hardware configurations
Competitive pricing model
See Pros & Cons
Pros
Highly customizable servers
Top-notch performance and uptime
Transparent billing
Active and supportive community
Cons
Less user-friendly for beginners
Limited locations outside Europe
Hetzner is another VPS provider favorite among Reddit users, especially those in Europe. The provider's strong emphasis on dedicated server options and robust hardware configurations sets it apart.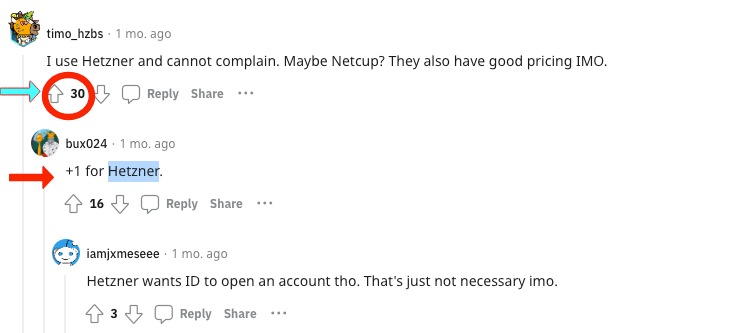 One standout feature is their eco-friendly data centers. They cater to the increasing global emphasis on sustainability and ensure efficient operations. Pricing is another area where Hetzner shines, offering a competitive model starting at just €3.49 monthly.
Reddit discussions frequently laud Hetzner's transparency in billing, top-notch performance, and its active community that's always willing to help. Though its interface might be a tad complex for beginners, and with limited server locations outside Europe, it's still a commendable choice for many.
You can also explore more similar options in Europe by checking our other article: Best European VPS Providers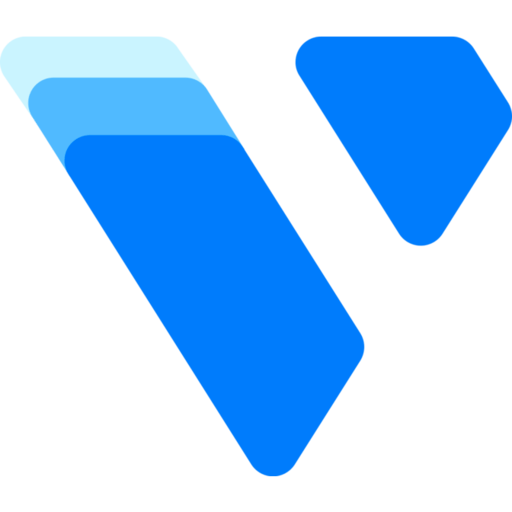 Global network with 17+ data centers
One-click app deployments
Hourly and monthly billing
A diverse range of computing options
See Pros & Cons
Pros
Instant server deployment
Fair and transparent pricing
Powerful API for developers
Highly scalable infrastructure
Cons
Support can be hit or miss
Limited managed hosting solutions
Vultr, is frequently mentioned in Reddit discussions as the cheapest VPS Provider. Known for its global presence, Vultr boasts a network of over 17 data centers, making it easy for users to deploy servers close to their primary audience.
What has resonated well with Reddit users is Vultr's one-click app deployments. This feature simplifies processes for those who wish to get applications and websites up and running without the hassle of manual installations.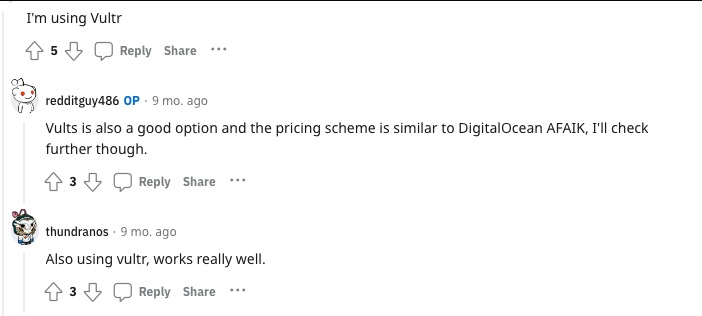 The platform offers both hourly and monthly billing, giving flexibility to its users. Starting at a mere $2.50 per month, Vultr ensures that even those on a tight budget can access quality VPS hosting. Additionally, its diverse range of computing options means that there's something for everyone, from small bloggers to large enterprises.
While Vultr offers a powerful API for developers and a highly scalable infrastructure, some Reddit users have pointed out inconsistencies in their support services. Moreover, those seeking extensive managed hosting solutions might find the options limited. Nevertheless, with its transparent pricing and rapid deployment capabilities, Vultr continues to receive upvotes and positive remarks on Reddit.
It is similar to Digitalocean as a provider but has some differences we have compared them here.

Established in 2003, one of the pioneers
Dedicated 24/7 human support
11 global data centers
One-click installations with Linode Marketplace
See Pros & Cons
Pros
Consistent performance
Transparent and simple pricing
Active community and rich documentation
Advanced networking features
Cons
Higher learning curve for newbies
No free tier available
Linode (Akamai), established in 2003, has the distinction of being one of the pioneering VPS hosting providers. Its long-standing reputation and commitment to quality service make it a frequently discussed topic on Reddit, where it often receives praise.
One of Linode's most lauded features among Reddit users is its dedicated 24/7 human support. Regardless of when an issue arises, users can expect timely and effective assistance. Additionally, Linode's 11 global data centers allow users to deploy their servers in strategic locations, optimizing their web application's performance for their target audience.
The Linode Marketplace, offering one-click installations, simplifies the deployment of applications, which is particularly beneficial for users who aren't tech-savvy or are looking for hassle-free setups.
Starting at a competitive $5 per month, Linode ensures that users get value for their money. The platform's performance is consistent, with many Reddit users commending its uptime and server response times. The active community, transparent pricing, and advanced networking features further enhance its appeal.
However, like many other VPS providers, Linode has a steeper learning curve, especially for beginners. Some users also wish there were a free tier, similar to some competitors. Nonetheless, its years of reliable service, combined with the trust it has built in the community, solidify Linode's place among the top VPS hosting providers.

One of Europe's largest hosting providers
Diverse range of services: from VPS to dedicated servers
Anti-DDoS protection included
Over 30 data centers worldwide
See Pros & Cons
Pros
Competitive pricing structure
Extensive infrastructure and global presence
Highly customizable solutions
Committed to green and sustainable practices
Cons
Complex user interface
Customer support can be inconsistent
OVH, established in France and currently one of Europe's largest hosting providers, has a strong presence in the hosting community. It's frequently mentioned in Reddit discussions, with many users sharing their experiences and insights.

With a diverse range of services, from VPS hosting to dedicated servers and cloud solutions, OVH caters to a wide spectrum of hosting needs. One notable feature that garners appreciation is the inclusion of Anti-DDoS protection across their services, ensuring that websites and applications remain secure against potential attacks.
Boasting over 30 data centers worldwide, OVH ensures global reach and optimized performance for users regardless of their target audience's geography. This extensive infrastructure is one of its most attractive features, ensuring redundancy and reliability.
Pricing, starting at a competitive €3.49 per month, is another strong suit of OVH. Given the range of features and robustness of the infrastructure, many find it to be of great value. The company is also committed to sustainable practices, making strides in utilizing green energy and reducing their carbon footprint.
However, some Reddit users have pointed out the complexities of the OVH user interface, which can be daunting for newcomers. Moreover, the consistency of customer support has been a topic of debate, with some users having exemplary experiences while others found it lacking.
Nonetheless, OVH's vast infrastructure, competitive pricing, and commitment to sustainability make it a choice worth considering for many webmasters.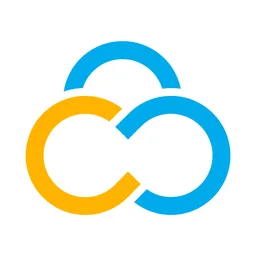 High-performance SSD storage
Competitive pricing with no hidden costs
European data centers for optimal speed
Robust customer support
See Pros & Cons
Pros
Efficient and reliable uptime
User-friendly control panel
Offers both VPS and dedicated server options
Generous resource allocations
Cons
Limited presence outside of Europe
Setup fees for some plans
Contabo has made a name for itself in the VPS hosting space, particularly among European users. Founded in 2003, this Germany-based provider is frequently mentioned in Reddit discussions for its high-performance SSD storage and robust customer support.

What sets Contabo apart is its straightforward pricing. The company is known for providing competitive rates with no hidden costs, making it an attractive option for those seeking affordability without compromising on quality. Their plans start at a modest €4.99 per month.
With data centers strategically located in Europe, Contabo ensures optimal speed and performance for its European clientele. Their user-friendly control panel, combined with both VPS and dedicated server options, caters to a wide range of hosting needs.
While the company offers efficient and reliable uptime, along with generous resource allocations, some Reddit users have pointed out a limited presence outside of Europe. Additionally, certain plans come with setup fees which potential users should be aware of. Still, Contabo remains a strong contender in the VPS market, with its commitment to performance, transparency, and customer satisfaction.

Multiple data center locations
Diverse range of hosting services
DDoS protected network
Transparent pricing
See Pros & Cons
Pros
Highly reliable uptime
User-friendly interface
Active and responsive customer support
Scalable infrastructure
Cons
Limited global presence
Some plans may be pricier compared to competitors
RackNerd is making waves in the hosting community for its commitment to reliability and performance. Its mentions in Reddit discussions can be attributed to the company's diverse range of hosting services and multiple data center locations, catering to a broad spectrum of user needs.

One standout feature that resonates well with users is the DDoS protected network, ensuring that websites and applications remain secure against potential threats. This level of security, combined with transparent pricing and a user-friendly interface, makes RackNerd a favorite among many.
With plans starting at $14.89 per month, the company offers a balance between quality and cost. Their scalable infrastructure ensures that as businesses grow, their hosting needs can be adequately met without unnecessary migrations or transitions.
However, some Reddit users have pointed out its limited global presence, which might be a concern for businesses targeting a global audience. Additionally, some plans may be on the pricier side when compared to competitors. Despite these minor hiccups, RackNerd continues to establish itself as a reliable and trustworthy hosting provider in the market.
Conclusion
In this article, I've researched VPS hosting on Reddit, and based on upvotes and comments, as mentioned above, I've identified which provider is considered the best by Reddit users. After reading numerous subreddits and comments, my personal recommendation is DigitalOcean.
It has an outstanding reputation, and I can attest to its excellence, having used it myself for over 10 years with exceptional results.

As one of the co-founders of Codeless, I bring to the table expertise in developing WordPress and web applications, as well as a track record of effectively managing hosting and servers. My passion for acquiring knowledge and my enthusiasm for constructing and testing novel technologies drive me to constantly innovate and improve.
Expertise:
Web Development,
Web Design,
Linux System Administration,
SEO
Experience:
15 years of experience in Web Development by developing and designing some of the most popular WordPress Themes like Specular, Tower, and Folie.
Education:
I have a degree in Engineering Physics and MSC in Material Science and Opto Electronics.