With the increase in internet and mobile phones everywhere, there is minimum need of using a landline in today's world of business communication. Finding the best VoIP provider overcomes the issues of using conventional methods all in terms of accessibility, ease of use, simple setup and pricing. It is different from the traditional calling method because VoIP lets your record live streaming through call recording applications iOS and android.
In this post, we have collected the 19 best VoIP providers for 2022. Here, we have reviewed all the providers to help you find the best services for pricing support, comparing features, and business communication.
It would be a surprise for you to find that VoIP technology has overcome the board from the White House to Burger King. New growth in the VoIP sector is only triggered with the development of complementary technologies such as Unified Communications (UC), Artificial Intelligence (AI) and 5G.
VoIP is making the world smaller by least mattering the distance. It is no more difficult to communicate with your business prospect in the world or talk to your loved ones traveling to another continent.
We have listed down and reviewed the best VoIP providers in this post. But before exploring the providers, let's understand VoIP.
VoIP is means Voice Over Internet Protocols. It is a technology with which you can make voice calls with a broadband internet connection instead of an analog or regular phone line. Sometimes, VoIP services only offer to call people with the same service but some others may allow calling anyone who has a telephone number. This telephone number can be international, mobile, long-distance or local distance.
Read More: Best Cheap VoIP Services
Some VoIP services only work on computers or with a special phone that supports VoIP. Other VoIP service allows using a traditional phone with a VoIP adapter connected.
The Top 19 Best VoIP Providers of 2022
Best Overall VoIP Provider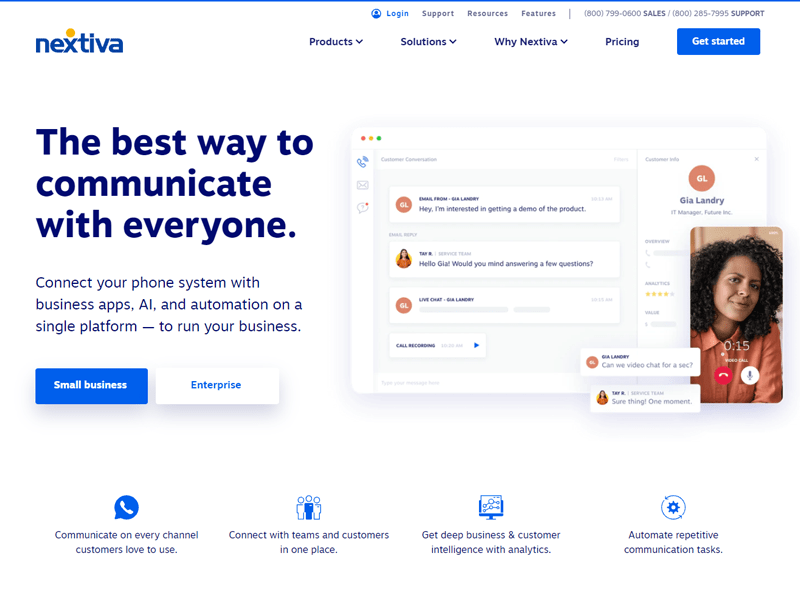 If you are looking for cloud-based communication for customers and employees, then Nextiva is the one that offers you maximum. It includes a wide range of features and flexible pricing tiers to match your needs.
Nextiva lets you make unlimited calls to any contact in Canada or the US. The real-time presence feature further lets you find your available contacts. The call queue lets you handle multiple calls during busy times.
It also makes video calling available with conferencing as well as all the plans. In Nextiva, you can even share files or screens during conferences. Nextiva further allows you live streaming through video functions for webinars and virtual events.
Other significant features include voicemail messages. These messages can be delivered to your email directly. This software also enables you to record outgoing voice messages. Further, you can also receive or send unlimited text messages and faxes.
Nextiva's system is specifically designed with functionality and usability in consideration. We can divide its tools based on service, sales, and communication. This feature helps in finding the required feature as soon as you log in.
Features:
Advanced VoIP conferencing
HD-audio, Crystal-clear without any static in the line
Audio conferencing with screen share and messaging
Top-rated Android and Dios mobile app
Declutter your workspace
Easy to use desktop app for Mac and Window
Free toll-free, auto attendant and virtual voicemail
Pros
Integrates other apps with the business phone software
Helpdesk tools to manage customer service
Call tracking in real-time using dashboards and reports
Access to live call and historical data
Tracks team projects and conversations
Cons
Integrations are pretty basic
No-updated documentations
Inappropriate way of adding and requesting contacts
Price

Nextiva offers four pricing tiers:
The Essential plan costs $18.95 per user per month
The Professional plan costs $22.95 per user per month
Enterprise plan costs $32.95 per user per month
The Ultimate plan costs $57.95 per user per month
User Rating
TrustRadius rating of Nextiva is given below:

Best for Enterprise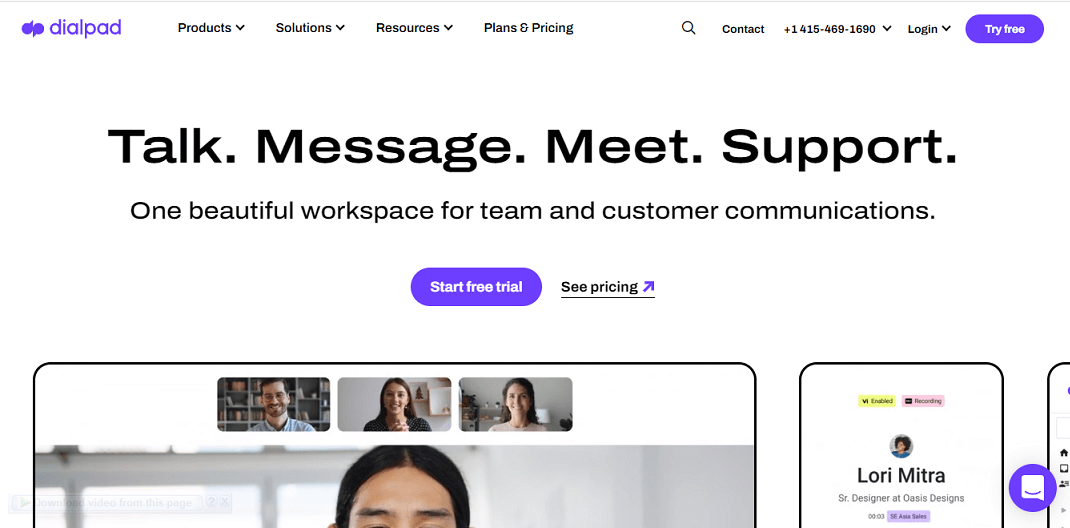 DialPad is one of the most well-designed and cost-effective VoIP solutions. It is especially suitable for businesses that offer favorable workflows to use software applications such as softphones. These are installed on the devices connected through the internet to make phone calls.
The DialPad Talk offered in a company uses AI and Cloud calling to enhance employee flexibility and productivity. In such a way, the staff members can work from anywhere by using their devices and be a part of business conversations.
Besides, the voice intelligence powered by AI can also be used to detect and automate note-taking and customer sentiments through a call.
The user interface in DialPad is straightforward as it has one central portal. It is, therefore, easy to add new users, connect them and assign them phone numbers with office suites such as Microsoft 365 and Google Workspace.
The entire process of setting up the Dialpad takes only a few minutes. Also, you can either use a smartphone app or a desktop interface to regularly manage the user profiles.
Features:
Real-time assist
Business text messaging
Conference phone
Company directory
Call transfer
On-premise gateway
Custom IVR
Call summaries
HD calls
Pros
Easy call switching from laptop to smartphone
The business phone app works on all kinds of devices including Mac< PC, Android, and iOS.
24/5 phone support and 24/7 live chat
Calling from a web browser is made easier with Chrome extension of Chrome dialler
Cons
Cheap VoIP service causes a lack of unity in services
Lack of privacy controls
Lack of security
Limited calling options
Limited features in low-cost plans
Price
Dialpad is extremely competitive in terms of price.

It offers three pricing tiers;
The Standard plan costs $15 per user per month
The Pro plan costs $85 per user per month
Enterprise plan wants you to connect to the company for pricing details. It would require you to get a 100 License Minimum
There is also an option of a 14-days trial for free.
User Rating
Dialpad rating on TrustRadius is given as follows:

Best for Call Centres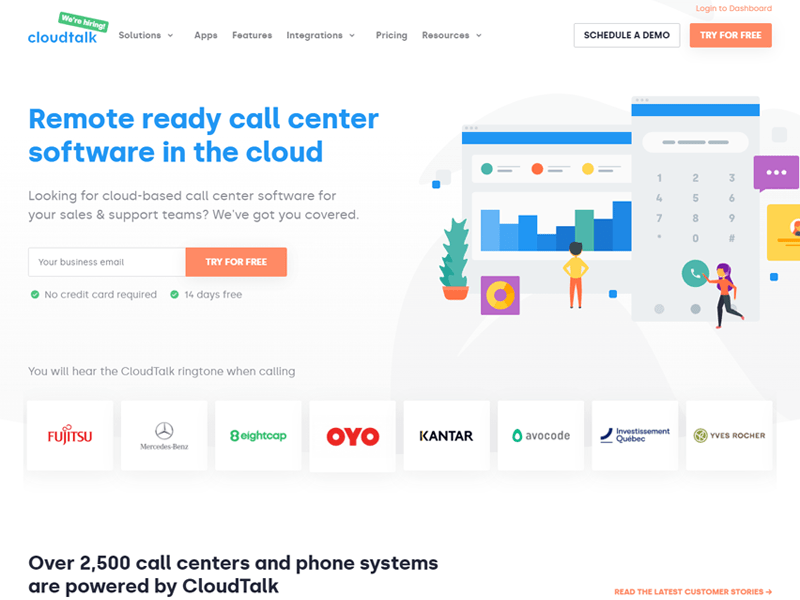 CloudTalk is another cloud-based call center software. It helps in making smart calls so you can focus more on growing your business. It helps interconnect with your team members, department and branches without any hindrance.
It provides an admin interface that is web-based to manage real-time call centres. Moreover, you can also add phone numbers, set up everything for your clients and agents at a specific time. It further lets you manage your call centre, phone numbers, add agents and set up everything in real-time.
Besides you can create customized call queues. You get a steered and pre-defined rules to assign agents in the right section. It also lets you automatically record all the calls. As soon as the call ends, you can listen to it through the internet browser anytime. In addition, you can also monitor customer interactions with your calls.
Features:
Conference calls
Call masking
Number porting
Voicemail
Call recording
Call queuing
Pros
User-friendly interface
Real-time analytics, data, and syncs
Workflow automation
Web application for phone calls
Good Customer support
Intercom integration
Mobile and desktop apps available
Cons
True cadences
Unstable iOS native application
HubSpot integration is not easy
Price

You can try any plan for the 14-day trial period. It does not require any commitments or hidden fees. Cloudtalk offers four pricing tiers:
The Starter plan costs $25 per user per month
The Essential plan costs $30 per user per month
Expert plan costs $50 per user per month
A custom plan sets the cost according to your requirement. You need to talk to CloudTalk for a personalised offer.
User Rating
TrustRadius rates CloudTalk as follows:

4. Ooma
Best for Small and Freelancer Business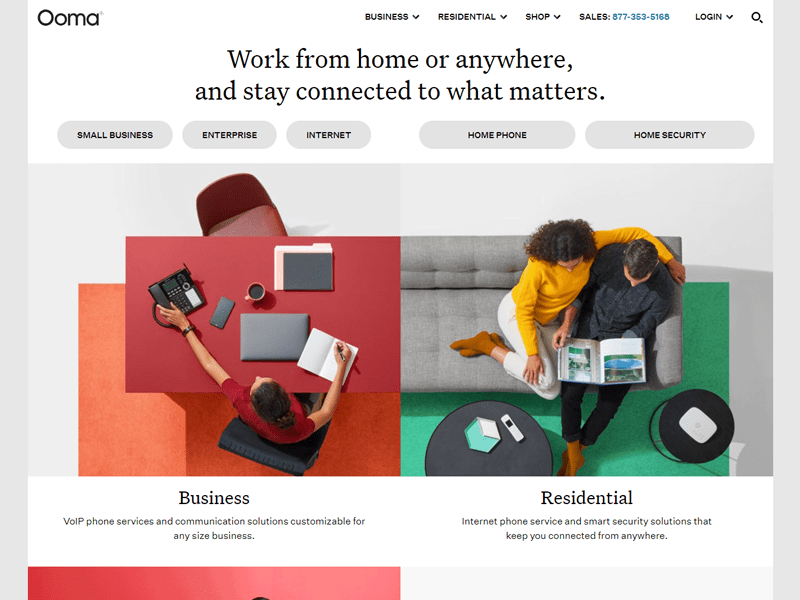 Ooma is one of the top-rated solutions of VoIP particularly for the teams working remotely. It provides all those features that are needed for your business for advanced collaboration.
Moreover, it has flexible phone systems that make it easier to make phone calls while working from home. In addition, you can easily accept and place a call on your work from your cell phone. Even the desktop app works fine with the calls on your computer.
The Ooma's plans are highly affordable to be taken. Ooma has also got the privilege of being an award winner of PCMag VoIP Business Choice. It proves that Ooma provides great service and is effortless to run with a very shallow learning curve.
Besides, it's a great solution for all types of businesses and is specifically attractive to run small businesses as it provides advanced features at reasonable prices. Furthermore, Ooma has the simplest DIY setup videos and instructions.
Features:
Easy setup
Team collaboration through conferencing with Ooma Office Pro
Uses mobile phones
Keep your number
Big business features
Pros
Continuous call recording
Flips as an active call from the desktop to phone app while eliminating interruptions
Full views of meetings with Ooma Meetings dashboard
Two or more people can share their screen at the same time
Cons
Improper and less responsive customer support
Limited customizations
Difficult E-fax option
Quicker call log updates
Phone modules reboot or are disconnected at any time
Price

Ooma offers two pricing tiers:
Ooma Office-it costs you $19.95 per user per month. It comes with a virtual receptionist, mobile app, host and call-forwarding functionality.
Ooma Office Pro-it costs you $24.95 per user per month. It lets you add voicemails transcription, conferencing tools and videos with several useful business features.
User Rating
The TrustRadius review of Ooma shows 9.4 out of 10 ratings.

5. RingCentral
Best for Medium-Sized Business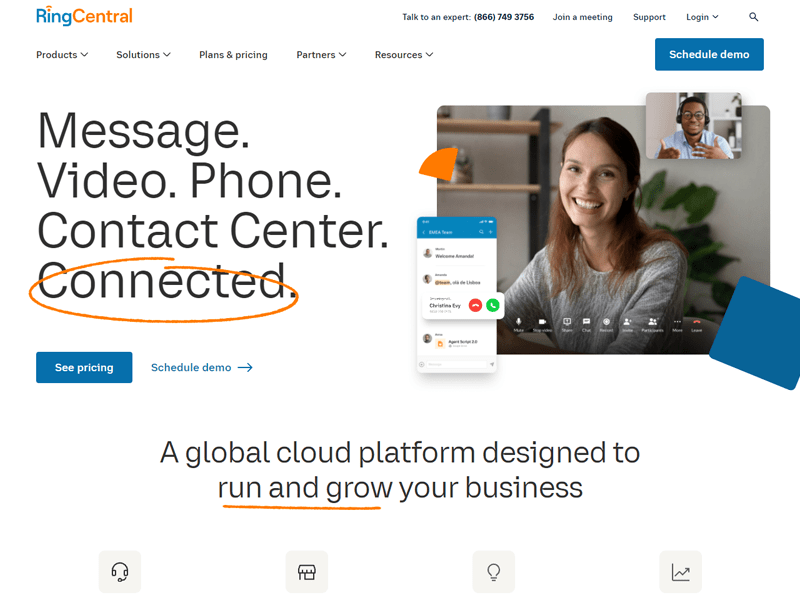 RingCentral is a perfect all-rounder for medium-sized businesses. It is a PBX platform that modern organizations adopt with all features that are expected such as AI capabilities, collaboration tools and video software.
It includes many other features such as multiple extensions, handling and call forwarding, company directory and auto-attendant system.
It promises a 99.99% uptime SLA which means that businesses can run their communication operations without any disruptions.
RingCentral offers certain plans that not only work with big teams but also for the organization that use single-user VoIP. They provide specific status reports and unlimited storage. The VoIP tools are further used with Polycom and Cisco phones through dedicated hardware. Besides, they also work perfectly fine with softphone solutions such as smartphone applications.
Features:
Video conferencing
Work from anywhere
Easy management
HD audio
Easy to use
Pros
Scalable plans
Dedicated and softphones hardware
iOS and Android apps
Cons
the steeplearningcurve for new users
lengthy setup
Price

RingCentral offers very extensive pricing plans.
The starting plan is the Essential plan that costs $19.99 per month. It provides unlimited video and voice calling, a toll-free number and a free local number with a limit of 20 users which is not enough for medium-sized enterprises.
The Standard Plan is suitable for larger companies. It costs $27.99 per month.
The most recommended Premium plan costs you $34.99.It offers CRM tools' integration, real-time analytics, and automatic call recording.
The ultimate plan is for the most advanced VoIP solutions with unlimited storage and status reports. It is customizable and scaled according to the requirement.
User Rating
TrustRadius rating of RingCentral:

6. Grasshopper
Best Overall VoIP Service Provider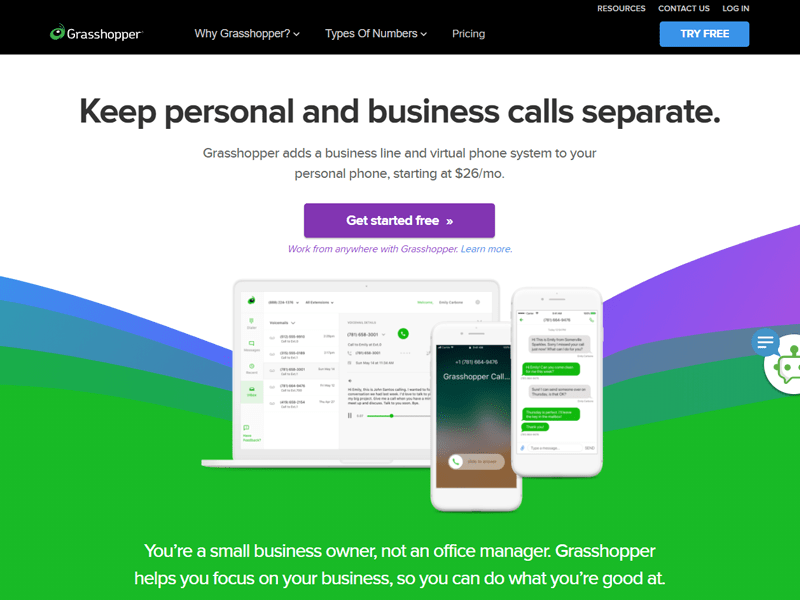 Grasshopper provides a great VoIP experience for a small firm, especially one that does not have sufficient financial resources. Your business gets access to extensions that connect PBX software to phone numbers.
All you need are a reliable internet connection, existing handsets and a functioning phone number. However, due to its limited requirements, it offers limited features.
It does not provide any advanced feature for VoIP desktop phones or call centre support or analytics. Yet, it can be accessed to an unlimited number of texts and calls in a business with several call recording options. Above all, it provides 24/7 support.
Another plus is its ease of setup that users can simply select according to the service level. It helps in choosing the numbers before the service. Additionally, there is an android app, iOS and a desktop app for easy management of all the features.
Features:
Custom greetings
Wifi and VoIP calling
Call forwarding
Business texting
Desktop and mobile app
Pros
The incoming faxes are delivered as a pdf attachment
Voicemail transcriptions available
Set up custom schedules, block calls and screen callers for business hours
Auto-text sending to new callers
Voicemail setup for MP3s and business calls
Cons
Sync between devices
Updating and Syncing of messages
Very short period for a free trial
Several technical issues with no documentation, thus unreliable
Price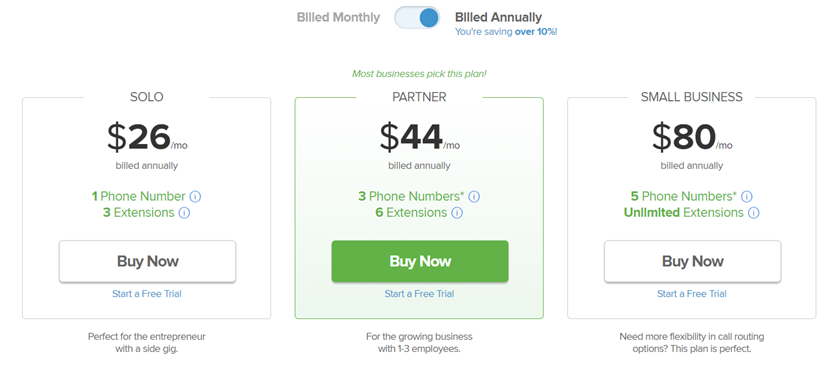 It offers three pricing tiers:
The solo plan costs $6 per month. It provides three extensions and one number
Partner plan costs $44 per month. It provides six extensions and three numbers
A small business plan costs $80 per month. It provides an unlimited number of extensions and five numbers.
All pricing tiers offer a 7-day trial period.
User Rating
TrustRadius rating of Grasshopper

7. Freshcaller
(Now Freshdesk) Best for Startup Businesses and Small Teams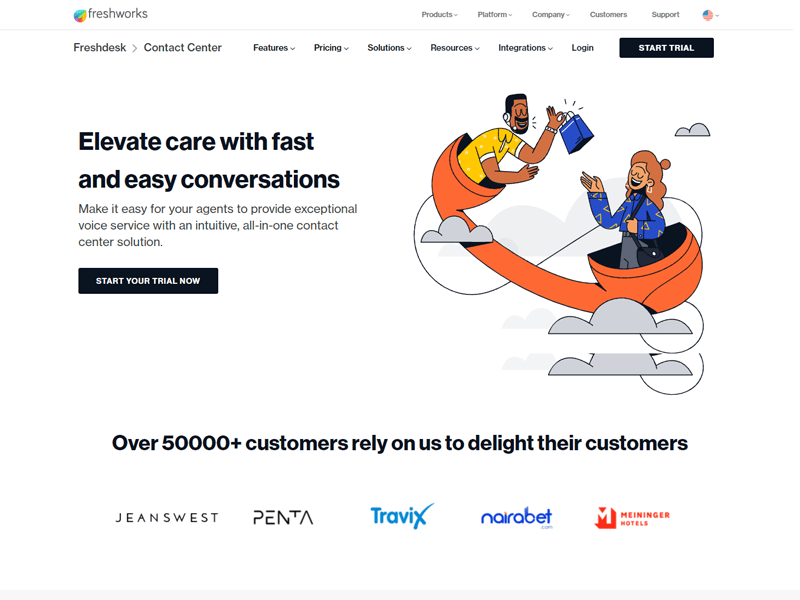 FreshCaller is a cloud-based PBS system with which you can get flexible VoIP services to break free from work from anywhere. It helps you run and manage your phone operations seamlessly. The dashboard is also able to run your workflows and managing multiple numbers easily.
Besides, Freshcaller makes it easy to leave collaborators, looping in the right reps and privately briefing against call or loop. In addition, the ongoing conversations are easily accessible for all supervisors.
There is a "route calls to voicemail" feature that asks you to leave a voice message and then wait for your reply. Likewise, the Call Masking function allows you to make calls but you disguise the personal number. It makes your business is more like a local or personal customer.
Features
Automate call routing
Defect calls with voice bots
Answers call on Sip phones
Freshcaller mobile app
Call masking
Call management
Pros
Freshcaller automatically lets their position in the queue
Caller ID
Call rotation
Call metrics
Integration into Freshales
Cons
More reporting features
UI and UX need upgrading.
Overpriced system
Call reliability is questionable
Non-us Support
User Rating
TrustRadius rating of Freshdesk is as follows

8. Blueface
Best Service Providers for Call Centres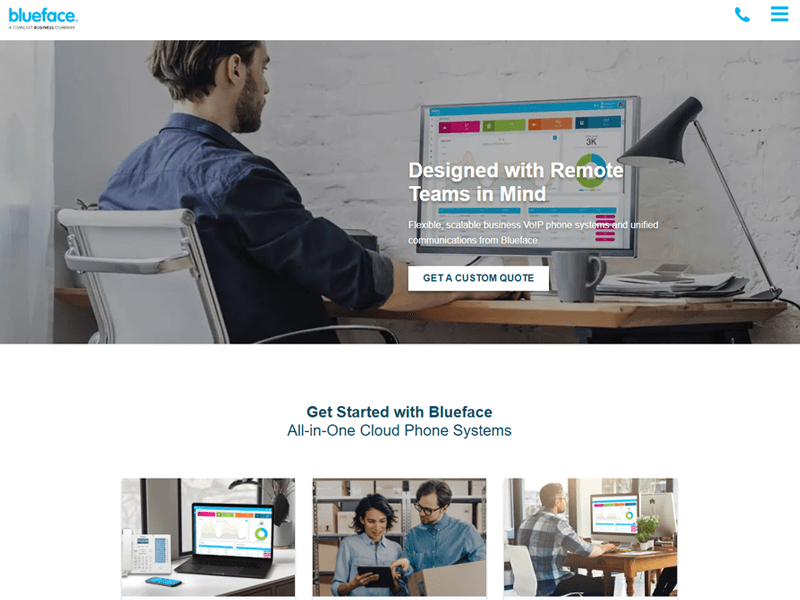 Blueface is a cloud-based VoIP business solution that is suitable for almost all types of business. The major features of Blueface include call barring, account management, IVR, number porting, and call conferencing and international numbering.
Furthermore, Blueface allows you to store all the communication and calls of customers for compliance and training purposes.
The software offers a feature to block outbound and inbound calls from destinations that are costly or untrusted. Moreover, it is also easy to preview and upload music in real-time with the Unified Comms Portal.
It makes managing and linking every site from the multi-currency billing in the UC portal. The extension dialing feature makes it possible to locally call the colleague. Besides, Softphone allows international calls with short number dialing.
Features:
Multi-site deployment
Extension dialling
Call barring
Music on hold
IVP
Call recording
VOIP business landline
Pros
Unified Communications Portal helps to access pre-second billing
Supports high-quality and high-capacity call conferencing with 40+ international bridge numbers
Apply automated opening hours to phone system strategy
The package is well-designed for remote workers
Cons
High pricing as compared to other providers in our list
Price
The official website of Blueface does not show any rating. Yet, you can get a quote by contacting their customer representative.
User Rating
Trustpilot review of Blueface is as follows:

9. Avoxi Genius
Best Service for Large businesses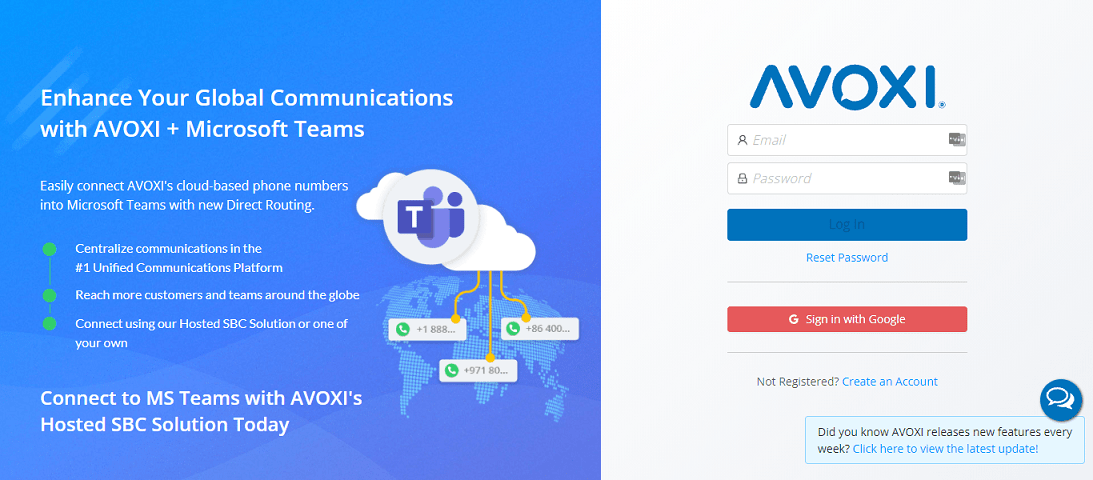 Avoxi genius provides easy-to-use, affordable and flexible call centre software. It is a cloud-based contact centre platform that is globally applicable. It is easy to manage call routing rules, customer service metrics, and phone numbers and call centre agents.
It is made possible merely through an internet connection. Avoxi genius has also offered a highly efficient and affordable virtual VoIP service of phone calls.
The software efficiently manages the phone services. Besides, it is capable of dealing with all business communications using a web-based or intuitive contact centre.
Features:
VoIP Number Porting
VoIP Auto Attendant
Cloud Call recording
Affordable and flexible international virtual number plans
Pros
Supports outbound call scoring and recording with notes, advanced analytics and custom dispositions
20+ VoIP features in a very virtual number plan without any extra cost
Non-geographic, local and toll-free business numbers
Setting up a new business does not have to pay extra fee for contracts
Cons
Limited features in the base plan
Extra fee charged for buying the enterprise plan and leverage basic features
The steep learning curve to avail all features
Price

Avoxi offers a free plan where you get limited features but it is fine for beginners. The other two plans are:
Avoxi Contact costs $24.99 per user per month
Avoxi Enterprise costs $49.99 per user per month
User Rating
TrustPilot reivew of Avoxi is as follows:

10. Sip.US
Low-cost VoIP Service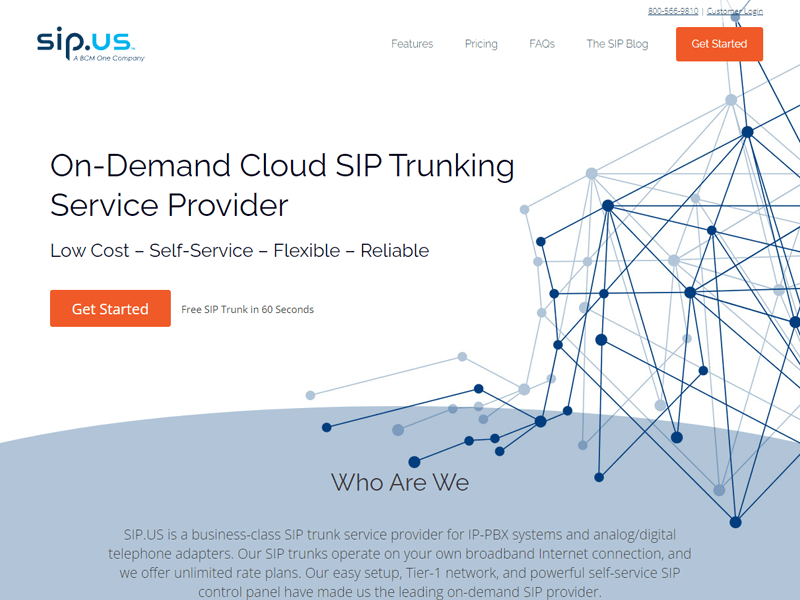 SIP.US is a reliable and low-cost business VoIP phone service provider. It is a business-class SIP service provider for IP-IBX systems.
It uses digital or analog telephone adapters. It is known to be the best VoIP Sip provider. It offers an easy-to-use yet powerful control panel to manage all elements of your account. Moreover, it is easy to manage and purchase phone numbers. You can simply discontinue, change or add service. Moreover, it is also easy to export and review real-time call data while modifying the billing preferences.
Integration of Call Data Records (CDRs) makes it more useful to understand the true needs of communication.
Features:
Tier-1 redundant network
International toll fraud protection
Real-time call data records
Dialler traffic welcome
Powerful control panel
Pros
SIP.Us integrates telemarketing supports that use automated dialling
It offers a free trial of 60 minutes for out-bounding calling
Sip.us is flexible
Perfect fit for open source systems such as Elastix, FreeSwitch and Asterisk
Cons
Higher international rates
Inefficiently limited features for large enterprise
Price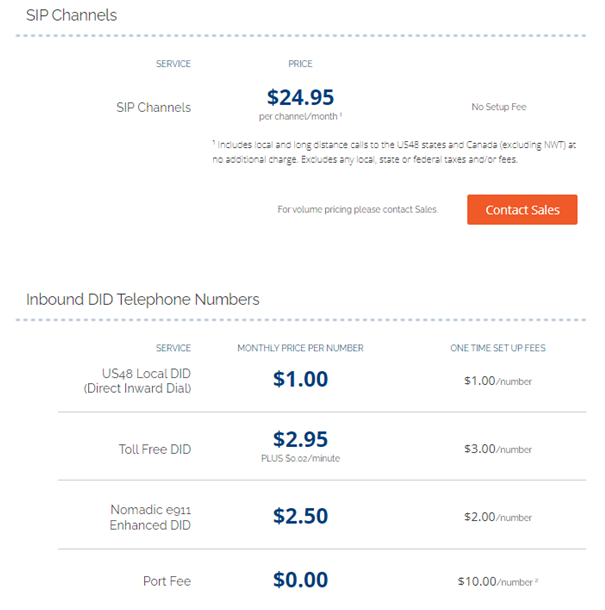 Sip.us offers a simple pricing plan. It even offers different prices for SIP channels inbound DID telephone numbers' prices separately. The price of SIP Channel is $24.95 per channel per month.
User Rating
Sip.us rating according to G2.com is as follows:

11. Verizon VoIP
Best Service Provider for Mid-sized Business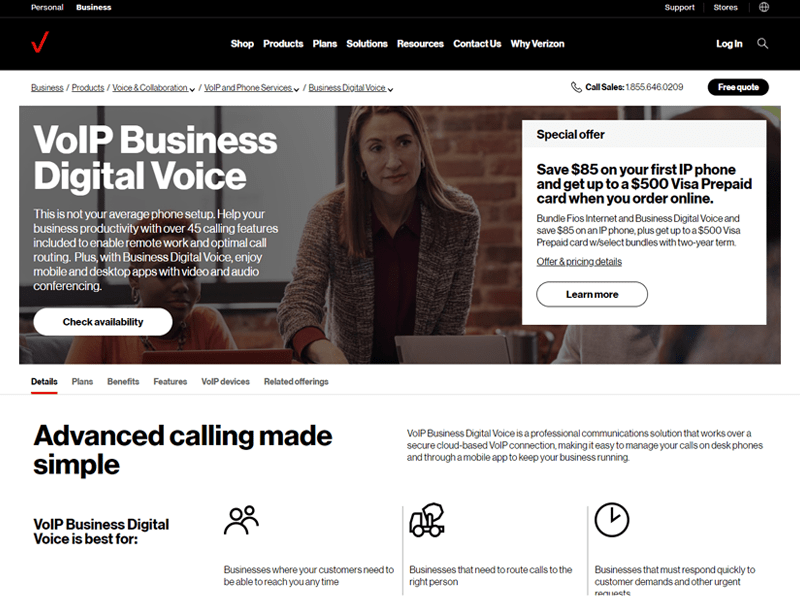 Verizon VoIP provides a professional solution for communication that securely works over a cloud-based connection. Thus, it is easy to manage all the desk phone calls or mobile apps to keep the business grow.
Verizon VoIP provider business further offers over 45 different features that help you streamline the business activities and improve customer experience and communication.
Its features allow you to automatically forward calls to a preset number so you can maintain the entire customer service.
Features:
End-user web portal
Administrator web portal
Mobile app for both outbound and in-progress calls
Analyse Call history
Business continuity
Auto-attendant
Announcements on hold
Pros
Allows seeing anyone who leaves the voicemail
Multiple phones can make or receive calls
Manage calls internationally on internet connection through online dashboard or app
Provides 45 calling features such as call transfer between devices, voicemail to email, and automatic call forwarding
Cons
Limited fibre optics
Very expensive for small businesses
Price
Verizon VoIP offers several extensive pricing plans that start from $94 and the highest plan costs $249.

User Rating
Trustpilot review of Verizon is as follows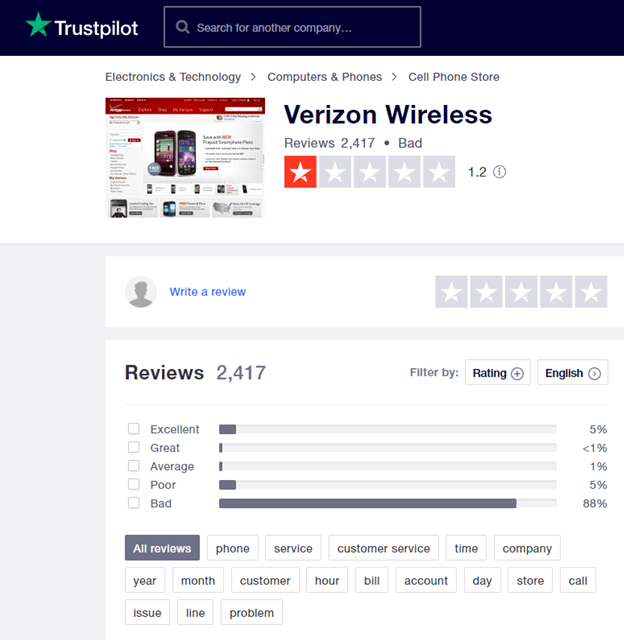 12. Bitrix24
Best VoIP Service Provider for Remote Teams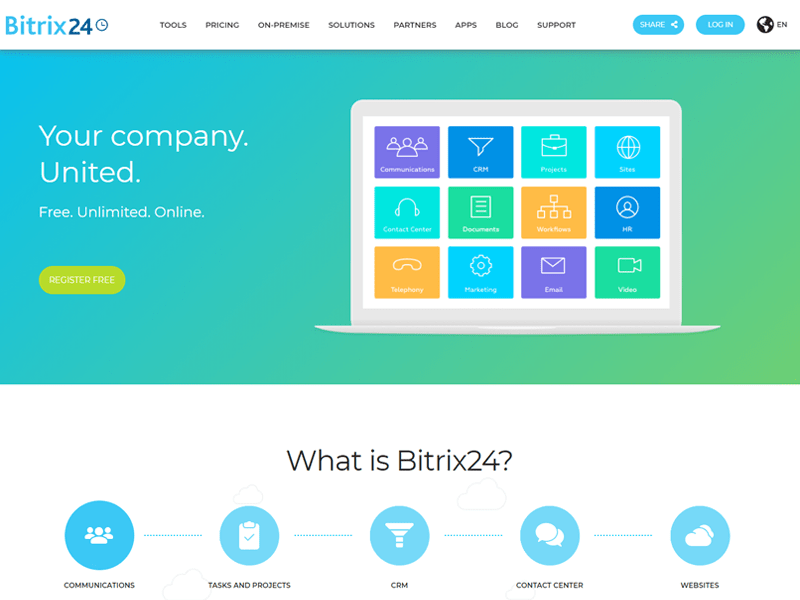 Bitrix24 provides VoIP service for free. It works quite well with both inbound and outbound call centre services. It also works well with the internal PBX system.
It further improves the internal communication of the companies by bringing together online collaboration tools.
It incorporates a virtual presence indicator. It shows the online status of the employees. The custom background makes it more attractive to use. Such that you can add your brand colors in the background.
Features:
Custom background
Virtual presence indicator
Videoconferencing and chat
Employee polling
Pros
Can replace group collaboration and office communication
Streamlining internal business communication is easy
100% free with an unlimited number
Loved, trusted and tried by more than 8 million companies in the world
Cons
The steep learning curve for beginners
Bitrix watermark on every email in free version
Price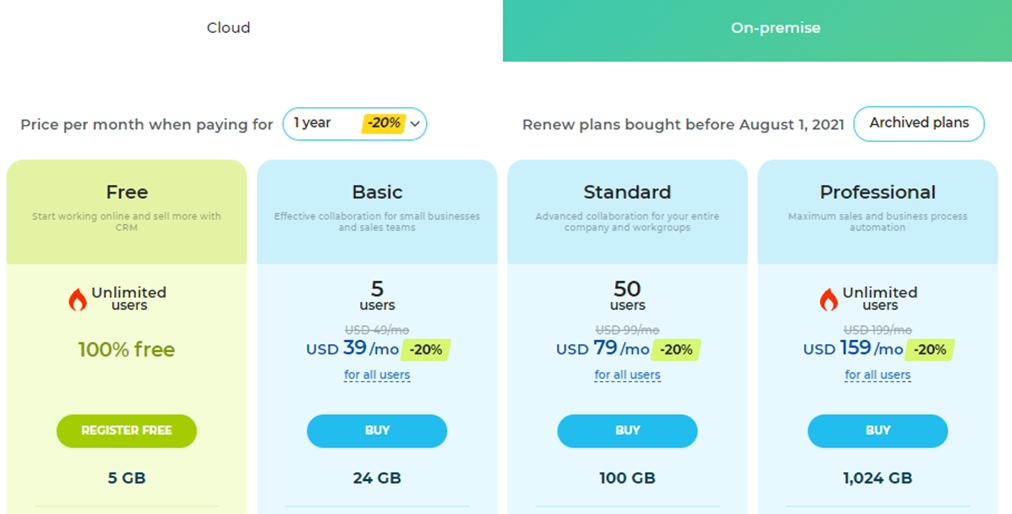 It offers a free plan where you can have unlimited users. The storage you get in this package is 5GB only. Also, the other features are limited too.
A basic business plan costs $39 per month and provides 5 users
The standard plan costs $79 per month and provides 50 users and 100GB
Professional plan costs $159 per month with unlimited users and 1,024 GB of storage
User Rating
TrustRadius rating of Bitrix24 is as follows

13. Zoom
Best for pay as you go and 24/7 customer support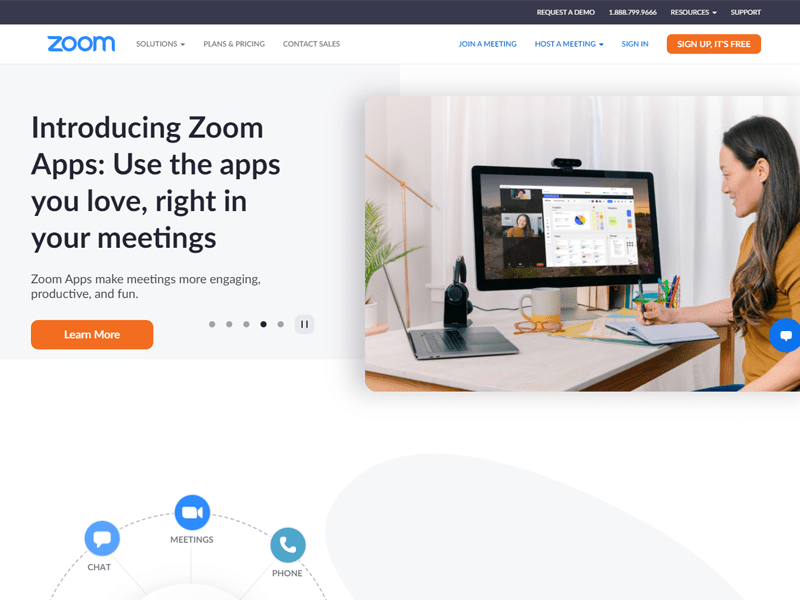 Zoom is a unified communication channel. Zoom Phone is a VoIP service that offers unlimited and pay-as-you-go calling plans for Canada and the US. It also supports unlimited domestic calling in more than 40 countries worldwide. Further, it combines Zoom's conferencing platform with VoIP.
Zoom Phone also offers voicemail transcription, call recording and SMS messaging. Moreover, it integrates business software such as Salesforce and Slack.
Most plans offered by Zoom only include a single phone number, yet, you can include route calls along with unlimited extensions.
Features:
Responsive to all types of screens and systems such as Linux, Mac and Windows
One-on-one meeting
Free plans are extensively feature-rich
Call recording options
Group video conference, screen sharing and recording
Pros
Customer support is available 24/7
Integrated with Slack, Salesforce, etc.
Pay-as-you-go plan available
Cons
Basic plans provide calling to Canada and the US
Includes only one phone number
Price

Zoom Phone offers three pricing tiers.
Pay-as-you-go costs $10 per user per month
Unlimited Regional Calling offer costs $15 per user per month
Choose from 40+ countries costs $20 per user per month
User Rating
TrustRadius rating of Zoom is as follows:

14. Vonage
Best for Personal Use and Home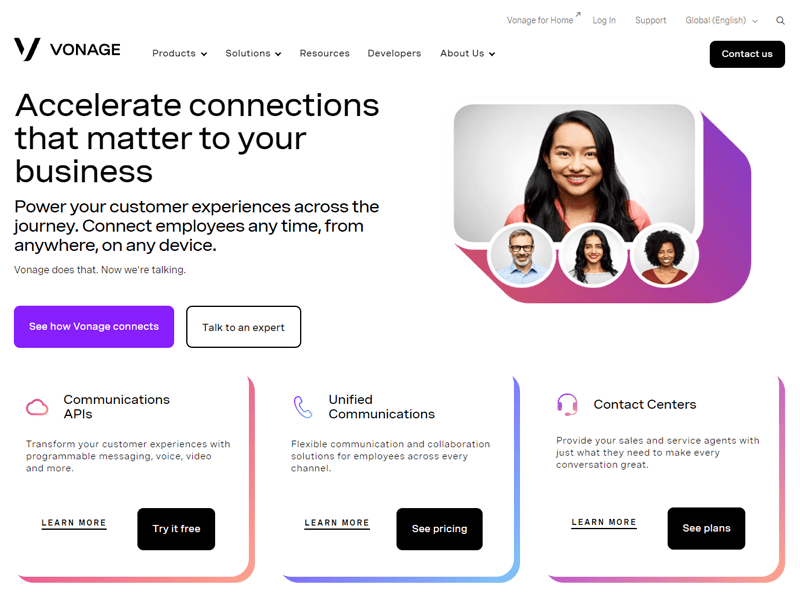 Vonage was one of the first VoIP providers and now offers an improved product being in service for over 20 years. It offers a fully unified platform for communication for all types of businesses.
It is an excellent solution for all types of connections. It will assist you in all steps and phases of your business either it is a virtual receptionist or a more professional rank. Vonage is highly flexible to adjust to your business needs.
It includes incredible features in all of its plans. It controls all the services from collaboration, personalization and customer service. It makes all the aspects even better. The plans also provide essential features such as do-not-disturb settings, spam shield, call screening and ID blocking.
Features:
Enhanced call forwarding
Dedicated fax line
Toll-free plus
Virtual number
Add a lie
Vonage extension app
Pros
24/7 support
Voice quality is amazing
Outstanding mobile app
Cons
Need basic features to be purchased
Add-on features are costly
Price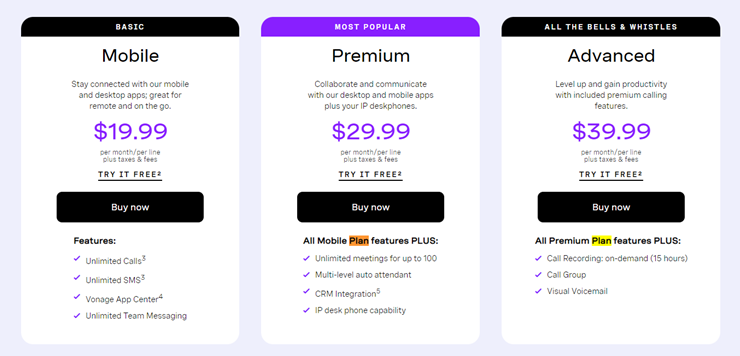 It offers three pricing tiers.
The basic plan, Mobile is $19.99 per month or line and offers a free trial as well. it provides unlimited SMS and calls
The Premium plan costs $29.99 per month or line. It includes all Mobile plan features with CRM integration and IP desk phone capability.
The Advanced plan costs $39.99 per month or line. It includes all the features from the premium plan in addition to visual voicemail, call group and on-demand call recording option for up to15 hours.
User Rating
TrustRadius rating of Vonage is given below:

15. 3CX
Best Communication System for Remote Workers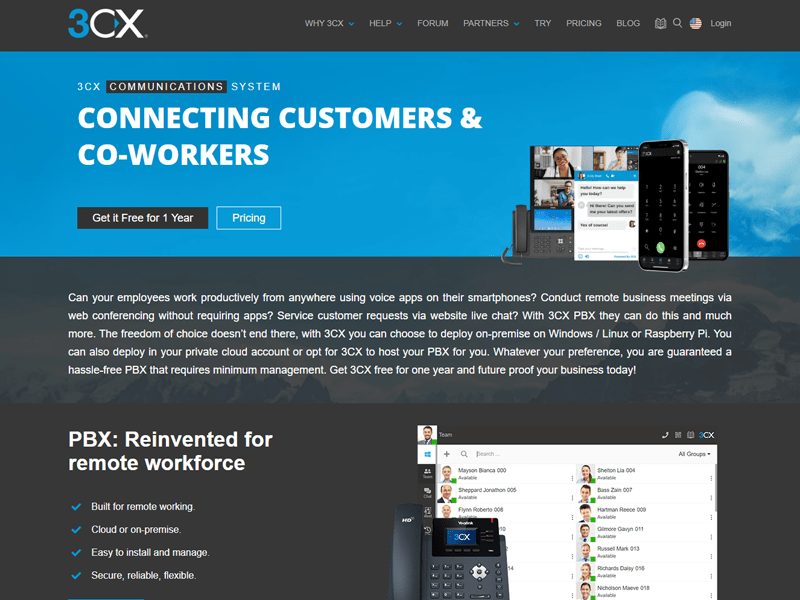 3CX is a hosted or on-premises PBX communication system. It offers app free social media messaging, voice calls, team chat and live chat, business SMS, and video conferencing. All these features are available in a single interface.
3CX provides a reliable and robust unified communication solution. It is an open-platform system that runs on Linux or Windows with an option to migrate to the cloud with simple restore and backup.
Cloud PBX in 3CX also integrates Facebook messaging integration, website live chat, android and iOS for mobile apps, and video conferencing software.
It is built for mobile use and offers remote working apps. That is why it includes secured communication for the entire team. With the Android and iOS applications, business activities and communication are not limited to a building.
Features:
CRM integration
Integrated video conferencing
Business text message
Integrated call centre solution
Remote work apps
Pros
Use existing infrastructure
Allows call recording for quality and legal monitoring
Allows sending and receiving messages on business number
Enables in viewing status and contact from pop-out browser
Cons
Daunting setup
Windows app is a bit outdated
API and integrations are missing
Price
3CX offers free plans for up to 12 users. For users more than 13, they charge per user per month. There are three pricing tiers:

The standard plan is free for the first year. But it does not provide all the essential and required features such as call queuing, CRM integrations and call recording.
The most popular Pro Plan starts at $0.88 per user per month. The license fees cost $265.00 per license per year for 8 simultaneous calls and 25 users.
The enterprise plan costs $1.08 per user per month.
User Rating
TrustRadius rating of 3CX is given below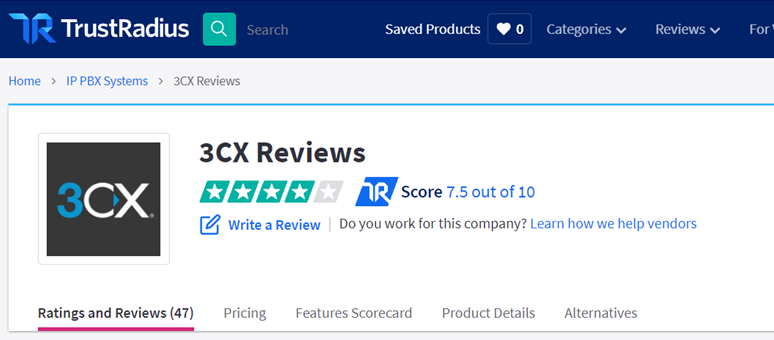 Read More: 3CX Live Chat WordPress Plugin Review
16. MessageBird
Best for Businesses looking for Robust Platform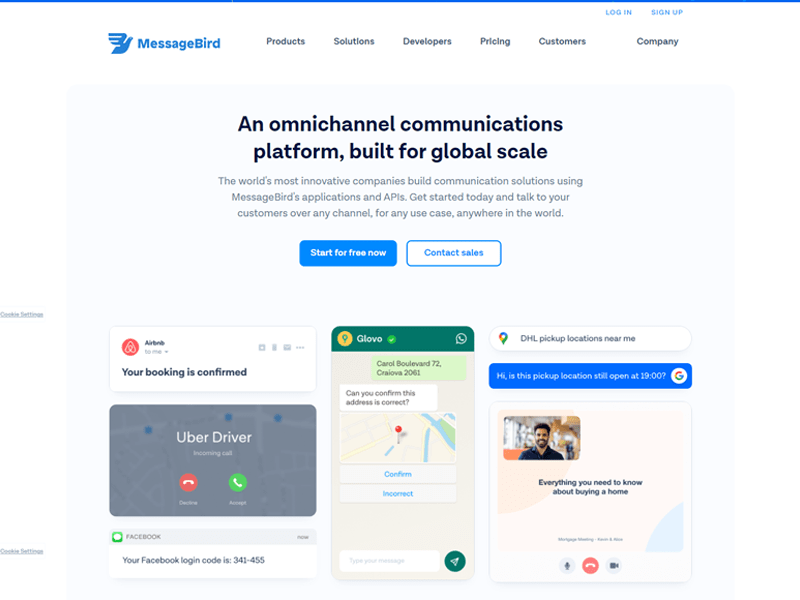 MessageBird is another provider of VoIP that helps in the secure, reliable and fast building of voice applications for your business. MessageBird follows CPaaS (communication platform as a service) in the company that provides different ways to globally connect the companies.
Furthermore, it is a versatile provider of in-house communication APIs. They have used chat channels, SMS and voice messages to assist businesses to communicate efficiently with their customers.
It is also easy to integrate business communication with any 3rd party. Such as Amio, Sapier, STDLib, Zendesk and Salesforce.
It also lets you store all the call recordings in an accessible yet single location. Also, it is easy to keep track of all the conversations with Transcriptions where you convert all the recordings to text for your record.
Features:
Caller ID
Interactive Voice Response
Masked Numbers
Cloud telephony
Lookup
Inbound voice recording
Transcription
Archive and record
Reporting
Pros
Connect to VoIP without paying for any Virtual number
In-house and infrastructure telco stacks are compatible to optimize call quality
Create personalised voice messages with text to speech in 20 different languages
Customers are directed to appropriate extensions easily and quickly
Cons
No 24/7 support
Limits messaging to split longer contact lists and group
Very complicated user interface
Price
MessageBird offers four plans. One is entirely free and three plans are priced.

MessageBird offers a Startup that is a free plan for beginners. It limits the conversation to 50 active contacts only.
The PRO plan costs $50 per month. It lets you connect with 500 active contracts.
The recommended PRO Plus costs $150 per month with 1500 active contacts in conversation.
A custom plan lets you connect to unlimited active contacts per month. The pricing can be set with the sales team according to your personalised features.
User Rating
According to the user reviews on g2.com, MessageBird's rating is as follows:

17. JustCall
Best Cloud Phone System for Small Business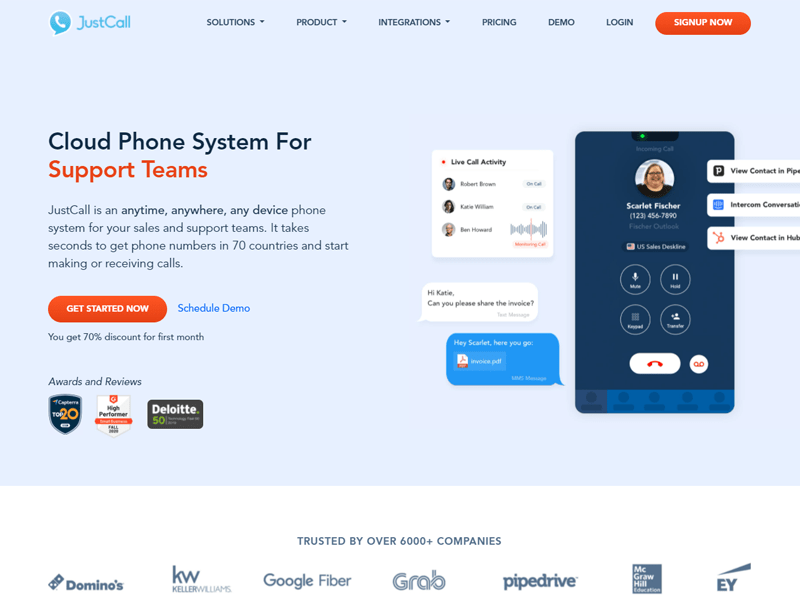 JustCall is another Cloud Phone System that lets its users track, distribute, receive and send SMS and phone calls. It is compatible with all types of devices. It further offers highly reliable and excellent features and services. Above all, it is easy to integrate the start and software within minutes.
JustCall lets you track all your call activities, number analytics and calls at a single centralized place. The analytics section provides you with all the details of calls that you make with your call. This section also segregates data that shows the team activities in 24 hours. Keeping track of voicemails and responses are also easily incorporated with Voicemail Analytics Section.
Features:
GDPR compliant
SMS Bot
Caller ID
Call Queue
Record phone calls
Call analytics dashboard
Pros
It is GDPR compliant
70% discount for the first month
Uses secured data for communication
Easy number sharing with other team members
You can instantly get mobile, toll-free and local numbers from over 70 countries
Cons
Poor quality in comparison to the price
Price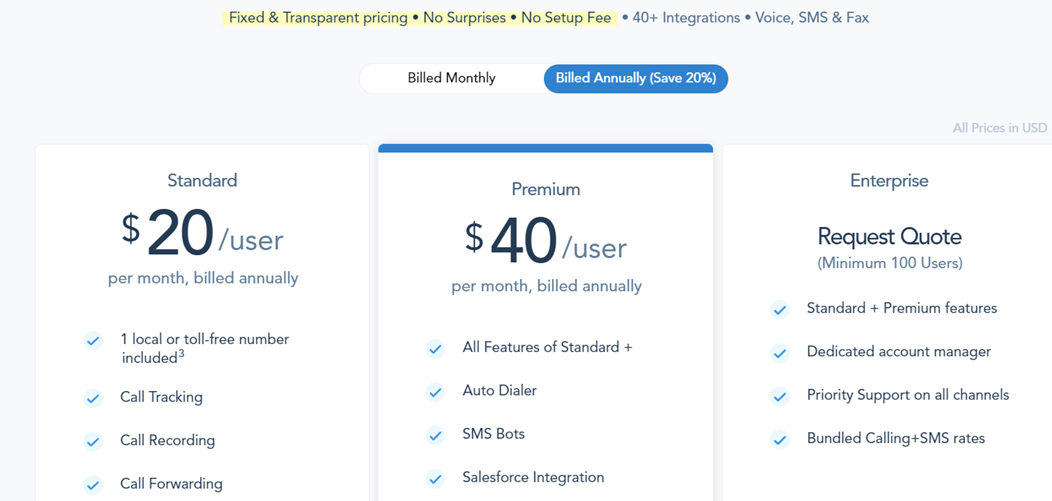 It offers 3 pricing tiers
The standard plan costs $20 per user per month. This plan provides you call forwarding, recording, tracking and 1 toll-free or local number.
The premium plan costs $40 per user per month. It contains all the features offered by the Standard plan. Moreover, it provides other features as well. Such as Salesforce integration, SMS Bots, and auto dialler etc.
The enterprise plan is personalised according to your needs. It is available when you have at least 100 users.
User Rating
The Trustradius rating for JustCall is 9 out of 10.

18. Weave
Best VoIP Service for Customer Support Team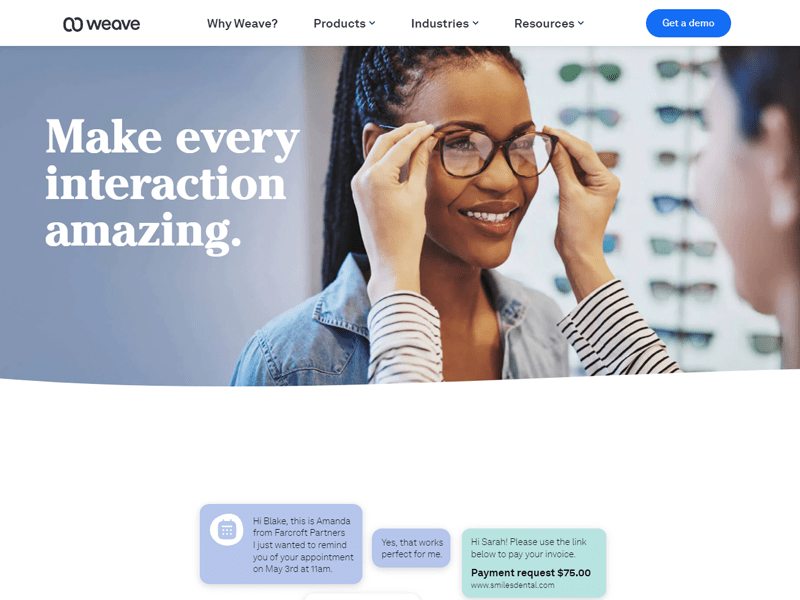 The Weave is a VoIP provider for smartphone systems. It helps you in identifying current and new customers. Moreover, you get the opportunity to attract customers and make the long call for your business.
Weave incorporates the WeavePOP feature that helps you know your customer better with each interaction. It is easy to manage with voicemail greetings, hold music, and phone tree menus to create any experience.
Weave Analytics is another pronounced feature that gives you an in-depth insight into the payment history and calls analytics.
Features:
Weave unify
Weave analytics
Easily customizable
Business line
WeavePOP
Pros
You can add special notes for customers so the entire team can follow
The conversion rate is high because of the easy and fast scheduling of an appointment
Easily monitor and collect reviews through platforms to make a strong reputation for customer
Features are specific for dental insurance demographics so increased profitability
Cons
Lack of automated phone call features
Complicated user interface
Price
Weave does not provide any detail of the pricing plan on their website. However, one can request to get the pricing plans. But, Weave provides a free demo.
User Rating
Capterra rating for Weave is given below:

19. ZoiPer
Best for Fax service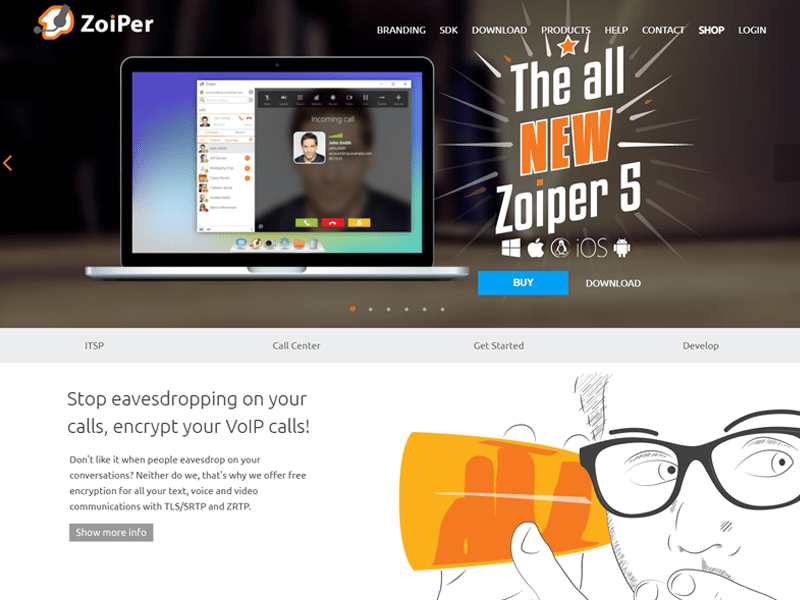 ZoiPer is a VoIP business provider with intuitive features. It is well-suited for all sizes of businesses.
Besides, Zapier offers free encryption for all video, voice, and text communications with ZRTP and SRTP/TLS. It comes with military-grade and free encryption for video and voice features.
Zoiper is also fully compatible with most service providers of PBXs and VoIP. Therefore, you can make free calls between users of Zoiper. In addition, you can also make combined calls with diallers provided by Zoiper at cheap rates.
It is a unified VoIP communication channel that strengthens your communication on a single platform. It supports all types of communications, such as instant message, video, audio and Fax.
Features:
Small footprint
Increased efficiency
Unified VoIP communication
Compatible with a multitude of platforms such as Windows, Linux, macOS, Android and iOS.
Pros
Automatic provisioning options and restricts parts of interface for users' ease
Zoiper is compatible with most services of VoIP and PBXs
Call recording is easy to overcloud
Provides its software development kit (SDK) to integrate its functionalities with all types of software and hardware
Cons
Only limited features are available in the free version
The call button becomes ineffective on several instances where it is required
Price
Zoiper provides a free version that works well with Android and iOS. Besides, there is a Desktop version that costs Euro 49.95.
User Rating
The user rating at Capterra shows the following overall rating of Zoiper.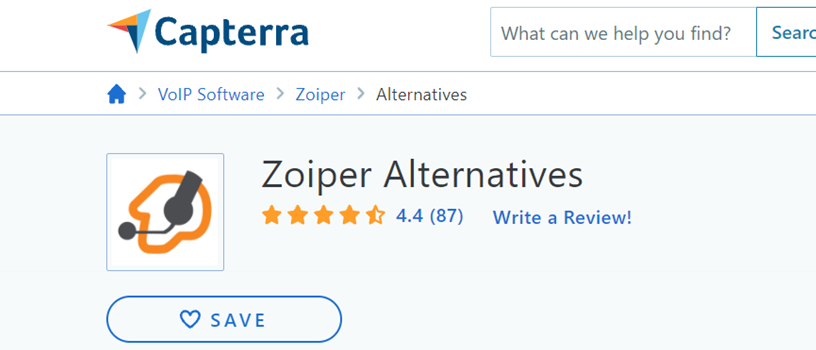 What is a VoIP Provider?
A VoIP service provider is a company that offers its services to make phone calls for personal or business purposes on the internet. Internet Telephony Service Provider is another term used to describe VoIP service providers.
These companies allow users with IP networks to carry out telephony functions. For example, receiving and making phone calls. It is usually offered in terms of the SaaS model in which a vendor hosts the service to provide you with the software instead of a product.
Who is the best VoIP Provider?
We rank Nextiva as the best VoIP Provider because it works well both for individuals as well as teams. For teams without any coordinating office, Nextiva provides a platform to interact. They have outstanding customer support. It is an affordable and simple cloud phone system. Besides, they also offer cloud PBX with good quality audio and powerful features.
Is there a free VoIP provider?
Yes, there are free VoIP applications and software available that you can use for receiving and making audio and video calls. Some of the best free VoIP are Skype, Viber, Google Duo, Hangouts, Facebook Messenger and WhatsApp (we will discuss these in another post).
Which VoIP Provider is Cheaper?
The cheapest VoIP provider in our list is Grasshopper ($26) and RingCentral ($19.99).
Which phone carrier is VoIP?
Verizon Communications Inc. is a telecommunication and broadband VoIP carrier company in New York.
Conclusion
Voice over Internet Protocol aka VoIP is referred to as Cloud PBX, Business VoIP, and Hosted VoIP. VoIP has several benefits over the traditional system of phones. All businesses thrive to greatly benefit by applying sophisticated technology of communication.
VoIP service can also be used at home in addition to simple phones. There are many residential VoIP providers as well. The above list also includes some of the best VoIP service providers that work for the business as well as home purposes.
From our review, we can conclude that:
RingCentral is the best VoIP provider for Medium-sized businesses
Nextiva is the best VoIP provider for small businesses
Grasshopper as an overall best VoIP provider
The best option is, therefore, the one that fulfills all your needs. If you are running a large organization with thousands of workers, then investing in a good VoIP such as Vonage would be great.
However, if you are a small business or need it for individual use, then you may want to opt for Zoiper, MessageBird and Bitrix24.
Most of the VoIP providers provide free versions or less prices for basic features that you can use as a beginner.
A mid-sized business would work well with FreshCaller, 3CX and JustCall. They offer medium-range prices with the most relevant features in their plans.
So, which one is the best selection for you?