Dreamhost provides affordable and reliable dedicated or shared web hosting services to boost your WordPress website. The fast page speed and multiple pricing tiers are customized in such a way to help you with all the needs of your website.
Moreover, its prices range from $2.95 to get outstanding quality at a cheap rate. Above all, Dreamhost provides 97-days money-back guarantee. It gives you enough time to realize the level of satisfaction Dreamhost offers you.
Dreamhost is one of the best web hosting companies that provide advanced solutions. It was founded in 1996 that currently supports over 1.5 million servers and websites. Moreover, globally it supports over 400,000 customers.
Dreamhost is one of the most reliable WordPress hosting providers
Further, Dreamhost is well equipped with unique features such as excellent customer support service, strong privacy, excellent uptimes, and robust security features. Above all, it offers a highly managed and well-performing WordPress hosting recommended by WordPress.org and is very easy to use. It is ranked at second position after Bluehost and followed by SiteGround.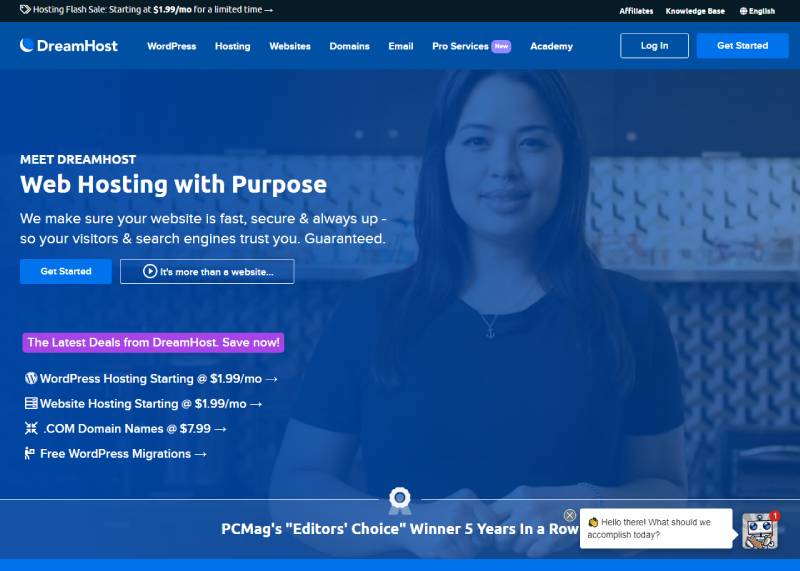 Let us start with our in-depth Dreamhost review. Firstly, will check the pros and cons of the Dreamhost website solution.
DreamHost Review: the Good and the Bad
| | |
| --- | --- |
| The Good | The Bad |
| Affordable email hosting | Shared plans do not offer HTTP/2 |
| Great uptime | Email accounts cost extra |
| Decent performance | does not include cPanel |
| Cheaper pricing plans | Data centers only in USA |
| Monthly billing options | No 24/7 Live chat support |
| Independent company | Long waiting time for email replies |
Dreamhost Features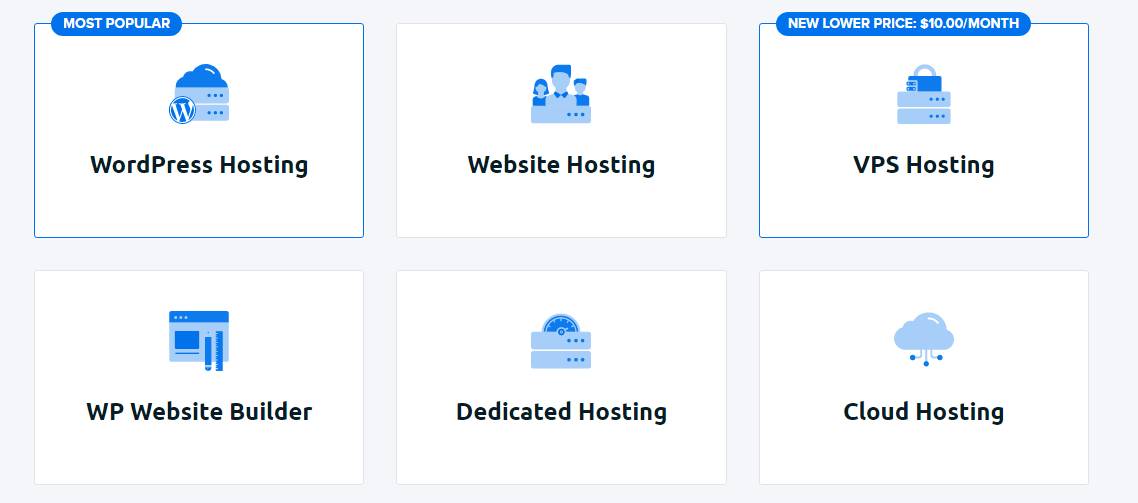 Dreamhost provides you with the best Webhosting solutions to connect your website to the world of the broader web.
The reliable hosting services of Dreamhost enable you to help you take your story, cause, or business to the online world. Let us discover Dreamhost's features and determine if this hosting service is worth the money.
Uptime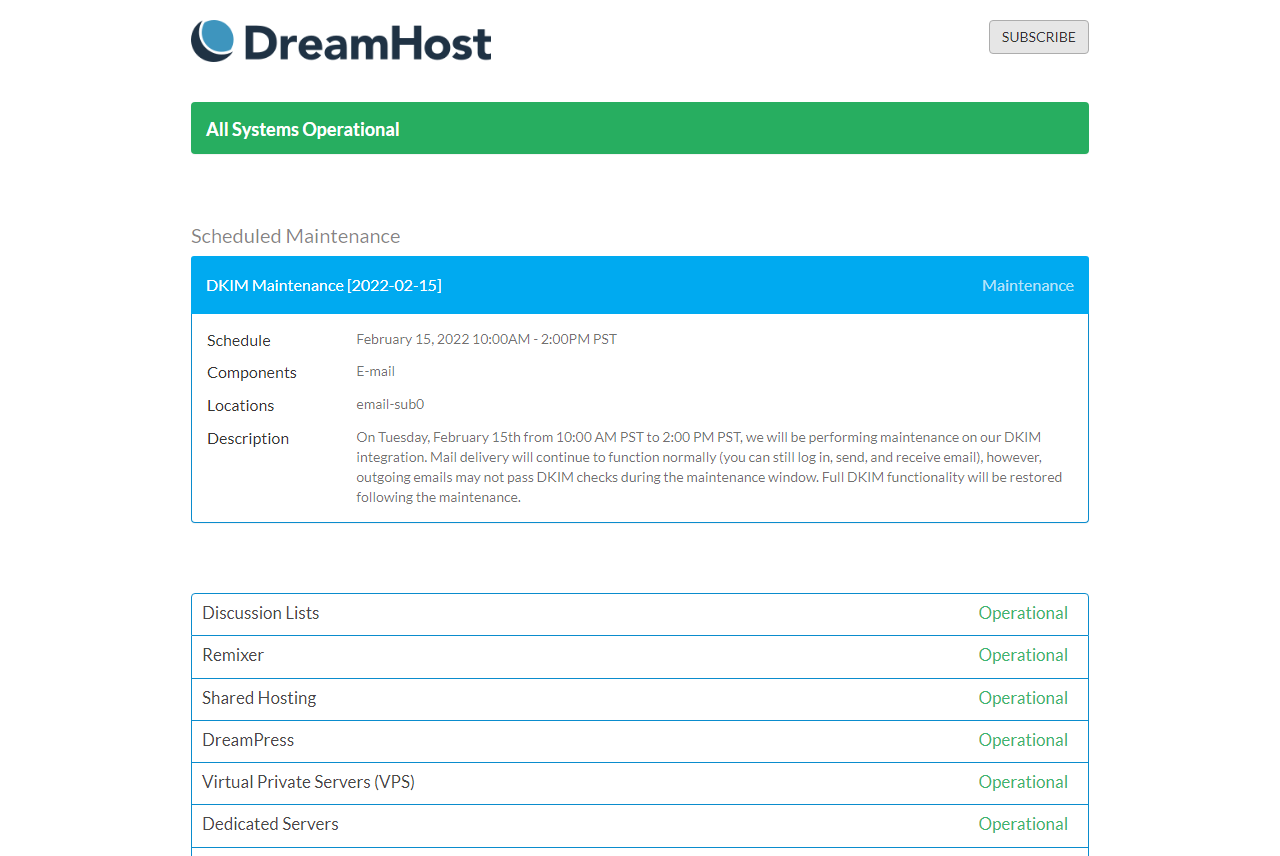 The web hosting experience is highly based on uptime. You never want your website to go down or out. Yet, the recovery time of your website has to be quick too. It is terrible if people cannot find your website because of excessive downtime. Dreamhost passes several tests of stability check. All these tests show that Dreamhost is a reliable and stable service that went down only rarely.
The company is highly confident and claims its uptime to be 100%. Dreamhost is the only shared hosting solution that offers this uptime guarantee. If your site ever goes down, you can claim a refund of the time that your website faced during the downtime. This guarantee can be a big reason for going behind Dreamhost.
On the contrary, the reviewers on G2 and TrustPilot have reported that the average uptime of Dreamhost is no more than 99.84%. It is a bad percentage in my view.
It is terrible and can potentially lose significant traffic and result in a great loss for your website. Here, the offer of Dreamhost for credit-back works for you. Be mindful that the Terms and Service mention that this offer does not include downtime due to user errors or scheduled maintenance.
Dreamhost Domain name
Another essential feature of Dreamhost is its easiness of letting you purchase a domain through the website. You need to search for something you were on your website, and after confirming its availability, you can opt for it. It costs you $6.99 per year. In this package, you also get free private registration.
In addition, you also get:
Simple domain management
Easy domain transfers
Free subdomains
Free private registration
Dreamhost Website builder
If you are stressed about building your individual or business website, you need to look at this.

Here is the Dreamhost Website Builder option. It makes your website building easy and less intimidating. Moreover, it is more straightforward too. It comes with themes that you can choose from according to the nature of your website.
It also includes a drag-and-drop feature to make it easy for you to customize your website with the content of your choice.
Customer Support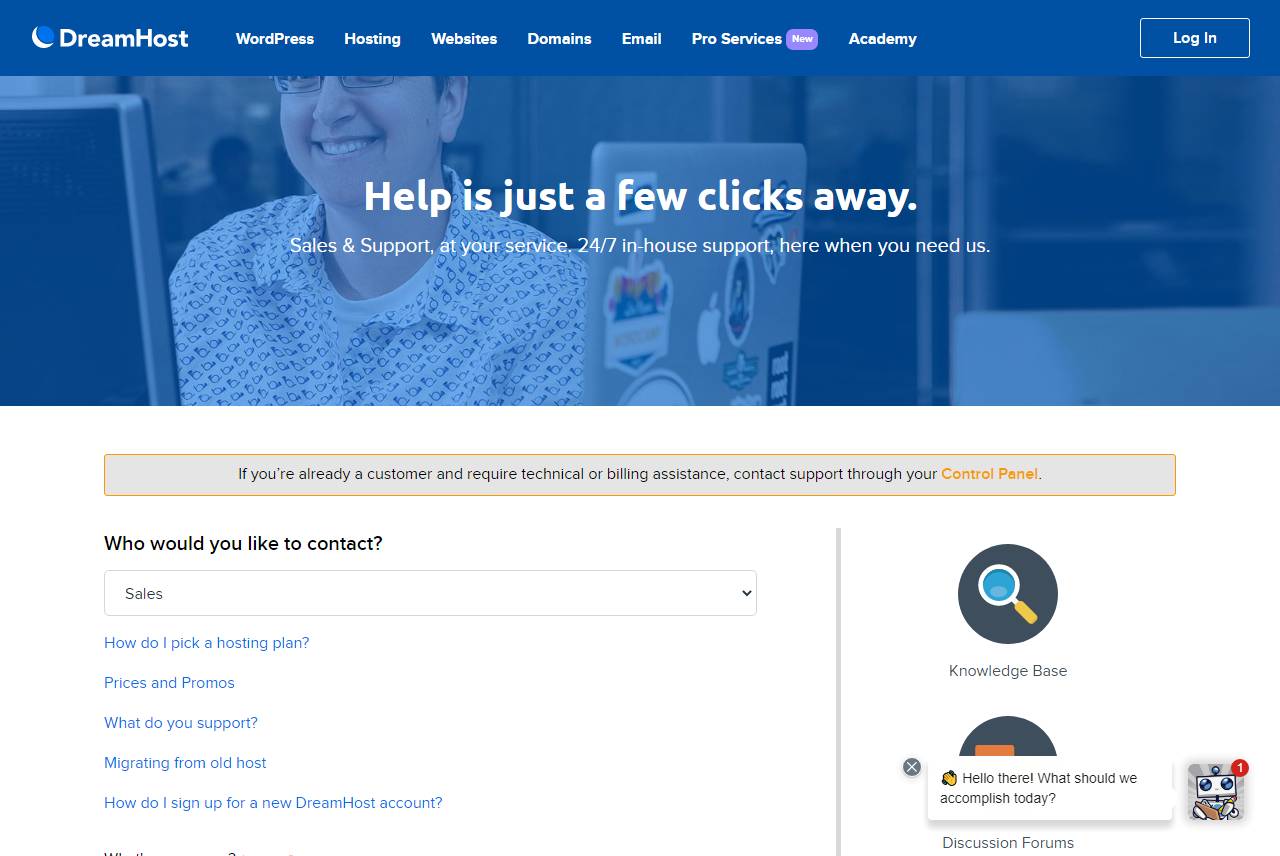 Many reviewers on G2 and Trustpilot reported that Dreamhost tech support is helpful and fast. Therefore, in case of any hosting issue with the website, it is wise to contact the Dreamhost customer support team.
Dreamhost tech support team provides two means of communication:
Email via the Panel is available 24/7/365
Live chat support via the Panel is available round the week from 3 am to 9:30 pm Pacific time.
Their support team provides all answers to your questions through Knowledge Base. Dreamhost Community is another helping hand to get your answers and share your experiences with Dreamhost.
The Dreamhost phone support is not available for Dreamhost. You will have to pay the company to call back. It is also good to use live chat support as an active forum to get their support.
Speed: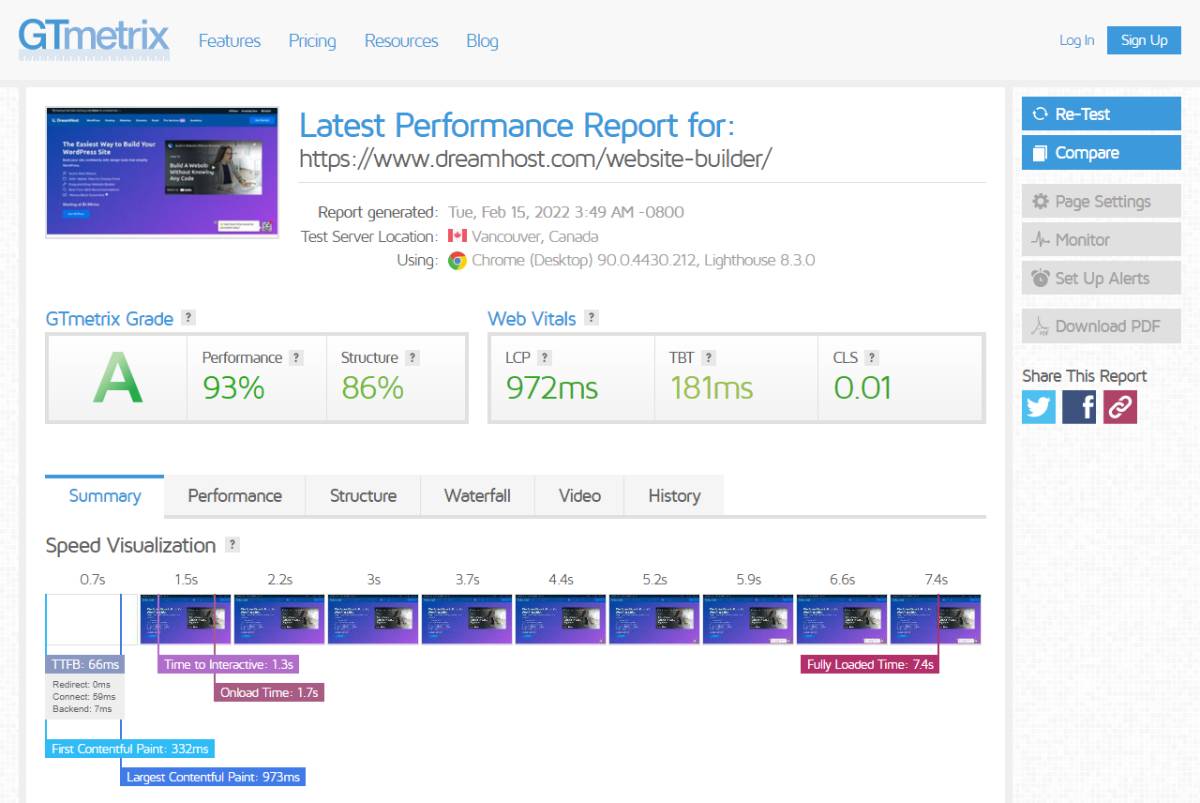 No one likes their website to move slowly. The performance of Dreamhost is found well with a few speed tests.
Such as:
WP-admin page generation time with WP Query Monitor Plugin
MySQL database and PHP performance test with WPPerformancetester plugin
Stress test using Loader.io
Speed test with Pingdom Tools
GTmetric
The speed tests have proved Dreamhost to be a reliable web hosting provider; however, not the fastest. It uses SSD, PHP 7, and HTTP/2, making it faster. However, the fundamental player in determining the speed of your website is your fast hosting provider. The average loading time is 1.84 seconds.
Custom Control Panel
Dreamhost is the one that doesn't provide a cPanel web host. Choosing Dreamhost would not disappoint you. It is not just a control panel. Instead, you will experience a custom control panel.
The user interface feels a little uncomfortable to use, but it is highly intuitive. It avoids the inclusion of unwanted features configuration like other cPanels.
The image below gives a glimpse of the home page of the control panel that shows highlighted details of a primary website and the navigation menu.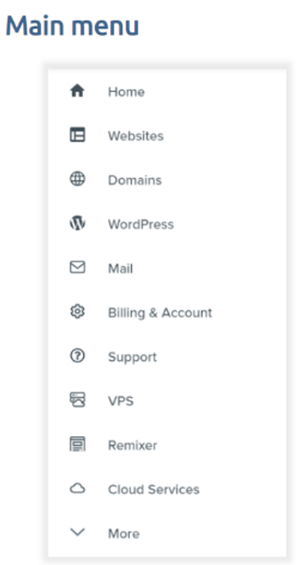 Accessing FTP
Like the cPanel hosting, you will also find file managers having a custom control panel. Additionally, FTP also helps you manage your website files.
To get your credentials of FTP, find FTP and SSH Users option. Here, you will discover the possibilities of Host, Username, and Port number. You will have to reset the password if it is the first time. This option is called SFTP.

By default, SSH is disabled. Yet, it is easy to enable and use as an SSH key if needed.
Email Accounts
You get unlimited email accounts with almost all Dreamhost plans for your domain. However, the starter plan requires you to check the add-on box for your email account. It costs you an additional $1.67 per month at signup and is relatively a cheap email hosting plan.
It may seem to be a con at this point. However, it has a significant advantage as well. Dreamhost provides email hosting different from cPanel emails on a different server than your web hosting account.
Therefore, it is easy for your followers or customers to contact you through emails when the site is down. It is thus necessary to keep the web servers and mail servers individually.
Custom SSL, Sectigo, and Encryption
Dreamhost also provides Sectigo SSL certificates. It costs you additionally $15 per year. It is also possible to import customer certificates.
Most web hosts also provide free SSL certificates of 'Let's Encrypt-type.' Likewise, Dreamhost also requires only a few clicks to give this to you. However, before sending the request to Dreamhost, be sure to inform the Dreamhost server that you have purchased your domain from somewhere else.
You can effectively avoid SSL downtime by first importing the current certificate while migrating your existing site. Then, you can activate Sectigo and Encrypt and then eliminate the old certificate.
Integration of Cloudflare
There is no built-in CDN. Cheap shared hosting does not provide you with this. Yet, there is a Cloudflare integration through the control panel.
For this purpose, you need to go to the Manage Domains option. It will show you the list of the domains you host. Under Web Hosting, you will find a choice of edit links. It will take you to the hosting settings. Here, you can configure Cloudflare integration settings along with many other locations.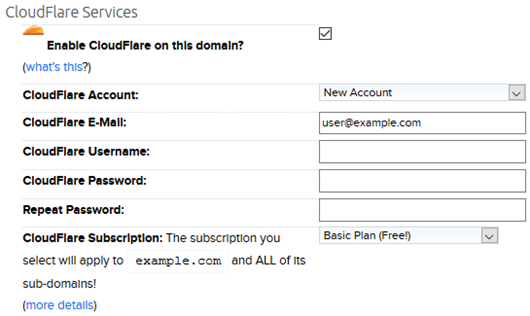 Next, go to the Cloudflare services option and integrate your account. You can also create a new account here.
Your site's caching starts within a few minutes after this.
One-click installation
Dreamhost explicitly offers cheap WordPress hosting. Therefore, there is a simple one-click installation app. They also support a few other platforms, yet the installation is not straightforward. The good part is that it provides complete guidance of installation under a knowledge base tab on the website.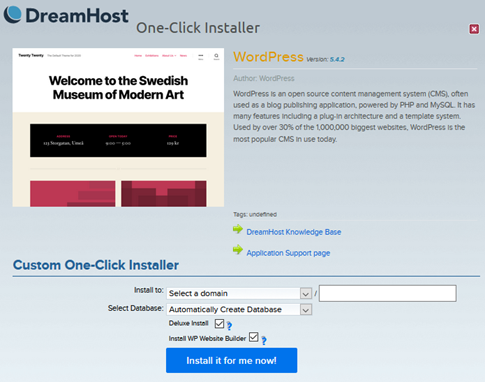 Daily Backups
The shared hosting plans on DreamHost offer a manual backup with one click. This feature also backs up your account as a whole. You can download it anytime you want to keep it safer.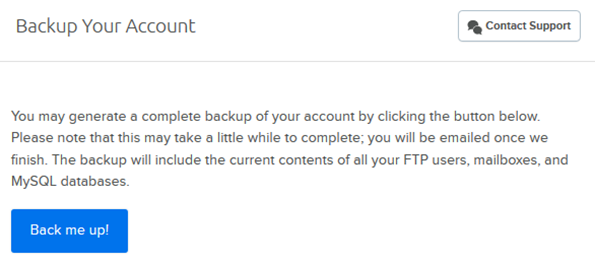 But, it does not provide an option of automatic backup. Therefore, using a backup plugin such as UpdraftPlus is recommended. It backups your website on a weekly or daily basis. However, automated daily backup is not available for normal plans.
Dreamhost offers automatic backups in DreamPress. DreamPress is their managed WordPress hosting service. However, automated daily backup is not available for normal plans
Money-back guarantee
Dreamhost shares another great guarantee with its users: a money-back guarantee. While other competitor host companies offer only a 45-day money-back offer, Dreamhost offers 97-day money-back guarantee. This trial period is entirely risk-free. If you find yourself unsatisfied with the service at the end of this period, you can get all of your money. Also, if you are not satisfied with the uptime, Dreamhost promises to compensate you for that too.
Remember that this money-back guarantee is only applicable to the shared hosting plans. Additionally, the people who pay with Google Checkout or credit cards are also liable to receive this guarantee.
Security Features
There are no anti-malware services, but it offers other options for security. It is easy to edit and access the .htaccess file with the control panel. Here, you can also control the visitors to your site and set your security passwords.
You also control blocking spiders for the parts of your website you don't want to have. You can also index it by search engines.
The best thing about it is that Dreamhost offers free SSL certificates for the additional security features. Also, you can control the information of selling products online or collecting all sorts of information from customers and clients.
If you are not satisfied with the above information on security, there's more. Dreamhost provides SFTP and SSH access and supports PHP 7 and HTTP/2.
Unlimited bandwidth
All plans in Dreamhost accounts have unlimited bandwidth for free. There is also plenty of storage. If you need unlimited storage, you will have to upgrade to a higher plan. Your repository is further limited in the shared starter plan, i.e., 50 GB. The unlimited will give you, uh, the total storage. Nevertheless, there is a fair usage policy applied on file-sharing sites.
Read More: 9 Best Unlimited Hosting Plans
Dreamhost Pricing and Hosting Types
Another essential aspect to consider while selecting your web hosting provider is the packages and pricing. Dreamhost offers several different options of containers and other products at different prices. Here is the general overview of their plans: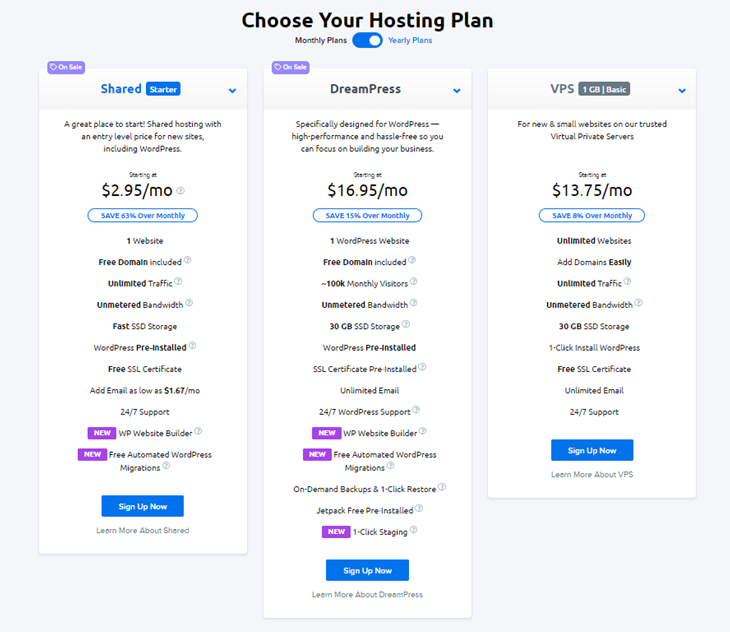 The hosting features with these plans include:
Custom control panel
1-click installer
Solid-state drivers (SSDs)
Real-life human beings' (support)
100% uptime guarantee
Shared web hosting
It is the cheapest of all the hosting plans. In this plan you share RAM, CPU, or other services with other websites. You have to pay less because it is shared.
However, be mindful not to get misled by the cheap pricing plans. It provides you with everything to maintain and launch your small business and personal website.
It offers is the shared web hosting plans; the Shared Starter plan and the Shared Unlimited plan. The Shared Starter hosting package starts from $2.59 per month for one website hosting in a three-year contract. If you choose to pay annually, it will cost you $3.95 per month for the annual billing or $4.95 per month for the monthly billing.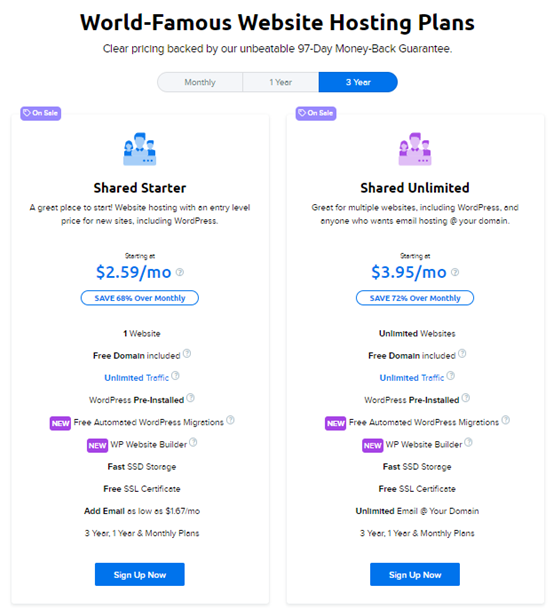 Shared hosting provides the Unlimited and the Starter plans. The Starter is best suited for the new websites. The Shared Starter plan comes with the configuration of the following features:
Email for an additional cost of $1.67 per month
Free SSL certificate
Fast SSD storage
WP Website Builder
Free automated WordPress migrations
Pre-installed WordPress
Unlimited traffic
Free domain names
Free subdomains
One website
The Shared Unlimited plan provides you with the following features:
Unlimited email at the domain
Free SSL certificate
Fast SSD storage
WP website Builder
Free Automated migrations of WordPress websites
Pre-installed WordPress
Unlimited traffic
Free domain
Unlimited websites
Both the Starter and the Unlimited plans are a great way to start. However, you will soon need to upgrade your project if you start with 200,000+ visitors.
Dreamhost VPS Hosting
VPS is a virtual private server characterized by slip-up smaller servers. It is enabled to fit into your unique requirements for your website. Selecting a VPS plan means that the website will get separate hosting from other users of Dreamhost.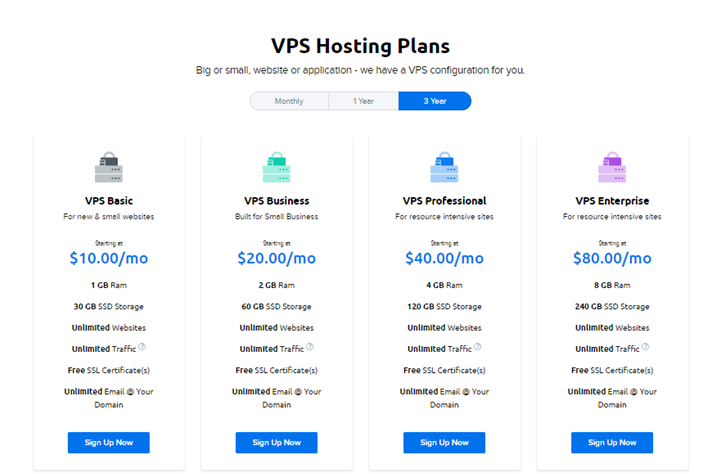 This hosting option provides you with four different pricing plans. It is a broader range to fit all website needs, whether personal or business. These plans offer everything you need with the most basic and most advanced pricing plan.
The VPS plans are perfect for those who run a large business or use e-commerce for their business. With the general VPS plan in Dreamhost, these different levels include VPS Basic, VPS Business, VPS Professional, and VPS Enterprise.
The prices shown in the above image are for the three-year payment plans for the services. The basic program starts at $13.75 per month in yearly billing; VPS enterprise costs $110 per month. In the case of monthly billing, VPS Basic plant begins at $15 per month, and the VPS Enterprise costs you $120 per month.
This server provides you with managed website services with unlimited 24/7 support. There are simple pro-level control panels. Moreover, the track record of business-class using VPS hosting shows the best uptime performance by Dreamhost.
The most significant advantage of using VPS hosting is a fast SSD that improves the overall performance. It provides a hard drive that ranges from 30 GB to 240 GB.
The unmanaged VPS functions with DreamCompute, which is the cloud computing platform of Dreamhost. It is based on open-source technology that gives complete private resources and root access. You get complete control over your virtual machines with the OpenStack and Open Web cloud stack, which are further bound with DreamCompute. Thus, DreamCompute offers an ultimate experience for their power users.
Features that the VPS hosting offers are:
Unlimited email accounts
Unlimited MySQL databases
SSL/TLS certificate
Subaccount and reseller features, FTP and billing
Unlimited bandwidth
Scalable RAM
Unlimited web hosting
Solid-state drives (SSD)
100% uptime guarantee
VPS control panel
Unlimited support
Fully managed
The advanced features include:
Unlimited SFTP users
Apache or Nginx
Automatic software updates
Unique IPv6 and IPv4
Node.js
PHP7/Perl/Python
One-click installer
Security and protection of credentials, content, and passwords
WordPress Hosting
Dreamhost offers unbeatable WordPress Hosting. It is a lightning-fast and reliable solution to help you optimize your WordPress website. You get managed WordPress hosting. Dreamhost has committed to WordPress and its community for the past 10years.
The hosting platform offered by Dreamhost is fully optimized, and team specialists always work together to contribute actively to make it the best community for all WordPress users.
Dreamhost gives you complete control of your server and lets the team of experts handle all for you. There are choices that Dreamhost offers for all beginners as well as experts. Choosing the WordPress hosting with Dreamhost takes all your websites' technical features. Additionally, it allows you accessible migration from a website elsewhere with a single click.
You get instant powerful features with every plan in WordPress hosting. All these plans include add-ons and robust features explicitly designed to ensure ease of use and provide you success at each step of your website building. Above all, Dreamhost is a recommendation of WordPress.org, so it gives you the newest version of WordPress from the Dreamhost control panel.
The WordPress hosting in Dreamhost also provides you with the following features:
24/7 customer support
Powerful tools such as backups, staging, and email
High speed with built-in caching
Auto WordPress installations
Regular and auto WordPress updates
Instant WordPress setup
Free domain names
Free SSL certificate
Free privacy protection
Easy to control, advanced Panel
Free email hosting
Overall, you get to put more attention on growing your small business and leave the technical needs of your website to Dreamhost. Here is an overview of the options available for WordPress hosting in Dreamhost.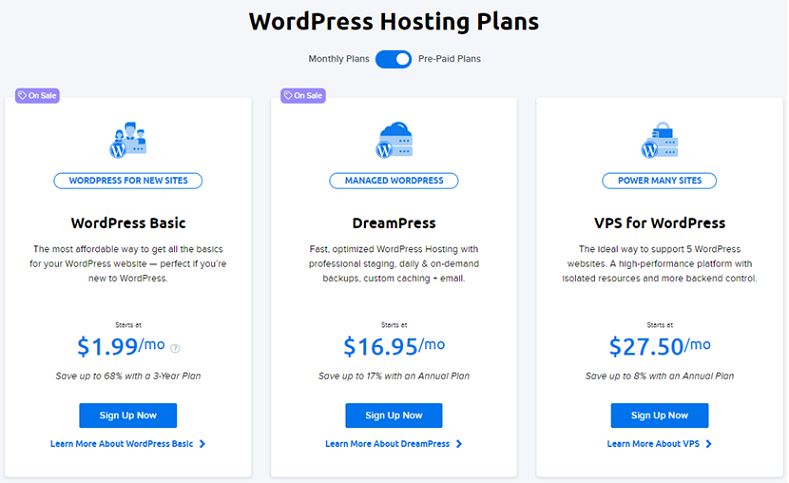 Dreamhost Dedicated Hosting
If you own a big business or desire to have significant traffic on your website, you must want to have a dedicated server. In this type of web hosting, you will get your very own unique server. It will avoid any potential risk of booging by others on the server.
Dreamhost dedicated hosting provides you with a fully managed server for your business website. However, it has the most expensive pricing tiers.
There are two categories under dedicated web hosting: the Standard and the Enhanced plan.
The Standard plan provides one TB of storage and 4GB RAM. You will have to pay $149 per month on annual billing. The monthly billing costs you $169 month.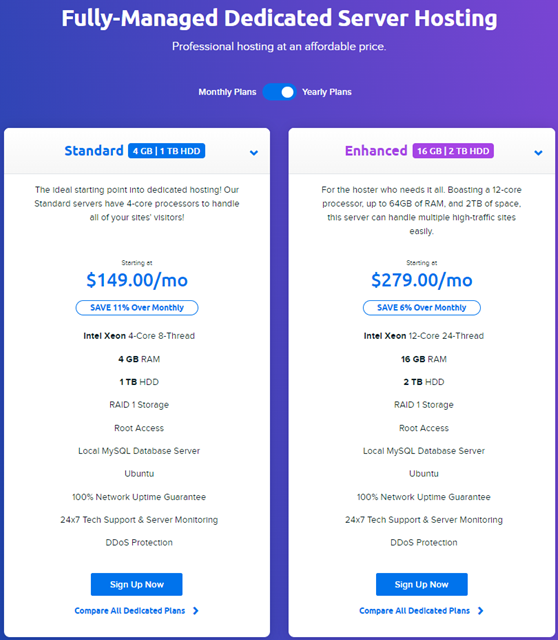 The Enhanced plan offers 2TB of storage and 16 GB of RAM. This plan costs $279 per month on annual billing and $299 per month on monthly billing.
All the different tiers under Enterprise and Standard plans offer various sizes of storage and RAM.
The dedicated servers use the best software and hardware to ensure the uptime of your website. Also, it comes with either SSD or HDD hard drives for fast load time.
The intuitive management of your website is further ensured. The custom control panel lets you manage everything in one place. Complete root and shell access (SSH) enables maximum management. Moreover, it is also email addresses, websites, and domains. With the power cycle and reboot options, you can reset your server whenever you want.
Other important features included in the package include:
DDoS protection
RAID 1 storage
Ubuntu Linux
Entire Root and Shell Access
24/7 support and server monitoring
100% network uptime
Easy to use Panel
OPcache
Uncapped bandwidth
Ruby Version Manager (RVM)
Subaccount and reseller features
Below is a complete comparison of the Dreamhost Dedicated hosting plans: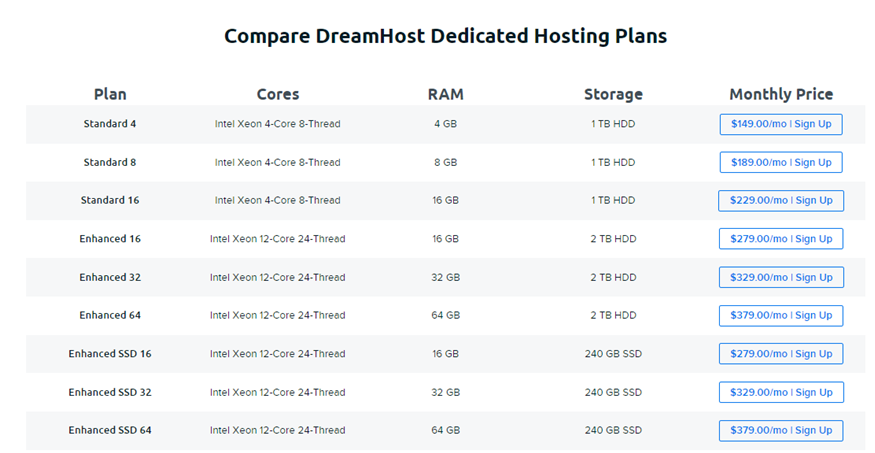 Dreamhost Cloud Hosting
Cloud Hosting is another hosting plan from Dreamhost. We call it as DreamCloud. It helps you spread your content and resources across the servers instead of confining them to a single traditional server.

Dreamhost Cloud Hosting comprises three plans based on pricing. The lowest plan starts from $4.50 per month, where it offers 80 GB of storage, 512 MB of RAM, and unlimited data transfers every month.
The highest plan costs $48 per month. This plan offers unlimited monthly data transfers, 80GB of storage, 8 GB of RAM, and 4 CPU cores.
This web hosting service provides you with unparalleled speed because of the next-gen processors, accelerated networks, and SSD disks. The servers are claimed to be ready in less than 30 seconds.
Moreover, you get complete control over your server. The unmanaged servers contain BSD, Linux, or even MS Windows. It also facilitates web development via API. Also, it is easy to stay connected to your storage applications. The files can be protected and kept safely in cloud backups through Retrospect, DropShare, ClpudBerry, next cloud/OwnCloud, and QNAP.
Using shortcodes and uploading images, automated WordPress backups are also possible using the DreamObjects Connection plugin.
Other salient features of the hosting type are listed below:
SSD disks available
WordPress Backups with DreamObjects
API integrated
Storage applications integrated
Fully scalable
DreamHost Customer Reviews: Is it recommended?
Dreamhost scores 4.8 out of 5 on TrustPilot reviews, and on G2, it scores 3.8.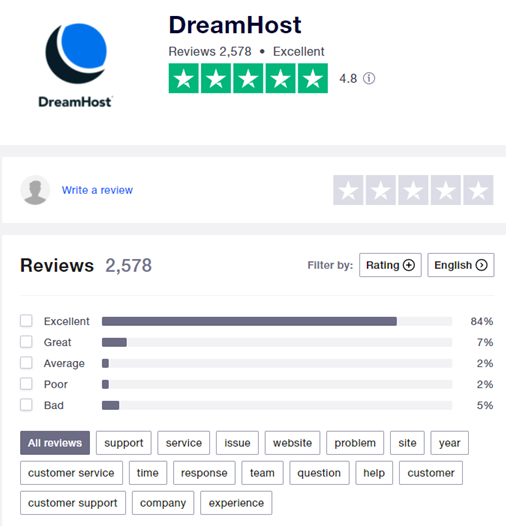 The customers praise that Dreamhost's customer support is excellent. Also, there are review statements such as, they are happy because it is easy to use and offers affordable pricing.
The customers stated that the navigation is complex on the dashboard. Plus, they are unable to locate the required features quickly.
Most other users commented that the absence of phone support is the cause of delayed response on customer assistance. It may place the position of a hosting company like Dreamhost at stake to not provide customer support on phone.
In our opinion, we recommend using Dreamhost.
Hosting is a good option because of the generous policies, solid support, and fair prices. Also, the unlimited policies for bandwidth and storage are remarkable at the cost of money in each plan.
WordPress users can specifically enjoy using Dreamhost if they look for good value for their money. We also include Dreamhost in our list of the best cheap WordPress hosting providers. Most users also suggest that their knowledge base is of great help to working with the Dreamhost dashboard.
Moreover, you have to be more mindful if you want professional features such as pre-installed Git repositories, integrated caching, and staging areas. Dreamhost falls short in these areas.
Dreamhost Alternatives
The table below shows an overview of the alternatives to Dreamhost:
| | | | | |
| --- | --- | --- | --- | --- |
| | Shared hosting | VPS hosting | WordPress hosting | Dedicated Hosting |
| Dreamhost | $1.99 per month | $15 per month | $12 per month | Starts at $149 per month |
| AccuWeb | Starts from $3.09 per month | Starts from $5 per month | Starts from $ 3.49 per month | Starts from $80 per month |
| Bluehost | $2.95-18.95 per month | Starts from $18.99 per month | Starts at $2.75 per month | Starts at $79.99 per month |
| HostGator | $2.64-$9.95 per month | $19.95-$39.95 per month | $5.95-$9.95 per month | $89.98-$139.99 per month |
HostGator, like Dreamhost, offers intuitive and user-friendly hosting services. Both the web hosting providers give you all types of solutions, whether dedicated, WordPress, VPS, or shared. However, HostGator offers a 45-day money-back guarantee while Dreamhost gives you 97 days.
Dreamhost is very similar to Bluehost in terms of pricing tiers and appearance. Yet, Dreamhost is more advanced because of its custom dashboard, whereas Bluehost only has a cPanel. Also, Bluehost is only helpful for experts, while Dreamhost also supports beginners.
AccuWeb, likewise, is another hosting option alternative to Dreamhost. Both providers offer safe and fast hosting solutions with different hosting plans. Yet, AccuWeb provides Reseller hosting, which is absent in Dreamhost. AccuWeb is cheaper in comparison to Dreamhost. It's pricing starts from $3 per month.
SiteGround is another web hosting company that provides fully-featured web hosting services to WordPress users. Likewise, if you want the best web hosting for a asp.net hosting service that functions on all aspects of your website, GoDaddy and InMotion are other options. GoDaddy also provides all types of plans as Dreamhost plans. Both GoDaddy and Dreamhost provide same uptime. Inmotion offers 99.95% uptime. It also provides a plus by giving best price to host two websites under one pricing package.
DreamHost FAQ
Does Dreamhost give me free domain names?
No, it is not free. But, Dreamhost offers a domain name at a fair price. The most popular domain name of the .com extension costs you $8. The renewal cost is $17.99 per year.

Dreamhosts' offers the domain names with vast extensions such as .uk, .co, .org, or .net etc. the exotic extensions are also available such as .tattoo, .vodka, .tax or .wtf.
Does Dreamhost support a WordPress website?
Yes, it sure does. You will find the cheapest hosting services for your WordPress website in Dreamhost. It offers a one-click wizard that completes in a few minutes only. Dreamhost provides you with a wide range of hosting packages to build a WordPress website.
Does Dreamhost offer managed WordPress hosting?
DreamPress is the best way to help WordPress website owners give managed WordPress hosting services. However, it costs you much more than the regular Dreamhost plans. The starting cost equals $17 per month. You also get additional perks in the managed hosting packages including, built-in caching, drag-and-drop builder, and staging areas.
Does Dreamhost support beginners?
Yes, it does. It provides an easy-to-use dashboard that is further easy to navigate.
Does Dreamhost actually offer unlimited options?
Yes, it does. It offers unlimited disk space and bandwidth. We have explained this in the features section of this article.
Quick facts
CMSs and Apps installation: a one-click installer for CMSs and WordPress.
Dashboard and Control Panel: there is a custom control panel by Dreamhost.
Account Activation: if there are no payment issues, the account activation is quick.
Upsells: only few
Clauses and hidden charges: site migration cost is applied, but there are no other significant hidden charges. These charges are additional than WordPress installations.
Payment options: many include Checking Account, money orders, check, PayPal, and credit cards.
Money back: 97-day money-back guarantee
Signup: the signup process is complicated and lengthy. It should be a bit easier.
Knowledge base: provides all the features with detailed documentation to make it an easy-to-use dashboard.
Conclusion
If you search for a reliable and cheap web hosting company that offers you outstanding performance, too, then Dreamhost is the best one. The custom control panel provided by Dreamhost is straightforward to use and offers almost all the necessary features required to build a professional yet direct website, including one-click SSL.
However, if you are looking for a cPanel and lightning-fast support, Dreamhost would be a disappointment. It would not prove to be the best one for you. Also, their servers are only present in North America.
Overall, Dreamhost is a great solution for your web hosting. There are so many different Dreamhost plans that you can choose from with plenty of beautiful features. It is also pricy, but it proves to be ideal for those who want to have their website host, whether you are a large or a small business. The domains, money-back guarantee, security, or website builder make it a top pick.

As one of the co-founders of Codeless, I bring to the table expertise in developing WordPress and web applications, as well as a track record of effectively managing hosting and servers. My passion for acquiring knowledge and my enthusiasm for constructing and testing novel technologies drive me to constantly innovate and improve.
Expertise:
Web Development,
Web Design,
Linux System Administration,
SEO
Experience:
15 years of experience in Web Development by developing and designing some of the most popular WordPress Themes like Specular, Tower, and Folie.
Education:
I have a degree in Engineering Physics and MSC in Material Science and Opto Electronics.