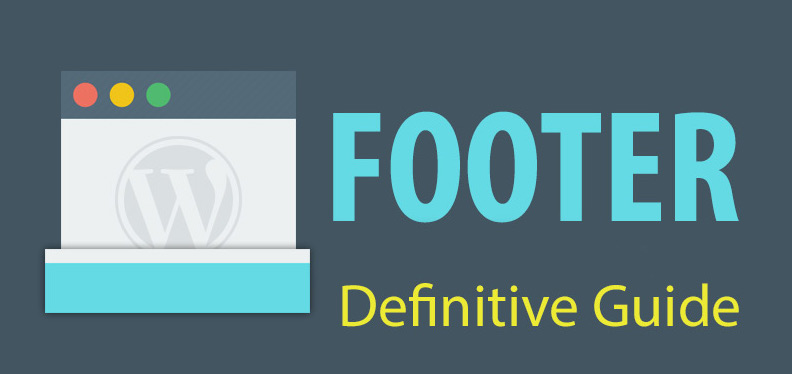 The footer of a site is the section that is at the bottom of everything else.
In the printed paper is known as a footer.
It is often an area where, when designing a website, less energy is concentrated, but in reality its strategic importance is not to be underestimated.
In this article we'll analyze what are the elements used and the plugin to be able to create footer without boundaries of imagination (just using the drag and drop of your page builder!).
How many times have you ever visited on a site without immediately finding what you need? Then you shake the page and still nothing, you shake a little more and nothing, until you get to the footer: "Here's what I was looking for!".
This is because in most footers you can find known items such as contacts, address, navigation menus etc…
But you can push far beyond that.
Reading this article you will understand how, thanks to tools available today, even the footer can become a weapon in your arsenal, perhaps the winning one to close your communication.
The footer can be considered as the last element that a user sees before leaving your site, but also as an opportunity for an "exit to effect" or the classic "WOW!" that closes the proposal made to your users.
In our projects, in fact, the links and the elements inside the footer always enjoy a high conversion rate.
Visitors Scroll!
At one time he was reluctant to scroll. How many times have we heard customers say "but to see the whole page I have to scroll!".
Today is no longer so.
The myth of the Above the Fold no longer exists. Because? Because the internet is seen by thousands of different devices, all with different dimensions and proportions: different monitors and screens, tablets, smartphones…
A Chuck Pearson study shows us just this: No page is too long and no footer is too far away.
Chuck quotes some analysis of Chartbeat.
One was carried out on 25 million of sessions throughout the web and analyzes the average scroll depth of the pages.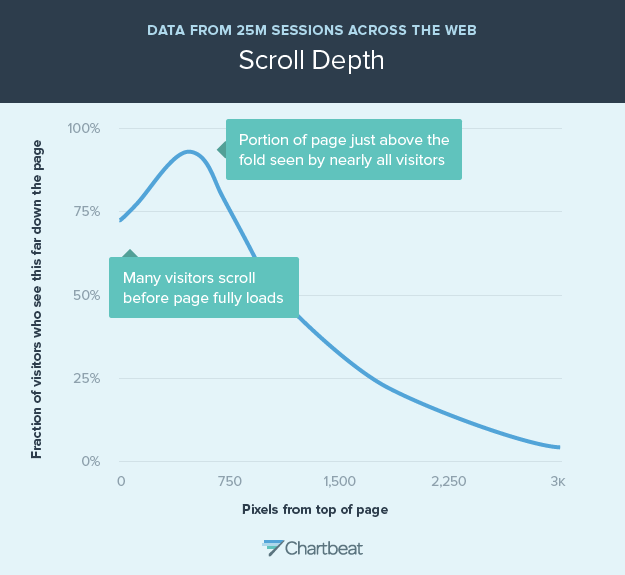 Another focuses on the reading percentage.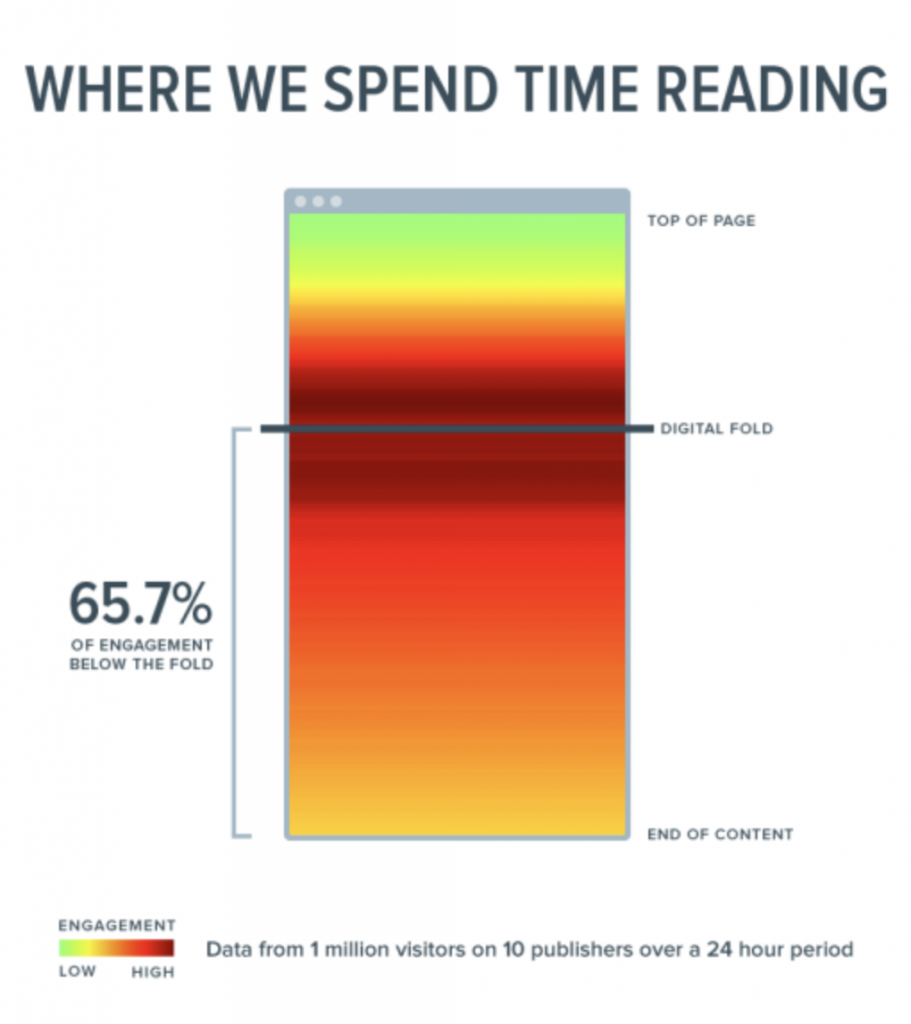 As you can see, leaving aside the opportunity to use the space dedicated to the footer would mean losing an opportunity.
We proceed with the analysis of the most used elements and then go further and see how to build footer of effect.
What to insert in a footer
Here are 17 elements to give you inspiration on what you could integrate into your site.
1. Copyright
It is a virtually indispensable element, is in fact on every theme by default WordPress.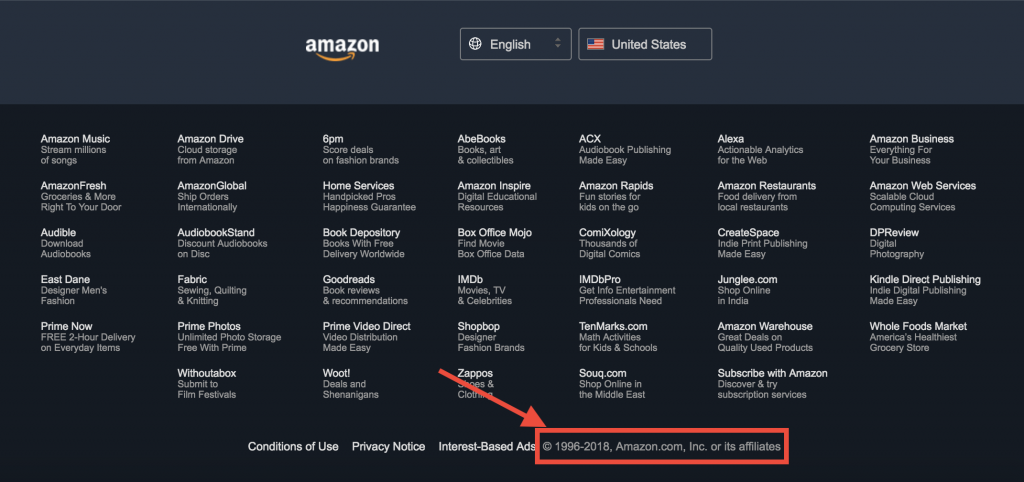 2. Privacy Policy

Each website should have a Privacy page or terms of conditions.
3. Contacts
If the user searches the contacts page, it usually does so in two places: in the main menu or the footer.

You can also decide to make available directly in the footer also elements such as the phone, address, email, how to reach us etc…
4. Navigation
One of the practices in the realization of a site is to insert the menu of navigation also in the footer.
A navigational menu is an excellent "fishing net". It will be useful in fact to direct your visitor to other content.

You can choose to resume the main menu items, but also to create a custom menu that maybe emphasizes your products, or some special services.
You can send your user to the landing pagse or pages of greater importance for your business.
Using Google Analytics you can figure out which are the fundamental and profitable pages to bring more traffic to them.
5. Social icons

Social networks are an integral part of any business.
They are an important channel to convey traffic on the pages of a site.
This is why they are often found in the footer (about 72% of the websites places the icons in the footer).
In all the best WordPress themes you will find the option to connect them comfortably and make them appear where you prefer.
Widgets
Social can also be entered using specific plugin widgets. There are some that show in real time your tweets, others that post the latest photos of Instagram, others that show the details of your Facebook page.
I recommend, use them only if you are really active on social.
6. Newsletter Subscription


Many sites integrate into the footer a newsletter entry form, and the trend is to rise.
Because? Creating a newsletter is very important in a marketing strategy.
Tip: Do not leave a simple module with key. Entice the user by explaining what he will receive with the inscription and what benefits he'll get. You'll see that you'll have good chances to get more subscribers.
7. Login

Does your site have a member area where users can access it?
Use the footer to enter links to login or registration.
8. Search the site

It can always be useful to add the ' Search ' field. is a default widget of WordPress.
This way if the user has not yet found what he is looking for, he can avail himself of this tool.
9. Images or logos

So far we've talked about mostly textual elements, but the footer also lends itself well to insert images.
In the WordPress 4.8 release was also added a specific widget for this.
Many bloggers insert their image with a small bio. Some companies insert the logo of their brand. Others insert images of products or services.
Galleries
For special activities such as photographic studies or on personal portfolios, one can think of inserting a small gallery of the last works.
10. Mission
Do you want a place to synthesize in a few lines who you are and what your business is about?
It is a good idea in case of a little footer, helps to fill the spaces giving some additional information.
11. Recognitions and Certifications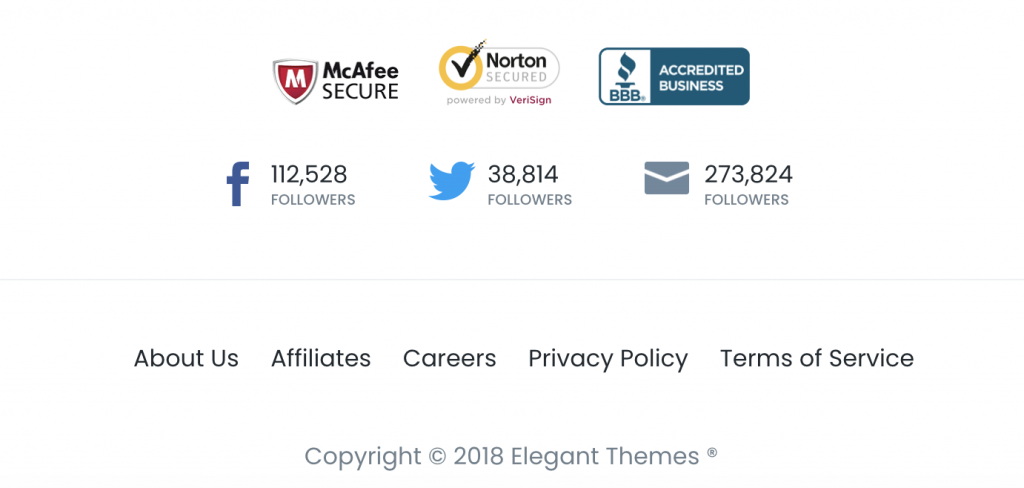 Have you received any special recognition? Did you win any prizes? Do you have any notable certifications?
These are just examples, but they all have a single purpose. Increase your brand Awareness, trust in your brand and in your services.
Associations and brands
Also enter the logos of the entities you belong to or associations of which you are a member. Use the brands of the famous companies you need or the software you use to manage your business.
12. Testimonial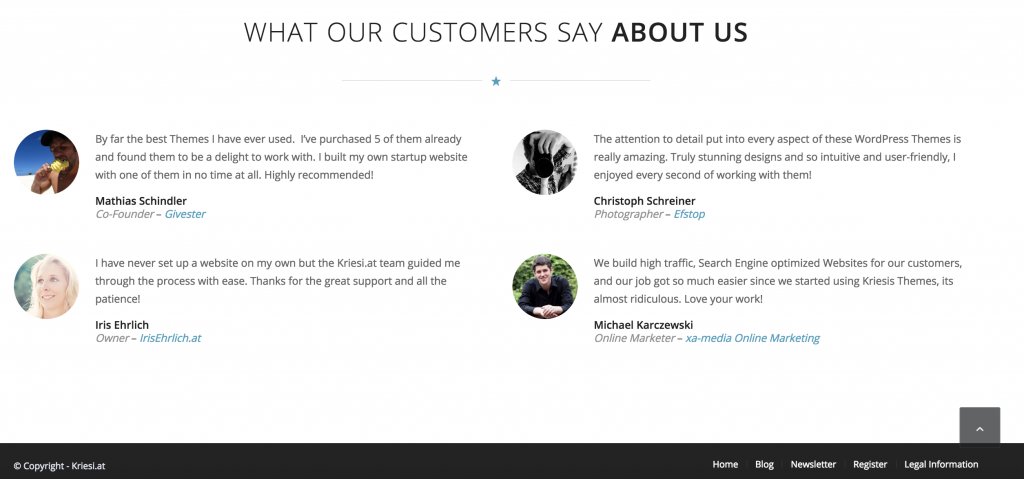 The testimonials are another useful element to give an additional guarantee to your visitor.
If "he" tried the product before me and it was satisfied then it is a good product.
This is the typical reasoning of every consumer. The more he is authoritative and known and the more effective he will be.
You can find themes with testimonials that can help you add them in your website like Specular
13. Articles
Here is another WordPress default widget that, let's remember, was born as a simple blog.
Virtually all bloggers put the link to the latest articles.
It is used to have a footer always alive and constantly updated.
However, if you wish, you may also want to put the link to your most read articles, those that arouse more interest, that have a high conversion rate for your business and that are more appreciated by your users.
Events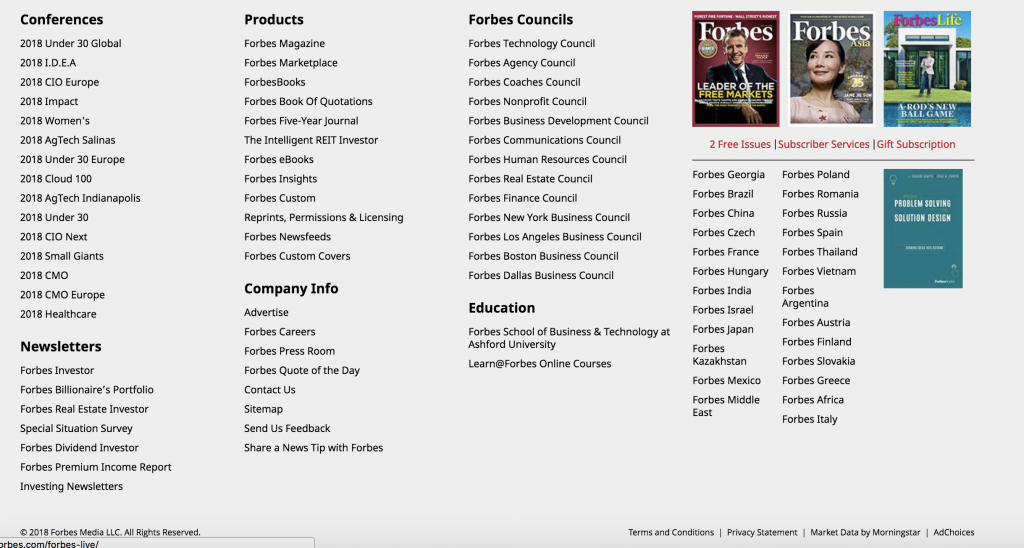 If you have a company that does many fairs and conventions, if you organize events, if you have a band playing on the premises, don't forget to let them know what the next appointments are.
14. Call To Action

Every self-respecting online business has call-to-action. The footer is a great place to propose an action to your users.
15. Language change


Do you have a multilingual site? It is not necessary to enter the classic flags in the menu. If a user wants to search for a different language you will see that he will also check the footer.
16. Advertising
In a project based on earning with AdSense you can think of using this space for the insertion of banners and text ads.
Strive to look for the format that visually makes better with the pagination of the content.
How to create footer without limits
We are accustomed to managing the footer using the default widgets of WordPress.
Some premium themes also offer tailor-designed modules, so they get married perfectly with the rest of the graphics.
You can manage the colors, the characters, the backgrounds, you can integrate maps, contact forms and icons, but let's face it: the themes do not offer so much creative space.
Given the importance of this section, we did an online search to find some workaround.
You know what we found? That things are only moving now.
On the net there are very few plugins dedicated to footers.
Some type Footr have only one function to hide it in automatic, others like Megafooter can only manage better the graphic layout.
We continued the research until we found an amazing and completely new product.
Smart Footer System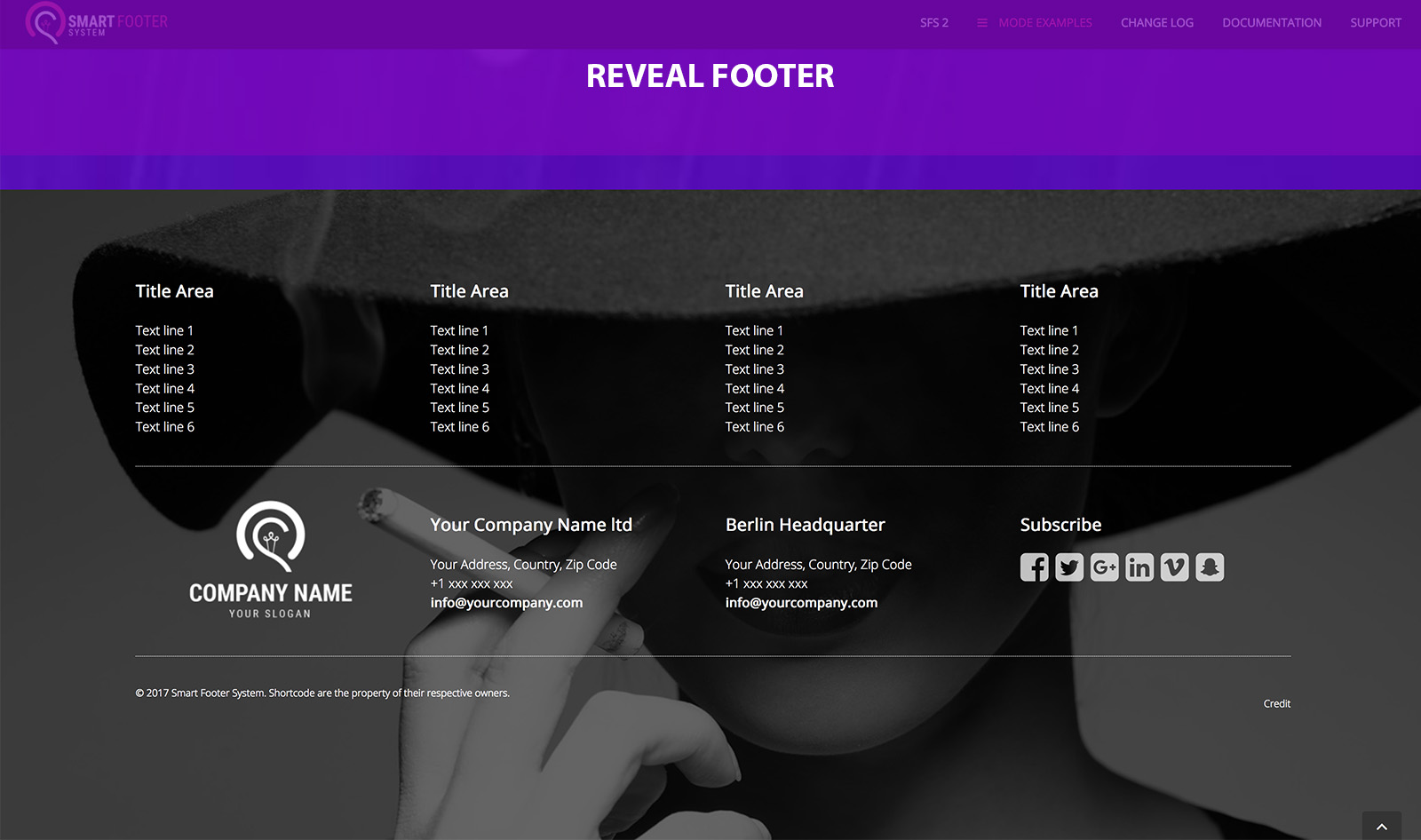 The plugin allows you to create endless layouts for your WordPress footer.
We see the main features:
Self-recognition of the post type (you can establish different footers for each one).
It allows both to use the traditional footer of the theme and the custom footer system.
Compatible with Visual composer (with 42 demos included) or other builder.
You can setspecific footers to individual pages and individual posts.
Completely responsive.
Totally customizable from a graphic point of view (more than 70 styles already included).
Dedicated sections for WooCommerce and 100% compatible with WPML.
Option to hide the footer on mobile devices.
Option to hide/make it visible automatically.
As a mode of vision there is only the embarrassment of choice, you can choose between 8 models:
Normal.
Sticky footer – always visible at the bottom.
Slide up – animation upwards.
Reveal – it shows itself as if it was a level below the last section of the site.
Banner – with great background image.
With CSS3 animations of the elements inside.
With Accordion.
Spread – Small button that expands the footer to the entire screen.
If you want to fully appreciate the versatility and the potential with all the animations, you just have to go to the Smart footer System page and try first hand by pressing the Live Preview button.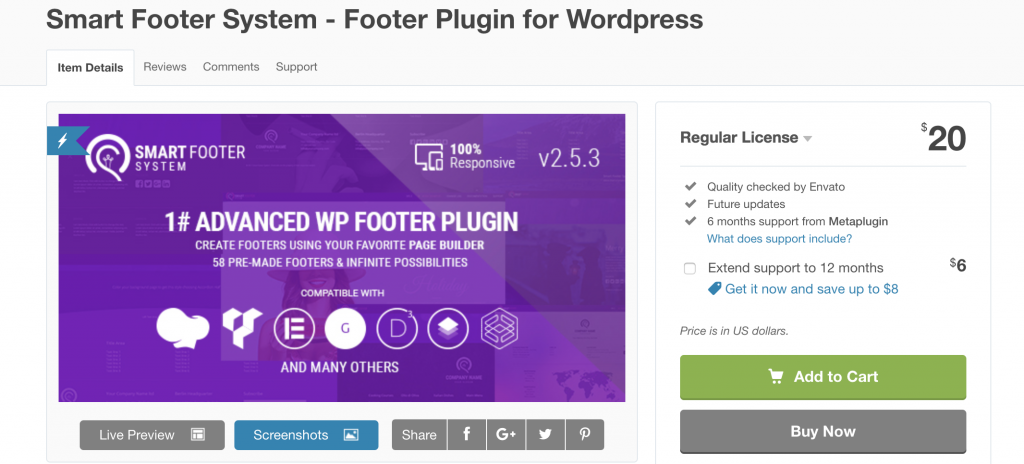 The plugin is smart named and factual. The steps to create a footer are just two:
Build your own layout using the builder of your theme.
Choose the options with which you want it to be shown.
To cure every aspect you will have a dedicated control panel, a real application from which you can also import the demo versions.
You will be able to start immediately with the graphics created by professional designers and personalize it with your content.
Here is a gallery of some layouts made; Unfortunately we can not show also all the animations…