Determining how much to charge for a WordPress website can seem confusing at first. In this guide, we break it down, making it simple for anyone to understand.
We'll explore various factors that affect the pricing of a WordPress site, from themes and plugins to customization and content strategy.
Whether you're a seasoned developer or just starting, this article will shed light on the essentials, helping you set the right price for your project.
Let's dive in, step by step, to unravel the secrets behind WordPress website pricing, ensuring you get the value and results you deserve.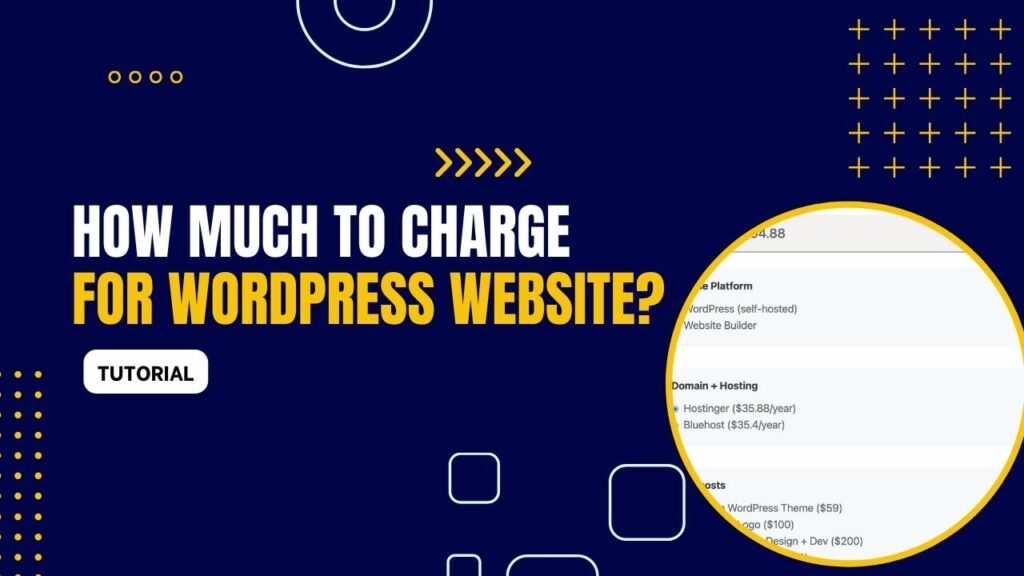 Understanding the Elements of WordPress Websites
WordPress has long been the go-to platform for creating personalized websites without delving too deep into coding. Its versatility has earned it a reputable spot in the web development community. But, before jumping into the pricing aspects, it's vital to grasp the core elements that construct a WordPress website.
Here, we will delve into the intrinsic components that you should be aware of:
1. WordPress Themes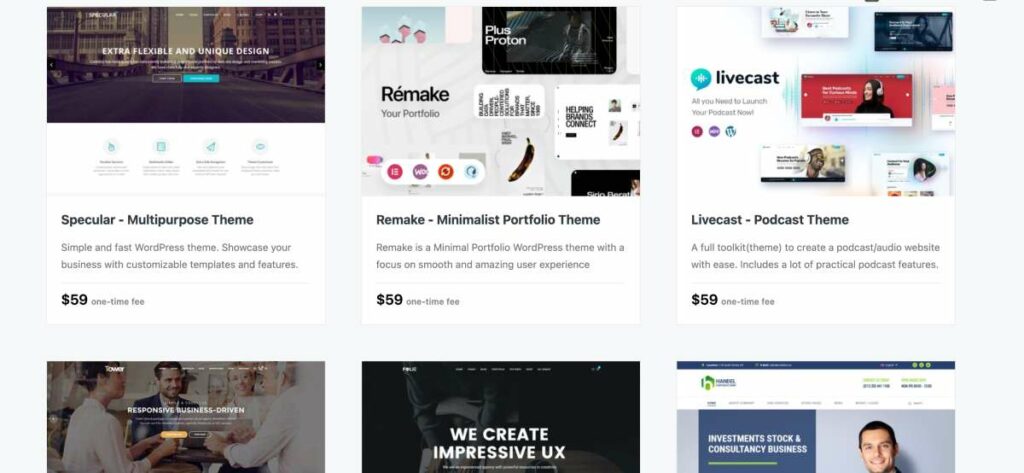 Themes are the backbone of any WordPress website, setting the visual tone and structure of your site. While there are plenty of free themes available, you might opt for a premium theme that offers more customization options and support.
For premium themes, we suggest you Codeless Themes
2. WordPress Plugins
Plugins are tools that help you enhance the functionality of your website. From SEO optimization to social media integration, the right set of plugins can elevate your site's performance and user experience.
Read More: 12 Best Free SEO Plugins for WordPress & WooCommerce
3. Customization and Design
Designing a WordPress site is more than just selecting a theme. It encompasses custom layouts, graphic designs, and multimedia elements that harmonize to create a visually appealing and user-friendly interface.
You can learn more about how to customize a WordPress theme.
4. Content Strategy
Content is king, as they say. Crafting a potent content strategy involves chalking out a plan for your blog setup, SEO optimization, and devising ways to keep the audience engaged with relevant and insightful information.
In the next section, we will explore the various factors that influence the pricing of a WordPress site, allowing you to gauge a clear picture of potential costs. Whether you're working on a small business website or a bustling e-commerce platform, understanding these core elements will provide a solid foundation to determine the appropriate pricing for your project.
Stay tuned as we unravel these components, one layer at a time, to pave the way for a successful WordPress website development journey.
Pricing: A Practical Approach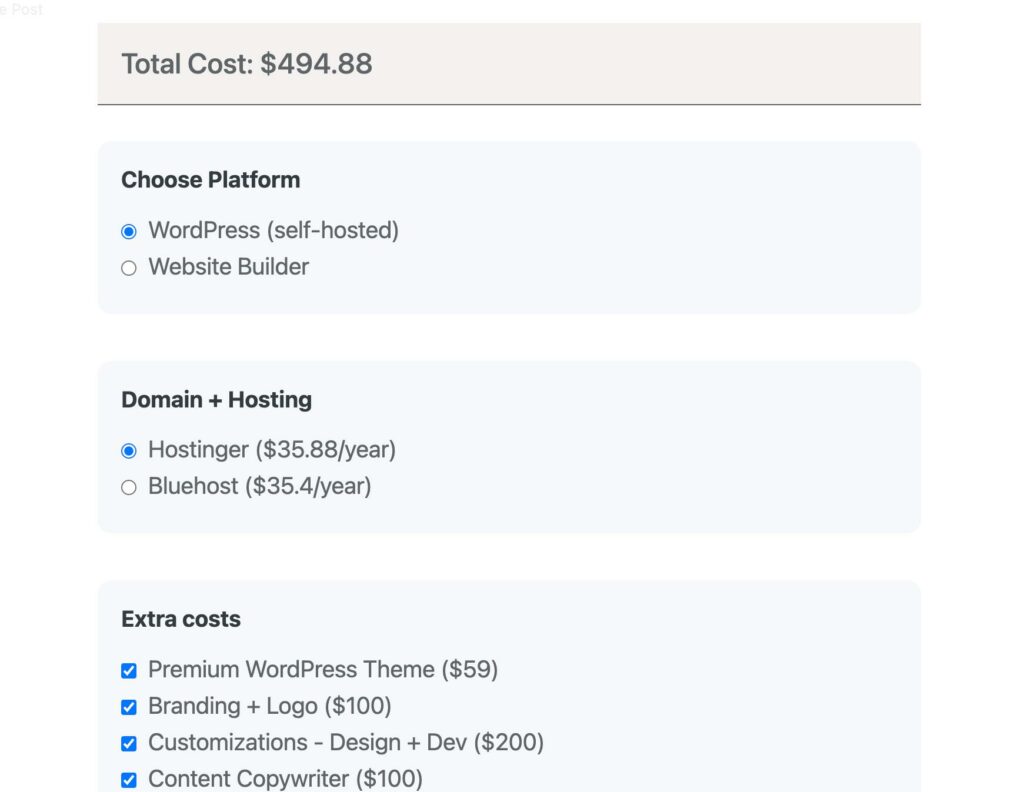 Now that we have a grasp of the elements that constitute a WordPress website, let's get down to the nitty-gritty: the pricing. Setting a realistic and fair price is crucial, not just for your business's survival, but also for fostering healthy client relationships. Here, we bring you an extremely practical approach to pricing your WordPress website project.
1. Scope of the Project
Small Business Websites ($500 – $2500): Generally includes a basic setup with a premium theme, necessary plugins, and a few pages of content.
E-commerce Websites ($2500 – $10000): These are more complex, requiring integration of payment gateways, product pages, and robust security features.
Portfolio Websites ($1000 – $5000): Usually incorporates a showcase of past work, client testimonials, and perhaps a blog section.
Blogs ($300 – $2000): A straightforward setup focusing on content management, social media integration, and basic SEO optimization.
2. Technical Complexity
Depending on the level of customization and unique functionalities, the costs can vary greatly. Here's a ballpark figure for different levels of technical complexity:
Basic (Up to $1500): Incorporating existing themes and plugins.
Intermediate ($1500 – $5000): Some custom development work and plugin integrations.
Advanced ($5000 and above): High-level of customization, including custom theme and plugin developments.
3. Experience and Expertise of the Developer
Experienced developers might charge more due to their skill level and expertise. Here's a rough guide to developer pricing:
Entry-Level ($15 – $30/hour): Suitable for basic projects.
Mid-Level ($30 – $75/hour): For more complex projects requiring a balance of experience and affordability.
Senior-Level ($75 – $150+/hour): When your project needs top-notch expertise.
4. Time Frame
Projects with a tight deadline may incur additional costs. It's practical to set a reasonable timeframe that aligns with the complexity of the project.
5. Location and Economic Factors
Depending on the geographic location of the developer or agency, the rates can vary significantly. Always consider the economic factors that influence pricing in different regions.
In the following sections, we will delve deeper into pricing strategies and additional costs that you might encounter during the WordPress website development process. Remember, being transparent and clear about the costs with your clients can foster a better working relationship and ensure the smooth progression of the project.
You can also use our Website Price Calculator
Pricing Strategies
Understanding the pricing strategies for WordPress website development is pivotal to establishing a prosperous business. Being realistic and strategic with pricing not only assures your profitability but also builds trust with clients.
Let's dissect the common pricing strategies that can be adopted and their potential implications.
1. Hourly Rate
Setting an hourly rate is a straightforward strategy, where you charge clients based on the number of hours invested in the project. This approach is transparent and allows for adjustments based on the project's evolving needs.
Pros and Cons

Pros: Clear tracking of time and efforts, flexibility in accommodating changes.
Cons: Can potentially lead to disagreements on time spent, might deter clients with a strict budget.

Determining an Appropriate Hourly Rate

Analyze market rates.
Consider your level of expertise.
Factor in overheads and business expenses.
2. Project-Based Pricing
This strategy entails setting a fixed price for the entire project, usually agreed upon after evaluating the project's scope and requirements.
Pros and Cons

Pros: Clear budget expectations, potentially higher profit margins.
Cons: Scope creep can result in extra unpaid work, less flexibility for changes.

Estimating Costs for the Entire Project

Assess the scope and complexity of the project.
Calculate potential overheads and unforeseen expenses.
Add a buffer for contingencies.
3. Retainer or Maintenance Fee
A retainer agreement allows you to charge a fixed monthly fee for ongoing maintenance and updates, fostering a long-term relationship with the client.
Pros and Cons

Pros: Steady income, builds long-term client relationships.
Cons: Can be less lucrative compared to project-based contracts, requires ongoing commitment.

Setting Up a Retainer Fee Structure

Identify the services to be included (e.g., updates, backups, SEO monitoring).
Determine a fair monthly rate based on services provided.
Set clear boundaries to avoid scope creep.
As we progress, we'll explore the additional costs that come into play and how to manage them effectively. Armed with this knowledge, you'll be well on your way to establishing a pricing strategy that's both fair and profitable, paving the way for a successful venture in the WordPress website development arena.
Additional Costs: Keeping an Eye on the Hidden Charges
In addition to the primary development costs, several additional expenses can factor into a WordPress project. These might sometimes be overlooked but are vital to account for when determining the overall budget. Let's take a closer look at these aspects and understand how they can influence the final pricing.
1. Hosting and Domain
A reliable hosting service and a domain name are the fundamental prerequisites for launching a website. The costs can vary based on the provider and the type of hosting you choose.
Shared Hosting ($3 – $15/month): An affordable option, best suited for smaller websites with moderate traffic.
VPS Hosting ($20 – $60/month): Offers more resources and control, ideal for medium-sized businesses.
Dedicated Hosting ($80 – $300/month): Recommended for large websites with high traffic, requiring superior performance and security.
3. Maintenance and Updates
Ongoing maintenance is crucial to ensure the smooth operation of the website. It includes regular updates, security monitoring, and bug fixes. You can offer maintenance packages to clients as a monthly or yearly service.
Basic Package ($50 – $150/month): Includes regular updates and minor fixes.
Premium Package ($150 – $500/month): Encompasses comprehensive services, including performance monitoring, SEO updates, and regular backups.
4. SEO and Marketing
SEO and marketing are essential to increase the visibility of the website and attract a larger audience. The costs can vary based on the strategies adopted and the extent of the campaign.
SEO Optimization ($300 – $1000/month): Involves keyword research, on-page optimization, and link-building strategies.
Marketing Campaigns ($500 – $5000/month): Can include social media advertising, content marketing, and email campaigns.
5. Training and Support
Depending on the complexity of the website, you might need to allocate a budget for training the client to manage the website independently. It can be billed hourly or as a separate package.
Basic Training ($100 – $300): Covers WordPress dashboard navigation and content management.
Advanced Training ($300 – $800): Involves training on managing e-commerce functionalities, SEO tools, and analytics.
By acknowledging and preparing for these additional costs, you can develop a more accurate and comprehensive pricing strategy. This will not only help in setting realistic expectations with your clients but also ensure a smooth workflow without any financial hiccups. In our next section, we will walk through some real-life case studies to give you a glimpse of how these pricing strategies play out in various project scenarios. Stay tuned!
Case Studies: Real Example Pricing
Gaining insight from real-world cases can offer a tangible perspective on pricing your WordPress website projects. Here, we explore a few case studies that depict various scenarios you might encounter and how to navigate them effectively when it comes to pricing.
Case Study 1: Small Business Website
Client's Requirements: A local bakery wishes to establish an online presence with a visually appealing website featuring a gallery, blog section, and contact form.
Theme and Plugins: A premium theme ($75) along with necessary plugins for SEO and contact form integration ($50).
Development Costs: Given the relatively straightforward requirements, the development costs were pegged at $1200.
Additional Costs: Domain and shared hosting accounted for an additional $150 for the first year.
Total Cost: The project was completed at a total cost of $1475, meeting the client's budget and expectations.
How to Make a Small Business Website
Case Study 2: E-Commerce Website
Client's Requirements: A retailer looking to expand their business online with an e-commerce platform featuring producteco pages, a secure payment gateway, and customer reviews.
Theme and Plugins: A specialized e-commerce theme ($120) along with essential plugins for payment gateway integration and security ($200).
Development Costs: Due to the complexity and the functionalities required, the development cost amounted to $5000.
Additional Costs: SEO optimization and marketing campaigns were undertaken, adding an extra $1500 to the budget.
Total Cost: The total project cost amounted to $6820, providing a robust online retail platform for the client.
Build eCommerce Website in WordPress: 6 Easy Steps
Case Study 3: Personal Blog
Client's Requirements: An individual wanted to start a personal blog to share their travel experiences and photography.
Theme and Plugins: A clean and responsive theme was chosen ($45) along with plugins for SEO and social media integration ($30).
Development Costs: Considering it was a relatively simple project, the development costs were estimated at $800.
Additional Costs: Basic SEO optimization added an additional cost of $200.
Total Cost: The overall project was wrapped up at $1075, offering a personal space for the client to share their journeys and connect with an audience.
How To Create a WordPress Website
These case studies illustrate the diverse range of projects you might encounter in the WordPress development domain. Each project carries its unique set of requirements and therefore, the pricing can vary significantly. As depicted in these studies, a clear understanding of the client's needs coupled with a realistic estimation of the costs can pave the way for successful project completion within the stipulated budget.
In the following section, we will share tips and best practices to adopt for a fruitful and transparent pricing discussion with your clients. This will ensure that both parties are on the same page and foster a healthy working relationship.
Tips and Best Practices
When it comes to setting the right price for a WordPress website project, the journey doesn't end at merely calculating the potential costs. Conducting pricing discussions proficiently is equally crucial. Here, we furnish you with tips and best practices that can guide you to navigate pricing dialogues effectively and foster successful collaborations.
1. Transparent Communication
Understand Client's Budget: Initiate the discussion by understanding your client's budget constraints and expectations.
Detailed Proposal: Provide a detailed proposal outlining every aspect of the project, including potential additional costs.
2. Customized Solutions
Tailored Packages: Offer packages that can be customized according to the client's needs and budget.
Flexible Options: Give clients the option to scale up or down based on their requirements and financial plan.
3. Market Research
Competitive Pricing: Conduct market research to offer competitive pricing without compromising on the quality of your services.
Value Proposition: Highlight your unique value proposition to justify your pricing strategy.
4. Documentation and Contracts
Clear Contracts: Develop clear contracts outlining the scope of work, payment terms, and conditions to avoid future discrepancies.
Scope Creep: Define mechanisms to handle scope creep effectively to prevent unexpected escalations in costs.
5. Post-Project Support
Maintenance Packages: Offer maintenance packages as a follow-up service to build a long-term relationship with the client.
Training and Guidance: Provide necessary training and guidance to clients for managing their websites effectively, potentially as a value-added service.
6. Feedback and Reviews
Client Feedback: Encourage clients to provide feedback upon project completion to understand areas of improvement.
Testimonials: Request satisfied clients for testimonials, which can be a great asset for your portfolio and help in building credibility.
7. Professional Development
Skill Upgradation: Regularly upgrade your skills to stay abreast of the latest trends and technologies in the WordPress domain.
Networking: Engage in networking with other professionals to exchange insights and potentially collaborate on larger projects.
Conclusion
Embarking on a journey to determine "how much to charge for a WordPress website" is indeed a nuanced endeavor. From understanding the intrinsic components of a WordPress website to devising practical pricing strategies and navigating client discussions proficiently, each step paves the way towards a successful business trajectory.
By adopting the tips and best practices shared here, you can look forward to fostering transparent, fruitful, and long-lasting client relationships. As you stride ahead, remember that the key to success lies in delivering value-driven solutions that resonate with your client's visions and goals.
We hope this guide serves as a handy resource as you venture forth in the dynamic and rewarding realm of WordPress website development. Happy crafting!

Ludjon, who co-founded Codeless, possesses a deep passion for technology and the web. With over a decade of experience in constructing websites and developing widely-used WordPress themes, Ludjon has established himself as an accomplished expert in the field.