We are moving towards an online world. As a result, businesses are transforming their marketing plans by focusing on digitalization. Nowadays, it is both cost-effective and measurable to reach your targeted audience through digital marketing.
Digital marketing requires expertise and good planning. However, many tools are available to help us plan the marketing journey effectively. Nowadays, GrooveFunnels is trending as it is a one-stop solution for anyone dealing with online marketing.
This GrooveFunnels review will help you make a better decision as it covers all the pros and cons of GrooveFunnels.
What is GrooveFunnels?
Gorvefunnels is a marketing software that comes with everything a business needs to sell the products or services. It includes over 20 tools like CRM, landing page builder, affiliate management system, ecommerce management, and email marketing automation tools.
Our GrooveFunnels review will provide you with full details about the platform.
GrooveDigital inc. has developed GrooveFunnels. The company is located in Florida, USA, and has been offering a lot of tools and services. Moreover, this is the same company that has developed Groovepay, Groovecon, and Marketers cruise. GrooveDigital is committed to providing affordable marketing solutions.
The CEO and founder of GrooveDigital is Mike Filsaime. He is a renowned online marketing expert. Mike Filsaime is also a developer, consultant, speaker, and author of different books. In addition, he offers software tools to help people start and scale online businesses without all the hassles.
GrooveFunnels was previously known as Grooveapps. However, the domain name was unavailable, so they decided to rename it to GrooveFunnels.
GrooveFunnels: Who It's For?
It simplifies online sales. You can use GrooveFunnels to sell everything. In fact, GrooveFunnels is designed for anyone and everyone who uses the Internet to make money online.
GrooveFunnels is the best tool for you if you are a digital/affiliate marketer or blogger. You can easily sell digital products like courses, ebooks, etc. Moreover, if you sell physical products, GrooveFunnels can bring you a lot of sales. Membership sites can also benefit from a wide range of Grovefunnel tools.
In short, Groovefunnels is the right tool for you if you want more conversions and hence more profit.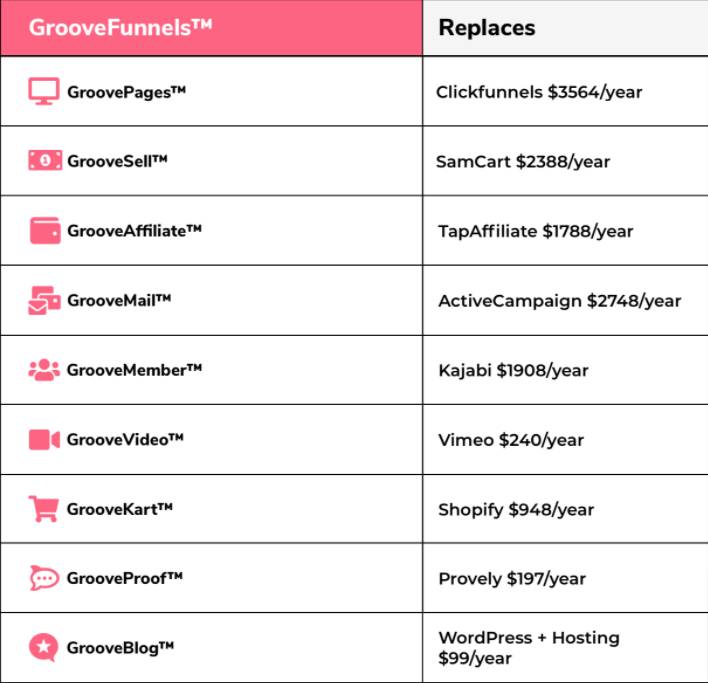 GrooveFunnels Review: In-depth Marketing Tools Review
GrooveFunnels offers a variety of apps and softwares. These apps and softwares help everyone to streamline the online marketing process.
GroovePages
You can create mobile-friendly websites and landing pages with Groove. All devices load web pages created on Groove quickly.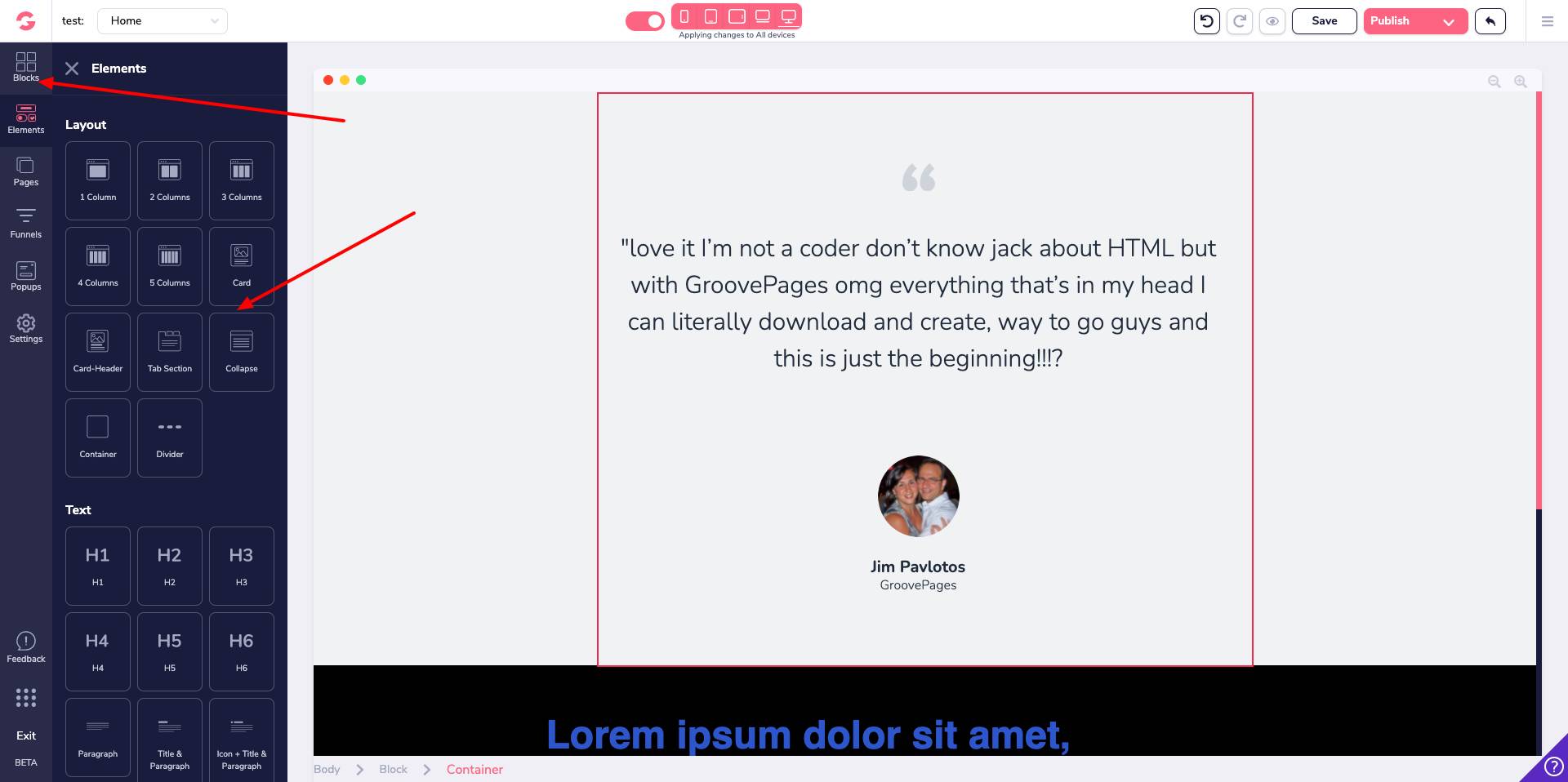 Drag and drop: GroovePages lets you easily build a unique website, landing page, and sales funnel with drag and drop functionality. It isn't difficult to build sales funnels and pages, even for beginners. Moreover, you don't need to learn code. A new page can be created or a template customized to meet your requirements. Additionally, you can optimize landing pages for devices like smartphones and computers.
Templates: The library of pre-customized templates varies by industry, funnel type, or category. Additionally, the Groove team releases new funnel templates every week.
Share/import funnels: Groove's Sharefunnels let you share entire funnels. You can duplicate and clone your funnel. With Groove, you can share and import funnels easily. Just paste the URL, and it will import the funnel automatically.
Free bandwidth and hosting: You can host the landing pages, website, and sales funnel for free. You won't be charged when your website receives a lot of traffic. Unlike most hosting companies, your account will not be suspended due to the overuse of bandwidth. Finally, you don't have to pay monthly or annually as this is free for a lifetime.
Custom domains: You can add custom domains easily. The lifetime plan allows you to add unlimited custom domains. Alternatively, you can benefit from the branded subdomains if you don't want to add custom domains.
Website security: GrooveFunnels offer free SSL certificates so that you can keep your sensitive information encrypted. The web browsers mark the website as dangerous if it is missing an SSL certificate. Moreover, customers trust websites having SSL certificates.
Mobile-friendly: Groove allows you to create mobile-friendly pages, which is essential if you want to index your website. Since the web pages created by Groovepages are fully responsive, they fit the mobile screen of the audience perfectly.
Faster loading time: Google now considers page speed as one of the ranking factors. Groove uses an advanced JavaScript framework called Vue.js to build web pages. In addition, it uses a virtual DOM to speed up and give better performance. Moreover, all images are converted to WebP format. Webp is an advanced format of images that is lightweight.
SEO-optimized: The sales funnels built with GroovePages are SEO friendly so that they will rank well. Groove allows you to add analytics codes, headings, alt tags, and meta tags.
You can get free access to GroovePages lite in the base plan. GroovePages lite lets you get started, but it's limited. It is not possible to use GrooveMail, which is an email and lead follow-up service. You need to upgrade your GrooveFunnels account to get GroovePages Pro.
GrooveSell
GrooveSell makes it easy for you to design customized checkout pages with upsells, cross-sells, and other features. You can access it for free with your GrooveFunnels account.
It's free: You can use GrooveSell for free. Subscriptions and transactions are free. Additionally, it also allows you to sell unlimited items.
User-friendly: A step-by-step process makes it easy to build a sales funnel. By using GrooveSell, you can create registration forms, coupons, discounts, or checkout carts easily. Furthermore, you can also bump orders, offer upsells, down sells, add testimonials, and proof widgets.
Flexible pricing: With GrooveSell, you can choose from multiple payment options, including one-time payments, trial payments, installments, and subscriptions.
Abandoned cart follow-up: GrooveSell's cart abandonment feature is a handy follow-up feature. You can track customers who added items to their carts but have not checked out yet. Moreover, you can send them a follow-up email reminding them of the cart status.
Tracking tools: GrooveSell offers extensive analytics and reports that are also easy to access. It gives you tools to track sales funnels, transactions, and sources of sales.
Manage affiliates easily: Groovesell offers everything you need to manage your affiliates. In addition, you can offer them incentives, coupons, and rewards to increase your sales.
Payment integration: Users can choose from PayPal, Braintree, Stripe, AuthNet, or NMI as payment options through GrooveSell.
Your GrooveFunnels free account comes with this tool. However, GrooveSell is still in the beta phase. You might experience bugs. Some users have also reported a steep learning curve.
GrooveMail
GrooveMail is an email marketing and CRM system that offers all essential features. The GrooveMail product serves as an alternative to costly email campaigns and CRM solutions. In addition, several powerful tools assist you with building and growing your email list.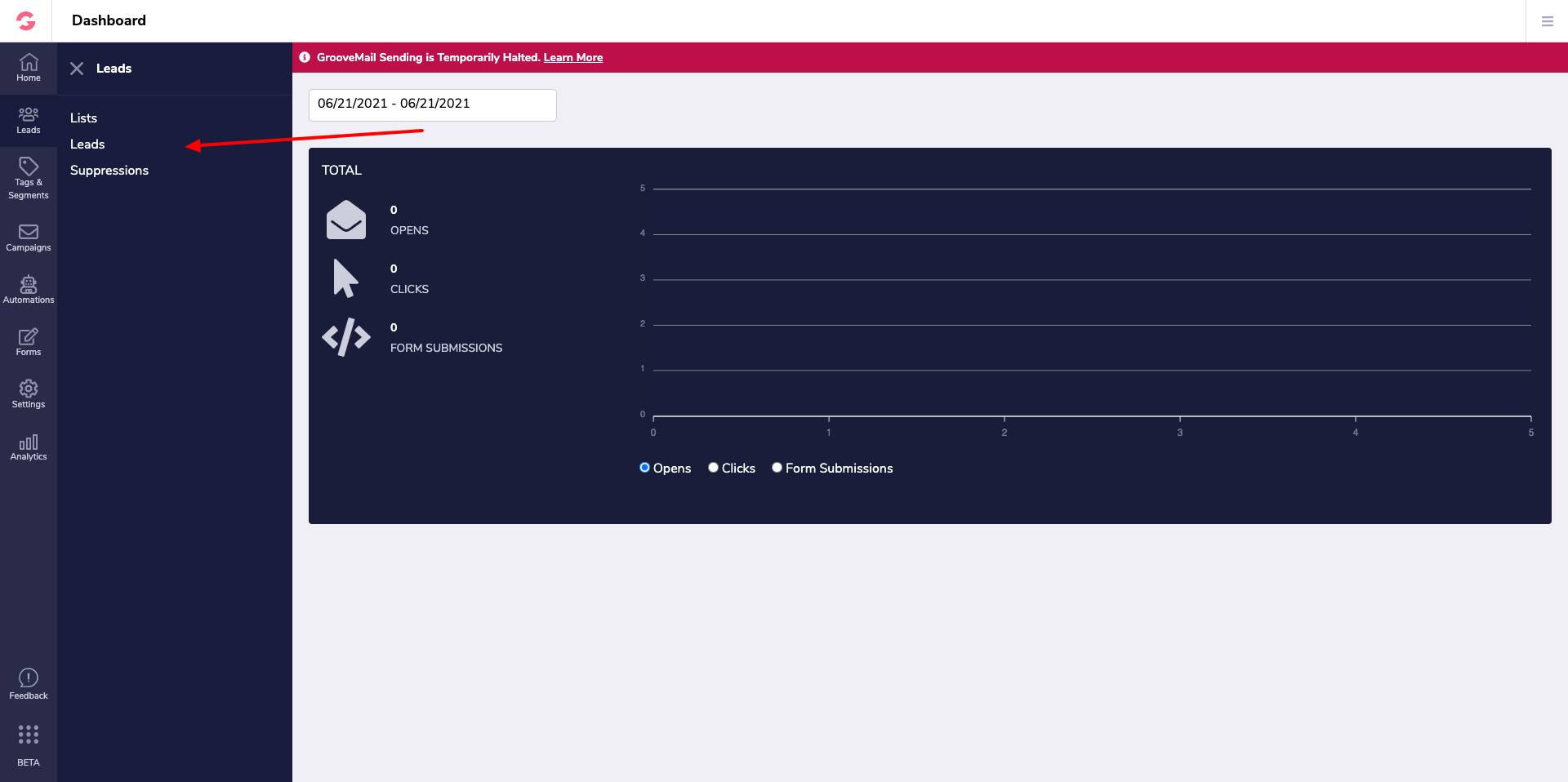 Tagging: You can tag the leads and make different categories for better targeting.
Segmentation: Groovemail allows you to divide the mail ist into different segments. You can use this feature to ensure your emails are targeted and appropriate for the recipients.
Variables: You can use different variables to personalize the messages. For example, you can use the first name in your message to get more attention. Unfortunately, there aren't many email marketing softwares that automatically use variables, making Groovemail a good choice.
Furthermore, you can also split the list based on various conditional variables like separate recipients who never opened your email.
Schedule emails: You can set a schedule for sending emails. For example, you can set this up depending on the time zone your customers live or their typical email opening hours.
Easy list import: You can easily import the leads one by one or through a .csv file.
Design emails: You can design attractive emails easily. Simply choose a theme or start from scratch. Additionally, you can design HTML emails easily.
Easy tracking: Groovemail offers all the stats so that you can keep an eye on your campaigns and take decisions accordingly. You can track email open rate, click-through rate, and engagement rate.
GrooveMember
GrooveMember lets you grow your membership site without any additional tools. In addition, it enables you to manage events on your membership site with a high level of control and flexibility.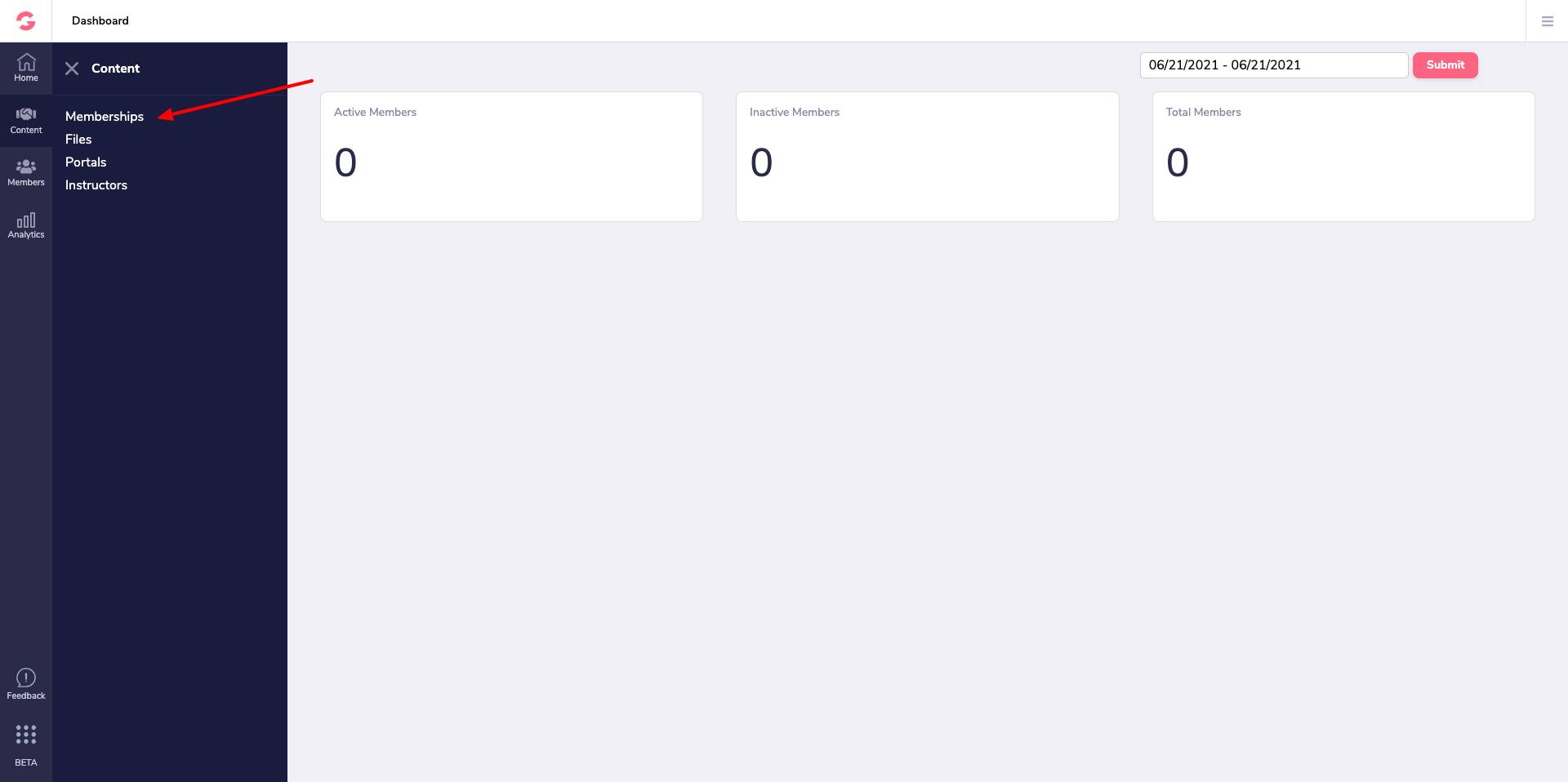 Drag and drop: Easy drag and dropping tools help you improve your performance. You do not need coding or design techniques when you use GrooveMember. Instead, a few clicks on the software will help you make a great impression.
Attractive designs: GrooveMember's platform offers many custom themes that you can use to create a professional look for your business. You can make a great impression with them.
Manage unlimited memberships: With GrooveMember, you will be able to create memberships for different sites very easily. As a result, the product portfolio can be managed across multiple niches without investing anything additional.
Content delivery options: This tool works for every membership site. It enables you to make content available simultaneously to all associated members. Besides, you can also lock content based on tags.
Different access levels: Each membership level provides a reliable experience due to paid and tiered access levels. You can build a more substantial audience base on this platform with manageable access levels.
GrooveFunnels offer GrooveMember for free when you subscribe to one of the paid plans. As mentioned previously in this GrooveFunnels review, many apps are still in the beta phase, and you might experience bugs. The same applies to GrooveMember.
GrooveVideo
GroveVideo hosts videos and provides video analytics. This tool lets you upload your own videos to track analytics. Moreover, your videos are branded, and you don't have to use any other platform to host your videos.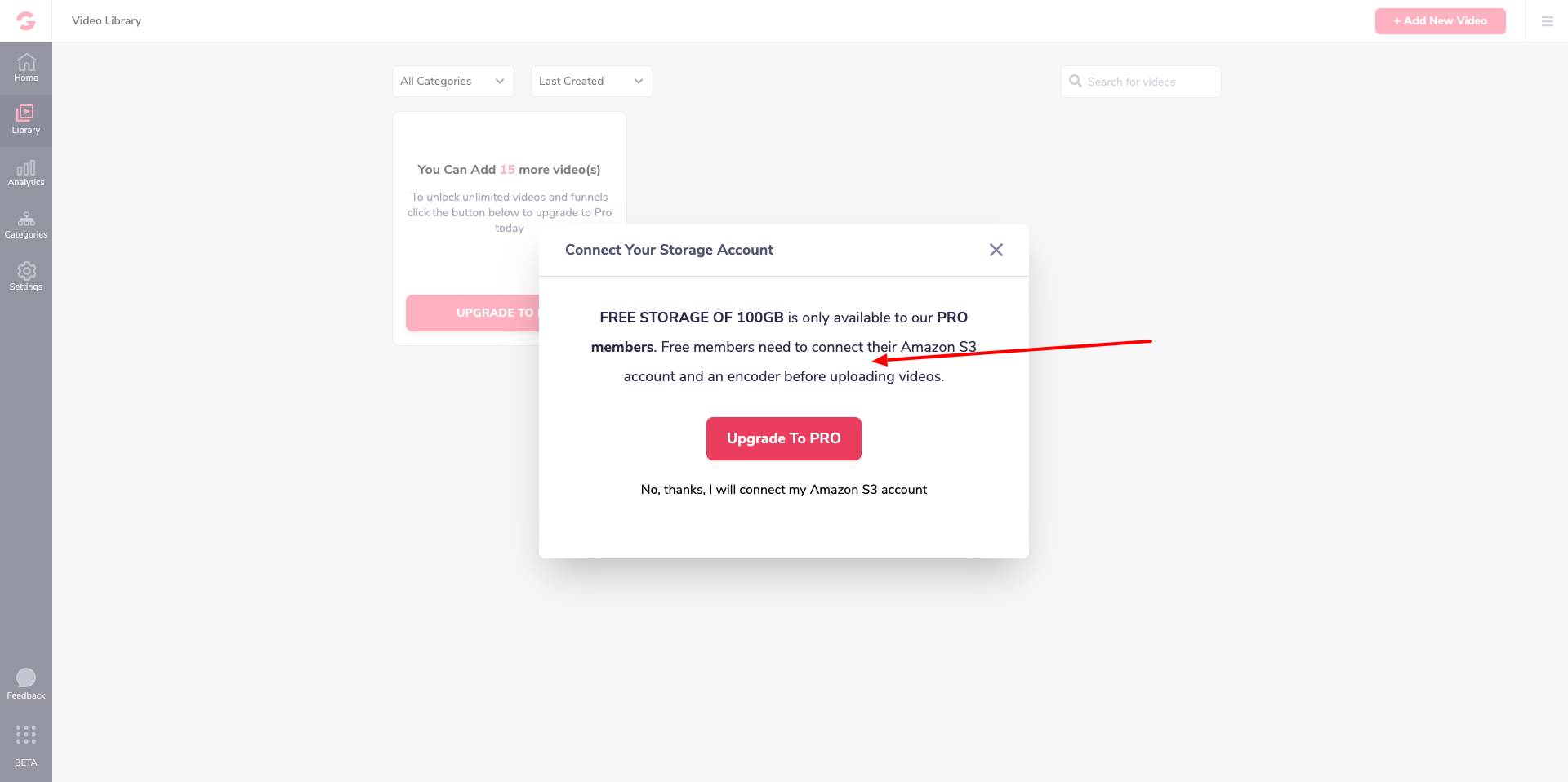 Quickly create videos: GrooveVideo analyzes your video and photos and then generates an automatic, one-minute video from the highlights of your video.
Edit on the go: GrooveVideo creates videos automatically and adds customization options so you can edit them. For example, you can use landscape, square, and portrait modes. You can also choose the aspect ratio for any one of these modes. Moreover, you can increase or decrease the length of the video.
High-quality music: You can also download free GrooveClips from GrooveVideo. Alternatively, you can use your own music library. If you want to set the start point of the music manually, you can do that easily.
Perfect music sync:Video editors know that the right background music can completely change the tone of a video. So GrooveVideo analyzes the beats, tempo, and BPM of the video background and adds perfect music. GrooveVideo's algorithm chooses appropriate music and calculates its beat length, and matches video and music correctly.
Custom CTR buttons: GrooveVideo allows you to add custom CTR buttons. These buttons can help you capture more leads.
Customized video player: You can choose the video player skin and control buttons of your choice
Video analytics: Finally, video analytics allows you to figure out the top-performing videos, engagement ratio, and audience behavior. As a result, you can modify your marketing campaign.
GrooveVideo is a part of the GrooveFunnels lifetime package. You can not access it in the base plan. You need to upgrade to a premium plan to access GrooveVideo.
GrooveQuiz
It's essential to use surveys and quizzes to help build your audience and expand your mailing list. Your landing pages, websites, and funnels can now include surveys and quizzes with the Groovequiz tool.
Create engaging surveys: You can find a perfect product, service, or content topic by using engaging surveys and quizzes. First, the audience answers some multiple-choice questions related to the topic and submits them. Then, you can use the response to improve or launch a new product.
Expand your email list: With surveys and quizzes, you can grow your email list. Each response is logged and integrated with GrooveMail for an easy email follow-up.
GrooveQuiz is also a part of the paid GrooveFunnels upgrades.
GrooveFunnels Pricing
Goovefunnels has four price plans: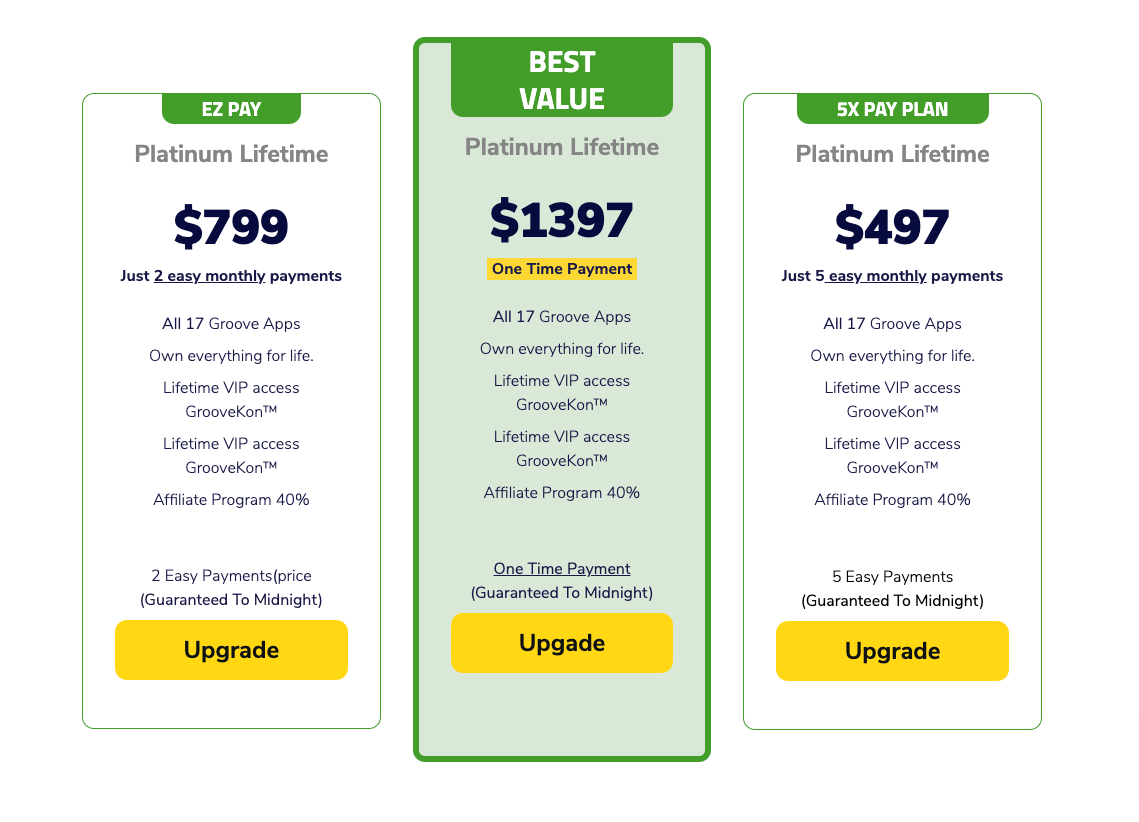 Base plan
It's 100% free to use the base plan offered by GrooveFunnels. The base plan allows you to use GroovePages (lite version), GrooveAffiliate, and GrooveSell. In addition, if someone uses your affiliate link to buy this software, you are eligible for 20% of total earnings.
Silver plan
The Silver plan costs $99/month. Users who subscribe to this plan get full access to GroovePages, GrooveSell, GrooveMail, GrooveAffiliate, GrooveMember. and GrooveVideo. Additionally, you are eligible for 20% of total earnings if someone buys through your affiliate link.
Gold plan
The Gold plan costs $199/month. It allows users to use all the tools, including GroovePages, GrooveSell, GrooveMail, GrooveAffiliate, GrooveMember, and GrooveVideo. Besides, this plan also gives you access to GroovesBlog, GroovesSurvey, GroovesCalendar, and GroovesDesk.
Platinum plan
The Platinum plan gives you lifetime access to all tools mentioned in the Base, Silver, and Gold plan in this GrooveFunnels review. In addition, there are four payment options in this plan.
You can pay $1394, 3 payments of $497, 6 payments of $288, or 12 payments of $188. However, the lifetime price plan will change from September 1st, 2021.
GrooveFunnels Pros & Cons
Pros of Groovefunnels
You can use the free plan to grow an online business.
Drag and drop functionality makes GroovePages an easy-to-use tool.
The lifetime package is incredible.
You can install SSL certificates easily.
You can use GrooveFunnels for free for 14 days. No credit card is required!
It integrates with most email providers.
You can get unlimited free hosting and bandwidth for a lifetime.
The websites load extremely fast and are SEO friendly too.
A secure membership area makes selling digital products easy with GrooveMember.
Platinum lifetime plan affiliate commissions are 40%.
Free plan commissions are 20% for life.
You can use Groove's marketplace to create buzz about your newly launched product.
The GrooveFunnel community helps each other.
Regular updates show that the Groove team is standing behind their products.
The GrooveFunnel team takes feature requests seriously.
GrooveAcademy offers a variety of video tutorials.
Cons of Groovefunnels
Since most of the Groove tools are in the beta phase, users experience many bugs whenever there is a new update.
Many apps are still missing some advanced features.
You will need to spend some time to figure out how all the tools in this suite work.
You can't import your funnels from other funnel builders.
You have to sign up to access the pricing page.
They do not answer support tickets quickly.
If you're on a tight budget, lifetime deals can be costly.
GrooveFunnels Alternatives
Following are some alternatives of GrooveFunnel:
Clickfunnels
ClickFunnels is an easy-to-use software that can be used to generate leads, sales, or even arrange webinars. With ClickFunnels, you can customize pages to fit your needs. Moreover, you can add the upsells easily. You can also boost your conversions and sales with the Actionetics Follow-Up funnel tool.
The Clckfunnels Integrations include MailChimp, ActiveCampaign, AWeber, and more. Large, medium, and small companies can use this software for all marketing needs.
Kartra
Kartra is one of the most powerful online marketing platforms. With Kartra, even rookie entrepreneurs can prosper with a set of features that work seamlessly together. As a result, you can build, launch, and market your online business on a single platform, with a single set of credentials, and with a single monthly payment.
It is a complete solution that provides a professional marketplace, beautiful landing pages, membership management, and an efficient checkout system that maximizes customer conversion.
Unbounce
Unbounce offers hundreds of AI-powered templates and industry-specific templates, making it among the top landing page builders. With the duplication feature, users can make several pages at once. Furthermore, the SSL certificate is automatically applied to all landing pages.
The drag-and-drop development makes it very easy to use. The A/B testing can be used to try out new ideas. No visitor group is left out as all the page styles, and templates you choose are mobile-optimized.
Leadpages
With Leadpages, you can create mobile-friendly landing pages with ease. The templates are straightforward to customize, and you don't need a lot of development skills to do so. Nevertheless, if the user knows how to code, customizations can be increased. Alert bars can be used all over the page to grab users' attention.
You can easily create Facebook ads with its built-in Facebook advertising creator. A/B testing lets you compare multiple models. You can install WordPress in Groovefunnel by using a plugin in a few clicks. Additionally, all pages include a high search engine-friendly metadata field.
Landingi
In addition to the pre-made templates, Landingi has many options designed for better campaign returns. For example, you can use the drag and drop feature to build high-quality pages. Additionally, Landingi offers over 200 templates. You can choose images and icons from the free library too.
You can also integrate it with your existing CSS and HTML elements. Landingi comes with 800 free fonts. Finally, Digital marketers love Landingi because of its simple user interface.
Summary: Is GrooveFunnels Worth It?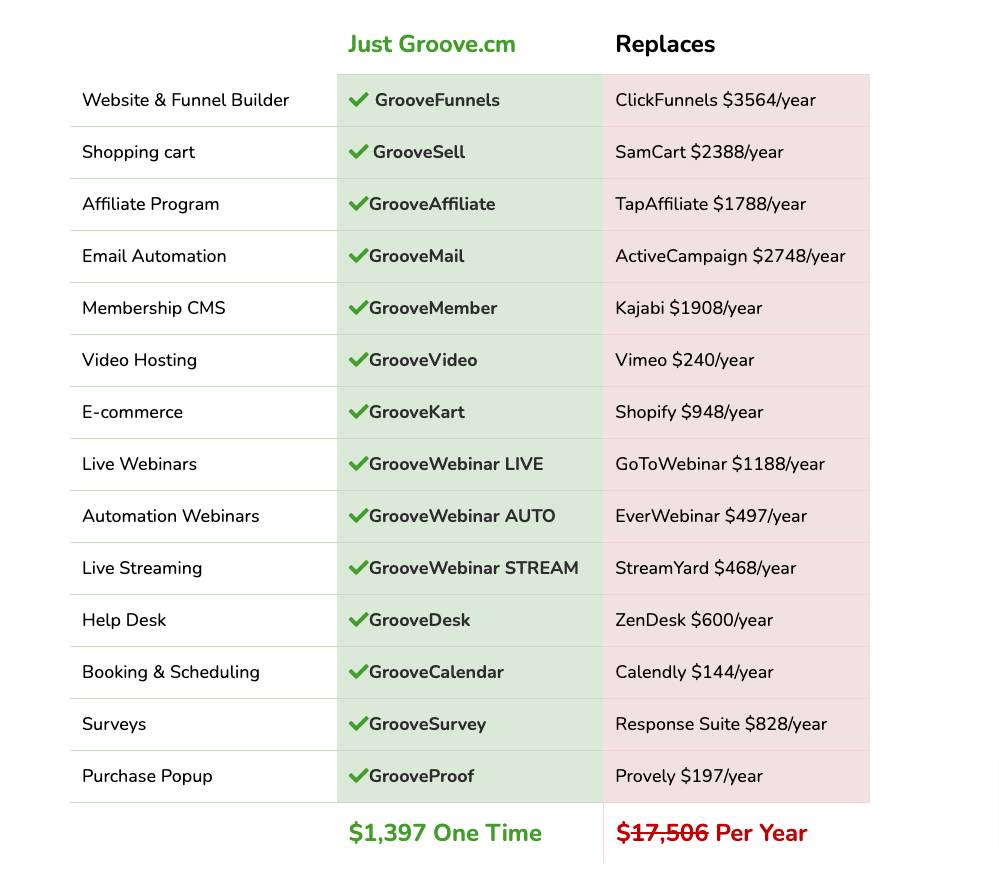 Yes, we think GrooveFunnels is worth it.
GrooveFunnels can help you grow your business in no time. Small businesses, entrepreneurs, and marketers can easily automate their marketing campaigns with this tool.
The application is easy to use and lets you create beautiful landing pages, sales funnels, and webinars. You don't need to be a coder or designer to use this. You can create a killer sales funnel in minutes with an intuitive drag & drop editor.
The best part is that they offer lifetime access to all tools at an unbeatable price, so there are no risks involved. It is a one-time upfront payment – no hidden fees or charges every month.
The lifetime deal enables you to save a lot of money. If you can afford the price, the GrooveFunnels is worth it!
If you're looking to grow your business, Groovefunnels is the answer!

Ludjon, who co-founded Codeless, possesses a deep passion for technology and the web. With over a decade of experience in constructing websites and developing widely-used WordPress themes, Ludjon has established himself as an accomplished expert in the field.