Are you looking for an effective platform for your online course selling venture? There are several such platforms out there, but today we will be reviewing LearnWorlds to give you a better insight into how it works to benefit your goals.
It will be an absolute honest review; hence we will look at both the positive and negative sides of opting out of this platform. At the end of this review, you will have detailed information about LearnWorlds as an online course platform and can make a better decision on whether to invest here or not.
LearnWorlds is one of the best online course selling platforms
We will discuss the following aspects of LearnWorlds in this piece of writing:
How does it work?
What can be done with it? Who can benefit the most from it?
Its essential features
We're ready to get started!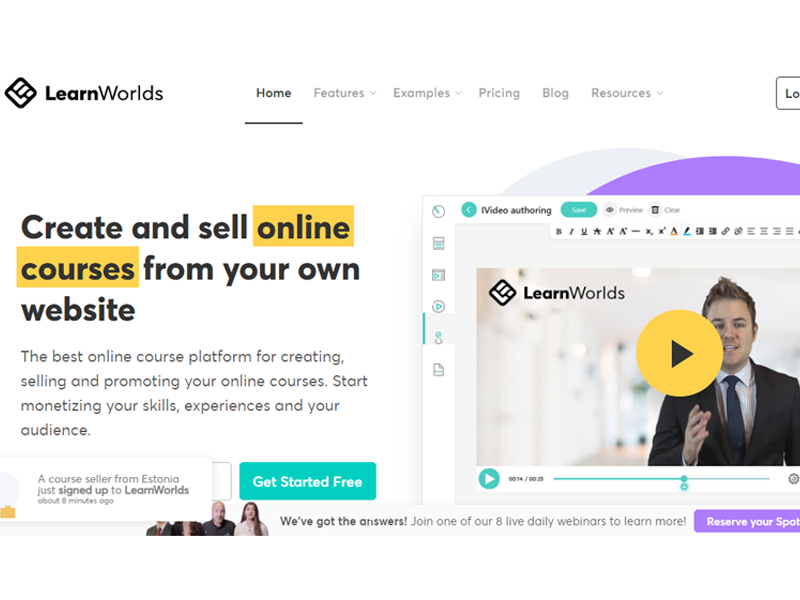 An Introduction To LearnWorlds
LearnWorlds is an online platform that supports course building and selling for entrepreneurs, teachers, and relevant companies. Although there is a neck-to-neck competition amongst different platforms serving the same purpose, LearnWorlds has emerged as one of the best.
This platform is not for merely building a course, but you can form a connected learners community with its unique features. This approach makes LearnWorlds stand out amongst other online course selling platforms.
It is a one-stop-shop for:
Creating, marketing, and finally selling online courses
Creating school website
For catering large corporations
Providing corporate training to employees
Making course building process more manageable with great customizing options
It is often perceived that the LearnWorlds platform is for expertise, but it's not true at all. Things appear complicated at first when you signup as a newbie, but as soon as you start exploring its features, you'll realize that it's elementary to manage. Moreover, they have the best customer support team, always ready to solve your queries.
To be precise, LearnWorlds can be called a plug-and-play platform as it has inbuilt tools that make the overall process of course building and selling a much easier task. You will also find pre-designed themes and templates to save your time from the hassle of creating one from scratch.
Let's have a detailed look at how LearnWorlds operate to create online courses.
Read More: Teachable Review.
LearnWorlds Course Creation
Most of the work of course building at this platform is based on templates. There are various unique and attractive templates that you can use to make your course stand out.
Moreover, the essential tools let you create a customized course according to your decided plan at one stop. You can add the course content in several formats, including learning tools like text, videos, audio, PDFs, electronic books, surveys, quizzes, assignments, and SCORM files.
Let's discuss the course-building process of LearnWorlds in a few steps:
The first step is to sign up on the platform with your credentials and other required info. As soon as you sign up, a dashboard will appear in front of you. Click on create a course option at the topmost part of the dashboard. It will take you to a page where you will have to enter course-related basic information like:
Course Name
Course URL and Slug
Course Type
Pricing Plan
It is the most straightforward part of course building.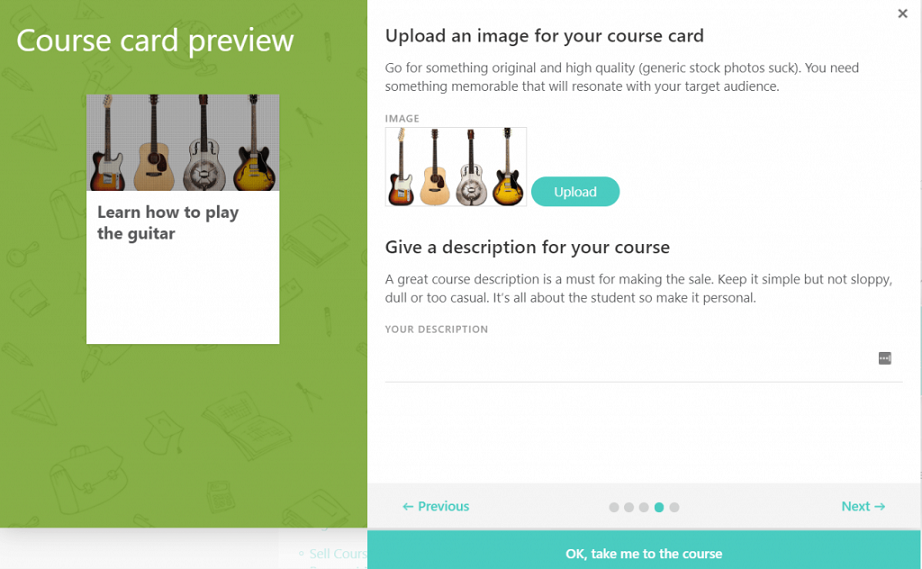 Adding Of Sections And Contents
The second step is creating your sales/landing page, an important feature to attract visitors to become customers.
Moreover, the step includes inserting sections and course content for easy access to your customers. After entering the basic details of the course, you will return to the dashboard and click on the contents section seen in the top region. You can add several sections according to the course content you intend to upload. After creating multiple sections, now comes the turn for adding course content into those sections. You can choose to add numerous formats.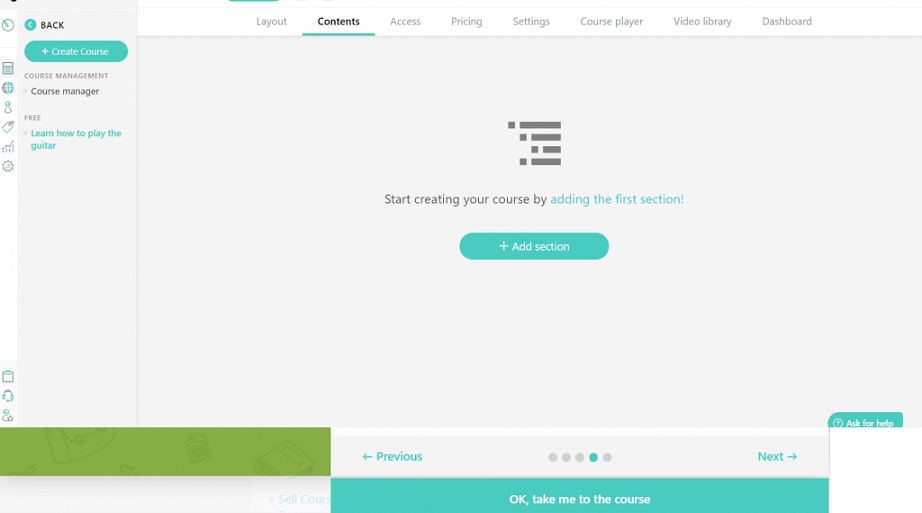 If your content is video-based, you can get multiple options to upload it like:
Uploading manually
Linking to Vimeo (third party platform)
Adding from Wistia
Embedding YouTube videos
LearnWorlds offers unlimited hosting for videos as a part of the paid plan. You can upload an unlimited number of videos in your course sections.
Moreover, LearnWorlds have tools for editing videos to perform actions to make your content interactive. It includes adding text, subtitles, transcripts, watermarks, table of contents, and much more.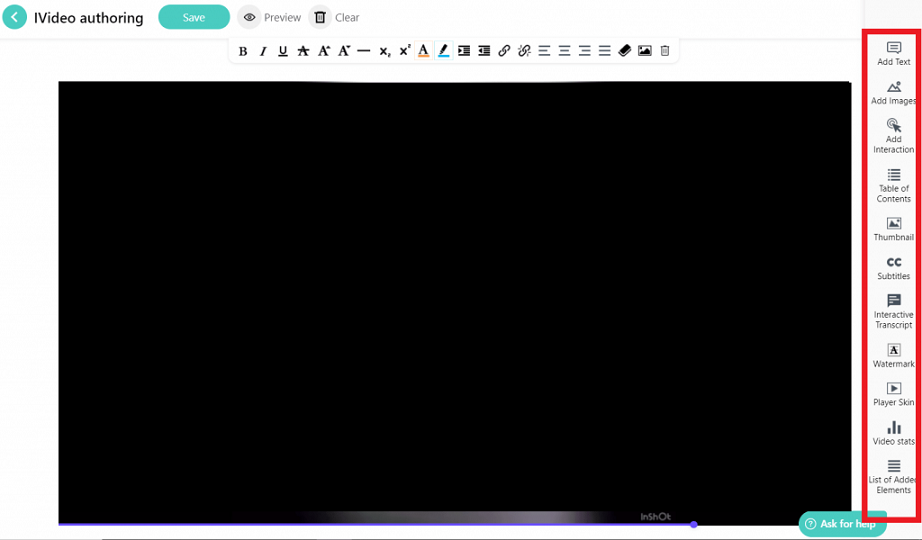 This feature makes your content engaging and ensures customer satisfaction at its best.
The best part of the course building process at this platform is its easy operation. Everything is directed towards a smooth user interface, from creating multiple sections to adding unlimited course content and interactive video editing tools. Hence it is the perfect tool for creating an online course platform in various formats with other outstanding features that I have already discussed.
Read More: Best Membership Site Platforms.
What's better than being able to create your course with your choice of features? LearnWorlds provide the ultimate opportunity of creating fully customized courses to match your brand. The exclusive tools will ensure that your course looks unique and matches your style with an easy-to-operate procedure.
There is a section named Course Player where many layouts are present. You can choose the one that goes best with your course idea. However, if you know to code, you can even make changes in these templates to make them look acceptable according to your taste.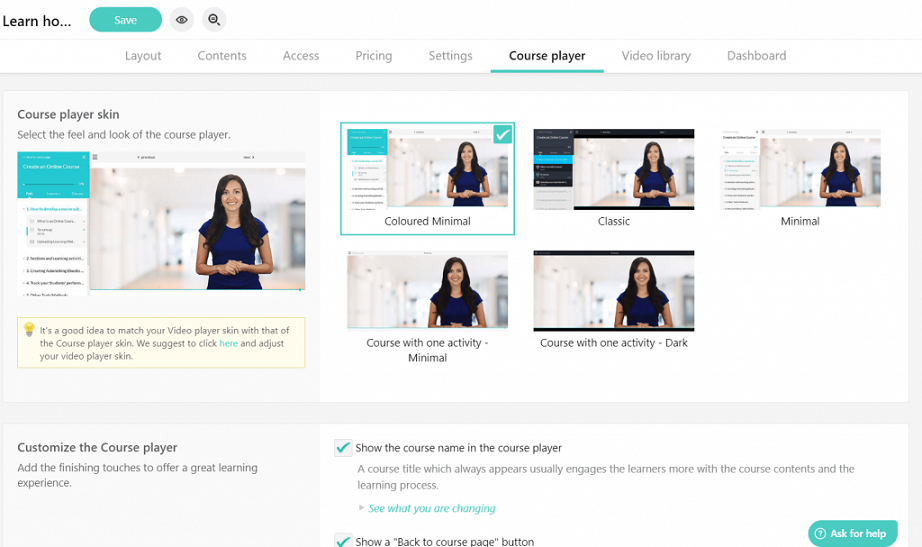 The bottom line is that course building with LearnWorlds is elementary, and its exclusive tools make your course unique and stand out from other similar ideas. You can also put your expertise skills at work to get a more impressive outcome.
LearnWorlds Ease Of Use
As you have already gone through the course-building procedure of LearnWorlds, you must have realized how easy it is to operate. Even beginners can manage these procedures with much ease. However, you need to be an expert to generate more remarkable results.
The lack of a tutorial on using the platform keeps things a bit on the negative side, especially for beginners.
But their customer support service is always at work to help users with their queries; there's even a FAQs section where common issues are answered with a proper demonstration.
The most suitable part about this platform is its academy, where you can attend free courses with lessons on creating quality and interactive online courses. You can also participate in their webinars held every week after applying.

Another drawback of LearnWorlds is how its dashboard appears to be complicated when it is indeed not. The bulk of information in a single place can intimidate users, especially beginners. But the good part is that it is effortless to use once you try to understand every section deeply.
The bottom line about LearnWorlds user experience is that it cannot be called the best, but a better one. They can improve in the following areas:
Making dashboard look simpler with less but relevant information
Introduction of tutorials
Despite this drawback, LearnWorlds has topped in providing many tools that make the course creation tasks easy for you.
LearnWorlds Integrations
Multiple integrations are necessary to enhance course sale promotional activities—LearnWorlds partnership with multiple third-party tools provides functionality integrations.
They collaborate with one of the most comprehensive integration tools, the Zapier. This automated tool helps you connect your course creation platform with almost thousands of apps and tools. This integration is vital for creating things easier for you as everything can be done automatically.
They also have an integrated zoom app to create digital coaching classes, live sessions, or consultation classes.
For enhanced marketing, LearnWorlds successfully integrates with essential tools like MailChimp, ConvertKit, HubSpot, ActiveCampaign, etc. These tools are responsible for sending out automated emails relating to your course to the target audience.
Moreover, they have also maintained integration with analytical tools of Google that will help in the top ranking of your course; you can also get a detailed insight about your course progress.
Few other integrations to name are:
Mixpanel
Facebook Pixel
ReferralCandy
FreshChat
Olark
Fomo etc.
LearnWorlds Features
The features of this platform vary according to the plan you have invested your money in. If you opt for the basic plan, you get comparatively fewer features and pay 5$ as a transaction fee per sale.
Moreover, you can find the vital feature of putting customized domains on all plans. This feature lets you create your site domain exclusively matching your course. This feature helps in the long-term marketing success of your online course.
LearnWorlds plans also provide the exclusive feature of uploading drip content in your course, mainly to keep the students engaged by uploading content at several time intervals.
If you want to have a 24/7 customer service feature, you should go for The online Learning Center Plan instead of the basic one, which majorly lacks this feature.
The advantages of investing in costly plans include:
More admins
More students
SCORM content
Invoice
Free calls
Interactive video tools
Reliable hosting methods
No transactional fee
The bottom line about LearnWorlds integrations and features is that they have excelled in both areas. With integration with multiple apps and tools, specifically Zapier, the marketing and promotion process is more straightforward. Moreover, it has impressive features required to create a good course and market it properly to sell around the target audience.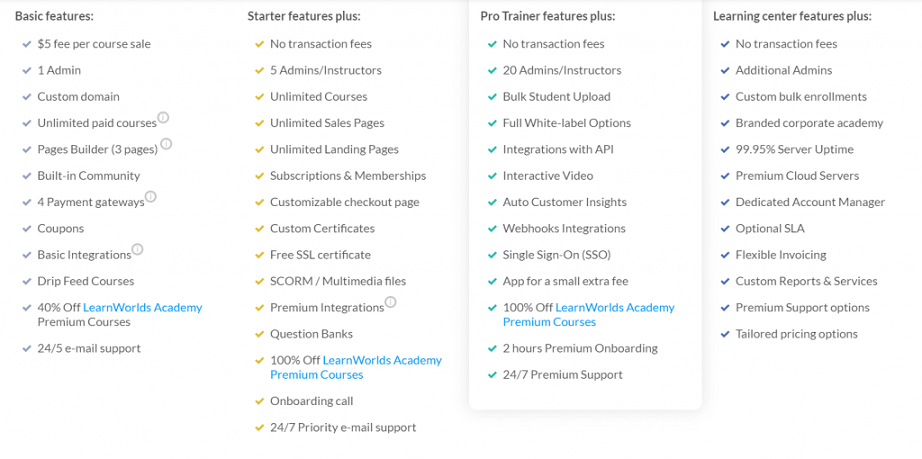 LearnWorlds Educational Advantages
Amongst the list of benefits LearnWorlds provide, one such to mention is the educational benefits that students can gain. It depends on how much the student is learning experience from your course. For such purpose, LearnWorlds have the best tools. They let you keep a complete report of your student's progress. Moreover, you can add quizzes, questionnaires, assignments, and other items to keep your students engaged and hooked on the course. This feature will also help students test their progress and know more details about the course content you are offering.
You can even decide on the difficulty level of your exams and other tasks. Students learn things with utmost dedication to pass your course and gain more out of the whole session.
You can even provide a completion certificate to your students when they finally finish your course; this might serve their CV a purpose.
Moreover, the drip content feature is exclusively designed to keep students engaged as they would be curious to know what's next for them. You can even choose to insert drip content with a gap of days or months, all customized.

The educational benefits offered by LearnWorlds summarize that they indeed impressed me with their relevant features and tools. The ability to take exams and assign assignments along with the element of drip content will keep the students engaged and let them get the best knowledge out of your content.
LearnWorlds Marketing Tools
Even the best course content is useless until you market it correctly to attract target audiences.
Fortunately, the marketing tools of LearnWorlds are effective enough to let you achieve your ultimate goal.
Let's discuss a few essential features that generate leads for your course:
A landing page is significant for online course selling businesses. It is the key to attracting audiences towards the main course content hence should be adequately unique and attractive.
You can find several templates for creating a landing page in the themes explorer section on the dashboard. After selecting your favorite theme, you can customize changes in font, color, buttons, and overall layout according to your brand and style.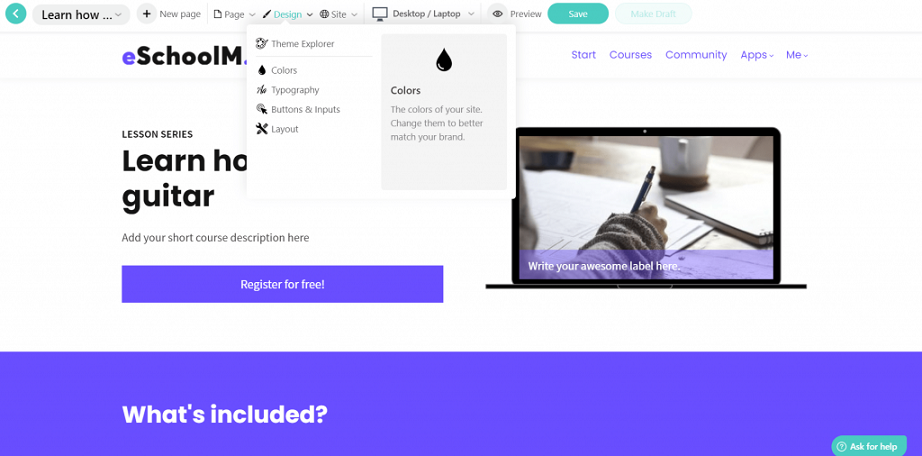 There is a list of options to customize your site's landing page according to what you're selling. According to your course content, you can make your page look either casual or professional.
Moreover, to bring more visitors to your landing page, it is required to optimize its search engine. This task is made simpler with in-built LearnWorlds tools. You can use them to build an ultimate SEO-friendly page, add meta descriptions relevant to your course or even add a customized image. All these steps will help you rank well, increasing the rate of conversion on your site.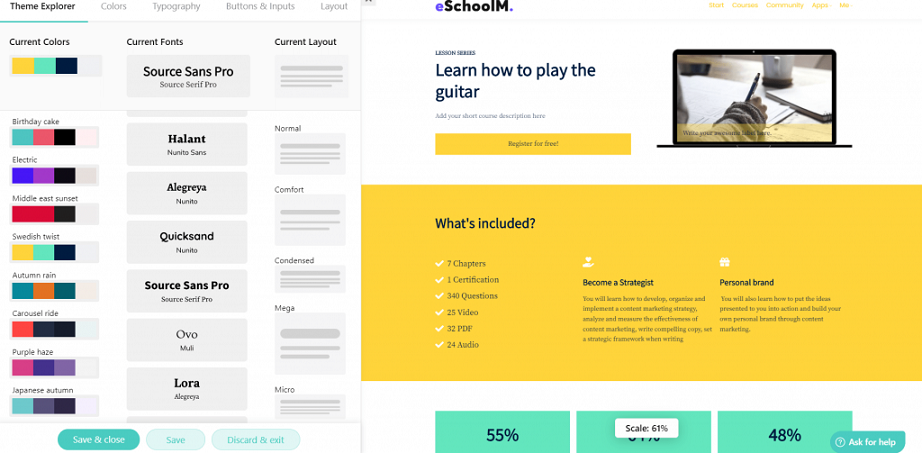 A landing page should be flawlessly attractive appearance-wise and must stay true to SEO rules to squeeze the most out of it. LearnWorlds marketing tools target both the goals and fulfill them with impressive quality.
Another significant way to promote your course content is to start a blog. You can write positive things about your course in blogs and benefit the students. LearnWorlds provide an exclusive blogging tool to serve this purpose.
This feature was introduced later in 2019 on continuous demands of users that reprimanded the lack of associating a blog with their course.
However, it stepped into the LearnWorlds platform and is occupied with all the required SEO tools and pre-designed templates so the plan investors can quickly start a blog to promote their course content.
Bundles, Subscriptions, and Promotional Deals
LearnWorlds also allows its users to create bundle courses to sell more than one related course as one. Moreover, they also allow you to create subscription deals for the students who might prefer the cause and choose to invest in your lesson. This feature also increases recurring revenue and ensures a continuous flow of income for the course sellers.
Moreover, you can also create coupons with special discounts on your course with a deadline of use which might attract students to make purchases urgently.
These are the essential marketing tools that you can put into action to promote your course and achieve the ultimate goal of attracting a large target audience.
Single Click Sales Funnel
The shorter the sales funnel, you can achieve the better results. LearnWorlds believe the above fact provides its user the option of creating a one-click sales funnel, which you can use to sell your course and related subscription deals. LearnWorlds have the feature that allows you to put the complete funnel on a single page for ease of your visitors as they can access the whole thing very conveniently.
Affiliate Marketing and Management
It is another marketing tool that is essential in promoting your class. You can also create affiliation for your online courses to increase sales. Moreover, you can conveniently manage your affiliates in the dashboard in a single section.
This feature helps collaboration with:
Influencers
Bloggers
Other influential social media personalities
Having good relations with the category, as mentioned earlier of people will help you generate more leads for your course. Their affiliation has a complete guarantee of converting more visitors to your customers.
The bottom line is that LearnWorlds has a wide range of marketing and promotion tools necessary for selling an online course. From sales page, blogging and sales funnel to coupons, affiliations, and subscription bundles, every feature is essential in increasing your site's conversions.
LearnWorlds Customer Support
LearnWorlds indeed have excellent customer support service. If you have invested in their higher-priced plan, you get the option of 24/7 customer service available at your help. However, this is not possible if you have purchased their basic plan.
Their most used customer care service is email support that is responsive 24/7 for higher plans and 24/5 for preliminary plan users.
The drawback of this feature is the lack of phone or chat support, but the high quality and responsive email support overshadow this con.

Moreover, irrespective of the plan, you can access to FAQs library with proper answers. It might prove helpful for you in some cases, but not all.
LearnWorlds also have a library where webinars are held weekly. In these webinars, the users are taught about certain essential things like creating a selling course, making your class unique, and ways to stand out amongst your competitors.
The bottom line about their customer service is that currently, it is available via email only but must be appreciated for quick service. However, they can improve by adding a phone or chat support too.
LearnWorlds Pricings Plans
LearnWorlds is currently offering four different pricing plans, which are: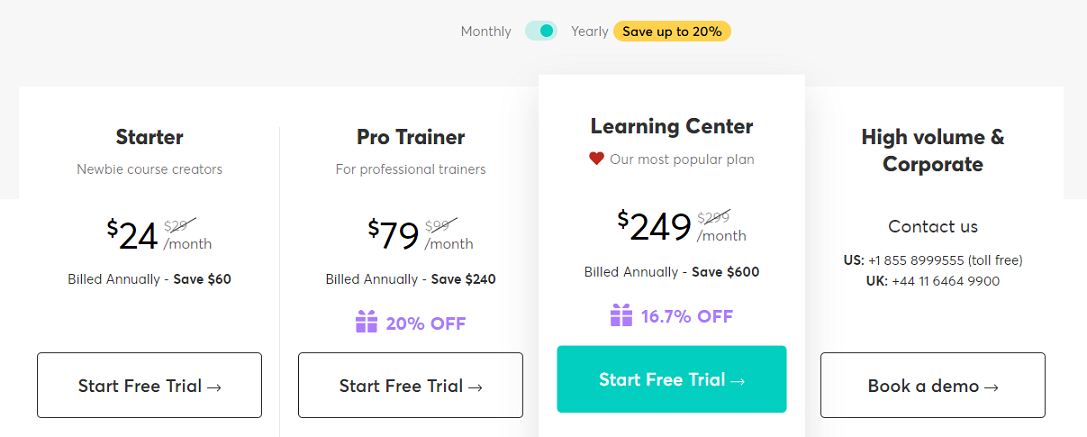 Starter Plan – 24$/month
Pro Trainer Plan – 79$/month
Learning Center Plan – 249$/month
High Volume Plan – 699$/month
Let's have a detailed look at LearnWorlds' pricing plans.
The starter plan is perfect for newbies looking to build a small course setup. Luckily if your business prospers, you can easily upgrade the program to cater to your needs.
It has basic features, perfect for solo course creators.
Some of the features include:
Customized domain
24/5 customer support
Drip feed courses
Three pages
A community
Coupons
Basic integrations
Four payment gateways
The plan will suit beginners with relatively low pricing and not many advanced features to create miniature courses.
It is more costly than the basic plan, hence contain more features that are:
No transaction fee
Can cater up to five admins
Unlimited courses
Unlimited landing pages
Subscription deals
SSL certificate
Course completion certificate and much more.
It costs around 79$ per month, but you can save around 240$ on paying the annual fee. It is a first-class choice for intermediate course creators with many customers. It allows you to manage a streamlined course site.
This advanced plan is quite costly; you will have to pay around 249$/month to avail of its features. However, you can save around 600$ by paying annually.
It has the other two lower plans and a list of additional features. It is the best plan choice as it provides an exclusive deal for creating and selling courses with the best tools.
It will allow you to import the bulk of students at one time and some extra essential features like interactive video editing tools, copyright protection, and much more.
If you are a prominent online course provider, then a high-volume plan should be your choice as it is perfect for providing courses in bulk.
The features of this plan include:
No transaction fee
Additional admins
Perfect server uptime
Unlimited courses
The cost of this plan is around 699$ per month, but you can save 1200$ if you choose an annual high-volume plan.
Another list of pricing plans offered by LearnWorlds is corporate plans; it is suitable for small and large business setups. The four plans of this category are:
Small organization
Medium organization
Corporate
Enterprise
These plans are more suitable for more prominent companies to accommodate thousands of active users with unlimited access.
How to Use LearnWorlds for Various Purposes?
Here is a detailed step-by-step insight into creating an online course on the LearnWorlds platform.
Step 1: After you sign up on the platform, a dashboard will open in front of you.
Step 2: Click on create course section that you can see in the course creation wizard. You can launch the same section by clicking at all courses manager situated at the course menu.
Step 3: Click on the Next button you see after the launch of the wizard to finally add your course details.
Step 4: You will first have to select a course title. Stick to keeping it contextual and search engine optimized. They also provide relevant suggestions if you are not getting enough ideas.
Step 5: Secondly, you will enter a course URL that should have course-related text with no extra articles and hyphens between the words. The left pane shows whether your entered URL is SEO and up to the mark or not to make necessary improvements.
Step 6: The third step involves selecting the type of your course. It could be free, draft, paid or launching soon. This option will be visible as a tag beside your course name at your site.
Step 7: If your course is paid, you will have to enter its prices. You can also take help from the tips that LearnWorlds have displayed for their users to have a better insight while deciding the cost of their course.
Step 8: Now, you can choose to implement a discount on your course as a marketing strategy. For this, click on the offer discount box and write your desired discounted course amount.
Step 9: Now, you will finally customize your course card. It should be attractive, unique, and contextual with your course content. You can upload an HD image relevant to your course to fulfill this purpose. You can also preview the card after setting it up on the very left side.
Step 10: After successfully uploading the thumbnail, you will get the option of entering a brief description of your course. It should be created to attract students to apply to your class. Answer questions like what they can gain at the end of your course, why they should choose you out of all the competitors, how you provide them the much-needed value of money etc.
Step 11: After course card creation, you can select your course delivery schedule if it is drip-feed content, which means different course sections get unlocked at a particular time to keep students engaged. You can also choose a custom schedule with openings depending on when the student has joined your course.
Step 12: Finally, the sales page of your online course selling site is ready.
Step 13: Now, you can finally upload your course content in multiple sections.
Step 14: For creating sections, click on build a startup section at the dashboard.
Step 15: Since each section can have a single format of content uploading, you can choose accordingly. Suppose you intend on uploading video content, click on the video library that is visible on top and click on add video option to upload your content finally. Select your desired video from explorer and wait for it to get uploaded completely.
Step 16: You can add more sections by clicking on the contents option and the additional sections button.
Step 17: You can also add brief info regarding each section, like name type of course content, and then finally save it.
Step 18: Now, a new section named add an activity can be seen, which you can use to add items like quizzes, assignments, questionnaires, multimedia, etc., related to the content uploaded in that particular section. The activity gets visible in the section's introduction part, where you can enter its name and finally save it. A pop-up will appear to let you choose interactivity type.
Step 19: You can edit the activity by clicking on the edit settings section and adding activity source, too, besides the essential information. Finally, save it by clicking the save button seen at the bottom.
Step 20: You can add more sections and content by following a similar procedure.
Finally, your course is ready to get sold!
To increase your sales by selling multiple courses in a single bundle, you will have to follow below steps:
Step 1: As you have access to the dashboard, you can see a marketing tools section in the navigation section.
Step 2: You will see a bundles section, click on it, and create bundles.
Step 3: A new section will appear to add your bundle's creative name.
Step 4: After adding the name, you must select courses you want to include in your bundle from the drop-down menu. The added courses should be paid ones.
Step 5: After adding all the courses, the next step is to select the bundle's price.
Step 6: Now, you can finally publish your course for access by the public.
Step 7: Now click on the Save button.
Step 8: To preview your bundle course, visit the dashboard and click on the after login page section in the navigation region. You can see your bundle course with all the added elements here.
Step 9: If you wish to change your bundle placement on your website's main page, click on + sign present in the top right corner. A menu will open, click on products, and then your bundles' option.
Step 10: The bundle will be visible as a card on your main page; hence you can see lots of cards option in the menu. Select whichever you like to get displayed.
Step 11: To change the card's appearance, click on the edit bundles section.
Step 12: Click on the Save button after making all required changes in your bundle's visibility.
Step 13: Click on the preview link next to the save button to see the final look of your page.
Building a School Website
You can also use LearnWorlds to create a modernized school website with all required features. Here is a step by step guide on how to make it:
Step 1: LearnWorlds provides magic templates to create a unique and attractive online school site. To select, go on the page builder section from the dashboard. A menu with templates will appear; pick whichever you like.
Step 2: You can customize the template by inserting images, titles, and subtitles. These changes appear in real-time as soon as you make them.
Step 3: You can use these templates to create landing, author, instructor, thank you pages, and testimonials.
These plans are more suitable for large companies to accommodate thousands of active users with unlimited access.
Alternatives Of LearnWorlds
Here is the list of a few other platforms that work on similar lines as LearnWorlds:
What Makes LearnWorlds Best Amongst Other Similar Platforms?
The reason behind the success of LearnWorlds in the online universe is it is a one-stop shop for creating courses, marketing them, and taking proper care of analytical ideas and monetization.
It provides multiple exclusive tools at the price of a single tool effectively. It lets you create an attractive and engaging online course very conveniently without costing you an arm and a leg.
Moreover, every course you create with LearnWorlds is:
SCORM compliant
Cloud-powered LMS
Mobile app friendly
White-label
It also lets your students or customers easily access your course content.
Moreover, unlike some other similar platforms, they have the feature of uploading course content in various formats like videos, audios, assessments, PDFs, ebooks, quizzes, and much more. It also provides analytical tools to keep an eye on student engagement and the number of conversions on your site.
Moreover, they are packed with lead generation tools that will significantly promote your course to support the target audience. The tools include coupons, bundles, subscriptions, and upsells. They also come with auto-generated subtitles and interactive video editing software for their videos. The transcripts in LearnWorlds are clickable to make overall navigation simpler.
The appreciation-worthy part of LearnWorlds is that it is not as costly as its other competitors. Their pricing plans are pretty affordable, in my opinion, and they ensure substantial value to money by providing exclusive features with each project.
They also offer 30 days of free trials and uploading of unlimited courses irrespective of your plan. It highly differs from other platforms whose starting plans are also out of reach of small setup runners.
LearnWorlds Pros and Cons
I will list the advantages and disadvantages of choosing LearnWorlds as your online course selling platform.
Pros
A one-stop-shop for online course creators
Compliance with SCORM
An advanced course builder
Great e-learning platform tools like quizzes, assignments, exams, etc
E-commerce support
Library with exclusive resources
The best option for building school sites
30-day free trial
Interactive video editing tool to create engaging course content
Community-oriented
Excellent marketing strategies like landing pages, blogs, promotional deals
Affiliate management marketing
Integration with thousands of third-party apps and tools like Zapier
Multiple pricing plans
Cons
Lack of phone or chat support for customer care services
Complicated dashboard appearance for newbies
No mobile android app present
Challenging to understand analytical procedures
Limited payment options
No learner authenticity and gamification
FAQs
Does LearnWorlds charge any fee for setting up the course selling site first?
No, LearnWorlds doesn't charge any such fee for beginners. Moreover, even the higher-priced plan charges no transaction fee from your profit. Many similar platforms cut some percent of money off from your profit, which might cause you financial instability in terms of earning through this business. Hence LearnWorlds is the best choice to save a certain percent of your money from going to other pockets.
No, LearnWorlds charge no hidden fees to its users. Every rule and regulation relating to each course is clearly stated for users to observe and decide. The starter plan does cost 5$ per enrollment, but higher plans are free from this transaction fee cut.
How can I log in to LearnWorlds with an existing school account?
If you already have a school account and want to create a LearnWorlds platform with a similar domain, follow the below instructions:
For social media accounts like Facebook, Linkedin, or Twitter: you will see a ready-made button for all three options where you can either sign up or sign in using your respective account's credentials.
If it is an email from your school account, enter it in your email box. Enter your password in the below box and click on login to get started.
Final Verdict
To conclude, LearnWorlds is the perfect platform with all the deserving hype around it to create and sell courses. Its excellent features like customizable course creation, search engine optimization tools, marketing strategies, and much more make it credible for beginners and large companies.
Though the platform has its share of drawbacks, the positive side easily overshadows them.
Hopefully, the above-detailed review of the LearnWorlds platform has cleared your mind in deciding why you should choose it over other similar platforms for creating and selling courses.
In my opinion, it is perfect for one's use due to its smooth user interface, things might appear complicated, but as soon as you dig deeper, you will realize it's not as difficult as it seems.
Moreover, the endless customization options take the deal to an upper hand. There are many areas where they have a scope for improvement, like adding a chat or phone support in customer service and making the dashboard look simpler.

As one of the co-founders of Codeless, I bring to the table expertise in developing WordPress and web applications, as well as a track record of effectively managing hosting and servers. My passion for acquiring knowledge and my enthusiasm for constructing and testing novel technologies drive me to constantly innovate and improve.
Expertise:
Web Development,
Web Design,
Linux System Administration,
SEO
Experience:
15 years of experience in Web Development by developing and designing some of the most popular WordPress Themes like Specular, Tower, and Folie.
Education:
I have a degree in Engineering Physics and MSC in Material Science and Opto Electronics.