Are you looking out for a platform packed with all the necessary features and tools required for creating and selling a course online? There are several such platforms present in the world of the web. Today I will be reviewing one such platform, Teachery. Teachery is a one-stop-shop that offers all the essential resources to create, market, and sell online lessons.
Teachery is an online course platform easy to use and with an affordable price
What is Teachery?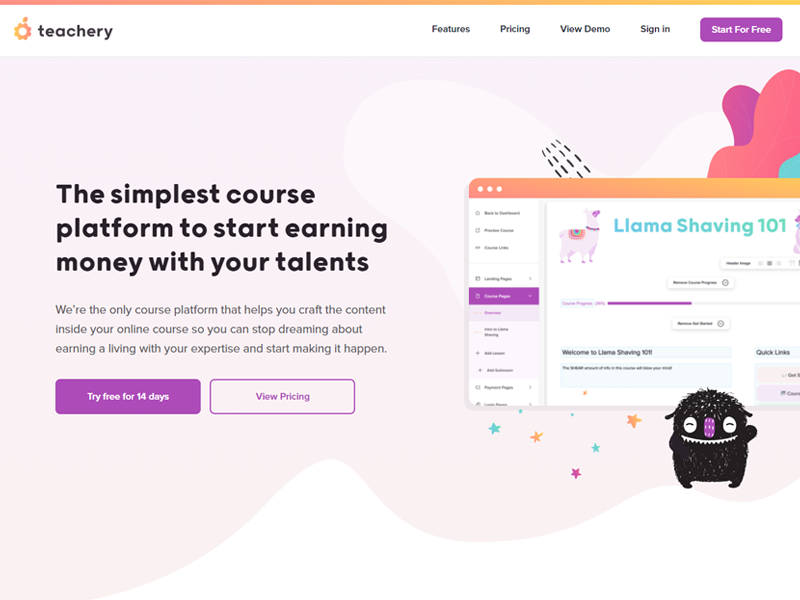 Teachery is an online course platform with a user-friendly interface specifically designed to cater to the needs of beginners. You can conveniently use this platform for selling your knowledge and skills to earn money and be financially stable.
It came into being in 2014 and stays true to the concept of simplifying the course-creating method.
The platform has its sole focus on giving importance to all the tools and techniques that can purpose the function without the involvement of complicated technologies.
Hence, Teachery can be the perfect choice for newbies who want to stay away from too many tech-based decisions and enjoy a simple interface while producing and selling their skills.
Let's look at all the aspects that work together to make Teachery one of the best course selling platforms. I will also discuss its negative side to have a better idea while choosing such a platform.
Is Teachery Worth Your Money?
Teachery has a simple user interface that lets you perform the course creation directly with absolute ease.
As soon as you sign up on the platforms, you will be asked to answer a few questions about your course building free plan. Afterward, a basis and sketch of the course pages will be displayed in front of you.
The best part about this platform is its automated approach that will build a complete outline of your course beforehand with all the information gathered. It has a straightforward process that won't let you get lost in too many technicalities.
Here's a list of all the actions you can perform to create a top-notch with Teachery course.
Creation of unlimited own courses
Customizable web designs
Customized domains
Pricing plans of your choice
Coupons and promotional deals
Affiliation
Student progress reports
Drip content
Pre-designed themes and templates
Integration with multiple third-party apps
Instant money withdrawal
Free training
To summarize, I would state that Teachery is worth investing in as it provides exclusive tools and features in economical pricing plans. These features save you a lot of time and hassle during the course creation process.
Who Will Teachery Suit the Best?
If you are a beginner in this field and want to take a straight road to course creation, then Teachery might be your ultimate choice. It is also essential for companies, schools, colleges, large enterprises, online business runners, and more such candidates to produce a customized course that matches their brand.

Teachery For School Website
Teachery is a perfect choice for building a school site with a simple procedure.
Let's look at the Teachery features that make it a complete go-to platform for creating school websites and selling download online courses.
User-Friendly Interface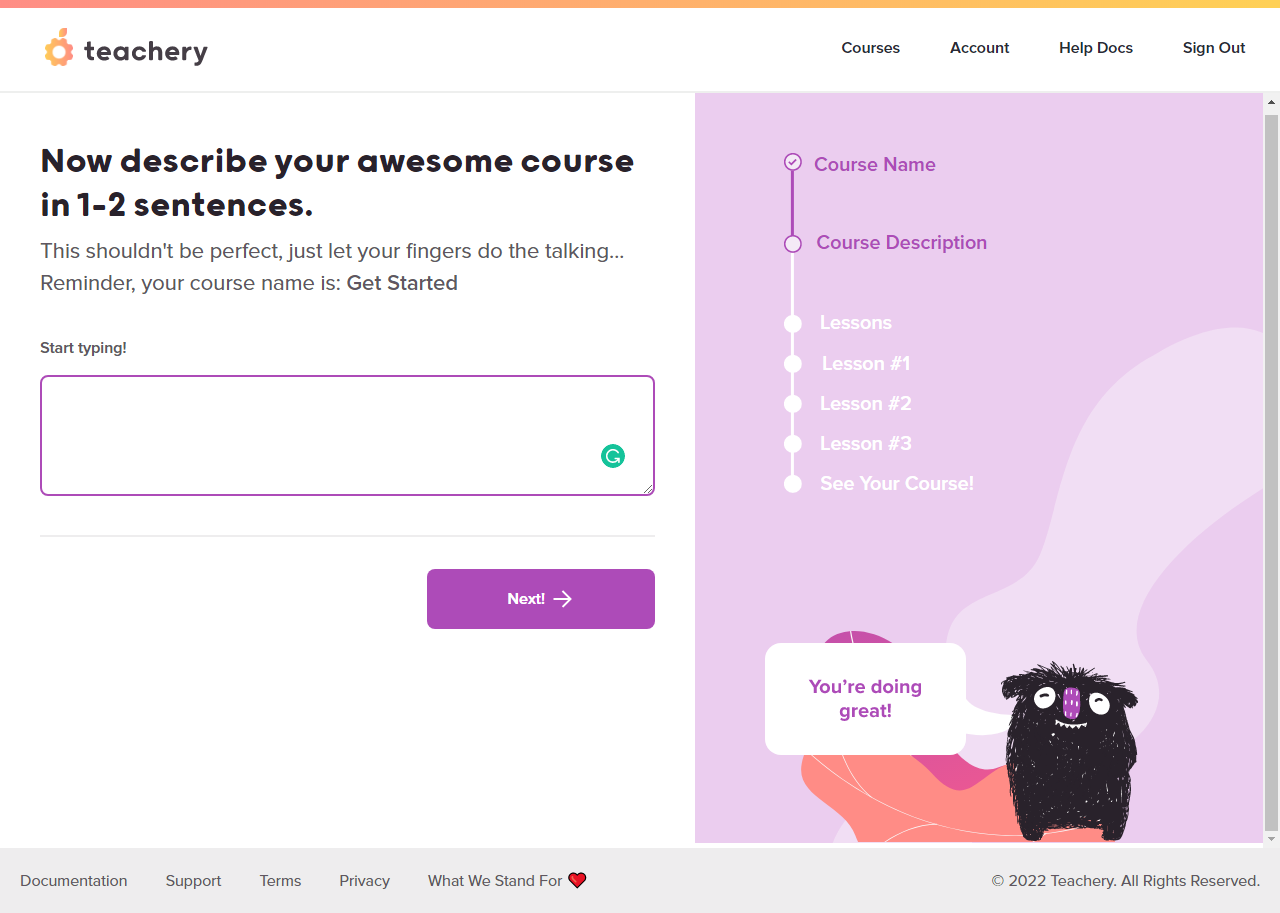 A beginner or solo course creator would first look for this feature before selecting any course creation platforms. Teachery excels in this feature by letting you build your course and relevant website in just a few minutes.
You just have to answer a few questions related to your course details and automatically create a basic outline. You can finally get started by adding your course content in videos or audio records.
The navigation panel is also straightforward with a creatively smooth and clean interface. These aspects will help you build a perfect online school site in minutes.
Unlimited Courses
Teachery offers to upload unlimited courses and lessons on your site; hence, you can create a school website with no limitations.
Moreover, it also allows unlimited students to enroll in your course.
For the lowest part, you can create as many as 1000 online courses with the capacity to accommodate millions of students in a very economical subscription plan.
You can create as many courses as you want, and Teachery will not charge you even an extra penny for it. You add also add sub-courses in your main course.
InBuilt Templates
There are two types of templates offered by Teachery:
Both types are highly customizable, where you can add relevant images, text, videos, and other such items.
The templates are highly compatible and help you create a course website within minutes. Experts are tested to provide the ultimate learning experience to your customers.
Let's know a bit more about both types of templates.
It is a highly responsive template with a user-friendly approach. It offers a wide variety of color options that you can apply for customizing your course according to your brand. It comes with an inbuilt sidebar for your website to provide an easy navigation experience for your students. It is the best choice for those who intend to upload multiple courses and sub-courses on their site.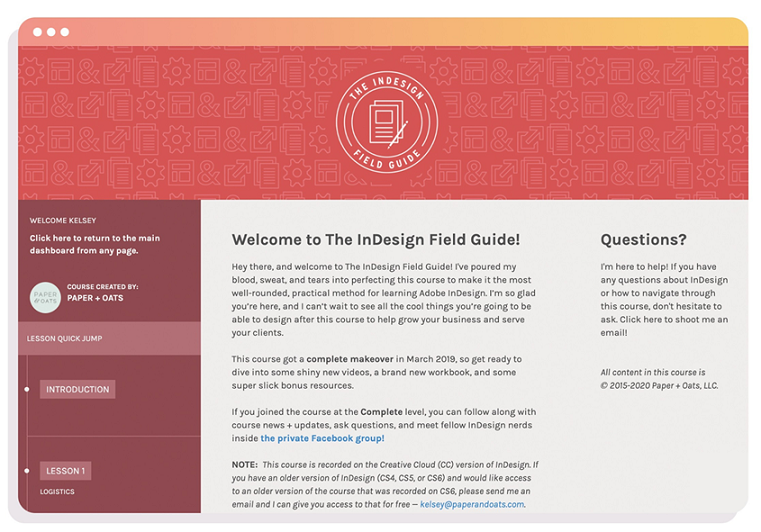 The minimal template, as the name suggests, is quite simple. You can place your course-related images and text in the main center to attract more customers and increase the number of conversions. Like Sidebar, this template is also highly responsive and has a smooth user interface.
It can also be featured on mobile with no changes. It is a perfect choice for schools or companies looking out to create a subtle but modern website.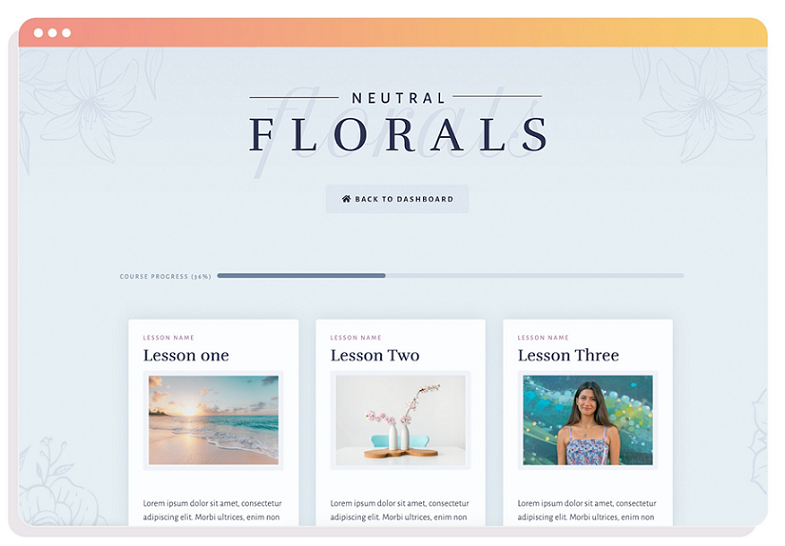 Multilingual Support
Teachery has a fantastic feature for locals who can convert your course content to their native language. This feature helps attract more audiences, specifically those who prefer being taught in their local language.
Some languages supported by Teachery are:
English
German
Italian
French
Spanish
Czech
Chinese
Portuguese
Embed Videos, Audios, and Slideshows
Although Teachery has the drawback of not allowing direct upload of videos and audios of your course content simultaneously, it features an embed video option to overshadow the lack. You can insert embed content from different resources.
The procedure to add embed videos is quite simple too. All you have to do is copy the relevant code and paste it to the exact where you want your embedding content to be.
Let's look at sources that aid in uploading embedded videos by Teachery.
Videos: YouTube, Wistia, Vimeo
Audio: SoundCloud
Slideshows: Prezi, Google Slides, Canva, Slideshare
This feature makes it significantly easier for school and first online course site builders to upload their course content without bearing the hassle of coding and other programming procedures.
Moreover, there is no need to form integrations with third-party tools for this purpose. Teachery has inbuilt mechanisms to cater to this process.
Teacher's Course Creation Capabilities
Teachery, as mentioned above, caters to the course creation process with a simple and easy-to-operate method.
Although it might not suit the likes of professional and advanced course creators, it is a complete package for beginners to create their course selling site in a few minutes.
You don't have to be an experienced person with coding skills to create a website where you can sell your skills, all thanks to this platform's automated and smooth response. It helps in course creation and speeds up the marketing process by providing the best selling strategies.
Let's have a look at the course creations capabilities of Teachery.
Guided Course Creation
Teachery offers an automated creation of your course framework just by asking you a few relevant questions. Many other similar platforms lack these exclusive features, and you have to figure out things on your own which might present problems for newbies.
The questions are elementary and creative to squeeze all the information regarding your course plan from you. The outcome of this feature is a complete framework of your course that saves a lot of your time.
In the end, you will see a thank you page along with the outline of your planned course-all happening in minutes.
Then you can finally upload your course logo, a customized one. There is an option to add information about the author, their photo, and an introductory message for your students.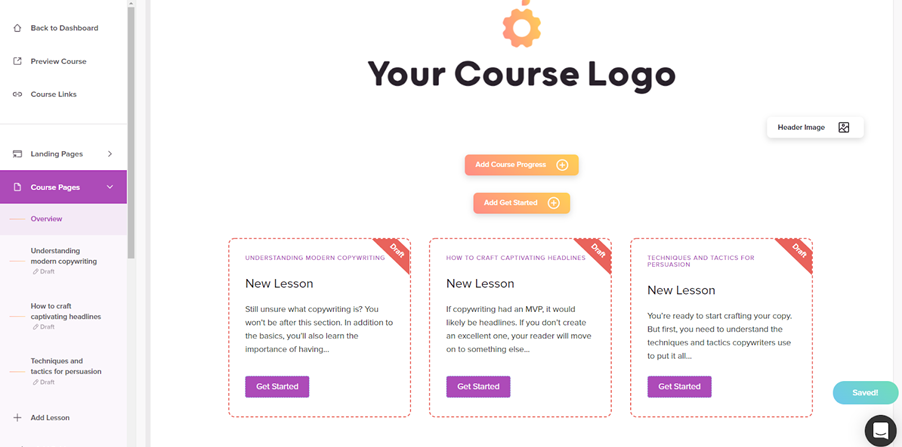 Simple Course Editor
Teachers provide an all-in-one-course editor, which is very easy to use. You can create all the basics of your course in just a few minutes with its editor.
You just have to follow an essential guide provided by the platforms and then use its course editor to create a beautifully customized course with interactive lessons.
The course editor also provides the option of editing your course content, either embedded videos or audio, after you have once uploaded them.
Customization Options
The course creation capability of Teachery also caters to a wide variety of customizing options by which you can decide the overall look of your website. You have all the votes needed to style your course to make it attractive for your students. You can make changes in the following items:
Hover date of buttons
Background color
Sub lesson color
Payment page
Landing page
Main page
Moreover, the availability of pre-designed professional courses will save a lot of your time in website development.
You can also add text hyperlinks for easier access to lesson-related worksheets and assignments in the Resources section.
Teachery also allows you to create a quiz at the end of the lesson of the individual section with the integration of Google Forms. You will have to provide a link to your students, and they can easily attempt the quiz to check their course progress.
Course Duplication
Teachery has a feature that will make it easier for you to copy all your course lessons, sub lessons, style, etc., in a single click. This feature is exclusively designed to save users' time and make their work more accessible and convenient.
Marketing and Selling of Courses
An exceptionally designed course would be useless if you can't market it correctly. Teachery has the best tools in this regard that will guide you on perfect marketing and selling strategies.
Let's discuss some essential marketing features possessed by Teachery.
Sales Page Templates
Sales or landing page plays a vital role in increasing the number of conversions of your website. Teachery features pre-built beautiful sales pages that will make your work simpler. It should be unique to attract your visitors in one sight.
Moreover, if you are a course seller outside Teachery, a feature allows you to add your students manually in courses you are selling on Teachery.
Also, Teachery makes your work easier by letting you add payment pages from any of your pre-existing courses so students can easily make recurring payments from there.
It also allows you to make a collection of emails even before you have set up your course for marketing purposes. You could do it in the Switch Email Capture section.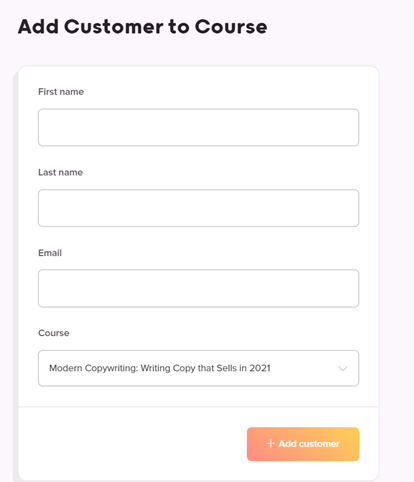 Payment Tools Integration
Teachery integrates with payment tools like Stripe to make the overall financing method easier. You can also integrate with your convenient payment processor by Zapier or credit card.
Teachery has everything from making global transactions to processing online payments in its Integrations section.
You will accept digital payments with these tools to increase your conversion rate.
Payment Pages
You can make several payment pages and customize them according to your course style. Moreover, if yours is a free course payment page can alternatively be used as a course onboarding page.
Teachery also allows you to set up monthly or yearly payment plans/methods for the ease of use for your students.
There is also an option of zero transaction fees in Teachery that allows you to create and sell your course without sustaining a single penny of transaction.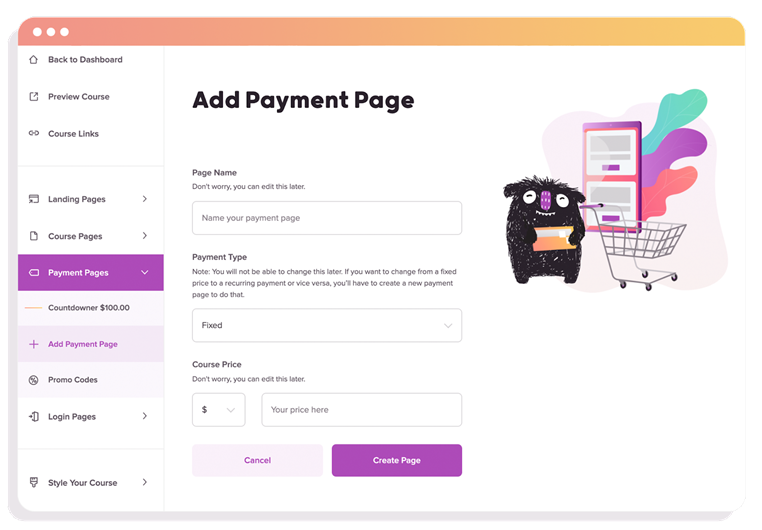 Email Marketing
Teachery allows you to market your course by running email campaigns through the integration of different email marketing services. Moreover, you can engage with your students by sending out welcome, course completion emails, and updates relevant to your course content.
You can easily customize the emails to insert information related to every student in separate emails. You can also add GIFs, videos, or audio according to the nature of the email.
Moreover, when your student have attended all the lessons and sub lessons you have added to a particular course, The tools will notify them with a congratulatory course completion email.
Affiliation
You can also affiliate your courses with influential personalities to increase sales and pay commission to every student enrolled by their efforts.
Add an affiliate is simple; you have to add a Paypal email, decide the commission amount and choose a relevant course.
Teachery also manages its affiliate program, where you can earn 25% on every sale of the platform brought by you.
Discount Coupons
You can add promotional deals to your content to attract audiences. You can do it in two ways; either give some percentage off the course fee or set up an exact discounted amount. You can also decide the duration of the coupon leading to an urgency amongst visitors to avail it.
Course Bundles and Memberships
You can create membership deals for your students with Teachery to offer each course lesson as an individual occurrence. It is also a great membership site platform for managing subscriptions and payments.
You can even make a course bundle by Zapier integration. This option will help students find all their courses in one place under a single page.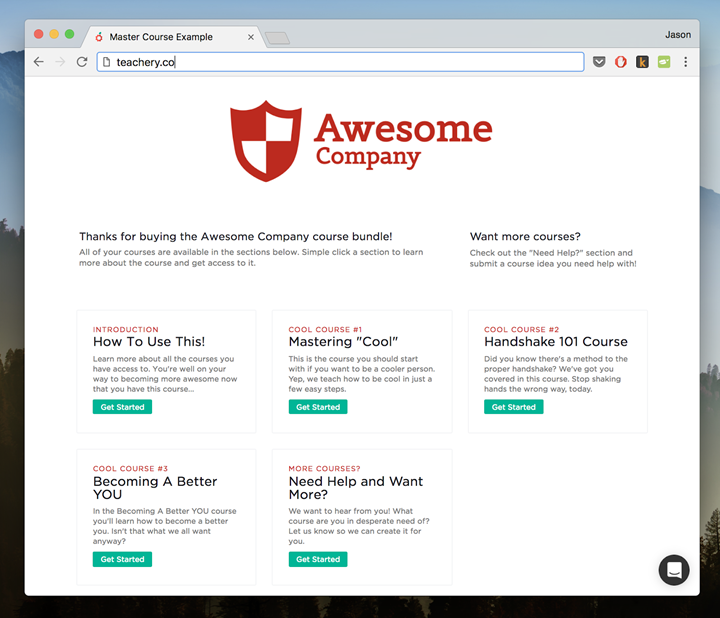 Customized Domains
Teachery allows you to have your domain for your site. You can get a custom field for multiple sites you cater to. It is essential in developing trust with your customers in long-term success.
Moreover, you can also avail SSL certificate on each website without hidden charges. The certificate is aligned with your custom domain. Teachery offers automated creation of this certificate, again saving a lot of your time to provide a safe learning experience for your students.
Instructor Support
Instructor support is necessary if you are a beginner in the course creation field. Teachery has the following ways to offer user support to guide you at every single step:
Live Chat
The best feature of Teachery is the availability of a live chatbox on every single page; hence you can ask your query on the spot. They reply in a few minutes to guide you.
On-Site Guide
You will see a ? sign at the bottom on every Teachery page, which you can click to ask for assistance right away. The support team replies in a significantly less period. However, a drawback about this feature is that it is not available 24/7 hence you might have to wait when working at midnight.
Knowledge Base
They have a separate section with various articles, guides, and tutorial videos answering frequent queries like course setup, marketing deals, increasing sales, and much more.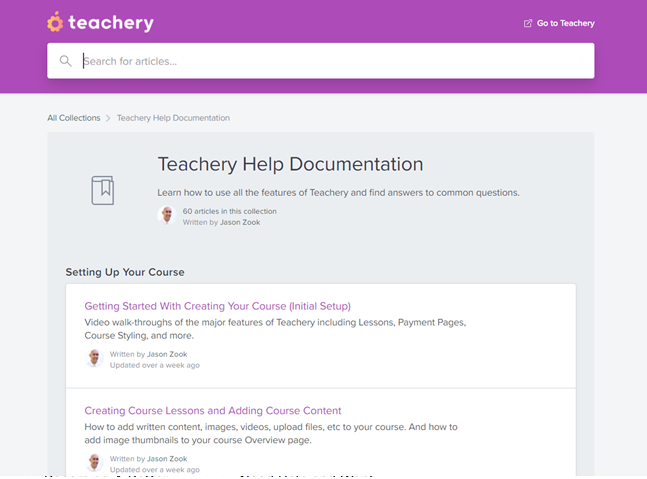 Email Support
You can also use Teachery email support to get a timely response to your query. Moreover, the experts humorous aspects to make the learning process lighter.
Student Support
Let's look at how Teachery features to support students enrolled in your course.
Drip Content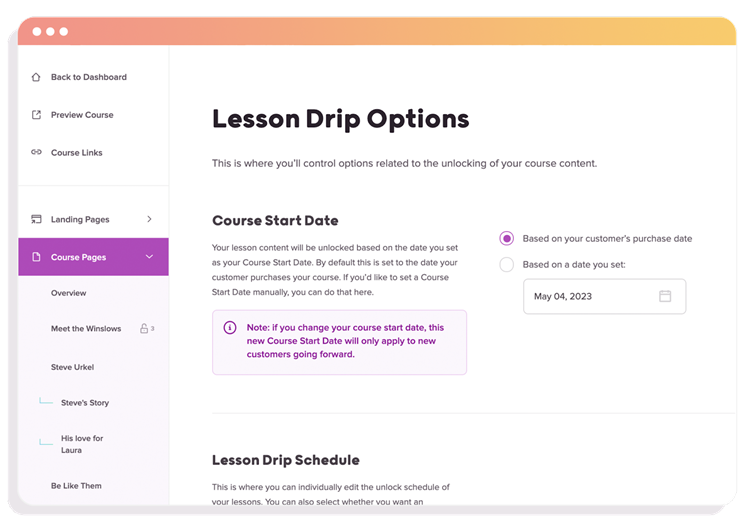 This feature lets you upload your course content on a decided schedule to keep the students engaged. It also features unlocking course content features depending on when students enroll themselves.
Comments
Teachery integrates with Disqus, Mailchimp and enables comments on your course content. Students can share their feedback and queries through this fantastic feature. All you have to do is sign up for a free account and connect to your course content page.
Community Building
Teachery helps foster a community where you can engage with your students and entertain a student-student interaction. It's effortless; all you have to do is add links to your Facebook group, Slack Channel, or another platform that helps community building.

Teachery Integrations
Teachery has integrations with multiple tools and apps, as already discussed above. It helps in marketing, promoting, and selling your online course platforms with utmost ease.
The best part is its collaboration with Zapier, which allows setting up integration with thousands of third-party tools according to your need.
Let's have a look at Teachery offered integrations in various categories
Student Experience
Teachery has the following integrations to enhance the student experience.
Flodesk for emails and newsletters
Google forms for surveys and forms
Course Sales
The following integrations are essential in providing perfect tools for better marketing and selling numbers. It also helps in expanding your online course business.
Gumroad for e-commerce
InfusionSoft for email marketing
Tracking
The following integrations will provide detailed insight into your courses' caliber and progress; this feature will help you improve your business to attract more target audiences.
Google Analytics for website analysis
Airtable for databases
Automated Emails
These integrated tools send out automated emails marketing for the promotion of your courses.
SendOwl for email automation
Active Campaign for marketing automation
Students Report and Tracking
You can easily monitor your students, lessons, and revenue by teachable offered tracking and analytic tools.
You can access these tools at an individual level for each account for each course.
Moreover, you can take help from Google Analytics Integration for database access. You can also use the code provided by the analytics tool to get a deeper insight into data-related details.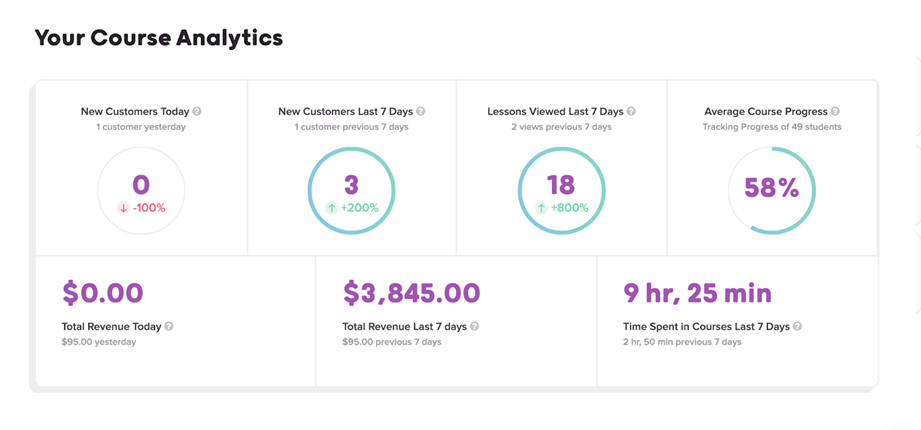 Teachery Pricing Plans
Teachery provides plans at very economical prices without cutting any fees from your profit.
They also have a 14-day trial, and you get complete access to all the features irrespective of the annual plan.
Let's have a look at Teachery's pricing strategy.
The monthly plan costs around 49$ per month
The yearly plan costs about 470$ (39$ per month)
Both plans have below listed features with an extra 20% savings on the yearly plan.
Zero fees
Unlimited lessons and students
Unlimited sales page
Affiliation
Custom domains
Email integrations
Drip content
Customized HTML domain
Export of customer data
Promo codes and discounted coupons
Multiple payment pages
Friendly customer support services
Customer analysis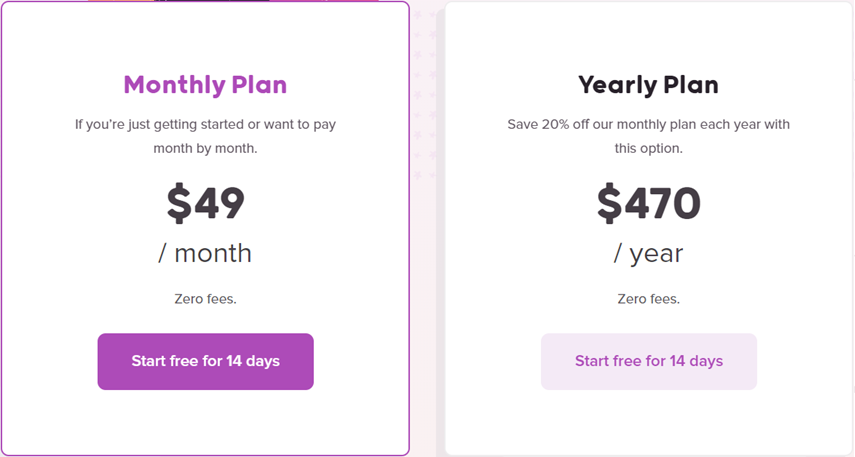 Pros and Cons of Teachery
Teachery has its own set of pros and cons listed below. You can go through these to decide whether you want to opt for this platform for your best online course platforms for business or not.
Pros
Automated course framework creator by asking a few simple questions relevant to your course
A course editor can customize your course to add layouts, colors, fonts, etc.
Drip content where you upload your course content at a decided schedule
Pre-built welcome and course completion email templates
Economical pricing paid plans with zero fees cut off from your profit on transactions
Cons
No inbuilt quizzes. However, you can integrate quizzes with Google forms
No self-directed learning where students can't get access to the next section before finishing the previous one
Limited assignment submitting options. Teachery cater no opportunities for students to submit videos, images, word files of their homework
Conclusion
Teachery is a simple platform with no complicated processes that provides a directed course creation capability. It is economical in your pocket and helps you become financially secure by creating and selling your skills and knowledge.
Beginners and freshies widely accept its intuitive and user-friendly interface. You don't have to be a professional tech expert in selling your course on an online platform. You won't have to go through the hassle of coding or other programming procedures to customize your course and market it to sell it successfully.
Moreover, they provide a fun way of learning to its users by adding a humorous touch to customer support while solving your relevant queries.
Teachery is the perfect platform for those who want to take a simple route of course creation over advanced features.
Moreover, it also offers a 14 day free trial for absolute customer satisfaction. You can experience every detailed aspect of software and see if it is a perfect fit for you to use it further.
To conclude, if you are not aware of detailed technicalities and are also short on budget, Teachery can be a perfect choice. Teachery works in every possible way to make your work easier and save you a lot of your time.

Ludjon, who co-founded Codeless, possesses a deep passion for technology and the web. With over a decade of experience in constructing websites and developing widely-used WordPress themes, Ludjon has established himself as an accomplished expert in the field.