In this article, we will review the best OTT platforms of 2023 listed by their features and streaming quality. Also, we will talk about OTT in general and how we can benefit from it.
OTT stands for Over-The-Top and means any productized streaming service for consumers directly on the web. We would say it highlights the future of entertainment, which is on its way to unfolding. OTT is described as a media service under a content provider on the web, which marks a standalone product on streaming media.
It also includes streaming across devices as convenient for which over the top is a term that explains the TV or film content's delivering method on the internet. It does not require satellite pay-TV, cable, or traditional broadcast providers. In other words, it includes paying internet providers such as to get internet access to watch Xfinity or Netflix and not paying for cable TV.
What is an OTT Platform?
An over-the-top (OTT) platform is a service that makes it possible for you to deliver video and other live stream data to any device that is connected to the Internet.
Video: The OTT service that most users usually use is video OTT. Video OTT services are offered on Disney + HotStar, Hulu, and Netflix. These platforms provide users with many programming options. These programs include both licensed libraries comprising TV shows and original programs.
Video streaming is considered the most common version of OTT media services. Netflix is the most popular platform that includes subscriptions and ad-based services such as YouTube and iTunes.
Audio: audio streaming is also possible with OTT solutions. It is another OTT service. It offers the services such as Spotify, which is considered explicitly for music. It provides recorded podcasts and a massive library of music on the internet. Radio stations are additional examples of podcasts.
Messaging: Next is the text message services. OTT messaging services such as Signal, Telegram, and WhatsApp are the most widely used ones. These services allow user to share their information by using an internet connection.
Instant messaging based on OTT connect users through SMS networking and internet connections. WeChat, Skype, Google, Facebook, and SMS networks are also a part of it. Most of these platforms can integrate or replace the messaging features of smartphones.
Voice: voice calling services offered by apps like WeChat, Skype, Whatsapp, or Facebook operated on internet protocols are other OTT services. Such as WhatsApp and Skype are the most commonly used services as compared to phone calls.
These services are also integrated through mobile networks so that the features are used at their best.
The Top 10 Best Quality OTT Platforms of 2023
Now that we have made our lives through 2020, let us now make it more apparent that it would not have been possible without OTT services. The OTT platforms are, therefore, a big part of our lives now.
COVID-19 has a tremendous and significant effect on the trends of online streaming. It increased the demand for high-quality and over-the-top videos to an astonishingly high level.
Moreover, it should also be noted that streaming on live platforms increased significantly from the start of March 2020 and onwards. Here we have listed down 10 best OTT platforms that you can access according to your requirement.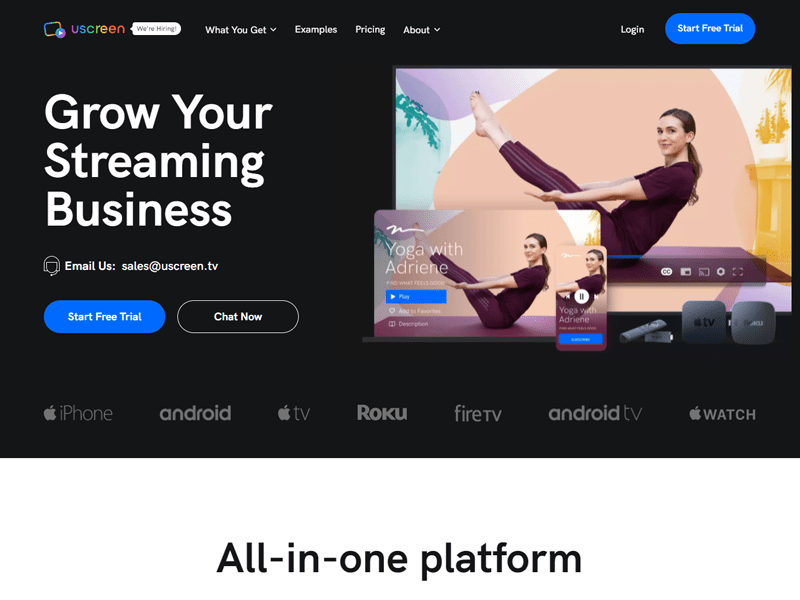 Uscreen is the top OTT provider so far, which manages and launches apps for video streaming on smartphone and TV. Uscreen the fastest among the known OTT platforms.
The platform that you use has to help you promote your business to grow by audience expansion and increase in the number of subscribers. It involves editing, recording, planning, and brainstorming.
Uscreen gives you space to focus on growing your business while retaining the users. It provides an exceptional user experience and efficient content management for videos.
Moreover, it provides for both pros and beginners. Uscreen popularly assists in entertainment, kids, spirituality and faith, arts and crafts, eLearning, lifestyle and fitness, and yoga.
The platform is well suited for the entrepreneurs of video content to distribute and monetize their videos on demand (VODs). In addition, it also supports the distribution of live video content throughout the world.
Uscreen holds unique importance among the VOD and OTT platforms as it helps grow the video streaming business dynamically. It enables you to operate your platform profitably and seamlessly and serves as a place to monetize and upload your videos.
Uscreen is growth-oriented, especially for video entrepreneurs to grow their streaming businesses as they want.
Salient features:
OTT Apps: Uscreen launched the OTT apps available on Android TV devices, Amazon Fire TV, Roku, Apple Watch, Apple TV, and iOS.
Community tools: the building tools such as personalizing profiles, likes, and comments, and live chat with custom avatars
Marketing tools are built-in and include powerful integrations, subscription upselling, a landing page builder, a tool for lead generation, and giveaway funnels for free.
Templates for website building and customization are provided for a quick launch of the branded website.
HTML5 video player that is operable with all devices, easy to use, and responsive.
Solution for content management, especially for videos, makes it easy to manage, remove, and categorize videos.
Options for video monetization include free trials, lifetime access, bundles, pay-per-view, rentals, and subscriptions.
Services of video streaming help in video streaming and in delivering content to audiences through OTT apps.
In short, OTT solutions are readily available for users with multiple and unique logos and colors before making them available for global viewers.
In addition, Uscreen offers its clients additional analytical tools that help them keep track of what's going on in their website and growth, along with an insight into their video consumption.
Uscreen helps its clients use analytical data to analyze the performance of their videos with the help of in-platform marketing tools. Such as churn reduction tool and abandoned cart email sequences subscription options of "try again for free" and decrease customer exiting from the channel.
The most crucial aspect to consider while selecting a platform is its pricing options.
Pricing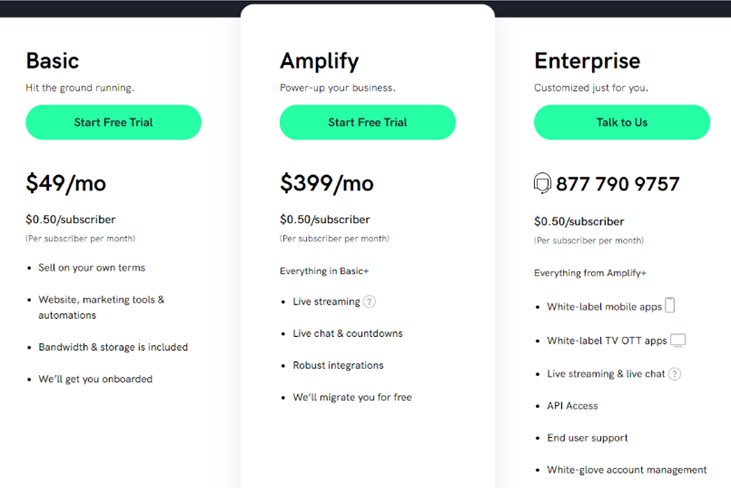 All these plans already include automation and marketing tools with storage and bandwidth. API access, end-user support, branded apple watch fitness tracker, and white label TV and mobile apps are only available on the enterprise plan.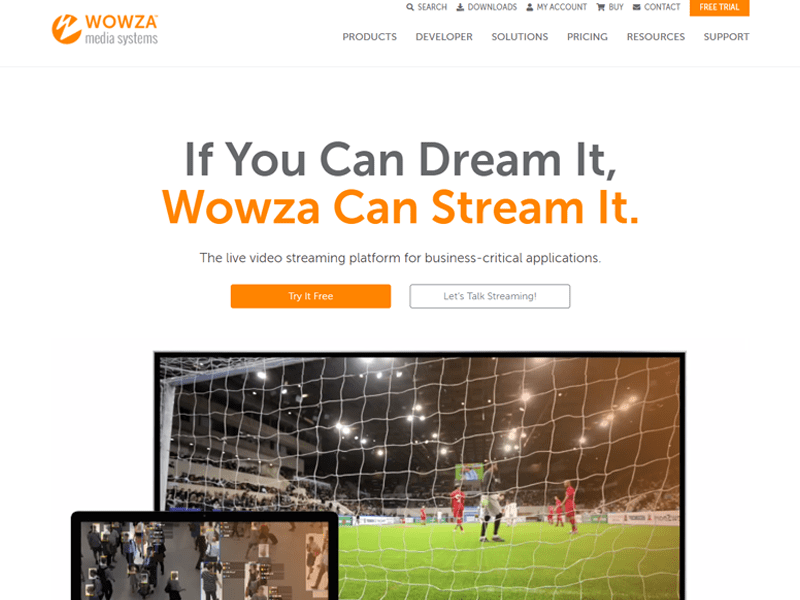 Wowza is live streaming and video-on-demand (VOD) engine that offers broadcasting and streaming solutions with OTT.
Precisely, Wowza is best suited for those who look for live streaming in case a user wants to configure or build his configuration on his server.
There is a collection of multiple hardware and standalone software-as-a-service solutions. It also gives you access to the flawless and tailor-made streaming performance. Moreover, it is equipped with Extensible Modular Architecture which helps you scale the instant version of your live-streaming videos.
Salient features:
Expertise in live streaming: extensive support in app development from onboarding.
Browser-based live streaming: Wowza is equipped with WebRTC, which provides real-time and direct communication through the browser. You can also use Wowza's streaming engine for this purpose.
360 degrees and VR streaming: you can stream 360 degrees videos in high and HD 4k quality for all purposes, including gaming.
Encoding solutions: you can monitor and manage the production of your videos remotely.
Server software streaming: it controls the customizable and powerful features.
Cloud streaming service: it manages all the live-streaming events with full integration and minimal setup of custom applications.
Mobile app: the mobile app of Wowza helps in starting instant live streaming. It further enables streaming, encoding, and capturing live videos through Wi-Fi, 4G, and 3G networks.
Integration with OTT services, Roku, powering Chromecast, and player technology for smartphones and tablets.
DRM technology offers third-party integrations of digital right management (DRM) tools.
CDN that ensures viewers of high-quality streaming.
Live coding solutions: it comprises a hardware device to monitor and manage the video production remotely
We rank Wowza as an ideal solution for large-scale operations. It is used by both medium and small-sized brands searching for dedicated servers or who want to opt for an API at their platform. In addition, it also works fine for users who operate with partner integrations and software developer kits (SDKs).
The robust SDKs and APIs help build a highly customizable streaming setup. Moreover, you can create a secure environment for live streaming with the on-premise streaming servers.
Pricing
Wowza offers two plans; Wowza streaming cloud and Wowza streaming engine.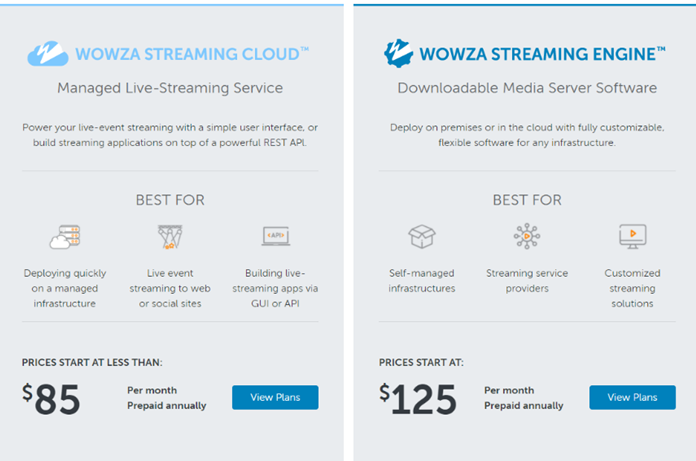 Here are the cloud pricing plans that Wowza offers: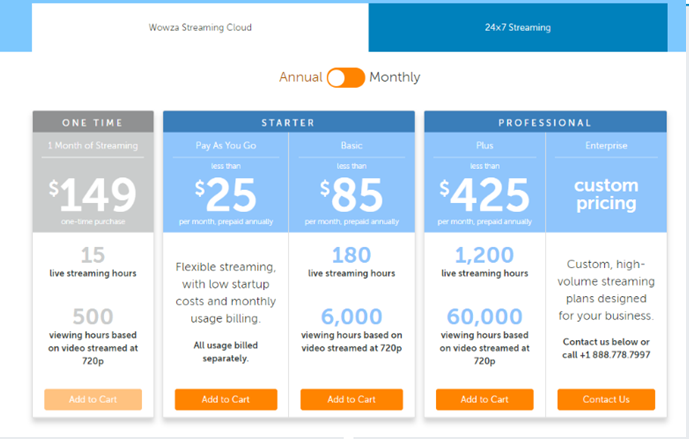 The sales team also gives you pricing for customized plans. The plans vary in WebRTC, broadcasts, stream planning, and the average length of broadcast, bandwidth, CDN bandwidth, and Egress.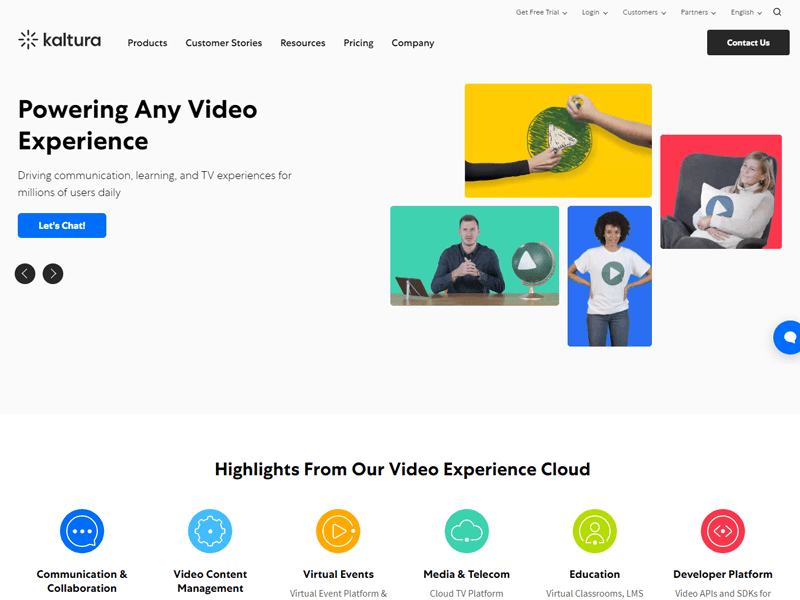 Kaltura is highly suitable for corporations that let you host all the webinars, virtual classrooms and meeting along with the live content on OTT streaming. It covers podcasts and lives content for town halls and video message pitching.
Kaltura is best for live TV solutions and learning management system (LMS) for broadcasters and service providers. We designate Kaltura as the best solution for multinational and large-scale brands.
It further offers VOD and lives SaaS solutions to take over sales, marketing, communication, training and collaboration. You will get to have a host of almost all the communication tools currently popular.
Above all, the cloud TV platform fulfills all the needs of video streaming. The cloud TV platform offers all the services such as full integration and modular with third-party services. It offers maximum uptime such as 99.995%. Besides, you get a highly personalized and on-demand live TV experience for your users.
You also get an open API-based architecture for reliable integration of the system including marketing automation, data system, Webs, Teams, and Zoom.
Salient features:
Multi DRM offers video playback even in offline mode.
cDVR moduler and scheduler uses content recording for scheduling.
Audience engagement with in-app popups, email and SMS
Managing assets such as recordings, electronic program guides (EPG), episodes, clips, news and movies.
Integrations of video players with third-party apps. Also, real-time analytics to improve marketing, content engagement and track share frequency.
Managing video content with Kaltura player lets the user develop customizable and interactive viewing experiences.
Kaltura Pitch: Kaltura Pitch videos easily grab attention. It helps tracking the viewer activity and sending videos such as their interaction with the video and so on. The user can also use it as executive messaging, internal communication and sales pitch.
Podcast creation: easily upload, edit and create podcast channels and episodes playlists for your personalised portal. The mobile app further provides powerful tools for content creation for uploading and creation of direct podcasts.
Creating interactive videos: the tools for interactive videos enable in embedding, sharing, and creating personalised videos that enhance conversion, engagement and learning.
In short, Kaltura helps in tracking the interactions and responses on videos to enhance sales. It also offers the engagements, notetaking, collaborative whiteboards, polls, breakout rooms and quizzes.
Another important feature is Townhall feature which creates webcasts that are engaging and offer interactive elements. You can easily add translations, captions and transcriptions to the videos to enhance discoverability and engagement.
The multi-stream recordings can be easily synchronized with screen and PowerPoint presentations. Therefore, you can easily capture videos using an intuitive experience and user-centric interface.
Pricing
Kaltura's pricing packages depend on sales and marketing, collaboration and communication, and development and learning.

All the plans offer 30 days trial period with an annual enterprise package. There is another pricing plan for VPaaS.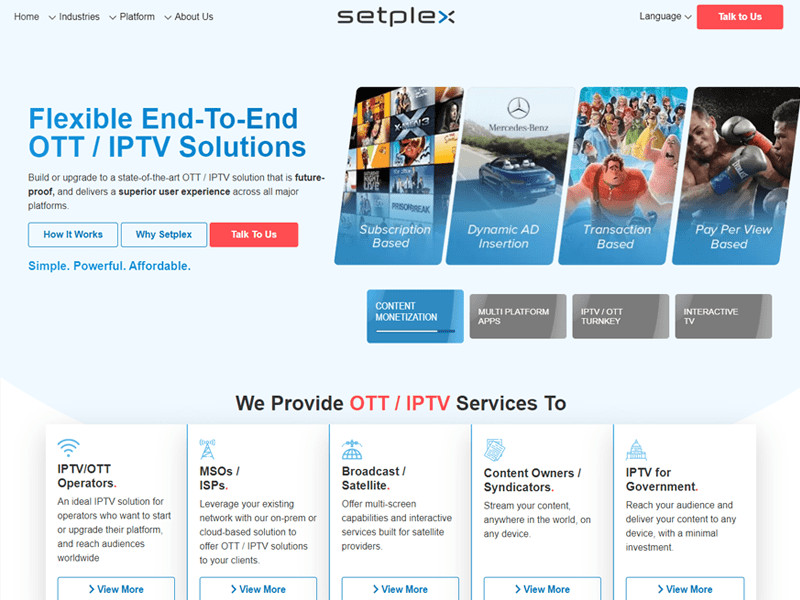 Setplex is a complete OTT platform that offers streaming features in the full suite. It is a complete streaming service that offers resourceful monetization methods, a web-control panel with intense features, and broadcast channels.
Other features that Setplex offers include Billing, multi-screen apps, real-time analytics, security, ad monetization, API integration and transcoding or encoding.
Setplex also covers other essentials such as distribution, broadcasting, multi-CDN strategy and subscriptions. Such OTT platforms help disseminate the content on a vast range of platforms such as computers, Apple TV, Android TV, tablets, mobile and Smart TV.
Besides, there are options of advanced features such as on-premise and on-cloud management of the platform. It also makes the OTT app reach out possible by over ten directories and app stores instantly.
The plus is the middleware integration. It lets you use the main menu, content and user interface with user guided and straightforward clicks.
The analytics help determines and track the instant performance of the OTT streaming. You can easily access the metrics of subscriber data, revenue, popular content and content consumption.
Additionally, you are also allowed to export the third party data from apps.
Salient features:
Monetization options are numerous for monetizing OTT content through advertising (AVOD), rental (TVOD), payy-per-view (PPV) and subscriptions (SVOD).
Content management: VOD content and grouping channels into episodes, sub-categories, categories and seasons are also available
Satellite based broadcasting: Setplex OTT is available for distributing interactive and digital broadcast and multimedia content over satellite.
Setplex offers you streaming on to three devices simultaneously. Moreover, you get a fully customizable interface on computer apps, TV and mobile.
Pricing
Setplex offers customized plans as quote based plans.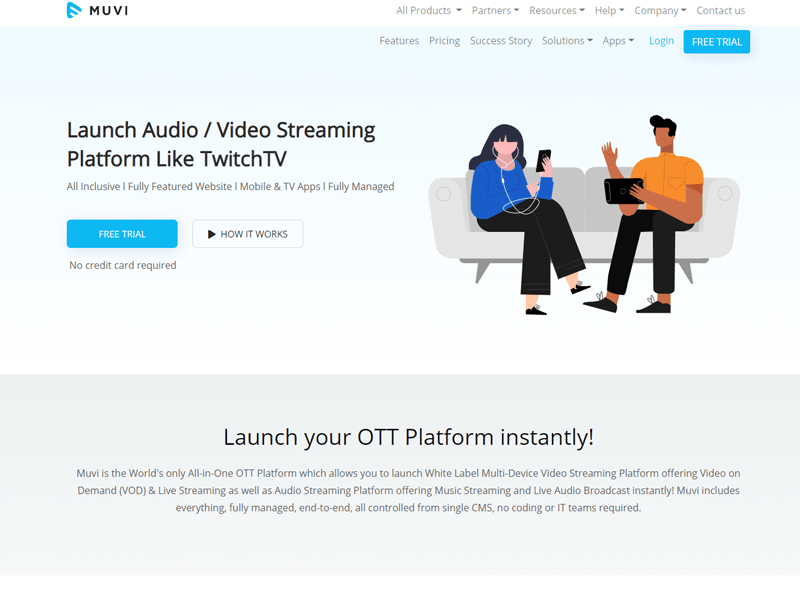 Muvi is the best platform for video as well as audio streaming. It is the best platform in the market because they are among those few platforms that focus on streaming only audio files.
Muvi takes a good hold on live streaming, audio hosting, video hosting, and video on demand. It does not only emphasize video instead it focuses on fully load multi-media.
Therefore, it is the perfect choice for your brand as it focuses on all types of niches as a media empire.
Muvi excels the handling of all the multi-media needs among all the OTT platforms.
Salient features:
Live broadcast for audios as it offers your personal radio shows with 100% control and zero stress
Music and audio streaming let you create your own Spotify.
Video on Demand abilities for you to create your own Netflix with all the utilities of TV and mobile Apps, CMS and billing.
Live streaming of all types of news to comedy types and sports.
Zero coding: while working with Muvi you do not have to do anything with coding.
Another important aspect is its ability to work on smart TB apps and the capability of creating a native android app and iOS. Moreover, you can use your own hostname for all of your content. You can further take advantage of monetization such as video advertising, PPV and subscriptions.
Pricing
It offers four tiers of pricing with a "black" plan to offer premium support and everything unlimited. All the plans offer 14-day trial period.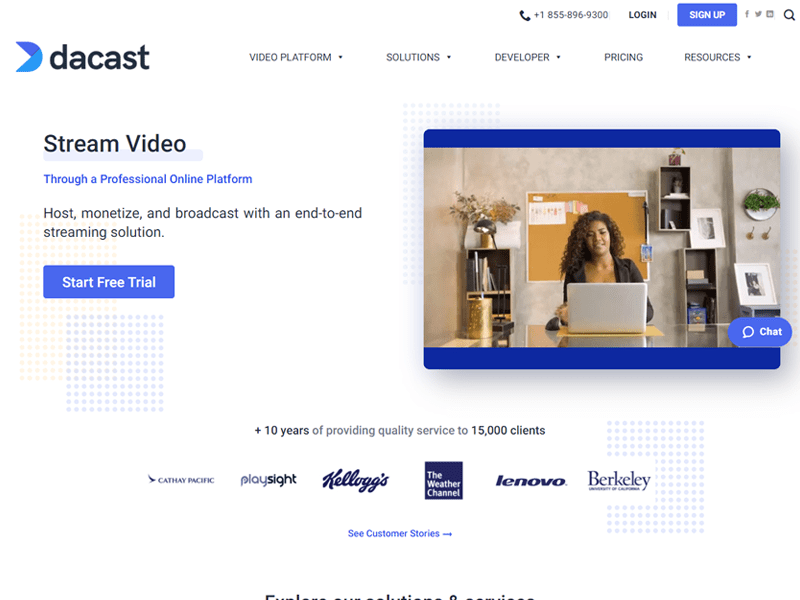 Dacast offers both live streaming and VoD solutions for mobile devices and other platforms. It further offers features to increase content footprint. It also offers to create professional all-device video player, video transcoding and stream recording.
Dacast makes monetization smooth with easy integration of APIs through VoDs. It is compatible to all devices due to HTML5 player. The high-quality streaming of videos is possible with CDNs. Thus, we consider Dacast as an all-in-one type streaming solution.
Dacast is integrated with Akamai CDN which ensures video streaming of high quality. With this OTT platform, you can fully customize and brand your service.
Salient features:
Broadcast live sports: your live coverage of sports is easy with pay-per-view, ads and subscription methods. Your live video stream is also embedded into the recording and on the website as a VoD.
Managing video hosting: Dacast lets you share, analyze, transcode, monetize, organize and upload your videos. The APIs are further used for generating automated workflows.
Video Hosting from China: China based CDN services are well tied up with Dacast to provide access to over 1.4 billion potential viewers. Moreover, it provides points of presence (PoP) throughout Mainland China.
Buffer free streaming of videos is adopted for quality videos but it is based on the internet speed.
In addition, the SDKs and APIs allow you to create your own OTT platform and mobile app. Dacast offers reliable security with complete control over your entire content.
Moreover, video transcoding creates unique renditions. Viewers can pay in real-time and are remotely hosted. In order to confirm 24/7 broadcasting you can pre-schedule your videos. Above all, FTP help upload multiple and large videos in a batch.
Pricing
Dacast offers four pricing tiers from starter to event, scale and custom plan. All the plans include custom branding, live streaming recording and unlimited concurrent viewers.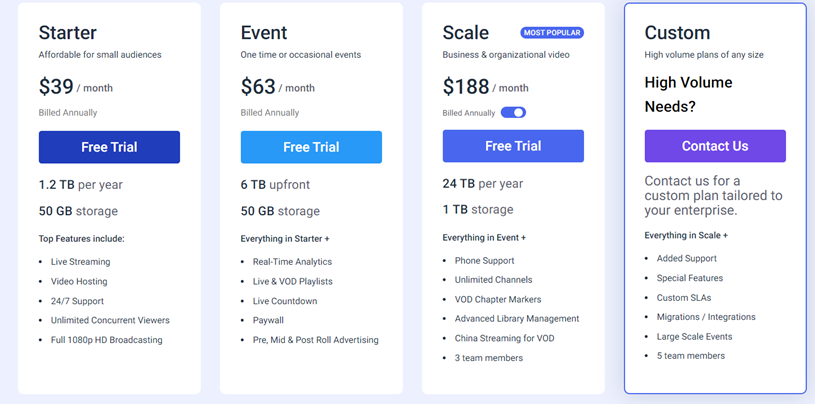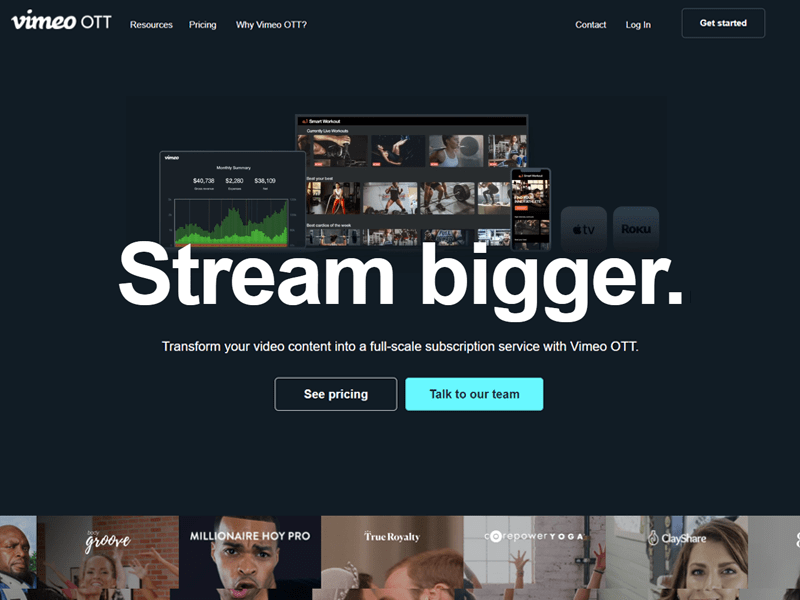 Vimeo is a popular and oldest OTT platform. It is mostly used for online solutions and is one of the best platforms in terms of online content streaming.
It offers an easy-to-use OTT system and offers all the basic needs to assist you as a beginner. It is also a perfect platform for brands of different niches and sizes and offers mobile access through Vimeo's API and SDKs.
The most pronounced features of Vimeo OTT may include service analytics and insights. It offers limited customizability for the video website themes. However, you don't have to hire a developer or support staff to work for the technical part of Vimeo OTT.
You won't face any downtime with free migration. In-app purchases are also available to get more features. The auto archive enables live streaming and gives real-time insights.
There are tools for practical customization to fulfil your branding requirements. Vimeo allows you live-stream all the videos flawlessly at 1080p.
Salient features:
Live streaming with auto archive and simultaneous streaming with Vimeo Enterprise plan
Delivering content: the internal server network allows in delivering global content and bitrate streaming.
Video API: Vimeo's video APIhelp in video content customization. It also makes it easy to stream applications from a third-party through custom API.
Monetization: it offers subscription sales and a pay-per-view model with which you can monetize your videos. It is easily possible under Enterprise and Growth plan through registration, advertising, transactions and subscription.
Launching branded apps on Samsung Tizen, Xbox, Roku, Amazon Fire, Android Fire, Android TV, Android, tvOS, and iOS devices.
Pricing
Vimeo OTT offers three pricing tiers starter, Growth and Enterprise. All these plans are available for a 30-day trial.
Above all, Vimeo Basic helps you upload HD videos absolutely free.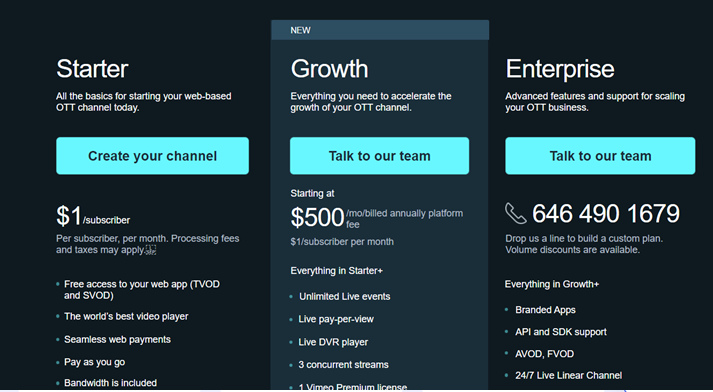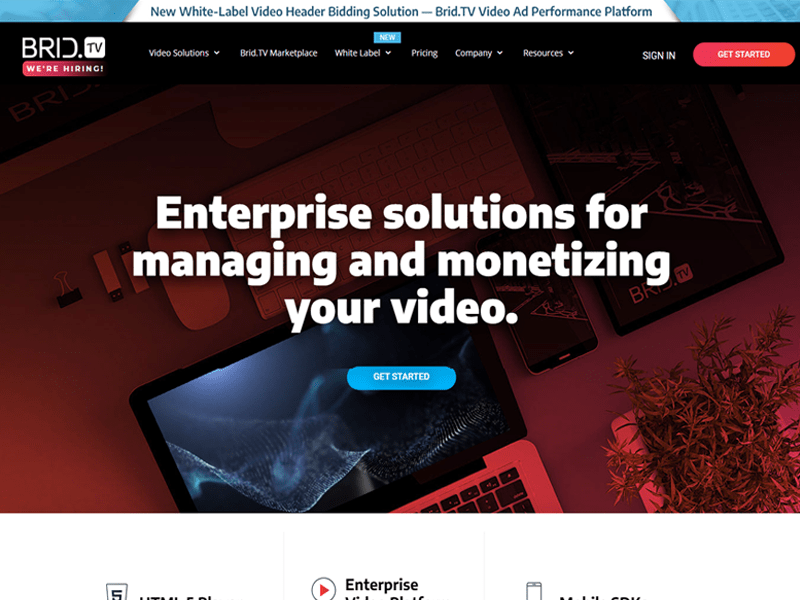 BridTV is an ad-based yet powerful OTT platform. It is specifically designed for monetizing and broadcasting content at an easier scale for large producers of videos.
Salient Features:
Header bidding with SpotX and prebid
HTML5 video player makes it customizable and brandable.
Monetization is made easier with Google IMAAdTgs, VPAID, and VAST's overlay options.
DVR and live streaming
Pricing
BridTV offers several choices with different plans. There is also a free plan which you can use to start. It includes playlists and video monetization.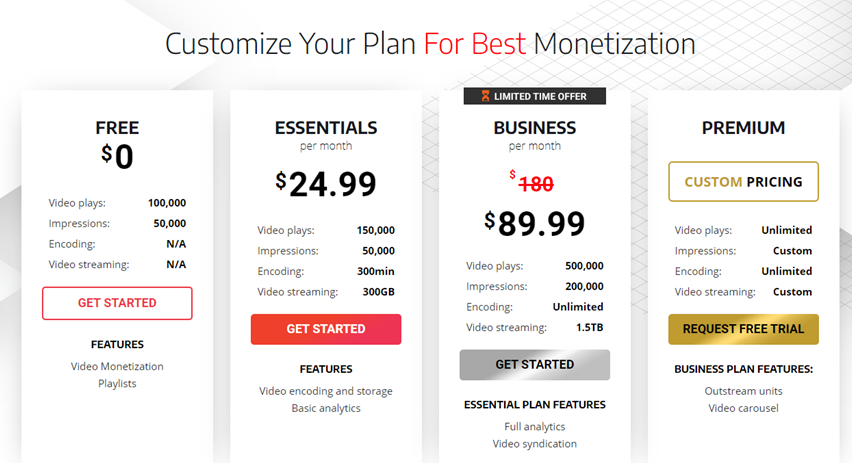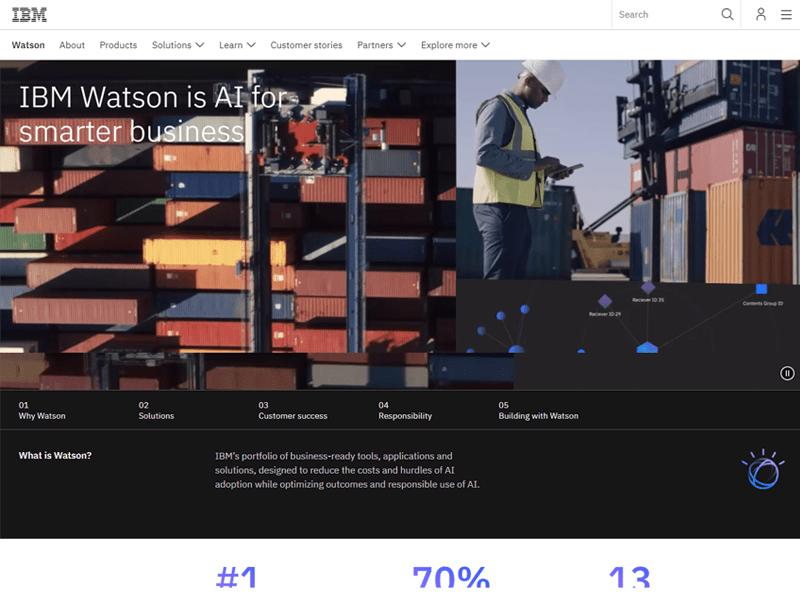 IBM Watson Media is a video hosting and streaming medium company for businesses. It comes with all the features and functionality for the operations at a large scale as well as accessibility to API with advanced users and customization capabilities.
IBM monetizes, measures and managers the videos while streaming them through a number of platforms. Moreover, it offers video services and cloud streaming inclusive of GPU and storage computing. It also provides powerful analytics, automated speech-to-text, transcoding, live streaming and video hosting.
Salient Features:
Content management system (CMS) offers useful video editor tool and online cropping video sections.
Live streaming services to create corporate events, virtual events, webinars, and live streams.
Ad tags and placement management is possible with Google IMA integration and Doubleclick for Publishers (DFP).
OTT streaming that enables monetization and white-label options of the content.
Copyright: IBM also looks after the copyright and plagiarism issues in your content automatically. The copyright service finds the content which is plagiarised and removes it from the broadcast.
Branding and Customization: options of integrated branding allow customization of channels per video requirements. It also showcases live streaming of upcoming events and videos.
Q&A and Live Chat engage the audience in real-time streaming. Thus, it promotes user upvoting, user management, and built-in moderation.
In addition, you can also schedule videos for later playing and trigger automatic video streaming. You can simply privately record videos and share them publicly later. Thus, making ingestion of videos and metadata compilation simplified. It is very easy to monetize your videos using third-party services or ads.
Pricing
It offers several pricing tiers. All the three tiers offer 30 days free trial with a complete set of features. They offer customized plans according to the customers' requirements.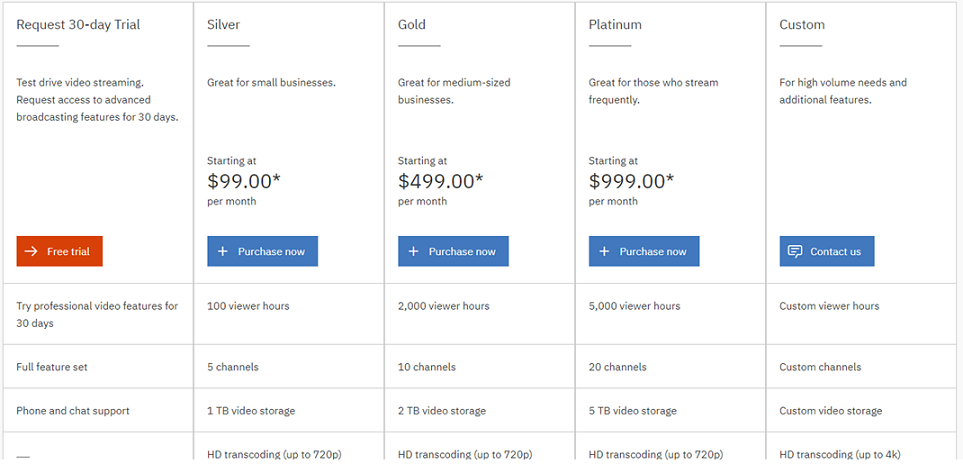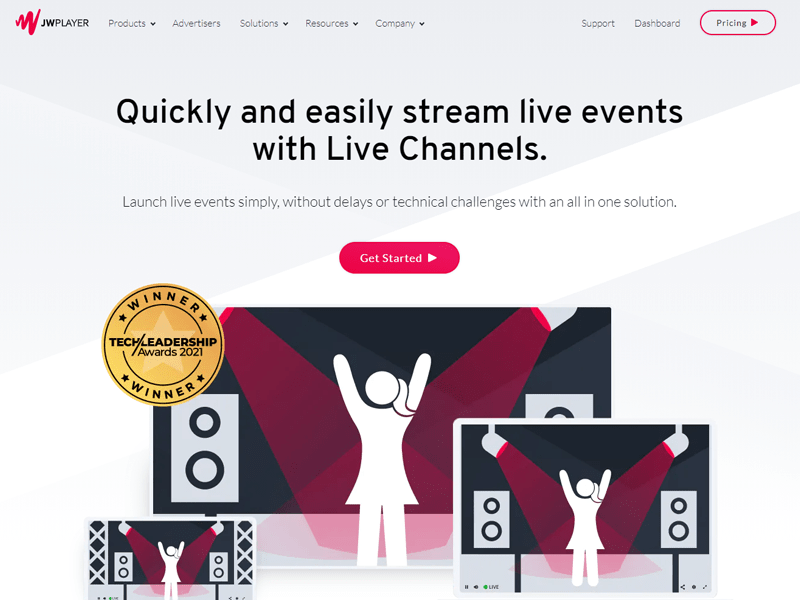 JW is one of the earliest digital video players. It kept on evolving its features to help in content creation. It is a good platform for both a startup and a large media company. Moreover, the brands can equally enjoy the features it offers on monetizing and scaling the content using ads.
JW player makes it easy for you to reach your audience and launch new apps on TV and mobile. It offers scalable solutions to monetize and launch videos. There are also certain options of ad support to make the most of cost per mile (CPM) across platforms and screens.
Salient features:
The recommendation engine pulls content from the ads and network to determine a curated video list for the users
Article matching pulls the videos to the written matching content from the library
Video monetization uses supports and ads with FreeWheel, AdX, Google IMA, Google DFP, and SpotX.
Integrations such as Nielsen, Adobe, and google analytics provide video analytics.
OTT apps are also available for Samsung Smart TV, Android TV, Android Smartphones, iOS, Apple TV, Roku and Amazon Fire TV.
JW player works efficiently with all the exchange, server and ad networks. The built-in support is also active for FreeWheel, or AdX, etc. It also supports Google Ad manager and parameter passback support to assist in ads display.
Pricing
There are three pricing plans. The company also offers customized pricing plans for enterprises according to their needs. All the plan subscriptions offer 30 days trial period.

What does OTT include?
It evades traditional channels of media distribution such as cable television or telecommunications network providers. If you have a working internet connection, either mobile or local, you can get a complete service whenever you want.
OTT services are mainly monetized through paid subscriptions. But there are exceptions, too, such as some OTT platforms also offering advertising and in-app purchasing.
Video streaming should not be confused with OTT as they lie at two different levels of experience and content. Video streaming is when a certain number of devices stream content like computers, mobile devices, Smart TVs, and OTT devices. For example, YouTube is the most popular video streaming platform.
On the other hand, OTT is the superior experience of premium content provided by OTT providers such as Hulu, Disney + ad Netflix. OTT content is also available on a wide range of devices.
Why OTT?
Now, here comes the question of why is OTT even holds particular importance. It is a new spectacle that has vast growth potential. Many companies join the OTT space that offers different activities for consumers and other inventories for marketers.
Reaching consumers through OTT services is increasingly based on their online media consumption. However, marketers have not yet seen the advantages of OTT platforms.
It is yet difficult to determine the impact of buying an ad in legacy media. An ability to show the viewers the customized ads and keep track of clicking means that marketers benefit from media regarding attractive content packages. But, they offer a modern way of leveraging measurement and quantifying impact over marketing.
Consumers love OTT content, and it is proved by Netflix subscriptions from around the globe. There are legitimate reasons for this:
Compatibility: you always need a television set to watch cable TV. OTT content works well on a broad range of devices. All the account holders can enjoy the same OTT experience from smart TV, tablet, smartphone, and gaming console.
Original content: Recently, Amazon Prime and Netflix are the OTT providers who have started producing original content exclusively on their services. Likewise, Disney+ and HBO Go have also begun their licensing for exclusive streaming of televised content.
Low cost for good content: streaming services are always cost-effective and the best alternative to the cable packages traditionally in use for decades. The HD subscription of Netflix costs $12.99 per month, and the non-HD costs $8.99. It is quite a low cost for a fraction of its content.
How do you get OTT?
The internet delivery system has made it possible for OTT to bypass third-party networks. A compatible device and an internet connection are what a user needs to run OTT.
Digital media players: OTT solutions work well on some third-party devices such as Apple TV. Modern video games run OTT apps and include downloadable versions.
Smart TVs: the latest TVs offer users to download OTT apps, or some have built-in OTT apps.
Personal computers: OTT content is already available for computers where these are available through web browsers or desktop-based apps.
Mobile devices: tablets and smartphones allow downloading OTT apps from a fully supported storefront of digital forums.
Challenges for OTT platforms
OTT market is facing the issue of diversification. Over 50% of OTT customers experience subscription fatigue. It may lead the customers to be selective regarding their subscriptions. In the meantime, large-scale platforms such as Disney+ affect niche services and more minor prospects. Netflix is not the only running game in OTT.
HBO started a streaming license agreement in selected countries to stream content such as Game of Thrones.
Amazon Prime developed its original programming that competes with the actual content of Netflix.
Disney launched Disney +, which offers its original streaming service, in 2019.
Opportunities for OTT platforms
Despite the challenges of OTT solutions, it has excellent potential. Globally, video streaming solutions are increasing. Such as the adoption rate is 51% for the market in North America. Moreover, the Asia Pacific and Europe are also showing impressive growth with the international expansion of Netflix.
There are other opportunities in addition to the adoption rates in the non-entertainment markets. 50% of the OTT subscribers also pay for educational content. There is also great potential for health-based content and children's programming.
OTT platforms also need to consider the requirement of monetization. Almost all the solutions are based on subscriptions, and the subscribers are also reported to have made in-app purchases. Thus, it impacted significantly on the monetization methods.
Another successful method is performance marketing to attract subscribers towards OTT platforms such that it is made more predictable and scalable for marketers.
The media services of OTT are in use for decades, but they still need to grow. Increased competition and diversification suggest that there are great opportunities for growth in the market.
OTT shows the future of media, and it is indeed an exciting time to become a part of it.
Conclusion
Overwhelming information?
It's obvious. There still are certain options and keys that you should consider to choose the best OTT solution and still stay less overloaded.
This guide is here to serve you the purpose.
Narrowing down our research, we have put together a list of only 10 top OTT platforms that can help you follow the right steps to find the right platform for your video monetization according to your needs.
Here is a short overview of the questions that a video creator must know before choosing the best OTT platform.
Why is a CMS important?
How does a site builder consider an indicator of a good OTT platform?
Why do you need a web platform?
We have gone through a few tips to determine the best OTT platform for maximum monetization of video content.

As one of the co-founders of Codeless, I bring to the table expertise in developing WordPress and web applications, as well as a track record of effectively managing hosting and servers. My passion for acquiring knowledge and my enthusiasm for constructing and testing novel technologies drive me to constantly innovate and improve.
Expertise:
Web Development,
Web Design,
Linux System Administration,
SEO
Experience:
15 years of experience in Web Development by developing and designing some of the most popular WordPress Themes like Specular, Tower, and Folie.
Education:
I have a degree in Engineering Physics and MSC in Material Science and Opto Electronics.