There are several questions surrounding twitch streaming software. Therefore, today I'm going to review the best streaming software for Twitch. From static content to live interactive streaming, videos had truly come a long way since their inception back in 1888.
The attention span over the internet started getting shorter over the internet and fans started demanding something more interactive. Therefore, the live streaming broadcast software was a solution invented for this reason. These tools were designed to give the users interactive content through the feature of live streaming.
The live streaming software also allowed the users to chat with their audience, collect payments, and more. Note that every software on this list has been included after thoroughly understanding its capabilities, quality, integration, pricing, support, and more.
So, without any further ado – let's get rolling!
The Top 10 Best Streaming Software for Twitch in 2022 with Free Plans
Let's start exploring the best streaming software for Twitch, Facebook, Youtube and other social channels: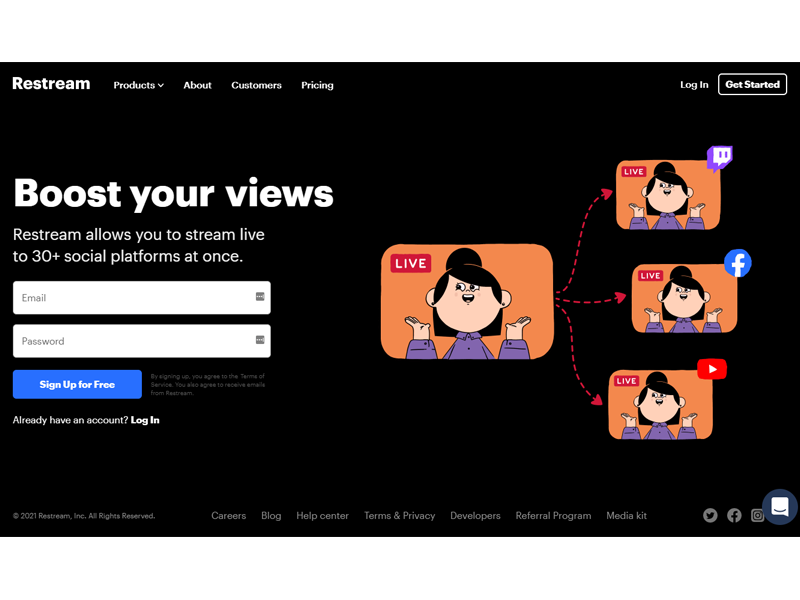 With this tool, you can stream videos on over 30 platforms. This simultaneously enabling users to stream videos which is why we believe that it is one of the best streaming software for twitch and other social channels.
Additionally, you can integrate this tool with other live streaming software like OBS Studio, Elqato, and more. Restream is also one of the few software that allows 'Real-time platform and channel toggling.'
This means that you can add more channels while you're 'On Air,' and you don't need to pause anything.
Additionally, this software can also be combined with other tools to further strengthen the reach of your live broadcast. Plus, the scheduling features and the option of announcing your upcoming stream in advance to build excitement are also great.
Moreover, here are some other great features of this software:
Create multiple channels on a single platform.
A built-in amplifier to stream from whenever you want.
Track your frame drops, bitrate, and frames per second (FPS).
Update metadata of all streams from a single point.
Automatic alerts to notify viewers on Facebook, Discord, and Twitter.
Add a CTA button to your live stream and create sales funnels.
Allow viewers from different platforms to chat with each other.
Hide nasty and rude words in the chatbox.
Pricing Plans
Free Plan – The free Plan doesn't include features like video streaming, video uploads, video storage, or recording.
Standard Plan – ($16/mo) – The standard Plan doesn't have pre-recording video streaming option, no storage, and six hours of video streaming recording.
Professional Plan – ($41/mo) – This offer has the pre-recorded video streaming functionality; you can upload 1 hour/2Gb video, and you get 10 hours of video streaming.
Premium Plan – ($83/mo) – This package includes video streaming, 2 hours/5Gb upload, you can store 25 videos, and you get 20 hours of video streaming.
Business Plan – ($249/mo) – You get pre-recorded video streaming, 4 hours/10Gb of video uploading, 50 videos can be stored, and finally 20 hours of video streaming.
OneStream is yet another great overall streaming software that is designed to enable users to stream their pre-recorded videos and publish them from within the platform to 40+ social media channels.
The software gives you plenty of options such as video recording, streaming, scheduling, broadcasting, and much more. In a nutshell, it is designed to enable creators to seamlessly live stream their videos along with a bunch of other features.
And one of the most innovative features is the integration of this tool with other tools to initiate the process of multi-casting.
Some other features of the tool include the following:
Stream to over 40 platforms and schedule posts up to 60 days in advance.
Team management lets your multiple team members in one account.
No software installation is required.
Multiple upload options, including files, camera, and screen shares.
Custom RTMP streaming using a server URL and stream key.
Pricing Plans
Free Plan – you get unlimited streaming in this Plan. However, you don't have the option of multi-casting. Plus, you'll get 5 mins max per stream, and you can share that on just 1 social media account.
Basic Plan – $10/mo – you get unlimited streaming, pre-recording and multi-casting, 15 minutes/stream, and max 5Gb file size.
Standard Plan – $39/mo – perhaps the best Plan you'll get because it has unlimited streaming, pre-recorded, and real-time multi-casting. Plus, you'll get a one-hour max/recorded stream and unlimited file size.
Professional Plan – $89/mo – you'll get unlimited streaming, pre-recorded, and real-time multi-casting. However, the difference comes when it comes to the recording stream time. You get 8 hours of max/recorded streaming and unlimited file size.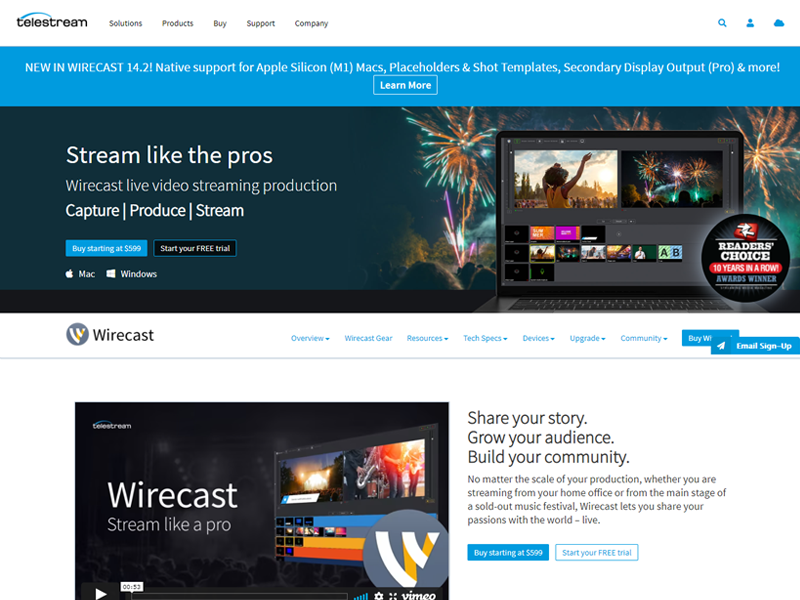 When speaking of Wirecast, robust functionality and optimal performance comes to mind as this tool is all about these elements.
Developed by Telestream, this live video streaming platform is designed to help the users turn their videos into TV-like live streams hence fulfilling their dream of bringing on-demand broadcast to the worldwide web.
Additionally, the seamless process of initiating the task just adds more value to the overall experience that this marvelous tool gives you.
Moreover, the flexible and intuitive UI of the tool lets you customize the live feed according to your leisure.
So, what about live streaming? The software is intelligent, and I mean INTELLIGENT!
It automatically picks up all the settings once you plug in the mic and the camera. Afterward, it starts encoding all your videos automatically, meanwhile enabling you to deliver your live stream globally.
With this tool, you can cover any live stream event, which includes a sports event, worship services, radio, news broadcast, and many more.
Lastly, if you're looking for something special that this tool has to offer – well, then here it is. This tool has a camera app that is free for iOS users.
This app brings the possibility of streaming live through a smartphone and live streaming your videos regardless of the destination.
Moreover, the app also lets you embed live captions to give your videos more exposure and make them more accessible to the viewers.
Some other features of the tool include the following:
ISO Recording – It archives all the live video inputs without any modification. These video clips are separate from your composite program recording.
Multi-viewer – Send single sources to up to 17 source grids to easily monitor and get a quick look at each source.
Stock Media Library – It offers free access to more than 500,000 media assets, including videos, music, backgrounds, lower thirds, etc.
Pricing Plan
Wirecast Studio – $599/mo – This package provides you with amazing live production and streaming features followed by some other robust functionalities and options.
Wirecast Pro – $799/mo – You can get this package if your requirements are quite big because this Plan comes with more advanced live production and streaming features and functionalities.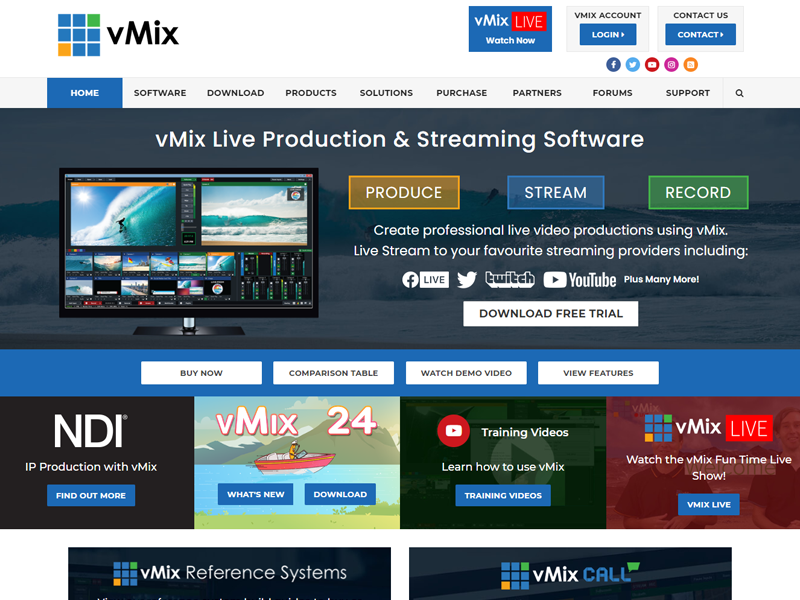 vMix is another live streaming software that lets you stream your videos, audio, camera, and much more.
The software is packed with some amazing features that enable you to further improve the quality of your video while also supporting high-quality HD videos for live streaming.
You can also further amplify your recording by going live in multiple video formats such as SD, full HD, and even 4k.
The best part about this tool? Well, you can go live with DVDs, images, video files, and whatnot!
So, with an introduction out of the way – let's discuss some of the most innovative aspects of this live streaming software. This software is capable of supporting all formats like AVI, MPEG-2, MOV, MXF, etc. Plus, you can use vMIX for recording while streaming.
There are different transition effects integrated into the software that allows you to improve or edit the quality of the video. vMix also comes with 3d acceleration that allows you to create professional HD videos without the necessity of getting a high-end PC.
Other than the aspects mentioned above, there's a specific feature of the tool called 'Reference Systems' that allow you to instantly build a vMix supporting PC with minimal cost and specs.
Lastly, here are some other features of this live streaming software:
vMix Social – Easily integrate YouTube Live, Twitch, Facebook, and Twitter content into your live stream production.
Live Chat – View and reply to comments on your live stream from social media accounts like YouTube, Twitch, and Facebook.
vMix Replay – It enables you to show instant replays in HD slow motion using up to 4 cameras set up. You can also display the replay in 2 angles simultaneously to increase engagement.
Pricing Plan
Basic: Free
Basic HD: $60
HD: $350
4K: $700
Pro: $1200
All of the above-mentioned software can be used after paying a one-time fee for the specific version that you're willing to buy as per your requirements.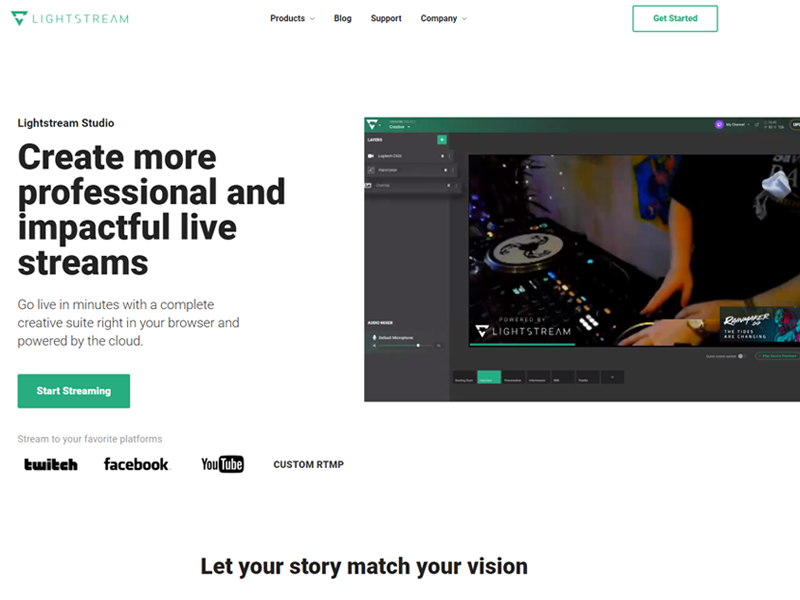 The second last Twitch streaming software on this list is the Lightstream that is aimed towards enabling the users to create impactful and professional videos within minutes.
Equipped with the drag and drop functionality, which I'm sure some WordPress developers may love to use – this software is super-creative and enables you to take full control of your project and scenes.
Moreover, there's also this amazing aspect of letting the users integrate third-party tools to amplify the streaming functionality of the software to help the users attract more viewers.
From the software's dashboard, you can seamlessly invite people to your streaming event.
From panel discussions to interviews to podcasts and literally any video streaming events, even product launches, this software will serve you with the best and top-notch functionality and features stack.
Additionally, you can also share screens with your audience, or you can let your guests share their screens with their own audience thus, increasing the chances of outreach.
Lastly, the whole concept of this twitch steaming tool is based on a robust cloud-based architecture which means you don't need to download the software. You can also use it as a platform to stream webinars.
You can simply open your browser and get started. However, you may need a super-fast internet connection!
Furthermore, here are some other features of this best free twitch streaming software:
Zero Setup – All you need is an internet connection and computer. You don't need expensive hardware and go through a cumbersome download process to use Lightstream.
Remote Control – Leverage your smartphone to start and stop your stream. You can also use it to switch scenes – a great feature when you are producing remotely.
Live Support – It offers live one-on-one chat support to assist you with any issue.
Pricing Plan
Free Plan – the free Plan provides you up to 3 hours of video streaming with an output quality of 720p 30 fps.
Premium Plan – $99/mo – this Plan provides you with 12 hours of video streaming with 720p 60 fps output quality.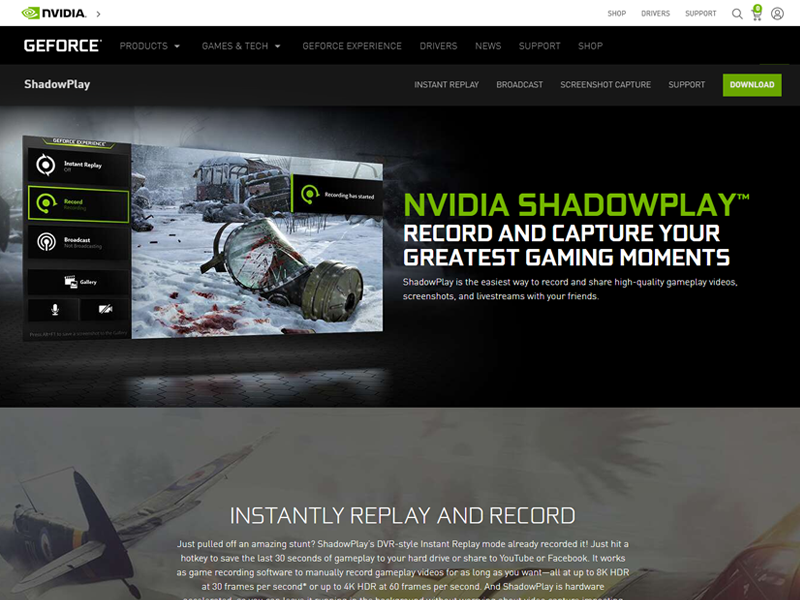 This software is a well-established name in the gaming world, and they're making sure they've left no stone unturned to ensure a robust and standout experience for the gaming community.
ShadowPlay comes with some amazing features that support the gamers by enabling them to share and record high-quality gaming videos, take screenshots and start live streams.
The videos can be broadcasted to Facebook, Twitch, or YouTube Live easily!
However, Nvidia does lack some features that are available in other tools on this list. However, it is designed for gamers only, so, yeah! It doesn't have several features of a tool specifically designed to serve the live streaming community.
Moreover, here are some features of this best software for streaming on twitch:
It supports camera and custom graphic overlays to better personalize your Livestream
ShadowPlay's DVR-style Instant Replay mode allows you to hit a hotkey to save the last 30 seconds of gameplay.
You can manually record gameplay videos for as long as you want.
Pricing Plan
The software is free for all gamers!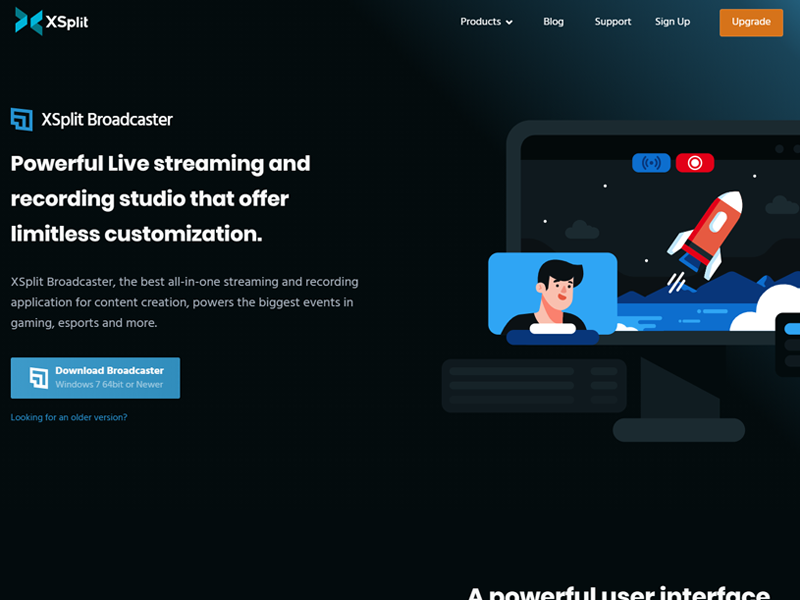 This specific live streaming tool is specifically designed to meet the requirements of the gaming community. With amazing and outstanding games popping out each year, you need to have a tool that captures all the stunning moments that you experience while playing such games.
Here's where XSplit Broadcaster comes into handy as the tool is designed to capture your screen while you're playing the game and efficiently live stream or record it. This is perfect automation software that lets you focus on play and manage all the other things by itself.
You can initiate the sequence in like seconds, and the innovative part of the software is that you get a control HUD along with this software which helps you to:
Interact with the chat
Stop and start broadcast
Keep an eye on recent events
Monitor stats to increase the engagement
Additionally, the project mode enables you to display multiple screens on the devices connected to your PC's GPU.
The best part about this tool is the seamless UI and UX that lets you control the most important features of the tool from within a single screen.
The software efficiently handles all your encoding settings while guiding you to select the right settings for your game steaming.
With the ability to record a video quality of 4k60fps, you'll be amazed at what this tool is capable of once you start using it.
Lastly, there's another feature that is actually the innovator for this live streaming software – 'The XSplit Gamecaster.' This software can be used for free by games to implement easy streaming.
Some other features of the live streaming software include the following:
Scene Preview Editor – Edit video scenes before live broadcasting them.
NVIDIA NVENC – Use NVENC options to customize your settings for optimal quality and performance.
Intuitive Editor – Easily add subscriber goals, donation trains, events list, follower's alerts, tips cups, etc., to make your live stream stand out.
Pricing Plan
Free Plan – you can avail all the basic features of the software for free. However, some advanced functionality is obviously missing.
Pro Plan – $2.50/mo – This option gives you all the advanced features to live stream your game easily through the software.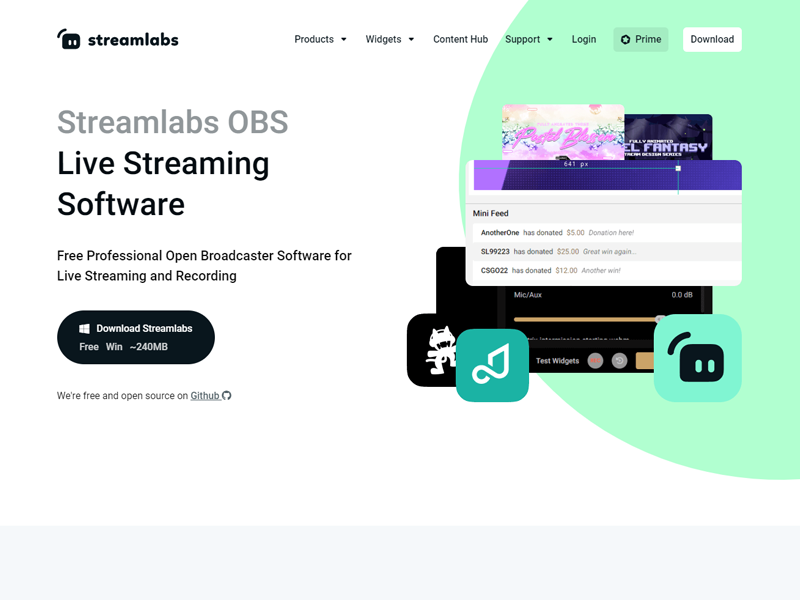 Enough with the paid solutions to live streaming videos, it is time we discuss an open-source software that is the best free option when it comes to live-streaming.
Streamlabs OBS is designed for the live streaming community and seamlessly enabling you to live stream your videos is what this tool is all about.
Being a cloud-based software, Streamlabs OBS is super-fast, responsive, and the perfect streaming platform for Twitch, YouTube, or Facebook.
Additionally, the software stands out when it comes to providing templates, streaming overlays, and assets to the users so that they could customize their streaming experience for their users.
For example, the software lets you use tiers like "Be right back" or "beginning soon" to ignite the excitement in your users for your live streaming event.
Moreover, the tool comes with 46 free apps within its own app store that are capable of:
Achieving more automation
Powerful and in-depth analytics
Multiple ways of interactions with viewers
Stream to multiple platforms simultaneously
Lastly, this streaming software enables you to embed multiple components, which include your goals, alert box, and some elements from their own website.
Plus, the noise gain and suppression features eliminate the background noise and enable your viewers to enjoy your live stream in the most spectacular way possible.
Some other features of the tool include the following:
You can use the dashboard to make adjustments through a few clicks to the alert box. You can manage all the elements without having to open the browser.
Choose specific widgets for different broadcasts. Also, each theme's settings get saved separately to help you easily switch from one theme to another.
It provides themes for specific games and genres. Themes also help you deliver a more immersive experience through effects, animations, and graphics.
Pricing Plan
Although Streamlabs OBS is free streaming software, it does have a paid toolkit that comes with a price tag of $12/mo.
The premium features of this toolkit include free apps, pre-designed professional templates, widgets, custom domains, and much more.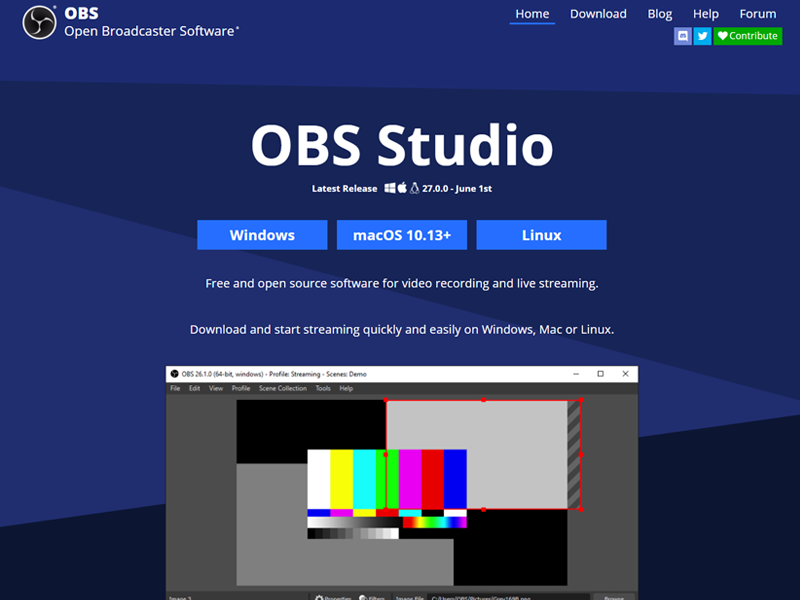 OBS is yet another free live streaming software that comes with impeccable features and functionalities that you can leverage to live impactful stream videos globally.
The tools enable you to stream high-quality videos and give you features like audio editing, capturing, and even mixing in real-time to further improve the viewing experience of the users.
So, what does this mean? It means that you can customize scenes through the software. You can include sources, text, images, capture cards, and much more.
Moreover, the software also lets you switch between an unlimited number of scenes with an impactful transitioning effect from one frame to another.
Other than that, you can also use the audio mixer to leverage the pre-source filters like noise suppression, noise gain, and gate.
Furthermore, here are some other features of this tool include the following:
Modular 'Dock' UI – Easily rearrange the layout to align with your branding requirements. You can even pop out all the individual Dock windows for greater customization.
Hotkeys – Set up hotkeys for almost every action like starting/stopping streams or recordings, switching between scenes, muting audio sources, etc.
Studio Mode – Instantly preview your scenes and sources for last-minute adjustments. You can even create a new scene right before making your content live.
Pricing Plan
Like I said above, this live streaming software is free for all users, and they can leverage every feature and functionality it has to offer for free.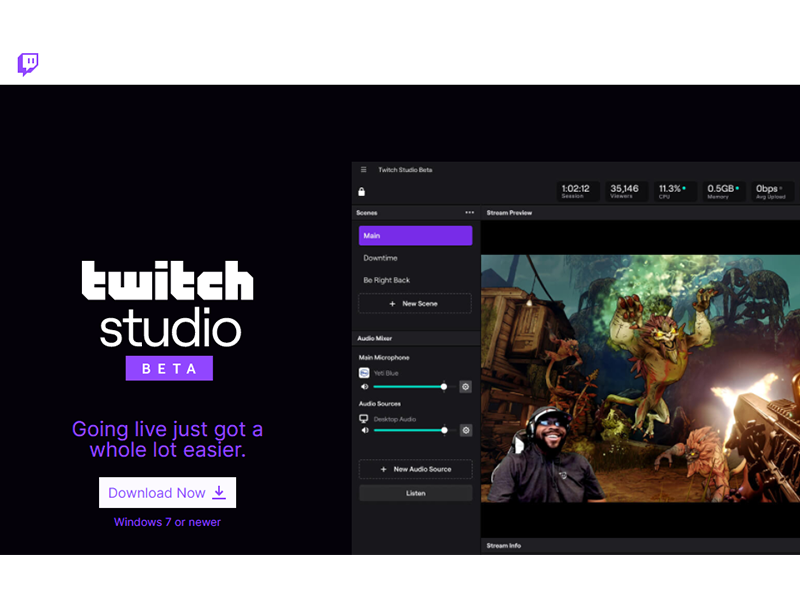 Wow! Another great free live streaming software for you that is all set to take your gaming experience to a whole new level by preparing you to professionally or personally but surely effectively share it with the world.
The Twitch studio is yet another great software for live streamers that are designed to help the gaming community get a little more involved in the gaming world by sharing their tactics, moves, and strategies with the world through live streaming.
Additionally, the software is free, but this surely doesn't mean that it lacks features or quality or anything negative.
Actually, the software is packed with some of the best features on this list, and fans are leveraging those features to broadcast their gaming experiences in a revolutionary way.
The main concept of this live streaming software is to help the gamers live stream their videos from the same platform.
Moreover, the software itself gives you a streamlined setup that enables you to set up a live broadcast easily if you're using sophisticated setups.
Moving onwards, you get access to step-by-step onboarding, recommended setting to make you stream look optimal and auto-hardware detection. All of these vastly contribute to making your live streaming efforts minimal.
Twitch studio also enables you to opt for personal branding, which literally means that this free software enables you to personalize the way you're showcasing your live videos.
But how can you personalize your live streaming videos? Well, here's how!
Starter layouts
Overlays
Support for multiple audio sources
Lastly, here's the complete set of features that Twitch studio gives you when it comes to live streaming for free:
Extensive Personalization – You can customize your video stream from all aspects to reflect your business or personality.
Content Mixing – Easily connect your iPhone or iPad to mix up your content and share the screen instantly to your live feed.
Extensive Integration – Twitch provides built-in activity feeds, chat, alerts, and more. This saves you from the hassle of installing an extra plugin.
Pricing Plan
The Twitch Studio is totally free for live streamers!
Conclusion
In conclusion, all I want to say now is that Phew! That was one long list, features, benefits, and more that we went through together.
But looking on the bright side, I would say that it was worth it because now you know some of the best twitch streaming software, and all you have to do is select the best one out of the 10 mentioned on this list.
I've mentioned the pricing and everything else, but here's a suggestion for you – don't go for a fancy schmancy-looking software just by reading its features and functionality.
There are some software mentioned on this list that are super-costly so, be sure to thoroughly check your requirement, see if what you need is being provided by any other tool on this list in a more cost-effective manner, and then go for it.