In this article, we will talk about the best webinar software and will compare them one by one. Literally, everyone involved in the digital world is getting familiar with webinar and the countless opportunities that it generates for businesses worldwide.
Here is a short list of the best webinar software and hosting platforms:
There's no doubt that webinars are perhaps one of the best ways to share your knowledge with your audience.
Since their inception back in 1996 webinars have truly come a long way and their standout benefits are amazing.
From enabling the global audience to reach out to an influencer in a webinar to spreading knowledge in the most professional and efficient way, webinars have become imperative these days.
So, if you're a business and you're willing to launch your own webinar – today, we're going to cover a list of tools that will enable you to do so.
Eager to get your hands on the best webinar software?
Table Comparison: Best Webinar Software Platforms
Let's start unveiling then!
What is Webinar Software?
Webinar software is a digital tool that enables businesses, organizations, and individuals to host, manage, and conduct live or pre-recorded online events, presentations, or conferences for a remote audience.
These platforms typically offer a range of features such as high-definition video and audio streaming, screen sharing, real-time chat, and customizable branding. Additionally, webinar software often integrates with marketing tools such as email automation and CRM systems, allowing hosts to promote their events, track attendee engagement, and collect valuable data.
By leveraging webinar software, businesses can communicate more effectively with prospects, customers, partners, and employees, regardless of geographic location, making it an essential tool in today's digital age.
The Top 17 Best Webinar Software and Hosting Platforms
Here's a complete list of the best webinar software that you can try in 2023.
I've included pros, cons, and pricing here so that you don't have to go anywhere looking for additional details.
Additionally, here's the list of tools that we'll be covering today. So, let's start our webinar software comparison with a list: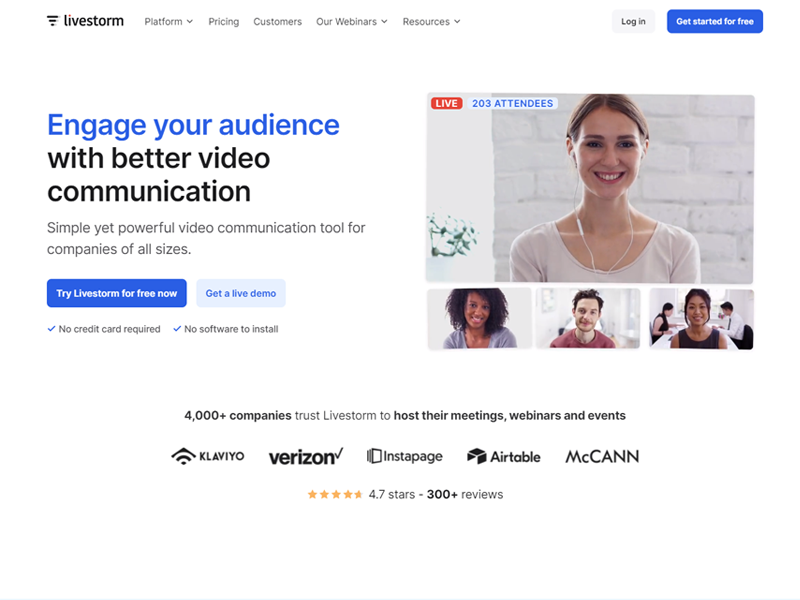 Livestorm is a browser-based webinar platform for live or pre-recorded automated webinars. It is best for product demos, customer training and support and sales. Livestorm works on any browser regardless of the size of the webinar.
Let it be a PC, laptop, mobile, tablet, or any other device; you can access this software from anywhere.
The software is capable of hosting live, on-demand, automated, and super-lengthy webinars easily.
The on-demand and automated webinar hosting quality are best if you're willing to spread knowledge through an online course or you want to introduce a new employee to your internal staff.
Furthermore, you can also send promotional emails through the software, check their status, personalize your emails and the software is GDPR-compliant; therefore, your data is highly secured.
Key Features
Multi-language support.
One-click invitation sending, screen-sharing, and registration form creation feature.
A free plan is available.
Detailed attendance analytics, replay analytics, tracking, and more.
Interactive chats, polls, questions, and more offer a robust customer experience.
High level of automation tool with webinar sequences.
Pricing Plans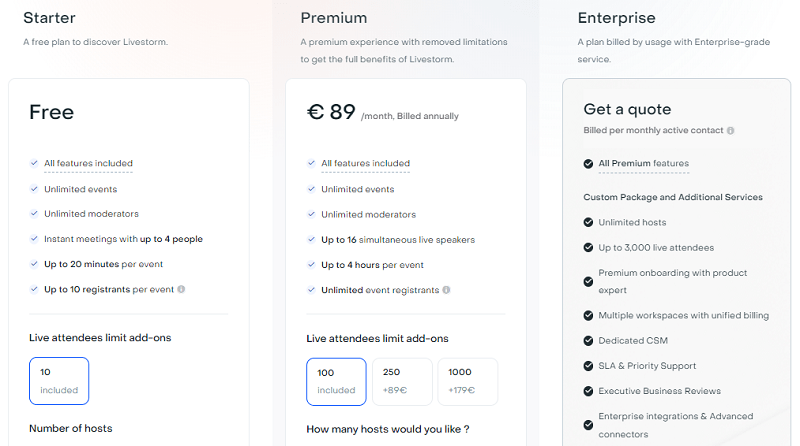 Livestorm offers three pricing plans.
Free Plan – includes essential features such as meetings or unlimited on-demand webinars.
Premium – Costs $31/host/ month – allows up to 8 participants.
Webinar premium – Costs $99/host/month
Enterprise – This Plan is available for enterprise-level organizations in which they can add additional robust features to their webinar software.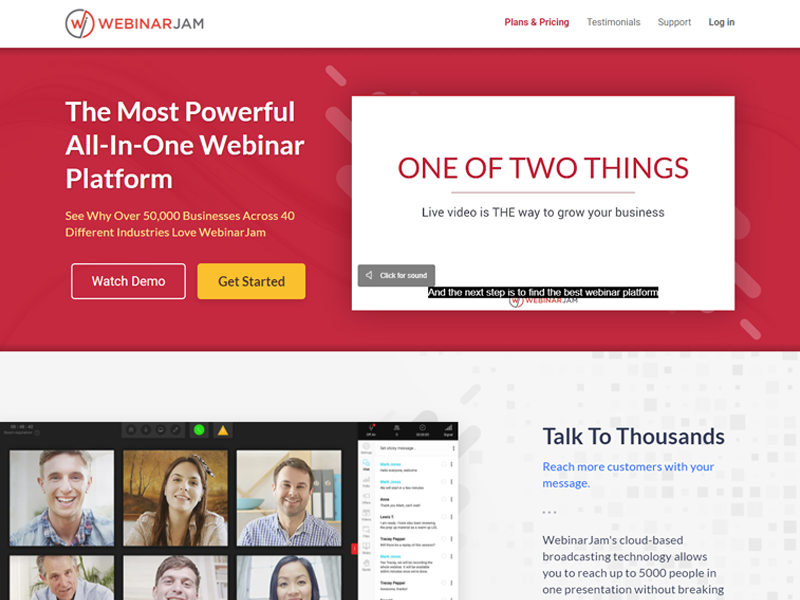 WebinarJam is yet another great webinar platform. The most advantageous aspect of using WebinarJam is that you don't have to be tech-savvy to operate them seamlessly or efficiently.
It allows you to stream directly to a YouTube page which considering that YouTube today is the biggest streaming platform of all, is a great expectation.
Some advantages that WebinarJam has that other tools don't have makes it #2 on this list. Here are some of them:
Provides you with pop-up forms to engage your audience and or represent your product.
The advance live chat functionality offers a two-way seamless communication method.
Furthermore, the unique Broadcast Distribution Technology of this tool creates a universal signal.
And that's not the only technology that this tool leverages!
It also has RTMP, WebRTC, HLS, and Flash. These technologies make it compatible with all devices and browsers.
Other than these aspects, the software has a user-friendly dashboard, customer-oriented interface, and automatic recording that you can send to your audience.
Key Features
Highly responsive customer support.
You can integrate it with your social media.
Compatible with every browser and device.
Automatic recording and built-in autoresponder.
User-friendly interface that is easy to use even for non-technical folks.
Initiate surveys and polls through the platform.
Super-quick process initiation.
Pricing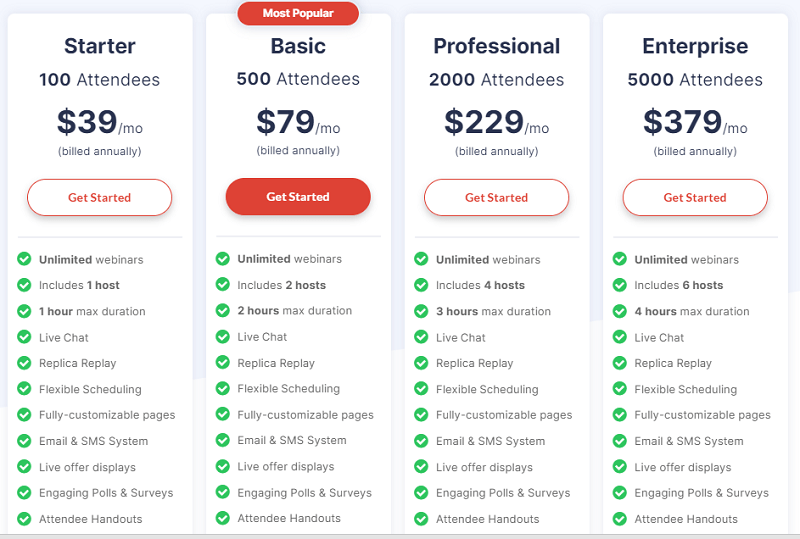 Basic plan: $499/year – this plan gives you 500 participants per webinar whom you can entertain with 3 presenters. Plus, you've got 24/7 support.
Professional Plan: $699/year – this plan gives you 1,000 attendees for your webinar and up to 4 speakers.
Premium Plan: $999/year. This plan is the best plan of all; however, it heavily relies on good marketing to make good use of it. You get 6 speakers and 5,000 attendees for this plan.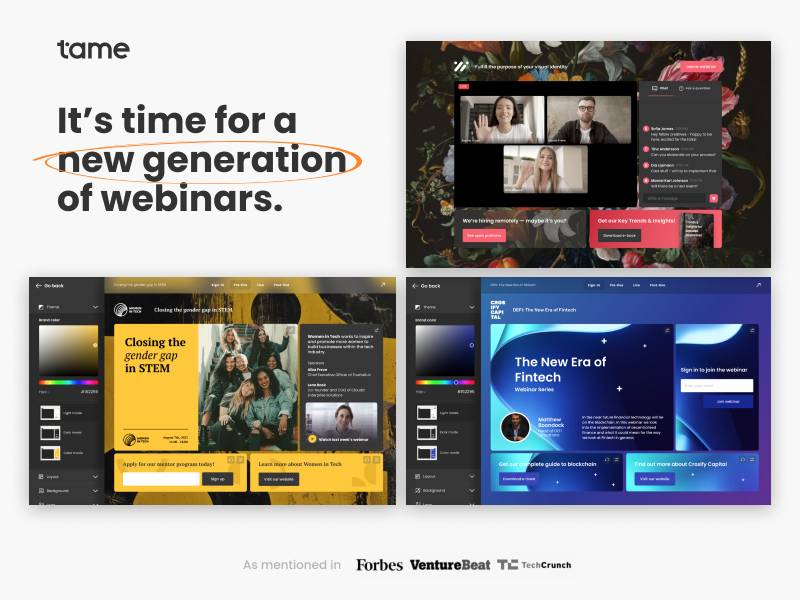 Tame is an innovative, customizable webinar software that's designed to maximize the value of your webinars for your marketing goals.
Supporting your brand growth and lead generation efforts, Tame's browser-based webinar platform gives you the insights and data you need, along with integrations, to support your lead generation efforts.
Your webinars can look truly unique since the customization tools allow for complete brand-ability. Tame is easy to use and ensures you host interactive, engaging webinars, every time.
Tame is a webinar tool for marketers who really care about their entire marketing performance. If you want to create truly unique webinars that build relationships with your audience and give a great brand experience while driving leads, this is the one for you.
Key features
Push content and CTAs on-screen to encourage onward journeys and elevate your brand experience.
Build brand awareness and consistency with complete customization of your webinars.
Host engaging webinars with live chat and Q&A, screen sharing, and screen-in-screen features
Integrate with popular CRMs
Record your webinars and store them on the platform.
High accessibility, as attendees can join the webinar with any browser, from any device.
The insights and data you need, are ready to export and use for lead generation.
An excellent customer success team, on hand 5 days a week.
Pricing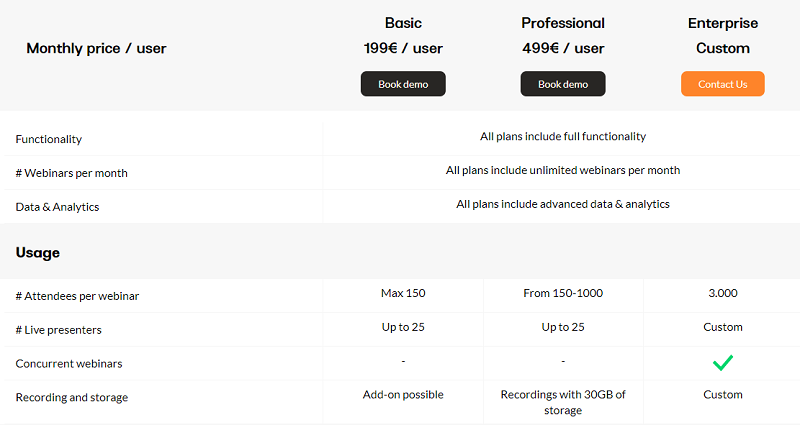 Basic: €199 a month
Professional: €499 a month
Enterprise: Talk with sales for your custom setup & price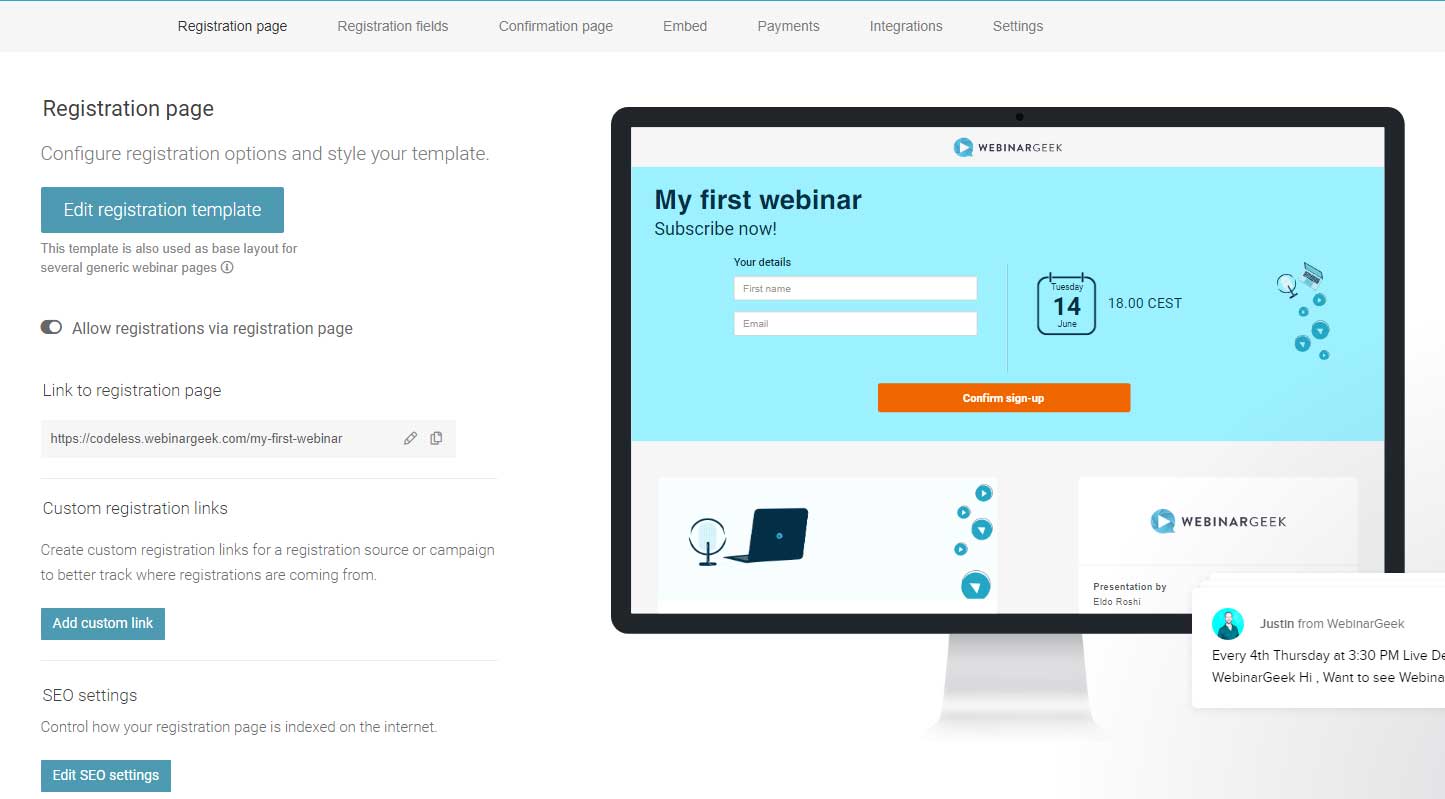 WebinarGeek is, in my opinion, one of the finest webinar software platforms available with a free plan. It's one of the only GDPR-compliant, which I appreciate as it is simple and straightforward to organize webinars, doesn't require any special software to be downloaded, and can be set up in minutes.
It has a beautiful, simple and intuitive interface, colourful backgrounds, and easy-to-follow steps to help you set up your webinar.
There are several features offered by WebinarGeek that make it a great option if you are looking for a webinar platform. The first is the ability to schedule webinars up to 12 months in advance, so you can plan them out in advance and your visitors won't be caught off guard.
Another great feature is the ability to receive emails, texts and phone calls when a webinar is happening, so you can join remotely if you can't make it at the scheduled time.
WebinarGeek also has an easy-to-use moderation feature, so you can filter out anyone who might be disruptive or non-relevant. It also has an integrated Q and A, so you can get feedback from your visitors.
Key features
Automatic recording of the webinar
Attendee limit and invite flexibility
Multi-user inputs, guest access, and polls
Desktop and mobile compatibility
Ability to host on your own site
Customer support
Ease of use
Pricing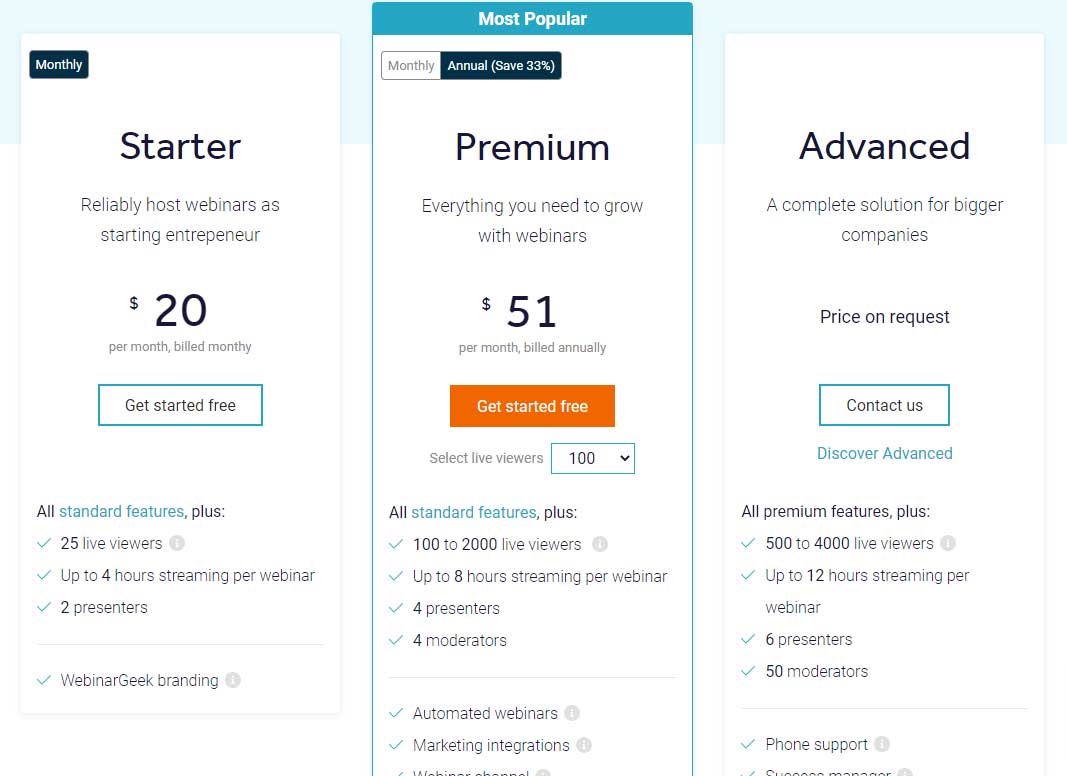 Starter Plan $20/month – 25 live viewers, up to 4 hours of streaming, and 2 presenters
Premium $51/month – 2000 live viewers, up to 8 hours of streaming and 4 presenters
Advanced price on request – 4000 live viewers, up 12 hours of streaming and 6 presenters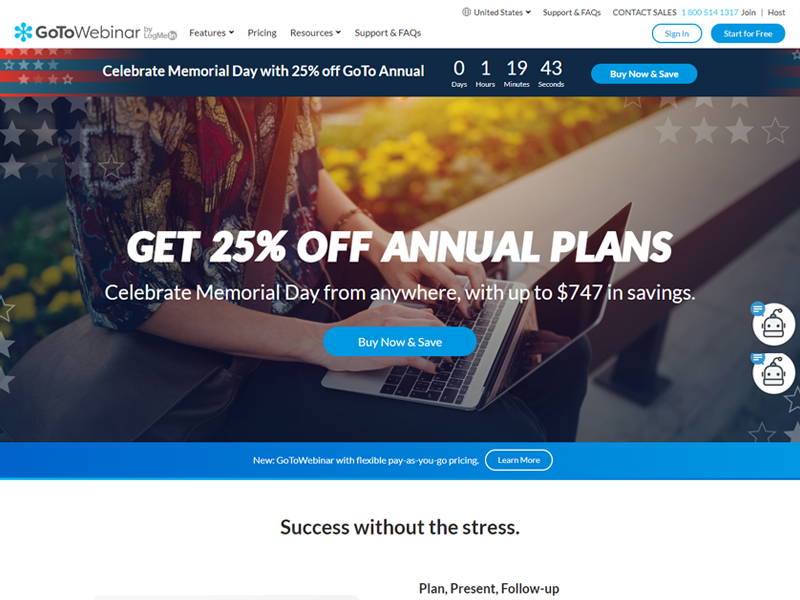 GoToWebinar is designed for enterprise-level organizations. It lets you easily launch and manage your webinar, and regardless of the number of attendees, the software lets you facilitate your guests by providing a seamless and hassle-free experience.
Just choose the date you want to host your webinar and get started. The software does most of your work for you automatically.
Moreover, with a feature-packed orientation, the risk of getting stuck anywhere has also been minimized.
Features like flexible scheduling, event management, and built-in webinar templates allow you to deliver a personalized experience to your audience.
Before getting started on the features, here are some that deserve to be discussed in person!
GoToWebinar has Intuitive features such as a built-in email reminder, a customization option, and a highly conversion-oriented registration page.
Key features
Advanced analytics.
HD video quality deliverance.
Built-in polls and surveys.
Automatic recording.
24/7 customer support.
Seamless integration with other sales and management software.
Pricing

GoToWebinar only charges for the participants.
Start: $89/mo/100 participants.
Medium: $199/mo/500 participants.
Enterprise: $429/mo/1,000 participants.
Free trial: 100 participants.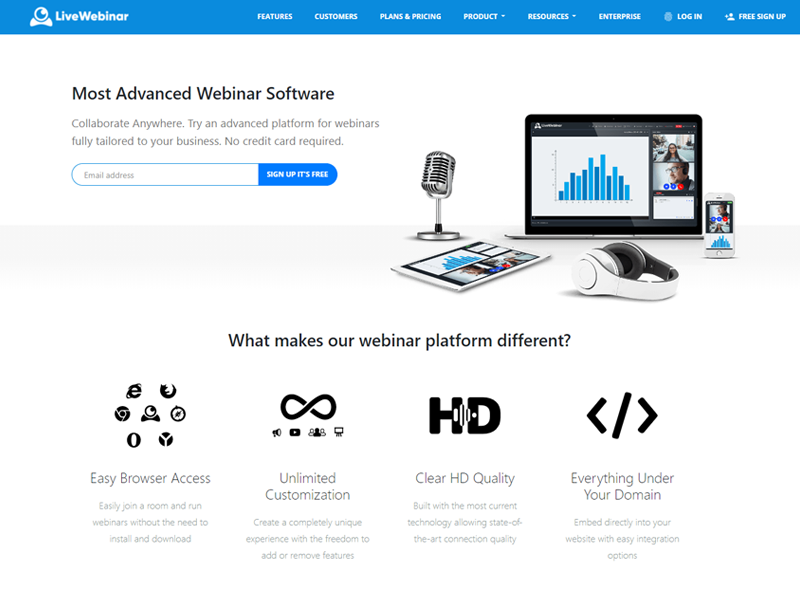 LiveWebinar is integrated with the latest technology, i.e., Cloud, to make it the most modern solution to all your modern needs.
From screen sharing to live videos to social media broadcasting and more, the software is fully capable of hosting webinars swiftly and efficiently.
Moreover, the software has got 42 data centers, over 99% SLA, and has the power to cover 1,000 attendees.
Also, the seamless downloading and installing method of this tool is another advantage of using it.
You can directly install the tool from Chrome, Opera, or Firefox.
Another great aspect of LiveWebinar is that it integrates with your website to spread the word that you're hosting a webinar.
This actually means that your traffic will also be able to see what you're hosting.
Additionally, the single-click functionality of the software is remarkable.
From sophisticated to easy tasks, i.e., screen sharing during live sessions – everything can be done with just one click with GoToWebinar.
The analytics option is also there to measure your peak engagement, figure out what's working and what isn't, and start engaging your audience like never before!
Key features
A whiteboard feature that helps you brainstorm ideas.
Integrate Prezi forms into your webinar.
You can break down your webinar into rooms during live sessions.
Let's facilitate an audience of 1,000.
Free for 5 attendees.
Include tests, surveys, and polls while you're conducting webinars.
Pricing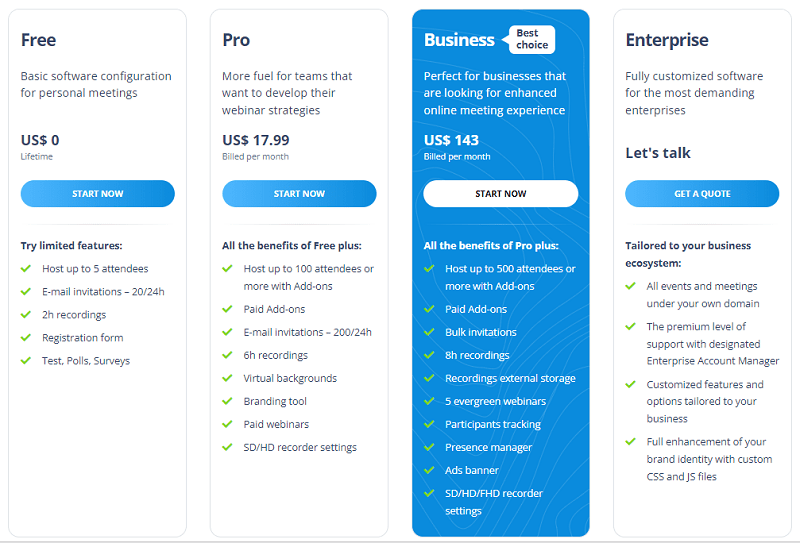 Free plan: $0 (for 5 attendees)
Pro: $11.99/mo/100 attendees.
Business: $95.20/mo/500 attendees.
Custom pricing: For over 1,000 attendees.
Lastly, all of the above-mentioned plans have tests, polls, and survey functionality.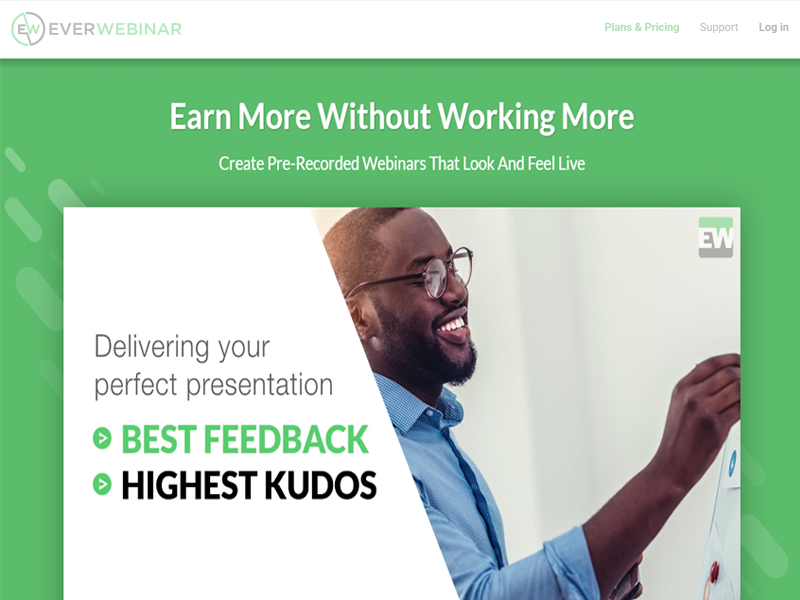 EverWebinar is surely one of the most popular tools on this list simply because of its features and its standout ability to simplify the process of setting up a webinar.
Moreover, it is also home to some of the most robust and modern features, i.e., automated-activity-based email connections, swift setup, auto-recording, and more.
However, since the essential features are there and modern features are missing like in other software, I suggest that you use this software if you're a small to mid-size business.
Key features
Fake your audience count to attract more attendees.
Convert past events into new events.
Get the analytics of your webinar.
Auto time zone detection fosters global use.
Unlimited free hosting through the cloud-based server.
Pricing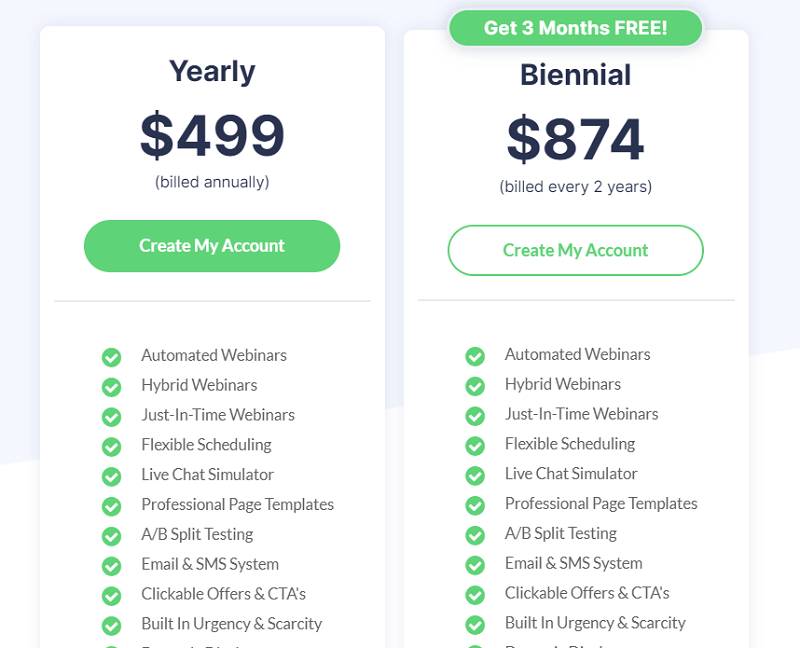 Plan: $41/mo.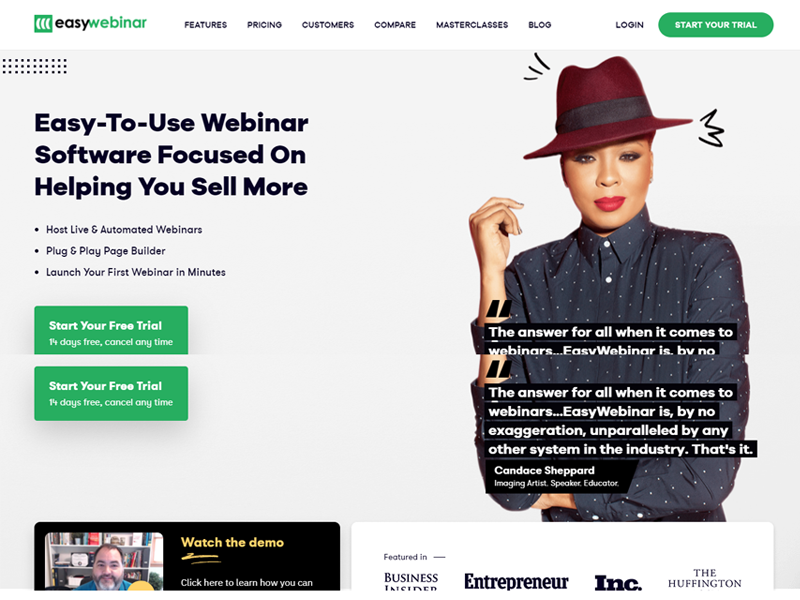 You're witnessing the only software on this list that has successfully integrated their webinar technology with their marketing technology.
Although the entire purpose of the digital world is to help businesses get ahead – still, however, there are times when even the most advanced tech companies make mistakes.
This mistake is what was avoided by easy webinars when they integrated marketing features into the platform.
Furthermore, this tool is an all-in-one solution where you can avail webinar automation, email marketing, lead generation, and other integral features.
Key features
Built-in analytics.
Marketing features and integration with tools such as MailChimp.
Unlimited live viewer using YouTube live integration,
Allow up to 100 attendees in the basic plan.
HD video and interactive live chat.
Pricing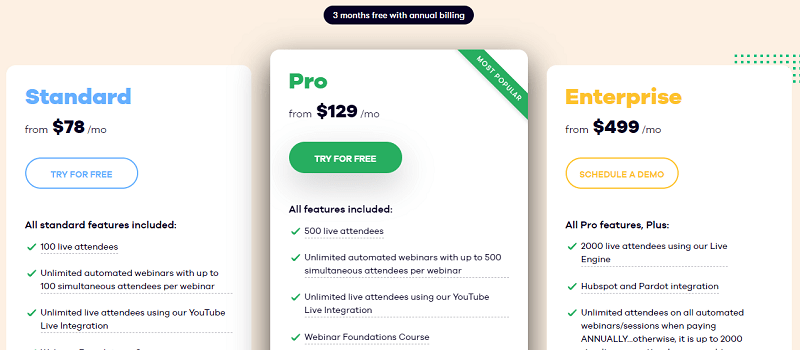 Standard plan: $59/mo.
Pro-plan: $90/mo.
Enterprise plan: $349/mo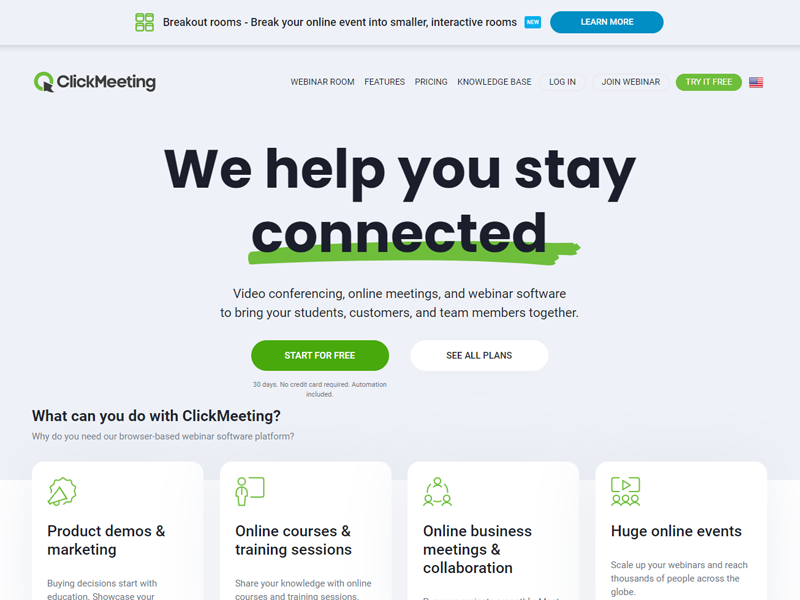 ClickMeeting is yet another popular automated webinar platform that basically takes the user experience to the next level.
With a super-responsive interface and an impressive list of features, the tool automatically becomes a preferred choice among the users.
What is this tool best for? Well, you can use it for training customers and in-house staff, marketing, and educating your audience about your product.
In a nutshell, it is a well-integrated platform that is designed to automate webinars and enable you to send personalized invites.
Lastly, I recommend this tool to SMEs simply because, well, it is simple first of all, and secondly, the technical stuff involved within the tool is easy to understand even for the non-technical individual.
Key features
Chat option and interactive sessions.
Your entire video is automatically recorded and uploaded to the Cloud, from where you can easily download it.
Polls and surveys for feedback.
Integrating the tool with Facebook and YouTube enhances engagement.
Pricing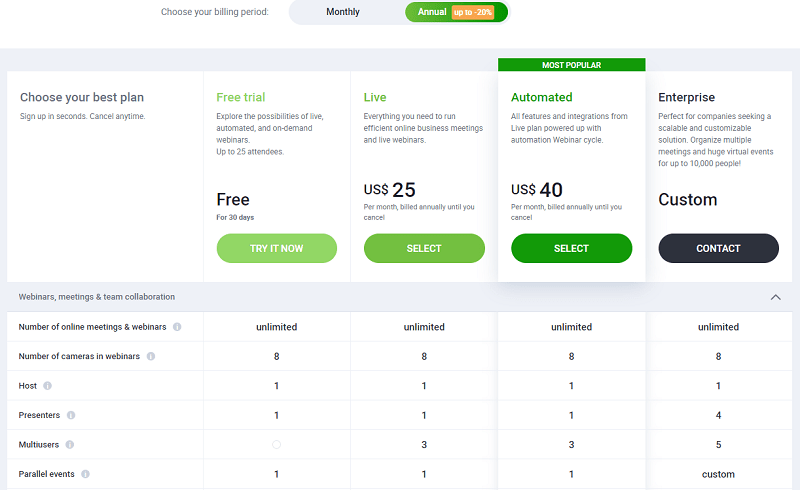 Starting plan: $25 for 25 attendees. ($35 annually for 50 viewers)
Custom plan for enterprises.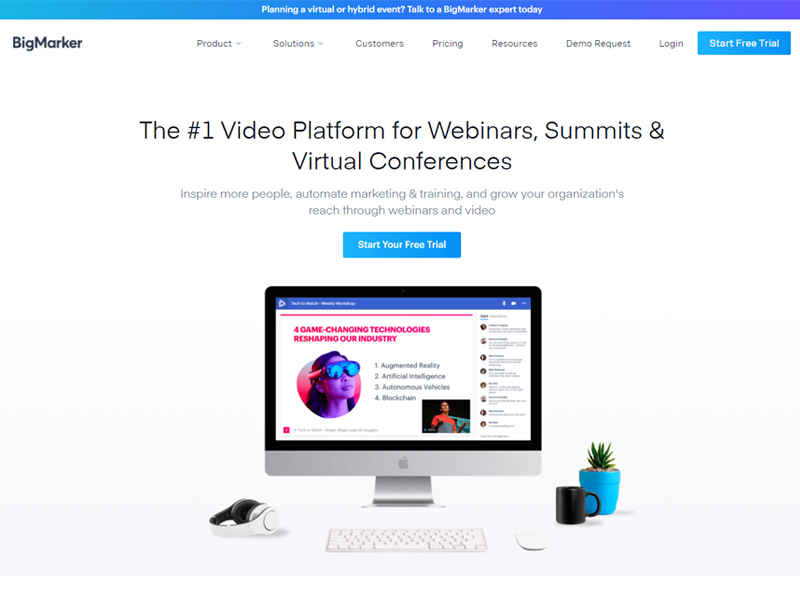 BigMarker lets you host webinars, summits, and virtual conferences.
You can engage up to 10,000 people with their live streaming capability.
You can further improve engagement with features like polls, handouts, and live Q/As.
Additionally, there's no fixed number of presenters in the webinar; anyone can just hop in and get started.
The most outstanding aspect of BigMarker is that although it is a webinar software, it gives you some marketing tools as well to attract more audience.
The tool gives you email invites, registration, landing pages, and reminders.
Also, the integration capabilities of BigMarker with your CRM enable you to further nurture leads, sales, and potential customers.
Key features
Custom live video experience for online events.
You can offer unique components in your webinar like handouts, chats, polls, and sessions.
The software is capable of integrating with Salesforce, HubSpot, and more.
It gives you 15 different landing pages.
Comes with an industry-standard SSL and HTTPS encryption for data protection.
Pricing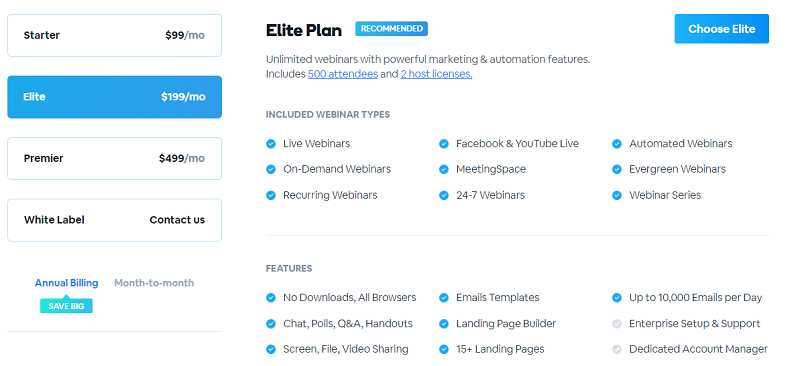 Starter plan: $79.
Elite Plan: $159.
Summit plan: $299.
White label plan: Personalized quotation.
Additionally, the first three plans offer 100 attendees and one host license, 500 and two host licenses & 1,000 and four host licenses.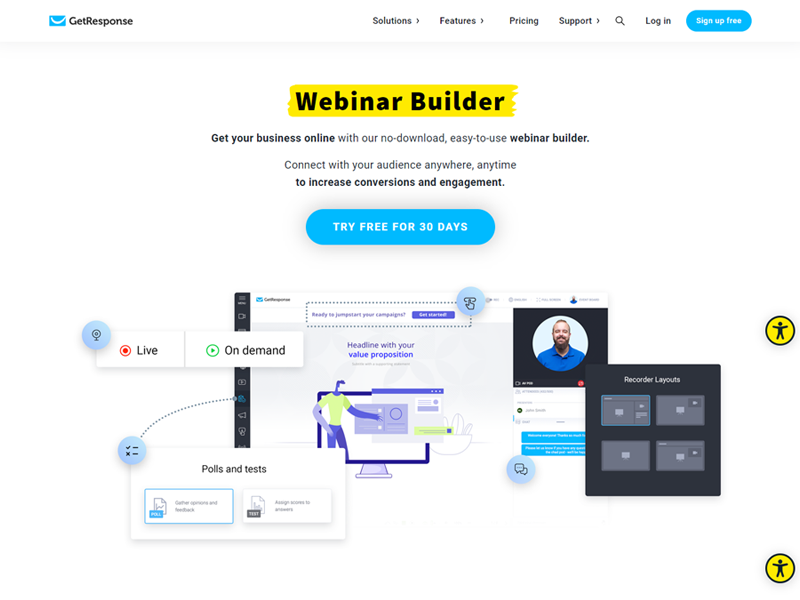 I know what you're thinking – GetResponse is an email marketing platform, right?
Well, yes, primarily, it is an email marketing platform. However, it also offers a complete webinar marketing solution that you can leverage.
Using this tool, you can set up your webinar quickly.
With features like auto-responders, automated email marketing, landing pages, and list segmentation – you're all set to redefine what a webinar looks like.
Key features
You can customize your webinar's URL.
Create webinar invitations using built-in templates.
Seamlessly record webinars.
Chat functionality to foster higher engagement.
Sharing feature.
Analytics monitoring, i.e., tracking, audience statistics, and more.
Pricing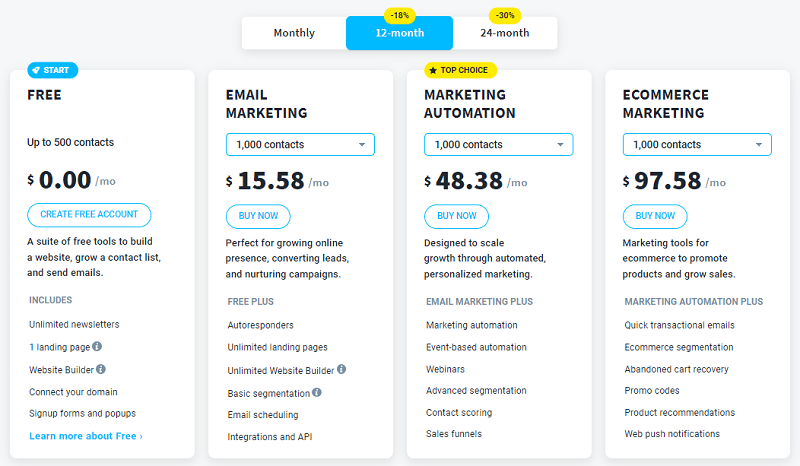 Free Plan: 30 days free trial.
Basic Plan: Doesn't include webinar features.
Plus plan: $49/mo/100 attendees.
Professional plan: $99/mo/300 attendees.
Enterprise plan: $1,199/mo/500 attendees.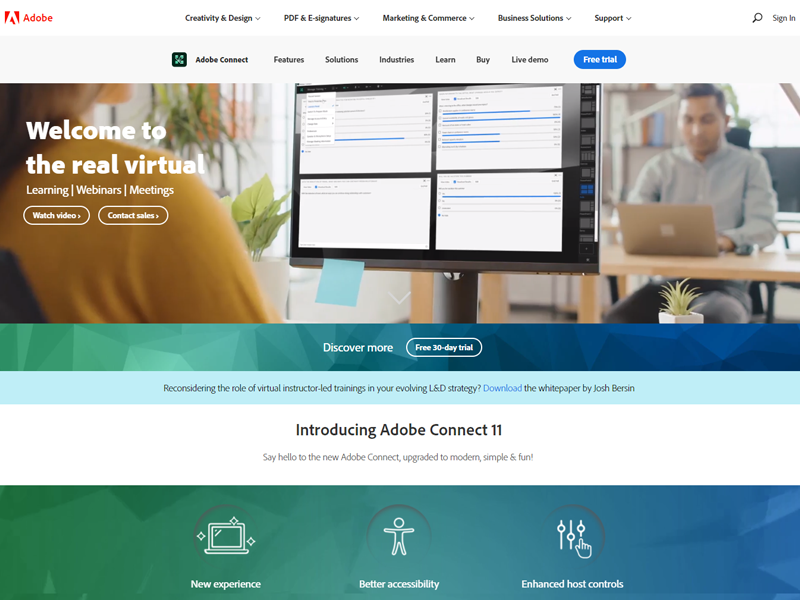 If you're a huge company, Adobe Connect is probably the best answer to all your webinar requirements.
Based on innovative technology, Adobe has taken the webinar world by storm.
With robust features, functionality, responsiveness, and a variety of other features, you can easily create and get started with your webinar in no time.
Besides creating webinars, you can host videos, share docs, host meetings and do much more.
You can also customize your meeting room, and given that Adobe primarily is the photo editing kind, this feature seems fitting.
The main reason for this tool is to help your company showcase its products and services in an attractive and persuasive way.
Key features
Variety of templates to customize your requirements.
Create unique and immersive registration pages.
Reach out to the target audience with blogs, images, videos, polls, and more.
Analytics monitoring feature.
Integrates easily with other CRMS such as Salesforce.
Pricing

Basic plan: $130/mo/100 attendees.
Advance plan: $470/mo/500 attendees.
Pro plan: $580/mo/1,000 seats.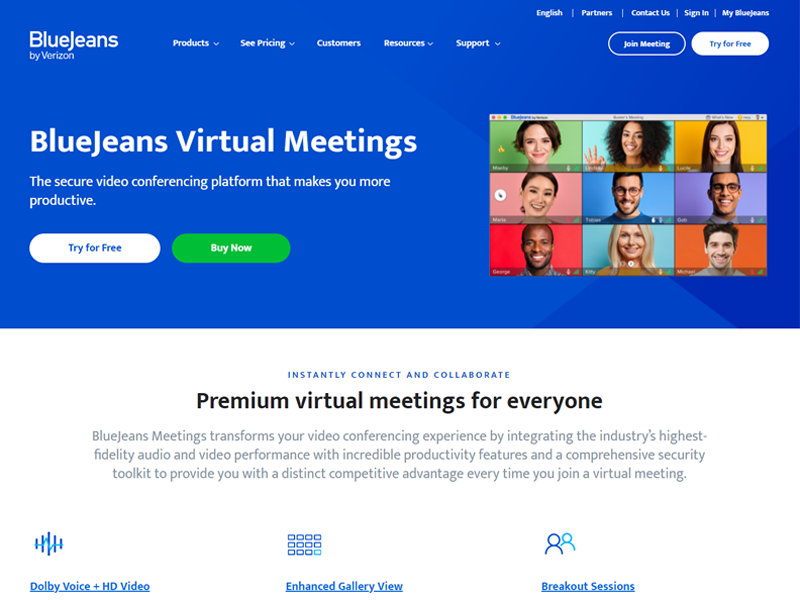 BlueJeans is also redefining the webinar genre with its impeccable features, robust performance, and seamless webinar creating nature.
This specific video conferencing tool is known for its four amazing digital offerings – out of which the primary one is BlueJeans Events.
Specifically designed to withstand a higher capacity of a global audience, BlueJeans has been hardwired with live streaming, interactive events handling, and townhall capabilities to provide users with the extreme easiness of launching webinars.
Additionally, the feasibility of hosting up to 50,000 attendees never gets old, and with a blend of other options such as live polling, Q, and As, you never miss a chance of engaging your audience.
However, this webinar software is designed for enterprise-level organizations, so if you've got a big enough brand, this tool will work best for you as you can share your information, product, or anything else with a massive audience quickly.
Key features
Capable of hosting up to 50,000 attendees and 150 hosts.
Capable of cloud recording.
You can stream live on Facebook through the software.
24/7 customer support.
Equipment recommendations and specification evaluation.
Pre and post-event analytics report.
The software can run on any device and not just apps.
Pricing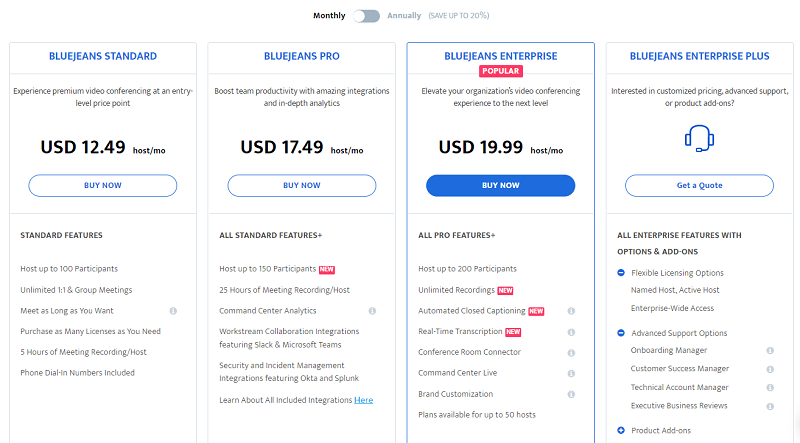 Starting plan: $83/mo/100 attendees.
If you're planning a massive webinar, then there's a specific quotation section on their website through which you can get a custom quote as per your requirements.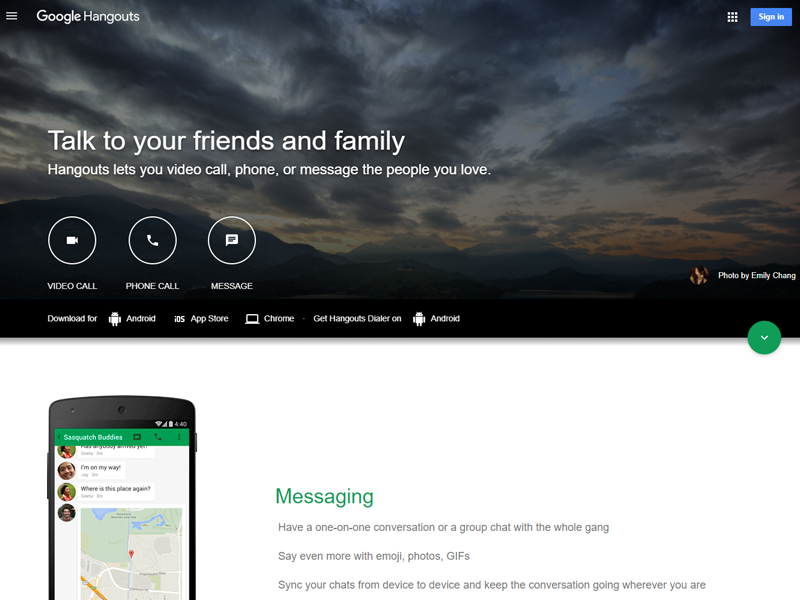 Probably the most famous name on this list and the most modern one too. Google hangout may have always been perceived as a tool that can be used to chat with family and friends.
However, there's more to this tool than just that!
Google hangout is also capable of hosting a webinar for 30 people. If you have a larger audience, you can invite them to YouTube. The software also seamlessly integrates with the Chrome browser to make this happen!
Moreover, the software is designed for every other business out there. Hence, it is perfect for an SME or an enterprise-level organization.
You can also enable your audience to share their screen during the webinar and record meetings.
However, the only drawback is that the tools are free, which is why it doesn't have automation features like others on this list do.
Key features
It's free for all users.
30 people inviting capacity.
Several keynote speakers during the webinar.
Automatically records and uploads on YouTube.
Create a webinar in 10 seconds.
No additional software is needed.
Pricing
Free. However, it offers limited functionality.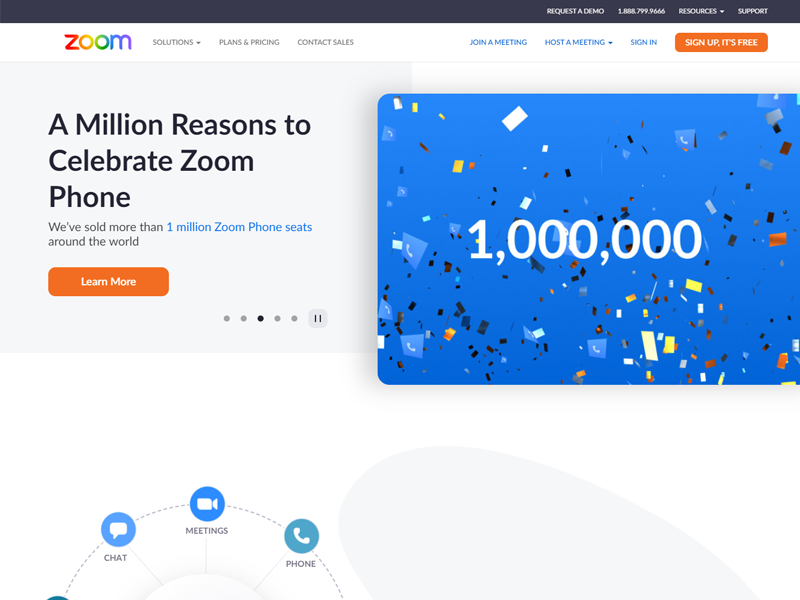 Zoom skyrocketed when the pandemic hit the world, and today it has become a popular software for professional meetings and connecting across different time zones.
Not many people know that zoom also offers webinar conducting features. The software is entirely cloud-based. Hence, swift and efficient performance is ensured.
Plus, a robust and easy-to-use interface makes things easier for the user to operate and effectively set up a webinar.
With features like HD video, audio, screen sharing, desktop, and app sharing features, you've got yourself a jackpot in the form of webinar software.
You can also schedule meetings, create a backup of different sessions and access them later in the future.
The integration of Zoom with Google Calendar and Microsoft Outlook allows you to further solidify the scheduling experience.
Additionally, Zoom also allows private and public chats so that the audience doesn't interrupt the speakers. In a nutshell, this web conferencing software is legit by all means!
Key features
HD video and audio recording.
Desktop and app sharing feature.
Backup on Cloud after every meeting.
Efficient host controls and virtual whiteboards.
User-friendly and easily navigable dashboard.
There are no one-time fees, and it's free to sign up.
Pricing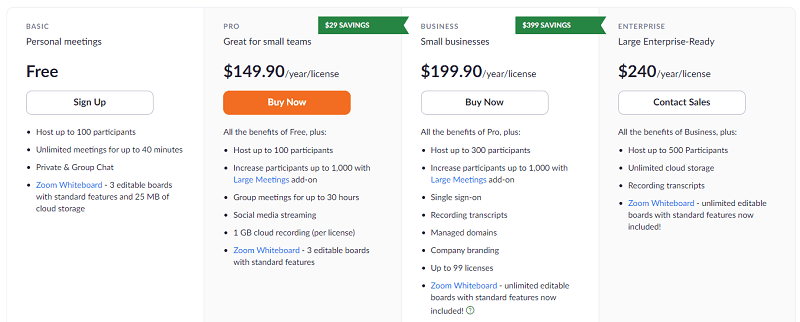 Freemium package: Conduct a 40 minutes webinar with 100 attendees.
Basic plan: $14.99/mo and 1GB cloud recording.
Business plan: $19.99/mo. This package is suitable for enterprise-level organizations.
16. Intermedia (Formerly AnyMeeting)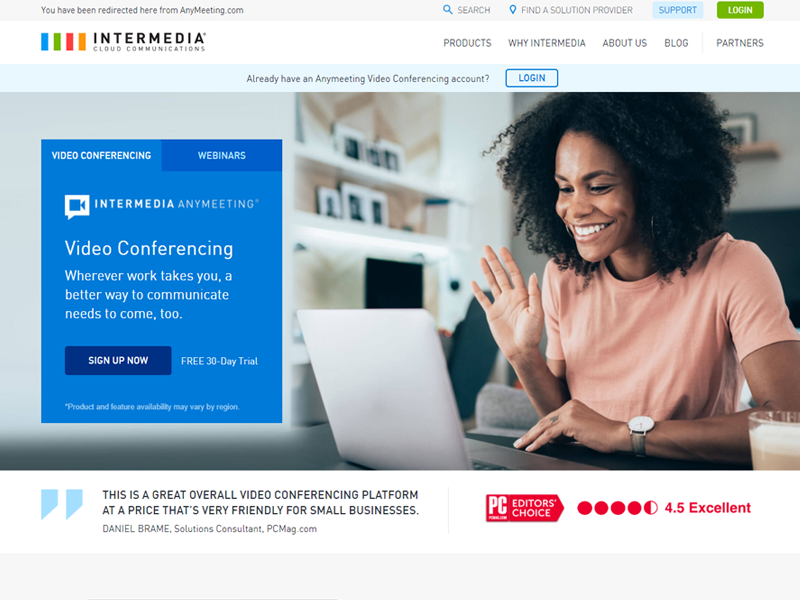 AnyMeeting, now owned and backed by Intermedia's J.D. power-certified support, is perfect for small organizations, startups, and educational institutes.
There's a whole list of features that enable you to run your webinar quickly, and with an intuitive interface, you can easily operate the features and functionalities of the tool.
The tool also offers some of the most advanced features like HD video broadcasting, Mp4 sharing, automatic recording, and more.
Additionally, after Intermedia bought the software, they did some upgrades of their own, which made the tool even more advanced than before.
Today if you're leveraging AnyMeeting, you can seamlessly host up to 1,000 webinar attendees for your webinar, and you get a 30 days free trial that'll help you test out the entire feature-packed software.
Key features
6 live speakers and 1,000 attendees hosting capabilities.
Offers built-in Q&A sessions, surveys, polls, live chat tool, and much more.
Chat functionality to engage your audience.
Intuitive and user-friendly interface.
Follow up with your participant emails.
Pricing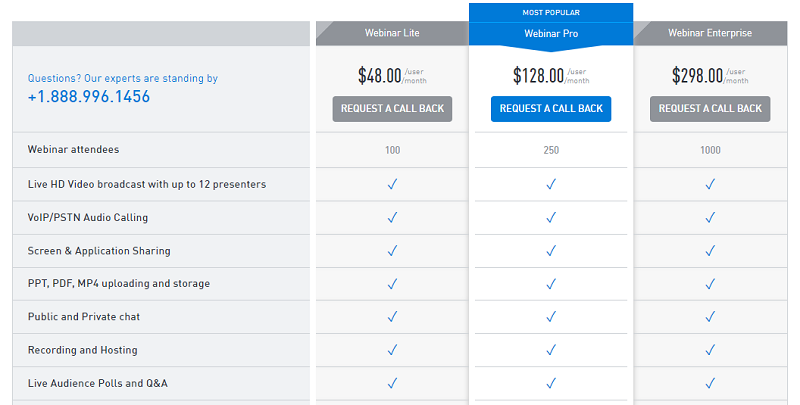 Basic plan: $9.99/mo/Per user.
Pro plan: 30 days free trial.
Enterprise plan: $17.99/mo/user.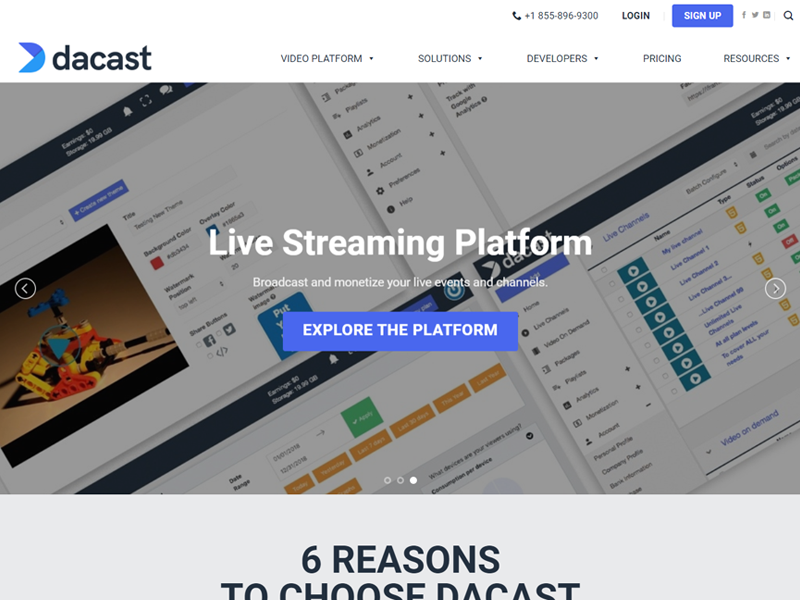 Last but not least, DaCast is also a webinar software that helps you set up your online meeting with the world.
You can get started in minutes by leveraging the optimal broad-casting features. You can even manage, monetize and analyze your videos.
The software also comes along with 24/7 customer support that really comes in handy when you get stuck somewhere. However, the features that are more popular in this software are the integration of live video with APIs streaming.
With these features, you can also shoot live webinars as they're happening and publish them at a later date. Simply put, this software is simple, easy to use, and designed for startups, SMEs, and novice marketers.
Key features
No viewer limits.
Real-time analytics.
An interactive video on demand (VOD) solutions.
Live streaming on social media platforms.
User-friendly web conferencing interface.
Easy to set up.
Pricing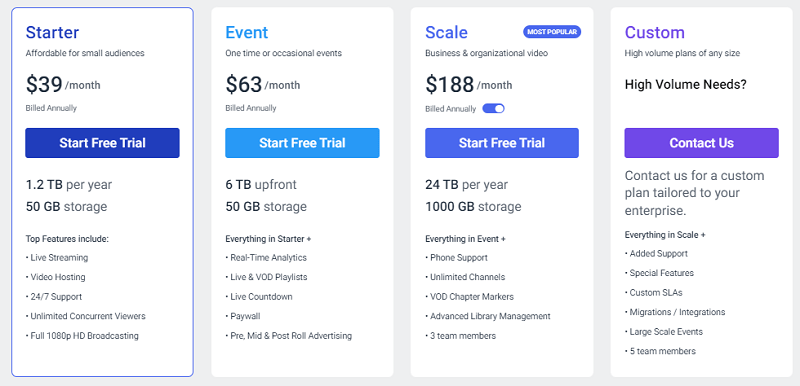 Starting plan: $19/mo/300 attendees
Pro plan: $289/mo/15,000 attendees
Custom plan: Select the features that you want according to your requirements and get a custom quote as per your demands.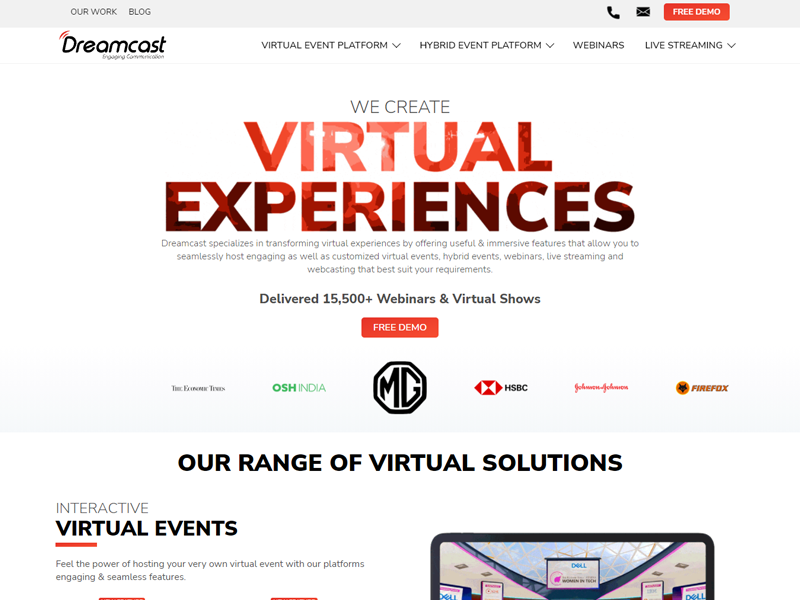 Dreamcast is a hybrid and virtual platform for conducting online events. It enables the organizations to conduct their online events as well as engage and connect with the attendees. The participants can engage from their remote locations by engaging and interactive tools such as live video and audio chats.
Furthermore, it also includes live webinars, group chats, gamification and live polls. It also enables the users to organize any external or internal events. These events can be hybrid or virtual meetings, launches, fairs, exhibitions, expos, trade shows, and summits.
Dreamcast is best for large-scale companies and non-profit to multi-national start-up organizations.
Key Features
Complete documentation available
Training is available in person, webinars, and live online
24/7 live support
Well-suited with Mac, Windows, SaaS, iPad, iPhone and Linux
Customizable branding
Presentation tools
On-demand webinars
Pricing plans
Dreamcast offers free trials. However, it has not published the pricing tiers online. But you can request their support team for the pricing details of your required plan. The pricing model is per user type.
A List Of Free Webinar Software
The above-mentioned webinar software was mostly paid besides Google Hangout so, here's a list of free webinar software that you should try out.
Why Webinar Software is Important for Businesses?
Webinar software is a crucial asset for businesses looking to expand their reach and engage diverse audiences. By hosting webinars, businesses can showcase their expertise, demonstrate products, offer training, and provide valuable information to clients and customers without the limitations of physical locations. Webinars allow businesses to generate leads, nurture relationships, and foster customer loyalty through targeted and personalized content.
Furthermore, webinars enable businesses to save on costs associated with travel, event venues, and other logistical expenses. Given the increasing global reliance on remote communication and online collaboration, investing in a robust webinar software platform can significantly boost a company's growth, reputation, and overall success.
Factors to Consider While Choosing a Webinar Software
Selecting the right webinar software for your business is essential for maximizing the benefits of this powerful communication tool. Here are several factors to consider while choosing a webinar software:
Features and Functionality: Look for a platform that offers essential features such as high-quality video and audio streaming, screen sharing, chat functionality, and attendee management. Additional features like analytics, recording, and custom branding may also be crucial, depending on your unique webinar goals.
Ease of Use: Choose a user-friendly platform that makes it easy for both you and your attendees to navigate and participate in events. This will ensure a smooth and enjoyable experience for all parties involved.
Integration Capabilities: Ensure the software integrates seamlessly with other tools you already use, such as email marketing platforms, CRM systems, and social media channels, to streamline your processes and maximize efficiency.
Scalability: Opt for a platform that can accommodate your business's growth by allowing you to host webinars for a varying number of attendees and offering tiered pricing plans that suit your needs.
Pricing: Consider your budget and make sure the software you select provides the necessary features at a price point that works for your business.
Customer Support: A reliable customer support team is essential in case you encounter technical problems or need assistance with the software. Look for platforms with a reputation for excellent customer service.
Security and Compliance: Make sure the software adheres to industry-standard security protocols to protect your data and ensure privacy for your attendees.
Free vs Paid Webinar Software
Free webinar software provides an accessible starting point for businesses looking to explore the benefits of webinars without a significant initial investment. Pros of free webinar software include no upfront costs, basic functionality for simple webinars, and the opportunity to familiarize yourself with webinar hosting before committing to a paid platform. However, free webinar software often has limitations in terms of features, number of attendees, and customer support.
Paid webinar software, on the other hand, offers more advanced features, greater customization, and scalability, allowing businesses to host professional and polished webinars for larger audiences. The cons of paid webinar software include the recurring costs and the potential for paying for features you may not use.
Ultimately, the choice between free and paid webinar software depends on your business's specific needs, goals, and budget.
Tips for Running a Successful Webinar
Plan and Prepare: Develop a clear and organized outline of your webinar content, and rehearse your presentation to ensure you're comfortable and confident with the material.
Promote Your Webinar: Use email campaigns, social media, and your website to generate interest and encourage registrations. Provide clear information about the webinar's value and what attendees can expect.
Choose the Right Time: Schedule your webinar at a time that is convenient for your target audience, taking into consideration factors such as time zones and typical work hours.
Engage Your Audience: Encourage participation through real-time polls, Q&A sessions, and chat boxes. This will not only make the webinar more interactive but also provide valuable feedback and insights.
Use High-Quality Audio and Video: Ensure your audio and video are clear and professional, as poor quality can be distracting and detract from your message.
Record and Share the Webinar: Record the presentation and share it with attendees afterward, providing them with a valuable resource they can refer to later or share with colleagues who couldn't attend.
Follow Up: Send a follow-up email to attendees, thanking them for their participation and providing any requested resources or additional information. This demonstrates your commitment to their satisfaction and helps solidify relationships.
By following these tips and choosing the right webinar software for your business, you can maximize the potential of webinars as a powerful marketing, sales, and training tool.
Conclusion
That's all, folks!
It's kind of impressive that all the tools mentioned on this list are somehow different from each other, yet they're all fulfilling the requirement of the webinar-loving audience.
With the robust features and user-friendly interfaces, I believe that there's a lot more these tools will accomplish rather than just webinar software.
However, the question still remains which webinar software should you choose?
Well, I would say that you go for the one that perfectly matches your requirement. I mean, you may already know as a marketer what it will take to grab the attention of your users.
Therefore, you will be selecting the software that gives you similar functionality.

As one of the co-founders of Codeless, I bring to the table expertise in developing WordPress and web applications, as well as a track record of effectively managing hosting and servers. My passion for acquiring knowledge and my enthusiasm for constructing and testing novel technologies drive me to constantly innovate and improve.
Expertise:
Web Development,
Web Design,
Linux System Administration,
SEO
Experience:
15 years of experience in Web Development by developing and designing some of the most popular WordPress Themes like Specular, Tower, and Folie.
Education:
I have a degree in Engineering Physics and MSC in Material Science and Opto Electronics.