In this article, we will rank and review the best visual project management tools and software
There are some factors that we need to keep in mind to handle complex projects expertly and well-timed. To make your project stand out, essential qualities like flawless conversation, absolute clarity, and seamless transparency play an indispensable role. Perfect integration of these fundamentals deep in the head is crucial to precede the project with success. For incorporating these elements, we require implements more than any standard project management tool.
To fully visualize any important and complicated project, we need some innovative and novel tools. These management tools assist you in grasping the project in a way that leads you towards victory. They enhance the productivity of the team by teaching them some pro tips. They can help you in accessing your position on the graph of success.
The complete management tool works when you add the details of the project into it, and in return, it tells you the points and areas where you lack. Furthermore, it gives you a tip for amendments and recommendations to make these problematic areas better. It also ensures the well-ordered exchange of information. No doubt it is a game-changer in the world of project management.
After knowing the remarkable work of project management, you must think about opting for the best software to help you manage your upcoming project.
However, you must be worried about some questions.
What are the essential features a software should have to manage a project?
How to access it? Which of them is best for you?
If you have questions regarding this, keep reading till the very end. It is because all the confusion will surely disappear after that, and you will dream up your mind for one of the most exemplary management. Let's not further waste any time and dive right into it.
Top 9 Best Visual Project Management Tools
| | | | |
| --- | --- | --- | --- |
| Name | Free | Price | Best for |
| Monday | Yes | $10 | Overall |
| ClickUp | Yes | $5 | Drag n Drop |
| Chanty | Yes | $3 | Most affordable |
| Wrikle | Yes | $9.8 | Team Work |
| Asana | Yes | $10.9 | Manage Team's Workload |
| Celoxis | No | $25 | Customizable Ready Templates |
| Atlassian Jira | Yes | $7 | Software Development |
| Trello | Yes | $10 | Best Free Task Management Software |
| Zoho Projects | Yes | $5 | Businesses |
| Mavelink | No | $19 | Integrations and Automations |
There are tons of options for visual project management in the market, but choosing the right one is a tricky task. We have narrowed down the best visual management project for the sake of your ease.
Best Overall Visual Project Management Software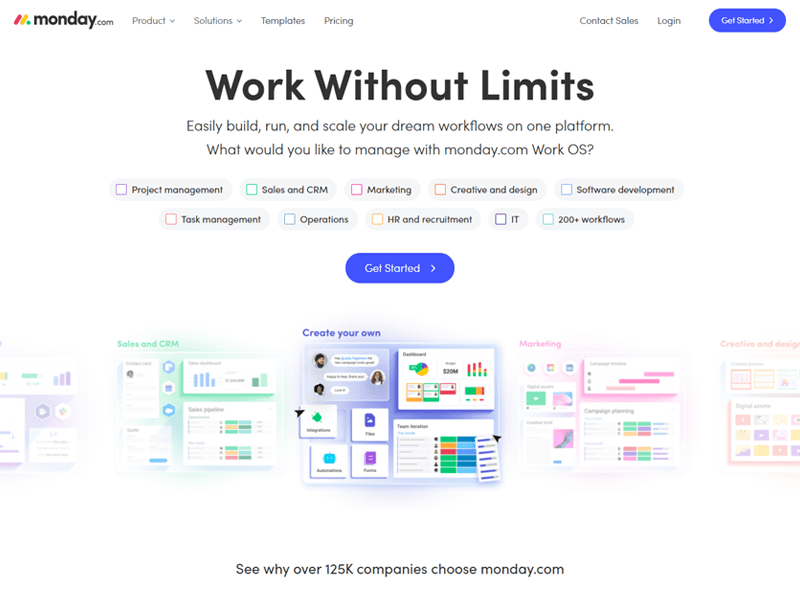 Monday.com, formerly known as dapulse, is one of the best visual management tools. It is one of the most profitable and highly efficient project management software on the market. Over nine years, it has grown into well-established graphic project management software with hundreds of dynamic features.
In addition to providing an orderly and simple visual representation of your team's work, it allows you to plan, set up, and track all of your ongoing project-related work. With this single software, you can do everything you ever desire!
Monday is also a great sales management software for small and medium businesses.
Here are some key features that Monday.com provides as a top visual task management tool:
Features:
It eases assigning and creating jobs, and you can also set a priority status for a specific assignment. Premade templates are available for ease. Deadlines, achievements, milestones, etc., are easily set up. Tools like maps, calendars, boards, and a timeline support simple visualization.
The in-app messaging and commenting option allows members of the team to interact with each other conveniently. Furthermore, it enables users to share text, images, files, videos, and spreadsheets, making the workflow easy.
24/7 customer service is ready to help anytime and anywhere. The Monday.com team provides personalized and exceptional guidance to its users. A self-learning course is also available now.
Pricing:
Monday.com offers a lot of pricing options for all kinds of projects and budgets. Due to which a wide range of users get opportunities. They are:
Individual Plan: free forever ($0)
Standard Plan: $10 per seat per month. (a most popular one)
Pro Plan: $16 per seat per month
Enterprise Plan: reach the team at Monday.com to get custom pricing.
Best Drag and Drop Project Management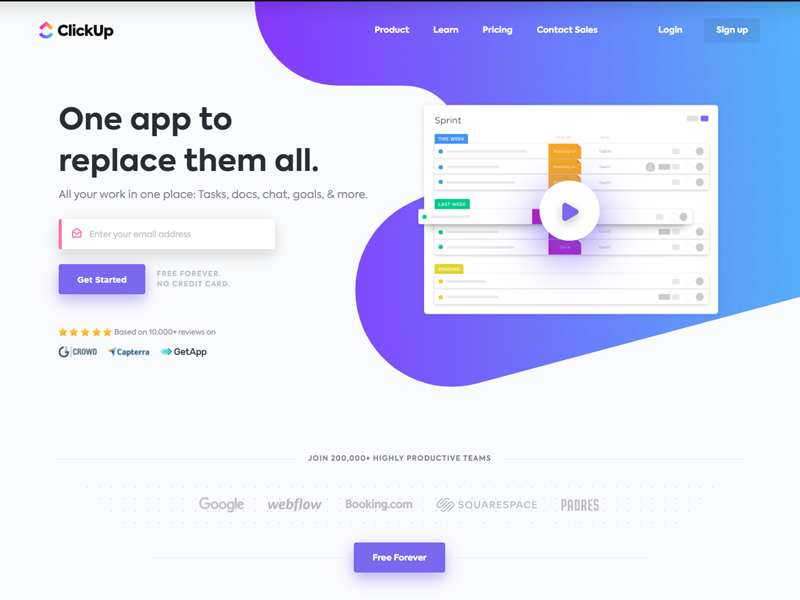 ClickUp is a well-recognized and robust project management platform. CEO Zeb Evans found it in 2017. Over years of establishment, ClickUp has introduced hundred efficient features with top-notch advantages.
This platform offers customizable features to every individual and team. Its clean and easy-to-use website and premade templates attract users. All project management-related resources are available on ClickUp.
Here are some features which it offers:
Features:
ClickUp The Everything view enables you to look at the overall progress of the team. It makes finding desired documents, tasks, or anything easy and less time-consuming. ClickUp allows users to customize jobs and workspaces according to their preferences and needs. Tracking time and making estimates is one of the top features of ClickUp.
This program allows real-time reporting among members of the same team. It makes communication with team members easy. In addition, it brings the team together by working in a unified workspace. Sharing of documents, images, attachments, etc., is very secure and smooth through ClickUp.
Besides everything ClickUp provides, it also gives 24/7 world-class customer support. It is free of charge.
Pricing:
Free: free forever ($0)
Unlimited: $5 per user per month.
Custom deal: You can also make a deal with them by contacting team ClickUp.
Best for affordability
Chanty is one of the best team collaboration software on the market that secures unlimited messaging for free. The platform offers integrated video conference tools that help staff to share information in an efficient way.
Task Management is easy and what makes it different is the simple way that you convert any message into a task. So any discussion can be more efficient. Also, the tasks can be tagged with priority labels and deadline notifications.
Chanty offers great visual management of the tasks through the Kanban view with columns and rows.
Features:
Unlimited Conversations
Video Conference Software
Data Protection
Integration with Google Drive, GitLab, MailChimp etc..
Pricing:
Free – $0 forever
Business– $3 user/month
Best for Team Work Management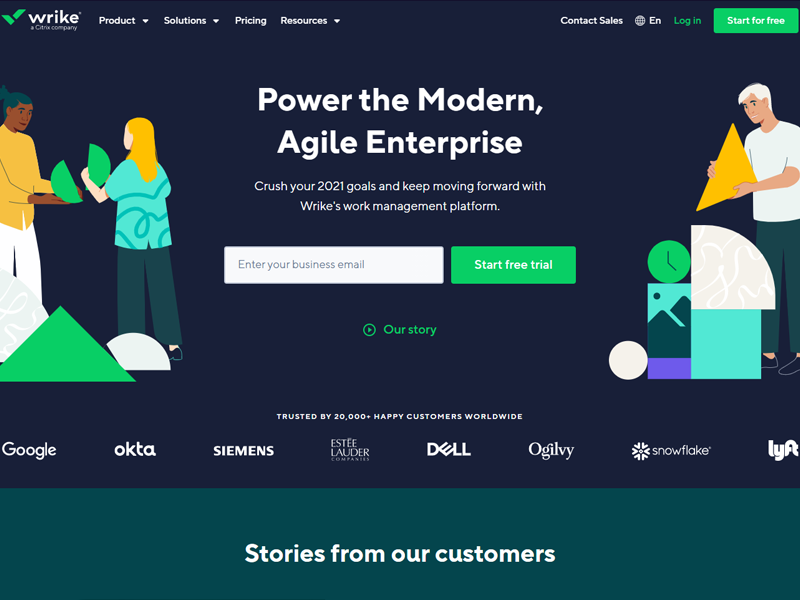 In the forth place, we have placed Wrike. It is American project management and resource management software founded by Andrew Filev in 2006 and San Jose, California.
It is one of the visual project management software, offering top-class and efficient features to manage a project conveniently. Wrike's potential and incredible features have made big corporations like Google, Adobe, HTC, and others select Wrike.
Let's look at the efficient features that Wrike offers.
Features:
Customizable workflows, dashboards, request forms, and more allow users to adjust the working environment according to their preferences. It has features that provide 100% visibility and make finding information across departments easy. Highly interactive Gantt charts reduce the workload. In addition, pre-built workflows, etc., speed up the project.
Wrike allows smooth follow of information among the team, which makes it easy to communicate. High-security systems keep your data and information secure and safe. Real-time communication with stakeholders is available on Wrike.
Wrike's customer support answers your every question. They have a bunch of different support packages, which include tons of accessible features. You can even contact them on weekends!
Pricing:
Free: $0 per month
Professional: $9.80 per user per month
Business: $24.80 per user per month (most popular)
Enterprise: Contact the team at Wrike to enable this Plan.
Best for Manage Team's Workload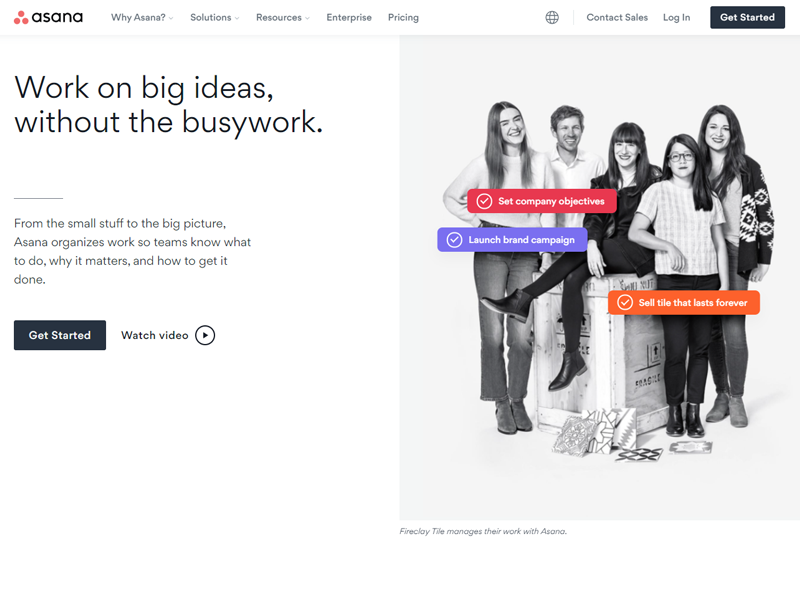 The next one is Asana. Asana is one of the most popular visual project management software, founded in 2008 by Facebook co-founder Dustin Moskovitz.
Asana is an all-in-one web and mobile application that allows you to manage, assign and organize tasks with efficiency and utmost ease. Asana is known for simplifying team-based works. Asana offers tons of helpful and dynamic features to its users within a single application.
Here are some of the most-loved and incredible tools that Asana provides:
Features:
On Asana, you can customize your workflows according to your choice. It will help you to be productive and on track while working. By setting priorities for each task, you will stay on schedule and complete the project timely. Asana provides a feature through which you can digitally visualize your work and thus interpret it easily. Error-free and optimized workflow given by Asana will increase its efficiency.
Smooth communication among team members will keep everyone on the same page. It will improve the coordination of the team. Besides, Asana also provides real-time contact with stakeholders and clients. Through this secure communication, data and information will stay heavily protected.
Asana customer support guides the user step-by-step. Besides, Asana Academy, hosted by the top-class Asana team, teaches new users how to operate the program. Asana has always cared for its customers, no matter what.
Pricing:
Basic: Free forever ($0)
Premium: $10.99 per member per month
Business: $24.99 per member per month
Enterprise: Reach team Asana to get access to the enterprise plan.
Best with Customizable Ready Templates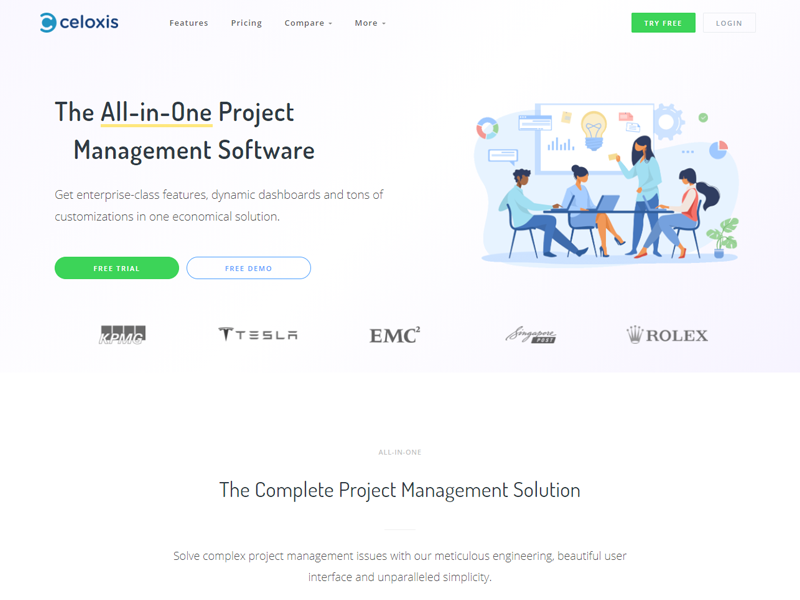 Celoxis is one of the top project management software. It is the perfect choice to opt for when you are facing complex problems related to your projects. Celoxis's efficient tools conveniently solve each of these problems. Besides, you can also plan and track your assignments. Communication through Celoxis is also super seamless.
Here are the super-competent features that Celoxis offers:
Features:
Celoxis provides tons of dynamic plans and dashboards. Moreover, it also gives a wide range of customizable templates and economical solutions. Their user-friendly interface is easy to use. Through Celoxis, you can also keep track of time and set priority status for your tasks.
Communication among team members
Besides all the high-class features provided by one of the project visualizations tools, it also offers services to connect with team members. You can share files, exchange innovative ideas, and discuss with your clients and colleagues. Celoxis also provides a shareable calendar, a free client portal, and mentions and notifications. These efficient modes of communication automatically save your time and energy.
Celoxis has introduced video tutorials to support and help its new users. Their detailed video tutorials perfectly explain how to solve a problem. In addition, several how-to guides are also available on their website. It is why Celoxis is known as user-centered visual project management board.
Pricing:
Cloud: $25 per user per month.
On-Premise: $450 per year per user.
Best for Software Development Project and Agile Teams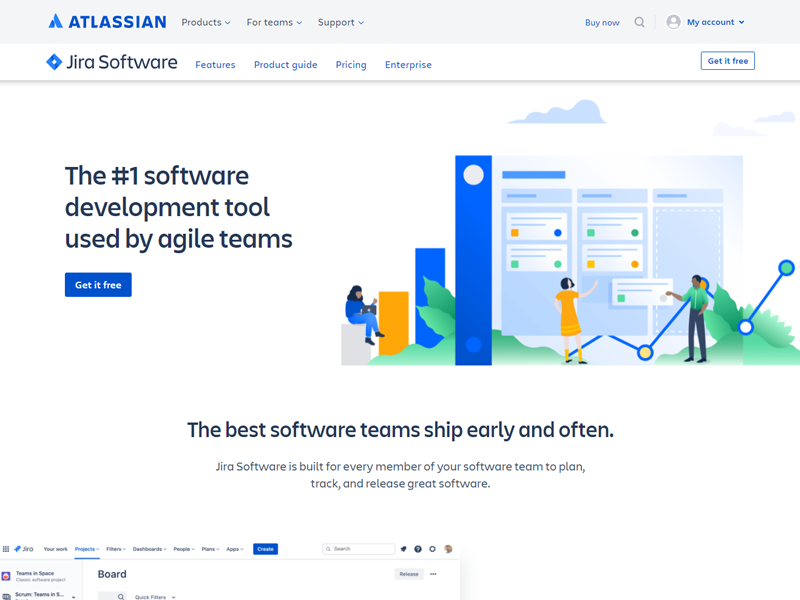 Atlassian Jira ranks number 6 because of its efficient and high-class features. It is software that is available for every member of your team. It allows you to plan, organize and manage tasks with no inconvenience.
It provides a wide range of tools, and some of them are:
Features:
Atlassian Jira allows its users to plan and organize projects. It gives them time and space to work on the project. With its help, you can also track the progress rate of other team members with full context and visibility. This software provides high-class security, disabling hackers to steal your data and information. Through Atlassian Jira, you can also integrate 3000+ other applications.
By Atlassian Jira, communication with fellow members is incredibly easy and convenient. You can keep track of their progress. You can also report your work rate. It enables every member to remain on the same page.
Atlassian's customer care is high-rated. They provide limitless services and all kinds of help. Whether it is a technical or a product problem, their efficient team is always ready to help.
Pricing:
Free: free ($0)
Standard: $7 per user per month
Premium: $14 per user per month
Enterprise: to enable enterprise plan, contact the efficient team of Atlassian Jira.
Best Free Task Management Software
Trello has ranked number 7 on our handpicked list of the visual project tracking software. Trello was founded in 2011 and has advanced into well-established project management software.
With Trello's user-friendly and incredibly efficient features, a significant amount of project managers and teams opt for Trello. It offers many features. They are:
Features:
Trello's features allow you to customize your workspace, which makes working convenient and incredibly fun. Through its workflow feature, you can see your project moving towards completion. Its built-in automation does the work for you.
Easy file sharing among team members allows smooth communication. It reduces the risks of miscommunications and keeps each member updated. Trello allows you to share, manage, and track your cards with your other team members. Trello promotes collaboration.
The Trello application is available on both Android and iOS devices. Providing customers easiness is their top priority. This feature creates more convenience for the clients who want to select them for their projects.
Pricing:
Free: This Plan is free of cost ($0)
Business-class: $10 per member per month
Enterprise: reach the team at Trello to get updated on this offer.
Best Project Management Software for Businesses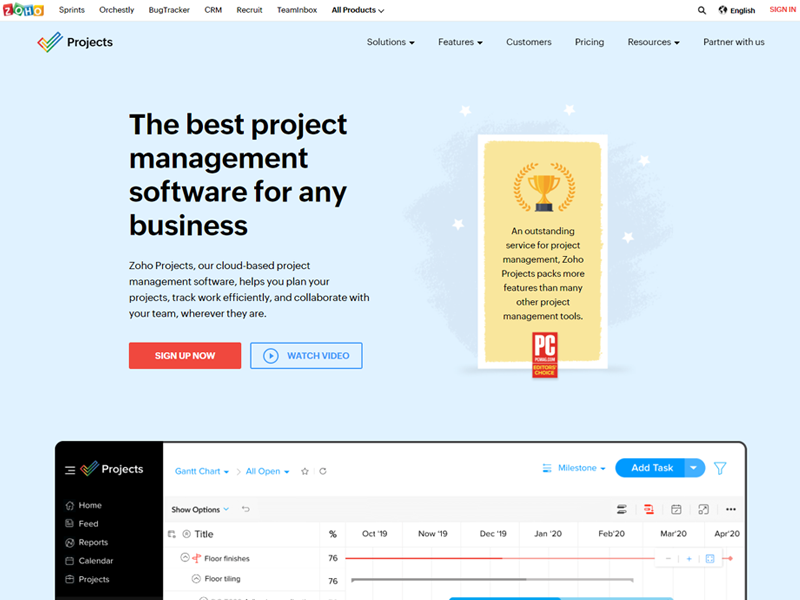 Zoho Projects is a hassle-free visual project management company, which provides hundreds of features within a single platform. It is available for many businesses. Through it, you can manage your tasks efficiently and thus completing the project on time.
Here is a detail of features that Zoho Projects offers:
Features:
Customizable themes make it easier to work. A user-friendly interface prevents any inconvenience while working. Through Zoho, you can integrate with third-party apps. You can efficiently plan and organize your work. It is a cloud-based project management tool, which secures your data and prevents it from disappearing.
Through Zoho, communication with a team member is incredibly easy. You can seamlessly hold meetings, mention members, and post comments.
The Zoho Project management program is now available as an application too. It is available in the App Store (for iOS) and Google Play (for Android).
Pricing:
Free: for free ($0)
Premium: $5 per user per month
Enterprise: $10 per user per month
Best For Integrations and Automations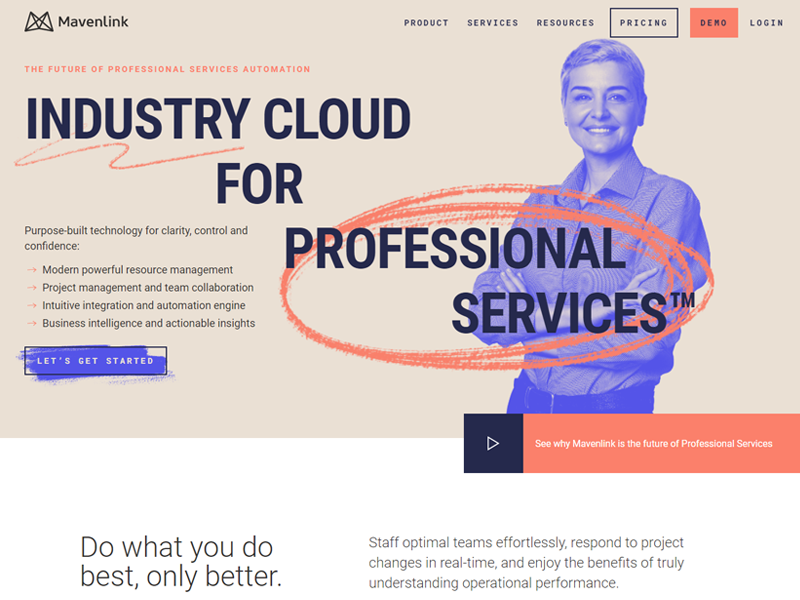 Mavenlink is software that offers drag and drops visual task management services along with Professional Services Automation (PSA). It gives exceptional services to professional organizations and business owners.
It also allows users to create their templates, which are applied later on. Through Mavenlink, you can productively complete your project.
Here are the top-class features that Mavenlink offers to its users:
Features:
Their user-friendly interface allows users to work on their projects conveniently. Mavenlink's customizable themes and templates ensure you are working comfortably. Gantt chart enables you to avail the real-time project visibility. Tracking your work in Mavenlink allows you to see your progress rate. Besides, third-party integration allows a smooth flow of work.
Communication with team members
Seamless communication with team members allows efficient exchange of information. Besides, you can also share data and files with members.
Pricing:
Teams: $19 per user per month
Professional: $39 per user per month
Premier and Enterprise: To enable this Plan, reach Mavenlink's team.
What is visual project management?
If you have ever managed projects, then you must be aware that handling projects is challenging. There are a lot of minor and primary details that need attention and care. It becomes painful to handle such tasks.
Visual project management tools allow teams to plan work, organize vital data, and manage tasks. In addition, it enables organizations to take care of actual crucial work. By using such tools, there is a low rate of minor mistakes. Nowadays, companies need management tools to keep up with modern business trends.
Efficient and popular tools include:
Scrum boards
Kanban boards
Gantt charts and roadmaps
Charts and graphs for reporting
These tools allow regular viewers to understand data freely and conveniently compared to tons of numbers and words. It saves a handful of time by allowing team members to work effectively.
Because of the popularity of these tools, many of them have sprung up on the market. Because of this, it has become a hassle to choose the right one.
How do you visualize a project plan?
Planning a project is more than writing it on a piece of paper, making hundreds of post-it notes, and creating spreadsheets. Project managing revolves around thousands of things, making it impossible to stay intact and organized. For this purpose, visual project management software exists. Why visuals? You may ask. The reason is that our brain processes visuals more efficiently than words. Hence, it makes it quick to interpret information.
These are steps you can follow to visualize a project plan.
By planning schedule with Gantt chart
In starting a project, the starting point is to plan every step. Such a schedule includes crucial tasks, deadlines, milestones, and timeframes. A Gantt chart can aid in organizing all this info. Project managers all over the world use it. This chart condenses all significant and urgent material in a single chart. Hence, it provides convenience at its top.
There are two ways of communicating data; by writing or visually presenting. The latter seems to be a better option. It allows you to interpret data innovatively without pressuring the listeners.
The following data visualizations are very engaging:
Infographics, charts, diagrams, and maps.
Suppose you have to suddenly give a status update instead of rushing to create something last minute. It is better to keep track of the process beforehand with the help of a report template. This template can be reviewed and updated according to your progress. It's a professional and effective way of keeping senior management updated.
You can include the following details in a progress report:
Project summary, Deliverables, Milestones achieved, Roadblocks encountered, and Upcoming tasks.
Conclusion
Our handpicked top 9 best visual project management programs are the leading ones in the project management market. They have millions of active users each. Millions of project teams have excelled through their support and created a well-balanced work environment.
With the help of these software solutions, you can use your prized time handling something more critical. You and your team don't have to worry about remembering the deadlines and deliverables. Software's makes information accessible from anywhere with a stable Wi-Fi connection. By using the mentioned graphic project management programs tracking and correcting issues is not your headache anymore. Such programs offer team members to communicate efficiently and collaborate nicely with no hassle.
These problems are gone by switching to project management solutions instead of doing it manually. These solutions are accessible to everyone! Whether you are a small business owner, a part of a non-professional group, or a team member, you need management solutions to enhance your functionality. They will encourage you to reach your maximum potential with their efficient and effective project management tools quickly.
They are accessible in an extensive range of prices with different deals, giving every user and team a chance. Therefore, the solution to every problem you encounter while managing a project is some visual representation of your tasks and program.

As one of the co-founders of Codeless, I bring to the table expertise in developing WordPress and web applications, as well as a track record of effectively managing hosting and servers. My passion for acquiring knowledge and my enthusiasm for constructing and testing novel technologies drive me to constantly innovate and improve.
Expertise:
Web Development,
Web Design,
Linux System Administration,
SEO
Experience:
15 years of experience in Web Development by developing and designing some of the most popular WordPress Themes like Specular, Tower, and Folie.
Education:
I have a degree in Engineering Physics and MSC in Material Science and Opto Electronics.