Today, we embark on a 20i Hosting review.
Coming from the UK, 20i Hosting has carved out a niche for itself. Despite being a fresh face since 2016, it has grown in the hosting world. Its secret sauce? Powerful tech at a pocket-friendly price.
20i Hosting offers a buffet of services. From shared hosting to managed WordPress, VPS, and reseller hosting. 20i has 60+ global data centers to choose from and has developed its own global CDN to deliver a highly optimized platform at an affordable price.
Yet, questions hover. Is 20i as good as it claims? Does it deliver on its promises? Our 20i Hosting review dives into these queries, providing a detailed look at the provider. Whether you're a newbie or a web guru, our review will guide your decision.
Overview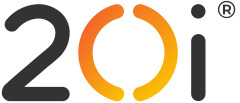 Cloud-Based Hosting
Robust Security
WordPress Optimized
See Pros & Cons
Pros
High performance and speed
Free SSL
Optimized for WordPress
Robust security features
Cons
No free domain
No uptime guarantee
Let's dive deeper into our 20i Hosting review. Founded in 2016, 20i Hosting is a relatively recent entrant in the hosting arena. Its birthplace? The UK, specifically the Midlands. Despite its young age, the company has made a significant splash.
Two industry veterans, Tim Breeden and Jonathan Brealey, are behind 20i. Their vision? To create a hosting company that strikes the perfect balance between high-performance infrastructure and user-friendly platforms. The duo brings a wealth of experience to the table, having founded and grown several hosting companies in the past.
The cornerstone of 20i Hosting's mission is to offer tech that rivals top-tier providers without breaking the bank. That's why it provides a broad spectrum of hosting services. These include shared hosting, managed WordPress, managed VPS, and reseller hosting.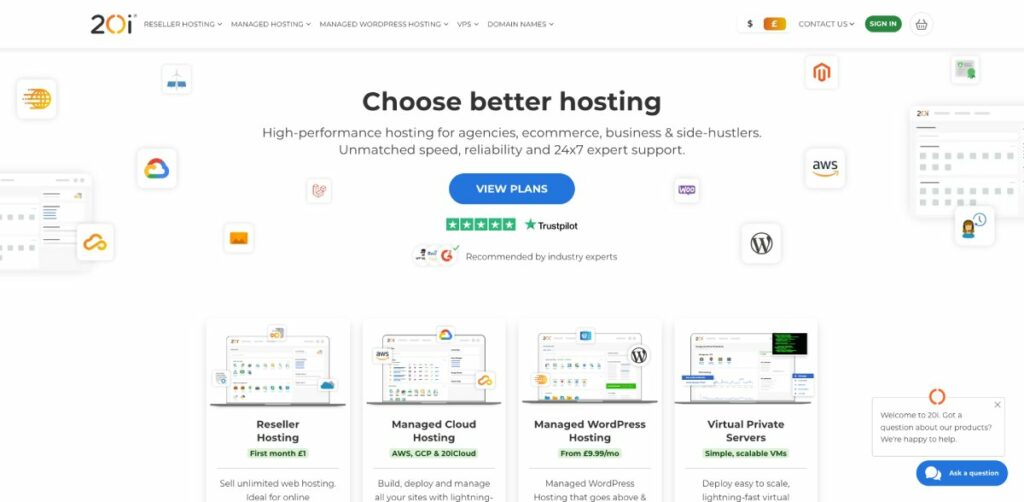 Thanks to its CDN and commitment to offer a highly optimized platform, it has captured the attention of the international market. It's a local UK host with ambitions that span far beyond its home turf.
A standout feature of 20i Hosting is its commitment to making its platform user-friendly. This trait is evident in its proprietary control panel, My20i. Developed in-house, My20i ensures every crucial feature is easily accessible, even for beginners. Plus, it's optimized for mobile, allowing you to manage your hosting account on the go.
With its unique blend of powerful tech, affordability, and user-friendliness, 20i Hosting has proven it's a force to reckon with. Despite its young age, it shows promise of competing with more established players. Its fresh and forward-thinking approach to hosting is a refreshing change in the industry. And as we delve further into our 20i Hosting review, we'll see just how well it delivers on these promises.
Hosting Plans
20i Hosting is a comprehensive web hosting provider, catering to a broad range of hosting needs. Let's delve into the services it offers.
Shared Hosting
Shared Hosting is one of the primary services 20i Hosting offers. This service is an excellent fit for beginners or small-scale websites as it's cost-effective and straightforward to manage. Despite being a budget-friendly option, 20i's shared hosting plans are powered by a scalable cloud technology platform, ensuring stable performance and high availability.
Managed Hosting
This is a service that offers you the possibility to host your website through their in-house cloud hosting or directly through AWS or Google Cloud.
Managed WordPress Hosting
20i Hosting provides robust managed WordPress hosting services. These plans come with many WordPress-specific optimizations, promising an impressive performance boost. A standout feature of 20i's WordPress hosting is the control panel's integration with WordPress, allowing you to manage aspects of your WordPress site directly from the control panel. Plus, 20i provides a staging environment where you can safely test changes before pushing them live.
Read more about the best Managed WordPress Hosting services.
Managed VPS Hosting
For businesses requiring more resources and control, 20i offers managed VPS hosting plans. These plans provide the benefits of a virtual dedicated server, like increased resources and control, without the associated management hassle. 20i's VPS hosting plans are also powered by cloud technology, ensuring scalability and reliability.
Reseller Hosting
20i Hosting also provides reseller hosting options. These plans are ideal for those wanting to start their hosting business or for agencies that want to manage hosting for multiple clients. Reseller hosting from 20i is powered by the same robust technology as its other hosting services, ensuring high performance and reliability.
Easy of use
Navigating the world of web hosting can be tricky, but 20i makes the journey easy. Their set-up process is a cinch. You won't be pushed into buying extras or higher-level plans. Paying is simple, too – they accept Visa, Mastercard, PayPal, or direct debit​.
The dashboard? It's called My20i, and it's a dream to use. It's designed with users in mind, making it easy to find and tweak critical features. The best part? It works just as well on your phone, so you can manage your hosting account from anywhere​.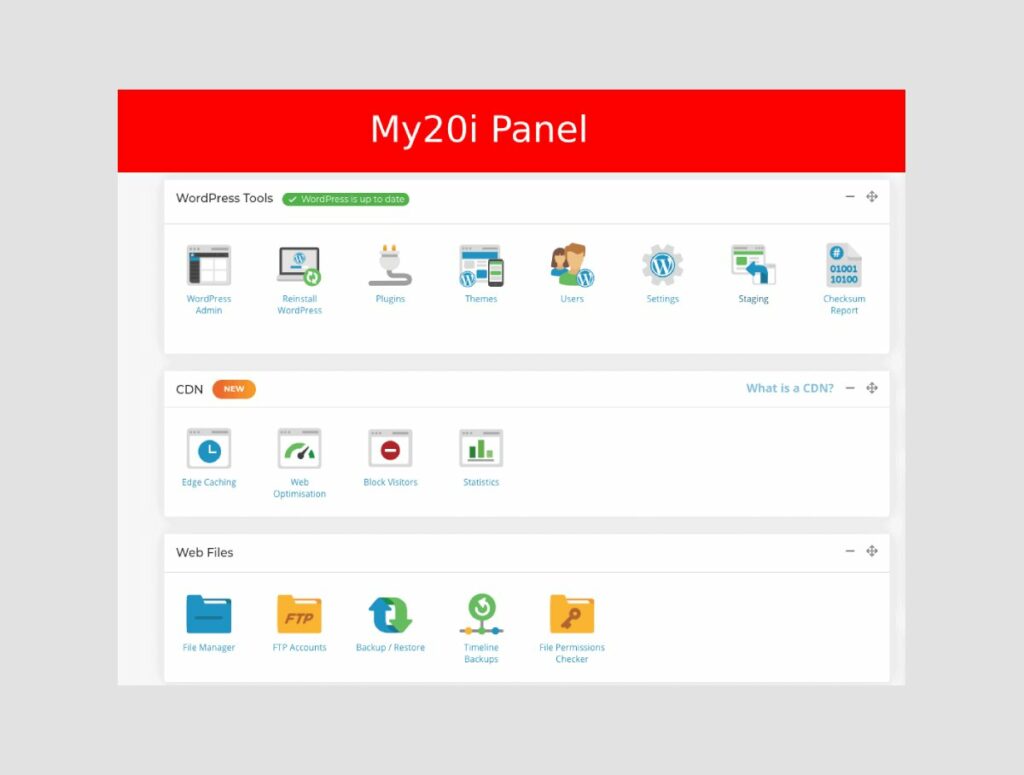 What about WordPress? They've got you covered there too. You can control various parts of your WordPress site directly from the control panel. This makes it easier to manage your site day-to-day.
Creating a website with 20i is a breeze. Their setup wizard makes installing WordPress as easy as pie. In less than five minutes, you're good to go. They even give you a temporary testing domain with every hosting package. This lets you tweak your site and check for issues before committing to using your domain name with 20i's servers.
But bear in mind, there's no telephone support. You can chat with them online, but if you prefer talking on the phone, you might want to think twice.
Pricing
When we talk about website hosting, cost is always an important factor. Let's take a look at how 20i sizes up. They offer a range of hosting services, each with its own pricing structure. Their prices are pretty competitive, especially when you consider the quality of their services.
Managed Cloud hosting prices start from £9.99 Micro Package with 1 Core Processor, 1GB Ram, 25GB SSD and 1 TB Bandwidth. The Medium Package cost £39.99 and offers 2 Cor Processor, 4Gb RAM, 80GB SSD, 4TB Bandwidth.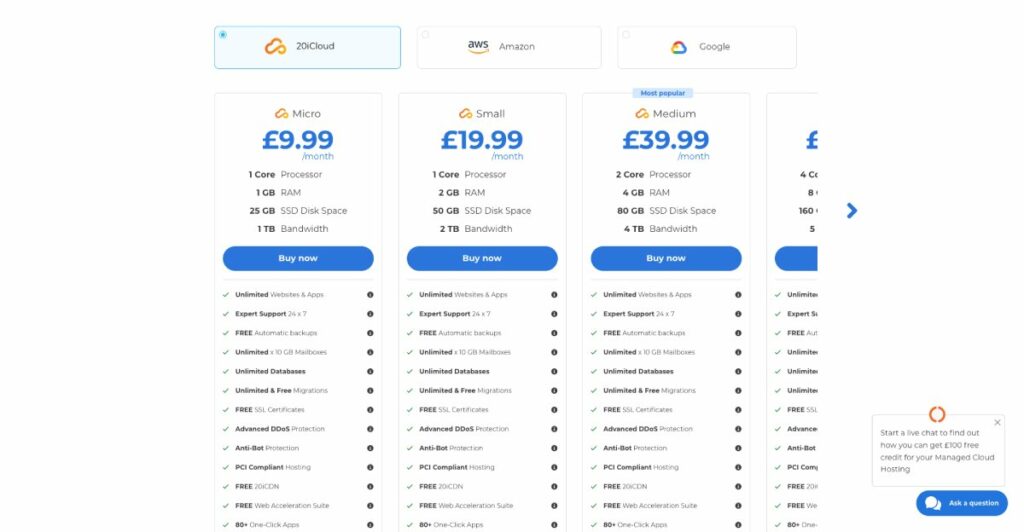 Shared Hosting starts practically free for the first month with £1 and the other months the price goes to £4.99.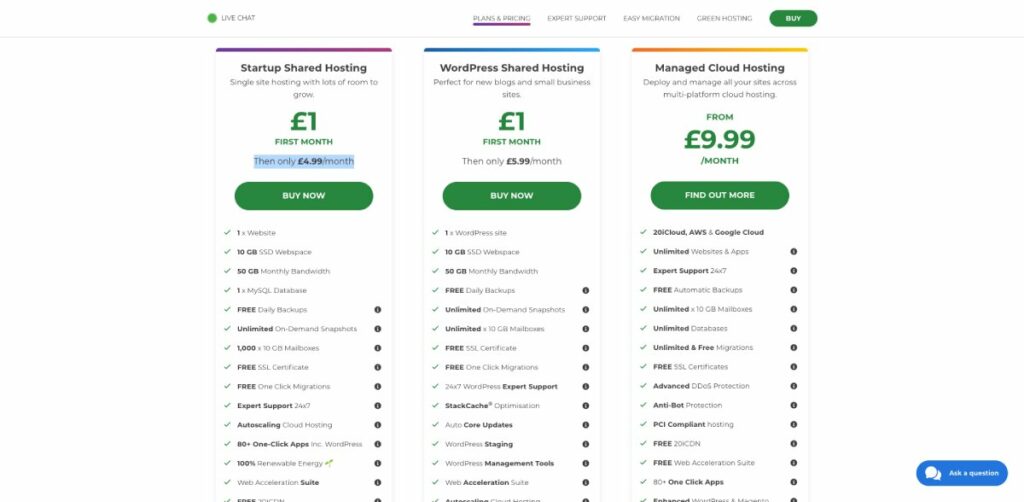 Also VPS Hosting as also the same price which starts from £9.99
So, is 20i good value for money? Well, that depends. If you're a small business or a blogger who doesn't need a lot of resources, then 20i might be a good fit. Their services are top-notch and their prices are reasonable.
But if you're a larger business or you're expecting a lot of traffic, then you might need to consider one of their higher-priced plans or look elsewhere. The resource limitations on their cheapest plan might not cut it for you.
In short, 20i offers high-quality services at a competitive price. Just make sure you're aware of the resource limits before you sign up.
Performance
When you select a hosting provider, performance and reliability are critical. Let's see how 20i measures up in these areas.
20i uses robust cloud technology across all its plans. This means your site is hosted on multiple servers, improving performance and ensuring your site remains accessible, even if one server fails. This approach also ensures that a surge in traffic on another site won't impact your site's performance.
Speed is another crucial factor, and 20i doesn't disappoint. The platform delivered outstanding loading times in tests, with pages' Time to interact in less than 0.7 seconds. Such speeds are often associated with premium-priced hosts, making 20i a competitive choice. As you can see from the tests the Performance of the site hosted on 20i shows an A grade and 98% score on Performace.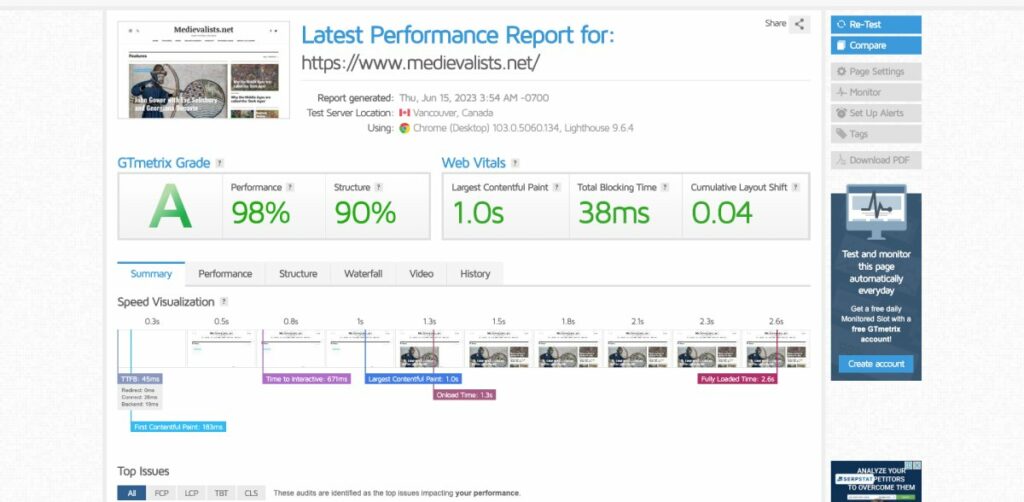 Reliability is equally important. Over a four-week testing period, 20i achieved a perfect 100% uptime. However, it's important to note that 20i only offers a legal uptime guarantee for its VPS plans. For other plans, there's no compensation for downtime. While the reliability seems excellent, this is something to bear in mind if your website is mission-critical.
In summary, 20i provides excellent performance with their high-speed Nginx servers with PHP-FPM and cloud technology. Their reliability appears strong, but the lack of an uptime guarantee for all plans might give some users pause.
Customer Support
When you need help, 20i Hosting is there for you. They provide support through live chat and tickets. The best part? Their support team is on-site. That's right, they're not outsourced. The support you get comes directly from the 20i team who knows their system inside and out. This means they can contact engineers directly if needed, which can speed up the resolution of your issue.
I found the live chat service a bit hit-and-miss. I once had to wait for over ten minutes before getting connected to an agent. But once I was connected, the service was excellent. The agent was knowledgeable, patient, and focused on solving my problem rather than redirecting me to documentation.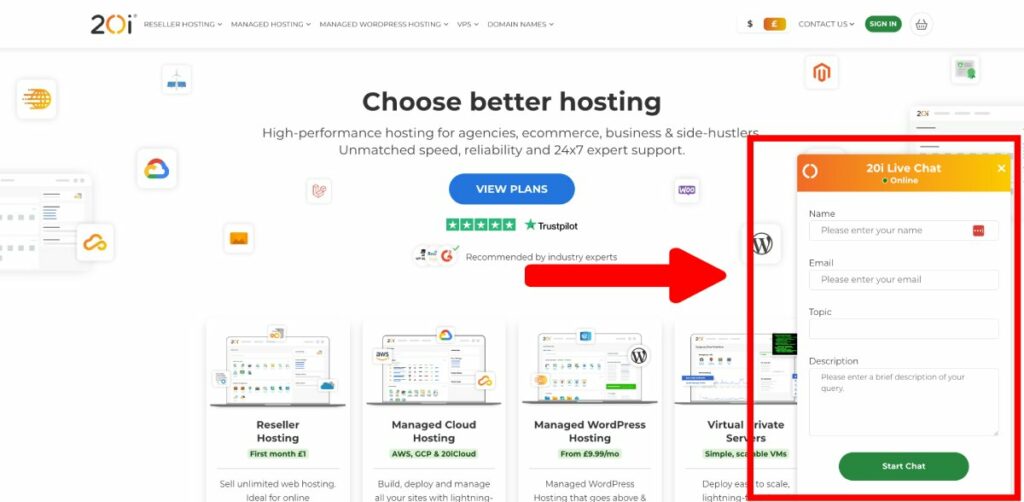 The knowledge base, though, could use some improvement. It's quite small and only covers the basics. Sure, there are a few advanced guides, but overall, it's mediocre compared to what other hosts provide. Still, the guides are easy to follow and contain helpful screenshots.
Security Features
Security is a big deal when it comes to hosting. Thankfully, 20i Hosting takes this seriously. They provide robust server security features that protect your account and your hosting space. Plus, they offer a free website malware scanner that checks your site for daily threats. You can also scan your WordPress files on demand. If the scanner finds anything suspicious, you'll be notified right away.
All plans come with a free wildcard SSL certificate, which covers your primary domain and any subdomains. This is a nice touch and adds an extra layer of security to your website.
Pros and Cons
To make an informed choice, we must look at both sides of the coin. Let's dive into the pros and cons of 20i Hosting.
Pros:
Cost-Effective: 20i's plans offer excellent value, particularly for those getting started in website hosting.
High Performance: Speed and reliability are top-notch with 20i. The platform is built on robust cloud tech, offering fast loading times and stellar uptime.
User-Friendly Interface: Even for beginners, the My20i control panel is a joy to navigate. It's simple, responsive, and streamlined for ease of use.
Security: 20i provides robust security features, including a free SSL certificate and daily malware scans. These tools help keep your site safe from threats.
Cons:
Limited Resources: The entry-level plan comes with limited storage and bandwidth. More resources are available, but they come with a higher price tag.
Customer Support: Though helpful and professional, the live chat can be slow to connect. The knowledge base, while decent, could use more in-depth guides.
No Uptime Guarantee: Except for VPS plans, 20i doesn't offer an uptime guarantee. This could be a concern for mission-critical projects.
Conclusion
All in all, 20i Hosting proves to be a promising choice. It combines affordability with high performance, user-friendly tools, and robust security. The limited resources of the entry-level plan and the absence of a solid uptime guarantee are the main drawbacks. However, the platform's strengths and value proposition might outweigh these limitations for many users.
Verdict: I think you should try 20i because they offer incredible infrastructure at a very affordable price. If you want to try Managed Cloud Hosting at a very cheap price this should be your hosting especially if your audience is in the UK.
Now, we want to hear from you. Have you used 20i Hosting before? What's been your experience? Your insights can help others make an informed decision. If you have any questions or want to share your thoughts, feel free to leave a comment below. We'd love to hear from you. After all, your experiences and feedback can help shape a more accurate and comprehensive picture of 20i Hosting. So, why not join the conversation? Let's discuss it!

As one of the co-founders of Codeless, I bring to the table expertise in developing WordPress and web applications, as well as a track record of effectively managing hosting and servers. My passion for acquiring knowledge and my enthusiasm for constructing and testing novel technologies drive me to constantly innovate and improve.
Expertise:
Web Development,
Web Design,
Linux System Administration,
SEO
Experience:
15 years of experience in Web Development by developing and designing some of the most popular WordPress Themes like Specular, Tower, and Folie.
Education:
I have a degree in Engineering Physics and MSC in Material Science and Opto Electronics.