In this article, we will review the best cheap eCommerce website builders to help create that perfect platform for your business and stand out among the other 12 – 24 million eCommerce sites across the globe.
Our list of the cheapest eCommerce website builders:
Our list bridges the gap between your budget and your needs, ensuring you're not paying through your teeth but still get the very best.
Before choosing any eCommerce website builder, it is always important to outline your business's specific needs. After all, starting an online store is difficult but can be immensely profitable when done right.
The Top 10 Cheap eCommerce Website Builders
A viable eCommerce website builder will help you tackle the difficulties of eCommerce and set you up with a user-friendly online store that is fast and leaves a lasting impression on your customers.
| Host | Price Paid Monthly | Price paid yearly | Free Period |
| --- | --- | --- | --- |
| Zyro | From $11.99 | From $39.48 | 30 days money-back guarantee |
| Wix | From $17 | N/A | 14 days |
| Weebly | From $12 | $144 | Free Plan |
| Shopify | From $29.99 | From $173.28 | Three days |
| SquareSpace | From $26 | $18/month | 7 to 14 days |
| BigCommerce | From $29.95 | From $359.4 | 15 days |
| Woocommerce | $30 | N/A | 30 days money-back guarantee |
| Shift4shop | From $29 | From $348 | Free plan |
| Big Cartel | From $9.99 | From $119.88 | Free use for 5 products |
| Ecwid | From $19 | From $168.96 | Free Plan |
Now let's review each eCommerce website builder. Shall we?
Overall Cheapest eCommerce Website Builder

Good site performance. 
Hands-Free SSL. 
Nifty AI tools. 
Free images. 
Analytics. 
30-day money-back guarantee
Starting from $3.29/month
See Pros & Cons
Pros
Great for absolute beginners.
Additional value-added tools.
Pre-built templates are available.
No worries about SSL installation.
Suitable for eCommerce sites.
0% Commission on eCommerce plans.
Zyro is the cheap eCommerce website builder that I have found on the market during this research. It is known to be the perfect tool for creating lightweight eCommerce websites without too much effort.
Zyro is ideal for businesses on a budget, as it offers excellent value at an affordable price without compromising the quality of the websites' performance, functionality or design. You can quickly sign up from its website and use the website builder for free without including a credit card.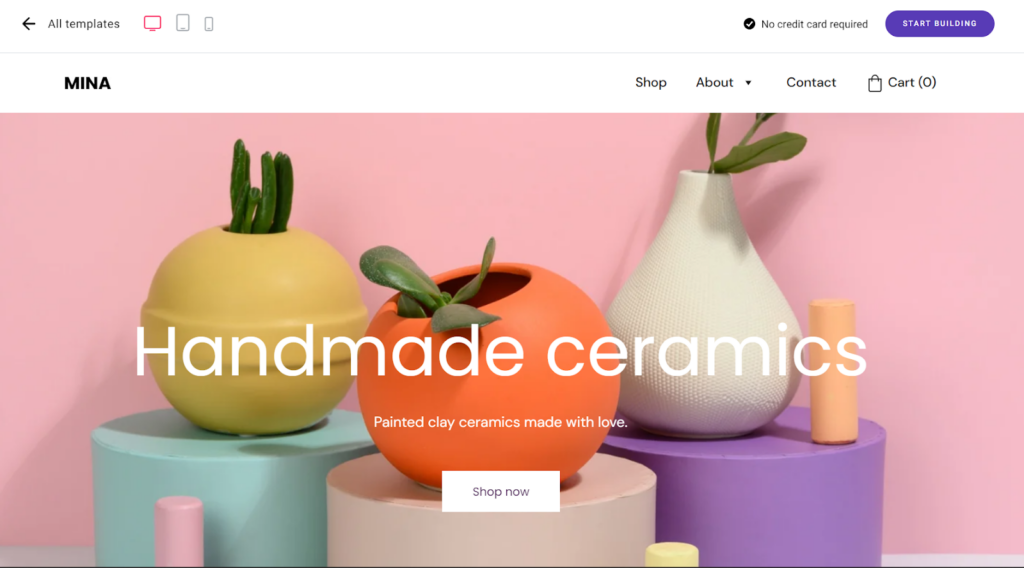 To access its complete functions, you'll need to upgrade to one of its paid plans starting at $11.99 per month, but new users can begin with as low as $3.59 per month billed upfront for the first two years or $3.29 per month billed upfront for the first year.
Making it one of the cheapest prices offered by any website builder.
Zyro also offers a 30-day refund guarantee, meaning you can use the tool for free for 30 days before making any payments.
With Zyro, it takes less than an hour to create your unique online store and you can use its AI website generator tool to get unique ideas on the type of eCommerce store to create.
Zyro also provides simple integration with Google Analytics, Facebook ads, and Google Tag Managers, which helps you learn about your customers and improve your advertising campaigns.
Price
Zyro currently offers two pricing plans, and new users get a discount upon registration.
Business: $3.59/month billed upfront for the first two years.
Website: $2.59/month billed upfront for the first two years (Not for eCommerce)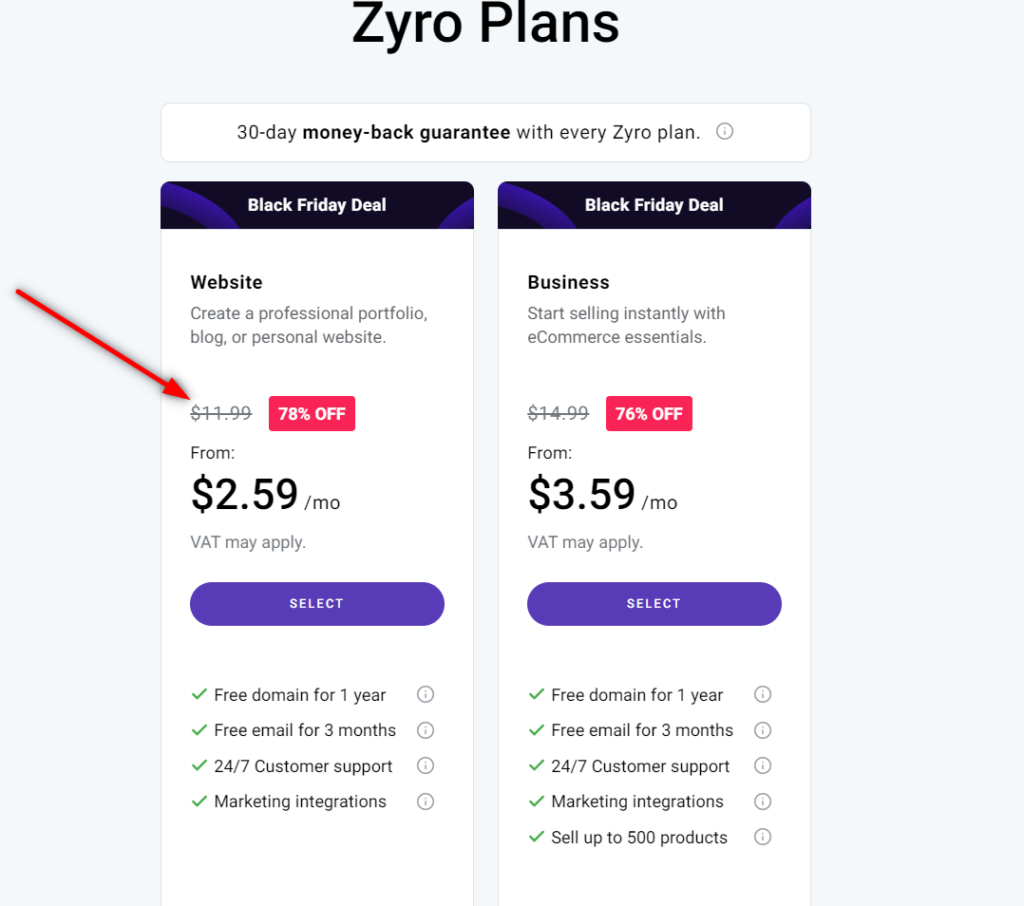 Free plan available: No. Offers free trial and 30 days refund guarantee.
Cheapest Plan Price: $3.29 per month, billed annually
Easy drag-and-drop eCommerce builder

Abandoned cart recovery
Global shipping
Coupons and discounts
Restaurant features  
Online appointment booking 
Free One-year domain
See Pros & Cons
Pros
Easy to use
Fully hosted 
Easy support 
Free forever plan
Cons
Free plan influences Wix branding on users 
Analytics and tracking require a paid plan
The site cannot be transferred
Wix is unarguably the most user-friendly website builder with a customizable template, domain name registration, and web hosting.
You can build websites quickly with its intuitive drag-and-drop feature and customize them to suit your brand without writing a single line of code.
Wix has hundreds of predesigned templates that you can use to create your online store seamlessly.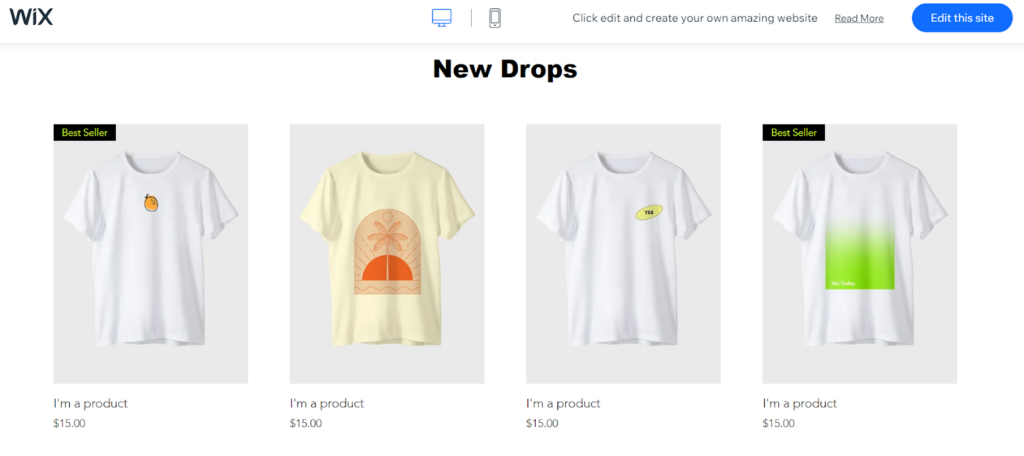 Wix also allows you to leverage its AI tool, the Wix ADI builder, to make your entire website. You can build free websites with Wix, but you must upgrade to a paid plan to access all its eCommerce features.
Wix has several tools that help with eCommerce functions, including tracking orders, integrated online payment solutions, multichannel sales, and an abandoned cart campaign (to reel in leads that haven't completed an order).
You can save your loyal customers' payment methods and delivery addresses to give them a seamless checkout experience.
By default, all Wix eCommerce sites are compliant with the Payment Card Industry Data Security Standards, which means its checkout process is secure for merchants and buyers. In addition, merchants can select from 50+ secure payment providers.
Wix has an uptime rate of 99.98 percent, leaving your store open for business virtually at all times.
Price
Business VIP– $35 per month (Free SSL certificate, unlimited bandwidth, 20 GB storage)
Business Basic– $17 per month (Custom free domain for one year, Unlimited bandwidth, 35 GB storage)
Business Unlimited– $25 per month (50 GB storage, unlimited products, automated sales tax, abandoned cart recovery)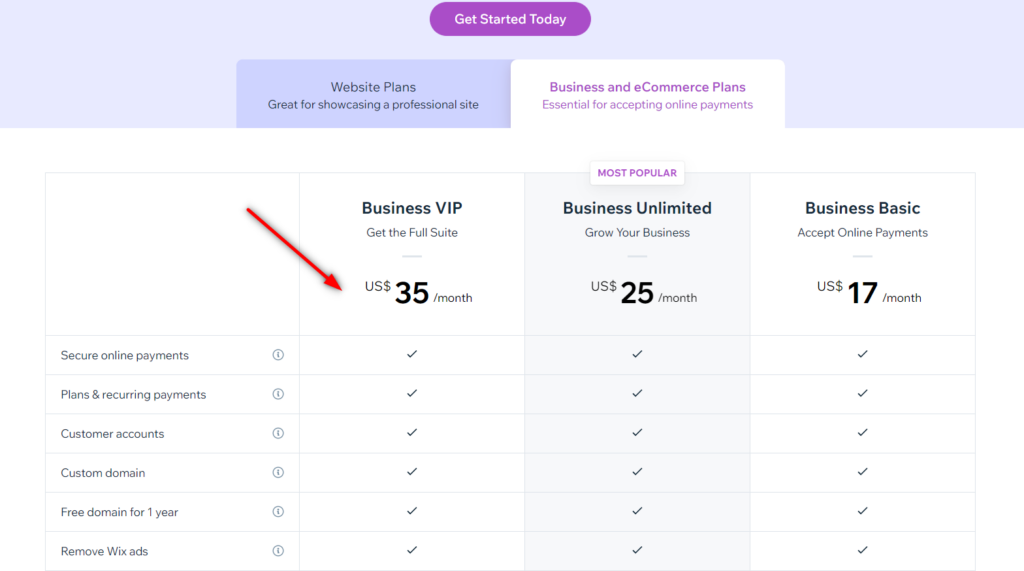 Free plan available: No. 14 days refund guarantee.
Cheapest Plan Price: $17 per month
Read More: Wix Review Full Review
Best with a free domain

Customer support
Mobile app features
Payment and analytics
POS 
See Pros & Cons
Pros
Simple and easy-to-use editor 
Mobile app
Fast site speeds
Customizable themes
Cons
Limited blogging tools
Offline photo editing
Better support costs more 
Weebly is a well-known website builder. It's affordable and comes with a free domain. It is a good option if you run your business and require minimal maintenance.
Weebly gives you value for your money; it offers a generous amount of eCommerce features and customization options at an affordable price, hence why most users give it a 5/5 score on value.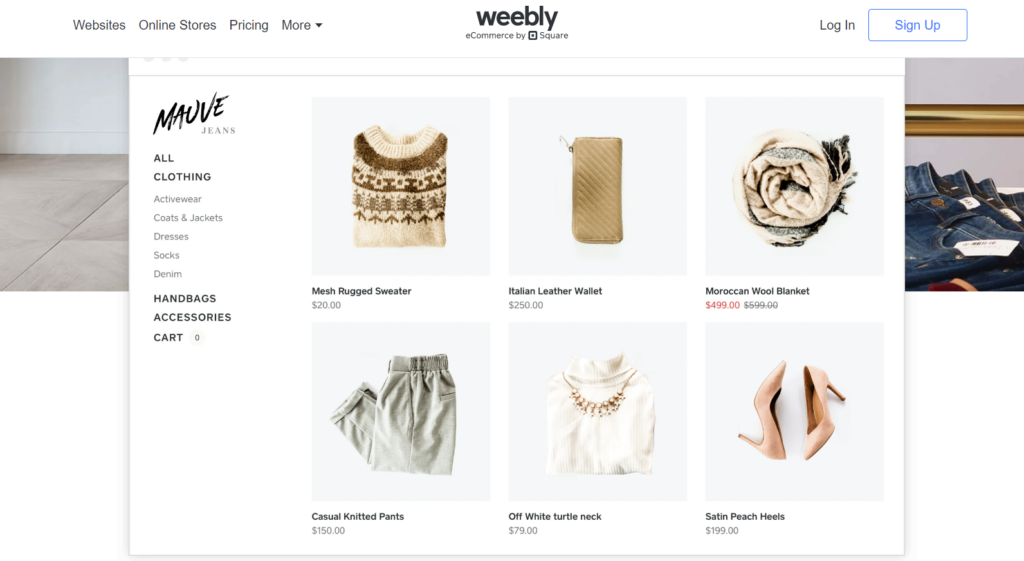 Weebly is reliable, easy to use and safe. It allows you to build your websites for free, but its eCommerce plans start at $12 per month (billed annually).
This sleek platform allows you to launch your store quickly without coding and offers helpful marketing tools (like SEO stats, emails, inventory, shipping, etc.) to help you get the most out of your store.
Weebly supports reliable payment gateways like Stripe, Square, and PayPal. Since Square powers Weebly, it's easy to integrate your online sales system with the Square POS and manage your inventory and products in one place.
The most intuitive feature is its product search, which you can add to your online store to help your customers find what they need. You can add badges to your products to show when items go on sale or are limited.
Price
Weebly has a free plan for website building, but it has three paid plans for eCommerce stores.
Pro: $12 per month
Business: $25 per month
Business Plus: $38 per month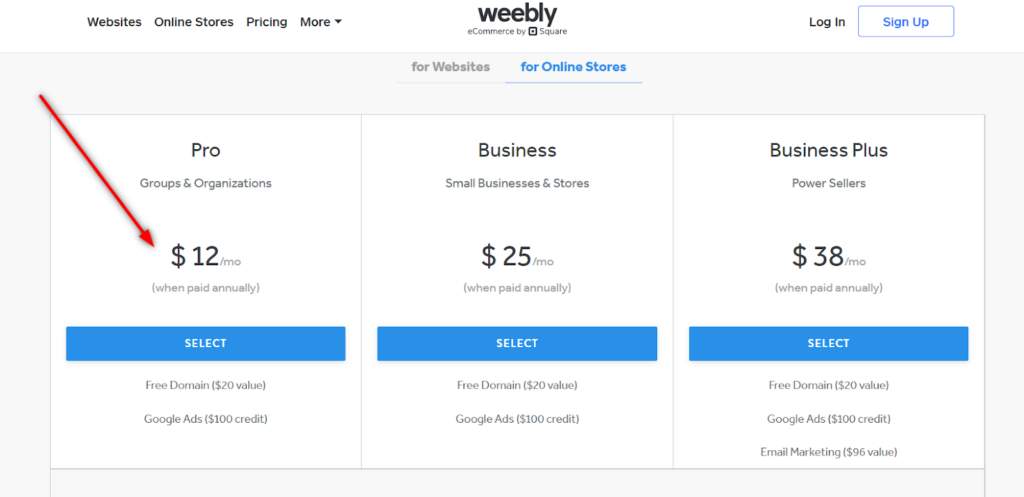 Free plan available: 14 days trial of paid plans.
Cheapest Plan Price: $11.4/month
Cheapest for small business eCommerce

Easy To Use

Integrated sales channels

Mobile app features
POS
See Pros & Cons
Pros
Fast boot with a good onboarding process. 
Customizable themes. 
Fast and reliable sites. 
Community support. 
App Store. 
Great SEO out of the box.
Easy to obtain a custom domain.
Built-in marketing tools. 
Platform to sell online and in-person. 
Unlimited access to more than 5000 apps through Shopify.
Cons
The only known issue is its payment options, which differ and are limited to some countries. 
Shopify is the best platform for eCommerce, providing many complementary tools and features that assist with multichannel sales and drop shipping.
It is the cheapest eCommerce store builder for small businesses because it allows new users to access its Basic Plan for as low as $1 per month for the first three months before charging them $29 monthly or $14.44 billed annually. It also offers unlimited online storage to avoid extra payments as you get more traffic. How cool?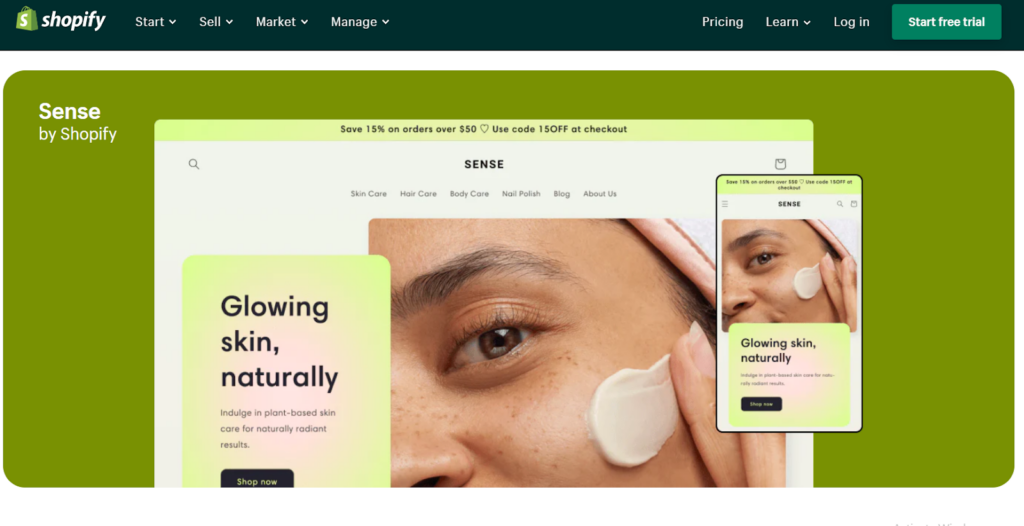 With Shopify, you can sell directly through your website and retail store, third-party marketplaces, and social media. The service also provides over 100 unique themes to scale your website and does not require extra learning or hard work.
Shopify comes with an integrated Shop Pay that takes care of all payment processes with a reduced transaction fee, POS administration to handle in-person sales, and Shopify Fulfillment to deliver your products to your customer.
Shopify is also featured as one of the best no code website builders in our previous article.
Pricing:
Basic: $29 per month ($14.44 per month, billed annually)
Shopify: $79/month ($39.44 per month, billed annually)
Advanced: $299/month ($147.78 per month, billed annually)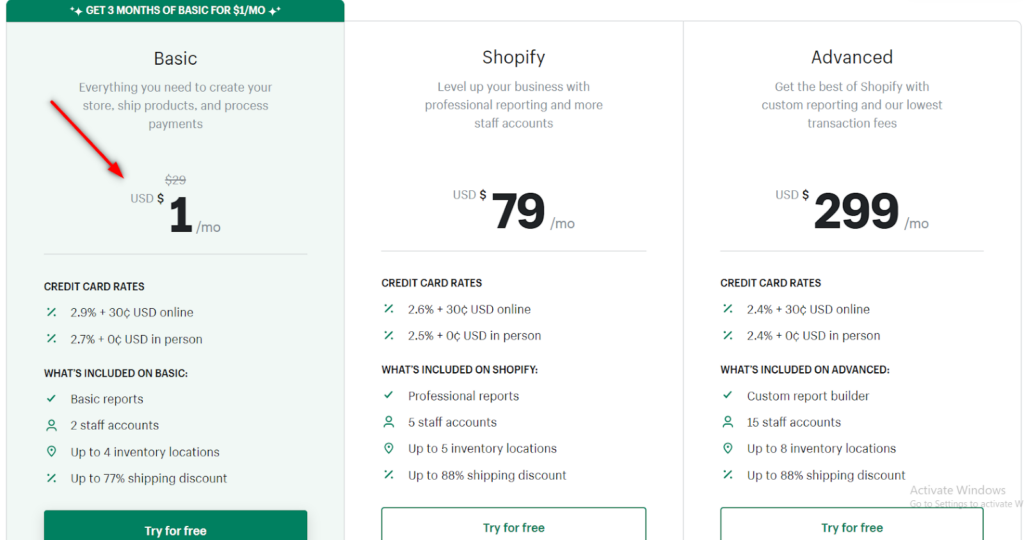 Free Plan available: 3 days free trial
Cheapest plan price: $29.99/month
Most beautiful eCommerce website builder

Customer Support
Mobile app 
Easy connection with social media accounts
0% transaction fees 
POS 
eCommerce analytics 
See Pros & Cons
Pros
Zero maintenance and server costs
No transaction fees
Good customer support
Professional template designs  
Cons
Restricted multichannel sales
Not specifically eCommerce oriented 
Squarespace is a simple eCommerce tool that utilizes the drag-and-drop function well and requires little to no technical knowledge. It is specifically a website-building platform and does not offer the particular services that an online selling program does.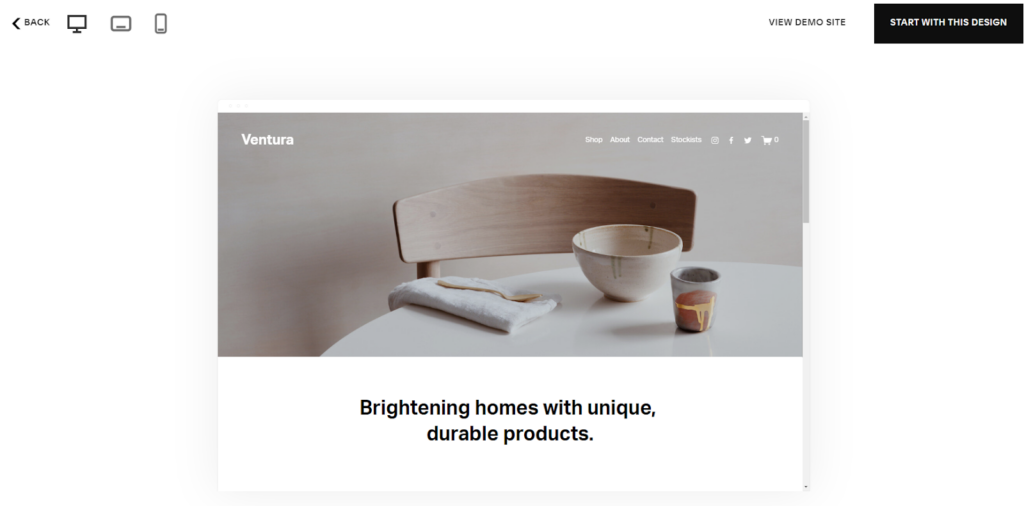 Squarespace eCommerce store templates are aesthetically pleasant, stunning and highly functional, with beautiful layouts, designs, and themes to entice your customers. This has earned it its title as the most beautiful website builder.
Squarespace also offers unlimited features, allowing you to track sales, integrate shipping and orders, and support global tax/currency.
It requires only a few tweaks to achieve any functionality you may want your eCommerce store to have. However, it also demands a lot of patience and time when setting up.
Should you choose to sell online with Squarespace, it is safe to note that it has only two payment integrations– PayPal and Stripe.
Price
Personal: $16 per month billed annually
Business: $23 per month billed annually
Basic Commerce: $27 per month billed annually
Advanced Commerce: $49 per month billed annually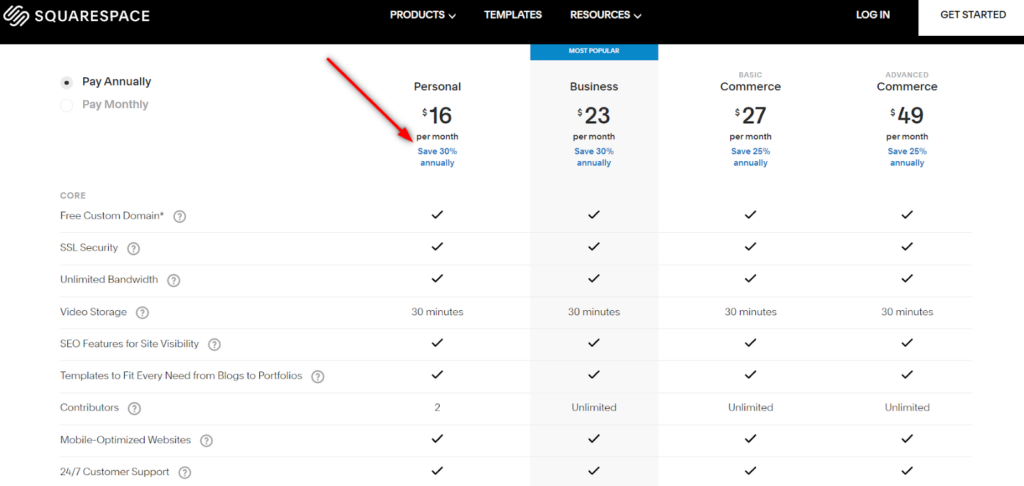 Free plan available: 14 days.
Cheapest Plan Price: $16 per month (billed annually)
Advanced eCommerce platform

24/7 technical support 
Integrated sales channels 
Analytics
Starting from $29.95/month
See Pros & Cons
Pros
Fully Hosted 
Multiple payment options that incur zero transaction fees
Comprehensive business management
Cons
No native POS
Expensive themes 
Design options aren't user-friendly
BigCommerce is a simple eCommerce platform suitable for enterprise-level software businesses. BigCommerce offers web hosting services and many customization options.

You also get a comprehensive list of powerful of marketing and analytical features for businesses of different sizes.
It also provides top-notch design options and valuable features like SEO tools, international selling, and multichannel selling on social and third-party marketplaces.
Bear in mind, though, that BigCommerce is ideal for advanced users and might not be the best choice for beginners because these powerful features also come with complexity.
Price
Standard– $29.95/month (Unlimited staff accounts, Integrated sales marketplace, and social integration)
Plus– $79.95/month (persistent cart, abandoned cart saver, customer groups)
Pro– $299.95/month (faceted research, product filtering, custom SSL)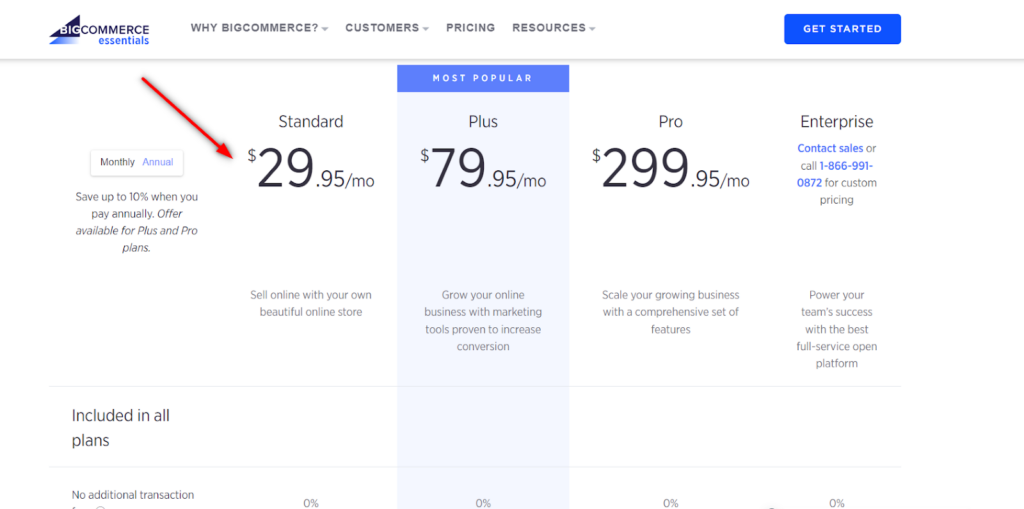 Free trial length: 15 days.
Cheapest Plan Price: $29/month.
Self-hosted eCommerce website builder
POS
Mobile App features
Customer support 
Integrated sales channels 
See Pros & Cons
Pros
An excellent option for WordPress users 
Open source
Active developer community
Customizable 
6,000+ integrations and WordPress plug-ins 
Cons
Requires you to be efficient in using WordPress
Self-hosted
High costs for maintenance, hosting, development, etc
WooCommerce is incredibly familiar to those who have dealt with WordPress because it's an add-on to a reputable blogging platform.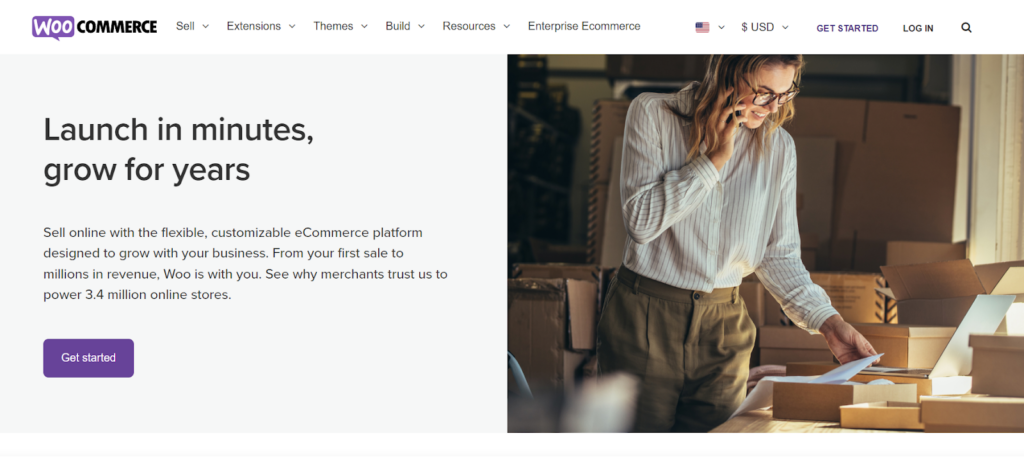 WooCommerce is WordPress's answer for businesses that want to leverage online selling. It doesn't offer website hosting, but it integrates with WordPress and allows you to host your website on the most reputable ad reliable CMS platform. Making it the best option for self-hosted eCommerce stores.
It's important to note that WooCommerce does not have PCI compliance, so it might not be the safest option for processing payments.
These may sound like reasons not to opt for WooCommerce, but the trick to its success lies in understanding that too many cooks spoil the broth, so you need to keep things simple with this provider.
You can easily host WooCommerce through Hostinger or you can check also our list of best WooCommerce Hosting Providers.
Price
Average monthly – $30/month
Hosting – $120/year
Domain name – $15/year
Theme – $100/year
Shipping – $108/year
Marketing and communications – $348/year
SEO – $79/year
SSL Certificate – $65
Free trial length: None, but offers a 30-day money-back guarantee.
Cheapest Plan Price: $30
Free eCommerce website builder

API Access
Unlimited products
Mobile-ready themes
Web hosting
Unlimited bandwidth
No transaction fees
Built-in blog
See Pros & Cons
Pros
Extensive shopping cart solution 
Multichannel retail options
Strong marketing abilities 
Cons
Terrible for beginners 
Limited free themes
Lacks critical eCommerce features
Shift4Shop is a famous website builder for eCommerce that ranks among the best. Formerly 3DCart, Shift4Shop offers 100% free enterprise-grade e-commerce functionality.
Shift4Shop provides over 100 themes, SEO tools, unlimited products, and more. However, to access its free eCommerce plan, you must reside in the US and use the Shift4Shop payment platform.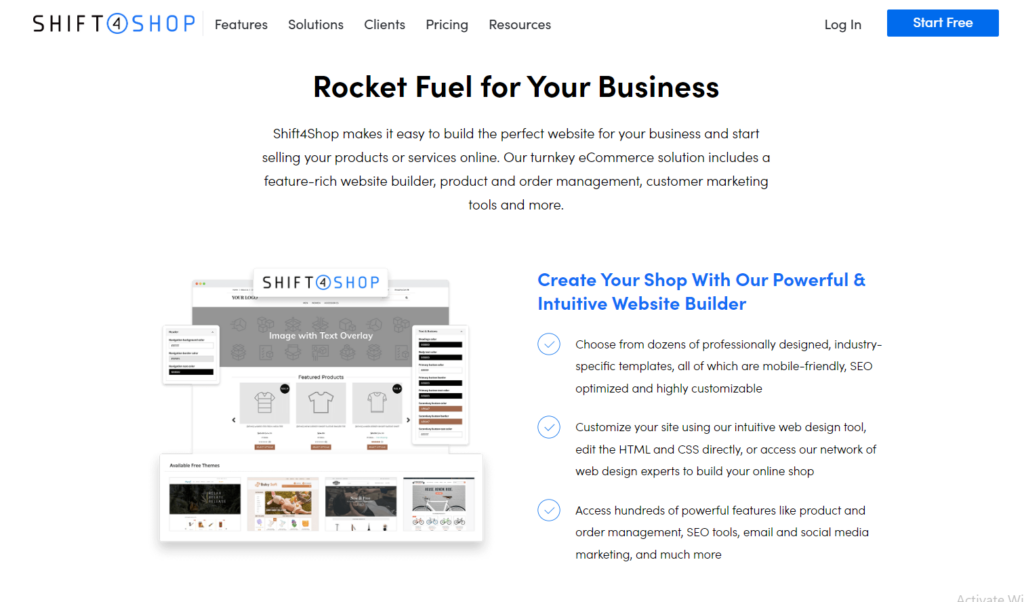 Its processing fees begin at 2.9% + $0.30 per transaction, which is the industry standard for eCommerce businesses, making it more profitable for seasonable businesses since they won't have to pay monthly website fees when for months when sales are slow. You only pay the processing fees when you make sales.
Price
Basic Store: $29/month (2 staff users, unlimited products, no transaction fees)
Plus Store: $79/month (unlimited products, five staff users)
Pro Store: $299/month (15 staff users)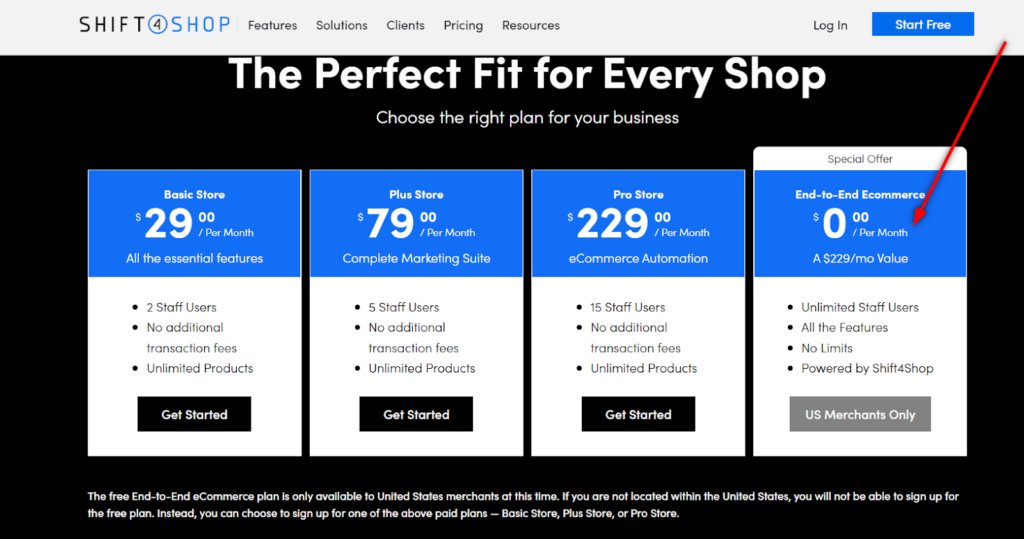 Free trial length: Free plan.
Cheapest Plan Price: $29/month.
Most affordable for artists and creatives

Customer support options 
Store analytics 
Print package slips
Starting from $9.99/month
See Pros & Cons
Pros
Free to set up and sell online 
Easy-to-build store 
Perfect for artists 
Cons
Low levels of customization
Lacking quality and in-depth features
Big Cartel is a fully-hosted eCommerce platform and website builder specifically designed for makers, artists, and crafters.
Big Cartel offers customizable templates, marketing tools, and domain name registration.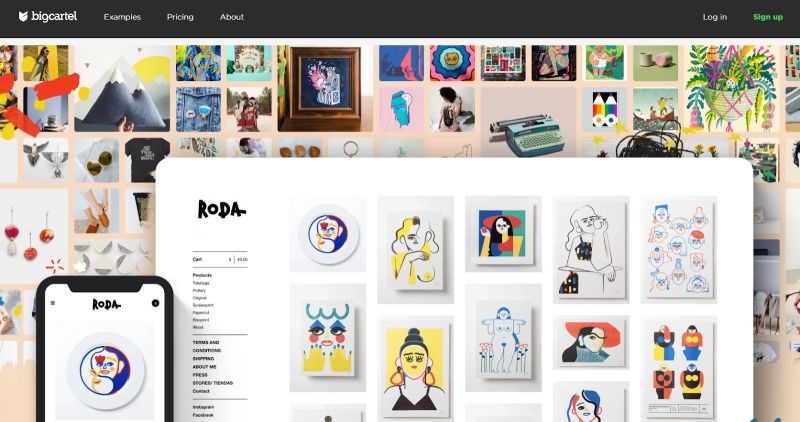 It allows you to unleash your creativity by editing the look and feel of your websites, making it the best choice for creatives and artists. However, it only allows five pictures for each product.
It may be difficult to scale with Big Cartel if you run a multichannel business because its pricing depends on the number of products you sell, and it allows only five pictures per product. With time, the pricing may be more expensive as your business or product line expands.
Price
BigCartel pricing plans are based on the number of products you want to sell.
5 Products: Free (auto sales tax, real-time stats, shipment tracking)
50 products: $9.99/month (theme code editing, google analytics, bulk editing)
500 products: $19.99/month (no listing fees, inventory tracking, custom domain).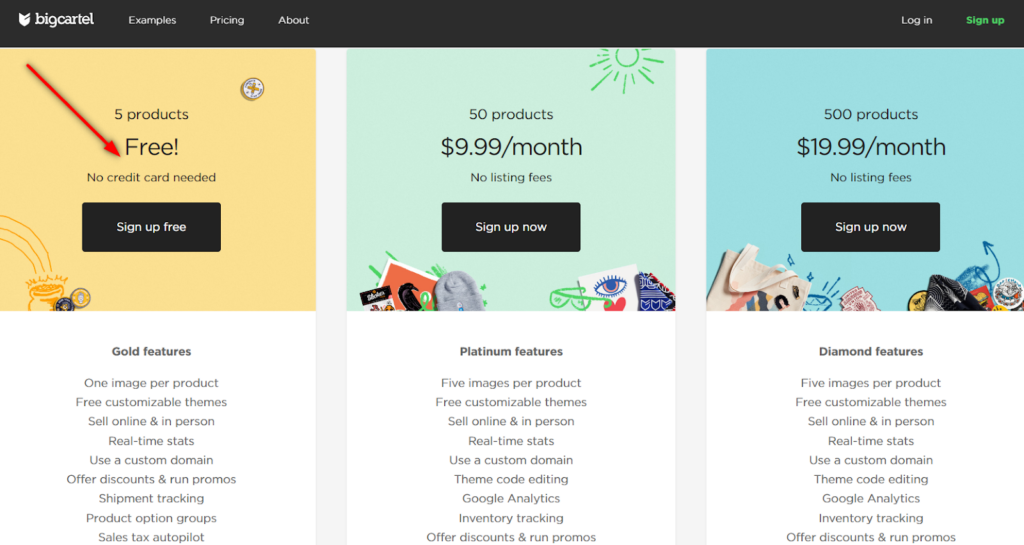 Free Trial length: Free use for 5 products
Cheapest Plan Price: $9.99/month
Best for Existing Websites

POS
Integrated Payments functionality 
Multilingual stores
See Pros & Cons
Pros
Free plan with high features to try
A simple way to integrate eCommerce with existing websites 
Plans are cheap compared to others
Plug-ins/apps are available for major platforms 
Supports multi-language in-store
Tax rates are applied automatically, meaning you don't have to worry about manually setting up state tax or VAT rules 
Responsive designs for stores
Cons
A few apps in the Ecwid store
The multi-currency functionality, while good, doesn't display the local currency at the final stage of checkout.
From an SEO point of view, the item URLs can't be changed.
The free version doesn't come with SEO options.
Like other eCommerce software, you can create product catalogs and add pricing, pictures, and necessary information for each item, with Ecwid.
With Ecwid, you can add your online store to an existing website, or create a standalone store, depending on what you need. It is why it is the best tool for business owners who already have an existing website and only want to include an eCommerce store.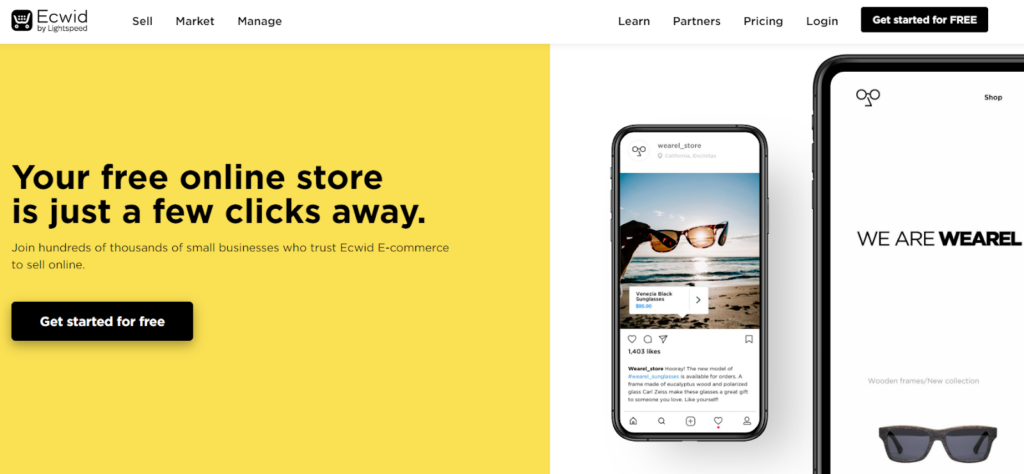 If you wish to build your site from scratch, Ecwid Instant Site gives you all the tools and features you need to make that happen, so it is a win-win either way.
Ecwid also allows you to state your shipping rates and accept credit card payments via its web browser, so you do not need to install it on your computer.
Price
Venture: $14.08 per month billed annually
Business: $39 per month bulled annually
Unlimited: $99 per month billed annually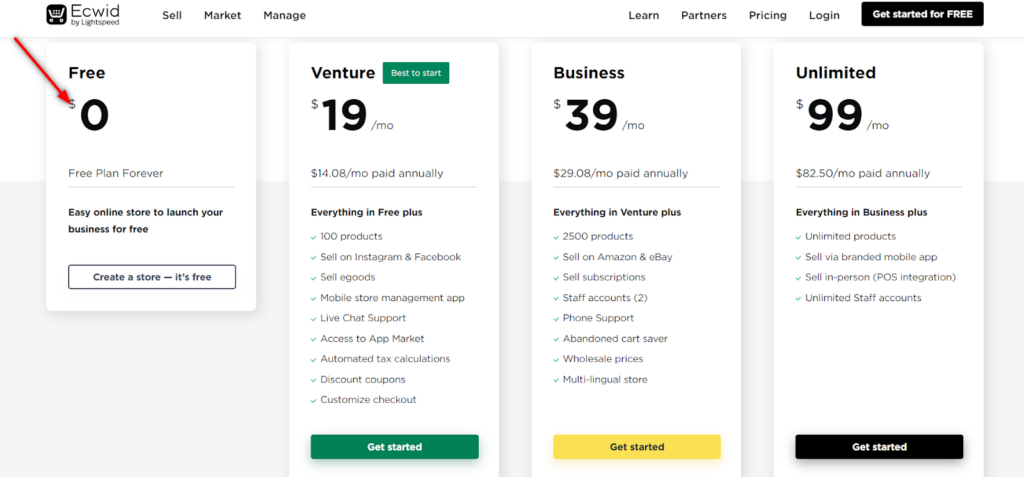 Image Source: Ecwid
Free trial length: Free plan
Cheapest Plan Price: $14.08 per month
FAQs
Is it possible to build a free eCommerce website?
s, it is possible. Big Cartel platforms offer free to build or create whatever website you choose; however, selling might not be entirely possible.
How much does a typical eCommerce website cost?
A typical eCommerce website should be at most $1200, depending on the specifications outlined by the website builder. Some builders charge a lot for maintenance and themes, while others do not.
What is the absolute cheapest way to start an online store?
If you have your plans right and are willing to fully commit to starting an online store, the best method is to use eCommerce website builders, which handle almost all aspects of the website creation, down to management. 
What is the cheapest eCommerce website builder in the UK?
Depending on what you intend to do, Shopify seems to be the cheapest and most reliable website builder in the UK.  
Conclusion
Ecommerce website builders not only give you a platform to conduct business, but they also allow you an easy method of conducting business while you handle other tasks.
We have shared the best ones with you and given you the important information you need. With our carefully compiled list, it will be much easier for you to finally decide on opening that eCommerce website and getting the right help when needed.
Feel free to leverage free trials and refund guarantees to try out different platforms before deciding on the one that best suits your business.

As one of the co-founders of Codeless, I bring to the table expertise in developing WordPress and web applications, as well as a track record of effectively managing hosting and servers. My passion for acquiring knowledge and my enthusiasm for constructing and testing novel technologies drive me to constantly innovate and improve.
Expertise:
Web Development,
Web Design,
Linux System Administration,
SEO
Experience:
15 years of experience in Web Development by developing and designing some of the most popular WordPress Themes like Specular, Tower, and Folie.
Education:
I have a degree in Engineering Physics and MSC in Material Science and Opto Electronics.