Green Screen Software is the software that is used to change video backgrounds. With these tools, you can easily edit the timeline of the video and trim it. You can add your desired color to the background of each video clip. These tools also let you share footage and organize the media files with other people.
For cinematography specialists and marketing agencies, the Green Screen technology is a must-have for successful video production. Several professional video editing tools have amazing abilities and effects for editing. This software may be very expensive and require an extensive learning curve.
The green screen software uses the keying process. It is a process of isolating a single color from multiple or a single frame. Later, it replaces the new image specifically in the background. For this, you need green screen chroma key software.
Most companies use Green Screen for informative videos and professional marketing about the product updates and properties without overspending on the cost of production.
In this post, we have listed down the description of the 13 best green screen software for you. Out of which, 5 are free. So this may help you choose the cheapest or free option for your next project.
Top 13 Best Green Screen Software (Chroma Key)
Best Professional Green Screen Software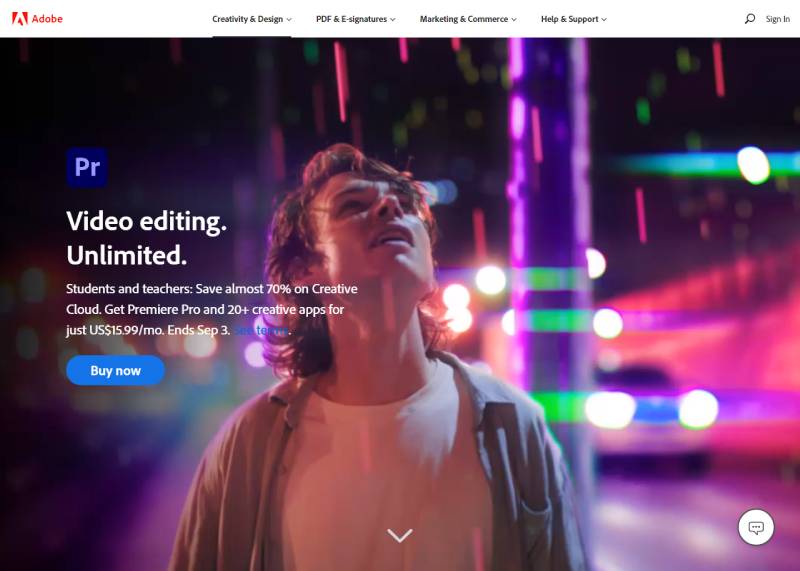 Adobe Premiere is the best overall professional green screen software. It is the industry standard in terms of video editing. Yet, like all other tools it offers, Adobe Premiere shines with the support for 360 VR, collaboration capabilities, state-of-the-art tools and 4K content. However, its non-linear user interface is quite disturbing.
The latest update of the adobe Premiere has provided a much better user interface that adds more editing tools to its arsenal.
It offers you a timeline with which you can edit and arrange the audio and video clips. Here, you can easily do basic editing. It provides stylistic additions and special effects, dedicated tools for slip edits and ripple, and a razor tool for cropping. You can also use it with Lightroom presets to add special filters and effects to the videos.
It is advanced Chroma-keying software with which you can add layers to your video with any background color.
Features
Largest tool collection
Multicam editing options
Flexible and clean user interface
Options of exporting to Facebook, Vimeo or other social media sites
360-degree video editing
Chroma key feature
Pricing
In the Adobe Premiere Chroma Keying feature you will have to pay over $20.99 per month if billed annually. The monthly plan requires you to pay $31.49 per month. The annual prepaid plan costs you $239.88 per year.
In addition, it provides you with a 30-day money-back guarantee with all plans and a 7*day free trial.
Pros
You can create text in layers
It is ideal for arranging and trimming clips
It lets you create easy transitions between clips
It is easy to add multiple video clips on one video track
Cons
High usage of RAM
Strong specs of computer required
High learning curves
Subscription-based model
Beginner Friendly Chroma Key Tool
Wondershare is a beginner-friendly platform. It is not only fast but also provides an intuitive editor that has all the necessary features we need for professional video projects. It is also suitable for personal and home use to edit footage on a green screen.
It is an easy-to-use and powerful software that helps you take your ideas to screen from the script. With this, it is also possible to use movie maker edge tools such as MultiCam Editor, Layers and Titles like a pro.
It is a cross-compatible software that lets you edit the archived project on Mac or Windows.
Features
Importing clips
Easy to use editor
Automatic separation of footage by scene with First Scene
Easy media import from devices such as Mac, tablets, smartphones or cameras
Rearrange, drag and drop clips for effortless editing
Multiple audio and video effects are available
Pricing
Wondershare basic starts from $39.99 for desktop and $44.99 per year for MAC users. The perpetual plan gives the best offering at only $69.99 annually which costs least at $9.99 monthly.
It provides all the features that are available with the software.
Pros
Provides audio equalizer
GIF support
audio and video control
split screen
4K resolution editing support
Colour grading presets
Cons
Only paid plans can enjoy new effects monthly.
All features require a premium version to unlock.
Best video editing tool for Windows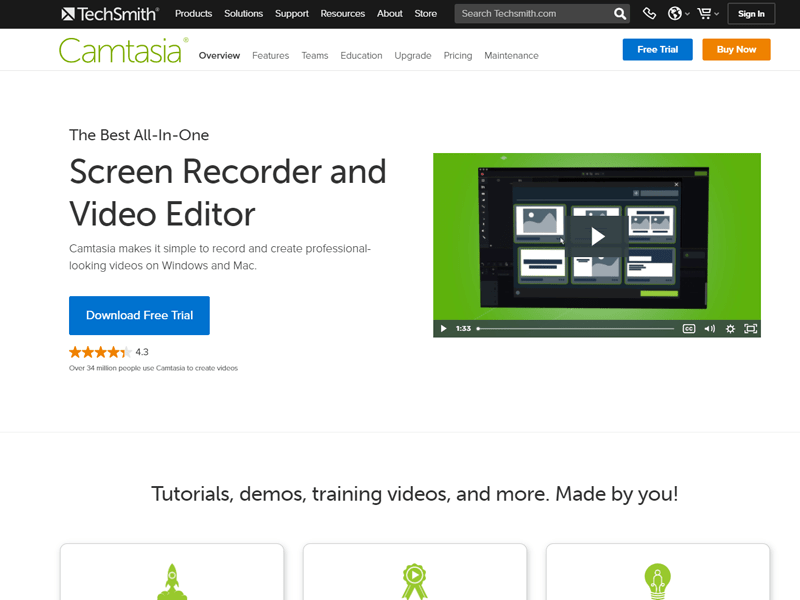 Camtasia is software that is simple in terms of creating professional videos. It provides over 900,000 customizable assets including music and royalty-free stock videos. Moreover, with Camtasia, you can streamline the review process of your videos.
Features
Create videos and images to get feedback
It enables to record and import the presentations
With Camtasia, you can pan, zoom out and zoom in your animations
You can add interactivity and quiz questions to measure learning videos
Recording and editing screens and videos are easy with Camtasia
Pricing
Camtasia offers one simple pricing plan that costs you a one-time payment of $299.99 per user. This plan also comes with a 30-day money-back guarantee.
Pros
Easy to use and intuitive interface
Ideal video editor for Apple and Mac users
Live lectures and demos are easily recorded with screen recording options
Several built-in templates for easy video content creation for beginners.
Cons
Constant bugs and crashes
Limited customization options
No keyframe tracking
Poor keyboard commands
Export issues
Best for Filmmakers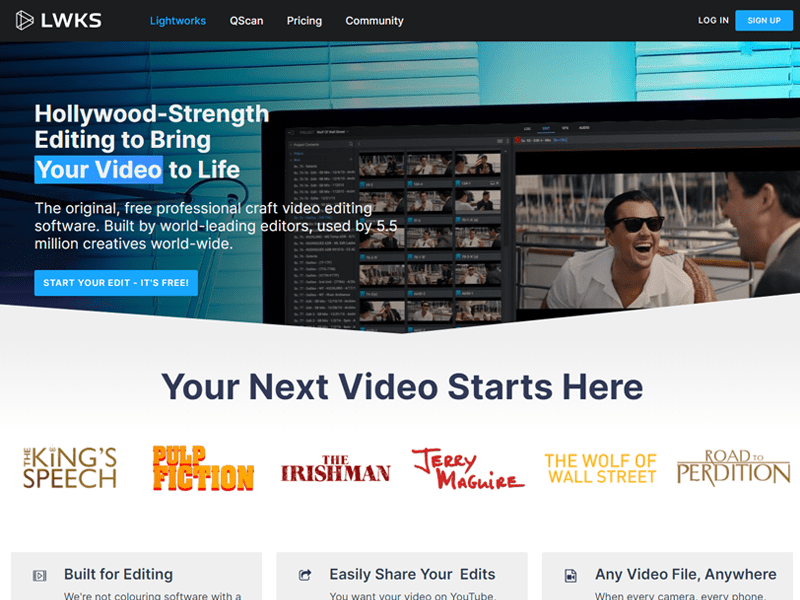 Lightworks is a free editor. It is a well-known editor for the last two and a half decades. It lets you use all the advanced features to create green-screen videos. It can be a perfect choice for you if you have prior experience in video editing.
It allows you to use video and audio FX to give a more professional and attractive look to your green screen video. The proxy workflows for 4K can also be used in addition to the green screen.
It lets you edit your video in several different formats such as HD format, 4K resolution and 2K resolution. Not only this, but it also allows you to export videos from Vimeo and YouTube etc. moreover, you can also share clips and assign or access reads and writes with other people.
Features
Specifically designed for filmmakers
Awarded editor
A powerful and professional editor
Pricing
There are two paid versions, the Lightworks Pro and Free. The free version offers all the features with limited options but you can export and import social media and formats.
It allows you to update and edit projects with backup and archiving features.
The Pro plan costs you $174.99 yearly and $24.99 per month. The outright cost of Lightweight Pro costs $437 with a lifetime license.
Pros
Easy to edit with a timeline
Direct video uploading to 4K and YouTube
Cons
Not beginner-friendly
Steep learning curve
Best for Gaming Videos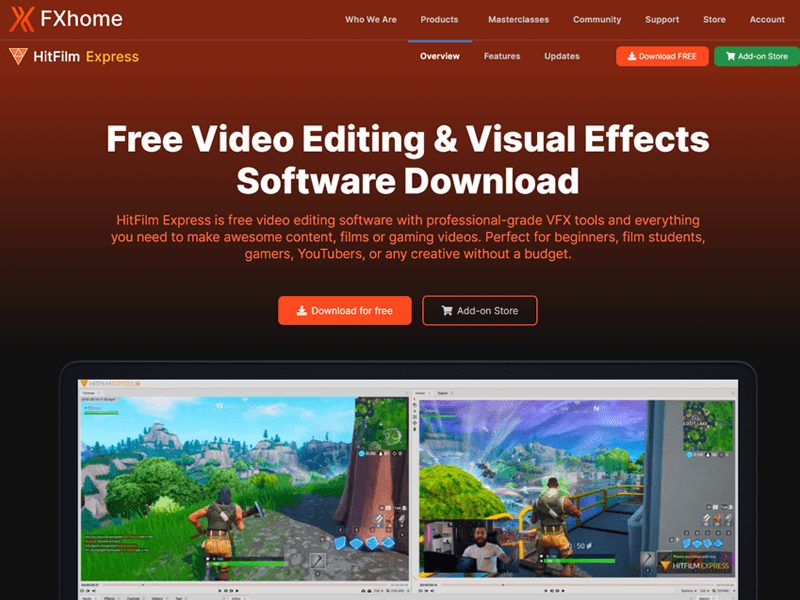 Hitfilm Express is software with which you can edit and add effects to your videos with the least effort. You can easily modify, trim and customize audios with HitFilm Express. It further enables you to carry out the color correction of your video.
HitFilm Express is equally helpful for beginners as it helps in learning as well. It offers an online course where it provides all the documentation and guiding videos to use the software.
It also helps you connect with millions of users around the globe to create Chroma key videos. There are over 140 presents for you if you are creating a preset.
Features
Combines 3D and 2D videos
Supports over 410 effects
Compatible with both Mac and Windows
Offers unlimited tracks for video clips arrangements
Contains a track panel so 2D tracking is controlled
Pricing
It is free for both Mac and Windows systems. Nevertheless, you need to be paid add-ons if you are to use the features such as sci-fi effects or background editing.
The starter pack costs $9 and has all the basic tools and effects required for editing, the content creator pack costs $19. This package provides all the professional features for video editing. The VFX Artist pack costs you $39 and gives professional and Hollywood-type effects for your videos.
Pros
Create realistic shotgun effects
Animate and import complex 3D models
Enhance and recreate iconic heads-up display
Highly supported with low-end computers
Cons
Limited community support
Steep learning curve
Limited transitions
Best for Live Streaming Videos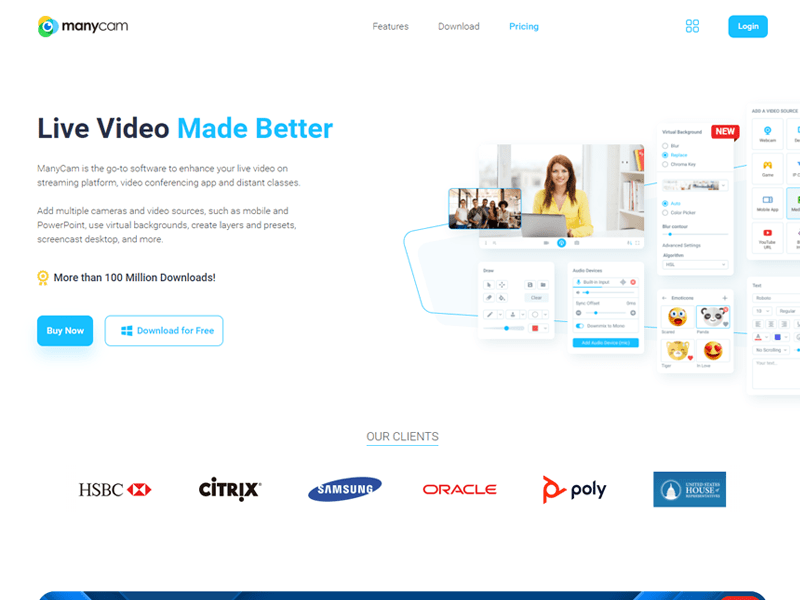 Most of the green screen software has a steep learning curve. You need to study and learn a lot before actually starting to edit your videos. You also need to get your hands on new tools before switching on the operating system. ManyCam frees you from all these issues.
It offers a live streaming platform where you can deliver professional online classes, streams and videos. It has an easy to use interface. Moreover, it provides tools that you can use to blur, replace or remove background while having a web conference.
As the name indicates, ManyCam allows you to have multiple video sources and cameras. Such as screencast desktop, create presets and layers, using virtual background, PowerPoint and mobile.
Features
Whiteboard
Picture in picture
Desktop capture
Unlimited number of effects
Custom watermarks
Video recording and NDI support
Pricing
The standard plan of ManyCam starts at $29 per year. It provides HD quality video, 4 video sources and 1 device. The Studio is the most popular and recommended plan that costs you $59 per year. Here, you get 4K quality videos, 12 video sources and 2 devices. The premium version gives more professional-looking video editing options. It costs $79 per year. It includes 3 devices, 24 video sources and 4K quality videos.
Pros
Compatible with Windows 7, 8 and 10 PC
Easy syncing with Yahoo and Skype messenger
Supports broadcasting and streaming
Available for YouTube and Facebook Live
Cons
Disorderly effects catalogues
Trials are not available for premium versions
Character encoding errors
Best for Library of video templates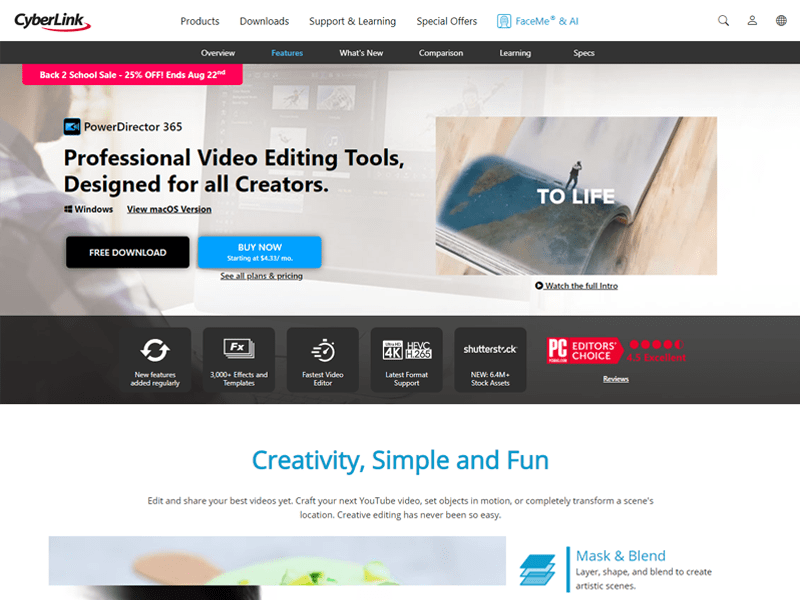 PowerDirector is a flexible software that offers an intuitive interface. Also, it provides a full 350 kit for video editing that has an access to unlimited effects. This software allows you to effectively transform a location, see objects in motion and create a new YouTube video.
With PowerDirector, you can blend, shape and layer your videos to create a more artistic combination in your video. Additionally, the Green Screen option helps you remove the background. With this option, you can also create special effects to give your video a more Hollywood style. Smooth animations are also possible using the Keyframing option that brings in more energy and dynamism to your work.
Features
Easy to use
Motion tracking
Shape designer
Epic and motion titles
Royalty-free stock library
Screen recording and video templates
Pricing
PowerDirector offers a free version. It provides almost all the necessary features in the free version. However, an upgraded plan is always needed for more plugins and effects.
It provides three different versions for mobile, director suite for Windows and PowerDirector for Windows.
The most popular plan costs $96.99 which is the Director Suite for Windows.
Pros
A very feature-rich and powerful solution
It offers a free trial mode
Easier to use interface
Animations are possible with motion graphic titles
Can stabilise shaky footage
Cons
Bad customer services
Adding title cards into the video is tricky
The blurring feature is inconsistent in determining the work implementation
There is no documentation on guiding how to use certain tools
Best for Performance and Background Rendering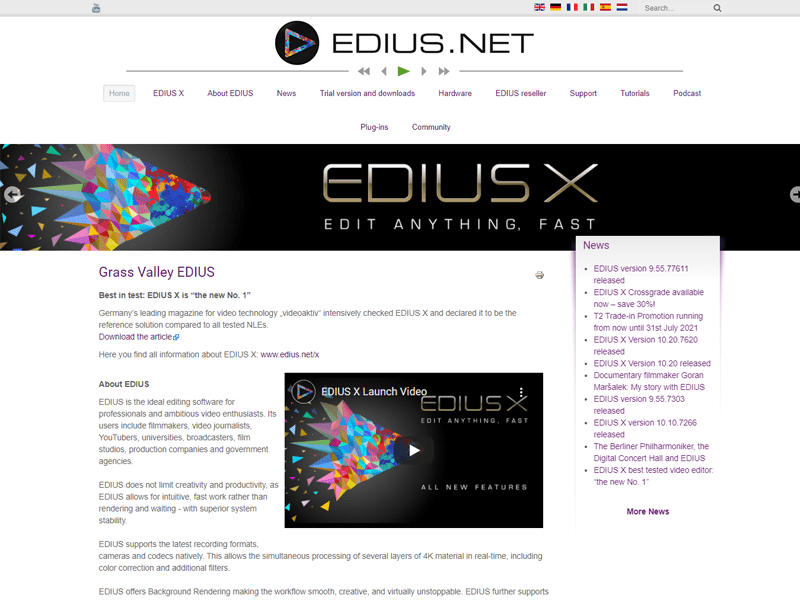 Edius is a professional video editing app. It is a nonlinear solution that provides you with the resolution and formats in real-time. As a result, it enables the users to quickly edit everything they want in your video. It is a straightforward and incredible application that helps in cropping, sizing and scaling a video.
It can help in professional productions and versatile solutions. Documentaries and 4K theatrical productions are also offered for a better experience. Moreover, it is a powerful alternative to the leading apps on the list. The software provides all sorts of features and tools that you may need to edit your video.
Features
Superior 4K workflow
Image stabilization
Multicam editing
Motion tracking
Real-tie conversation
RAW decode
Image stabilization
Pricing
There is no free plan available. The quoted-based plan requires you to connect to the vendor for final prices.
Pros
Fastest and most convenient
Camera stabilization is excellent
A multimedia editor
Perfectly sets for the news programs with easy editing and voiceovers
Cons
Adjustment layers such as Adobe premiere may be added
There are adjustment layers
No free trial
The free freemium version is available
Best Free and User Friendly Video Editing Software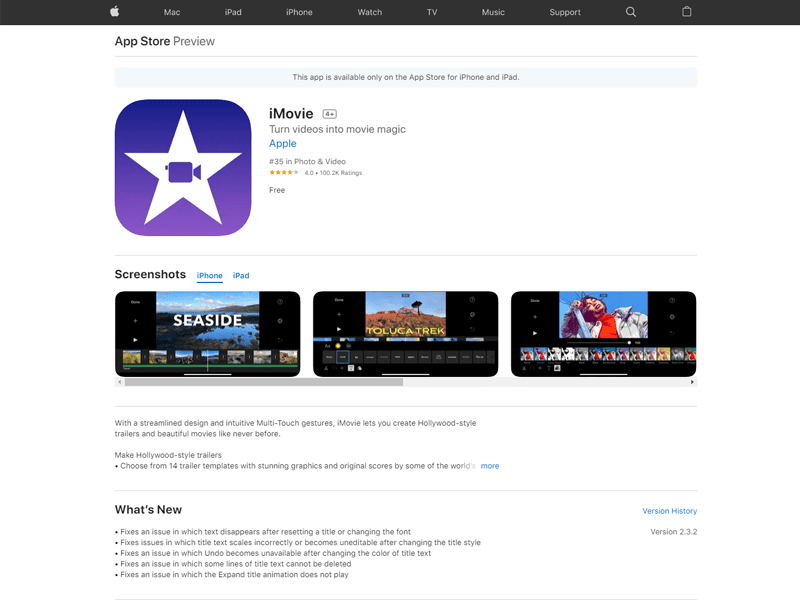 It is a green screen software that allows the selection of tons of styles for animation. With iMovie, you can change the shoots' speed. iMovie software for green screen is also used for adding a final touch to a video such as adjusting font or color.
It is a default video editor in Mac and iOS. Above all, it works both on mobile and desktop devices. It is a non-linear editor which places the files in different layers in the timeline. In this way, it is easy to blend them.
Features
easy use templates help in creating movie trailers
you can easily create 4K resolution movies
it includes voiceover recording, sound effects and built-in music options
it allows you to edit on an iPad or iPhone
Pricing
iMovie is available on iOS and Mac devices for free.
Pros
easy editing
seamless video and audio transitions
ability to customize logos and graphics
Cons
Importing MP4 files is cumbersome because it is not designed to work with MP4 files instead you need to convert them to H first.
Needs high HDD space.
Large size files are made in iMovie even the smallest ones can be 1GB in size
Best Free Open Source Video Editor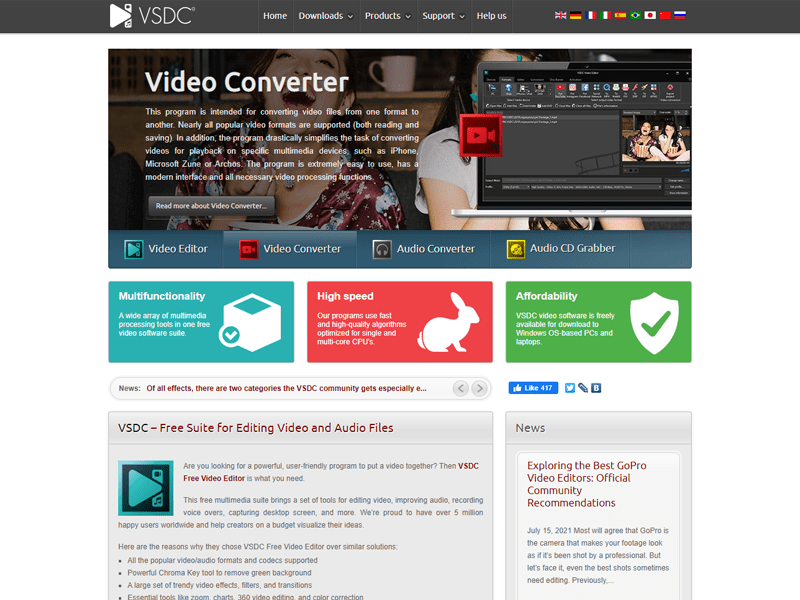 VSDC is an open-source and free editor. It is specifically designed for Windows 10 and has both an intuitive and basic interface. It is also highly beginner-friendly.
With VSDC you can easily change the background color of your video. Moreover, it can help you create a dramatic science fictional movie.
You also get advanced editing and inclusive basic tools for coloring, lighting and trimming etc. In fact, you are able to create different effects, transitions and filters to create your amazing videos.
It is a free video editor that brings several add-ons. It also includes a YouTuber uploader, a voiceover tool, a webcam video grabber, and a desktop screen recorder like tools.
Features
You can place an object of any size at any place in your timeline
Conversion of one clip format to another is easy.
Make and create changes from webcams and mobile phones.
It allows you to edit video in MPG, MP4, AVI, etc. formats.
Advanced audio effects
Audio and video conversion tools
Pricing
VSDC is a free editor. All you need to do is download and use it without paying anything.
The advanced features can be obtained in the VSDC Pro version that costs $19.99.
Pros
Create shaped masks to create PIP video
Importing material is easy
Cons
Steep learning curve
Advanced features are overwhelming
Best for user friendly open source video software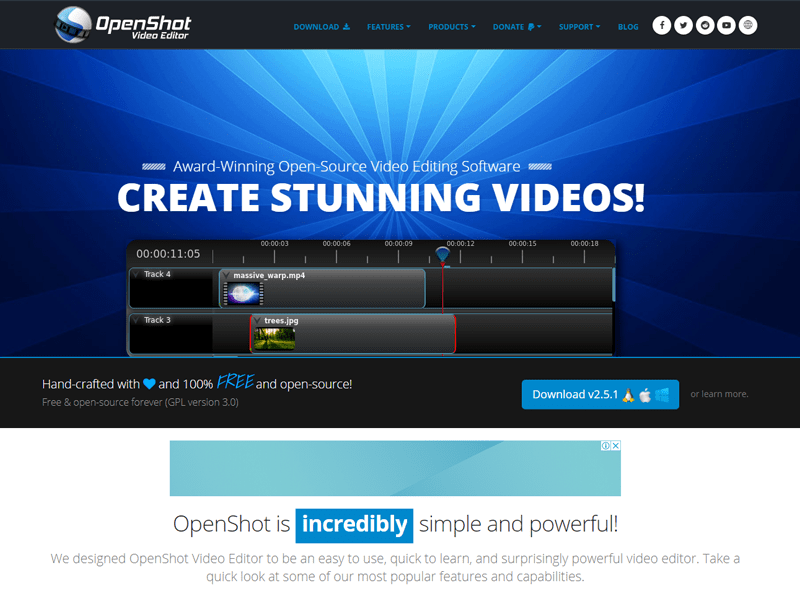 OpenShot is another open-source video editor. It lets you move the locked track down or up. Also, it helps to split the audio clip from the video. With OpenShot you can adjust greyscale, Chroma key, gamma, hue, and brightness.
It is free software that supports Windows, Mac, Linux, and FreeBSD. Above all, it is cross-platform. It is easy to make a quick green screen video using OpenShot software. It has an intuitive interface so the interface is not an issue. Its interface is very simple as compared to any other solution in our list. Especially, the menu structure gives it the most advantage to be the best movie maker tool for beginners.
Features
Drag and drop tool
Quickly adjustable colour and font of titles
Video transitions with real-time previews
Rotate, trim and resize clip options
Pricing
OpenShot is completely free and is easily direct downloadable. It also offers direct torrents and links for downloading.
Pros
It supports time effects and slow motion
It is powerful and simple to use
Cons
Not user-friendly
Long-time to export and upload to YouTube
Best Free Streaming Chroma Key Software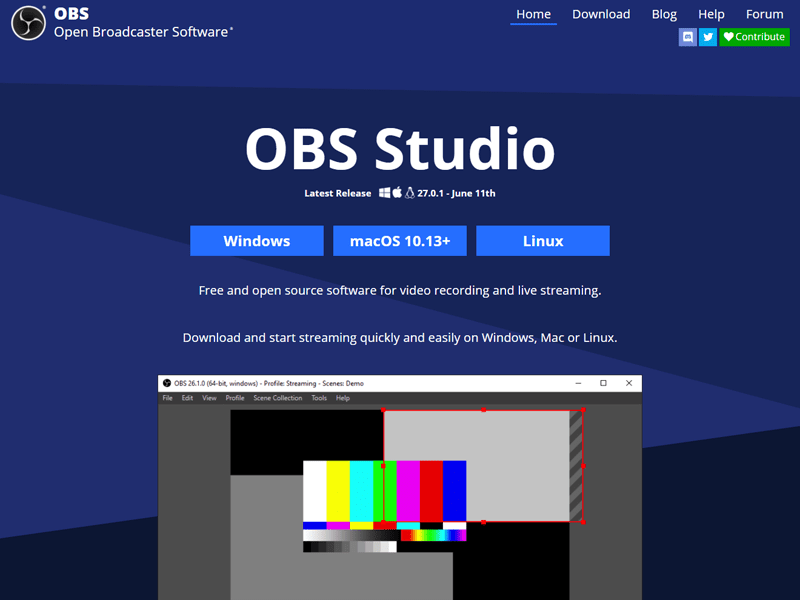 OBS Studio is free and open-source software to enable you to create a video with multiple sources such as text and images. With this application, you can also switch between video transitions seamlessly.
It is a Broadcaster software is a video editor that does not include its watermark. In addition, it is easy to Chroma Key all your recordings and videos you made with a webcam. All you need to do is use a green background while recording. After you record, OBS replaces the green background with a real-time background of your choice.
OBS can also be used as webinar software which will let you change the background of the videos and makes you look more professional.
Features
Video uploading options on different streaming services for ott platforms
Support rich tools of video editing
Easy and powerful configuration tools
Compatible with Linux, macOS and Windows
Pricing
OBS is free as it is downloaded.
Pros
Multiple video sources filters
Streamlined settings panel
Powerful configuration option
Easy to use and robust features
Cons
Not available on android
Can intimidate novice users
Best Free 3D video editing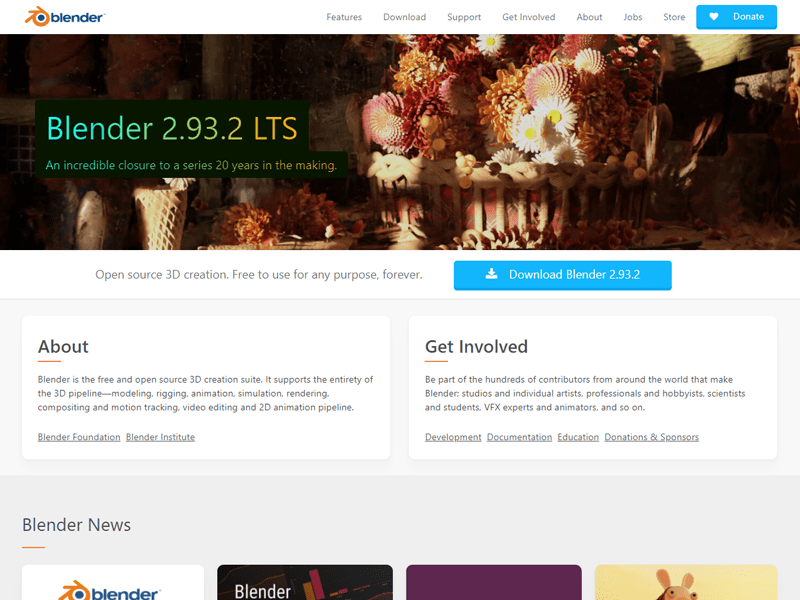 Blender is software to help you customize the background of your video with any solid color. It allows for the customization of an application with Blender's API for script generated through Python.
It is another program for editing that allows in creating videos with editing tools. It provides an inclusive array of tools to model your editing, transformation and creation.
However, it is a bit difficult to use green screen editing. If you want to add certain effects to your video without using complex tools, this is the simplest one.
Features
Real-time preview of 3D scene and tracked footage
Combine 3D and 2D viewpoint
Customizable colour and layout interface
Pricing
It is free to download. You can donate some amount to support their cause.
Pros
Advanced features available
Easy to use
Powerful interface
versatile
Cons
too overwhelming advanced features
complex for beginners
steep learning curve
FAQs
What is the best free green screen software?
I have worked with iMovie and I have to say it is perfect for making simple videos. The problem is iMovie works only on Mac. For Windows users, I will recommend OpenShot. In case you are searching for professional software I recommend you Adobe Premier
Which is the easier tool to use?
OpenShot helps you make a quick green screen video. It helps to combine chroma key effects and 3D animations. There are several key factors to help you create a stunning video. Another great software and very user-friendly is Camtasia but it costs.

Conclusion
A Green Screen is a solution involving visual effects and filming the person in front of solid color. Professionals use it to add special effects images or videos. Here, you can add a background of your choice. It is an application that you can use to customize the background of your video.
It is widely used for VFX as it does not match the hair and color tone naturally. We have listed over 13 Green Screen Software. The best one so far is the VSDC, Adobe Premiere, Camtasia, PowerDirector, Wondershare Filmora, and LightWorks.
If you are using Procreate for your graphics, check out this article about the best Procreate brushes.