The iSpring Suite is supreme software for all the people working in online course authoring industries as it is well-equipped with all the desired features.
iSpring Suite works along with Microsoft PowerPoint, a software you must be familiar with. It adds up the beneficial features to create quizzes, dialogue trees, surveys, interactives, and more. In this way, it creates new possibilities in the educational and e-learning world.
Powerpoint is the most used software, and the iSpring suite is adding more value to it.
You must be wondering How Powerpoint is working to facilitate these tools?
Is it worth the spend? And does it cover all your needs?
We'll answer these questions gathered in your mind through this review article.
In this iSpring review, I'll tell you how iSuite Max toolkit brings advancements to our e-learning experience and businesses.
Let's get an insight into how iSpring works.
What is the iSpring Suite?
-An Ultimate Toolkit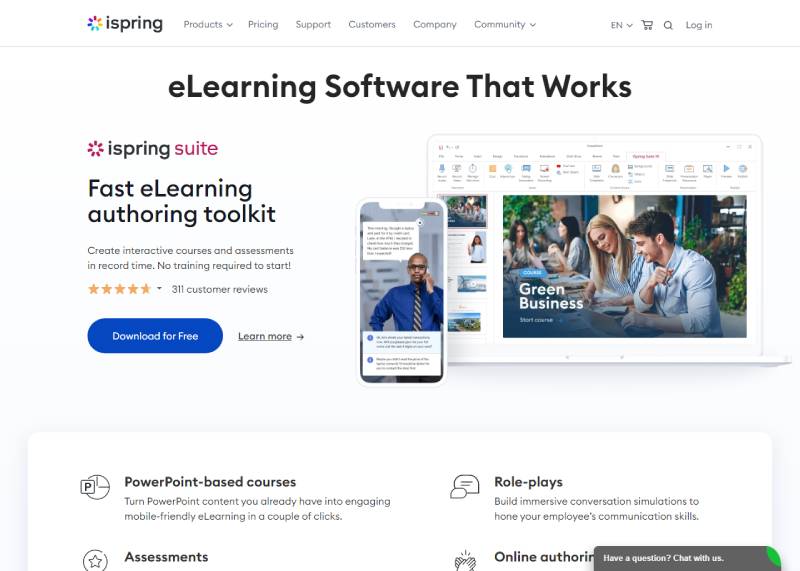 If you are looking for a wholesome e-learning toolkit for you then iSpring Suite is the answer. It provides you with the most user-friendly and simplest ways to create online courses, quizzes, and interactive video lessons.
It is used to create educational materials for affiliates. The materials are customized through LMS which is utilized to track attendance.
The software can enhance e-courses with training videos, effective assessments, dialogue simulations, conversion of text into speech, and much more.
iSpring Suite also authorizes teams to work together on learning content and get clearance from customers by distributing the content online, thus making the course review and acceptance process safe and faster.
Courses crafted with iSpring Suite can be restored to HTML5 format for excellent playback on all the devices being used in daily life which includes PCs, Macs, tablets, and smartphones.
The courses can be published to any of today's eLearning standards like SCORM 1.2, SCORM 2004, AICC, cmi5, and xAPI (Tin Can) making them cordial with any LMS. Thousands of e-learning developers are using this software to save their precious time.
Read More: 19 Best Online Course Platforms 2023 (Tested & Ranked)
iSpring Suite Tool :
Getting an iSpring Suite subscription gives you access to:
iSpring Quizmaker
iSpring Talkmaster
iSpring Visuals
iSpring Flip
iSpring Audio and Video Editor
iSpring CamPro
And, if you purchase the premium iSpring Suite Max subscription then you will be getting two additional features which are:
Content Library
Cloud Space
Create a Quiz with iSpring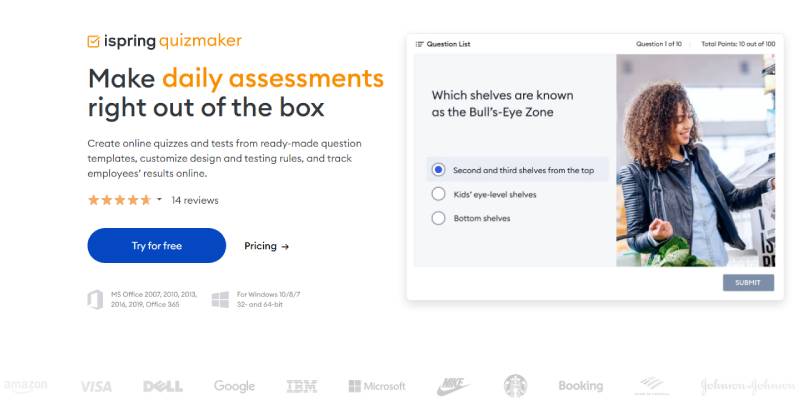 iSpring can assist you in creating unlimited quizzes for your course and it makes quiz creation an easy and effortless process.
The quiz authoring process is simplified by fourteen types of question templates.
These comprise multiple-choice, true and false, short answer, numeric, matching, fill-in-the-blanks, select-from-lists, drag-the-words, hotspot.
After using the quiz maker for some time you will get to know the advantages and shortcomings of each question type by using this iSpring QuizMaker.
Once you've grasped the basics of QuizMaker, you also get more developed features. Creating a quiz is much more fun with features like branching quiz scenarios, random questions, and adding slides for feedback.
These advanced characteristics will permit you to establish even more fascinating quizzes for your learners.
Moreover, a useful feature of QuizMaker is its comprehensive reporting. After completing their quiz, the quiz takers get a detailed report of their performance and if they failed or passed the test.
iSpring brings a TalkMaster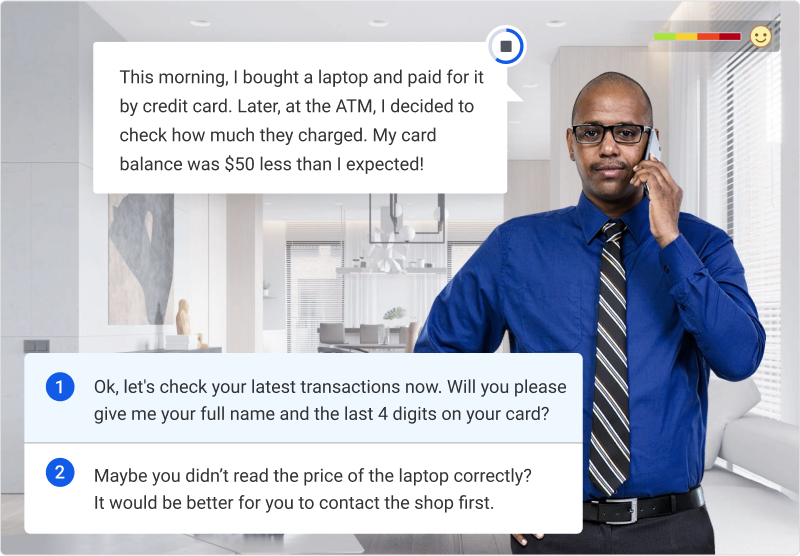 Talk master is an effective tool to create good conversions of dialogues. It helps the employees in understanding how to talk to customers.
Simulations are created in a much simpler way via TalkMaster. Also, the content library brings you a variety of templates. So you can opt for the ones that are befitting for your business.
Keep in mind that you'll only be getting this tool if you have an iSpring Suite subscription.
iSpring Visuals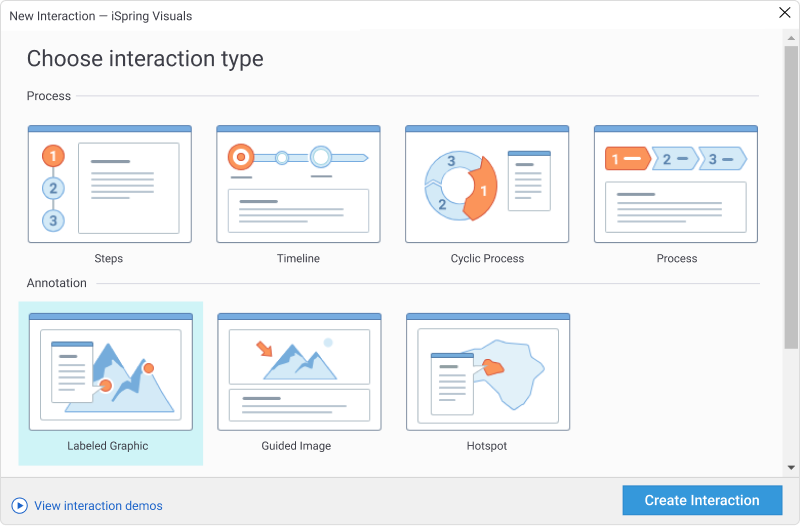 An E-learning course must not be boring for the learners. In this regard, all we need is software with some good visuals. The iSpring Suite helps you customize your course in the best possible ways.
Effective visuals are a much-needed element to maintain the concentration and interest of the learners. Dull Visuals might cause the learners to have a hard time completing the course.
iSpring Flip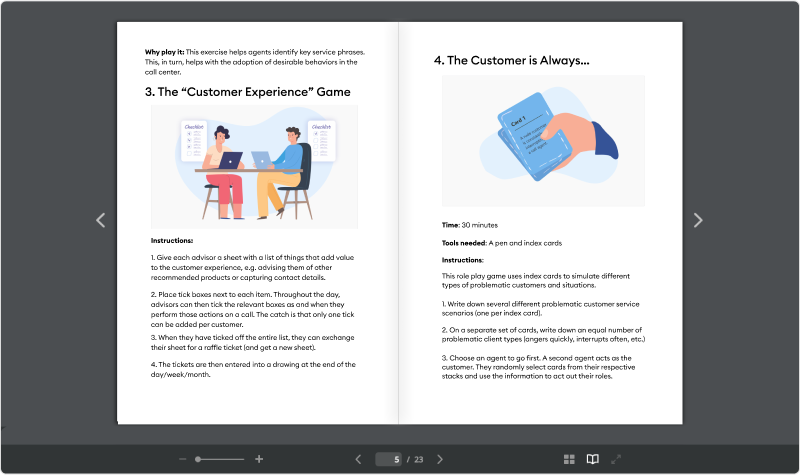 It's the era of advancements and you might want to transform your old-fashioned and conventional documents into HTML5 ebooks.
For this purpose, a key feature of iSpring is Flip one which basically flips the document in a beautiful way!
The interactive e-books are more than what an average document looks like. Along With some amazing benefits it gives you a unique document much better than the previous ones.
You can keep a track of students and also check if your students are actually reading the e-book. Being the author you can also generate a detailed report on your learner's reading and progress.
iSpring Suite Video & Audi Editor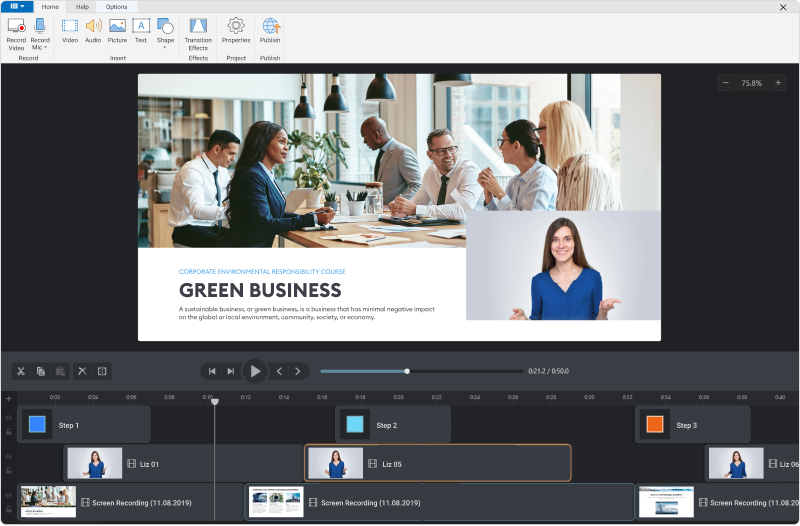 A good editor is the one that has all everything you might need and it should never compromise on the user's utility.
The iSpring Suite also brings a simple editor for your visuals and it's enough to meet your course requirements.
What can you do with this editor?
Cut out all the background noise from your sound recording.
delete unwanted recordings.
Adjust the sound volumes accordingly.
Add some sound effects.
The iSpring Audio-Video tries its best to be beginner-friendly and you don't need much time to learn to use it.
The iSpring Audio-Video Editor cannot be purchased individually and the only way to gain access to it is by purchasing an iSpring Suite subscription.
Read More: Best Professional LMS WordPress Themes
iSpring Cam Pro

iSpring Cam Pro can serve you in building many interesting video materials for any subject. It has built-in recording software that helps you record your camera, screen, microphone, and learning material.
The video editing software lets you add effects like transition, clip arts, and other things to make it look much better.
If you aren't an expert in creating videos then it might take a lot of your time.
Pro CAM gives a bunch of good features such as:
Add annotations to your screen recordings.
a built-in text-to-speech program. Whilst, doing voice-overs can give more productive results and can be less time-consuming.
Camera and screen recordings can be played at the same time.
Save your courses with iSpring Space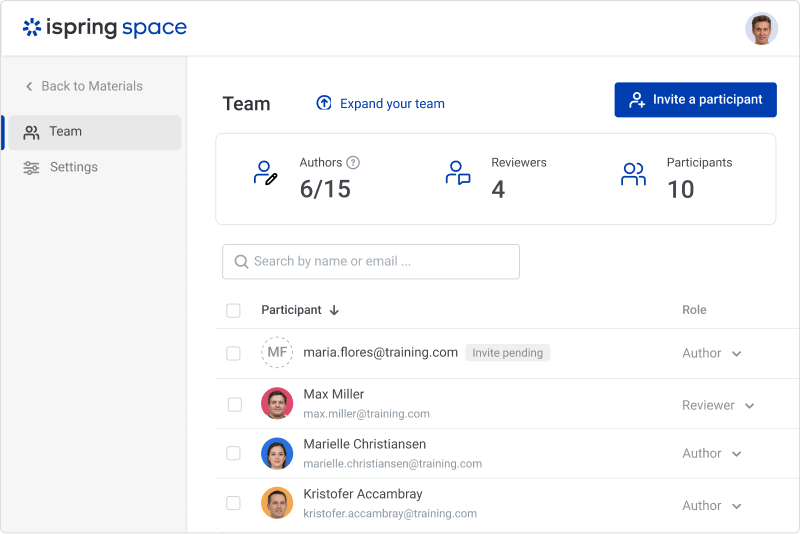 What's better than having your course saved in Microsoft Cloud? So, iSpring Space allows you to conserve your e-learning courses on the cloud, and access them on any device by giving you a user interface.
It's only included within the premium iSpring Suite Max subscription package. Keeping your learning material in the cloud instead of hosting it on any other server is a smart move as cloud-based systems are much safer. Plus, the chances of crashing and hacking are minimal.
Furthermore, a cloud-based system allows you to access your courses from any device with an internet connection.
Here are some more reasons why you might want to go for iSpring Space:
Create new courses, quizzes, and pages within your web browser without installing any browser.
Create a positive environment where team members have their own personal accounts and a single document can be opened by several authors.
iSpring Space cannot be installed as separate software but you first need to get a max subscription to the iSpring Suite.
Get all the Content you need
The content library is meant to provide you with all the stuff you need to design a course. A well-built course possesses all the eye-catching themes and striking designs which boost the ranking of your course.
Through the iSpring content library, you can quickly find a reasonable model for your project as the system authorizes you to rapidly filter by gender, clothing, ethnicity, action, direction, and emotion.
The quantity of filters in this character library is more than enough to let you keep a much efficient workflow.
When you get a perfect character model, now it's time to position that character in an applicable location. We have a range of over 230 backgrounds to select from and by these backgrounds, you can ascertain a sense of genuineness in the course by grabbing a spot that matches the context of the lessons.
This will make it simpler to maintain the attention of the course participants.
There are seven-element types and up to 1500 professional icons.
The control buttons are in three styles. Slides must look professional and there are icons that can add much value to them.
Read More: 10 Best Membership Site Platforms of 2023 (Honest Review)
Learning Management System (LMS)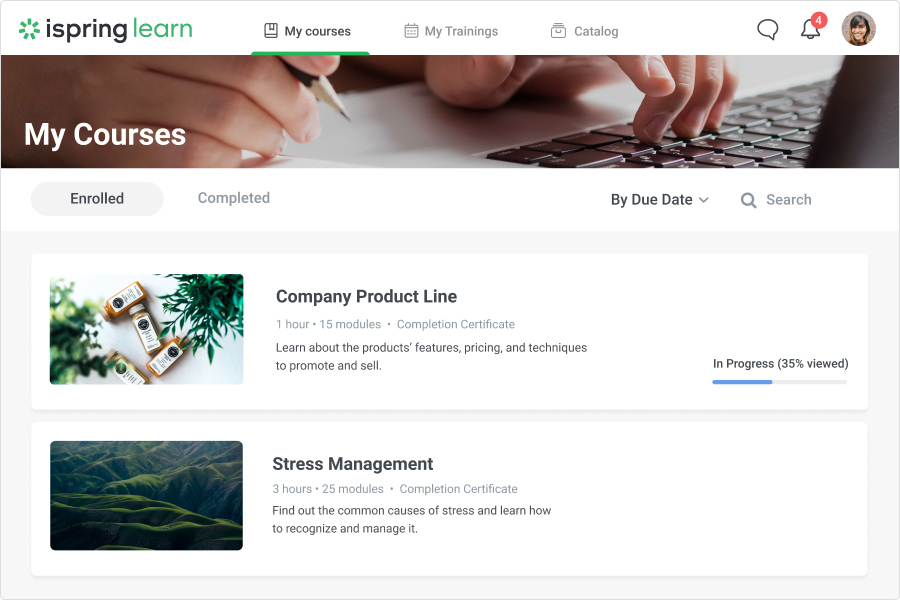 LMS is software for the administration, documentation, tracking, customization of several courses, and educating programs.
This software has all the capabilities of managing your learning as the 'Learning management system'' delivers and manages your learning materials. iSpring suite turns out to be a much more efficient Learning management system.
How iSpring Learn facilitates you!
With the iSpring app, you will get a variety of learning tools. The app works in both Android and iOS. Basically, iSpring Learn is a cloud-based learning management system
All these materials can be sent in one go via the Publish button. You'll see that sending the training materials is much easier with this legit software.
How much does this toolkit cost?
There are numerous subscription plans offered by iSpring and the cost varies with the provided features and number of authors. The more partners you add, the lesser it costs you. But, even if you use them then the prices are still not heavier on your pockets.
In the United States, a basic iSpring Suite subscription amounts to $770 USD per author/year. And, the premium iSpring Suite Max goes for $970 USD per author/year.
In the European Union, the exact standard iSpring Suite package costs 690€ per author/year, while iSpring Suite Max costs 870€ per author/year.
iSpring also offers a 30-day free trial before you make the final purchase and make the most of it.
Pros and Cons of iSpring Suite
Let's have a look at some of its main pros and cons so you can handily make a decent opinion of whether or not this software is good for you.
Pros
Very reasonable pricing
Beginner-friendly and simple interface
Enormous content library
Beneficial and cautious support section
6 distinct programs included in the subscription
Compatible with most Learning Management Systems (LMS)
Cons
Requires Microsoft Windows system with a PowerPoint license
Cloud tool lacks needed capabilities
Insufficient video editing features
Final Verdict
The idea was to get software that meets our demands without compromising over the cost-effectiveness and iSpring Suite doesn't disappoint us in doing so.
To wrap up my review, I'll say that iSpring Suite is one of the best online course software programs available. It's one of a kind model in the e-learning course production market.
It extends the well-known Microsoft PowerPoint software with significant training elements such as surveys, dialogue trees, quizzes, etc; into a complete feature-rich package that works in combination to assist you to develop intriguing and dynamic e-learning content.
If you're looking for a strong and economical solution that will assist you in providing a multitude of top-grade resources from one authoring suite, iSpring Suite is definitely a brilliant choice to consider.
It's worth the money as it will save you a huge amount of extra time, work, and expenses by facilitating you with all of the materials you require to develop captivating courses in one handy location and for a single low cost.
Despite all the features described above, if you are still uncertain about whether you should make a purchase or not , you can get a Free 30-days trial which surely gives you an idea about the software.

As one of the co-founders of Codeless, I bring to the table expertise in developing WordPress and web applications, as well as a track record of effectively managing hosting and servers. My passion for acquiring knowledge and my enthusiasm for constructing and testing novel technologies drive me to constantly innovate and improve.
Expertise:
Web Development,
Web Design,
Linux System Administration,
SEO
Experience:
15 years of experience in Web Development by developing and designing some of the most popular WordPress Themes like Specular, Tower, and Folie.
Education:
I have a degree in Engineering Physics and MSC in Material Science and Opto Electronics.