In the past, marketing segmentation depended solely on demographics. However, modern marketing takes a more sophisticated approach. That approach is RFM segmentation, which provides data to segment customers based on purchasing behavior. Here's what you need to know about RFM segmentation in WooCommerce.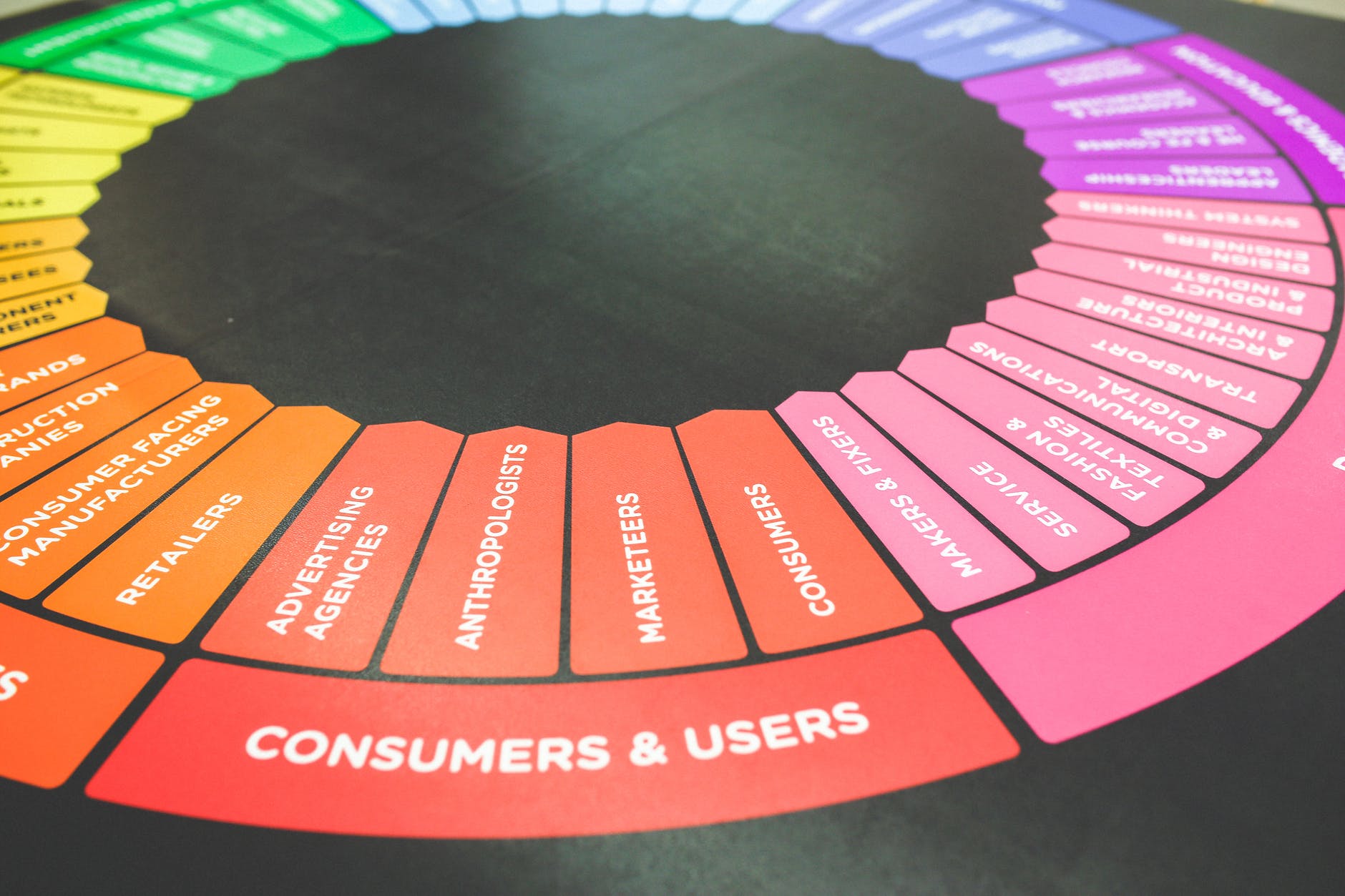 Defining RFM segmentation
Let's say that you're throwing a party with some shy guests who might not know everyone at the get-together. As a good host, you take the initiative to introduce those shy guests to everyone else. In other words, engagement is key so that everyone can enjoy themselves.
This doesn't work in every situation. It's only effective where there are a limited number of people, and you know everyone. So then what do you do when you want to re-engage an away customer? Even though you might have thousands of customers, you first need to know some key facts about them – such as which are the most and least active, who is lapsing and the most loyal.
You may be losing several customers each passing day. This could be because you're unaware of who has already disengaged with your brand.
RFM segmentation in WooCommerce can help acquaint you with your customers. By using this method, you can group your customers by their past behaviors. In this way, you have a list on hand of your best customers and customers who are on the brink of lapsing. This info gives you the tools to create highly relevant marketing campaigns and messages, resulting in higher conversion rates and profit margins. RFM segmentation also allows you to construct solid and long-lasting relationships, and they won't feel abandoned.
Different marketing automation tools can help you in doing certain RFM segmentation which can drastically boost your conversions.
Ins-and-outs of RFM segmentation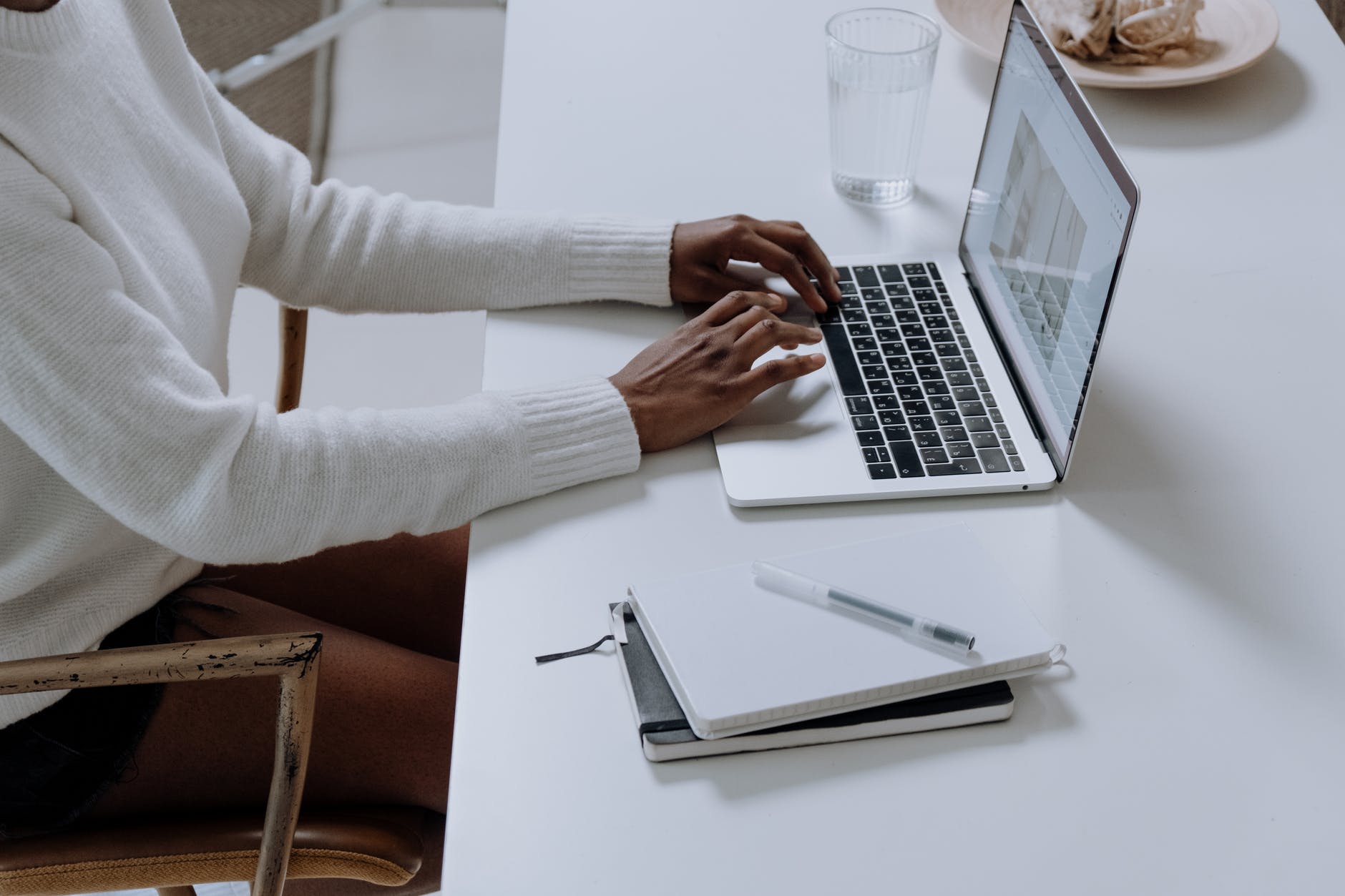 RFM refers to Recency, Frequency, and Monetary value. RFM segmentation is a data modeling method that examines customer value to break down customers into groups. Marketers can utilize these groups to target certain customer segments using relevant marketing campaigns, often leading to an increased response rate.
Let's take a closer look at each RFM metric:
Recency: How much time has elapsed since the last time a customer engaged with or bought something from a brand? This could mean the last time they checked out a site or used a store's mobile app. Chances are that the more recently they've done these things, the more likely they'll be open to positively receiving anything the brand wants to communicate.
Frequency: How often has a customer engaged with or brought something from a brand during a particular timeframe? The more active the customer, the more engaged they are with a brand. The more engaged they are, the more likely that they'll be loyal customers. By using frequency, we can also separate loyal customers from one-time-only customers.
Monetary: How much has a customer bought from a brand during a certain time period? Higher spenders should be treated differently. You can use the average purchase amount (monetary value divided by frequency value) to segment your customers.
Why is RFM segmentation important?
RFM segmentation in WooCommerce is not only easy but extremely effective. As mentioned earlier, this method of segmentation allows you to divide your customers based on their behavior. Here are a couple of relevant examples:
New high-value customers have high recency and monetary values but a low frequency value. They have made high-value purchases, however it's uncertain how often they buy.

All-time high-value customers have high values in the three metrics. They frequently spend a lot on their purchases compared to other customers, and they recently bought something.

Low-value customers have low values in the three metrics. They haven't ordered very often, and they did not spend much on the orders they placed – and they are no longer engaged.

Lapsing high-value customers have high frequency and monetary value but low on recency. At one point, they were a top customer who often had high-value purchases, but they have been away for awhile.
With these customer segments, you can do quite a bit. For instance, you can give up on your low-value customers and instead concentrate on encouraging higher-value customers to stick around. In essence, RFM segmentation in WooCommerce can guide you on where to focus your resources to keep customers engaged.
Some real-life examples of RFM in use:

Provide incentives, exclusive access or grand badges to make your high-value customers feel special.

Create customized nurturing campaigns to motivate new high-value customers to stick around.

Reactivate campaigns to engage customers who are on the brink of lapsing.
If you're late to the RFM game, it's not too late. This is how you can use RFM analysis to divide and conquer your WooCommerce customers.
Using RFM Segmentation for your WooCommerce Shop
First, we need a customer segmentation tool that can filter customers based on their previous shopping behaviors. Growmatik – which has advanced customer segmentation capabilities – is ideal for this. It takes the process a step further to send out automated emails to each customer segment.
Recency
The first step is filtering for recency values. Navigate to the People page and choose All Customers at the top. Then add the first filter for Shopping Activity > Purchase date.
Because we want to find out when the last purchase was made, select Last time at the top and less than x days ago. This will filter users with the most recent purchasing activity. If you want to discover customers who churned or are about to churn, select more than x days ago.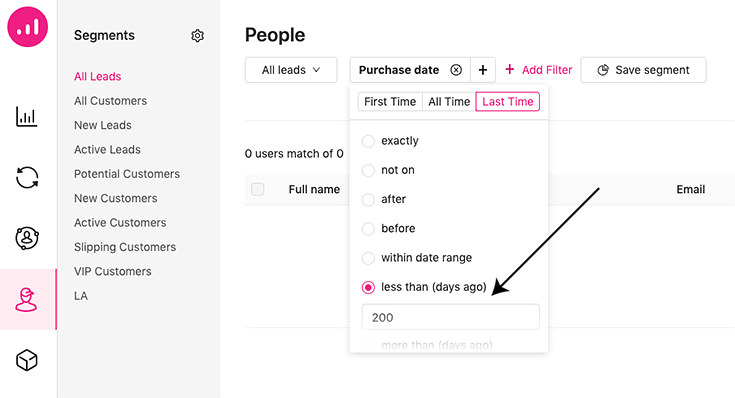 Frequency
To find out the frequency of purchases, add a second filter by adding Shopping Activity > Number of orders. Choose greater than x or less than x and input an amount.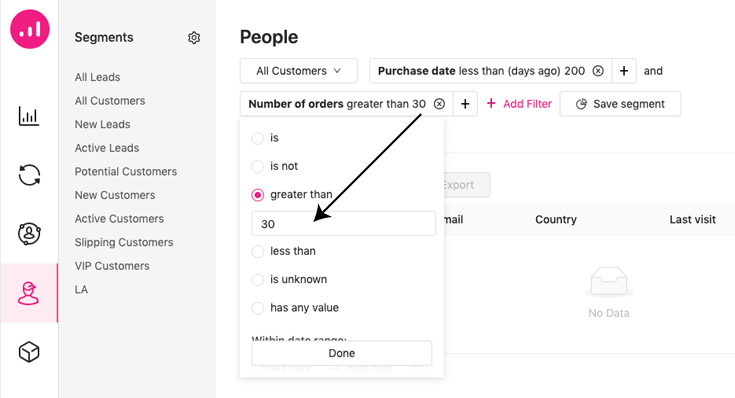 Monetary
We want to target customers based on the value of their purchases. In the filters list, select Shopping Activity > Order value and use the greater than x or less than x selectors.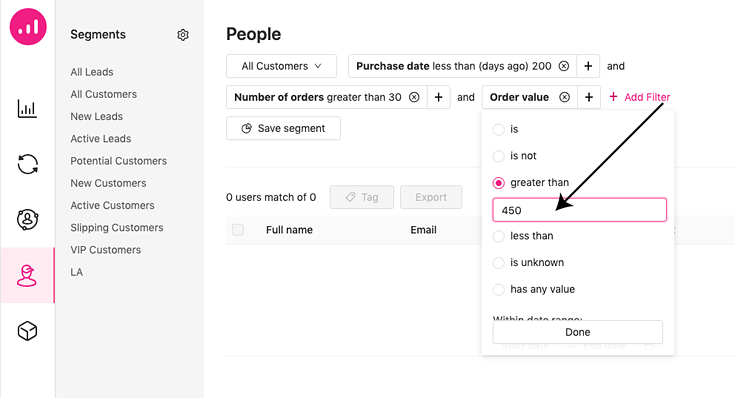 Saving and using RFM segments
After filtering customers, it's time to save the segments to use in marketing campaigns. Click on the Save segment button and type in a name depending on the type of users you're targeting. Growmatik will constantly update this customer segment based on user behavior. You have the option of sending out marketing emails to that customer segment by selecting the segment from the left sidebar and hitting the Send email to segment button on top.
You can also have several segments for your best customers, best customers about to churn, churned customers, and more. It's important to note that each business has its own factors when deciding its "best" or "churned" customers. For instance, if a customer has not been active on a grocery site for a month, then this is an indication of churn – however, this is not necessarily the case for a shop selling white goods.
Final thoughts
RFM segmentation in WooCommerce is an important method to segment customers based on behavior to determine where and when to spend your marketing resources. It further enables you to make strategic moves to boost user engagement and loyalty. 
You can also check:
19 Cheapest Email Marketing Services (Ranked and Compared)
7 Best Cold Email Warm Up Tools
15 Best eCommerce Platforms Compared & Ranked

Ludjon, who co-founded Codeless, possesses a deep passion for technology and the web. With over a decade of experience in constructing websites and developing widely-used WordPress themes, Ludjon has established himself as an accomplished expert in the field.