Hosting a CRM is not always an easy task, as in many cases, it requires configurations and specialized knowledge.
For this reason, today I will make your job easier by listing CRM Hosting options that allow you to deploy popular CRMs with just one click.
The Top 5 Best CRM Hosting Providers

Up to 200 GB NVMe Storage

Unlimited Bandwidth
Managed WordPress and WooCommerce
No-Code Website Builder with AI tools
Enhanced Security Measures
30-Day Money-Back Guarantee
Starting at $2.99/month with discounts up to 75%
7% Extra Discount with our Coupon: CODELESS
See Pros & Cons
Pros
5x Performance in Business plan
Advanced eCommerce Features with 0% Transaction Fees
Rich AI and marketing integrations
Comprehensive Security Measures including Malware Scanners
Hostinger is the best CRM hosting provider on the market which offer a huge list of CRM software ready to be installed within 1 click. From Standard Performance to Increased Performance up to 5x, they ensure optimal site functionality.
Their three hosting plans, Premium, Business, and Cloud Startup, include features such as 100 to 200 GB of storage (NVMe in Business plan), daily or weekly backups, unlimited bandwidth, and dedicated IP addresses.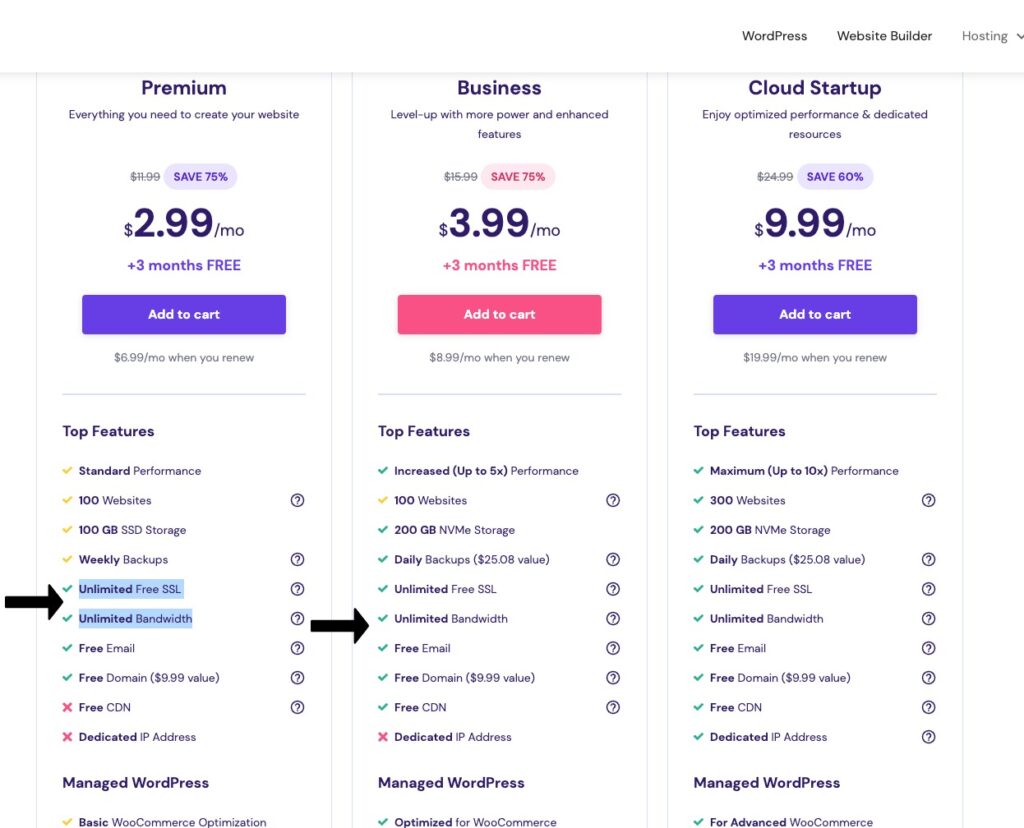 With advanced eCommerce capabilities, AI-powered tools for website creation, and enhanced security measures like Web Application Firewall and Cloudflare Protected Nameservers, Hostinger creates a robust environment for both new and established websites.
Hostinger's WordPress features are particularly noteworthy, including Managed WordPress options, WordPress Acceleration, and a suite of tools for object caching, staging, and scanning for vulnerabilities.
Different CRM can be hosted through Hostinger shared hosting and other packages. Here are CRM that can be installed automatically through Hostinger hPanel:
Other CRMs can be installed through their Hostinger cPanel hosting plans like: FrontAccounting, Tine, SugarCRM, Group Office, OrangeHRM, YetiForce CRM, EGroupware
You can also get a VPS plan and install any custom CRM software that you want.
Their support service ensures 24/7 assistance, complemented by a 99.9% uptime guarantee and a 30-day money-back policy. With competitive pricing and comprehensive features, Hostinger presents a robust option for individuals and businesses alike.

Shared Hosting with unlimited storage
Unmetered bandwidth
Free domain for the first year
Plans suitable for every website
Starting at $2.64/month with discounts up to 65%
See Pros & Cons
Pros
Flexible hosting plans
Generous disk space and bandwidth
Valuable add-ons like advertising credits
Various support options including chat and phone
Cons
Some features only available in higher-tier plans
HostGator makes web hosting simple with its shared hosting plans tailored for every CRM needs. They offer unlimited storage, unmetered bandwidth, and a free domain for the first year, ensuring your site has everything it needs to thrive.
The Hatchling Plan, suitable for a single website, includes 10GB of disk space and unmetered bandwidth. With one-click WordPress installs, included email, and chat support, it's a great deal at just $3.75/month.
The Baby Plan, recommended for those who need to host up to 5 websites, offers 40GB of disk space, email, phone and chat support, and generous advertising credits for Google and Microsoft. This plan is available for $4.50/month and represents a 65% discount.
The Business Plan, perfect for those who need unlimited websites and disk space, comes with even more features like a dedicated IP address, Positive SSL upgrade, SEO tools, and professional website migration services, all for just $6.25/month.
For our readers, Hostgator gives an amazing discount so you can get their shared hosting for only $2.64/month.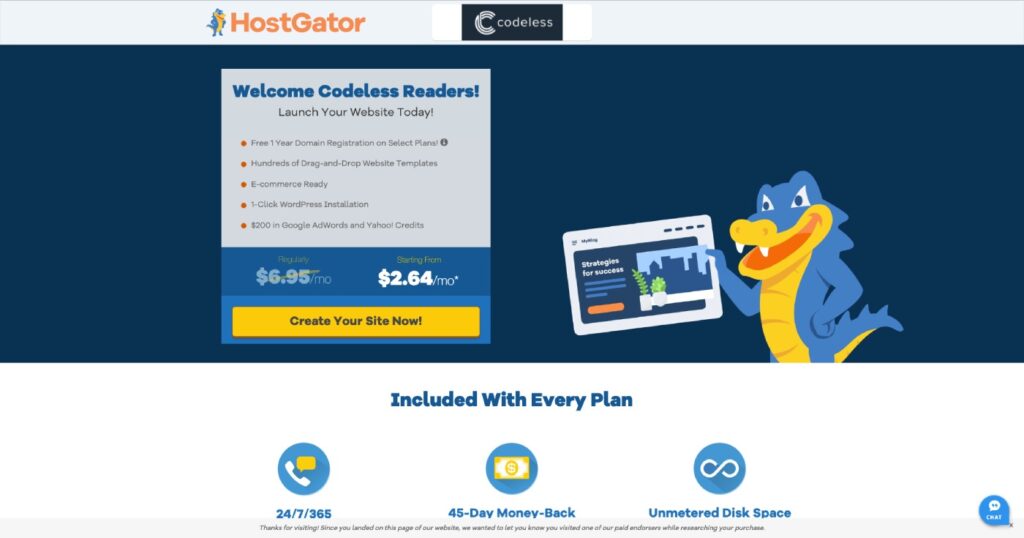 Like the other hosting above Hostgator comes with cPanel and offers CRM hosting. Also, their dedicated servers give the possibility to deploy and host any custom software.
Here are the CRM that are supported and that can be installed with a click:
SugarCRM
FrontAccounting
Dolibarr
Vtiger
Tine
Zurmo
SuiteCRM
Group Office
OrangeHRM
YetiForce CRM
EGroupware
Whether you're just starting out or looking to expand your online presence, HostGator's got you covered. Their unbeatable hosting plans, along with various support options and valuable add-ons, make it a strong choice for any website owner.

1 to 5 Websites Hosting

10 to 100 GB SSD Storage
Free CDN and SSL
Malware Scanning and Domain Privacy
Starting at $2.95/month with discounts up to 60%
See Pros & Cons
Pros
Flexible plans for different needs
Free domain in the first year
eCommerce features worth $450 in the Online Store plan
Daily Website Backups
Cons
Auto-renews at regular rate
Bluehost offers a diverse range of hosting plans designed to fit a variety of needs. From individuals looking to host a single blog to businesses aiming to establish an online store, Bluehost's packages provide ample options.
The Basic plan, ideal for a single site, offers 10 GB of SSD storage and custom WordPress themes. If you're looking for added privacy and security features, the Choice Plus plan might be your pick with 3 websites hosting, 40 GB storage, and free CDN.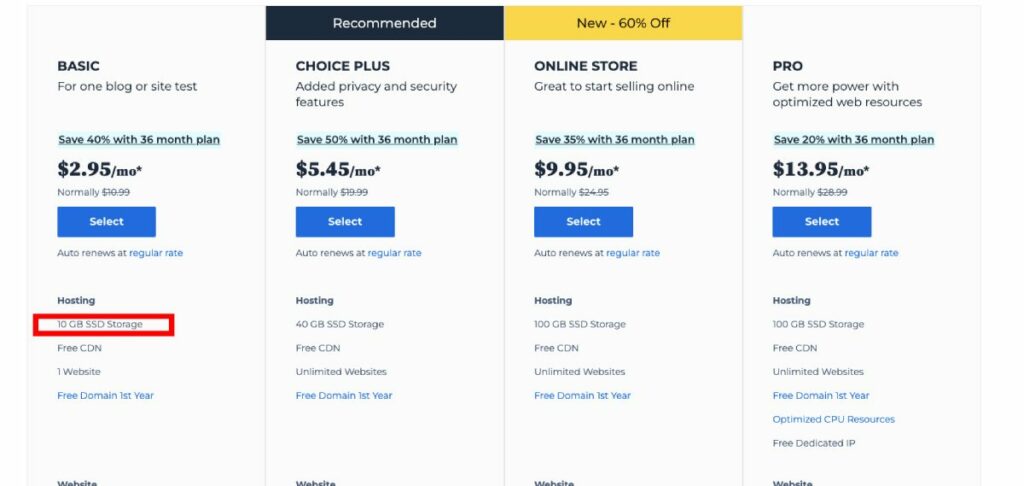 Bluehost offer on all their plans cPanel with Softaculous which let you install this CRM in one click:
SugarCRM
FrontAccounting
Dolibarr
Vtiger
Tine
Zurmo
SuiteCRM
Group Office
OrangeHRM
YetiForce CRM
EGroupware
For those aiming to dive into eCommerce, Bluehost's Online Store plan opens up a plethora of features including unlimited products, secure online payments, shipping labels, and even $450 worth of included plugins. This package is crafted to help you start selling online seamlessly.
If you need more power, the Pro plan delivers optimized web resources, hosting for 5 websites, and 100 GB of SSD storage, coupled with security measures like daily backups, domain privacy, and malware scanning.
Each plan comes with a free domain for the first year, free SSL, and the option to auto-renew at the regular rate. With savings ranging from 20% to 60% on different plans, Bluehost is a versatile and financially accessible choice for various hosting requirements.

Highly recommended by 97% of customers

Active in 224 Countries/Territories
Offers a range of affordable pricing options
Starting at $2.99/month with discounts up to 75%
See Pros & Cons
Pros
Diverse range of hosting plans
Customer satisfaction rate of 97%
Offers ultra-fast hosting
Global presence with services in 224 countries
Cons
Promotional price only for the first term
A2 Hosting has carved a niche for itself by offering a range of hosting plans that cater to various needs. Whether you're just getting started or need a high-performance platform, A2 Hosting has you covered.
For those new to the online world, the Shared Hosting plan is a budget-friendly option at $2.99/month. It's an excellent starting point for first-time website owners. WordPress Hosting, the most popular among A2 Hosting's services, provides additional tools to quickly set up a professional WordPress site at $11.99/month.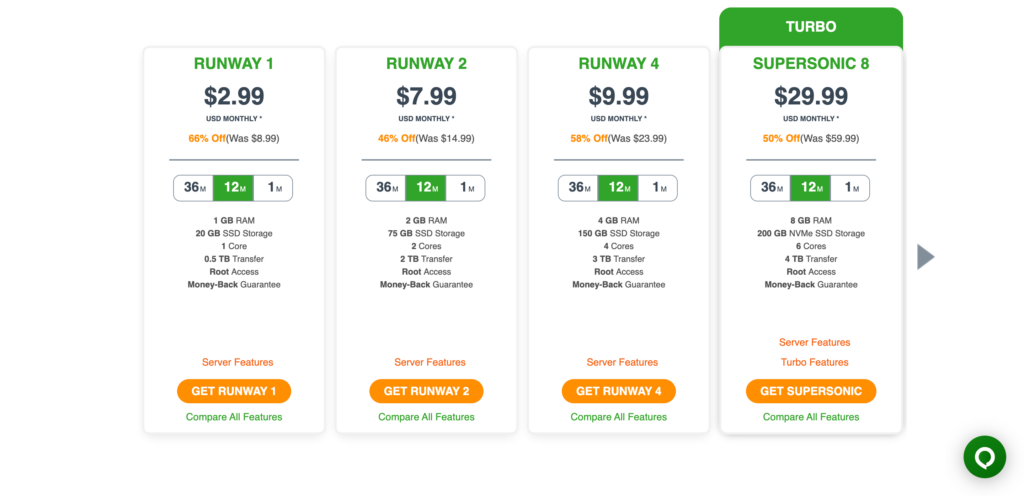 Except for WordPress A2 Hosting, they also offer support for different other CMS and CRMs. Through their basic shared hosting, they offer cPanel which supports hosting the following CRMs:
SugarCRM
FrontAccounting
Dolibarr
Vtiger
Tine
Zurmo
SuiteCRM
Group Office
OrangeHRM
YetiForce CRM
EGroupware
If you need more control, VPS Hosting offers scalable resources to grow with your demands, starting at $39.99/month. For the ultimate in power and performance, the Dedicated Hosting option at $155.99/month provides a powerhouse machine for custom applications and robust websites.
A2 Hosting builds its business for your success, with over 110,000 active services helping customers across 224 countries and territories.
The company's commitment to ultra-fast hosting and quality support has led to a 97% recommendation rate from its customers. With promotional prices offering significant savings and regular rates applying only after the first term, A2 Hosting is an accessible choice for high-quality hosting solutions.

Web Hosting Plans customizable to fit your business needs
Free features with every plan
Option to scale up or down as required
Plans starting from $3.99/month with discounts up to 44%
See Pros & Cons
Pros
Flexible hosting options
Excellent value with free features
Customizable plans suitable for different website requirements
Cons
Some premium features only included in higher-tier plans
AccuWeb Hosting offers a range of scalable web hosting plans that you can customize to fit your business needs, providing excellent value for all types of users.
The Basic ++ Plan is ideal for beginners, allowing you to host a single website with 50GB of storage, 750GB of bandwidth, 1GB of RAM, and one vCPU. This plan also comes with one cPanel account and a range of free features, making it an excellent value at only $3.99/month for a three-year term.
Read More: cPanel Shared Hosting
For those running multiple websites, the Premium ++ Plan is a flawless choice. It provides unlimited websites, 75GB of storage, 1TB of bandwidth, 1.5GB of RAM, two vCPUs, and one cPanel account. You can secure this plan at $5.99/month when you commit to a three-year term.
If your website gets heavy traffic, consider the Enterprise Pro ++ Plan. This package offers unlimited websites, 100GB of storage, 1.5TB of bandwidth, 2GB of RAM, two vCPUs, and one cPanel account. Plus, it includes free CDN, premium SSL, dedicated IP, and domain registration. All these perks are available at $7.99/month for a three-year term.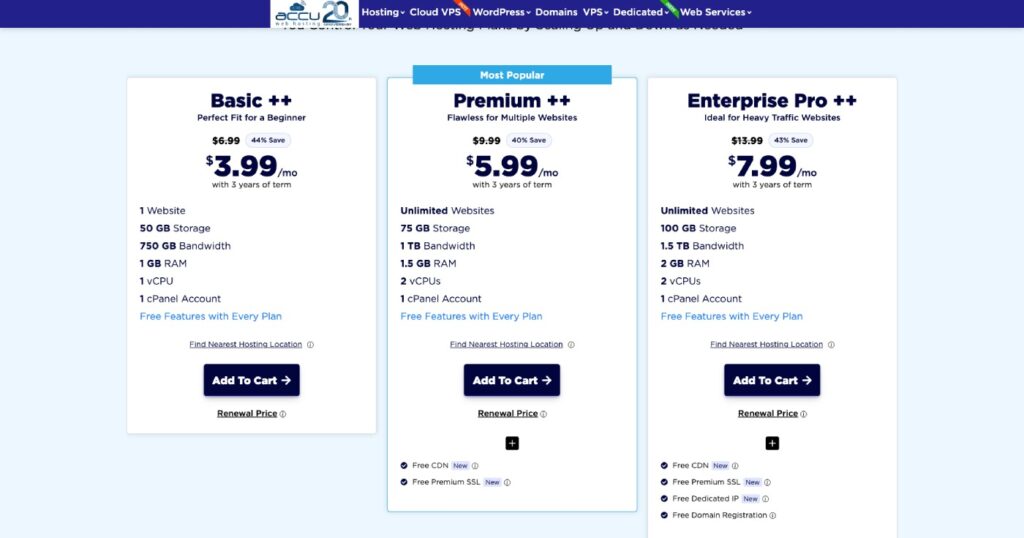 No matter your hosting needs, AccuWeb Hosting offers flexible options with the capability to scale up or down as necessary. With its combination of affordability and rich features, AccuWeb Hosting makes a compelling choice for businesses of all sizes and CRMs.
FAQs
What is CRM Hosting?
CRM Hosting refers to the services that host CRM applications. These tools allow businesses to manage relationships and interactions with customers and potential customers, centralizing all data and interactions in one place.
Why Do I Need CRM Hosting?
CRM Hosting provides a secure and accessible platform for your CRM software. It ensures that your data is safe, backups are taken care of, and that your team can access the CRM tool from anywhere.
What Features Should I Look for in a CRM Hosting Provider?
Look for reliability, scalability, strong security measures, customer support, integration capabilities with other tools, and the option for one-click installation.
Is Hosting CRM Expensive?
Pricing can vary widely among providers and plans. Some offer basic plans that are quite affordable, while others may charge more for advanced features and support.
Can I Host a CRM Myself?
Yes, you can host a CRM on your servers, but this requires technical expertise. It also means you are responsible for security, backups, updates, and maintenance.
How Secure is Hosting a CRM?
Reputable CRM Hosting providers implement strong security measures to protect your data. Look for features like SSL certificates, firewalls, encryption, and regular security audits.
What are cPanel and hPanel?
cPanel and hPanel are popular control panels used in web hosting. They allow you to manage different aspects of your hosting account, including one-click installation of popular CRM tools.
How Can I Migrate My Existing CRM to a New Host?
Many hosting providers offer migration services. This usually involves a technical process where the new host will transfer all the necessary files and data to their servers.
Can I Scale My Hosting as My Business Grows?
Many Hosting providers offer scalable solutions that allow you to grow your plan in line with your business needs. This can include increasing storage, bandwidth, or adding additional features.

How Do I Backup My CRM Data?
Most hosting providers offer automated backup solutions. Always ensure that regular backups are part of your plan, or set up a custom backup solution to keep your data safe.
Conclusion
I hope I've been able to help you at least a little with this list of hosting providers that offer support and applications like cPanel and hPanel to install popular CRMs with just one click.

As one of the co-founders of Codeless, I bring to the table expertise in developing WordPress and web applications, as well as a track record of effectively managing hosting and servers. My passion for acquiring knowledge and my enthusiasm for constructing and testing novel technologies drive me to constantly innovate and improve.
Expertise:
Web Development,
Web Design,
Linux System Administration,
SEO
Experience:
15 years of experience in Web Development by developing and designing some of the most popular WordPress Themes like Specular, Tower, and Folie.
Education:
I have a degree in Engineering Physics and MSC in Material Science and Opto Electronics.