Customer Relationship Management or CRM is a technology for managing a company's interactions and relationships with customers. It is designed to streamline processes, manage customer data, improve business relationships and increase profitability. It also allows business owners to collect valuable insights into their relationships with their customers.
CRM provides business owners with a world of opportunities and is projected to reach a value of more than $128.97 billion by 2028. Before investing in the CRM system, it is essential to know some interesting statistics about the technology.
With this, you can make informed decisions about using CRM software. This article provides some valuable CRM statistics for 2023.
Key CRM Statistics
64% of companies consider CRM technology to be impactful or very impactful.
74% of respondents say that CRM solutions give them better access to customer data.
65% of companies have already invested in CRM technology.
CRM generated $8.71 in ROI for every dollar spent.
CRM is now expected to reach more than $80 billion in revenues by 2025.
91% of businesses with more than 11 employees are leveraging CRM.
General CRM Statistics
1. Most companies invest in CRM technology within the first five years of establishment.
(Capterra)
Most companies always try to improve their relationships with customers as effectively and efficiently as possible. Due to this, they must invest in CRM early. Statistics show that most companies invest in CRM during the first five years of their launch. When fully implemented into the company, it's used about 45% by customer services, 46% by marketing, and 80% by sales teams.
2. The CRM market keeps growing.
(Fortune Business Insights)
The CRM system has been around for quite some time and keeps growing stronger. In 2020, CRM's global market value was $52.64 billion. Interestingly, the demand for CRM technology accelerated in that same year due to the impact of the pandemic. Many companies adopted new ways to connect with their customers, seeing many businesses going digital. With the growth rate of CRM technology, it is projected to have a global market value of about $128.97 billion by 2028.
3. The business agility of a business can be improved with CRM technology.
(Zendesk)
Zendesk's statistics show that about 80% of businesses reported making changes to their support technology in 2020, as about 64% of customers began using new channels for customer services. Some of the changes made to support the existing technology included adding new features to their CRM system. This would help satisfy their customers who increasingly wish to enjoy consistent experiences on every platform.
4. The average return on investment on CRM is $8.71 for every dollar spent.
(Nucleus Research)
According to Nucleus Research, the average return on investment on CRM for every dollar spent is $8.71. This stat was given in 2014 and has not been updated since then. However, the number may have increased since then, according to Dynamic Consultants' comment about the evolution of the CRM market. In 2021, Dynamic Consultants' estimated the average return on investment on CRM for every dollar spent to be around $30.48.
5. 68% of marketing leaders claim their company competes on CX,
(Salesforce)
Any reputable company knows the value of quality customer experience, and most companies look to CRM solutions to help improve meaningful customer experience. Due to this, customer experience is mostly top of the KPI categories for many organizations. Salesforce studies reveal that about 68% of marketing leaders claim that their company competes actively based on customer experience.
6. 91% of companies with at least ten or more employees adopt CRM technology.
(Grand View Research)
Today, CRM technology is swiftly becoming an essential feature for most companies in the business industry. According to Grandview Research on the industry's estimates, over 91% of businesses with at least ten or more employees adopt CRM to manage their customers' relationships. In some years, the numbers could increase because one of the fastest-growing areas of CX technology is CRM analytics.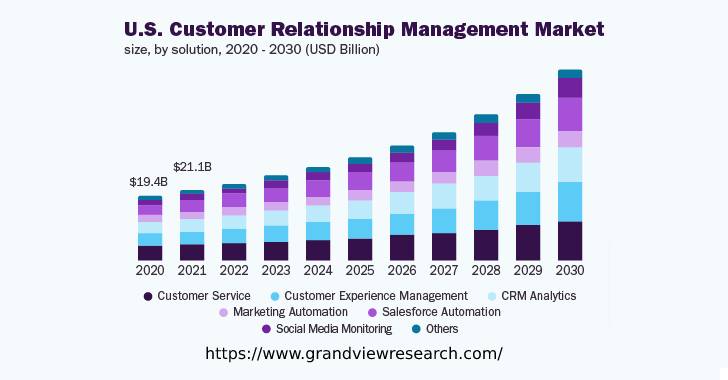 7. Sales teams spend less time than expected in CRM.
(Forbes)
The sales teams are mostly considered as the top users of CRM technology. However, they don't spend as much time as expected in CRM. Statistics show that sales teams only spend about 18% of their time viewing CRM insights. They mostly spend more time, estimated to be around 35.2%, on actions unrelated to sales and customer service.
8. CRM is projected to be the largest area of spending on enterprise software.
(Gartner)
Gartner predicted CRM technology to become the most significant area of enterprise software investment by the end of 2021. This is already evident when you consider that small brands and even large organizations and consulting agencies are rapidly turning to CRM.
9. The global CRM market grew by 15.6% in 2018.
(Gartner)
CRM research conducted by Gartner shows that in 2018, the global revenue of the CRM market increased by 15.6%. Interestingly, about 72.9% of entire expenses on CRM were on Software as a Service (SaaS). SaaS is a software delivery method where software is accessed online in real-time, rather than having an application installed on your computers or mobile device. Based on statistics, it was suggested that SaaS would grow to at least 75% of the total CRM expenses in 2019.
10. It was predicted that AI CRM would add an extra $1.1 trillion in revenues to the CRM market by the end of 2021.
(Salesforce)
According to Salesforce, automation and artificial intelligence will accelerate the growth of CRM in the future. One of their reports on CRM progression in 2017 predicted that AI could add up to $1.1 trillion in revenues to the CRM market by 2021.
11. In 2018, the size of the global CRM market was about $48.2 billion.
(Gartner)
In 2018, the market value of the CRM software was around $48.2 billion, according to statistics from CRM market analysis conducted by Gartner. It is considered a massive increase in value compared to the market value in 2010, which was around $14 billion. According to these statistics and other CRM trends, it is believed that the market value of CRM technology will continue to increase. It is further supported by the fact that more companies are adopting CRM in their business to save time and more and stay competitive.
CRM Adoption Statistics
12. About 33.3% of CRM users spend three to five hours using CRM tools weekly.
(LinkedIn)
LinkedIn's 2016 State of Sales report on CRM trends provides valuable information on the amount of time spent using CRM tools per week. The statistics show that about 33.3% of CRM users spend three to five hours accessing CRM tools weekly, while about 24% of users spend over ten hours per week.
13. 64% of companies agree that CRM tools are impactful.
(LinkedIn)
LinkedIn's report on the State of Sales shows that about 64% of companies believe that CRM technology is either impactful or highly impactful. This is evident when you consider that sales teams that adopt CRMs provide a 17% higher job satisfaction.
14. Salesforce owns about 20% of the entire CRM market
(Spring Engage)
When it comes to CRM technology, Salesforce is arguably one of the best-known companies associated with it. The company owns over 20% of the entire CRM market, with about 150,000 customers. Salesforce's exponential growth has drawn the attention of many business experts, as their revenue is currently growing at a rate of 23.2% yearly.
15. Around 22% of salespeople don't know what a CRM is.
(HubSpot)
Although CRM technology keeps rising in popularity, its impact is yet to be felt like it should. Hubspot statistics show that about 22% of salespeople claim not to know what a CRM is, and around 40% of companies don't use it at all. Most companies that don't use CRM often rely on email and spreadsheets for storing customer information.
16. People want specific features when adopting CRM.
(Software Advice)
Most CRM users prefer customizing the software to fit their company's needs. Some of the most requested CRM features include interaction tracking, contact management, scheduling, pipeline monitoring, and reminder features. Some users also include central databases, email marketing integrations, and sales automation.
17. CRM adoption is crucial for customer experience.
(Salesforce)
Reports from Salesforce's State of Sales show to successfully connect with customers, having a more profound knowledge of audience data is essential. For this reason, over 50% of teams use data for accurate forecasts. In fact, high-performing sales teams are more likely to base their forecasts for business improvement on data-driven insights.
18. An estimated 92% of companies already store their customer's information on databases.
(GDMA and Winterberry Group)
In this age of digitalization, it's no surprise that many companies are already maximizing the potential of the available technologies for business growth. Many companies are already collecting and storing their customer's data at an unimaginable scale. GDMA and Winterberry Group state that about 92% of companies claim to have adopted a database for storing customer information. However, this is not enough because many companies lack reliable resources to manage this information efficiently.
19. Around 75% of decision-makers claim they now embrace more tech.
(Zendesk)
2020 had a significant impact in several sectors worldwide, including the tech industry, due to the COVID pandemic. This made more companies adopt more digital tools for their customer relationship management. Over 75% of decision-makers reported that they were forced to increase their investment in technology, including digital software, due to the pandemic.
20. About 82% of organizations use CRM for reporting sales.
(Grandview Research)
In a recent report by Grandview Research, about 82% of the companies surveyed claimed that they use CRM systems for reporting sales and process automation. However, senior management in these companies relies more on CRM to handle most of their actionable customer data.
Benefits Of CRM Software
21. According to reports, about 74% of companies believe that CRM technology provides better access to customer data.
(Resco.net)
To deliver more meaningful and personalized experiences, having better insights into your customers is crucial. Thankfully, CRM provides fantastic access to customers' data. This is supported by findings from Resco.net showing that about 72% of companies use CRM for better access to their customer data. They also recommended the software for enhanced interaction tracking and improved relationship management.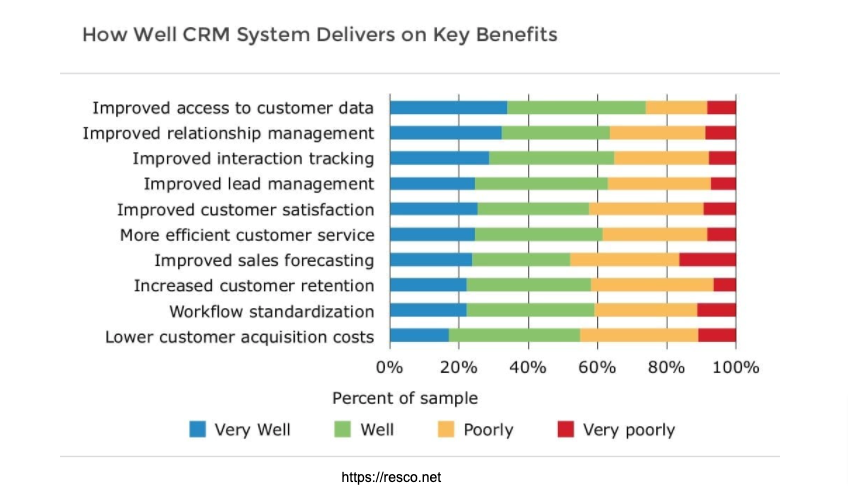 22. High productivity is a significant benefit of CRM technology.
(Nucleus Research)
CRM technology offers improved data accessibility that can help reduce the sales cycle's complexity by 8-14% on average. CRM decision-makers also say that when using mobile and social CRM, they enjoy a 14.6% increase in productivity.
23. 47% of CRM users agree that the technology improves customer satisfaction.
(Capterra)
Today's customer experience and satisfaction are essential to adequate customer retention in the business world. Many companies make it top of their KPI. The importance of customer satisfaction is evident when statistics from Capterra are considered. The reports show that about 47% of CRM users claim CRM technology has massively impacted their customer satisfaction rate. Capterra also discovered that social media prospecting and monitoring tools are the most desired CRM features for the most significant results.
24. CRM software can improve sales by up to 29%.
(Salesforce)
Salesforce reports that sales can be increased by as much as 29% when using CRM software. Also, sales forecasting accuracy can be increased to about 32%. This improves sales productivity by about 39%, generally leading to better business outcomes.
25. 92% of companies say that CRM technology is essential to achieving goals.
(Super Office)
According to Super Office, the primary reason for adopting a CRM solution is to achieve a valuable customer experience. Further survey shows that about 92% of companies agree that CRM technology is essential to achieving their customer-centricity goal and providing more impactful brand relationships.
26. Companies are prioritizing CRM activities.
(HubSpot)
According to HubSpot's State of Marketing report, about 75% of companies agree that CRM is essential to gain deals for their teams. About 69% of these companies want to convert more contacts to customers, 48% want to improve their sales efficiency, and 33% prioritize revenue increase from existing customers. To achieve these targets, they require access to CRM technology.
How CRM Technology Is Changing
27. About 81% of marketers access CRM from multiple devices.
(OnePage Express)
CRM technology is now so flexible that it is compatible with multiple devices. In the past, users could only maximize their potential on desktop or laptops; however, it is now available to mobile users. With CRM solutions becoming increasingly popular on mobile devices, about 81% of marketers now access CRM from more than one device.
28. Social media CRM is becoming a force to reckon with.
(GWI)
GWI reports that about 25% of customers interact with their favorite brands on social media. These customers want access to more support, sales, and services on their preferred social channels, leading to more CRMs with social technology.
29. Global Cloud CRM solutions are growing.
(Apps Run the World)
It is expected that the cloud CRM market size will reach an estimated value of $34.5 billion by 2025. Companies like Salesforce, Adobe, SAP, Oracle, and Microsoft are some of the industry's top vendors leading the way. The same statistics show that Salesforce owns about 50% of the cloud QCRM space.
| Rank | Vendor | Growth, % |
| --- | --- | --- |
| 1 | Salesforce | 19.3% |
| 2 | Microsoft | 30.0% |
| 3 | SAP | 20.0% |
| 4 | Adobe | 21.5% |
| 5 | Oracle | 30.0% |
| 6 | Zendesk | 25.9% |
| 7 | HubSpot | 29.3% |
| 8 | Veeva | 29.2% |
| 9 | Nice Ltd. | 30.0% |
| 10 | Zoho | 15.1% |
Source: appsruntheworld.com
30. Interest in AI CRM is increasing rapidly.
(A multiple)
Research shows that since 2016, there has been a massive increase in the general interest in AI for CRM technology. More companies have been investing in tools that help manage more complex data. The omnichannel remain of clients in the business world has been a significant challenge, but AI could be crucial to address it going forward.
CRM Technology And Customer Experience Statistics
31. 52% of companies believe that CRMs can reduce the silos in customer data.
(Super Office)
During research on the benefits of CRM technology, Super Office discovered that about 52% of companies view CRM technology to reduce the silos between teams in a workplace. It also reduces challenges that teams wish to overcome, such as missing platforms for managing data by 35%.
32. CRM could be essential to tracking omnichannel experiences.
(Salesforce)
Most companies need improved technology to track and store conversations across several platforms now that customer experiences occur on multiple channels. Customers value that sense of belonging that makes them feel at home with service providers. Statistics show that more than 68% of customers love it when customer service agents remember their service history. This is something CRM can provide. Additionally, about 73% of customers say they are prepared to switch brands if they experience inconsistent service.
33. About 52% of customers will do all possible to patronize their favorite brands.
(Zendesk)
Customers' loyalty has continued to increase, as many customers will always want to patronize companies that have provided them with better experiences. Interestingly, this can be achieved through CRM personalization and insights. Research by Zendesk shows that personalized experiences improve loyalty, and about 52% of loyal customers will go out of their way to patronize their favorite brands, no matter what they cost.
34. CRM influences customer satisfaction and retention.
(Capterra)
According to a Capterra study, about 47% of users claimed that customer satisfaction and retention significantly improved when using the CRM system. Around 45% of these users also say that they experienced an increase in sales revenue and a 39% improvement in upselling and cross-selling success.
35. The pandemic accelerated demand for CRM.
(Salesforce)
Salesforce research shows that during the pandemic in 2020, 88% of service teams discovered some gaps in their technology solutions. Many companies had to adopt CRM software to bridge these gaps. Currently, about 77% of service agents claim their job requires more data and is more strategic than it did in 2020. Additionally, the aftermath of the pandemic has moved 81% of decision-makers to accelerate their digital initiatives.
State Of The CRM Market
36. In 2017, Salesforce and Adobe grew faster than the overall CRM market.
(Gartner)
Garner's reports on the state of the market show that in 2017, Salesforce and Adobe had the most significant growth in their industry, which was even more significant than the entire CRM market. Salesforce recorded a 23.2% growth, as its revenue increased from $7.6 billion in 2017 to around $9.4 billion in 2018. On the other hand, Adobe experienced a growth rate of about 21.7%, as its revenue increased from $2 billion to $2.4 billion from 2017 to 2018.
37. Salesforce is the undisputed king of the CRM market.
(Forbes)
Research conducted by Forbes shows that Salesforce is the most significant player in the CRM market. The company has over twice as many sales as SAP and three times more than Oracle, the second and third largest CRM companies, respectively.
38. Global CRM revenues ispredicted to hit the $80 billion mark by 2025.
(Grand View Research)
Over the years, the global CRM market has grown remarkably, developing rapidly. If the growth rate continues, it is expected that the global CRM revenue will be worth about $81.9 billion by 2025.
39. Salesforce has announced its plan to achieve $60 billion in revenue by 2034.
(Seeking Alpha)
An announcement by the market leaders in CRM tool sales and development, Salesforce, states their plan to generate at least $60 billion in revenue by 2034. Salesforce's CEO announced their plan to increase their revenue in 2018 gradually. The company planned to hit the $20 billion mark by 2020, $40 billion by 2028, and at least $60 billion by 2034. For this plan to work, the company needs to experience annual growth of 12% for 16 years.
40. Western and Eastern Europe are the fastest-growing regions in the global CRM market.
(Forbes)
CRM statistics published by Forbes in 2019 reveal that the fastest-growing parts of the world at a regional level are Eastern and Western Europe. Western Europe grew to about 17.5%, while Eastern Europe experienced a growth rate of 19.7%. The next region closest to Eastern and Western Europe was North America, with a growth rate of 15.2%.
Conclusion
With the CRM statistics above, one can make informed decisions about investing in the technology. It will also create an atmosphere for a seamless business experience. If you are yet to adopt the CRM system for your business, the perfect time to do so should be now.
Also, when integrating CRM in your business or evaluating your CRM software options, don't restrict yourself to only the desktop or laptop version. Ensure you go mobile so you can access the technology conveniently at any time. This also allows your employees to work from anywhere and on their preferred devices.
References:

Ludjon, who co-founded Codeless, possesses a deep passion for technology and the web. With over a decade of experience in constructing websites and developing widely-used WordPress themes, Ludjon has established himself as an accomplished expert in the field.