Discord is a rapidly growing and highly flexible platform of chat that connects almost half of the world. Gamers are the most benefited as they use it as software to seamlessly communicate over text or voice. All this hype has increased interest in discord bots.
Moreover, it is a popular way of creating subscription-based and profitable chat communities. Discord's major priority is gaming, yet the platform is also used by a wide range of online groups such as financial trade, stock, sneaker cook groups, books clubs and non-profit organizations. It alerts these groups to YouTube and podcasts communities and other things like these.
A Discord bot is another type of powerful tool for extending the Discord server's functionality. In addition, you find many new features in your community including prizes, polls, games, music or a lot more. Nevertheless, it is not easy to decide which one to choose as the best bot for your server.
Keeping this in mind, we have gathered some of the most interesting and profitable servers with a list of favorite bots they use. If you are going to develop a premium subscription-based business on Discord, then you can choose the best bot to streamline the growth and management of your server. They ensure to take your server to another level of success.
What is Discord?
Discord is a free text, video or voice chat app that users of 13+ age use to hang out and talk with their friends and communities.
Discord is an app of everyday use that includes people with shared interests. They talk about their projects or mental health support or even homework or family trips. Any community can share their thoughts on Discord but mostly, the active and small groups of people talk here regularly.
Most servers are private. It means that they only provide spaces for communities and friends to spend time or just stay in touch together. More open communities center to talk about a specific topic such as an industrial issue or new product launch.
Therefore, people have full control over the interacting community. They are always well aware of what they experience or whom they interact with on Discord.
What are Discord bots?
We define discord bots as tools to add more functionality to the server while creating a fun community of shared interests. The AI bots in your servers are automated to perform all the tasks.
You can simply add bots like other members of the community and provide permissions. Bots can perform several functions. It lets you send messages to new members to welcome them to the channel or moderate the actions of the users.
Learning to use a bot is another important task. You can get an enhanced user experience if you learn to use bots. However, if you choose the wrong bot to add to your server, your experience will be ruined entirely. As a result, more members will start to leave than enter.
What are Discord Bot Servers?
Discord Bot Servers are AI-driven tools that assist in automating tasks on the server. With the bot servers, you can easily build a community that is truly engaging and is used to welcome new members or moderate the server to ban members who create a bad environment for others. All this bot servers need a proper hosting service: Best Discord Hosting Providers
The Top 15 Best Discord Bots for Servers
Here, we have 15 of the best bots for discord to help you and your team have a more entertaining and secure server.
Best Overall Discord Bot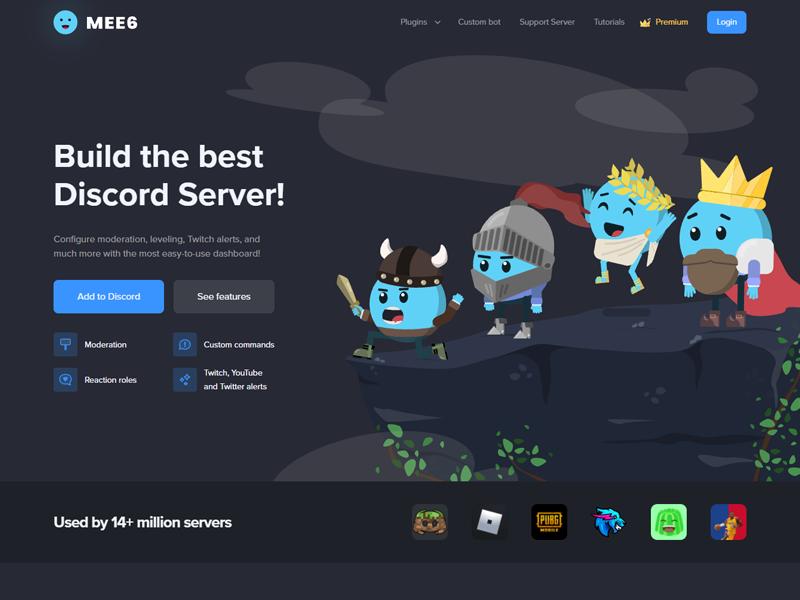 MEE6 is probably the best Discord bot server. It is also one of the most popular in terms of moderation. It takes care of many things that a mod team is responsible for.
These responsibilities include notifying servers for favorite content, welcoming new users, and helps creators go live on YouTube and Twitch. In this way, users are also assigned specific roles according to their reactions.
The most complex features of MEE6 include command tools that help in creating custom commands. Another one is the XP leveling system that helps users get access to other channels and get activities' permissions.
MEE6 also proposes a plugin to create a custom Discord and music of your own. Some of these features are however locked behind a paywall that you can unlock with lifetime, yearly or monthly tiers.
This bot is also largely used in discord servers related to NFT projects.
Features:
Moderation and management
Moderator, reaction roles, custom commands and welcome plugin
Search, timers, and embeds type utilities
Temporary channels and statistics
Social connections with Reddit, YouTube, Twitter and Twitch
Economy and Quiz plugin
Music, and birthday entertainment plugins
Pricing
MEE6 offers a limited free plan with limited features. The premium version includes three tiers with a monthly plan ($11.95/month), a lifetime plan ($89.90 one-time payment) and a yearly plan ($49.99 per year).
All these plans offer a full refund for 7 days. Also, these are easily transferable to another server.
Best for Build Custom Bots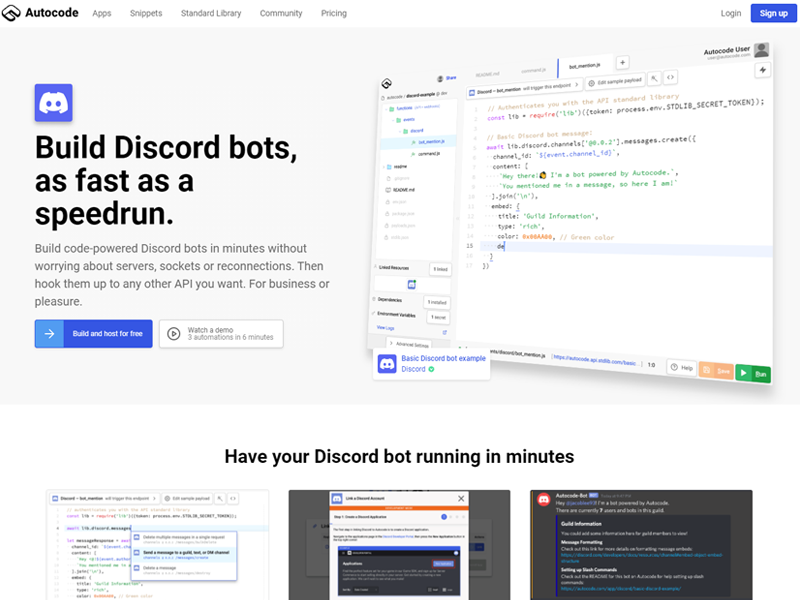 Autocode builds bots with coding in a matter of minutes without having to worry about reconnections, sockets and servers. These are then hooked to other APIs of your choice. You can use it for both pleasure and business. This software can be categorized as a no-code tool platform.
It only requires a single line of the bot to connect your Discord in Autocode. It provides you with an IDE to get connected to Discord webhooks and API. All this is possible without any difficulty with server setup.
It is also very easy to link your Discord account as it provides a complete step-wise guide. It takes care of your API keys and secrets. These projects are auto-scaling and provide access to web servers. As you make changes to your bot, they are automatically updated.
Features:
Discord slash command builder
Discord embed builder
Slack bots
Documentation and guides
Spotify current playing
Server captcha verification bot
Pricing
There are four pricing tiers offered by Autocode. The Bronze is best for beginners and is free. Silver costs you $9 per month. It is highly suitable for developers and provides 250,000 requests per month.
Gold plan costs $20 per month. In this plan, you can enjoy 1,000,000 requests per month and therefore, it is suitable for professionals. The Diamond package costs $3,000 per year. In this package, you will have unlimited requests per month.
Best Bot for CryptoCurrencies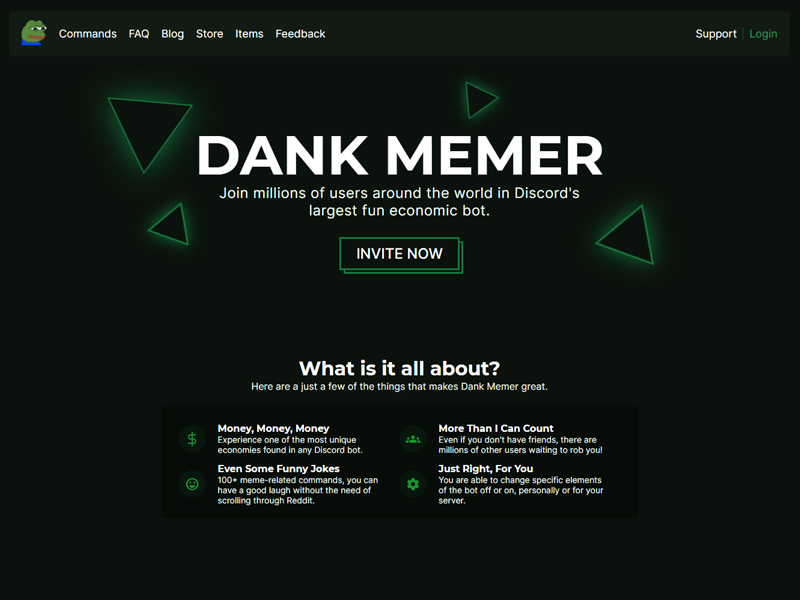 Dank Memer is a bot for discord that works with fun. It offers a large built-in economy system. Moreover, the members can engage in it with gambling adventures, bank-robbing and text-based stealing.
As the name suggests, it also offers hundreds of commands about memes. It means that members can create memes with the help of tons of simple chat commands.
They have also integrated mems that are automatically posted.
It collects memes from the top memes of Reddit on daily basis. It uses the Meme Face Maker API for meme creation in real-time. You can get any meme of your choice in no time indeed.
It also modifies the images to create cool memes.
There are in-built games such as image guessing games or dice games.
The depth moderation system and specialized meme commands raise your meme game to an entirely new level. The depth moderation system is also useful to keep the content highly user-friendly. Therefore, members cannot abuse anyone.
Features:
Easily monetized
100+ meme related commands
Personal items directory
Cheap pricing plans
Access to NSFQ commands
Donor multipliers for currency commands
The premium server provides a steal-shield
Pricing
It offers five reasonable pricing tiers with excellent features. The Dank Patron ($2 per month), Mega Meme ($5 per month), Meme Supporter ($10 per month), Meme Sponsor ($20 per month) and r u even real ($45 per month) plans are available on monthly payments.
Best Bot for Anime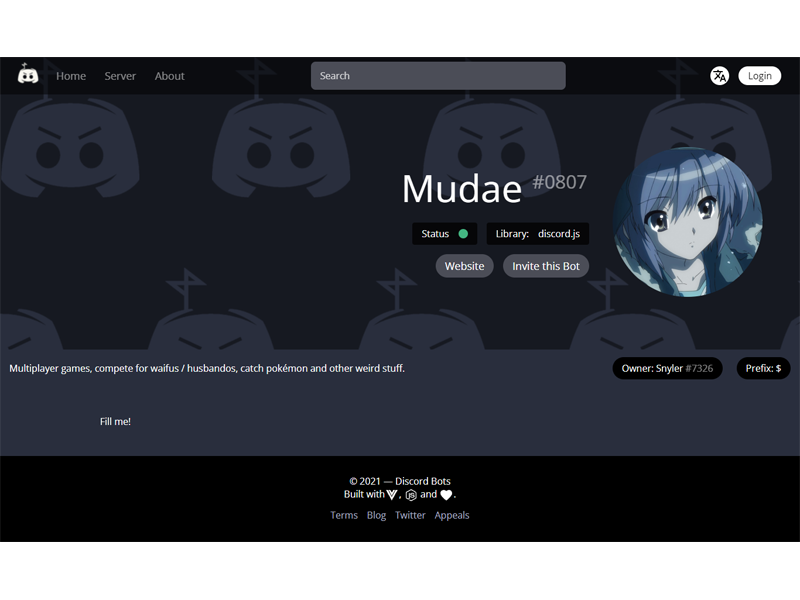 Mudae is another top bot on Discord. It has more than 9 million discord servers. It is perfect for manga lovers, video games and anime. If you are one of the anime lovers, this is a perfect fit for your server.
Mudae is the best bot for its game where you can catch husbandos and waifus of famous video games and manga. It offers more than 40,000 combinations of husbandos and wifus that play.
It includes a feature through which you can translate the bot into different languages. Therefore, you can play different games translated into your language.
There are over 450+ commands operated in the Mudae bot that help in utility, moderation and customization.
Mudae is limited by Discord because of their API. Therefore, to control this, they have limited the reactions added to Mudae. Moreover, the heart reaction feature is now added as a premium feature in the bot.
Features:
Server profile display
Changing character options
Exchange character options
Inventory of conquests
Sorting characters
Pricing
Mudae uses Kakera currency. It is used and earned in the game which is used to get bonuses on Mudae.
Best for auto-moderation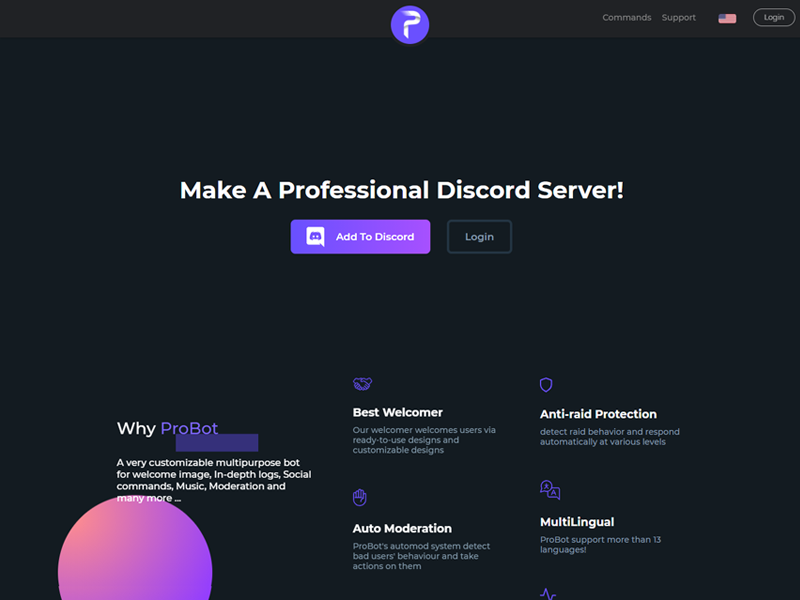 Keeping a track of the entire process to know how things work is an interesting thing. Particularly, if you work to build servers for member engagement in product marketing.ProBot does this in a great marketing tool for discord servers.
Probot offers a great interface to analyze the server activity in the form of intuitive graphs. It also gives an effective and simple welcome to the new members.
Moreover, it provides an automated system that is not only easy to use but also controls the server through embed systems.
Features:
Music moderation
Social commands
In-depth logs
Welcome images
Welcome messages
13 different languages
Server rule for violators
Pricing
It is free
Best Multipurpose Bot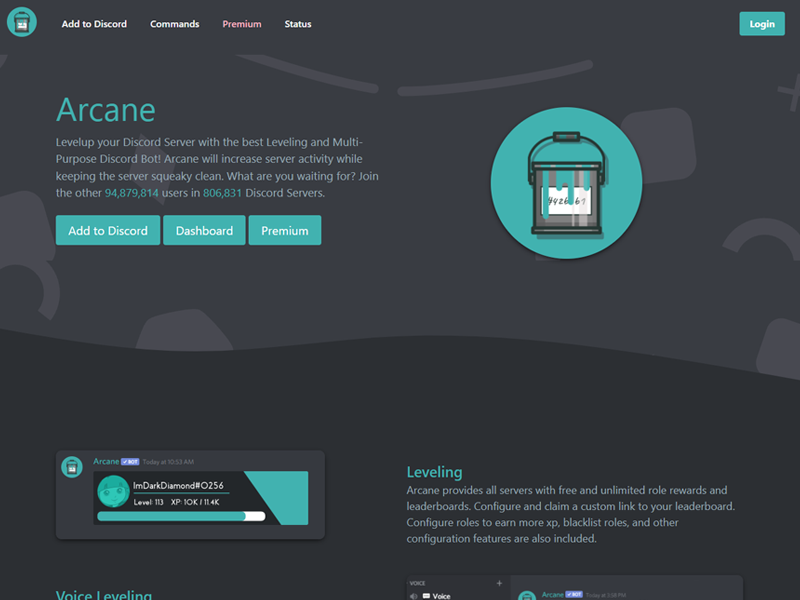 Arcane is much like MEE6 except that it focuses primarily on leveling. It offers the feature for free and enables the user to use leader boards and role rewards within the server. It can even compute voice activity.
Custom commands and advanced logging tools are also well-integrated.
It provides premium plans that define how you use different servers. Arcane makes the server tasks such as logging, reaction roles, moderation and leveling easy for you. Besides, it offers a reliable uptime and never lets you down in this.
Moreover, they constantly update the bot. Most of the options are free. The dashboard is easy to use to run the bot efficiently. Another great way is the leveling system that makes your server members participate more.
Features:
Custom commands
Auto-moderation
Advanced logging
YouTube Channel notifications
Reaction roles
Pricing
It offers several free features. But these features are limited. The premium version costs $5 per month. It offers 2 servers in this plan.
Best for Music Bot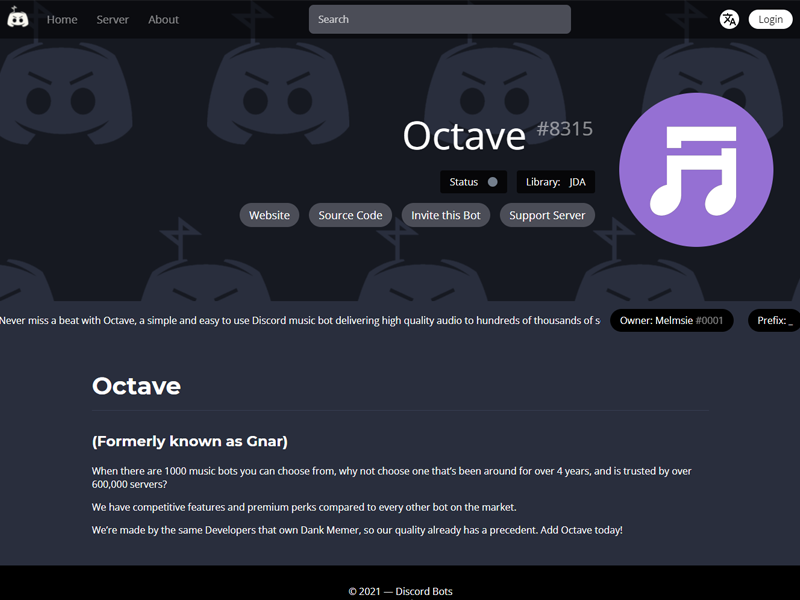 If you are fond of music then you have an idea how it feels like ruining the music experience. You must be well-aware of the importance of high-quality and uninterrupted audio.
It is very easy and simple to use the music discord bot. Besides, it provides audio in high quality to thousands of servers. You can simply add it to your server where it ensures that you have the most satisfying uninterrupted beat.
You can also use it to play and pause songs, add or create playlists or display lyrics. It further lets you integrate your server with Soundcloud or YouTube. What are you waiting for? Jam!
The premium version gives you an even better experience.
Features:
1000 music bots
600,000 servers
Jump to song and shuffle options
Uploading playlist options
Pricing
The premium version of Octave gives longer track length, custom playlists, queue sizes, bass boost, filters and volume.
The starting plan costs $5 per month. In this package, you get one server with 6 hours of playlist length and 500 queue size.
The other plan costs $10 per month. In this plan, you get Octave premium with two servers, 12-hour playlist length and unlimited queue size.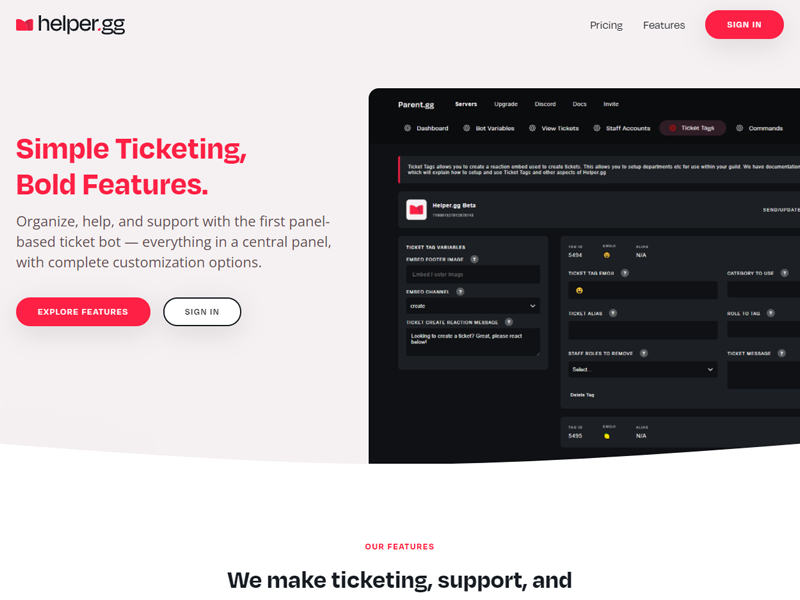 Helper.gg lets you turn the server of Discord to a ticket system to help your support team. It works on a panel-based bot ticket and has a beautiful user interface. Therefore, it is quite easy to respond and manage the tickets that your customers usually create.
Moreover, you can also create accounts for your staff in the customer service department. Besides, you can also control the permissions of each account. It also provides access to status tags just like ticket logging.
This feature further extends by having the ability to relocate and rename tickets, remove or add users, and automatically closing tickets. It reduces a huge amount of stress that may arise after replying to a customer and finding another waiting in the ticket queue.
The premium plans offer exclusive features.
Features:
Beautiful UI
Ticket logging
Panel-based ticket bot
Auto-closing tickets
Pricing
It offers three pricing tiers. The beginner tier is free with unlimited tickets but limited features.
The premium plans start from $4 per month and the Supreme plan costs $6 per month.
All plans offer 100% customization.
Best for Taking Server Backup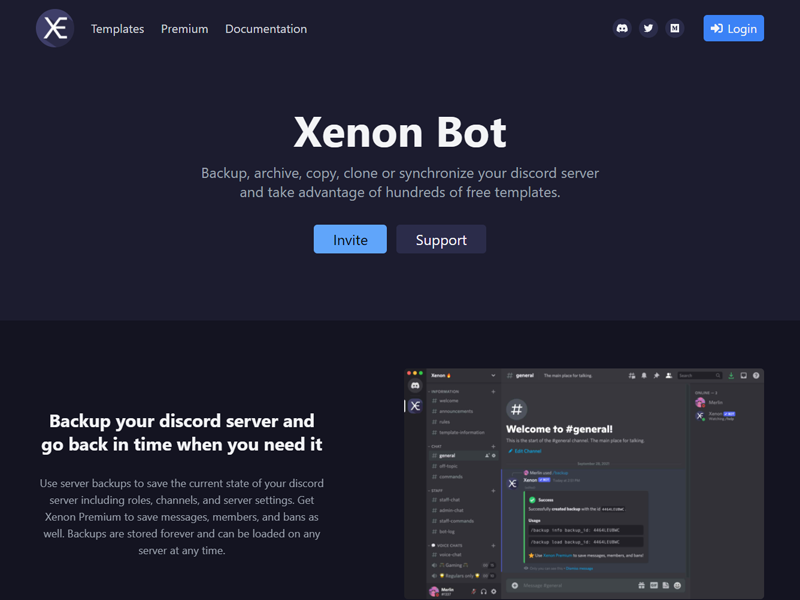 Xenon bot is the most popular tool when it comes to creating and saving backup of the server. It has the ability to effectively synchronize, clone, copy and archive the discord with a single command. Besides, it has tons of free templates so you can have 100% backup experience.
Sometimes mod does some significant changes to your server and the layout changes as a whole. In such a scenario, backup would find you a sense of peace. Xenon bot lets you keep all the content synchronize, clone, copy, archive and backup of the Discord server. All of this is easily possible using simple commands.
These backups are also used to secure the current server's state. It also includes the channels, roles and other stuff like this in case of a premium subscription.
Moreover, it also lets you set an interval of auto-backup. In this case, users can use all the templates to share the setups of the server with other members.
Features:
Creates backups
Set backup intervals
Built-in templates
Transfer messages
Manual backups
Synchronization and connects to multiple channels
Pricing
Xenon offers four pricing tiers, three of which are premium and one is free. The free version provides limited features with 25 backups of roles and channels. It does not include synchronization or message backup.
Premium 1 plan costs $5 per month. It provides 50 backups and synchronization of messages. The Premium 2 plan provides 100 backups at $10 per month. Here you have saved over 100 messages per channel.
The Premium 3 plan costs $15 per month. In this plan, you will get 250 backups and 250 messages backed up. It also provides synchronization with messages and allows bans.
Best for Increasing Engagement and Traffic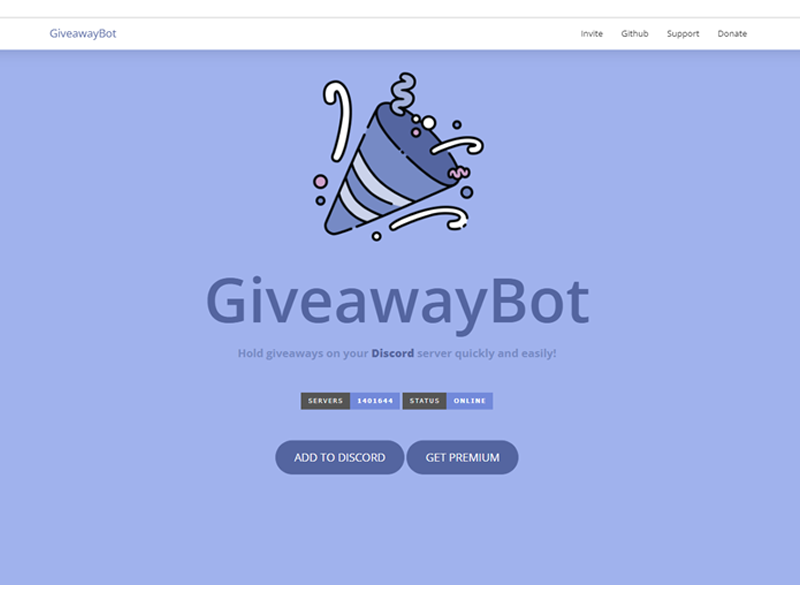 Giveaway Bot is the best discord bot for increasing engagement and traffic on the discord server. However, holding a giveaway is not an easy task if you ever encounter a giveaway.
Giveaway, however, simplifies the overall process. The Giveaway bot allows you to create automated giveaways in which users can participate in giveaways simply by reacting to a post.
The winner is drawn automatically by the bot after the set amount of time by the owner. The owner has the charge to configure everything. It is probably the only bot on our list that is as simple as it looks!
Features:
Automatically posts the giveaway, picks the winner and ends the giveaway
Hosting giveaways are also available
Anytime withdrawal of the subscription is possible
Pricing
The Giveaway bot is free of cost with most of the essential features. However, to add more advanced features, it offers plans at $1 per month through the Patreon page.
Best for processing raw data in multiple servers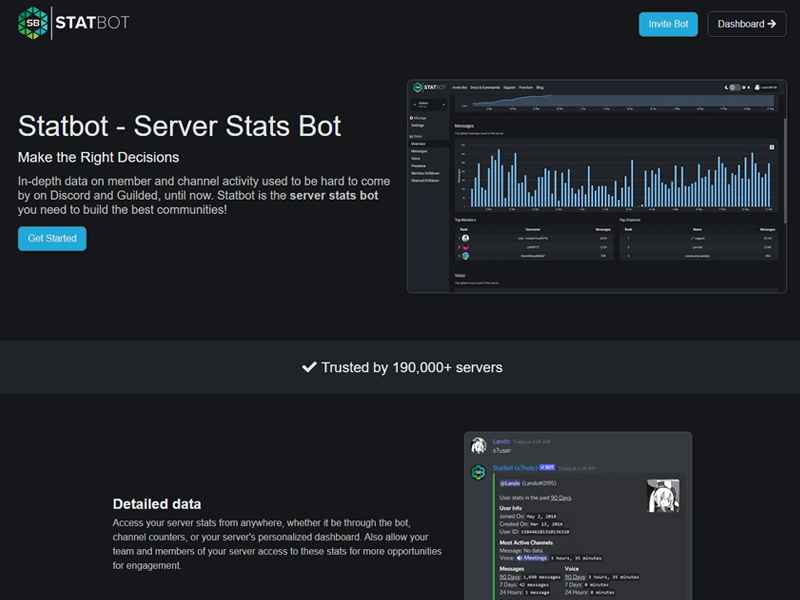 Statbot is a logging and analytics bot having a very responsive dashboard, high uptime and accurate bot. It is constantly updated and the very responsive support team makes it a pro in the industry.
Today, it is trusted by over 190,000 businesses and communities. It proves to be a server stats bot to conduct in-depth data analysis of the channel activity.
Moreover, it lets you access your server through the bot, server's personalized dashboard or channel counters. More engagement is created by providing access to the members of your team.
It also lets you showcase the server's stat of your channel uniquely. It provides you with limitless possibilities with hundreds of customizable options. It further includes counters such as countdowns and clocks.
Features:
Personalised dashboards
Automatic role rewards
Customizable channel counters
Completely customization channel counters
Automatically removes and gives roles
Top of the line support team
Pricing
Statbot's base bot is free of cost. It provides almost all the essential features for free but there's a limit. More features are easily available with the other premium plans.
Top Picks costs $8.73 per month. The Stat Essentials costs $11.28 per month and I want it All plan to cost $13.05 per month.
Best for reaction role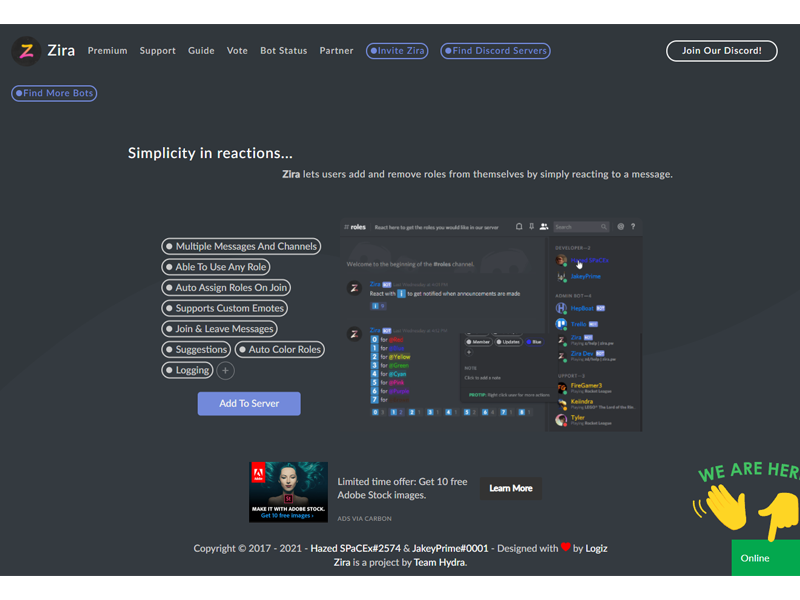 Zira is designed to use in the automation of your server. If you grant all the required permissions to Zira, you can visit the dashboard to find "drag Zira", following roles and then the server settings which is much better than the Roles hierarchy. If it does not carry out, Zira will not be able to assign permissions.
It is highly customizable as compared to other children in the custom shape. It is preferably suitable for companies dealing with custom or complex setups. The admins or owners can also enjoy the feature of a basic bot that spams the DMs.
In addition to this, Zira also offers support in future development. You can also message directly to the users after the roles are assigned. Moreover, it gives you the authority to be able to set a specific suggestion submission channel.
Features:
Auto colour roles
Leave and join messages
Supports customer emotes
Auto-assign roles on join
Multiple channels and messages
Prices
Zira offers the most essential features for free. However, for more advanced features the premium package can also be availed at the cost of $2 per month.
Best for sound clips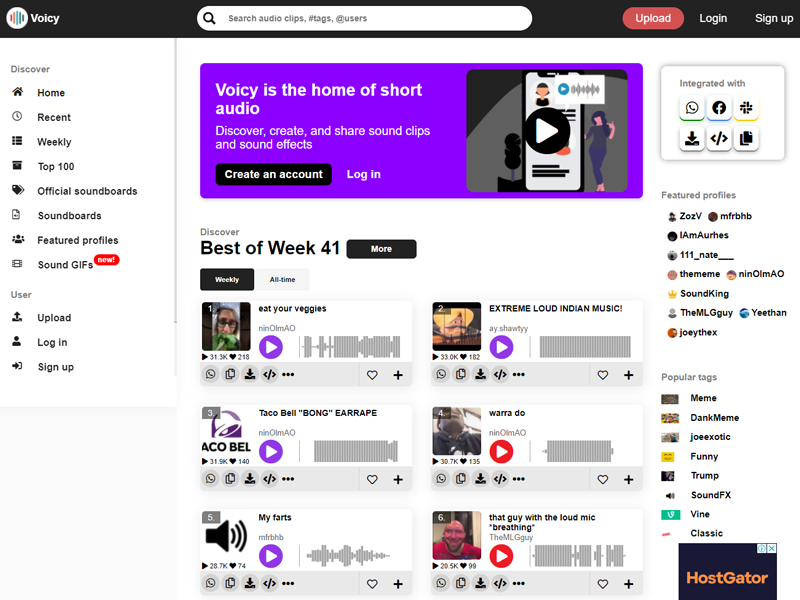 Voicy is an online content platform that is used for sharing, creating and discovering sound effects and sound clips on the internet. It is a home of short audio discords where you can share, create and discover sound clips.
It contains a library of over 50,000+ funny sound clips memes. They work with a mission to revolutionize communication. Thus, making communication more fun, expressive and faster.
All you need is to share a funny sound clip using a voicy or slash command in the chat. The voicy or slash command needs a search query if you want to have the best voicy for you.
Features:
Official soundboards and trending soundboard sections
Uses gifs and memes as communication tools
Celebrity voice impersonation
More than forty avatars
Pricing
Voicy is free to use.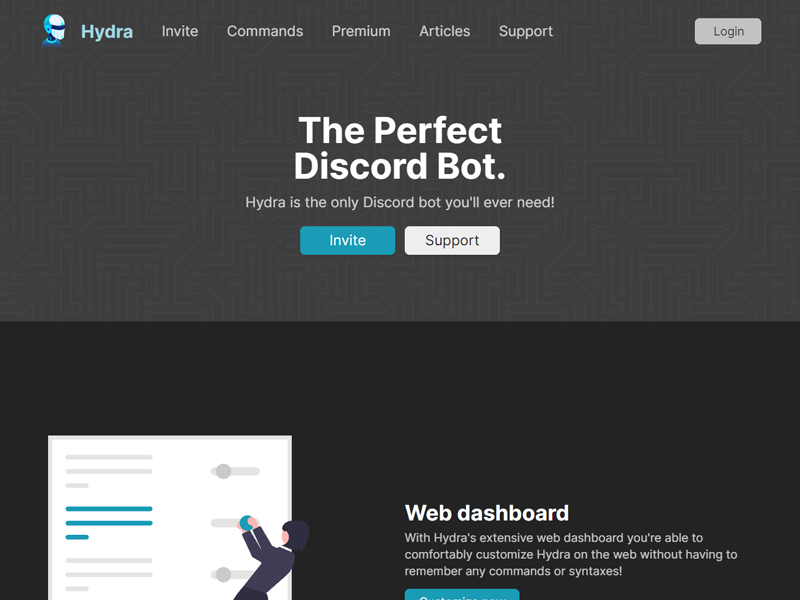 Hydra bots for discord offer a huge selection of stream forms and platforms. It lets you stream songs from Bandcamp, Deezer, Spotify, Soundcloud and YouTube. Hydra allows you to create both playlists and queues and skip, loop, vote skip or move a song in a queue.
It will also help you replay or shuffle songs in a playlist. With Hydra, you can also look up the song information and lyrics. Besides, you can upload audio files to stream or play online radio.
Hydra bot also includes commands that are admin-only and lets you announce about changing settings, language or song, banning the user from the bot or limiting the song from being played. Moreover, it also allows the admin to restrict Hydra from playing a specific voice channel. Thus, it controls everything about controlling the queue.
The premium version adds unlimited saved playlists, 24/7 playback, audio effects and volume control. The premium version of Hydra can be purchased both for a server and an individual user. The premium Hydra also allows you to use the advanced premium bot features.
Features:
Replay, Shuffle or queue songs
Provides admin-only commands
Volume and audio control options
Unlimited saved playlists
24/7 playback
Pricing
The cheapest plan in the premium version starts from $1.99 per month. The larger plan costs $19.99 per year. It includes all the same features as the user premium in addition to the ability to unlock the premium bot features on your desired server. It costs you an additional amount of $2.99 per month or $29.99 per year. In this package, you get one server only.
Best for Customizable Moderation Bot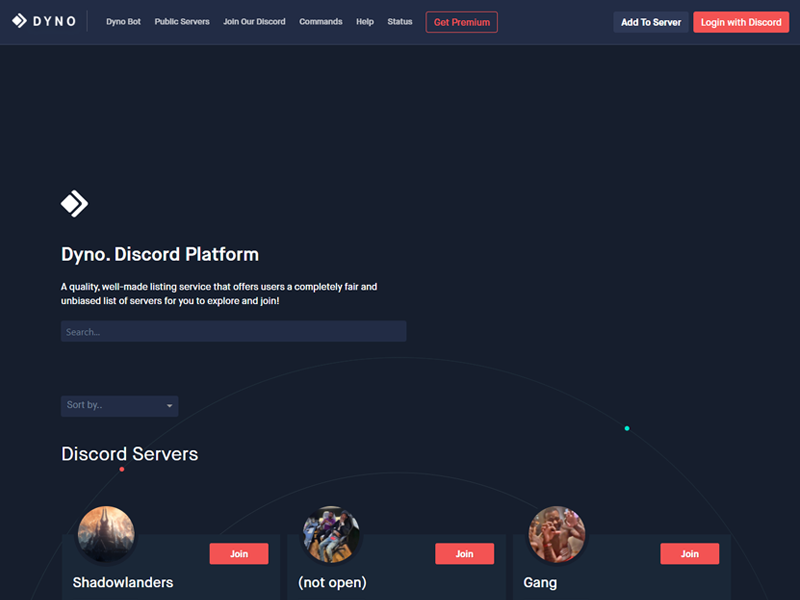 Dyno is a moderation bot that lets you customize every single bit. With Dyno, you can disable or enable each and every feature as per your server's requirement.
Dyno further provides time-based bans and mutes for moderation. Moreover, you also get an anti-spam detector to automatically impose bans and mutes as well as mod logs. Above all, the moderation setting is also fully customizable.
Other than moderation, Dyno helps in assigning roles and allow in custom command creation. It ranks the members as they join and lets you make announcements of the entire Discord server. Besides, it also assigns AFK statuses, etc.
Some of the features may want you to pay extra. Also, the plans are based on servers that you want to activate.
Features:
Music
Intuitive web Dashboard
Easy to use user interface
Moderation
Pricing
Dyno provides three pricing tiers. Premium 1x ($4.99/month), Premium 3x ($11.99 per month) and Premium 5x ($14.99 per month). They offer the respective number of servers as their names indicate. Such as Premium 1x offers one server, Premium 3x for 3 servers and Premium 5x for 5 servers. Dyno does not offer any free trial of the free feature.
How to add bots to Discord Server?
Adding a bot to servers is quite effortless. It requires you to take the permission to invite members to add the bot to your server. To add bots to the Discord server you need to follow the following steps:
Go to the Discord bot store/list at the top.gg. Here you can pick one of your choices to add.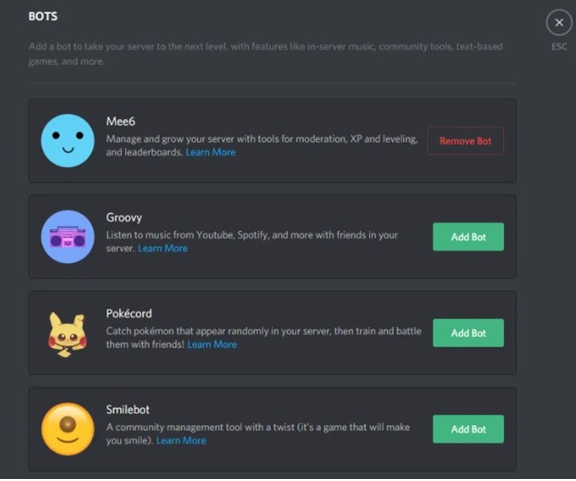 Next, press the "view" button to move to the bot's page and press "invite"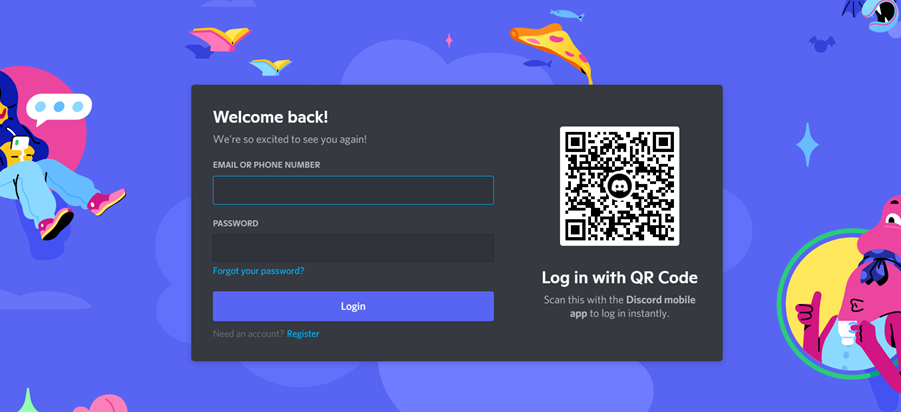 Now choose the server of your choice to add into the bot, authorise it and click for captcha verification
Now as you open the Discord you will find the bot in your server.
Further, you will also be seeing the "invite" button in the Discord bot list. However, most of the time, you do not have to visit the bot page. In the case of the most popular bots, there will be a button of "view" in the list.
Instead of going to the bot list, you can directly go to the bot's website if you are aware of it.
Table Comparison
| | | | |
| --- | --- | --- | --- |
| Name | Free | Price | Features |
| MEE6 | Limited free plan | Monthly plan-$11.95/month lifetime plan-$89.90 one-time payment yearly plan-$49.99/year | Moderation and management Moderator, reaction roles, custom commands and welcome plugin Search, timers, and embeds type utilitiesTemporary channels and statistics Social connections with Reddit, YouTube, Twitter and TwitchEconomy and Quiz pluginMusic, and birthday entertainment plugins |
| Autocode | Yes | Silver plan- $9 per month Gold plan-$20/monthDiamond Plan-$3,000/year | Discord slash command builderDiscord embed builderSlack both documentation and guides Spotify current playing Server captcha verification bot |
| Dank Memer | No | Dank Patron ($2/month), Mega Meme ($5/month), Meme Supporter ($10/month), Meme Sponsor ($20/month) r u even real ($45/month) | Easily monetized100+ meme related commands personal items directory Cheap pricing plansAccess to NSFQ commands Donor multipliers for currency commands the premium server provides a steal-shield |
| Mundae | Free | Nil | Server profile display changing character options exchange character options inventory of conquestsSorting characters |
| Probot | Free | Nil | Music moderationSocial commands In-depth logsWelcome images welcome messages13 different languagesServer rule for violators |
| Arcane | Yes | $5 per month | Custom commandsAuto-moderationAdvanced loggingYouTube Channel notificationsReaction roles |
| Octave | No | $5-10 per month | 1000 music bots 600,000 serversJump to song and shuffle option uploading playlist options |
| Helper.gg | Yes | Premium plan-$4/month Supreme plan-$6/month | Beautiful UITicket loggingPanel-based ticket botAuto-closing tickets |
| Xenon | Yes | Premium 1 plan-$5/monthPremium 2 plan-$10/month premium 3 plan-$15/month | Creates backupsSet backup intervals built-in templates Transfer message manual backup synchronization and connects to multiple channels |
| Giveaway Bot | Yes | $1 per month | Automatically posts pick and end the giveaway Hosting giveaways are also available anytime withdrawal of the subscription is possible |
| Statbot | Yes | Top Picks-$8.73/monthStat Essentials-$11.28/month want it All-$13.05/month | Personalized dashboard automatic role rewardsCustomizable channel counters completely customization channel counters automatically removes and gives rolesTop of the line support team |
| Groovy | Yes | $3.99-39.99/month | 24/7 support Song queue optionsLoop, shuffle and skip songs |
| Zira | Yes | $2 per month | Auto colour roles leave and join messages supports customer emotesAuto-assign roles on join Multiple channels and messages |
| Voicy | Free | Nil | Official soundboards and trending soundboard sectionsUses gifs and memes as communication toolsCelebrity voice impersonation more than forty avatars |
| Hydra | No | $1.99/month-19.99/year | Replay, Shuffle or queue songs provides admin-only commandsVolume and audio control options unlimited saved playlists24/7 playback |
Conclusion
There we have it all! 15 best Discord bots to make your server more efficient and fun. Yet, it is not enough to install it simply.
You can simply participate in your server to learn about the potentially attractive audience. It helps in choosing the right Discord bots for fun and moderation.
Such as, Octaves and MEE6 are incredibly useful for Discord servers with hundreds of active users. If there are a lot of complaints regarding unchecked attitudes, it can lead to mods getting the bad members quicker.
If you choose a smaller server you may probably be fine without it.
You need to check all the tasks you are responsible for and analyze if any of the above-mentioned Discord bots is helpful for your server. It will give you a more enjoyable and amusing platform to hang out.

As one of the co-founders of Codeless, I bring to the table expertise in developing WordPress and web applications, as well as a track record of effectively managing hosting and servers. My passion for acquiring knowledge and my enthusiasm for constructing and testing novel technologies drive me to constantly innovate and improve.
Expertise:
Web Development,
Web Design,
Linux System Administration,
SEO
Experience:
15 years of experience in Web Development by developing and designing some of the most popular WordPress Themes like Specular, Tower, and Folie.
Education:
I have a degree in Engineering Physics and MSC in Material Science and Opto Electronics.