Ecwid and Shopify just happen to be two of the most intuitive platforms for e-Commerce business; however, they both have their respective differences and key advantages, which is our topic of today.
Oberlo have shared the statistics of eCommerce Platforms usage in USA the last year and Shopify have 18% of the market share versus Ecwid with 6%.
This article is going to tell you all about the key features, benefits, pros and cons, insights, functionality, feasibility, and much more about both Ecwid and Shopify.
By the end of this article, you'll have a clear idea of what these platforms are capable of and how you can use this newly acquired information to create a perfect eCommerce store for your business.
What Is Ecwid?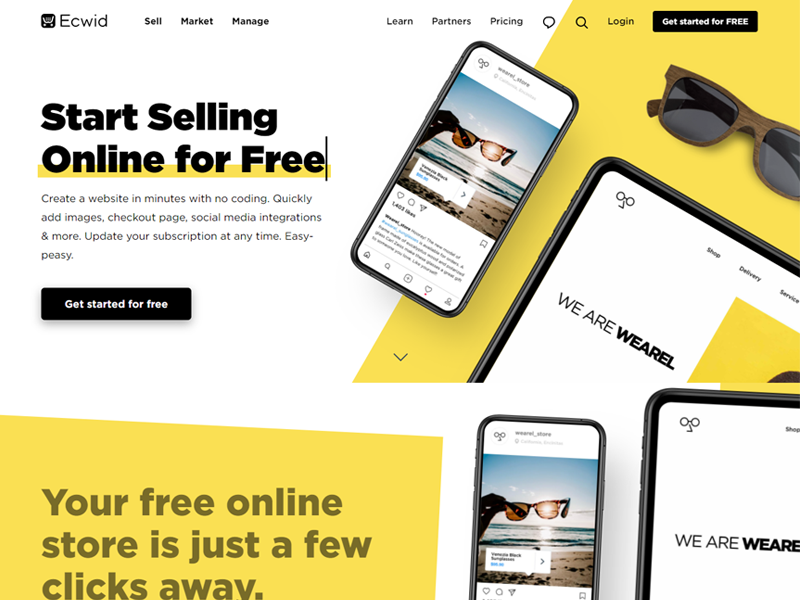 In the fewest possible words, Ecwid is an eCommerce plugin that allow you to sell easily and conveniently. It enables you to convert you website into an eCommerce store with a few simple clicks.
Ecwid was designed to help numerous people to sell products online by adding a snippet of code to their website. It is basically an eCommerce widget that converts any website into a store.
Furthermore, it allows you to upload pictures, manage your inventory and do much more. With outstanding features, specs, functionalities and much more, Ecwid stands as the best option for beginners to start their online selling venture.
What Is Shopify?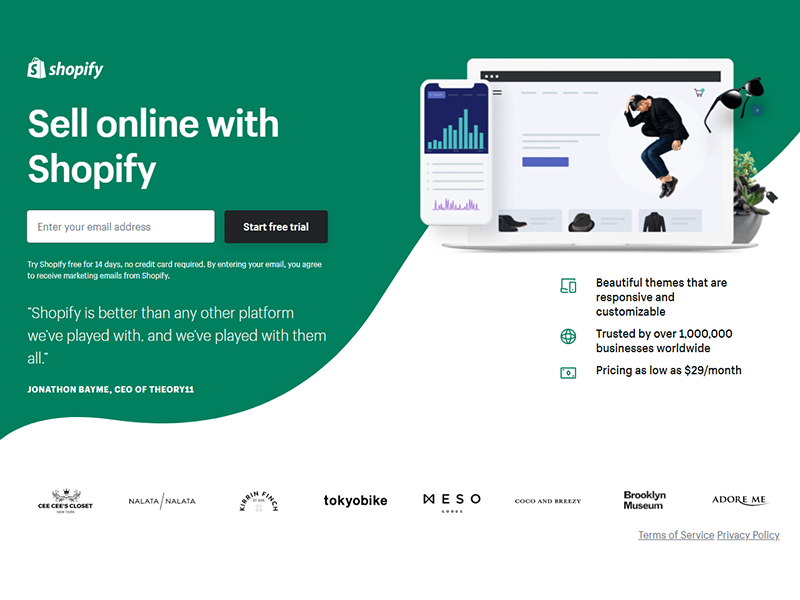 In a nutshell, Shopify allows the creation of a standalone eCommerce store that is fully functional, branded, and registered on a domain of your choosing. Shopify has several free templates from which you can select the look and feel of your website.
You can customize your entire website, reflect your brand's values and beliefs, add robust functionality and features through integration of apps and literally do anything you want with Shopify.
Now, with the inception of several eCommerce platforms, the main concept behind both platforms became a bit confusing. Therefore, this article will discuss the differences between the two, starting with…
Ecwid vs Shopify: eCommerce Features Comparison
Since both the platforms are eCommerce-based, the features of both of them should allow the users to seamlessly sell and manage their online inventory easily.
You can create shipping rules, accept online payments and host a catalog of goods while using Ecwid and Shopify.
However, an in-depth review of both of the platforms will tell you a bit more about their differences.
1. Payment gateways and transaction fees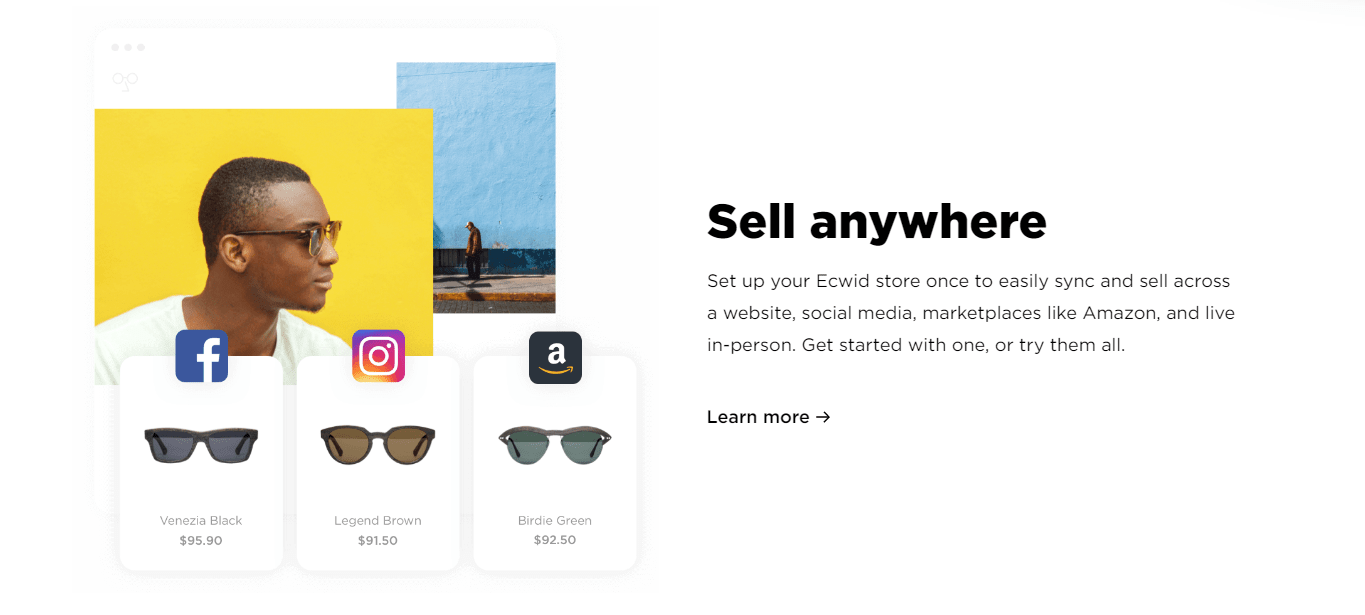 A payment gateway is used by the stores to safely and conveniently transact online payments. Thousands of online stores are using online payment gateway services from well-known providers such as Paypal, Stripe, or Payoneer.
Ecwid and Shopify also have their own wide variety of payment gateways. For, i.e., 75 payment gateway options are provided by Ecwid. In contrast, Shopify provides more than 100 payment gateways to its users.
Shopify differs from Ecwid in one specific way, and that is that it allows the user to set up their own payment gateway easily. The best part about this setup is that users would not have to worry about paying fees of using payment gateway services of a third party.
However, this feature is limited to only some specific countries. You can check out Shopify's own list to check if your country is on the list. If it is not, you'll be needing a third-party payment gateway for which you may have to pay a fee.
In Ecwid's case, you have to use a third-party payment gateway to process your payments. The best part? You're not charged with using third-party services. However, the configuration of this process takes time.
? Winner: Ecwid
2. Product Limitations
Obviously, this one goes to Shopify simply because it gives you unlimited options to upload and sell your products regardless of the plan.
With Ecwid, however, you're limited to only ten products at the start. As you upgrade your plan, you get more products, and finally, in the $99/month "Unlimited plan," you've got the facility of uploading unlimited products.
Therefore, this one goes to Shopify to provide users with unlimited product uploading options right from the start.
? Winner: Shopify
3. Product Customization Feature
You have to give this one to Ecwid because there are no product customization restrictions.
With Shopify, you've only got three options per product. For, i.e., while selling a wedding card, you can give your users the following three options:
Size customization.
Color changing.
Envelope type.
Although you can install a Shopify app and do some coding to remove this limiter, how conveniently would it be if there was this functionality given right from the start right?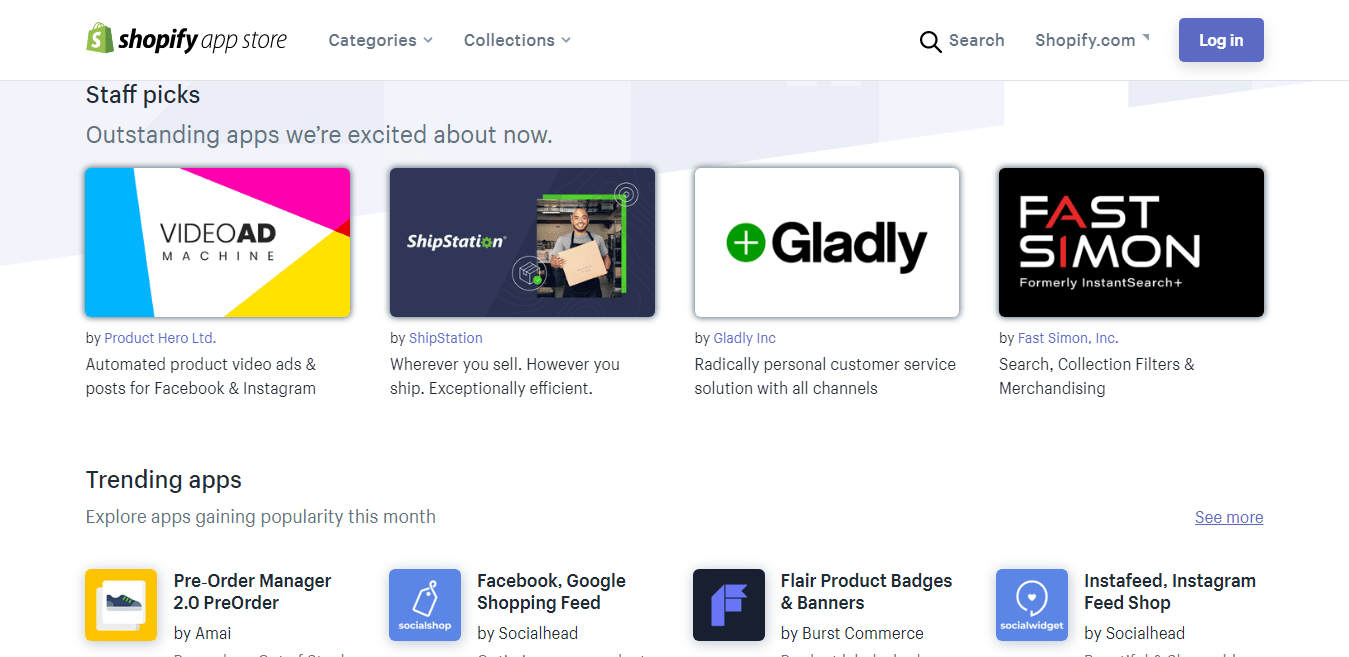 Another drawback of Shopify products is that it allows your customer to provide tailored information for items.
For many users, three options by Shopify don't really pose a big problem considering that they're enough for most of the audience. However, for big enterprises that have specific requirements, this can be a problem.
Ecwid, on the other hand, is much more straightforward. It doesn't limit the product customization at all. As long as you're on a paid plan, you're allowed to acquire information to further strengthen your product.
Plus, you can also use the information to deliver exactly what is asked of you.
Therefore, we'll give this one to Ecwid because it's super convenient to customize a product there.
? Winner: Ecwid
4. Product Categories Adding
Setting up collections/categories is extremely important. It enables your customers to sneak into a specific section in which they'll find a variety of stuff that they were looking for.
For example, when you go to a clothes store, you might expect to find collections of jeans, shirts, coats and so on. The same is expected in the digital world by your customers when they're visiting your eCommerce store.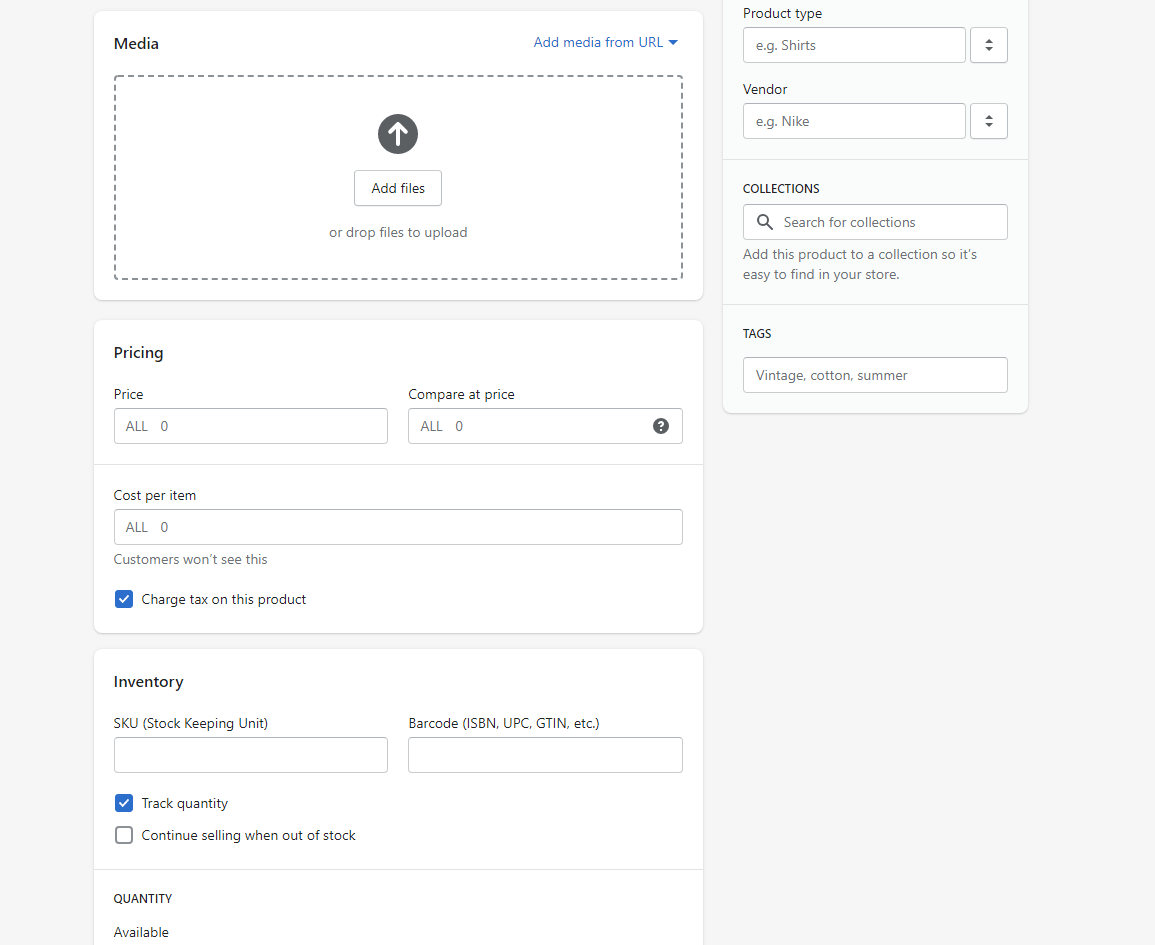 This functionality is provided by Shopify and Ecwid; however, Shopify's approach, in my perspective, is better.
Not only can you add products manually to collections in Shopify, but also you can create ones that are automatically populated with products based on the requirements you supply.
I'd like to call this feature, "Smart Categories" option. Shopify, however, calls this "automated collections."
Through this feature, you can add a specific keyword to streamline the list of products that have that specific word in their name or anywhere else. However, you must use the specific keyword in your product titles to make it work.
Although Ecwid does let you filter your product for your audience, the feature is not even near to Shopify's "Smart Collection" feature."
? Winner: Shopify
5. Selling Good
Both Ecwid and Shopify are eCommerce stores. Hence, it is obvious that they both allow users to sell goods. For selling goods on Shopify, you need to install the free "digital downloads" app.
In contrast, on Ecwid, you can sell goods right out of the box, no apps or coding required. Ecwid also gives you more space to upload and sell your products. For example, you can sell files up to 25GB in size.
On the other hand, Shopify limits the size of files to 5GB. Although you can use apps to increase the size of files, this would require investment.
Therefore, if you've got big files, then Ecwid is clearly the one you should go for!
? Winner: Ecwid
6. Point Of Sale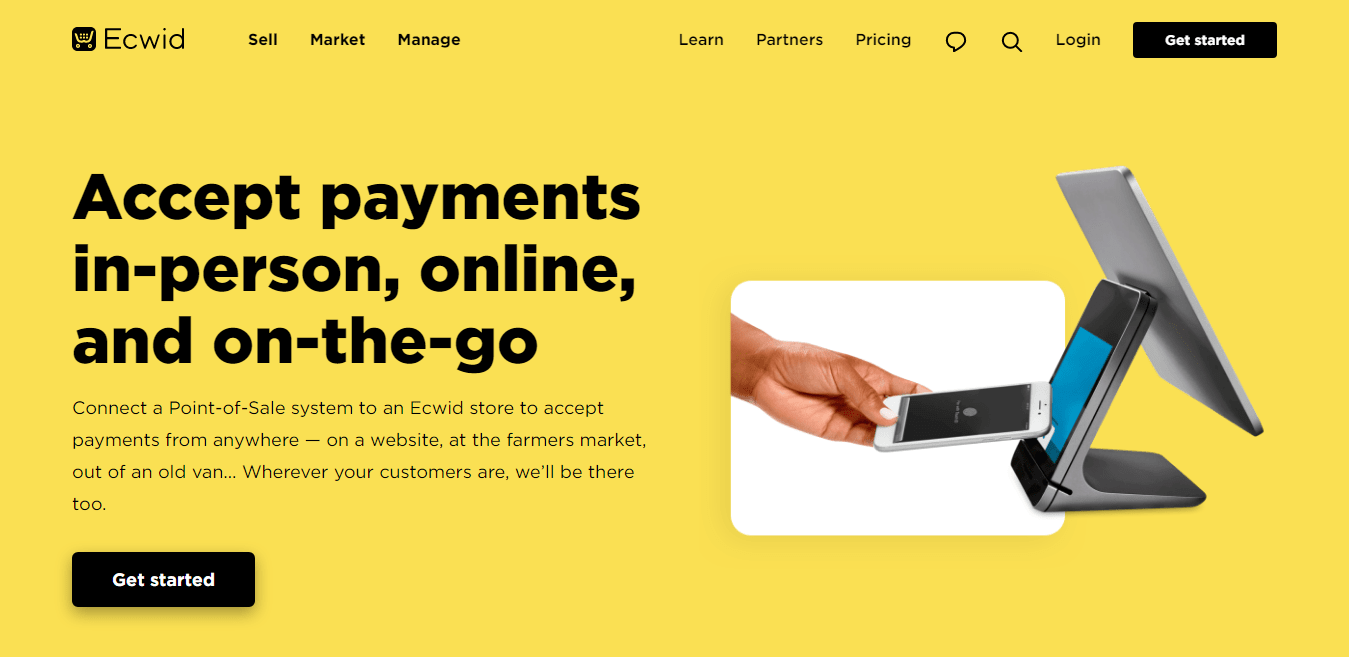 A point of sale or POS lets you leverage your online store to sell in physical locations in the market, pop-up shops, or even outlets.
Both Ecwid and Shopify have their own specific POS features; however, they work in different ways.
For Ecwid, third-party integration is required to gain POS functionality. You will also be needing hardware like card readers, a barcode scanner, and so on by the provider, depending on the country you're based in.
With Shopify, Pos is already integrated, and comparatively, it is easier and convenient to setup. If you're living in the US, Canada, or Ireland, you can easily order POS hardware online directly from Shopify.
If you're living outside the countries mentioned above, you can contact the authorized dealer to assist you.
Although Shopify POS features are quality-oriented and support all merchants, they recently updated their offerings, and now to unlock the full functionality of the POS system, you would have to pay $89/month.
This new version is the "Shopify POS Pro" add-on which comes with the following features:
Support for an unlimited number of POS staff.
Facilitate the customers by giving them options to either buy online or collect from the store.
Exchange option.
Custom/branded printed receipts.
Define team roles and set permissions.
We'll give this one to both of them since the basic version of both of the platforms is equal in terms of features and functionality.
However, in the case where advanced functionality is needed, Shopify would be the best option.
? Winner: Shopify
7. Abandoned Cart
Abandoned carts hurt; they hurt a lot. When a customer comes to your online store fills the cart but doesn't make the purchase, this is when you need to remind them that they forgot to make the purchase.
You can email them about the status of their cart, remind them that they left before making the purchase, give them a discount on making the purchase or do anything to just get those abandoned carts converted into cash.
Both Shopify and Ecwid allow you to send abandoned cart reminders. However, Shopify has a competitive edge over this by providing this feature at a comparatively lower price point.
For Ecwid users, they are required to choose a plan of $35+ to avail of the abandoned cart reminding feature.
? Winner: Shopify
8. DropShipping Feature
Dropshipping is a way of selling goods without the need to stock anything. You simply take an order, send it to the supplier, and they'll fulfill it. You're basically acting like an affiliate marketer here.
The advantage here is that you don't have to buy tons of goods to get started, or you don't have to worry about fulfilling the customer's requirements – the supplier will take care of that.
However, to ensure more orders and conversions, you can use the money that you would've invested in goods to market your business.
The disadvantage? Well, as with most businesses, Drop-shipping too has a lot of competition. Plus, finding the right and responsible supplier can be a daunting task.
Ecwid and Shopify both do not facilitate Drop-shipping facilities, but you can still use both platforms for Drop-shipping by integrating an app into your online store.
For Shopify Drop-shipping, you can simply download and integrate "Oberlo" to your store to enable the Drop-shipping facility.
For Ecwid, you can integrate the Wholesale2B app to get started with Drop-shipping.
In terms of apps available for Dropshipping, Shopify has the upper hand simply because the application store of Shopify is much more mature as compared to Ecwid's.
? Winner: Shopify
9. Multi-currency Support
It is a fact; you get more sales and conversion if you're selling your products in the native currency of the visitors.
Therefore, while selling in different countries, you can let the users select their preferred currency. To some extent, Shopify lets you do this right from the start.
There are free themes like "Debut" or "Brooklyn" that give the users the feature of selecting their own currency. If you're using a Shopify theme, all you need to do is integrate a code to your store's theme to enable this feature.
There are two conditions in which you can use the currency selector: either you're on the Shopify Plus plan ($2000/monthly), or you're using the free Bold Multi-currency app.

To automate the currency selection process, you can further add a "Geolocation" tracking app that will read the user's IP address and change the currency accordingly.
Ecwid also has an app that goes by the name of the "Currency Converter" app. This app will cost you $4.49/month. This app easily displays the price of your products in local currency automatically.
The only downside of this app is that the original currency and the converted one both get a display at the final stage of the purchase and this does put some buyers off; however, overall, it's fine.
? Winner: It's a draw!
10. Shipping Features
Shipping features are an integral part of an overall eCommerce store. Hence, both Shopify and Ecwid give you a comprehensive set of shipping features, which include free shipping, rate based on weights, flat rates, and more.
However, when it comes to providing real-time rates from carriers to your audience, the functionality of both Ecwid and Shopify differ; here's how: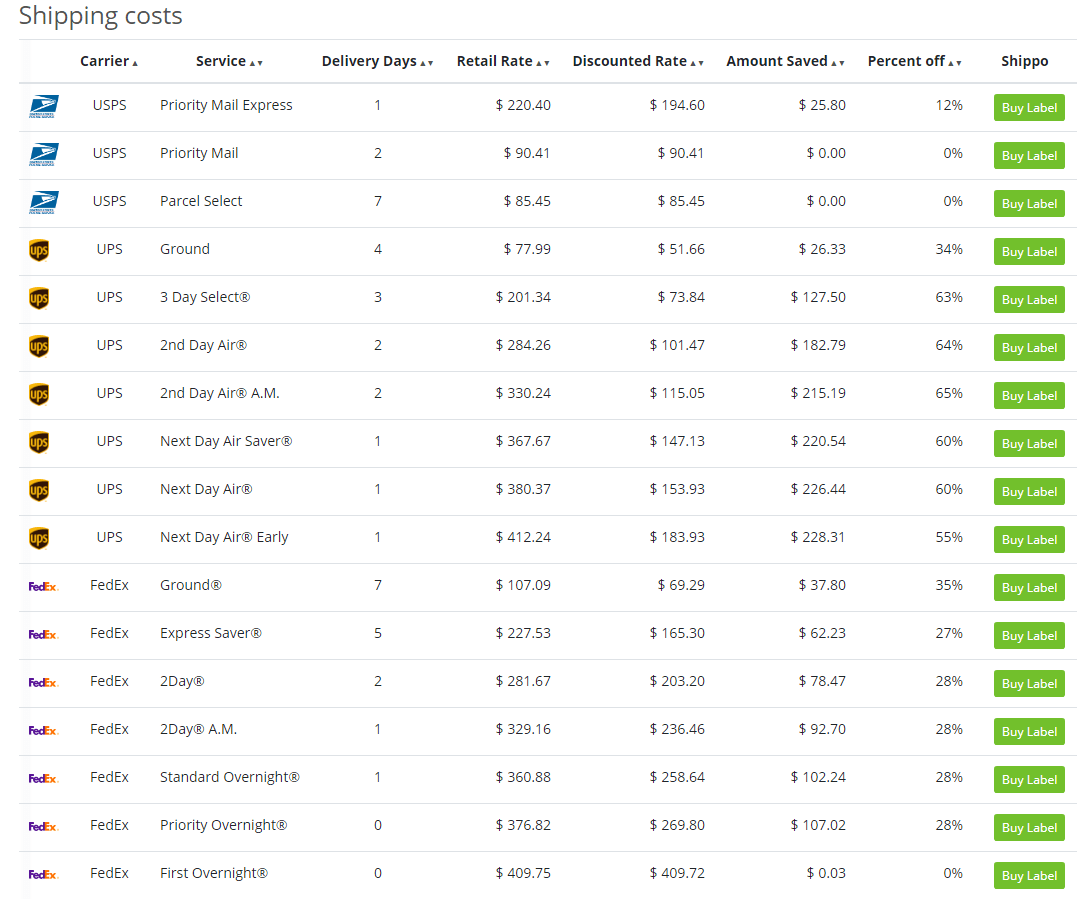 Ecwid has built-in integration with the following carrier companies to show their specific shipping rates to the customers:
UPS (US)
USPS (US)
FedEx (US)
Canada Post
Royal Mail (UK)
Brazil (Brazil)
MDS (South Africa)
Australia Post (Australia)
EMS Russian Post (Russia)
On the other hand, Shopify has fewer options, and it provides real-time carrier rates of the following companies:
USPS (US)
UPS (the US, not available in Puerto Rico)
DHL Express (US)
Canada Post (Canada)
Sendle (Australia)
? Winner: Ecwid
Ease of Use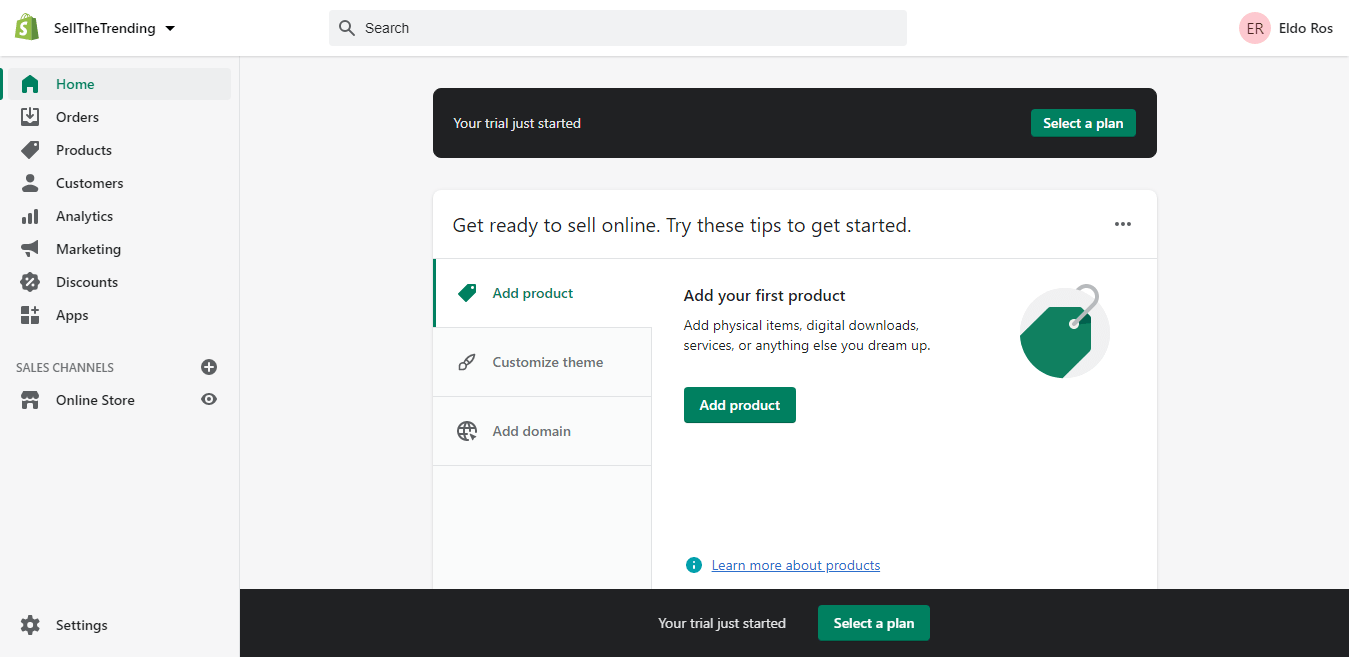 The ease of use of both of these platforms are different from each other however, super-convenient when it comes to creating an online store.
For Ecwid, you can easily integrate it with your website without worrying about choosing the right hosting, updating or installing anything. This makes Ecwid extremely beginner friendly.
You can instantly get started selling with Ecwid. If you're using a website builder such as Wix in which Ecwid is a plugin, your website can be built seamlessly without the hassle of coding.
The following websites can be integrated with the Ecwid plugin:
For Shopify, the process of creating an entire website from scratch may sound intimidating but that's the thing – creating a website from scratch on Shopify is super-impressive and convenient.
Shopify guides you through the entire process, the systems are designed to enable fast and easy development of a website. Like Ecwid, you don't need to worry about coding, hosting or updates – Shopify takes care of this automatically.
All you need to do while using Shopify is to select the theme, customize it, add your products and track your sales through built-in analytics.
So, I believe this one goes to Shopify because Ecwid acts as a plugin and converts your website into an eCommerce store whereas, Shopify let's you built an entire site easily.
? Winner: Shopify
Design Flexibility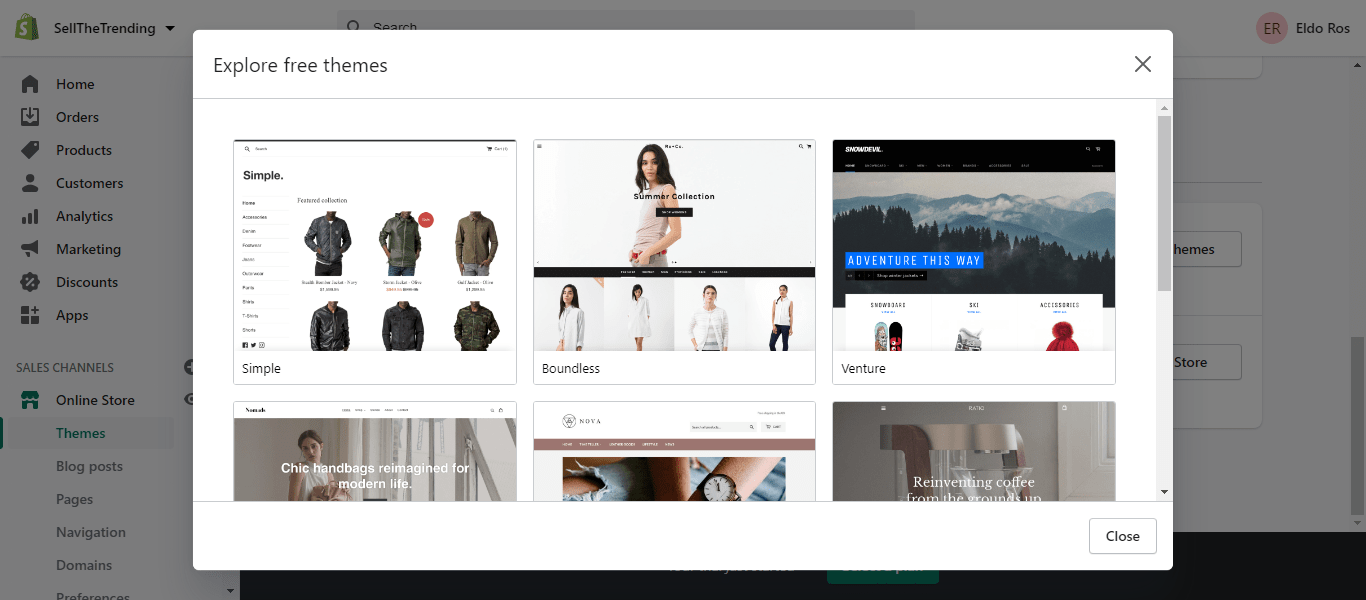 Design flexibility allow the users to create creative wonders out of a template or theme. This flexibility is extremely important specially when it comes to creating an eCommerce store.
You need to standout from the crowd and define your brand through vibrant colors, for all of this you need design flexibility. Let's see how both of the platforms deal with this functionality:
Themes
Let's start with Ecwid.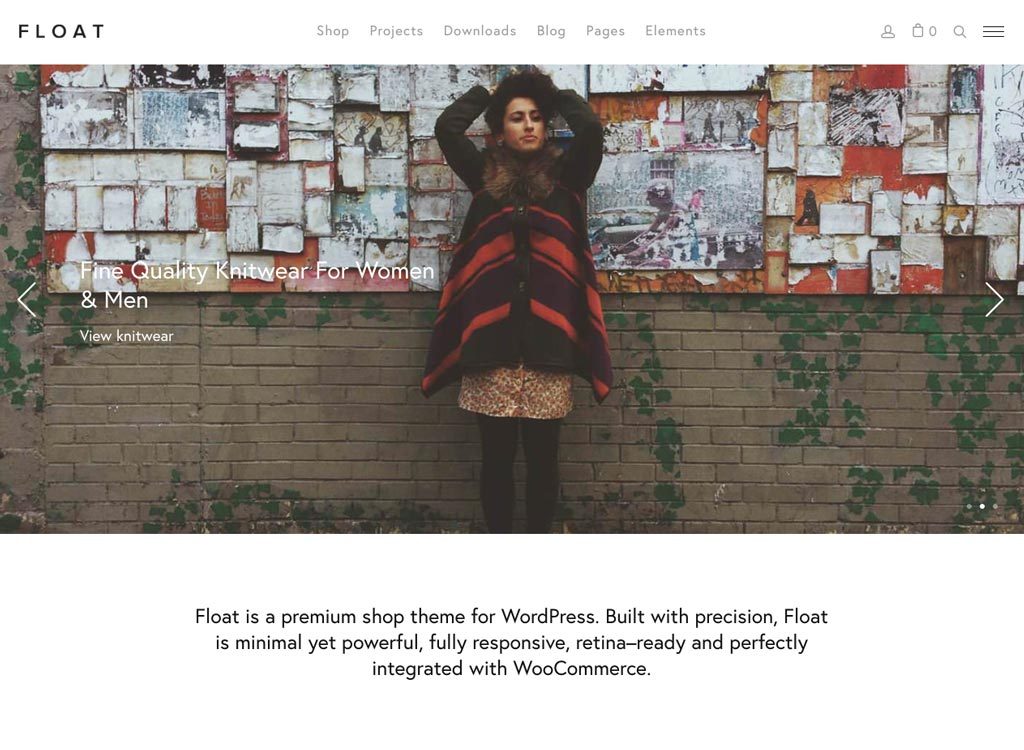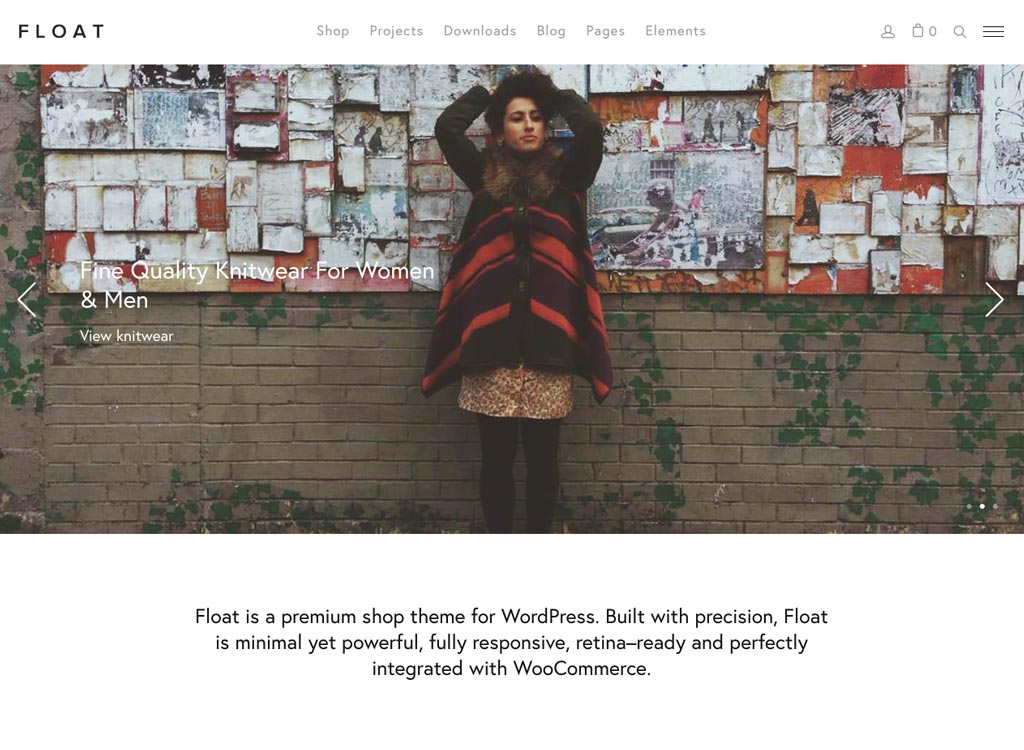 Ecwid, rather than giving you an option to pick the theme, gives you a design that automatically integrates with your website turning it into an eCommerce store. You can use eCommerce WordPress themes that can be integrated with Ecwid
Although, this seamless integration turns your website into an eCommerce store but this certainly doesn't give you many options to customize your website.
In contrast, Shopify is all about customization. For starters, it lets you pick the theme that you want. There are over 60 themes in Shopify's store ranging from free up to $180.
These themes are designed to reflect different industries i.e., electronics, furniture, food and drink.
Hence, you can find a theme specially designed for your niche.
Furthermore, even after selecting the perfect theme for your brand, you can customize it, reformat it or just change it entirely depending on your requirements.
Considering the above mentioned feats, Shopify is the clear winner here!
? Winner: Shopify
Creating Stores In Ecwid & Shopify
Judging from the functionalities and features mentioned above, Ecwid is a better option when it comes to selling online. However, Shopify is a better option when you want to build an online brand (eCommerce store).
The extensive range of themes, CMS blogging, features, easy to integrate apps, multi-page websites, and so on are some of the best features that one can use to create a great online brand.
Although Ecwid does now have the feature "Instant site," it is pretty basic. You can create a single-page website using this feature and place your products alongside the information about your company.
This conventional website building approach is long gone now. Today, customer experience is the key to winning more sales, conversions, traffic, and even better rankings in the SERPs.
Although the website created by using the "Instant site" feature may include aesthetically pleasing looks or functionalities, I cannot compete with a complete website created on Shopify.
Shopify excels when it comes to building a website mainly because of the tons of templates, themes, customization options, functionalities, and features available.
? Winner: Shopify
The Pricing Model
Ecwid – Pricing Model
Ecwid provides the users with four plans. However, one out of the four plans is totally free.
The following are the prices of the four plans:
Free – $0/month.
Venture – $15/month.
Business – $35/month.
Unlimited – $99/month.
The prices mentioned above are for the US market especially. Prices in the other countries may differ.
For the free plan, you're allowed to upload ten products. For the venture plan, you can upload 100 products. For the business plan, you can sell 2500 products. Finally, for the unlimited plan, you've got unlimited bandwidth.
Moreover, as you become more involved in the process of selling online by upgrading your plan, Ecwid starts giving you more features like abandoned cart saving, gift cards, POS features, and comprehensive support.
You can also create a website on Ecwid by using the "Instant Site" feature of Ecwid.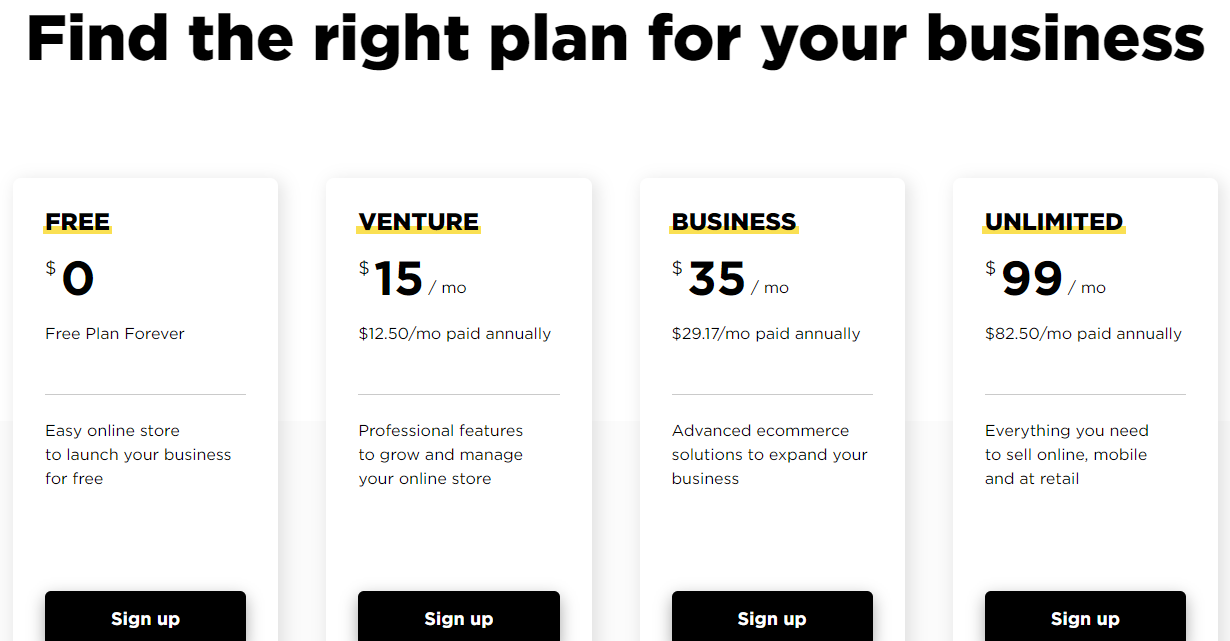 Shopify – Pricing Model
Shopify excels when providing users with pricing plans. Shopify is offering five plans to its users.
Let's detail them:
Lite – $9/month.
Basic – $29/month.
Shopify – $79/month.
Advance – $299/month.
Shopify Plus – The pricing for this package varies depending on the features and functionality you want. However, the price generally revolves around $2000.
The best part about Shopify is that it doesn't limit the number of items that you'll be selling online. But it does minimize or maximize the number of accounts you can have, professional reporting method, and real-time carrier shipping process.
Basically, the more you pay, the more you get on all counts when it comes to Shopify. Additionally, only the lite package doesn't allow you to set your standalone online store.
Besides the lite package, all the other packages allow you to build your store online. The lite plan is kind of like Ecwid that allows you to sell your products elsewhere.
You can sell your products on the following channels with Shopify lite:
Facebook.
Sell goods in physical locations.
Shopify "Buy Button" that allows you to sell the product on an existing website.
Furthermore, the free trial of Shopify is designed to help you realize your requirements and for product evaluation. The free trial version is of 14 days. However, it can also be extended upon request.
Access the free trial here.
Also, you need to keep in mind that Shopify was created to benefit big brands or companies. The brands that are super-conscious about their uptime, security, specific requirements, database or etc.
With the pricing model out of the way, let's uncover some astounding eCommerce features of both of them.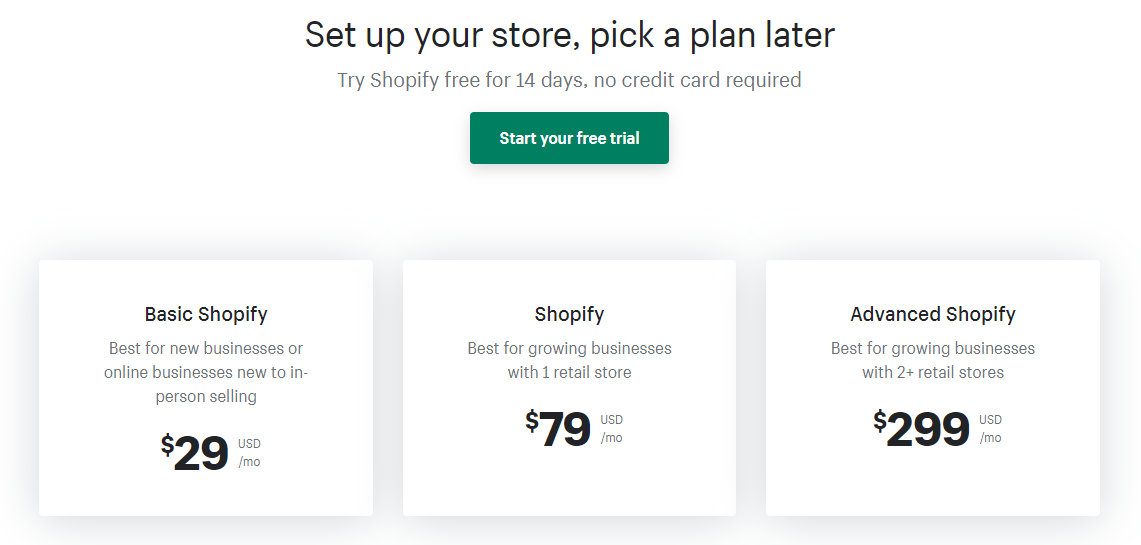 ? Winner: Shopify
Integrations Of Apps
The integration of third-party applications beefs up your online store's functionality and features. Both Ecwid and Shopify provide this feature to their users.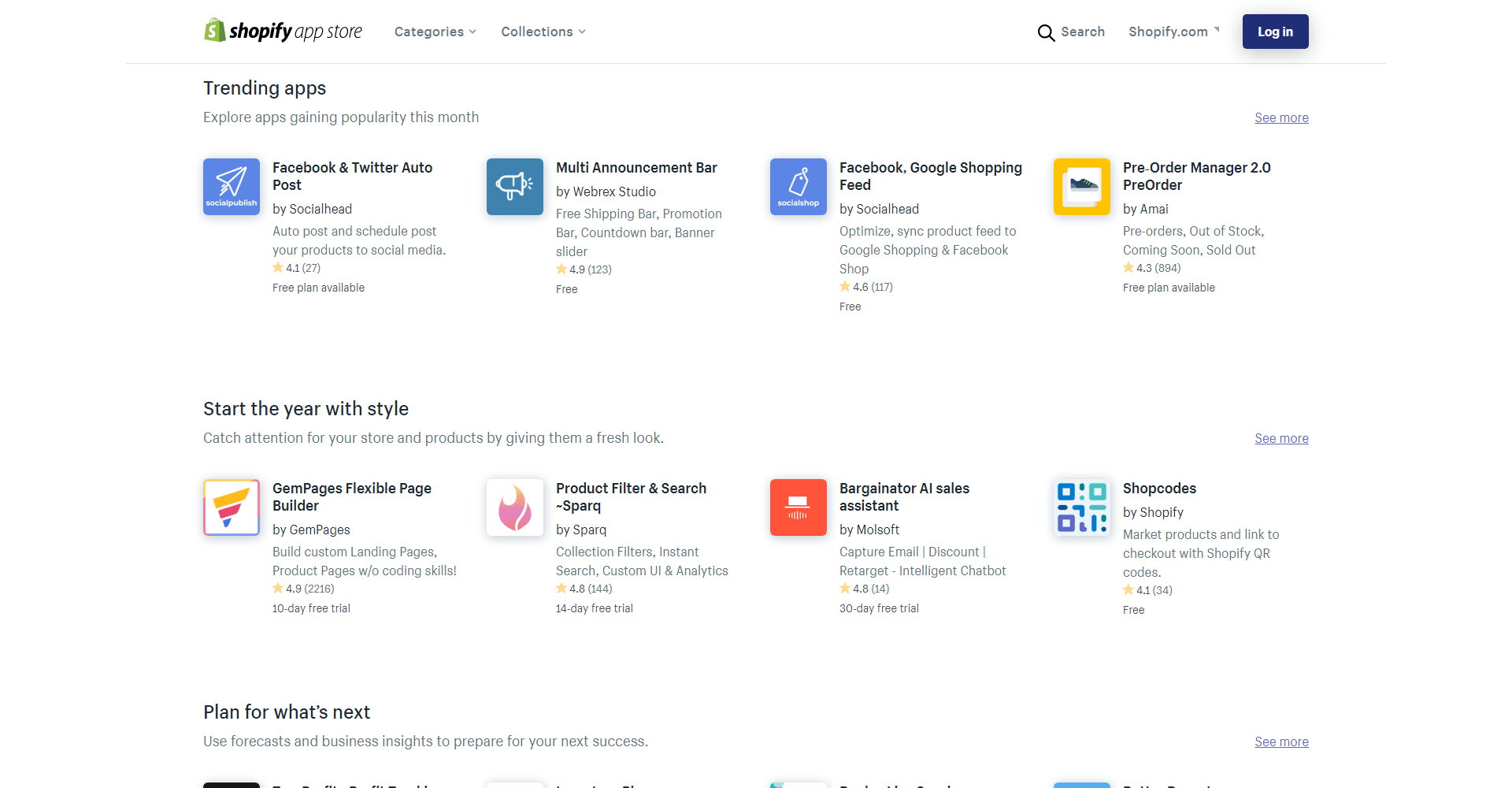 There are certain apps out there that add a particular feature to your app; for example, there's an app we mentioned above, Oberlo, that, once integrated with Shopify, enables you to opt for dropshipping.
Shopify has several other applications available on their store that enable the users to add seamless functionality to their stores.
In Ecwid's case, you don't have as many apps as Shopify does. You're basically looking at a handful of Ecwid apps going up against Shopify's 4000+ apps.
This literally means that with Shopify, you have a better option of adding more features and functionalities to your website as compared to Ecwid.
Therefore, overall, the win here goes to Shopify for being super-flexible and giving the users several integration options.
? Winner: Shopify
SEO-Friendliness
SEO is perhaps the most critical aspect of your online store. It is the process of getting a website ranked higher in the SERPs on a specific set of keywords. Hence, we have to consider the SEO friendliness of both of the platforms to determine which one is better.
Shopify supports SEO in the following ways:
You can tweak all major SEO components.
Cleaner URLs creation.
AMP format.
Website's speed optimization.
Customer experience customization.
Ecwid support SEO in the following ways:
System generated URL (non-editable).
URL customization.
Website optimization.
Judging from the above-mentioned supports available, this round also goes to Shopify for being a great SEO-friendly platform.
? Winner: Shopify
Customer Support
Both the platforms offer email and live chat customer support to their users. From entry-level plans to more professional or enterprise-level plans, customer support is offered by both Ecwid and Shopify.
The basic or midrange plans of both Ecwid and Shopify include phone support too. However, in the Ecwid free plan, no customer support is provided to the users, and the same goes for Shopify.
Therefore, this one is a draw!
Furthermore, before directly getting onto the conclusion part – here are some of the reasons why you should chose one over another.
? Winner: Draw
Reasons to choose Ecwid over Shopify
A free plan is available that is feature-packed, is capable to meet the requirements of anyone who is willing to turn their website into an eCommerce store.
It adds eCommerce functionality to your website with a few simple click.
There are no charges for using a third-party app or integration. (Shopify charges a transaction fee if you don't use their own payment gateway)
Limitless product customization options. (Shopify only gives you three product options right out of the box).
You can acquire user's information more easily as compared to Shopify.,
You can upload heavier files while using Ecwid whereas Shopify lets you upload smaller files size wise. (25GB to Shopify's 5GB).
Easier product image management.
More integrations with more carriers allow more functionality and facility for providing users with real-time shipping charges.
Reasons to choose Shopify over Ecwid
Create an entire eCommerce store from scratch.
Unlimited product addition/uploading option right out of the box.
Wider selection of payment gateways including a built-in one.
POS is closely integrate to Shopify as compared to Ecwid. (no need for third-party intervention)
Abandoned cart saving feature available on all plans. (Ecwid gives this feature after charging more than $35+/month)
More drop-shipping option available.
Seamless multi-currency selling and showing option.
More app integration and customization due to a several apps available.
If you're based in a country that has a particular carrier on the list, you can avail a significant reduction in shipping prices.
Stronger SEO support as compared to Ecwid.
Ecwid vs Shopify: Over-To-You
If you're starting from scratch, I would suggest that you go for Shopify because of the sheer number of features, specs, functionalities, ease of use, and much more.
You can easily create your own custom website/online store and provide your customers with an experience that is designed by your own hands.
Although Ecwid is great, in some instances, it surpassed Shopify, but there are still a lot of things necessary that Ecwid simply doesn't have. The comprehensive set of features available in Shopify are nowhere to be seen in Ecwid.
So, if you're starting from scratch, Shopify is your best option; however, if you've already got a website and you're thinking of adding more functionality to it, then you can go for Ecwid. In the above-mentioned case, Ecwid will provide you with all the necessary tools to turn your website into an eCommerce store.

Ludjon, who co-founded Codeless, possesses a deep passion for technology and the web. With over a decade of experience in constructing websites and developing widely-used WordPress themes, Ludjon has established himself as an accomplished expert in the field.