The Internet has made the world a global market. Therefore, it has become easier to exchange intangible services and goods. However, location is a significant problem when selling or buying tangible goods or services such as accessories, clothing, or shoes.
The online stores or even within the country shipping makes you feel like your approach to the customer is limited. At this point, Dropshipping gives you a helping hand. If you want to grow your business and own an online store, dropshipping will take its part without even letting you know about it, especially if you're selling your product globally.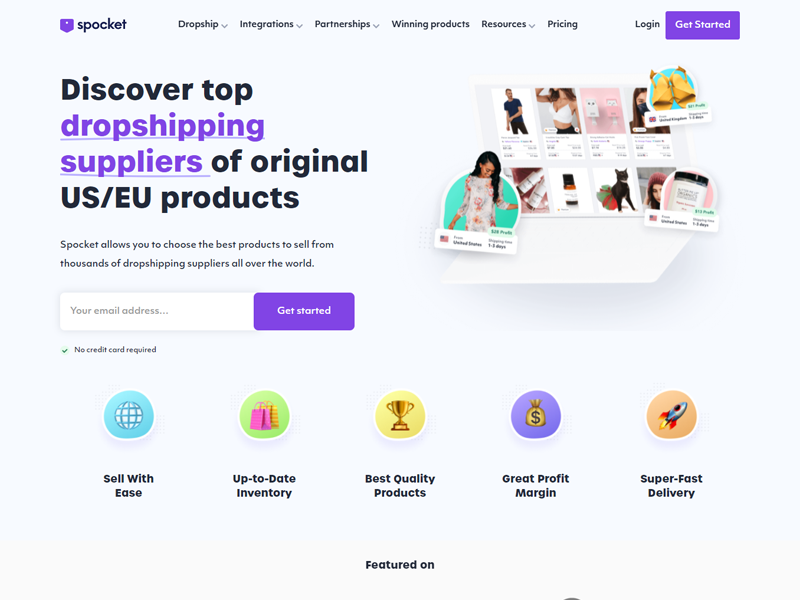 We shall start by giving an overview of what dropshipping is. Then, we will review one of the best dropshipping applications, Spocket. You will know everything about what dropshipping is and the features of Spocket.
We hope that you will be joining the group of 60,000+ users of this app by the end of this article.
Dropshipping – your doorway to progress your online business
Dropshipping is an online business solution to provide the retail owner's opportunity to sell stocks without having to handle products on their own.
Using a dropshipping model for selling requires you to purchase the product from a third-party seller. Then, you have to ship it to the customer directly.
Dropshipping model is best because it does not require you to handle products yourself when dealing online. Thus, the overall labor costs, storage expenses, and inventory setup are reduced for a drop shipper.
You will find dropshipping only beneficial all the time. It does not do any harm. There are many benefits for an aspiring entrepreneur. Also, you can opt for a dropshipping model to start your business. Below are some of the benefits that you may get with drop shipping;
Location flexibility: sellers can benefit from location flexibility to run their business. It is not necessary to be at a specific location for your business. If you have an active working internet connection, you can work anywhere.
Selling multiple products: dropshipping business allows you to sell anything from anywhere. There is no limitation to the type or number of products you want to sell.
Easy to start: you are free from the exertions of handling returns, shipping, packaging, or inventory setup. So, it is easy to start with a dropshipping business.
Less investment is needed: as it does not require setting any inventory, a large budget is skipped for the star-up. Thus, minimum business capital would still be enough if you choose to start with a dropshipping business model.
Now, let's find out the application that provides the best dropshipping business model.
Spocket – easiest dropshipping business solution
Spocket is a platform where you can choose the best products from thousands of suppliers worldwide, all belonging to the same dropshipping platform. Spocket was created five years back, and now it has developed its status as one of the fastest-growing enterprises. It accomplished this by filling the gap between the consumers and the suppliers using technology.

The effect of Spocket can be fully understood by understanding the concept behind its creation. So if this is a new area for you, first understand the drop shipping to its core. Unlike dropshipping platforms, you will not find your products sourced from Aliexpress. It is probably the unique feature of Spocket in comparison to its competitors.
Currently, over 60,000+ sellers are using the Spocket marketplace. It reduces the chances of losing sales because of an out-of-stock item. Also, it avoids launching new designs to prevent overstocked items.
Spocket gets the products from retailers, wholesalers, and manufacturers from around the globe. Therefore, third-party merchants can also sell or resell and find their desired outcomes.
In short, you will find Spocket's marketplace enormous with hundreds of products to sell. Moreover, the suppliers at Spocket can research better goods to fulfill their customers' requirements.
It even allows you to order samples of your desired products from different suppliers before starting selling. It will also tell you the speed of the product delivery. If the delivery speed and product quality are satisfactory for you, you can start importing them for your eCommerce store right after.
Read More: How to Create An Ecommerce Website in 6 Simple Steps
Most of Spocket's suppliers are US and UK-based. So, the delivery speed will surely be impressive.
How to work with Spocket?
Spocket lets you sell everything and anything from and to any part of the world. Some of the products you can sell on Spocket are auto-motives, gaming, toys, gardening, apparel, clothing, fashion, home, tech equipment, and electronics.
They provide you with an option of choosing from a wide range of products using keywords. This search is more accessible with a search bar or a price filter.
You get a healthy profit margin with Spocket because all the products are at a 30-60% discount.
Using Spocket
Integrating Spocket with eCommerce platforms is straightforward. Here are some essential points you should know before starting working with Spocket.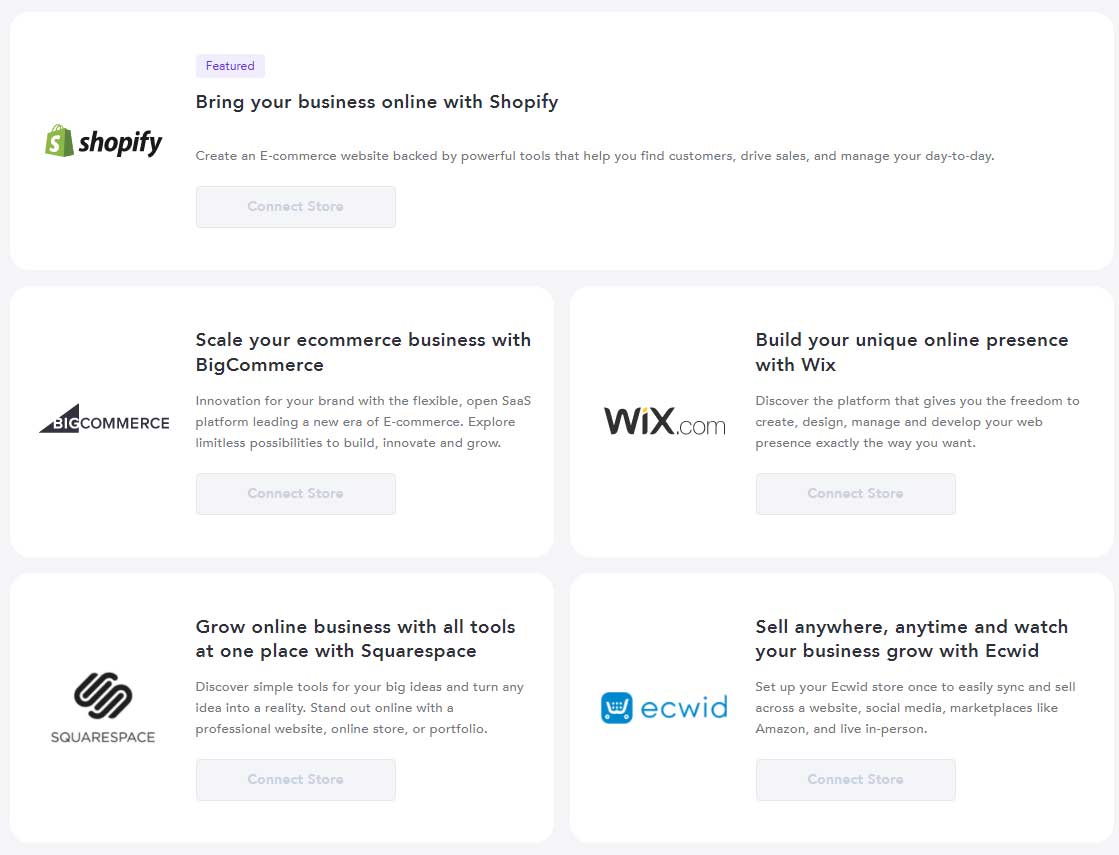 Linking the existing store
If you already have a Shopify store, all you need to do is go to your Shopify App Store. Next, look up for Spocket Shopify App. Choose the "Add App" button. This way, you will get the prompt to enter login info.
It means you have successfully linked your shop with the Spocket app. Now, you can use the catalogs provided by Spocket in your online store. It will also give you the authority to sell and market your products.
Spocket gives a tutorial in the form of a quick tour to access their dashboard. Taking a time around Spocket will let you find and use this resource to make the best out of it for selling and marketing.
Locate the products of your choice
You may want to use their filter options for premium products, location, price, and product categories for other features.
Transfer products to your store
All you need to add a product into your store is drag it. It also gives an option of "add to import list." Clicking this will save the specific product into your "import list."
Later you can evaluate your import list for each product to be added or removed from your digital store. If you want to change the details of your product, you can do it now. Finally, click the "Push to Store" option to publish the goods to your online store.
Simple, isn't it?
How much does Spocket cost?
Spocket offers five plans. Four premium and one free. Spocket also offers a freemium pricing model despite these flexible and generously featured programs.
However, the freemium plan is very-very limited. It only provides access to the catalog. Yet, you can only see the items you want to familiarize yourself with or intend to sell with the interface.
A premium subscription is necessary if you want the real taste of Spocket.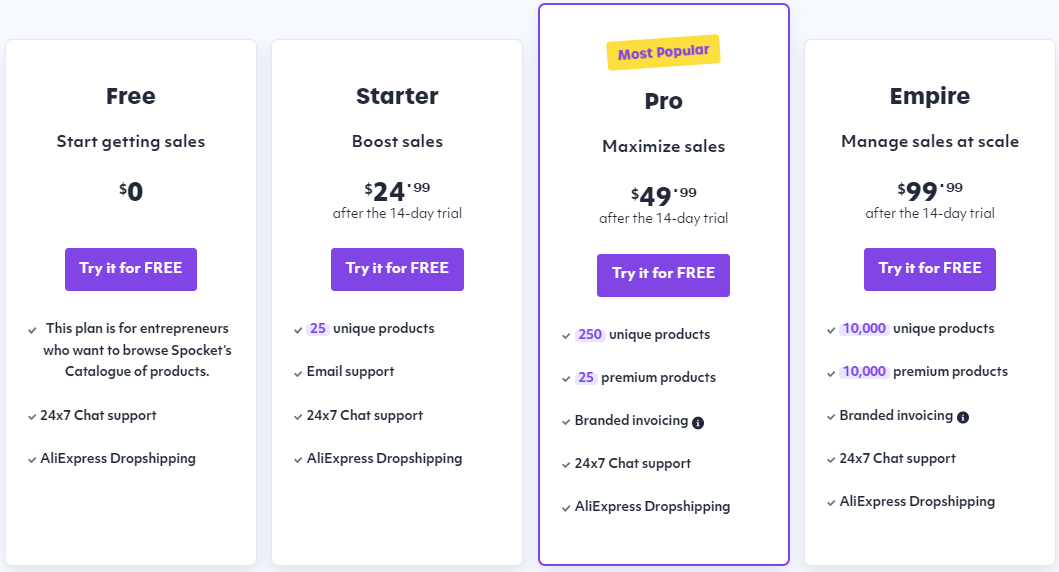 The starter plan is $24 per month. It lets you import limited products, i.e., only 25. However, it provides standard features that are enough to start an online business as a beginner—for example, currency exchange, 24/7 chat support, complete orders, and inventory updates.
You can further boost your sales after startup using the Pro plan. It costs only $49 per month. This plan lets you import over 250 unique products with invoicing options of branding for all premium products.
The Pro plan plus the importing capacity of up to 10,000 outstanding features are given the Empire plan. It lets you import 10,000 premium products. The Empire plan costs you $99 per month.
The Unicorn Plan lets you manage your sales at the cost of $299 per month. It includes unique features such as supplier sourcing, premium 24/7 customer support on the phone, account executive, and bulk checkout and product requests.
All the plans include an option of automatic currency exchange. So, selling to customers throughout the world is not an issue.
Don't want to use Spocket anymore?
Now, if you want to cancel your subscription with Spocket, you can do it anytime. Your contracts with Spocket are never locked. Spocket makes sure you are never bound to use Spocket all the time as a punishment.
Because of this feature, its paid plans do not put you at a loss.
You can be a Spocket Supplier.

Anyone in Europe or States can be a Spocket Supplier. Yet, it would be best if you had a few prerequisites to be an influential Spocket supplier. For this, you need to offer a live CSV feed. You have to prove your identity as an official business.
Offering enormous discounts for Spocket's users on retail prices may also require you to qualify as a supplier. Further, provide easy tracking for international and domestic deliveries at a flat shipping rate.
You are good to start if you fulfill the requisites mentioned earlier.
Above all, Spocket does not charge you to become a supplier.
However, Spocket only allows you to withdraw your payments each Friday after shipping your products.
Pros-the good in Spocket
Spocket offers hundreds of benefits, and we list a few of them underneath.
The Spocket dropshipper provides a piece of real-time information about the inventory.
The plans are affordable and easy-to-use
There is no extra cost or hidden transaction charges.
After importing the pocket products to your online store, you can automatically convert the pricing to Shopify currency.
Before selling, you can even request product samples.
You can use your business logo as the drop shippers brand and customer invoices accordingly.
You get a decent and ideal delivery speed and quality. The retailers using Spocket get a profit margin of over 6%.
It integrates the top platforms of eCommerce, such as WooCommerce and Shopify.
Cons: the bad about Spocket
Shipping outside the US and the UK region takes time, as accessing the target location may be challenging.
Contacting sellers is difficult as it is only possible through Spocket, and there is no other way to get sellers.
The product branding, packaging, and tagging are non-customizable.
Certain factors affect the custom taxes and duty, e.g., location. Spocket does not cover these aspects. Thus, Spocket does not include these in pricing plans.
Not all digital eCommerce platforms integrate Spocket. For example, Etsy, Amazon, and eBay.
The reasons you should use Spocket
Established agencies and startups, and freelancers can easily use Sprockets to fulfill the gaps between consumers and retailers. If you want a side hustle or a platform to ensure your safe selling, "Spocket is a good choice."
If you have an online store and want a truthful solution to sell products in bulk without even purchasing them, "Spocket is a good choice." Spocket takes control of all the hustle and directly connects the customers and drop shippers.
Make the Integrations Easier
You can integrate Spocket with Shopify and third-party platforms such as AliExpress, Alibaba, KMO shops, Square, Ecwid, Felix, Wix, Squarespace, WooCommerce, and BigCommerce.
For example;
Let's see an example of integrating Spocket with Shopify:
Firstly, log in to your Spocket.
Create a dropshipping supplier account.
Click on the My Store option to find all the automation options.
For an online business, enter a unique URL
Setting a Shopify site will give you a unique URL
This URL will let you link your Spocket and Shopify account
Another way to integrate Shopify to Spocket is:
Log in to your Shopify store
Go to Shopify app store
Search, Spocket
Install Spocket by clicking the "Add App" option
Allow the permission for integrations, fast shipping, and order processing with Shopify
Enter and choose product information from the Spocket dashboard.
Keep in mind the Spocket prices and shipping costs while selecting a product.
Take Away
With Spocket, you get technical support that skyrockets your online store. You get to know the means of making money and start your dropshipping journey with Spocket in a few steps only without having any prior experience.
It assures you of quality customer support, product quality, and shipping. It is probably the safest way to enter into the dropshipping business. The 14–day free trial is another pro to use Spocket.

As one of the co-founders of Codeless, I bring to the table expertise in developing WordPress and web applications, as well as a track record of effectively managing hosting and servers. My passion for acquiring knowledge and my enthusiasm for constructing and testing novel technologies drive me to constantly innovate and improve.
Expertise:
Web Development,
Web Design,
Linux System Administration,
SEO
Experience:
15 years of experience in Web Development by developing and designing some of the most popular WordPress Themes like Specular, Tower, and Folie.
Education:
I have a degree in Engineering Physics and MSC in Material Science and Opto Electronics.