Kartra Vs. Kajabi, the most anticipated comparison between the two online giants is here, and today, we're going to discuss both of the platforms from the technical standpoint, the value they provide, features and specs, and much more.
For starters, let's debunk the definition of both of these online business building platforms, starting with Kartra. Kartra is an online business platform that shines when it comes to building funnels, email marketing, and product selling.
In contrast, Kajabi is also an all-in-one platform; however, the main difference is that Kajabi is specially catered towards enabling the users to sell online courses.
Additionally, Kajabi enables the user to create customized courses for online selling, and the platform is more related to Thinkific and Teachable (membership site platforms).
Both of them have their respective competitive edges, advantages, and usability benefits; however, they have their differences that we'll discuss later in the blog.
So, without any further ado – let's start comparing these two powerful tools and unveil their edges when it comes to funnel building, email marketing, features, marketing standpoint, and much more.
The Similarities Between Kartra & Kajabi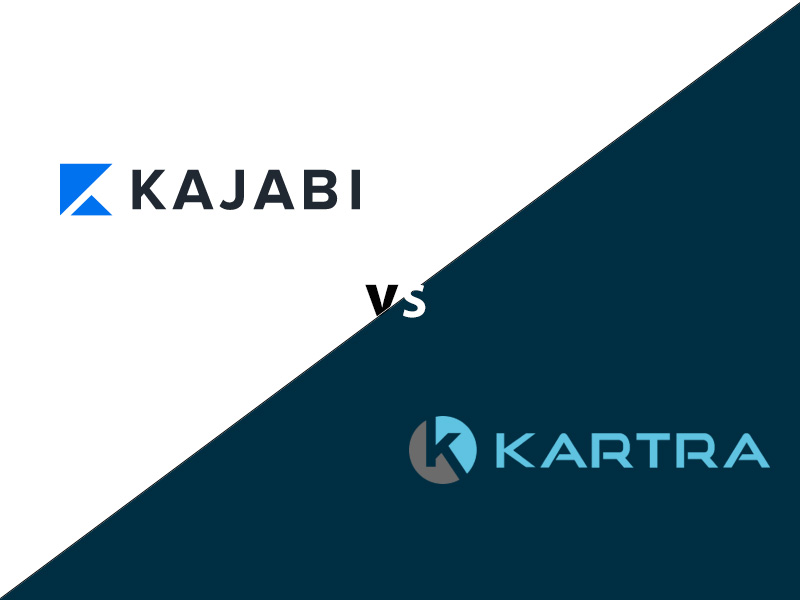 Although both of these platforms are fairly different from each other, they too have their respective similarities.
These similarities, however, make them competitive to each other due to the intensity and feasibility of the similar features integrated to both of them. Therefore, here's what both of these online course platforms have in common:
Both of these platforms are designed to facilitate marketing by enabling the users to build sales funnels. In Kartra, building sales funnels is referred to as "Campaigns." On the other hand, In Kajabi, they're called "Pipeline." However, I believe that the Kartra funnel building process is more mature, clear, and streamlined as compared to Kajabi's.
Both of the platforms offer drag and drop page builders that seamlessly enable the user to add more, edit, revamp or improve the overall visual vibe of their page while maximizing the page building experience.
Both of these platforms can be used to create memberships; unlike ClickFunnels, you're allowed to host videos to better engage and inform your audience. Kartra offers native video hosting while Kajabi's video hosting feature is unlimited.
Both of the platforms offer you analytics tracking interfaces to see how your marketing campaign and performance are while keeping track of students of how they're interacting with your content.
Both Kartra and Kajabi offer features like email marketing, broadcasting, automation, and much more. The point is that both of the platforms minimize the need to integrate external tools.
Kartra and Kajabi can be used to create customized affiliate programs to promote a product. In Kartra, you can avail of this feature right from the start; however, in Kajabi, you need to upgrade to their premium package to avail of this feature.
Both platforms allow you to segment your audience on the basis of their behavior by automating workflows and executing campaigns.
You can upsell your product by leveraging both of the platforms, and both of them also offer OTOs as profit increasers.
The 14 days standard trial is available on both of these platforms; however, in the case of Kajabi, it is totally free. However, in Kartra, you have to pay $1 (considering the feats and specs, I think it's worth it).
Kartra's Competitive Edge Over Kajabi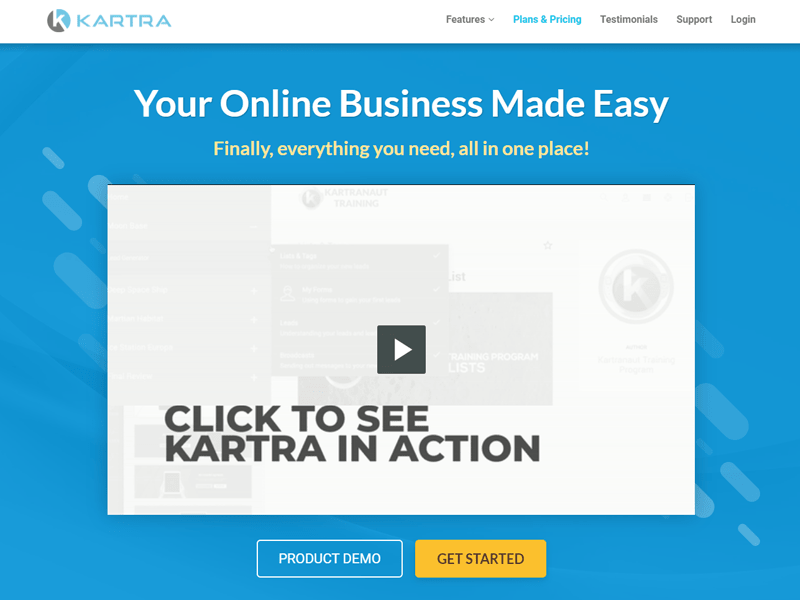 Now that you've got a clear vision as to what both of these platforms/tools have in common, let's focus on the competitive edges that one platform has over the other one.
For this section, we'll be focusing on the competitive edge that Kartra has over Kajabi in terms of sheer performance, features, and specs; let's get started:
Kartra has built-in campaigns for you. You don't have to build campaigns right from scratch – you can seamlessly replicate the complete campaign to your account and start marketing your digital product. This feature/functionality is quite similar to the one that you'll find in the ClickFunnel's templates and "Funnel Cookbook."
In Kartra, you have the facility of sharing your funnels and campaigns with other Kartra users. This enables you to improve your campaign's performance or structure by sharing with other experts. ClickFunnel also offers very similar funnel sharing features.
Kartra is designed to enable you to better market your digital presence. It offers much more powerful video hosting from a marketing standpoint as compared to Kajabi, where you only have unlimited access to video hosting.
The help desk support integrated into Kartra offers amazing features such as the ticket system, chat support systems, and knowledge base management, among many others. This help desk support is designed to replace similar third-party integration tools like ZenDesk and FreshDesk.
Kartra provides your audience with the option of booking an appointment via the calendar features. This feature can also be integrated into Google Calendar to give you real-time updates and access whenever you want to check your bookings or appointments.
Kartra encompasses advanced marketing features like Behavioral analysis and adaptive marketing. It is basically designed to help you sell better as compared to Kajabi.
The prices of Kartra are super budget-friendly, starting at $99/month than Kajabi's $149/month. Also, like Kajabi holds the user back in terms of offering more advanced features as the user upgrades the plan, Kartra doesn't and gives you maximum features right out of the box.
Kajabi's Competitive Edge Over Kartra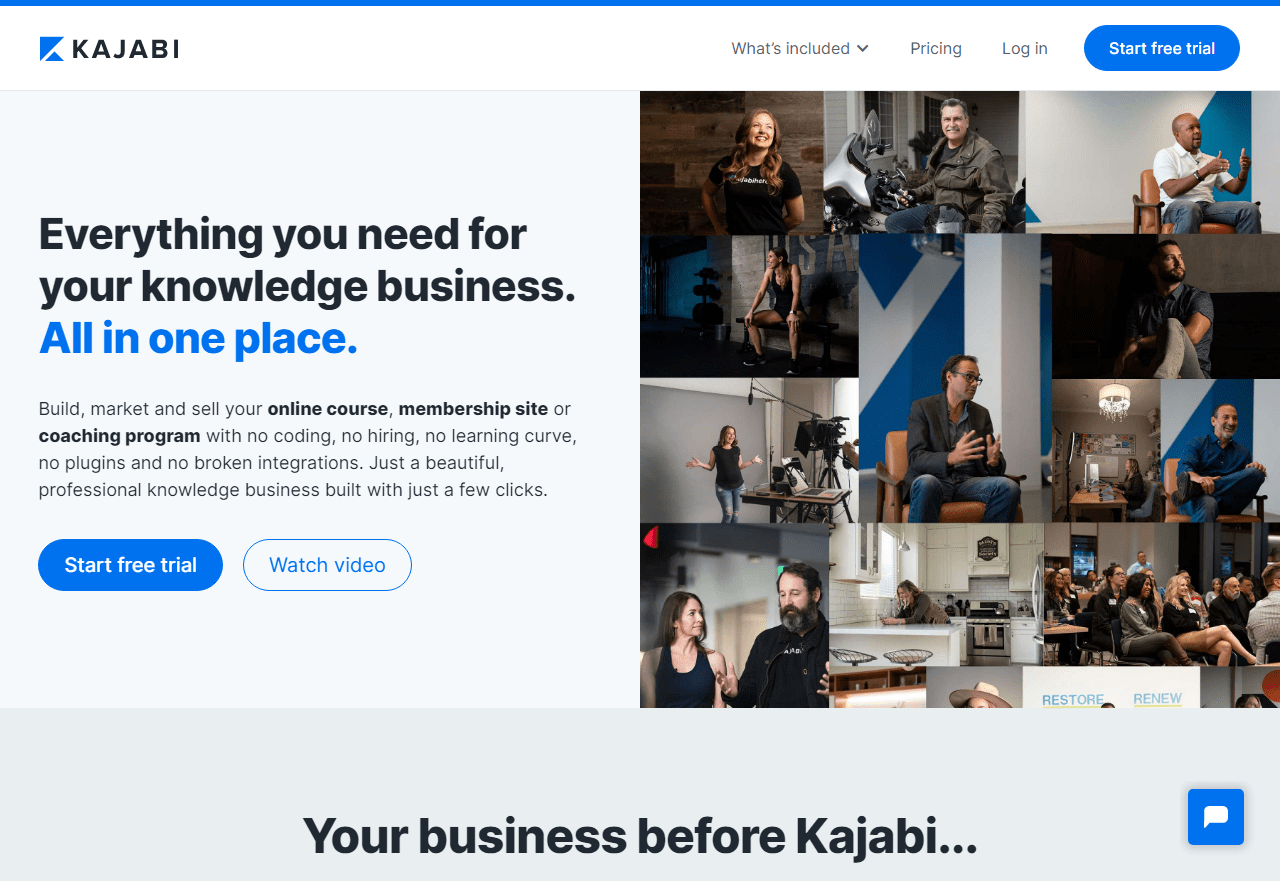 Now, after exploring the competitive edge that Kartra has over Kajabi, let's set course for the other way around to explore the competitive edge that Kajabi has over Kartra:
Being centered on enabling the user to sell online courses, Kajabi enables you to create your own community. This feature is extremely important because you don't have to share your courses in Facebook or WhatsApp groups; you can seamlessly provide the user's access to your own community to let them access your course.
The comment section that Kajabi gives you beneath each course or lecture allows you to engage your audience/students in real-time by answering their queries, concerns, and problems. (that's a better customer experience right there).
Kajabi enables you to integrate several important features into your course, for example, quizzes. You can leverage this to provide an assessment to your users that they should clear to move on to the next stage.
The standout automation features that Kajabi offers to allow you to trigger an email to your audience the moment they're about to complete their course. Through this feature, you can redirect your audience to another course that you have on your website after they've completed the one they were enrolled in.
The blogging platform is perhaps the best aspect that Kajabi offers to its users. Through blogging, you can attract plenty of traffic to your online platform, strengthen your SEO, boost your bottom line and increase your chances of getting more sales and conversions.
You can also read: Thinkific Vs Kajabi – Which is the best course creation platform?
With the competitive edges out of the way, let's start discussing why
Kartra vs. Kajabi – Features-Stack Comparison
Funnel building
Kartra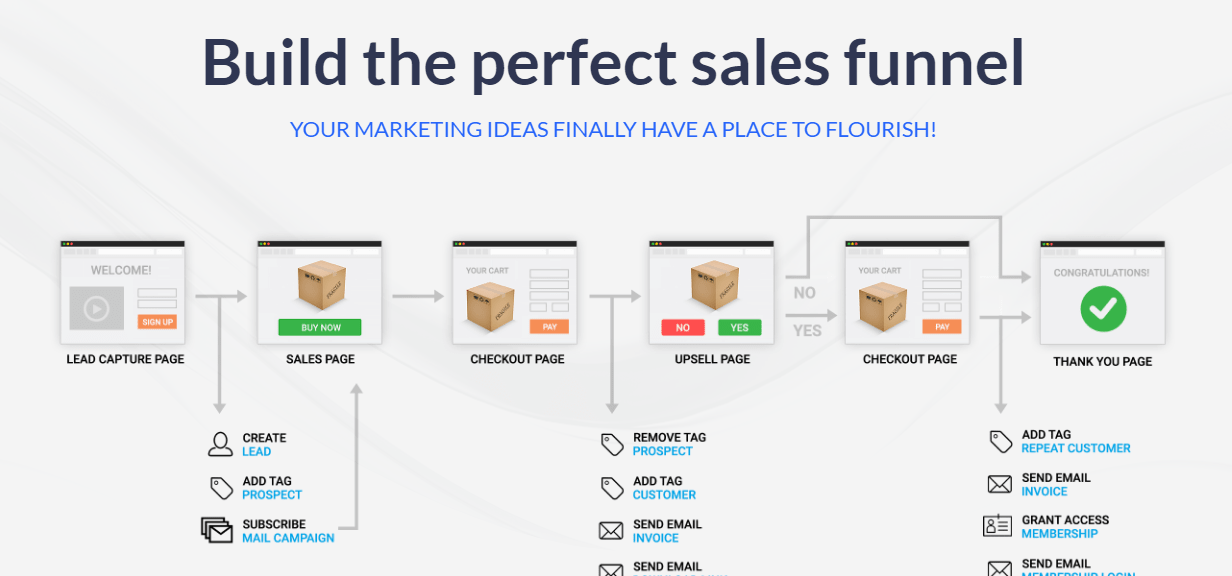 As I mentioned earlier in Kartra, the funnels are referred to as "campaigns. The funnel/campaign building feature of Kartra allows you to build/create the entire campaign from scratch.
So, what actually happens in Kartra is that once you select a campaign to be created, all the relevant tools and assets that you need for your campaign will appear in the sidebar.
You can also sideline the assets that you'll be needing to create your campaign before you've initiated the work on building your campaign.
Additionally, as mentioned earlier, Kartra also gives you the feature of sharing your campaign with other Kartra users. This sharing allows you to get feedback on your campaign so that you can make it more effective and performance-focused.
Kajabi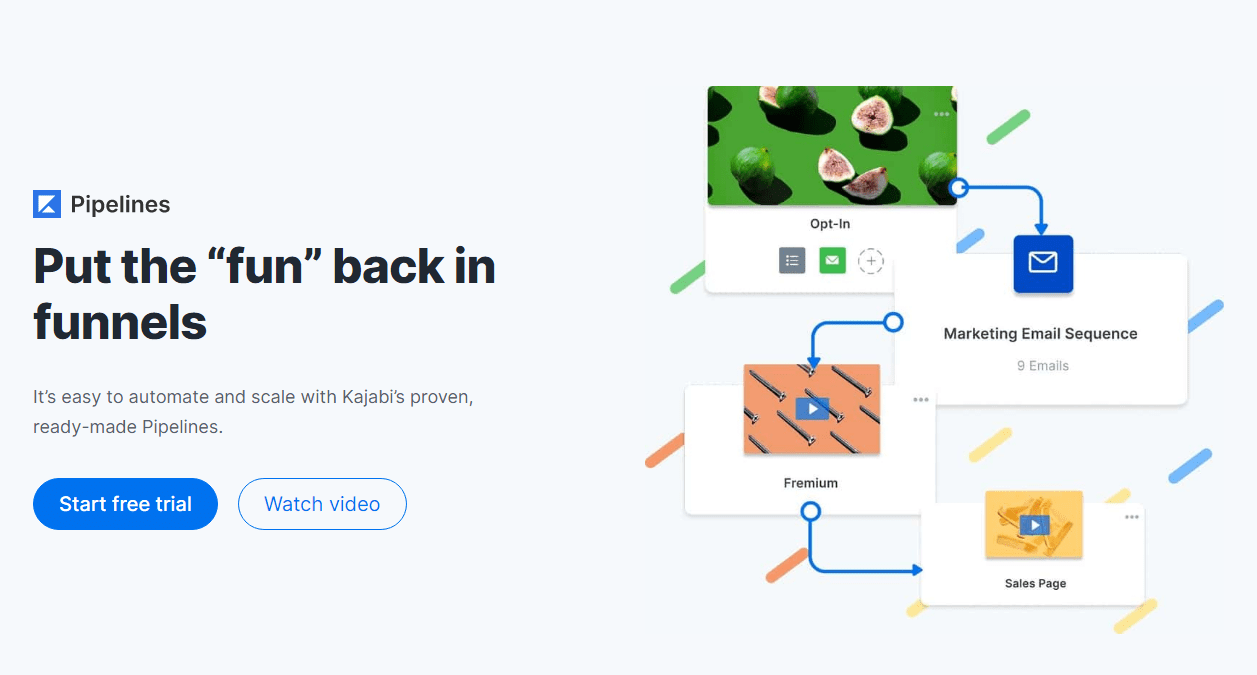 Kajabi doesn't seem to have this feature of sharing the funnel with other users due to the fact that the pipelines are not a part of the assets. They're somehow linked to the assets.
Also, a difference of terms can be seen here as Kajabi likes to call funnels "Pipelines." However, there are more differences between the two platforms than just terms they're using to define a general feature.
Although Kajabi does have generic pipeline templates, they lack a stunning collection of templates that Kartra offers to its users.
Moreover, once you choose the generic template, Kajabi will ask you to associate a product with the pipeline.
Then comes the page building screen, where you can select the page in the pipeline that you want to build or customize. There are just enough elements and options available for you to tailor your page according to your needs.
My final verdict would be that as compared to Kartra, Kajabi's funnel building process is quite simple and suitable for beginners. But this feat of being easy and simple compromises the need for much complex functionality that is necessary.
I believe that Kartra is the winner here simply because of its flexibility and advanced features. Due to the availability of pre-built campaigns and campaign sharing features – I think Kartra does a much better job of being an amazing funnel builder.
Membership & Course Sites
Karta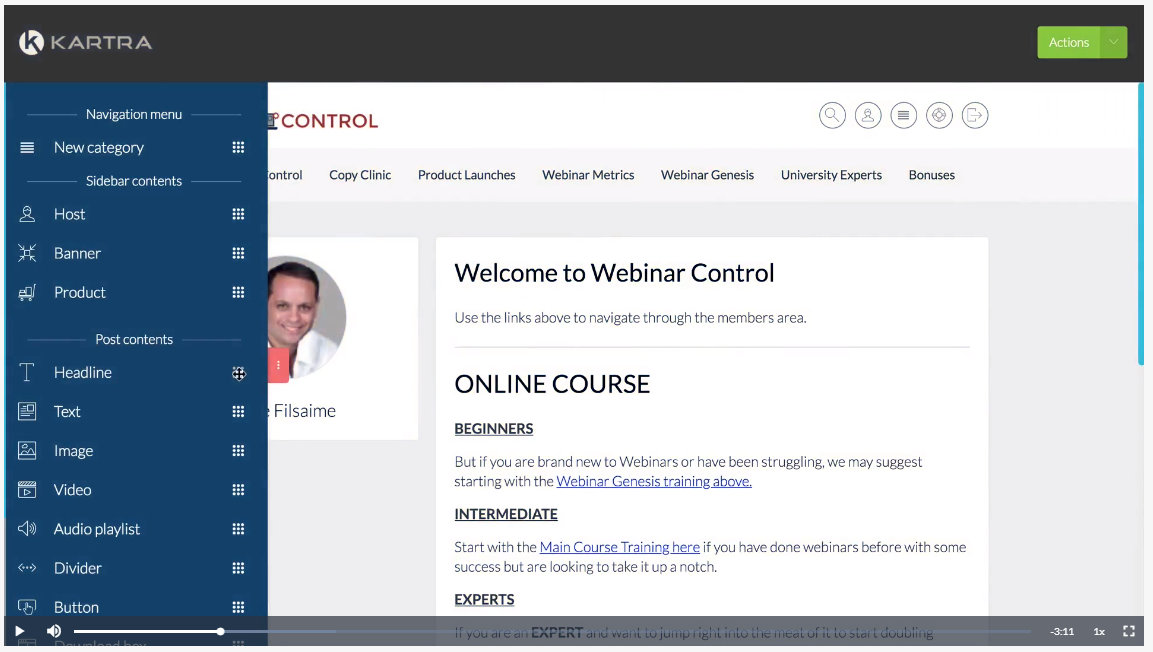 Starting with Kartra again, the seamless functionality and feasibility of Kartra exceed in this part too. There is literally a whole list of the features that Kartra provides to its users.
These features and options enable the user to create a fully customized course or membership site and access levels.
Here are some of the most in-demand features that Kartra offers to its users:
Drag & drop page builder to help you go codeless.
Visually stunning and tailored-branded membership domain.
Numerous membership tiers.
Embedded videos.
Drip content.
Automation runs feature.
Enabling the users to deliver full courses.
Furthermore, the logical arrangement of options in the membership creation dashboard enables you to create a membership site with utmost convenience
In the content section, however, you will be required to create relevant sections, and then you can add content in each section according to your own perspective.
I personally consider the custom content addition feature to be a plus point considering that you can create customized content sections, and you can input what matters the most to the audience on top.
Additionally, when you're granting access to the content for different membership levels, you will be using the "Access Levels" feature in Kartra. This feature would make the entire process of granting access seamlessly.
For the selection of recurring payments, you'll be using the "Recurring Payment" option. In a nutshell, Kartra is full of important options that are there only because, at some point, you'll be needing them.
This approach makes the platform feature-packed rather than feature stuffed.
Kajabi

Let me start by saying that Kajabi has many straightforward and powerful features when it comes to memberships and course site creation as compared to Kartra. Overall Kajabi is one of best membership site platforms.
When you're creating a new product in Kajabi, you will be needing the start creating a section that is integrated within the interface by the name of "categories."
Inside the category section, you can add sub-categories and posts. For posts, you can leverage videos, content, or assessments to display your brand's presence in a spectacular way.
Along with the above-mentioned features, you can also add downloadable products and accept feedback or comments on your course or lecture. This approach of getting feedback enables you to revitalize your digital product or any lacking in your service.
Furthermore, Kajabi also lets you automate specific lectures. This is the email sending part where once the user finishes going through a post or your course, you can easily send them a tag, conversion-focused email, or an offer in return for registering for an event or subscribing to it.
Kartra, on the other hand, lacks this great automation feature, and even this is not the end. There are several other features that Kajabi comes with. For example, , the best feature set of enabling the users to create their own communities.
These communities are called "Products" in Kajabi's language, and here's what they have to offer to the users:
Unlimited views
Private conversions.
Realtime/email notifications
Custom domain
Embed in memberships
You can also read Kajabi vs Teachable compared by features and pricing so you can create a clear idea about the membership platforms.
All of the features mentioned above are missing in Karta. Therefore, it's pretty much clear who the winner is here.
Kajabi takes the lead with its amazing features like community, automation, real-time student interaction, and assessments.
The Design & Page Builders
Kartra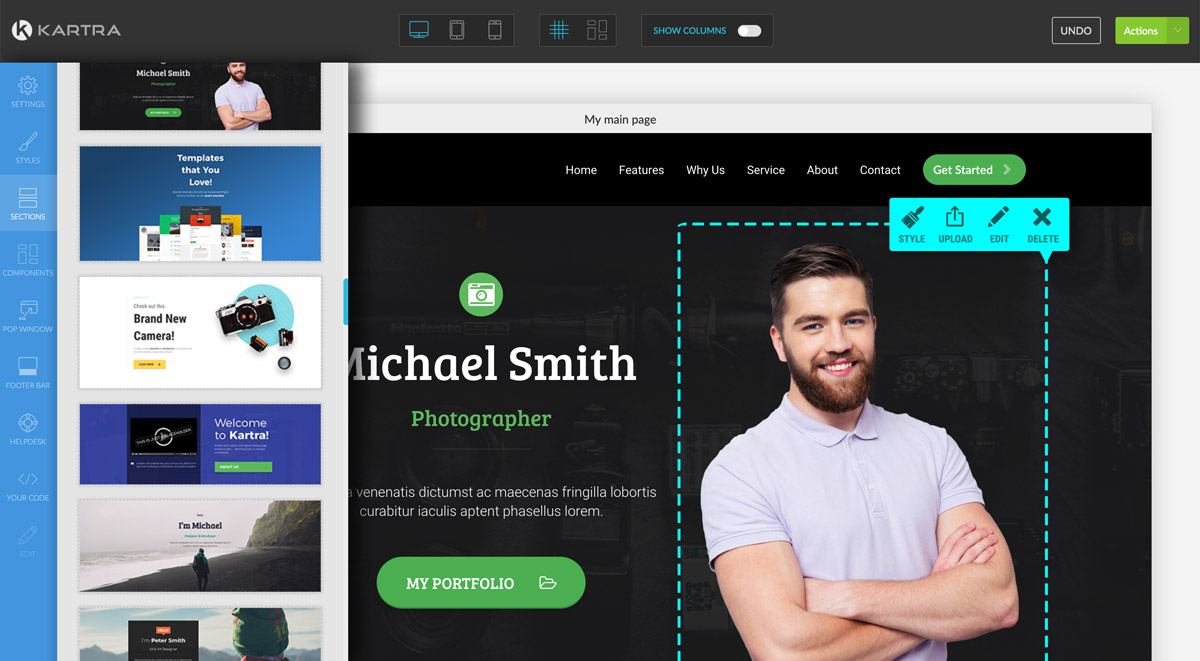 Kartra's page building feature comes with a whole lot of new and advanced options that enable the user to create a customize presence in the digital world. Some of the customization design and page building features of Kartra include:
Settings
Styles
Sections
Alert Bar
Helpdesk
Sites
Templates
These features are included in the sidebar of Kartra's page builder. Moreover, I personally like the features of Kartra that offer several templates that the users can select according to their business.
Also, the dozens of templates included in Kartra themselves offer some amazing features such as a countdown timer, CTAs, and other sections that can be customized and used by the users.
The page builder of Kartra is also mobile responsive. This increases the possibility of getting more traffic to your website, considering the fact that today 4.38 billion internet users worldwide leverage their smartphones to access the internet.
Moreover, with the mobile responsiveness of Kartra, you can quickly switch between mobile, tablet, and desktop devices. Also, with some great features that boost productivity, like "show columns," you can foster a speedy development of your page.
Additionally, there's the A/B testing method in which you can compare up to four pages at the same time in terms of performance and select the best one out of them. You can also split the traffic among the different pages if you want.
In a nutshell, there's a lot that you can do with Kartra when it comes to designing and building your site.
Kajabi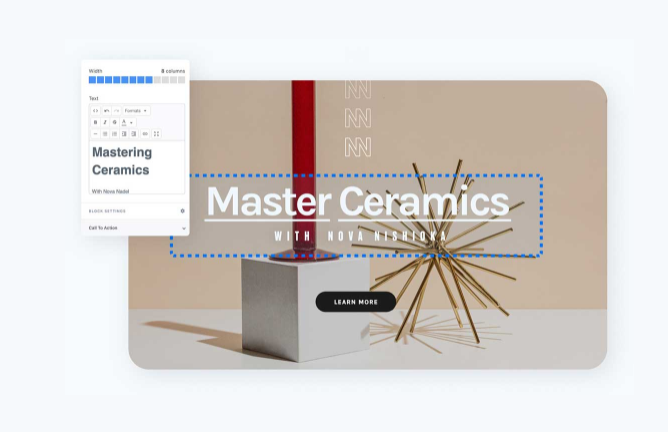 Although Kajabi may not have many features to explain here, however, it minimizes the hassle of providing you with tools, features, and options and directly lets you head over to a specific website.
This website has a list of pages that you can select as per your requirements. You can simply click on any page, and the interface will give you the option of editing it.
You also get 10+ themes along with plenty of customization options that you can leverage to create a custom-tailored website.
The visual page builder that comes integrated into Kajabi offers several elements that can be used to add more functionality to your website, i.e., countdown timers, accordions, videos, CTAs, forms, and much more.
To wrap it all up, Kajabi's page builder is the main reason why the process of creating an entire website is seamless here. The builder feels premium to use and provides optimum feasibility as compared to Kartra.
There are a lot of other website builders like WordPress that also offer online courses in support with LearnDash. You can see here the difference between Kajabi and WordPress
However, Kartra surpasses Kajabi with the dozens of templates for creating sections that it offers.
I consider this a tie between the two because where Kartra gives you more features to edit and customize your website – Kajabi gives you 10+ themes and a page builder to enhance the page-building experience.
Email Marketing & Automations
Let's start with marketing. Marketing is perhaps one of the most critical components that make or break a business. Therefore, both of these platforms allow you to market your product. Here's what both of these platforms have in common:
Send one-off broadcasts
Tag the people/contacts
Set automation and send sequences
With the common features out of the way – let's start exploring the standout standpoint of both of these platforms.
Kartra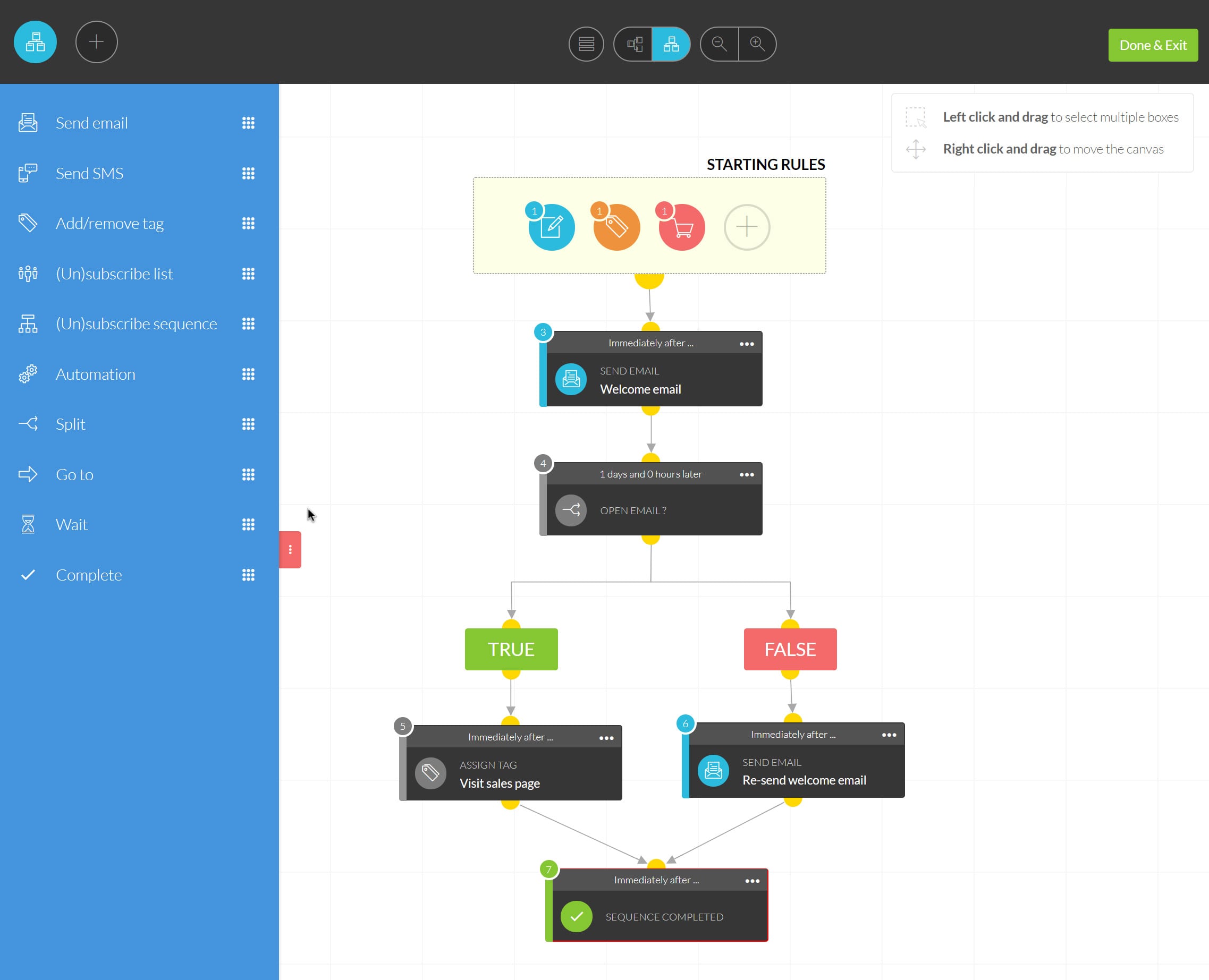 Let discuss Kartra's email marketing features first. For starters, the whole management of the list thing in Kartra is done with the help of multiple lists and tags.
The visual sequence builder integrated to Kartra helps in sequencing. Additionally, there's the build-in KartraMail through which you can send emails to your prospects or hook in your SMTP server.
Moreover, the dedicated "Automation" features enable you to create not very sophisticated "if" & "then" rules that apply to even double-opt-in emails.
Kajabi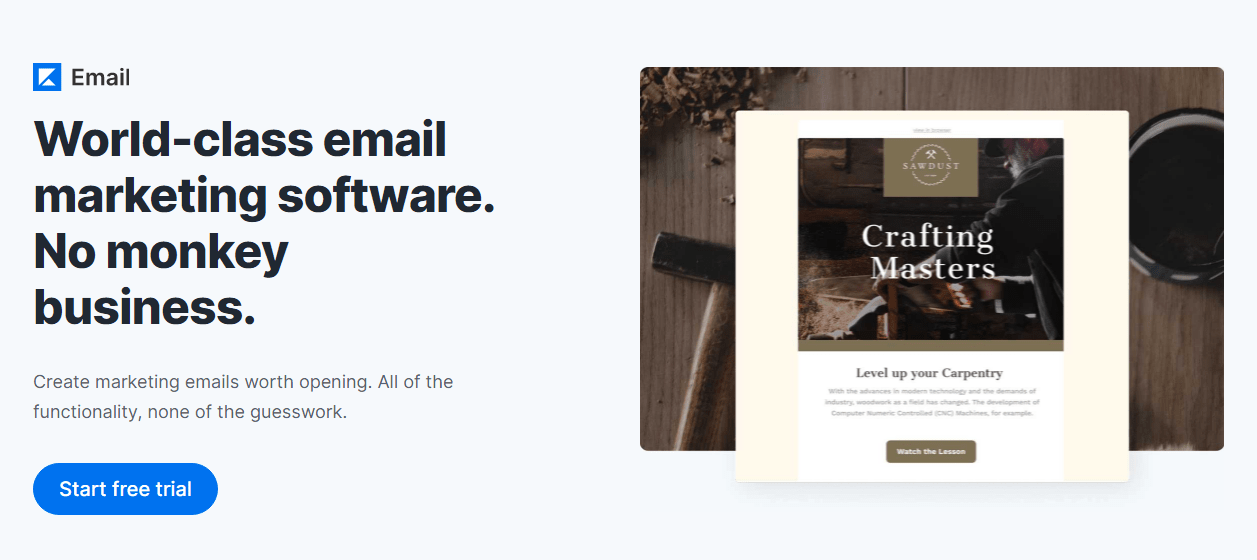 In contrast, Kajabi has a more robust automation builder. Although the email automation builder is not visual however it packs some serious power into it. But it does lack flexibility.
Let it be pipelines, posts, events, forms, deals, or offers, with the distinct automation building feature of Kajabi – you don't have to worry about sending emails or automating the process of sending them.
The competitive edge of Kajabi, however, comes from the automation technology that it leverages to deliver outstanding results. Moreover, you can handle all your automation under one roof, "Automations."
Here your can read more about business automation software's
We have to give this one to Kartra because of the sequence builder it has and the centralized place of handling automation that it provides.
It has a better sequence builder and also a centralized place to handle all your automation.
Marketing & Checkout
Kartra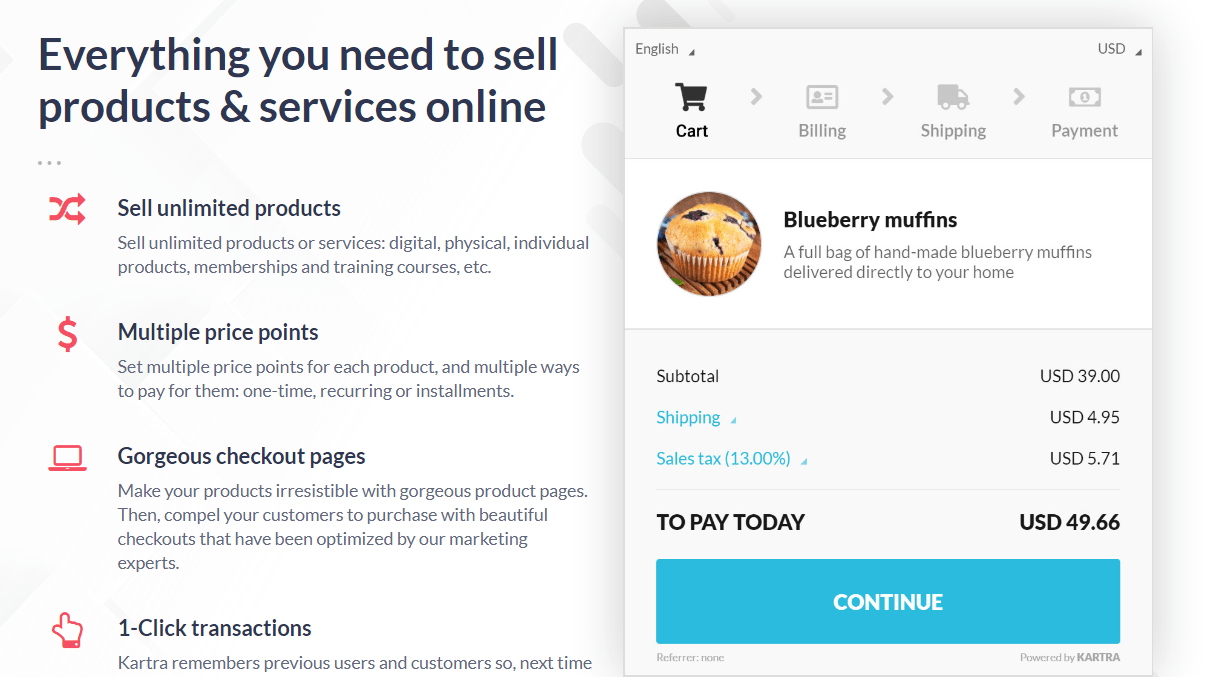 Kartra is packed with some serious marketing features, and those features are listed below:
Behavioral adapting marketing enables the user to change the conveyance of the marketing message, colors, presentation, and much more by deriving important data through analysis of the behavior of your website visitors.
This feat alone is powerful enough to help you increase the effectiveness of your marketing efforts.
Furthermore, Kartra also gives you the ability to enable your audience to add "Order bumps" in your checkout form. Furthermore, Kartra uses Stripe, Braintree, and Authorize.net for payments.
Kajabi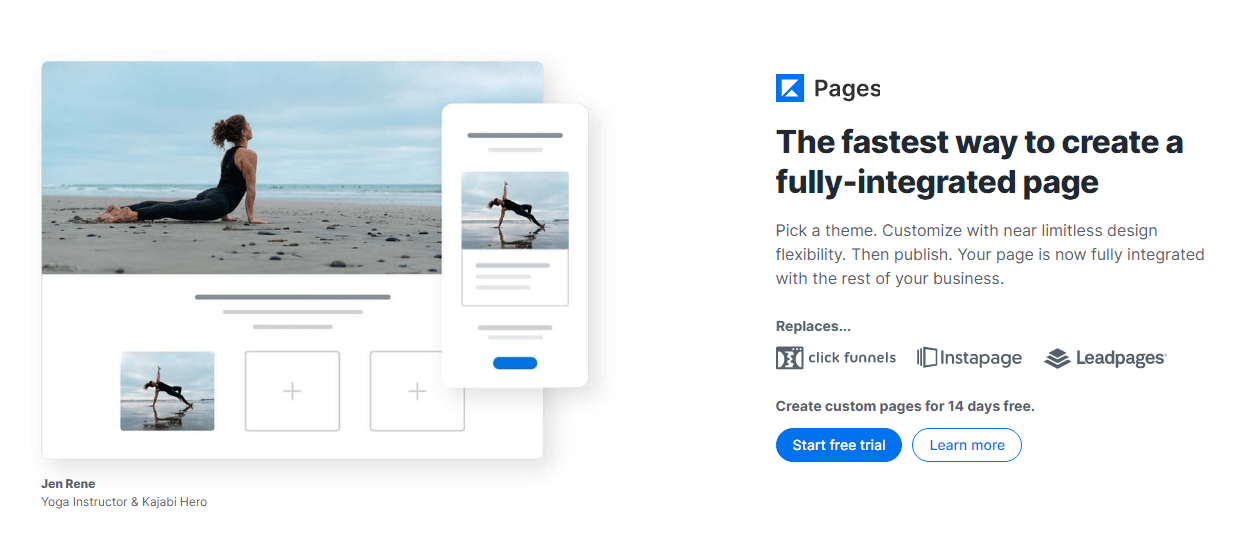 Kajabi doesn't have such advanced features that Kartra has. However, there are some features that stand out, for example, the Dynamic OTOs that let you present different offers to people based on their purchasing history, search, and behavior.
Kajabi also seems to have support for upselling but no support for down-sells. Last but not the least, the payment method used by Kajabi is limited to only Stripe and PayPal.
Isn't it obvious "Kartra" is the winner here because of better marketing features and more payment processing feasibilities.
Affiliate marketing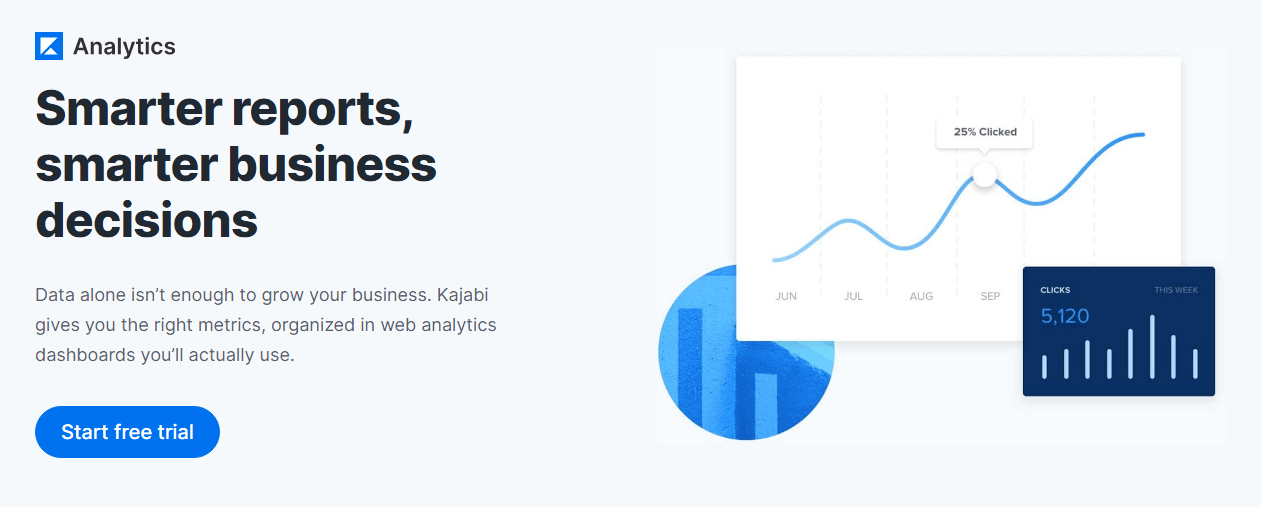 With both Kartra and Kajabi, you can opt for Affiliate marketing. Affiliate marketing is the process of selling third-party goods on behalf of the primary source.
Let me tell you that the affiliate marketing industry is booming and now's a better chance than ever to become an affiliate marketing. So, with Kartra and Kajabi, you can easily set up your affiliate marketing setup and start promoting your product or service.
But first, let's unveil what both of these platforms have in common:
Affiliate performance
Affiliate sales vs. total sales
Earnings per click
The only significant difference that I was able to spot between the two was that Kartra was offering affiliate management right out of the box, while Kajabi's gives affiliate marketing in their growth plan and beyond.
Winner: Kartra
Again! It's Kartra for giving the affiliate program at the lowest rates package.
Integrations
Kartra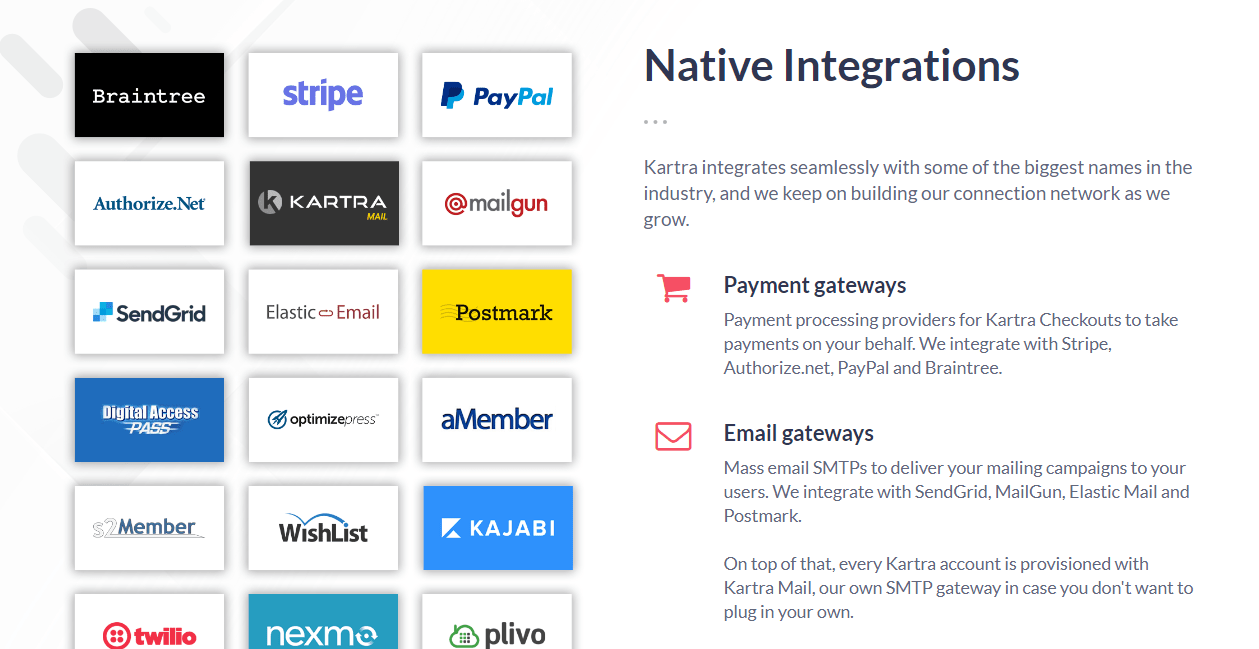 From the pricing section, you may already know that Kartra is capable of integrating with some of the well-known payment processors as compared to Kajabi that only supports PayPal or Stripe.
In addition to the above-mentioned statement, Kartra is further capable of integrating with 20+ different products, services, tools, and much more. The integrations can be made easier in the following categories:
Payment
Membership
Email
SMS
Hub
Calendars
Kajabi
Both Kartra and Kajabi support Zapier integration; however, Kajabi has more triggers as compared to Kartra's integration approach.
Kajabi is pretty much similar to Kartra. It also offers a number of seamless integrations. The user-friendly inbound and outbound webhook support is also something that users require. Kajabi also seems to integrate with Zapier.
It's a tie because both of the platforms have their own respective advantages, and at every point, something missing in both of them that the other one has.
Pricing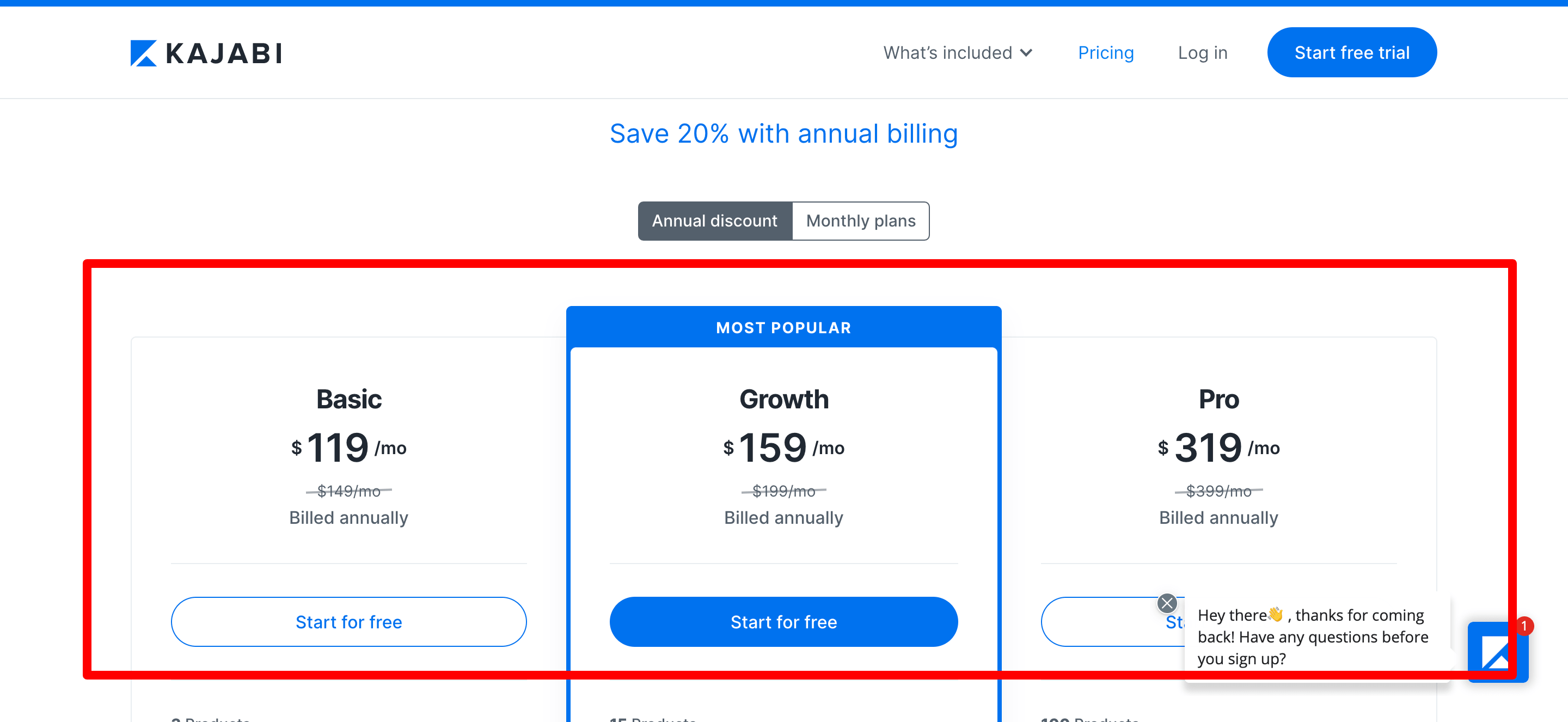 The pricing of Kartra starts at $99/month. Plus, there are no transaction fees. However, in the basic plan, there are several robust features of the platform that are missing. For example, the product adding option is limited in the basic plan.
But If you own an enterprise-level organization, you can upgrade to their more advanced package. Furthermore, another major downside of Kartra is that, unlike Kajabi, it puts the limit on the number of emails sent.
This means that even with Kartra's platinum plan, you're only limited to send 5000,000 emails. The least package, however, offers 50,000 emails.
Furthermore, Kajabi's basic plan will cost you $119 and lacks branding, affiliate, and advanced features. Although you can use both tools to create unlimited pages, there's no probable explanation as to why Kartra hasn't highlighted its features yet.
Additionally, Kajabi offers an affiliate program, advanced automation, and other growth-oriented tools and features that would cost you a total of $159.
Wrapping Up
That's all, folks!
Here's your completed guide concerning Kajabi and Kartra – know that although there are several similar features in both of them, they have their respective differences that I've just told you about above in the article.
Kartra, however, has the upper hand when it comes to funnel building or marketing. On the other hand, Kajabi offers some great email marketing features and much more.
In a nutshell, it will always depend on you and your specific requirements. Having clear goals enables a person to think correctly, and by thinking correctly, one makes a better and more informed decision. Hence, I believe that you should select the platform wisely. Plus, we've got all the details of Kartra Vs. Kajabi so, if you have any questions – just leave a message in the comment section below.

Ludjon, who co-founded Codeless, possesses a deep passion for technology and the web. With over a decade of experience in constructing websites and developing widely-used WordPress themes, Ludjon has established himself as an accomplished expert in the field.