Do you know about blogging? Or want to pursue it as your career? So many of us think that make money blogging is a quick way to make a life-changing income. But let me clear to you that it is not as simple as you think.
So here we came up with the complete and comprehensive guide that helps you understand and give a path on how to make money blogging.
Ensure that you read it and then follow every step.
Generally, expert bloggers guide beginners that they should write about their passion or area of expertise. But it is not the only factor that helps you in making the compressive blogging website.
Blogging is a vast niche that depends on your capabilities, writing skills, and monetization.
If you have bad guides, then it takes years to earn passive income through blogging. So However doesn't disappoint or lose hope. If you have the right path and know all the relevant facts, you will earn passive income in a few months.
Now you are here and want to make money blogging.
But, first, you need to change your mindset and start thinking like a developer who sets a business and its rules and paths. In a blogging startup, you have to be clear about your directions, instructions, niches, and everything related.
Remember that blogging is not a hobby but full-time entrepreneurship that you develop and then run according to market growth factors. If your blog has a small loophole, it may lead you to the failure to ensure that you focus on every major and minor aspect.
According to surveys, 90% of bloggers fail to earn their passive income through passive sources. Everyone dreams of making money from blogging, but they don't spend consistent time at their blog.
There are more than 2 million blog posts published daily, you should do more than others to succeed. Now in this situation, they fail or earn cash after years of irregular efforts.
According to the expert's advice, if you want to have a successful blog, focus more on a system created as it is the key to success.
You have excellent writing skills, but it is a secondary factor than the comprehensive system development.
Making a blog will make you the business owner, not just a blogger. So it comes with a lot of responsibilities on your shoulders.
We cared about you and came up with a complete guide that covers every aspect, including content creation, keyword research, SEO factors, marketing, affiliate marketing, WordPress blogging, and many more. So keep following the rules that we mention below and have a successful blogging site.
Now let's dive into the step-by-step guide with expert opinions and experience.
How to Make Money Blogging in 2023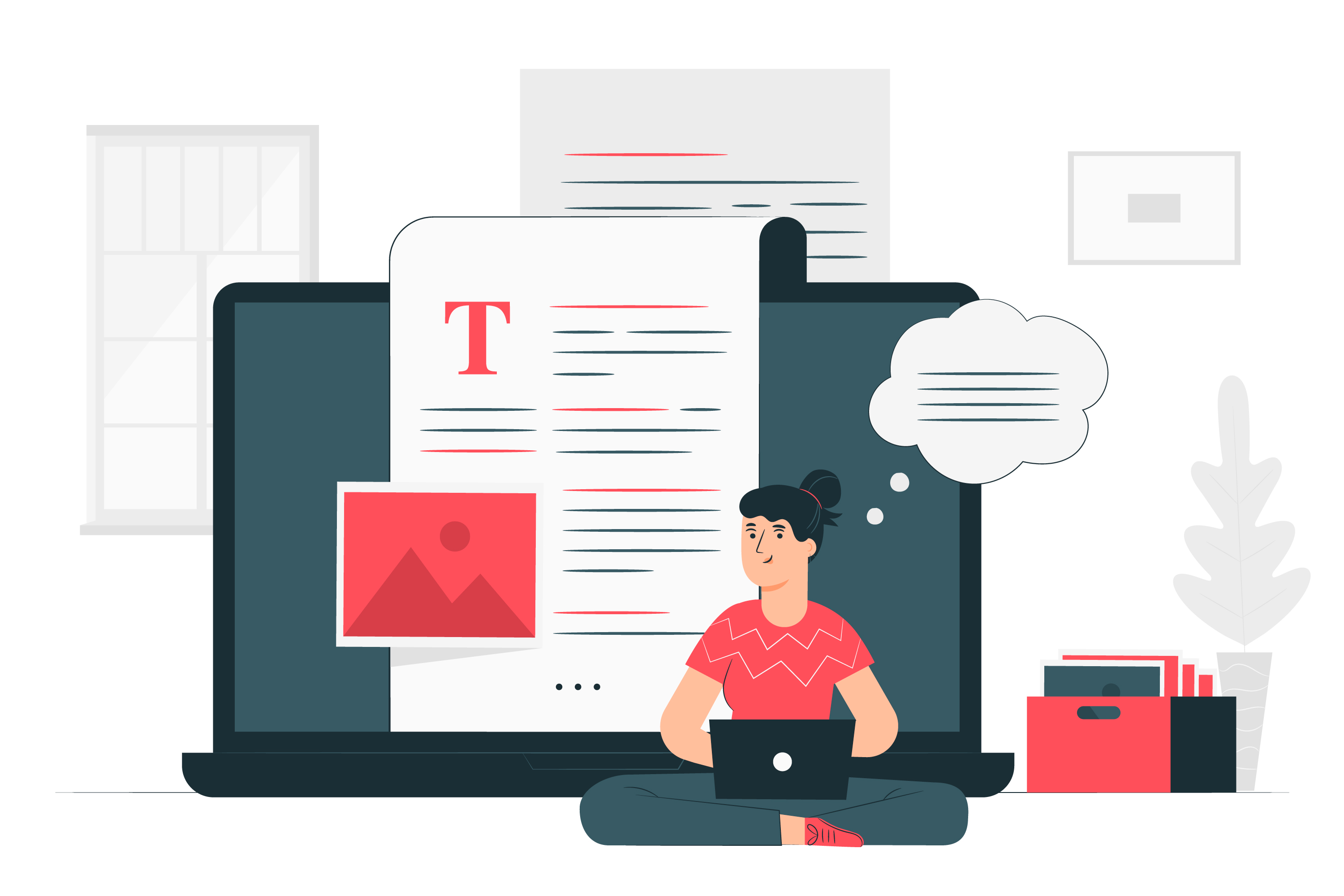 The first and foremost essential fact of running a successful blogging and make money from it, is that you know about its making or how to start a blog? Many of us know about the basics and dig into the vast and saturated field of blogging.
So ensure that you know how to make money blogging in 2023 and then follow the steps that can lead you towards success.
You are starting a blog demanding a hosting and domain name. Choose the hosting with competitive market rates.
Now in 2021, you have plenty of options for hosting a blog. Search for them and then compare their capabilities. According to our advice, you can get the hosting from HostGator, Bluehost, and many more.
After choosing reliable hosting, host your website through WordPress. It will provide you with enough features to make your affiliated blog site, eCommerce site, and informational blog. You may think that hosting WordPress is enough for making a blog, but it is not valid. You also need to invest some money in the relevant plugins.
In this guide, we will give you guidance regarding this year's blogging facts.
Scaling a blog to money-making capacities is a challenging task.
So we will guide you through scaling your log by choosing the right niche, monetization, and making more than $100k/year.
Yes, it is possible by monetizing your blog.
Blogging in 2021 is different from all the previous years. First, you need to put additional and comprehensive efforts into your blog. Keep in mind that there is already massive saturation in the blogging world, so you will only succeed when you have the proper keyword research and blogging expertise to help you make money.
So ensure that you have the right hosting with a proper domain name that represents your niches and helps you to rank at the search engines.
If we talk about blog SEO in 2021, it is one of the challenging tasks in your journey. Google or search engine analytics will analyze your blog and give you the ranking according to its capabilities.
Focus on every aspect with the right strategies to rank on search engines and make money blogging quickly.
Here we will give you the way to make your blog startup in 2023.
So let's move to the further and essential steps.
Choose Blogging Niche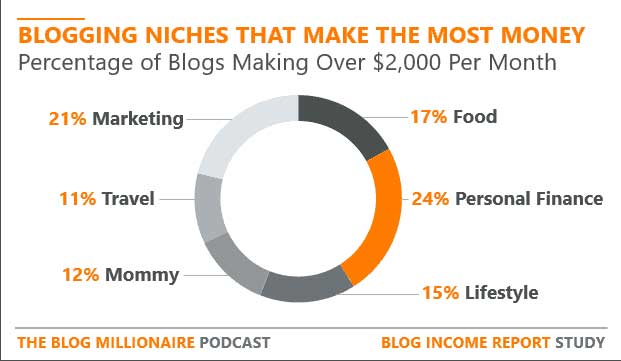 It is one critical step that bloggers should consider. Many bloggers think they can write in their favourite niche and become successful.
However, think carefully with proper research before choosing the blog niche. According to surveys, 95% of the bloggers fail due to choosing the wrong niche.
Keep in mind that the bloggers fail to choose the niche that lacks enough passion for pursuing it. You may think that if writing about a passionate niche is not correct, then who can develop their love with an uninterested niche?
So the answer is to choose your well-known niche in which you have an interest after researching. Moreover, if you search on google why bloggers fail, you will get similar results due to lack of passion.
Many experts don't accept this statement as they have their own experience.
But according to our experience, we suggest creating a blog with passion and seeing the results.
You may find many examples of bloggers who write about their desirable niche and make money through blogging.
So yes, it is also possible.
For example, you can make enough money if you are interested in travelling, food, or a trendy niche. But, again, it also demands your efforts and proper research.
Some bloggers make their blogs to satisfy their writing hobby. So they don't want to make money through it. However, there is a massive difference between experts and beginner bloggers.
So if you want to write as your hobby, then you may not want money through it.
Ensure that you choose your blogging niche with proper research, experience level, and area of interest. There is a massive difference between previous blogging and blogging in 2021. Now you need to strive hard to rank at the top positions of search engines or google analytics.
Transfer your blogging skills into a business owner mindset and feel the rise in your success.
Now, what type of blogging niche you can choose to make money in 2023 and scale it up to $100k per year.
Choose the blogging niches according to their potential, market demand, and professional leverage. These factors in your niche will lead you to have a money-making blog. If you choose the non-lucrative niche with a low-value audience, then it is not fruitful.
Don't forget to consider the network leverage and the strategic connections, as these are the essential factors to choose your profitable niche.
Here are some facts and researches that you should consider while choosing the blogging niche.
1. Keyword Research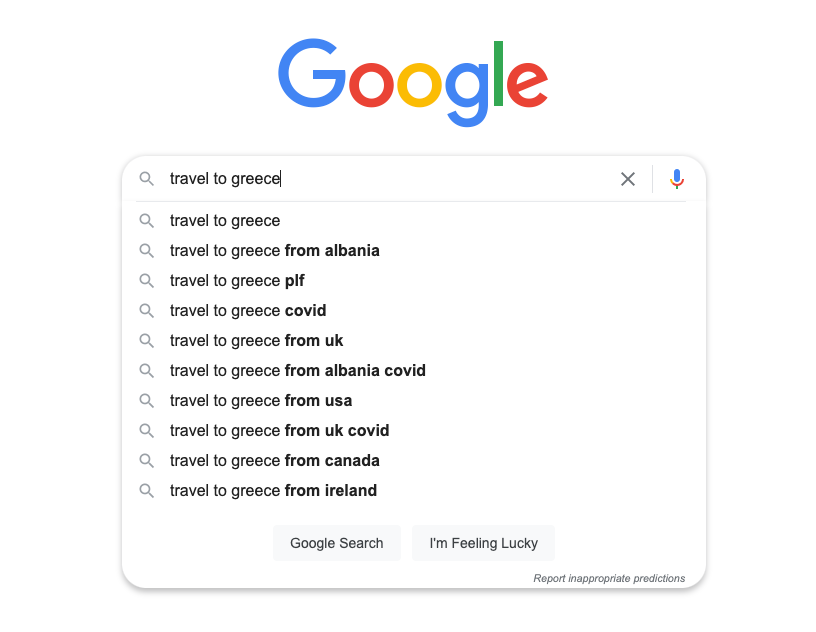 Keyword research is the heart of finding the right blogging niche and making money. Unfortunately, many bloggers take it for granted and don't put their time and effort into finding a suitable blogging niche. Keep in mind that proper research is the key to every successful blog.
The keyword's primary purpose is to find how many people search the niche you want to build. For example, suppose you choose the blogging niche and may think that the research process stops. But no, don't ever believe in this way. The actual keyword research journey starts now.
Every individual blog article on your website has the focus on one keyword that potential readers search. So, for example, if you create a blog without having the target keyword and no one searches for it. Then from where will you get the traffic and make money?
It would help if you understood the importance of keyword research and search engine optimization; you will get enough traffic.
So do the keyword research enough that you can earn organic traffic. According to experts, organic traffic gives you more profit than traffic from social media. Commonly all the users search with high intent searches to find the solution to their issues.
In 2021, keyword research is easy as you have plenty of SEO tools like Ahrefs, SEMRush, and many more. All these tools will give you proper states and keyword metrics. So choose the blog niche with the proper research and keyword metrics.
Here are some keyword metrics that you should consider and compare your research.
Monthly search volume is essential to help you determine how many times potential clients search a particular keyword. The monthly search volume from 1 to 1000 is considered low, and more than 100,000 is very high. These values help you find whether this keyword is in trend or not.
Now, the next is keyword density that should be on a scale of 0 to 100. This scale will help you know how challenging it is to rank on that keyword. Moreover, the keyword difficulty is according to the market competition of your blog niche. So on a scale of 0 to 20, you will have less keyword density, and above 76 refers to the high keyword density that will give you a challenging time in ranking at search engines.
If you want to consider the excellent indicator for your keyword value, check its CPC – the average cost per click. The average cost per click value will help you understand if you run a PPC campaign for a particular keyword and then rank. So is it a worthy option? Find it out with appropriate research.
Everyone has different capacities. But when it comes to the SEO factor, it is better to choose the high volume with low, competitive keywords or medium volume with intense competition keywords. It is easy to rank with these facts by doing the proper SEO.
2. Use your Professional Expertise
Now here is the second method to find a blogging niche. Wait, and think, where does it come from? Think or brainstorm.
Many of us find our blog niche with keyword research, and they only believe in that method. But some have confusion and mindsets that they want to think more about it. So it is better to do brainstorming to find the appropriate blogging niche.
Some bloggers are already clear about their blogging niche, and they are mostly hobby writers. But then, they start their blog with passion and start writing.
But here we are talking about the expert or professional blog.
When you want to start your professional blog, then you have some relevant experience or training. Recall it all and bring in your utilization at the time of blog niche selection.
Almost every expert prefers choosing the blog niche with keyword research and looking for other blogs to get a comprehensive idea. But if you are a beginner, then here is the guide for choosing your passion niche. Moreover, many times, we have one or two appropriate niches and want more options.
So it's time to use your professional experience and make a new blog successful.
Enlist all the niches you are interested in, and you can talk about them freely. It will help you think about every niche and decide whether it is a good niche for your blog to make money. Enter all your interest fields like camping, movies, businesses, and many more. However, now you have a precise list in front of you that you can think about separately and make a clear decision.
The second method is to think about all the magazines, books, and blogs you read and find attractive. It also brings some touch to your interests but helps you to move towards the particular blogging niche.
Now enlist your jobs and experience in different fields that you have in the past. Your actual job is often the best blogging niche, or your hobby will be your blog topic. So the idea is to brainstorm about your experience and hobbies to find the blogging niche.
Now you have the additional research and general blog niche ideas so shortlist them with your professional experience. Find competitive market niches that help you make money and scale it up to $100k per year. It is not ideal to select a simple niche and jump into it to make money.
Have a comprehensive eye on every aspect to choose a profitable blogging niche.
3. Make sure it's profitable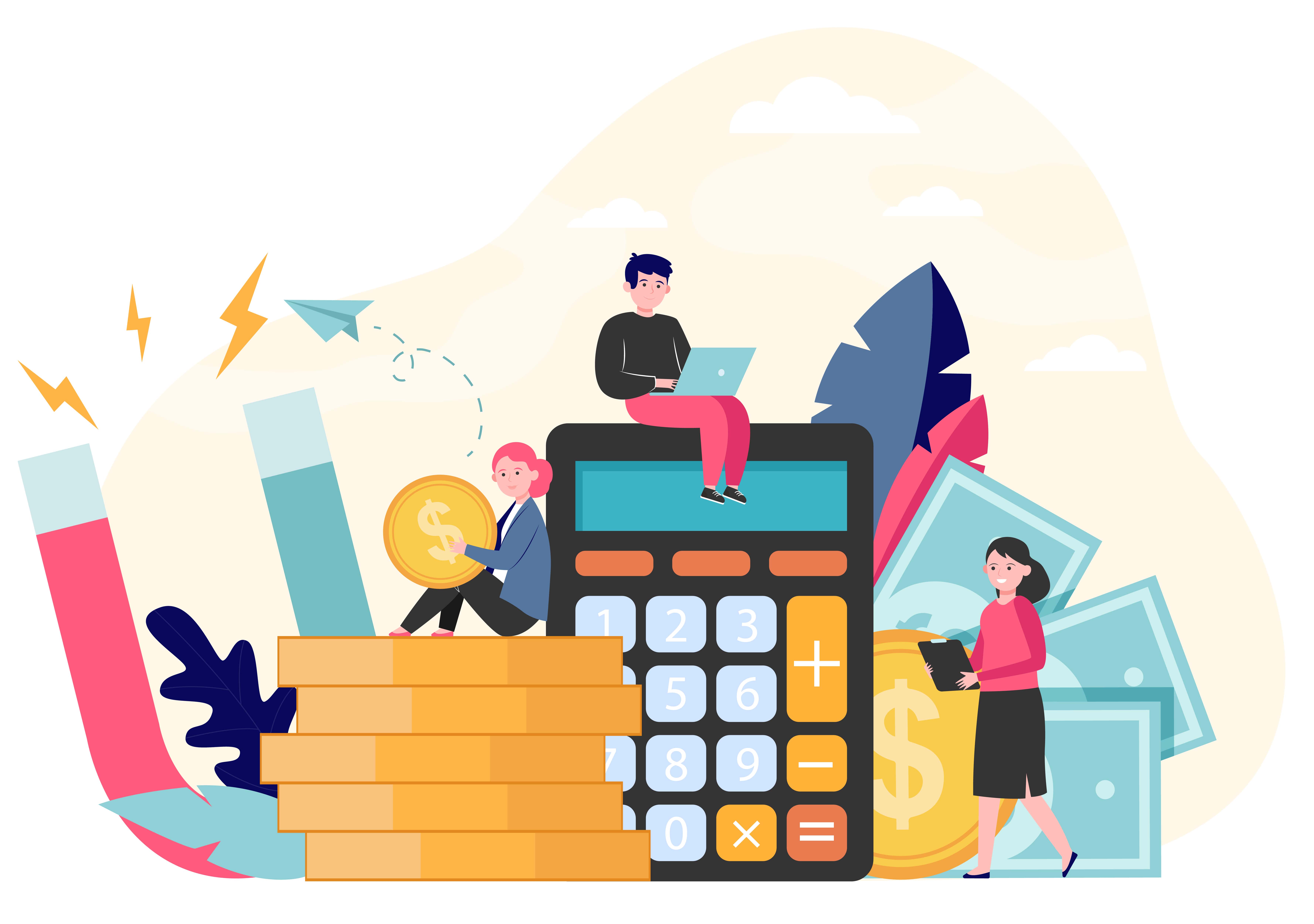 Now it's the last but not the most negligible factor.
Ensure that your selected niche is profitable, and it is only possible in two conditions whether you can stick and be consistent with the chosen niche for a longer time. Or your potential readers also have the same interest in your blog topic.
When you have some blogging experience, you can find its profit at the time of niche selection. However, if you are a beginner, you also need to figure out the profit of a particular niche before digging into it.
The creative and expert personals can successfully make money from any niche, but only if they have the potential audience. Some highly competitive niches always make more money no matter how the monetization of your blog is.
Now, if you have a clear picture of your blog, then again, it demands more research.
Look at your competitive blogs and find out how much money they are making.
Open your competitive blogs and see what they have, like advertisements, product links and Amazon links, and many more. You can also write on specific products with referral links through which potential readers can buy. Ensure that you provide more authentic information related to the product.
Moreover, it provides you with the ideal options to monetize your blog and enhance the chances of growth twofold.
Many of us think that having display ads on the blog will give more profit. But it is a myth the displayed ads only work best in specific verticals.
The profitable blogging niche is also easy to rank and gives more blog options to create and target your potential readers.
Also, you can check CPC for the selected niche keywords so you can check how profitable that niche is. You can use Keyword Planner or Ahrefs.
Scale Content Creation and Build Relationships
You may hear that your blog will rank or scale up in the first 90 days. The beginner bloggers may wonder how it is even possible? So yes, you can earn more money by scaling up your content creation and building relationships?
First, you need to remember that you are a business owner, not just a blogger.
Focusing on writing quality blogs and drafting them is old advice that has worked in previous years. But now, in 2021, you need to focus on all the aspects to scale up your blog. We are not saying that writing doesn't matter.
However, focus on scaling your blog from the startup and build your credibility in the market.
One of the essential ways to scale your content creation is by finding a professional writer from Fiverr or any other freelance content writer. You will get plenty of writers willing to write the blog posts and spend time on your blog to make it effective.
Outsource Content Creation
Yes, it is wise to share your burden with quality content creators. Outsource the content creation by considering the following five components.
Guest post
Outreach
Outsource
Repeat indefinitely
Backlinks
Outsource the content creation to relieve and focus more on monetizing the blog in your initial launching days. Keep in mind that quality writing content is not enough. It would help if you concentrated on all other aspects.
Moreover, hire the content writers or creators with the best reviews from reputable platforms. It will give you the security of quality content for your blog. Also, try to choose the expert content creator in your blog niche.
Build Relationships with Affiliate Managers
Now it is the key to scale your blog by having relationships with affiliate managers. First, of course, affiliate marketing will increase your blog income, but rather, you need to understand the central theme of having such relations.
First, when you have relationships with affiliate managers, you need to provide continuous value to the other partner. Don't just think about the benefit of having a relationship with affiliate managers. You will also have to give some help to other parties so they can also grow well.
Pass yourself from the critical assessment that what you are going to put in building a relationship?
Do you have the ability to create content for them? Fulfil the content edit duties or give them the leverage to build their guest posts?
However, when you decide what value you can provide to the other party, then next is to pitch them. Send you an initial email with information on all the value additions that you can provide to them. It is referred to as the powerful outreaching strategy.
Create a list of your target sites and then access them deeply. Ensure that you enter the website URL, name, email, and status of the other blog in your spreadsheet. Check their stats.
If a site has a higher DA, it will have strong partnership potential and provide you with more value during the monetizing process.
However, when you have a shortlist of blogs you want to connect with, contact them in time. LinkedIn is a powerful platform to find the contact details of blogs. You can also search them with their blog names, company pages, and many more.
You will find two to three potential contacts from LinkedIn, so try to reach them with powerful pitching skills.
These relationships with the affiliate managers will give you significant benefits, especially when you want to scale the value of your blog and want to earn strong relationships.
Importance of Guest Posting
Guest posting plays an essential role in scaling content creation and building relationships. Therefore, every expert blogger advises beginners to make a page on their website to accept the guest post. We also agree with this statement.
If you have the guest post from high DA sites, you will notice the significant impact in new blog monetization and SEO. New bloggers struggle to find the source for their link building, so this will help. In addition, guest posting will give you a significant reward.
So we repeat that long-form, search engine optimized content with enough inbound links will help in improving the blog monetization.
Moreover, the guest post is essential and plays a significant role. But many bloggers say that they avoid guest posts as it reduces the content quality.
So yes, the quality of the guest post is also equally important. Ensure that it has the proper text alignment, inbound and outbound linking, heading usage, and all other aspects. You can also use the free or paid grammar checker to enhance the content or writing quality.
Regular guest posting will increase the domain ratings and the organic traffic. So make an individual page for the guest posts and enter your contact details at the homepage navigation. It will allow the writer to contact you directly and share their value addition cover letter to get the permissions.
Build a Successful Sales Funnel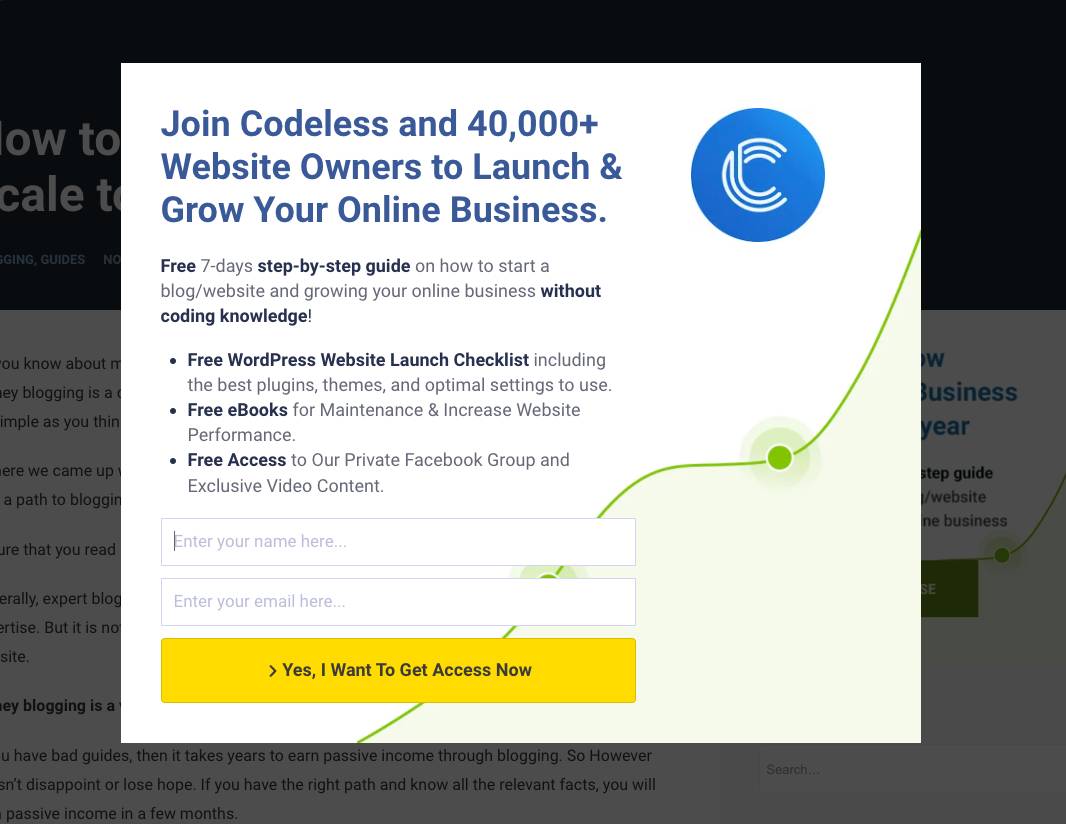 Building your sales funnel is also a critical step in performing blogging. Unfortunately, many beginners don't know about the sales funnel and its importance in their work. So they don't focus on building the sales funnel that leads their blog towards success.
However, understanding the sales funnel is not challenging. Here is the proper way to build your sales funnel and earn passive income through it.
The sales funnel of a blog has five key areas that lead the users towards the path of their end goal.
First, many of us just focused on scale-up the organic traffic of our blog. So we choose the low priced offers in online courses, affiliate programs, sponsored posts, digital products and many more.
As an expert blogger, we advise you to choose the expensive offers to have a lucrative way to monetize your blog in starting days. However, keep in mind that the traditional formula applies to invest more to balance your revenue here.
When we have the new blog, then we also have low organic or inorganic traffic. So spend more to get the valuable offers and compensate for the lack of traffic with the high monetization tactics.
If you are a beginner, here are the five prospects that help build your sales funnel.
The potential user of readers always have an interest in your high end offers with high-quality content.
You can also add the low priced offers in between the high-end sales. It will help you to earn the trust of potential visitors.
Set the software to send personalized emails and share a story automatically. It will lead them to the down path and ensure your meeting with them.
Now you have your B2B client and agree to meet with you. Once you have the meeting, use your convincing powers to be ready to pay for your high-end offers.
Every new blog has short offers like one page opt freebie, email or contact platform, consulting pages and the initial five blog posts.
So you need to work on the sales funnel like a professional business person or owner, not as a blogger. Always keep in mind that you are an individual business owner, not only a blogger.
For example, do you ever think about the local business websites that earn more than a hundred views or visitors per month? They deserve significant revenue from the small website due to the value that they provide to every visitor. Moreover, a small business like a real estate website has all the solutions to the queries of their visitors.
So they also earn more revenue to value some additional factors. Similarly, if you want to make a similar revenue, then provide high end offers that also give value and worth to your potential visitors.
One day you will have your blogging site. But it is only possible when you give value and fulfil the demands and requirements of your potential visitors.
According to experts, when you launch your blog, don't focus on having many blog posts. Instead, you should write or outsource the five pillar posts to all other factors or pages.
Focus only on five pillar posts, consulting pages. Sales funnel and about us page. When you have assertive sales outreach, then your blog will automatically start growing towards success.
To build your blog sales funnel and ensure it provides enough value to every visitor. Try to offer more and more value to your clients and make your strong reputation in the market. It will also help monetize your blog, build affiliate relations, and scale-up passive income by two folds.
If you're having issues with getting prospects into your funnel, consider starting a YouTube channel as an alternative traffic source. This typically is a great platform to complement your blog, and YouTube can be a great way to make money as well.
7 Proven Ways to Monetize your Blog in Your First Year
Monetization is one of the essential steps in making money blogging. It plays a significant role in scaling your blog up to $100k during 2021.
Everyone has their differences to monetize their blog. Here we will give you the seven proven ways to monetize a blog and make it a money-making blogging source.
Focus on every way individually so that you can do your blog monetization successfully. When beginner bloggers think about money-making blogging, they think that advertising is the only way to get money. Yes, it is possible to make money through ads, but it is not the only way.
Ads on WordPress are a great way to monetize and make money through blogging. However, instead of focusing on a single source, it's better to monetize your blog content to earn passive income.
Here are a few ways with individual pros and cons, so keep reading and follow every method to get the potential benefit.
1. Affiliate Marketing

Did you know about affiliate marketing and its potential to earn money?
Affiliate marketing is the product recommendation or service to potential readers. You will give the link to the audience and get the referral commission at every single click.
For example, when you refer your friend or family member to a particular store, they buy something from them. As a reward, you will get the bounce card as a benefit. Moreover, when a friend of yours opens a bank account at your reference in the same branch. The banks will give you the same bounce cart for free.
Similarly, affiliate marketing helps you to get commission or bounce on every sale through your referral link. Now there are plenty of affiliate marketing programs that you can join. Every niche has a relevant affiliate marketing program to join and publish their links for getting the commission.
When you select the blogging niche, also find their relevant products that your potential readers also search. So it helps them to find their interests, information, and pertinent items on one page. Then, sign up for the relevant affiliate program with your relevant niche and see the monetization impacts.
You can find affiliate marketing programs from Amazon, ShareASale, Commission Junction, and many more. Select the relevant products that you can promote and use the appropriate plugin. For Example, WordPress has the PrettyLinks plugin that helps you to manage your affiliate link.
These plugins provide access to insert the quick links and manage them in your posts, branded links, relevant keywords, and many more. It also helps you to track the performance of these links in your site monetization.
So it is clear that affiliate marketing is the quick and easiest way to make money by marketing various products. Search for the affiliate programs of every popular site like Amazon, Walmart, BestBuy, and many more.
Affiliate marketing directly boosts your blogging.
2. Sell Digital Products
Everyone can sell the skills, give practical advice and impact other minds. Selling the digital products on your blog is another way to monetize the content. Show your best that helps to prove your credibility with the readers, and they can choose your products.
It looks easy but a very challenging task. You should have the convincing abilities to make online communities and earn the potential profit. Unfortunately, many people think that they can get every digital product for free. But it's a myth. Nothing is free in the digital world.
The digital products include PDF files, instructions files, online courses, apps, WordPress themes or eBooks. However, many beginner bloggers find it difficult to sell a digital product on their platform.
Work on your effective communication and refer to the selected digital products. Put your best, and your duty ends here. Next is the decision of potential buyers.
Choose a product that is relevant to your potential visitor interest
Think like your potential readers think when they visit your blog. For example, you have a travelling blog, so the readers can find the best places to travel this winter. Share your eBook or the Travel journey PDF file that values your money.
Spend some quality time at your blog and strive to understand your readers. It is a challenging task for beginner bloggers as they don't have heavy traffic.
So look at your analytics on ranked blogs and create a list of information products that readers also search after reading your guide. Then, insert the relevant products to your blog topic that your website visitors search and click on them.
Make an outline that attracts the readers.
If you want to sell your digital course, plans, instructions manual, or PDF, then share its content outline. When a person makes their digital product, they have to think and work at high levels. Therefore, ensure that you share the entire design of your project or digital product with potential readers. It will enhance their interest, and they click on the link to buy the product for more depth knowledge.
Describe the information of your digital product.
The digital products are available at every blog to find similar products at your competitive blogs. So now, many beginner bloggers think that they can also similarly sell the same product. But it doesn't work for them.
Think creatively with some new ideas to bring innovations and attract your potential readers.
The best way is to share the detailed information of a digital product with its benefits to your potential readers. Focus on a single aspect at a time. Don't burden yourself in a single day and mix the critical points.
It is a long process that demands your time and effort. When you work on a single long blog, you will start losing your interest and rush it to end in the meantime.
Be creative and show your creativity to your readers to engage at the end of your given information.
However, marketing also plays a significant role in selling your digital products. Everyone has their marketing experience and strategies that work in various scenarios. So when you market your digital product, ensure that you follow the simple method and link it to your highly visited pages.
Moreover, you can also market it on Pinterest, Instagram, Facebook, and other social media platforms to bring more traffic to your blog.
3. Consulting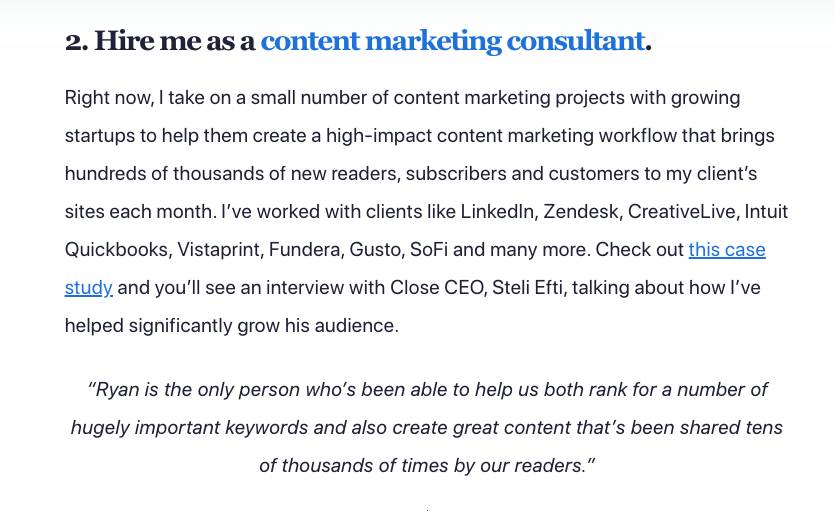 Now the following method to monetize your blog is by consulting. It is a simile skill that many of us already have and just needs to polish.
For example, if we are running an online affiliate business or internet marketing. Then we have the relevant skill and experience. We start a blog with a suitable niche and monetize, so it's the best time to use our professional expertise.
When we have experience in a field, then we can provide its consulting services. Therefore, it is not a difficult job for the expert personnel.
Almost every blogger has the same question: if they have experience, they also offer consulting services at a new blog. So, where will they get the potential clients? We also understand that it is a tough job in the beginning.
But if you focus on your blog content creation, that can attract more and relevant readers. So it will also bring the clients for your consulting services.
As a beginner blogger, you also have your other job but want to quit, so ask your recent employer to benefit from your skills. Put in two weeks or more and explain every aspect as the professional consultant.
Moreover, a single skill has broad fields. So choose your area of speciality that you can handle with professionalism. Commonly we have jobs other than our passion. Like a person performing the accountant job but they have excellent and professional knowledge in health and fitness. So he can be a trainer or health instructor.
According to experts' advice, it's better to choose the consultancy field relevant to your job. This is because when you have the practical knowledge, then you will share it more effectively.
How do people contact consultants?
The major missing factor is that you put your services as a consultant specialist in a relevant field. But people are unable to contact you directly and move away.
So it's better and wise to share a form on your blog that people can fill in and contact you. It is easy to create these contact forms with relevant plugins at WordPress.
How many new beginners are still confused about how a consulting service at their blog helps to monetize it? So when you enter an exceptional service, you will also market it on different social media platforms. So put your consultation service at the navigation or homepage so the potential readers or viewers can quickly access it.
You can also gather the leads that best suit your services. When you spend time and effort making the blog, you will also have the readers and consultant clients who contact you. So it's time to choose your best-fit person according to consultant service.
Put all your best and effort when you have a new client. Ensure that they leave your platform happy and come back whenever they need your services.
4. Display Ads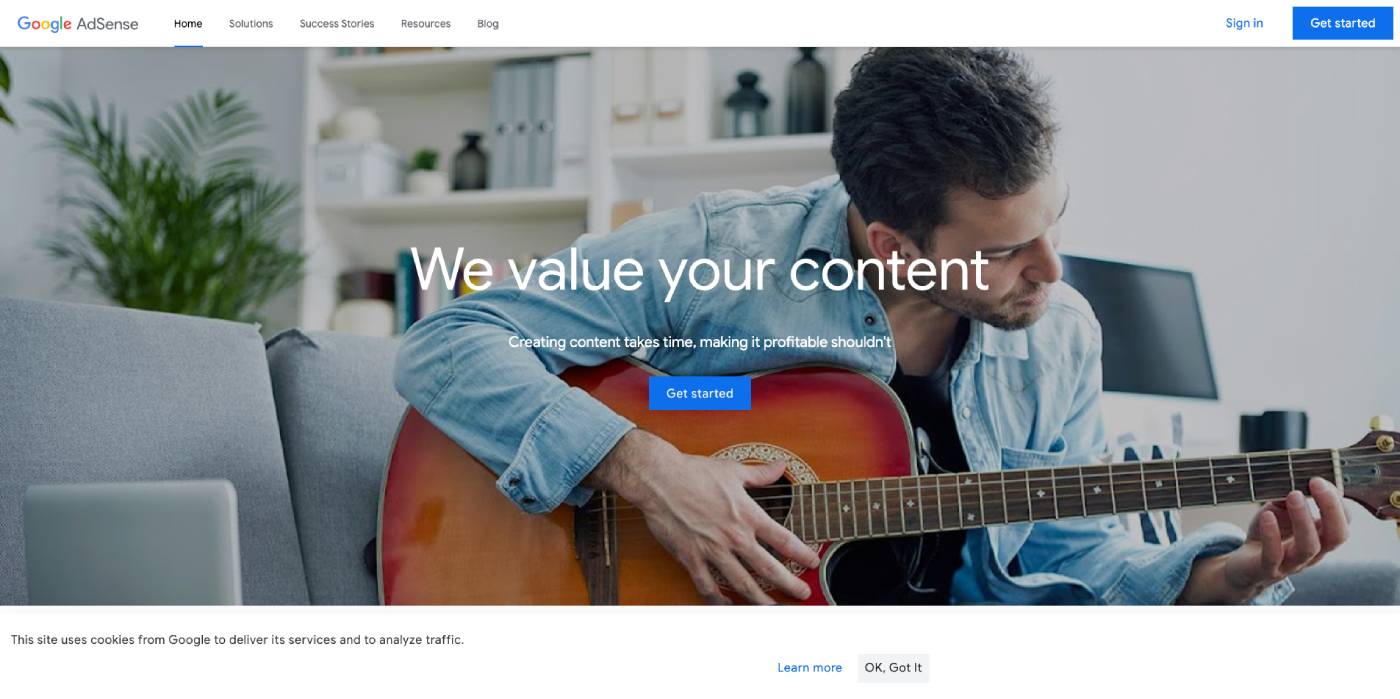 Here is the most common and traditional method to monetize your blog in less time. First, you are displaying ads that every beginner blog believes.
When you have a small baby blog, you have low organic traffic, but you need a lot of traffic to display ads. So many experts say that it is the best way to monetize and earn money from the blog. And we also agree with the statement. It is a great way to monetize a blog.
When you have a lot of traffic, then you will also earn a passive income with ads.
It is not tricky to display ads on your blog. Now you have plenty of ads networks that give you the best revenue in the market. So connect with ad networks like Google Adsense, Ezoic, and many more and sign up with them. Share your blog stats and their required information.
After checking your signup form, you will get approved, and now you can put the ads on your blog with a quick and straightforward method.
Every ad network has the code list they share with you. You will copy the code from this list, put it on your website, and display the ads with every page view. So it's a quick process that will give you tremendous profit.
The right place to put the ad code is in the blog header to automatically show up on every page. However, beyond all these factors, promoting your content on various social media platforms is essential. It will let potential readers know about your presence. If you already have the search engine ranking through SEO, then it's a plus.
Moreover, if you want to make more money with ads display, ensure that you create quality content and secure the top rankings in the google search engine. Remember that it will bring more traffic to your blog and earn more money without any particular promotions.
The best time and type of display ads on your blog is when you have enough traffic and don't need to talk with the companies directly. It is best practice for earning passive income when you put the code on your blog and automatically start earning.
You may find it difficult initially as you don't have a ton of traffic and earn less. But when you grow with organic traffic, this income will multiply by two folds and have significant income streams.
5. Sell a Course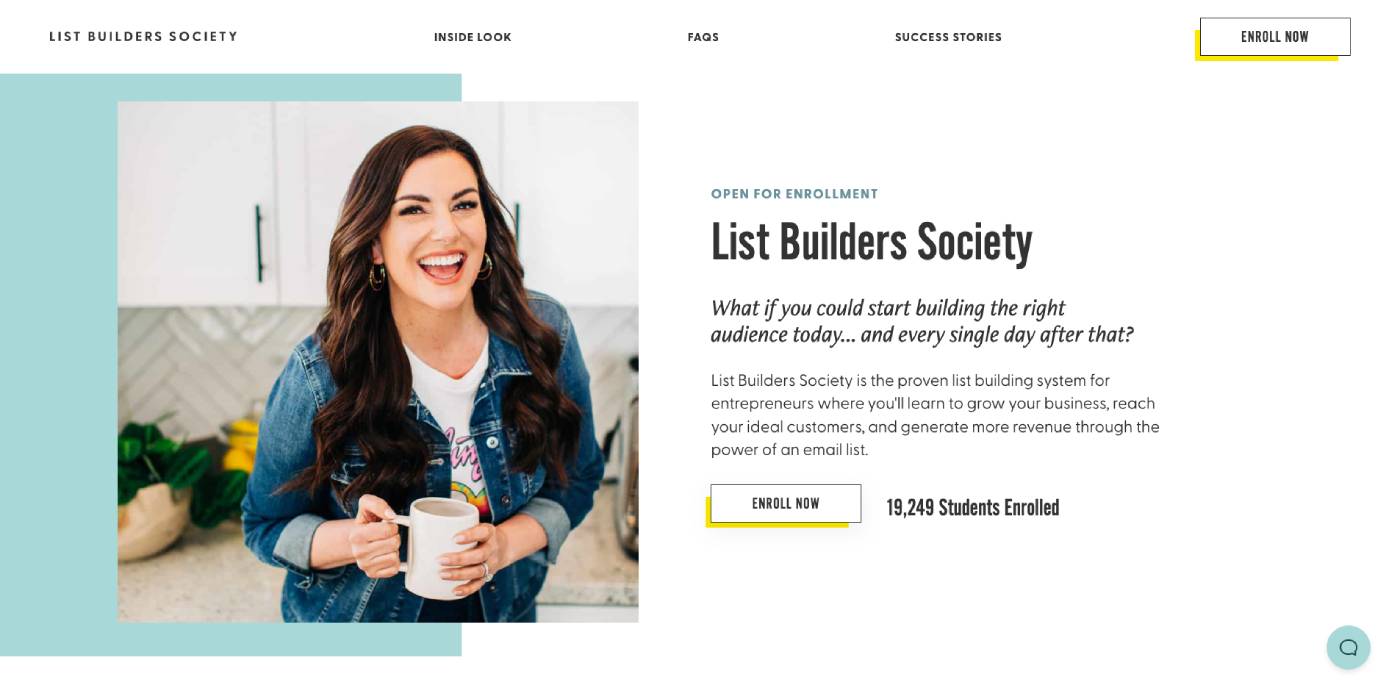 You may wonder after seeing this factor in monetizing a blog. But you can make an impact-full of money by selling a course on your blog.
When you are an expert in a niche and make a blog relevant to it, you will create professional and quality blogs. The potential reader will enjoy seeing or meeting with the expert to answer all their queries.
So the best way is to help them and meet with your fan readers is to create a course for them. Give all the critical information that allows the audience to follow and respect your advice.
After having these readers, you can sell your course to them but ensure the quality is up to the mark. Moreover, you can also create a free course to win the hearts of your client and eventually make a paid one with better and updated knowledge.
All your free course viewers will also love to pay for your new course as they get massive benefits from the free course.
Now you may be confused about how to start selling your course on a blog website? So it is simple when you have full command of your skills.
When you have the blog niche, you will also have plenty of relevant topics. So choose the subject and make an influential blog. For example, if you have an online business guide blog, you can take the affiliate marketing course as both are relatable and have a deep connection.
Now don't start making the course with having your homework and proper research. Instead, ensure that you will make the outline and relevant exercises for your students. At the same time, making the course outline think like a teacher or a trainer.
When we are in school, what do our teachers do? First, they give us the lectures and then the exercise so we can retain their given information. Creating a course with exercises may be new to you, but it will enhance the students' engagement.
Now the next step is to shoot the course according to your outline. Everyone makes courses on PowerPoint slides, but now it's an old method. Grab the camera or phone and film yourself while sharing the information. You can also take help from whiteboards.
These different angles will create significant learning impacts on the listeners.
Now the most critical and essential step is to sell the course. Many new bloggers want to know about the right platform for selling their courses.
So you can start selling Thinkific, Udemy, and your website. All these platforms are free and give you a quality online teaching and learning experience. It will share your burden of video format, speed, and all relevant factors.
Choose the affordable platform to sell your course and then contact them by linking it through your blog website.
One of the advisable platforms other than these sites is choosing your website for selling your course. It may be a hard way for beginners but will give you a more significant profit. It is also a great way to monetize your blog, as course marketing will bring more traffic.
When deciding to sell the course on your website, you need to figure out how people can purchase it. Beginners set a higher price for their course than market competitive rates to be a failure. However, when you sell the course on your platform, you will have significant revenue as there is no middle man.
Many experts advise not to choose this route until you can generate the same sale at your potential. So now the decision is what you want?
However, did you know the importance of course promotion during blog monetization?
Creating a course is the primary and challenging step. But when you accomplish it, then course promotion is the next challenge.
If you decide to use another platform like Udemy to sell your course, print it on your blog and attach the link for readers' ease. Moreover, you will also prompt your course on all other social media platforms for the sake of more and more audiences.
We advise you to make a free course initially, which will make a way to lead more traffic through the potential readers and students.
Email marketing also plays a significant role in promoting the course. Start delivering the emails to the relevant audiences with their name at the start. It will give a boost to your course sale as you will directly target the appropriate audience.
The trend of webinars in 2021 also increases, which helps you drive more clients and readers. So move your course ad to webinars and host your course. It will demand some investment but will give a big curve in your income.
Once you build your reputation and fame in the market with positive reviews, you will automatically get the sellers for your course.
6. Create a Community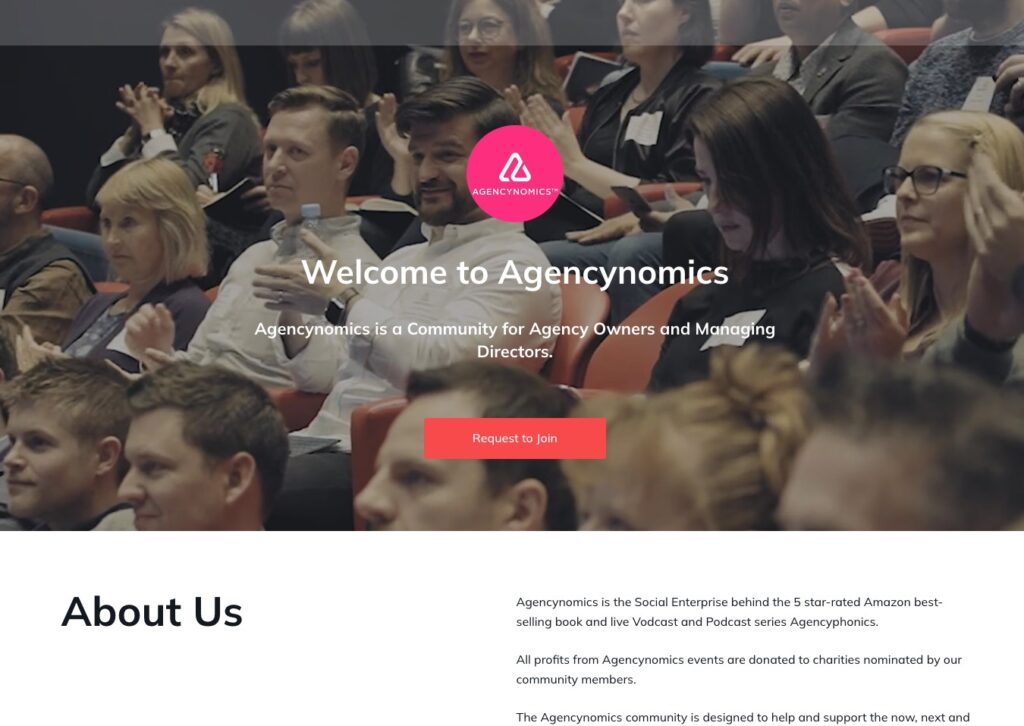 Creating a membership community also plays a significant part in blog monetization. Initially, you will have a small blog with less traffic ranging to a few hundred visitors every week.
Make a community and see the boost. But at the start of the blog, what can you offer members to become part of your community? It is the most significant query when we ask bloggers to make a community for their blog monetization.
So make a community and set the price per year with enough value addition if you successfully collect the 20 to 40 persons in your community and get enough money through their fee.
Now the question is, why do people join your membership community even after paying for it monthly? So as we already said that you would give them the value.
Please search for the incentives of your members and give them offers. For example, you can give them the value-added course according to their interest, access to your unique tools, and much more exclusive content that they are looking for.
Ensure that you will continue providing them with the same value to remain part of your membership community.
Now where to find the members of the community?
You have plenty of platforms in 2021 to gather the members. First is the Facebook group. Create a paid Facebook group and ask them to pay the supporting fee. It will help you to ensure their maintenance in the group.
Another great platform is LearnDash that is also referred to as the learning management platform. It allows you to make a community, course, or product information. You can connect it with your WordPress and draw people's attention to your blog.
When you have the membership community, then market it for your audience. allow your potential audience to place their blog posts and email list on website navigation. It will give the feeling to your audience as part of your website.
Don't forget to allow your audience to sign up with the recurring bill. It will help you to ensure the money from every member after a month.
The members' engagement is essential, and it is only possible when you give value to them. If you forget about the value, then you will also lose your member.
7. Sponsored Posts
Many new bloggers will not display the ads due to some myths and fear of their audience distraction. So they wonder how to monetize their blog without displaying ads?
It is also true that new bloggers lose their control over content creation due to ad display ads on site. Many potential readers also don't like to see the ads while reading the blog posts. Now the technologies have up-gradation, and many users use the ad blockers. It affects the earning of your money-making blog.
Now, what is the alternative method to monetize your blog without having the ad displacement?
Sponsored posts work wonders like the industry's support for sports, TV shows, and many others. The sponsor companies will pay for their blog and product so that potential readers can get to know about it.
New bloggers fail to set the sponsored posts, so what can they do?
You can set the one-page media kit of your details with relevant stats, social media stats, audience demos, and other relevant facts. Then, after making your appealing advertisement, you can approach the relevant companies and negotiate with them. Set your sponsorship deals and allow them to share your products and posts on your blog.
Moreover, you can also set up a separate page for the guest posts on your blog. Finally, add your professional email address at the navigation so that the visitors can contact you to share their guest posts.
When making the guest post page, ensure that you will only accept the posts that come up to the mark. However, after sharing the page that you get the guests posts, the number of received emails increases significantly.
Some writers give you annoying rates, but many also provide competitive market rates with quality content.
Now choose your suitable monetizing method to achieve the higher positions in search engines. No matter your choice, ensure that you spend quality efforts and time monetizing your blog and scale it up to $100k per year.
How Long Does It Take to Make Money Blogging?
The time it takes to make money blogging varies depending on a multitude of factors. In general, it can take anywhere from a few months to a couple of years before you start to see consistent income. Some of the factors that influence the timeline include the niche you choose, your level of expertise, your content marketing strategy, and how much time and effort you invest in promoting your blog.
To speed up the process, focus on providing high-quality content, targeting long-tail keywords, and building a strong online presence through social media and guest posting.
Can You Make Money Blogging on WordPress?
Yes, you can definitely make money blogging on WordPress. In fact, WordPress is one of the most popular platforms for bloggers to monetize their content. The platform offers a wide range of monetization options, from affiliate marketing and sponsored posts to display advertising and selling digital products.
Additionally, WordPress offers thousands of plugins and themes to help enhance your blog's functionality and appearance, making it easier to attract and retain readers. With its flexibility and user-friendly interface, WordPress is an excellent choice for both beginners and experienced bloggers looking to generate income from their blogs.
Examples of Blogs That Make Money
1. Smart Passive Income: Pat Flynn started Smart Passive Income in 2008 as a way to share his knowledge about building successful online businesses. Today, his blog earns over $100k per month through affiliate marketing, selling digital products, and offering online courses. Pat has built a loyal audience by providing valuable content and being transparent about his income and expenses.
2. Pinch of Yum: Lindsay and Bjork Ostrom created Pinch of Yum, a food blog that now earns more than $60k per month. The blog generates revenue through sponsored content, display advertising, and affiliate marketing. They also offer a monthly membership for their food photography and blogging resources.
3. Making Sense of Cents: Michelle Schroeder-Gardner started her personal finance blog in 2011 to share her journey of paying off student loan debt. She now earns over $100k per month through a combination of affiliate marketing, sponsored posts, and selling her online course on affiliate marketing. Michelle's blog stands out because of her transparent income reports and actionable advice for readers.
How Much Money Can You Make Blogging?
The amount of money you can make from blogging varies greatly, depending on factors such as your niche, audience size, monetization strategy, and overall blog quality.
Some bloggers make a few hundred dollars a month, while others earn six-figure incomes. However, it's essential to remember that blogging is not a get-rich-quick scheme, and it takes time, effort, and persistence to grow a profitable blog.
To maximize your earning potential, focus on building a loyal audience, providing quality content, and exploring multiple monetization avenues.
Summary
Now by summing up all the above discussion, you will have a compelling guide. Ensure that you select your blog niche according to the factors mentioned above. It will help you to increase your potential revenue per year.
Moreover, when you scale your content creation strategies and outsourcing aspects, you will find more chances to get enough backlinks.
You must focus on the high-end monetization strategies from day one of your blog launch. It will give you a better experience, and you will start earning your first blog income after two months.
Use the appropriate tactics to rank your blog in search engines and start making $100k per year.
In the first place, keep a close eye on your blog stats, including backlinks, reference domains, domain ratings, organic traffic, and all others, to check your blog's progress. Then, follow the expert's advice and ensure that you fulfil monetization and search engine optimization requirements to get the high ranks and earn more.
We hope this article will help you learn how to make money blogging and scale it up to $100k per year. Finally, we wish you the best of luck with your blog and earn passive income to fulfil your dreams.
Want to Learn More?
Check out the guides below to learn more about how to monetize your blog or make money online:

Ludjon, who co-founded Codeless, possesses a deep passion for technology and the web. With over a decade of experience in constructing websites and developing widely-used WordPress themes, Ludjon has established himself as an accomplished expert in the field.