Web hosting is one of the key components of any successful website. Choosing the best WordPress hosting can increase sales and improve your SEO and . There are different types of WordPress hosting options available as free, shared, VPS, dedicated and managed by WordPress hosting.
These days, it seems like every wedding has its own site.If you are thinking to create your own you have to do so without a doubt.However,weddings are quite stressful without having to worry about creating a site.
That's where WordPress comes into play. You can easily use the platform to create a beautiful wedding website. It also allows you to add some key features such as wish logs, guestbooks and more. The customization options are endless!
The design of your wedding website should not be limited. You should be able to create a big, bold and beautiful website like your wedding!
WordPress offers virtually unlimited customization features and, if you are familiar with the platform, can be an excellent option. Furthermore, there are many free or low-cost tools and resources, which makes it a very affordable option.In this article, we will explore the ways in which WordPress can help you achieve a more regular and georgeus wedding by creating a website. So we will explain how to do it in four simple steps.
Register a domain name,Choose a Web Host and Install WordPress
The first step when building any type of website, whether for a wedding or otherwise, always involves choosing a domain name, selecting a web host and installing WordPress on that host.This is a very important step and shouldn't be rushed.
Registering a domain name is pretty simple,you can choose it as you wish.This will depend on what's available, but choose a name that will be easy for you,your friends and family to remember. Similarly, choosing which name to use should not take long.
Choosing a web host, on the other hand, can be complicated. Since you're probably looking to build a website with a budget, we recommend that you join the shared plans. Whichever supplier you choose should offer good performance and an excellent support system. It should also play well with WordPress.
WordPress now feeds over 30% of the Internet. This does not mean that it is a sort of crazy conquest for the global domain: it is only the most popular and one of the best platforms for creating websites.
But with a great website comes a big responsibility. More specifically, an excellent hosting package is required to accompany your website.
1.Bluehost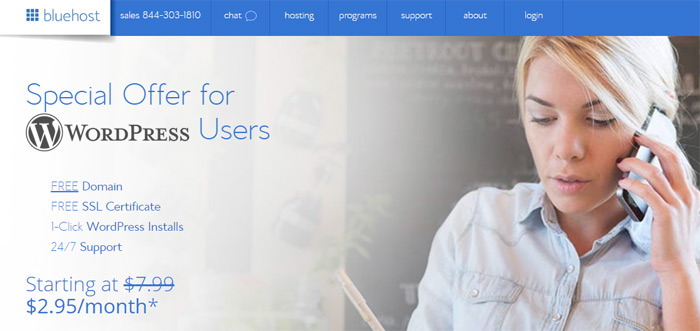 One of the oldest web hosts started about 23 years ago, Bluehost has become the largest brand for WordPress hosting.Bluehost is an official hosting provider recommended by WordPress.Their expert support 24 hours a day, 7 days a week, is always ready to help you when you need it by phone, e-mail or live chat. They are rated first in web hosting for small businesses.We recommend Bluehost to anyone who wants to start their own WordPress blog or website with ease. When you buy WordPress hosting with Bluehost, you'll get a 60% higher discount on hosting rates, a free domain name and free SSL.
Once ordered host and domain, you can proceed and install WordPress. With Bluehost this is a simple one-click process.
Find the "One Click Installations" section when you log in to your Bluehost account and select the WordPress option. Then choose your domain name that you select for your wedding website. Next you should see a request to add a site title, create an administrator username, an administrator password (write it – you'll need it to access your WordPress site in a minute) and your email address. Then check the box to accept the terms and install WordPress. Bluehost does all the hard work for you! But don't worry: they also offer a lot of support in general.
Now that your site is ready, you can log in to start creating your real website!You can log in by your domain name, but add / wp-admin at the end of the URL. This will direct you to the WordPress login screen. Use the admin username and password you created when you set up your Bluehost account to log in. This should take you to your WordPress dashboard where you will install a theme, plugin and add all your posts and pages to your upcoming wedding.
Bluehost offers:
Open Source
WordPress websites offer the freedom to move your website to any provider or hosting platform. If you need shared hosting, cloud, VPS or dedicated, WordPress is flexible for all platforms. Furthermore, if your current hosting provider is no longer suitable, you can easily migrate your website to another.
Themes and plugins
Choose from thousands of free themes and plug-ins for your WordPress website. Plugins can add powerful features with just a few clicks while themes help simplify the design process. WordPress puts the power of the Web in your hands and lets you create without a professional web developer.
Reliable stability
WordPress feeds over 30% of the Internet. With it's performance and stability,for millions of website users and developers worldwide it's the number one choice. Building a website can be daunting, but WordPress offers the reliability needed to create the best and most stable website available.
2.SiteGround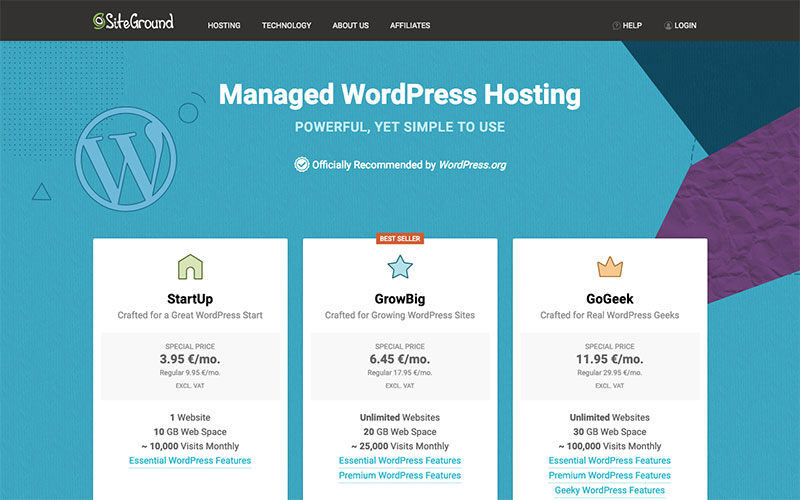 Siteground has set new global  standard when it comes to web hosting, flexibility and customer service.SiteGround as a company was started in 2004 by three university friends on a mission to take web hosting to the next level worldwide.Their vision was a hosting service provider that was safer, faster and offered better support than any of the existing options. SiteGround is the result of all their hard work.Today, SiteGround seems to live up to its original potential with a million hosted domains.With SiteGround, regardless of the plan you choose, you get the latest proactive speed and security technologies.They are known for the best 24/7 support in the industry, which is why they are a hosting provider recommended by WordPress.They offer location specific hosting with 3 data centers in USA, Europe, and Asia.
 WordPress hosting
In fact, SiteGround supervises your installation with an optimized managed WordPress hosting, a service that guarantees greater security to your website, daily automatic backups, caching of pages, temporary management and automatic updates of the content management system. It offers one-click installation and a free account transfer. SiteGround no longer offers a free domain name, but offers significant discounts for registration. The plans are similar to the company's shared hosting plans for the price. You have many options to sign up,for one, two or three year contracts.Once you're logged into SiteGround's WordPress setup, you can create posts, pages, and galleries as you would with any other self-hosted WordPress site.
SiteGround offers
Solid Uptime
Customer Service (24/7 telephone support)
Shared Web Hosting
Cloud Web Hosting
Dedicated Web Hosting
WordPress Web Hosting
Reseller Web Hosting
E-Commerce and SSL
3.InMotion Hosting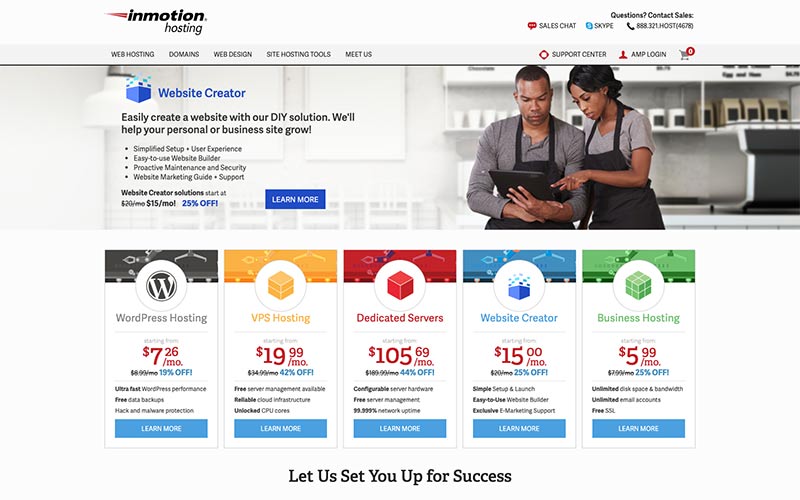 InMotion Hosting is unusual in offering six WordPress plans, covering everything from small personal blogs to retailers and big business.Since 2001, InMotion has grown a customer base of over 300,000 domains with two data centers in Los Angeles and Virginia Beach.As one of the oldest and most established names in the industry, they also boast grandiose claims of being the number one in transfers, support and industry warranty.InMotion Hosting offers many interesting features, including SSD storage, unlimited bandwidth and a free domain. Unlike most other shared hosting services, InMotion Hosting offers a choice of data centers. This way you can choose the nearest data center to improve page load time.They offer an unexceptionable 90 day money back guarantee.
inMotion Hosting provide a few additional features which can make your experience more enjoyable.
Average Uptime of 99.94%
Customer Support
Fast Server Speed
Integrations & Apps
90-Days Money Back Guarantee
Free Site Transfer
Premium Sucuri Plugin for WordPress Users
Google Apps Integration
Free Data Backups
Super Secure Smartwall Threat Defense System (TDS)
WordPress Hosting: their WordPress hosting plan is similar to their shared hosting plans in every way, but is optimized for WordPress.
Free Domain
Ease of Signup
Hidden Fees and Clauses
Upsells
Control Panel and Dashboard Experience
Account activation: account activation may take some time. Usually, they verify orders by telephone before activating accounts.
Installation of Apps and CMSs
Payment Methods: Credit Card, Check, Purchase Order.
InMotion Hosting is one of the fastest growing and respected independent and hosting providers on the Internet. Excellent product with solid customer service. The plans are not ideal for hosting many small sites, but they are a provider of global hosting services.
4.HostGator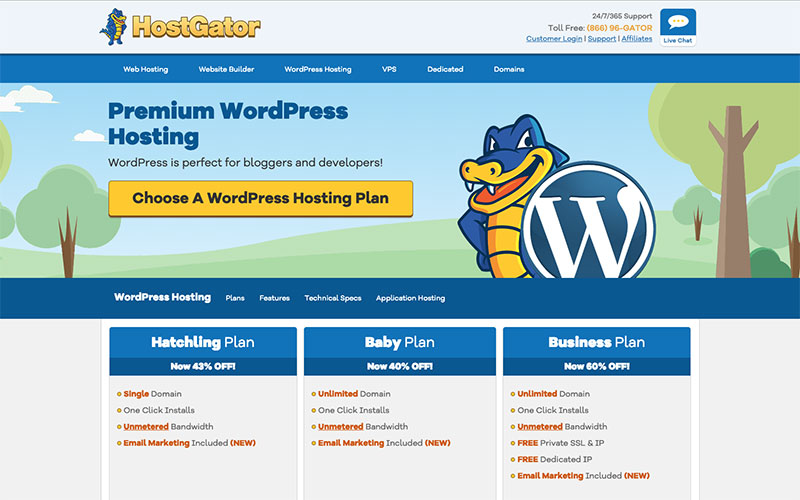 HostGator is one of the largest web hosts on the market with over 9 million hosted domain names so they're one of the most popular web hosts in the industry.They have collaborations with Cisco and Linux.HostGator brand is owned by Endurance International Group (EIG) who also owns Bluehost, Justhost,iPage etc.The feature-packed HostGator is the best choice, with quality cloud, reseller, private virtual server (VPS) and dedicated server packages.
The relatively new Cloud packages have once again placed HostGator in the mix of the best website hosting companies.Its Cloud platform promises great speed, exceptional scalability and perfect allocation of resources among other advantages to make account and site management child's play.
HostGator offers some features in its basic shared hosting plan,like unlimited disk space,free website templates and a nice control panel. Plus, you have the flexibility to add numerous privacy, security and productivity add-ons as you see fit.
They also offer a 45-day money back guarantee, so you can try the hosting service without risk.
Excellent Uptime – 100%
Their last 12-month average load time is 421ms and uptime 99.98%. Not bad, in, over the past 12 months they were offline for only 3 hours.HostGator has a 99.7% uptime guarantee and promises free hosting in the event of a breach of the service agreement.
The Cloud HostGator is an updated version of the standard shared platform and the update is indicative. It offers two important advantages: greater reliability and very accessible updates that can be purchased with a couple of clicks and just as easily disabled when they are no longer needed.
HostGator WordPress Web Hosting
With HostGator you can install the WordPress content management system (CMS) on any of its servers,the web host also offers three levels of managed WordPress web hosting: Starter, Standard and Business.Setting up WordPress on HostGator is easy .The customer portal has an option called Quick Links that opens a dedicated interface for installing third-party applications. There is also a convenient shortcut called "Start with WordPress Today" that leads to the Quick Links interface.You have to Set the path to "install my blog", enter the username for the WordPress administrator account and click on the install button. As easy as it is,your site will be up and running in a few minutes. HostGator has also automatically installed the "WP-Super-Cache" "WordPress plug-in" to improve the performance of the blog.
Here we have a summary list of what HostGator offers
Shared Web Hosting
Virtual private server (VPS) hosting
Dedicated Web Hosting
Cloud Web Hosting
Setting Up a HostGator Hosted Site
WordPress Web Hosting
Reseller Web Hosting
E-Commerce Tools on Hand
Excellent Uptime Results
Quality Customer Service (24/7 telephone support and online web chat)
Dedicated to Hosting
HostGator is an excellent web host that has power and flexibility in multiple hosting categories also is at the top when it comes to web hosting for beginners.