Unlimited website builders are highly sought after by agencies looking to create websites for their clients. An unlimited website builder must have one of the following features to be considered 'unlimited': unlimited bandwidth, unlimited websites, or unlimited pages. Below you will find builders that possess all these characteristics or at least one of them.
If you are an agency looking for a website builder, I would also recommend reading our other article on white-label website builders.
The Top 5 Best Unlimited Website Builders
Best Website Builder with Unlimited Websites Plan

Unlimited websites with premium plans
Unlimited traffic/bandwidth
User-friendly interface
Advanced caching for faster website speed
See Pros & Cons
Pros
Cost-effective plans
Excellent customer service
Lightweight and powerful control panel
Robust security features
Cons
No daily backup on basic plans
Renewal rates can be high
Hostinger stands out as an affordable and robust platform for individuals and businesses aiming to establish a potent online presence. The provider offers a range of feature-packed plans that facilitate unlimited website creation, appealing particularly to users with multiple web projects.
What I like about Hostinger is that you can host up to 100 websites which lets you build unlimited websites with their AI-powered website builder. Also, you have access to unlimited bandwidth with only $2.99/month plans.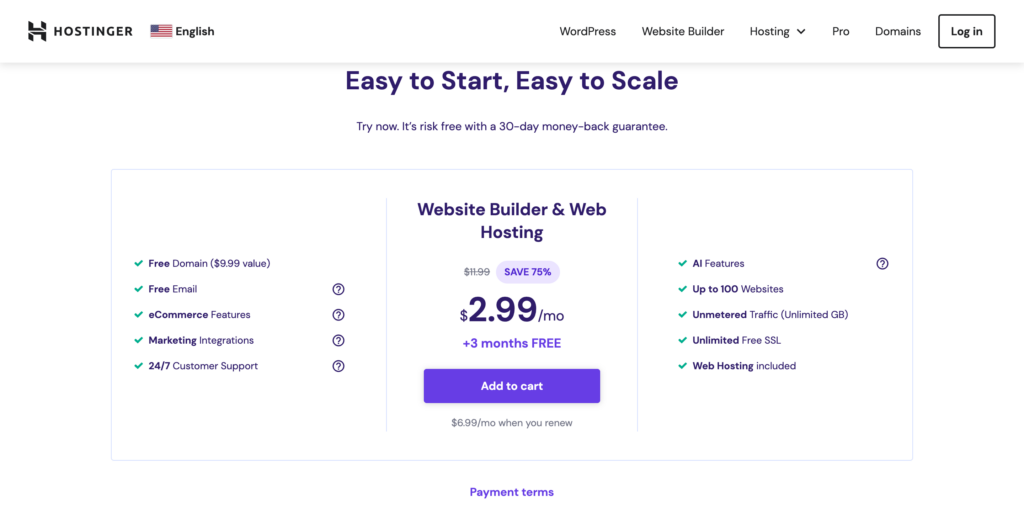 Boasting an intuitive interface, Hostinger simplifies the website-building process, enabling even the most novice users to get their sites up and running swiftly. Furthermore, with advanced caching solutions, websites hosted on Hostinger experience remarkably fast loading times.
The platform prides itself on its dedicated customer service, ready to assist users at every step of their website-building journey. Despite its pocket-friendly pricing, Hostinger doesn't compromise on security, offering robust features to keep your site safe from potential threats.
However, users should note that daily backups are not available on the basic plan, and renewal rates can be somewhat high. Despite these minor setbacks, Hostinger remains a top choice for cost-effective website builder.
Best with Unlimited Bandwidth

Drag-and-drop website builder
Unlimited bandwidth on premium plans
Huge library of templates and elements
Advanced SEO and marketing tools
See Pros & Cons
Pros
Flexible design options
Comprehensive e-commerce features
Robust app marketplace
Excellent customer support
Cons
Can become expensive with add-ons
Not the best option for complex websites
WIX has made a name for itself with its user-friendly, drag-and-drop website builder that offers a seamless experience for users of all skill levels. The platform grants unlimited bandwidth on premium plans, ensuring a smooth browsing experience for a high number of visitors.
Design flexibility is one of WIX's standout features, offering a vast library of templates and elements that cater to various industry needs. Moreover, the platform offers advanced SEO and marketing tools to help businesses reach a wider audience and scale effectively.
However, users should be cautious of the potential expenses associated with adding numerous features via the WIX App Market. Moreover, for highly complex websites with intricate functionalities, WIX might not be the best option. But for small to medium-sized businesses and personal websites, WIX provides a comprehensive, reliable, and dynamic platform to build a strong online presence.
Best Website Builder with Unlimited Contributors

Unlimited contributors with advanced plans

Rich collection of modern templates
Blogging and e-commerce tools
See Pros & Cons
Pros
Intuitive drag-and-drop builder
Integrated analytics and SEO features
24/7 customer support
Flexible customization options
Cons
Limited third-party app marketplace
Monthly fee includes hosting only
Squarespace is revered as a holistic solution for building and hosting aesthetically pleasing websites. The platform offers unlimited contributors, making it a favorable option for businesses with large teams.
Users are treated to a vast array of modern, mobile-optimized templates that provide a solid foundation for building a professional website. Additionally, Squarespace offers comprehensive tools for blogging and e-commerce, making it a versatile choice for various website needs.

While Squarespace stands as a strong contender in the website building space, it does have some limitations, including a restricted third-party app marketplace and the monthly fee covering hosting only. However, with its intuitive builder, integrated analytics, and SEO features, it continues to be a popular choice among users seeking a one-stop solution for their website needs.
Read More: Wix Vs Squarespace
Best with website builder with unlimited customization

Visual website builder with coding capabilities
Unlimited websites on Growth plan
Unlimited Customizations
Flexible layout and design options
Extensive CMS functionality
See Pros & Cons
Pros
Allows for custom code integration
Responsive design features
Comprehensive e-commerce solutions
Rich community and learning resources
Cons
Steep learning curve for beginners
Can be expensive for larger sites
Webflow is a powerhouse in the website building sector, offering a visual builder that integrates seamlessly with coding capabilities. The platform's Growth plan allows for the creation of unlimited websites, meeting the needs of businesses aiming for expansive online growth.
Users can explore flexible layout and design options, tailoring their site to match their brand perfectly. Moreover, Webflow's extensive CMS functionality facilitates the easy management of content on the platform. Despite its strengths, Webflow presents a steep learning curve for beginners, and the costs can pile up for larger sites.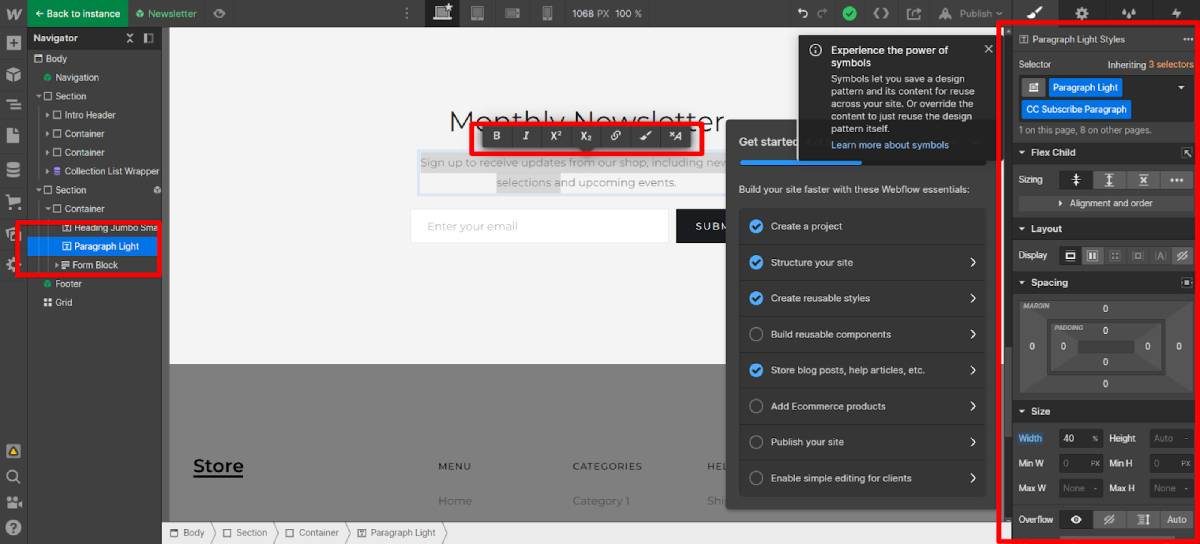 However, with its provision for custom code integration and comprehensive e-commerce solutions, Webflow remains a top pick for users seeking a dynamic and customizable website building solution. Plus, with a rich community and plethora of learning resources, users can quickly adapt and make the most of what Webflow has to offer.
Read More: Webflow Complete Review
Best Website Builder with unlimited pages per site

Prototyping tool with design and code features
Real-time collaboration and feedback
Unlimited Pages
Integration with tools like Sketch and Figma
Community-driven plugin ecosystem
See Pros & Cons
Pros
Allows for interactive prototyping
Supports custom coding
User-friendly interface
Rich library of assets and components
Cons
More suited for prototyping than full-scale website building
Requires a learning curve for non-designers
Framer stands out as a dynamic tool for prototyping, offering design and code features in one package. It supports real-time collaboration and feedback, facilitating a smoother workflow for teams.
With the basic plan you for only $15/month you can create unlimited pages on your website.
Moreover, it integrates effortlessly with popular design tools like Sketch and Figma, making it a flexible choice for designers.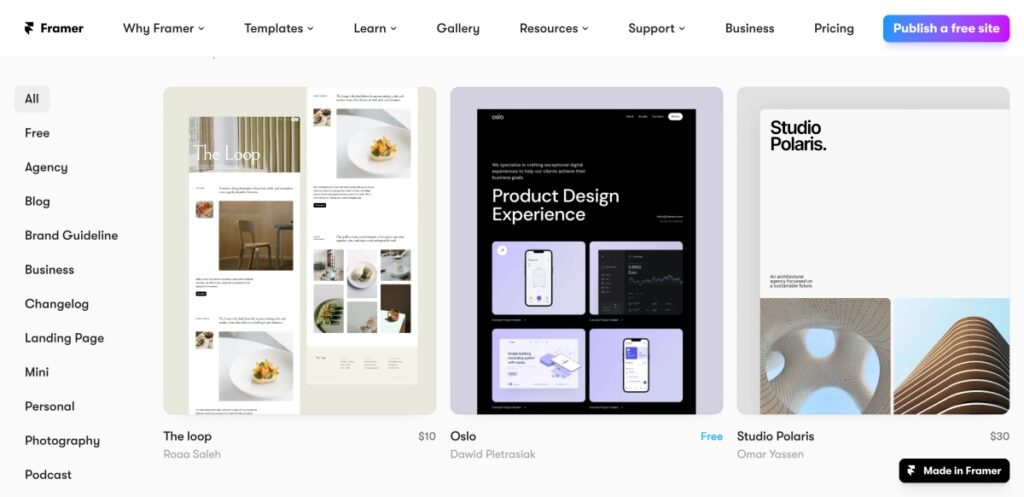 While it's more geared toward prototyping than full-scale website building, Framer offers a user-friendly interface and a rich library of assets and components to explore.
Despite requiring a slight learning curve for non-designers, its interactive prototyping capabilities and support for custom coding make it a worthwhile option for both beginners and professionals looking to build interactive and dynamic prototypes.
Read More: Framer Review
FAQs
What exactly does "unlimited" mean in the context of website builders?
The term "unlimited" refers to the provision of unrestricted resources or features such as bandwidth, the number of websites you can create, or the pages you can develop, facilitating a more extensive and flexible website building experience.
Are there any hidden costs associated with unlimited website builders?
While many unlimited website builders offer extensive features, it is always best to check for any potential hidden costs, such as premium plugins or themes that might require separate purchases.
Will using these website builders slow down my website?
Not necessarily. The performance of your website depends on various factors including the efficiency of the builder's servers, the optimization of their software, and the resources allocated to your site. It's always best to research and choose a builder known for good site speed and reliability.
How user-friendly are these website builders?
Most unlimited website builders prioritize user-friendliness, offering intuitive drag-and-drop interfaces, easy customization, and detailed tutorials to help both beginners and experts.
Conclusion
In this article, I have listed some of the website builders that genuinely offer unlimited features, whether it be bandwidth, websites, pages, or customizations.
My recommendation is to choose Hostinger if you are looking to save some money while building an unlimited number of websites, all for just $2.99/month.
If you are in search of more customization options and designs, you should opt for Webflow, which is a bit more expensive but offers a vast array of tools and templates.
If you have any questions or suggestions, please feel free to write them in the comments below.

As one of the co-founders of Codeless, I bring to the table expertise in developing WordPress and web applications, as well as a track record of effectively managing hosting and servers. My passion for acquiring knowledge and my enthusiasm for constructing and testing novel technologies drive me to constantly innovate and improve.
Expertise:
Web Development,
Web Design,
Linux System Administration,
SEO
Experience:
15 years of experience in Web Development by developing and designing some of the most popular WordPress Themes like Specular, Tower, and Folie.
Education:
I have a degree in Engineering Physics and MSC in Material Science and Opto Electronics.