How many times you have to build an website for a company or corporate? There are very increased requests from any type of business to have a presence on the web so i want to introduce you the simple way to make your life easier.  I will explain  how to use wordpress and its immense community to build business websites.
WordPress has started as an blog platform, but today its the most powerful and used cms in the world.
Some reasons why WordPress its the most popular CMS:
Easy to Use
Great Community
Its Free
Infinite Free and Premium Themes
Plugins for everything
Secure Platform
Now let's take a look what you need to know, and how to install an WordPress theme.
First WordPress Hosting requirements are basic so the major hosting providers are 100% compatible: 
PHP 5.6 or greater
MySQL 5.5 or greater
The mod_rewrite Apache module
First lets download the latest version of the WordPress from wordpress.org :
https://wordpress.org/download/
After  download the zip file you have to install the WordPress platform:
http://codex.wordpress.org/Installing_WordPress
Also you can consult this video tutorial:
Now you have to install the WordPress theme, but the question is which is it and what type of theme to use. WordPress have different sources to get themes, free and premium. Let talk about free and premium WordPress themes.
You can find Free WordPress themes but in many cases you will face with bugs and poor support. This is normal, authors don't have really create this themes to make business with but you have to.  So for business websites i think that it's better to use premium WordPress Themes.
What offer  a premium WordPress theme :
Great Support
Updates
Premium Plugins
Minor Bugs
More Features
So let select a theme that fit our requirements. Before choose the right theme let talk with the business owner.
Ask them some questions:
Ask for company logo. It's important to maintain the same brand and colors in the website you will create too.
Ask the boss about  competitive companies This is the best question, because they will show you competitive companies website and some of theme that he/she likes too. Now you have a base to start the website
Ask the business owner what they offer.  If they offer certain products you have to find a theme that offer the possibility to showcase this products in the best way possible. In some cases they will ask for online shopping so you have to check theme that offer compatibility with e-commerce too.
Let see competitors website's and analyse them:
First Website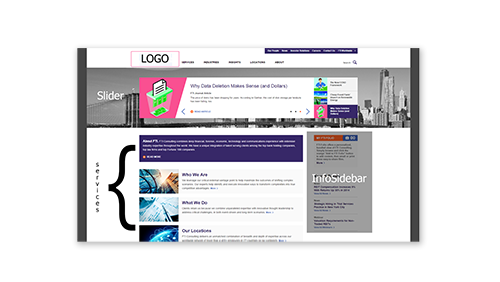 Let check the header, you can see a logo in the left, simple menu in the right side and  menu in the top navigation . Also you can see search in the right side too.
Check the slider that is simple show important information about services the company offer
The main body layout have  bigger left section 2/3 width  and 1/3 width sidebar. In the left section the company make a general introduction with the users and also give three information boxes : Why we are, What we do, Our Location. In the right section you can find important links and news.
The website layout its boxed and with  colored backgroud.
Second  Website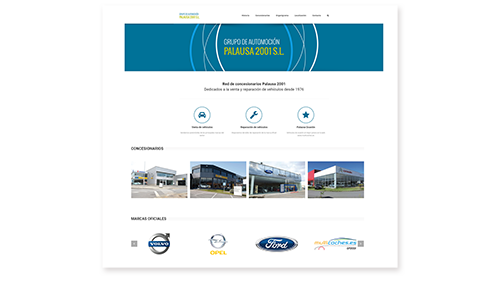 Left side we can find the logo and in right normal menu with search
Normal and small height slider with some light animations
We can see a small description after the slider with 3 services and little icons to pre-describe services visually.
Also after the services we can see some images that show the business shops. In the end before the footer you can find the partners.
Now we have some ideas on how our new website will be. The questions is which theme can give me the possibility to build websites with the features listed before? Somebody can say,  why we have to make similar websites. In my previous experience in making websites i have found that business owners want websites that looks better than competitors but not so different. I think that they are right because users who visits those websites want always the same information , and if visitors can't find what they are searching for, will leave the website in short time. So my opinion its better to check competitors websites every time you want to start to create a business website. We aren't going to create any copy of previous websites but now we have clear ideas of what we going to make.
Now let list some WordPress themes that let us to create simple business websites:
Tower | Business-Driven Multipurpose WP Theme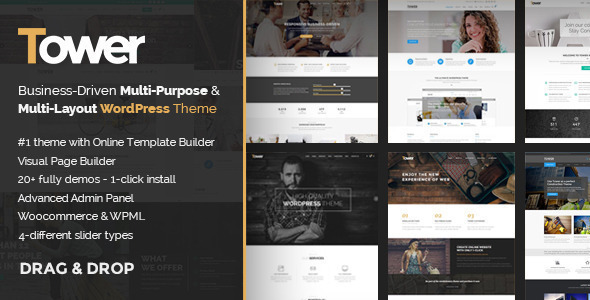 Why this theme can help you to create a Business Website ?
Let check the header styles that this theme offer and if its compatible with our requirements.
Website Header
Now we can check 12 different header styles that can be used.
We can select the business  header style :

The above header have it's simple style with left logo  and right normal menu. Also after the menu we have search icon too.
Another thing that make this header style perfect is the top navigation header that can be used to add important contact information, work hours, address, social icons or menu items. This its important because business websites have to be very concrete and direct. Some users visit the website to get directly contact information, work hours and location of the business. Its better if this information can be found easily.
How to configure the header styles in Tower WordPress Theme
Website Slider
Now we have seen that two business website examples have two simple sliders with small height. The sliders in business websites have to show only some little information and not distract the users from the real important things like services and contact details.
Now let see Tower WordPress Theme offer different type of slider for example Codeless Slider, Revolution Slider.
In the Business Demo we can see that slider was made through Revolution Slider. Revolution Slider can be found in major Themeforest WordPress Theme so its very popular and can be used easily.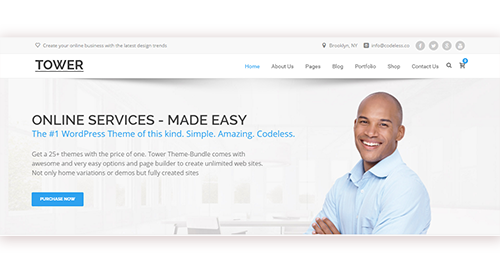 Configure and build  business sliders with Revolution Sliders
Themeforest WordPress Theme usually offer ready created sliders for business websites so you have only to edit the existing sliders with your images and texts. After finishing this descriptions steps i will show you the best business WordPress themes that has ready created business sliders.
Website Body
Business websites needs to be simple and give important services or products right to the front page. Also Business = Serious so you have to look clean, well organized, simple and show directly what you offer and do. Sometimes you can see some websites and don't really understand what the company does because the website isn't built to give the right information in the first user impression. So lets build the website body by showing our services. You can choose between services with images that its ok if you have representative images. In other case set icon services or only text. Choose  WordPress themes that have services elements, so important. Below you will find image services example:

Tower WordPress Themes offer different services elements. Now you have to know that so many other themes offer image service elements and other services. In the end i will list you the best business WordPress themes.  After service you can add latest news with some Blog Elements to show the latest posts. Tower and Specular themes have different elements for this purpose.  Also you can add some other specific information about your company and this can be added through different elements like tabs and lists. Tabs elements can be used to give so much information in little piece of web. In other side Lists Elements are very important for SEO (search engine optimization) purposes because google give importance to this elements.
As you see in the image above clients are in the end of the page. Every business have clients or partners so its better to show them, people trust experienced companies. So themes should have a possibility to show your clients. In the example you can see that website body its done. You can also see its online : Tower Business Demo
Then if you are an inexperienced WordPress user you will ask yourself how to add this website elements . Yes, you are right and i will show you how simple it is. I want to introduce Visual Composer Page Builder that made all this so easy:
Now consider that most Premium WordPress themes like Tower Or Specular have this plugin included so you don't have to spend more to buy it again. Also you have infinite ready elements to use and pre-builded business demos that can be installed with one click. After installing business demo data like in the video below, you have only to edit the visual composer elements.
You can see infinite elements Tower | Business-Driven Multipurpose WP Theme offer:
PART I

PART II

PART III

PART IV

PART V
Also there other that are launched in every update with new demos.
Now i will give you for free tutorials on how to build Business websites with Specular WordPress Theme and Tower WordPress Theme:
How to build Business WordPress theme with Tower WordPress Theme
How to build Business WordPress theme with Specular WordPress Theme
Best 2015 Business WordPress Themes:
Avada WordPress Theme
Enfold WordPress Theme
X – Theme
Write to comments if you have any question or need any support.