Business owners who want to deliver seamless customer experiences use PIM software to manage product information.
Manually updating SKU data for online stores takes time and leads to more errors. Customers landing on your Shopify store and then on Amazon may find different products with different stock info.
A Product Information Management software is an app that consolidates all product information into one database that connects with eCommerce platforms. When you make a change in a PIM, it reflects in all your stores at the same time. Therefore, customers have the same experience regardless of what marketplace they find your store.
In this blog post, we will review the 10 best PIM software for 2023. Ready? Let's dive in.
What is the best PIM Software of 2023
Table of Comparison
Here's an overview of the top 10 2023 Product Information Management software, ranked and compared.
| | | | | | | |
| --- | --- | --- | --- | --- | --- | --- |
| Provider | Price | Free Version | Number of Users (for lowest price tier) | SKU per Basic Package | Storage (lowest price tier) | User Rating (G2/Capterra) |
| Plytix | $300 | Yes | Unlimited | 5,000 | 5GB | 4.6/5 |
| Akeneo PIM | $25,000 | Yes | Unlimited | – | – | 4.7/5 |
| Salsify | $2,500 | No | – | – | – | 4.5/5 |
| PIMworks | $99 per month | No | 4 | 5,000 | Unlimited | 4.7/5 |
| Catsy | $99 per month | No | – | – | – | 4.8/5 |
| Sales Layer | $1000 per month | No | 10 | 150,000 | – | 4.7/5 |
| Syndigo | Custom | No | – | – | – | 4.6/5 |
| inRiver | Custom | No | – | – | – | 4.3/5 |
| Widen Collective | Custom | No | – | – | – | 4.6/5 |
| Kontainer | $295 per month | No | 200 | – | 200GB | 4.6/5 |
Best For SMBs looking for a low-priced yet robust PIM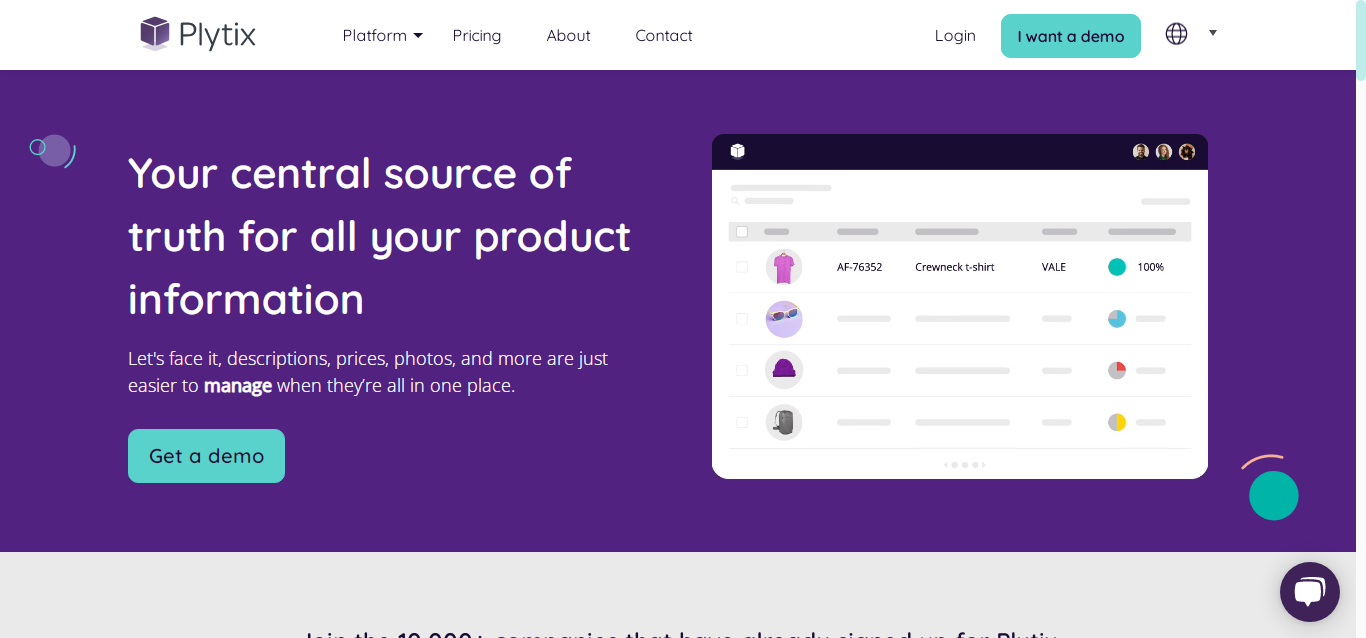 Plytix is a PIM software with an intuitive UI and low learning curve. Plytix's main appeal is that it offers high value for a low cost.
Users can easily add and edit product information in bulk to publish across several online stores at the same time. Plytix offers Digital Asset Management features for storing files, pictures, and videos.
Apart from easy importing and exporting of product data, the PIM helps you get your products ready for major stores.
For instance, it has a feature that optimizes products for Amazon, which prompts you to tweak product page information, add variants, or upload more pictures to optimize for Amazon SEO.
You can invite an unlimited number of team members to your dashboard. The latest version offers custom and administrative roles for your staff, that is, you decide who gets to do what and at what level.
The Plytix dashboard displays an overview of product data in a spreadsheet or grid view. You can add an unlimited number of product tags, and export products in CSV, Excel, and PDF formats.
The software has a REST API that allows users to build integrations and share data with other software.
Plytix integrates with Amazon, Dropbox Business, Shopify, Google Analytics, and NetSuite. With one click you can distribute and upload your product information to several online stores including Amazon and Shopify.
Plytix does not offer more advanced features like data migration, file conversions, merchandising, and multi-channel marketing.
Features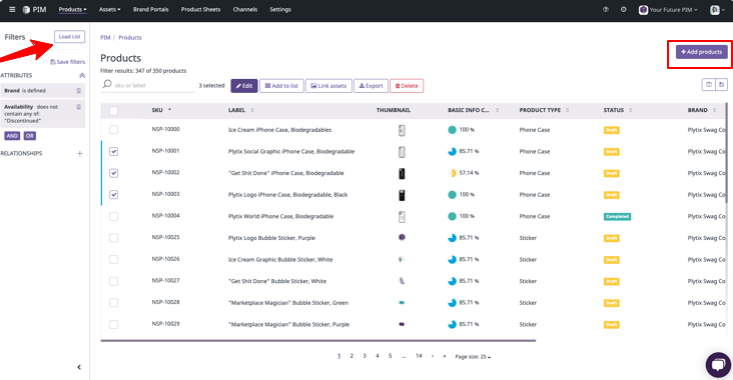 In-built DAM
Scheduled data importation
Customized alerts about product updates
Onboarding support
Cross-selling and upselling functionality
Pricing
Plytix has three pricing tiers.
Free: $0. Allows up to 5000 product SKUs, 5GB of storage, and an unlimited number of team members.
Standard: $300 monthly. Allows for unlimited file storage, 100,000 SKUs, custom roles for users, a fully functional API, and free onboarding support.
Pro: $1500 per month. Offers access to all features and benefits of using Plytix PIM.
Pros
Easy to use UI
Amazon ready functionality
Integrations with several apps including Dropbox Business and Google Analytics
Custom roles for users
Cons
Some advanced functionalities are missing
Only web-based, no device applications
User rating from Capterra
4.6/5
User rating from G2
4.6/5
Best For Businesses interested in advanced features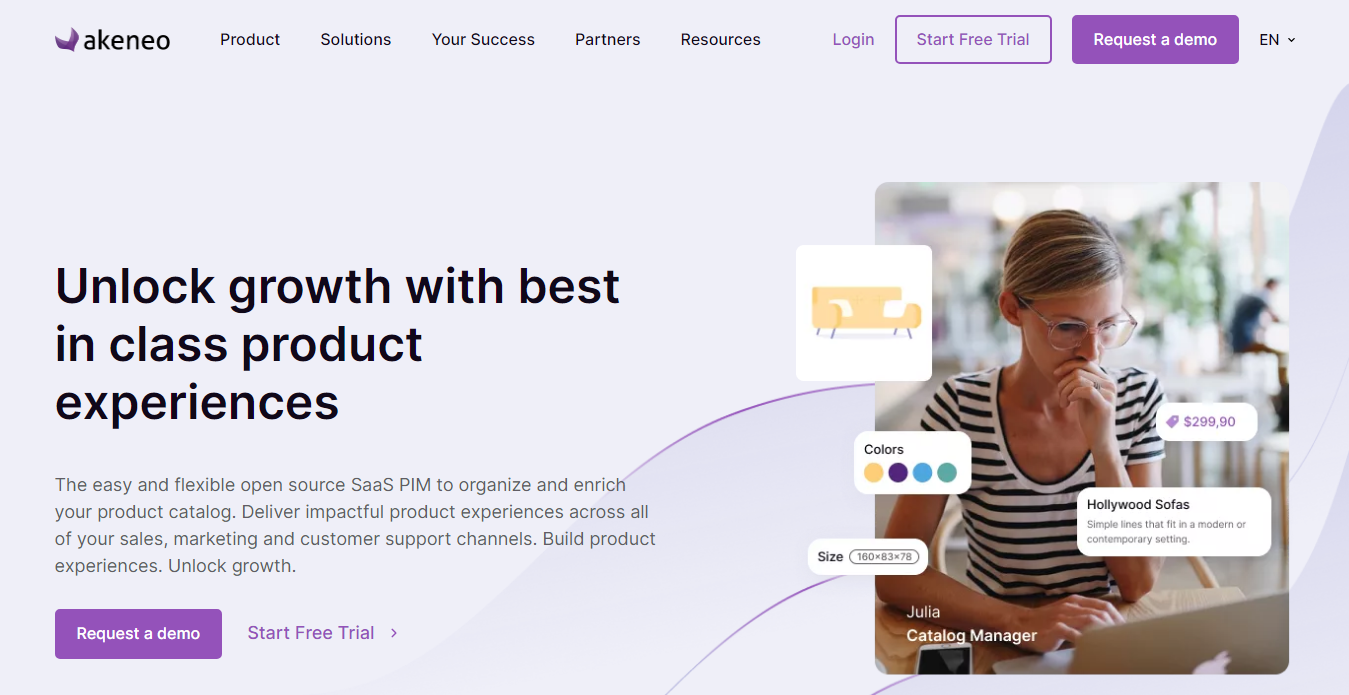 Akeneo PIM delivers a complete product marketing and information management experience. It's about the big picture – helping businesses stay in tune with their customers and the supply chain, giving them product insights to optimize their offers to increase conversions, reduce product returns, and build brand awareness.
There's the bulk import feature for importing and analyzing several CSV files to get a holistic overview of product data. You can import CSV files from suppliers and view them right inside Akeneo.
Creating new products is easy. Just log into your dashboard, select "create", and select "product" instead of the product model. Enter the SKU number and type of product. It's also easy to add attributes like color and weight. There's a feature that marks how ready your product is ready to be published depending on the amount of info provided.
You can create complete product catalogs to publish to your online store ecosystem or export them as PDFs.
Akeneo stands out because of the advanced features it offers. One feature allows for product optimization based on the locale it's going to be sold.
The Akeneo API allows you to integrate with 14+ apps including Shopify, WooCommerce, and other CMS software. There's cross-selling and upselling functionality. You can do more with products from data integration, analysis, and data governance to data modeling.
Akeneo allows for file conversions, multichannel marketing, merchandising, and even quality control. You get templates for creating product pages plus functionality for version control in case things go awry.
Akeneo has desktop apps and apps for Android and iOS.
Features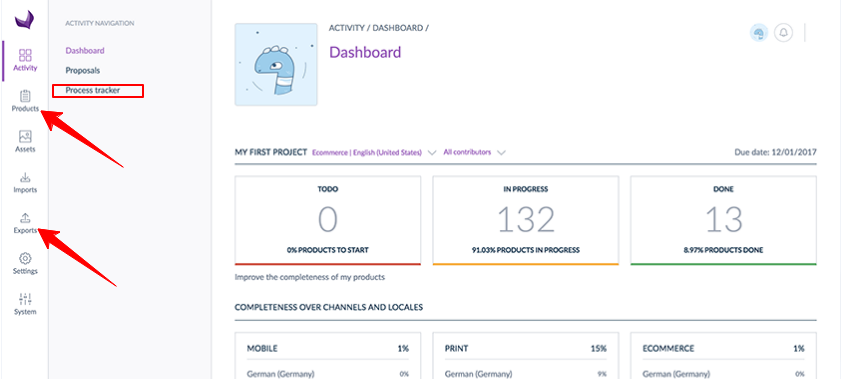 Multichannel marketing
Version controls and administration roles
Integration with CMS apps
File conversions
Catalog management
Product data management
Pricing
Akeneo has a 14-day free trial.
Free and open-source PIM version: This allows for all the basics like product exportation and importation, and distribution to online stores.
Growth Edition: $25,000 annually. Allows for omnichannel marketing and other advanced features.
Enterprise Edition: Has a customized price.
Pros
Offers advanced features
Goes beyond PIM
Integrates with CMS and CRM apps
Offers quality control
Has device apps
Cons
No automated alerts or notifications
May have a steep learning curve
User rating from Capterra
4.7/5
User rating from G2
4.5/5
Best For Actionable products and sales insights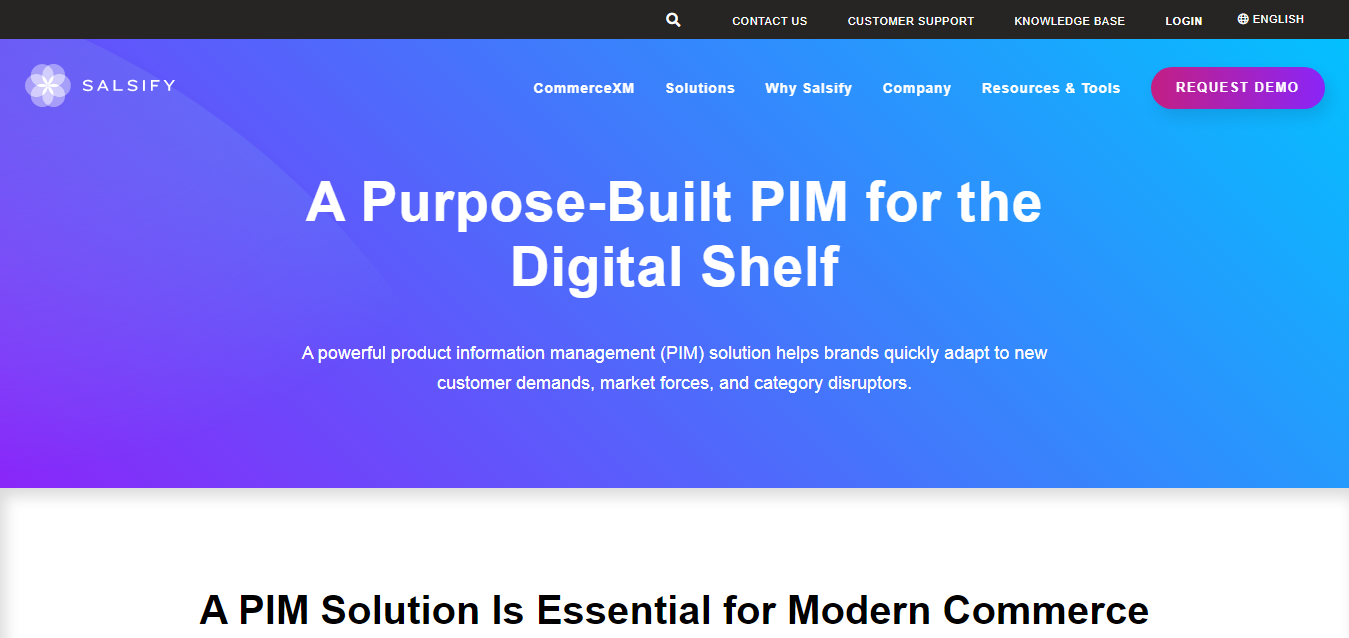 Salsify is for businesses interested in getting product and sales insights to help them grow their sales. Salsify does this by generating in-depth reports and allowing you to invite your sales and marketing team members to view data.
Salsify's PIM makes it easy to create new products and models, edit product information in bulk, and sync across several channels. You can also import and export data in CSV, XLS, and PDF formats. Users create different product variants, media library assets, limitless attributes, and tags for products.
Salsify goes beyond Product Information Management. The software incorporates DAM – Digital Asset Management. There's also the Salsify PXM – Product Experience Management, where the more advanced features come into play.
Salsify is highly customizable. You can configure the software to match your unique business workflows to reduce your time to market and serve your customers better.
Salsify helps you publish product pages that increase the probability of converting customers by ensuring that they are filled with rich content. With Salsify, you can build a content library full of 360-degree images and videos. There are trusted templates to fill out product information that will get people to convert.
Features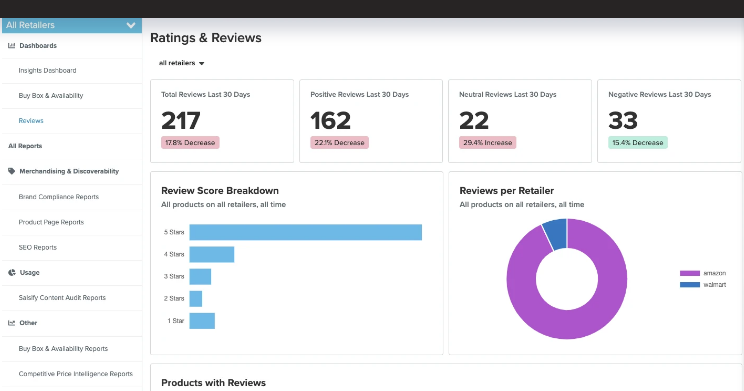 Drag-and-drop content into templates
Media libraries
Sales insights
Complete online product catalogs
Cross-selling and upselling
Product lifecycle management
Pricing
The pricing ranges from $2500 to $5000 per month. There's no free version, but there's a free trial. You'll have to reach their sales team to get a customized quote.
Pros
Salsify can match your workflows
Provides insights to improve sales
Offers product page templates to follow
Highly customizable
Cons
Only web-based, no device apps
User Rating from Capterra
4.5/5
User rating from G2
4.4/5
Best For Creating product pages that convert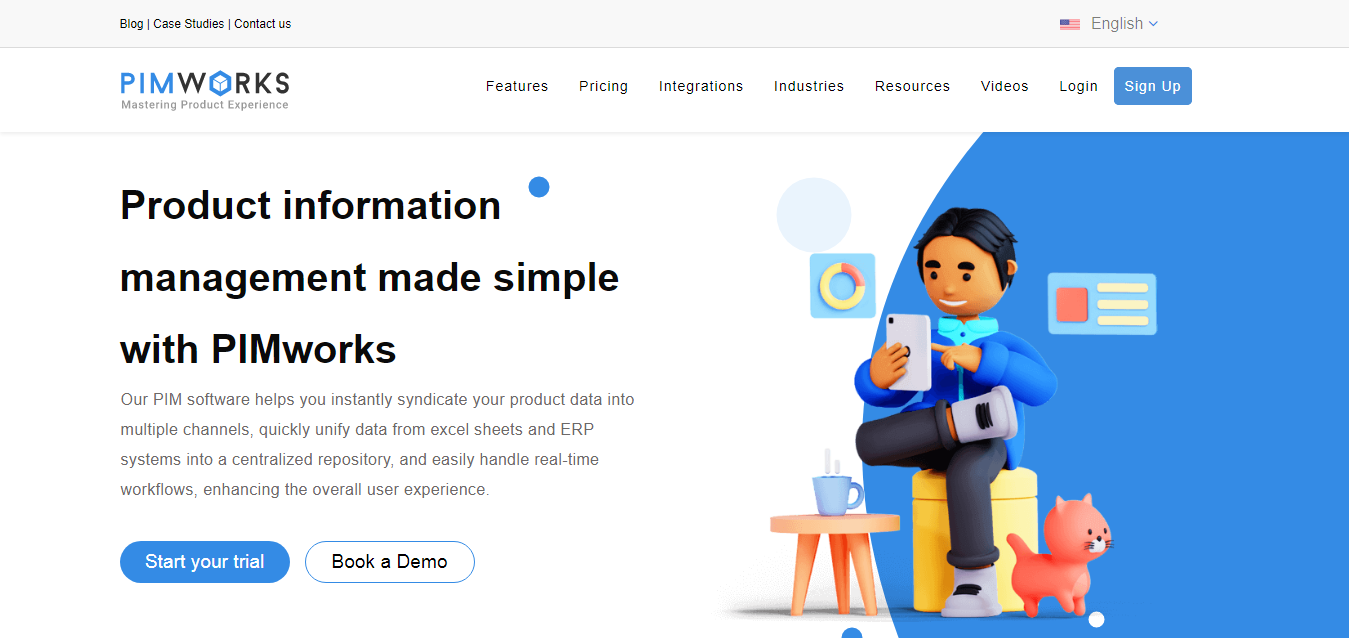 PIMworks stands out because of the insights it provides to help businesses create product pages that convert leads into loyal customers.
One of the standout features is the AI functionality which pulls data from several online marketplaces to give suggestions on writing product pages that work, based on how customers are making buying decisions. The app also provides different product page templates to match different sales channels.
There's also the special feature of eCommerce SEO, which helps you optimize landing pages to rank and attract the right customers.
Once you've created product pages and filled out the necessary information, publishing to all your stores requires just one click. PIMWorks integrates with major marketplaces like Amazon, Shopify, and WooCommerce.
The PIM has other features like uploading and editing product information in bulk. Products are grouped in custom categories to build a complete catalog with the app. The user-friendly dashboard allows you a detailed and compact overview of your products. You can import and export product data in CSV and PDF formats.
The app lets you invite your team members to view and make changes to the data. And you can control all of that by granting different levels of access permissions.
Unfortunately, the app lacks several features like cross-selling and upselling, content library creation, online catalog publication, version control, and product analytics. However, it makes up for them by offering high-quality control, multichannel marketing and distribution, and an activity dashboard.
Features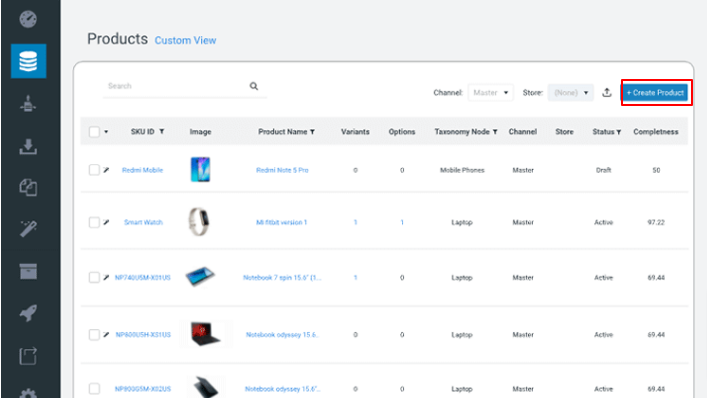 eCommerce SEO
Product page optimization and templates
Cataloging and categorizing products
Administration controls
Activity dashboard
Multichannel marketing
Pricing
There is no free version of PIMworks.
Starter: Offers 5000 SKUs and 4 users. $99 monthly.
Standard: 25 users and 25000 SKUs. Price undisclosed.
Professional: 50 users and 100,000 SKUs. Price undisclosed.
Enterprise: Full range of features. Reach out for a customized quote.
Pros
Integrates with major marketplaces
Offers SEO for eCommerce
Has templates for product pages
Data quality control
Cons
No reporting or analytics
Lack of version control, in case of errors
User rating from Capterra
—
User rating from G2
4.7/5
Best For B2B products and products with large catalogs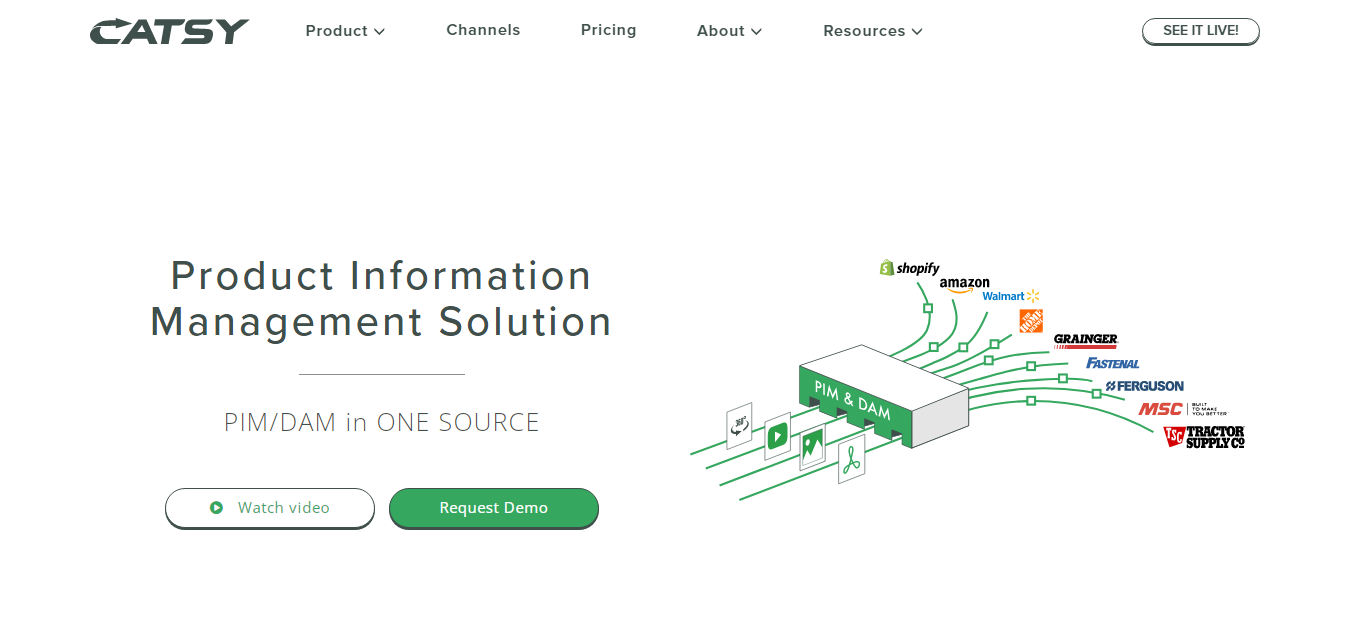 Catsy is a highly customizable Product Information Management solution that can be configured to match your business workflows, especially for B2B and SaaS companies.
All approvals and staff roles are configured to match your processes. For instance, you can invite the designer, copywriter, and marketer to your dashboard. And you can set a process. For instance, once copywriting is done, it's approved by a team member. Then the design is added, and approved, the marketer does the final approval, and the product is pushed to market.
Catsy can work with a lot of data at once. You can import and export CSVs and PDFs in bulk. Catsy has been known to process 700 pages of an online catalog.
This Product Information Management also takes care of the basics like product addition and editing, categorizing, tagging, and attribute validation. It has templates for many marketplaces. All your team has to do is fill out product information and they can be exported in one click to different marketplaces in their right formats. Catsy also integrates with ERPs to automatically update SKU data.
Catsy makes team collaboration easy. You can invite all your team members to view, edit, and share information relevant to their roles. For instance, you can generate sales sheets for the sales team.
Features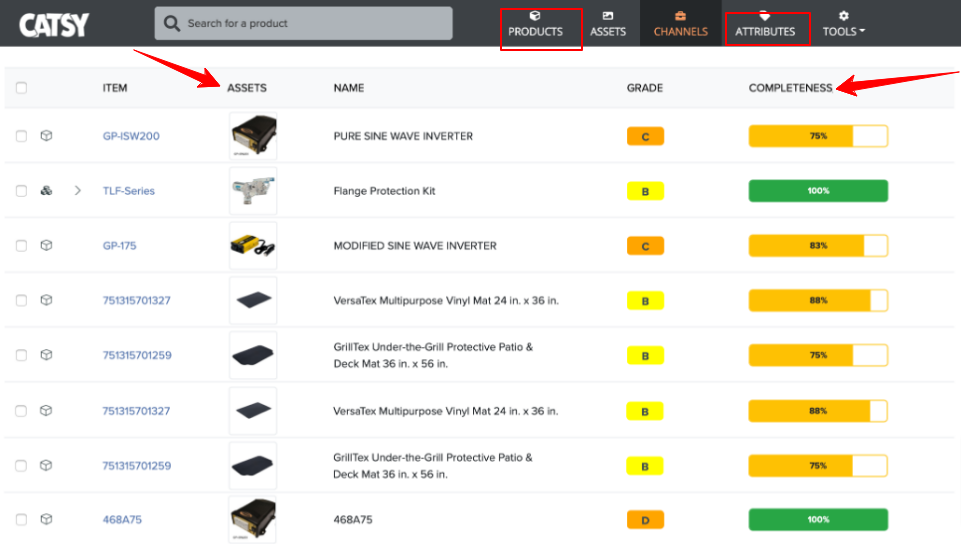 Easy integration with ERPs
Team collaboration and administration controls
Product page templating
Workflows matching
High customization
Pricing
Catsy offers customized pricing based on your needs. It starts from $99 monthly. The best part is that you don't pay for anything you don't use.
Pros
Can be configured to follow your workflow
Generates detailed analytics and reports
Can process a large amount of data
Has great customer service
Cons
No mobile apps or on-premise feature
User rating from Capterra
4.8/5
User rating from G2
4.8/5
Best For Mid-range Priced PIM of Most Value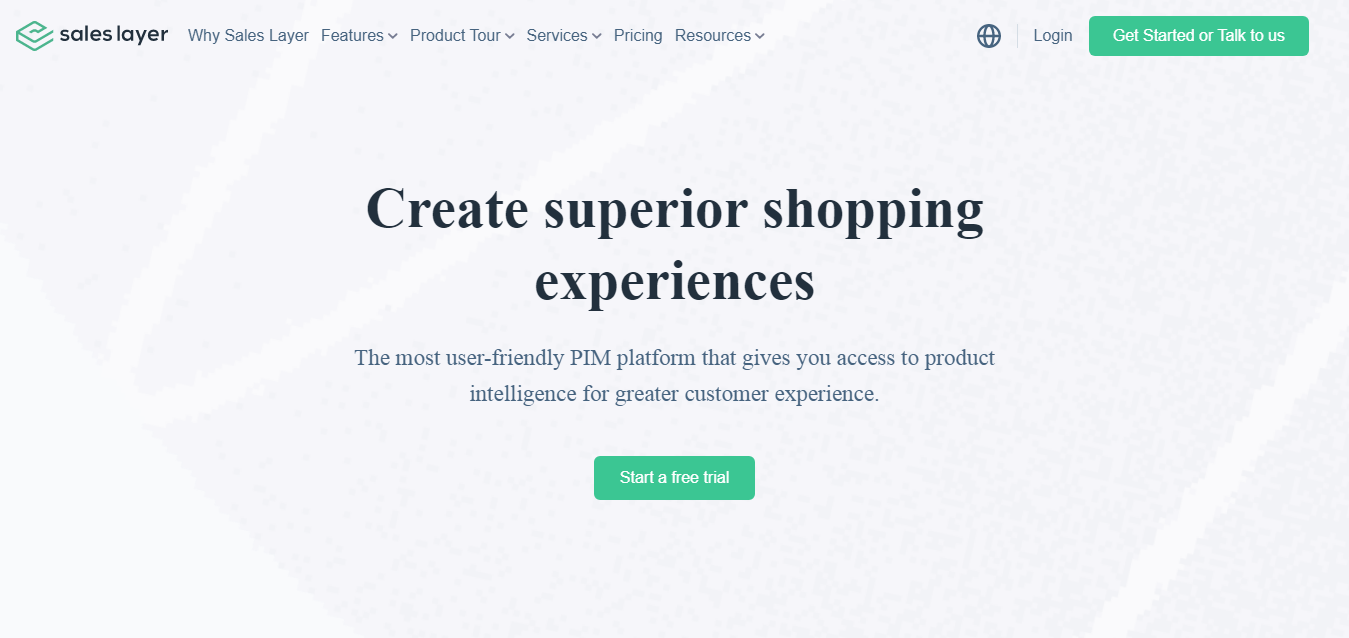 Sales Layer provides a solid PIM and product management experience for a mid-range price.
For starters, it offers bulk uploading and editing of product data. It supports CSV, XLS, PDF, and XML files. When you're done working on products, you can export them in different formats or templates. There are customized forms to help you add, filter, and sort products. You can also create an instant catalog that can be shared online. The app can serve as a Digital Asset Management software because users can create libraries of media files and product data files.
Admins invite team members, assign roles and access levels, and track any changes that are made. They have access to the activity dashboard plus version control to review all the changes that have been made by the team.
Sales Layer helps businesses reach a global audience by integrating with global marketplaces and supporting up to 156 different languages. There is a report feature that tracks your content enrichment status. It checks for important attributes, how to group your products, and even the quality of your translations.
Sales Layer connects with a bunch of marketplace apps including Shopify, Amazon, Magento, Adobe InDesign, and even Google Shopping.
Features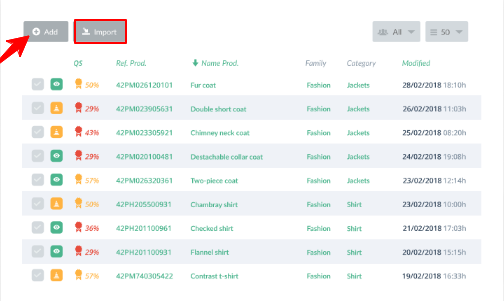 Sales Layer quality report
Marketplace integration
Content templates
Pricing
There's no free version of Sales Layer.
Premium: $1000 monthly. Up to 10 users and 150000 SKUs. 5 languages. Activity feed of your team.
Enterprise: Custom price.
Enterprise Plus: Custom price. Reach the sales team.
Pros
Supports 156 languages
Has a quality report for checking content
Integrates with marketplaces
Administration roles and access controls
Cons
Does not have very advanced features like Salsify
User rating from Capterra
4.7/5
User rating from G2
4.6/5
Best For eCommerce Content Syndication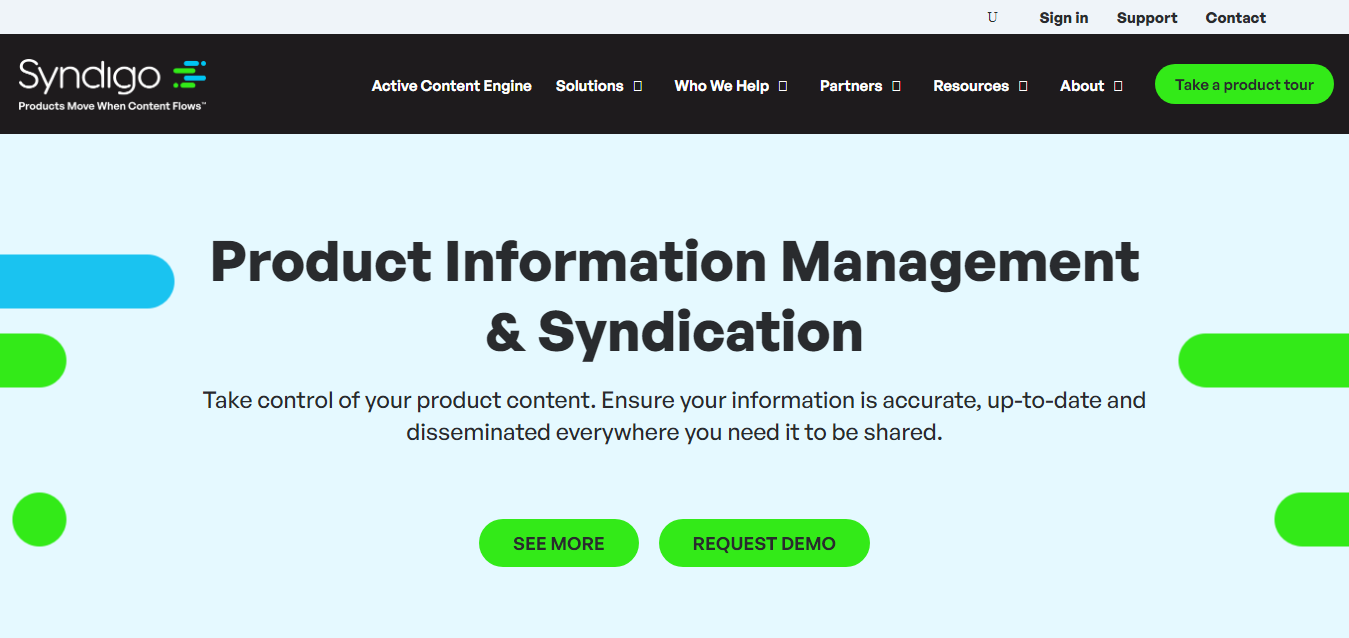 Syndigo is best for brands looking to syndicate content that converts. Syndigo is also called the active content engine. The software pulls product content data in real-time from all over the internet, to deliver insights that will help your brand create content to convert leads.
You can either create your own content while using their content quality control to assess the level of richness, or you hire the Syndigo content team.
When you edit product information in Syndigo, a lot of variables are checked. The app analyzes the title, product descriptions, bullet copy, product pictures, attributes, and so much more. A product readiness score of up to 100% is given. The higher it is, the more sales your content is likely to bring in.
Apart from their content game, Syndigo is a capable PIM and DAM. You can consolidate all your product information and roll out updates from inside the app. Syndigo connects you with suppliers and retailers from inside the PIM.
The DAM feature allows you to create content and media libraries that you can reuse across products.
Syndigo releases very detailed insights on your content and sales data to help you tighten your processes more. You can streamline the app to match your business processes.
Health and wellness products, in particular, benefit from using Syndigo because they get detailed templates to fill out all necessary attributes to avoid compliance issues. These include allergens, ingredients, warnings, and so on.
Features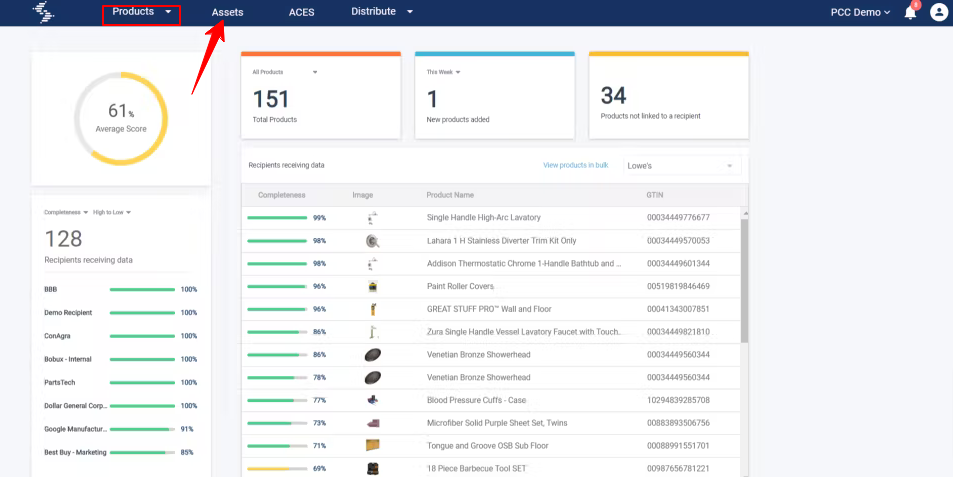 DAM
Product attributes
Data-driven eCommerce content creation
Workflow management
Customizable Templates
Pricing
There's no free version or free trial. Pricing is provided on a custom basis.
Pros
Data-driven content creation
Connects products, retailers, suppliers, and multiple brands
Customizable templates for publishing to different marketplaces
Cons
There's a limit to bulk product edits
User rating from Capterra
4.6/5
User rating from G2
4.5/5
Best For Team collaboration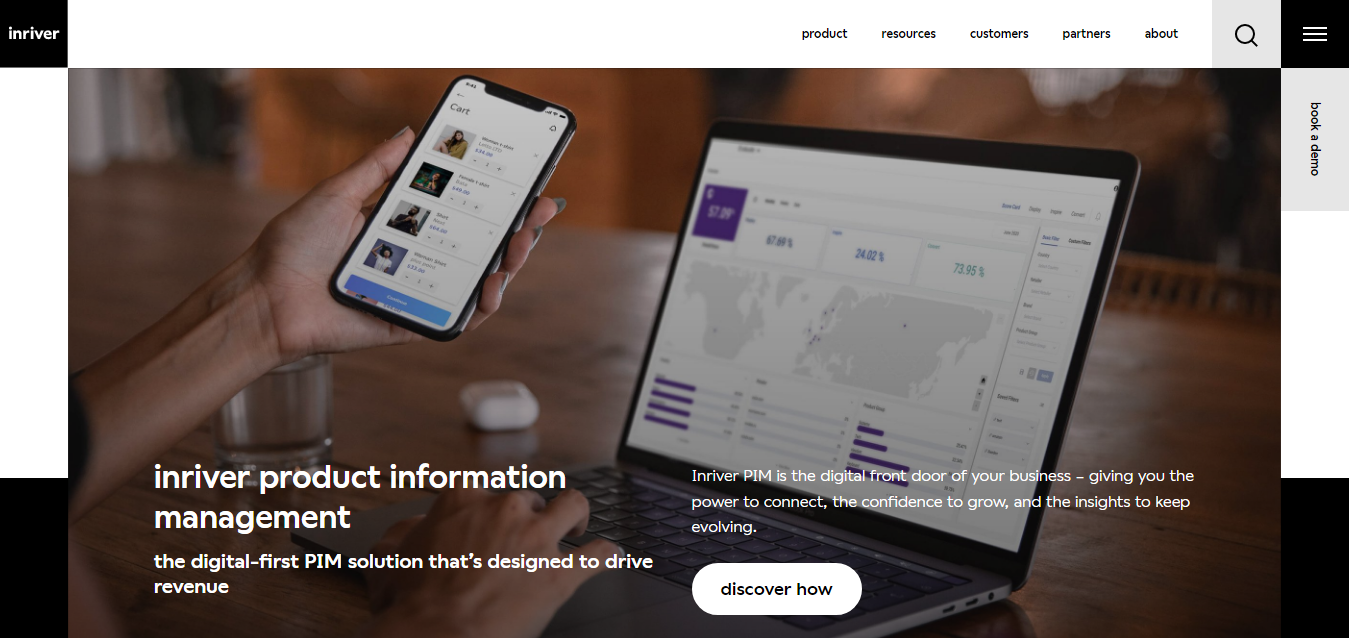 inRiver consolidates product datasets into one source of truth. It gives teams a way to collaborate holistically.
It offers all the basic PIM functions like adding and editing product information in bulk, creating product categories and catalogs, inviting users to work on your team and managing their level of access, and using templates to publish product pages.
With inRiver, you can connect with suppliers, wholesalers, online retailers, and the rest of your supply chain. You can integrate your ERP solution so that inRiver PIM autoloads product fields daily with data transferred from the ERP.
However, the DAM features of inRiver are extremely limited. And that's in favor of making seamless supply chain collaboration and content syndication a reality.
inRiver checks your content for SEO and conversion rate. It delivers insights based on the content you've created and the behavior of customers.
You can also keep track of published content and performance.
Feature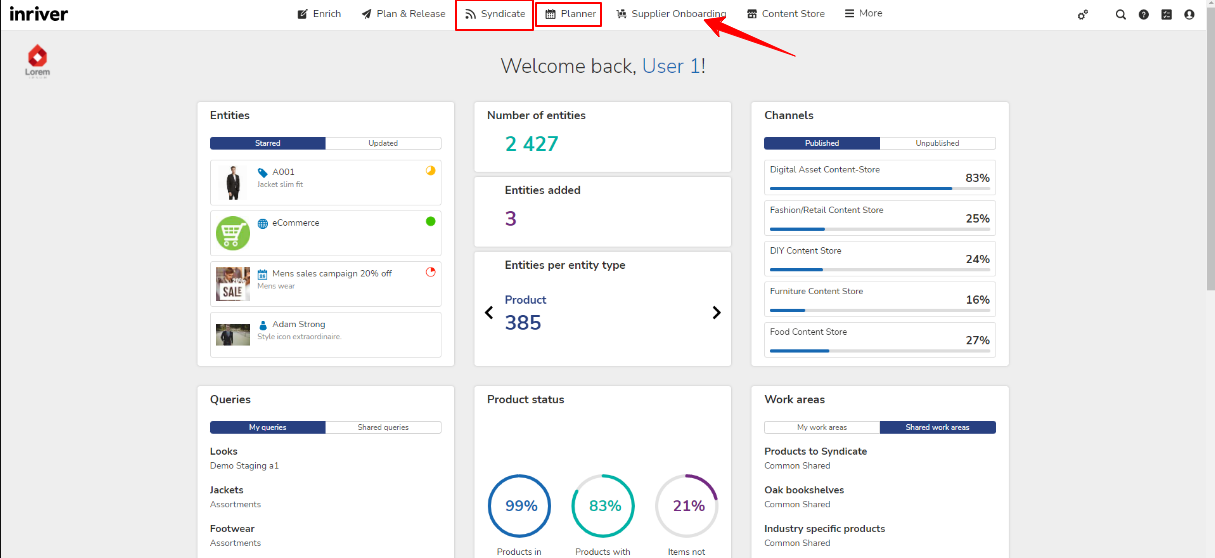 Content syndication
Collaboration with retailers and your team
Easy integration with ERPs
Pricing
Pricing is custom-based. Reach out to the sales team for a free demo and a quote.
Pros
Syncs with your supply chain
Optimizes content
Collaborates seamlessly with your team
Matches your workflows
Cons
Limited DAM functionalities
User rating from Capterra
4.3/5
User rating from G2
4.2/5
Best For Businesses looking for an all-in-one PIM solution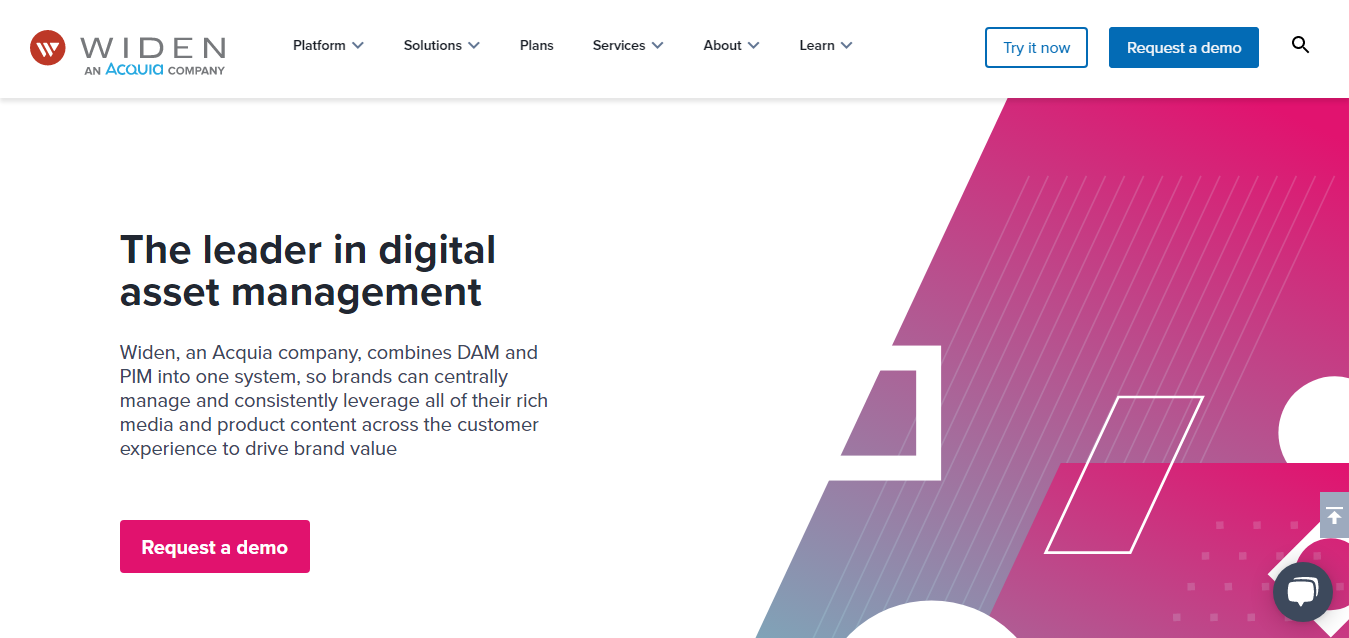 The name says it all – Widen Collective. This PIM solution incorporates a PIM software solution, DAM, content management system, market resource management, MDM, and integration with more than 50 apps.
You get the standard features of a powerful PIM – creating new products and product families, importing CSV data and exporting in several formats, bulk editing product information, creating online catalog modules, and publishing to several marketplaces with one click. You get customizable templates for major marketplaces. You can also connect with product distributors.
Widen Collective has an in-built DAM that allows you to create and manage vast libraries of content and media for use across all your stores.
The PIM software optimizes content for SEO and conversion. Apart from the content quality control feature, you get access to a keyword research tool. You can even create advertising campaigns from inside Widen and distribute them to sales channels with one click.
Widen connects with apps that help you automate your business even further. It integrates with major marketplaces like Amazon, Shopify, Magento, and WooCommerce. They also integrate with everyday business apps like Slack for team collaboration.
Features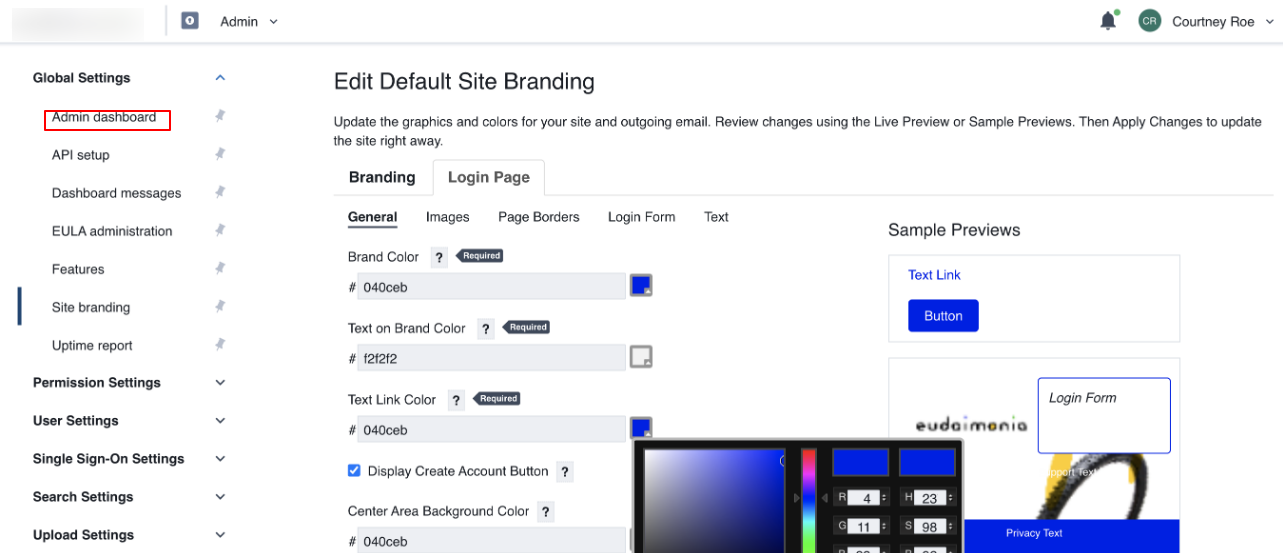 Team collaboration
Content quality control
Powerful DAM
Master data management
Image auto-tagging
Pricing
Custom. Reach the sales team. Some organizations qualify for a discount.
Pros
Is both a PIM and DAM
Content optimization
Detailed sales and content analysis
Has a keyword research tool
Integrates with 50+ apps
Cons
Content distribution portal security is basic and doesn't cover HIPAA compliance
User rating from Capterra
4.4/5
User rating from G2
4.6/5
Best For DAM and file sharing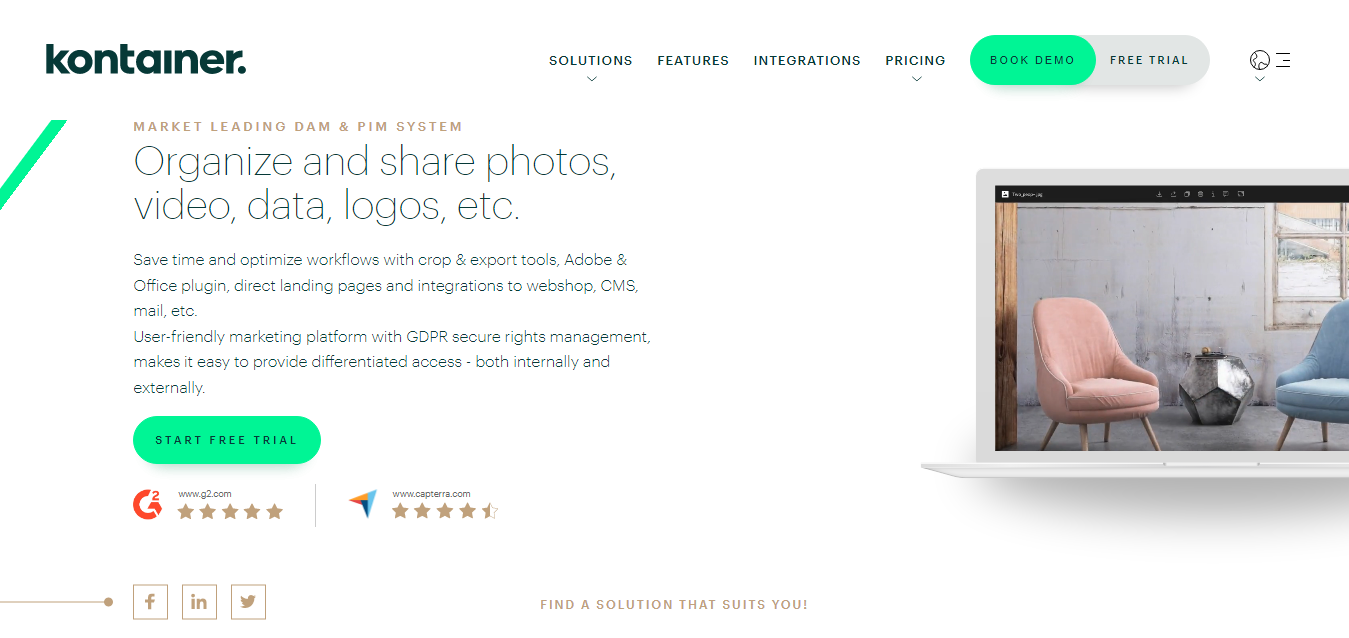 Kontainer is a PIM solution with extensive DAM capabilities.
Apart from the usual PIM features like adding and editing product information, you get a DAM that makes it easy to store your digital assets and share them with users and customers.
Kontainer is powerful enough to replace Dropbox, WeTransfer, or any file storage software you use. And it eliminates broken or duplicate links and files. The DAM feature also serves as a basis for PR image banking, so that you have control over the perception of your brand.
Kontainer has a tool for sales presentations that provides in-depth sales insights to present to your team.
Features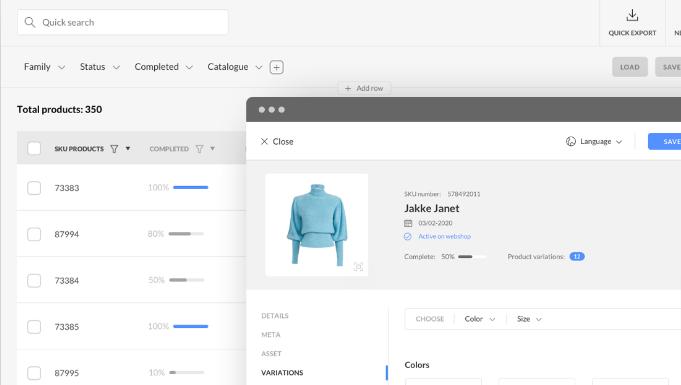 Extensive DAM feature
Sales insights report
File storage and sharing
Image banking for PR
Auto image crop
Pricing
Kontainer has a 30-day free trial.
Business: 295$/month. Allows up to 200 users and 200GB of storage
Professional: 645$/month. Allows 250 users and 1TB storage maximum.
Premium: 1460$/month. Allows up to 1500 users and 5TB.
Enterprise – Contact us
Pros
Helps you control brand perception
Offers seamless file storage and sharing. Provides an alternative to Dropbox and WeTransfer
Generates sales insights
Cons
User rating from Capterra
4.5/5
User rating from G2
4.6/5
FAQs
What is a PIM software?
A PIM software is an application that consolidates all product information into a single source of truth. It eliminates the manual and duplicate tasks of updating stores one by one. PIM software automates the process so that it can be done one time from inside a dashboard.
Why is a PIM system needed?
A PIM system automates online business sales processes. It stores and backs-up product data and publishes product pages to several marketplaces at one go. Running an online business is a lot easier with a PIM. Examples of PIM systems are Akeneo, PIMcore, and Plytix.
What do you have to look at in your PIM software?
What you have to look at in your PIM software depends on your needs. Usually, once you're logged into your dashboard, you see stock data – your products and how many are in stock. You can choose to import or export data as CSV. As an admin, you can look at the activity dashboard to review your team's activities.
Conclusion
The best way to choose a suitable PIM software for your business is by comparing your needs to what the application offers. Go with the one that serves your needs the most and your business will take off on autopilot.

As one of the co-founders of Codeless, I bring to the table expertise in developing WordPress and web applications, as well as a track record of effectively managing hosting and servers. My passion for acquiring knowledge and my enthusiasm for constructing and testing novel technologies drive me to constantly innovate and improve.
Expertise:
Web Development,
Web Design,
Linux System Administration,
SEO
Experience:
15 years of experience in Web Development by developing and designing some of the most popular WordPress Themes like Specular, Tower, and Folie.
Education:
I have a degree in Engineering Physics and MSC in Material Science and Opto Electronics.