Searching and finding a credible company to host your website can be an intimidating process. Nowadays Graphic designers are more advanced technically than at any time in the history of this sector. While some graphic designers simply print design and don't have too much knowledge of web hosting technologies, others have adopted the interactive design medium.
This can vary from learning interactive design processes and technologies like Flash to scripting and ​​coding languages like PHP and javascript.
But the knowledge and time needed to manage a website hosting are usually well beyond the field of most designers. And even if it isn't, who has the energy and time to control and improve a web server all day long?
This is where web hosting companies arrive. But when it comes to choosing a trustworthy web host is much easier to say than to do that. Besides that, there are a lot of web hosting packages available and their prices can change drastically.
How to Choose the Perfect Portfolio Website Hosting
A small number of professionals or graphic designers will want to be technically capable of running their own web server. Depending on how many websites you think to manage, there are several hosting options.
Shared hosting
The cheapest option to manage a single website is to buy a shared web hosting package.
Shared hosting is where website hosting service providers locate a number of different websites on a single web server. Every website has its own domain name and outside visitors will not know that the site is not on its dedicated web server.
Shared web hosting is the most usual method of web hosting and is good for any site that will not receive large amounts of web traffic, like one portfolio site of freelance designers or a website of small design companies.
Reseller/Hosting multiple domains
For designers who are programming to host their customer's websites, the best option may be a reseller hosting account. With a reseller web hosting package you can have a reliable amount of disk space and bandwidth which will allow you to spot a number of different domain names to your name server. A lot of web hosts offer also domain name reseller accounts.
The good thing about a reseller hosting account is that it consent the designer some amount of access to give each client certain services on their websites while leaving most of the technical problems of management and security of the server to the Webhosting company.
Dedicated servers
Dedicated web servers are those where you rent or buy a hardware server, but are physically located with your web host. This is a great solution if you expect a high level of traffic or want to operate some intensive server processes.
Hosting companies frequently offer different levels of management for hosting dedicated servers. This can vary from fully managed servers to packages where the customer is necessary to have a certain level of technical skill.
There are also other solutions like virtual private server (VPS), which offer some of the advantages of a dedicated hosting package, but are actually a software solution that simulates a dedicated computer.
The Top 4 Best Portfolio Website Hosting in 2022
1. BlueHost
Bluehost offers new site owners some facilities with the drag and drop simplicity of the Weebly website builder and the goMobi mobile site generator at their finger clicks. This can make starting a new brand,  personal website online, or store from scrape quite easy. Of course, the construction of the site has its headaches for newcomers, but with the Bluehost team, you don't have to worry because they are ready and willing to assist you at every stage of the journey.
To facilitate the start of your site for success, Bluehost offers a myriad of unlimited freebies, including a free domain, email hosting, domain hosting, unlimited storage space, bandwidth and databases. This, along with several options for site creation services, is all a new site owner needs to get started and one important thing is that the cost is hard to beat.
If what you are able to see is what you get is not your thing, maybe a CMS option sounds interesting. You can choose from some of the most popular content management and blogging software, such Drupal, Joomla and WordPress, then download and you can install with a single click. Some Bluehost plans are customized to suit WordPress and their WordPress services are approved by the WordPress team.
For building a site cheap, quick and easy, supported by one of the most credible Web hosts on the Web, you can't make a mistake by choosing Bluehost.
Bluehost offers:
Automatic Backups daily,weekly,monthly.
Site builder like goMobi or Weebly.
Free domain registration.
Professional design services
Leading Reputation and Support industry.(You can catch Bluehost support staff and examine their large knowledge base 24/7.)
Consistent hardware update.
2. A2 Hosting

A2 Hosting has done the custom packages that make them a great option for graphic designers. They offer improved performance, speed and security. With their shared hosting, a free CDN arrives with the SSD speed increase solution. With CMS installations with 1 click, the host is easy enough to use even for beginners.
You can receive unlimited emails, domains, archives and databases to fit any type of website. Two popular website builders like WordPress and PrestaShop are also optimized with A2 Hosting.
A2 Hosting offers also a free HackScanproten to protect you when your site is secure. KernelCare is also offered for keeping every day your site up to date. A2 Hosting has proved a 99.9 percent uptime and keeps the network under control 24/7. If you are a WordPress user, you're sure you don't have hacks.
In general, the site took enough time to improve reliability and usability. Any of the packages offered are customized for designers and different webmasters.
A2 Hosting domain names are not free but can go at a price of $ 14.99 which is very high compared to other hosts.
3. InMotion Hosting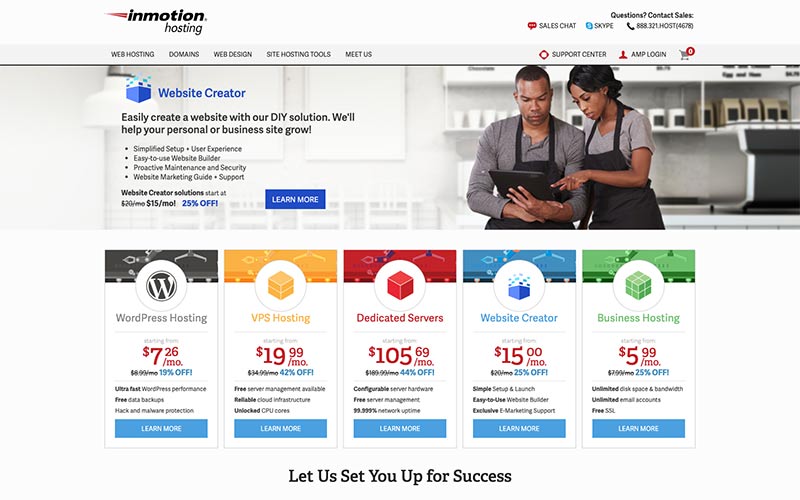 For a long time, InMotion Hosting has been standing among the best web hosting companies in the industry.InMotion Hosting is known for their shared hosting and when they became part of the WordPress space, their reputation for personalized services has grown even more and better. Anyhow, host packets cost a little higher than other budget hosts with some additional features that justify the cost.
The host runs on an SSD base with their speeds at the top of the rankings. The modern hardware is always updated with the duty to keep your site with all the latest features and safety.
InMotion Hosting have three different levels of WordPress hosting, ensuring to grow simultaneously with the growth of your business. Each of the packages is customized to fulfill your needs and also you can transform your graphic design website into an e-commerce site.
InMotion Hosting allows you to unlimited installations if you use WordPress, unlimited emails, unlimited disk space,and free backup for your data. If you are good at programming, the host supports PHP, Python, Ruby and Perl and allows also SSH access. They are renowned for excellent customer support and reliability.
The host does not have features like staging and integrated caching that would allow users to take advantage of the exceptional modern hardware.
4. Site Ground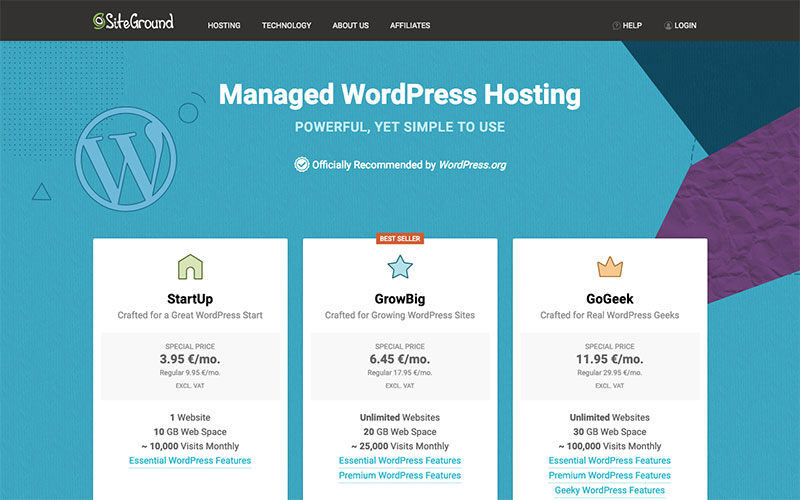 SiteGround is a host that operates in the sector since 2004 and offers managed WordPress hosting. SiteGround host is known for its credibility, flexibility and advanced features. They grow as your website grows and receive all the traffic you could have.
SiteGround leads five data centers on 3 continents. They are able to provide you with the support you need as an artist, a graphic designer also to back up your data.
Getting started on SiteGround is quite simple as all you have to do is register. All the information you need to get started is on the customer page. Once you installed your WordPress website, they offer the installation of WordPress with one click. As a management panel, you'll get a cPanel.Every day your data is automatically backed up .
At any time of the day SiteGround offers excellent customer support. Furthermore, their hardware is always updated to optimize uptime and you can switch from one floor to another with zero downtime.
The host is not good for encoding, even if they allow some programming languages.However this is only for experienced users.
Conclusion
To summarize we have to say that a website is better than a portfolio builder. There are dozens of portfolio producers, but it is important to underline that these portfolio builders can never be as good as a website.
Designers, artists, etc, can get free website builders with their preferred choice to ensure that the process remains simple and forthright. Many website builders that are offered by hosts do not require programming skills, simply dragging and dropping. These days, owning a significant website and hosting it from the best is a simple way.