The best CRM software is the basic need in today's digital business world to integrate better customer-provider relations, enhanced sales potency, and to some extent, application of better marketing strategies.
A customer relationship management application serves the principal purpose of storing your site's customer's contacts also effectively applies sales tracking, workflow automation, better communication ways, analytical reporting of overall performance, and much more options necessary for better sales productivity.
The average return on investment on CRM is $8.71 for every dollar spent.
We have ranked and compared the 15 top CRM software in this article. Their essential features, price, why you should use or avoid them are discussed to give you a better idea of which platform is worth investing money on and adequately suits your business needs.
Come on, let's check them out.
Table Of Comparison
Software
Price
Free Version
Features
Salesforce
Essentials: $25/user/month
Professional: $75/user/month
Enterprise: $150/user/month
Unlimited: $300/user/month
No
Flow builderEasily accessible fields
Create customized help text
Customized fields and layouts
AppExchange integrations
Report creating capabilities
Freshworks CRM
Growth: $15/user/month
Pro: $39/user/month
Enterprise: $69/user/month
Yes
Intuitive Interface
AI tool
Email marketing strategies
Call recording tools
Custom web forms Data capturing tools
Keap
Lite: $79/user/month
Pro: $169/user/month
Max: $199/user/month
No
Workflow automation
Straightforward interface
Great customer support
Email marketing tools
HubSpot
Starter: $45/user/month
Professional: $450/user/month
Enterprise: $12,000/user/month
Yes
Contact management
Email and call logs
Pipeline management for sales
Slack, Gmail, and multiple other integrations
Extensive marketing tools
Strong lead
Automated deal assignment
Zoho
Standard: $14/user/month
Professional: $23/user/month
Enterprise: $40/user/month
Ultimate: $52/user/month
No
Customer contact records
Automated workflows
Customer interaction tracking
Strong lead generating tools
Customization options
Reporting and analytical features
Workbooks
CRM: $34/user/month
Business: $71/user/month
Yes (for up to 2 users)
Shared success program
Extensive software solution
Great customer care services
Pipedrive
Essential: $12.50/user/month
Advanced: $24.90/user/month
Professional: $49.90/user/month
Enterprise: $99/user/month
No
Efficient mailbox
Smart contact data
Effective sales-related options
AI sales assistant
Workflow automation
Salesmate
Starter: $12/user/month
Growth: $24/user/month
Boost: $40/user/month
Enterprise: Custom
No
Effective sales characteristics
Inbuilt call and text app
Automatic data entry
Multiple integrations
Salesflare
Growth: $29/user/month
Pro: $49/user/month
Enterprise: $99/user/month
No
Automated tracking
Visible sales opportunities
Automated emails
Integration with Google calendar and many other tools
Diversified sales hub
Insightly
Plus: $29/user/month
Professional: $49/user/month
Enterprise: $99/user/month
Yes
Automated workflows
Significant integrations
Effective reporting capabilities Highly responsive customer support services
Agile CRM
Starter: $8.99/user/month
Regular: $29.99/user/month
Enterprise: $47.99/user/month
Yes
Multiple customer interaction channels
Automated characteristics
Diverse communication capabilities
Detailed records creation
NetHunt
Basic: $24/user/month
Business: $48 /user/month
Advanced: $96/user/month
No
Wide customizing options
LinkedIn prospecting
Extensive Integrations
Nutshell
Starter: $20/user/month
Pro: $42/user/month
No
Wide customizing options
Location-based lead distributions
Automated information collection
Top-quality scheduler
Unlimited storage
Multiple pipelines
Marketing platforms
Zapier integrations
EngageBay
Basic: $10.39/user/month
Growth: $19.99/user/month
Pro: $39.99 /user/month
Yes
Free plan Active customer support services
Affordable rates
Rich functionality
Nimble
Business: $19/user/month
No
Enjoyable UI
Extensive reporting capabilities
Great contact data features
Signals (social networking management)
Prospector engine
Zapier integrations
The Best CRM Software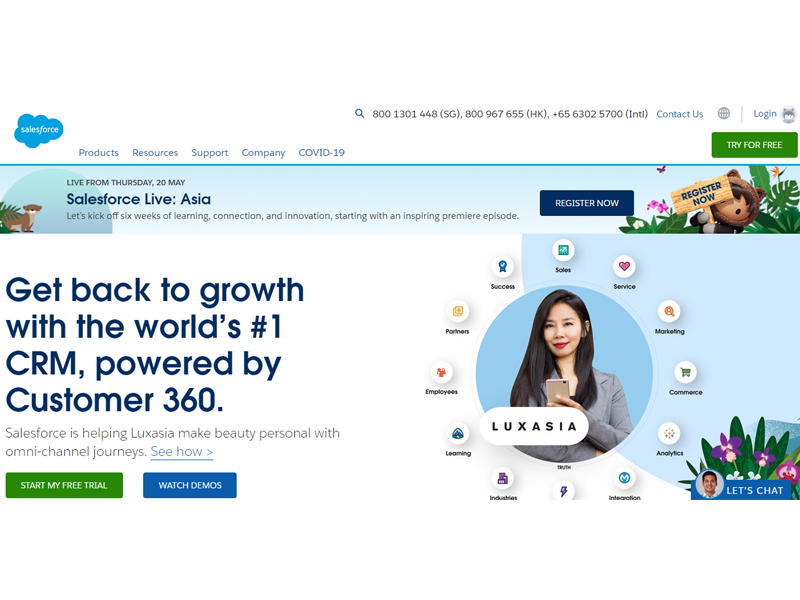 Salesforce Cloud is a perfect option for adding multiple customization options to customer relationship management applications. It is a collaborative platform that offers internalized ecosystem and third-party AppExchange to create an application with extensive possibilities.
Features:
Flow Builder
This builder guides in the creation of a customizable automated management system.
It is elementary to applicate it. Follow the below steps do to so;
Go to settings
Click on the Flows option there
Finally, select the type of flow you want
There are multiple types of flows that you can enable.
One such example is record-triggered flow. You can add designs to ensure the happenings after record creation (such as contact information) in this flow type. Moreover, you can also insert a few conditions with the help of the video builder, as the server will only send emails to contacts added in a specific period.
View And Access Fields
Salesforce has the significant option of controlling who can view and edit information of various fields. For example, the employees can only access contact pages relating to their department.
This feature restricts them from making editions in other categories. It plays a vital role in ensuring data security and avoids issues due to the involvement of users with irrelevant information of a particular record.
Create Own Help Text
With Salesforce, you can quickly enter explanations at the field level. For example, in the instance of discount filed, you can enter text like 'this is maximum discount available on a particular account type, one must contact manager in case of any queries. It is an essential feature to make one's business look disciplined and guide the fresh employees with ease.
Customized Fields And Layouts
Salesforce allows convenient customization of fields and layouts. One has to follow simple steps to customize items according to their needs.
The steps include
Click on the setup wheel seen at the top right corner of the screen
Then click on edit object
Finally, create a field and layout with customized details
AppExchange Integrations
AppExchange featured at Salesforce is perfect for integrating paid and free applications within a few minutes.
The availability of free applications depends on the software's current edition like professional, Enterprise, etc. Moreover, options like categories, prices, languages, and ratings also influence the presence of free third-party apps.
For example, you get to integrate D&B Hoovers only with the enterprise edition. In contrast, you get a similar ZoomInfo app with a professional plan.
Reports Creation
In Salesforce, you can quickly create a report of set data points with its pre-built templates. At Salesforce, you can find predesigned reports for multiple purposes that include;
Deals
Activities
Elite accounts
Winning percentage
Traffic conversion stats
Moreover, you can also get reports about representatives who have not bothered to log in, let alone upload updates. This feature can be accessed through logging in at wall of shame.
Up To Date Notifications
Salesforce sends up to date and immediate notifications about new features. Moreover, it also adds leads with each new form submission and much more that you can explore yourself.
Price:
It starts from $25 per month per user
Reason To Use:
Salesforce is a collaborative platform that works effectively to make one's business a successful package. You can efficiently sell your digital product, market and promote it, and maintain interactive relations with your customer journey all on a single platform. Moreover, it also allows you to build applications very quickly.
Salesforce offers mobile CRM tools to access every minor detail of your business from your pocket device.
Other features mentioned above are also a significant addition that makes Salesforce worth using the platform.
Reason To Avoid:
Besides all the good things about Salesforce, a few setbacks are also there, making you avoid it. Its prices are a bit on the higher side, and you also end up paying more for necessary add ons. Moreover, it does not offer any free plan to ensure customer information satisfaction.
The account setup and navigation are complicated, making things difficult, especially for beginners and to some extent for experienced users. Their customer data support services are also not up to the mark.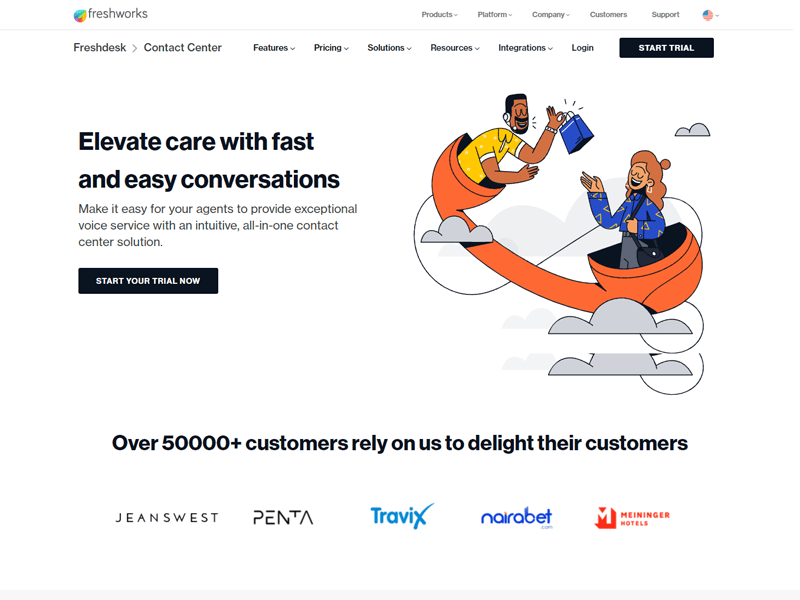 Freshworks CRM offers a user-friendly interface and is a complete package of choice specifically for beginners. It focuses more on making things straightforward than providing higher-level customizations and features.
However, it provides limited options for lead generation, like scanners for business cards.
Let's have a detailed look at the features offered by Freshworks CRM.
Features:
Intuitive Interface
Freshworks offers its users both mobile and desktop-friendly update that ensures quick access to features like:
Contacts records and interactions
Drag and drop Kanban styled boards specified for marketing efforts purposes
Artificial Intelligence Tool
Freshworks has an integrated intelligent tool for the assistance of the users. It guides you in multiple areas, like which deals to make and how much data provision is enough to handle processes properly.
Email Marketing
Freshworks has perfect tools for running effective email campaigns. It allows the integration of popular email clients like Outlook or Gmail. This feature helps to achieve the following milestones very effectively;
Creating customized email templates quickly
Sending emails in bulk to the customers at a faster speed
Viewing incoming and outgoing messages with convenience
Call Recording Tool
Freshworks call recording tool records each customer interaction and keeps complete track of it in communication records.
Other
A few other significant features offered by Freshworks are:
Customized website forms
Data capturing tools to assign sales lead management
Price:
Their editions start from $15 per month per user
Reason To Use:
The primary reason behind opting to use Freshworks is its user-friendly interface that explicitly suits the likes of newbies. Moreover, Freshworks also provides worth appreciating features for enhancing sales forecasting to a better extent.
Unlike Salesforce, they also offer a free plan.
Reasons To Avoid:
Suppose you want to apply scanners for business cards or need extensive lead generation tools. In that case, you must lookout for some other CRM platforms as Freshworks, unfortunately, lacks these critical items.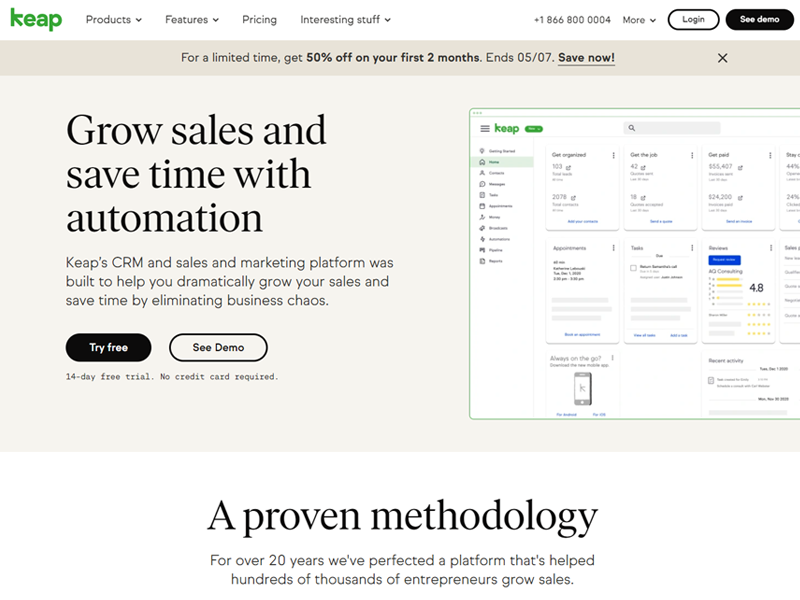 Keap is far from those typical good CRM providers for its exclusive features. It is more focused on offering effective sales and management options like local payment methods, advanced appointments, comprehensive email marketing tools, and an effective pipeline management system.
You can get started with Keap and profit from its promotional schemes and automated features without spending hours learning the technicalities.
Features:
Automated Workflow
Keap, as discussed above, is keener on offering marketing tools to its users, hence featuring significant workflow marketing email automation and integrated payments. It saves a lot of time and guides about effective conversion of leads through top-notch promotional campaigns.
Easy To Manage Interface
An effortless and straightforward interface of Keap makes it perfect for beginners to aim for such a CRM application that provides them with essential marketing, sales, and related options.
Customer Support Services
This platform has a highly responsive and polite team assigned to serve the customers in their technical queries. This feature also positively contributes to making Keap a perfect choice of forum for newbies in the digital world. They offer these services through phone, email, and community.
Price:
Their pricing schemes start from $79 per month per user
Reasons To Use:
The first and foremost reason to consider when investing money in Keap has to be its broadly spread email marketing features. Moreover, you should also consider this platform for its automated triggers and comparatively ease of use.
Reasons To Avoid:
Suppose your digital venture requires unlimited contact storage and reporting abilities. In that case, you must avoid spending bucks on Keap as it majorly lacks these features.
Moreover, it also does not offer any free plan for its customers.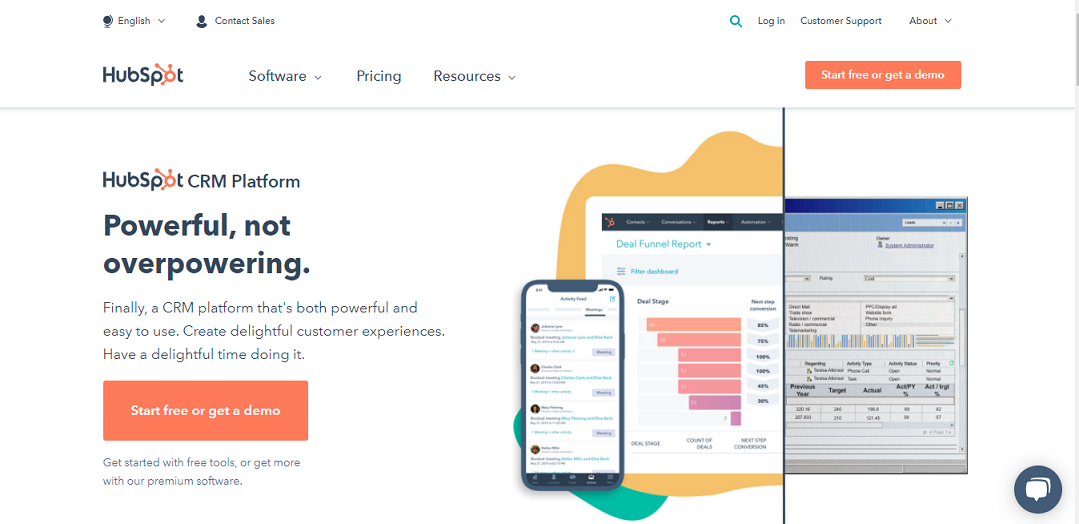 HubSpot, a CRM application well known for its free plan, has impressed users with its unique features. Although several platforms promise free programs, most fail to meet the required goal; then comes HubSpot CRM for the rescue.
Besides the outstanding features of the free plan, the paid plans are even more beneficial. Let's discuss the elements of both approaches.
Features:
The free plan of HubSpot offers these vital features;
Contact management
Logs of emails and calls
Pipeline management system
Slack and Gmail integrations
If you opt for HubSpot's paid plans, you get all the features mentioned above with additional ones like;
Extensive marketing tools
Effective sales and related services
Creation of pop up forms, ads, and chatbox targeting your digital platform
Automated email campaigns with an entire track record
Further, you can get more significant features to enhance lead generation and sales revenue with their premium plan. These features include;
Automated deal assigning
Customized report creation
Intelligent lead scoring
and much more.
Read More: Best Chatbot Builders
Price:
HubSpot plans start from $45 per month per user
Reason To Use:
HubSpot is a one-stop shop for customers who aim to extensively applicate marketing and sales features. They offer a strengthened CRM core free of cost with website promotional activities like ad management tools, popups, etc.
Reason To Avoid:
Suppose you are running a large company and target hundreds of thousands of customers. In that case, HubSpot might prove to be the wrong choice for you as most of its plans restrict bulk email sending to 2,000. However, with Enterprise, you get an extended limit of 10,000, but it is again limited to these figures. Moreover, their reporting feature is limited as well.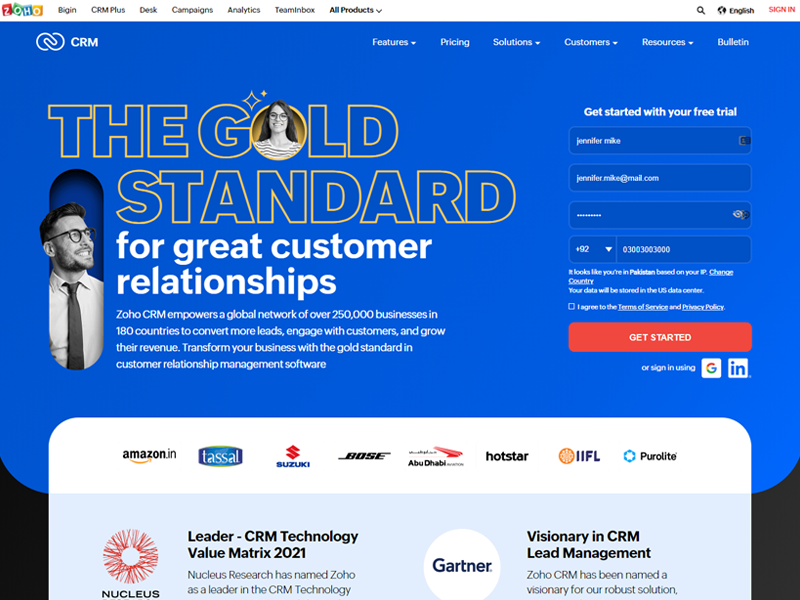 Zoho CRM is another effective CRM mobile app on the list with its outstanding sales project management strategies. It is valuable to integrate with marketing, sales, and management system applications like Zoho Invoice and Zoho campaigns. These are essential in inserting data into marketing pipelines.
Zoho's lead generation system is also powerful for its extensive features. Moreover, the customizing options also play an essential role in making it one of the best CRM platforms.
Features:
A few essential features that one can access with Zoho include;
Customer contacts record
Pipeline management system
Automated workflows
Proper reporting facilities
Track of customers interactions
Strong Lead Generation
Zoho's lead-generating system perfectly features essential items like scraping contact details from social networking sites and effectively scans business cards that many other CRM applications lack.
Customization Options
You can easily customize products with Zoho; you can add multiple items to fields and layouts to make them match your brand. These include;
Addition of fields in contact records
Creation of rules of assignments
Personalize the look of the CRM application to make it eye-catching
Specify the interface to minimize storage use
Reporting And Analytical Details
With extensive customization options in multiple areas, you can also create custom performance reports. The comprehensive visualization tools are beneficial to represent information and data in graphical format. It makes it convenient to understand the patterns and trends of relevant data.
Zoho Artificial Intelligence (Zia)
Suppose one opts to invest in Zoho's Enterprise and Ultimate plan. The inbuilt AI guides on what to focus on, how you should write emails, and much more about workflows. It makes it easier for customers to make critical decisions with intelligent assistance.
Price:
They offer a free plan, and their paid plans start from $14 per month per user.
Reasons To Use:
The fundamental reason to choose Zoho as your ultimate CRM application is its integrated system with multiple significant tools. Moreover, their lead generation options with social networking sites are also robust. They also offer automated workflow with extensive customization options making it a perfect app to consider to implicate CRM within your digital web venture.
Reasons To Avoid:
Zoho lacks large-scale customer support services making users devoid of technical experts. They offer these services only through emails from Monday to Friday.
Moreover, the demanding learning curve makes it difficult for novice users.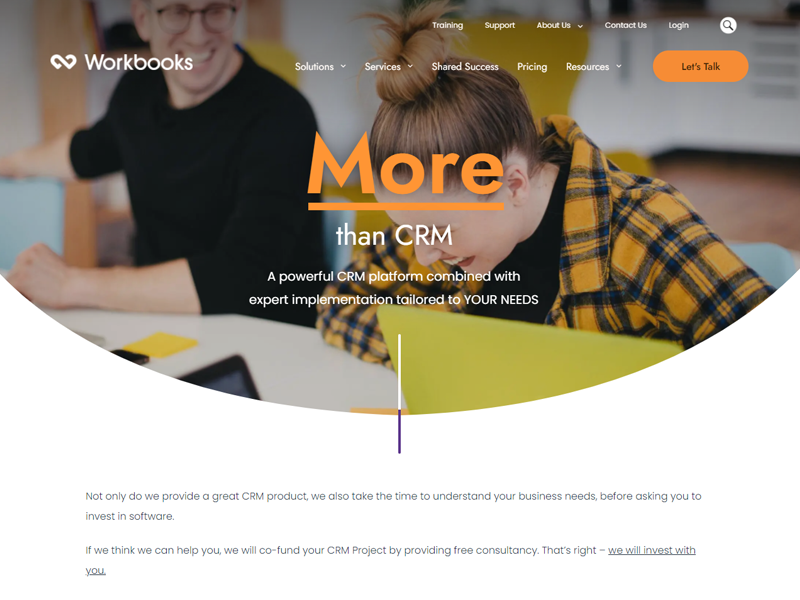 Workbooks is a perfect CRM application for users with mid-sized businesses. It focuses mainly on providing well-reputed features relating to sales process, marketing, customer support services, and technical expertise teams.
However, it majorly lacks third-party tools and a significant problem-solving community. It would be best if you instead went for Salesforce or HubSpot mentioned above to access these.
Features:
Shared Success Program
Its Shared Success Program makes it stand out amongst other CRM providers in the market. This program offers free consulting hours and yearly workshops to ensure that the platform completes all its customers' business demands and needs and provides technical guidance.
Extensive Software Solution
Workbooks intend to provide well-managed strategies for solving multiple areas like sales, marketing, technical consultation, and much more.
Free Plan
Workbooks offer a free plan, but it is limited to two users and inculcates fewer features than those available with their paid plans. It might serve a purpose for small businesses, but they find it less appealing and do not prefer it.
Customer Support Services
With Workbooks, you can consult technical experts for your queries through phone, email, and knowledge bases. Their knowledge base has many articles targeting commonly faced issues and solutions.
Price:
The pricing of Workbooks plans start from $34 per month per user
Reasons To Use:
Workbooks offer excellent value for your money as it provides superior features for comparatively less money. Moreover, the free consulting hours ensure that your business thrives under their technical guidance.
Reasons To Avoid:
You should altogether avoid Workbooks if your business requires multiple third-party integrations to run efficiently as it majorly lacks a marketplace to serve this purpose. Moreover, their free plan might attract users, but it is not worth it for its restriction on the number of users.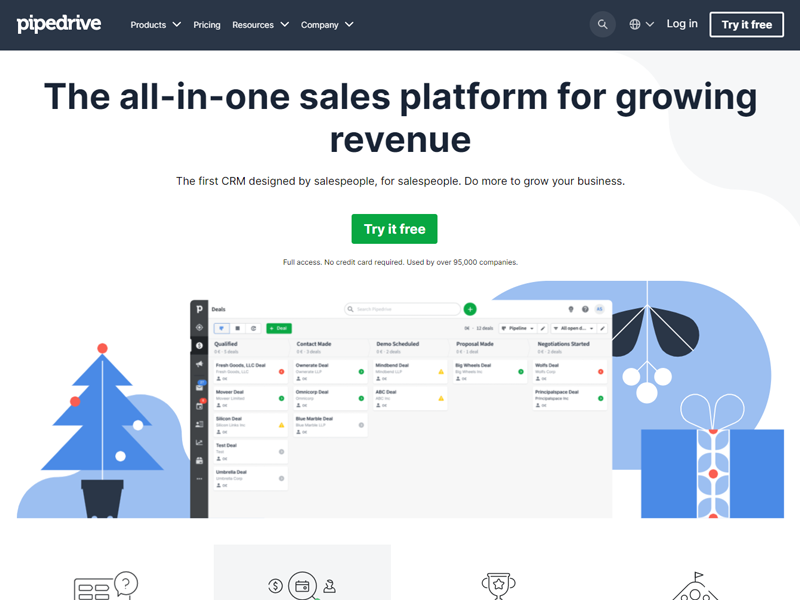 Pipedrive is the CRM well known for its straightforward interface. It is specifically designed for newbies as it avoids complications of navigation and usage. Pipedrive offers multiple features but focuses on the sales management area. They prevent unnecessary marketing and related services for saving users from managing irrelevant options.
Features:
Simple IU
Pipedrive's navigation pane is straightforward for the user with no complexity. You will find almost all options on a single page, saving a lot of time and effort. They have all the menu items assembled on the left side of the main screen; the search box on top is essential for making quick findings. There is also a menu that opens easy access to insert deals, activities, and leads.
Efficient Mailbox
With Pipedrive, running email campaigns is very convenient. All you have to do is connect to your email provider. Once connected successfully, you can send emails via inbox or from the contacts record list. Moreover, syncing calendars help desk you remember important business events and manage appointments. Furthermore, link creation to send your users is easier with Pipedrive's significant features.
Smart Contact Data
This vital feature collects relevant social data from different sites for your enlisted contacts in a single click.
Call Credits Blocks
Making calls with Pipedrive requires the purchase of call credit blocks with five hours free every month. The user has to pay at the end of each month, depending on per-minute calls made.
Pipedrive features call recordings; you can make calls from a customer records list or individual numbers. To save call recordings and other related activities, you have to click on outcome from the list as soon as the call ends.
Sales Attributes
As mentioned earlier, Pipedrive mainly focuses on selling effectively, providing many features to enhance their primary motive. A few such items involve LeadBooster and Web visitors.
LeadBooster provides live chat, chatbot, forms, and other potential offers to attract target audiences. Their prospector offers a complete data package about clients and companies letting you align searches through keywords, size, Enterprise, and other similar resources that target your potential customers.
Web visitors are significant to get detailed information about companies visiting your website and their preferred sections. Moreover, identifying visitors already included in your data system is also quicker. The software can do everything quickly by using the unique tracking code aligned with your website's code.
Artificial Intelligence Sales Assistant
Pipedrive's AI guides you in deciding areas to majorly focus on during your entire day. In this way, you can adequately prioritize things and work in a disciplined manner.
Automated Workflows
Pipedrive's automated workflow feature is very diverse. It offers inbuilt predesigned templates for sales works like follow-up emails etc. Moreover, it also sends the slack message or arranges a call with the manager upon any development in the deal.
Powerful Integrations
The Pipedrive third-party tools marketplace is vast, with almost 300 possible custom API integrations like Zoom, Slack, QuickBooks, etc.
Moreover, Pipedrive's partnership with Zapier allows integrating powerful additional tools like MailChimp to arrange email campaigns through Gmail and much more.
Price:
Pipedrive's basic plan starts with $12.50 per month per user
Reasons To Use:
One should opt for Pipedrive for its diverse customizing options, powerful lead generation system, and the Smart Contact Data feature described above. Moreover, their communication records and tracking are also worth appreciating, and it also displays detailed reports on every significant event.
It is also effortless and offers activity-based selling, focusing on sales.
Reasons To Avoid:
Pipedrive lacks proper campaign planning that devoid users of disciplined working. Moreover, it lacks a free plan and premium consulting sessions for novice users.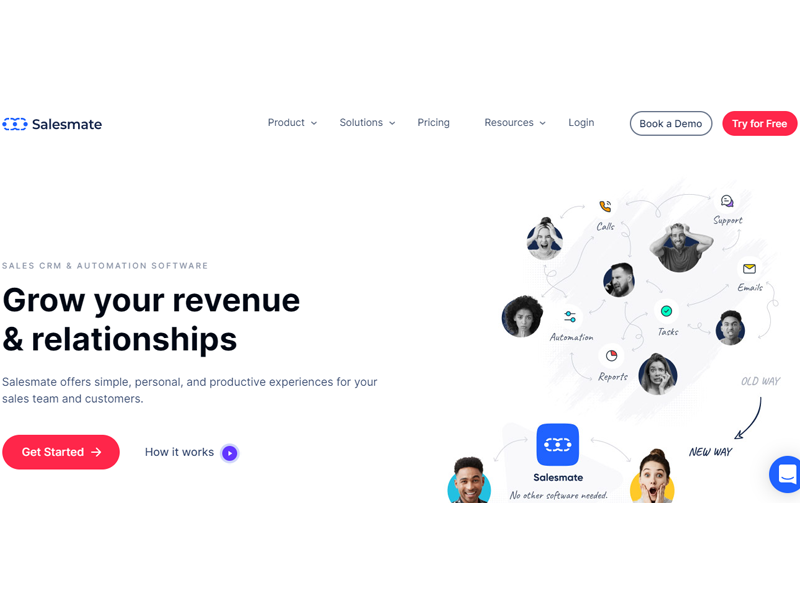 Salesmate is one effective CRM platform with the ultimate focus on closing the best deals quicker. It has a straightforward interface and offers powerful workflow automation; these features work combined to ensure enhanced selling productivity.
It saves your time and effort by avoiding complicated marketing and promotion features that many CRM providers include. With Salesmate, you can generate maximum leads, finalize deals faster and build better relations with your customers.
Features:
Sales Attributes
Salesmate arranges, filters, sections, and manages every sales-related feature effectively. With a prominent focus on selling attributes, Salesmate is one perfect choice to close multiple deals at best and faster rates.
Inbuilt Calling And Texting Application
Salesmate has inbuilt industry standardized customer interactions features like texting and calling. Moreover, you can also record, transfer calls, access voicemail drops, power dialer, detailed insights of calls, and perform effective marketing through text messages.
Integrations
With Salesmate, you can integrate multiple useful third-party tools and apps like those from Google, Microsoft, QuickBooks, PandaDoc, and more than 700 similar applications to manage your sales and relevant features.
Automated Data Entry
Salesmate automatically enters contacts into records and keeps proper track of emails, meetings, appointments, texts, etc. It saves a lot of time as you don't have to make efforts on data entry.
Price:
Their basic plan starts with $12 per month per user
Reasons To Use;
Salesmate might prove beneficial for remote workers for its mobile-friendly interface. Moreover, their customer support services are highly responsive and up to the mark. It also offers extensive tracking services making it easy to record communications and sales activities.
Reasons To Avoid:
If you need an adaptive task management system, you must avoid Salesmate as it lacks this vital feature. Moreover, a few beginners find its emails sections complicated and time-consuming to manage.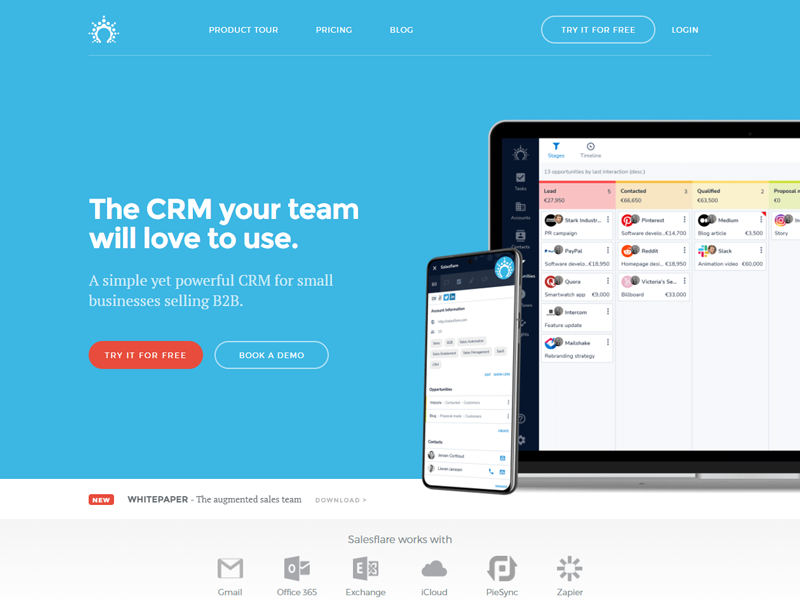 Salesflare is a straightforward and powerful CRM application; it offers multiple significant features to maintain efficient customer-provider relationships. It is perfect for entrepreneurs running small or mid-sized digital businesses.
Salesflare focuses more on selling than any other feature and has almost every item required to perform it and related functions without any setback.
Features:
Salesflare can automatically track customers based on their email opens, clicks, website visits, product preference, and other similar activities. It also sends out automated emails to potential customers so you as a business owner can connect with them on a personal level.
Moreover, sales chances and opportunities are displayed at visual, drag, and drop pipelines specified for sales. They also suggest tasks accordingly to understand better what to perform next without prior planning.
Salesflare has much-needed integration with Google calendar, and it automatically logs all the upcoming calls, meetings, and appointments. Moreover, files shared have all the information about customers saved in the database as individual documents.
Salesflare is a diverse platform that offers advantageous features. It is compatible with every device, whether PC, laptop, mobile, or tablet. The features are the same on each device and system, either android or iOS. You can also use this application within Gmail or Outlook inbox.
Price:
Their basic plan starts at $29 per month per user
Reasons To Use:
Salesflare saves your real-time and effort by neglecting manual data entry; here, multiple grad information gets collected through social profiles, emails, and other similar resources.
The platform works fine on both desktop and mobile phones; you can even integrate it within your Gmail or Outlook mailbox.
Reasons To Avoid;
Salesflare has compatibility issues with other sales software. It also majorly lacks the function of drip email campaigns, which might be necessary for some companies. Moreover, their mobile application glitches and resets sometimes lead to an annoying experience.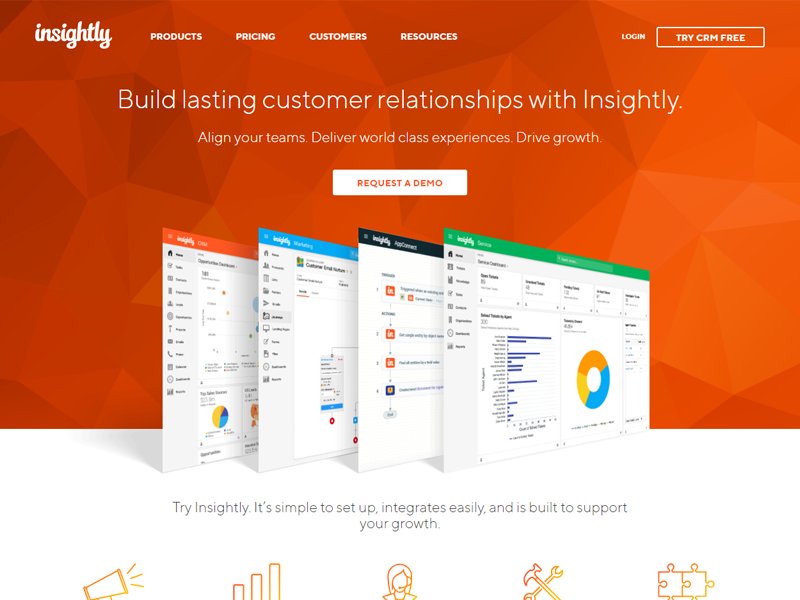 Insightly is a comprehensive CRM platform that allows you to manage custom contact records; sales funnel opportunities, and much more.
Features:
Workflow Automation
This particular feature is significant to save one's time and focuses on forming a better relationship between client and provider. One example is sending scheduled emails upon changing sales stages at multiple instances.
Essential Integrations
Insightly offers a list of essential integrations like MailChimp or Outlook for maintaining communications through emails, contact sheets to connect CRM through social media sites, and other similar programs.
Effective Reporting
The platform has established reporting functions with the collaboration of Microsoft Power BI. This partnership is vital for users to create customized dashboards and reports, increasing sales efficiency.
Lead Generating System
Lead generation tools at Insightly are okayish since it fails to draw data from the internet. However, it can efficiently scan business cards, essential for lead generation.
Customer Support Services
The customer support services at Insightly are not much effective as only email, and the knowledge base is active. Moreover, you have to pay extra bucks for guidance through phone calls.
Price:
The plans at Insightly start from $29 per month per user
Reasons To Use:
Insightly has a straightforward and easy-to-use interface explicitly benefiting beginners. Moreover, one should opt for its diversified marketplace of integrations and extensive tasks management system.
Reason To Avoid:
You should avoid investing money in Insightly if you are looking for live support options as it lacks them. Moreover, you have to pay extra money for interacting with their technical team through the phone.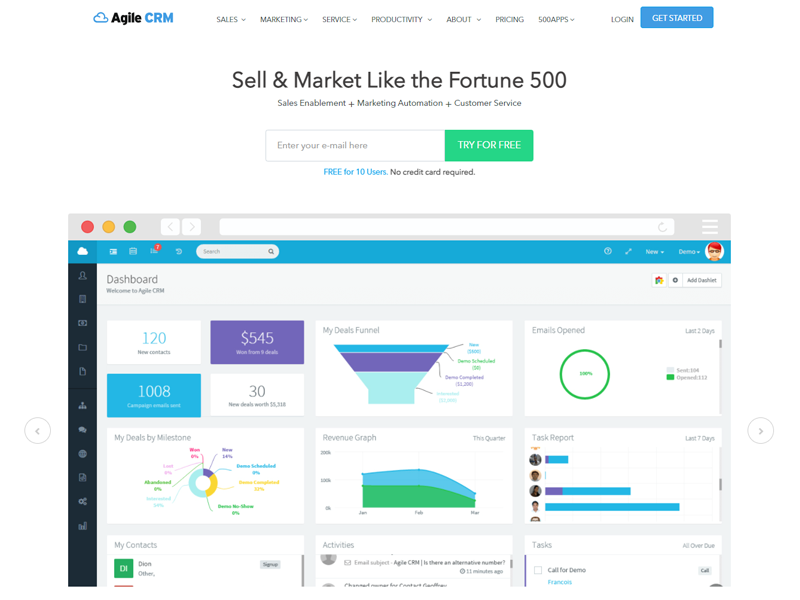 Agile CRM is easy to manage, powerful, and one of the most effective CRM solutions. It has significant features of automated marketing and sales pipelines and similar other attributes that effectively target the needs of small and mid-sized businesses.
Features:
Automated Characteristics
Agile, automated marketing, sales, and customer satisfaction activities save a lot of your time and implicate effective processing for better results.
Moreover, this software solution holds the capability to turn your site visitors into regular customers through their great marketing strategies.
They also track and store leads automatically in the database for future use.
Diversified Communication Capabilities
Another important feature offered by Agile is its multiple functionally active communication ways. You can call, tweet, and email your contacts from a single page.
Detailed Records
Agile keeps a complete record of every customer's communication details and history on a single page arranged in a very disciplined manner to let you quickly access the required info.
Integrations
The Agile integrations are broad and allow effective and streamlined business processes operating functionalities. It enables you to access your customers' social apps' data on a single platform with a single click.
Customer Interactions
Besides providing multi-channeled communication ways, Agile monitors customer behavior and notifies them about their activities to keep you aware of any critical event.
Price:
The plan starts at $8.99 per month per user
Reasons To Use:
Agile is easy to manage with its user-friendly interface. The CMS at this platform is also very conveniently integrated. Reports term it as one of the efficient email marketing tools and automated sales pipelines.
Reasons To Avoid:
The major setback of Agile is its restricted third-party tools integrations. They also lack effective reporting capabilities.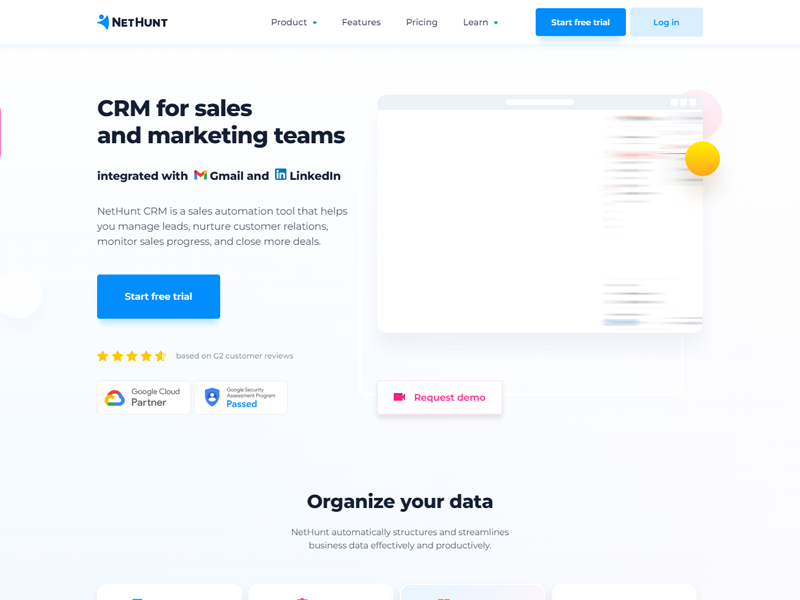 NetHunt is a Gmail-based CRM that allows sales managers to maintain contacts, deals, tasks, reports, and email campaigns records directly from the inbox. If your most work is Gmail-based, NetHunt is a perfect choice for you as you can function at two in one place.
Features:
Customizable Attributes
NetHunt allows you to customize the dashboard according to your convenience. It displays essential items like follow-up activities, scheduled tasks, deal progress, and more on a single page. Below on a similar page, you can find further important pipeline features like;
List of closed deals
Collaborated with companies and their contacts
Tasks, campaigns, and report management functions
Besides dashboard, pipelines at NetHunt are also highly customizable. You can add or remove stages, names, predictions, and info visibility on cards.
The customized forms and popups generate leads efficiently, making them a part of your future campaigns.
LinkedIn Prospecting
NetHunt's extension allows contact creation within a few minutes while you go through profiles. Their further data like bio, company, work customer experience, social and email accounts, etc., are also shared. They also add companies on similar lines.
Moreover, the prospector is advanced enough to inform whether a profile already exists in your contacts list or not. If they are, you can see a contact card at the sidebar of their profile which displays info like emails and tasks relevant to them.
Integrations
Zapier collaborates with NetHunt to ensure the integration of hundreds of third-party applications and tools like you can create records neatly with spreadsheet rows and a list of follow-up tasks based on comments etc.
Price:
The NetHunt plans start with $24 per month per user
Reasons To Use:
The first and foremost reason to use NetHunt is its partnership with Gmail. If you are the sales manager who spends the most time on Gmail, you must consider using this platform. Moreover, it is also elementary to use and provides total value for your money.
Reasons To Avoid
The platform only works on Chrome; it might concern frequent users of other browsers. They also do not provide any tutorial or guidance on effectively managing sales within their platform.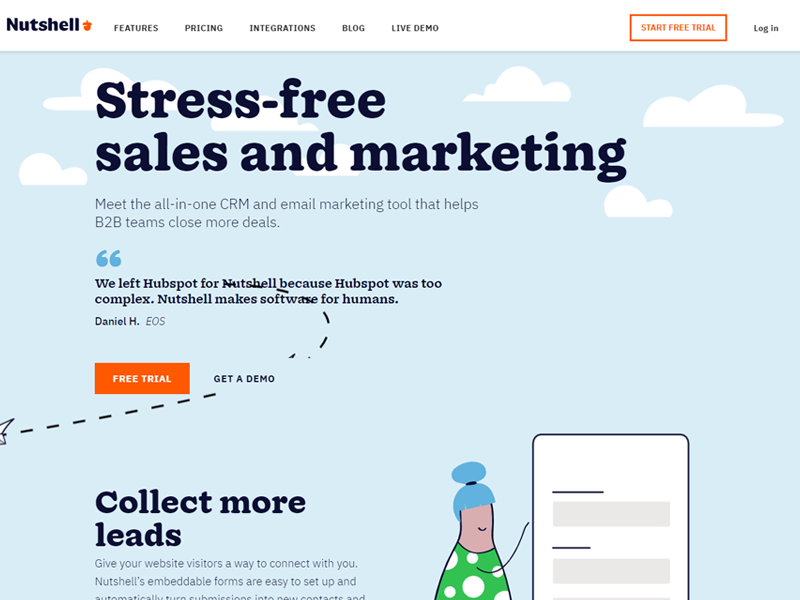 Nutshell is a customer relationship management application with a single aim of making the lives of sales managers easier with their extensive features. Depending on your target audience segmentation and product type, you can customize these features accordingly. Moreover, information about selling regions, teams, and reporting management is a concrete measure that stores relevant data.
Features
Important Customizations;
Nutshell allows customization of the following notifications to make things easier and quicker for sales managers as they can stay aware of their team's work:
Newly generated leads
Activities
Tasks
Mentions
Moreover, the custom management pipelines let you set the following options conveniently without worrying about handling complicated procedures:
Confidential percentage setup
Overdue days at deal stages
Automated deal closing
It also offers a vast field for competitors, large-scaled companies, and marketplaces.
Geography-Based Distributions
It allows the sales manager to handle his team based on their geographical location by creating boundaries. The representatives can be assigned an area, city, or state-specific code. For example, if X person gets assigned to North, the manager can distribute leads according to the location. This feature is hugely time-saving as the manager can distribute thousands of leads in much lesser time.
Automated Info Collection
Nutshell will also connect newly added contact to their correct LinkedIn profile and other social accounts. Moreover, collecting detailed info of your client about their essential bio, work experience, etc., is also handled by Nutshell.
Top-Notch Scheduler
With this effective CRM platform, you as a sales reps manager can easily schedule necessary appointments and meetings; it even notifies your team automatically about upcoming events.
Unlimited Storage Capacity
For me, the absolute best part about Nutshell is its allowance to accommodate the unlimited number of contacts and storage capacity. Hence, you won't have to spend extra bucks in case of running out of storage.
Creation Of Multiple Pipelines
Nutshell is a perfect choice of CRM for entrepreneurs running multiple types of digital ventures like products, selling, resellers, etc. It allows them to create a separate pipeline for each kind without charging extra money.
Their automated system assigns each pipeline based on region, market, product influence, etc. Furthermore, these pipelines conveniently form tasks that enhance your sales and schedule automated emails for further processing. These pipelines get arranged appropriately, so no team member faces difficulty accessing them.
Marketing Platform
Nutshell was earlier focused solely on selling, but recently they introduced a marketing platform. This platform is effective in promoting your business without putting in much effort. With Nutshell's marketing platform, you can efficiently perform practical tasks like:
Designing and sending of drip emails to target audiences
Selecting of a sequence beginning point
Creating an email integration with multiple goals
Tracking emails to know insights like the number of opens, clicks, etc.
Integrations
Zapier handles Nutshell's integrations by allowing hundreds of third-party tools to be added. For example, with Trello cards, one can form leads, and your business can attract new customers through MailChimp's email campaign and much more.
Price:
Nutshell's pricing plans start at $20 per month per user. The marketing add ons cost around $5 per month for 100 contacts.
Reasons To Use;
Nutshell's remainder and notification system are pretty compelling; its organization of tasks, records, and communication details is also worthy of appreciation. It also allows custom functions for users' feasibility and eases.
Reasons To Avoid;
The sales funnel tool at Nutshell is not as effective as it should be; it shows leads of only current pipelines, making it difficult for users to make comparisons. Moreover, their advanced search feature is also not 100% credible.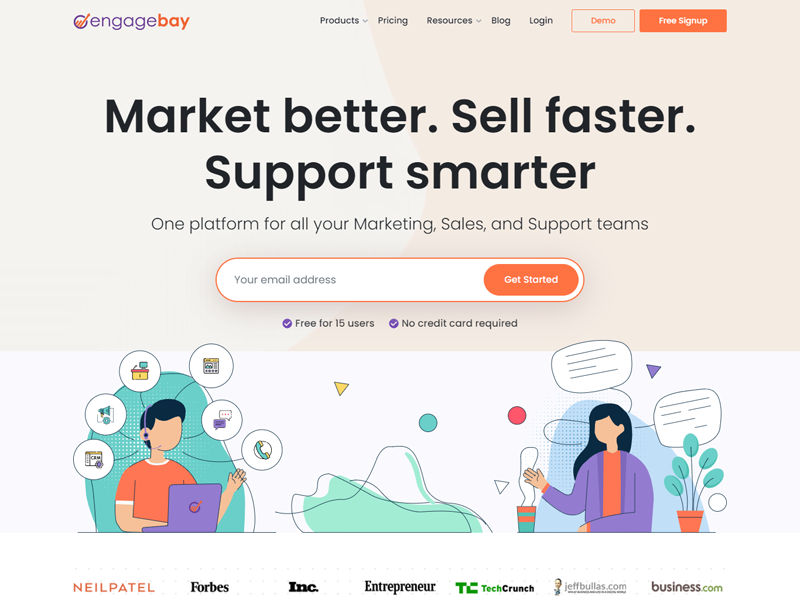 EngageBay is an all-in-one stop for effective marketing and sales solutions. It plays a significant role in impressing the visitors that later on couldn't resist being your lifelong customers.
It is simple yet compelling for its extensive features. It features essential items like automation, email marketing, email sequences, software for well-defined contact, records and communication management, web forms and landing pages builder to generate maximum leads, and much more.
Features:
Free Plan
EngageBay offers a free plan besides paid ones with better features when compared to free plans offered by its other competitors. The features of its free plan include accommodation space of around 1000 contacts with an equal number of branded emails.
Proactive Customer Support Services
EngageBay's customer support services are much better than those offered by its competitors. Their team is proactive and even calls their newly registered customers to ask for guidance.
Affordable Pricings
The best thing about EngageBay is its low price rates since its main target is small-sized businesses and startups. They provide excellent value for money for customer satisfaction.
Rich Functionality
EngageBay is highly functional as it provides every feature required for sales and related tasks' automation, email, and other marketing campaigns. Its sales pipeline is very effective and lets you sell better with its technical guidance and significant features.
Price:
The plans start with $10.39 per month per user
Reasons To Use:
EngageBay is relatively easy to use and applies rich functional options at a very reasonable rate. Moreover, CMS integration modules, a widely beneficial platform, guides you in managing and maintaining your business website conveniently. Their customer support services are great as well, and a technical team of experts is always one click away from your service.
Reasons To Avoid:
EngageBay has limited designs of the template. Moreover, it might be difficult and time-consuming for beginners to get familiar with its features.
15. Nimble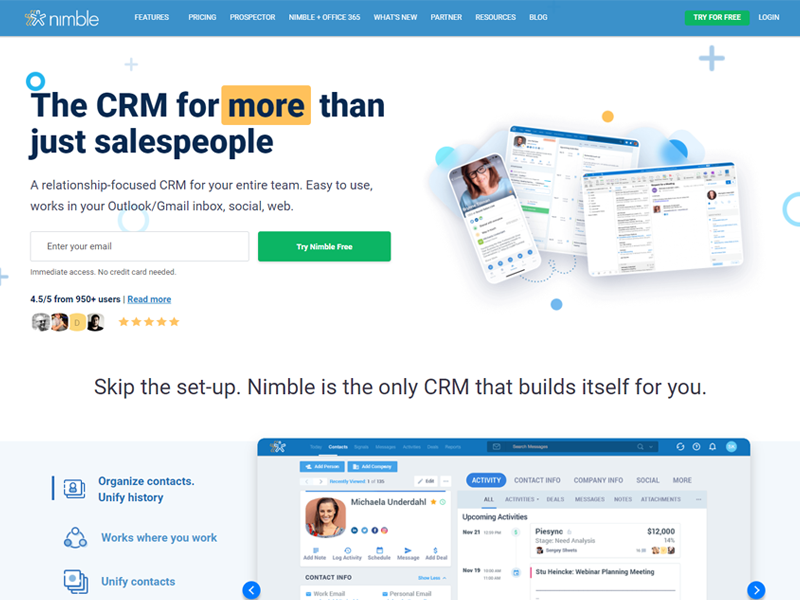 Nimble is well known for its efficient prospector engine, proper management of contacts records, and social media tracking attributes. Users need to be looking for disciplined and well-arranged sales teams, and related features should give a try to this platform.
Features:
Enjoyable And Effective UI
The UI at Nimble inculcates a playful approach to make work enjoyable for its users. Moreover, the UI will guide you throughout the setup process and further tasks. As soon as you sign up, a dashboard with top-notch quality appears on the screen. The dashboard consists of essential features like daily reports on closed deals, activities, email tracking, and Signals (for social engagement).
Reporting Features
The only setback of using Nimble is its restricted reporting features. It only features predicted deals and profits from it, deals your business closed, and those that went unsuccessful, and also shows stage-level opportunities. These features are not enough for proper report creation; hence a significant improvement is required in this area.
Contact Data Features
Nimble's contacts record and communication system are extensive despite lacking proper reporting capabilities. You can access recently added/seen/interacted and favorite contacts at a single screen menu at Nimble.
Moreover, upon adding new contacts to the records, the platform automatically suggests matching Twitter and LinkedIn accounts; it asks for your confirmation before finally connecting them.
With these features, you can instantly look at your client's information like their previous work experience and much more. This data is displayed in a properly arranged manner. You can access a summary of your customer's bio, jobs, and fields of interest.
Signals For Social Media Management
The Signals section effectively tracks social media posts and accounts for you and your clients. You can effortlessly view all the likes, comments, and mentions done within your account. Moreover, you can also view your scheduled posts without leaving the screen.
They are continuously improving in the contacts management area. They have recently added a feature of ratings on a scale of 1-5, along with the source, status, and type of contacts. This feature is vital to filter data during list creation.
Prospector Extension
Nimble's prospector engine also gathers complete data about any company you visit; this data includes basic info, insights about the company, its working capacity, foundation year, influenced keywords, and much more.
You can also access their social media accounts with a single click with this feature. Moreover, adding a company to your contact list is also done conveniently with a single click; it will also display if any of your present contacts are related to the newly added company in any terms.
Integrations Section
Nimble has collaborated with the biggest integration site Zapier. With Zapier, you can integrate multiple third-party tools according to your need. These integrations can perform the significant function of converting Twitter followers into Nimble contacts, sending newly added contacts to Google Contacts, and much more, depending upon your eCommerce business requirements.
Price:
Their lowest plan starts with $19 per month per user and 25 prospector credits. They charge $10 for extra 100 credits.
Reason To Use:
One must choose Nimble as their CRM application for its effective task management, integrated email marketing campaigns, customized fields, and extensive contacts management features.
Reasons To Avoid:
Nimble lacks primarily spread pipeline management systems and workflow automation. Moreover, its navigation and dashboard are also tricky concerning novice users.
FAQs
What is CRM software?
CRM, Customer Relationship Management, is a technology with the primary goal of building better relations between business owners and their current and potential customers. Moreover, such software also performs the following functions, all with a single purpose of enhancing sales through better communication strategies and a disciplined working manner:
Contact management
Sales management
User productivity
Customer-provider relations interactions
Impressing visitors into becoming customers
A CRM is now a necessity even for small startups to thrive. It stores detailed information about business customers, manages promotional campaigns, identifies sales opportunities, and closes the best deals. It does not stop here; a CRM plays a significant role in digital platforms' marketing and sales area with its extensive features.
How to choose the right CRM software?
Making the right choices in life is very important, specifically when it is about the future success of your online business. It would be best to choose CRM software wisely while considering different factors depending on your budget, business type, feasibility, and a few other factors to be stated here.
The first thing to look for is whether you would need a cloud-based or on-premise CRM; both choices come with their own set of pros and cons.
You wouldn't require a technical expert to handle the cloud as everything gets done with AI guidance. But you should only go for it if your internet is stable as it doesn't work offline.
With an on-premise solution, the case is vice versa as you can operate it online but will require an all-time technical expert to handle it.
A CRM system of choice should be scalable as your business has all the potential to grow with time. A business growth peak means you would require better and more CRM features; hence it should be one such software that you can configure it easily upgrade at any point.
Moreover, many companies offer unnecessary features at high costs that you would not even need at any point. So invest a bit of your time in what features will benefit you and then search for a relevant solution to buy. In short, you must stay away from all-in-one solutions but instead go for something that perfectly fits your needs; no more and no less.
A good free CRM will always offer integration possibilities with multiple tools; hence choose the one providing this service. Your significant expectation from this software is a streamline business operation.
It would be best if you also made sure that the CRM you are going to invest in has a free trial or at least a demo of their services, so in case of any setback, you might back off without investing your money.
Another critical point to consider when buying a CRM is having prior experience dealing with similar businesses as yours to ensure an experienced journey with them.
Finally, check for their customization capabilities and training options. Since your business is specific, you might need to make certain specifications to suit your brand.
Training feature has to be a strong preference for beginners to understand better how to get the maximum benefit from the software's services. Also, look at reviews by random users to get a better idea about the software you have decided to buy.
Conclusion:
This article covers all the essential information about CRM software with the top 15 efficient solutions available in the market. We hope you are now well equipped with relevant information to select the best CRM software based on your business's needs.