Do you know that resource management is the main challenge for project managers? In addition, poor resource management is immensely increased after 2018 and is therefore marked as the top challenge for resource management. So we will talk about how to make this process easier with resource management software.
Poor resource management generally leads to overstaffing or understaffing projects that lead to severe damage in return. It is due to the inability of proper allocation of resources, and planning.
A study made by PMI showed that companies use 36% of the time the resource management to estimate and allocate resources
Also, project managers miss the required resource overview which may create a negative cumulative effect. It affects all the processes of the entire company in addition to these projects only. Here's why you need to apply resource management tools.
The time of recruiting new employees
Avoid resource idling
Resolution of resource conflicts
Using the resources to their maximum potential
Evenly and fairly distributing workloads
Ensure maximum utilization of resources
Creating a practical timetable
We handpicked the following exceptional software and tools for effective workload management and in terms of resource allocation. These tools and software will help you make a difference in the efficiency of project operations. Let's have a look at them.
The Top 15 Best Resource Management Software for 2022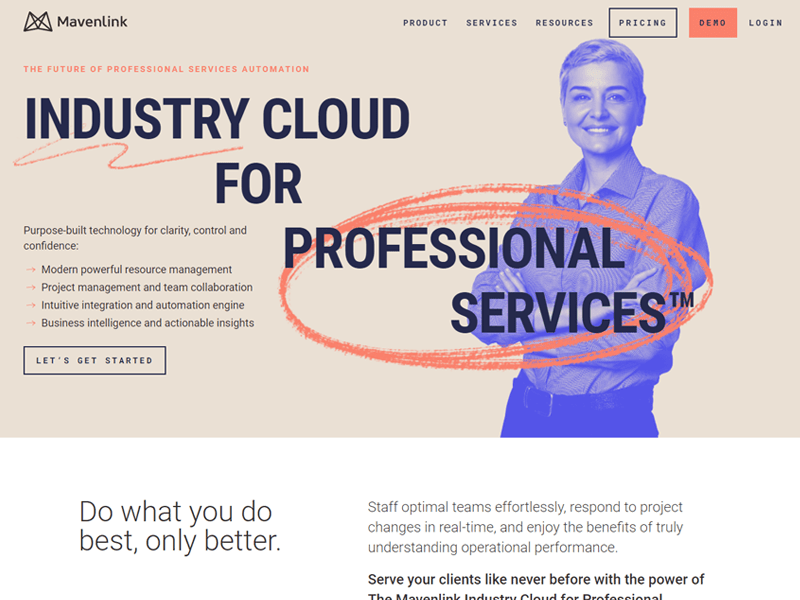 Mavenlink is an enterprise resource management tool. It provides a complete set of tools to control your enterprise's resources and project management. It offers all the features that control resource planning such as quick editing, allocation and resource assignment.
Master planning with Mavenlink is particularly personalized for project directors who intend to rationalize resource management with the help of a visual, easy-to-use and single interface.
Master planning with Mavenlink makes allocation manageable for all the organizational resources.
Moreover, you can see the resource availability and workloads through the different projects going on in the company. In addition, the master plan is a great tool for companies at the medium level to estimate real-time resource availability.
The major plus of Mavenlink from a resource management standpoint is its tool for resource sharing. In addition to its functionality of resource management, Mavenlink allows file sharing, powerful reporting, built-in timesheets and task dependencies which are all customizable.
| | |
| --- | --- |
| Pros | Cons |
| Mavenlink provides a neat dashboard that allows you to have a complete view of all the project portfolios. | Only Enterprise and Premier editions offer advanced features |
| Real-time Gantt charts give real-time project visibility | Proofing solution works as an add-on |
| Pre-build templates increase the rate of project planning and make sure the effectiveness. | Custom reports are only created with training |
| The optimization and collaboration tools provide tailored training such as a master plan | |
| Extensive forecasting capabilities to have complete project insight | |
| Brings together the teams by streamlining the communication and association in tasks | |
| Mavenlink supports the GDPR compliant information data protection and security | |
Price
They offer customized plans for your specific organization. They offer a 10-day free trial and the minimum cost of a plan starts from $19/month/user.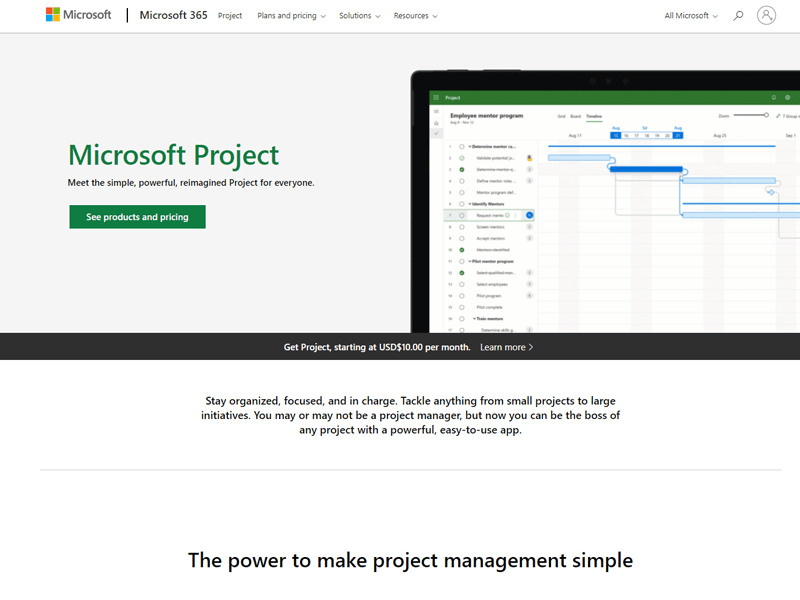 MS projects comprise management tools that are familiar for allocating project tasks among the team members. It uses Timeline, Board, and Grid to see the resource planning. Also, users can compare and view the resource allocation of all projects to improve their deadlines and assignments.
If you know how to work in Excel, then you will also be familiar with navigation and interface. Teams can use it at usable levels because this software makes it easy to get training and therefore assessed well in terms of their usability.
MS Projects can integrate the required components from Microsoft software such as Skype, Excel, and Outlook.
| | |
| --- | --- |
| Pros | Cons |
| The project integrates Microsoft 365 Office Suite. | You cannot open different projects in different windows such as for comparing two resources. It also makes pdf resources messy. |
| Works well with Sharepoint, Power BI, Skype, and Microsoft Teams. | To use MS Projects for printable formats or reports, you will have to take over the manual design intervention. |
| Pioneer among project management tools | The project is overwhelming to new users. That is why it requires users to spend time training. |
| Offers reliable customer support. They also offer third-party, consultants, and partner support services for software. | Cloud-based and on-premise solutions may be prohibitive for small businesses because of license |
| Projects management software of Microsoft is flexible for external uses such as financial management and road-mapping tool | The proprietary format of MS project files may not be able to open on a PC where MS Project is not integrated. So, there may be some file compatibility issues. |
Price
They offer a 30-day trial period and the cost of the cheapest plan is $7/user/month.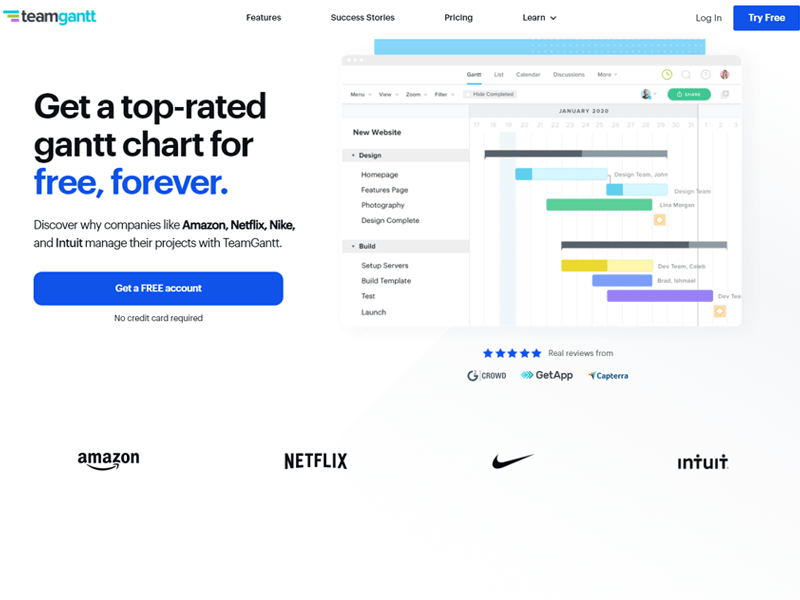 TeamGantt is a project management tool already used by Netflix and Amazon. It offers features such as resource management functions. For example, budget and time tracking in a tab "availability."
TeamGantt offers its specialized services of charts and tools for planning but they also keep a track of your team's availability, collaboration and workloads. It also includes customizable alerts, tagging and chats.
TeamGantt ranks high in the evaluation criteria of the usability segment. This is because TeamGantt is extremely easy to use. The tool accommodates and tracks all aspects of your project irrespective of the constraints and resource structure.
Ultimately, you can experience a great and easy read-only URL that you can share with outside parties.
| | |
| --- | --- |
| Pros | Cons |
| Simple and less time consuming than creating manually | The distribution of work is a bit messy to see |
| Adding project milestones with associations and dependencies give great visually | No budget section |
| Visual representations are appealing to both visual learners and users | Costly |
| Well labeled and user friendly | |
Price
The freemium version offers a free trial for 3 users. The minimum cost of the basic plan costs $24.95 per month.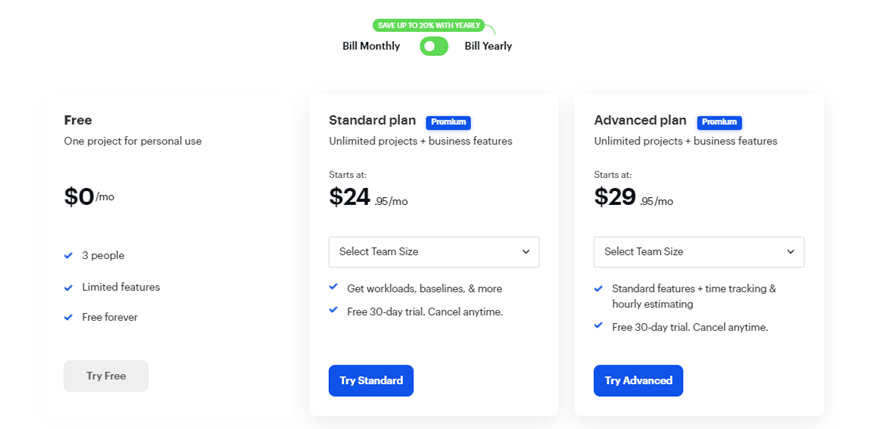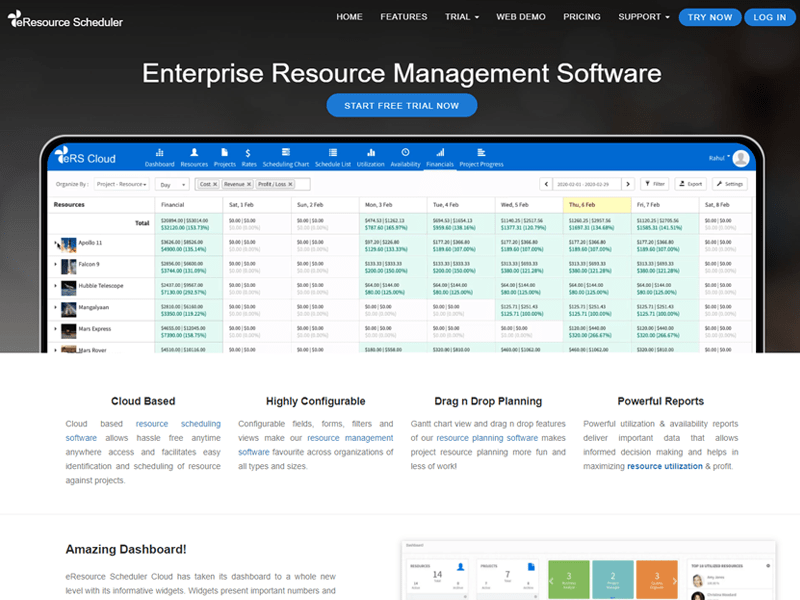 eResource Scheduler may also be called a re-scheduler as flexibility and reconfiguration are the major traits of good management software.
The software is based on the core of managing the complexity and hectic nature of any kind of large business. This software is generated to reduce the unnecessary time waste and tackling issues in the project completion.
The eResource Scheduler is a planning tool that provides you with information on a single screen. This tool uses Gantt charts and therefore its functionality and simplicity are outstanding. Therefore, you get to balance your processes.
In addition to this, eResource Scheduler also provides you with detailed availability, financial and resource utilization reports with which you can keep an accurate record in real-time. Calendar and email notifications are other sets of features that keep you updated from the time you log in to your account on this software.
| | |
| --- | --- |
| Pros | Cons |
| Simplified resource allocation | To rectify your work to a standard, you need to have a cloud version only |
| High scalability | No invoicing module |
| Drag and drop tools | Initially, it is very slow so there has to be different end-user and admin panels |
| An affordable schedule for resource planning with a free version | Lack of integration with software like Salesforce.com. Therefore, it is difficult to add a full client list for different businesses. |
| A user-friendly and powerful resource planning tool with a friendly user interface | |
Price
eResource Scheduler offers a free trial version for beginners. The paid plans start from $5 per month per resource.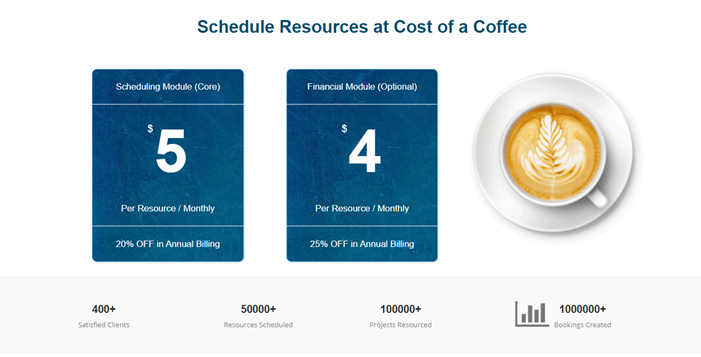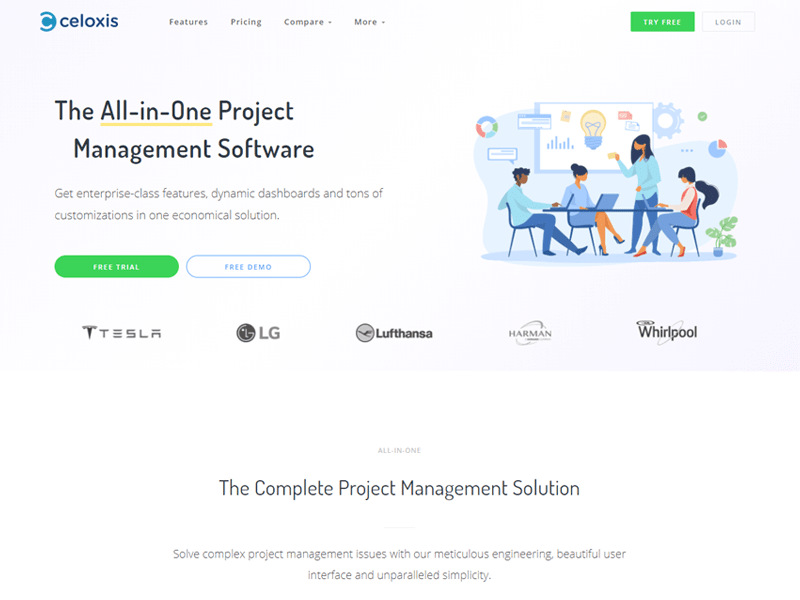 Celoxis is the most affordable solution of resource management for robust planning in large businesses. Celoxis may call their services a project management tool merely. We agree to that! It is a complete package that offers complete business planning, resource management and project management.
Calling it an all-in-one solution wouldn't be wrong. Celoxis as a resource planning tool provides its users with dynamic reports and dashboards with a spontaneous interface. This is because you would not have to spend more time in training.
Moreover, Celoxis is a fully responsive software for mobile phones. It is also fully optimizable. The best part about its responsiveness is that it does not let any cluttering with the resource management apps in mobile phones.
Celoxis is also compatible with other apps. Thus, its integration is easy. In this way, it makes the project planning straightforward.
| | |
| --- | --- |
| Pros | Cons |
| Enough tools and reports for the decision-makers | No free version |
| Includes resource management, budgeting and time tracking | No invoicing and billing features |
| Excellent value | No proofing tools |
| Short and easy to use setup | |
Price
Celoxis offers a free trial for a limited number of users. The paid plans start from $22.50 per month per user. However, the billing is done annually.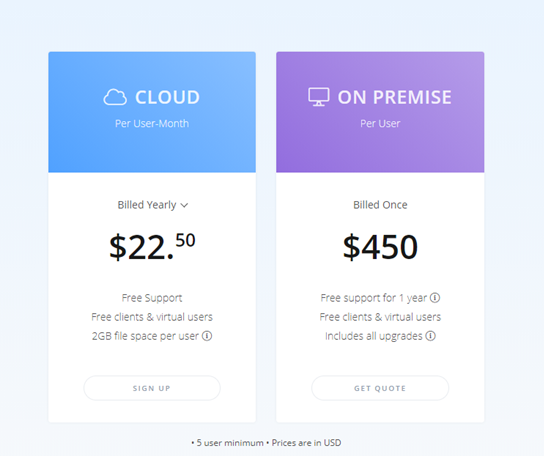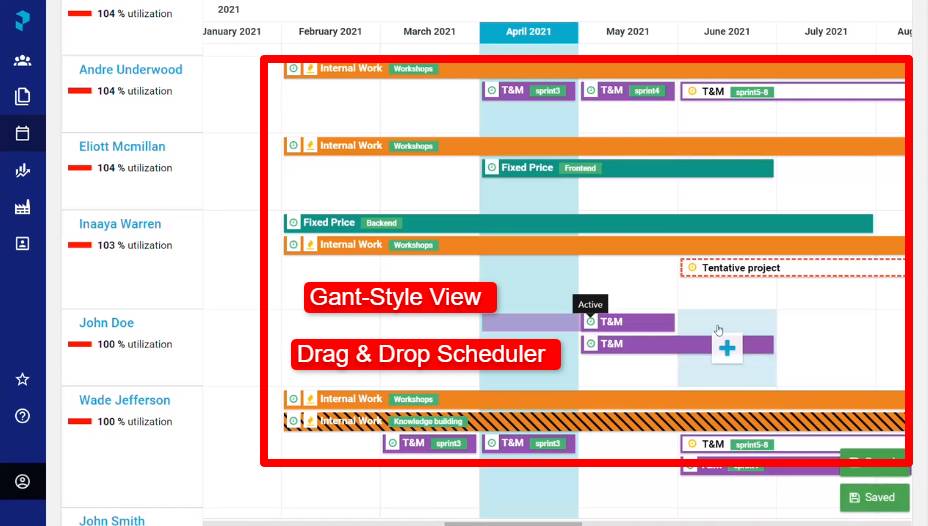 Primetric is a great software for managing every aspect of a project from resources to project portfolio management.
Features like Gantt Style view and heatmaps make it easier to manage your staff and check when they are busy or free.
Also with an Intelligent Search assistant tool, you can easily find which is most appropriate for a certain task. The search is made based on the skill, availability and hourly rate.
| | |
| --- | --- |
| Pros | Cons |
| Track people workload | No Free Trial |
| Budget management | No time tracking desktop software |
| Ease of Use | |
Pricing:
The software cost $9/user per month. Primetric doesn't offer any free trial plan.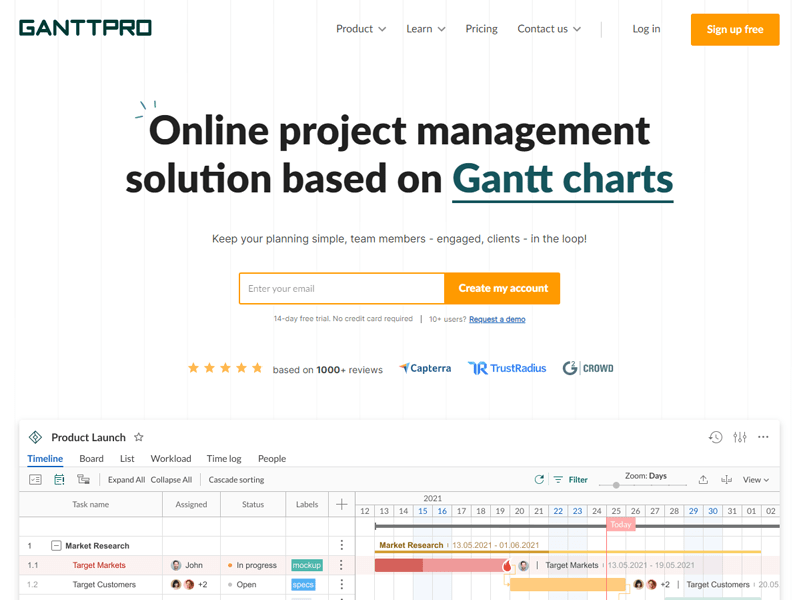 GanttPRO is a project management tool that offers powerful and intuitive workload management. The drag and drop tool makes it even easier to use. Teams of NASA, Intel, Salesforce and Sony are already using it along with many other global organizations.
The resource management features offered by GanttPRO allow you to work with different resources. With this tool, you can manage and arrange the budget and cost values for your project processes. In addition, you will get to arrange the fixed cost, material, labor in hourly calculations.
With GanttPRO you can see everyone working on specific projects and tasks in a specific period. It shows the optimal work done, over-allocated, and under-allocated work with different colors.
Resource allocation can also be changed with the help of the drag and drop tool. In this way, you can enhance resource allocation. It also allows you to convert the details of the workload into XLSX format.
| | |
| --- | --- |
| Pros | Cons |
| Saved undo history | Light on integrations |
| Includes custom fields for critical path features, Kanban board view, other tasks | No mobile apps |
| Well designed | No invoicing, billing, reporting tools, and customizable dashboards |
| Low cost | |
Pricing
The plan starts from $8.90 per user per month. Also, it offers a 14-day free trial per user.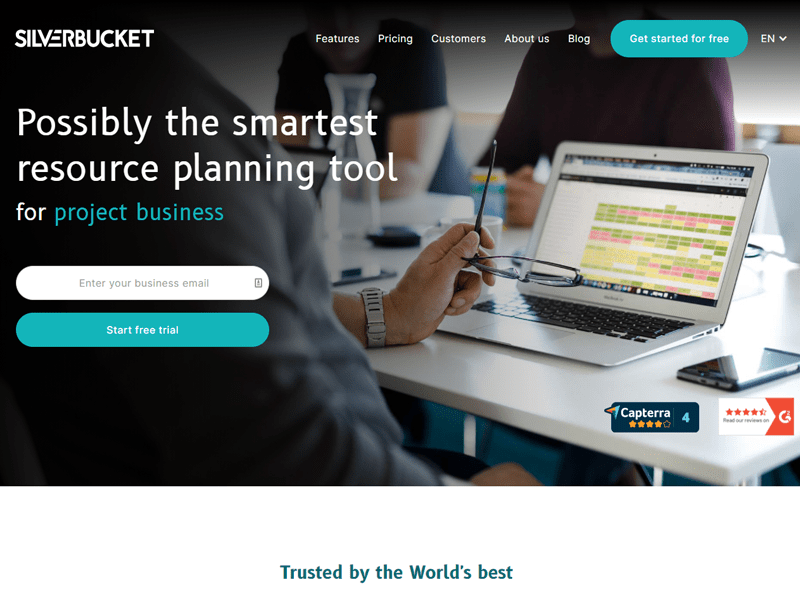 SilverBucket is a resource management tool that proves to be a perfect solution for all struggling businesses. In turn, it helps to increase their profitability. They provide a calculator with which you can calculate the amount of money you will get in return for buying this app. It is calculated by knowing the number of users in the company and their hourly rate on average.
Using SilverBucket you can schedule your resources efficiently. This is because all the project workload and resource allocation are planned and displayed on one screen. Moreover, it makes it easier to spot any inefficiency in the schedule and eradicate it smoothly.
Besides, it is one of the best forecasting tools. It, therefore, lets you plan ways to make predictions.
| | |
| --- | --- |
| Pros | Cons |
| Gives an excellent view of the timing and personal workload | Report on utilization is missing. |
| Good understanding of how to use it. | The data is restricted |
| | No mobile application |
Price
The paid plans start from $10 per person per month. However, it also offers a free trial version.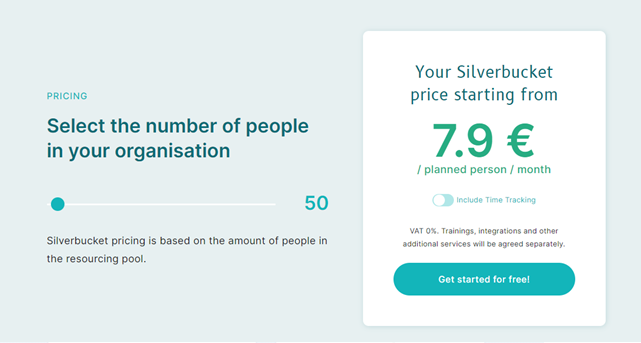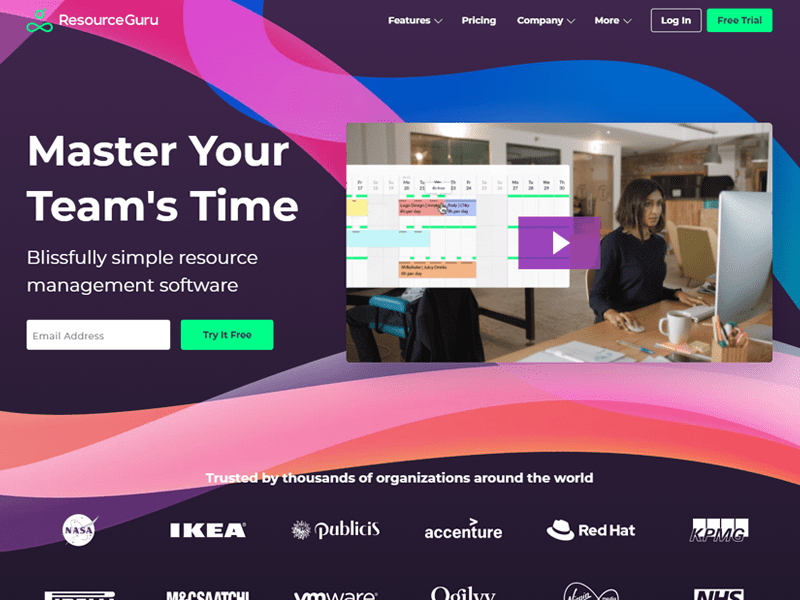 Resource Guru is one of the most popular and extra simple resource scheduling software. With Resource Guru, you can add bookings and tasks based on resource availability. There is a smart calendar with which project managers can set a specific task as non-billable or billable.
The most important aspect of the Resource Guru App is the task addition which saves time and helps you keep the pace of your processes. Project managers can also tackle a critical problem before it gets too big.
With this software, the availability of real-time resources is always already listed. These resources can be allocated very fast and allow you to carry out effective project planning.
All the team members have their dashboards to visualize all the allocated tasks and track individual work. The drag and drop tool functions for the resource allocation.
There is a downloadable utilization report and customized permissions.
| | |
| --- | --- |
| Pros | Cons |
| Easy and quick software | Fewer options for colour in data and reports input |
| Detailed, informative and user-friendly platform for work organization | Lack of detailed categories |
| | Difficult to keep track of who booked the slot on the schedule |
Price
Resource Guru does not offer any free trial but the paid plans are not too expensive either. The Master plan is the most costly one which costs $6.15 per person per month, Blackbelt costs $4.16 per person per month and $2.50 per person per month.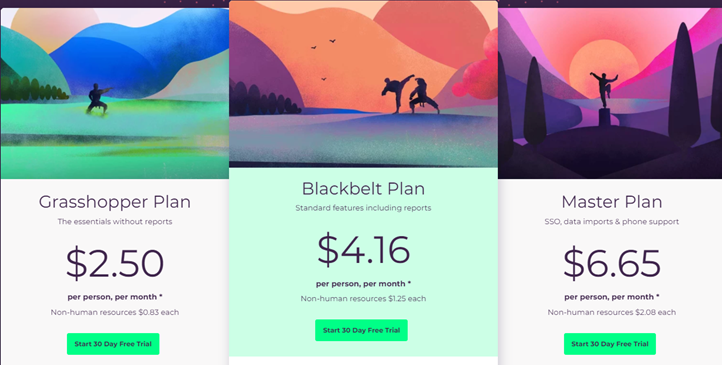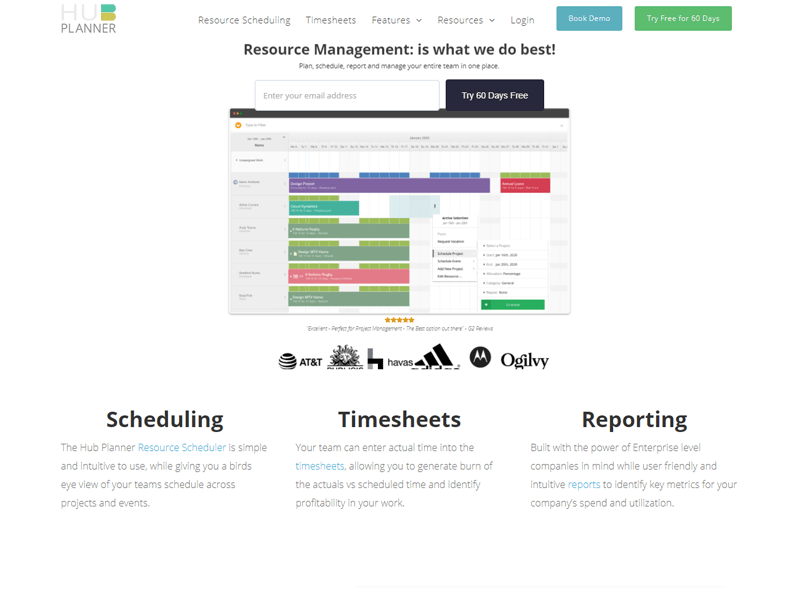 Hub Planner is a cloud-based online resource management solution for all business types. It works well for all the businesses; either large or small businesses and with whatever number of workers.
The developers of Hub Planner created this software to tackle the biggest problems with any business, especially time management. Hub Planner is ranked as the best resource management tool by online customers.
Integrated time approval and tracking enable you to cope with the frustration of forecasting time. It later gives valuable insights into performance. This information provides valuable insights into the employees' performance.
Another feature of this tool is that each team member can schedule their tasks transparently. It further allows you to reassign or re-schedule the time if needed. It also reduces time wastage.
| | |
| --- | --- |
| Pros | Cons |
| An affordable tool with a free trial | It should use a convenient project status tracker |
| Drag and drop feature | Unable to adjust dates in the dashboard |
| Ease of navigation | |
Price
Hub Planner offers a free trial for 60-days. This trial period is longer than the usual trial period offered by other software companies. It also offers three tiers of pricing; plug and play, premium and enterprise. The starting cost of plug and play costs $7 per resource per month.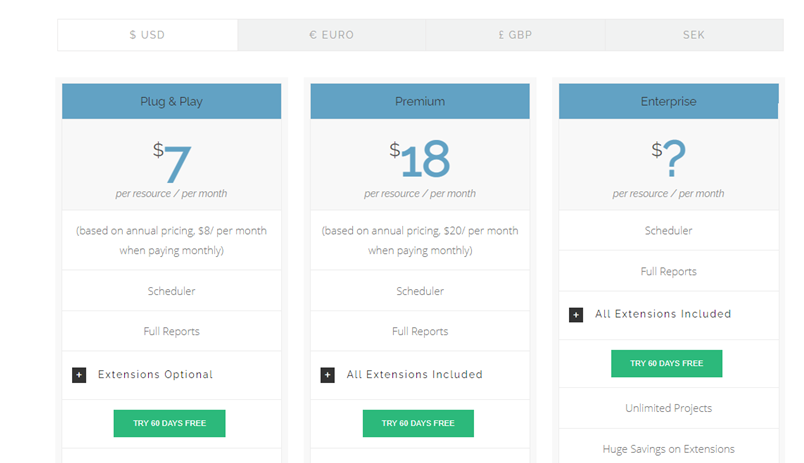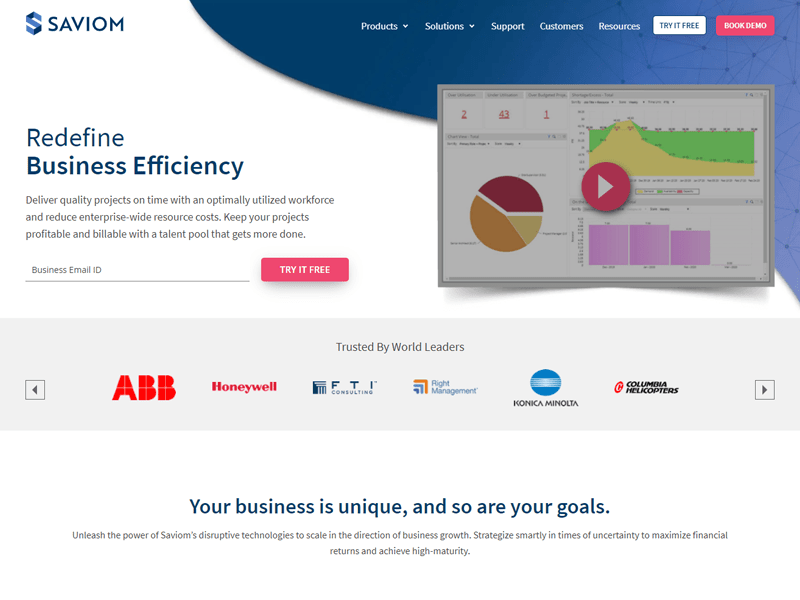 Saviom is a project management software that suggestively cuts down the expenses of larger businesses and enhances the productivity of the workers. However, it does not mean that it is built for companies working on a large scale.
It is built to serve all the businesses intending to fulfill their specific goals. These features and many more make Saviom the most customizable tool of resource planning. Also, it is pivotal for the company's strategic growth.
It is a complete project management software that provides a particular module. In addition, the tool offers you several specific project and reporting tools. Moreover, there is a report generation framework that makes reports for your enterprise. These reports are also generated as Excel and PDF worksheets.
| | |
| --- | --- |
| Pros | Cons |
| Assured vendor support | High system access fee |
| Comprehensive detailed reports | It charges more every time a user tries to enter the software |
| Excellent filters | |
Price
There is an interesting free trial. As soon as you accept their offer, you will receive a call from their agent. It then leads you to a fully customized trial for free. With this version, you can understand the tool according to the specific needs of your company.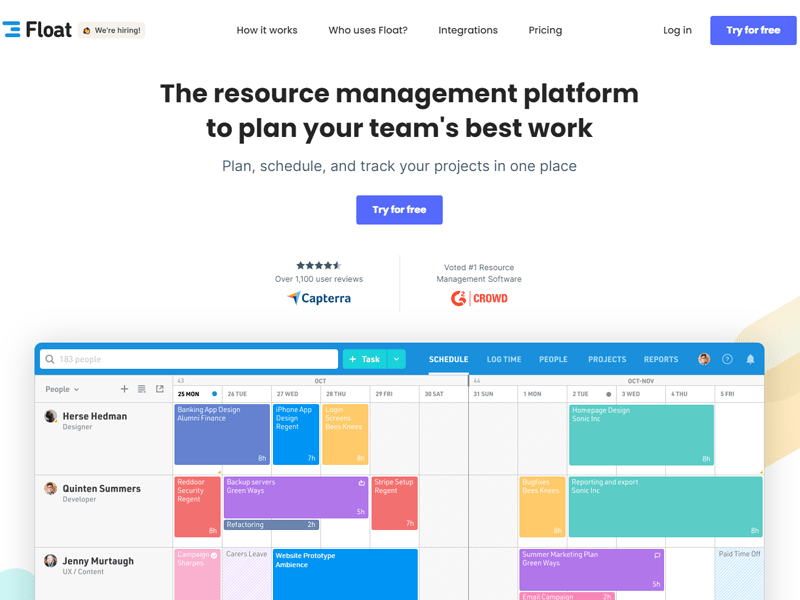 Float is an effective resource management solution for all project managers who are looking for effective resource management and planning tools. All this is topped with the best speed it offers.
Its interface is easy to master and intuitive both on mobile apps and PC. You don't need to spend a lot of time working with this tool. The float also provides you with imported data, set budgets makes forecasts and plans and track projects.
Like many other resource management tools, Float offers a drag and drop interface. This tool helps you do everything such as logging actual hours and editing tasks that keep the process slick and fast. Another important aspect is that all the team members will react according to the real-time alert notifications. Thus, everyone will get the latest information and updates. Thus, the risk of falling behind the schedule is minimized.
| | |
| --- | --- |
| Pros | Cons |
| Better resource management than other tools | Complicated reports generated |
| Good project presentation | No control on the lists which is a great problem if more than one person is using it |
| Missing good layout and easy interface | Missing integration |
Price
Float offers a free trial version. The paid plan starts at $6 per month per user. However, the payments are made annually.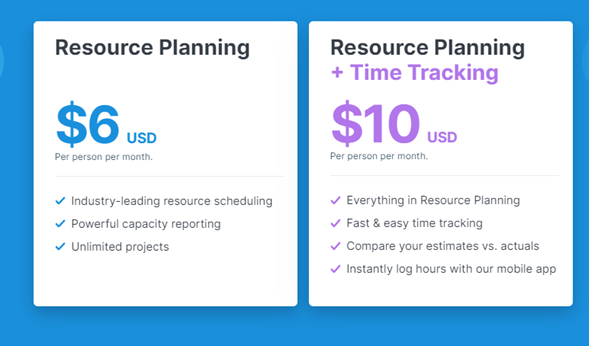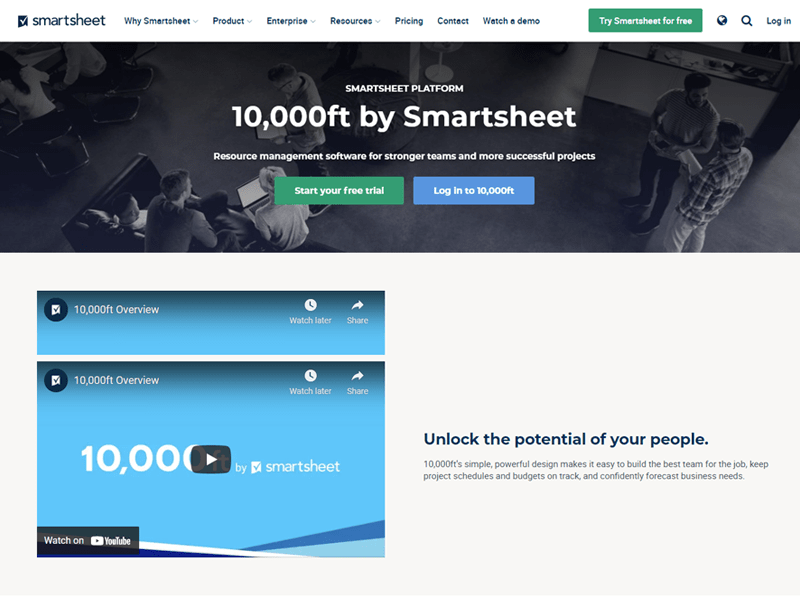 Primarily, Smartsheet was created for SaaS enterprises. The goal of this tool is to assist the teams in managing the resources effectively. The main difference between 10,000ft and other resources is that it is visually appealing in terms of design and presentation.
The businesses that prefer dynamic and interactive conditions to work find this tool more fun and easier. Another main feature of 10,000ft is that it is highly customizable and flexible. Al the features are driven towards the best optimization of the entire experience.
These features are topped with speeding up and automation. There are more features such as expense tracking, mobile time tracking, and built-in timesheets. The filtering project data tool helps to create project reports for the users.
| | |
| --- | --- |
| Pros | Cons |
| Easy management with drag and drop tool | Lack of control over lists |
| Excellent presentation of project status | Complicated reports |
| Good layout and easy interface | Missing integration |
Price
The basic plan starts at $25 per user per month.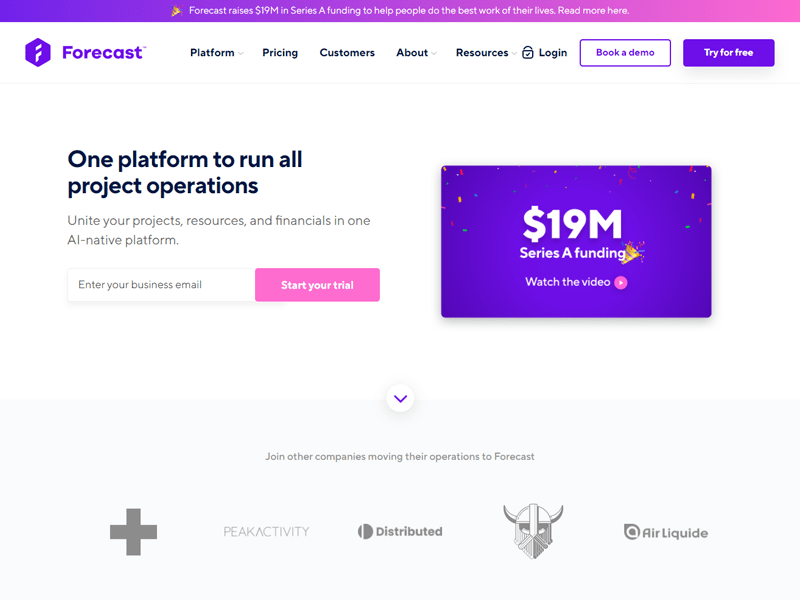 Forecast.app works as a single solution for all project operations. It offers a free resource management software s they offer a completely free trial for beginner customers.
Forecast always gives you the big picture of project management. You get a complete financial and operational report of all the tasks and projects. This report allows you to forecast and make strategic decisions.
Meanwhile, you will find that your time management is getting better. Also, it is more efficient in allocating time for all the project stages. In return, you can take a pace of your schedule.
Project plans are the main aspects of this project management tool. Thus, you can keep track of your clients with realistic expectations and updates.
| | |
| --- | --- |
| Pros | Cons |
| Easy assigning of upcoming projects with workload dependency | The interface is not intuitive and is difficult for team members to get training |
| Zooming in and zooming out is possible for granular data | Project visualization is a BIG task with this software |
| Traffic management is perfectly done | Lacks integration |
Price
Forecast.app offers a 30-day trial. Also, it has three pricing tiers Lite, Pro and Enterprise. Lite costs $29, Pro costs $49 and for Enterprise they ask you to talk to their vendor.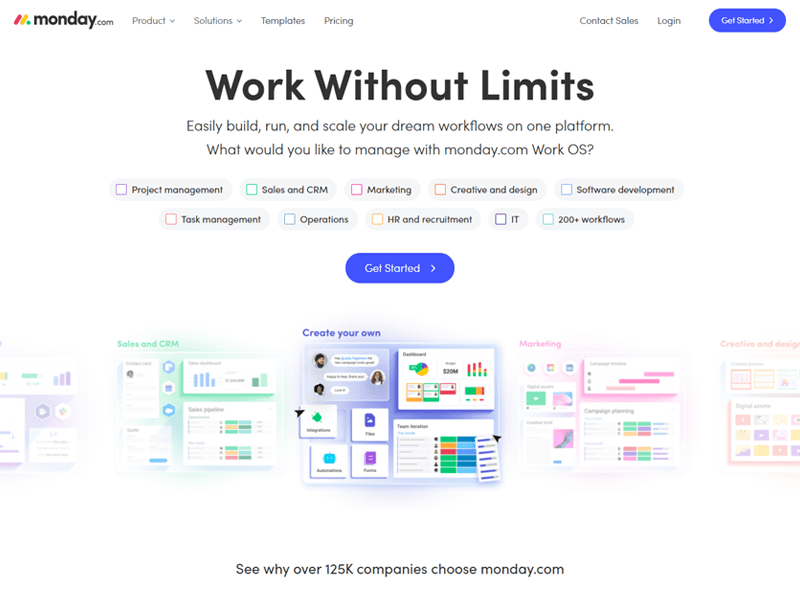 Monday is one of the best resource allocation tools. It enables you to manage everything in one dashboard. They offer the most intuitive interface and allow you to set everything in a few seconds. Also, it handles everything you have neglected.
The app allows more integrations with this tool in comparison to other tools in the market. There is no app for resource management or planning that Monday.com does not integrate. For example, all social networks, emailing services and apps which you may need for your business.
In favor of your business, Monday.com also offers certain automation tools for multiple views and repetitive tasks. Such as Kanban, timeline and map etc.
| | |
| --- | --- |
| Pros | Cons |
| Quick learning curve | More expensive as compared to similar tools in the market |
| New features being regularly updated | Require forecasting manually |
| Easily create operational resource tracking | |
Price
Monday.com is truly free management software. There is a "free forever" plan for two users. For the paid plans they offer different budget solutions. Pro plan costs $ 16per user per month, the Standard plan costs $10 per user per plan and the basic plan costs $8 per user per month.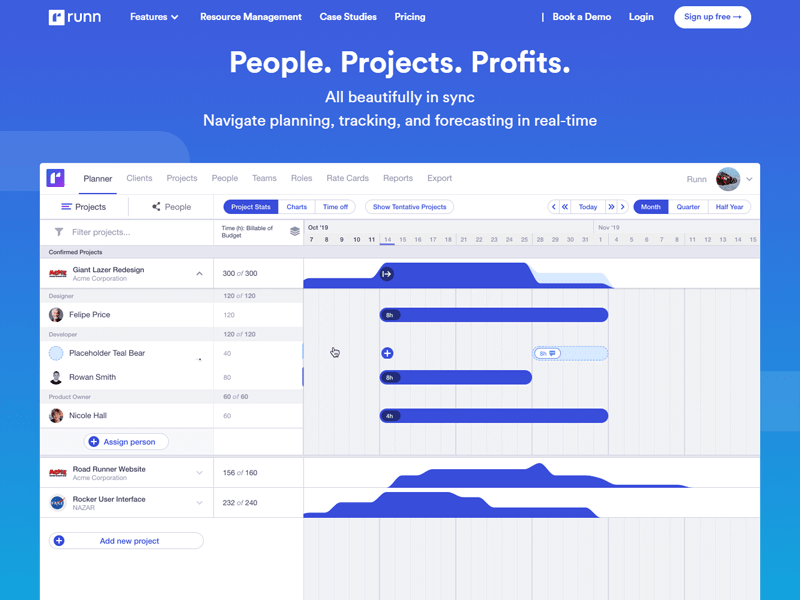 Runn is a resource planning tool that provides the users with a real-time complete service. It is fully customizable and is integrated with other apps easily. Everything is built with a simple drag and drop tool. Thus, you don't need to train your workers to work with it.
It offers a simple user interface. It is highly intuitive. The biggest strength of this tool is that all the projects are visually available on one screen. Also, it is easy to assign projects to people on this screen.
You can also attach notes to different tasks and projects. In this way, the project managers will be able to allocate the resources according to the relevant workers.
| | |
| --- | --- |
| Pros | Cons |
| Over budget predictions | Limited integrations |
| Easily mark the availability of the workers | No time tracking offline or on mobile |
| Intuitive forecasting and reporting | |
Pricing
Runn also offers a free trial. Their free trial is only 14-days which is approved for unlimited projects and five users. The lowest-paid plan costs $10 per user per month.

What is resource management?
In most simple words, resource management is a practice of optimally utilizing, tracking and planning all resources for a project. Such resources include space, equipment, finances and staff. Resource management activity involves resource planning. It tells about the way real-time resources are utilized.
It is always challenging to allocate resources to run a project. It is a measure of success for you. The resource management process requires you to consider the deadlines of the project in addition to managing dependencies and resource conflicts. Resource management also includes the expected project delivery time.
In a broader sense, resource management includes the management, allocation, and acquisition of resources. These resources include natural, machinery, material, and technology, financial and human skills that are required for a specific project. This resource management process ensures that external and internal resources are effectively used in the real-time duration and budget.
According to the definition of organizational studies, effective and efficient development of an organization's resources as per requirement is called resource management. In this aspect, the natural, information technology, production, human skills, inventory and financial resources are included.
What is resource management software?
Resource management software is a tool that helps in planning business projects in terms of available resources. These resources are both human and capital based in a quest to complete these projects faster and smoother. The best resource planning software always
Allocate workers in a project
Allocate the budget for a project
Control and set timelines
And finally, monitor performance at each stage of the project.
In this way, the businesses use this tool to allow them to move step by step, take smoother project transitions, finish projects faster and cut down their project expenditure. Ultimately, there is a positive effect on employee performance and productivity.
Nevertheless, there are many tools for resource management available online. A long list of tools may also be overwhelming for you to select the best one. Also, no project manager has enough time to look at all the websites for test trials and see pricing before decision making.
Tada! We did this work for your business. In our list of resource management tools and software, you will find all the details of features, pricing and advantages of each software that might help you to fulfill your project's needs.
Conclusion
That's all! A good list of over 15 resource management software to check out. The plus of our list is that almost all the software solutions offer free trials and we advise you to take a trial test before choosing to make a purchase.
We believe that TeamGantt and GanttPRO are the simplest and most versatile solutions for any business; small or big. It may be the right choice for you.
Also, it is important to compare different tools as it will be helpful to see different functionalities and price points such as task management, approval workflows, expenses and timesheets. Besides, you can even get integrations for your growing business from 3rd party integrations.
Other parameters that you should consider to select the best tool for your business are usability, user interface, integrations, customization and team collaboration efficiency.