Are you a musician? Do you want to promote your art of music through internet? We have selected a wide array of best WordPress themes for musicians that can be used for music or bands websites.
While most of the musicians commonly go for common social media platforms such as Instagram, Facebook or Twitter to grow. But, as you grow, you need to build your professional website for your followers.
After having a professional website, you need to design it according to the best of musicians' requirements. WordPress has designed a lot of themes suitable as a music WordPress theme. Therefore, it is quite tricky to pick the most appropriate theme for your music or band.
The Top 15 Best WordPress Musician Themes in 2022
We have showcased the best music WordPress themes as well as bands to promote their music in an effective way. not only with popular ways like creating your own merch but also with a good website.
Flicker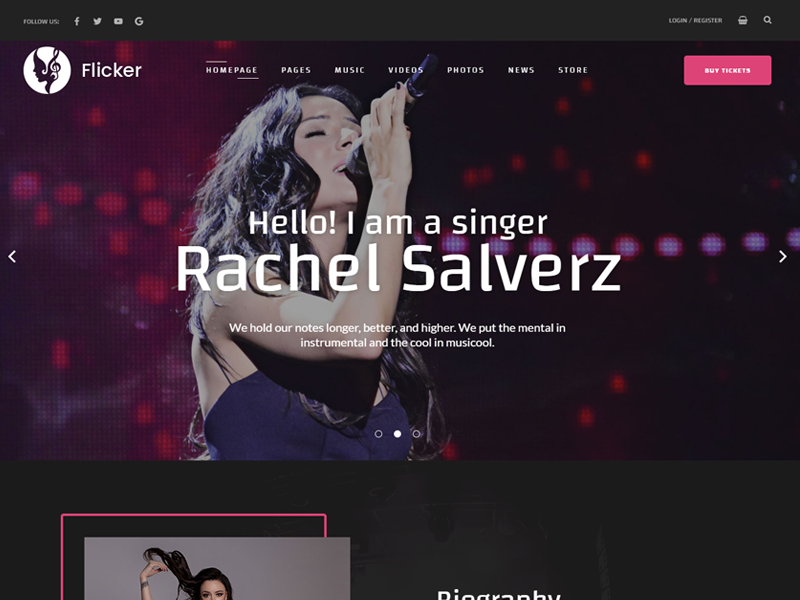 Flicker is a powerful WordPress theme specifically designed for the singers, performers and musicians who struggle to expand or promote their musical career and brand. This theme is a great tool to get your music recognised in the vast industry.
Flicker uses Unyson as its structure and has a Unyson drag and drop page builder which helps you create the pages of your choice. The theme is highly customizable and allows you to choose between the wide and boxed layout.
You will also find multiple options of colour schemes and headers. The theme also features FontAwesome icons and Google Fonts Library. The documentations are super detailed that thoroughly explain everything.
FWRD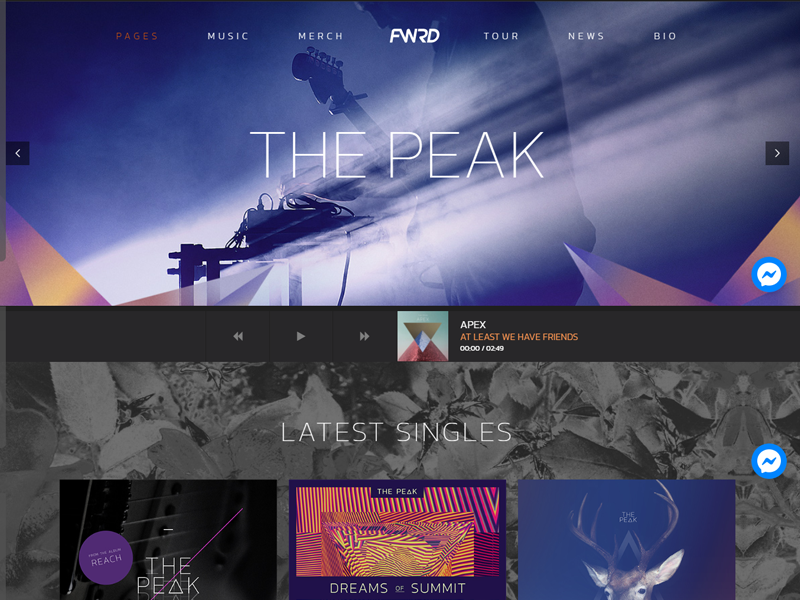 FWRD is the Ultimate Musician and Band theme. If you are a webmaster, music producer, dj, or a simple musician, FWRD is the best product that you may employ. The theme comprises 12 creative custom widgets with a Visual Composer.
It is an easy page builder with drag and drop tool which saves tons of your work. This theme does not require any coding. There are over 100 designs for header inclusive of full width, boxed and floating menu for user experience.
You will find two options for menus; 3C pusher and classic menu. You can show your entire content with your desired grid layout through Essential Grid. FWRD includes this plugin for free.
Lush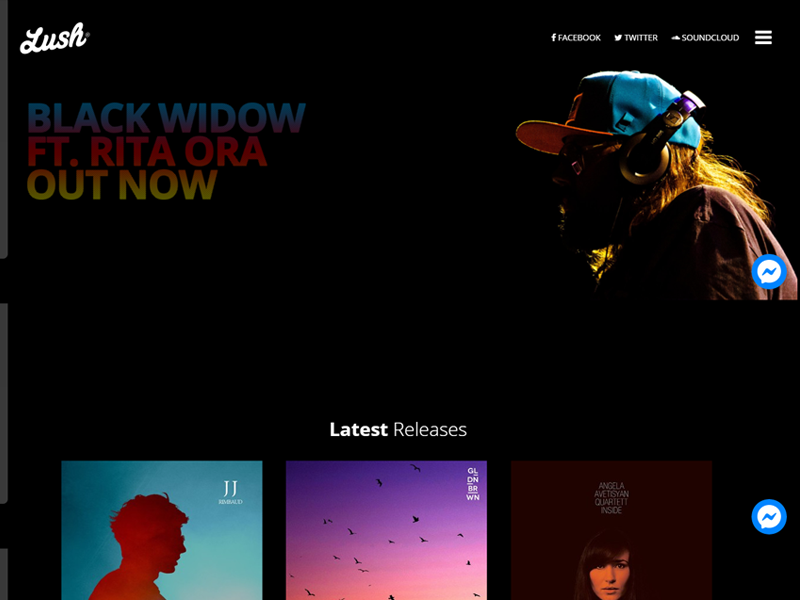 Do you belong to music industry? Lush is a complete solution for you. If you are a webmaster, band manager, piano player, soprano singer, punk rocker or jazz master, Lush is for you. There is a proper vision behind building this theme.
The theme comprises Page builder and Visual Composer with drag and drop tool. There are over 11 custom template widgets with no programming knowledge needed to build your website through Lush. The most unique and incredible feature is the appearance of menu items.
There are three options for you; Scale and Rotate Pusher, Rotate Pusher, and Push. The theme includes WooCommerce for free.
NotaCorda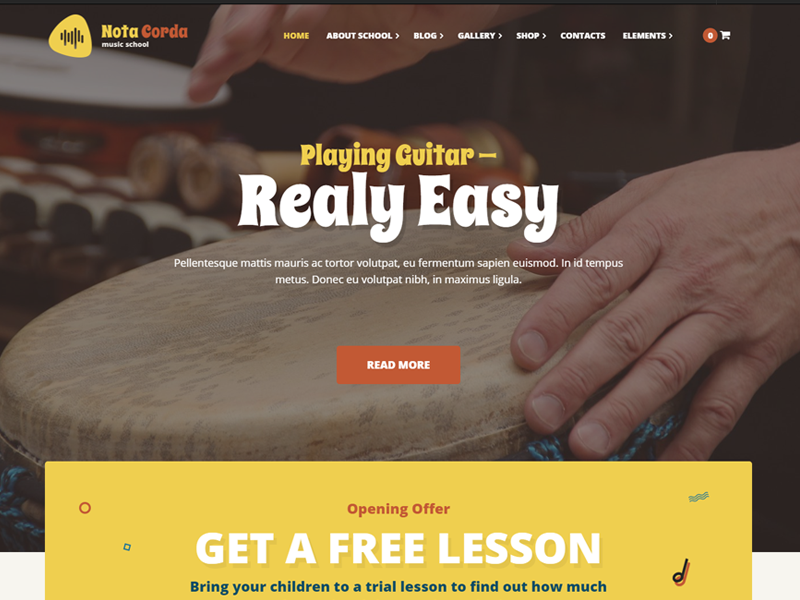 NotaCorda is a WordPress theme designed for musicians and music schools. It offers an amazing design with an easy page builder plugins. It is an amazing and modern design specifically created for the music lessons, guitarists, music store, conservatories, music teachers, and music academy.
The theme includes all the required pages for WooCommerce implementation. It makes it easier for you to sell your music-related products. The theme has all the essentials of your choice such as product page, product catalogue, testimonials, blog, galleries, professional homepage design, and 20+ unique short-codes.
NotaCorda also includes content elements for 404 page, sliders, tabs, lists, icons, headers and typography. The theme is also fully compatible with Visual Composer which is available in premium.
Musiziya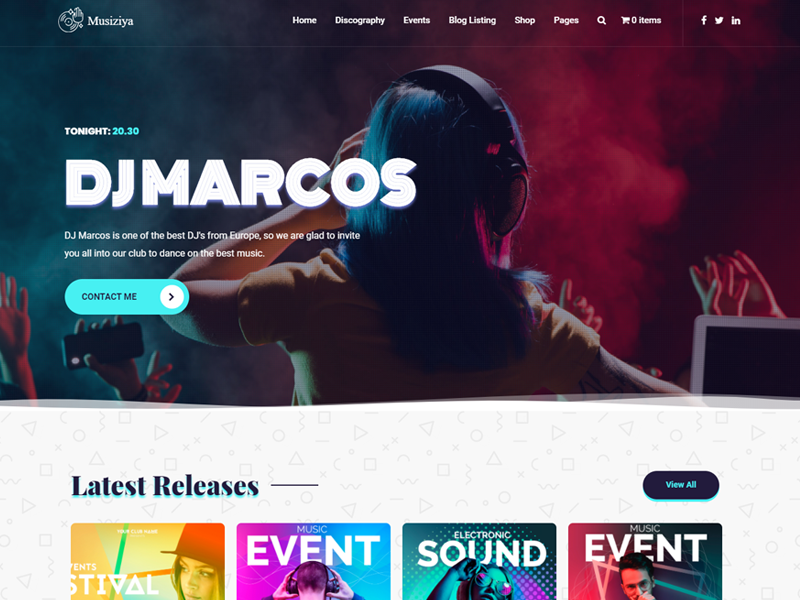 Musiziya is a band WordPress Theme which is Elementor built and is fully responsive. It also offers ad-ons with the Elementor Plugin. There are all required building blocks present on the site to create a beautiful design. The theme is highly suitable for entertainment websites, events, radio, artists, singer, dj, or music bands.
You can advertise you services for the targeted customers using vibrant mixture of colour harmony. The theme allows you add the WooCommerce plugin. The other pronounces features include Parallax Background, bbPress ready, premium quality and navigation menus.
The theme is customisable which is also an SEO and page speed optimized.
MusicFlex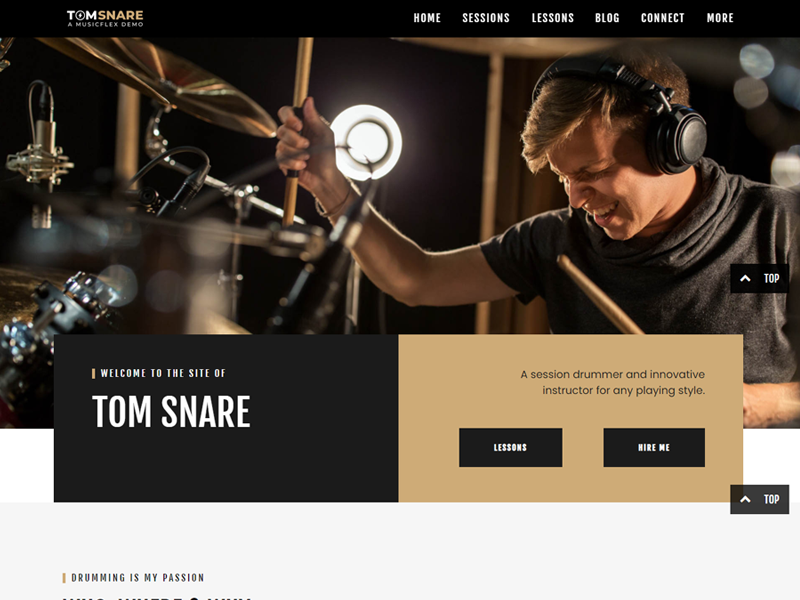 The design of MusicFlex is highly customizable with creating suitable themes for music artists including bassists, drummers, pianists, or guitarists.
You can use it for almost all types of music genre such as jazz, hip hop, pop and rock etc. the theme is highly customisable and fully responsive for tablet devices and mobiles. The theme offers a set of new ideas or demos regularly. The theme intends to cover the widest music industry niche by offering specialised demos to fulfil the business requirements. The one-click demo importer is imported easily in the theme.
The theme is customised but is built on Visual Composer. It uses the drag and drop page building tool.
Colibri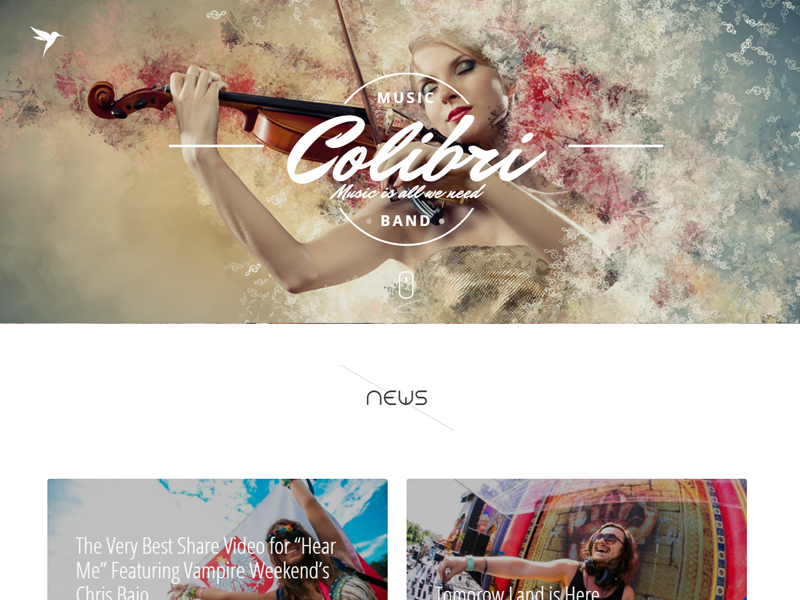 Colibri is a perfect theme of WordPress highly suitable for busy musicians such as bands, DJs or singers. It is best because it's the first of its kind. The most important features include integration with Bandsintown, Twitter, Instagram, Mailchimp and Soundcloud.
The theme is built on Bootstrap 3. There is a built in Visual Composer Page Builder. The admin panel is built on Redux Framework. You are allowed to use unlimited colours with video albums and photo albums. The theme also offers you have an introductory animation and a demo.xml file.
Sonorama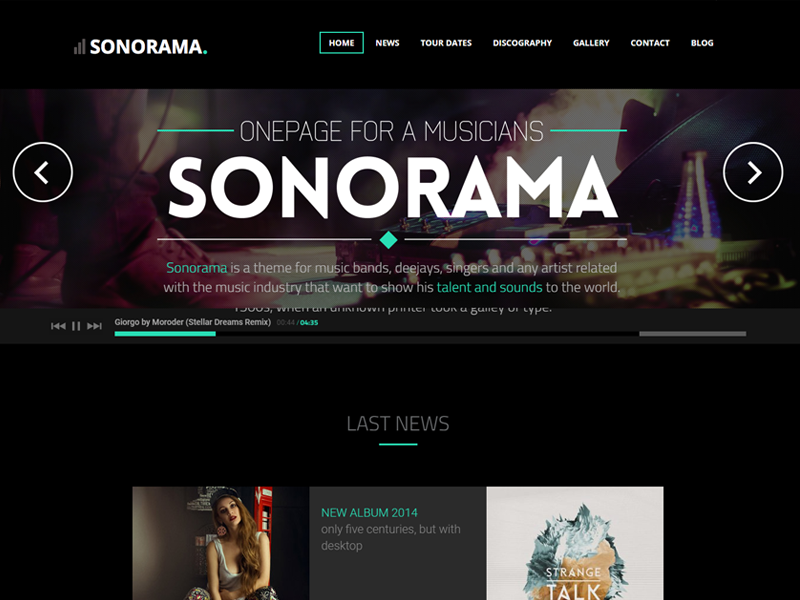 Sonorama is a theme highly suitable for singers, professional deejays and music bands. Any artist who want to display his/her talent than Sonorama is a good way out. The drag and drop interface helps you build complicated layouts without knowing anything about coding.
The theme is highly compatible with embedded video and audio content through Vimeo, YouTube, Bandcamp and SoundCloud. The theme offers a modern and clean design for all types of websites. There are a thousand ways to use the customizable features including the change in the styles of patterns, images, colour or background.
The navigation styles provide an addition possibility. The theme is ultra-responsive. The responsiveness is made possible due to its compatibility with CSS3 and HTML. Sonorama is one of the best WordPress themes for musicians.
MESH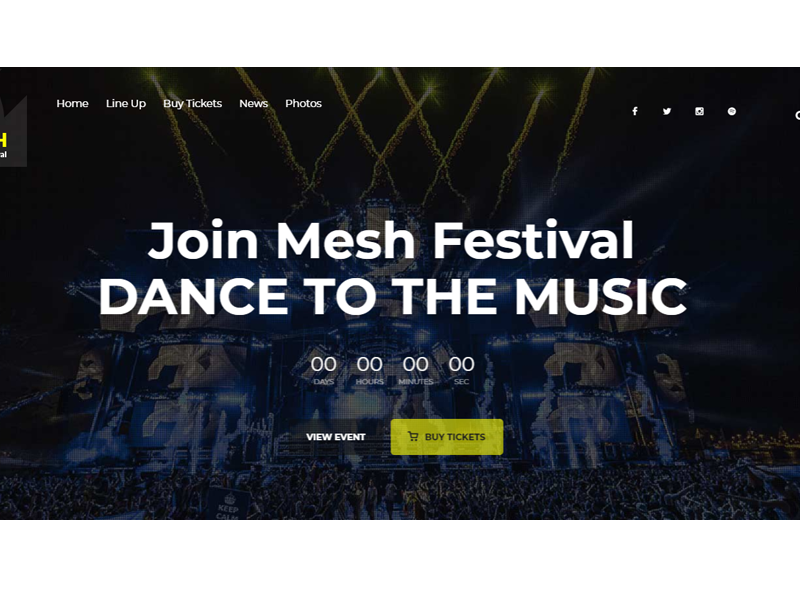 The theme MESH allows to almost 6 months support in book events, sell tickets and playing music constantly. The key features are all "Mesh-ed" to make it more suitable for entertainment websites. It is perfectly designed for the innovators and fulfil the multimedia requirements. The free PSDs are downloadable which make the customer happier to see the personalised design.
These personalised designs help you imagine images, colours and logo. The feature of ticket selling is also free that makes it easy for you to start selling without any delay. The page builder plugin, Visual Composer takes the charge of your website. It provides an intuitive tool of drag and drop. It does not require any type of programming knowledge.
Dezibel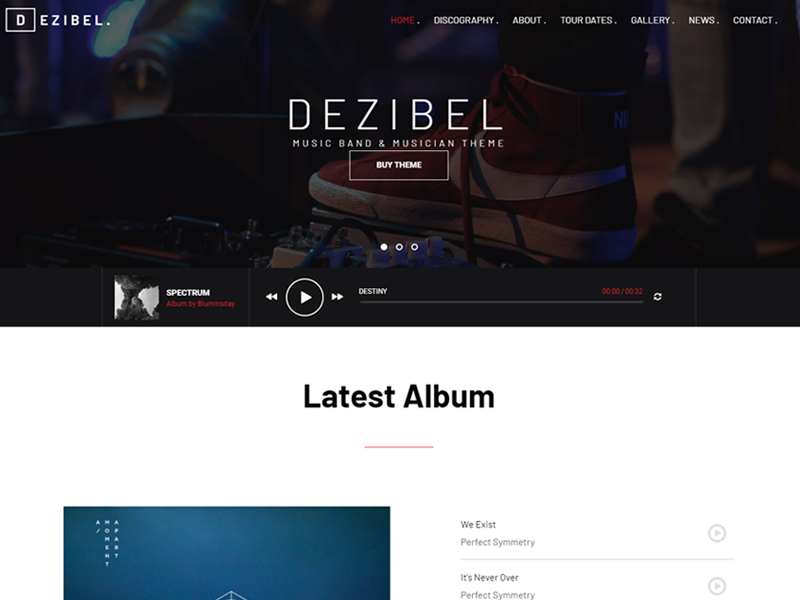 Dezibel is a theme from WordPress for singers, professional deejays or any artist who works in music industry. The theme offers a list of home pages such as blog page, Coming Soon page, new demo or record label demo. The artist can also give his personal demo on one of the home pages.
The customization options allow you create infinite possibilities through the changed colours, patters or images. The theme is ultra-responsive, means that Decibel is 100% responsive and the responsiveness remains valid on the basis of the compatibility with Cross browser, CSS3 and HTML5. The theme is designed modularly which allows you to customise it completely.
DJ Rainflow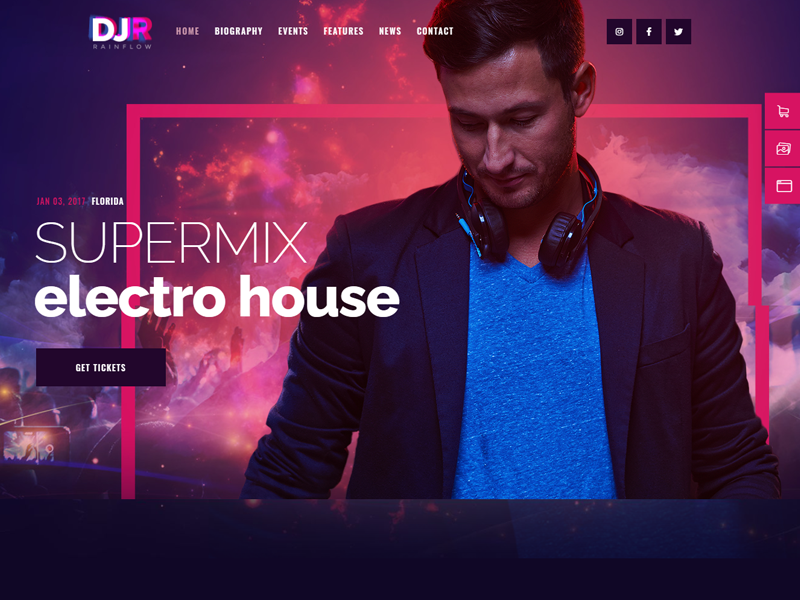 DJ Rainflow is a colourful and stylish theme of WordPress. The modern design is functional design which is highly suitable for entertainment websites, events, radio, artists, and singer. There are 3 layouts for homepage which will allow you to add all the required information regarding the new music event, discography and dj's compilation.
Using DJ Rainflow, you can simply showcase your content of video and photo galleries in planning The Event Calendar. The theme is Retina ready and fully responsive to make it best suited for all types of plugins. DJ Rainfalls is Retina Ready and fully responsive to make it more functional. It is also compatible with several premium plugins.
Such as the revolution slider asks you to operate and set up your website. It is also compatible with WooCommerce, Instagram Feed, WPBakery Page Builder, and Essential Grid.
Are you looking for more DJ design templates? Check out the top WordPress themes for DJs collection.
Musisi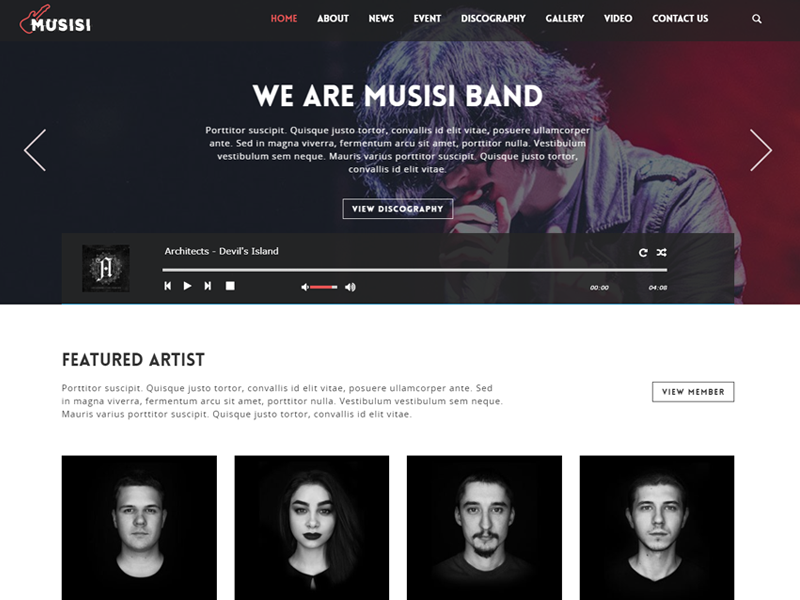 Musisi is a WordPress theme for musicians and bands with functional and design support. It is highly suitable for entertainment websites, events, radio, artists, singers, djs and music bands.
The theme allows you to provide the information about the photo galleries, planning events with discography and video galleries. Meta box is also used to build page template in Musisi. Musisi will help you showcase your work on a fully features and easily customisable site template.
It makes customization easy for beginners as well as professional designers. The theme is easy to use and provides a one-click demo importer. The overall appearance of a website can be changed with the Options Panel. It is fully responsive and includes more than 600 Google Fonts. The theme has a full charge of typography in every single element.
Soudstage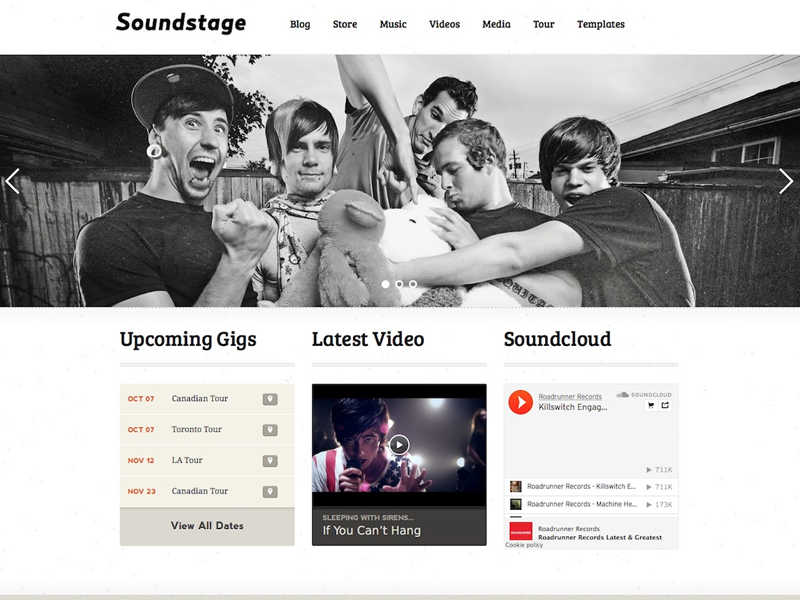 You can make your website look wow for everyone who visits it with the help of Soundstage theme. This is because it offers slick layout of homepage and impressive slider. It offers a website including blogs, tour dates, videos, photos, discography and online store.
Merchandise is also made snap with the integration of WooCommerce by Soundstage theme. The WordPress back-end also manages everything that you want to sell online. The salient features of the theme are MP3 streaming, custom layout for homepage and custom everything including templates, uploads, widget, page template or support. HTML 5 Audio Player with localization support provide additional benefits to the end user.
Muziq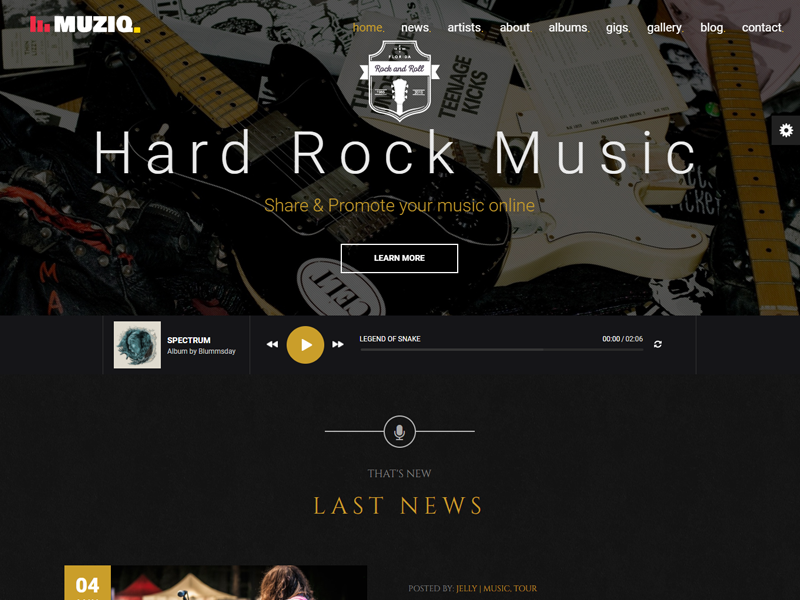 Muziq is a professional theme for singers, professional deejays, and music bands. The 4 homepages allow you to add 4 different music styles. The theme comes with stunning design yet great functionality. It is fully responsive and easily customisable.
It is also retina ready, fully responsive and stunning design. Muziq offers you to have Electronica musical style, R&B Music and Hip Hop concept. It offers a minimal and elegant layout. Yet, you can build complex layouts within minutes. By using the drag and drop interface, you can build a website without any prior knowledge of coding.
Polyphonic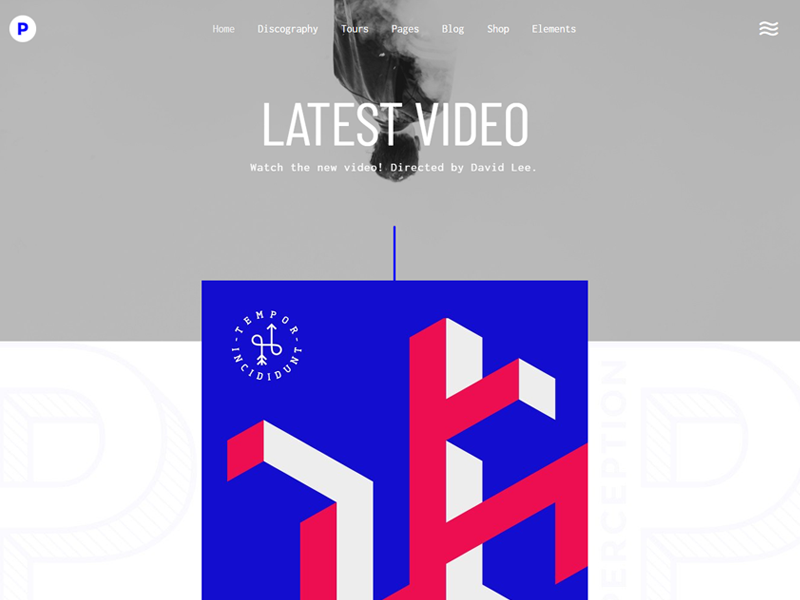 The theme Polyphonic is best for labelling, festivals, artists and musicians. The main features of the theme include its integration with social accounts, Vimeo, Instagram, Bandcamp, brainsintown, sound cloud, and Spotify. The theme is perfect for almost everyone belonging to the music industry especially for independent musicians such as labels, festivals, artists, and musicians.
Polyphonic carries everything that you may need. Thus, you need to interact with the other music platforms. All the features line-up for the festival organizers, performers, artists, DJs and singers. The other main features include powerful admin interface and 6 examples of 8 homepage. Custom large collection Events and tickets and custom map events and pin locations are other features.