Business owners are always trying to improve their operations' workflow, efficiency, robustness, and dependability. The significance of scheduling software in this regard is becoming increasingly important.
The most challenging thing you will face as a manager is sharing the plan with your team members. Businesses nowadays must deal with a plethora of meetings, appointments, staff, and shift scheduling, employee management, work schedules, cancellation policies, and other complicated business operations. Keeping track of the calendar and ensuring company efficiency has become difficult for both individuals and enterprises. Standard systems cannot manage emails, text messages, and other digital channels.
In such instances, individuals and organizations require a sophisticated system to keep things running smoothly and orderly at work. That is where scheduling software helps. Every package includes special features such as add-ons to enhance the functionality of your reservations. An effective scheduling tool may assist firms in improving customer interaction, resource and project management, and company operations. Organizations may also use scheduling software to save paperwork, bridge process gaps, and delight their consumers to generate more money online.
In this piece, I will examine the finest scheduling software available today so that you can make the best decision for your company according to business needs.
The Top 20 Best Scheduling Software of 2022
Best for sales teams, marketers, educators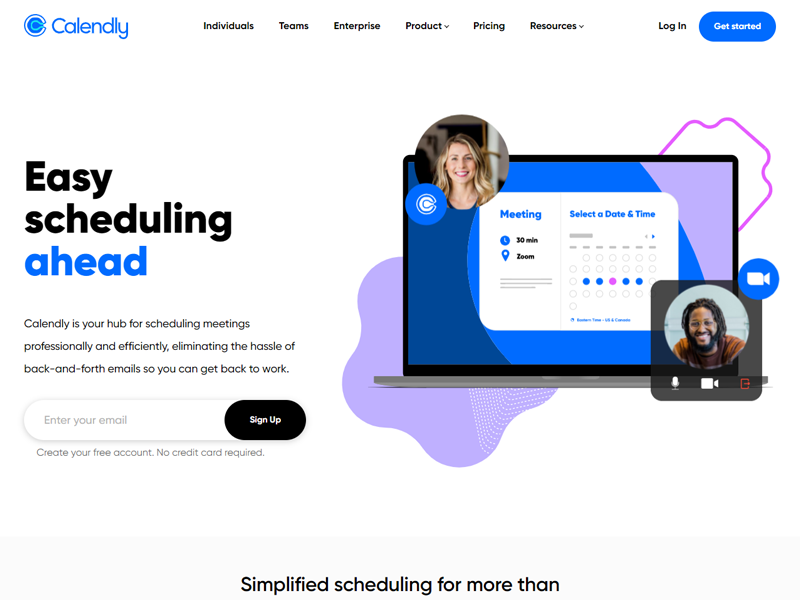 Calendly is a meeting scheduling platform created to reduce the inconvenience of back-and-forth emails. Calendly, which has over 50,000 enterprises and 10 million users worldwide, provides increased team features, including extra collaboration capability, administrative controls, and enterprise-grade security and compliance.
Calendly is basic, easy-to-use scheduling software that seeks to reduce time, increase profits, and enhance service quality. It does away with the old-school method of booking appointments, meetings, interviews, presentations, and streamlining other events by email and phone tags. You can give your Calendly link to visitors or embed it on your site.
It enables hot prospects to connect immediately and prevents employees from losing them due to phone and email tagging. It works simply and elegantly: all you have to do is select your available option, share links with clients, coworkers, and so on, and allow them to choose a time for the event, which is instantly put on your calendar. Calendly works with Gmail, Zoom, Slack, Salesforce, Microsoft Teams, HubSpot, Paypal, Intercom, Stripe, GoToMeeting, etc.
It is more efficient and streamlined than standard appointment scheduling systems, and it makes it simple for users to set up, utilize, and handle appointment scheduling and more.
Features:
API AccessCalendar
Integration in a simple, attractive, and modern layout
All gadgets are fully optimized.
Notifications can be set up automatically or manually.
Increased privacy and control
Organizing a team
Group gatherings
Calendar integration for invitees
It is possible to include it on web pages.
Metrics and report generation
Webhooks and APIs
Pros:
Meetings are arranged most conveniently for you.
Connecting to several platforms
Extremely simple to use
Signing up is a time saver
The User Experience (UX) is fantastic
Calendly may be simply integrated into a website
Automatically creates a zoom meeting
Prospect scheduling
Cons:
The basic version has limitations
Not mobile-friendly
Don't have any support page
Can be pricey
Can have problem setting time zones
Calendar reminders are only present for certain plans
Price:
Basic: Free
Premium: $10/user per month
Pro: $15/user per month
Best for Small and Medium-sized Businesses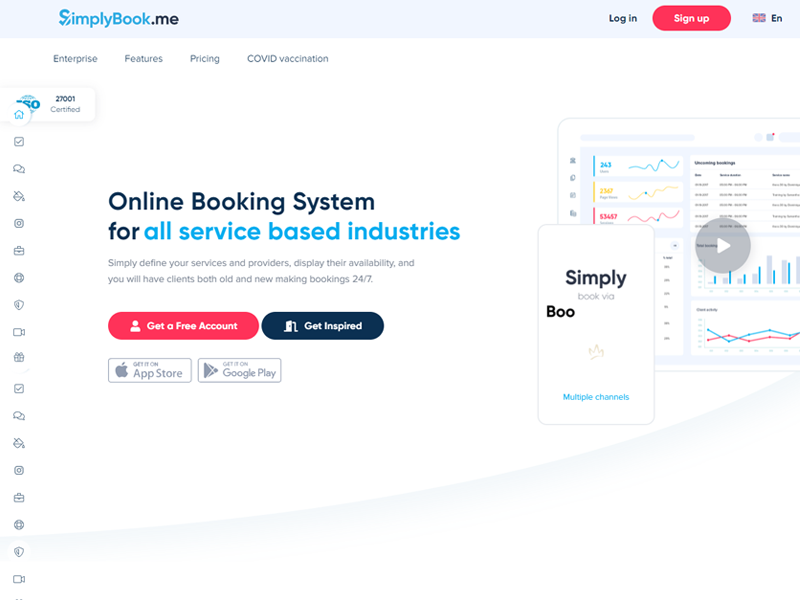 SimplyBook (web, ios, android ) is an online schedule booking platform designed for small enterprises in the service sector since its capabilities go beyond basic appointment scheduling. Diners, health centers, doctors, spas, gyms, beauty parlors, massage salons, hair salons, caretakers, financial advisers, and other similar companies that rely on direct client connection might make all profit from SimplyBook.
SimplyBook services, on the other hand, are not restricted to appointment scheduling; they also provide solutions for large organizations that allow for smoother administration of outlets and other features. SimplyBook interacts with social media networks, provides website applications, and accepts reservations via social media widgets. You can also indicate the number of service providers and services your company provides.
The platform is adaptable and expandable, and it can be adapted to match the demands of a specific business and an existing firm. Using the Google Calendar Sync plugin, you can synchronize available time and booking transactions. It also provides customized scheduling features integrated into an existing website and templates tailored to your company's identity.
Features:
Reserve with google
Scheduling software
Alerts/Notifications
Website builder
iBoB assistant
Dashboard for Reporting and Statistics Activity
Reporting/Analytics
Online payment
API
Integrations with Third Parties
Personalized Reports
Import/Export of Data
Pros:
Online booking
Design and navigation that is intuitive
Connectivity to social media networks such as Instagram and Facebook
A video tutorial for configuring the site and widgets is available.
Excellent client service
Plans with reasonable pricing
Cons:
It Needs to renew the free version every month.
The price rises as more features are added.
Price:
Basic:$8 Per month
Standard: $25 per month
Premium: $50 per month
Best for automating the sales process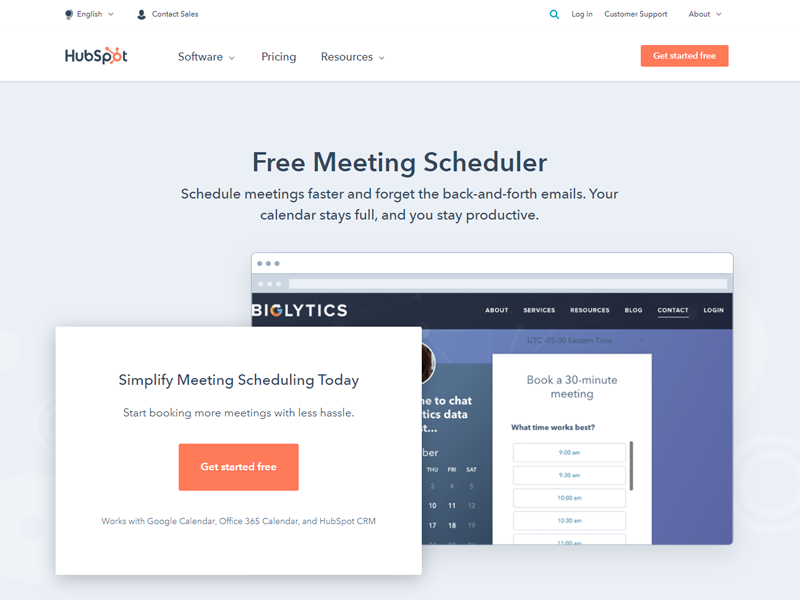 HubSpot's meeting scheduling feature gives you a personalized booking link that you can send to individuals to invite them to see your availability and schedule appointments with you.
When someone makes a meeting request, their contact information is automatically loaded to your calendar and published to the HubSpot CRM database. HubSpot Meetings is a component of HubSpot's All-In-One WordPress plugin and connects with both Google Calendar and Office 365.
When you register for HubSpot Meetings, you'll also have access to HubSpot's free CRM, marketing, sales, and customer support tools, such as email marketing management, live chat, and surveys, as well as HubSpot Academy, a free online instructional resource.
Features:
Booking URL that is unique to you and a booking page that you may customize (headshot, logo, color palette)
Connectivity with Google or Office 365
Group Meetings allows prospects to plan appointments with more than one person in your firm.
Before the meeting, use customized form questions to gain crucial background on your contact.
HubSpot's free All-In-One WordPress plugin has this feature.
Possibility of embedding your calendar on your website
Pros:
Save time with accurate scheduling
Grow your database with every meeting
Create opportunities to cross-sell
Chances to work with your entire sales team.
Cons:
It is expensive for small organizations, premium plans
The mobile app is limited
Price:
Free Plan – Includes one unique meeting link, unlimited meetings, connection with HubSpot's free CRM for life, and the option to post a calendar on your website.
Starter Plan ($50/month) — Covers all paid HubSpot Sales tools, as well as 1,000 individual and team meetings connections.
Best for your business, and leave appointment scheduling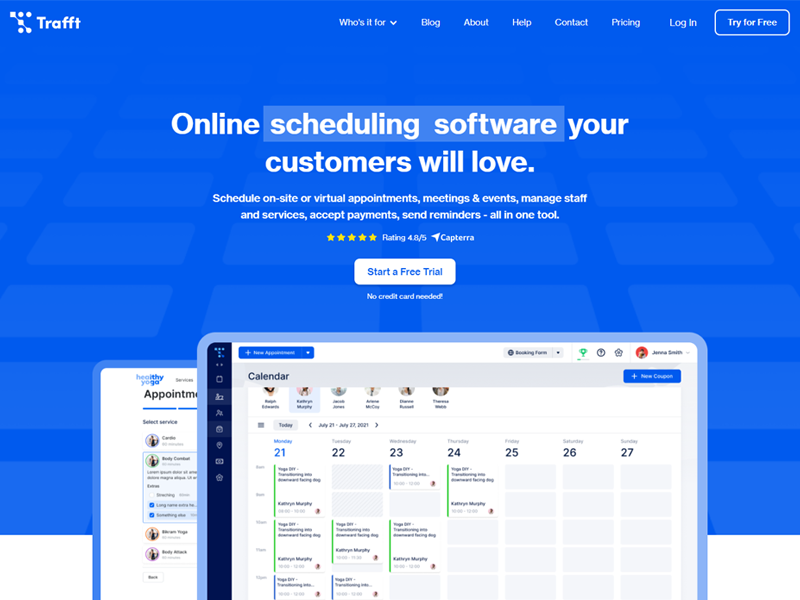 Trafft is an all-in-one scheduling solution that will solve all your relevant issues in a highly organized manner. It can line up offline and online meetings, interviews, and occasions while still managing staff affairs and their payments simultaneously.
With Trafft, you won't have to fear missing an important meeting as it reminds you about each upcoming happening in regular alerts and notifications. A similar is for your customers on the other side. The best part about this platform is that you can try their free version without entering your financial details. Once you are satisfied with the services, you can go on to invest and expect premium results.
It is well coded, and this approach contributes greatly to its beginner-friendly interface. The level of technical knowledge does not matter as anybody can handle the simple functioning of this scheduling software.
Trafft will suit your likes if you run a salon, a healthcare setup, a sports institute, etc. It works perfectly for every entrepreneur whether they offer any personal or professional service.
Features
Integration of all-important third-party tools related to calendars, payments, meetings etc. through Zapier
Automated creation of a booking page
Automate coupons, reminders, followups etc. as a part of their rebooking services
Automate coupons, reminders, followups etc. as a part of their rebooking services
An all in one calendar to manage every appointment
Simplified appointment booking procedure
Intuitive dashboard that displays the business's performance
Customizable booking forms that you can design according to your brand
Constant online monitoring and 100% guaranteed uptime
Highly impressive customer support services
Automated payment methods
Automated reminders of appointments for all the customers
Pros
Guaranteed increase in conversation rate of up to 30%
Extensive integrations
Time-saving
Highly responsive and mobile-friendly dashboard
Economical pricings
Cons
Paypal and Stripe demand sensitive information from the user
Lacks mobile application for iOS users
Language issues
Pricing
The pricing plans of Trafft are divided into four parts, and you can easily avail them depending on your business demands. The plans are;
Free version
The basic plan costs $12 per month
The pro plan costs $24 per month
The expert plan costs $48 per month
Best for Smart and Secure Scheduling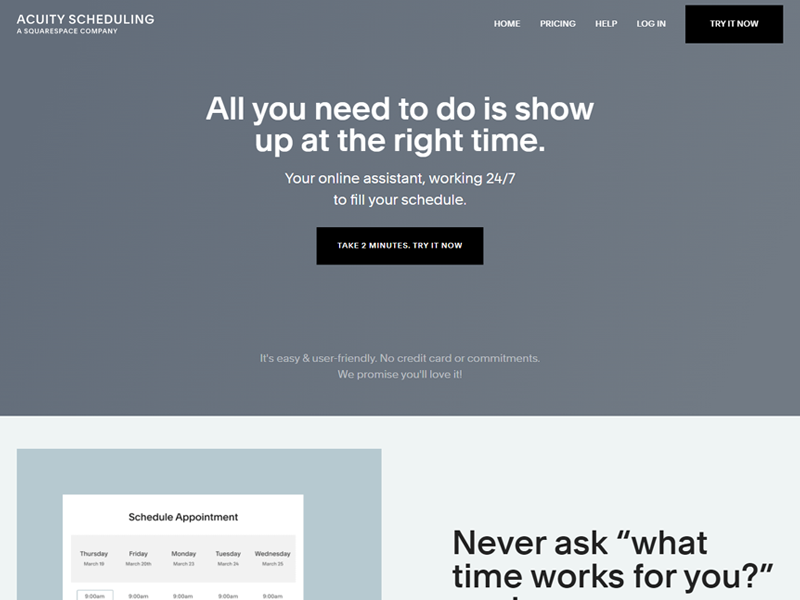 Acuity Scheduling is a scheduling service for users who want to see their real-time accessibility and make appointments based on their scheduled calendar. It is praised for its excellent functionality and user-friendliness. It assists users in keeping track of their schedules and avoiding accidents.
It offers scheduling solutions that alert users when scheduled meetings and view their schedules on their mobile devices. It also gives consumers the ability to send personalized and branded reminders. These may be customized, so that client follow-ups and approvals are more personalized. Small and growing companies are the primary users of Acuity Scheduling. It also allows users to make money online when clients schedule sessions.
Stripe, PayPal, Square, Braintree, and Authorize.net accept payment methods with no credit card payment processing required. The program supports Google Calendar, Outlook, Office 365, and iCalendar. It may also be smoothly linked with other business software like MailChimp, Quickbooks, etc.
Features:
Open API Activity Monitoring
Notices and reminders on demand
Completely customized
Events and group planning
Compliant with HIPAA
Calendars for teams
Calendar availability in real-time
Automatic time zone conversion
Several places and personnel
Intake-forms
Appointment scheduling in advance
Directly embeddable on a website
Reminders through email and SMS
Pros:
The calendars are automatically adjusted.
You have complete control over your availability anytime.
Client information is being gathered.
Sharing was made easier.
A full-service solution with valuable integrations.
Scheduling in different time zones
Reminders and approvals
Rescheduling and canceling appointments are simple.
Integrations with calendars
Different appointment kinds have their own set of regulations.
Payment collecting that is seamless
Cons:
There are few choices for visual modification.
Some of the UI is difficult to use.
The editor has to be updated.
The SMS reminder interface is a little perplexing.
Price:
Free forever (solo): Free
Entrepreneur: $15/month
Growing business: $25/month
Powerhouse Player: $50/month
Best for automate appointment booking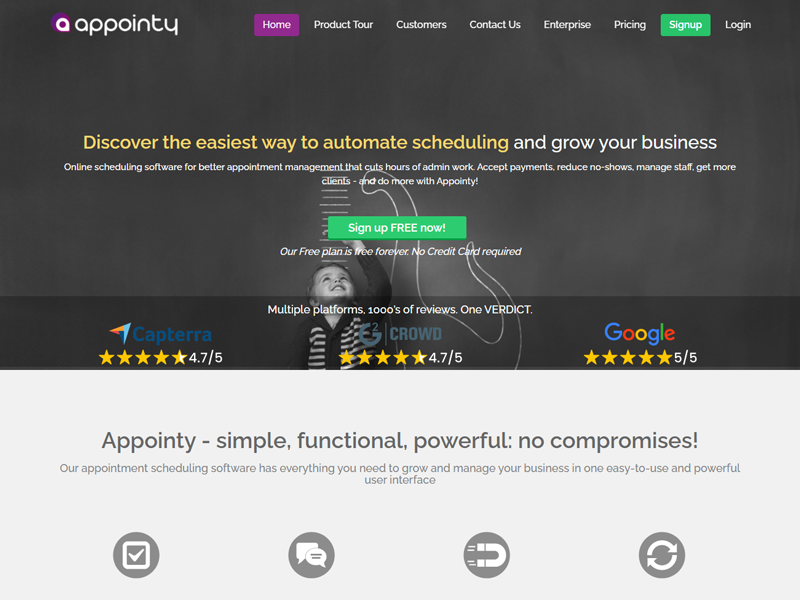 Appointy is an all-in-one online appointment software that has been acknowledged by industry leaders such as Google and The New York Times and is meant to help organizations thrive. It is a simple, basic, yet effective user interface that makes it easy for employees to navigate the program and begin being more efficient from the start.
Customers like the program enable realistic self-scheduling at any moment that is convenient for them. Furthermore, it improves staff productivity by enabling the management of many locations and people.
Social media promotion capabilities enable you to reach a larger audience via Facebook, Twitter, and email marketing. Customer loyalty programs help organizations retain clients by personalizing interactions and improving comprehension.
Features:
The most valuable feature is its simple integration
Efficient managing a massive number of personnel and several locations
Assist organizations in quickly implementing customer loyalty programs
Customers may plan appointments via Facebook and the website.
Businesses who do not have a website can use Appointy's subdomain to build a unique booking page.
Customers may use Appointy to schedule recurring appointments and reservations.
Alters company hours to allow consumers to schedule appointments at their leisure.
Provides real-time notifications that may be accessed from any location using mobile devices.
Provides effective reporting and analytics solutions for tracking personnel and appointment performance
Pros:
Very easy to use
Free online setup assistance
Good customer service
Free trial
Cons:
Customer support is inadequate
Problems in synchronizing with third-party programs.
Price:
Free plan
Pro Plan – $19.99/month (billed annually) or $29.99/month (billed monthly).
Business Plan – $39.99/month (billed annually) or $49.99/month (billed monthly).
Enterprise Plan – from $59.99/month (billed annually)
Best for SMEs and solopreneurs.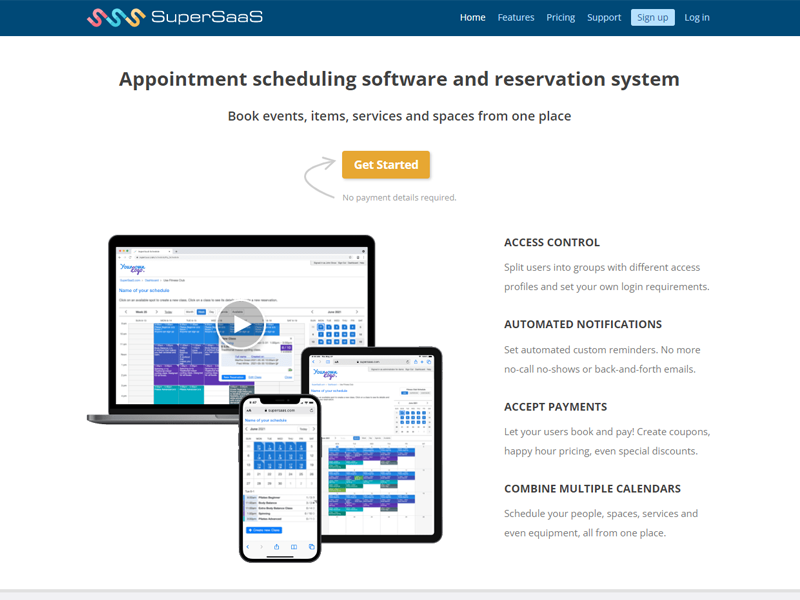 SuperSaaS provides appointment scheduling services to businesses of all sizes. This very versatile tool might be ideal for one-on-one scheduling, reservations and leases, corporate planning, and booking service appointments, among many other things. It integrates with various third-party apps and has a user-friendly design that is by far the most appealing feature.
Features:
Frequent notifications through Text and email reduce the likelihood of latecomers.
Customers may pay using Stripe, PayPal, and credit cards.
A highly scalable solution for developing enterprises to support infinite users, rising staff members, and other assets.
Bookings may be made from any location using mobile devices.
It supports 34 languages
Automatically adjusts the time zone.
Pros:
It's simple to set up and doesn't require any code.
Google Calendar may update your real-time accessibility.
There will be no more back-and-forth with clients.
It receives cash in 26 currencies for online booking with a 0% commission.
It Integrates your unique booking calendar into your WordPress website with ease.
Cons:
There is only one design on the calendar.
It displays the client's business time zone.
It would imply that consumers from different cities would see the incorrect time.
Pricing:
It provides a free edition for up to 50 future appointments. Premium packages begin at $8 monthly and run up to $46, depending on the package.
Best for small businesses with various meeting alternatives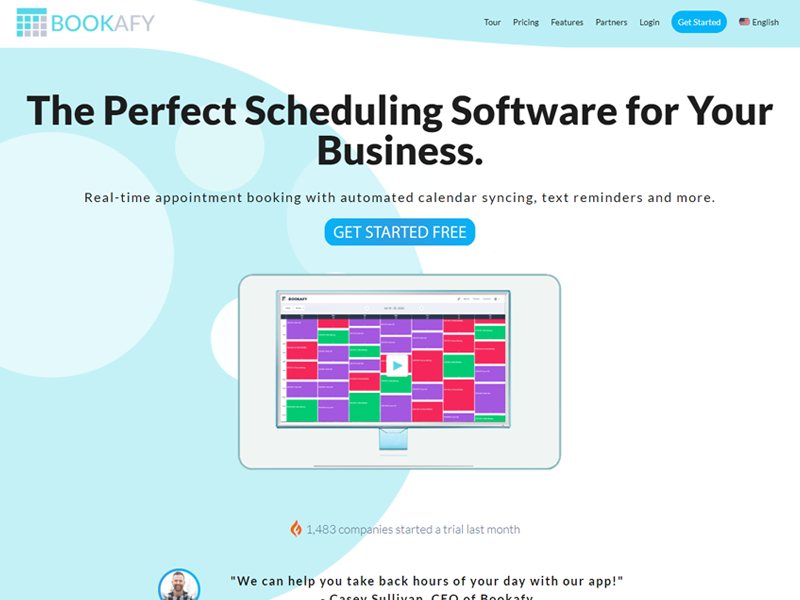 Bookafy is another free service with a lot of strength beneath the hood. You have the option of scheduling an endless number of appointments of various categories. Bookafy's website is visually appealing, a crucial aspect of your own company's Branding.
It is simple for your clients to use and makes the scheduling process enjoyable. You can ensure that your client or colleagues get all meeting login information when they arrange the call, and you can even accept money from your clients using the Bookafy interface.
Features:
The free plan provides a lot of features.
Includes a stunning customer-facing interface to match your business, including colors, fonts, design, and so on.
Robust and straightforward is one of the most comprehensive feature sets on the market.
Appointments for one consumer, one staff member, and one customer with several staff members.
Two-way and one-way synchronization with iCloud, Google Calendar, ICS calendar, etc.
Pros:
Bookafy Scheduled aids in the organization of your day and the simplification of your scheduling operations.
Arrange meetings.
Confirm appointments.
Issue reminders.
Accept payments online, and so on.
It supports around 30 different languages.
Cons:
Bookafy has a few drawbacks, such as there is no mobile application.
Everything is web-based.
There is no time tracking.
Pricing:
When purchased yearly, the Premium Plan will cost $7.00 monthly, or $9.00 per month when charged monthly.
When purchased yearly, the Pro+ package charges $11.00 per month, or $13.00 per month when billed monthly. You will also receive a 7-day free trial of the Pro plan. There is no credit card necessary. There is no obligation.
Best for all sizes of enterprises and organizations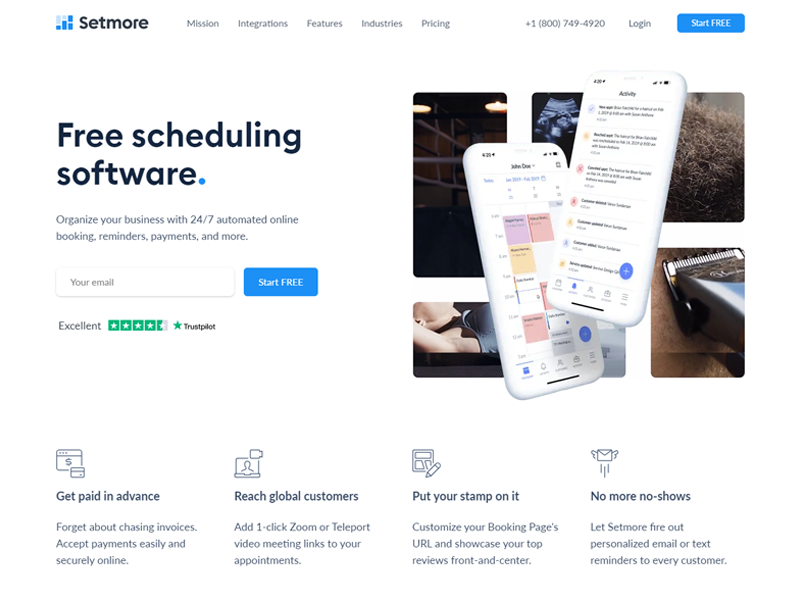 Setmore provides a free online scheduling tool to communicate with your consumers. Using a sleek calendar system, you can book and manage appointments, video meetings, and seminars all in one place.
Increase your consumer base and improve your brand image while taking control of your working hours. There is no obligation for any technical knowledge to get started; you'll be up and operating in no time.
Features:
It has various unique features, such as planning ahead of time for repeated visits and flexible scheduling.
It verifies, cancels or reschedules the appointments, as well as payment links and remarks.
Accepts credit card payments.
Uses the Square or Stripe interfaces at no extra cost.
Minimal coding is required.
Pros:
It is pretty simple to use.
Its setup process ensures that you don't miss a step.
The desktop app is unique, which allows you to see your appointments even when not connected to the internet.
It's simple to advertise your booking service, handle your contacts, and include them in your email marketing campaign.
Various connections with website builders, CRMs, and mailing solutions.
Cons:
SMS alerts aren't present with the free package.
Email notifications should suffice.
Though you have various customization choices for booking data, there are no design modification options for the booking landing page (hosted on SetMore).
Pricing:
Accessible for 1-4 employee logins and calendars, automatic emails, unlimited reservations, and the ability to accept Square payments.
Paid subscriptions begin at $9 per month for two user accounts, SMS reminders for customers, extra payment processing choices, and two-way calendar syncing.
Best for individuals displaying their booking page in many languages.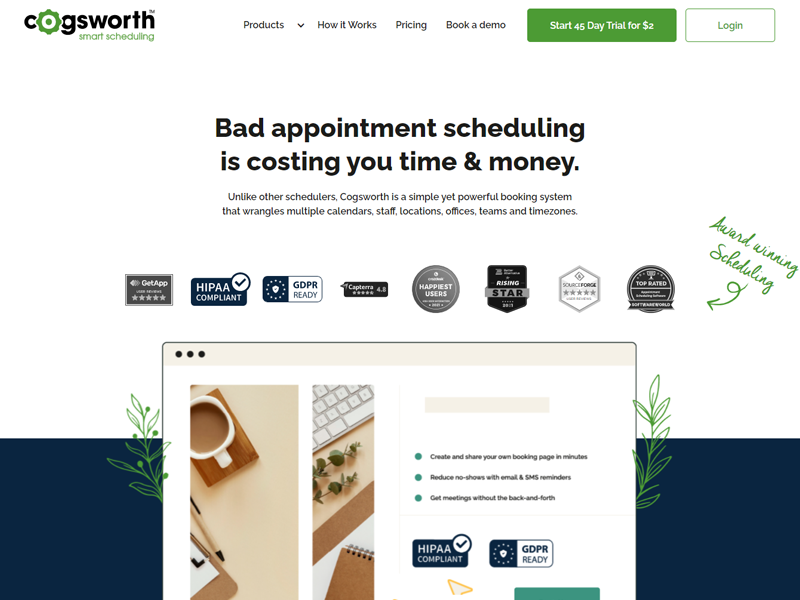 Cogsworth is online appointment booking software that allows businesses to establish booking web pages and receive bookings from clients. To lower no-show rates, send an email or SMS reminders.
Set when you want alerts to be activated, and then use Cogsworth's straightforward template builder to generate customized messages automatically sent to customers and workers.
Features:
Cogsworth has numerous features and is easy to use.
It offers multiple services, calendar connection, payments, buffer times, API, third party integrations, activity dashboard, alerts/notifications, etc.
Mobile access is available.
Others are customizable Branding, customer databases, the opportunity to choose different meeting venues (physical, online, etc.), group reservations, and the list goes on!
Pros:
The sign-up wizard makes it simple to set up an account and services.
The scheduling experience it provides consumers is excellent.
It is clean, speedy, and seems highly natural.
You may create an email signature with your bookings button in all of your communications, making it easier for customers to schedule time with you.
Cogsworth supports 25 different languages.
Cons:
There is no free package.
The pricing of the most basic plan quickly grows if you need to buy SMS credits, create more accounts, or accept online payments.
If you want to try it out, you'll have to pay $2 – this is unusual for suppliers to charge for a trial account.
Pricing:
Plans begin at $9 per month and include unlimited reservations. You may also provide as many services as you like.
If you wish to send SMS alerts, add more members, or accept online payments, you'll have to pay an additional fee, which will significantly increase your monthly membership.
Best for organizations of all sectors.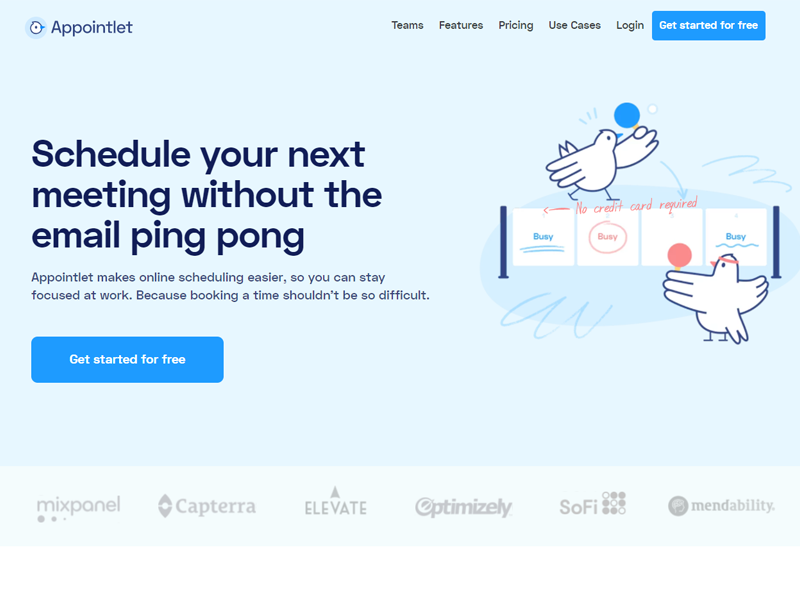 Appointlet is a cloud-based meeting scheduling software that helps organizations engage with customers through emails, landing pages, and the marketing program. It remains an excellent piece of software for any company, and customer support is second to none. Because of its simple user experience, Appointlet is easy to use. It is available in several languages and has an infinite number of form fields.
Features:
The key features are individual or organizational schedule pages and calendar connections.
Automated reminders.
Supports different time zones.
Appointlet includes special marketing tools that enable businesses to customize their emails and booking sites with their logo and style.
The platform incorporates Google Calendar, Office 365, Leadpages, and Wishpond, among other third-party providers.
Pros:
It's forever free package has limitless reservations, meeting kinds, and form fields that add it among the most flexible appointment booking software.
The subscription plan is relatively reasonable at $10/month per user if you require scheduling reminders and want to erase the Appointlet Branding.
Appointlet allows you to construct many booking pages.
Each booking page has its own data set.
Cons:
Appointlet presently does not have a mobile app, which some users may miss.
You must sync with either Google Calendar or Office 365 calendar, so if you don't use these calendars and don't intend to change, this isn't the solution for you.
On the free version, you can not accept payments online.
Pricing:
With limitless bookings, it's free. It costs $10 per user each month for automatic and personalized booking notifications, as well as Zoom and Stripe connections.
Best for professionals with less than 100 sessions each month.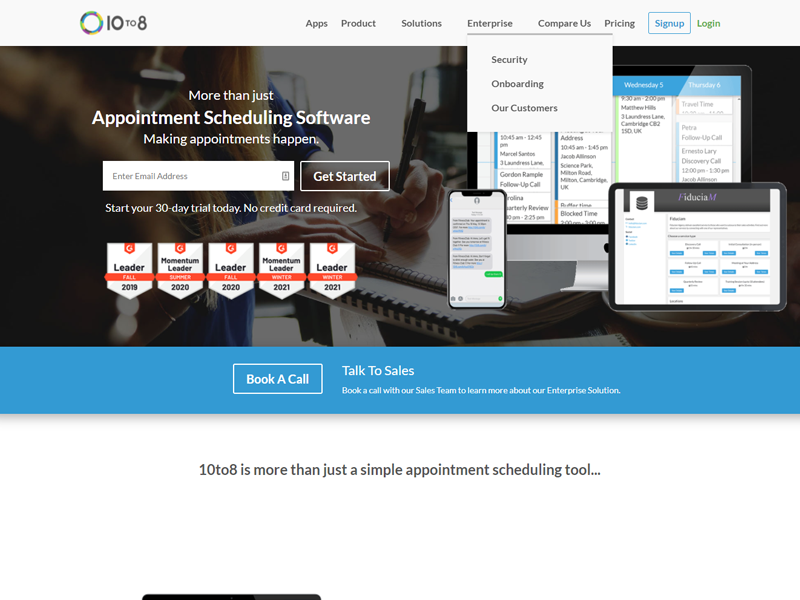 10to8 is a UK-based corporation that has been in operation since 2014. It caters to many enterprises, including surgeons, financial advisors, medical therapists, beauty therapists, coaches, etc. Customers may arrange or update appointments with you or your employees whenever convenient for them, eliminating the need for them to contact you during your business hours.
Features:
10to8 is the ticket if you want to eliminate no-shows, enhance capacity, and increase repeat customers.
It has a customer activity tracking system.
Online payment.
Small companies can take advantage of a Free Forever Plan.
10to8 provides SMS and email reminders, a configurable online reservation page, 2-way calendar sync, interaction with 1,500+ applications, appointments history, etc.
Pros:
10to8 supports two-way sync with Google, iCal, Office 365, and OutlookExchange, more than most other options on our list.
The use of color coding for different appointment kinds makes it simple to see your plan at a glance.
The Zoom integration is inherent to the Free program.
If you wish to integrate with your email service provider, you may use Zapier to accomplish so.
Cons:
The Free and Basic plans ($12/month) have a maximum of 100 appointments per month, which is less.
If you generate more than 100 in a month, you'll have to pay $25/month for 300 bookings.
The user interface isn't as simple as SetMore or Square.
Pricing:
Two staff logins and 100 sessions are free. Premium plans start at $9.6 per month.
Best for the reusability of many schedules and the ease of sending links.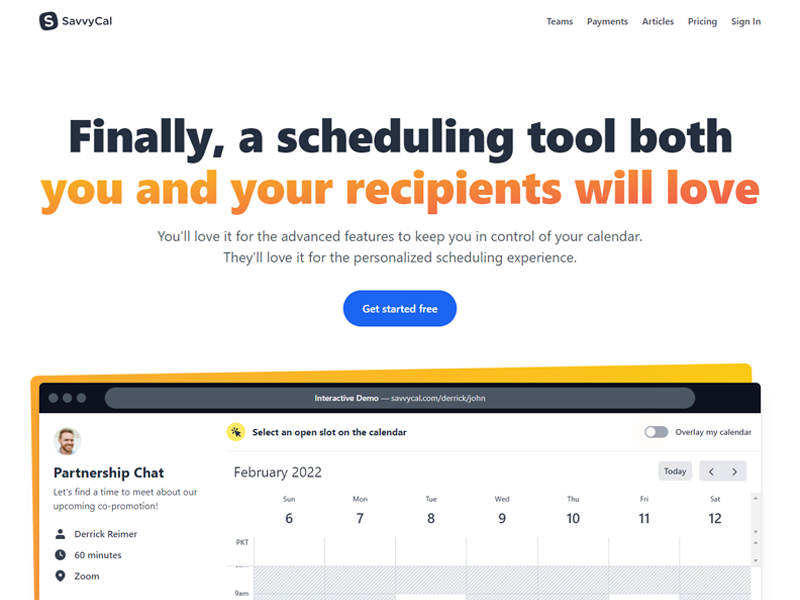 SavvyCal, as scheduling software, allows users to schedule meetings collaboratively. The platform's primary goal is to simplify both the sender and the recipient to find a convenient time to meet.
Brands may use SavvyCal to allow individual receivers to overlay their planned calendar on top of the company's schedule, allowing both sides to identify mutual availability in real-time.
Features:
They offer availability windows in a particular order, urging users to choose the best time.
Users can also make simple modifications across numerous meeting kinds based on their requirements.
Furthermore, SavvyCal has highlighted features like easy integration.
Customizable preview.
There is an option for session length link selection and more.
Pros:
The starting procedure is quick and easy.
You can interface with your Google, Outlook, iCloud calendars, and Zoom.
The interface is straightforward and uncomplicated, making it ideal for individuals seeking a clear solution.
You may put your scheduling links on your site as a chat widget.
The Basic plan includes limitless everything.
Cons:
One significant downside is that you cannot accept online payments using SavvyCal, which may be a problem for many.
The Basic package includes SavvyCal Branding.
We found the information base to be a little limited overall.
Pricing:
The essential subscription is $12 per user each month and includes unlimited booking links, calendars, and events. Premium will cost you $20 per user each month, and remove the SavvyCal logo from your links.
Best for SMEs and startups.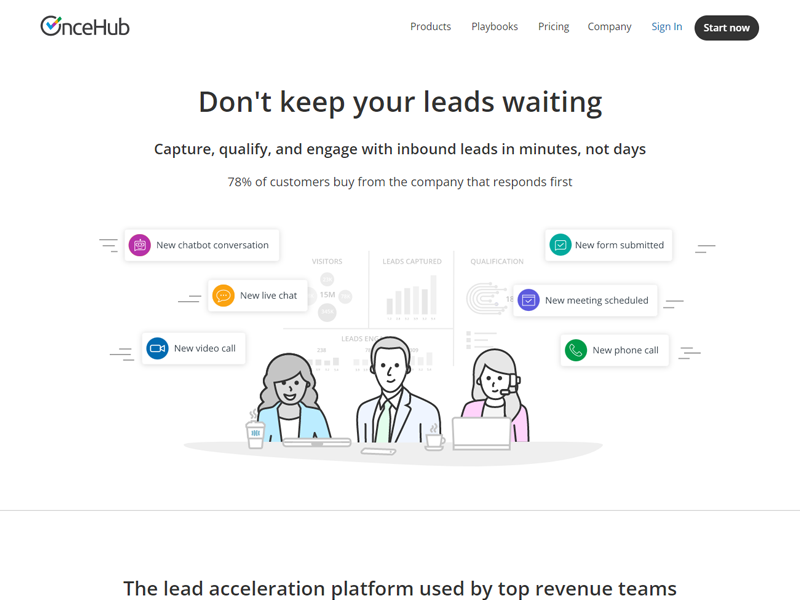 InviteOnce is a scheduling approach in the funnel. Irrespective of your sales team setup, meeting kinds, or site conversion funnels, InviteOnce is intended to fulfill the most stringent scheduling needs.
InviteOnce can effortlessly manage automated team member assignments, asset pools, multi-participant sessions, and more. InviteOnce offers complete Windows-based solutions.
Features:
Its "Round Robin" function guarantees that work is distributed evenly among team members.
Its booking engine automatically finds the most appropriate time slot based on the meeting's requirements.
In the mail, you might include a suggested conference hour so that the customer may accept the arrangement with a single click.
Quickly create conference templates to examine your company's objectives properly.
Pros:
The InviteOnce layout is fantastic.
It lets users respond to expressions of interest on time.
As of now, the InviteOnce is doing well. InviteOnce Support is excellent and helpful.
Good software, and it is worth trying.
This online Scheduling system includes Group Scheduling, Room Booking Management, Multi-Location, Alerts/Notifications, and Automated Scheduling.
Cons:
There are some issues with the connectivity to Instagram and other social media networks.
It has several flaws that might cause the scheduled session to be canceled.
Display unfilled positions as filled bookings.
Pricing:
The cost of a paid subscription starts at $10 / month. The best part is that you can try this out for fourteen days for free to see whether it's a nice choice for you.
Best for big teams.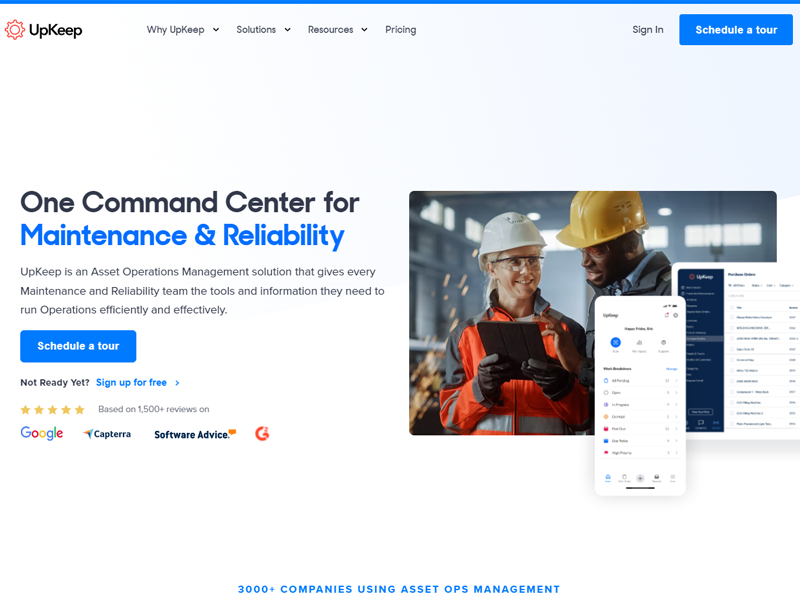 UpKeep is enterprise asset management (EAM) and computerized mobile-based maintenance management (CMMS) software. This all-in-one solution is suitable for companies of all levels and types.
UpKeep provides fundamental maintenance features such as asset, inventory, work order management, and preventative maintenance to generate service schedules. It may be used by healthcare and facility administrators to handle repair requests, plan maintenance schedules, and track their resources.
Features:
Use its real-time notices to make work orders from anywhere, as well as to get alarms and updates of updated jobs on your smartphone.
It provides safe data storage in the cloud and performs frequent backups.
Customers can manage inventories, services, and locations from a single place, and tasks and demands may be accessible from wherever via tablet and smartphone apps.
It has a simple and easy-to-use UI.
Pros:
Notifications and alerts are created in real-time to notify users of task modifications and asset failures.
Work orders can be recast to collect notes, establish checklists, measure values, define priority levels, and attach photographs, files, or parts to each assignment.
Users may import data from existing assets.
They can scan barcodes on assets or components to add them to work requests, reserve and plan parts for maintenance, and manage part histories.
Cons:
It is unable to create mass orders efficiently.
The free edition has restricted functionality.
The user experience might be simpler to guarantee a more productive functioning.
Pricing:
There is a free edition of UpKeep accessible. Premium packages start at $45 per month and are billed once per year.
Best for merchants of all sizes in a wide range of service sectors.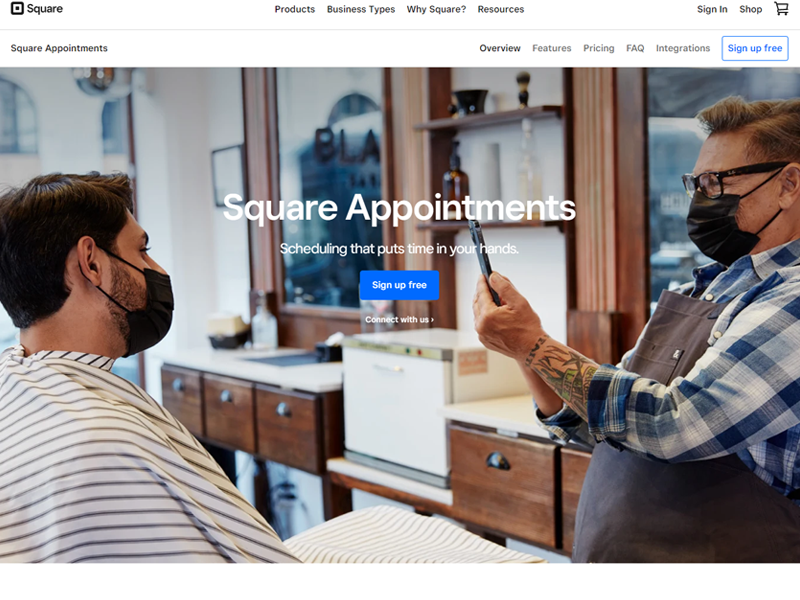 Square Appointments is a cloud-based appointment scheduling solution that helps businesses organize bookings, meetings, lead creation, and transaction processing.
Customers may arrange meetings for single or many locations with Square Appointments on the move. They may also make prepayments for planned appointments using the service. It is also used to access their calendars via any mobile device and organize their days appropriately.
Features:
The solution provides automatic appointment reminders to clients through email or text messages.
Trainers can also take notes while treating customers for future reference.
Customers can use Square Appointments to make credit card transactions.
It allows advertisers to execute discounts and loyalty programs for new and current customers and supports Square Point of Sale, QuickBooks, and Xero.
Pros:
Square Appointments is well-known for its easy-to-use interface.
This app-based solution can be highly beneficial for business owners with various locations.
Square Appointments is accessible for both iOS and Android tablets and smartphones.
It has received positive reviews in both the Apple and Google Play app stores.
Cons:
Less customization possibilities.
For huge organizations, features may appear to be rudimentary.
It is pretty pricey compared to other rivals' services.
Pricing:
It offers a 30-day free trial for individual use. The cost of a paid subscription starts at $29 per month. A 30-day free trial is also available for the more expensive applications.
Best for every organization to tailor its needs.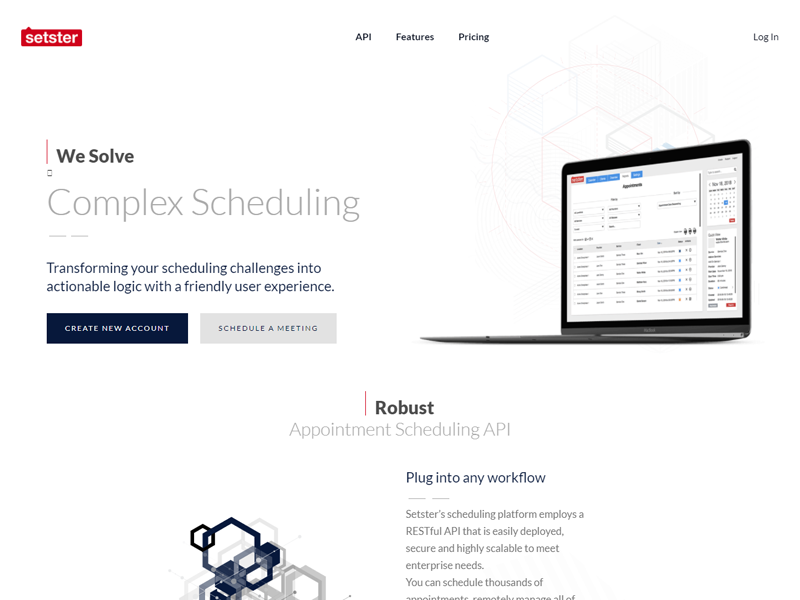 Setster is an online session scheduling software for businesses. It provides a user-friendly design and practical logic to help you solve your difficult planning challenges.
Setster also provides an omnichannel environment to boost efficiency and customer interaction. Before getting official approval, customers can also suggest timing for their meeting.
Features:
It allows staff members to participate from any location, digital or actual.
Padding helps consumers to prevent back-to-back trips.
Businesses may send appointment reminders to prevent no-shows and late arrivals.
It may control employee availability by restricting time off and adding holidays.
PayPal, Stripe, and FreshBooks allow you to receive payments straight into your account.
It provides an API for highly customizable application integration.
Pros:
Setster's scheduling engine founded on a rest-based API is simple to set up and has high security.
Scalable for future development.
You may use Setster to plan appointments, manage preferences and data remotely, and integrate it into any process.
Large corporations and Fortune.
500 businesses have put their trust in it.
Cons:
One major drawback is that the salesforce integration is unreliable.
It is among the most expensive alternatives accessible.
Pricing:
Premium packages start at $16 per month and go up to $1206 monthly. You may also enjoy a 20% discount on annual memberships.
Best for optimizing companies trying to increase productivity.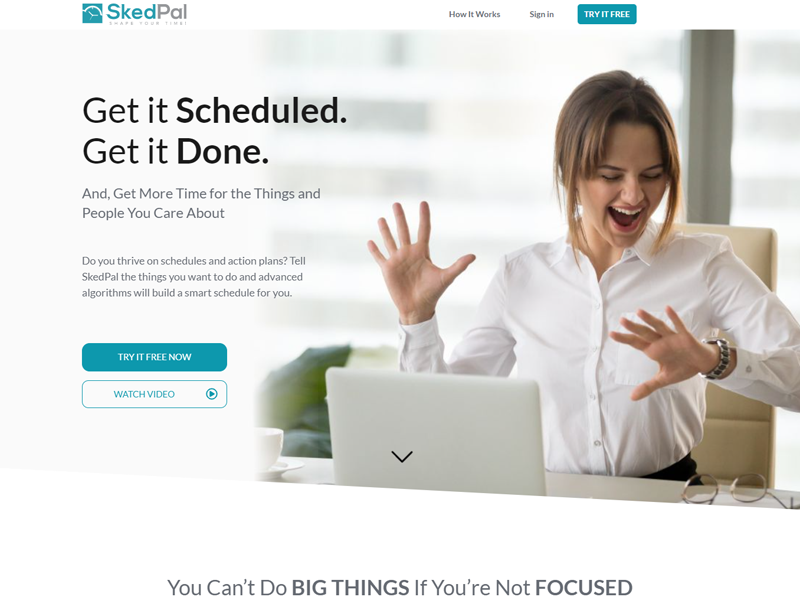 SkedPal is a cloud-based calendar program that converts users' projects and task management into time blocks for the coming hours, days, and weeks. It contains Windows, Mac, and Linux apps, among other computer systems. Users may stay engaged and active no matter where they are with mobile apps for iPhone and Android.
SkedPal allows users to set up recurring monthly, weekly, or daily. It helps users attain these objectives and behaviors in their spare time.
Features:
There is a mobile version accessible.
It syncs with Outlook, Google, Office 365, and iCloud calendars rapidly to help avoid multiple bookings and disputes.
Literally, tell SkedPal whatever you want to achieve, and its AI system will generate a list of all the tasks you need to do.
Use the Time Map feature to plan your week by designating time for different things, including business, interests, and appointments.
Pros:
SkedPal creates a detailed daily itinerary based on the user's objectives and obligations.
SkedPal uses Time Maps to help users align their entire weeks with their ideal weeks.
SkedPal prevents users from overcommitting and assists them in scaling back when necessary by prioritizing and planning.
SkedPal automatically reschedules assignments and meetings in the event of disruptions or unscheduled activity.
Cons:
There is no data monitoring.
It is not as fast in the mobile app as the computer applications.
Pricing:
SkedPal costs $9.95 per member every month, billed yearly. You'll also get a 14-day free trial to determine if the product is right for you.
Best for Business owners, freelancers, advisors, and marketers.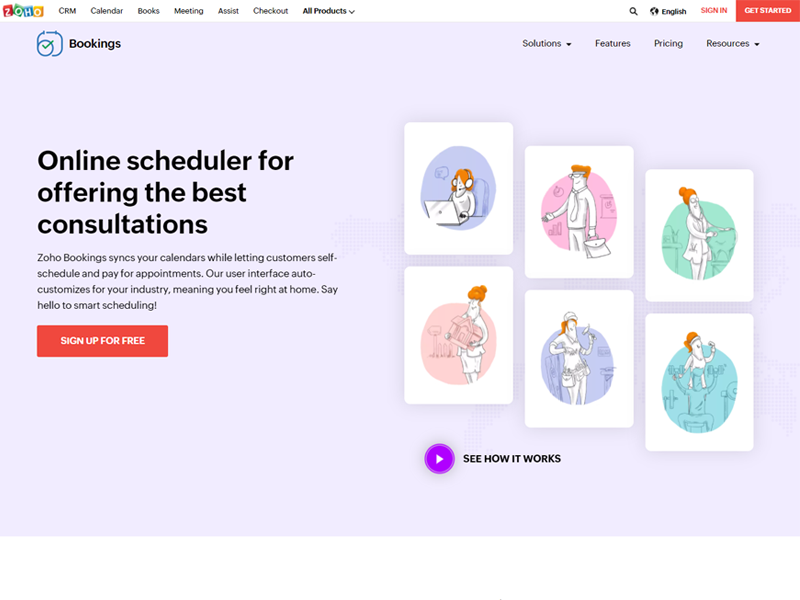 Zoho Bookings is an appointment booking and calendar synchronization service for consultants, agencies, and small businesses. Zoho Bookings enables it simple for everyone to locate the optimum time to meet and complete tasks.
Sales teams will be able to sell more, recruiters will be able to place more prospects, and support teams will be able to control more problems without worrying about when to meet. Zoho Bookings synchronizes your calendars and allows consumers to self-schedule and pay for meetings.
Features:
The app's slogan is spot on: "More Appointments. There are fewer disappointments. It describes the software's primary aim.
Zoho Bookings offers calendar synchronization to assist business owners and managers in operating their operations more efficiently.
It also stresses customer self-service.
It means that clients may plan and pay for sessions using the app without any assistance.
Pros:
Customers may verify your availability and book with you online.
Scheduling without hiccups equals more meetings and more prospects closed.
Set and confirm appointments using emails and SMS.
Customize emails with the customer's name, the user's address, and the links to the online discussion.
The integration process was quick and straightforward, and the effect was positive, immediate, and successful.
Cons:
Plan prices may rise as a result of add-ons.
Joint customer service might be problematic.
The basic setup of Zoho Bookings is complicated and should be changed.
A brief internet outage hampers every process.
Pricing:
Pricing for Zoho Bookings begins at $6.00 per user, monthly. There is a free option available. Zoho Bookings provides a free trial period.
Best for the event industry.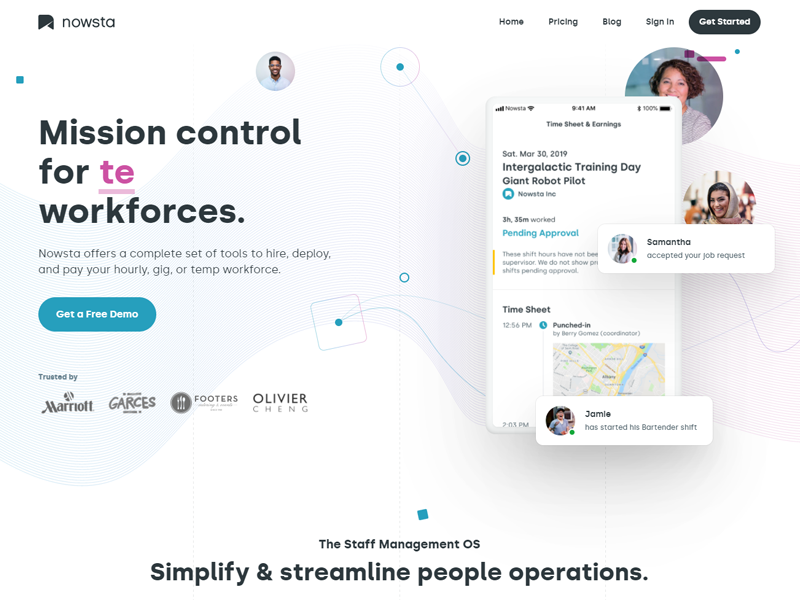 Nowsta is a sophisticated staff scheduling solution appropriate for enterprises of all sizes. The program is perfect for streamlining workflow in various businesses by simplifying payroll processes, shift management, field-managed services, and time tracking.
It answers the common queries that employee scheduling software leaves unanswered and can facilitate arranging shifts.
Features:
Companies may utilize filters and classifications to choose the finest project candidates and send them work orders.
There is also a disagreement notice to prevent repeated reservations.
Overtime notifications help you schedule staff, log hours, handle shift swaps, and cope with service changes.
Employees can use mobile applications to access and reply to job requests, reducing work time.
Its GPS-enabled blow feature aids staff location information and guarantees that employees are truly at work.
Pros:
Nowsta integrates scheduling, time tracking, analytics, and payroll reporting into one platform.
Users may also pay employees' paychecks quickly with no additional expense or stress.
Supervisors may obtain insights about workers' evaluations and predicted and actual costs based on a central platform's day, week, shift, month, and team performance.
Cons:
There are certain issues with the time clock software.
It has the potential to shut out a client without warning.
Pricing:
Nowsta is among the most affordable staff planning software available. Premium packages start at $3 per person/month.
Best for almost all organizations.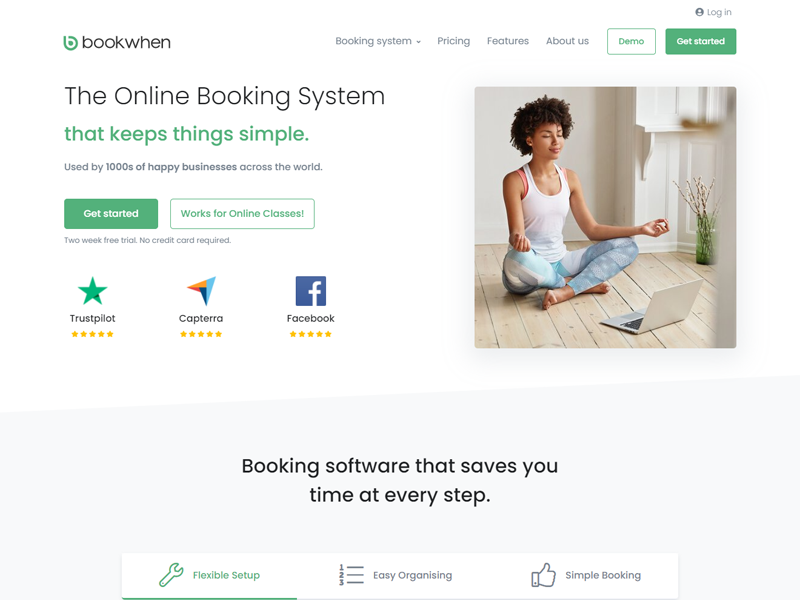 Bookwhen accommodates the scheduling needs of companies of all sizes and kinds. Customized registration pages and the ability to transfer reservations to Excel are just a few of the many useful features and elements. The application is also easy to operate and connect. It takes Paypal, Stripe, and WorldPay as online transaction forms.
Features:
Businesses may tailor booking forms to each event, authenticate replies, and opt-in for marketing.
You may also offer a 'Pay Later' option to accept offline payments or other payment methods.
Verification and notification emails contain vital data such as a website to manage the reservation, a calendar document, and customized information given by the company.
Make use of an online registration system to track attendance.
Pros:
It is available in English, Italian, Danish, Dutch, German, Swedish, French, Spanish, and Hungarian.
It is well-suited to smartphones.
A single individual can make several meetings or reservations.
Recurrent bookings are also possible.
Cons:
Their chat assistance is only available throughout the week.
The organization cannot reschedule the meeting.
Pricing:
It has a free option that allows you to make up to 50 bookings every month. Premium version ranges in price from $15 to $59 monthly. A more costly bundle for business solutions is also available.
What is a Scheduling Software?
Scheduling software is a software-as-a-service (SaaS) solution that may assist organizations in managing appointments, reservations, staff scheduling, and project management duties. The following can refer to schedule software:
Appointment scheduling software enables companies and professionals to organize appointments and reservations.
Meetings scheduling software assists teams in coordinating meetings while taking into account numerous individual schedules.
Staff scheduling software simplifies the process of developing and managing various employee schedules.
A job scheduler is a computer application that controls the execution of unattended background programs.
Scheduling software enables people and organizations of all sizes to run more efficiently by organizing and monitoring their own and their employees' time, building and maintaining staff schedules, appointing workers to shifts or jobs, and monitoring it all in real-time.
Scheduling software automates employee and event scheduling for businesses. Professionals use scheduling tools to book events, rooms, and other resources and manage internal and external activity planning with resource management, group scheduling, automated scheduling, and calendar management.
These programs can also assist with:
Customer service delivery
Appointment management and scheduling
Organizing resources or inventory
Attendance management tracking
Managing field service personnel' dispatch schedules
What is the best free scheduling software?
Trello is the best free software that offers the most customizable and easy drag and drop interface on the market.
In reality, you must handle last-minute reservations, reschedule someone on short notice, change calendars to handle no-shows, and more. Throw in a worldwide epidemic; ever-changing rules, remote everything, and schedule can eventually take over your day-to-day life.
Appointment scheduling tools save you from the monotonous, repetitive job of organizing appointments, allowing you to focus on expanding your business. Scheduling tools allow firms to simplify the scheduling process while sticking to the company's regulations and standards.
Some best other free online scheduling software are:
Acuity Scheduling
Picktime (for booking)
SimplyBook.me is designed for multinational enterprises.
Vcita for customer engagement
Genbook is a time management tool that can help you optimize your schedule.
What is the best scheduling software for students?
The best scheduling software for students is Trello. Trello is a cloud-based list-making application that is based on Kanban boards. It is a graphical technique that does not require any previous knowledge or expertise to utilize. Trello's principal data format is boards and cards, in which students can write things down, discuss, ideate projects, and organize their time. It is an excellent tool for delivering large files.
With so many student duties already on the table, time and file management may be simply handled with a dedicated tool like Trello. Part of what makes time management challenging for students is searching for the right materials, papers, and notes to include in their student projects.
You may, however, utilize Trello to speed up the search process and undertake keyword research to locate what you're searching for. Trello will surely be able to aid you in keeping your student life simpler the more you use it, regardless of the nature of your tasks.
Trello has an automation tool in the shape of Butler, an AI system that may help you organize your files and manage your time. Trello Butler may be configured to undertake various tasks to expedite your work and make learning more enjoyable. You may create custom rules that prompt Trello Butler to assist you, or you can schedule tasks for Trello Butler to complete while you are gone.
For example, you may collect photographs, videos, and textual information without manually arranging it and instead let Trello Butler handle it for you. Make sure to experiment with its feature set to determine the finest ways it can make your student life simpler.
What is the most popular scheduling software?
According to the 2021 Capterra Shortlist, Google Calendar, Acuity Scheduling, Calendly, CalendarHero, and Doodle are the top scheduling software applications depending on user evaluations and engagement.
What is the best employee scheduling software?
The best software solution is Homebase. Homebase, founded in 2015, is a complete solution for small company owners, with various upgrades made since 2020. Its free plan includes all you need to get started scheduling shifts, while subscription plans are inexpensive and feature-rich. Homebase leads our ranking for best overall staff scheduling software with the inclusion of safety checks to its mobile app. Using themes and drag-and-drop planning blocks, Homebase allows you to create a timetable in minutes.
The basic free plan provides time clocks, time and attendance monitoring, employee mobile applications, and more than ten days schedule. You may also track intervals and overtime for compliance and receive daily labor reports.
A paid plan allows you to pay monthly or yearly. However, if you pay for the membership annually, you will save 30%. The following priced plans are based on an annual payment and cover a single location:
Essentials: $14 per month for performance evaluation, communication processes, and productivity reporting, plus $35 per month for regulatory planning and budgeting, as well as labor cost controls.
All-inclusive: $70 per month for an onboarding program, HR Pro consultants, and training.
Homebase's other services include job advertisement promotions on ZipRecruiter, Craigslist, Meta, and Indeed for $79 per post. You may also pay an additional $99 per month for HR Pro services.
You'll like how it integrates with major POS and accounting systems like:
Lightspeed
QuickBooks
Shopify
Square
Gusto
SurePayroll
Homebase's user-friendly interface allows you to work on Windows or Mac PCs. Its applications operate on Apple or Android devices, making it a well-rounded alternative for staff scheduling.
Conclusion
Nowadays, companies must deal with a profusion of meetings, appointments, staff scheduling, workforce management, and other complex commercial processes. Calendly has over 50,000 businesses and ten million users globally. It makes it easy for users to set up, use, and manage appointment scheduling and other functions. SimplyBook is an online appointment booking tool for small businesses in the service industry.
SimplyBook may benefit restaurants, physicians, spas, gyms, beauty parlors, massage salons, hair salons, and similar businesses. The platform is adjustable and extendable, allowing it to be tailored to the needs of a certain business. HubSpot Meetings is a CRM, advertising, sales, and customer service tool package that includes digital marketing administration, live chat, and polls. When you connect Google Calendar and Office 365, you get a personalized booking link to distribute to anyone.
Acuity Scheduling is lauded for its excellent functionality and ease of use. It notifies users of upcoming meetings and allows them to access their schedules on their mobile devices. Acuity Scheduling.net's core customers are small and developing businesses. Google Calendar, Outlook, Office 365, and iCalendar are all supported by the application. Appointy is an easy appointment booking software that has received accolades from industry titans. It's simple, straightforward, yet powerful user interface allows employees to easily browse the application and begin being more efficient right away.
Trello is the greatest scheduling software for beginners. Trello is a list-making program based on Kanban boards that is cloud-based. SimplyBook.me, Acuity Scheduling and Genbook are some of the finest free appointment confirmations tools.
Homebase is the greatest staff scheduling software. Its free plan covers all you have to get going planning shifts, and subscription options are both affordable and feature-rich. The top planning software programs include Google Calendar, Acuity Scheduling, Calendly, CalendarHero, and Doodle.